Maude (Beverly Hills, CA) [4]
Maude Restaurant
212 S Beverly Dr, Beverly Hills, CA 90212
310.859.3418
www.mauderestaurant.com
Tue 11/11/2014, 09:30p-12:25a
This year, I've had
three
lovely
meals
at Maude so far. Ingredients featured were citrus, rhubarb, and morel, but from the outset,
the
month to look out for was November, when truffles would be showcased. This month's reservation was also the most difficult to score yet, and took a team of four calling the restaurant for about half an hour non-stop once reservations opened, but we finally did get through...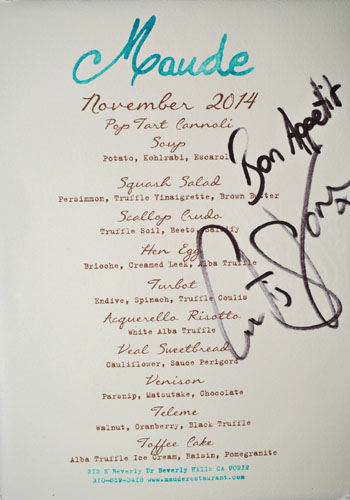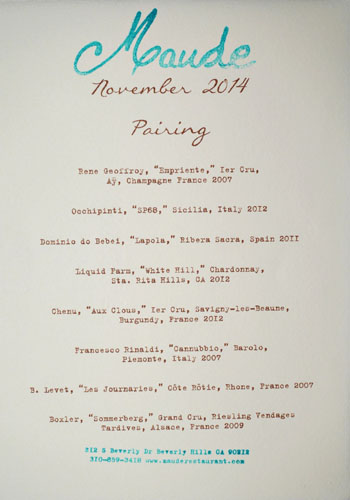 Maude's truffle menu featured both Italian Alba and French Périgord varietals and weighed in at a hefty $250 a head, over three times the cost of a normal meal here, though it
was
slightly longer than usual. The standard wine pairing, meanwhile, was also considerably pricier, and tacked on an additional $125 (or double that for the upgraded pairing). Click for larger versions.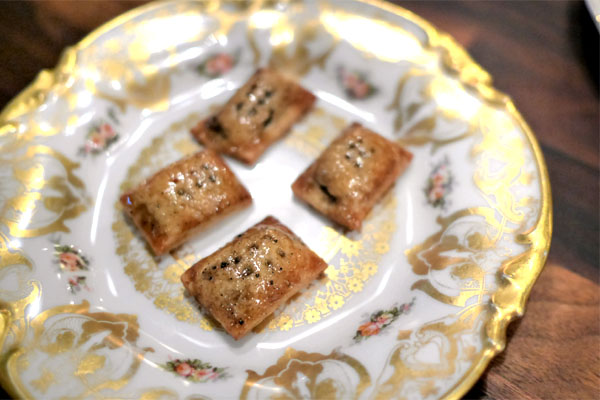 1a: Pop Tart
Rene Geoffroy, "Empriente," 1er Cru, Aÿ, Champagne, France 2007
I was guilty of consuming many an unheated Pop-Tart during my college days, but the delightfully flaky examples tonight ruled them all. Miniature in size, but packed with flavor, we got loads of strong, sweet onion up front joined by just a hint of black truffle.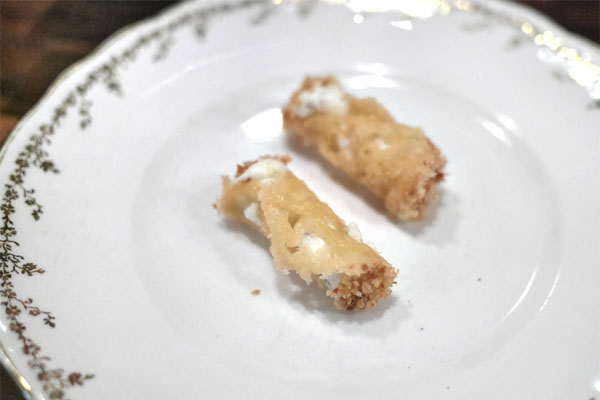 1b: Cannoli
Rene Geoffroy, "Empriente," 1er Cru, Aÿ, Champagne, France 2007
Tiny cannoli came wrapped in Parmesan and filled with ricotta-white truffle and celeriac. They were fun little bites, with lushness of the cheese working beautifully alongside the truffle while the Parm added a hit of salt to the mix. I would've liked a crisper texture on these, though.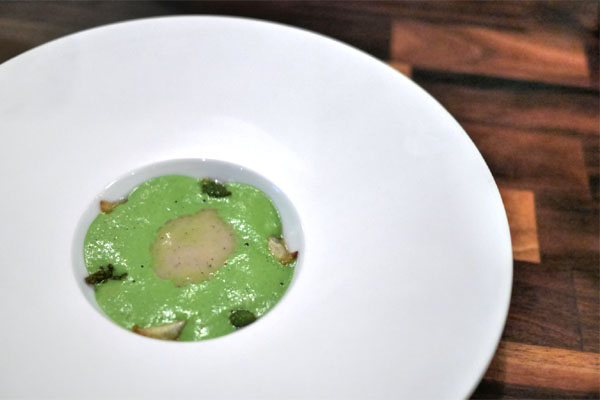 2: Soup
| Potato, Kohlrabi, Escarole
Rene Geoffroy, "Empriente," 1er Cru, Aÿ, Champagne, France 2007
The soup course arrived hot and hearty and heartwarming, its comforting base of potato brightened by the bittersweet combination of broccoli, escarole, and kohlrabi while truffle contributed an earthy, lingering undertone to the dish.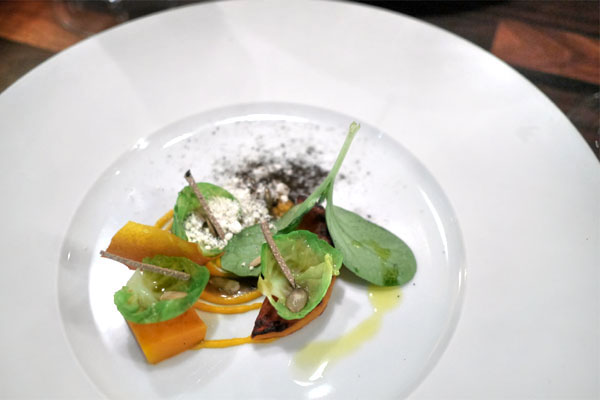 3: Squash Salad
| Persimmon, Truffle Vinaigrette, Brown Butter
Occhipinti, "SP68," Sicilia, Italy 2012
I wasn't particularly looking forward to a squash salad, but the course was a pleasant surprise. The squash (roast-pickled-poached) conveyed a sugary, spicy, almost autumnal quality to it, augmented by the persimmon cream and brown butter. The greenery up top, meanwhile, was key in adding a zesty counterpoint in the dish, while the truffle was restrained, contributing a whisper of funk that offset the sweetness present. This course also had the best wine pairing for me, with the fruity notes in the food really linking up here, tempering the Occhipinti and making for a more floral drinking experience.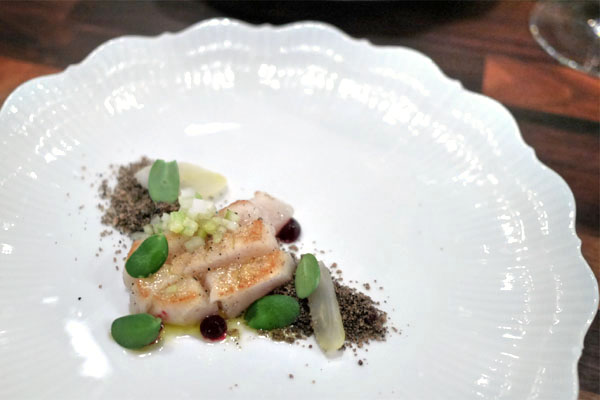 4: Scallop Crudo
| Truffle Soil, Beets, Salsify
Dominio do Bebei, "Lapola," Ribera Sacra, Spain 2011
Scallop arrived seared on one side only, accompanied by pickled salsify, beet jus, edamame, and a truffle-hazelnut soil. My concern here was that I would've liked the main ingredient cooked rarer (it didn't strike me as very crudo-like), but taste-wise the dish hit some high points, with a smart interplay between the brine of the scallop and the multifaceted notes of bitter, nutty, sweet, and musky conveyed.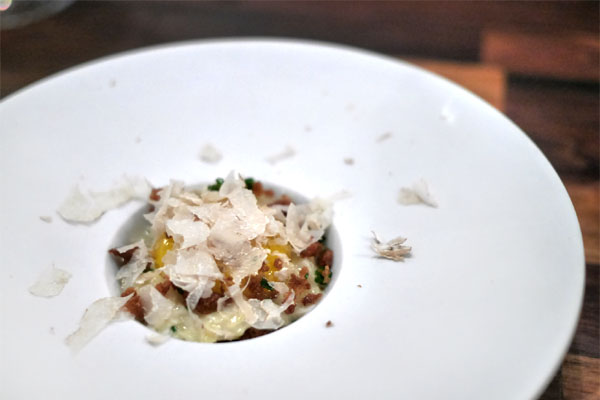 5: Hen Egg
| Brioche, Creamed Leek, Alba Truffle
Liquid Farm, "White Hill," Chardonnay, Sta. Rita Hills, CA 2012
It's hard to miss the mark when a runny egg and truffle are in play, and indeed, this next course didn't let us down. You had the fantastic aromatics of the Albas on the nose, while on the palate, the sweet, astringent nature of the leeks really made itself known, played perfectly against the saltiness of bacon while brioche moderated the dish. One of my dining companions deemed the course Vichyssoise-like, a natural pairing to the Chard.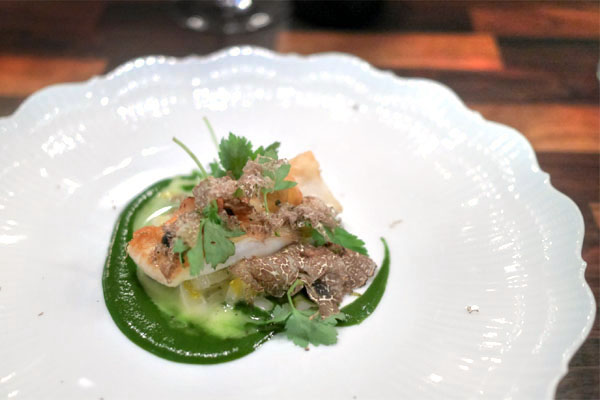 6: Turbot
| Endive, Spinach, Truffle Coulis
Chenu, "Aux Clous," 1er Cru, Savigny-les-Beaune, Burgundy, France 2012
Turbot came out firm and substantial, with a wonderfully crisp skin and just loaded with briny goodness. Burgundy truffle seemed to intensify the fish's flavors even more, while the sweetness of sunchoke veered in the other direction. My favorite part here, though, was the fennel-endive, which added an apparent zestiness that overarched things laudably.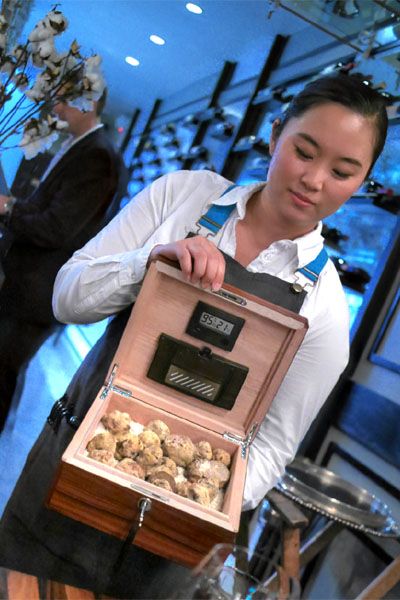 In preparation for the more truffle-forward courses to follow, our rather comely server brought out the truffle storage box, which, when opened, perfumed the entire surrounding area with the heady, intoxicating musk of the Albas.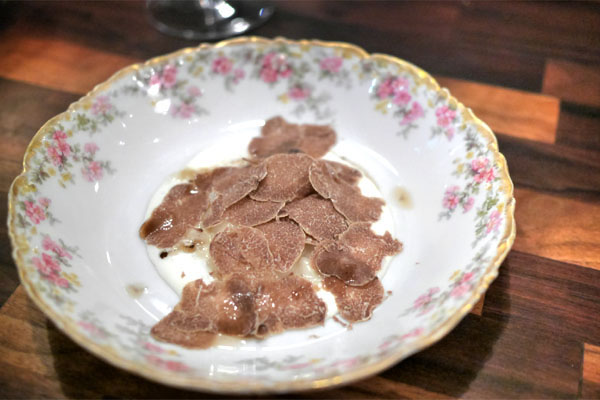 7a: Acquerello Risotto
| White Alba Truffle
Francesco Rinaldi, "Cannubbio," Barolo, Piemonte, Italy 2007
Albas are best showcased when freshly shaved over a simple dish, and indeed, the truffles shined here, adding a palpable potency to the creamy, lush, Castelmagno-enriched risotto while a drizzle of
beurre noisette
added further depth to the well-textured rice. This was something that you'd just want to take down an entire big bowl of.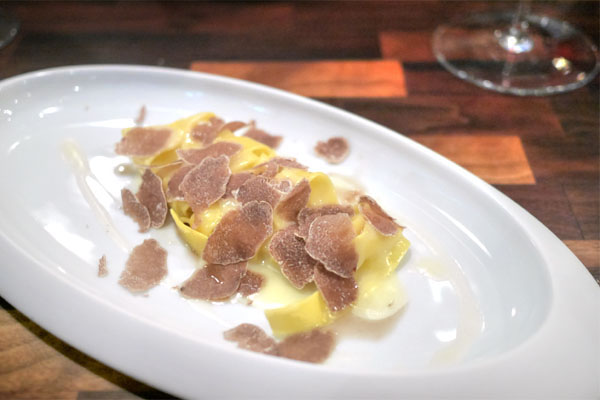 7b: Hand-Cut Tagliatelle
| White Alba Truffle
Francesco Rinaldi, "Cannubbio," Barolo, Piemonte, Italy 2007
The other pasta option brought out some tagliatelle, another commendable preparation that presented the properly al dente noodles as a fitting stage on which the truffle could really sing. A very nice pairing to the accompanying wine, too.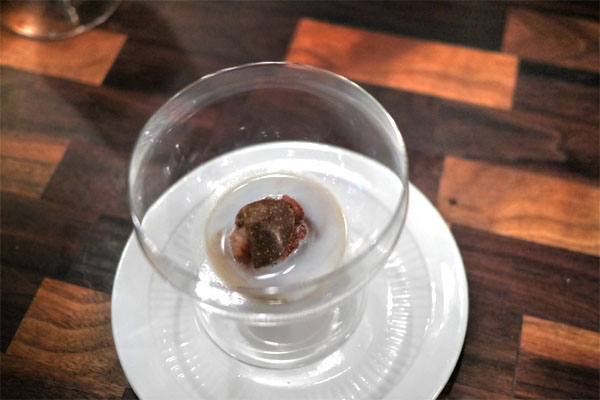 8: Veal Sweetbread
| Cauliflower, Sauce Perigord
Francesco Rinaldi, "Cannubbio," Barolo, Piemonte, Italy 2007
Veal sweetbread was gorgeously prepared, a nugget of crisp, deeply savory, offal-y goodness that was taken up a notch by the slice of Périgord layered on top. Great use of the cauliflower purée to even out the bite.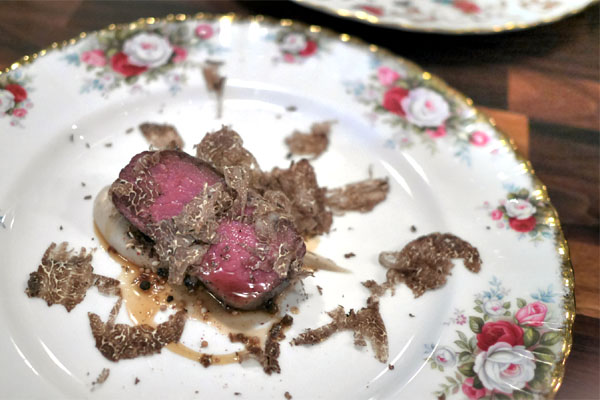 9: Venison
| Parsnip, Matsutake, Chocolate
B. Levet, "Les Journaries," Côte Rôtie, Rhone, France 2007
Our final savory gave us some venison, a satisfying, beautifully-spiced specimen finished by the funk of truffle while the mushrooms added further depth and texture to the dish.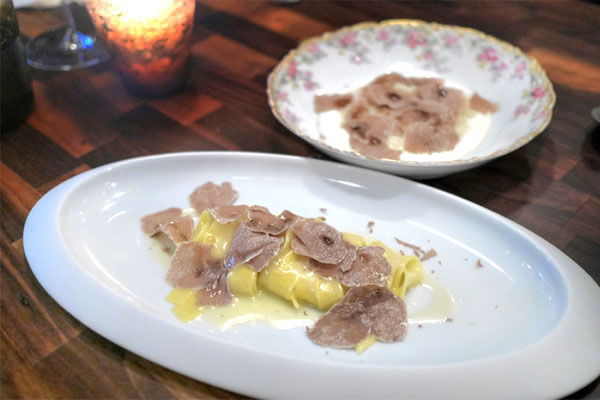 We didn't quite get our fill of Alba truffle, so we ordered up another round of pasta, at a pricey $80 a plate.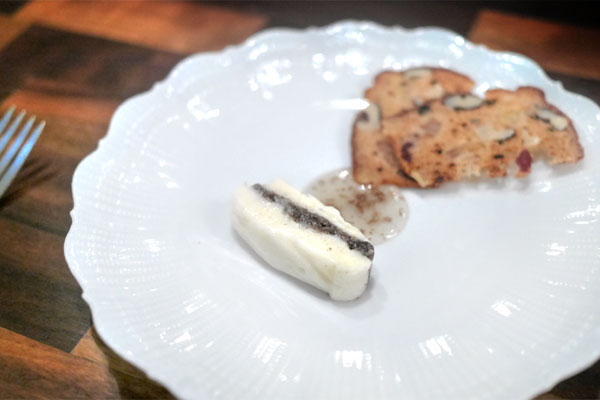 10: Teleme
| Walnut, Cranberry, Black Truffle
For our cheese course, Teleme from San Francisco was sandwiched with black truffle, the sublime nature of the Périgord melding seamlessly with the wonderfully mild, soft, nutty cheese. As good as that was, the included white truffle-acacia honey elevated the course even further, adding a delectably sweet finish to things.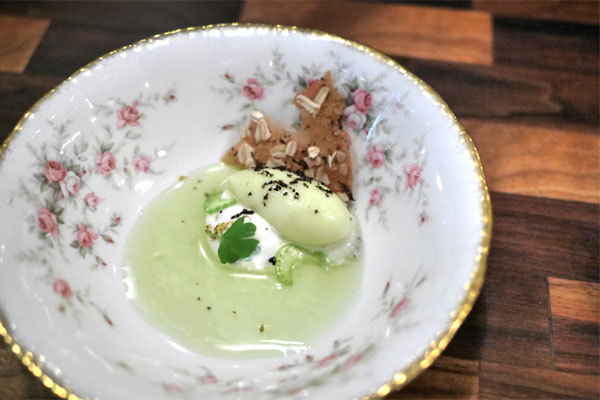 Our pre-dessert featured an apple sorbet with black truffle granola, yogurt espuma, and a celery-apple consommé. The sorbet was
super
apple-y, an appropriately bright, bracing presentation dutifully set off by the rich, nutty truffle tuile.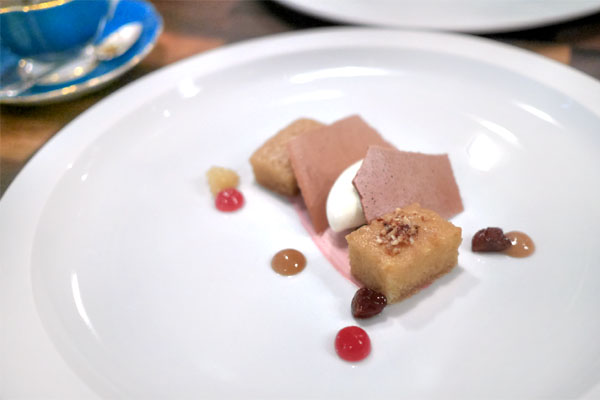 11: Toffee Cake
| Alba Truffle Ice Cream, Raisin, Pomegranate
Boxler, "Sommerberg," Grand Cru, Riesling Vendages Tardives, Alsace, France 2009
For dessert proper, lemon-infused coffee cake delivered a tasty combination of tangy and sweet flavors, amped up by the zippiness of the raisin and pomegranate purée. The star of the show here, though, was clearly the white truffle-vanilla ice cream, while showed off a flawless combination of sweet and savory that left me wanting a whole pint of the stuff--
damn
. Nice texture from the dehydrated mousse chips, too.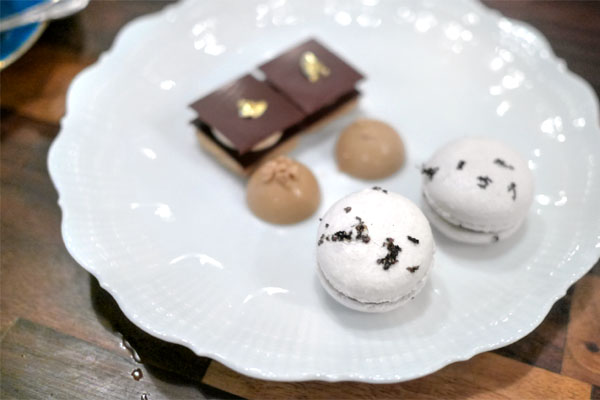 Mignardises tonight comprised a sweet-earthy black truffle macaron, a super rich white chocolate truffle with white truffle, and my favorite, the
palet d'or
with its fantastic layers of pastry.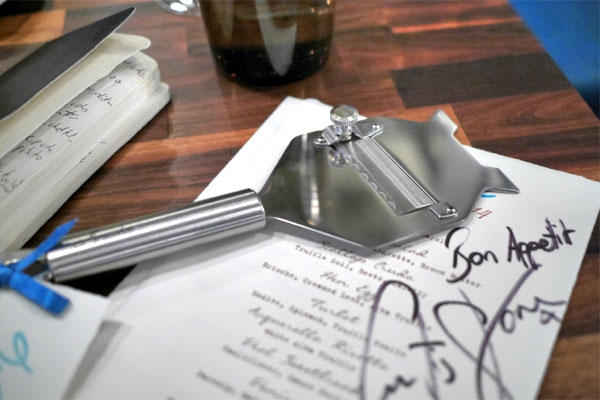 Tonight's parting gift was the best yet: a truffle grater. Not sure when I'm ever going to use it, but it certainly looks impressive (and even came emblazoned with the Maude logo).
Once again, Stone and company banged out another great meal, a eminently thoughtful exploration of the most sought after ingredient in the kitchen. When dealing with truffle, one's tendency is to overdo it, but I appreciated the restraint shown in many of the courses. At the same time though, we were able to enjoy the unbridled, unmitigated essence of truffle throughout the evening as well. This one's going to be hard to top, so we'll have to look out for the line-up for next year...