Brilliantshine (Santa Monica, CA)
Brilliant Shine Restaurant
522 Wilshire Blvd, Santa Monica, CA 90401
310.451.0045
www.thebrilliantshine.com
Fri 10/24/2014, 08:00p-01:10a

One of the Southland's most anticipated bars debuts of 2014 bowed on August 19th. Brilliantshine is the work of Julian Cox and Josh Goldman, the duo behind hospitality consulting firm
Soigné Group
(
Acabar
, Circa). Created in concert with Tinga partners Jerry Baker and Michael Lafetra, the place serves as Soigné's flagship property as well as its R&D center. To pair eats with the drinks, Cox and Goldman have brought on Chef Richie Lopez. A Lima native, Lopez relocated to Los Angeles a decade ago, and eventually met Ricardo Zarate in 2009 at the
original Mo-Chica
. This led to stints at
Test Kitchen
,
Sotto
, and finally
Paiche
, where he served as CdC and later Executive Chef before joining the team at Brilliantshine.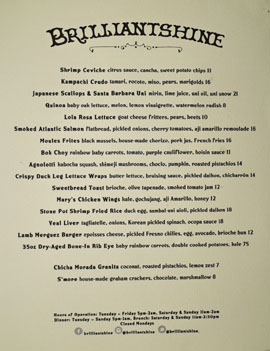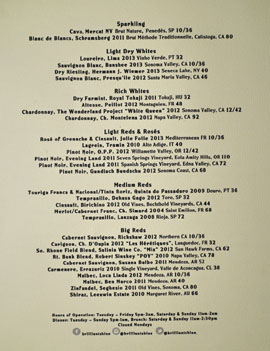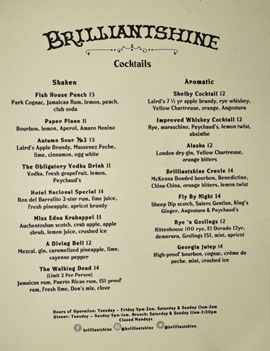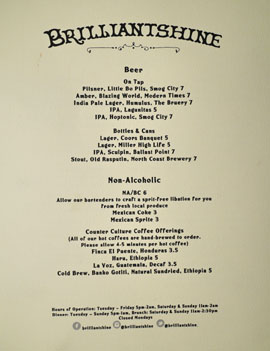 As for Brilliantshine's menu, you get about a dozen cocktails, heavily whiskey-based and ostensibly inspired by Cox's time spent traveling the globe. There's also a surprisingly complete wine list (or perhaps not so surprising given Goldman's tenure as a top notch sommelier), six beers on tap and a few in the bottle, as well as coffee from Counter Culture. Designed to complement the drinks, the food menu, meanwhile, is unexpectedly lengthy, but expectedly Peruvian-tinged, and reads well. There's even a brunch option. Click for larger versions.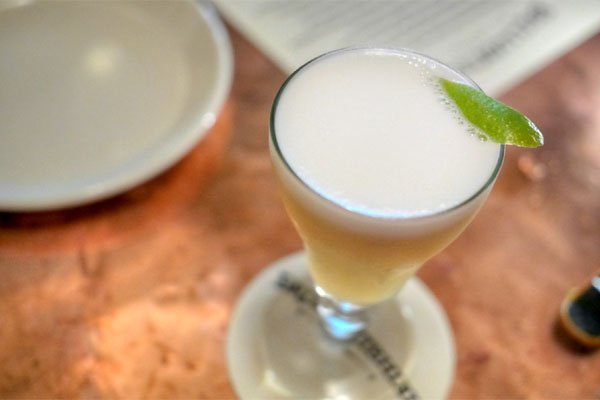 Autumn Sour No 2 [$13.00]
| Laird's Apple Brandy, Massenez Peche, lime, cinnamon, egg white
The night got off to a very strong start with one of my favorites cocktails, apropos for the season. I loved its intoxicating aroma of juicy peach, while on the palate, I got more of the fruit, joined by frothy egg, sweet spice, and a backbone of booziness. Delish.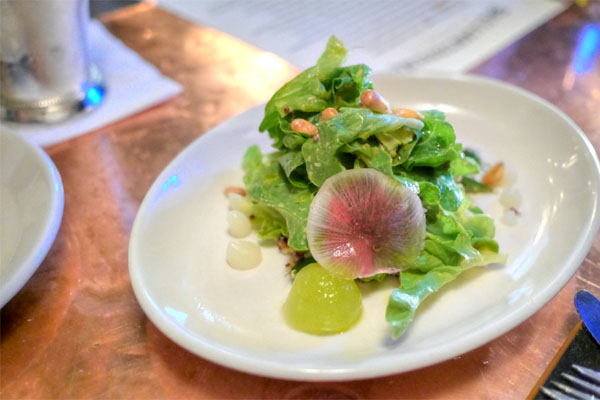 Quinoa [$8.00]
| baby oak lettuce, melon, lemon vinaigrette, watermelon radish
Our first dish brought out a light, bright salad. You had your tangy vinaigrette and sugary melon with the lettuce, but the crux was that quinoa, which added a nutty, wonderfully crunchy component to the course.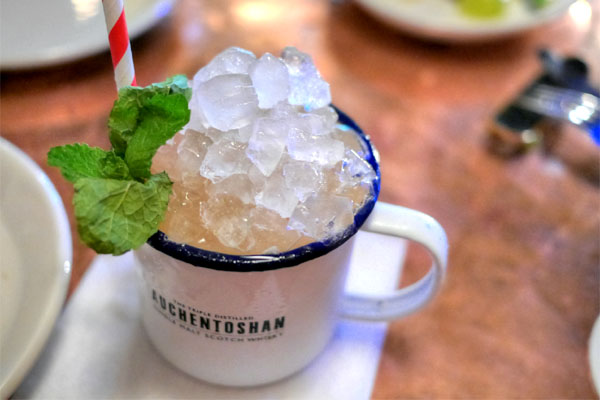 Miss Edna Krabappel [$11.00]
| Auchentoshan scotch, crab apple, apple shrub, lemon juice, crushed ice
Being a
Simpsons
fan, this was a natural choice for me, and another highlight. The key here was the sweet-sour interplay at first, leading to a round booziness and a finish redolent of smoke. Yum.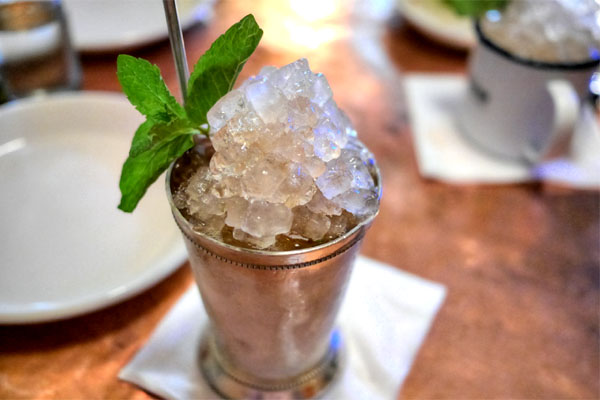 Rye 'n Goslings [$12.00]
| Rittenhouse 100 rye, El Dorado 12yr, demerara, Goslings 151, mint, apricot
The next drink pretty much takes the cake for having the best cocktail name
ever
. It was indeed as toothsome as its namesake, a thick, full-bodied concoction that showed off a noticeable heat up front while the back end was all about the sweetness of sugar and apricot.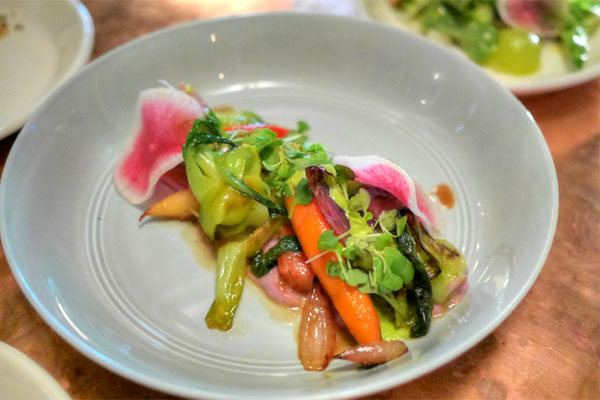 Bok Choy [$11.00]
| rainbow baby carrots, tomato, purple cauliflower, hoisin sauce
One of the standout dishes for me brought together a hearty mélange of vegetables, a medley of disparate textures and tastes tied together by the fantastically deep, rich, umami-laden flavors of the hoisin.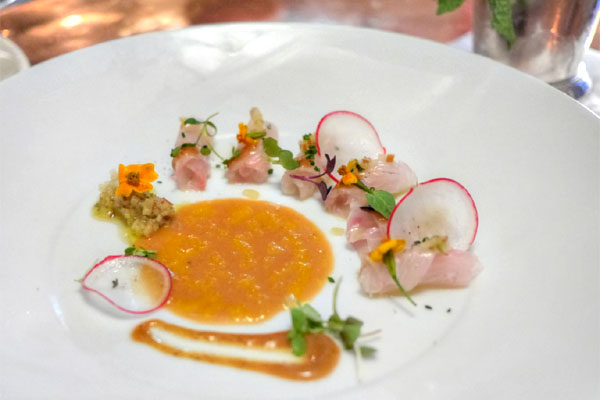 Kampachi Crudo [$16.00]
| tamari, rocoto, miso, pears, marigolds
Following was probably the most artfully plated crudo dish I'd ever seen. The fish itself was light and delicate, pairing gracefully with the savory richness of the
tamari
soy and sweet-ish miso while herbs added just the right amount of zippiness to the mix.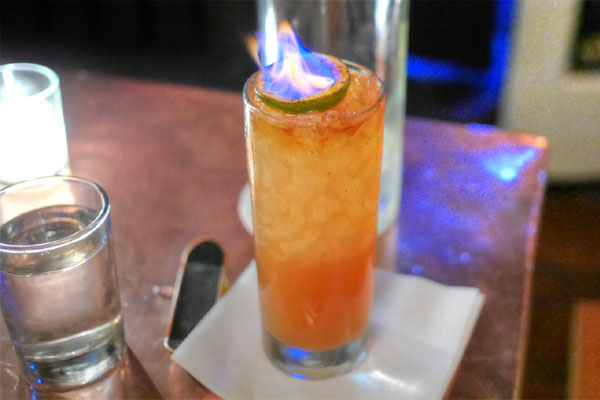 The Walking Dead [$14.00]
| (Limit 2 Per Person) Jamaican rum, Puerto Rican rum, 151 proof rum, fresh lime, Don's mix, clove
I first tried Soigné's take on the Zombie at
Acabar
, and the version tonight seemed to be a slightly modified version of that drink. It was still pretty damn tasty though, boozy sure, but also balanced by sweet, sour, and spice. Super long, lingering finish on the cocktail, too.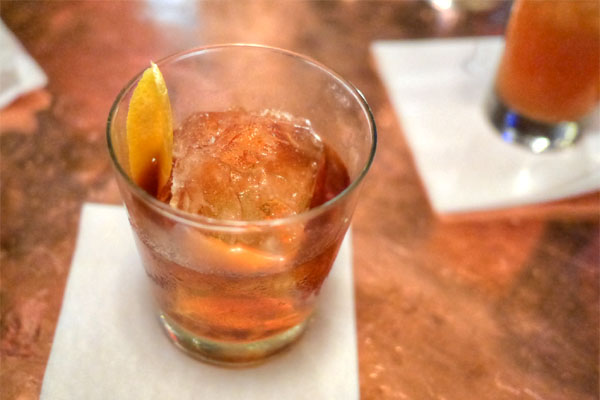 Brilliantshine Creole [$14.00]
| McKenna Bonded bourbon, Benedictine, China-China, orange bitters, lemon twist
The Creole was unabashedly citrus-y on the nose, while the palate was thick and viscous, loaded with boozy, bittersweet, and vegetal nuances lightened by a bit of lemon.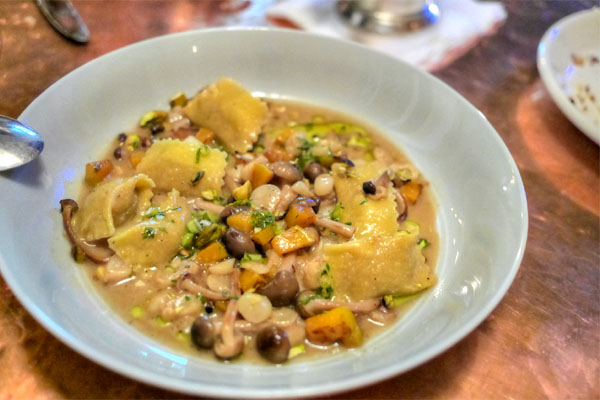 Agnolotti [$14.00]
| kabocha squash, shimeji mushrooms, choclo, pumpkin, roasted pistachios
An autumnal agnolotti went overly saccharine for my tastes, though my dining companions seemed to enjoy it. I did appreciate the weight of the
shimeji
here though, and was a big fan of the
choclo
's texture and tempering effect.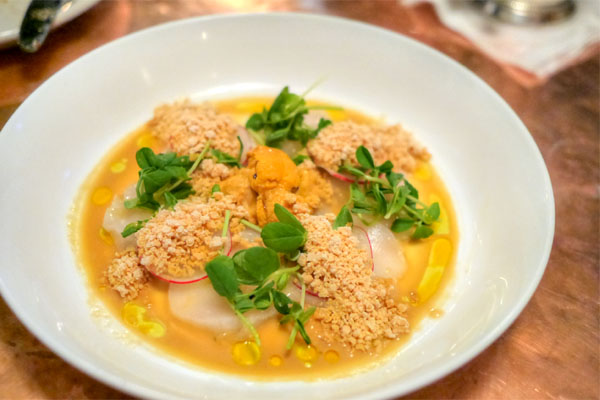 Japanese Scallops & Santa Barbara Uni [$21.00]
| mirin, lime juice, uni oil, uni snow
A combination of sea urchin and scallop made an impression with its bright, herby flavors up front and lush, creamy notes of uni, moderated by the brine of the large slices of scallop present. We had quite the temperature contrast here as well, thanks to the use of the urchin "snow." The most contemplative dish on the menu.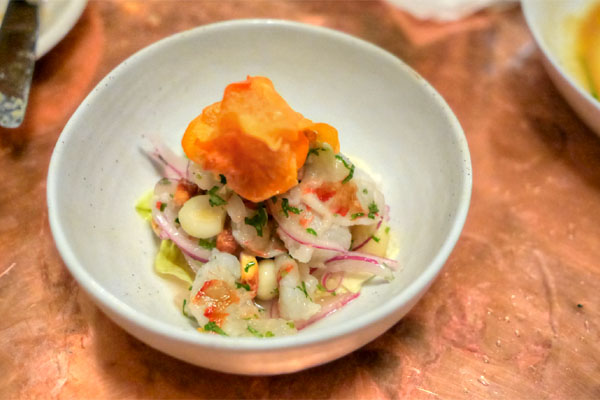 Shrimp Ceviche [$11.00]
| citrus sauce, cancha, sweet potato chips
Given the Chef's Peruvian background, it's not surprising that he turned out one of the best ceviches I'd had in a long while. The shrimp here were bright, fresh, and perfectly textured, a fitting stage on which the zest of citrus and herbs could sing. Big fan of that
cancha
too, which added both crunch and saltiness to the fray.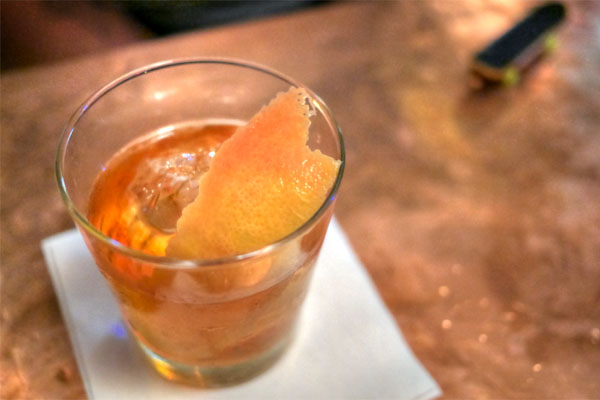 Fly By Night [$14.00]
| Sheep Dip scotch, Salers Gentiane, King's Ginger, Angostura & Peychaud's
This next cocktail came out boozy, bittersweet, and botanical, with just an overarching whisper of ginger-y goodness and countering citrus to go along with the heady aromatics at play. Interestingly, I'd had this before both at
PettyCash
(where it was only $8 on draft) and
Sotto
.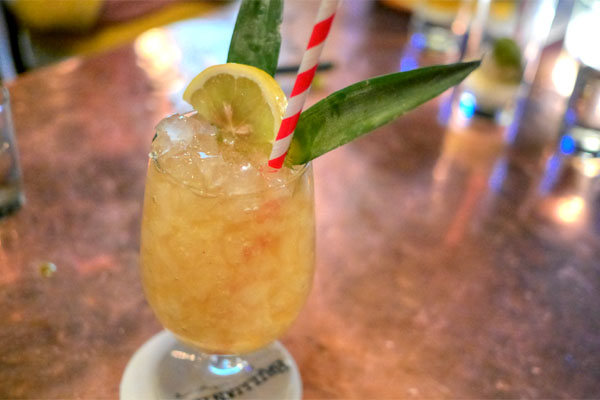 Fish House Punch [$13.00]
| Park Cognac, Jamaican Rum, lemon, peach, club soda
Brilliantshine's ode to the Fish House Punch was tasty and effervescent, conveying the heft of the cognac and rum combo at first, while the tail end was imbued with juicy notes of peach.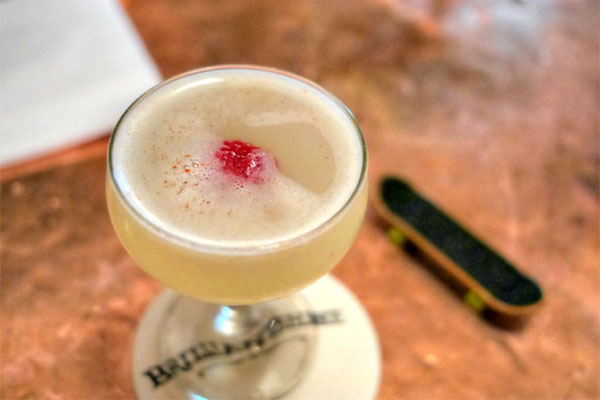 A Diving Bell [$12.00]
| Mezcal, gin, caramelized pineapple, lime, cayenne pepper
Given my penchant for mezcal, I wasn't surprised that I enjoyed this next cocktail. You had the in-your-face fruitiness from the pineapple, joined by a touch of spice, while the mezcal provided a smokiness that pervaded and balanced the drink.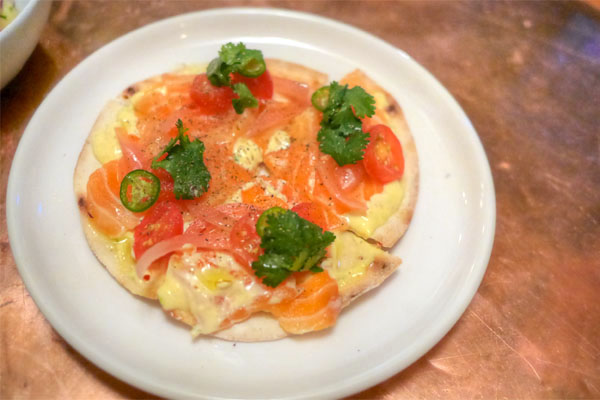 Smoked Atlantic Salmon [$16.00]
| flatbread, pickled onions, cherry tomatoes, aji amarillo remoulade
A salmon
pizzetta
of sorts was quite lovely, showing off a sweet-tart quality paired with the fatty fish initially, while the spice of the
aji amarillo
came through on the back end. Nice crispness on the flatbread here, too.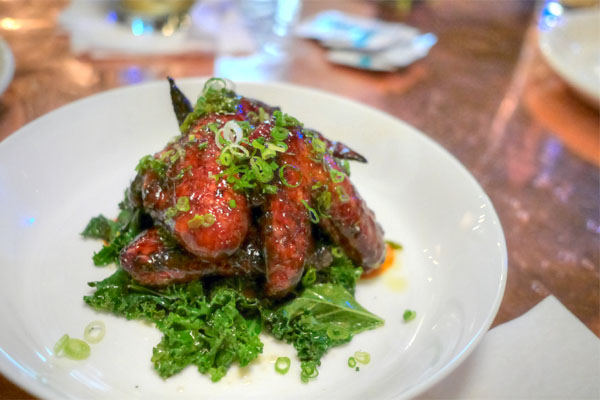 Mary's Chicken Wings [$12.00]
| kale, gochujang, aji amarillo, honey
Chicken wings were sticky and succulent, dripping with loads of sweet spice to go along with the bird's inherent savoriness.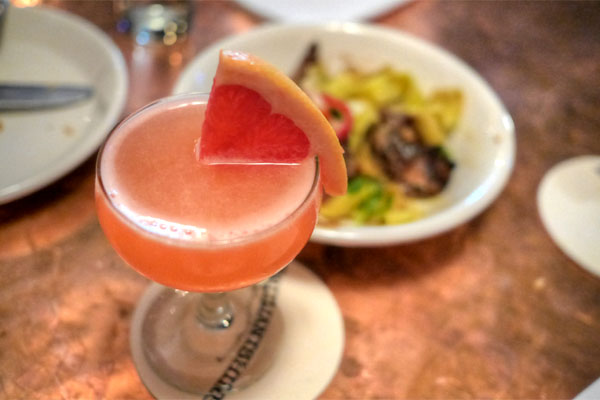 The Obligatory Vodka Drink [$11.00]
| Vodka, fresh grapefruit, lemon, Peychaud's
Vodka has gone out of fashion in cocktail circles, but Brilliantshine's requisite concoction was still rather delicious, showing off plenty of tart lemon and grapefruit notes cut by the bitters. Not much booziness going on here at all.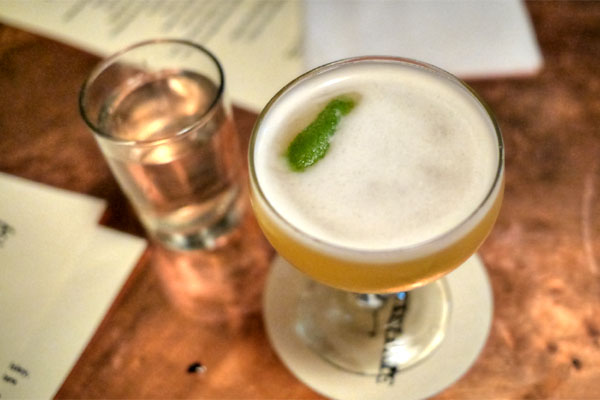 Hotel Nacional Special [$14.00]
| Ron del Barralito 2-star rum, lime juice, fresh pineapple, apricot brandy
This one was heftier, with a strong pineapple quality to it countervailed by a palpable sweet spice and tartness, the rum adding an alcohol undercurrent to the entire cocktail.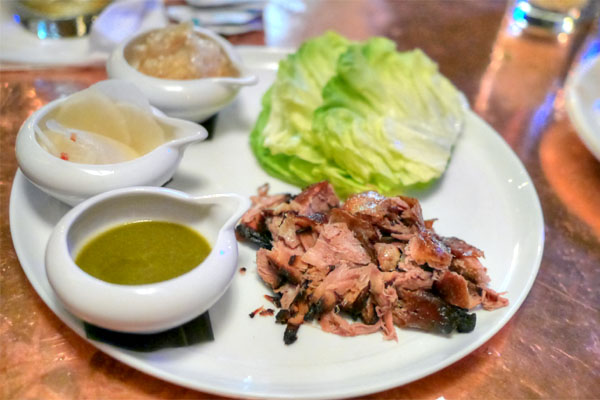 Crispy Duck Leg Lettuce Wraps [$14.00]
| butter lettuce, braising sauce, pickled daikon, chicharrón
The duck leg was indeed wonderfully "ducky," showing off loads of deep flavors that paired beautifully with the richness of the braising liquid, all while the daikon and lettuce imparted a much needed levity to things. Really tasty.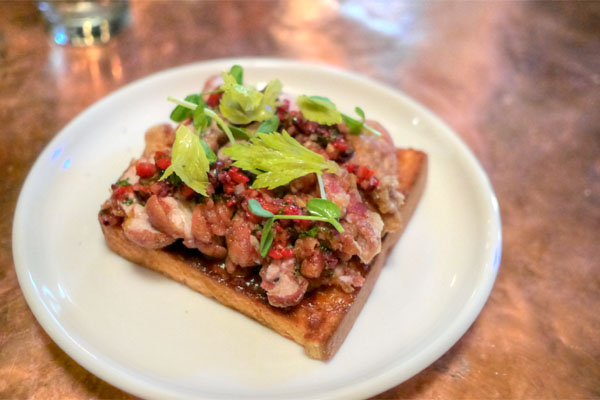 Sweetbread Toast [$12.00]
| brioche, olive tapenade, smoked tomato jam
The earthiness of sweetbread was forcefully conveyed here, paired with the buttery brioche, but the dish veered sweet. I would've liked more brightness, more acidity, though the herbs up top did help.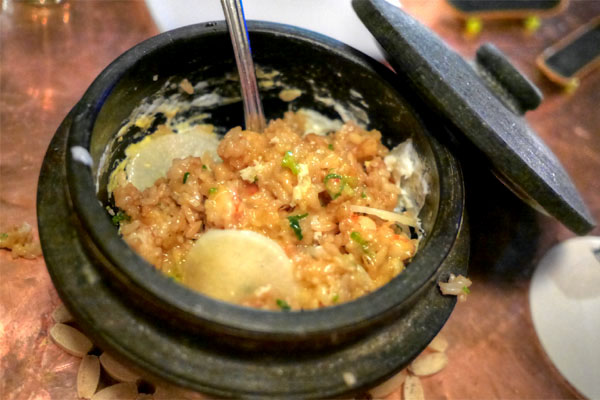 Stone Pot Shrimp Fried Rice [$18.00]
| duck egg, sambal-uni aioli, pickled daikon
You can't go too wrong with fried rice, and indeed, the
dolsot
-style dish delivered. The shrimp were pretty spot on, snappily-texture and still briny, and went swimmingly with the tangy crunch of the daikon. I was also a fan of the crispy bits of rice here (the
nurungji
), and the lushness of the egg, joined by the sambal-uni aioli, really tied everything together.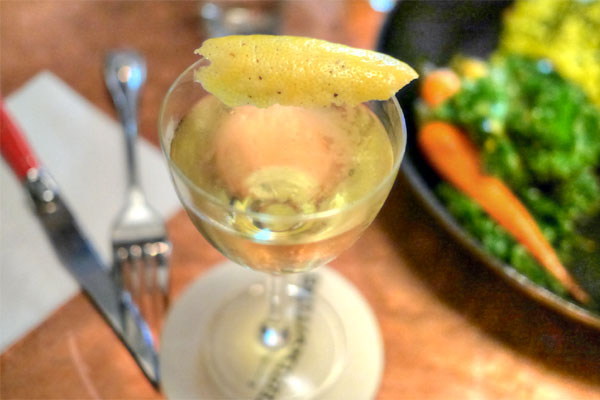 Alaska [$12.00]
| London dry gin, Yellow Chartreuse, orange bitters
Here, the bittersweet, medicinal character of the Chartreuse seemed to amplify the inherently botanical nature of the gin, all while the lemon served as a sort of counterpoint in the drink.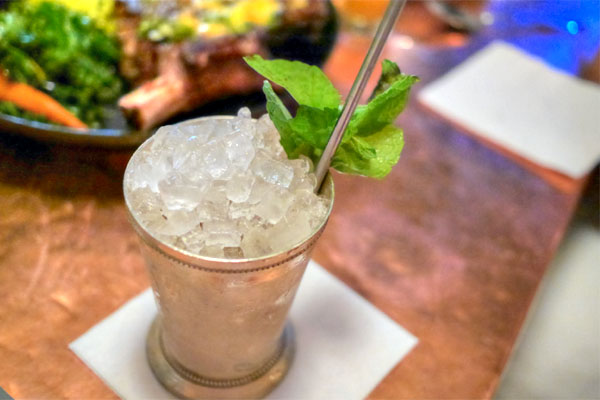 Georgia Julep [$14.00]
| High-proof bourbon, cognac, crème de peche, mint, crushed ice
This version of the Mint Julep was a laudable variation on the classic, with the addition of crème de peche adding a great fruity component to pair with the traditional interplay of whiskey and mint.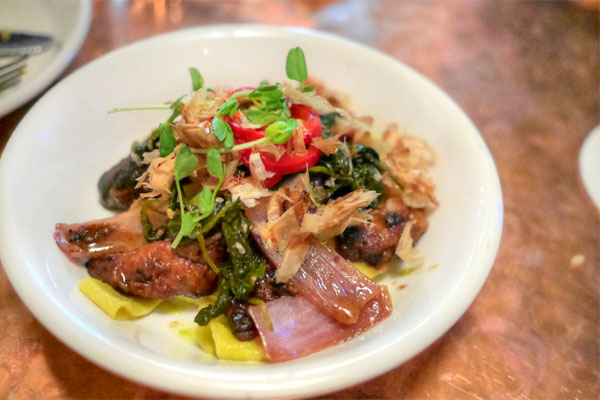 Veal Liver [$18.00]
| tagliatelle, onions, Korean pickled spinach, ocopa sauce
Liver was earthy and expectedly rich, with a deep savoriness to it that was moderated in part by the swathes of pasta here. The crux, though, was the combo of pickled spinach and
ocopa
, which added a much needed piquancy that really set off the offal.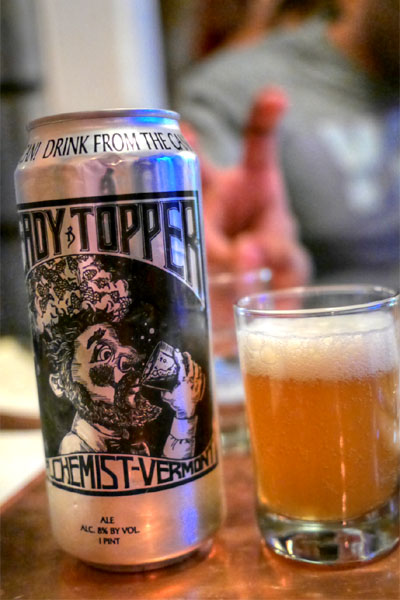 I had two four-packs of
The Alchemist Heady Topper
that I'd traded for just earlier in the day and opened a can for the steak. It was my first time having Heady, and I gotta say that it's pretty damn good. What struck me first was the nose (defying instructions, we drank it out of glasses for the most part), which was dripping with aromas of tropical fruit, citrus, and grapefruit. Taste-wise, I got more of that, but accompanied by pine, malt, and bitter hops--very balanced overall, with a smoothness and easy-drinking character. I can see what all the fuss is about.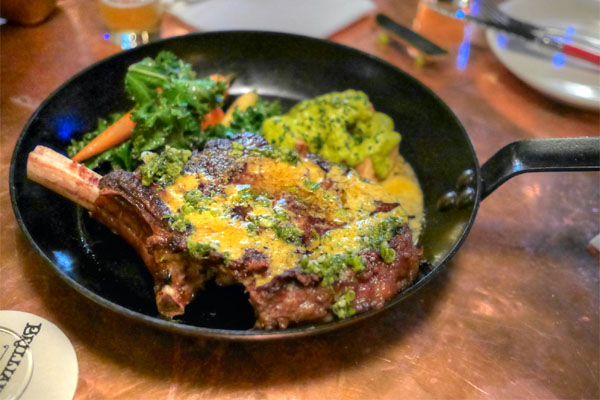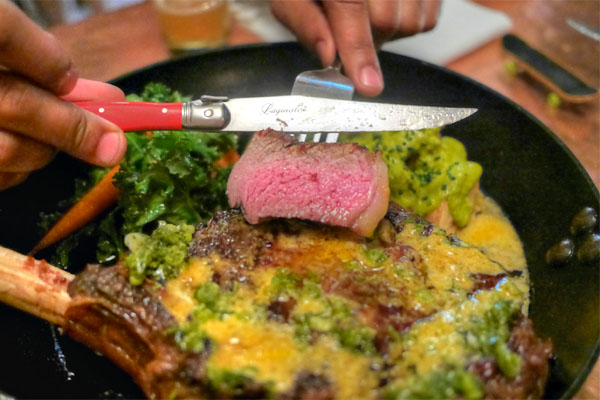 35oz Dry-Aged Bone-In Rib Eye [$75.00]
| baby rainbow carrots, double cooked potatoes, kale
The evening's
pièce de résistance
was this fairly massive rib eye. It was actually one of the better preparations I'd had in recent times, the steak coming out rich, buttery, and teeming with bovine goodness. The kitchen did a commendable job on the veggies here as well, a hearty mix that really evened out the potency of the meat.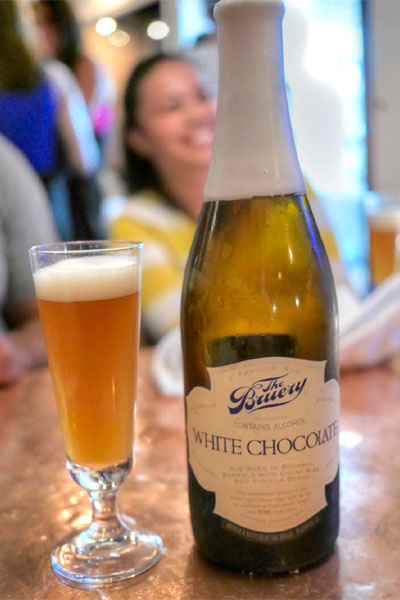 For dessert, I opened a bottle of the
2014 The Bruery White Chocolate
that I'd brought. The beer was quite something, and I was pretty amazed at how much this actually smelled and tasted of its namesake, showing off delectable notes of vanilla, cacao, and caramel over a base of bourbon-tinged alcoholic heat. Very good.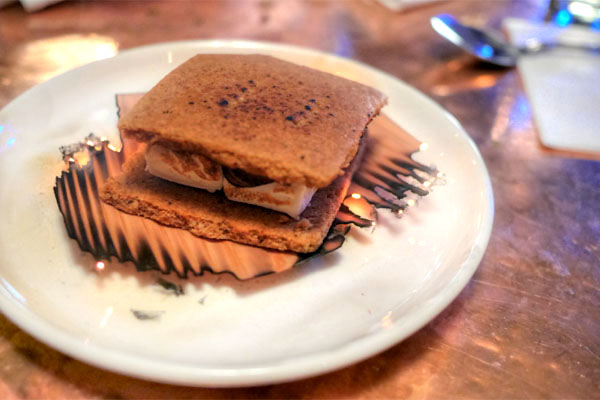 S'more [$8.00]
| house-made graham crackers, chocolate, marshmallow
There were two desserts on the menu, and naturally we ordered both. The first was a pretty classic take on the smore, with all your expected flavors and a even a bit of campfire smoke from the smoldering wood underneath...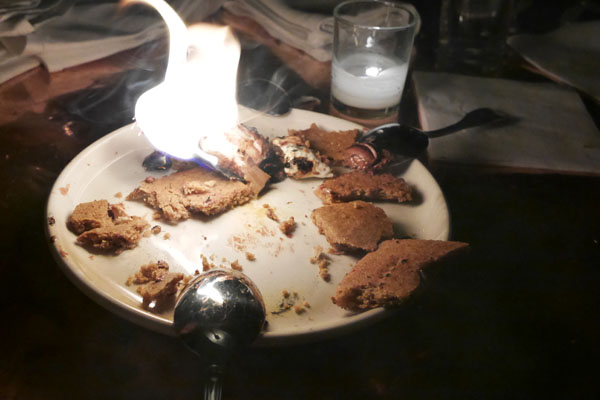 ...Which did eventually turn into a nice little fire at the table. I don't think this is what the kitchen intended.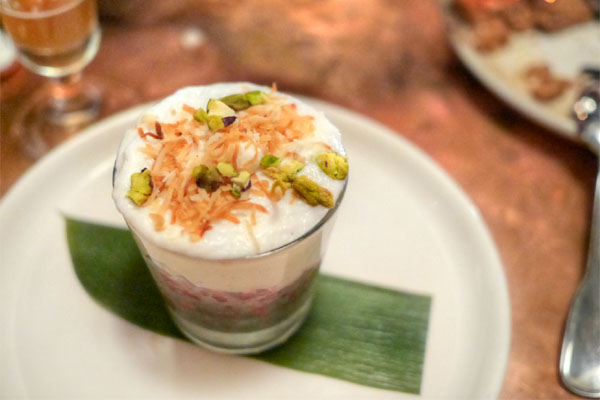 Chicha Morada Granita [$7.00]
| coconut, roasted pistachios, lemon zest
With the fire quenched, up next was a dessert based on the popular Peruvian beverage
chicha morada
, one that gave up a base of sweet corn flavors to pair with its toppings of pistachio and coconut.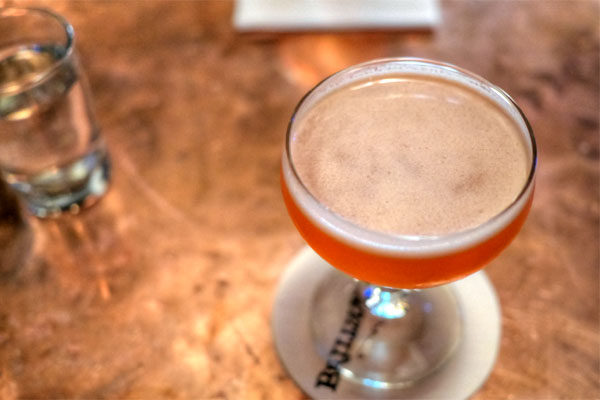 Paper Plane [$11.00]
| Bourbon, lemon, Aperol, Amaro Nonino
We closed with the last two remaining cocktails on the menu, starting with this Sam Ross creation. Think bittersweet, tangy, but not particularly boozy, with a bright lemon-y tone to it.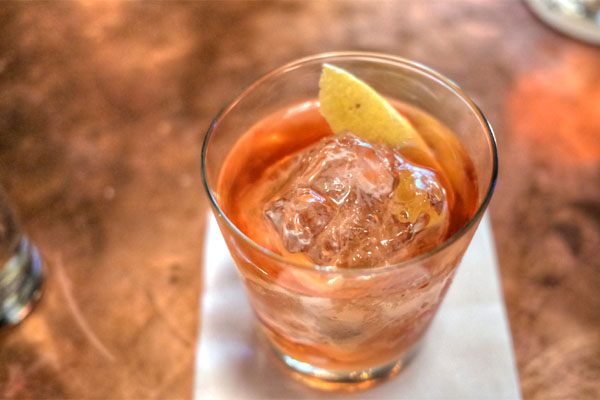 Improved Whiskey Cocktail [$12.00]
| Rye, maraschino, Peychaud's, lemon twist, absinthe
Last up was an improved version of the Old Fashioned, one made with the addition of maraschino and absinthe. One can argue whether or not the original drink even needs improving, but the variant here was certainly more multifaceted, with the sweetness of maraschino and the zestiness of absinthe shining through.
I don't doubt that Brilliantshine's one of the most exciting things to hit Santa Monica since Jeremy Fox took over at
Rustic Canyon
. With Cox and Goldman on board, you'd expect the beverages to be on point, and they were, with the cocktails coming out classic in essence, but with a modern edge to them as well. What was a bit surprising was how promising the food program was. Lopez's cooking showcases his time with Ricardo, and his Peruvian-slash-Asian stylings definitely seem to jive with the drinks for the most part. A big win for the area.