French Laundry (Yountville, CA) [3]
The French Laundry
6640 Washington St, Yountville, CA 94599
707.944.2380
www.frenchlaundry.com
Thu 08/02/2012, 08:10p-12:45a

Following an absolutely stellar dinner at
Benu
the previous night, we made the trek to Corey Lee's old stomping grounds:
The French Laundry
, helmed these days by Chef Tim Hollingsworth.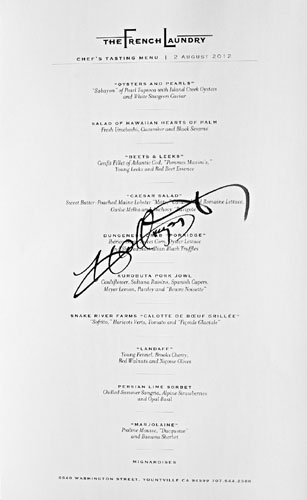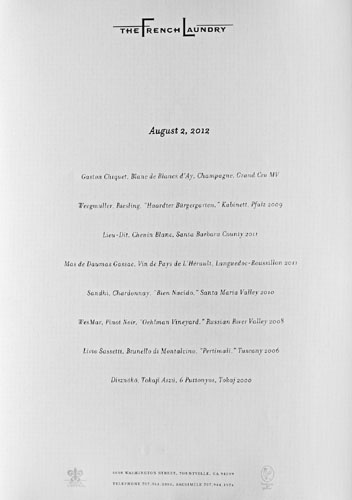 Though the standard French Laundry menu goes for $270, service included, the price rises to $350 a head if you partake in the private dining room as we did. In addition, we added on a wine pairing at $250pp, as well as a supplemental truffle course at a hefty $75 a pop. Click for larger versions.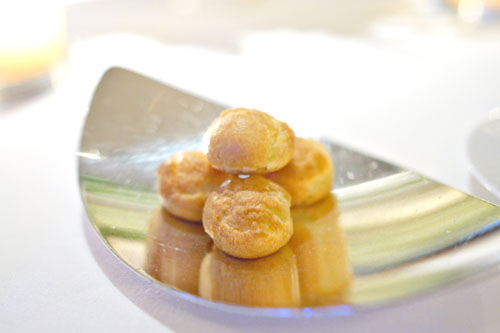 As always, we began with some
gougères
of Gruyère: utterly creamy, crisp, cheesy little bites that conveyed a simple, satisfying savoriness that one of my dining companions likened to that of Goldfish crackers!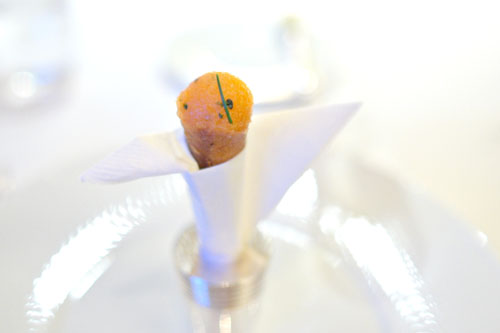 Next up was The French Laundry's famous
cornets
, comprised of salmon tartar, red onion crème fraîche, and chive, all rolled in a black sesame tuile. They were as tasty as always, with the fish playing superbly against the lush, tangy crème, all while the tuile provided a deft undercurrent of nuttiness and a well-placed bit of crunch.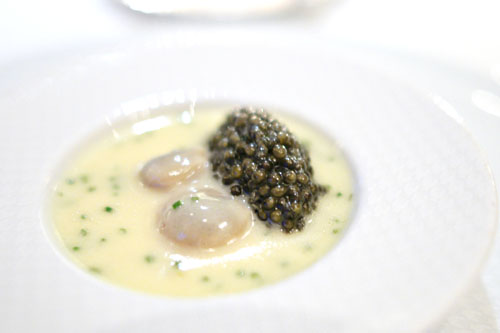 1: "OYSTERS AND PEARLS"
| "Sabayon" of Pearl Tapioca with Island Creek Oysters and White Sturgeon Caviar
Gaston Chiquet, Blanc de Blancs d'Aÿ, Champagne, Grand Cru MV
If any dish deserves to be called The French Laundry's signature, then "Oysters & Pearls" would certainly be it. We had here a duo of trimmed oysters, uncommonly luxurious and buttery in character, with a soft, subtle brine that commingled wonderfully with the unabashed saltiness of the caviar. At the same time, a sabayon of tapioca served as the perfect temper to the course, counterbalancing the other elements both in terms of taste and texture. A perfected dish, and interestingly, one that I find almost comforting and home-y after having it so many times.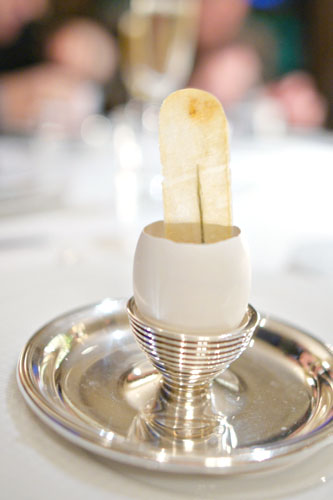 An off-menu, but oft-served course was composed of egg custard, white truffle, black truffle ragout, and a chive-embedded potato chip. Not surprisingly, we found this rather tasty, with the deep, earthy veil of truffle melding wonderfully with the mild, eggy custard, while the chip did a nice job in mixing things up texturally.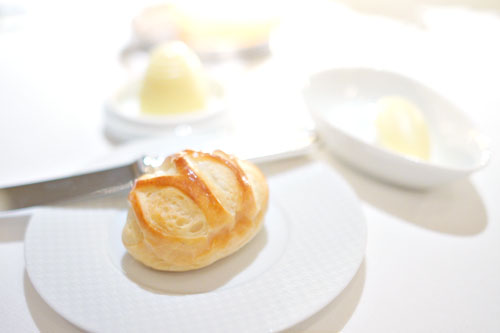 Bouchon Bakery bread service, once again, kicked off with a warm
pan au lait
, served with unsalted butter from
Andante Dairy
and a Thomas Keller-exclusive salted butter from Vermont's Diane Sinclair.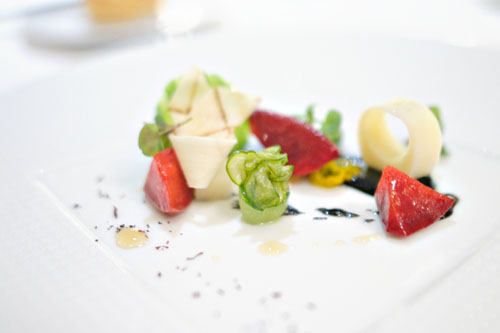 2: SALAD OF HAWAIIAN HEARTS OF PALM
| Fresh Umeboshi, Cucumber and Black Sesame
Weegmüller, Riesling, "Haardter Bürgergarten," Kabinett, Pfalz 2009
Unfortunately I've never counted myself a fan of hearts of palm, but the presentation here was certainly palatable. The soft, vegetal essence of the palm was proudly displayed, brazenly contrasted against the salty, piquant pickled plum, while the sesame added an enveloping earthiness that actually tied everything together quite well.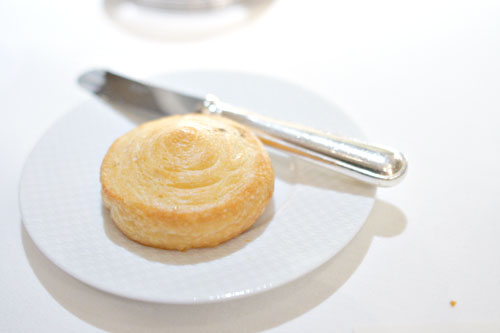 A puck-shaped brioche was nicely flaky, with an almost croissant-like consistency that I enjoyed.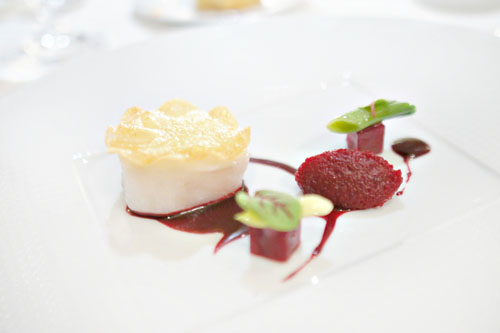 3: "BEETS & LEEKS"
| Confit Fillet of Atlantic Cod, "Pommes Maxim's," Young Leeks and Red Beet Essence
Lieu - Dit, Chenin Blanc, Santa Barbara County 2011
Moving on now, the cod here was spot on: soft, dense, and flaky in consistency, with a mild taste that actually went surprisingly well with the sweetness of the beet. Meanwhile, the leeks provided a touch of countervailing astringency to things, but my favorite item was actually the
pomme
, with its mouth-watering salty, savory flair and wonderful crispness (we cracked its top crème brûlée style).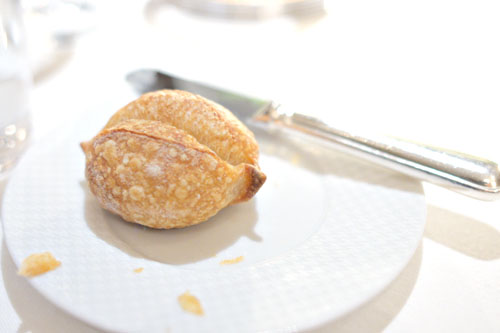 The last of three breads was a sourdough, a prototypical example of style.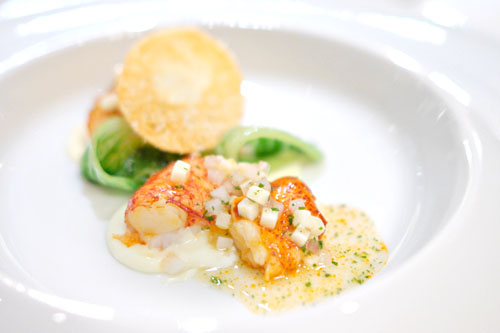 4: "CAESAR SALAD"
| Sweet Butter-Poached Maine Lobster "Mitts," Caramelized Romaine Lettuce, Garlic Melba and Anchovy "Ravigote"
Mas de Daumas Gassac, Vin de Pays de L'Hérault, Languedoc-Roussillon 2011
Hollingsworth's riff on the classic Caesar salad was one of the highlights of the meal. The "mitts" were superb, the best I've ever had in fact, with a wonderfully spongy consistency and briny sweetness that transitioned beautifully to the savory weight of the Parmesan. The
ravigote
, meanwhile, provided a delightful offsetting piquancy to the dish, and I quite appreciated the refreshing crunch of the lettuce as well.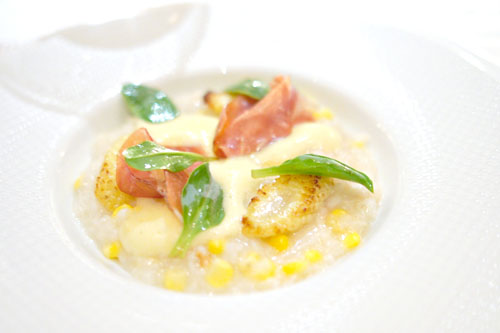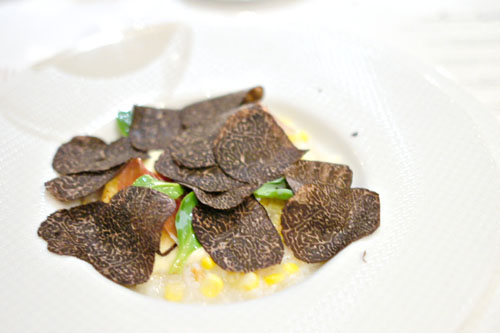 5: DUNGENESS CRAB "PORRIDGE"
| Ibérico Ham, Sweet Corn, Oyster Lettuce and Shaved Australian Black Truffles
Sandhi, Chardonnay, "Bien Nacido," Santa Maria Valley 2010
This porridge represented the $75 truffle supplement to the menu, but unfortunately, it was the weakest course of the evening. The kernels of corn were quite nice: crisp and sweet, pairing very well with the truffle. I also was fond of the saltiness imparted by the ham, but found the salinity of the oyster lettuce a bit too jarring. My biggest concern, though, was the lack of crab character in the dish. It was almost as if they forgot to add the ingredient at all (a sentiment shared by most all of my dining companions).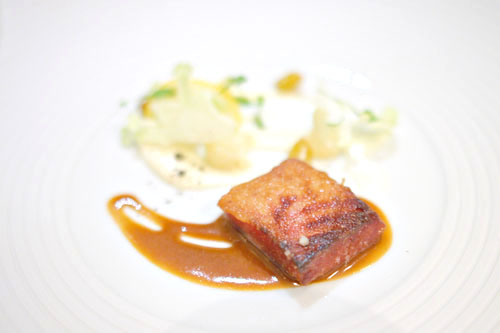 6: KUROBUTA PORK JOWL
| Cauliflower, Sultana Raisins, Spanish Capers, Meyer Lemon, Parsley and "Beurre Noisette"
WesMar, Pinot Noir, "Oehlman Vineyard," Russian River Valley 2008
Fortunately, the kitchen bounced back with a lovely dish of Kurobuta jowl. The pork itself was pretty stellar: supple yet satisfying in texture, with an offsetting, bitter char and boatloads of pork-y savor. It was as pure of an expression of porcine goodness as you can get, with a tremendous gravity that was adroitly balanced by the meat's various accoutrements, the citrus-y overtones in the dish in particular.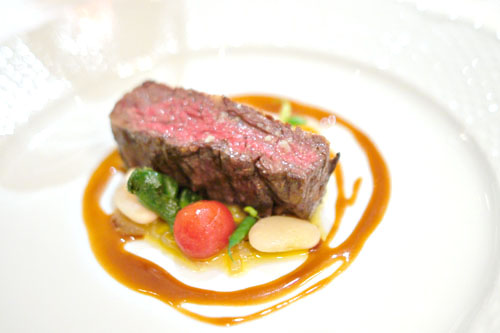 7: SNAKE RIVER FARMS "CALOTTE DE BŒUF GRILLÉE"
| "Sofrito," Haricots Verts, Tomato and "Fiçoïde Glaciale"
Livio Sassetti, Brunello di Montalcino, "Pertimali," Tuscany 2006
Our final savory course of the meal was this gorgeous rib eye cap. The meat was cooked in flawless fashion, with a wonderfully crisp, savory crust leading to a tender, succulent interior that really conveyed the heady, inherent character of the beef. The ribeye easily stood on its own merits, but its accompanying array of veggies was on point as well, providing crisp, refreshing points of levity to the dish. Overall, marvelous--one of the best cuts of steak that I've had in a while.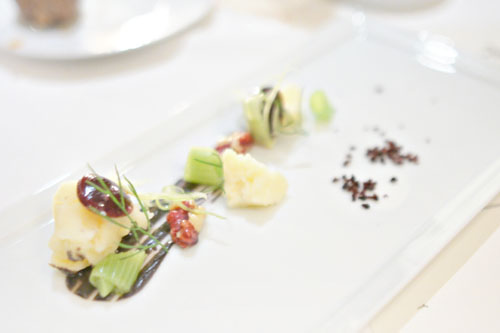 8: "LANDAFF"
| Young Fennel, Brooks Cherry, Red Walnuts and Niçoise Olives
The cheese course featured
Landaff
, a cow's milk varietal from New Hampshire. It was a mild, easy-eating cheese, making it a suitable stage on which the other ingredients could really make themselves known. The cherry was key here, its sweet and tart flavors forming a fitting foil to the astringent, puckering smack of fennel.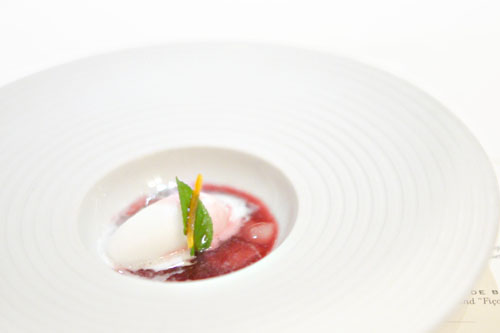 9: PERSIAN LIME SORBET
| Chilled Summer Sangria, Alpine Strawberries and Opal Basil
Pre-dessert comprised a delightfully sour lime sorbet, its kick-in-the-pants tartness duly counteracted by the sugary sangria and the bright, minty overtones from the basil.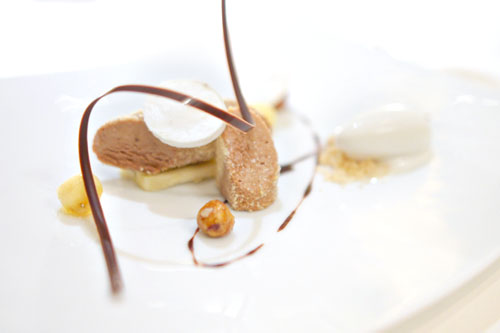 10: "MARJOLAINE"
| Praline Mousse, "Dacquiose" and Banana Sherbet
Disznókõ, Tokaji Aszú, 6 Puttonyos, Tokaj 2000
Dessert proper riffed on the classic French
dacquoise
, which is basically a cake of almond and hazelnut meringues. It was absolutely lovely, with an eminently balanced combination of chocolate and nutty flavors that played wonderfully off of the sweetness of the banana. Great textures, too.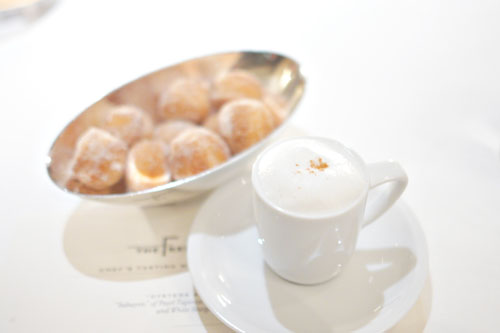 Our parade of post-dessert treats began with the restaurant's signature "Coffee and Doughnuts:" beignets accompanied by a demitasse of espresso ice cream semifreddo.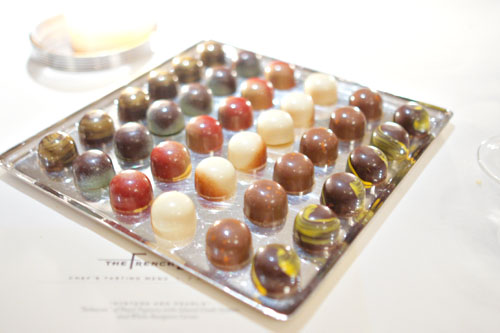 An impressive platter of chocolates arrived next. Varieties included passion fruit, hazelnut, white chocolate-coconut, PB&J, mint, and salted caramel.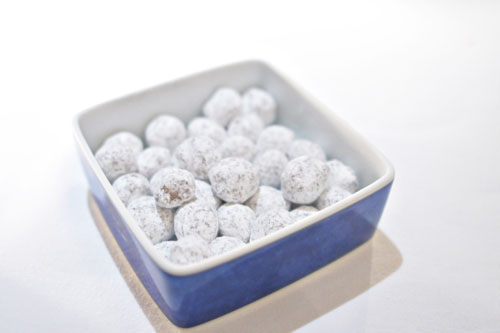 Finishing things off was a bowl of caramelized macadamias. They were excellent, with a wonderful crunchiness and a great mix of saccharine and nutty flavors.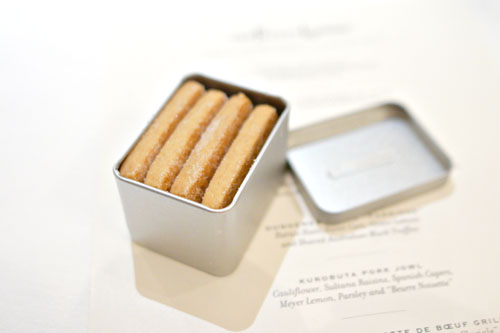 Shortbread cookies to take away. Note the new metal tin, a recent addition.
This was a very solid meal, and the courses were mostly delicious, but it didn't quite live up to the expectations that I had for the restaurant. In fact, I'm sad to say that it was probably my weakest meal so far here. Not only did we have the misstep with the porridge, but, despite a few standout dishes, the courses in general lacked a certain verve and vitality that I've come to expect. Compared with meals at the likes of
Benu
or even
Sons & Daughters
on the nights leading up to this dinner, the food seemed somewhat staid, as if the kitchen has gotten a bit too set in their ways. I really hope that's not the case, but I do feel that some evolution is called for, lest the Laundry get left behind.