Phantom Carriage (Carson, CA)
Phantom Carriage Brewery
18525 S Main St, Carson, CA 90248
310.538.5834
www.phantomcarriage.com
Sat 1/24/2015, 03:10p-05:25p

LA's beer scene has evolved quite a bit in the last several years, and we're now at a point where we can have a brewery specializing in farmhouse and barrel-aged sour beers (and that's in addition to the sour projects from both The Bruery and Beachwood). Named after a Swedish horror film, Phantom Carriage is billed as a "small-batch beer endeavor" and has been brewing since at least early 2013. However, the tasting room debuted just recently, and given my penchant for the puckering stuff, I made it a point to go check them out.
Phantom Carriage is the brainchild of Martin Svab, a Czech immigrant whose family has run a tavern back in the fatherland for generations. He moved to Southern California to study screenwriting at UCLA, then worked in film production before getting into the beer biz, starting as a sales rep for Stone, where he worked for two and a half years. Svab then served as assistant general manager at Naja's Place in Redondo Beach for an additional three-plus years. During his time there, he partnered with Gianni Diaz and launched The Gentleman Scholar, a craft brewer that managed to release one beer in October 2009, the Requiem Espresso Stout, produced at the defunct Skyscraper Brewing in El Monte. It was at Naja's where he met Simon Ford, a patent attorney and fellow beer buff who was also a member of the local Pacific Gravity homebrew club. The two got to talking, and soon decided to get the ball rolling on Phantom Carriage, bringing on partner Jackson Wignot in the process.
In September 2012, Ford started brewing out of Henry Nguyen's Monkish Brewing Co in Torrance, and managed release their first batch of beer the following February. Phantom Carriage began showing up at local watering holes--think Naja's, City Tavern, BrewCo, Beachwood, Stout, Simmzy's, Library Alehouse--and even made an appearance at the Firestone Walker Invitational Beer Fest. Given the positive response from the community, Svab and company started looking out for a facility of their own, and eventually signed a lease for their current spot in November 2013. After making another appearance at the Firestone Fest the next May, the team started the build out of the space in June 2014, and wound up soft opening on December 19th. On-site is a three-barrel brewing system that'll mainly be used for making pilot batches and other one-offs. Most of the beer will be brewed at other facilities such as Monkish, but will be transported here for fermenting, aging (they have a couple hundred oak wine and spirit barrels currently), and blending.

Phantom Carriage spans over 7,000 square-feet, and inside, things are surprisingly dark (your eyes will take some time to adjust). Walls of wine barrels line the place, and there's even a private tasting room and a small theater to boot. The overall vibe that they were going for is one of a Belgian beer cafe.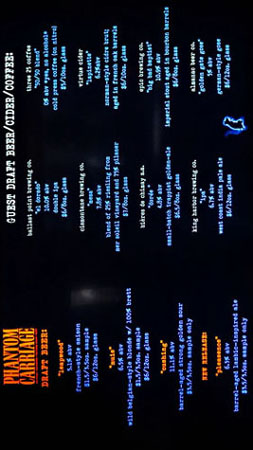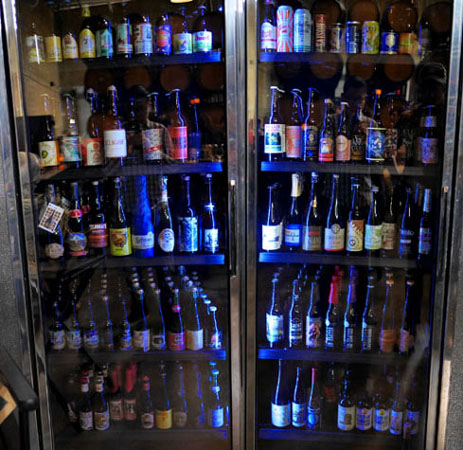 On draft are four of Phantom Carriage's own beers, along with eight guest taps (though I imagine this ratio will change in the future as their production ramps up). That's joined by a number of beers, ciders, meads, sodas, and even kombuchas available by the bottle, a couple spirit-less cocktails, and a handful of wine. To eat, you get beer-appropriate bites that include barbequed meats from Steve Francis of the defunct Pinkie's BBQ in Hermosa Beach. Click for larger versions.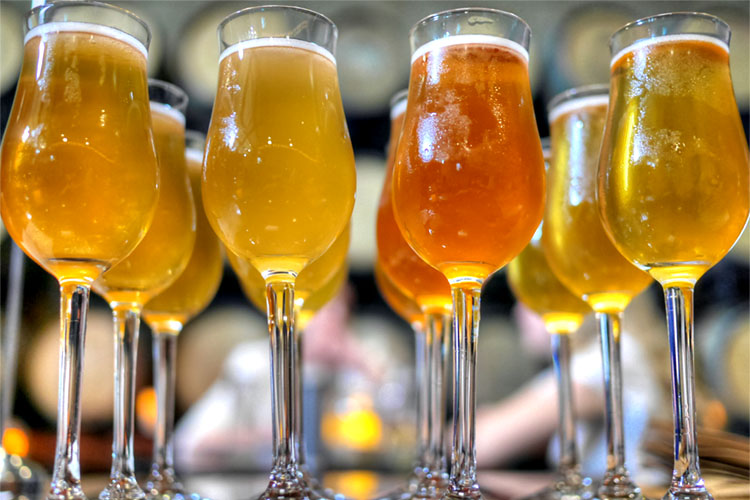 Naturally, we had to begin with a sampler of all four Phantom Carriage brews:
"leapwood" | 5.1% abv | french-style saison [$1.50/3.5oz]: The lightest of the beers here--fruity and grainy with a subtle farmhouse earthiness. Pleasantly refreshing.
"muis" | 6.5% abv | wild belgian-style blonde w/ 100% brett [$1.50/3.5oz]: Flemish for "mouse," this was the brewery's first beer. Smells of massive apricot and tropical fruit intertwined with blue cheese, and tastes of musty, barnyard funk.
"cushing" | 11.1% abv | barrel-aged strong golden sour [$3.50/3.5oz]: My favorite of the quartet, with a nose redolent of dark fruit and vinous notes. More wine-like qualities on the palate, along with a palpable tartness and oaky character.
"pleasence" | 6.3% abv | barrel-aged lambic-inspired ale [$3.50/3.5oz]: Very bright, very tart, with a dry, oaky tanginess. A bit gueuze-like I guess you could say.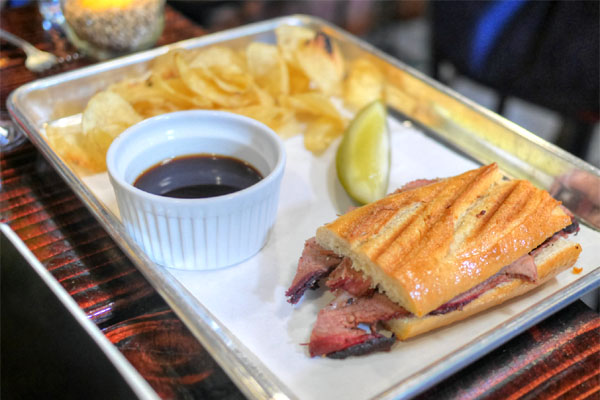 Brisket Sandwich [$12.00]
| hickory smoked beef brisket. sourdough baguette. au jus. pickle. kettle chips.
Of course, we made sure to order copious amounts of food to help wash down the beer. The brisket here was appropriately tender, with pretty good flavor, though I could've used more smoke. The house-made pickle was on point, as were the chips (sourced from Boulder Canyon).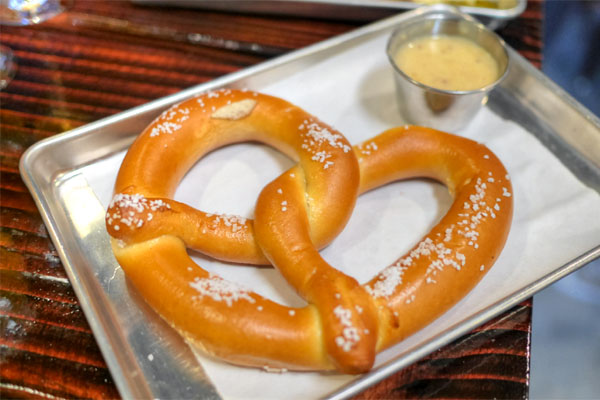 Baked Bavarian Pretzel [$3.00]
| coarse ground salt. house beer cheese sauce.
I have a hard time turning down a pretzel, and the example here was well-textured, with some nice pricks of saltiness and a decent condiment in the form of that beer cheese sauce.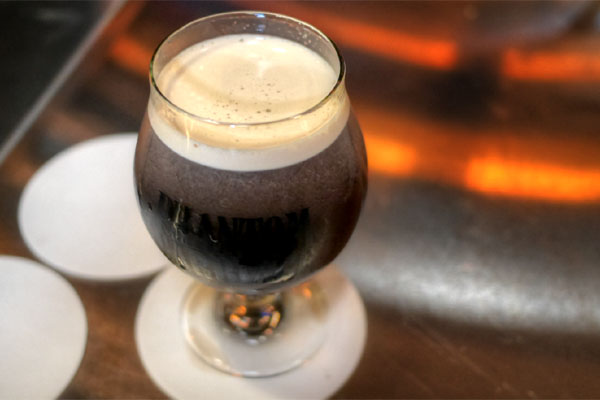 three 25 coffee | "50/50 blend" | 0.0% abv | cold press coffee (on nitro) [$5.00/10oz]
In addition to beer, Phantom Carriage also had cold press coffee from local roaster Three 25 Coffee on tap. I found this one fruity, light, and pleasingly bitter, with a great aromatic nose.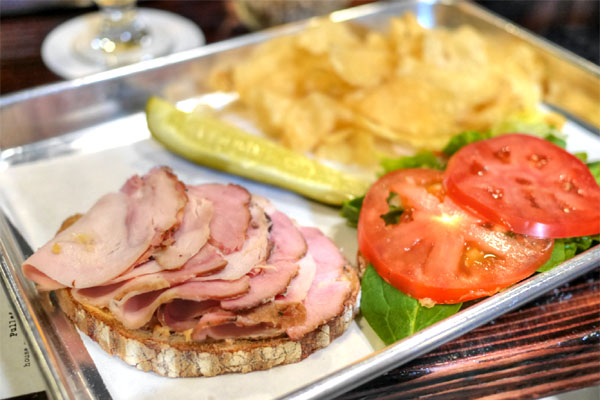 Smoked Turkey Sandwich [$10.00]
| house smoked turkey breast. chipotle mayo. miche bread. pickle. kettle chips.
The turkey was fairly prototypical, with just a whisper of smoke here and there.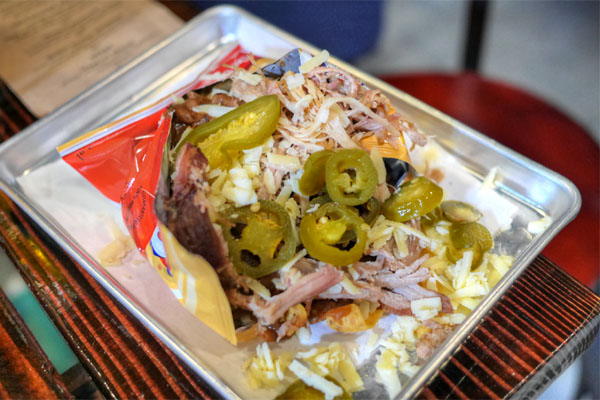 Phantom's Phritos [$7.00]
| house-baked bbq beans. fritos. hickory-smoked pulled pork. jalapeños. shredded sharp cheddar.
The tasting room's take on Frito pie was well intentioned, though it didn't come together as well as I'd hoped. Pulled pork was smoky, and subtly spicy, but at too cold of a temperature, and the beans didn't quite integrate here either. A bit disjointed. Nice crunch from the actual Fritos, though.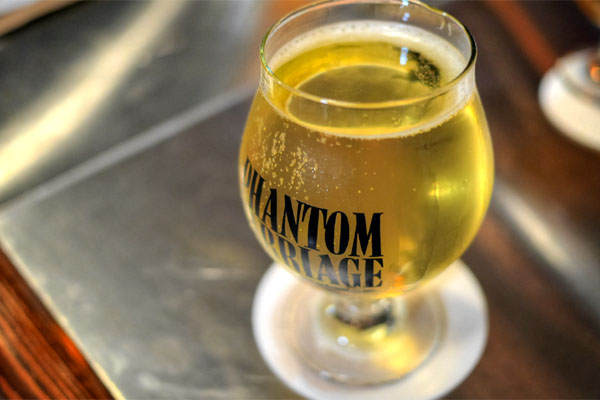 virtue cider | "lapinette" | 6.2% abv | norman-style cidre brut; aged in french oak barrels [$6.00/10oz]
We also tried a cider. I wasn't too fond of this one, finding it overly light, overly thin. I wanted more actual apple, more funk, more sweetness, more depth to it.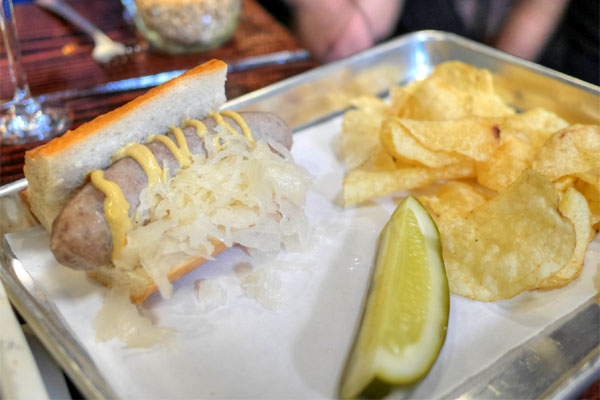 Smoked German Beer Brat [$9.00]
| bratwurst. artisan baguette. grilled vegetables or sauerkraut. pickle. düsseldorf mustard. kettle chips.
Bratwurst arrived perhaps a bit too delicately flavored, but was still tasty, especially with some of that zippy mustard and kraut.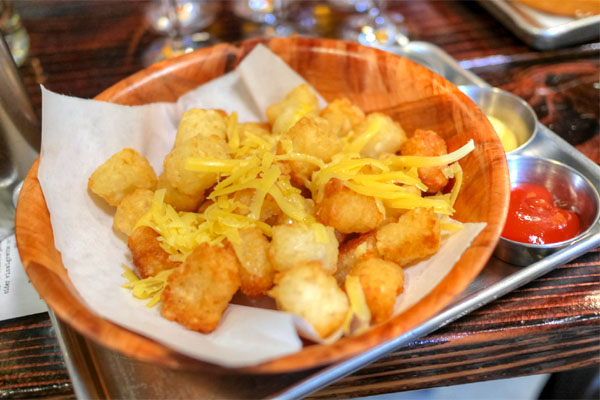 Oven Baked Tater Tots [$7.00]
| sprinkled with grated sharp english cheddar. three house dipping sauces.
Tots were somewhat inconsistently cooked--some over and tough, some under and limp--though I didn't mind
too
much, particularly when they were taken with a dab of the included sauces (a tangy ketchup, surprisingly spicy mustard, and creamy ranch).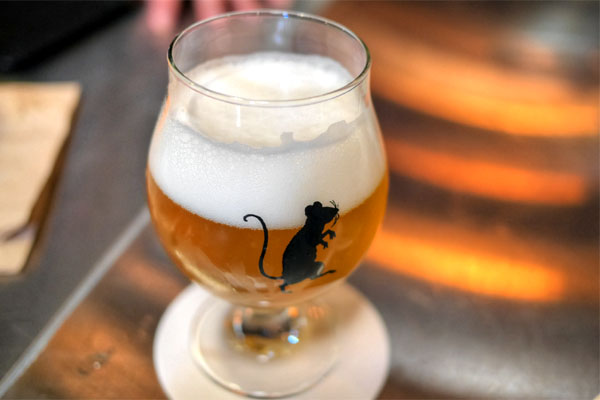 bières de chimay s.a. | "dorée" | 4.8% abv | small-batch trappist golden-ale [$6.50/8oz]
I also made sure to try Chimay's
patersbier
(intended to be drunk at the monastery), which I actually hadn't had before. I rather enjoyed the lightweight ale, with its spicy, grainy, hoppy aromas and floral, fruity flavors meshing well.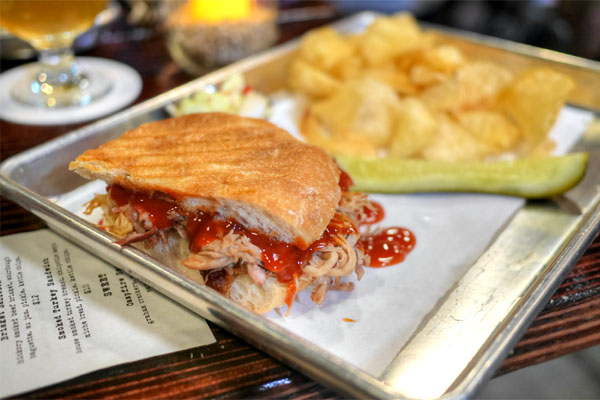 Pulled Pork Panini [$10.00]
| house smoked pork. ciabatta roll. coleslaw. house bbq sauce. pickle. kettle chips.
The pulled pork was a touch dry, but still palatable, and had a smokiness that paired well with the sweetness of the BBQ sauce. The crunch and acidity from the slaw on the side was appreciated, too.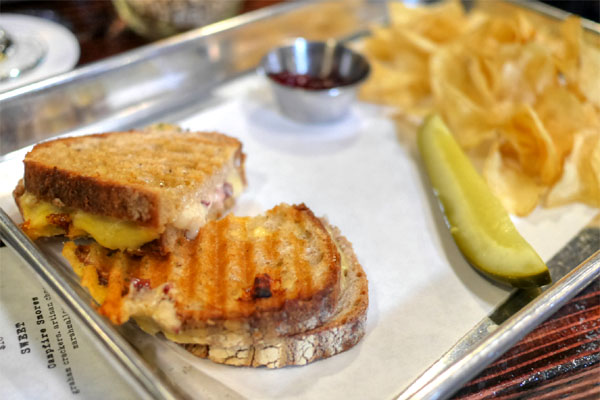 Grilled Cheese Sandwich [$8.00]
| seasonal three cheese medley. miche bread. kettle chips. pickle.
The grilled cheese was probably our favorite of the sandos, with a very straightforward, focused cheesiness to it that melded well with the bread.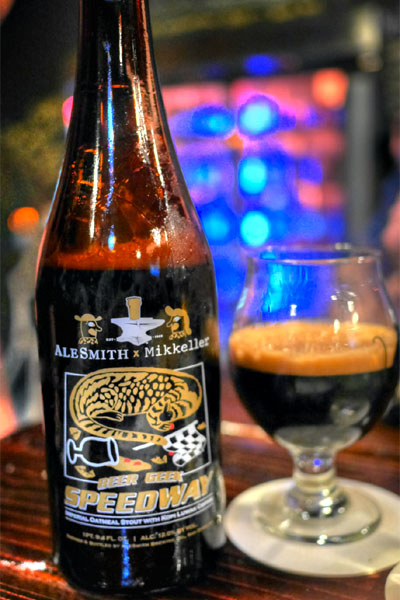 Before dessert, we opened up a bottle of the limited-edition
2015 AleSmith Beer Geek Speedway
, an imperial oatmeal stout with Kopi Luwak coffee that'd just been picked up from the brewery earlier in the day. Produced in collaboration with Mikkeller, the beer made use of the infamous civet-sourced coffee. I'm not sure if that made a huge difference here, but this was still a fine brew nonetheless, with bittersweet, lightly fruited notes of coffee intermingled with the base beer's roast and malt. Smooth, with just a smidge of alcoholic heat toward the close.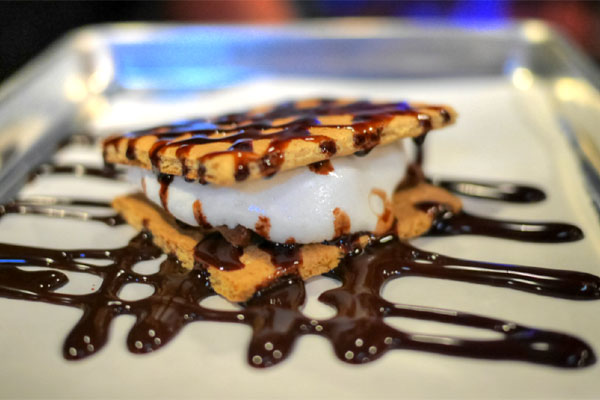 Campfire Smores [$3.00]
| graham crackers. artisan chocolate. marshmallows.
Smores were satisfying, coming out all chocolate-y and gooey, though not really imbued with much campfire character.
Phantom Carriage's sour program looks to be pretty promising, so I'm excited to find out where they take it from here. Bottles, I'm told, will be coming sooner rather than later, and I'd love to see some fruited beers from them, too. The kitchen, meanwhile, could certainly use some work, though I'm heartened that they even offer anything in terms of eats. More food equals more drinking capacity, after all.