Redbird (Los Angeles, CA)
Redbird Restaurant
114 E 2nd St, Los Angeles, CA 90012
213.788.1191
www.redbird.la
Tue 1/20/2015, 08:30p-12:05a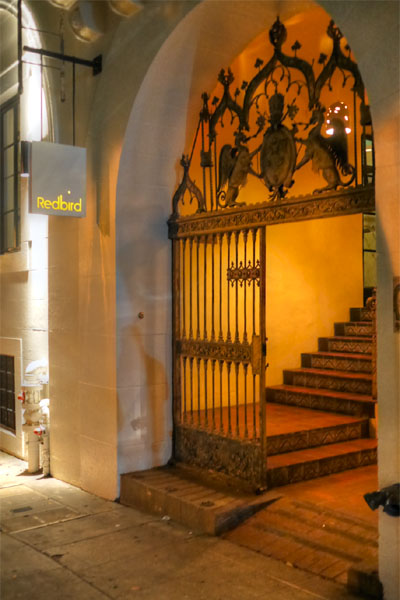 If we're talking about the most long-awaited restaurant openings in LA, Redbird must have set a record here. Situated in the Cathedral of Saint Vibiana (hence the name, which references the cardinals who used to reside here), the place is the work of Chef Neal Fraser and Amy Knoll Fraser, and serves as the sequel to the couple's restaurant
Grace
. After a few weeks in soft-opening mode, Redbird finally grand opened on January 7th, after being in work for
over six years
.
Yes, the Frasers first started formulating plans for the Vibiana in June 2008, when they began working as a preferred caterer for the event space, which, even at that time, was looking for a restaurant to fill the rectory building. Plans to open here were revealed in late 2009, and it was announced that the Frasers could move in by the end of 2010, which, as we know now, was thoroughly wishful thinking.
Grace
, meanwhile, closed in June 2010, replaced by
Playa
(now
Petty Cash
), and at that time, proposals called for the restaurant to re-open at Vibiana in the first half of 2011. Following the shutter, the Chef continued operating BLD, and even made a couple appearances at the old
Test Kitchen
(now
Sotto
). In August 2011,
Strand House
debuted in Manhattan Beach, with Fraser serving as consulting chef, and by that December, it was reported that the new restaurant would no longer be called Grace, having gone through some changes in concept.
The following October, the Frasers' hot dog eatery Fritzi Dog opened at The Original Farmers Market, plans for ICDC (Ice Cream, Donuts, and Coffee, a dessert place with Mariah Swan) were revealed, and the Chef was back at the new iteration of
Test Kitchen
, this one situated at
Bestia
. That December, Neal and Amy officially became the sole operators and part owners of Vibiana, merging their catering business with the event space.
Bill Chait's involvement with the new restaurant was acknowledged in April 2013, and an anticipated opening date of later that year was set. Even with Chait now fully engaged, the pace of the build-out still missed 2013 by a mile, with previews taking place in October 2014. Redbird soft-opened in mid-December, and grand opened in January with a lot of familiar faces. CdC duties are handled by Jason Bowlin, a former sous at Grace who also worked at Catch at Hotel Casa Del Mar, Campiello,
Jiraffe
, and Granita under Lee Hefter. Austin Cobb from Strand House comes in as exec sous, while GM duties are the task of Christian Philippo (
Republique
,
The Bazaar
,
Patina
, Le Louis XV, Paul Bocuse).


In charge of the interior revamp was longtime collaborator Robert Weimer, who helped pen Grace, BLD, as well as Fritzi Dog. The restaurant is neatly divided into two parts. You enter through the lounge area, which seats 25 in a cozy, relaxed, quasi-mid-century inspired setting with the wine cellar on one end. Some of the furniture, I understand, came from both Grace and Playa. Most of the actual eating, however, happens in the 66-seater courtyard dining room, replete with citrus trees and a fully retractable roof. The two spaces, meanwhile, are joined by an impressive wrap-around, marble-topped bar that seats two dozen.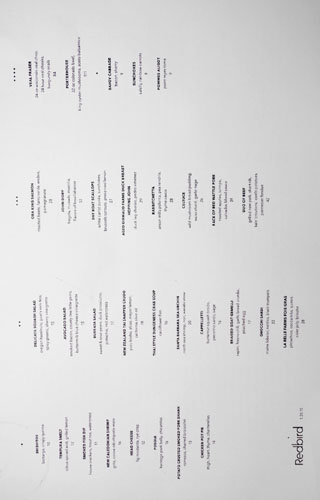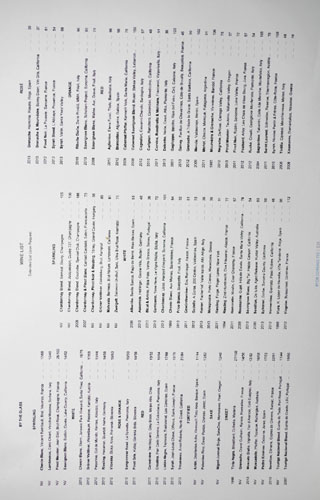 Redbird features a focused menu of modern American dishes, divided into sections for snacks ("kickshaws"), starters, mains, sides, and large format plates. Drink-wise, you get cocktails designed by
Julian Cox
(natch, given Chait's involvement) and overseen by Tobin Shea (Circa, El Cid), while wine duties are handled by Wine Director Diane Pandolfini (
The Bazaar
, Wolfgang Puck at Hotel Bel-Air,
Drago
, Campton Place). Click for larger versions.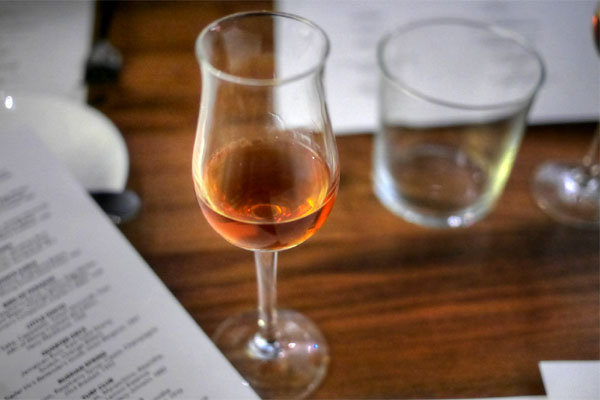 To start: a complementary apéritif comprising sherry, vermouth, and raspberry syrup. Think sweet and nutty, with an oxidative tinge--a great combination of flavors that made total sense together.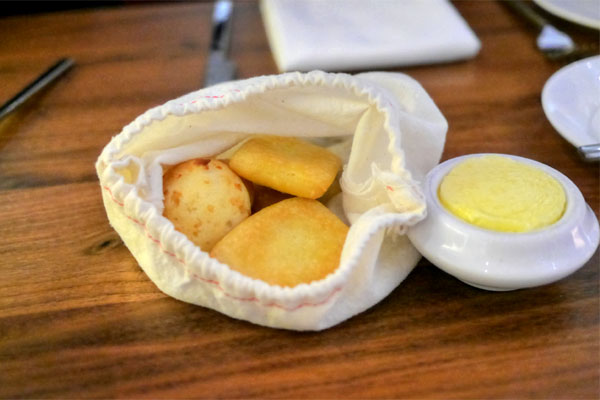 Bread service was cute, with the two varieties--focaccia and a gluten free
pão de queijo
(Brazilian cheese bun)--arriving in a drawstring pouch. Great butter, too.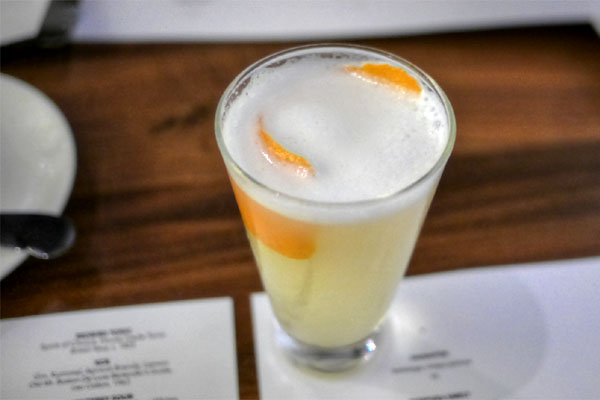 Monterey Sour [$12.00]
| Gin, Lemon, Grapefruit Bitters, Egg Whites, Sauvignon Blanc, Essence of Orange
With Mr. Cox as the author of the bar program here, I of course had to make it a point to try the cocktails. Our first was excellent, my favorite of the bunch with its wonderfully aromatic nose of citrus. On the palate: an initial bite of bittersweetness led to a nutty, vinous, complex character moderated by the frothiness of egg white. Very well integrated.
Potato Crusted Smoked Pork Shank [$13.00]
| romesco, charred broccolini
We commenced with a few of the bar bites. Pork arrived in spherical form, loaded with smoky, savory, unabashedly piggy flavors set off by the zing of romesco while broccolini added a great countervailing crunch and bitterness to the mix. A lovely way to start.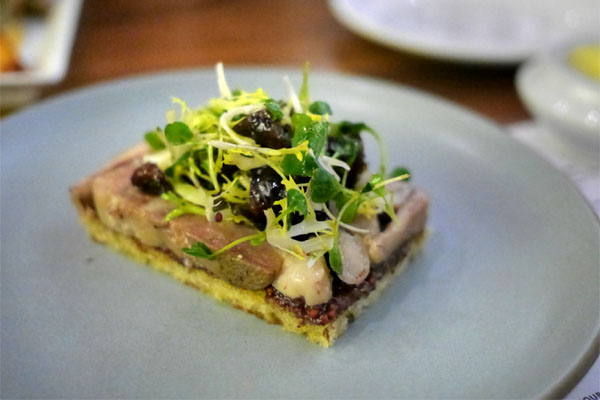 Head Cheese [$12.00]
| fig mostarda, rye crisp
Head cheese was slightly too soft for me, as I would've liked something grittier, though its taste was on point. Nice zestiness from the greens and spiciness from the rye, though the fig rendered things overly sugary, hiding some of the inherent goodness of the cold cut.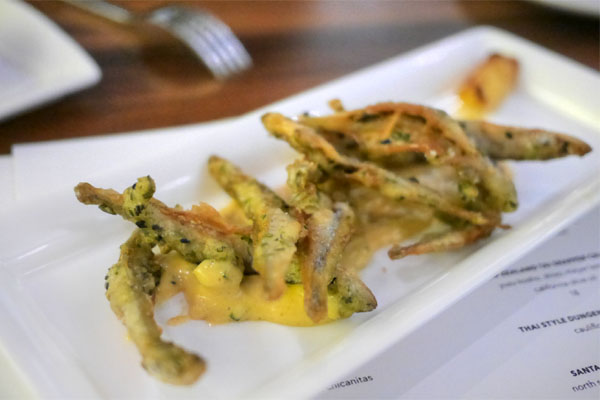 Tempura Smelt [$12.00]
| citrus spiced aioli, grilled lemon
We had here fish fries, basically, fun, crisp, briny bites smartly balanced by the pricks of citrus present. Very easy to keep popping these guys.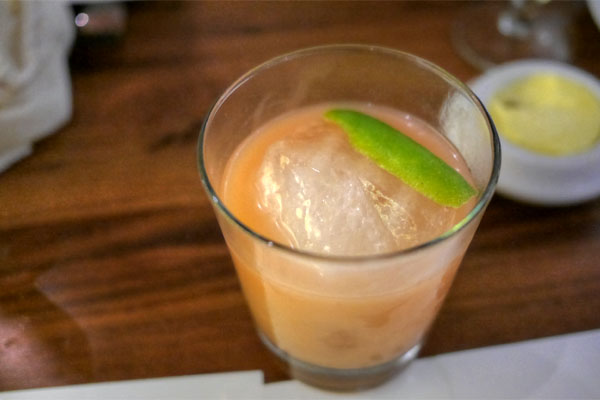 Little Tokyo [$12.00]
| Pearl Sake, Cappelletti, Sweet Vermouth, Yuzu
Next to imbibe was certainly one of the better sake cocktails I've had. I loved the sweet, aromatic spice on the nose here, cut by the herby bitterness of Cappelletti while sake grounded the drink. Nice hits of tart citrus here, too.
Posole [$16.00]
| heritage pork belly, chicanitas
I have a hard time turning away pozole, and Fraser's didn't let me down tonight. The dish did a commendable job capturing the essence of the traditional soup, with its deep, earthy, spicy flavors really complementing the fattiness of the pork belly. Great textures here as well, especially with those crispy bits of
chicanitas
. This is one you probably want to get.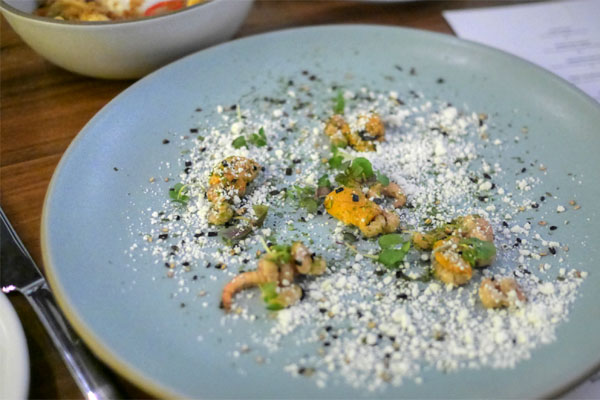 Santa Barbara Sea Urchin [$20.00]
| north sea shrimp, nori, wasabi snow
Up next was the most avant garde plate of the night, and one of my favorites as well. I appreciated how the lush, creamy nature of the uni was showcased alongside the shrimp, which lent a salinity that really underpinned the dish. However, the crux was the interplay between the nori and wasabi, the conflux of umami and heat that brought out the best in the proteins. Very cool.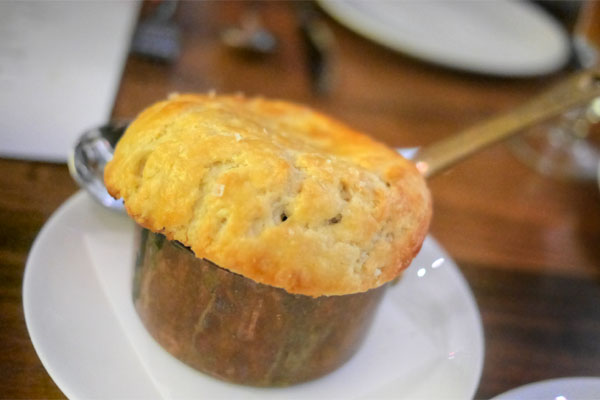 Chicken Pot Pie [$14.00]
| thigh, heart, thyme, chanterelles
I can't resist a good pot pie, and Redbird's was just what I was looking for. Think classic, comfy, homey flavors, with the chunky, hearty cuts of chicken and veggies perfectly matched with the pie's flaky crust. Mouseover for a secondary photo.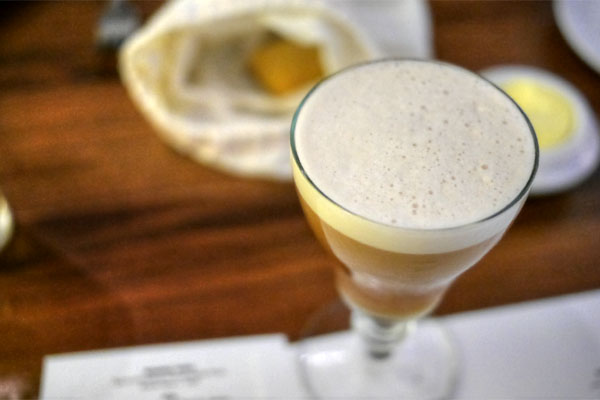 Kinsale King [$12.00]
| Irish Whiskey, Stout Reduction, Lemon, Barrel Aged Bitters
I'm a bit of a sucker for shandies, and this particular one was a standout. Bitter on the nose, the drink's base emphasized a boozy sweetness, accented by a pinch of citrus, but the key was that finish, redolent of smooth, roasty stout. Beer drinkers should definitely give this one a go.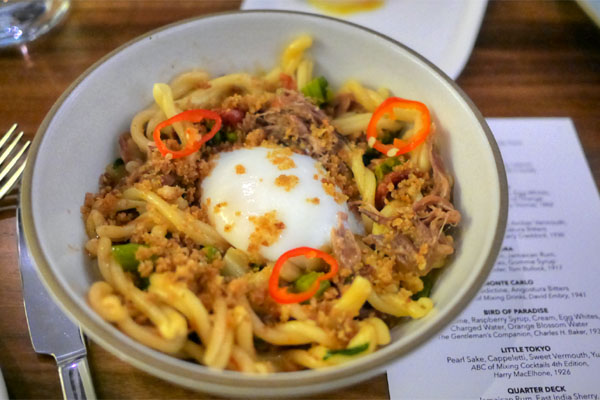 Braised Goat Gemelli [$17.00]
| rapini, fresno chili, garlic bread crumbs, poached egg
Our first pasta dish definitely delivered, showing off some deep, dark flavors of goat, cut by the bitter, crunchy broccoli rabe while the fresno added a superb underpinning of heat to the course.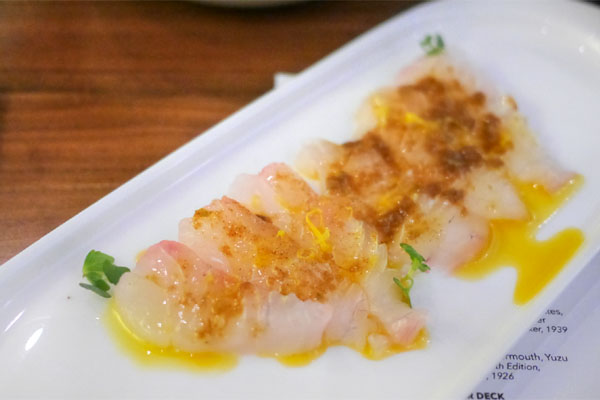 New Zealand Tai Snapper Crudo [$18.00]
| yuzu kosho, shiso, meyer lemon, california olive oil
Crudo of snapper was clean, yet imbued with a palpable brine. At the same time, olive oil lent a weightiness to the fish, and the zesty lemon and shiso really lifted the course. Great bit of sour heat from the
yuzukosho
overarching things, too.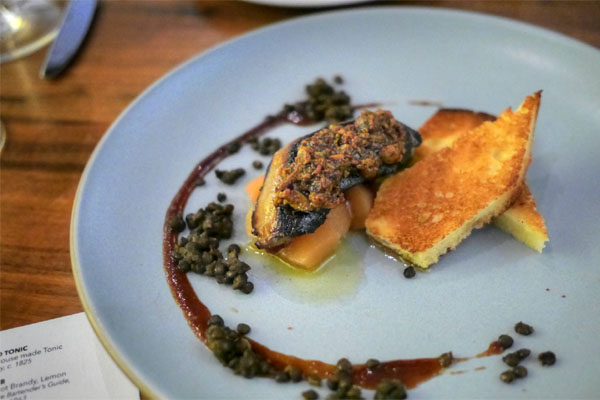 La Belle Farms Foie Gras [$28.00]
| pistachios, cocoa nibs, quince, cider jelly, brioche
Given the recent lifting of the foie gras ban, we naturally felt compelled to order the liver. The foie arrived rich and silky, with its potent flavors augmented by a confluence of nutty, sweet nuances. My favorite part? Those lentils, which did a fantastic job moderating everything here.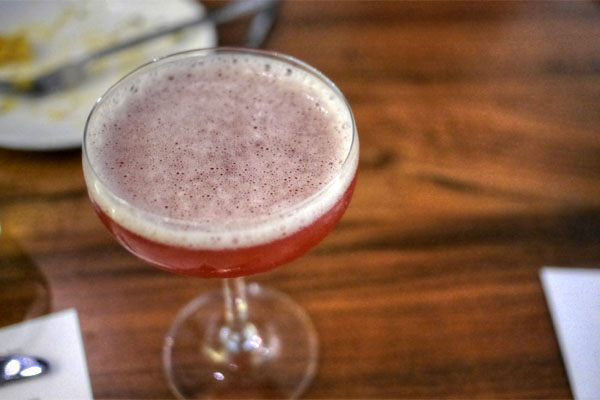 The Good Bishop [$12.00]
| Barolo Chinato, Tequila, Amaro, Lemon, Cinnamon, Allspice Tincture
Given the venue, I had to try the sole ecclesiastically-monikered cocktail on the list. It gave up a load of floral, herbal, cinnamon-y notes, offset by the lemon, while the tequila imparted the necessary heft to the drink.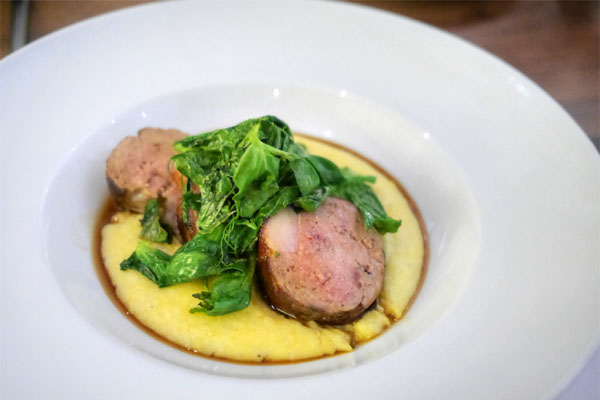 Rabbitchetta [$28.00]
| anson mills polenta, pea tendrils, thyme sauce
Our first of the mains brought what amounted to a leporine porchetta (seemingly the preferred pig dish of the moment). The roulades of rabbit were super savory, slight smoky, and rather delicious, yet tempered in potency by the brightness of pea tendrils. Polenta made for a good match to the protein, though I wanted less sweetness on it.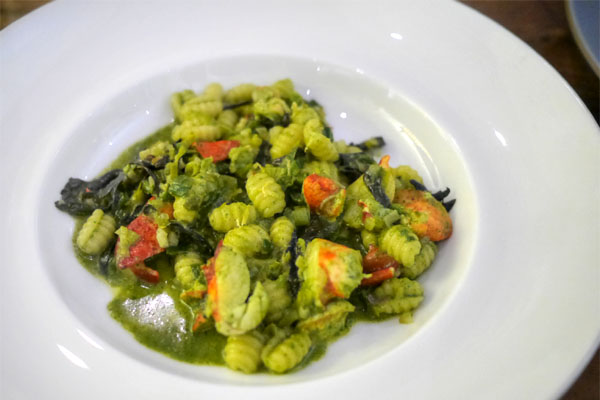 Gnocchi Sardi [$22.00]
| maine lobster, nettles, black trumpets
I was a fan of Fraser's gnocchi course as well, being particularly impressed at how well-prepared the lobster was. The crustacean came out snappy and sweet, with a focused brine to it that paired beautifully with the tangy nettles.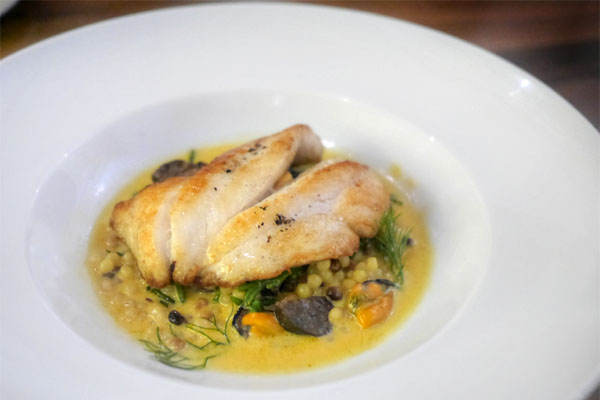 John Dory [$32.00]
| fregola, mussels, morcilla, flavors of bouillabaisse
Our final savory course comprised John Dory, a firm, super savory, super saline fish with a pleasingly crisp crust. Mussels and morcilla further augmented the rich flavors at play, and the bouillabaisse-inspired broth further enhanced the experience. Fregula, meanwhile, made for some textural contrast.

Desserts at Redbird are the charge of Pastry Chef Jashmine Corpuz, an LA restaurant veteran who's worked at the likes of Jonathan Club, Bottega Louie,
Ink
,
Drago Centro
,
Patina
,
Bastide
,
Craft
, and
Campanile
. Click for a larger version.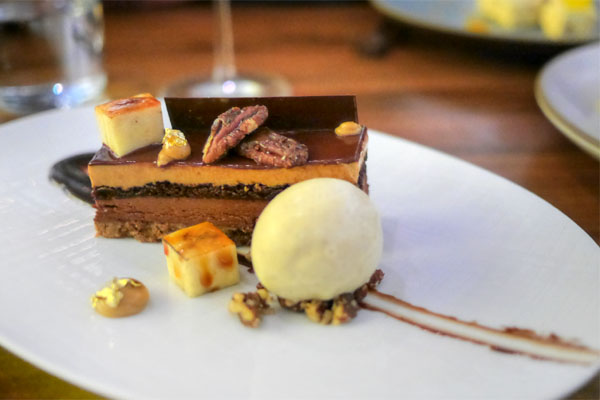 Chocolate Caramel Bar [$12.00]
| bourbon chocolate, smoked pecans, bananas foster ice cream
The essential chocolate dessert was more interesting than most, pairing the rich, coffee-tinged notes of the chocolate with a smokiness that enveloped the entire dish. The fruitiness of the banana imparted balance and lightness, and the varied textures here were much appreciated as well.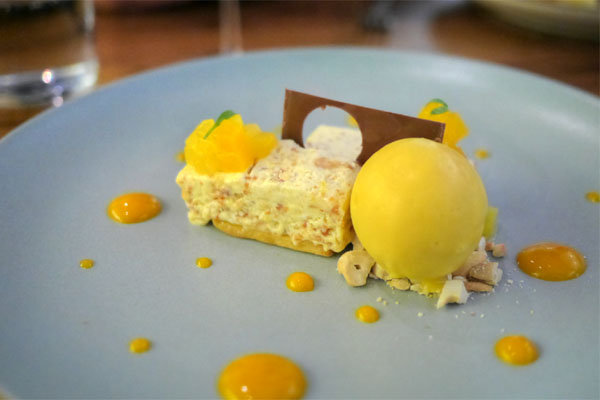 Cashew Semifreddo [$12.00]
| mango, sablée, passionfruit sherbert
The semifreddo was also one of the more unconventional that I've had, with bright, tropical fruit flavors working well alongside the nuttiness of the custards. Nice crunchiness going on, and the butteriness of the sablée was well-placed, too.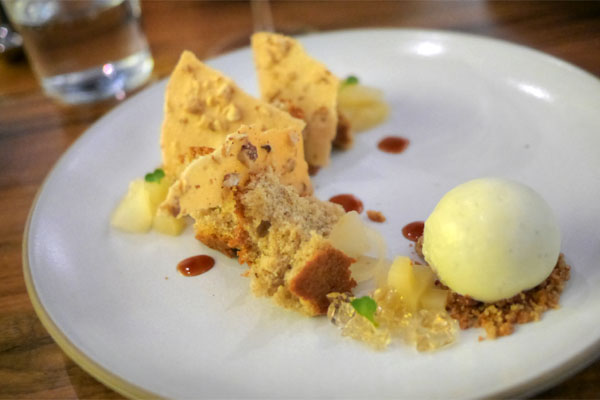 Black Walnut Cake [$12.00]
| poached pear, cahoots saison, humboldt fog ice cream
Our last dessert was probably my favorite of the bunch. It was sort of like a reimagined cheese plate, with the walnut cake giving up a nutty, sweet, intriguing flavor profile that linked up well with the sugary pear and saison jelly. The best part, though, was that goat cheese ice cream, with its lactic, pungent kick completing the experience.
Redbird is a restaurant many years in the making, and I'll say that we left quite satisfied with the place. The cooking's got a new American slant to it (not surprising given the Chef's background), but seems to draw from all over the place. It's more modern, more casual than what was ever served at Grace, and in my estimation, superior. The restaurant's a great fit for the Vibiana space, and another strong addition to the LA scene. As for what's next for the Frasers, they're still working on their long-delayed ICDC dessert shop, which is going to occupy the back part of BLD, so look out for that in the coming months.