Union (Pasadena, CA)
Union Restaurant
37 E Union St, Pasadena, CA 91103
626.795.5841
www.unionpasadena.com
Thu 1/8/2015, 09:00p-12:10a

Despite the relative abundance of restaurants in Old (Town) Pasadena, there's never really been all that much worth going to. In my nearly nine years of writing this blog, I can only count visits to the defunct
Trattoria Tre Venezie
,
Sushi Kimagure
, and a couple
LQ pop-ups
at Vertical (which probably shouldn't count). Union, however, was one that I was actually really looking forward to trying. The restaurant debuted on March 11 last year, and is a Cal-Italian joint from Chef Bruce Kalman and business partner Marie Petulla, a Chicago native who used to work the FOH at Stout and Firefly.
About the Chef
: The son of a music teacher, Kalman was born and raised in Paramus, New Jersey, and started playing the guitar at age seven (he would eventually form a band with his brother during his teenage years and open for Meat Loaf). At age nine, he began cooking with his grandmother and discovered his second love, and by age 13, had taken a job at a pizzeria owned by his father's friend. It was here where Kalman decided to dedicate himself to cooking, and as such, enrolled in a culinary vocational program at his high school. From there, he further studied the craft at Hudson County Community College in Jersey City, and also cooked at a number of local places during this time period. He later relocated to Chicago to work at the O'Hare Marriott, where he served as assistant banquet chef for a year and a half. Kalman then moved to iconic Italian eatery Spiaggia as a sous, working under Paul Bartolotta in his first true fine dining gig. Spiaggia was part of Levy Restaurants, a food service company focusing on event venue dining, and because of that, the young chef was able to help Charles Weber open Blackhawk Lodge near the Magnificent Mile.
Weber was eventually poached by David Burke to open Park Ave Café at the Doubletree, and an introduction allowed Kalman to become tournant at Burke's New York outpost of Park Ave. In 1996, after a year in NYC, he left for Santa Fe to open Il Piatto, then transitioned to Southwest eatery La Casa Sena as exec sous. 1997 saw Kalman relocate back to Chicago, where he secured his first Executive Chef role at Terry Alexander's Okno. During his year here, he was nominated for James Beard's "Rising Star Chef – Midwest" award, but soon moved over to the Green Dolphin Street music venue. After a short stint there, he became Coco Pazzo Cafe's head chef at the start of 1999, but left in April 2000 to open his own place: 5 Boroughs Delicatessen, a New York-style deli. Shortly after the place's debut, Kalman met his future wife at a Seattle's Best Coffee, one of his customers, and when she moved back home to Ohio, he shuttered the deli and followed her. Now in Ohio, he began working for Bravo Brio Restaurant Group, first as Executive Chef and later Managing Partner. He spent seven years with the company, opening numerous locations.
After being sent to Arizona to open a few restaurants for Bravo Brio, Kalman jumped ship to another restaurant group: LGO Hospitality, and started at their Chelsea's Kitchen concept in Phoenix at the tail end of 2009. LGO sent the Chef to LA in 2010, where he opened The Misfit in Santa Monica (the site of
Alain Giraud
's Anisette) in early 2011. He spent a year there, then joined Acme Bar Group as a consultant in February 2012, running the show over at Urbano Pizza Bar. In September that year, Kalman took on the Executive Chef role at The Churchill in WeHo, and during his tenure there, even filmed an episode of
Chopped
, beating out three other chefs to snag the win. He left in May 2013 to start Bruce's Prime Pickle Co, an artisanal pickle company, and later that year, appeared on
Ilan Hall
's
Knife Fight
, beating out
Stefan Richter
. He also joined Dog Haus as "culinary director" that November, and was soon tapped by Petulla to consult on the opening of Union. However, the consulting project soon turned into a partnership, and their restaurant would debut the following March.

Union's a fairly small space, seating approximately 50 diners in a homey, comfy setting replete with the requisite exposed brick.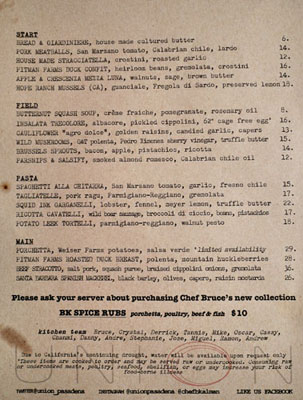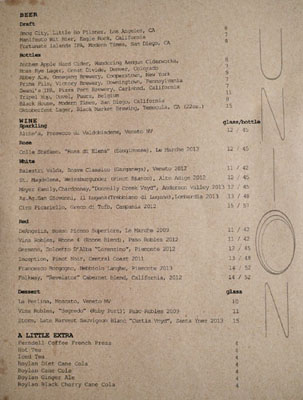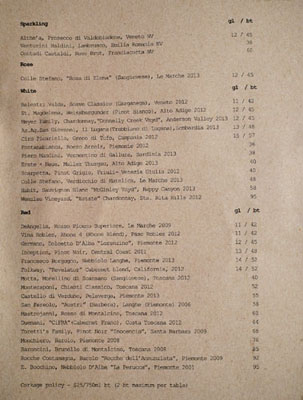 As for Union's menu, it's akin to a Californian interpretation of Northern Italian cooking, compact and focused in its intent. To drink, Wine Director George Pitsironis (Inception Wine,
Spago
) has put together a modest, Italian-leaning wine list, and there's a decent selection of beer to boot. Click for larger versions.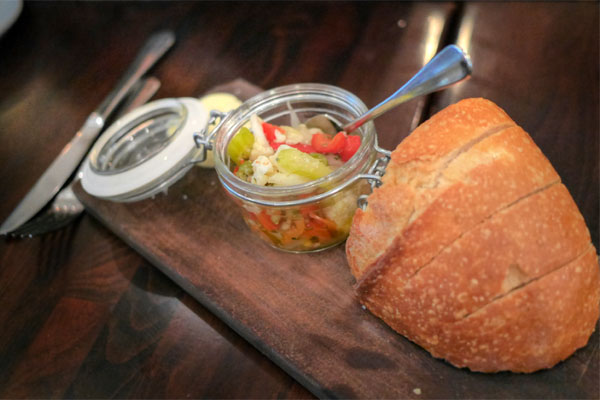 BREAD & GIARDINIERE [$6.00]
| house made cultured butter
Bread arrived at a pleasantly warm temperature, light to the bite and conveying a pleasant tanginess. Butter was on point, but I preferred an accompaniment of the housemade, sour-spicy
giardiniera
pickles.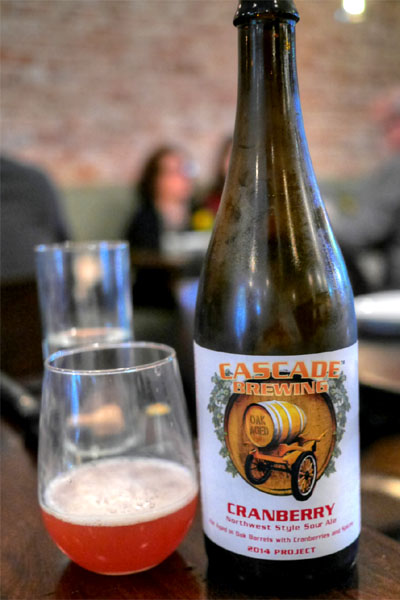 We soon cracked a bottle of
2014 Cascade Cranberry
that we brought, a blend of sour wheat ales aged in oak barrels with cranberries, orange peel, and cinnamon. Lots of light fruit and funk, along with oak on the nose. On the palate, more tart berry and earthy notes joined by plenty of acidity. Refreshing overall, and not too puckering.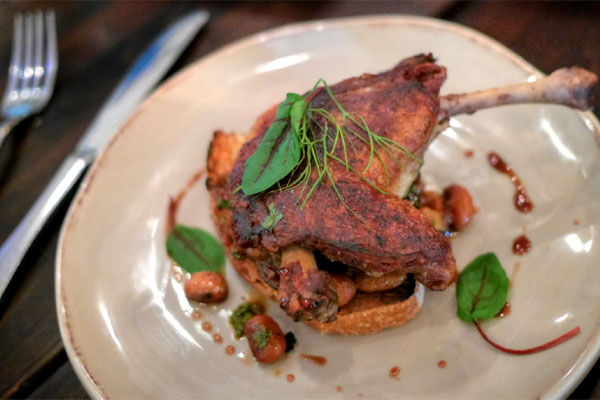 PITMAN FARMS DUCK CONFIT [$16.00]
| heirloom beans, gremolata, crostini
Confit of duck arrived with a wonderfully crisp, savory crust and loads of duck-y goodness, though the bird was a touch dry in places. I quite enjoyed how the beans were folded into the dish here, and the crostini was a welcomed surprise as well.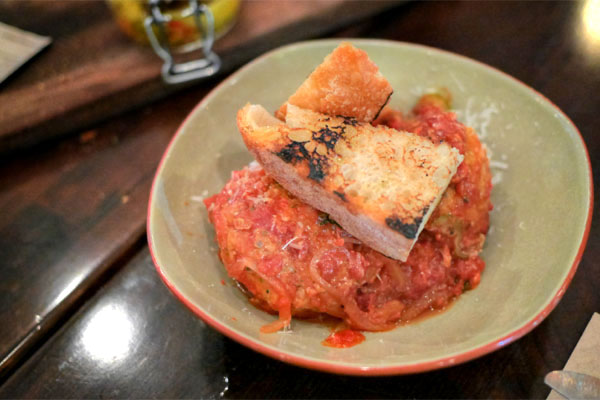 PORK MEATBALLS [$14.00]
| San Marzano tomato, Calabrian chile, lardo
Meatballs were large, and loaded with notes of tangy tomato underscored by the heat of chilies. I would've liked to have seen more of the inherent porkiness of the balls shine through though, even with the presence of lardo.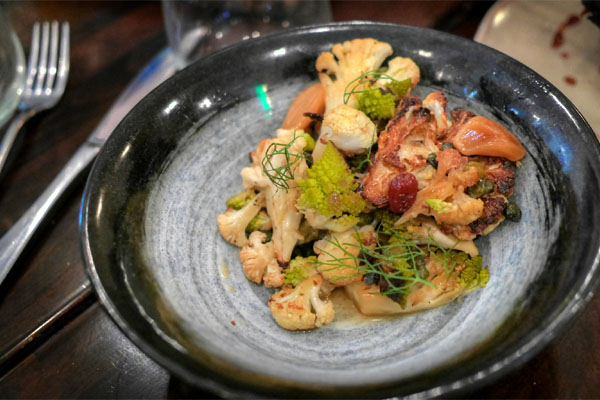 CAULIFLOWER [$13.00]
| "agro dolce", golden raisins, candied garlic, capers
I'm quite the cauliflower fiend as you probably already know, and really enjoyed the presentation here. The crunch of the cauliflower was nicely displayed, and I appreciated how the sweet, tangy flavors in the dish complemented, but didn't overwhelm the delicate flavors of the vegetable.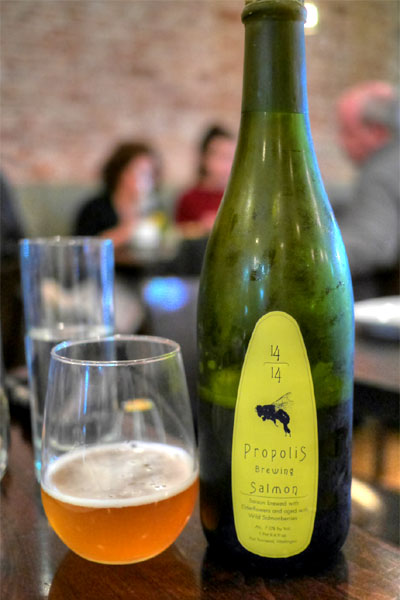 The
2014 Propolis Salmon
was a saison brewed with elderflowers and aged in Syrah barrels with wild salmonberries. It was delicious, smelling of juicy, floral fruit and tasting funky and tart, with more delectable elderflower notes and a dry, refreshing finish. Propolis may be a relative newcomer, but so far the brewery's two-for-two for me (I'd tasted their Fructus at
Twenty Eight
).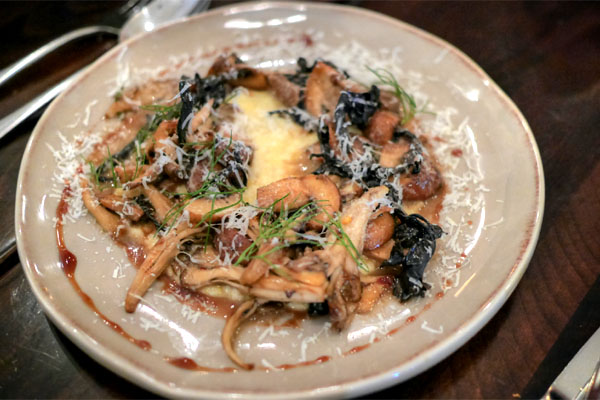 WILD MUSHROOMS [$15.00]
| G&T polenta, Pedro Ximenez sherry vinegar, truffle butter
An intoxicating aroma of truffle preceded the earthiness of mushroom here, a delicate musk complemented by the sweet-tart vinegar and sharp, herbaceous notes. I liked the use of Grist & Toll polenta as well, which did a nice job grounding the entire course.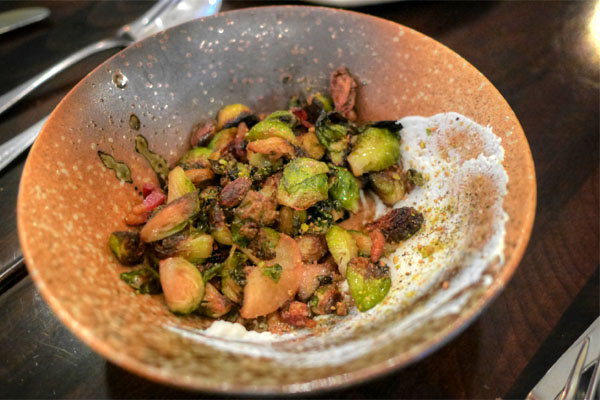 BRUSSELS SPROUTS [$14.00]
| bacon, apple, pistachios, ricotta
Brussels were crisp and bitter, just how I like 'em, with a great contrast of sweet and salty flavors augmented by the nutty crunch of those pistachios.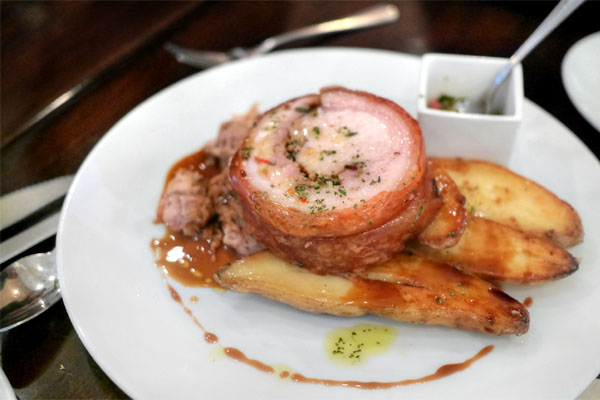 PORCHETTA [$29.00]
| Weiser Farms potatoes, salsa verde
We grabbed one of the last two remaining porchettas early on, which turned out to be a wise decision. It was certainly one of the best renditions I've had, its skin delightfully crisp, and with a mouth-watering porky goodness intermingled with some great herb-y notes. I was a fan of that zesty salsa verde too, and the hearty potatoes did a wonderful job moderating everything.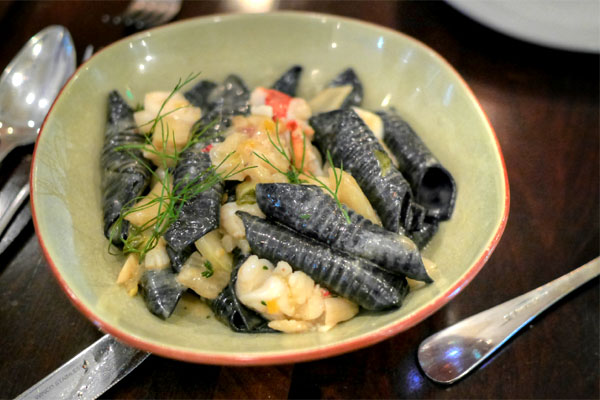 SQUID INK GARGANELLI [$22.00]
| lobster, fennel, meyer lemon, truffle butter
At this point, we moved on to our first of four pastas (all made in house, natch). Garganelli was well-textured, imbued with the rich essence of truffle while the snappy bits of lobster added further luxuriousness to the dish. I appreciated the incorporation of lemon and fennel as well, both of which imparted some zestier notes to the mix to balance out the hefty flavors at play.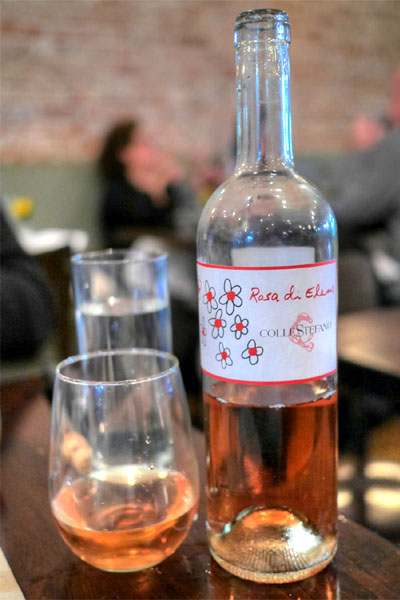 Next, we ordered a bottle of rosé, the
Colle Stefano, "Rosa di Elena" (Sangiovese), Le Marche 2013 [$45]
. It was a fun, fresh wine, a mélange of light red fruit and minerality with a crisp, dry, yet somehow juicy finish.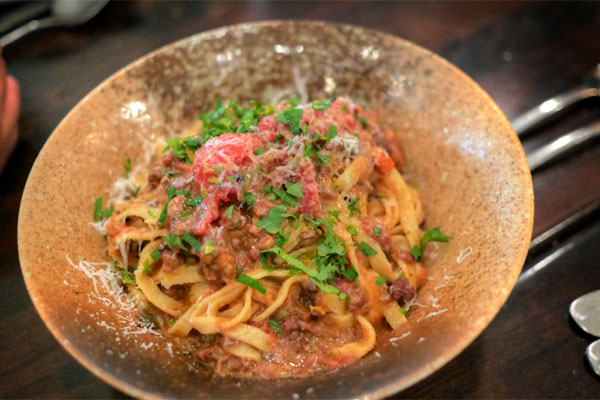 TAGLIATELLE [$17.00]
| pork ragu, Parmigiano-Reggiano, gremolata
The tagliatelle was another winner, satisfying to the bite, with a delectable, slightly herbaceous meatiness from the ragu, all balanced by the zip of gremolata and just a hint of salt from the Parm.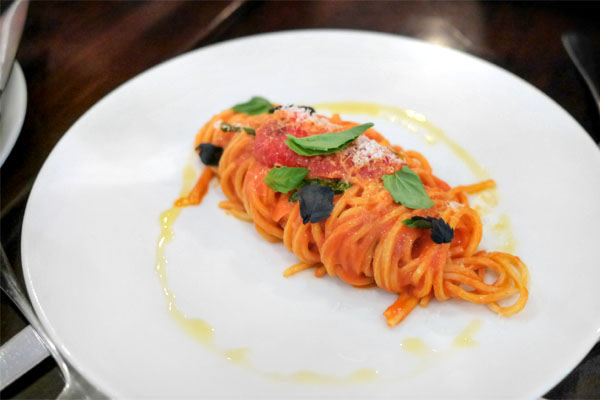 SPAGHETTI ALLA CHITARRA [$15.00]
| San Marzano tomato, garlic, fresno chile
Union's spaghetti must be some of the best in town. I loved the base of tart tomato flavors here, and how that flowed with the garlicky nuances present and fragrant aromatics of basil, the whole thing underscored by a great touch of heat.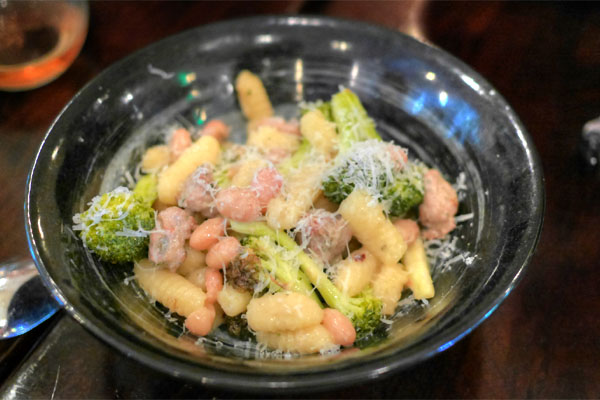 RICOTTA CAVATELLI [$17.00]
| wild boar sausage, broccoli di ciccio, beans, pistachios
Cavatelli was to my liking as well. I was a huge fan of the herby, savory sausage utilized here, and how that paired with the bitterness of that broccoli, the beans lending a heft to the entire dish. Yum.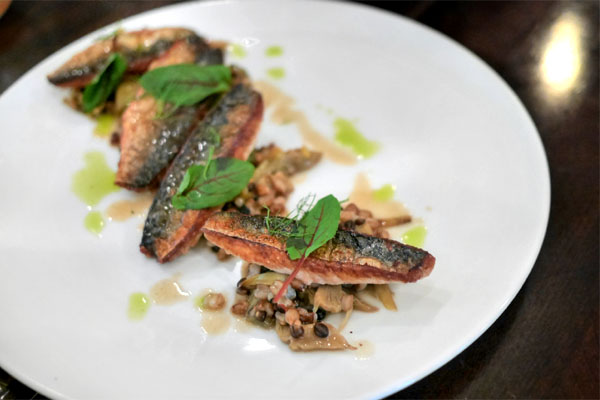 SANTA BARBARA SPANISH MACKEREL [$26.00]
| black barley, olives, capers, raisin mostarda
We ended our savories on a high note. Mackerel came out tender and juicy, conveying a wondrous salinity to pair with its perfectly crisp skin. The fish was certainly tasty by itself, but the counterpoint provided by the barley took this one over the top.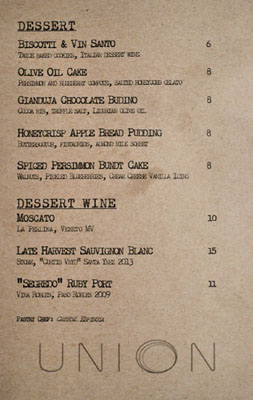 Time for dessert, which is the work of Pastry Chef Crystal Espinoza (who also doubles as sous). Click for a larger version.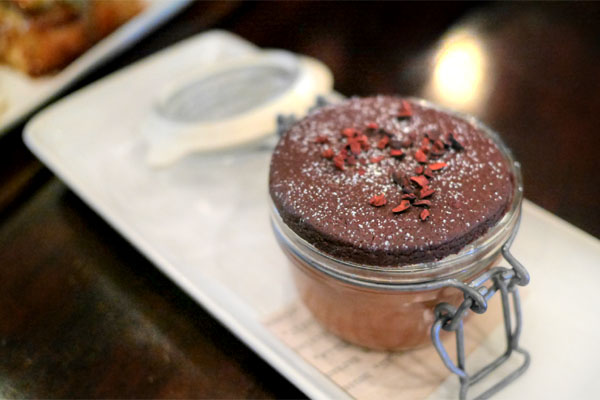 GIANDUJA CHOCOLATE BUDINO [$8.00]
| cocoa nib, truffle salt, Ligurian olive oil
The requisite pudding was all that you'd expect, loaded with rich chocolate-y goodness while the cacao nibs and truffle salt gave up a counterbalancing crunch and saltiness.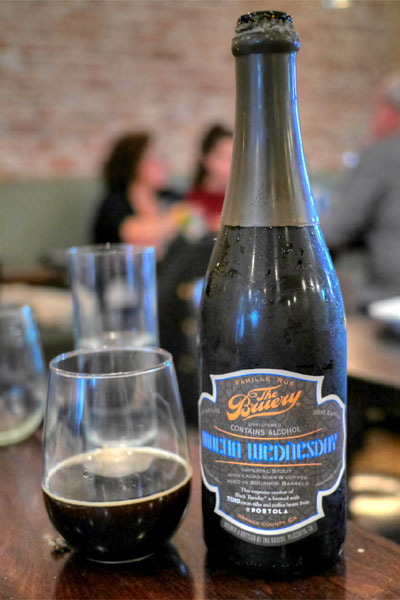 Our final tipple was the just-released
2015 The Bruery Mocha Wednesday
, a bourbon barrel-aged imperial stout brewed with TCHO cacao nibs and Portola coffee beans. Given that the base beer here is the exquisite
Black Tuesday
, I expected this to be good, but it turned out to be arguably the best coffee beer I'd ever tasted. There were intense, intense aromas of wonderfully fruity coffee here, with just a touch of chocolate hiding in the background; it smelled
so
good, probably the most sharply focused coffee nose I'd experienced. In terms of taste, I got wave upon wave of more true-to-life coffee bean, more chocolate, and your classic notes of roasty malt and booze. This is one not to be missed.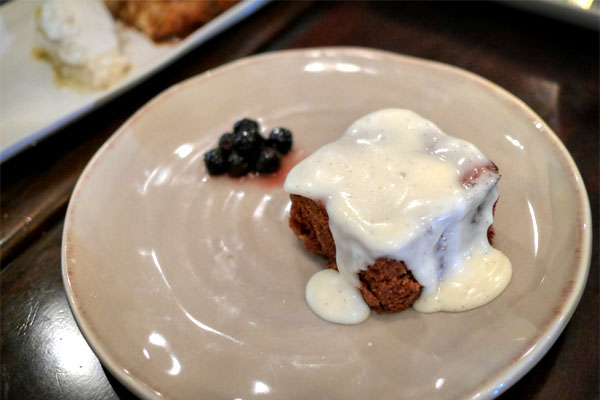 SPICED PERSIMMON BUNDT CAKE [$8.00]
| walnuts, pickled blueberries, cream cheese vanilla icing
Persimmons were put into Bundt form here, a moist, semi-loose cake with the fruit's relatively subdued flavors augmented by a sweet spice. The cream cheese icing gave up even more sugariness to the dessert, but didn't overwhelm things, and the tart blueberries were also appreciated.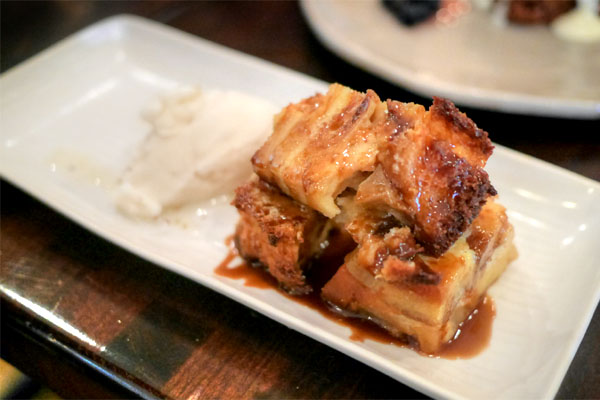 HONEYCRISP APPLE BREAD PUDDING [$8.00]
| butterscotch, pistachios, almond milk sorbet
Last up was the bread pudding, a surprisingly light, yet still satisfying presentation, one with some tasty apple and caramel flavors to pair with the airy sorbet.
We left Union very satisfied. The restaurant is just what Old Pas needs, a modern, seasonal, yet approachable interpretation of Italian that rises above the culinary mediocrity endemic to the area. My hat's off to Kalman and company. As for what's next, look out for Union on Bravo's new series
Best New Restaurant
, where they're competing for the title against 15 other eateries, including local joints
The Church Key
in West Hollywood, Doma in Beverly Hills, and Little Sparrow in Santa Ana. I'm certainly watching.