Ramen Champ (Los Angeles, CA)
Ramen Champ at Far East Plaza
727 N Broadway, Los Angeles, CA 90012
213.316.8595
www.ramenchamp.com
Sun 1/18/2015, 06:30p-08:00p

The Chinatown dining scene recently scored another hot debut in the form of Ramen Champ, the new noodle shop from Eggslut's Alvin Cailan. The restaurant soft-opened on January 16th, dishing out the Chef's take on traditional Japanese ramen, and I managed to make it over a day before the official launch on the 19th.
About the Chef
: Cailan was raised in a religious Filipino household in Pico Rivera. His first job in the kitchen came at age 17, when he starting working as a dishwasher at a retreat house as a way to stay out of trouble. He eventually started cooking there, and after a year, became kitchen manager. After finishing high school, Cailan studied business at a Cal State, and following graduation, secured a job at a construction firm. Due to some shady dealings at said firm, he was let go from the company with two years' severance pay, which he then used to finance a culinary degree at the Oregon Culinary Institute. During his tenure there, he
staged
at a number of places: Clyde Common,
Castagna
(six months under Matthew Lightner), and Olympic Provisions in Portland;
Bouchon
(three months) and
The French Laundry
(one week) in Napa; and
Spago
and
Hatfield's
in Los Angeles. After completing his degree at OCI in 2010, Cailan became chef de partie at Portland's Ten 01 under Michael Hanaghan, then returned to California to help open
David LeFevre
's acclaimed
MB Post
in 2011.
Later that year, he teamed up with Jeff Vales to launch the Eggslut Truck, focusing on egg-centric breakfast dishes. The two set up shop at Handsome and Commissary and became a near-instant success. In 2013, Cailan began looking for a spot to start a permanent restaurant, and initially planned on the Arts District. After those options fell through, he was approached by Grand Central Market and signed on in July, taking over the old La Salsa stand on Broadway. Eggslut opened in November, and has consistently been the busiest business in GCM. Given the success of the first restaurant, it was inevitable that Cailan would want to expand. As such, it was announced that Eggslut Ramen would soon debut at Grand Central. However, disagreement with GCM's owners ultimately resulted in the concept being relocated to Chinatown's Far East Plaza, the home of
Roy Choi
's
Chego
. Cailan has partnered up with Nathan Asamoto (Men Oh Tokushima Ramen) and Johnny Lee (Eggslut, Spirit House, Sticky Rice, Flying Pig Truck,
Rivera
), as well as Michael Sudjati, and the team was able to turn around the space in surprisingly little time for a January debut.

In true
ramen-ya
fashion, Ramen Champ's a small, cozy spot, with room for 22 diners at counter-style seats (it takes the place of an old Chinese bakery). Black-and-white murals are the work of New York's Mike Houston, and interestingly enough, the huge hood that dominates the kitchen actually came with the space.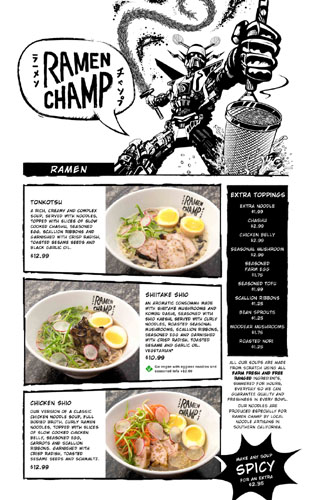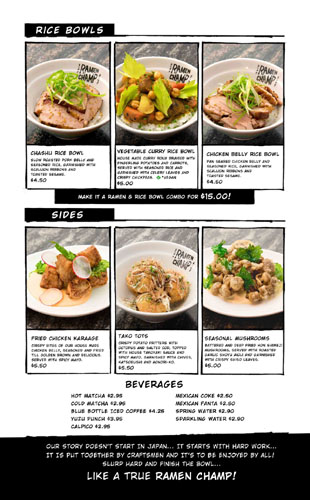 The Ramen Champ menu is simple enough: three types of ramen, three rice bowls, and three sides, washed down by a selection of soft drinks. Click for larger versions.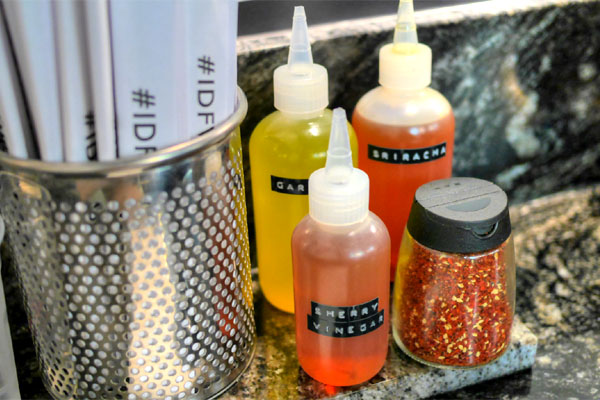 Condiments included sherry vinegar, garlic oil, sriracha oil, and housemade
shichimi togarashi
. You're encouraged to apply as you see fit.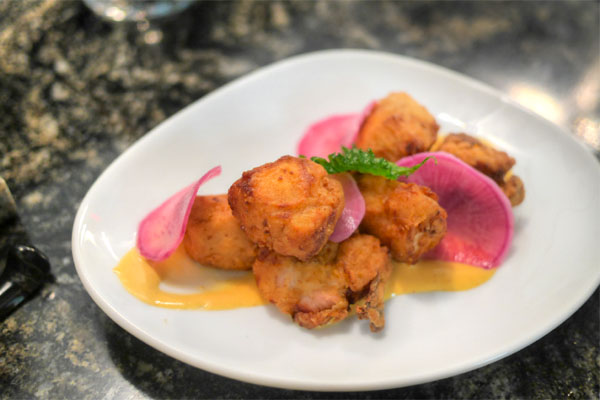 Fried Chicken Karaage [$5.50]
| Crispy bites of our house made chicken belly, seasoned and fried till golden brown and delicious. Served with spicy mayo.
You can't really go wrong with fried chicken, and Ramen Champ's Jidori
karaage
was no exception, with the bird coming out tender, juicy, and teeming with savory soy goodness. Excellent alone, and great with a dab of the included spicy mayo, too.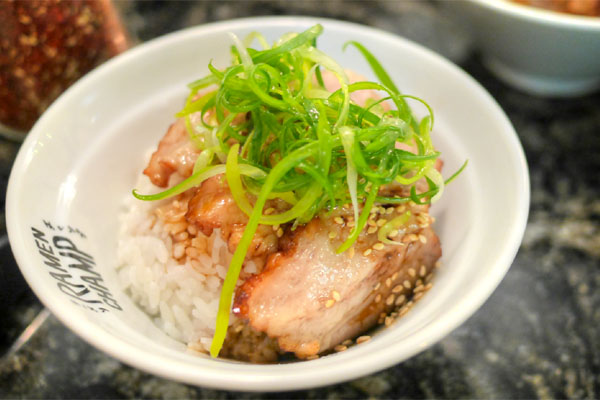 Chashu Rice Bowl [$4.50]
| Slow roasted pork belly and seasoned rice, garnished with scallion ribbons and toasted sesame.
Fatty cuts of sous vide'd
chashu
pork were appetizing, with classic flavors of sweet, savory, piggy goodness satisfying in a comfy sort of way. Great use of the sesame as a counterpoint to boot.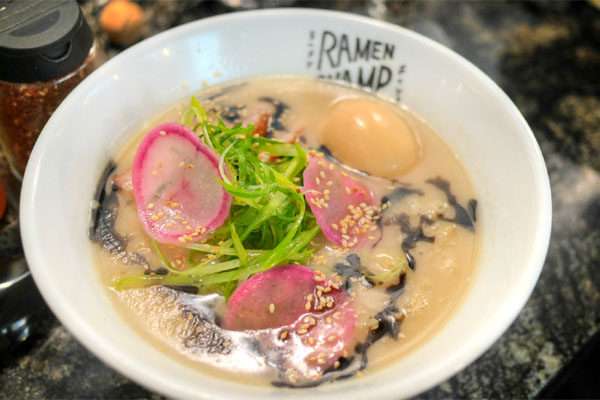 Tonkotsu [$12.99]
| A rich, creamy and complex soup, served with noodles, topped with slices of slow cooked chashu, seasoned egg, scallion ribbons and garnished with crisp radish, toasted sesame seeds and black garlic oil.
Ramen Champ's
tonkotsu
made a nice showing for itself, with the dish's 20-hour bone broth providing for a thick, hearty, unabashedly porcine slurping experience. Slices of the
chashu
above further enhanced the porky nature of the soup, all while
mayu
(black garlic oil) provided additional complexity and the veggies a much appreciated lightness. Noodle-wise, we have a proprietary blend made by a producer in Gardena that was acceptably springy, with just a bit of chew.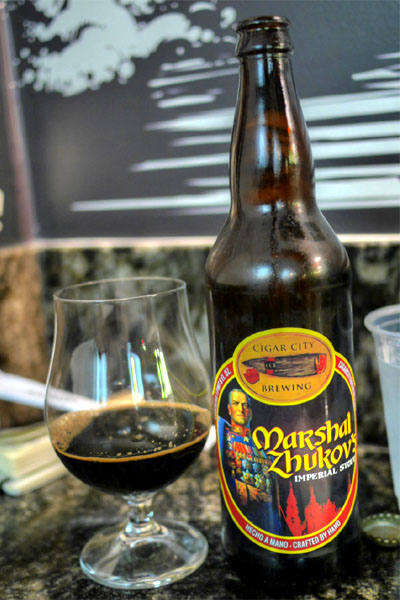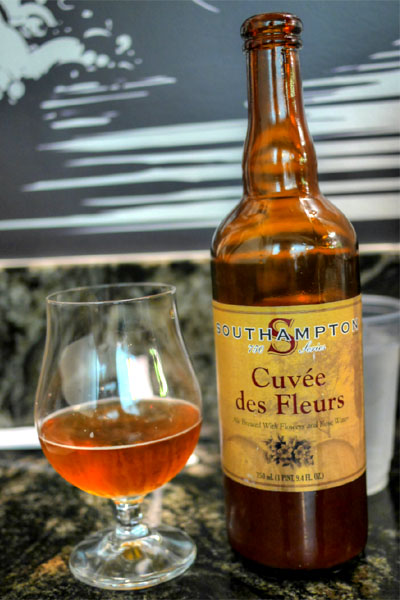 Some beers to go with the food. First up was the
2014 Cigar City Marshal Zhukov's Imperial Stout
, named after legendary World War II general Georgy Zhukov. It was, quite simply, one of the finest non-barrel-aged stouts I've tasted, a super smooth powerhouse of dark fruit up front leading to chocolate, toffee, and coffee notes over a backbone of roasty goodness. For something completely different, the
Southampton Cuvee Des Fleurs
was a saison brewed with rose water and a variety of flowers. Think super floral and slightly sweet, overarched by a subtle oxidative character and not much farmhouse funk. I really would've liked more carbonation here though, as the beer was almost completely flat.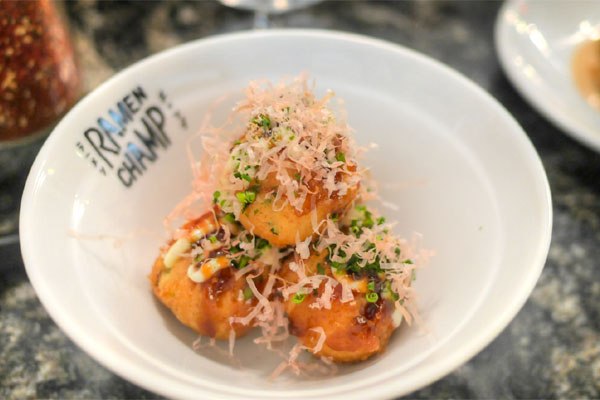 Tako Tots [$5.50]
| Crispy potato fritters with octopus and salted cod, topped with house takoyaki sauce and spicy mayo. Garnished with chives, katsuobushi and aonori-ko.
It was fun to try out Cailan's take on
takoyaki
. This may look like the traditional dish, but was actually comprised of the standard octopus with the addition of salt cod and mashed potatoes. This made for a somewhat
brandade de morue
-esque eating experience, but with a clear base of old school
tako
character.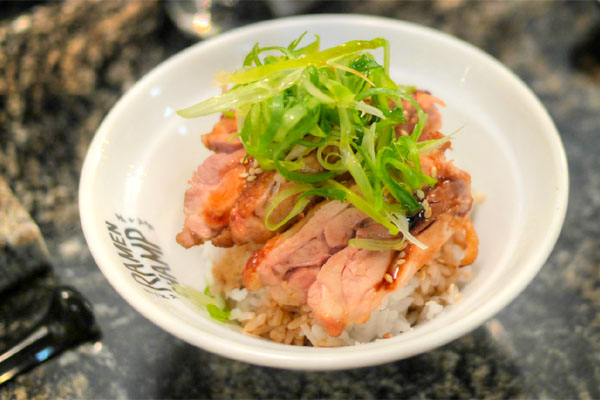 Chicken Belly Rice Bowl [$4.50]
| Pan seared chicken belly and seasoned rice, garnished with scallion ribbons and toasted sesame.
I rather enjoyed the chicken belly (which I believe is actually thigh) too, which had some deep, Japanese-y flavors to it that paired superbly with the zesty scallions up top. Great over the rice too, natch.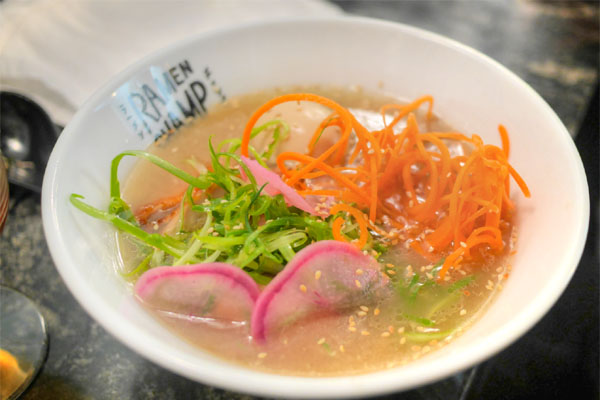 Chicken Shio [$12.99]
| Our version of a classic chicken noodle soup, full bodied broth, curly ramen noodles, topped with slices of slow cooked chicken belly, seasoned egg, carrots and scallion ribbons. Garnished with crisp radish, toasted sesame seeds and schmaltz.
Unsurprisingly, the chicken ramen wasn't quite as potent as the
tonkotsu
above, but still had its own charms. Again, the meat was spot on, with its flavors amplified by the schmaltz-enriched broth while the
negi
up top contributed a counterbalancing astringency to the mix. Noodles, meanwhile, were curly and slightly less springy, while the runny soft boiled
ajitama
egg was excellent, which I guess is to be expected from the guy behind Eggslut.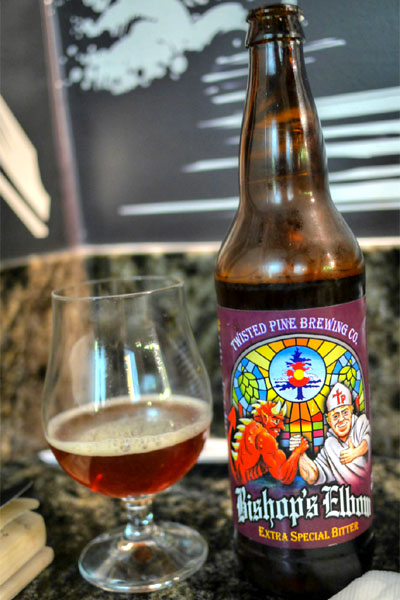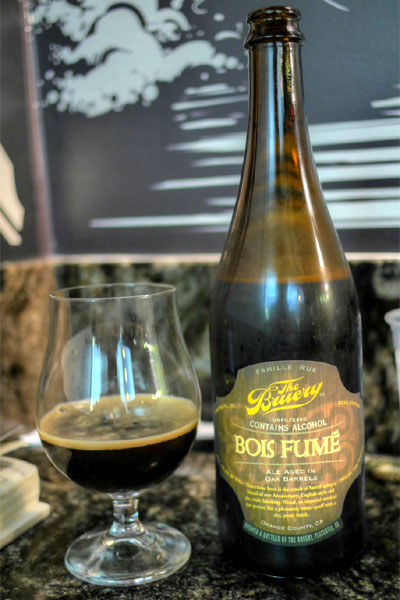 The
2014 Twisted Pine Bishop's Elbow
was made to commemorate the brewery's 18th anniversary. I wasn't particularly enamored with it, finding lots of caramel-y malt joined by just a touch of bitterness toward the midpalate and a slight metallic tinge on the finish--really not too much to this. The
2014 The Bruery Bois Fumé
--a blend of barrel-aged old ale and smoked rye porter--was much more interesting. You got loads upon loads of sweet, dark fruit and chocolate flavors initially, which then led seamlessly to a dry, lingering close redolent of smoke and peat.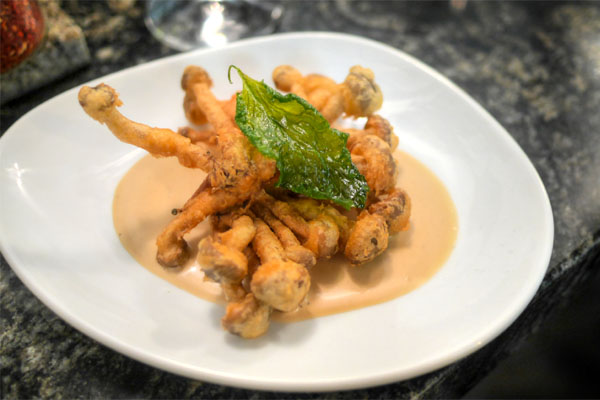 Seasonal Mushrooms [$5.00]
| Battered and deep fried hon shimeji mushrooms, served with roasted garlic shoyu aioli and garnished with crispy shiso leaves.
Hon-shimeji
came deep-fried, making for a rather addictive appetizer, with the earthy flavors of the mushroom amplified by the umami-rich
shoyu
aioli. As the chefs have alluded to, you can almost think of this as an agaricalic version of the Bloomin' Onion.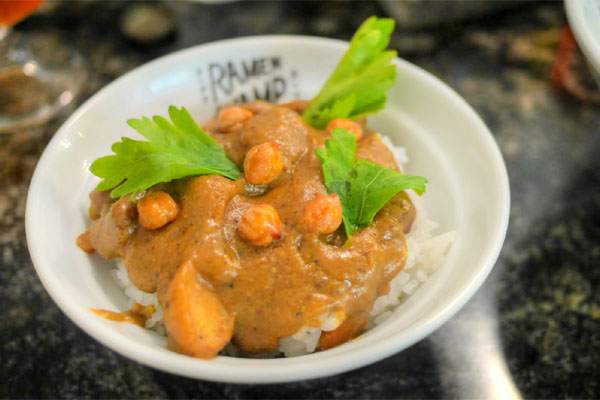 Vegetable Curry Rice Bowl [$5.00]
| House made curry roux braised with fingerling potatoes and carrots, served with seasoned rice and garnished with celery leaves and crispy chickpeas. Vegan
A veggie
kare
had all the classically dark, spicy, aromatic notes that you'd expect, but texturally, it seemed a bit off. I would've liked to have seem some heartier vegetables included here as well. That being said, the curry still did make for a suitable topping for the rice here, and the crunch of the garbanzos up top was a pleasant surprise.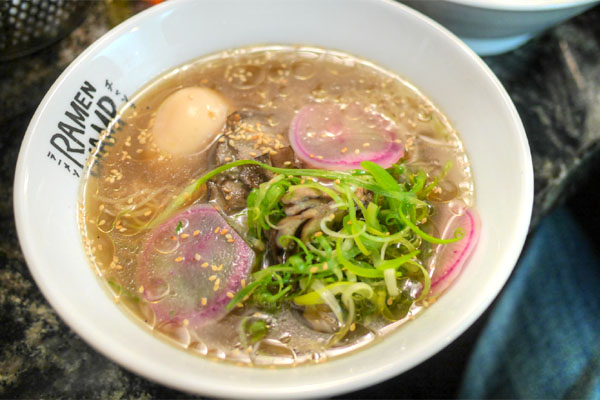 Shiitake Shio [$10.99]
| An aromatic consommé made with shiitake mushrooms and kombu dashi, seasoned with shio kaeshi, served with curly noodles, roasted seasonal mushrooms, scallion ribbons, seasoned egg and garnished with crisp radish, toasted sesame and garlic oil. Vegetarian
Last up was the vegetarian ramen, which I found nearly as gratifying as the meat-containing versions. The key was the broth, which had some deep, heady flavors courtesy of the shiitake and linked up swimmingly with the hefty chunks of mushroom present, as well as the toasty sesame in particular. And again, that scallion added a great touch of levity to the mix.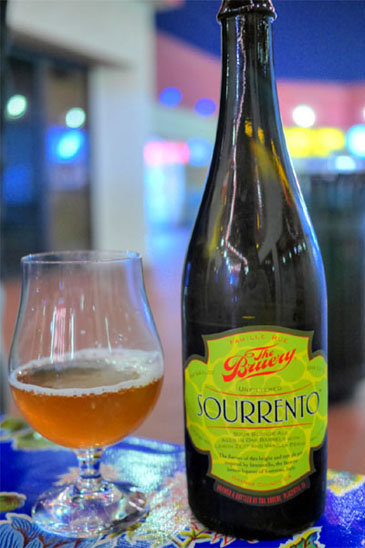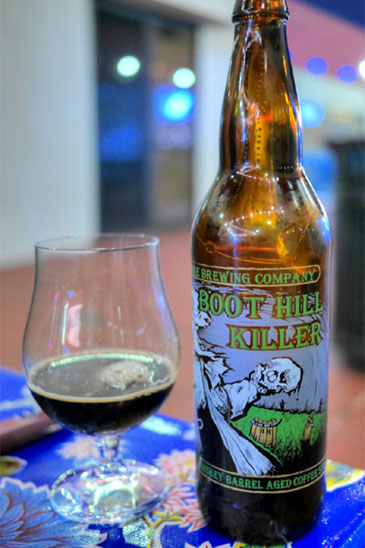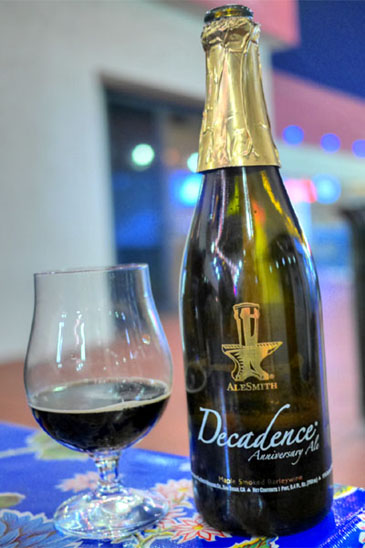 At this point, we departed and finished off the remaining beers outside. The
2014 The Bruery Sourrento
was a new release from the brewery, a sour blonde aged in oak with lemon zest and vanilla beans, ostensibly inspired by Limoncello liqueur. I'd never had anything quite like it before. I got loads of tart, puckering lemon up front, which then quickly transitioned to a forceful, lingering vanilla sugariness, the whole effect reminiscent of a lemon meringue pie. The
2014 Ironfire Boot Hill Killer
, meanwhile, was a bourbon and rye whiskey barrel-aged coffee stout. Lots of malt, chocolate, and smoke on this one, with the spiciness of the rye barrel really taking center stage, the whole thing underscored by a hint of coffee bitterness. Last up was the
2011 AleSmith Decadence Maple Smoked Barleywine
, which had a malty sweetness enhanced by the sugariness of Vermont maple syrup, but with a
Rauchbier
-esque smokiness enveloping everything. I wasn't a huge fan of this one, but then again, I'm not big on smoked beers period.
I wasn't sure what to expect going into this, especially since the place was still in soft-opening/friends-and-family mode, but we left Ramen Champ pretty content. The ramen itself was satisfying, especially with regard to the meat, and the combination of the noodles and the broth worked for me (though with the caveat that I'm not much of a ramen fiend in general). The bowls and sides delivered for the most part as well, so overall, this looks to be another good showing for Cailan and company.