Del Rey Kitchen (Los Angeles, CA)
Del Rey Kitchen
12740 Culver Blvd, Los Angeles, CA 90066
310.822.7788
www.delreykitchen.com
Sun 03/08/2015, 06:00p-08:40p

It's tough to find a BYOB-friendly place with good food, on the Westside, open Sundays. A last minute request for such a joint brought me to Del Rey Kitchen, a restaurant that I'd never heard of prior to this, and one that I actually found through a Yelp search for "BYOB." DRK opened in September 2013, and specializes in
yoshoku
(Western-style Japanese food) and
itameshi
(same, but specifically Italian-influenced) cuisine, which I don't get to try all that often. It's the work of two old friends: GM Michael Yee, and Chef Satoru Yokomori.
About the Chef
: Yokomori was born to a restaurant family from Kanagawa Prefecture, Japan. After attending Hadano High School and Meiji Gakuin University, he felt a desire to learn about European cuisine and thus started studying Spanish cooking in Tokyo. Yokomori later relocated to California, then worked stints in Canada and Guatemala before settling back in the Southland. He eventually secured a position at the now-shuttered Sawtelle Kitchen (now
Flores and The Ladies' Gunboat Society
), a longstanding Franco-Japanese restaurant opened by Chefs Kenji Minamida and Masayuki "Ishi" Ishikawa in 1990. After working his way up there, Yokomori moved to Chiba Restaurant in North Hollywood, an early pioneer of the sushi genre in LA, then helped open a number of restaurants, including both Sake House Yu Me Ya locations in Encinitas and San Diego. The Chef then took a job helming the kitchens at Izakaya Honda-Ya in the City of Industry, where he worked prior to starting DRK, and apparently also served as a loan officer at AAA Capital Investment, a mortgage brokerage firm.

The restaurant takes over the former strip mall digs of D'Antonio's Pizzeria, Vinny's Pizza, and Fioretto Trattoria, so the interior doesn't really read Japanese. In fact, the owners describe the place as having a
loisaida
("Lower East Side") vibe, whatever that means.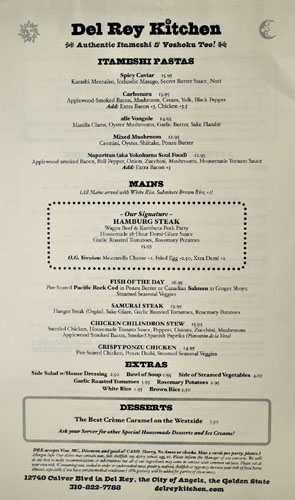 Del Rey Kitchen's menu is a lighthearted affair, filled with Western-inflected, Japanese-y comfort classics. Supposedly, some items from Sawtelle Kitchen are featured as well. To drink, all you get is a variety of non-alcoholic beverages for now, so BYOB is highly recommended. Click for larger versions.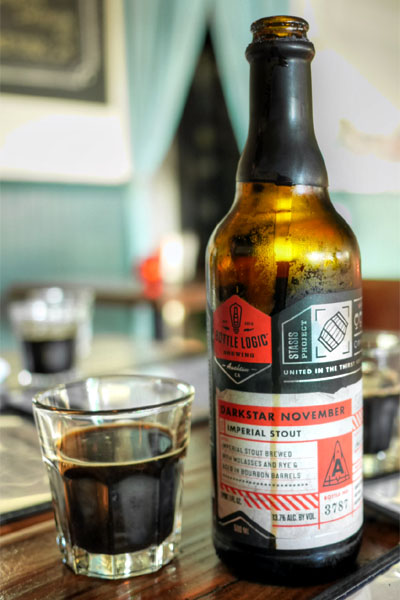 Given the liberal BYO policy, some appropriate beverages were called for, beginning with the
2014 Bottle Logic Darkstar November
. Released last November as the brewery's first barrel-aged bottling, this was an imperial stout brewed with molasses and rye, then aged for eight months in Buffalo Trace barrels. It was a strong effort, with tons of bourbon and fruit on the nose, and a taste that brought more dark fruit, booze, brown sugar, and an overlay of rye spice.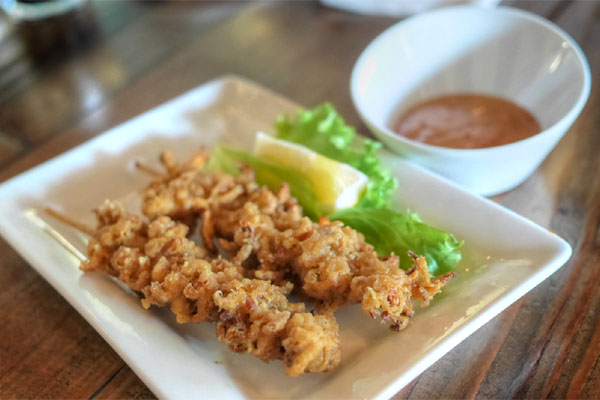 Ika Geso Age [$6.95]
We started with one of the night's specials, which did not disappoint. The deep-fried squid came out crispy and snappy, loaded with a straightforward savoriness that was accented by a bright squirt of lemon on top. The tangy, sweet sauce on the side made sense, but wasn't strictly necessary.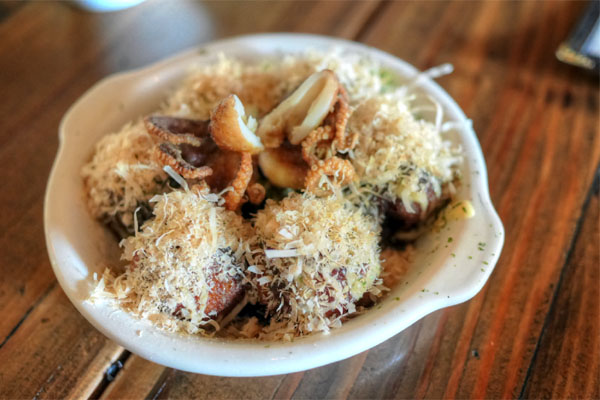 Takoyaki [$7.95]
| Octopus Fritters, Octobaby, Katsuobushi
Takoyaki
was classic in essence, with the deep brine of the snappy
tako
accompanied by a fluffy batter and contrasting sweet and savory nuances, the
katsuobushi
adding further potency to the mix. My favorite part here was the "octobaby," which gave things a great touch of crunchiness.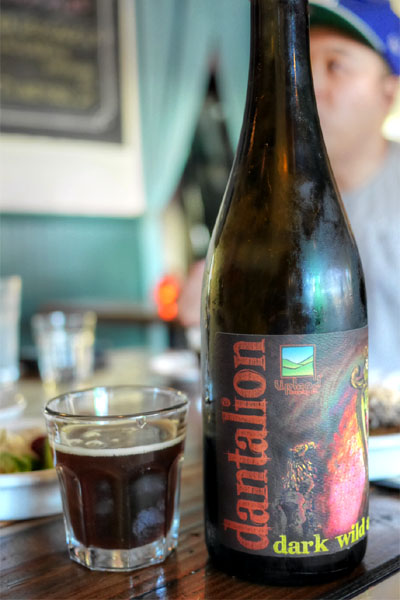 Our next beer was a sour, the
2015 Upland Dantalion Dark Wild Ale
, an Oud Bruin-inspired dark ale brewed with
Brettanomyces
and
Lactobacillus
and aged for a year in American white oak barrels. It was indeed tart, but not too tart, with dark, malty, chocolate-y notes countered by an intriguing spicy, grassy character.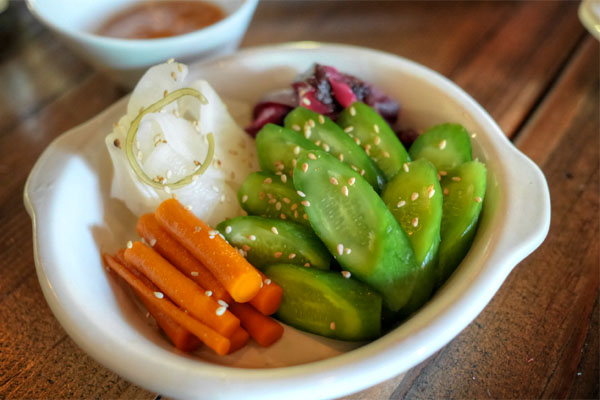 Tsukemono [$6.95]
Pickles this evening comprised
yamagobo
(pickled burdock), cucumber,
umeboshi
, and daikon varieties (my favorite of the quartet), paired with a well-placed topping of nutty sesame.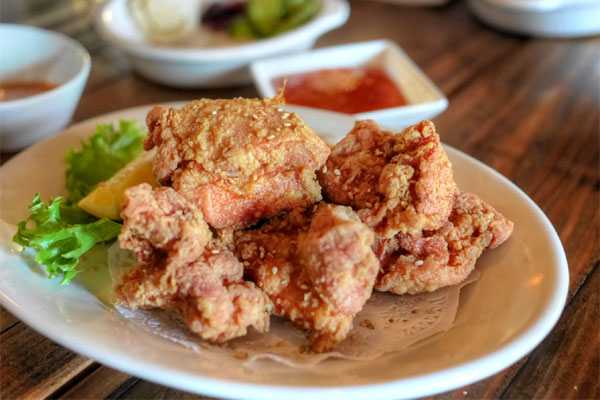 D.R.K.F.C. [$7.95]
| Marinated Boneless Chicken, Deep-fried, Karaage-Style
Del Rey's
kara-age
was spot on: tender, juicy, delightfully crispy morsels teeming with deeply savory, soy-tinged flavors that I found very gratifying.
Next to imbibe was the brewery-only
2013 AleSmith Barrel Aged Old Numbskull
, a barley wine matured for a year in bourbon barrels. It was a hefty brew to be sure, but still had finesse, with its notes of dark, slightly tart fruit, malt, and caramel set against influences of bourbon and vanilla from the barrel aging.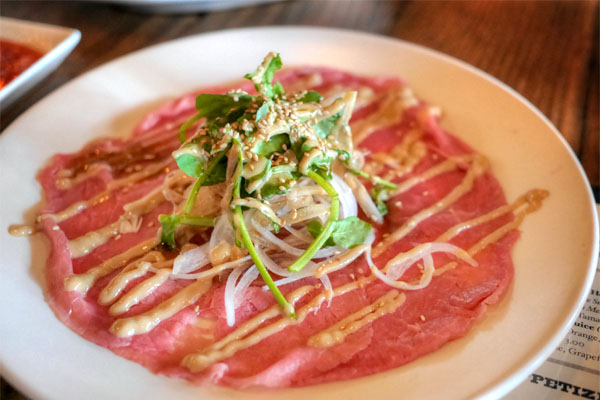 Beef Carpaccio [$10.95]
| Raw Beefsteak sliced razor thin, Watercress, Onion, Sesame Aioli
A beef carpaccio was supple and delicately beefy, a fitting counterpoint to the sesame and bright, acidic salad on top.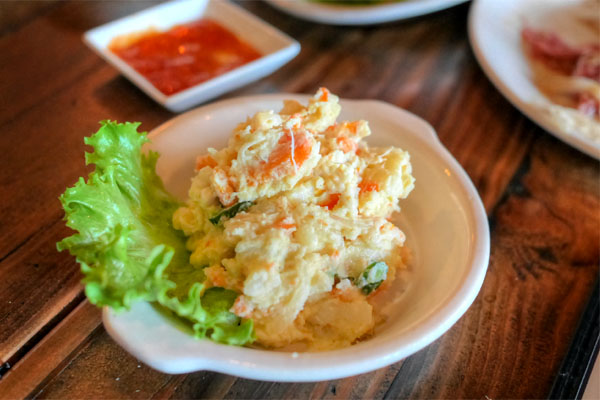 Potato Salada [$4.95]
| Japanese-Style Potato Salad, Pickled Cucumber, Carrot, Onion, House Special Mayonnaise
Being the potato salad fiend that I am, this was a must-order. It didn't let me down fortunately, a creamy, slightly sweet presentation taken up a notch by the crunchy, zesty bits of pickled veggie thrown in.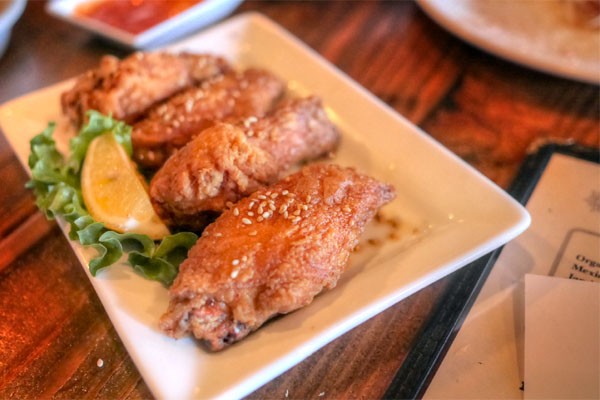 Drunken Wings [$7.95]
| Deep-fried Sake-marinated Chicken Wings
Wings were also on point: super crispy, utterly juicy, and rich in umami flavors, with just a whisper of sake character for good measure.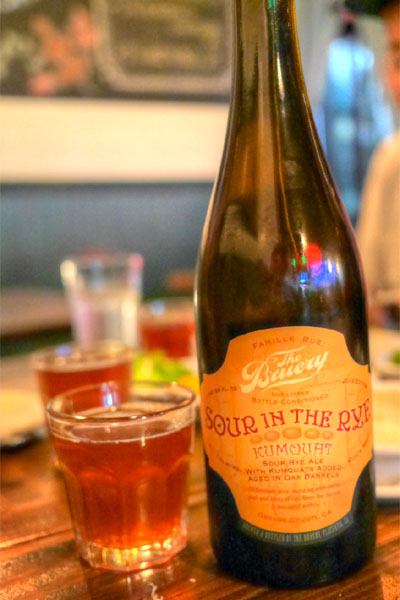 The
2013 The Bruery Sour in the Rye with Kumquats
was the second sour of our meal, a rye ale with kumquats added, aged in oak barrels. Lots of puckering, vinegary notes in this one, with a citrus-y, spicy, earthy character amped up by the heft of the oak. I wanted a stronger, more robust kumquat flavor here though.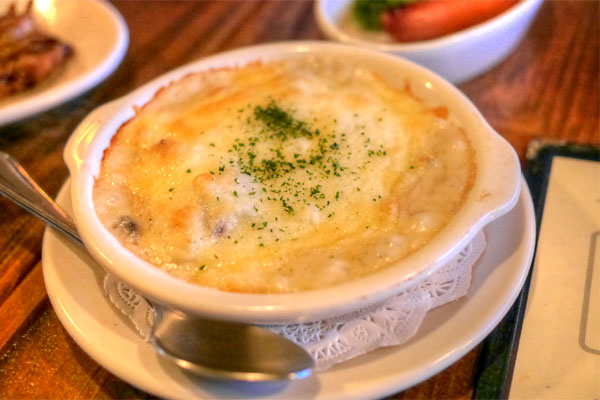 Potato Cheese Gratin [$6.95]
| Baby Red Potato, Monterey Jack and Parmesan Cheese, Mushroom, Creamy Goodness
The gratin came out super cheesy, super gooey, with the Jack and Parm making for a luscious topping for the base of potatoes.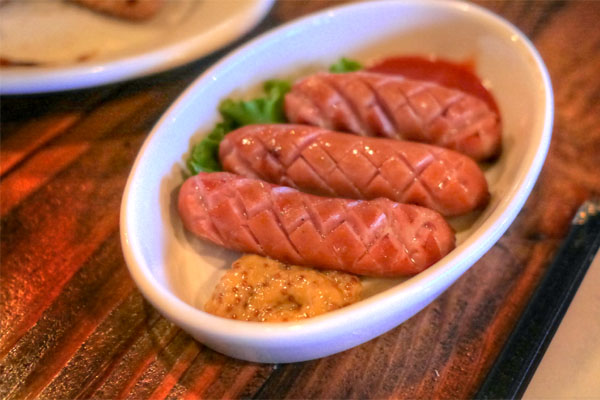 Kurobuta Sausage [$5.95]
| Oven-roasted Berkshire Pork Sausages, Mustard, Salsa Americano
Sausages were "cute," small, snappy, juicy examples with a smoky relish to 'em that went swimmingly alongside the sweet-tart mustard.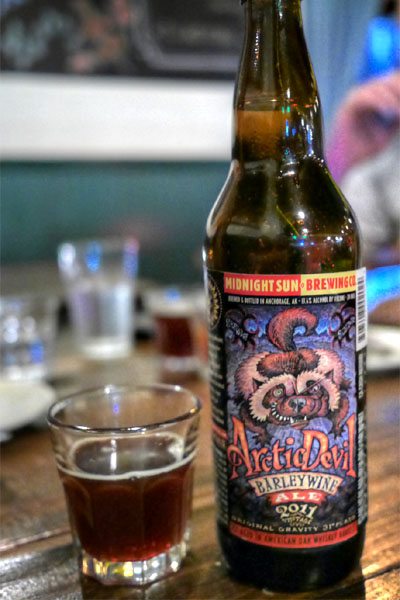 The oldest beer tonight, the
2011 Midnight Sun Arctic Devil
was an English-style barley wine, brewed once a year and aged in oak for several months before release. This one smelled of sweet, dark malt, and tasted of more malt, booze and caramel, with a distinct woody quality to it throughout.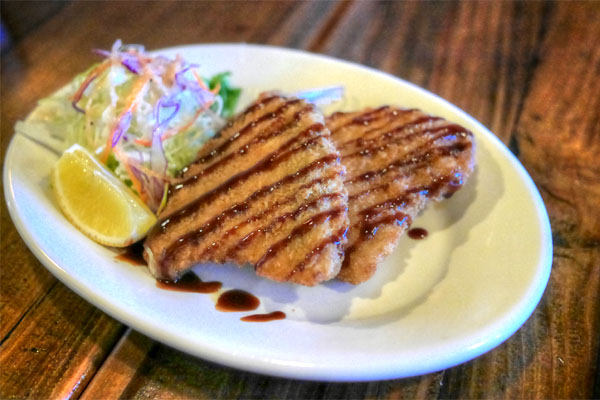 Aji Furai [$6.95]
| Wild Japanese Horse-Mackerel Fillets, Panko, Tonkatsu Sauce
Fried mackerel arrived light and crisp, with the fish's trademark salinity present. The drizzles of
sosu
, however, rendered the dish overly sugary for me, though the veggies did help temper that a bit.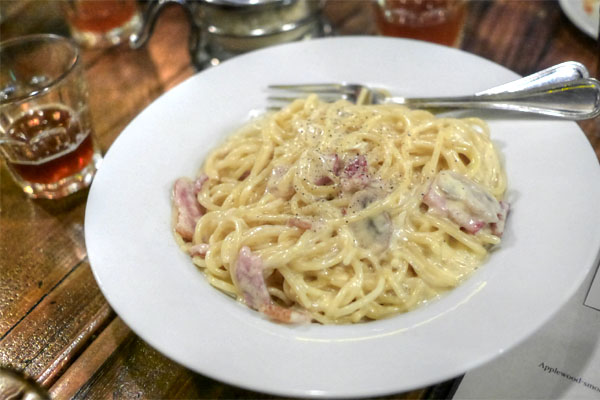 Carbonara [$15.95]
| Applewood-Smoked Bacon, Mushroom, Cream, Yolk, Black Pepper
Our first of two pastas was a Japanese take on the classic carbonara, one with a strong, smoky backbone of bacon set against the overall creaminess of the dish, the pepper adding just a hint of zestiness to the fray.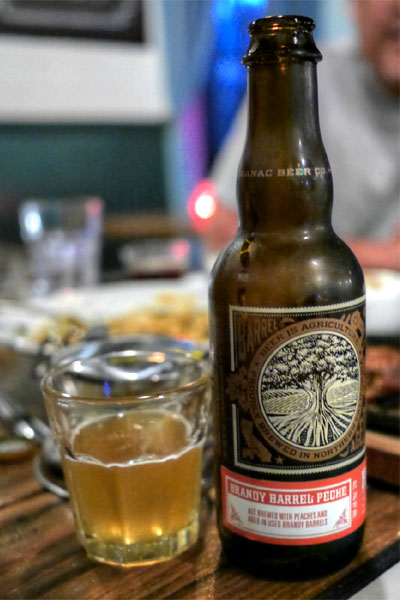 More sour goodness came in the form of the
2014 Almanac Brandy Barrel Peche
, an ale brewed with peaches and then aged six months in used brandy barrels. The beer drank tangy and bright, with juicy bits of citrus and stone fruit joined by tart, acidic nuances and an underpinning barrel-y darkness.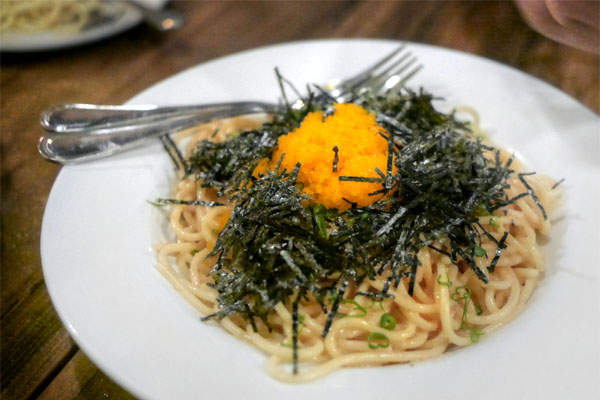 Spicy Caviar [$15.95]
| Karashi Mentaiko, Icelandic Masago, Secret Butter Sauce, Nori
This next
itameshi
pasta is arguably Del Rey's most popular, and for good reason. I found it thoroughly pleasing, with the heat of the spicy
mentaiko
perfectly set against the briny, umami-laced flavors of the dish.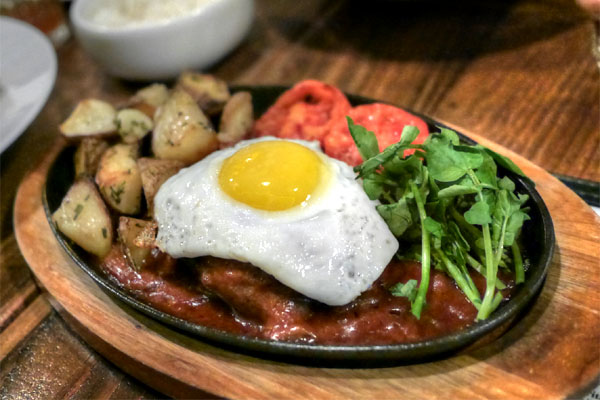 Hamburg Steak [$15.95 + $2.50]
| Wagyu Beef & Kurobuta Pork Patty, Housemade 18-Hour Demi-Glace Sauce, Garlic Roasted Tomatoes, Rosemary Potatoes + add Fried Egg
Our last savory brought out Del Rey's "signature" hamburg steak. I enjoyed the actual meat itself, with its classically savory, satisfying flavors and springy consistency delivering as promised. The demi, however, went overly saccharine, hiding some of the inherent goodness of the steak, though I did appreciate the moderating effect of the rice and potatoes, not to mention the enveloping richness of that runny egg.
I opened a dessert beer in preparation for the sweet stuff, the
2015 The Bruery Chocolate Rain
, released just days prior. A bourbon barrel-aged imperial stout with TCHO cacao nibs and vanilla beans added, this was clearly the most intense beer of the night, with massive amounts of chocolate and dark fruit on the nose leading to flavors of more chocolate, fruit, malt, spice, and bourbon. It was sort of like a boozy chocolate cake. Very good overall, though I wanted to taste more vanilla.
The Best Crème Caramel on the Westside [$7.50]
Deeming this the best crème caramel on the Westside is a bold claim, but not entirely unfounded I suppose. I can't say that it's the best, but it certainly was a damn fine effort, with the rich, sugary, caramel-y flavors here working well with the eggy custard.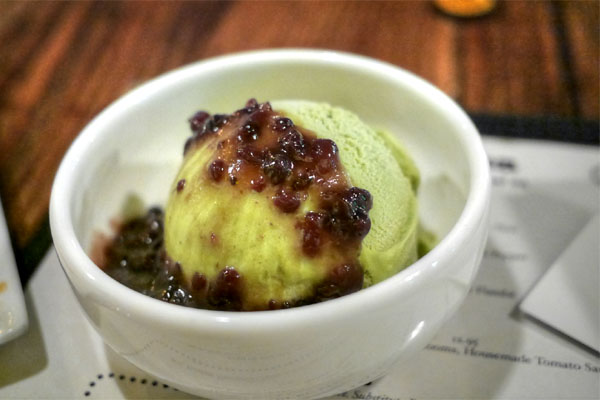 Green Tea Ice Cream with Azuki Bean [$4.95]
The green tea ice cream was exactly what you'd expect, with its pleasantly bittersweet flavors doing a good job evening out the sugariness of those red beans.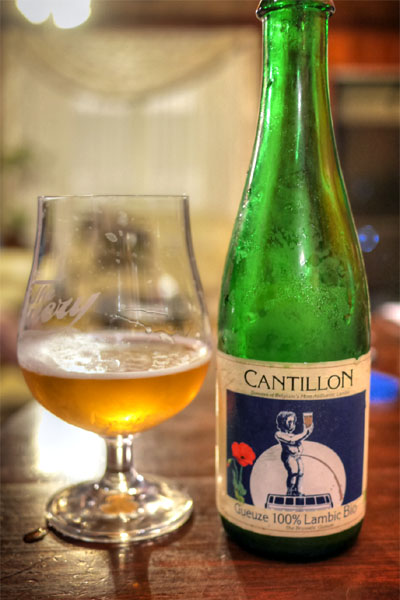 One of my dining companions happened to live within walking distance, so we headed over and popped a bottle of
Cantillon Gueuze 100% Lambic-Bio
. I'd had the standard gueuze before, but not this variant, a blend of one-, two-, and three year-old lambics ostensibly brewed with organic wheat and malt. Upon opening, I got huge amounts of intoxicating, barnyard, almost blue cheese-like funk, while taste-wise, it was milder, with more of that earthiness and puckering, acidic tartness commingled with a light citric character and a hint of grassiness.
I wasn't expecting all that much going into here, but I left quite content I'll say. The cooking isn't ground-breaking, but managed to be comforting, familiar, filling, and just straightforwardly tasty for the most part. Add to that the BYO beers, and I was pretty happy.