Quarters Korean BBQ (Los Angeles, CA)
Quarters Korean Barbeque
3465 W 6th St, Los Angeles, CA 90020
213.365.8111
Sat 02/21/2015, 06:30p-10:30p

One of the latest entrants to the high-end KBBQ game is the curiously-named Quarters, which debuted last November, apparently the work of a relative of the people behind the ever-popular
Kang HoDong Baekjeong
. In fact, the restaurant is located within spitting distance of Baekjeong, at the far edge of Chapman Plaza. As the name would imply, the conceit here is that meats are ordered in quarter-pound portions, "tapas" style. It may be a bastardization of the term, but the concept was at least interesting enough to warrant a visit.

Quarters occupies the former home of The Gogi, My House, and Yi Ssi Hwa Ro, three not particularly well-regarded AYCE KBBQ places. The space has been updated a bit, with the patio out front spiffed up in particular (no grills there though, as it serves as more of a waiting area). Click for a larger version.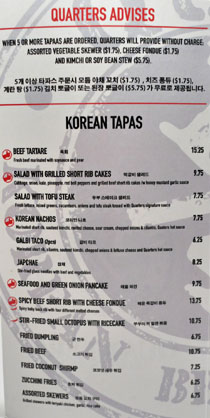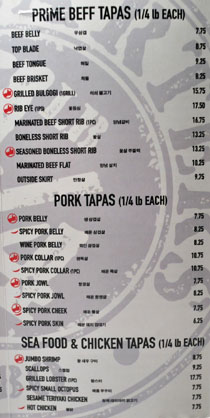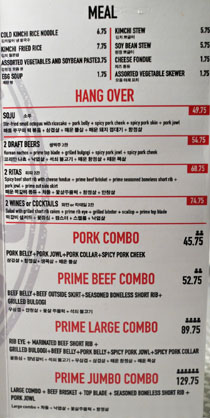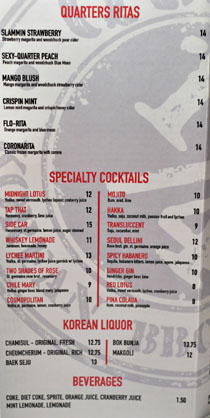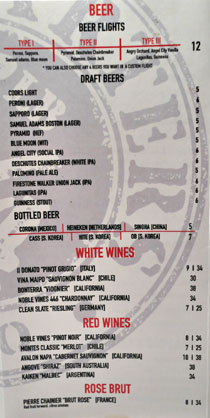 As for Quarters' menu, the small-sized portions of meat are joined by a number of other items more befitting of the moniker "tapas." Purchase five orders of meat, and you'll be gifted with the signature cheese fondue, kimchi or soybean stew, and steamed egg. Of course, there are combos as well, but I'm not sure if they'll actually save you money. There are also the so-called "Hang Over Combos," which included booze along with the food. Note, however, that in all cases, the staff does the cooking for you, which is par for the course at higher end joints like this. Meanwhile, drink-wise, you'll find a decent selection of beers (for KBBQ), an equally decent array of wines (for KBBQ), your typical Korean booze (
soju
and the like), and some semi-decent cocktails. Click for larger versions.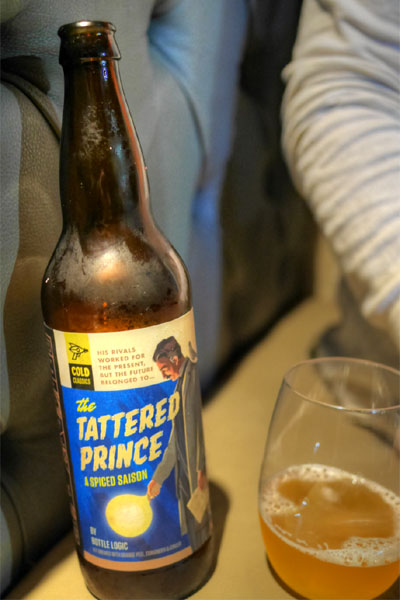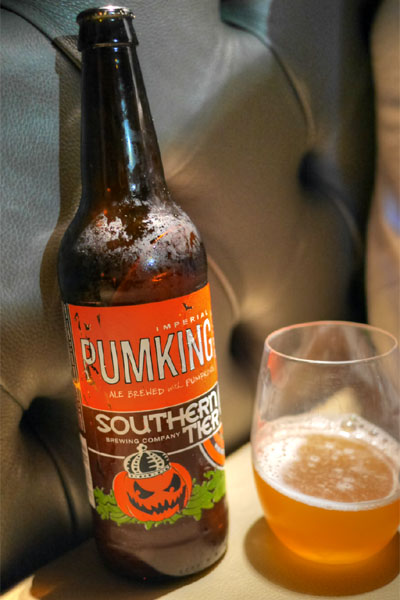 Giving the hour-plus wait we had to endure (no reservations are taken), we broke out a couple bottles in the patio--discreet BYOB style--to help pass the time. Up first was the
2015 Bottle Logic Tattered Prince
, a saison brewed with Sorachi Ace hops, ginger, coriander, and orange zest. It was pretty good, with lots of spice and pear sweetness on the nose, the palate coming in crisp, bitter, slightly funky, and a tad metallic. We also tried the
2014 Southern Tier Pumking
, despite it being out of season by this point. It was probably one of the better pumpkin beers I've had, smelling of sweet spice and grain and tasting of more pumpkin, spice, and a nutty, almost almond-like sugariness.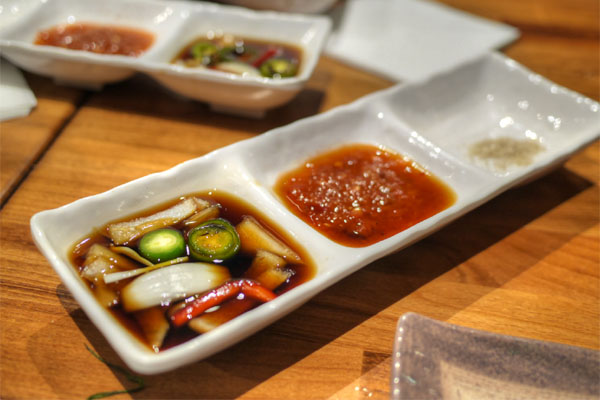 Condiments included a soy- and rice wine-based sauce with onion and jalapeño (I believe that's what it was),
ssamjang
, and salt-n-pepper with sesame oil.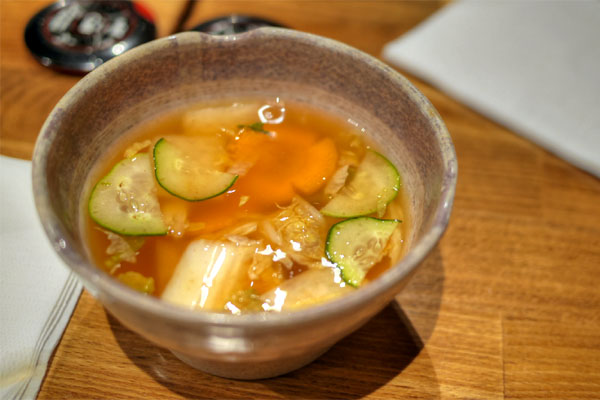 Water kimchi was refreshing, with a nice, not-too-spicy bite to it.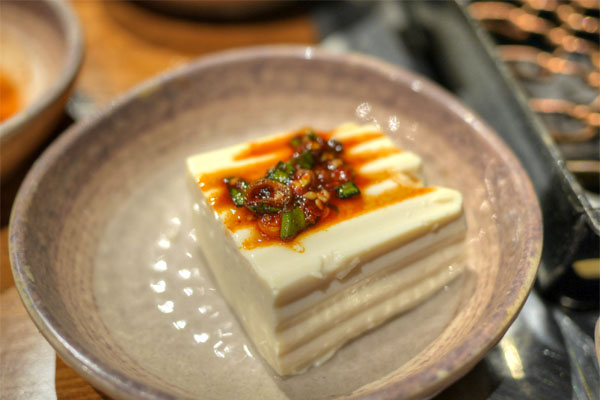 They don't serve a bunch of
banchan
here, but the ones they do have are solid, such as the tofu.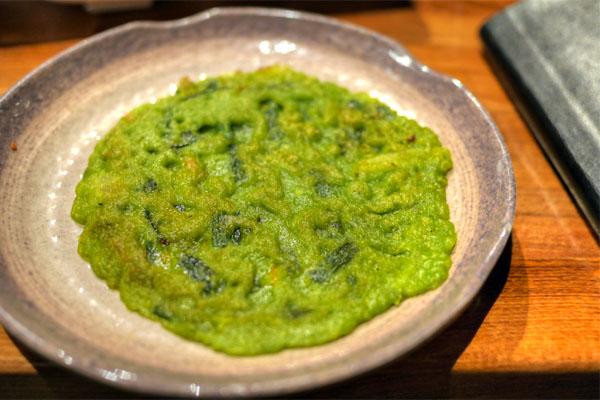 I'm quite the fan of the
pajeon
, but I don't think I've ever encountered one so green, I think due to the incorporation of spinach. In any case, I found it quite to my liking.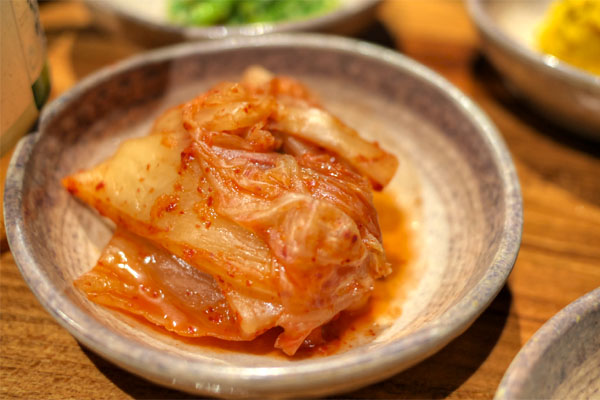 Good ol'
baechu kimchi
was on point, natch.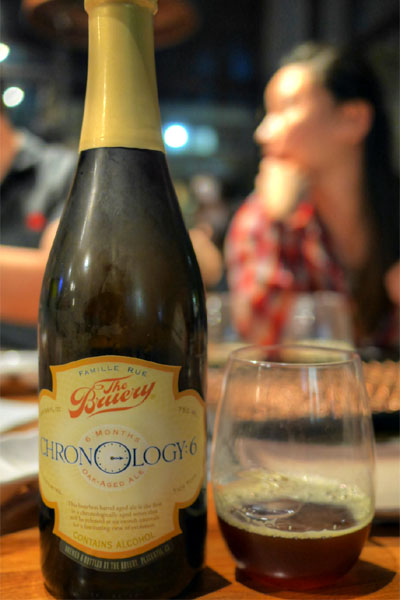 Moving on to our next beer, the
2014 The Bruery Chronology:6
was a strong ale aged for six months in bourbon barrels, the first in a chronologically aged series that will be released in six month intervals in order to give drinkers a glimpse at how the beer changes as it ages in oak. I found it reminiscent of the brewery's lauded Anniversary ales, with loads of rich toffee and brown sugar on the nose, and intense flavors of dark fruit, wood, and booze.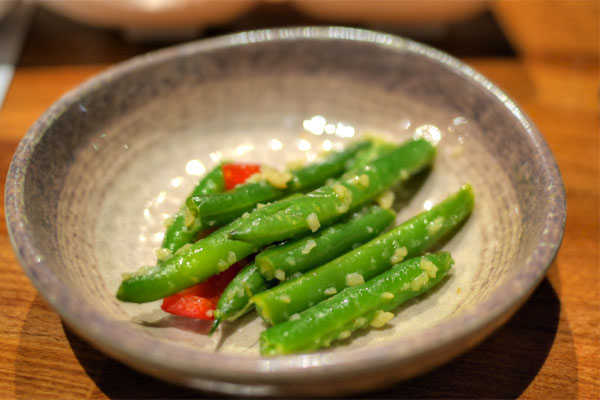 Green beans were delightfully crunchy, enrobed with garlicky goodness.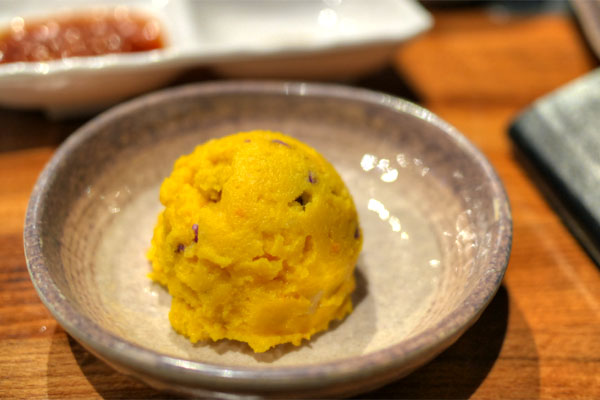 A
gamja saelleodeu
featuring sweet potato was a bit on the saccharine side for me, but that's to be expected given my disdain for the root vegetable.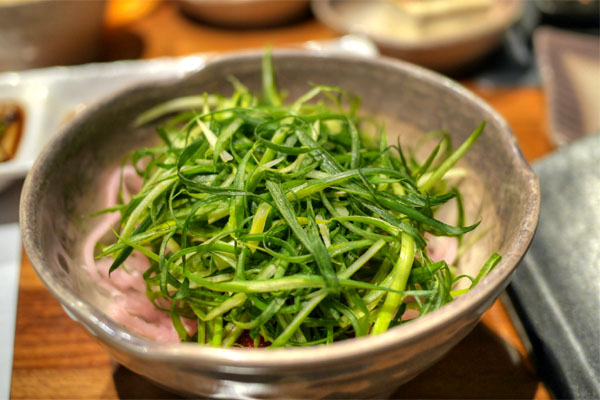 Next up was what seemed to be a mash up between a scallion salad (
pajori
) and spicy shredded daikon (
musaengchae
). Regardless of what it was, I liked it, with the zestiness of the green onion pairing well with the heat of the radish.
And of course, we were provided with a more standard interpretation of salad as well.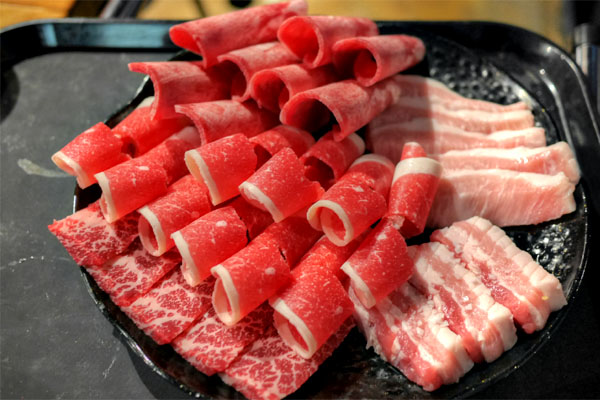 Above we see our first order, comprising five different varieties of meat, a quarter-pound each. A glorious sight indeed.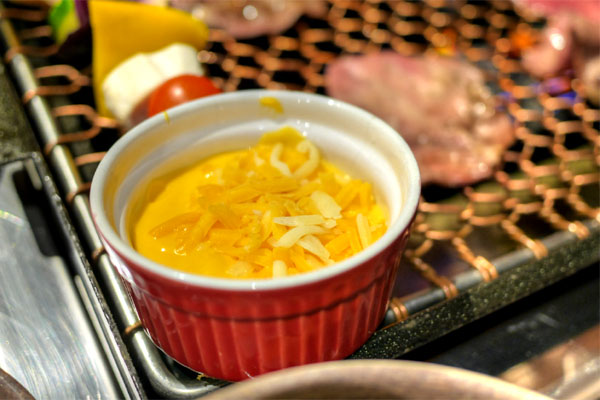 Given that we had five orders of "tapas," we were gifted with the restaurant's various freebies, starting with their odd cheese fondue, which we found Velveeta-like.
The egg soup (
gyeran jjim
), meanwhile, was pretty spot on, coming out all fluffy and flavorful.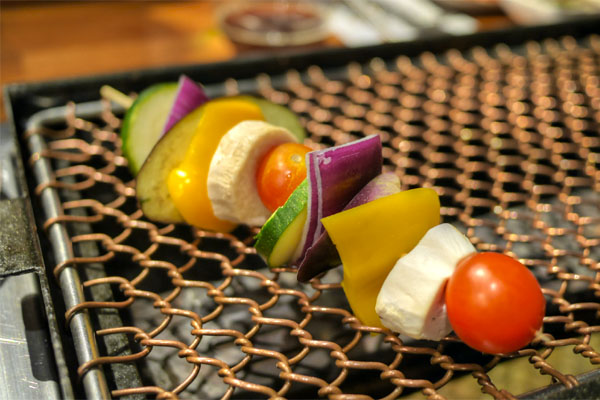 The assorted vegetable skewer was nice to look at, but didn't add too much to the experience.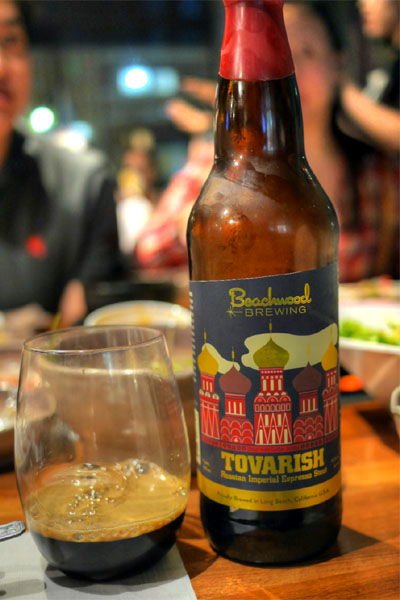 Next to imbibe was the
2014 Beachwood Tovarish
, a Russian imperial stout brewed with coffee beans from Portola Coffee Lab as well as blackstrap molasses. It was a prime example of an espresso stout, with the beer's inherent roasty, malty, and dark fruit qualities melding well with the bitter coffee notes present.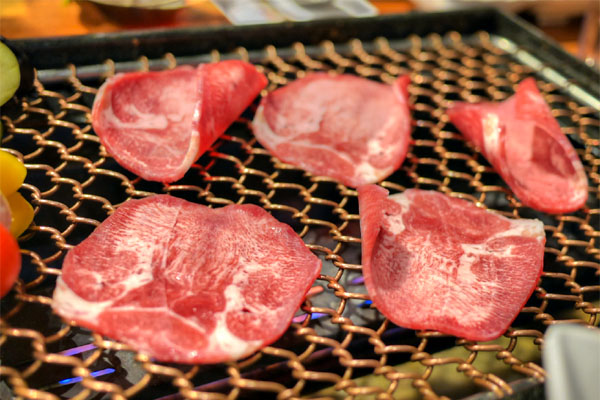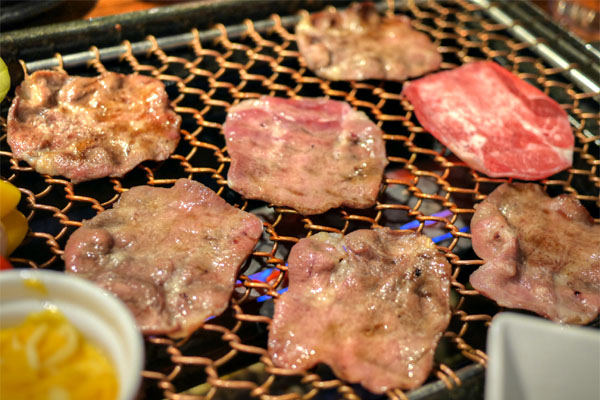 Beef Tongue [$9.25]
Getting into the actual
gogi
now,
hyeo mit
's always a welcomed way to start, and the cuts tonight were just what I wanted: slippery and slick, with a good bite and some deeply bovine flavors. Particularly tasty with a dab of the sesame.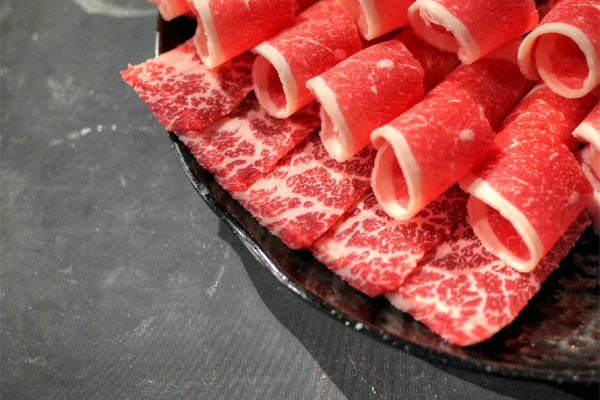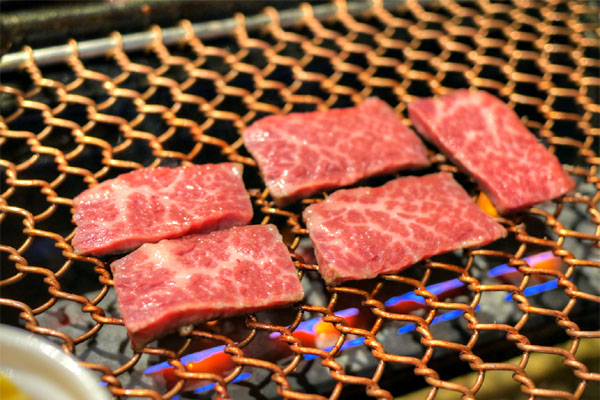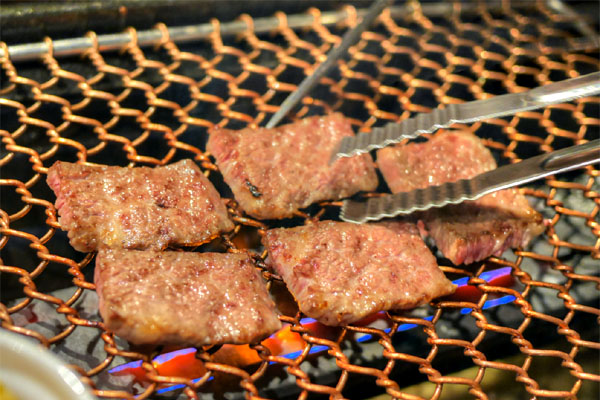 Boneless Short Rib [$13.25]
Kkotsal
arrived beautifully marbled and ate super tender, with a delicate flavor profile accented by a hint of smoky char.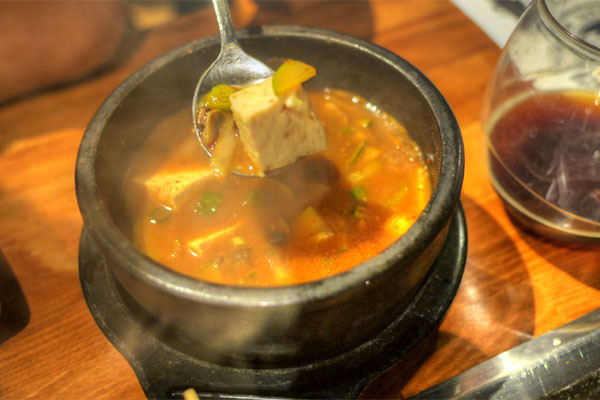 Another freebie, the
doenjang jjigae
(soy bean stew) did a commendable job showing off the earthy flavors of soybean paste, all set against the mild blocks of tofu present.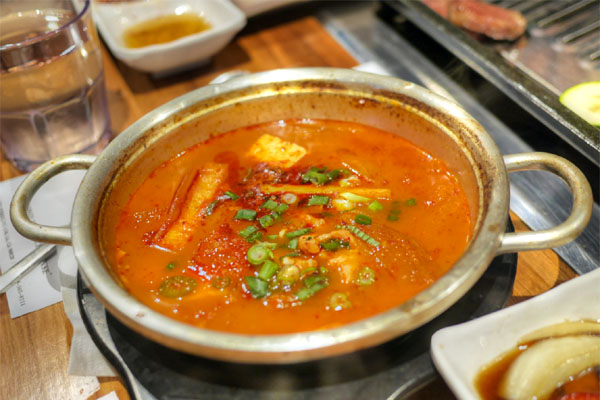 We also tried the other option, a prototypical presentation of the staple
kimchi jjigae
.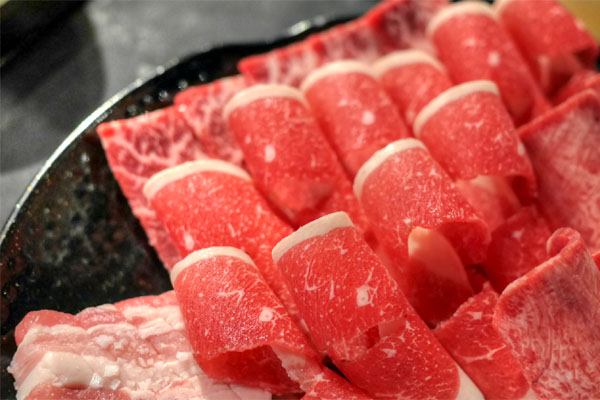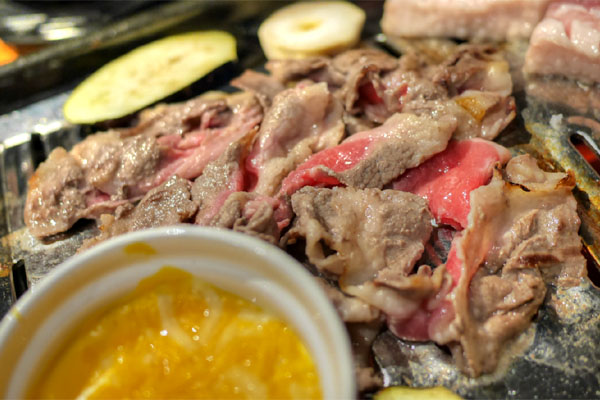 Beef Brisket [$8.25]
Chadol bagi
didn't disappoint either, giving us some surprisingly deep, beefy flavors.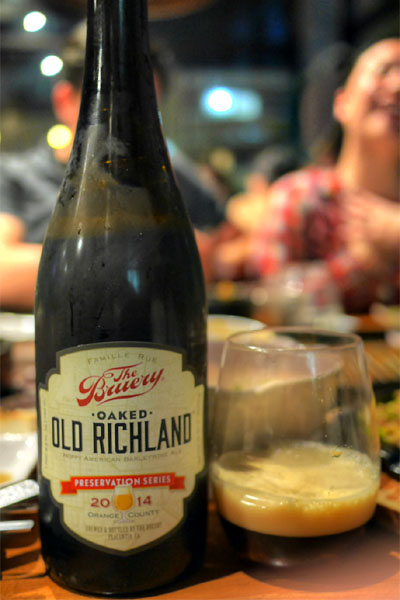 The
2014 The Bruery Preservation Series: Oaked Old Richland
was an American-style barleywine, dry hopped with Simcoe, Centennial, and Sterling hops then aged on oak for a few weeks. I found this super hoppy on the nose, while the palate was all about hints of wood and that malty, caramel-laced backbone, which lent a sense of balance to the beer. Almost IPA-like.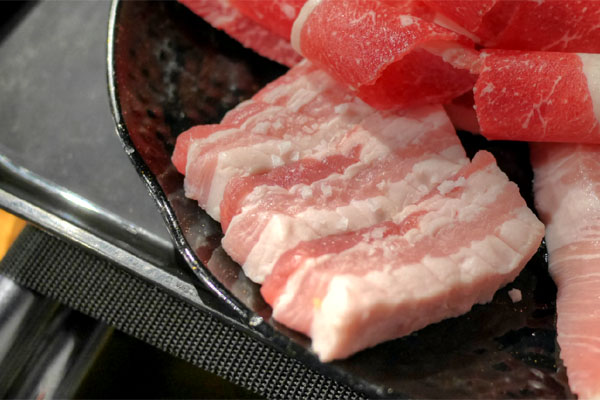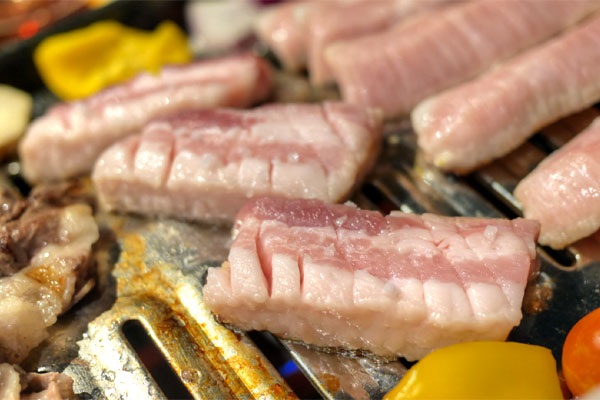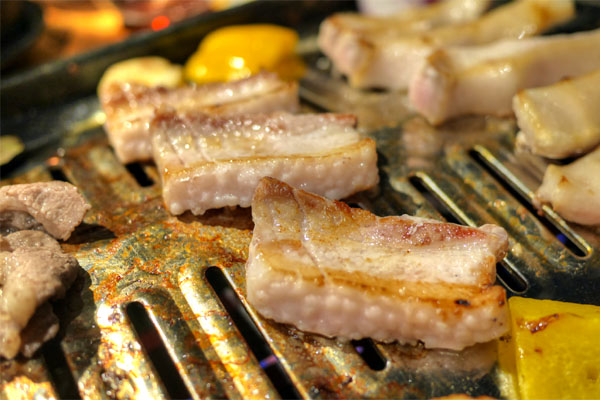 Pork Belly [$7.75]
Sangeopsal
came thick cut and richly-flavored, with a mouth-wateringly piggy savor that worked beautifully with a hit of bitter char. Great with a bit of grilled kimchi.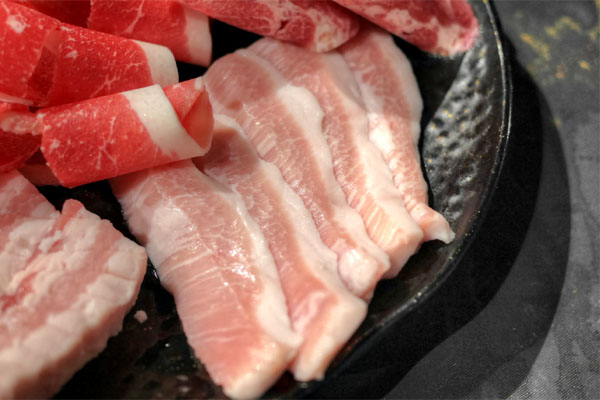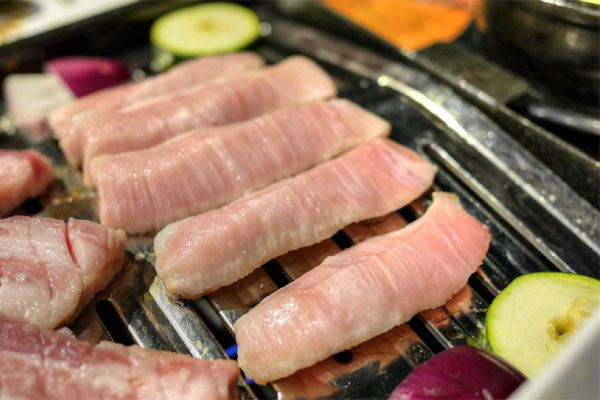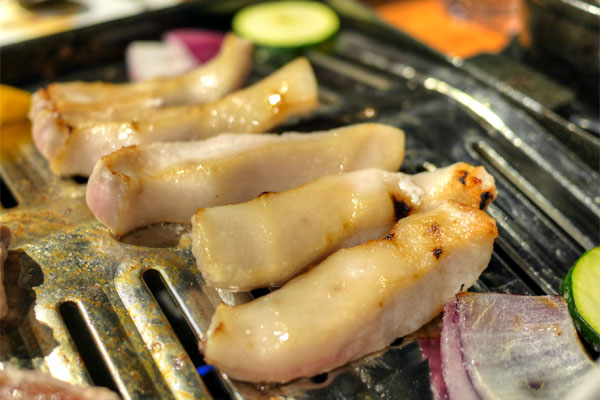 Pork Jowl [$7.75]
The
hangjunsal
, meanwhile, was even more intense, a super fatty, gelatinous, yet somehow "crunchy" cut that was unmistakably porcine.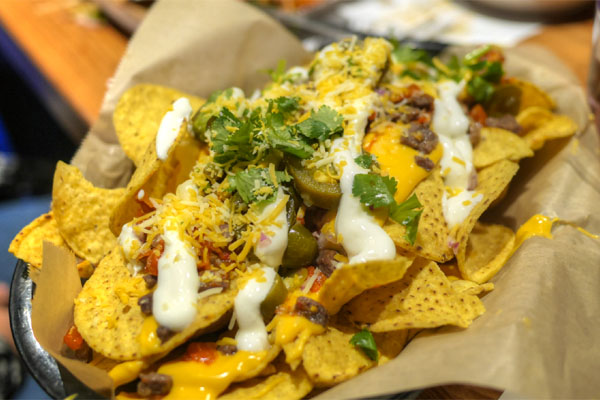 Korean Nachos [$7.75]
| Marinated short rib, sauteed kimchi, melted cheese, sour cream, chopped onion & cilantro, Quarters hot sauce
Korean-style nachos didn't strike me as particularly Korean, but they were tasty and just slutty enough, with the flavors coming together in classic nacho fashion.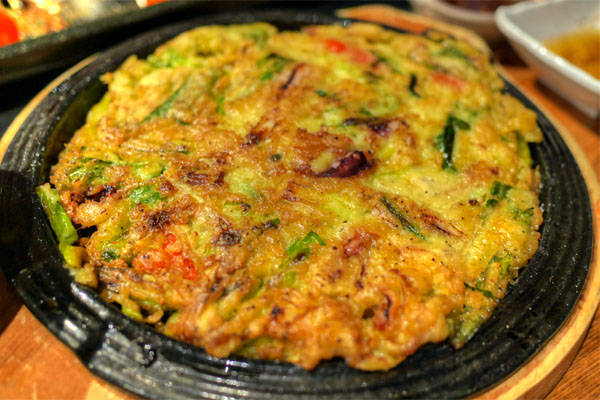 Seafood and Green Onion Pancake [$9.75]
I'm a sucker for
haemul pajeon
, and Quarters' version was enjoyable, though I would've liked some more substantial textures here from the various items of seafood.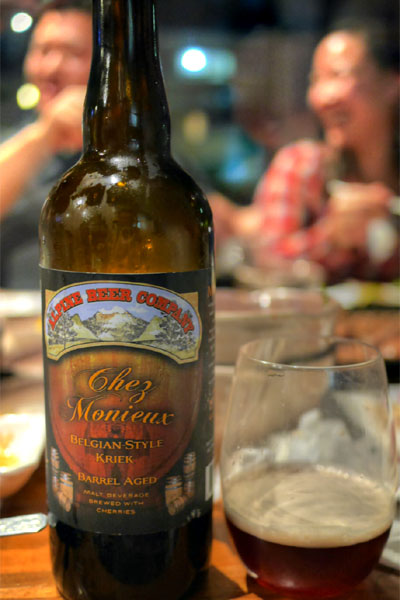 Unlike the similarly-monikered Chez Monus, the
2013 Alpine Chez Monieux
has never really gotten much love in beer circles. As such, I must've gotten a good bottle or something, because I quite enjoyed the sour, a Belgian-style, wine barrel-aged kriek. I got lots of barnyard funkiness up front in the aroma, commingled with vinegar, while on the palate, there was a good amount of cherry sweetness, tartness, more funk, and a pleasant, puckering acidity.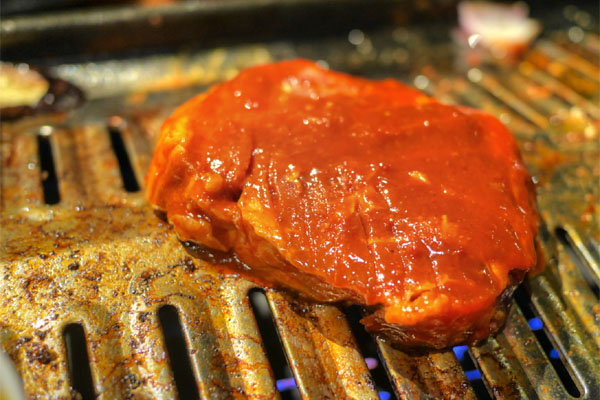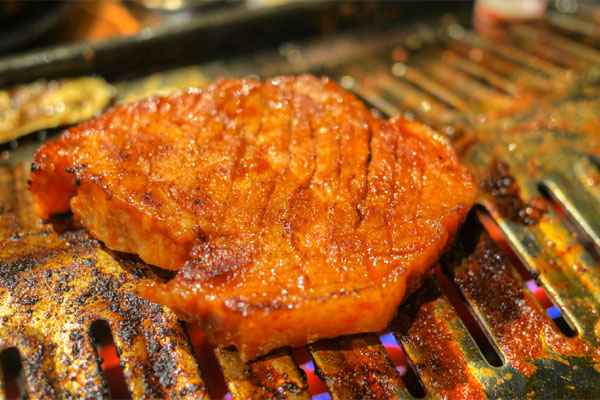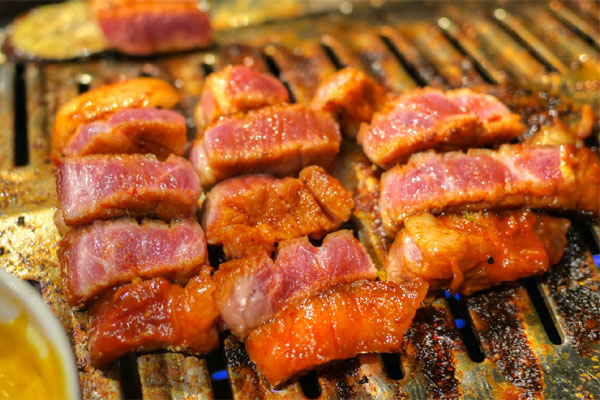 Spicy Pork Collar [$10.75]
Maeun moksal
came out slathered in a wicked shade of red, with the cut giving up some of the most intense flavors of the night, a commingling of porcine, spicy, and sweet notes in a fatty, gratifying package. Interestingly, our server (Irene) recommended that we utilize the cheese dip for this one; I still wasn't sold.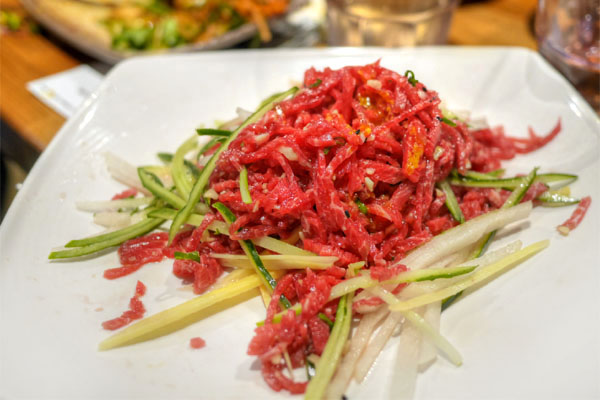 Beef Tartare [$15.25]
| Fresh beef marinated with soy sauce and pear
Yukhoe
came out too cold unfortunately, which muted some of the flavors, but the dish was still enjoyable, with the meat well accompanied by contrasting sweet and spicy flavors.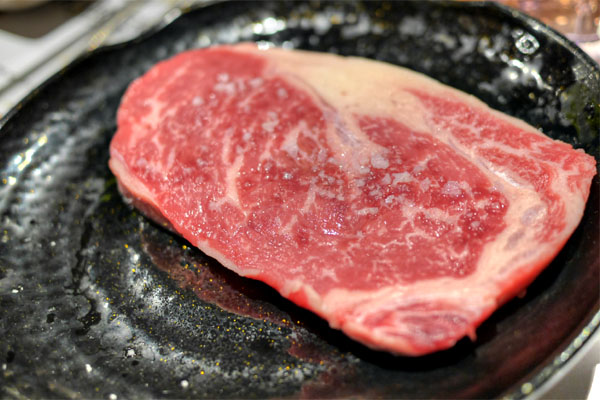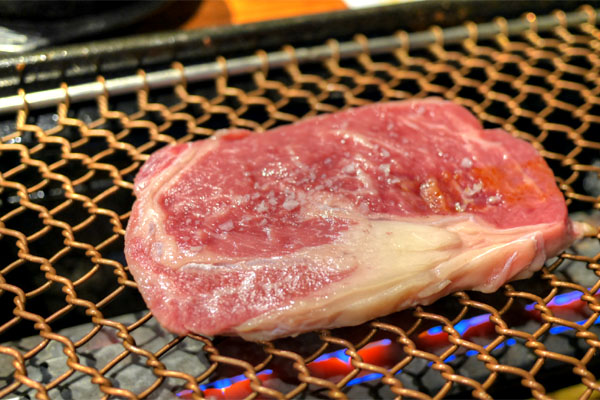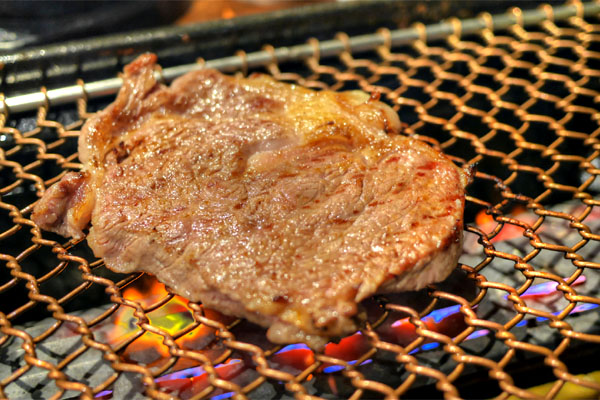 Rib Eye [$17.50]
The
kkot deungsim
was a nice looking specimen, and cooked up real juicy and tender, with a well-placed bit of charring to even it out.
We ended on a lighter note with the final beer, the
2014 Logsdon Straffe Drieling
, a farmhouse-style tripel brewed with spices. I enjoyed it, with its aromatic, almost tea-like nose leading to a refreshingly bitter, biting, earthy-yet-spicy sensation on the tongue.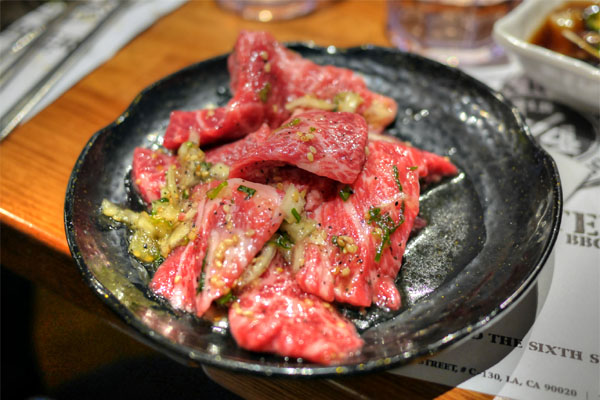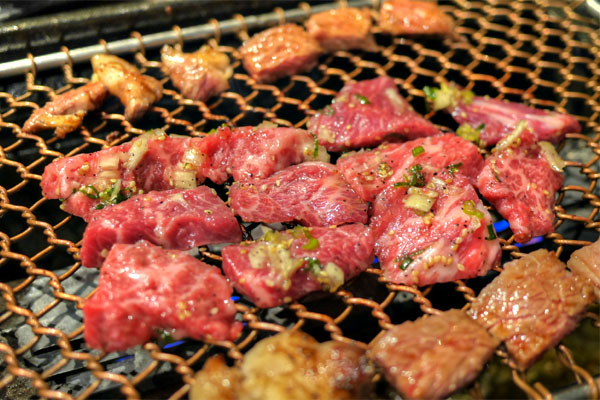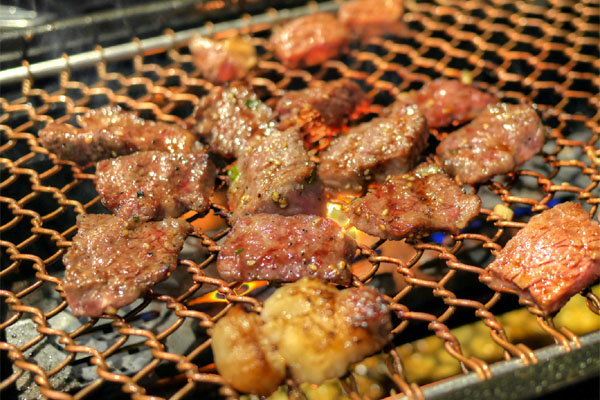 Seasoned Boneless Short Rib [$13.25]
Our final meat was arguably my favorite of the bunch. The
jumulleok
was all that you'd want in
gogigui
: a masterful blend of juiciness, tenderness, and beefiness, enhanced by the undeniably potent seasoning going on.
I was a bit skeptical about Quarters going in, but I think we all left duly impressed. Certainly, I found it to be one of the best Korean barbecue meals I've had, and I'd place the meat quality roughly on par with what's available across the way at
Kang Hodong
. The service was even better than Baekjeong's, and the vibe a bit more sedate. Combined with the menu format and a better beverage program, it's a more approachable, "complete" experience overall. Fans of the KBBQ will want to check this place out for sure.