Pok Pok Phat Thai (Los Angeles, CA)
Pok Pok Phat Thai at Far East Plaza
727 N Broadway, Los Angeles, CA 90012
213.628.3071
www.pokpokphatthaila.com
Sat 2/14/2015, 07:25p-10:15p

First came the likes of
Roy Choi
's
Chego
, and then
Starry Kitchen
, Scoops, and now we've got Pok Pok Phat Thai, perhaps the most significant debut to hit the Chinatown dining scene thus far. Situated in C-Town's Far East Plaza just steps from Chego (in the old Hoan Kiem spot), the place debuted on December 31st and is a casual, quick-service outpost of Andy Ricker's game-changing
Pok Pok
in Portland (a NYC location opened in 2012). I'd been wanting to visit for a while, but limited hours (dinner on weekends was just recently added) kept me away until now.


Pok Pok Phat Thai's menu features an abbreviated selection of starchy Thai staples--including multiple variationsz` of the restaurant's eponymous dish--joined by a daily special (apparently sold out tonight). To imbibe, pretty much all you get is Som drinking vinegar, tea, and coffee, so we just sat outside on the picnic tables and BYOB'd it. Click for larger versions.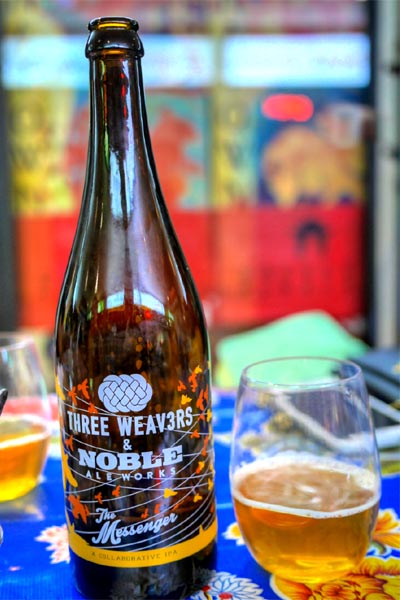 We began with a new-ish local release, the
2015 Three Weavers Yuzu Messenger IPA
, a collaborative ale brewed with the folks at Noble Ale Works. Thanks to the incorporation of yuzu zest, the beer was super juicy, super citrusy on the nose, with plenty more sweet-tart fruit on the palate and a crisp, bitter backbone to liven things up. Surprisingly good.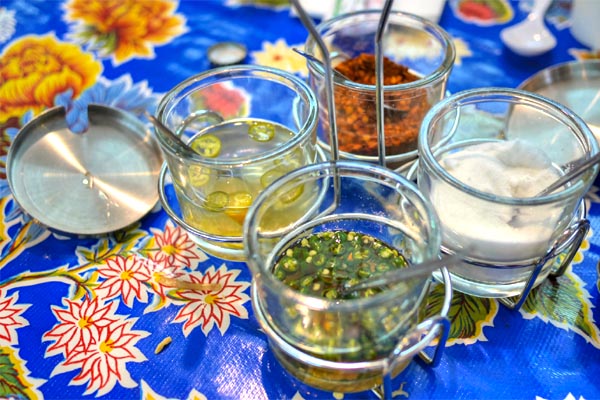 One of the criticisms that has been heavily echoed in the past few weeks is that the food here isn't quite punchy enough. I'm conjecturing that it's because it hasn't been communicated effectively to diners that we're supposed to add condiments to taste (ostensibly the way it's done in Thailand): sugar (
naam tan
) for sweetness, chile powder (
phrik phon
) for spice, vinegar with mild green chilies (
phrik naam som
) for tartness/heat, and fresh chile-fish sauce (
phrik naam plaa
) for umami/heat.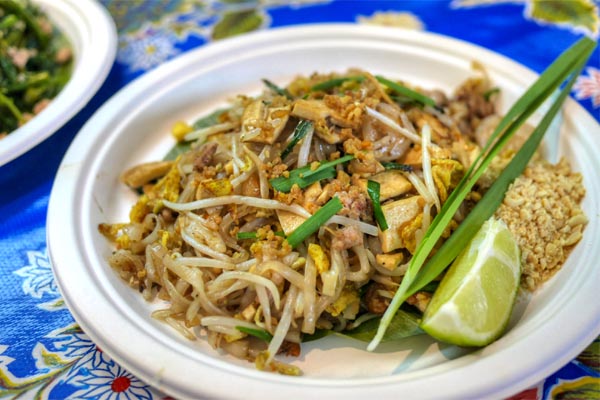 Phat Thai Ruam [$11.50]
| Thin rice noodles cooked in rendered pork fat with tamarind, fish sauce, palm sugar, peanuts, dried tofu, dried shrimp, preserved radish, egg, garlic chives, bean sprouts and chili powder. With 1/2 prawns and 1/2 ground pork
Naturally, we had to commence with Phat Thai's eponymous dish, a rendition grounded by an undercurrent of funky, umami goodness courtesy of the
kung haeng
. The interplay between the chives, sprouts, and egg was also much appreciated, as was how the included shrimp were well-cooked and not overdone. A squirt of lime served as a great accent point in the dish, but I enjoyed it even more with a dash of extra fish sauce, which imparted further depth to the noodles. Definitely a nice change of pace from the overly sugary presentations that you typically encounter Stateside.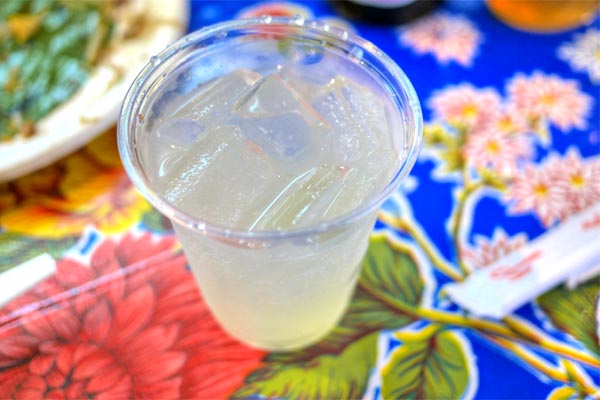 Pok Pok Som Drinking Vinegar [$4.00]
| celery
Ricker's well known for his drinking vinegars by this point, so we felt compelled to sample a few. The first variant was slightly disconcerting for me, as the combination of celery and vinegar resulted in a vegetal, sweet, sour, pickle-like concoction that I found a tad off-putting.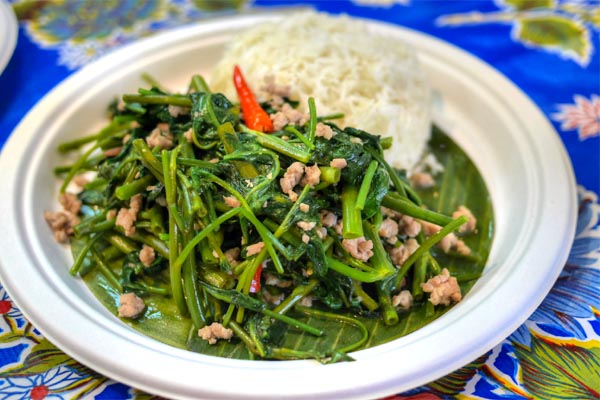 Phat Phak Buung Muu [$10.00]
| Water spinach stir fried with pork, garlic, Thai chilies, preserved yellow beans, oyster and fish sauces, served with jasmine rice.
Ong choy
was put to good use, with a pleasing crunch and a satisfying savoriness to the veggie that was enhanced by the use of pork. I quite liked the creeping heat on the finish here, and again, a drizzle of extra
phrik naam plaa
didn't hurt either.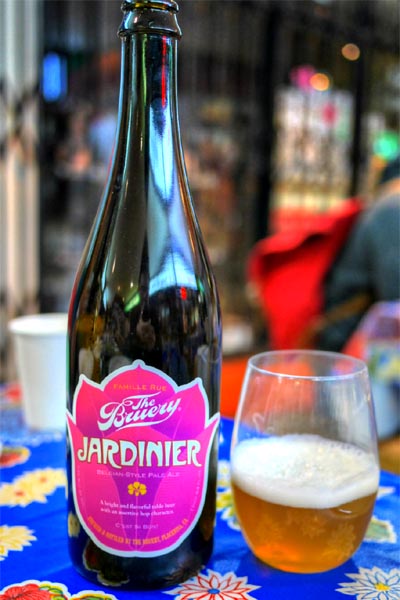 Next to imbibe was the
2015 The Bruery Jardinier
, a Belgian-style pale ale that's meant to be sessionable (something you usually don't associate with The Bruery). It was a laudable effort given what they were shooting for here. The beer smelled fresh, spicy,
witbier
-esque, and tasted much the same, with a refreshing hoppy character that made it all the more interesting.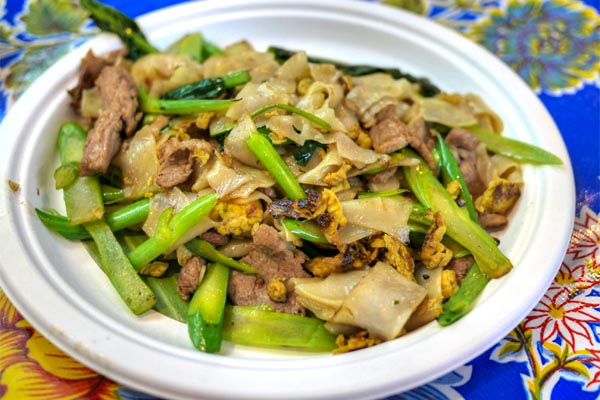 Phat Sii Ew [$9.00]
| Fresh wide rice noodles, pork, Chinese broccoli, egg and black soy sauce stir-fried in a smoking hot wok. Cooking method studiously lifted from Yok Faa Poohana, a favorite Chiang Mai street side restaurant. Had to eat there about 50 times before trying to cook the dish...but had it figured after the second or third visit. Simple is best!
Pok Pok's take on the ubiquitous
pad see ew
was a gratifying plate, with the wide, supple noodles working well alongside the egg and pork, the
phak khana
adding a wonderful crunch and bitterness to the fray. Try this with a further sprinkle of tangy vinegar on top.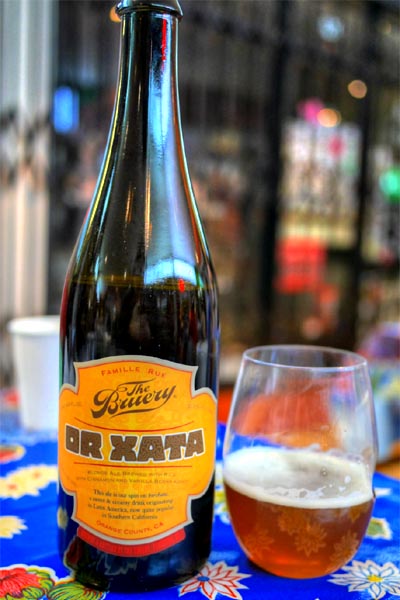 The
2015 The Bruery Or Xata
was undoubtedly the most intriguing beer of the evening. A blonde ale brewed with rice, cinnamon, vanilla bean, and lactose, this one really did recall its namesake, giving up all the sweet, spicy nuances that you'd expect in an horchata. Surprisingly light; I'd actually like to see the same flavor profile presented in a creamier, heftier beer.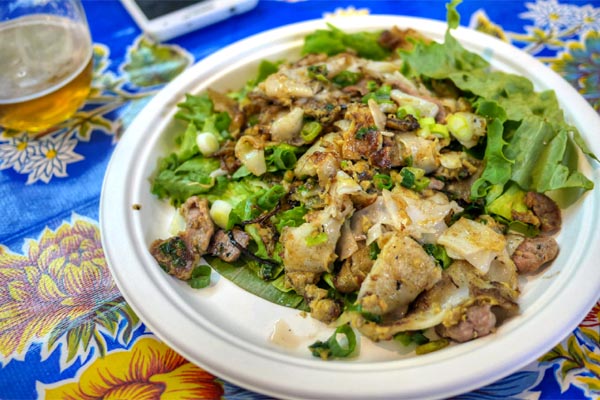 Kuaytiaw Khua Pet [$12.00]
| Fresh locally made wide rice noodles stir-fried in rendered pork fat with duck, cuttlefish, egg and green onions, served on chopped lettuce. A Bangkok Chinatown specialty.
Following was probably my favorite item of the night. The crux here was the charring on those dense, thick noodles, which gave up absolutely lovely notes of bitterness and crunch that really made the dish. The duck, meanwhile, came out appropriately "ducky," and the interplay between egg and onion was spot on as expected. The lettuce almost seemed slightly discordant here, but I eventually came to appreciate the lightness and crispness it imparted to things. And again, it didn't hurt to fold in some extra vinegar, fish sauce, and chile to amp things up even more.
Pok Pok Som Drinking Vinegar [$4.00]
| Thai basil
Our next drinking vinegar was more to my liking, with the light, spicy aromatics of the
horapha
flitting around swimmingly over a base of sweet 'n' sour flavors.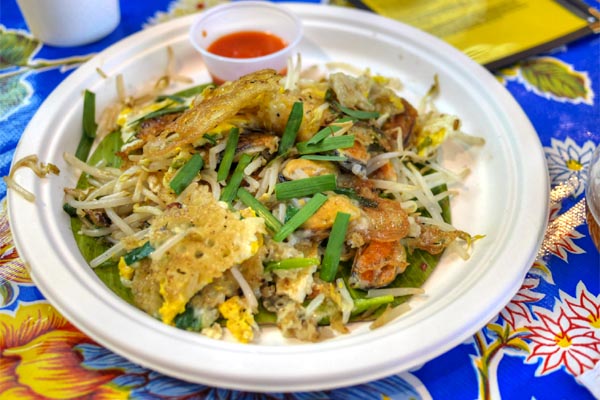 Hoi Thawt [$9.00]
| Crispy broken crepe with steamed fresh mussels, eggs, garlic chives and bean sprouts, served with Thai Sri Racha sauce. Thai street vendor's specialty, popular in night markets.
The
hoi thawt
was a favorite of mine over at the original
Pok Pok
, and delivered again tonight. There was a really satisfying savoriness to the dish, augmented by the brine of those mussels, and I loved how the bean sprouts imparted levity and how the egg brought everything together. Great hit of heat from the included cup of Siracha, too.
We took a brief detour from beer and opened a bottle of
Julian Hard Cider Apple Pie
next. Fruity and loaded with cinnamon-y spice, this one really did capture the essence of its namesake dessert.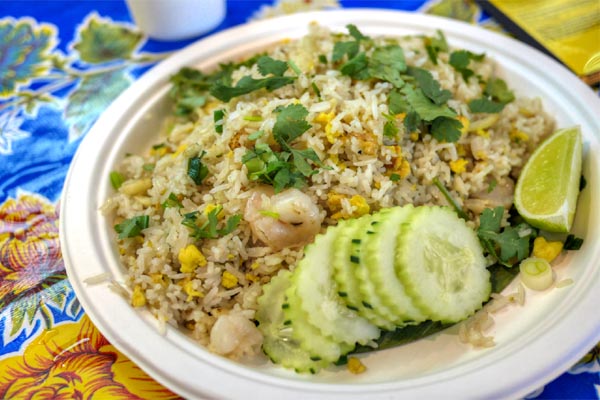 Khao Phat Kung [$11.00]
| Stir-fried jasmine rice with prawns. With green onion, garlic, egg, fish sauce. Served with sliced cucumber and lime. Classic Thai one plate meal.
You can't go too wrong with fried rice, and Pok Pok's rendition was thoroughly on point, with its well-textured shrimp dutifully accompanied by all the tastes and textures that you'd want.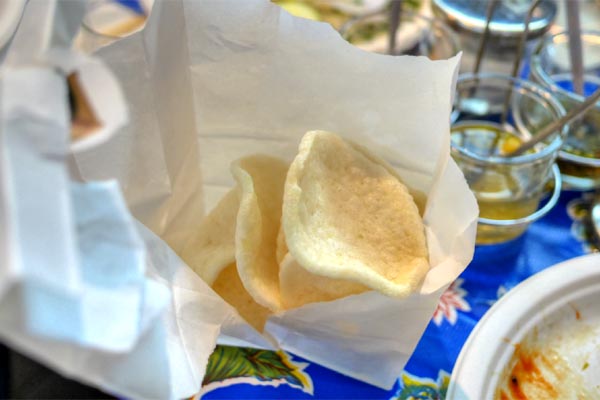 Shrimp Chips [$2.00]
Shrimp chips were delightfully crunchy, airy, and light, imbued with a subtle salinity and almost dissolving on the palate.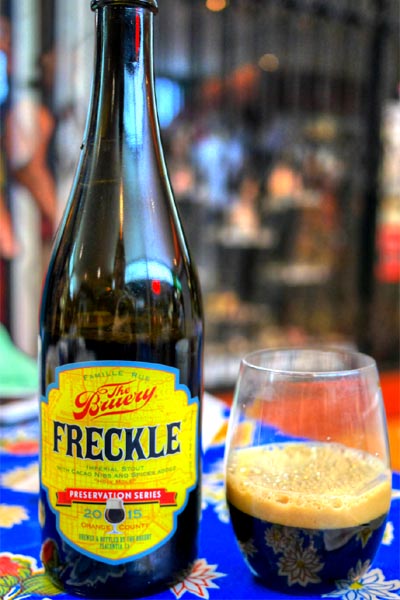 And now for a heavier beer: the newly-released
2015 The Bruery Freckle
was an imperial stout made with cacao nibs and spices, designed to mimic the rich flavors of Mexican
mole
. I quite liked it, finding the traditional roasty, malty flavors of the stout well-paired with the luscious chocolate and zesty spice notes here. It was almost cake-like to me.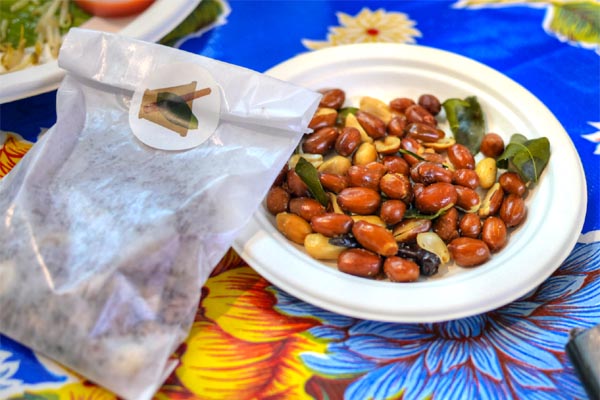 1/4 lb House-Roasted Red Peanuts [$4.00]
| Pok Pok style with lime leaf, garlic, chilies and sea salt.
I'm usually not a huge fan of peanuts, but definitely enjoyed these, their crunchy, nutty character masterfully paired with salt and spice.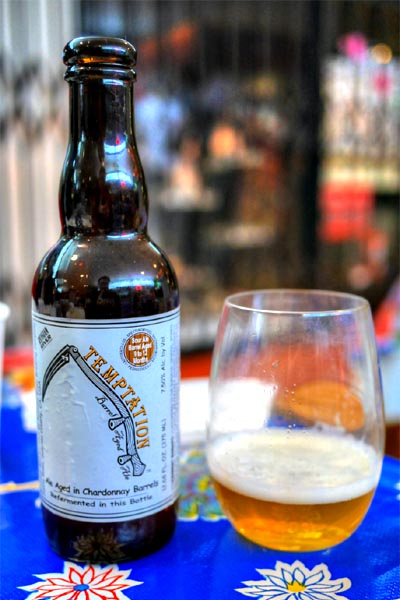 Sour duties were handled by the
Russian River Temptation
, a blonde ale aged for a year in Sonoma Chardonnay barrels with
Brettanomyces
,
Lactobacillus
, and
Pediococcus
. It was expectedly delicious, with its tart, funky qualities well-matched by the distinct vinous notes tasted.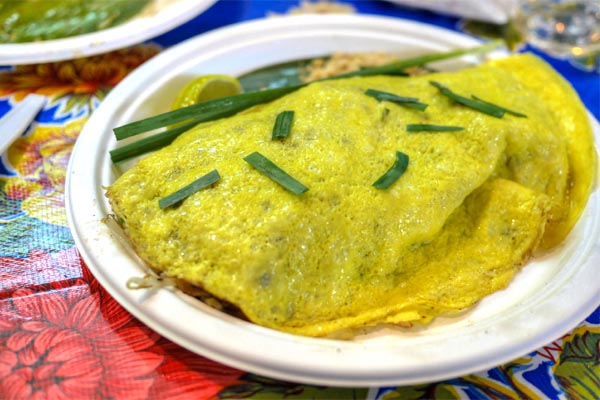 Phat Thai Jay + Haw Khai [$8.50+$1.50]
| Same as regular version but vegetarian. wrapped in a thin omelette
We ended with the vegetarian variant of the pad thai, one topped with an optional egg omelet. Due to the removal of the pork fat and dried shrimp in particular, this preparation didn't have quite the depth of the regular version, but the egg certainly did enhance the dish, as did a liberal helping of
nam pla
.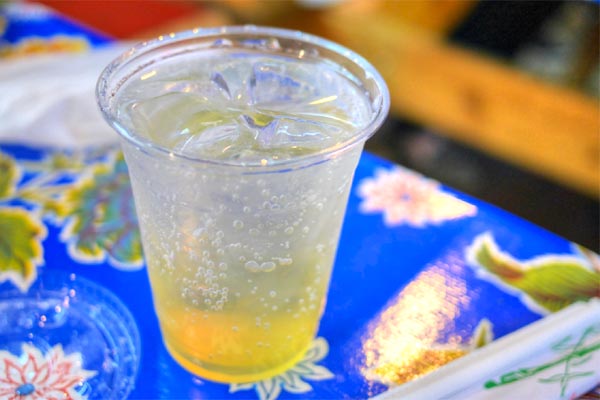 Pok Pok Som Drinking Vinegar [$4.00]
| pineapple
Our third and final drinking vinegar was my favorite, with its pure, focused, tropical flavors of pineapple really meshing well with the tart-ish base of the drink.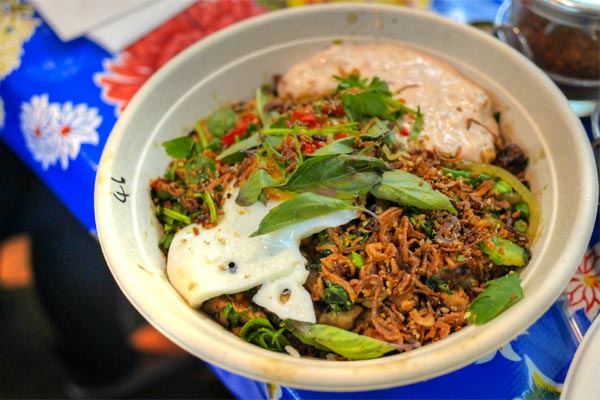 Sour Cream Hen House [$9.00]
| marinated grilled chicken rice bowl w/ fried egg, Chinese broccoli, sour cream sambal, Thai basil, toasted sesame and chopped chilies
Given that we'd pretty much made our way through the entirety of Pok Pok's menu, we opted to end our savories with a bowl from
Chego
. It was one that we hadn't tried before, and it definitely satisfied with its delightfully charred, smoky, savory chicken, bitter broccoli, basil aromatics, and spicy sour cream-sambal bringing it all together.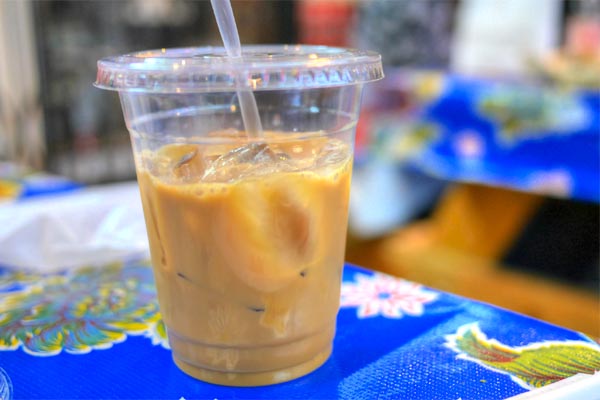 Kafae Boraan [$4.00]
| Thai coffee, made with Stumptown cold brew, condensed milk and sugar. Strong. Iced or Hot.
The coffee was quite good, bitter and sweet and refreshing all at the same time.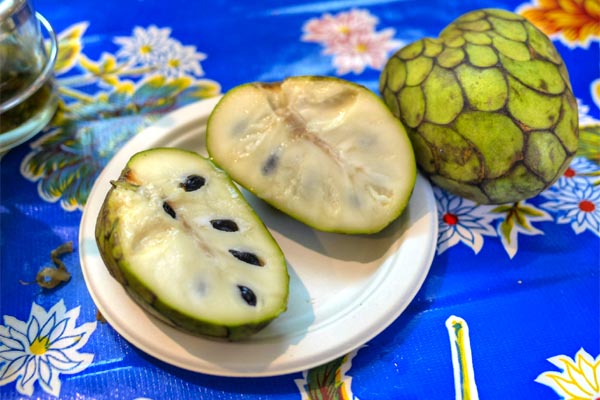 We happened to have a couple cherimoyas with us, and proceeded to bust them out for dessert. They were all that you'd expect: creamy and lush, with multifaceted notes of tropical fruit sweetness.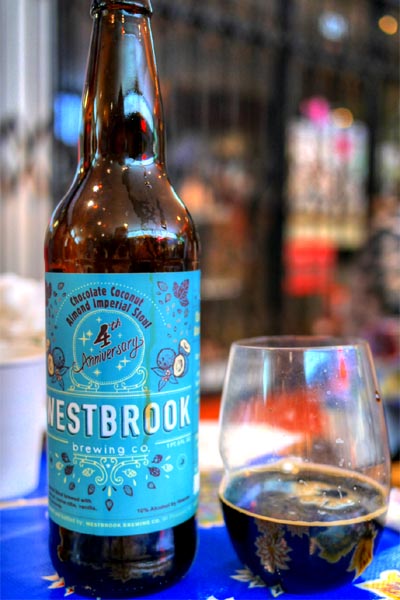 Our final drank was the
2014 Westbrook 4th Anniversary Chocolate Coconut Almond Imperial Stout
, aged with toasted coconut, whole roasted almonds, and vanilla beans. It was a pretty amazing dessert beer, with an unabashedly rich base of roasty, chocolate-y flavors tarted up by notes of sweet coconut and whispers of nutty, slightly bitter almond. Smooth and surprisingly drinkable.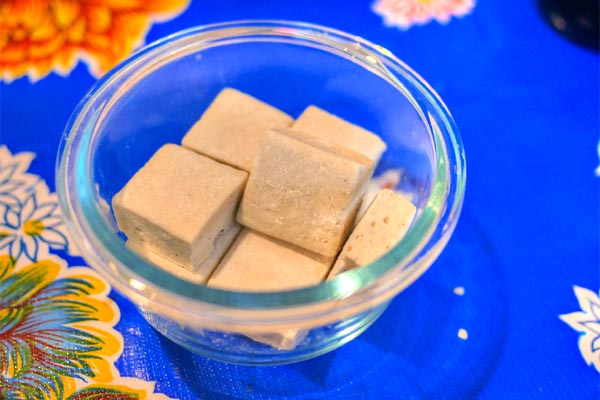 Last up were some homemade bourbon-vanilla marshmallows.
Ricker supposedly chose Los Angeles as the location for this restaurant due to its large Thai population and proximity to LAX-C (a.k.a. Thai Costco), and I'm glad that he did so. Despite its small menu and smaller size, Phat Thai does bring another wrinkle to LA's Thai conversation, and I'm sure people will start warming up to it eventually. This place, though, was just a tease. As for what else Ricker has cooking, a full-blown version of Pok Pok is slated to land in Mandarin Plaza down the street in the coming months, a 6,000-square-foot joint with a full bar that I'm sure will make its mark on the area.