Odys + Penelope (Los Angeles, CA)
Odys and Penelope Restaurant
127 S La Brea, Los Angeles, CA 90036
323.939.1033
www.odysandpenelope.com
Thu 02/19/2015, 08:00p-10:40p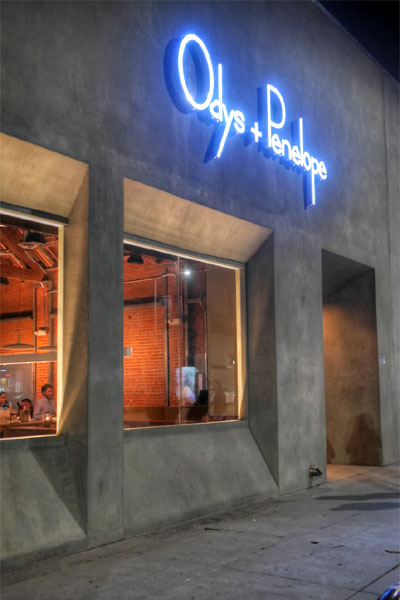 December 31st marked the final night of service for
Hatfield's
, Quinn and Karen's eponymous fine dining standby that first graced Angelenos back in 2006. In its stead comes Odys & Penelope, ostensibly a better representation of where the Hatfields are culinary at this point in their careers. Named after the husband and wife central in Homer's
Odyssey
, the Fairfax restaurant bowed on January 12th and is a meat-centric, "churrasco and grill" concept. The conceit here is that the kitchen will highlight open flame, running four different types of wood through a Brazilian-style
churrasco
, a smoker, and two grills: one Argentinean, one Uruguayan.

Situated just a few doors down from the couple's breakfast-and-lunch spot Sycamore Kitchen, O+P takes the place of a former warehouse. Penned by Alexis Readinger of
Preen Inc
, the restaurant spans 3,800 square-feet and seats around 80 in a crafty, sleek space replete with wide expanses of exposed brick and wood, lots of wood.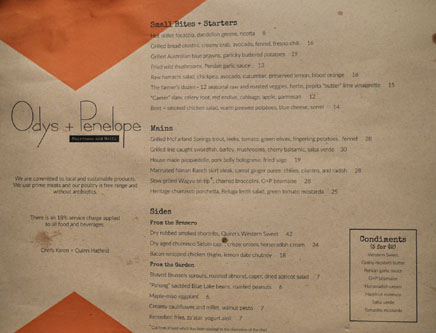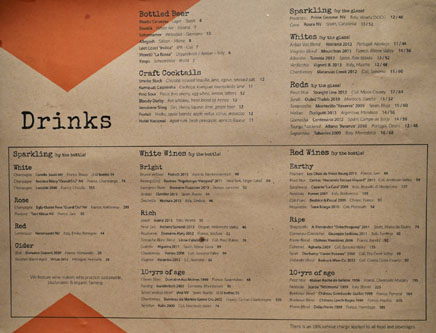 Divvied up simply into starters, mains, and sides, Odys + Penelope's refreshingly compact menu is expectedly heavy on the grilled items. Drink-wise, you can look forward to craft cocktails, a handful of beers, and a small wine list. Corkage, meanwhile, is a rather inexplicably hefty $35 (limit five bottles). Click for larger versions.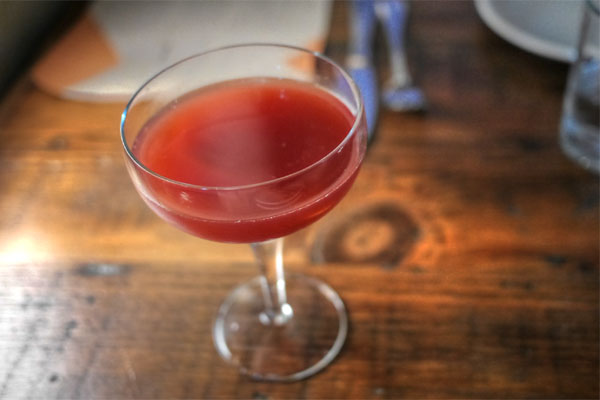 Bloody Derby [$12.00]
| Rye whiskey, fresh blood oj, honey
We began with O+P's take on the Derby, a boozy, bitter, sweet and slightly spicy concoction that was tasty, but not quite as interesting as some of the other cocktails that we tried.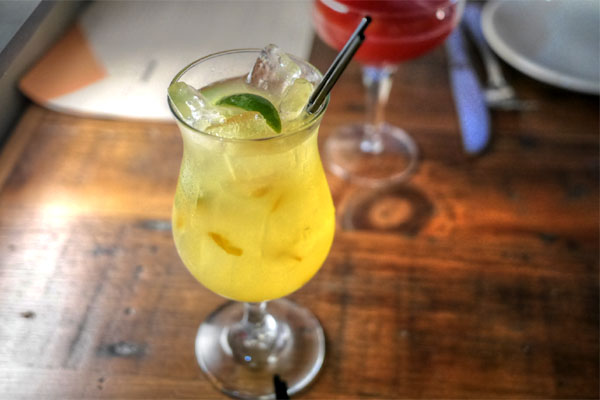 Kumquat Caipirinha [$11.00]
| Cachaça, kumquat marmalade, lime
The restaurant's reinvention of the iconic Caipirinha went over pretty well, a refreshing drink with the interplay of lime and cachaça front and center, underpinned by the sugariness of the kumquat preserves.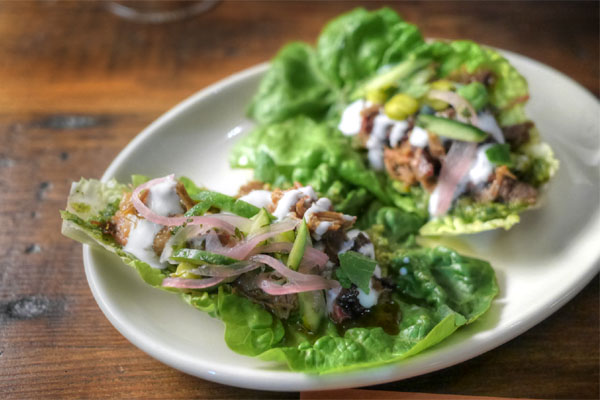 Smoked shredded lamb lettuce cups [$13.00]
Food-wise, up first were the two specials of the night. Lettuce cups were delightful, with the rich flavors of the lamb balanced by the cool yogurt and bright veggies. Also key were the garbanzos, which imparted a textural element to the dish.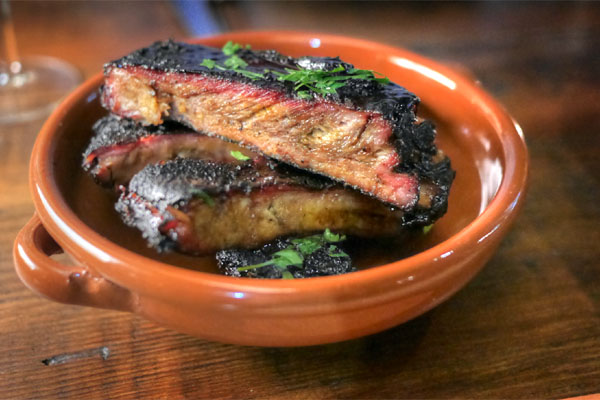 Pork spare ribs [$14.00]
The ribs were spot on, tender and tearing cleaning off the bone, imbued with both a marked smoke and a counterbalancing sweetness. These would give most BBQ joints a run for their money.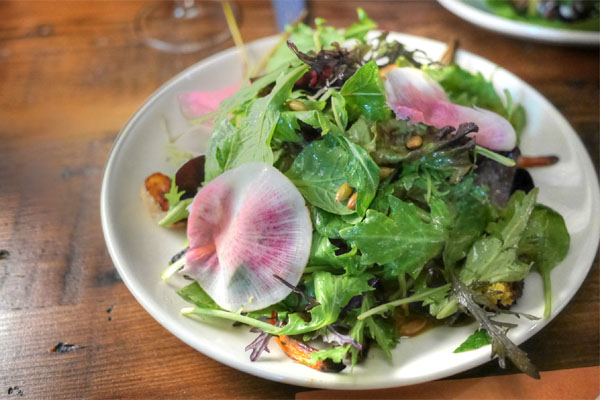 The farmer's dozen - 12 seasonal raw and roasted veggies, herbs, pepita "butter" lime vinaigrette [$15.00]
We did order a salad in a vain attempt to counteract all the meat we'd be having. The twelve veggies here comprised six types of greens, two radishes, cauliflower, romanesco, carrot, and avocado, and made for an amalgam of bright, bitter, and sweet flavors, all tied together by the nutty depth of that pepita "butter."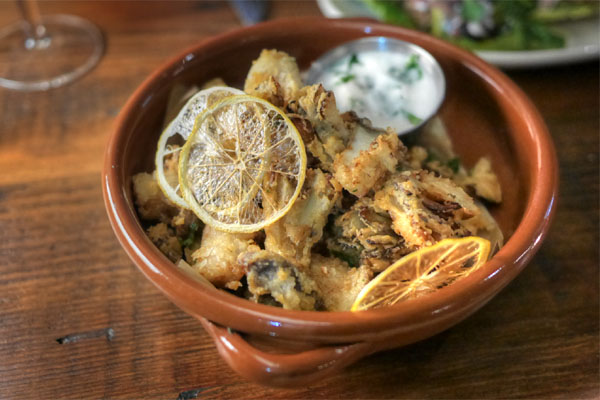 Fried wild mushrooms, Persian garlic sauce [$13.00]
Mushrooms were thoroughly enjoyable, lightly battered and loaded with all the earthy flavors that you'd expect. Tasty alone, and even better with a dab of that zesty, creamy dip on the side.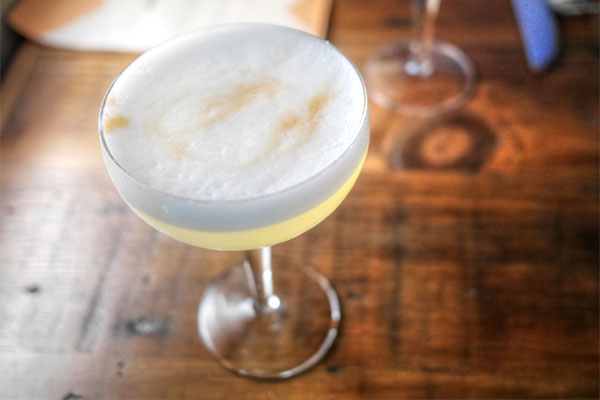 Fino Sour [$12.00]
| Pisco, fino sherry, egg white, lemon, bitters
A favorite cocktail of mine tonight was this take on the Pisco Sour, showing off notes of bittersweet spice and lemon-y tartness, all moderated by the frothy egg white while the sherry added an additional complexity to the mix.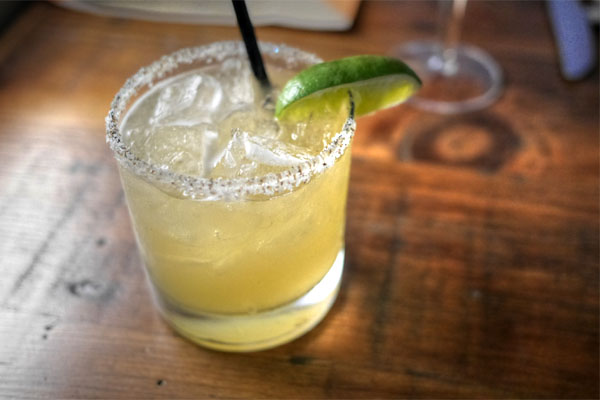 Smoke Stack [$12.00]
| Chipotle infused tequila, lime, agave, smoked salt
Given my penchant for smoky cocktails, I was quite the fan of this as well, with its sour, smoky, boozy flavors well integrated and finishing with a lingering, fiery spice.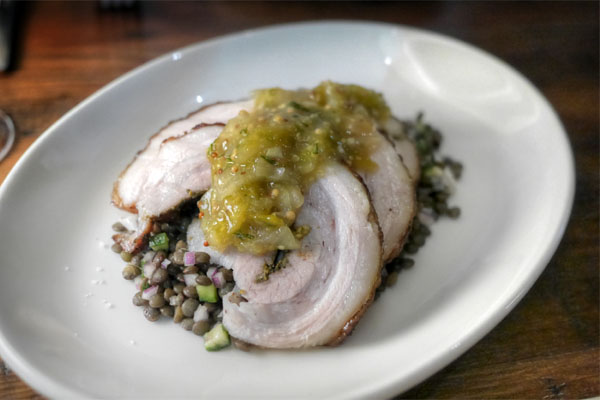 Heritage churrasco porchetta, Beluga lentil salad, green tomato mostarda [$25.00]
Moving into the more substantial plates now, the porchetta arrived well-spiced and appropriately fatty, tender, and juicy. The pig was certainly enjoyable alone, but I really appreciated the lentils, which conveyed an earthy sort of brightness that offset the meat. The
mostarda
, meanwhile, gave this a sweet-tart kick to round things out.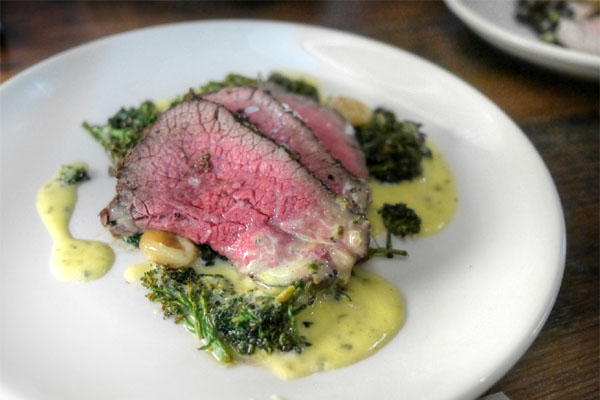 Slow grilled Wagyu tri-tip, charred broccolini, O+P béarnaise [$28.00]
Following was Odys + Penelope's version of a Santa Maria staple. Tri-tip came out savory and full-flavored, with a nicely smoky crust. The accompanying béarnaise imparted an additional richness to the dish, but my favorite element here was the broccolini, which had a great bitterness and char that was absolutely key.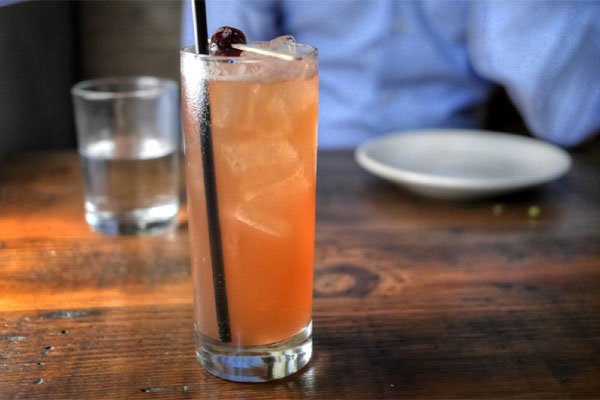 Vendome Sling [$12.00]
| Gin, cherry liqueur, lime, ginger beer
The restaurant's version of the Sling was light and bright, with bittersweet cherry flavors deftly paired with the zesty ginger beer.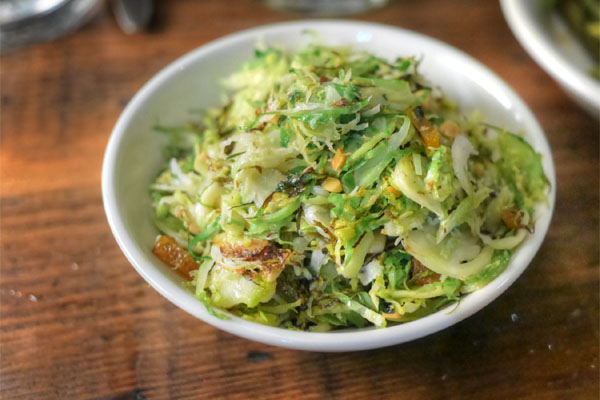 Shaved Brussels sprouts, roasted almond, caper, dried apricot salad [$7.00]
The Brussels weren't quite what I was expecting. I missed the bite, the textures of the sprouts here, though their bitterness was on display, balanced by a slight sweetness and a pleasant nutty tinge.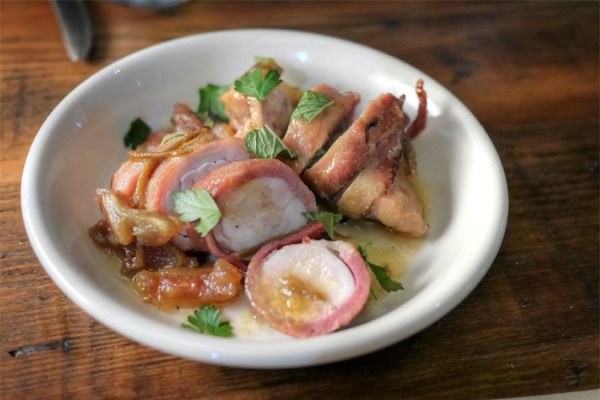 Bacon wrapped chicken thighs, lemon date chutney [$18.00]
Chicken thighs didn't quite deliver, as I really wanted the inherent savoriness of the bird to shine more. I think the issue was the chutney, which had a sugariness that tended to overwhelm things, even the saltiness of the bacon.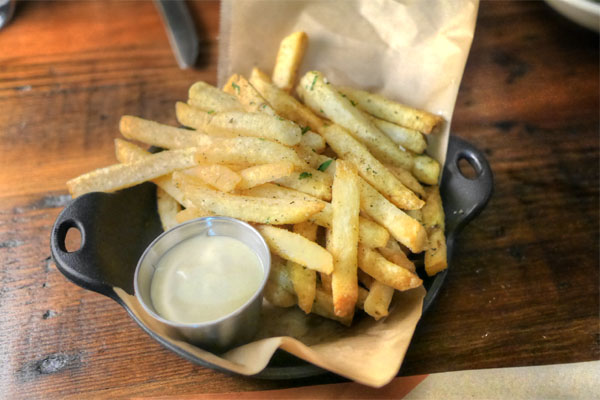 Kennebec fries, za'atar, yogurt aioli [$7.00]
I enjoyed the French fries, which were crisp, hot, wonderfully herby, and even better with a dab of that creamy aioli.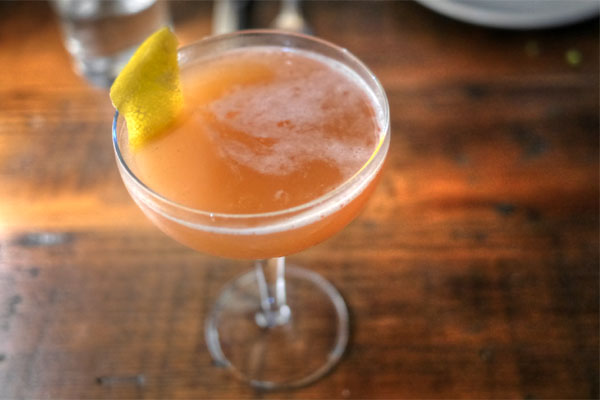 Foxtail [$12.00]
| Vodka, apple brandy, apple redux, citrus, prosecco
Vodka was put to good use here, giving some backbone to the juicy apple and citrus flavors present. Sweet, but not overly so.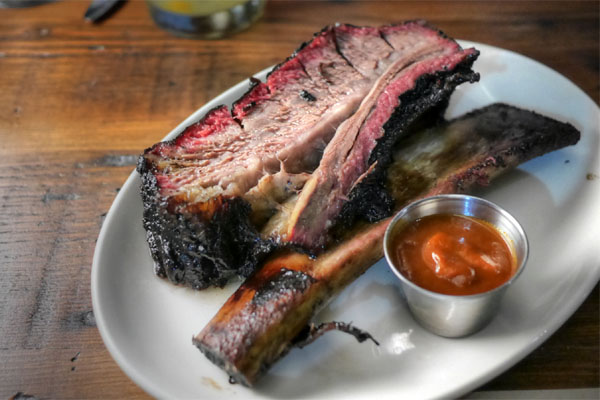 Dry rubbed smoked shortribs, Quinn's Western Sweet [$42.00]
The short rib was clearly the largest "side" that we'd ever encountered (yes, it's listed as a side dish on the menu). It was damn good though, arriving super tender and with a great smoke that pervaded and lingered long. The sauce on the side was just sweet enough, and served as a fitting accompaniment to the meat.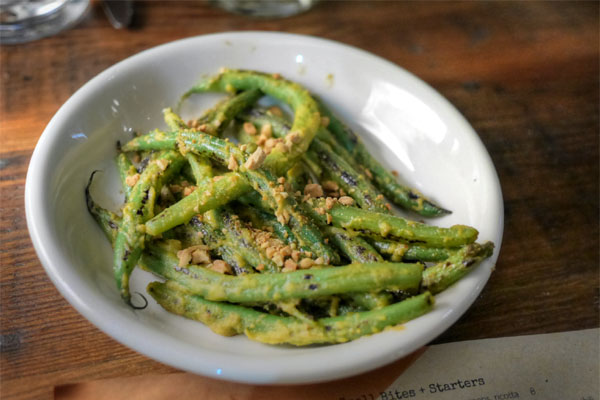 "Panang" sautéed Blue Lake beans, roasted peanuts [$6.00]
This seemingly
phanaeng
-inspired take on green beans was to my liking, with a strong umami presence tempered by tangy and nutty nuances.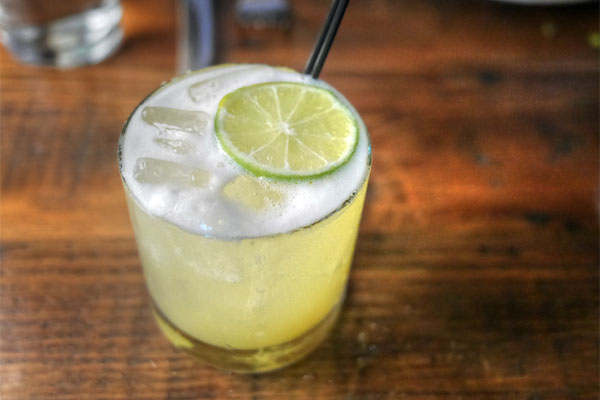 Hotel Nacional [$11.00]
| Aged rum, fresh pineapple, apricot liqueur
Our final cocktail was a staple of pre-Castro Cuba, a lovely sort of drink that really did a great job integrating the rum with the tropical notes from the pineapple and sweet, lingering apricot.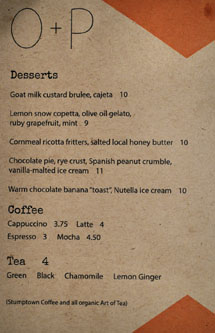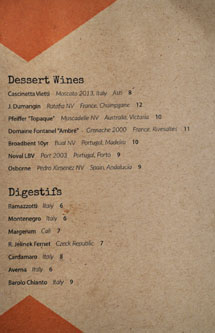 Desserts by Pastry Chef Karen Hatfield follow. Click for a larger version.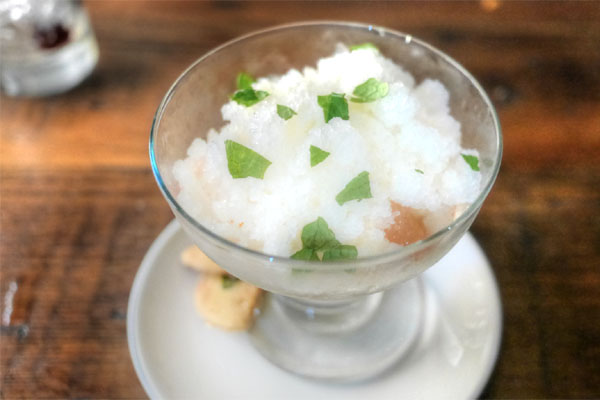 Lemon snow copetta, olive oil gelato, ruby grapefruit, mint [$9.00]
The first dessert was certainly the most refreshing, acting as almost a palate cleanser. Lots of bracing, citrusy flavors here, augmented by a cool tinge of mint while the gelato provided the necessary gravity.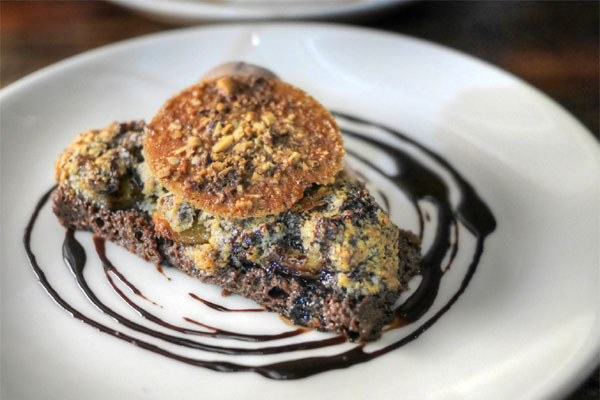 Warm chocolate banana "toast", Nutella ice cream [$10.00]
The "toast" was also on point, giving up a fantastic interplay of chocolate and banana flavors, accented by a great nutty component. Some nice textures here, too.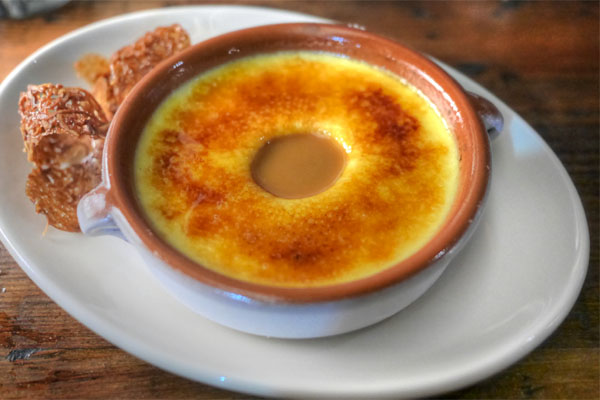 Goat milk custard brulee, cajeta [$10.00]
The crème brûlée was perhaps the most conventional of the desserts, showing off its creamy custard and brittle, bitter top in classic fashion.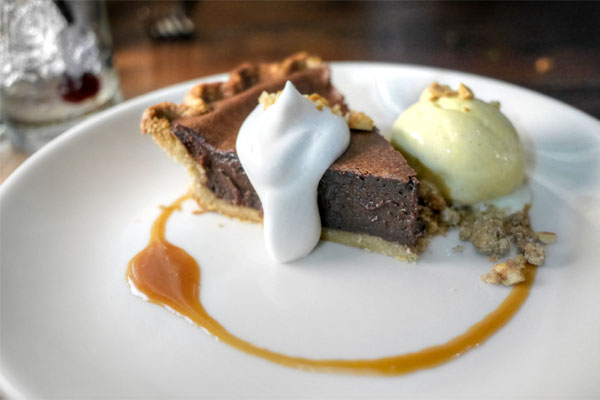 Chocolate pie, rye crust, Spanish peanut crumble, vanilla-malted ice cream [$11.00]
My favorite of the desserts was probably the chocolate pie, with its rich-but-not-too-rich chocolate flavors working beautifully alongside the ice cream, all while the peanuts imparted savoriness and bite to the dish.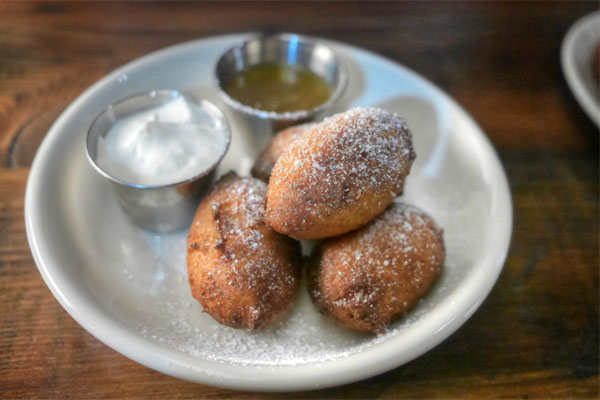 Cornmeal ricotta fritters, salted local honey butter [$10.00]
Last up were the fritters, which I found surprisingly light, yet creamy on the inside, with an ethereal, lemon-y flavor profile. Quite good when taken with the crème on the side, though the honey was a bit much for me.
The Hatfields have done a pretty bang-up job with Odys + Penelope. I like the meat-centric aspect of it all, and how the cooking's rooted in tradition, but also conveys a contemporary, relevant edge to it. You can tell that the kitchen's having fun with it all. In fact, I actually prefer this place to the old Hatfield's, so hats off to Karen and Quinn.