Dia de Campo (Hermosa Beach, CA)
Día de Campo Restaurant
1238 Hermosa Ave, Hermosa Beach, CA 90254
310.379.1829
www.diadecampohb.com
Sun 1/25/2015, 07:00p-09:40p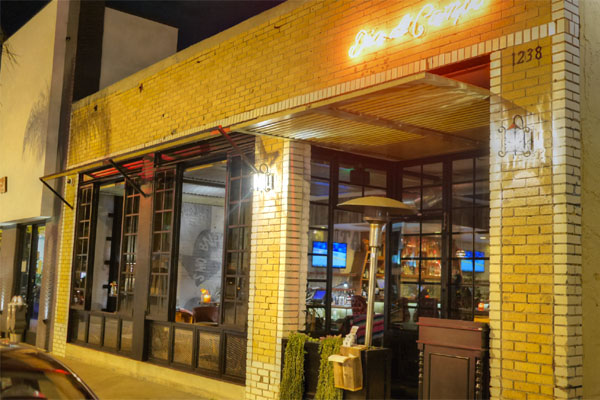 I was looking for a spot in the South Bay to meet up with my old college roommate from Berkeley, and given my positive experience over at
Little Sister
, I decided to give Dia de Campo a go. Translated as "field day," the restaurant is the work of Chef Tin Vuong and partner Jed Sanford (i.e. Blackhouse) and is billed as a sort of "modern surf lodge." The place opened back in January last year, offering up a Mexican-inspired, seafood-leaning menu with former Abigaile Chef de Cuisine Ken Johnson at the helm.

The restaurant occupies the old location of Cafe Boogaloo, but was transformed by Bishop Pass (Abigaile, Little Sister, and also
The Parish
and
Gjelina
) into a beachier sort of affair.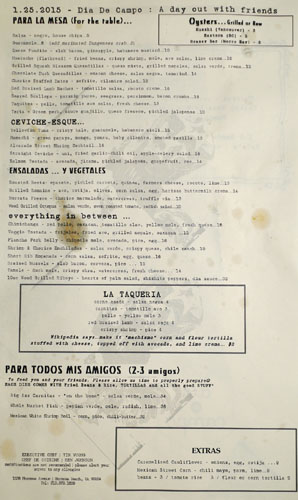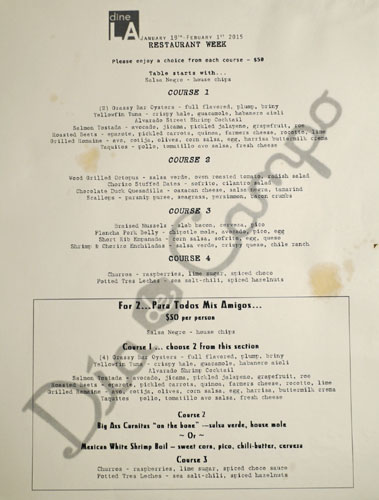 Dia de Campo's menu is on the large-ish side, with a lot of familiar Mexican-ish items along with a few more unconventional selections. Note that we were here during dineLA week, so there was also that option as well, though we chose to stick with the standard
carta
. Click for larger versions.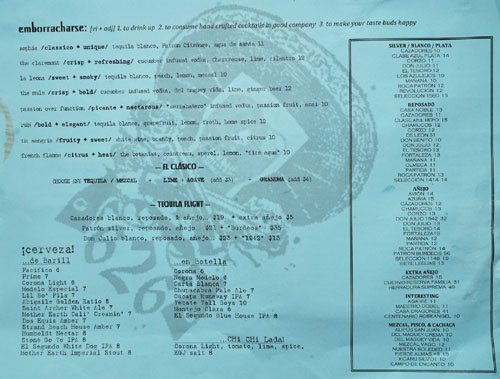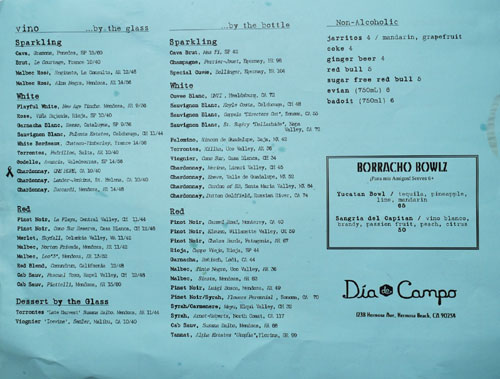 As for the booze, you get a pretty interesting cocktail list, some lightweight beers, as well as a surprisingly complete array of wine. Click for larger versions.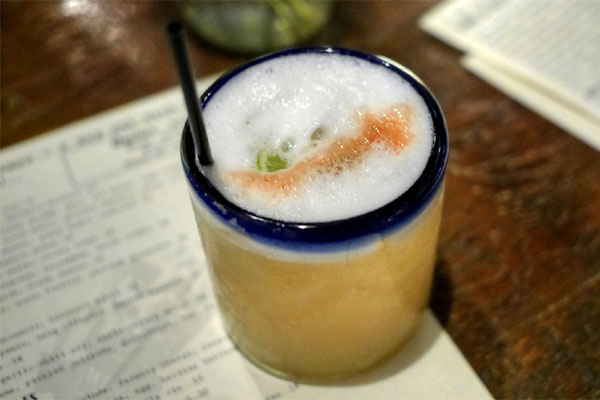 rubi [$12.00]
| tequila blanco, grapefruit, lemon, froth, home spice
We began with my favorite of the cocktails. I loved its intense, aromatic nose of sweet spice overlaid on top of juicy grapefruit notes, leading to a flavors of more citrus, frothy egg, and spice over a subtle base of tequila.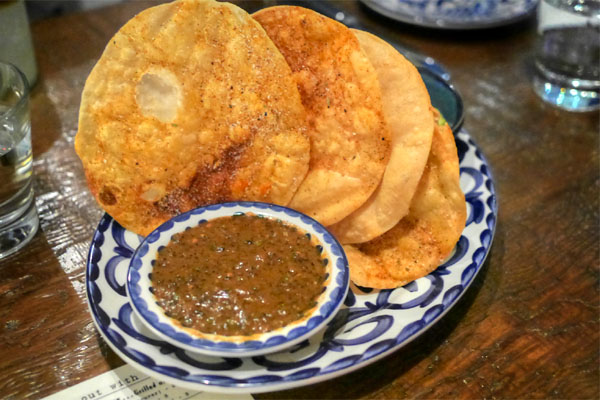 Salsa [$5.00]
| negro, house chips
Salsa negra was deep and earthy, with a smokiness to it to cut the acidity of the dip. More interesting were the "chips," which actually comprised both your standard corn and flakier flour tortillas, deep-fried.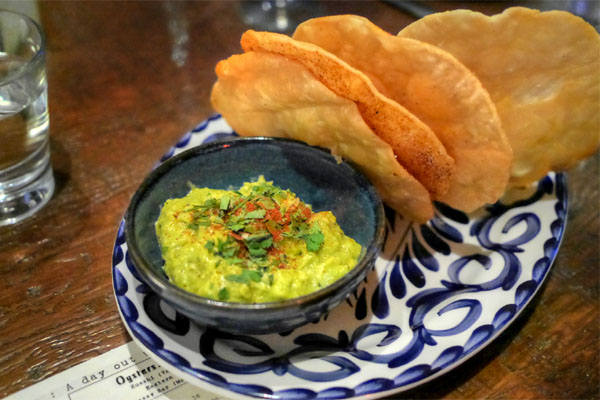 Guacamole [$8.00]
The guac was pretty prototypical, slightly chunky but imbued with a hint of spice.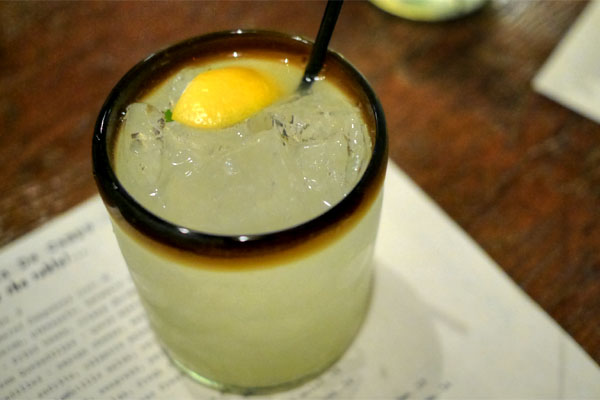 la leona [$10.00]
| tequila blanco, peach, lemon, mezcal
This next cocktail was more booze-forward, with the heft of the tequila serving as a stage for contrasting nuances of smoky and sweet.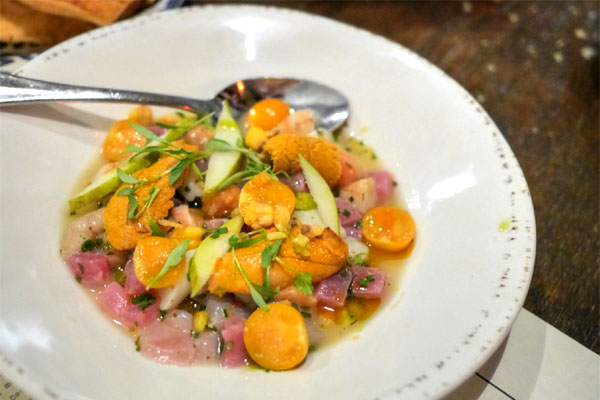 Straight Ceviche [$16.00]
| uni, fried garlic-chili oil, apple-celery salad
The so-called "straight" ceviche didn't seem all that straight to me. This was mostly due to the uni, which added a lushness and brine to the typical players here. Nice acidity and textures at play, though the sweetness from the citrus was a bit much.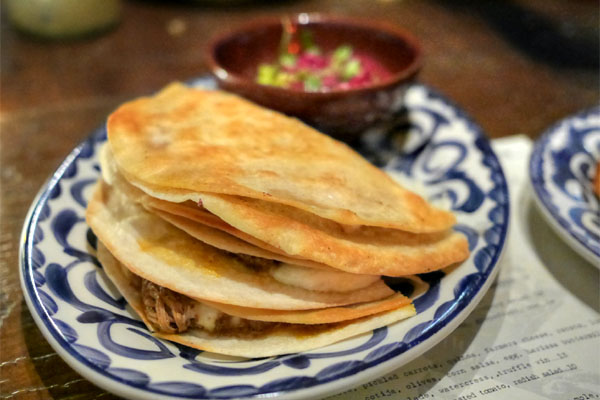 Chocolate Duck Quesadillas [$14.00]
| oaxacan cheese, salsa negra, tamarind
Quesadillas were appropriately cheesy, with the
queso Oaxaca
doing a great job bringing all the ducky flavors to bear here. Good flavors on the actual meat, but I wanted to taste more from the chocolate.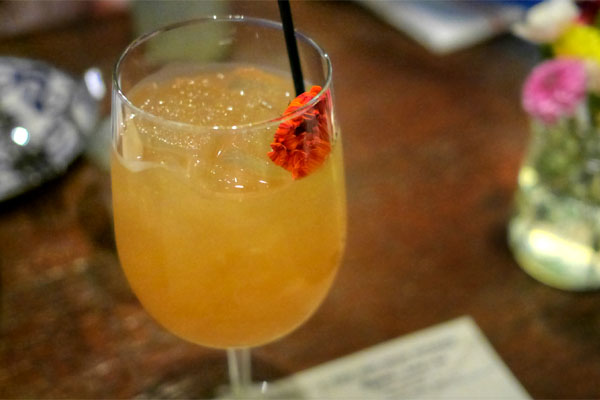 tia sangria [$10.00]
| white wine, brandy, peach, passion fruit, citrus
The sangria was as light-hearted as you'd expect, with boatloads of peach-y sweetness intertwined with flavors of white wine.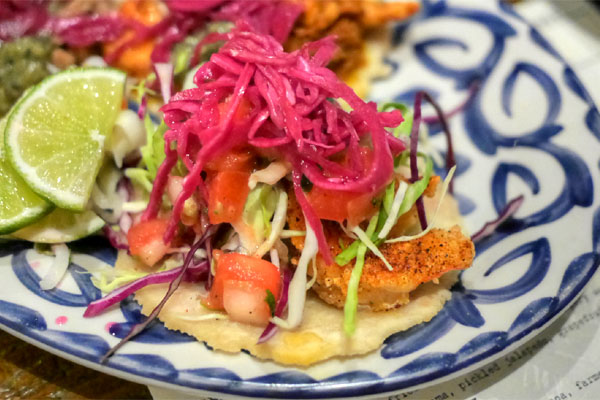 crispy shrimp [$4.00]
| pico
At this point, we ordered up some tacos. The shrimp were rather tasty, with their brine well played against the bright, crunchy veggies up top.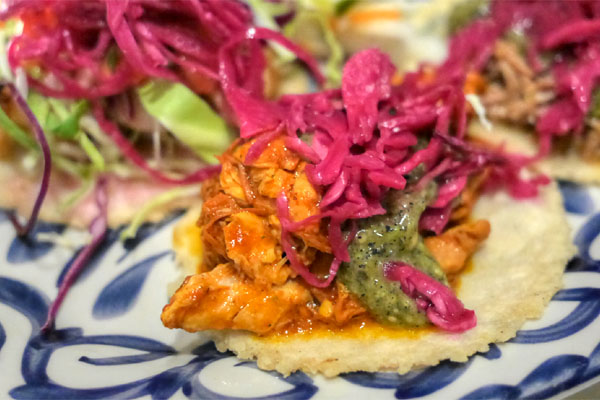 pollo [$3.00]
| yellow mole
The chicken, meanwhile, was also enjoyable, with a particular depth to it thanks to the incorporation of that mole.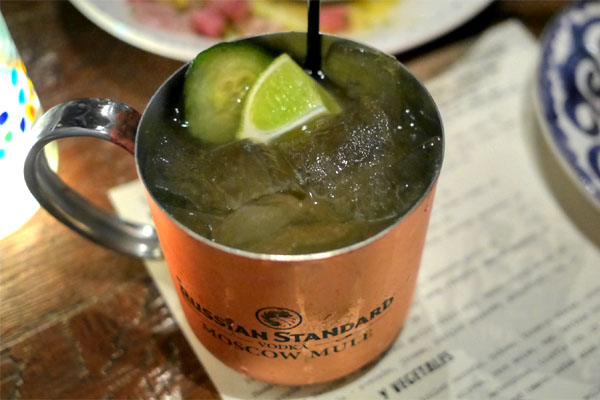 the mule [$12.00]
| cucumber infused vodka, del maguey vida, lime, ginger beer
The restaurant's take on the traditional Moscow Mule was tarted up by the inclusion of cucumber and mezcal. Taste-wise, this was pretty classic, with clean, refreshing flavors overarched by just a whisper of the Del Maguey.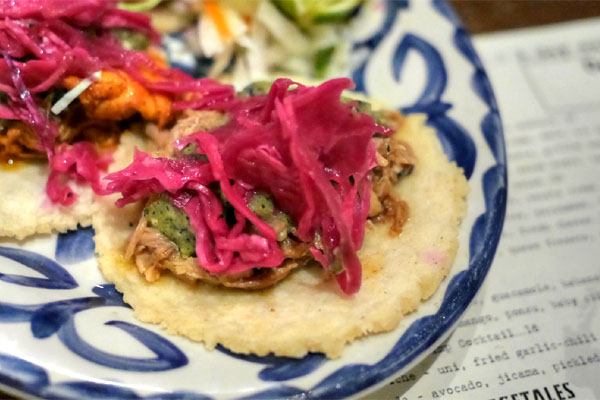 carnitas [$3.00]
| tomatillo avo
The pork was a touch drier than I'd prefer, but was on point flavor-wise, especially when taken with its accompaniment of crisp red cabbage and the substantial, house-made tortilla.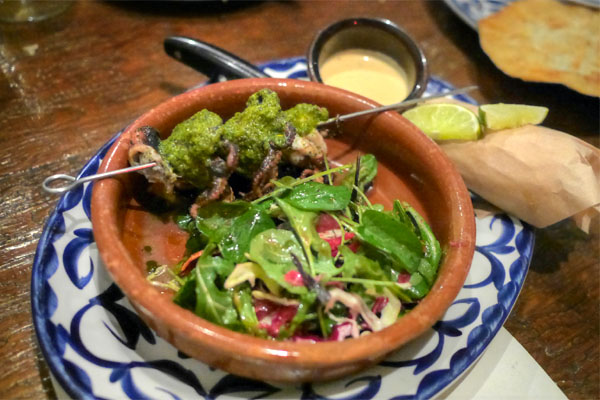 Wood Grilled Octopus [$10.00]
| salsa verde, oven roasted tomato, radish salad
Octopus arrived well-charred and loaded with briny goodness, a good match to the zing of the salsa verde. The paired salad was effective, and made for a counterpoint to the protein, especially when everything was rolled into taco form.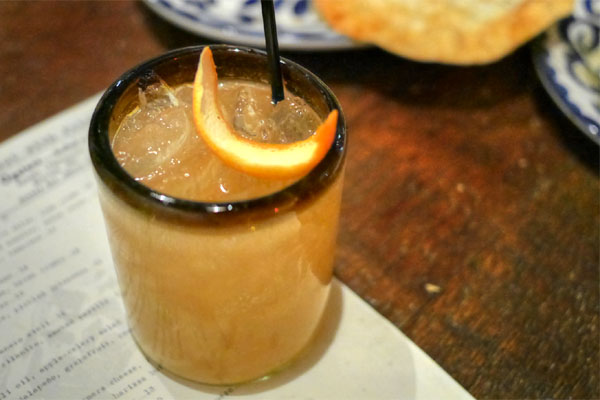 french flamme [$10.00]
| the botanist, cointreau, aperol, lemon, "fire agua"
The last cocktail made for a fine conclusion to our drinks. Some great bittersweet, citrus-y notes in this one, all underpinned by a persistent, yet restrained touch of heat.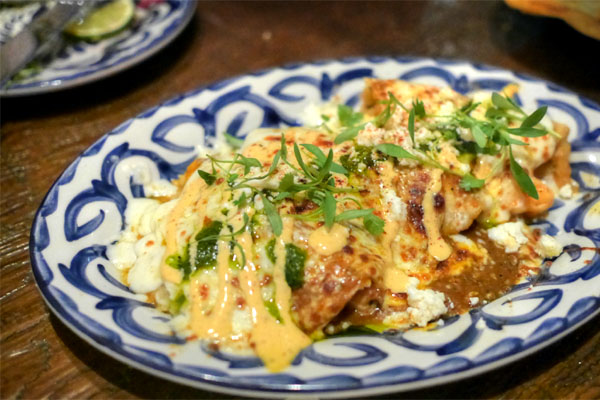 Shrimp & Chorizo Enchiladas [$19.00]
| salsa verde, crispy queso, chile ranch
The enchiladas didn't look very pretty, but were a surprise hit this evening. The combo of shrimp and chorizo worked out beautifully, with the mild salinity of the former well matched with the spicy savor of the latter, all while layers of salsa and cheese helped bring it all together.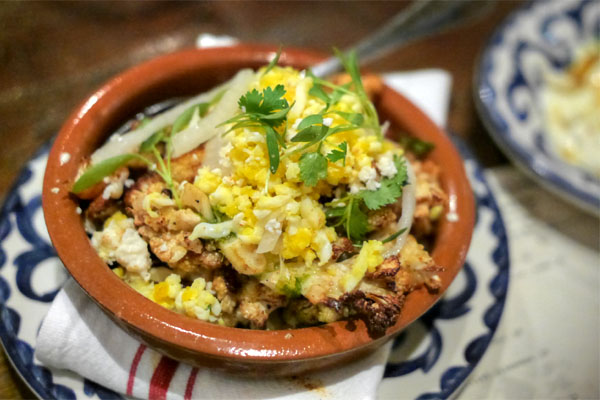 Caramelized Cauliflower [$9.00]
| onions, egg, cotija
I couldn't resist ordering the cauliflower, and it was also another standout, with the rich, caramelized flavors of the veggie enhanced by the application of egg and cheese.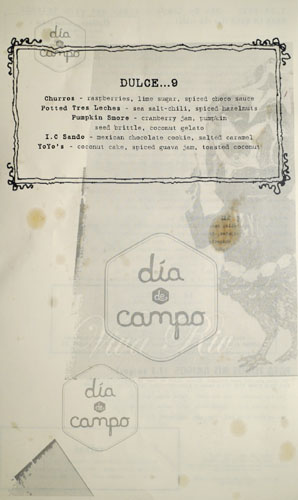 We were initially going to pass on dessert given our fullness, but decided to opt for a twosome for completeness' sake. Click for a larger version.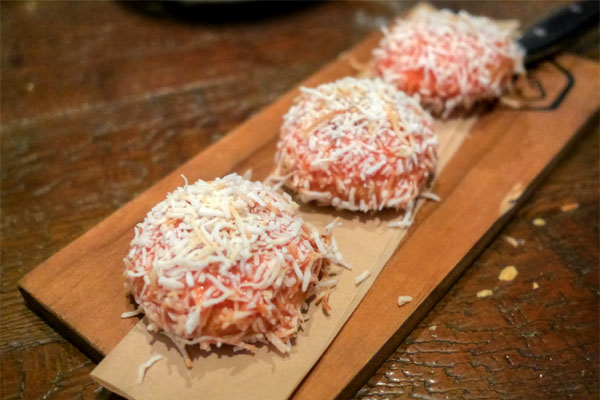 YoYo's [$9.00]
| coconut cake, spiced guava jam, toasted coconut
These cakes, unfortunately, went overly saccharine, with the sugariness of the guava overwhelming the coconut notes in the dessert.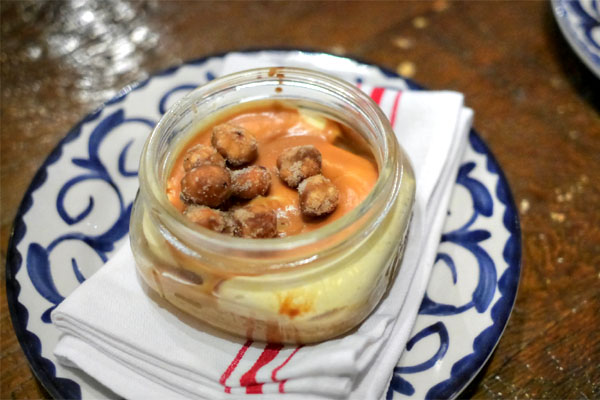 Potted Tres Leches [$9.00]
| sea salt-chili, spiced hazelnuts
The tres leches, on the other hand, made a strong showing for itself, with the traditional sweetness of the dessert melding seamlessly with the spice and hazelnuts to make for a very satisfying end to the meal.
Dia de Campo isn't a groundbreaking sort of place, but we still had an enjoyable experience here. Indeed, the restaurant isn't as ambitious as Little Sister, but delivered on what it promised: approachable Mexican-inspired fare that's both familiar, but still fun and interesting enough. Not a game-changer, but a good fit for the locale to be sure.