Playa Provisions (Los Angeles, CA)
Playa Provisions - Dockside
119 Culver Boulevard, Playa del Rey, CA 90293
310.683.5019
www.playaprovisions.com
Thu 2/5/2015, 07:15p-10:35p

The LAX-adjacent dining scene got a lot hotter with the debut of Playa Provisions, the latest project from
Top Chef
alum Brooke Williamson and husband Nick Roberts. Taking inspiration from your food halls and your country marts, Playa Provisions is a four-in-one concept. You have a casual breakfast and lunch spot called King Beach, an ice cream shop called Small Batch, a small whiskey bar in the back called Grain, and what we were here for: a seafood joint called Dockside.
About the Chef
: An LA area native, Williamson was born in 1979 and raised in Brentwood. She knew that she wanted to cook early on in life, and started her career at age 15 as a teacher's assistant at the Epicurean Institute of Los Angeles. At 18, she had her first professional role of pastry assistant under Ken Frank at the Argyle Hotel's Fenix restaurant. In 1998, Williamson was hired by Michael McCarty to work at his eponymous Michael's in Santa Monica, which at the time was helmed by one
Sang Yoon
. She became sous after a year, but left in 2000 to
stage
at Daniel in New York. After returning to Southern California, she took on her first Executive Chef gig at Steven Arroyo's Boxer, where
Neal Fraser
first made a name for himself (now the site of La Otra Escuela).
Following a brief stint there, Williamson became EC at the new Zax in Brentwood in 2001, where she met her future husband (they married in 2007). She was even invited to cook at the James Beard House during this period, but departed the restaurant in November 2002 to focus on catering, replaced by Mario Perez of
Josiah Citrin
's little-known Cafe Melisse in Valencia. In 2003, she and Roberts debuted their first solo project together, Amuse Café in Venice (at the address of the current Ado). The eatery lasted until 2005, when the couple decided to partner with David Reiss to open Beechwood, also in Venice. After consulting briefly for Neomeze in Pasadena, Williamson's next project was Hudson House (named after her and Roberts' son) in Redondo, which debuted in March 2009.
She discontinued her role in Beechwood in October 2010, her head chef position filled by Jamie Lauren, and later
Roy Choi
, who of course turned the place into
Sunny Spot
. April 2011, meanwhile, saw the launch of The Tripel in Playa del Rey, and the next November, Williamson appeared on Season 10 of
Top Chef
(Seattle), where she finished in second place behind Barbara Lynch protégé Kristen Kish. She then parlayed her success on the show into an "expert" role on MTV's
House of Food
(along with
Brendan Collins
and
Casey Lane
). 2014 saw a win on
Ilan Hall
's
Knife Fight
(against Chris Shepherd of Underbelly in Houston), a loss on
Top Chef Duels
(against Shirley Chung, now at
Twenty Eight
), and the reveal of Playa Provisions in May (Dockside bowed in June).

Playa Provisions takes over the address that once held Tower 42, Playa Cantina, The Del, and La Marina Inn. It's a 7,000-square-foot space, divided into a casual dining area for King Beach and Small Batch and a more formal dining room and outdoor patio for Dockside, with Grain occupying a small room in the back.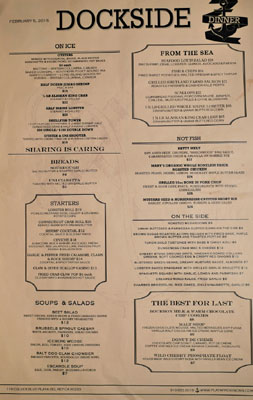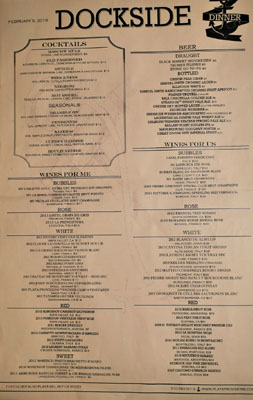 Dockside's menu is about what you'd expect from a modern-traditional seafooder, replete with the requisite raw bar items and a lobster roll. To imbibe, you get classically leaning cocktails, a lightweight beer selection, and a small array of wines chosen by Williamson herself (she was certified by the Court of Master Sommeliers in 2010). Corkage is offered at $15. Click for larger versions.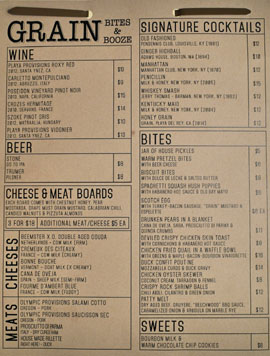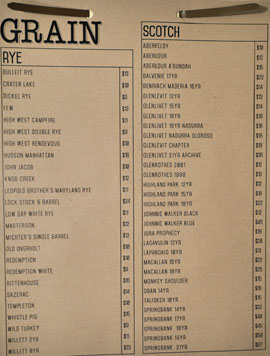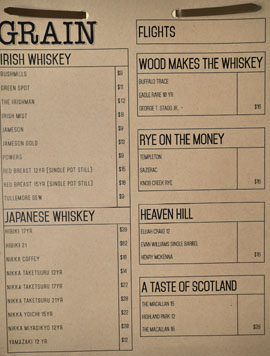 We were also presented with the menu from Grain, which we were free to order from as well. Click for larger versions.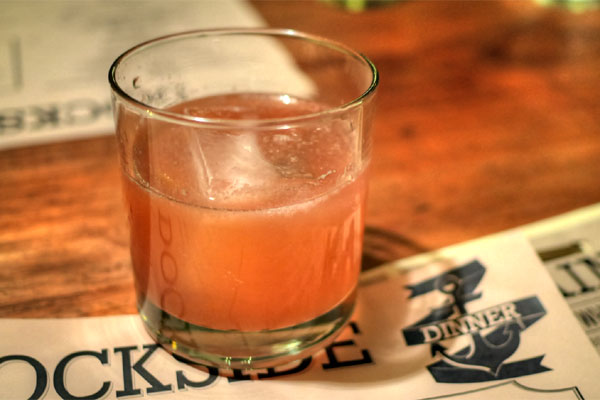 Honey Grain [$12.00]
| Grain, Playa de Rey, CA (2014)
We started with a couple cocktails from Grain's menu. The first was an original creation of theirs, and was my favorite drink of the night: lots of sweet citrus on the nose, with a taste profile that perfectly blended the booziness present with an undercurrent of delightfully sugary honey. Very well balanced.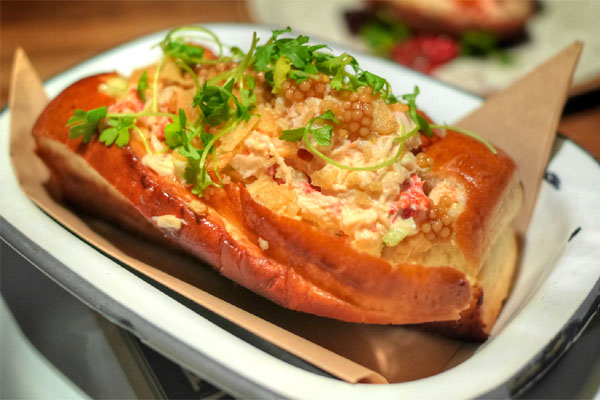 Lobster Roll [$19.00]
| Pickled Mustard Seed, Celery & Crushed Potato Chips
It seems that I can't
not
order the lobster roll these days, so here we are. The lobster itself was well-textured, with an unmistakable sweetness to it offset by the mustard seed while the greenery on top added further zestiness to the dish. Nice textures from the potato chip, though I wanted more of it.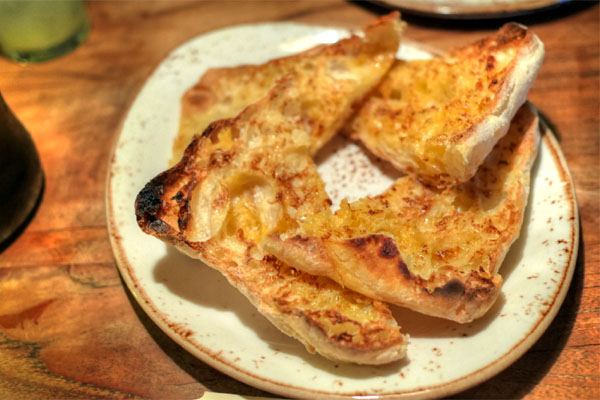 Uni Ciabatta [$6.00]
| Toasted with Melted Uni Garlic Butter
Toasted ciabatta arrived sweet and buttery, with just a whisper of sea urchin goodness. I actually would've liked this more uni-forward.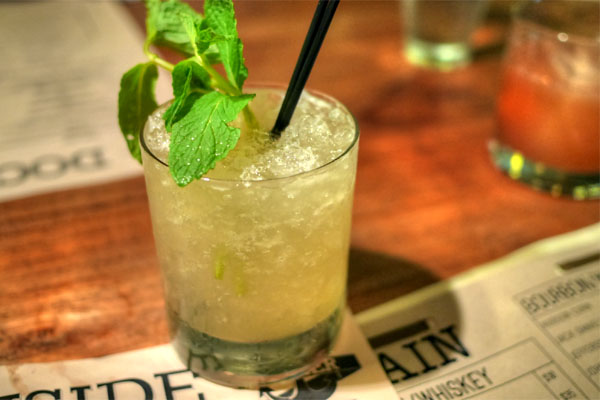 Whiskey Smash [$12.00]
| Jerry Thomas - Barman, New York, NY (1862)
Grain's take on the classic Smash was enjoyable, the elements of booze and citrus melding well with minty aromatics while the finish conveyed a fascinating nutty sweetness.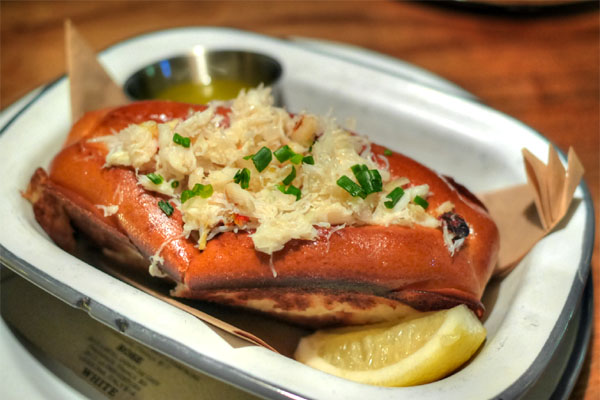 Connecticut Crab Roll [$26.00]
| Served Warm with Drawn Butter
If we're already getting the lobster roll, it seems fitting to try the crab version as well. I think I might've preferred this one, as it did a slightly better job of showing off the inherent goodness of the star ingredient, with the sweet, saline shards of crab working well with simple accoutrements of butter, lemon, and sugary brioche bun.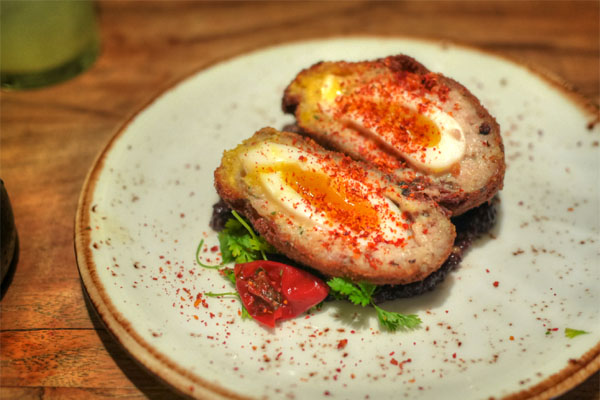 Scotch Egg [$6.00]
| With Turkey-Bacon Sausage, "Grain" Mustard & Espelette
The Scotch eggs were on point, their lush, runny yolks meshing beautifully with thick, savory, almost hammy layers of sausage, the espelette adding a great overarching heat to the dish at the same time. Yum.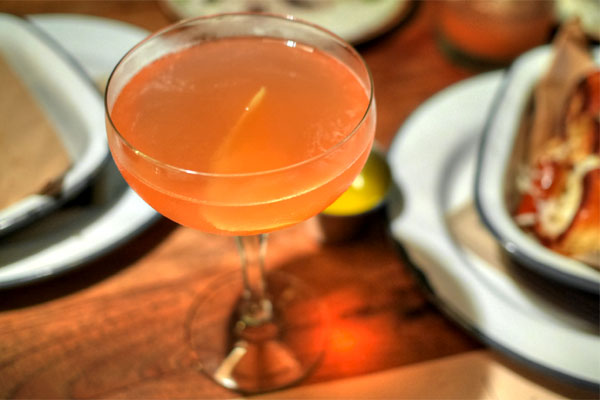 Pendennis [$12.00]
| Gin, Apricot, Lime, Peychauds, Grapefruit
Moving into Dockside cocktail list now, the
Pendennis
unfortunately went overly sugary, with a candied nose and more cloying sweetness on the palate, joined by the botanical notes of the gin and just a touch of citrus.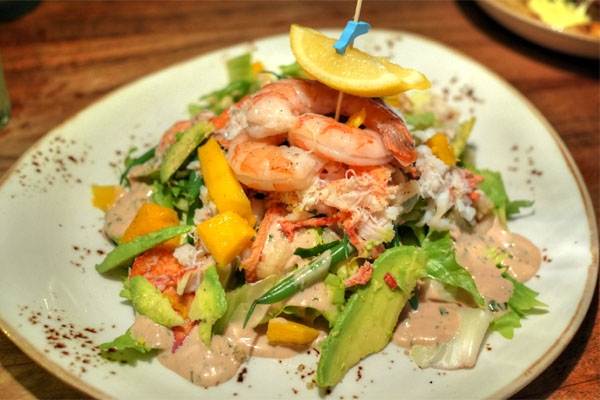 Seafood Louis Salad [$18.00]
| Bay Shrimp, Crab, Lobster, Quinoa, Avocado & Papaya
Our server recommend Dockside's take on the classic Crab Louie salad, and she was right on the money with this one. The sweet, saline qualities of the three types of seafood were on proud display here, well matched by the sweet papaya, creamy avocado, and crisp green beans while the zesty dressing tied it all together. One of the best salads I've had in a long time.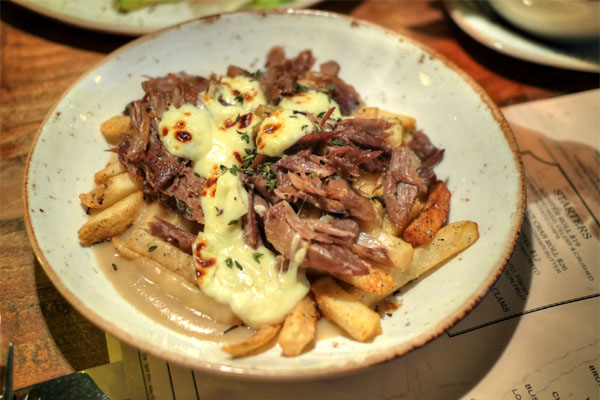 Duck Confit Poutine [$14.00]
| Mozzarella Curds & Duck Gravy
We had a hard time resisting the poutine, and it was an appropriately heavy preparation, with loads of salty, ducky savor commingled with creamy mozz and a rich, duck-enriched gravy.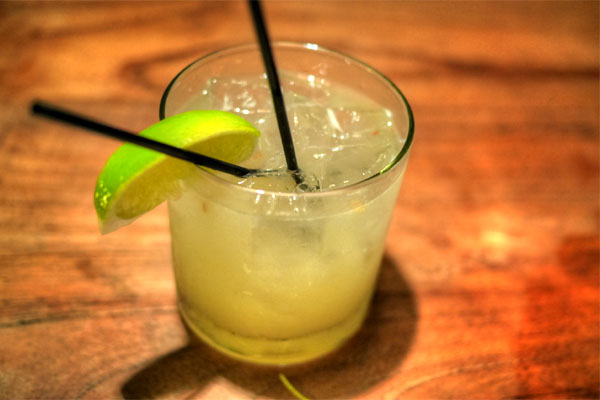 Hot Model [$12.00]
| Tequila, Mezcal, Lemon, Lime, Agave, Jalapeno
The
Hot Model
was appropriately monikered. Think smoky, woody notes from the mezcal-tequila combo, tempered by lime, the jalapeño imparting a delightful spice to the drink.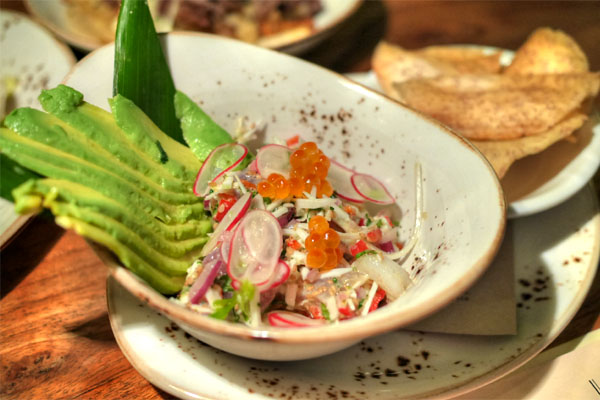 Ceviche [$18.00]
| Albacore, Rock Shrimp, Avocado, Fresh Coconut, Red Jalapeno, Lime, Passion Fruit, Radish & Salmon Roe
The ceviche was a very pleasant surprise: super bright and fresh, with a great ocean-y goodness from the seafood that paired gorgeously with the sweet, spicy, acidic notes present. One of the best ceviches I've had in a long while.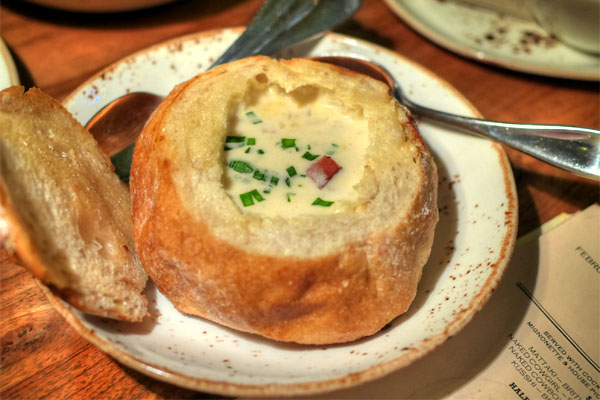 Salt Cod Clam Chowder [$12.00]
| Smoked Pancetta, Sourdough Bread Bowl
I always enjoy a good chowder, and this was a tasty example, with a delectable smokiness to go along with the briny goodness of the salt cod. I even wanted to eat the remaining sourdough bowl, which had soaked up all the liquid, but didn't want to fill up on bread.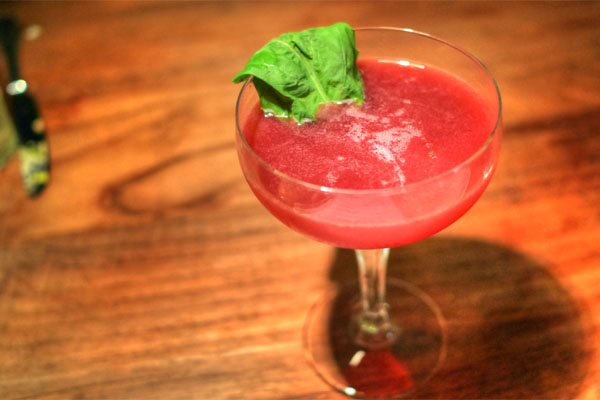 Bramble On [$12.00]
| Gin, Lime, Banana, Crème de Mure, Blackberry, Mint
As the name would imply, the
Bramble On
was a blackberry-forward cocktail, the berry flavors joined by boozy, astringent notes of gin while mint lent a brightness to the drink.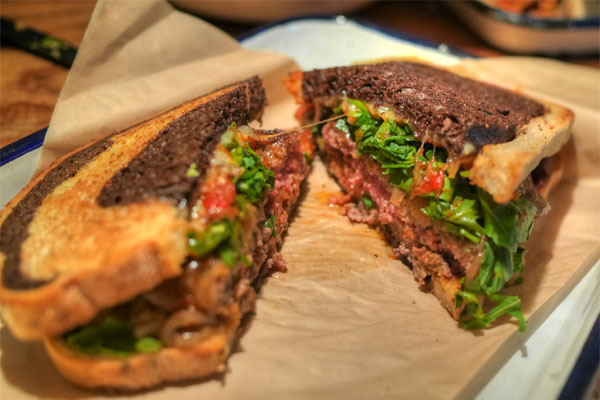 Patty Melt [$12.00]
| Dry Aged Beef, Gruyere, "Beachwood" BBQ Sauce, Caramelized Onion & Arugula on Marble Rye
Playa's patty melt was as gratifying as it looked, with the super juicy, deeply-flavored beef enhanced by the richness of Gruyère. Also key was the smoky sweet BBQ sauce and the levity from the arugula.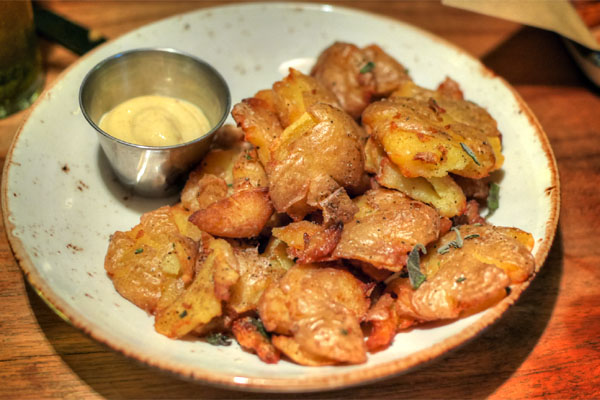 Yukon Gold Tostones with Sage & Tangy Aioli [$6.00]
Fried shards of potato were straightforward enough, with the aioli giving an extra bit of zip.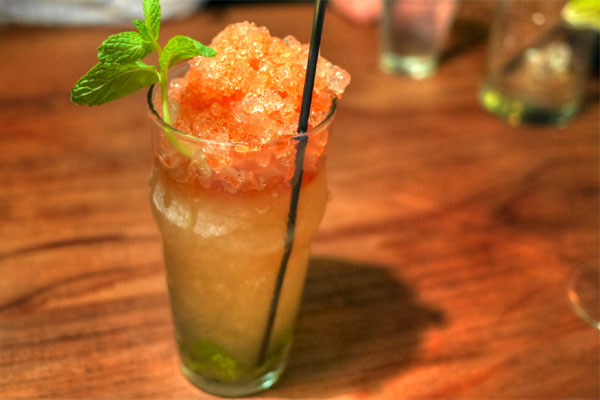 Swizzle [$12.00]
| Jamaican Rum, Banana, Lime, Demerara & Angostura
The classic rum swizzle was a fun sort of cocktail, with sweet, tropical, fruity flavors presented over a base of rum, the lime providing a tart counterpoint.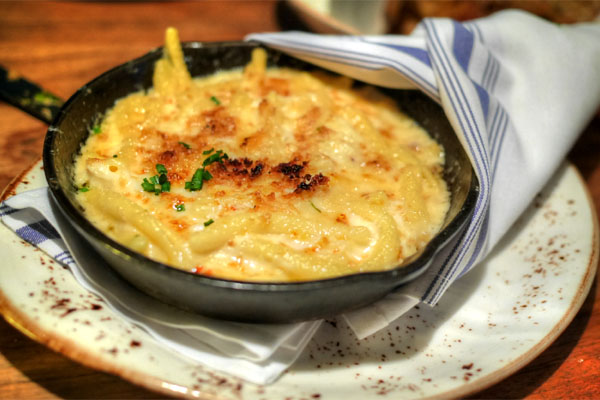 Dungeness Crab Mac n Cheese [$14.00]
I appreciate a good macaroni and cheese, and tonight's version hit the mark, with the crab adding a great salinity to go along with the natural cheesiness of the dish. Nice texture on the pasta, too.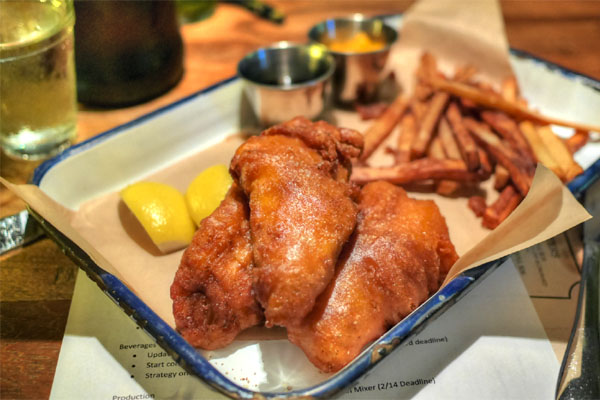 Fish & Chips [$16.00]
| Fried Sweet Potatoes, Malted Vinegar & Spicy Tartar
We ended our savories with a fairly classic fish and chips. The actual fish could've used more seasoning, though this deficit was mitigated by the tangy vinegar and superbly spicy, smoky tartar. Sweet potato fries, meanwhile, were some of the better I've had, as they didn't go overwhelmingly sweet.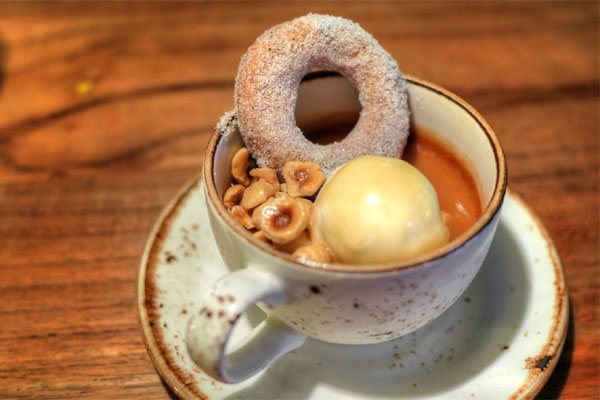 Donut de Creme [$9.00]
| Chocolate Chip Donut, Caramel Pot de Crème, Coffee and Milk Ice Cream, Banana Caramel, Hazelnuts
Dessert started out strong with this tiny doughnut, one that was perfectly paired with rich notes of caramel and coffee while the hazelnuts lent a moderating crunch to the dish.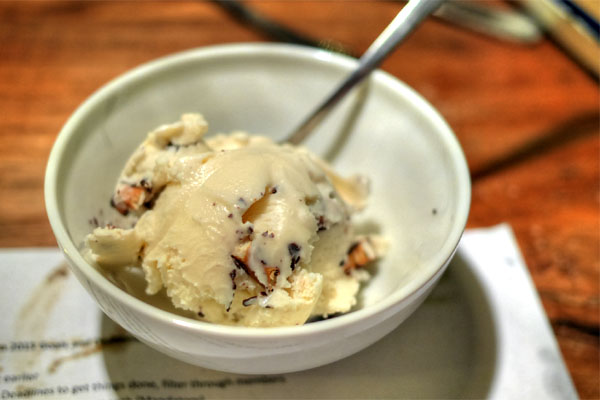 Pretzel Ice Cream [$3.50]
We also made sure to try some ice cream from Small Batch. I enjoyed the salty, savory, crunchy bits of pretzel in this one, though I wanted to see even more of it.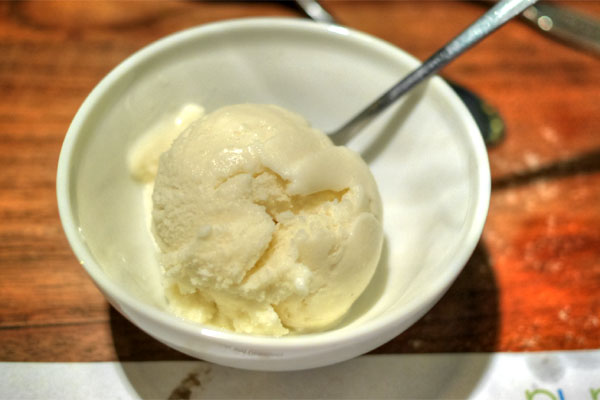 Pineapple-Coconut Ice Cream [$3.50]
Some very focused, tropical flavors in this one, which apparently was dairy-free.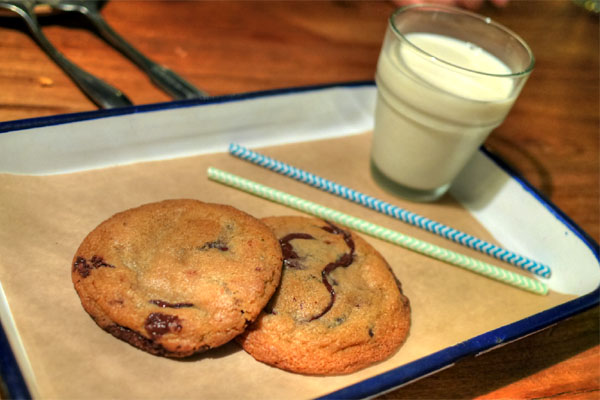 Bourbon Milk & Warm Chocolate Chip Cookies [$8.00]
The signature dessert here brought out the softest, gooiest cookies I'd ever tasted, but even better was that milk, which was simultaneously sweet, yet boozy. Damn my lactose intolerance.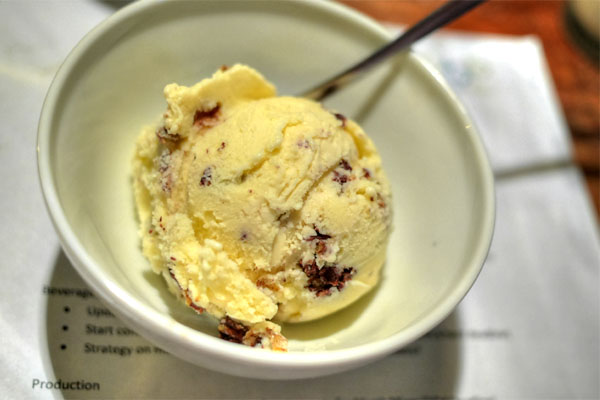 Bourbon Cornflake Ice Cream [$3.50]
I wanted more bourbon, more crispness on the actual corn flakes here, though the ice cream was still enjoyable overall.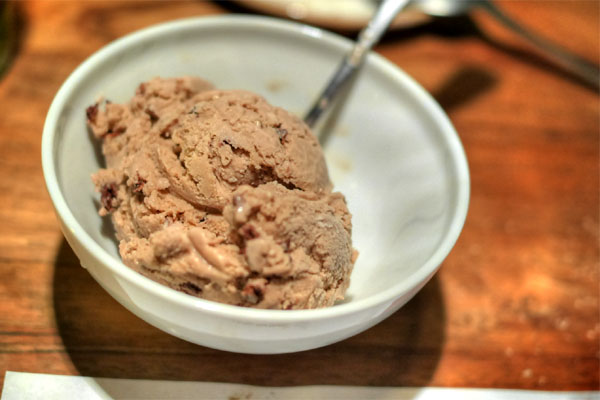 Chocolate Malted Crunch Ice Cream [$3.50]
The Chocolate Malted Krunch at Thrifty was a childhood staple of mine, and Playa's version was a worthy interpretation that really was reminiscent of the original.
This was my first time visiting one of Williamson's restaurants, and I walked out quite satisfied. The cooking's pretty classic, pretty traditional in essence, with a few cheffy twists included for good measure, and the food and drink certainly delivered for the most part. A great fit for the locale to be sure.