Kabab Crush (Artesia, CA)
Kebab Crush Restaurant
18300 Gridley Rd, Artesia, CA 90701
562.860.4777
www.kababcrush.com
Sun 09/13/2015, 08:25p-10:05p

Driven by a need for a dog-friendly place near the 90703, we were led to Kabab Crush, a new-ish Middle Eastern-slash-Mediterranean joint located across the street from Los Cerritos Center. The restaurant opened back in July 2014, and is a family-run affair, with mom, dad, and son all working behind the counter.

Order where the sign tells you to, and your food will be brought out, Carl's Jr-style. Inside seating is clean 'n' bright, but we opted for a table on the patio.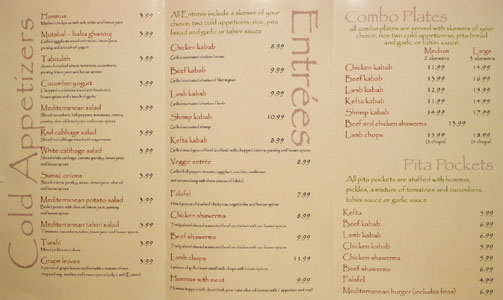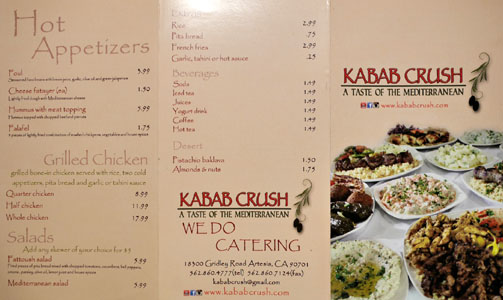 The menu's par for the course given the concept, with most all your Levantine favorites represented in Papyrus font glory. Click for larger versions.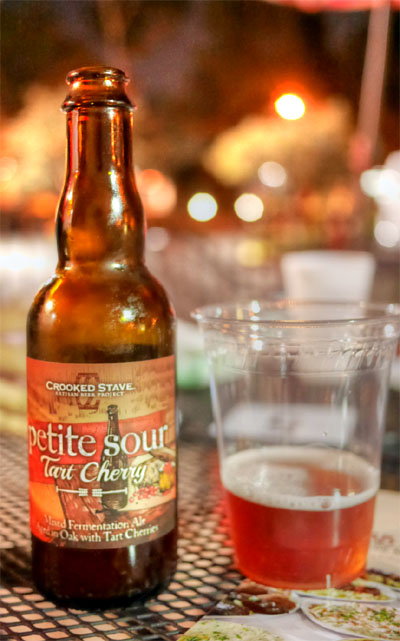 Beer's a fitting pair to the food here, so up first came the
2015 Crooked Stave Tart Cherry Petite Sour
. I wasn't too impressed with this one, finding it thin, acidic, with a slight oak presence and not much fruit. Forgettable unfortunately.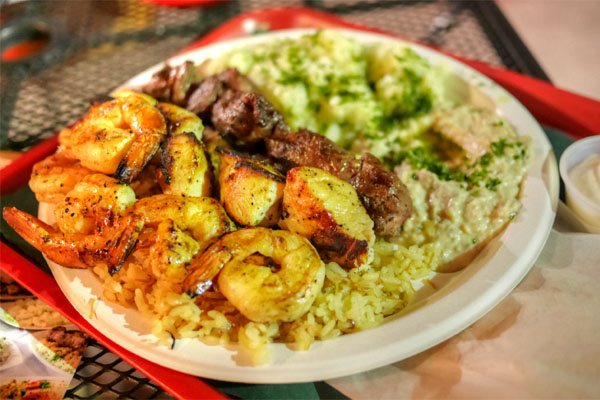 Large Combo Plate [$17.99]
| Shrimp, Beef, Chicken
We opted for a large combination plate in order to try a variety of meats, and weren't let down. I first sampled the shrimp, which came out properly cooked and not overdone as they often tend to be--lovely snap, char, and brine to 'em as well. The beef was also a pleasant surprise, again, not overcooked, and still tender, with a lovely pepperiness. Similarly, the chicken arrived with a good smoke to it, properly juicy and flavorful. Superb rice as well. A strong way to start.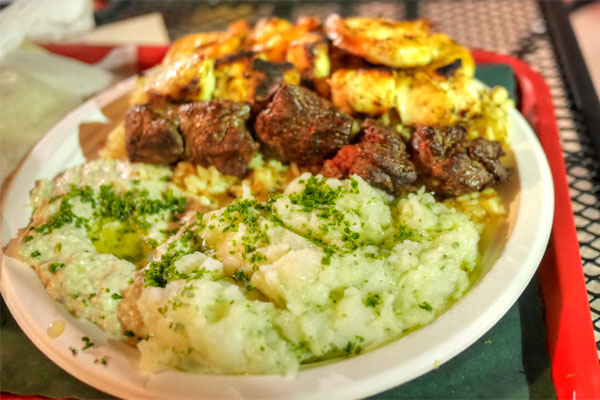 Mediterranean Potato Salad
| Boiled potato with olive oil, lemon juice, parsley and house spices
Mutabal - Baba Ghanouj
| Grilled eggplants mixed with tahini, lemon juice, parsley and a touch of yogurt
The combo came with a choice of two sides. Given my penchant for potato salad, I had to try it here, and found it mild, with a subtle herbiness and tartness. I would've like a firmer, more substantial consistency. The
mutabbal
, meanwhile, was quite nice, with a great smokiness and weight from the olive oil.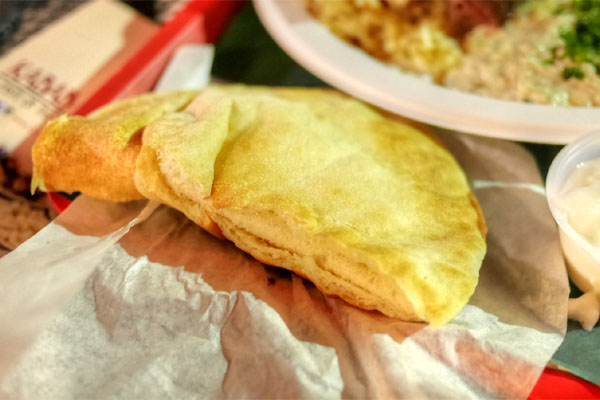 Prototypical pita, fluffy and fresh.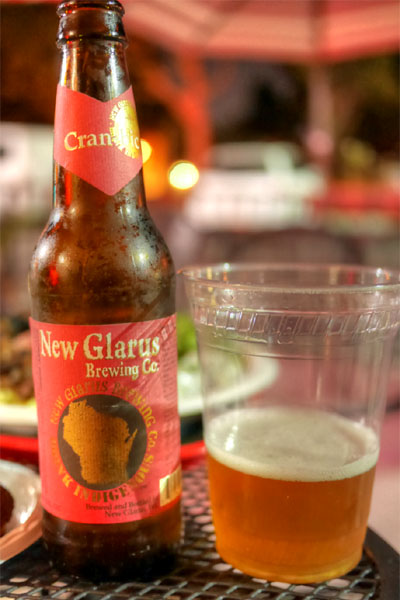 Next to drink was the
2014 New Glarus Thumbprint Cran-Bic
, a lambic-inspired beer aged in oak for five months with cranberries. Think tart and somewhat acidic at first, but with a lingering fruitiness sneaking up on you. Surprisingly sweet, actually.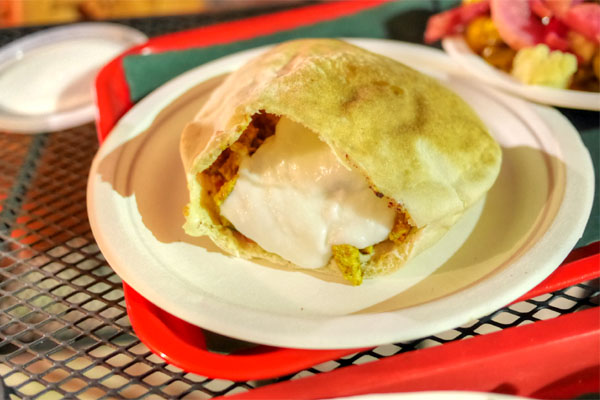 Chicken Shawerma Pita Pocket [$5.99]
We also made to try one of the pita wraps, this particularly one featuring chicken shawarma. What I found interesting was that the bird almost had a curry-like spicing to it, which was evened out by the generous amounts of creamy garlic sauce as well as the brightness and crunch of the tomatoes, cucumbers, and pickles present.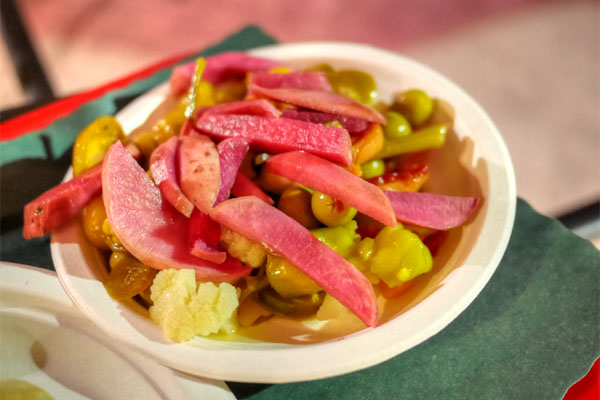 Turshi [$3.99]
| Mixed pickles and olives
A variety of
torshi
to offset the potent flavors at play.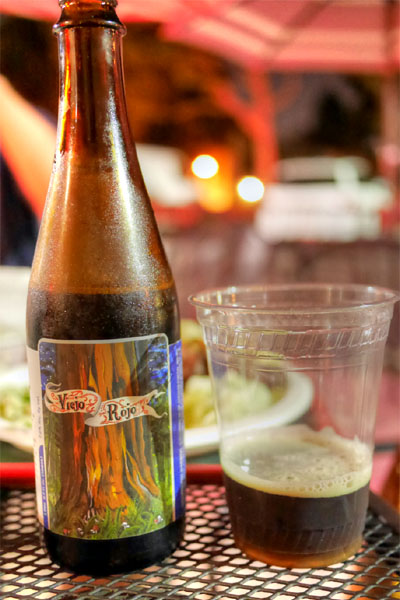 Keeping with the sour beer theme, here was the
2015 Tahoe Mountain Viejo Rojo
, a wild ale aged for two years in French Cabernet casks with cherries and blueberries. I found it very tart, almost acerbic, but with the fruit peeking through quite well, the back end showing more malt and barrel character.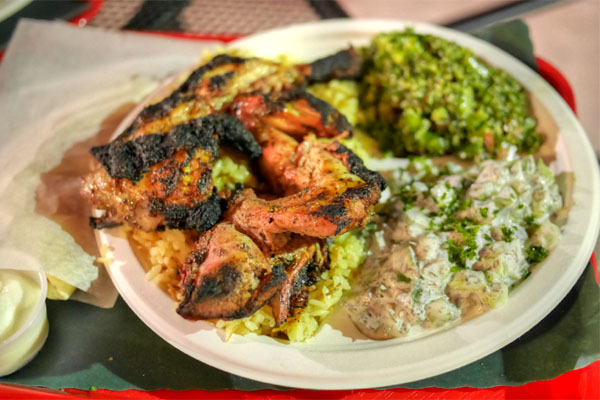 Grilled Chicken [$11.99]
| Half
The grilled chicken, unfortunately, didn't quite hit the lofty levels achieved by the previous meats. There was too much charring going on, which imparted bitterness, and I found the breast drier than I would've liked, though the leg was better in that regard.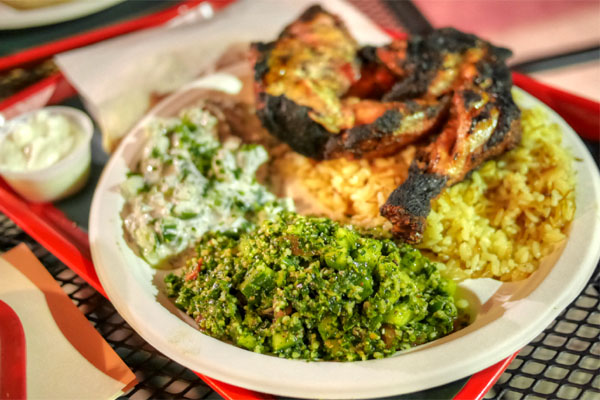 Tabouleh
| A mix of cracked wheat, tomatoes, cucumbers, parsley, lemon juice and house spices
Cucumber Yogurt
| Chopped cucumbers mixed with fresh mint, house spices and a touch of garlic
Again, two sides accompanied the protein.
Tabbouleh
was just as you'd want, all bright and acidic with the parsley really shining. The restaurant's take on
cacik
hit the mark as well, a cool, creamy preparation that was all about its tangy, herby notes.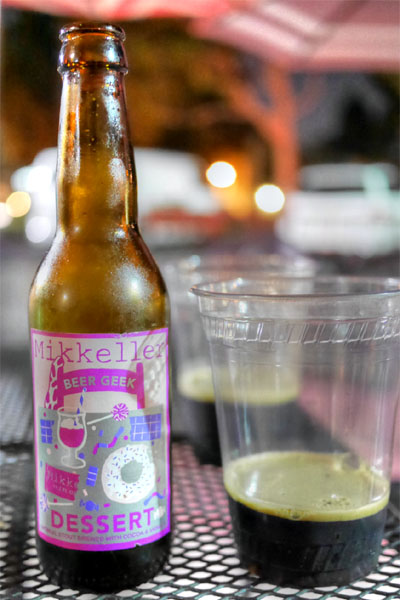 Our final beer brought out the
Mikkeller Beer Geek Dessert
, an imperial oatmeal stout with cocoa and vanilla. It was a decent dessert-y type ale, malt- and coffee-forward, with a strong chocolate character, bitterness, and touch of sweetness from the vanilla.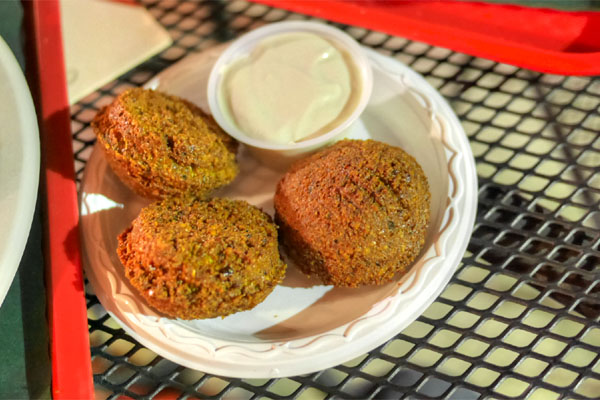 Falafel [$1.75]
| 3 pieces of lightly fried combination of mashed chickpeas, vegetables and house spices
Falafels were delightfully crunchy, smartly spiced, and well-matched to the tahini on the side.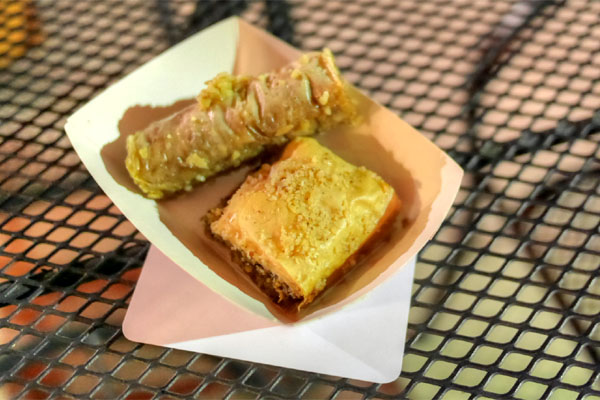 Pistachio Baklava [$1.50]
Some nutty-sweet pistachio and walnut baklava to close.
Kabab Crush was no doubt one of my more random, impromptu meals as of late, but we all left pretty impressed with the restaurant, mostly due to the quality of the skewers (which I guess makes sense given the name of the place). I could see this becoming one of my go-to spots when I'm in need of a tasty, quick-n-easy take-out meal.