Maré (Los Angeles, CA)
Mare Restaurant
7465 Melrose Ave, Los Angeles, CA 90046
323.592.3226
www.maremelrose.com
Tue 08/25/2015, 08:00p-12:00a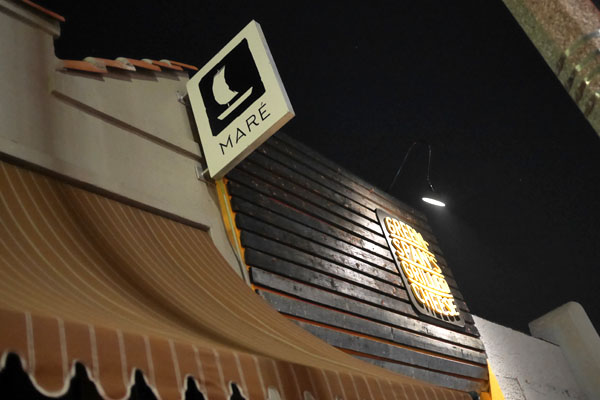 One of the most surprising (as in we didn't know it was coming) debuts of 2015 has got to be Eric Greenspan's Maré, which opened quietly in May. It's a rustic, seafood-centric joint set in the former back patio of The Foundry, a joint venture between the Chef, Jim Hustead, and Stone Oven's James Moon.
About the Chef
: Greenspan was born in 1975 to a Jewish family from New Jersey, though his parents relocated to California when he was nine years old. They settled in Fullerton at first, then moved to Calabasas, where he attended high school and formed a punk rock band named The Green Armpits (they were supposed to be the next Bad Religion). Greenspan attended UC Berkeley's Haas School of Business, majoring in Entrepreneurship and Marketing, and during his stay at Cal, got his first restaurant job. He began as a dishwasher at the City's iconic Caffe Mediterraneum, but quickly moved up to cook and eventually head chef. Along with meals at legendary Cal-Cuisine eatery
Chez Panisse
, his experience at Cafe Med cemented his desire to pursue cooking professionally.
Thus, Greenspan enrolled at Le Cordon Bleu in Paris, and after graduating, moved to New York, where he stayed for four years. During his tenure in NYC, he worked under Rocco DiSpirito at Union Pacific (the two had a tumultuous relationship) and also spent time at
David Bouley
's eponymous Bouley and
Alain Ducasse
at the Essex House. In the summer of 2001, Greenspan left New York for a month-long, game-changing
stage
at El Bulli, and following, returned home to LA. He found work as sous at
Patina
under none other than
Walter Manzke
, and became Executive Chef a year later at age 27. The restaurant's move to the Walt Disney Concert Hall in 2003 eventually forced him out, and in 2004, Greenspan was made opening Exec Chef at Tim and Liza Goodell's Meson G (in the spot that most recently held
Hatfield's
). That job lasted only a few months though, and he was out by 2005, replaced by
Josef Centeno
.
The Chef floated around for a couple years, doing trade shows and teaching at the Kitchen Academy in Hollywood. However, in May 2007, he launched The Foundry on Melrose, his first solo venture and the restaurant that really solidified his name in the LA dining scene. During this period, Greenspan competed on Season 2 of
The Next Iron Chef
(he was the first one eliminated), beat Bobby Flay in a goose battle on
Iron Chef America
, and returned to
The Next Iron Chef
during Season 5 (where he lasted just a bit longer). In 2009, he brought on board Jim Hustead (
Saint Martha
), and the two quickly announced plans for a casual place called Greenspan's Grilled Cheese, located next door to The Foundry. They eventually formed Foundation Hospitality Group in 2011, adding former
Campanile
GM Jay Perrin in the process (who has since left).
Foundation's first project was Roof on Wilshire, a rooftop restaurant located on top of Hotel Wilshire that debuted in September 2011; there were also plans for a fine dining eatery called Étage at the hotel, but those plans fizzled. May 2012 saw the Chef get married to longtime fiancé Jamie Molever in Palm Springs, while May 2013 witnessed the shutter of The Foundry. The indoor part of the restaurant eventually turned into cocktail den Melrose Umbrella Company, which opened in January 2014, while that April, we finally saw the debut of Greenspan's Grilled Cheese. In May last year, Greenspan took on the Consulting Chef role at WeHo's
Harlowe
, though his relationship with the bar has since ended.


Maré occupies the back portion of the 1936-era building that was once home to The Foundry. It's completely outdoors, a cozy, casual, calming sort of space with a nice mix of string lighting and plant life. Note that in order to get to the restaurant, you actually have to enter through the back of Greenspan's Grilled Cheese (
not
Melrose Umbrella Co), which leads you to a grassy antechamber replete with foosball table.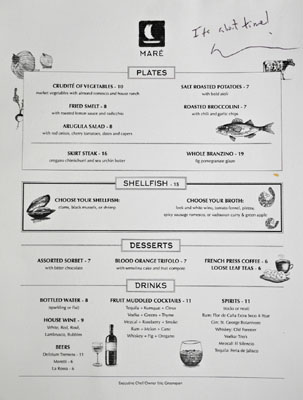 As for Maré's menu, it's pleasantly compact, reasonably priced, and described as "European coastal," replete with "Choose Your Own Adventure" seafood preps and straightforward desserts. To drink, you get a handful of beers, a couple house wines, and a smattering of lightweight cocktails. Click for a larger version.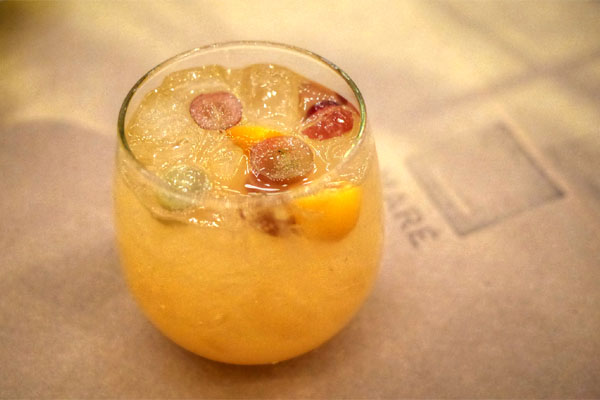 Upon arriving, I was handed a
Spicy Sangria
, an off-menu welcome cocktail of sorts that conveyed boatloads of sweet, juicy fruit up front while the finish was all about a prickly, lingering heat.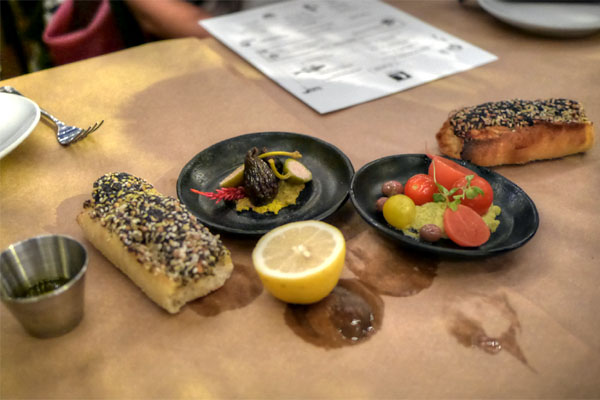 At the table, loaves of herb-topped baguette quickly appeared, joined by an array of accompaniments including cherry tomatoes, pickled radishes, olives, dried figs, and berries.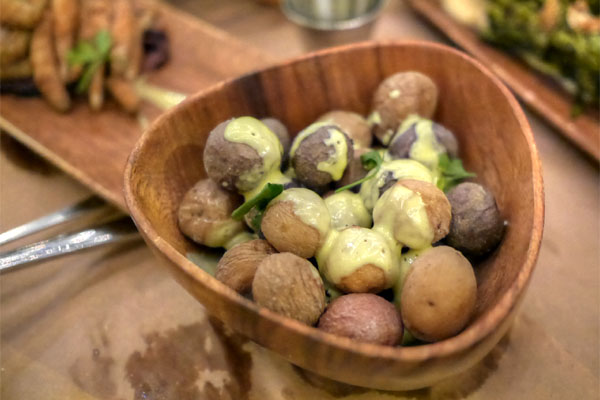 SALT ROASTED POTATOES [$7.00]
| with bold aioli
Potatoes were almost
papas arrugadas
-esque in nature, coming out hearty and salty, complemented by the creaminess of the aioli drizzles.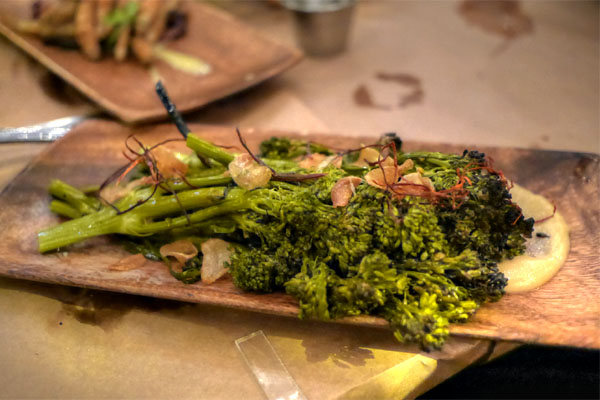 ROASTED BROCCOLINI [$7.00]
| with chili and garlic chips
Broccolini was as crisp and bitter as you'd expect, with the chile and garlic imparting additional zippiness to the vegetable. I would've liked more char though.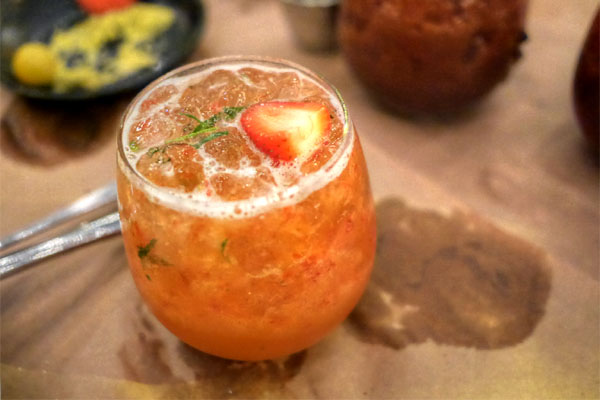 Tequila + Kumquat + Citrus [$11.00]
We made sure to sample all five cocktails on the menu, starting with this tequila variant. The booze was well-integrated here, serving as a base for the sweet (but not too sweet), citrus-y flavors present.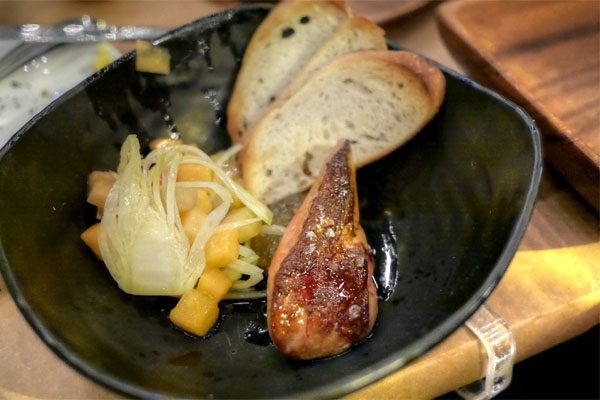 SEARED FOIE GRAS [$21.00]
| melon, fennel, crostini
The kitchen sent out a number of the night's specials, and first up was the foie. It was a spot on seared preparation, the soft, silky, richly-flavored liver gratifying in classic fashion. Great zest from the fennel, though I didn't need that much melon.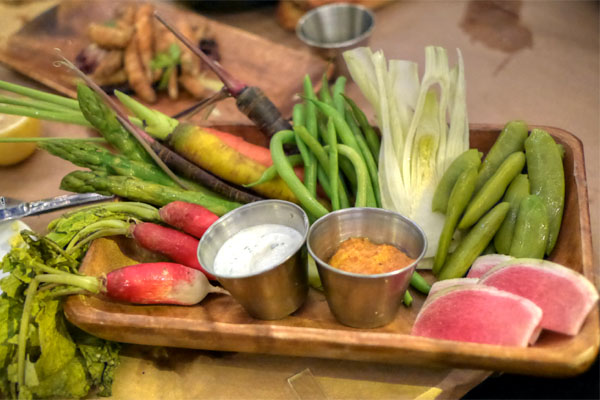 CRUDITÉ OF VEGETABLES [$10.00]
| market vegetables with almond romesco and house ranch
Our crudités platter was a pretty impressive sight. Looks aside, the crisp, crunchy veggies really did work as a welcomed counterpoint to the strong flavors at play in the meal.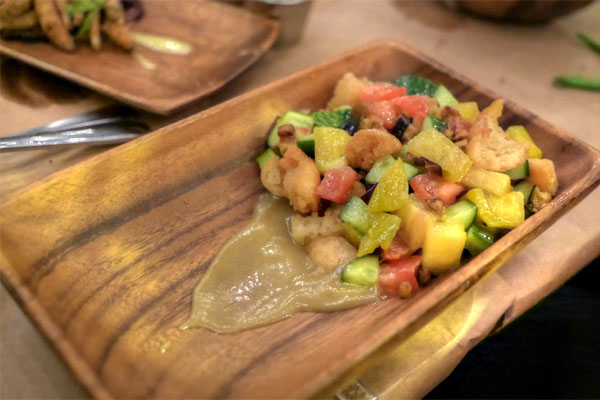 HEIRLOOM TOMATO PANZANELLA [$14.00]
| persian cucumber, eggplant agrodolce
Another special this evening, the panzanella worked as a summer-y sort of salad, with the light, bright veggies augmented by the relative potency of agrodolce.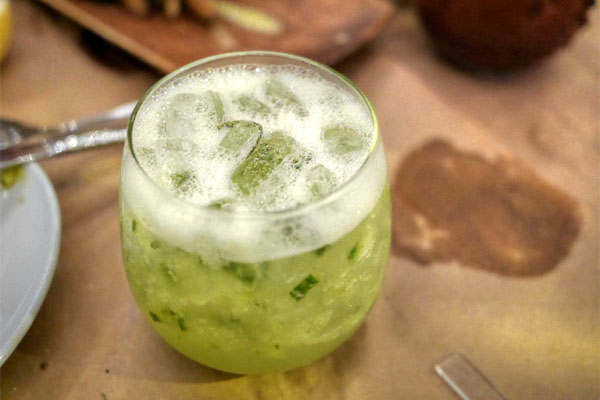 Vodka + Greens + Thyme [$11.00]
The vodka-based cocktail was definitely easy-drinking, with its breezy, herby flavors masking most of the booze.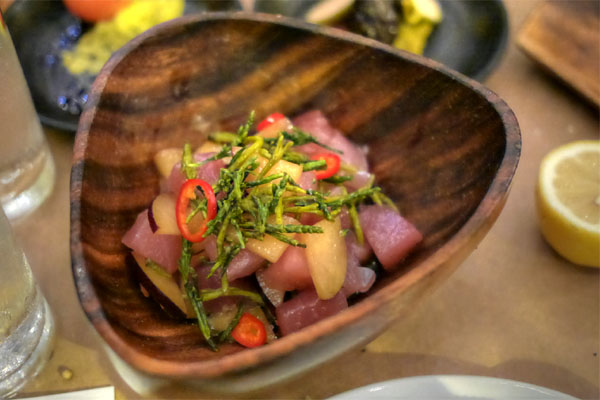 CRUDO OF ALBACORE [$15.00]
| plums, sea beans, fresno chili
Another special was the crudo, which featured clean, lean chunks of tuna complemented by the sweetness of fruit while sea beans added a salty edge to the dish. Nice whisper of heat too from the peppers.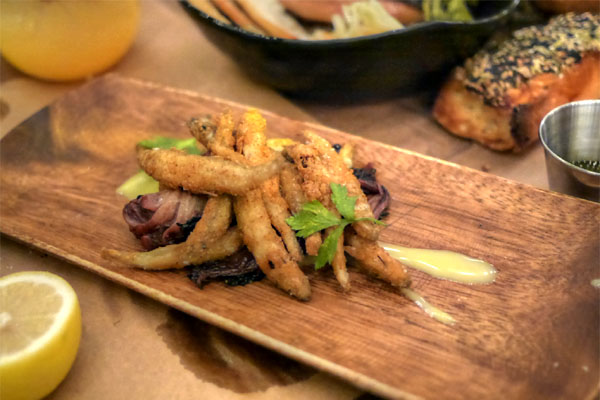 FRIED SMELT [$8.00]
| with roasted lemon sauce and radicchio
"Fish fingers" were fun and salty, with a great hit of lemon and the radicchio providing an underlying astringency. This actually reminded me of a similar dish I'd had not long ago at
Redbird
.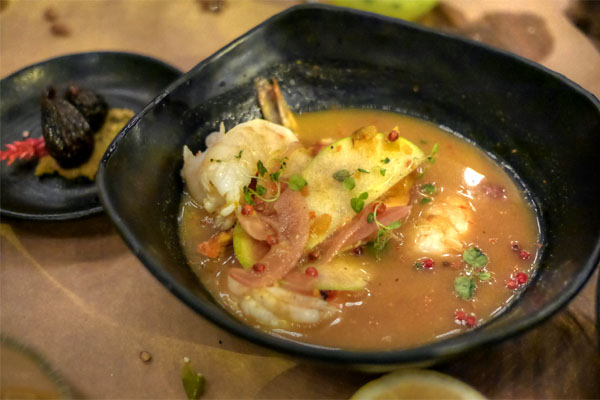 SHRIMP [$15.00]
| vadouvan curry & green apple
Shrimp arrived nicely cooked, still snappy and briny, with a delicate vadouvan essence that complemented but didn't overwhelm.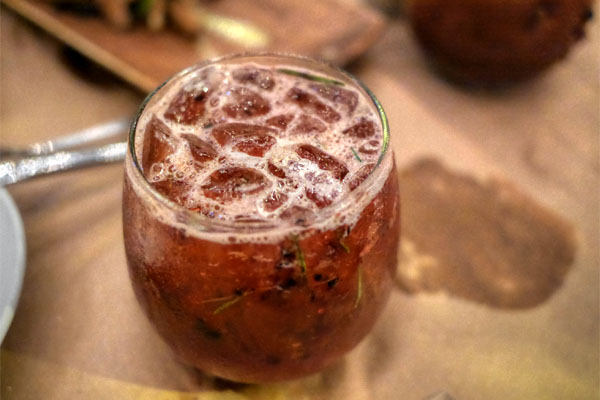 Mezcal + Roseberry + Smoke [$11.00]
My favored cocktail was this mezcal-containing example, not surprising I suppose given my penchant for the spirit. Lovely smokiness here, well balanced by the fruit.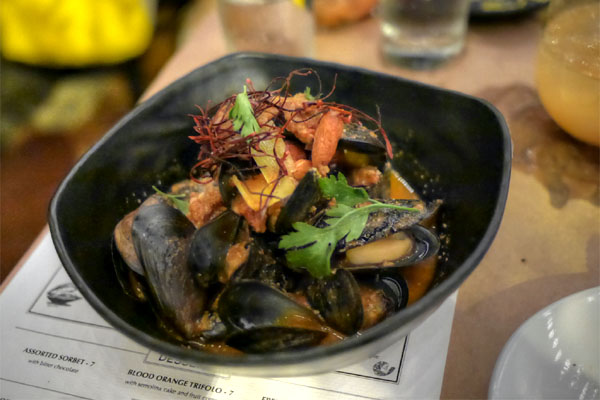 BLACK MUSSELS [$15.00]
| spicy sausage romesco
The mussels managed to be my favorite of the core seafood selections. The bivalves came out delightfully springy, with a savory, spicy, sausage-enriched broth that worked as a flawless accompaniment.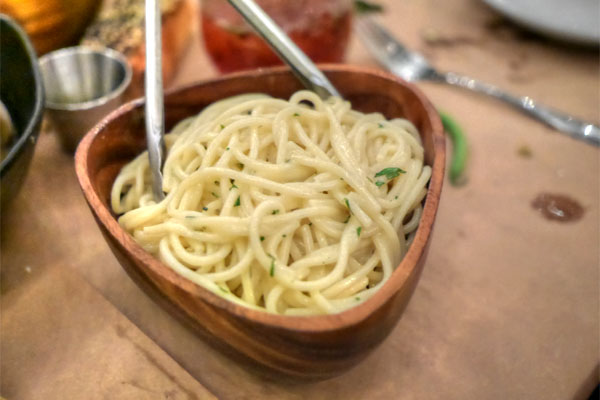 We were also provided with noodles and poached eggs, which were designed to go with the leftover broth (I think). A bit unexpected, but reasonably effective.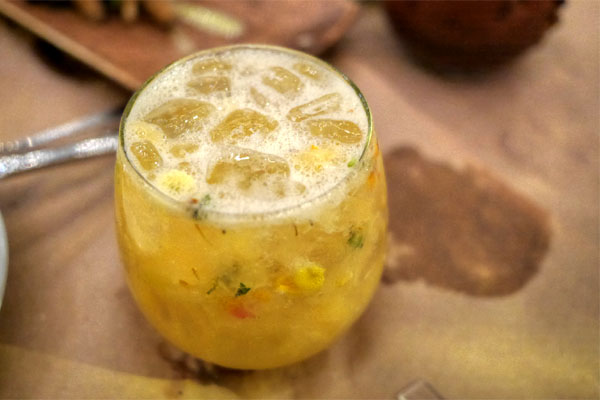 Rum + Melon + Cane [$11.00]
The rum cocktail was clearly the most tropically-inspired of the bunch, showing off a fun, melon-y, pineapple-y sweetness to it.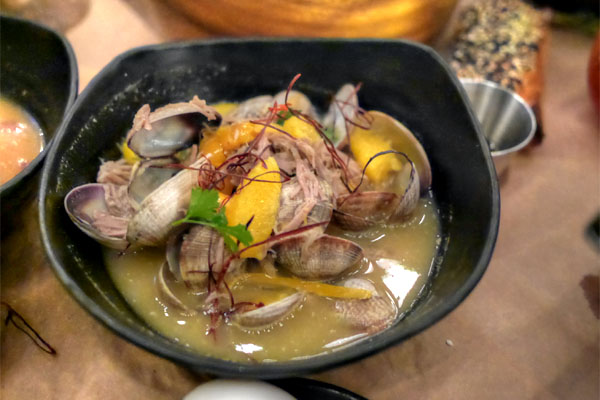 CLAMS [$19.00]
| tomatillo broth (oranges, gooseberries, clam-braised pork)
Clams were paired with a tomatillo broth, which was another special for the night. Texturally, they were right on the money, and well-matched to the tomatillo and additional heft of the braised pork. However, I did get sand in some of the clams, which was distracting.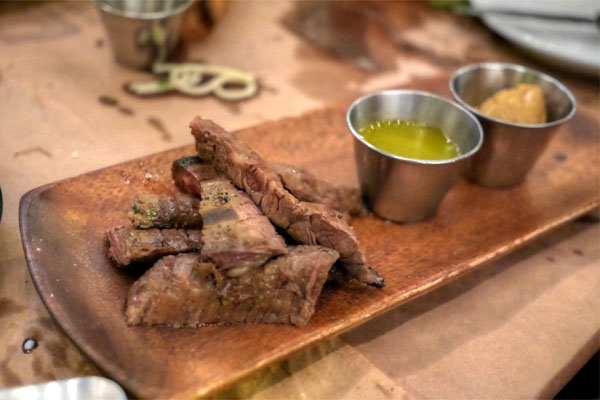 SKIRT STEAK [$16.00]
| oregano chimichurri and sea urchin butter
The steak was cooked more than I would've preferred, though it did convey a great depth of flavor that made sense with either of the two included condiments.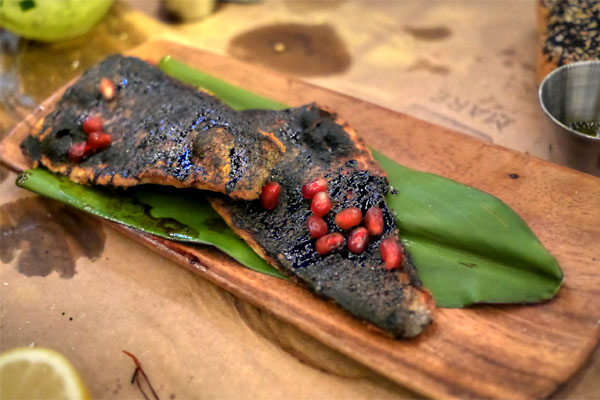 WHOLE BRANZINO [$19.00]
| fig pomegranate glaze
Branzino came out heavily-charred, though I didn't necessarily mind that. There was actually a nice crispness on the skin, which matched well with the fish's tender, moist flesh. Flavor-wise, the branzino was spot on as well, making it one of my favorite dishes of the night.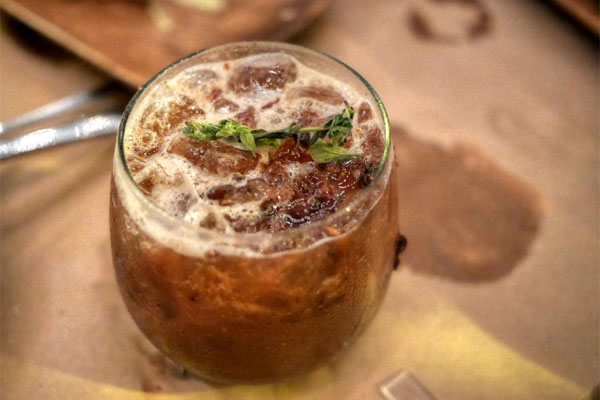 Whiskey + Fig + Oregano [$11.00]
Our final cocktail was the booziest of the bunch, a fairly whiskey-centric presentation with a core of fig sweetness accented by the aromatics of oregano.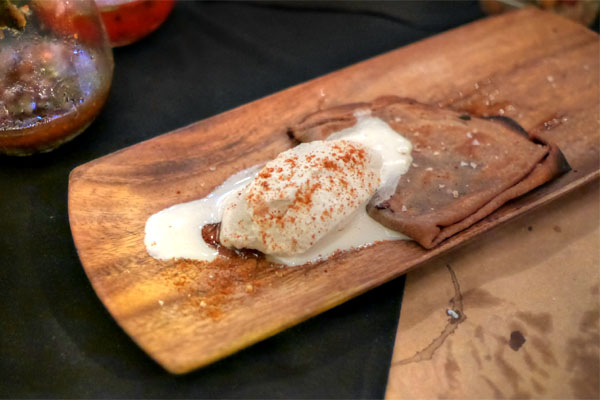 CHOCOLATE CHILI CREPE [$9.00]
| nutella, coffee whipped cream
At this point, the kitchen sent out a sampling of all the desserts. The crêpe was a special, blending traditional chocolate flavors with a hint of heat, the whipped cream imparting a lightness to it all.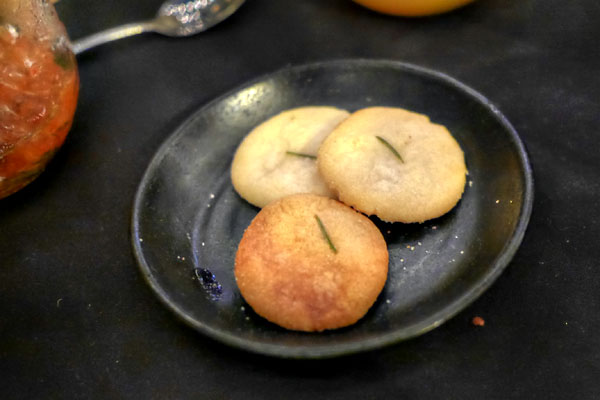 Shortbread cookies were tarted up with rosemary and sea salt. Very nice.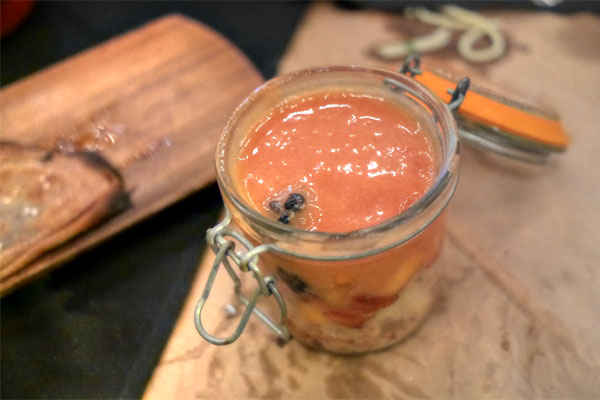 BLOOD ORANGE TRIFOLO [$7.00]
| with semolina cake and fruit compote
The restaurant's take on the trifle featured a great sponge cake base, though I would've liked a touch less acidity from the macerated fruit.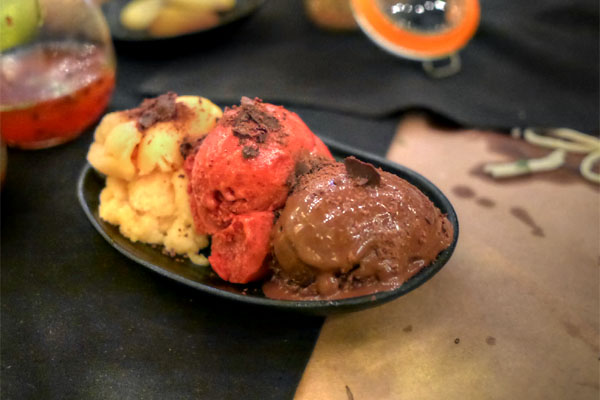 ASSORTED SORBET [$7.00]
| with bitter chocolate
Last up: a trio of very true-to-life sorbets: peach-basil, raspberry-plum, and good ol' chocolate.
It was nice to finally sample Greenspan's food after all these years (I'm a bit surprised that it'd taken this long). The place definitely leans rustic, though the cooking still shows glimpses of the Chef's schmancier leanings. Given that, it would be interesting to see what he could do, unconstrained. Greenspan and company haven't ruled out the possibility of bringing back Enclave, the fine dining restaurant initially slated for this location, so I'm curious to see if that ever comes to fruition.