Hatchet Hall (Culver City, CA)
Hatchet Hall Restaurant
12517 W Washington Blvd, Los Angeles, CA 90066
310.391.4222
www.hatchethallla.com
Sun 08/16/2015, 08:00p-01:20a

The last time we checked in with Brian Dunsmoor and Jonathan Strader, the two were heading things up at the
Ladies' Gunboat Society
at
Flores
. That was August last year. By October, they were gone from the restaurant, a departure that followed their exit from
The Hart and The Hunter
a month earlier. Dunsmoor and Strader have partnered with Louie Ryan of Temple Bar Concepts (Townhouse Cocktails and The Del Monte speakeasy in Venice) for their latest project, Hatchet Hall, a wood-fired-centric eatery that aims to blend Southern cooking with Southern Californian sensibility. The restaurant debuted on July 7th with Chef de Cuisine Jack Leahy running the day-to-day.

Hatchet Hall occupies the
A-Frame
-adjacent building that formerly held
Brendan Collins
'
Waterloo & City
(and the Crest House before that). The large-yet-cozy 125-seater space comes with a whitewashed oyster bar and private dining room that'd make grandma proud. There's also a patio out front, and a speakeasy-esque, wood-paneled "Old Man Bar" toward the rear that supposedly served as a gathering place for old timers back in the Crest House days.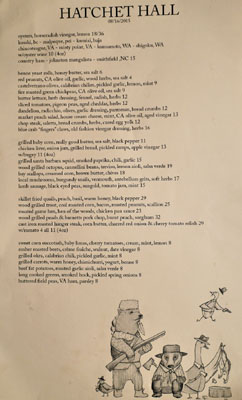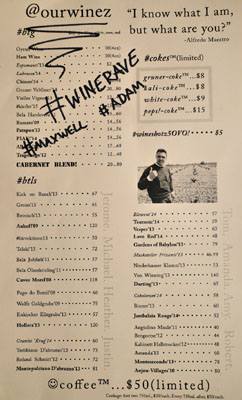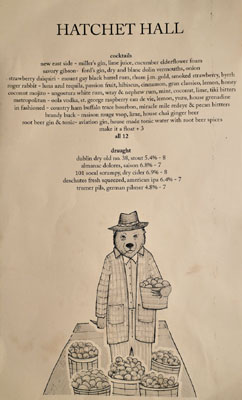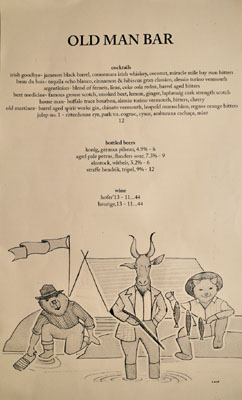 As for the menu, think rustic Cal-Southern, with a good number of the dishes cooked in a wood-fired hearth. Booze-wise, Daniel "Cappy" Sorentino (Townhouse Cocktails,
Scopa
, Spruce, Spoonbar) mans the bar program and offers up two cocktail lists: one containing lighter and on-tap beverages at the main bar, the other featuring more spirit-forward drinks for the Old Man Bar. Meanwhile, wine duties are handled by Maxwell Leer (
Bestia
,
LudoBites 8.0
,
The Bazaar
,
The Tasting Kitchen
), with help from buddy Adam Vourvoulis (
Petit Trois
,
Trois Mec
,
ink
,
Mozza
,
Church & State
), so the list is as esoteric and as irreverent as you'd expect (and requiring of much 'splaining). Click for larger versions.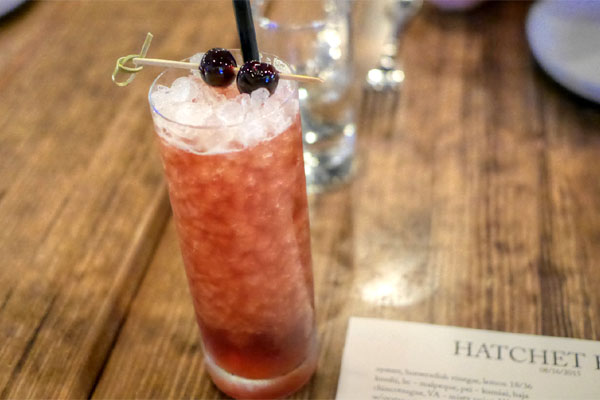 root beer gin & tonic [$12.00]
| aviation gin, house made tonic water with root beer spices
Kicking things off was one of Hatchet Hall's more lighthearted cocktails. A take on root beer, the drink was a bit funky, and almost floral initially, with the sweet, lingering root beer spices coming in toward the midpalate. Neat.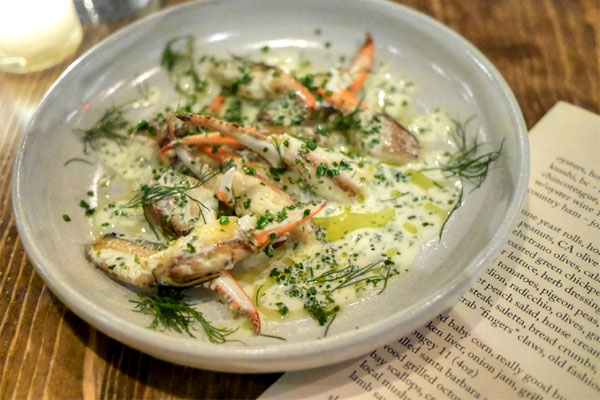 blue crab "fingers" claws, old fashion vinegar dressing, herbs [$16.00]
Blue crab was a crowd pleaser, the crustacean's cool, sweet brine set off brilliantly by the creamy, dill-infused dressing.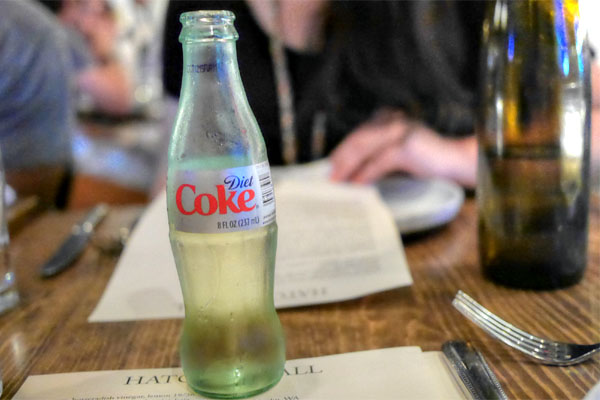 Vourvoulis brought out a
gruner-coke™ [$8]
, one of the four house-bottled Coca-Cola-inspired libations on offer. Comprising Grüner Veltliner, grapefruit, and Coke, it made for a pretty stellar concoction, an utterly refreshing drink imbued with juicy notes of citrus while the wine lent the necessary gravitas.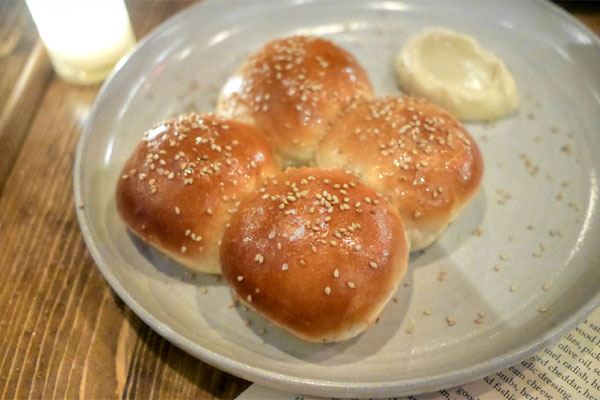 benne yeast rolls, honey butter, sea salt [$6.00]
Rolls were on point, coming out just slightly sweet. The smooth, saccharine butter made things even better.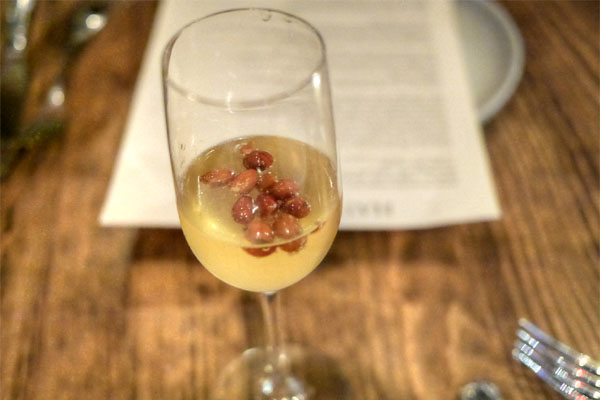 In North Carolina, mixing peanuts in with your Pepsi is a thing apparently. Taking inspiration from that Southern tradition, we had here the
#wineshotz5OVO! [$5]
, combining the red peanuts on the menu with Grüner. The nuts actually worked better than I thought they would, giving a salty, nutty finish to the otherwise sweet-ish, easy-drinking wine. This is supposed to be taken as a shot, but I'd be a bit wary given the potential choking hazard.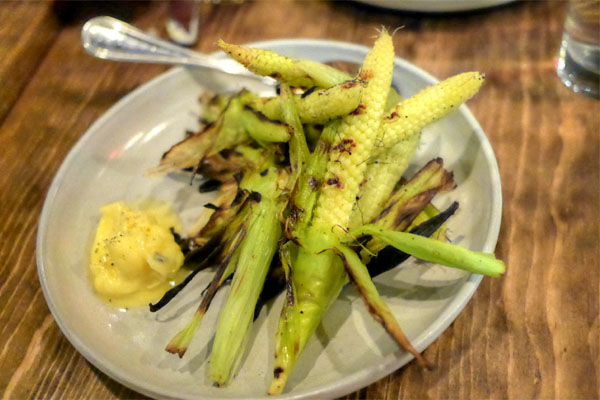 grilled baby corn, really good butter, sea salt, black pepper [$11.00]
Baby corn arrived rather cute I have to say, well-textured stalks that had a sweetness to 'em that was kicked up a notch by a smear of that sugary, luscious butter on the side. Even the husks were edible, imparting a touch of char to the experience.
Keeping with the cola theme, next was the
kalimotxo
-inspired
kali-coke™ [$8]
. Combining Coca-Cola, rosé Lambrusco, and housemade vermouth, this one was delicious as well, with a beautiful spice character and a persistent grapiness.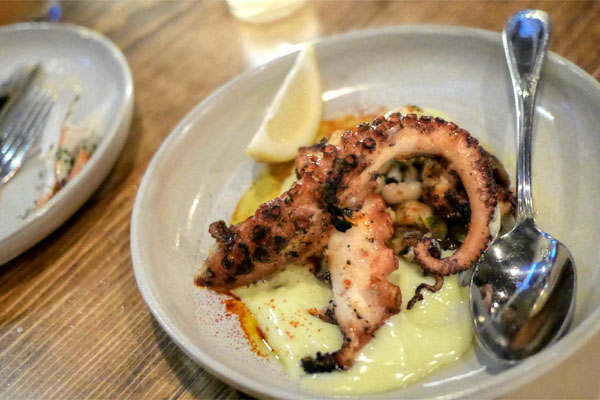 wood grilled octopus, cannellini beans, treviso, lemon aioli, salsa verde [$19.00]
Octo was a must-try of course, and didn't disappoint, arriving super tender, yet lovingly charred, its heft offset by the combo of aioli and salsa verde while the beans moderated it all. A table favorite.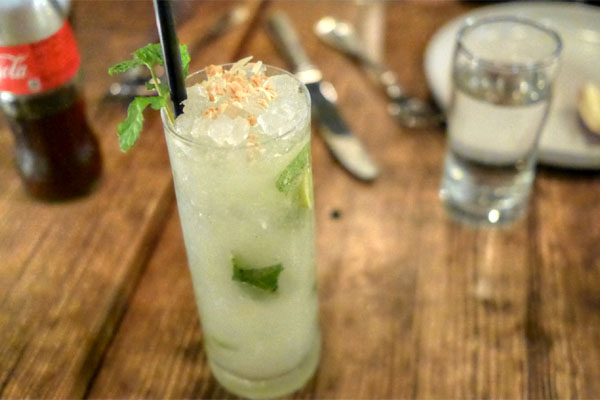 coconut mojito [$12.00]
| angostura white rum, wray & nephew rum, mint, coconut, lime, tiki bitters
A coconut-enriched mojito was a smart take on the traditional cocktail, with the tropical sweetness of the fruit very apparent at first, but then giving way to classic nuances of mint and lime toward the back end.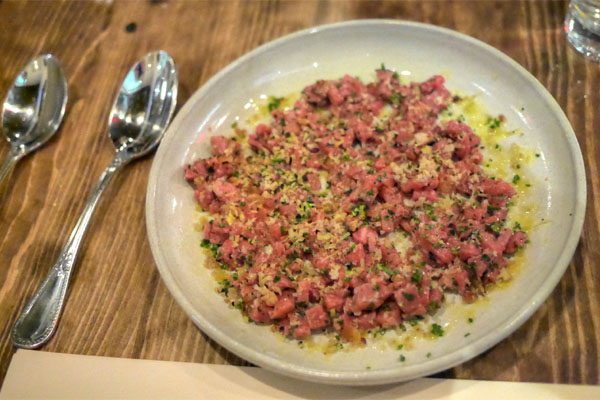 chop steak, saletta, bread crumbs, herbs, cured egg yolk [$12.00]
The tartar was one of the more beef-forward preparations I've had, with the springy, supple steak well conveyed, augmented by the presence of egg yolk while breadcrumbs gave up a much appreciated crunchiness.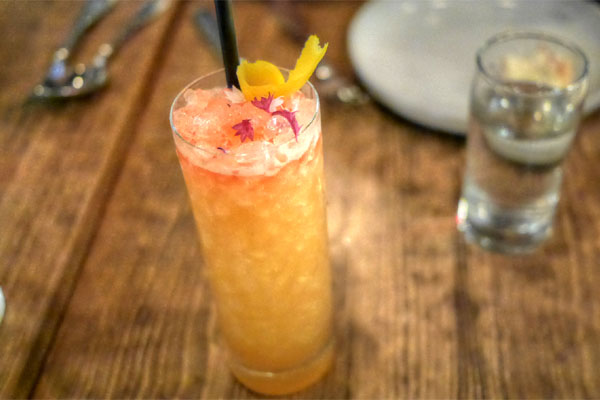 roger rabbit [$12.00]
| luna azul tequila, passion fruit, hibiscus, cinnamon, gran classico, lemon, honey
Next was arguably my favorite cocktail of the evening. There was seemingly a lot going on here, but everything--the sweetness of passion fruit, spice, bitterness, the overarching notes of citrus--all came together cohesively for me. Very cool.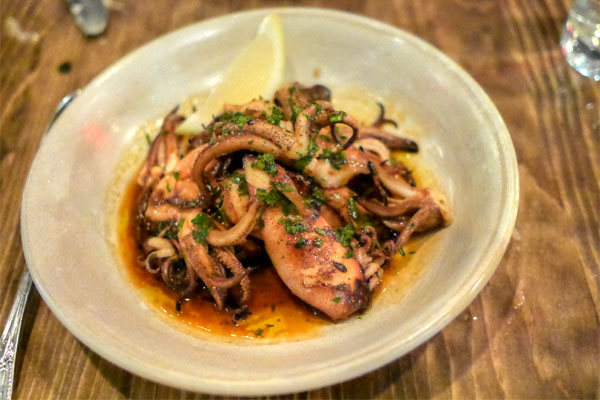 grilled santa barbara squid, smoked paprika, chili, garlic [$15.00]
Squid was tender but still snappy, its delicate salinity smartly complemented, but not overwhelmed by a deep, earthy spice and lovely hit of smoke.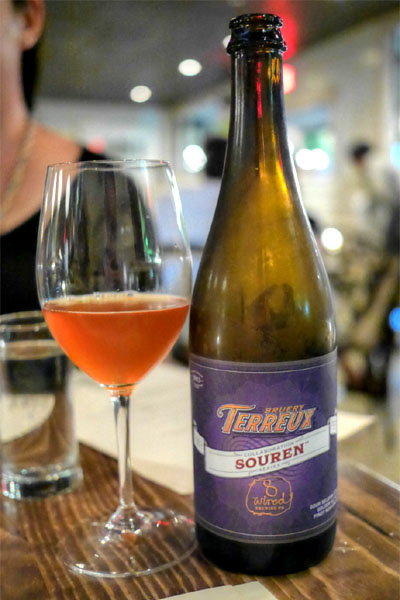 I had with me a bottle of the
2015 The Bruery Terreux Souren
, which we opened at this point. A new collaborative brew with New Zealand's 8 Wired, the beer was a sour Belgian-style golden ale with Pinot Noir grapes added. I really enjoyed this one, finding it to be one of the best sours I've had from the brewery. Think tart, farmhouse, and spicy, but with a wonderful, pervasive grape-y character from the pinot.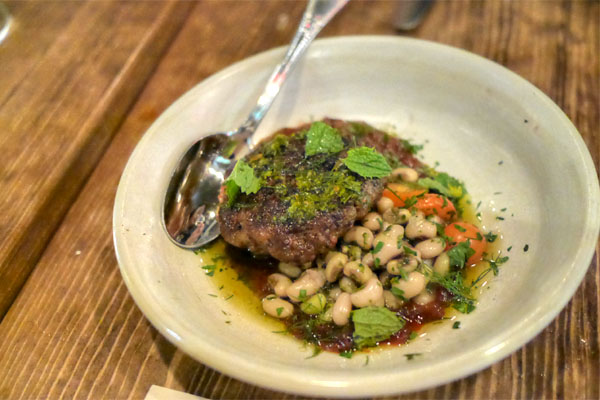 lamb sausage, black eyed peas, sungold, tomato jam, mint [$15.00]
The lamb was a homey sort of preparation, immensely savory but balanced by a palpable herbiness while the peas were effective in evening out the dish.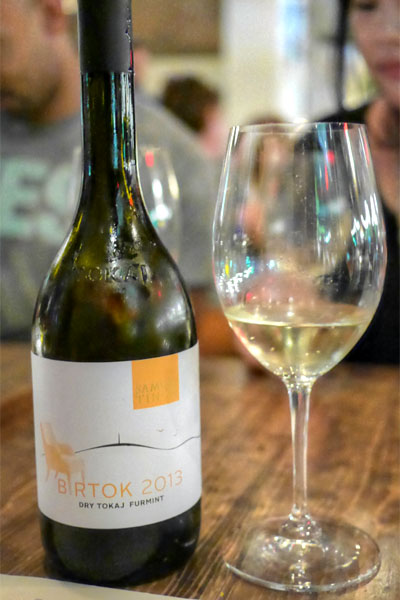 We then had a taste of the
#birtoktinon13 (2013 Samuel Tinon Tokaji Birtok)
, which was definitely to my liking. Think really aromatic, almost funky on the nose, with the taste giving up earth, salinity, dry fruit, and an almost oxidative quality.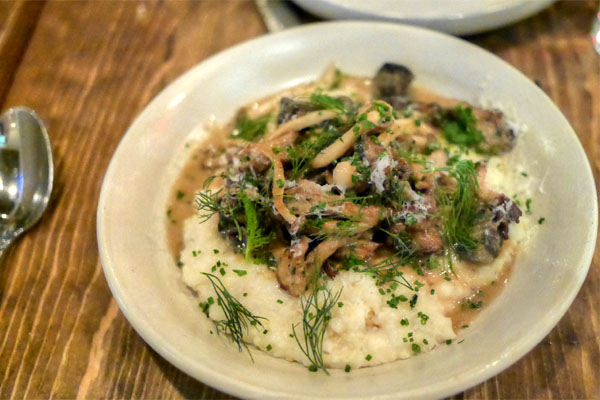 local mushrooms, burgundy snails, vermouth, antebellum grits, soft herbs [$17.00]
Mushrooms were as earthy and as deep as you'd expect, but kicked up another level by the escargots. The grits, meanwhile, were spot on, and absolutely key in tempering the otherwise potent flavors at play.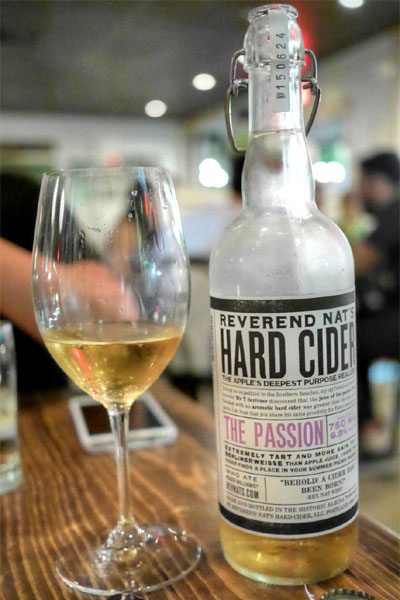 We also had a cider with us, the
2015 Reverend Nat's The Passion
, which combined both apple and passion fruit juices. The end result was quite sweet, with loads of passion fruit on the palate joined by an undercurrent of tartness and plenty of acidity.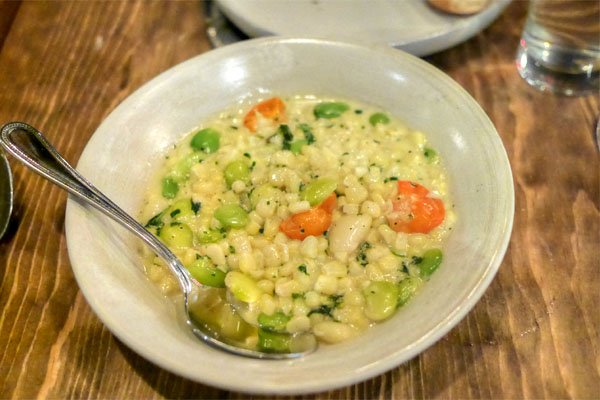 sweet corn succotash, baby limas, cherry tomatoes, cream, mint, lemon [$8.00]
Succotash was a prime example of such: sweet and buttery, with a plethora of textures and a lovely overtone of mint throughout.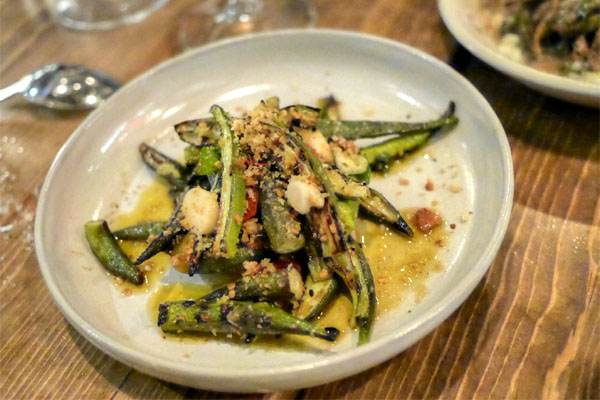 grilled okra, calabrian chili, pickled garlic, mint [$8.00]
The okra was even better, one of the best uses of the ingredient that I've tasted. I appreciated how the mucilaginous nature of the pods was minimized here, not to mention the deep, heady, spicy, almost Asian-y flavors, perked up once again by mint.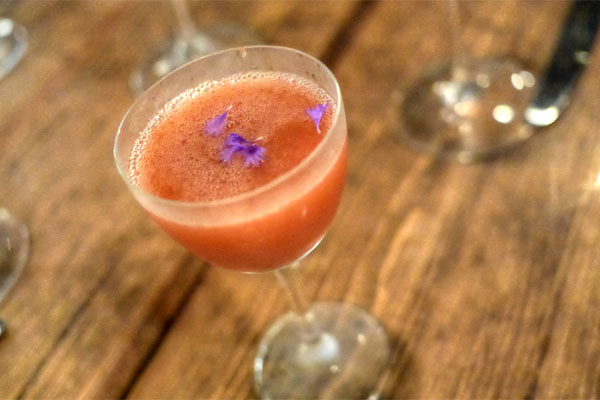 strawberry daiquiri [$12.00]
| mount gay black barrel rum, rhum j.m. gold, smoked strawberry, byrrh
Next was probably the most intriguing daiquiri I've had, displaying an in-your-face smoke on the nose, while the palate went tart and sweet, but with a smoky, savory finish that seriously recalled BBQ sauce.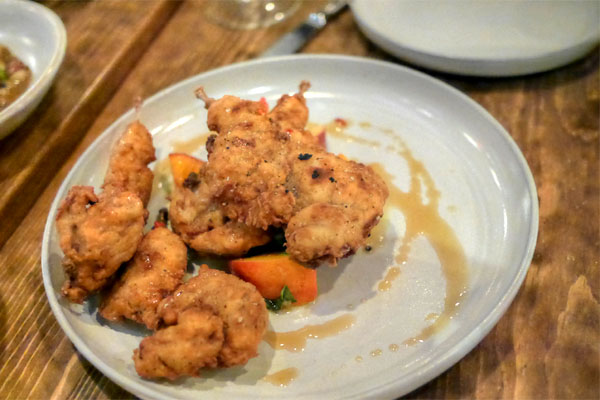 skillet fried quails, peach, basil, warm honey, black pepper [$29.00]
Quails were near-perfectly fried, coming out delightfully crisp, yet still moist and tender on the inside. I appreciated the juicy notes of peach here, though I wasn't quite as sold on the honey, which went overly sugary.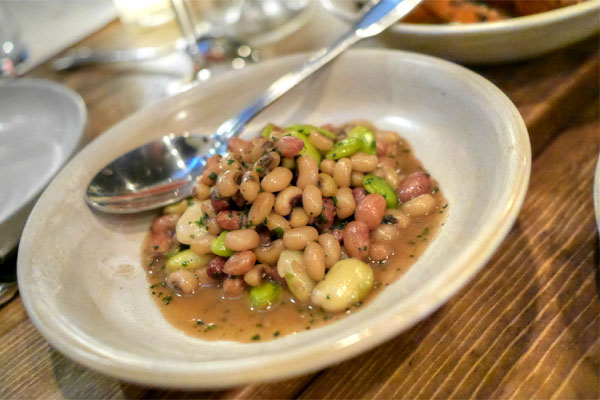 butter field peas, VA ham, parsley [$8.00]
Field peas made for a hearty, homey dish, with a richness from the ham that matched well with the zip of parsley.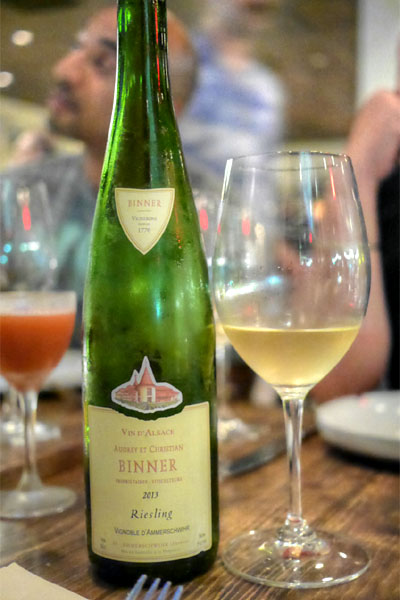 We were then provided with the
Binner'13 (2013 Audrey et Christian Binner Vin D'Alsace Riesling)
, made using natural/biodynamic methods. I quite liked it and its crisp, mineral-laced, subtly sweet, slightly petrol-y qualities, though one of my dining companions didn't care for it at all, deeming the wine fundamentally flawed.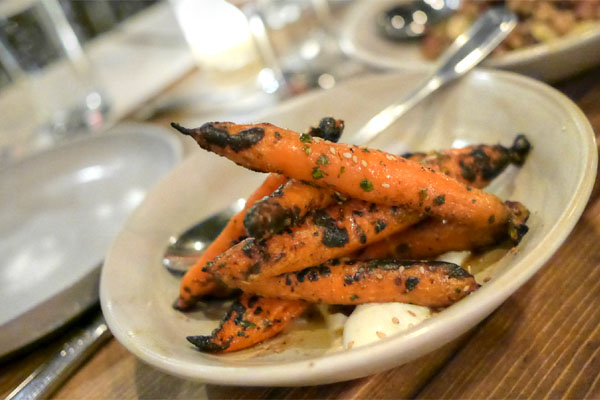 grilled carrots, warm honey, chimichurri, yogurt, benne [$8.00]
Carrots made for our final savory course, dense, charred examples loaded with a sweetness that made total sense against the yogurt here.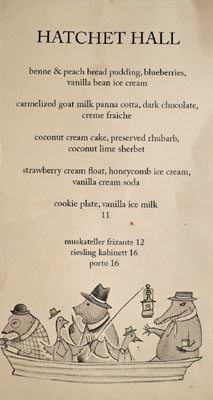 Desserts at Hatchet Hall are the realm of Pastry Chef Paige Russell, who worked with Dunsmoor previously at
Ladies' Gunboat Society
and also spent time at
Tavern
. Click for a larger version.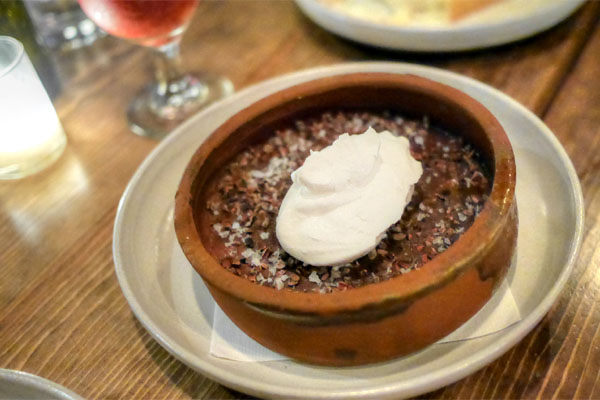 caramelized goat milk panna cotta, dark chocolate, creme fraiche [$11.00]
Panna cotta gave up a mix of sweet and almost smoky flavors, as well as a saltiness that went a little overboard, though the crème fraîche did help rein things in.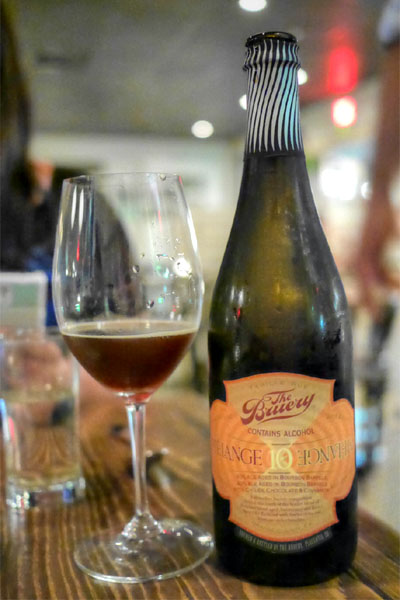 Our second beer brought out the
2015 The Bruery Melange 10
, a Hoarders-exclusive bourbon barrel-aged old ale with ancho chiles, chocolate, and cinnamon added. Nose of dark fruit and light chocolate; the taste follows, with the chocolate taking center stage, joined by spicy cinnamon while the heat of the anchos kicked in later.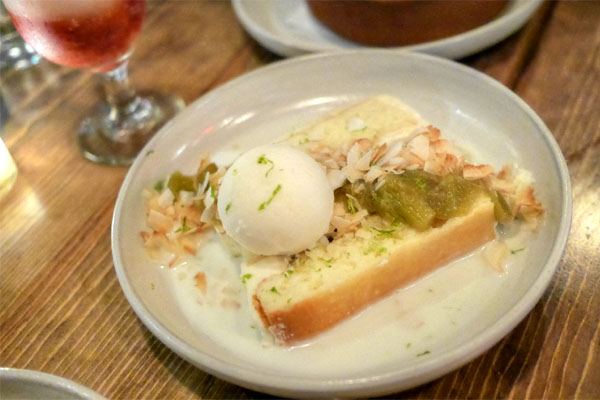 coconut cream cake, preserved rhubarb, coconut lime sherbet [$11.00]
A coconut cake came out dense and saturated, its creamy flavors countered by notes of dark fruit while lime gave up the necessary lightness. In terms of coconut cakes though, I don't think anything will surpass the Peninsula Grill-inspired version Dunsmoor and
Kris Tominaga
had at
The Hart and The Hunter
.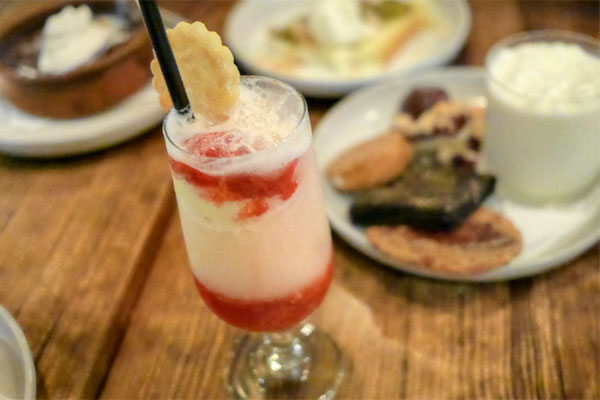 strawberry cream float, honeycomb ice cream, vanilla cream soda [$11.00]
My favorite of the desserts was this perfect float, one that showed off a flawless interplay of strawberry and ice cream, with the cream soda providing a wonderfully crisp effervescence to things.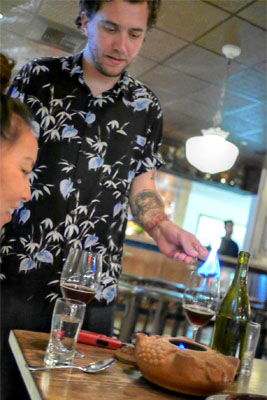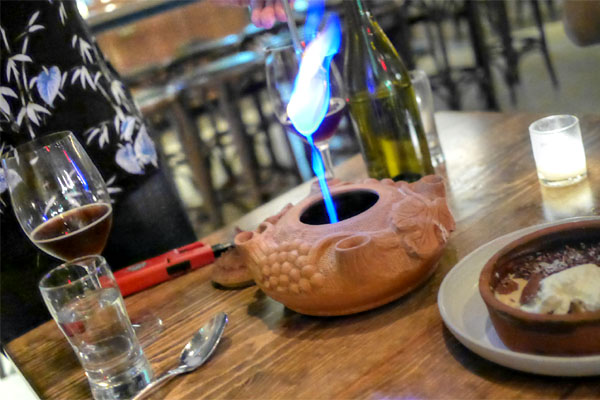 We were then presented with Hatchet Hall's
☺coffee™ [$50]
program, basically a take on the Italian tradition of
caffè alla valdostana
. Contained in a
coppa dell'amicizia
or "friendship cup" (oft mistakenly referred to as a
grolla
) was a combination of French press coffee, white port, orange liqueur, and sugar, with Diesel neutral grain spirit making for the pyrotechnics and the most impressive after-dinner show since
Faith & Flower
's "Russian style" absinthe service. We were then instructed to pass the cup around and each drink out of one of the spouts. The combination was pretty damn tasty, an amalgam of citrus and alcoholic heat layered over a base of aromatic coffee.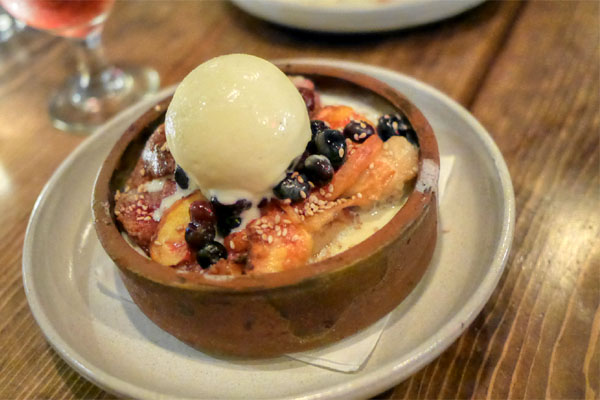 benne & peach bread pudding, blueberries, vanilla bean ice cream [$11.00]
The bread pudding was a commendable rendition of the classic dessert, an eggy, rich, yet somehow light preparation with a tried-n-true mix of berry and vanilla bean flavors.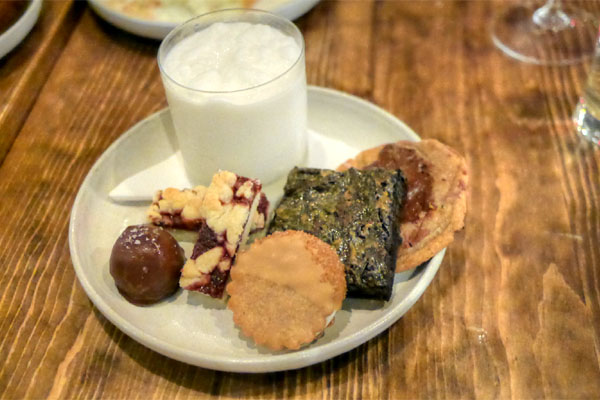 cookie plate, vanilla ice milk [$11.00]
The cookie plate's worth trying as well, with updated versions of traditional treats working swimmingly with the almost bracing character of ice milk.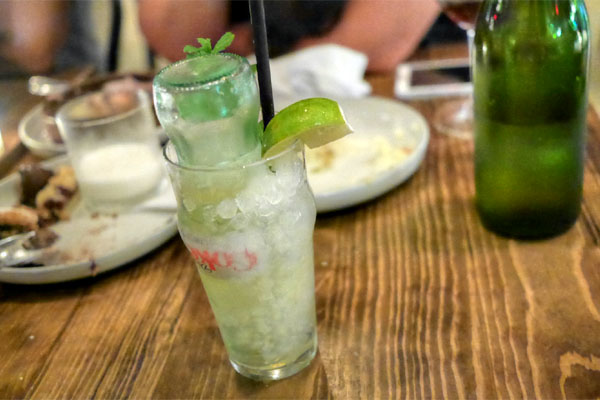 We were also able to sample Hatchet Hall's take on the Mexican Bulldog, one substituting the
gruner-coke™
above for the usual Corona.

With dinner proper dispensed with, we headed on over to the Old Man Bar in the back.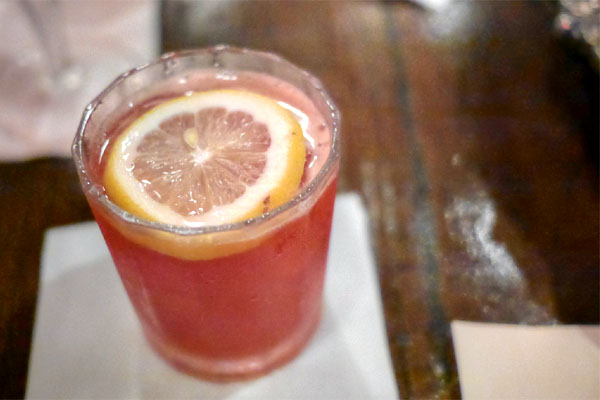 beet medicine [$12.00]
| famous grouse scotch, smoked beet, lemon, ginger, laphroaig cask strength scotch
Our first of four cocktails was my favorite of the group. Beautiful incorporation of smoky elements here, along with notes of beet, zesty ginger, and an enveloping citrus character to finish things off.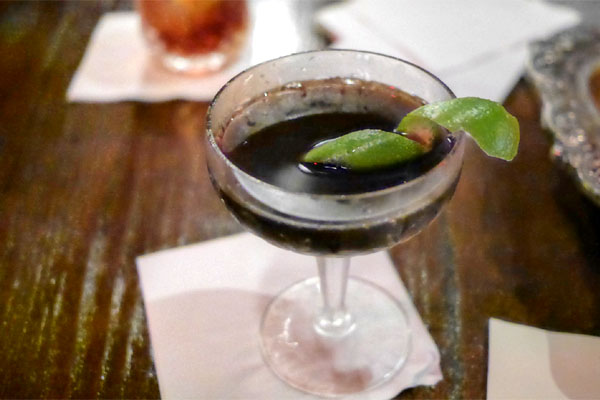 argentinian [$12.00]
| blend of fernets, lime, coke cola redox, barrel aged bitters
A commixture of fernets made for a spicy, herbal, medicinal, bittersweet base of flavors that made sense with the cola reduction, the lime serving as a well-placed accent to the drink.
beau du bois [$12.00]
| tequila ocho blanco, cinnamon & hibiscus gran classico, alessio torino vermouth
I didn't get too much tequila here. Rather, for me this was a showcase of the Gran Classico and Alessio, a viscous drink teeming with bitter, sweet, botanical characteristics interspersed with cinnamon-y spice.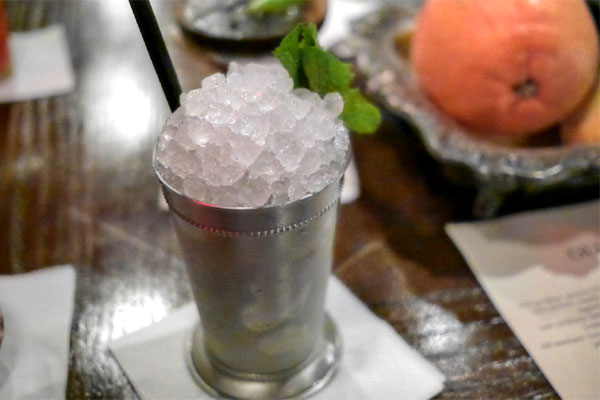 julep no. 1 [$12.00]
| rittenhouse rye, park v.s. cognac, cynar, amburana cachaça, mint
We closed with the bar's take on the julep, a much more multifaceted example than most that really highlighted the interplay between Cynar and the zippiness of mint, all while the trio of spirits provided the necessary potency.
We all left Hatchet Hall duly impressed. This is certainly Dunsmoor's strongest cooking to date, the clearest, most robust, and yet most refined interpretation of his Southern-leaning culinary stylings. Add in a top-notch cocktail program and a strong FOH, and you get a major addition to the Westside scene indeed.