Leona (Los Angeles, CA)
Leona Restaurant
123 W Washington Blvd, Venice, CA 90291
310.822.5379
www.leonavenice.com
Fri 08/28/2015, 08:00p-11:35p

The latest
Top Chef
-related opening comes to us from Season 9 (Texas) alum Nyesha Arrington. For Leona, she's partnered with Kristian Vallas and Breegan Heuer, a husband-and-wife team with considerable experience in the fields of media, tech, and real estate. Named for the original name of Washington Boulevard, the restaurant debuted on July 29th and aims to present the Chef's own interpretation of progressive Californian cuisine.
About the Chef
: Arrington was born in Panorama City in 1982 and lived in Gardena until the age of five, when her family moved to Lancaster. She grew up in a multi-ethnic household and was introduced to cooking at an early age by her Korean grandmother Ai-Soon Lee. She had a keen interest in art during her teenage years, and even wanted to become a sculptor, but following graduation from Lancaster High School in 2000, she ended up enrolling at the
Art Institute of California
in Santa Monica. After finishing culinary school in 2002, Arrington worked simultaneously at Jonathan Beach Club and at Raphael Lunetta's
JiRaffe
. She later moved to Florida to become a grill cook at Charley's Steak House in Orlando, but quickly returned back to California.
Back home, she started cooking with Josiah Citrin at
Melisse
, and later helped open
Lemon Moon
in 2004. After four years with Citrin, Arrington relocated to Las Vegas in April 2007 and worked as a
chef de partie
at
L'Atelier
and
Joël Robuchon proper
, spending a year at each. July 2009 saw the Chef moved back to LA, where she once again hooked up with Citrin and became opening CdC at his more casual eatery Caché Restaurant & Lounge. Caché ended up closing in August 2010, and following the shutter, Arrington took an Exec Chef role at Spice Mill Restaurant in the British Virgin Islands. That October, she also cooked a night at
Test Kitchen
. She later spent a brief duration in Hawaii consulting, then decided to try her hand at
Top Chef
, where she was the sixth eliminated (though she did score five victories in Last Chance Kitchen).
Around this time, she also appeared on Food Network's
Chef Hunter
, which helped land her the Executive Chef position at Wilshire in Santa Monica, replacing
Andrew Kirschner
. Arrington stayed there until June 2013, and that October, competed on
Ilan Hall
's
Knife Fight
, winning a kampachi and lamb neck battle against Chris Kobayashi (she would later return as a guest judge). In January 2014, she started a pop-up dining series entitled "Food Is Art," held at
The Farmer's Kitchen
in Hollywood. Throughout that year, she sustained herself by cooking private dinners and assisting in restaurant openings, and in August, even put on a one-night-only Korean-inspired dinner at the late
Fifty Seven
. Last September, Arrington appeared on
Top Chef Duels
, losing a bout to Jen Carroll, and then became a partner at Leona in November.

Leona occupies the former home of Canali Café, and Marguerite Cafe and Normandie Bakery & Coffee before that. It's a smallish room, anchored by orange leather banquettes with shinier elements thrown in. Counter dining is an option, and there's quite a bit of outdoor seating as well.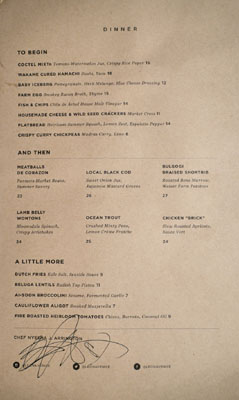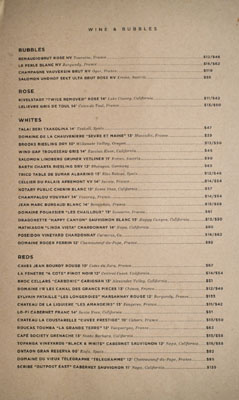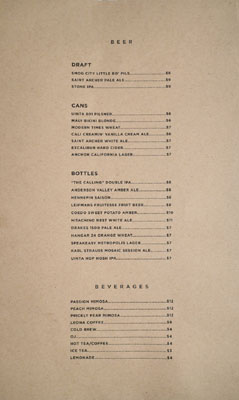 Leona's menu reads well, a compact selection of starters-mains-sides that represents a globally-influenced take on Cal Cuisine. Brunch is also an option on the weekends, and apparently there's even a kid's menu. To drink, you get a small array of craft beers and an international list of wines. Click for larger versions.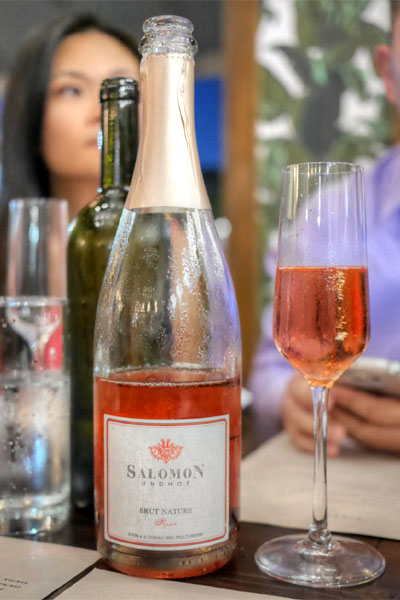 We got started with a bottle of bubbly, the
Salomon Undhof Sekt Ultra Brut Rose NV, Krems, Austria [$55]
. Tons of juicy red fruit on the nose here, which continued on to the palate, where it was joined by a counteracting acid and minerality.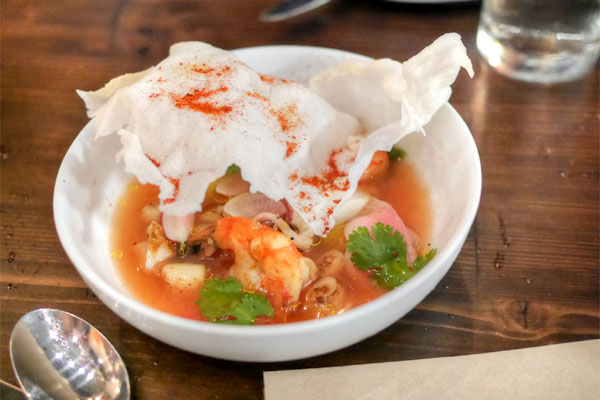 Coctel Mixto [$15.00]
| Tomato-Watermelon Jus, Crispy Rice Paper
A Latin American-inspired seafood cocktail did a nice job showing off the texture and brine of its various shellfish, offset by the herby sweetness of the broth while a noticeable bit of heat rounded things out. The rice paper, however, wasn't nearly as crisp as I would've liked.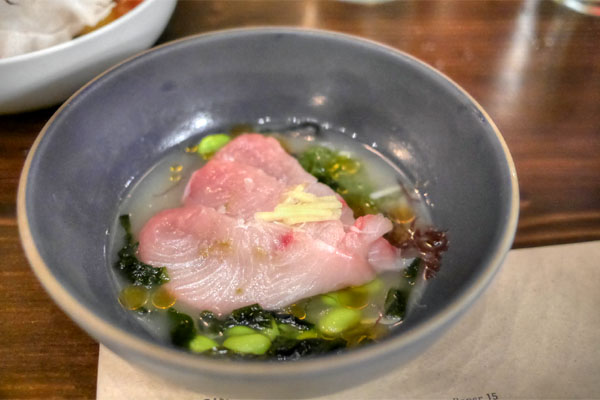 Wakame Cured Hamachi [$18.00]
| Dashi, Yuzu
The yellowtail was one of my favorites of the night, the clean, fatty fish enriched by its seaweed treatment. Great acidity in the dashi here as well, and I was a big fan of the textural contrast of the edamame too.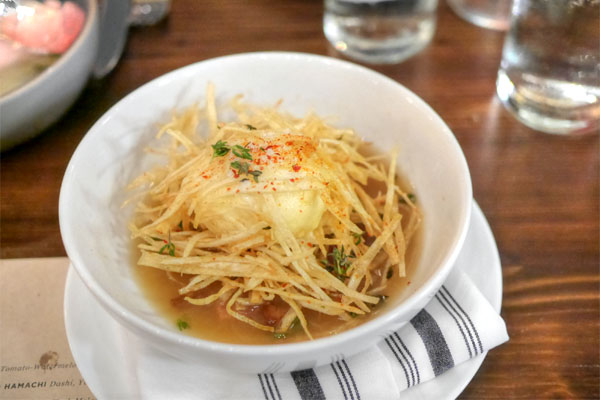 Farm Egg [$15.00]
| Smokey Bacon Broth, Thyme
The egg was another standout. I loved the rich, smoky, hearty soup, and how that paired with the soft, slightly runny egg and the crunch of shredded potato. Excellent use of thyme as an accent piece.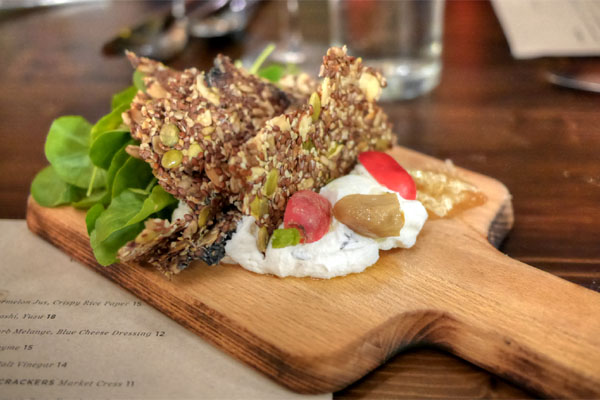 Housemade Cheese & Wild Seed Crackers [$11.00]
| Market Cress
Seed crackers were spot on, coming out wonderfully crunchy and nutty, a perfect pair to the lushness of the accompanying cheese. Nice zippiness from the greens, too.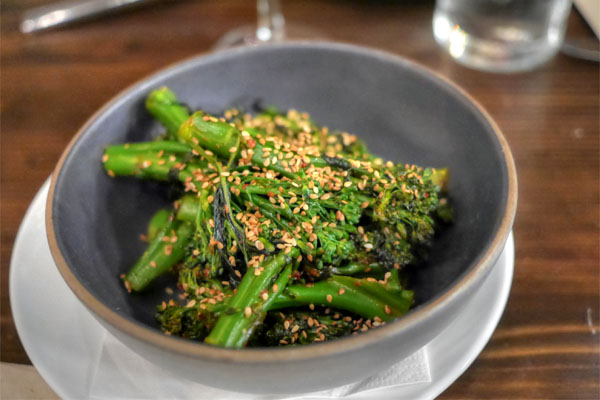 Ai-Soon Broccolini [$7.00]
| Sesame, Fermented Garlic
This Korean-inflected preparation of broccolini was one of the better versions I've had: delightfully crunchy, with a great depth and spice to it.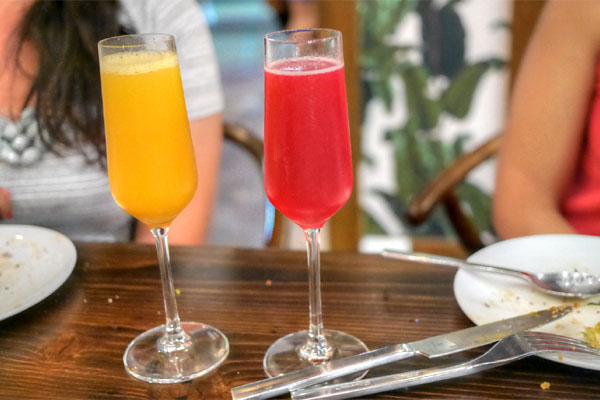 Leona doesn't do cocktails unfortunately, so the closest we could get were the mimosas. The
Passion Mimosa [$12]
conveyed loads of fruit up front, but the finish was well-imbued with the boozy minerality of sparkling wine. On the other hand, the
Prickly Pear Mimosa [$12]
was much rounder, softer, with a much more pervasive sweetness.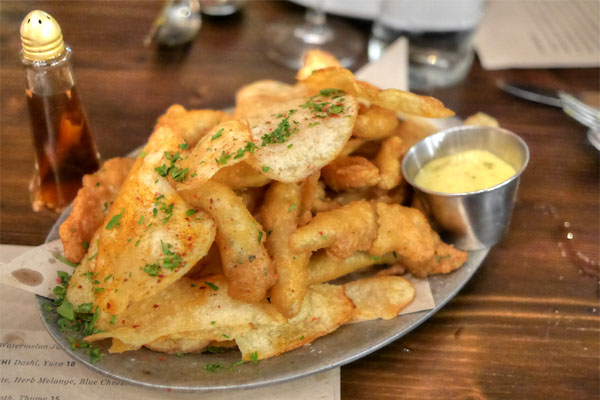 Fish & Chips [$14.00]
| Chile de Árbol House Malt Vinegar
Arrington's take on fish 'n' chips was a fun one. The fish itself arrived a touch soggier than I would've preferred, though taste-wise things hit the mark, with a nice herbiness to boot. The vinegar and tartar made for fitting condiments, and I had no complaints about the chips, which were just what I wanted.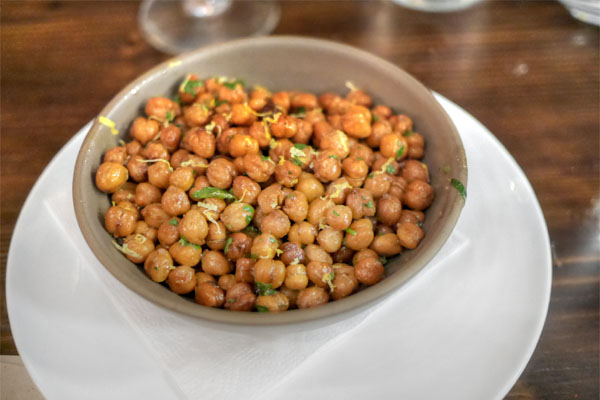 Crispy Curry Chickpeas [$6.00]
| Madras Curry, Lime
Chickpeas, unfortunately, were a letdown. I wanted to taste more curry, more lime zestiness, but my biggest concern was the texture. I'm definitely a fan of crispy, but these went too far down that road, coming out so hard that I was afraid that they'd crack a tooth.
Flatbread [$14.00]
| Heirloom Summer Squash, Lemon Zest, Espelette Pepper
The flatbread was a surprise favorite. Superb crunch on the crust here, and the combination of cheese, herbs, and bright veggie flavors just made sense.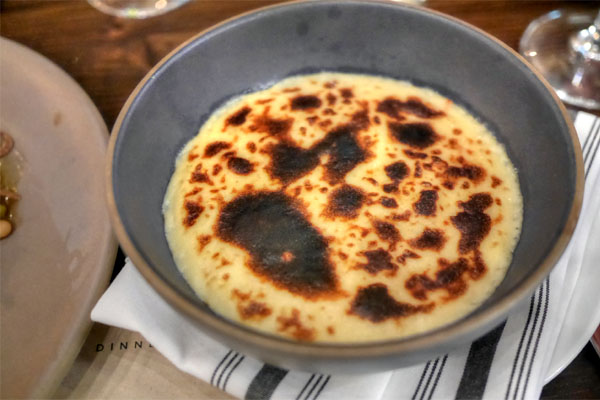 Cauliflower Aligot [$7.00]
| Smoked Mozzarella
The
aligot
featured cauliflower in place of the typical potato, and was as creamy and as cheesy as you'd expect, with a nice char component.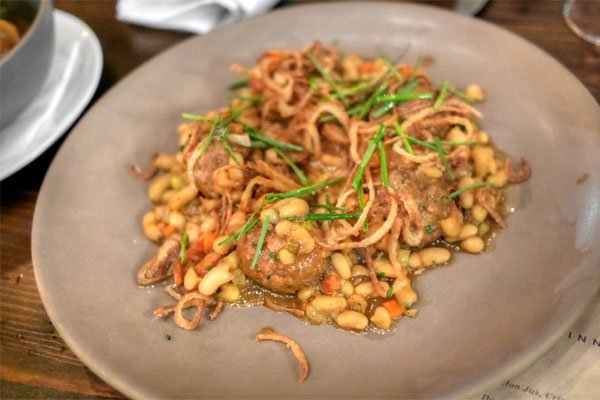 Meatballs de Corazon [$22.00]
| Farmers Market Beans, Summer Savory
I'm a big fan of meatballs, but these didn't live up to expectations. Texturally, they were dry, and had a mealy sort of consistency. They did work in terms of taste though: deeply flavored with a touch of spice, and well matched to the accompanying beans.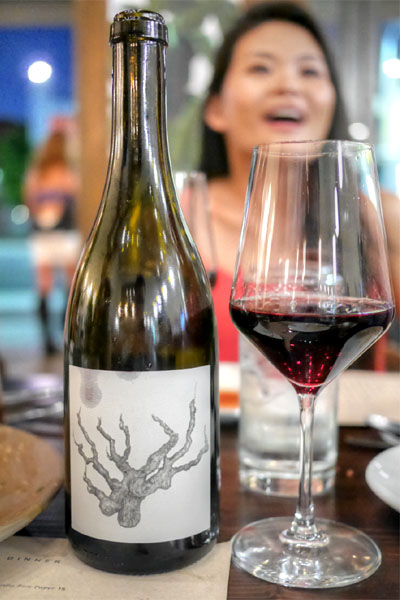 Next to imbibe was the
Broc Cellars "Carbonic" Carignan 13', Alexander Valley, California [$51]
. I liked this one. Aromas of deep, luscious red fruit and spice. Taste was more austere, with berry fruit, but also more spice, booze, acidity, and lots of pepper on the finish, which transitioned to anise as the wine warmed.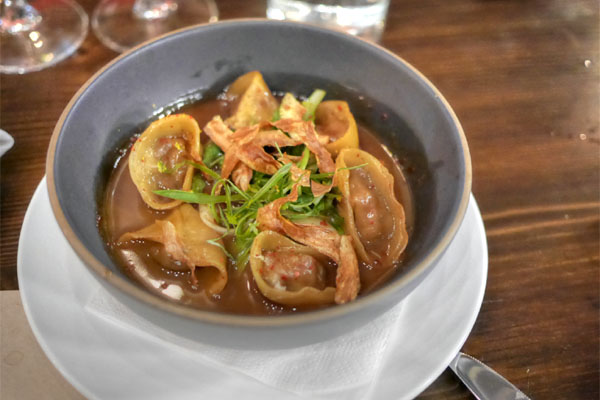 Lamb Belly Wontons [$24.00]
| Bloomsdale Spinach, Crispy Artichokes
I was really looking forward to the wontons, but they fell short. The lamb did indeed have a great depth to it, and the greens did make sense as a foil to its potency. However, the skins were too thick, too hard, and the dish called for more piquancy (like a spicier, or more vinegar-y preparation).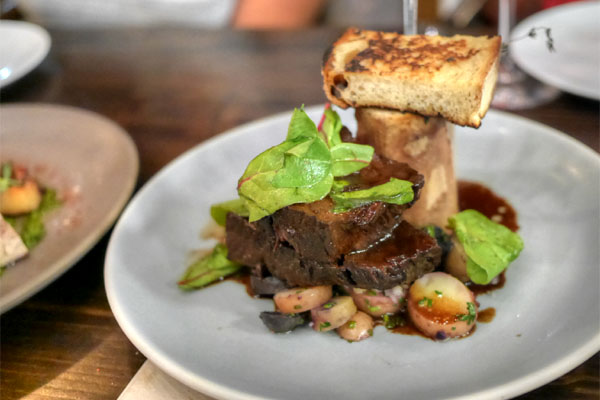 Bulgogi Braised Shortrib [$27.00]
| Roasted Bone Marrow, Weiser Farm Potatoes
A
bulgogi
-inspired short rib came out looking more like
galbi jjim
. Taste-wise, the meat delivered, with boatloads of savory-sweet notes that worked well alongside the potatoes and greenery. The beef could've stood to be more tender though, and the bone marrow seemed excessive (gimme some radish and carrot instead).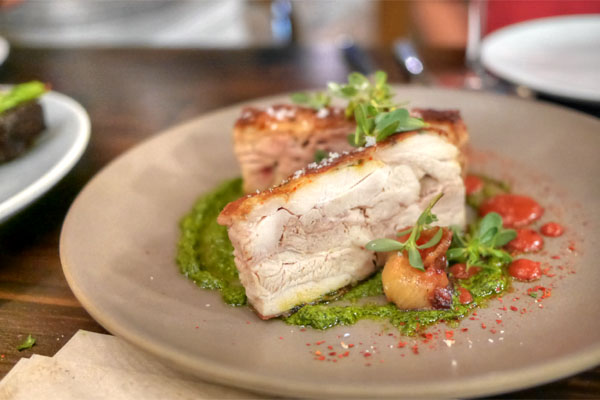 Chicken "Brick" [$24.00]
| Slow Roasted Apricots, Sauce Vert
I enjoyed our final savory course, the chicken arriving very flavorful, with crispy skin. It paired perfectly with the bright, pesto-ish sauce on the side, though I did want the bird juicier.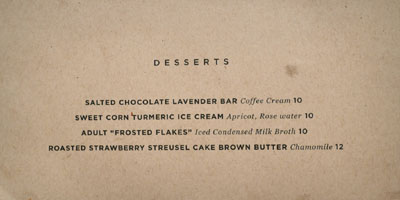 The desserts follow a similar ethos as the savories. Click for a larger version.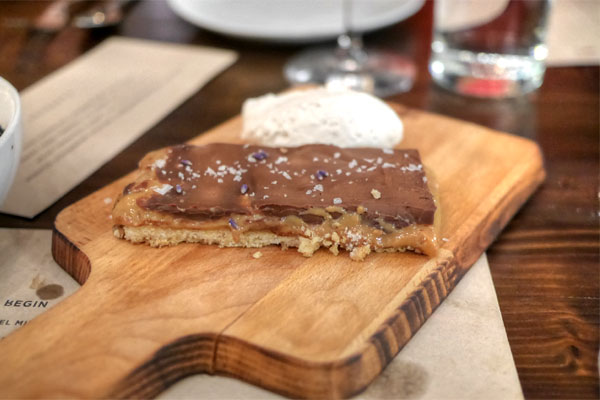 Salted Chocolate Lavender Bar [$10.00]
| Coffee Cream
This was our favorite of the desserts, showing off a great floral quality that transitioned to the richness of chocolate and caramel. Great crispness on the bar as well.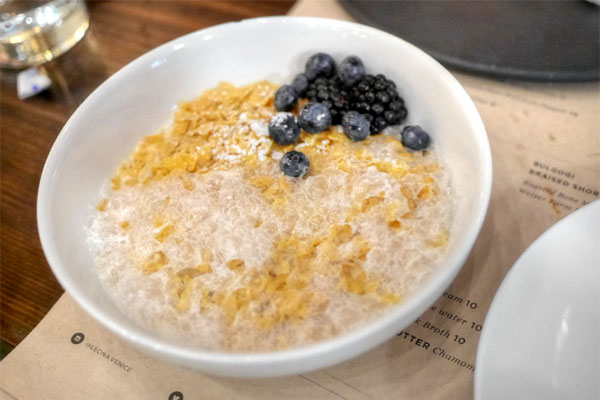 Adult "Frosted Flakes" [$10.00]
| Iced Condensed Milk Broth
Leona's take on Frosted Flakes sounded better than it actually was. It was essentially a rice pudding, and though it did have a sweet spice to it, I wanted that to be more apparent. Texturally, the dish was sort of homogenous as well, so I needed more of those crunchy, flaky bits up top.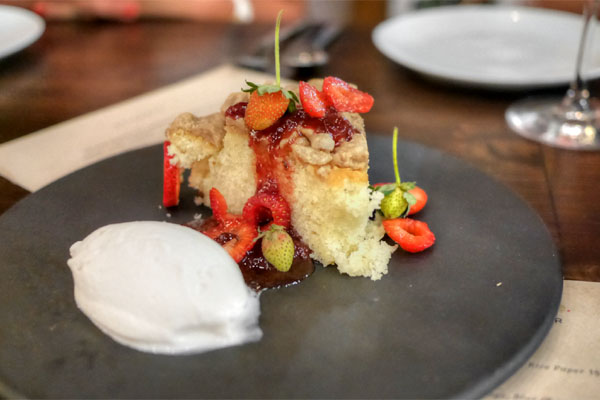 Roasted Strawberry Streusel Cake Brown Butter [$12.00]
| Chamomile
Last up was the streusel cake, which I also enjoyed. I found it super light, fluffy almost, with a nutty tinge to it that was well-matched to the tanginess of the fruit.
The meal was somewhat uneven. Service got off to a rough start, and as described above, several of the dishes warranted tweaking. I really like the idea behind Leona though--of blending Arrington's classical training with her Korean heritage and a dash of international flair--and it does translate well to many of the dishes, so I do have high hopes that the place will continue to get better and better.