Dudley Market (Los Angeles, CA)
Dudley Market Restaurant
9 Dudley Ave, Venice, CA 90291
424.744.8060
www.dudleymarket.com
Thu 09/03/2015, 08:15p-11:05p

The last time we checked in with Jesse Barber (two years ago), he was helming the stoves over at
Barnyard
. Things seemed to be going well there, but he left the Venice restaurant--quite acrimoniously it seemed--in early March, eventually replaced by one Larry Monaco (who himself was booted in mid-June). Barber announced his plans for Dudley Market in April, and at the end of that month, held a one-night-only ramen pop-up at Japanese Knife Imports in Beverly Hills, which was followed by a further five days of popping up at a Venice residence in June.
Dudley Market, thus, ended up soft-opening at the end of July, and aims to be an everyday-ish, neighborhood-y, all-day type eatery, replete with a fancy retail component guided by the Chef's wife, Celia. Barber's partner here is General Manager Conner Mitchell, a Malibu native who spent time at Barnyard,
Farmshop
, Bedford & Burns, and Sadie, and also created a pop-up series entitled
Folly and the Mistress
.

The restaurant occupies the former home of Henry's Market, a 1922-era building situated right next door to the newly-shuttered
Piccolo
. The 1,463-square-foot space is as rustic as you'd expect with its exposed brick and beam, and seats roughly two dozen, with an additional six spots at the bar. One wall, meanwhile, is dedicated to the retail part of the operation, and there's a selection of grab-n-go food as well.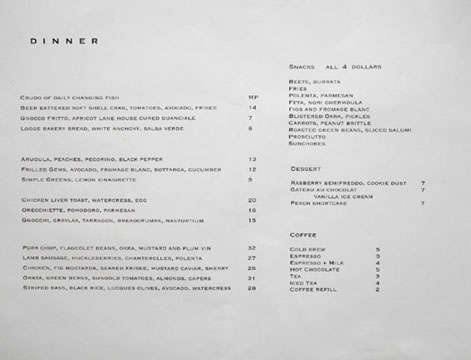 Dudley Market's dinner menu offers up a familiar cadence of snacks, starters, mains, and desserts, and of course there are separate breakfast, brunch, and lunch menus in addition. To drink, you get a coffee program from Portland's Heart Roasters, a few beers, and a West Coast-centric wine list with an organic-slash-sustainable focus, obvs. Click for larger versions.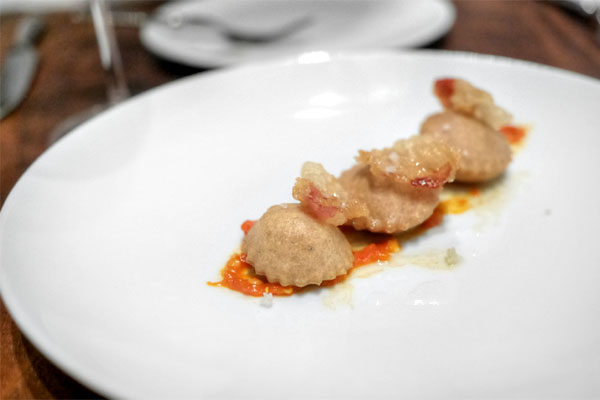 Gnocco Fritto, Apricot Lane House Cured Guanciale [$7.00]
We began with fried pastry shells, hollow, somewhat grain-y examples tarted up by the tomato sauce while guanciale added a much-needed blast of salt.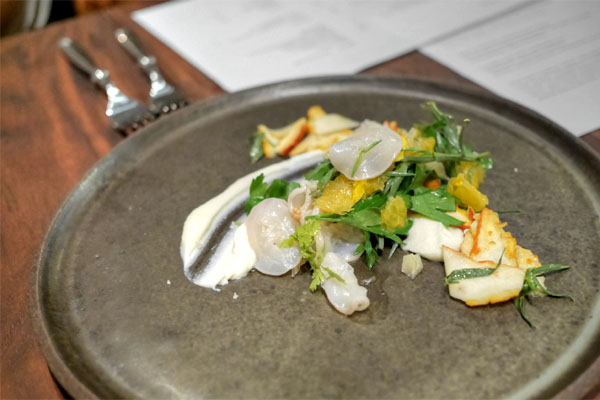 Crudo of Daily Changing Fish [$18.00]
Tonight's crudo featured lightly-blanched geoduck with a citrus-herb salad and crème fraîche. I found it rather lovely, the snappy slices of clam playing well alongside the bright, juicy, acidic flavors here while the crème fraîche imparted an enveloping lushness.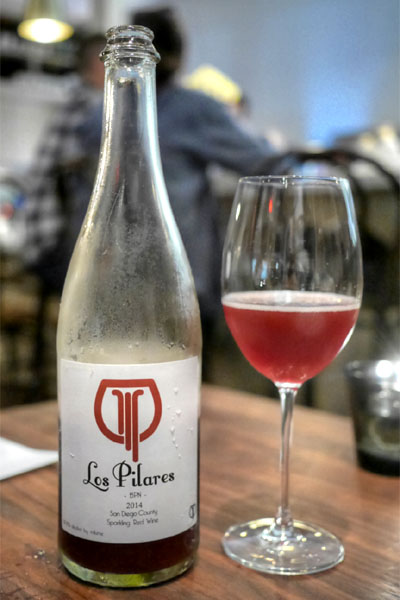 To drink, we started with some
pétillant naturel
, the
Los Pilares, Cabernet Sauvignon Pet-Nat, San Diego '14 [$48]
. I really enjoyed this one, which perhaps isn't surprising given that it's probably the most beer-like wine that I'd ever tasted. Think tart initially, backed by a fruit sweetness, the entire experience underpinned by a wonderfully funky, barnyard quality. I found it quite reminiscent of a sour cherry ale.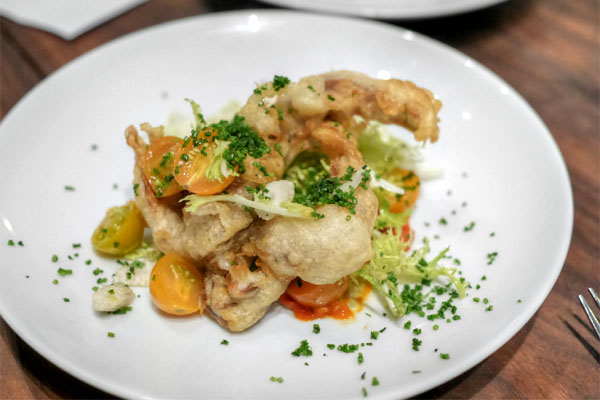 Beer Battered Soft Shell Crab, Tomatoes, Avocado, Frisee [$14.00]
Soft shell crab came out super briny, its potency balanced by the various greenery on the plate. However, I really would've liked this crispier in terms of the batter.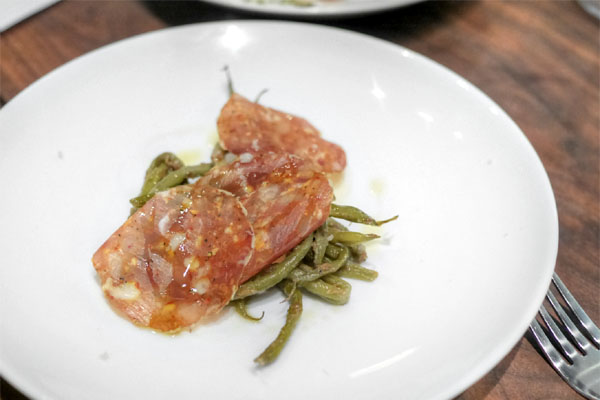 Roasted Green Beans, Sliced Salumi [$4.00]
Green beans were imbued with a bit of heat, and matched well with the salty spice of the sausage.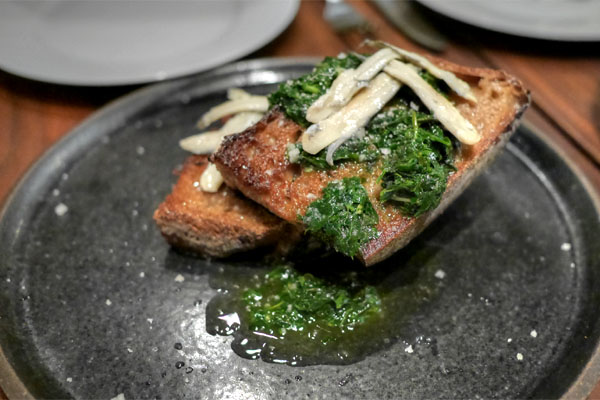 Lodge Bakery Bread, White Anchovy, Salsa Verde [$8.00]
Great interaction here between the in-your-face salinity of the anchovy and zippy salsa verde, all over a base of super buttery bread.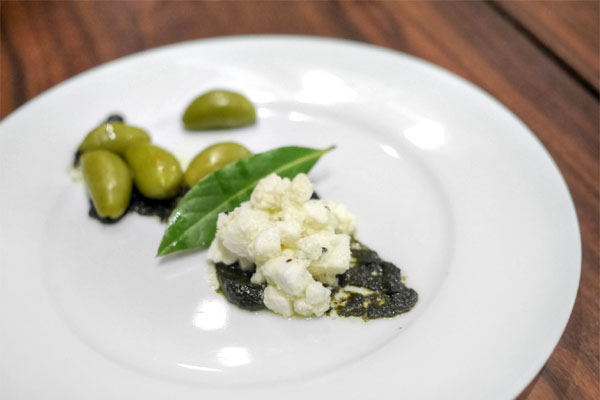 Feta, Nori Chermoula [$4.00]
Here, the lushness of the cheese worked surprisingly well with the nori condiment, and the piquancy of the Lucques olives was appreciated as well.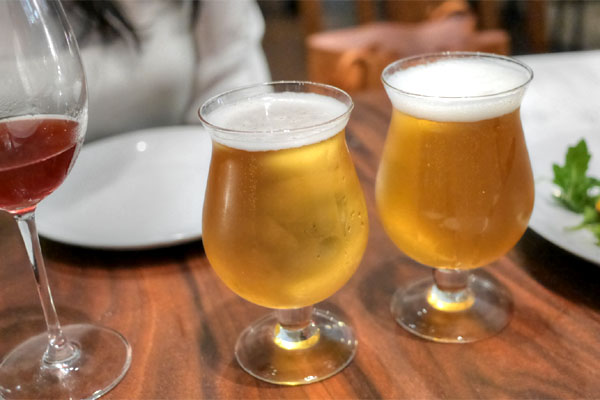 With the wine all drunk up, we went for both of the beers that the restaurant had on tap. On the left was the
Fruh Kolsch [$7]
, a lightweight brew that I found grain-y at first, with a delicate malt sweetness, a touch of grass, a bit of spice, and very little bitterness. The
EvilTwin Ryan & The Beaster Bunny [$9]
, on the other hand, made for a nice saison: refreshing, with a noticeable fruitiness cut by notes of yeast, spice, and hops.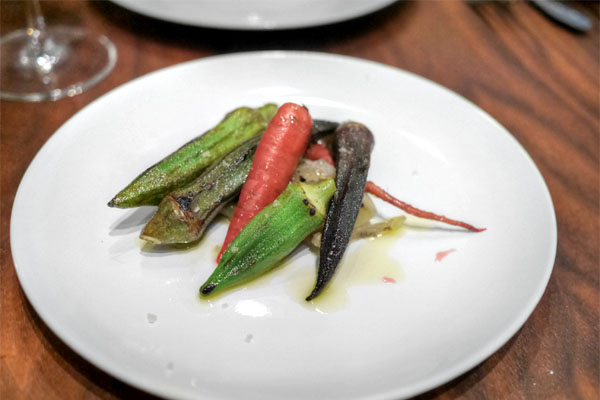 Blistered Okra, Pickles [$4.00]
The okra was one of the better preparations I've had--not too mucilaginous, with a great roasty char. Smart use of the pickles here as a complement I have to say.
Orecchiette, Pomodoro, Parmesan [$16.00]
Orecchiette came out quite firm to the bite (too much so for some), while taste-wise it went classic, with the tart tomato sauce working itself out with the weightiness of the Parm.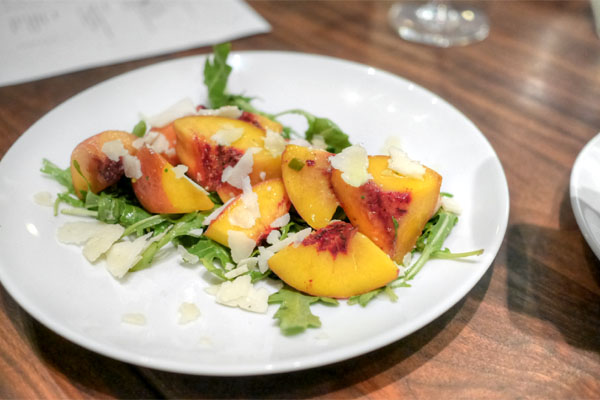 Arugula, Peaches, Pecorino, Black Pepper [$13.00]
The peach salad was an unexpected hit, the super juicy, sweet fruit really meshing well with the zesty arugula while the cheese gave up a nice dash of salt.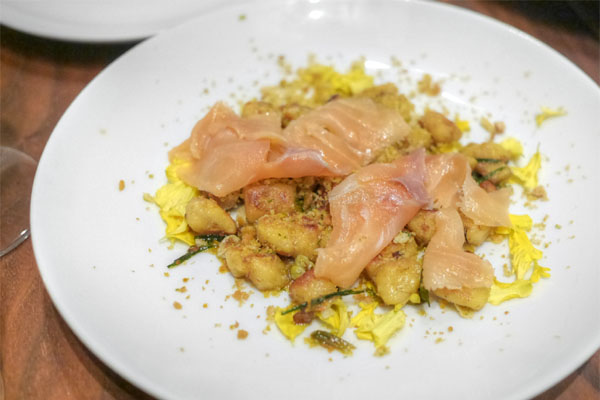 Gnocchi, Gravlax, Tarragon, Breadcrumbs, Nasturtium [$15.00]
Gnocchi were tasty, softly-textured but with a bit of a crunch from the breadcrumbs. I found them smartly matched to the smoky salmon, and I was a big fan of the tangy capers here as well.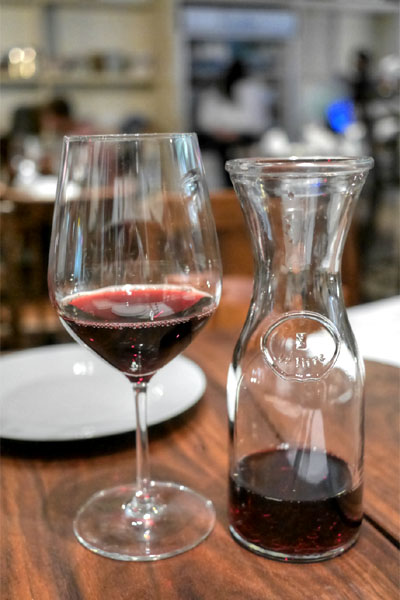 A carafe of the
Broc Cellars, Vinestar, Zinfandel, Sonoma County '13 [$33]
worked as our second wine. I enjoyed this one: perfume-y and floral to the smell, with rich berry fruit; taste followed with more deep fruit, a bit of pepper, and nice acidity.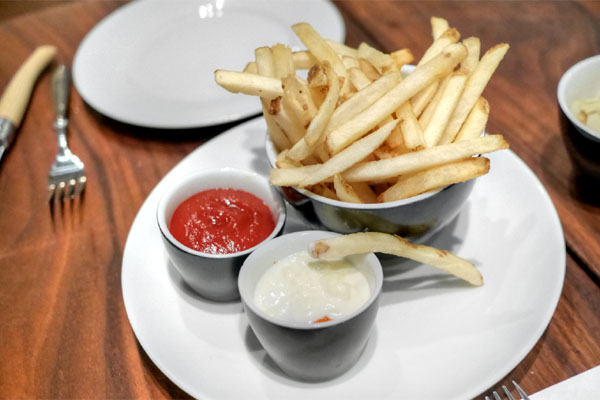 Fries [$4.00]
The fries had a great texture to 'em, and went particularly well with the tangy ketchup on the side.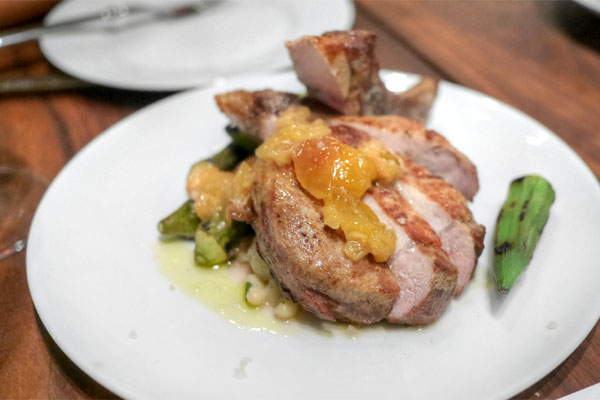 Pork Chop, Flageolet Beans, Okra, Mustard and Plum Vin [$32.00]
Our most substantial course of the night, the pork chop hit the mark as one of the better versions I've had in recent memory. The meat came out tender, juicy, and full of flavor, with a great herby bent to it. I didn't mind a reappearance from the okra either.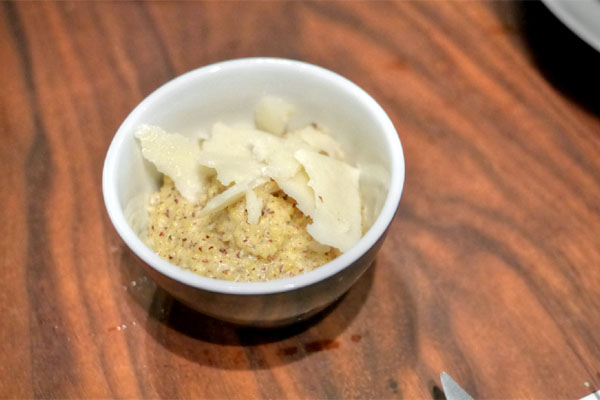 Polenta, Parmesan [$4.00]
The polenta was grittier, rougher than I'd prefer, with a slight sweetness to it. I would've liked it creamier, smoother, with a stronger cheese presence.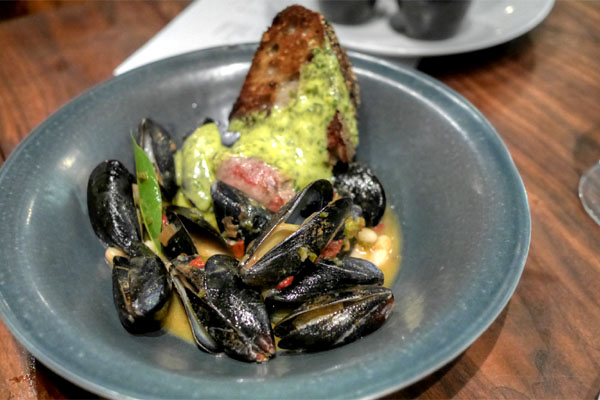 PEI Mussels, Serrano Chile Sofrito, Lamb Sausage [$18.00]
Our final savory was the night's special. It was a strong preparation of mussels, with the clams arriving well-cooked and well-textured, the sofrito imparting a touch of herbaceousness to the mix along with notes from what I believe were thyme and black garlic. My favorite thing here was the lamb sausage though, which lent a mouthwatering savoriness to the dish.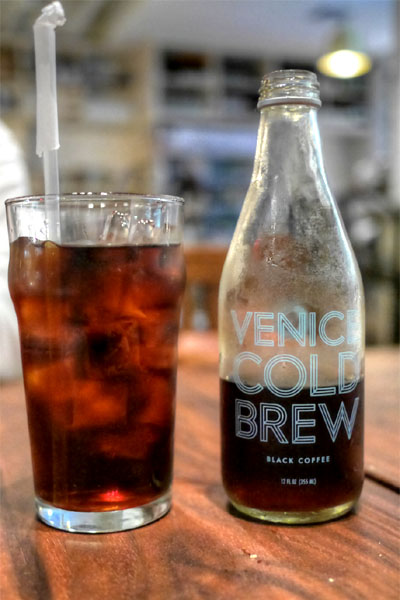 To go with dessert, we ordered up a bottle of
Cold Brew [$5]
, which I found a bit more acidic than expected.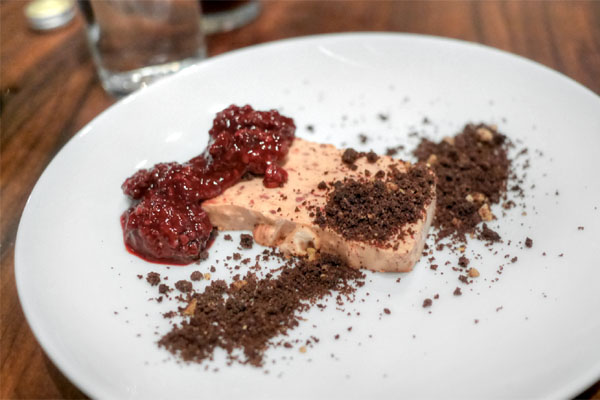 Raspberry Semifreddo, Cookie Dust [$7.00]
A semifreddo arrived looking like some sort of pâte, though it certainly didn't taste like one with its tart berry flavors, cut by the presence of the "dust."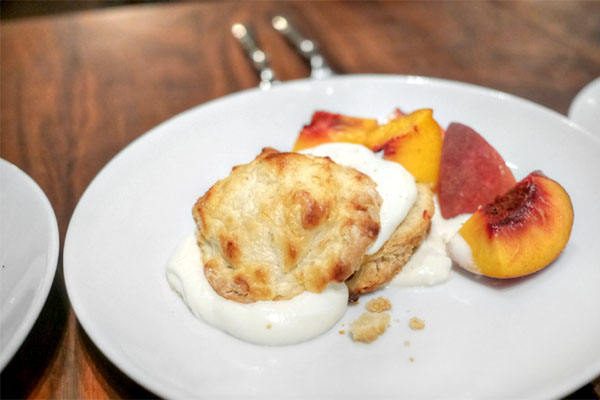 Peach Shortcake [$7.00]
The peach shortcake worked it out, the buttery biscuit making sense alongside the whipped cream while the juicy, sweet fruit functioned as the centerpiece of the dessert.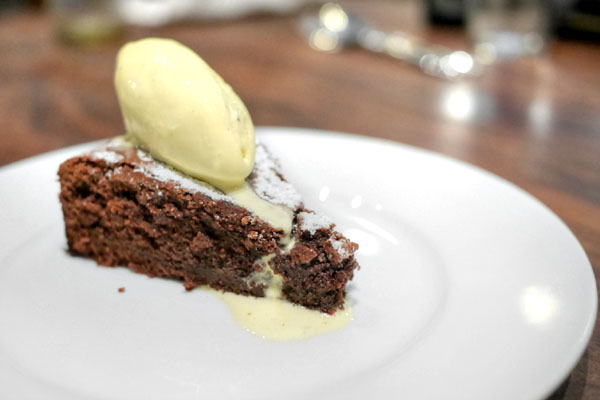 Gateau au Chocolat, Vanilla Ice Cream [$7.00]
Last up: a rich, dense, classically-leaning chocolate cake with an effective, though expected pairing of ice cream.
Dudley Market actually turned out better than we'd expected, and represents a welcomed evolution of the Chef's cooking at Barnyard: straightforward, seasonal dishes imbued with a sense of what the restaurant calls "everyday luxury." It's a worthy addition to the area certainly.