Lobsta Shack (Los Angeles, CA)
Lobsta Shack Restaurant
701 W Cesar E Chavez Ave, Los Angeles, CA 90012
323.999.1797
www.lobstashack.com
Sat 09/12/2015, 02:30p-05:25p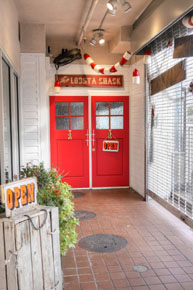 The September heat wave made a planned outing to GCM's La Tostaderia unbearable, so instead we headed over to Chinatown to check out the new-ish Lobsta Shack, the B&M outpost of the Lobsta Truck. The restaurant is the brainchild of South Pasadena native Justin Mi, a 2004 UC Berkeley grad who previously worked in seafood distribution. After a life-changing Maine lobster roll tour in 2010 with brother Winston, he decided to re-introduce LA to the East Coast staple and debuted the first Lobsta Truck in December that year. Another truck soon followed, and in February 2014, he expanded to the Bay Area, then dropped Lobsta Shack last November, with CSCA grad Jose Monterrosa (JW Marriott/Ritz Carlton, Westin Bonaventure, Whole Foods Market, Crepe Vine Bistro) at the helm.

Inside, things are apropos given the concept, sort of a gussied up version of a New England seafood shack.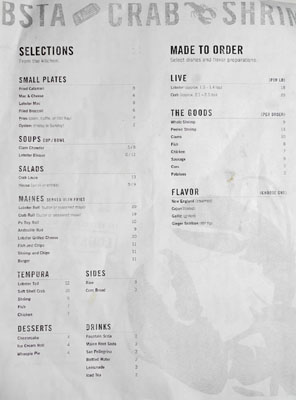 As for the Lobsta Shack menu, it's actually quite large (much, much larger than what's available on the trucks), with all your East Coast-y seafood favorites as well as a few more unexpected appearances. Click for a larger version.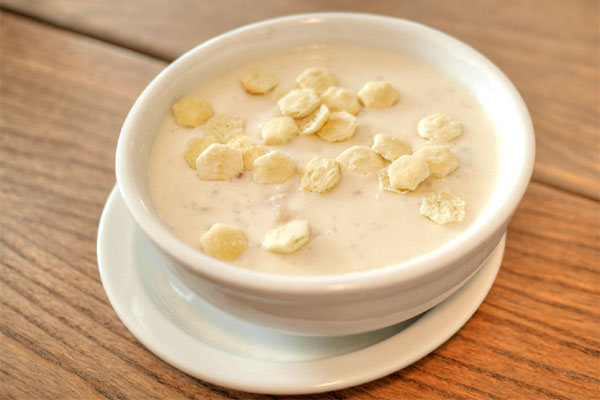 Clam Chowder [$8.00]
I like a good clam chowder, and Lobsta Shack's made a reasonable showing for itself, with a particularly strong celery-esque slant to go against the saltiness of the clams. Potatoes added heft to the soup, though I would've liked larger pieces for a heartier consistency.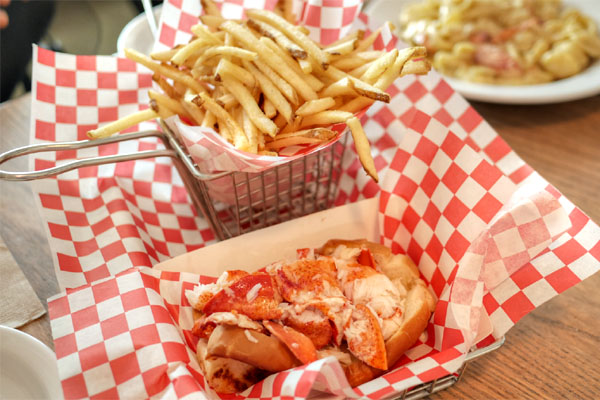 Lobster Roll (butter) [$20.00]
Naturally, we had to sample the restaurant's signature item. It was tasty indeed, with the sweet, well-textured lobster enriched by just enough butter while the sugariness of the New England-imported split-top roll formed a fine complement. I also enjoyed the fries, which arrived thin, crisp, and imbued with a smidge of truffle-y musk.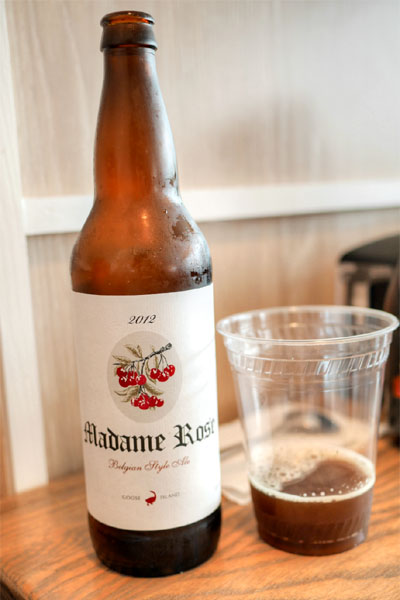 Given the extremely limited beverage selection here, we BYOB'd it, beginning with the
2012 Goose Island Madame Rose
, a sour brown ale with Michigan cherries aged in French Cabernet Sauvignon barrels for over two years with Belgian
Brettanomyces
. Despite its age, the beer still tasted quite youthful, tart of course, with a palpable cherry presence over a base of dark malt and oak. Delish.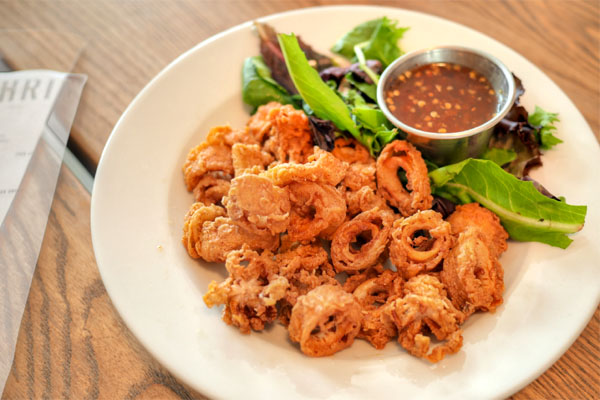 Fried Calamari [$8.00]
The calamari was a bit of letdown. I found the squid thin and rubbery, tough to the bite and over-fried.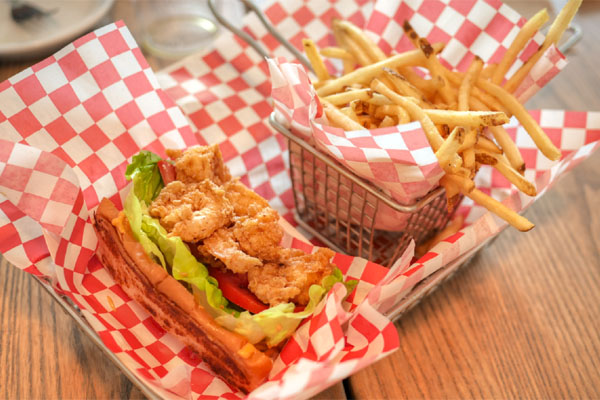 Po Boy Roll [$10.00]
I liked the po' boy, which did a good job conveying the brine on the shrimp. A welcomed crunch and lightness from the veggies too, with the sandwich's creamy dressing bringing it all together.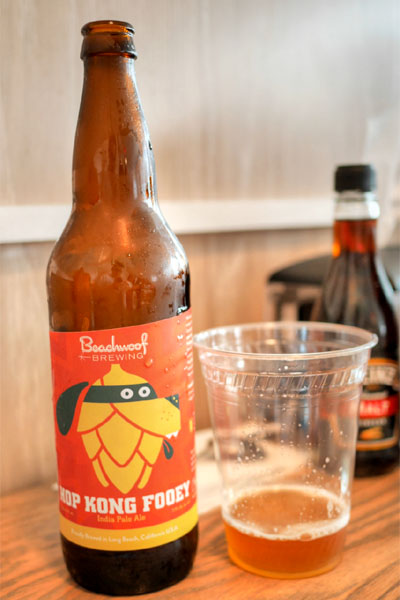 Next up was the
2015 Beachwood Hop Kong Fooey
, a West Coast style IPA hopped with Simcoe and Equinox that was released earlier in the day to celebrate Long Beach's
Dogs of Downtown
event. I found this super piney, super aromatic on the nose, and the taste followed, a bracing, bitter, hoppy palate that was as "bite-y" as they come.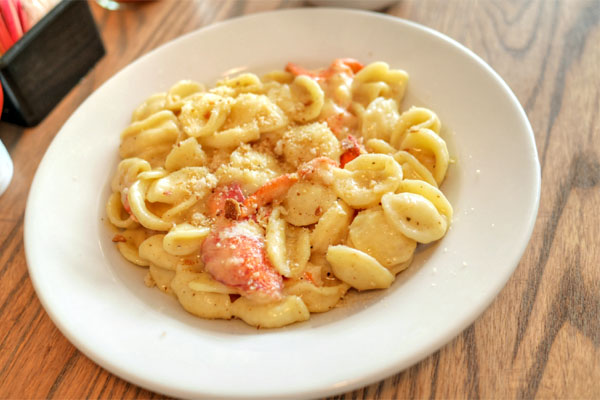 Lobster Mac [$8.00]
The lobster mac & cheese definitely showed off the ocean-y character of the crustacean, offset by the lushness of all that cheese.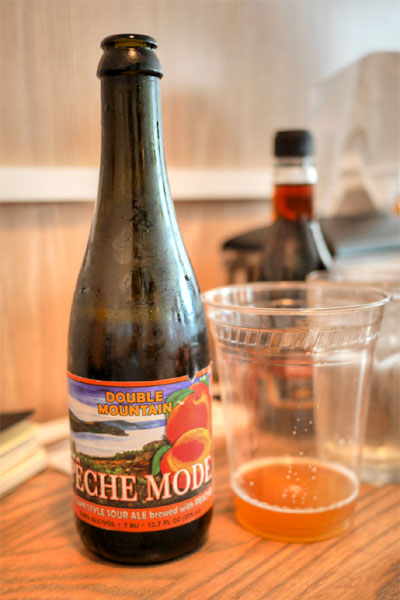 One of my dining companions had just returned from Portland, so we opened up some bottles that he'd brought back. First was the
Double Mountain Pêche Mode
, a Brett-infused Belgian ale aged with peaches. I found this expectedly tart, funky, with a nice peachiness to it, though it clearly was a notch below stone fruit stalwarts such as
Fou' Foune
.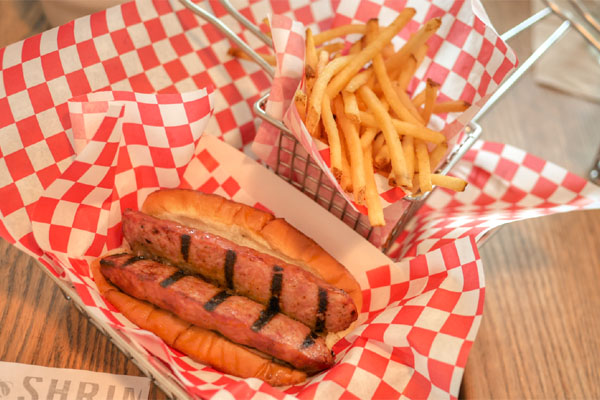 Andouille Roll [$9.00]
The andouille was a real pleasant surprise, a snappy, juicy, savory, spicy sausage that I just wanted to keep eating.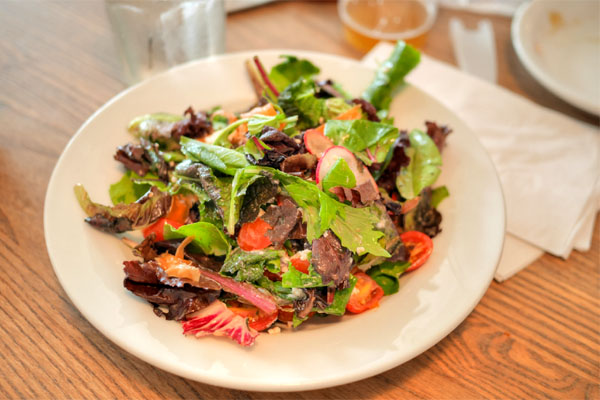 House Salad (entrée) [$9.00]
The requisite salad. Not much to say here.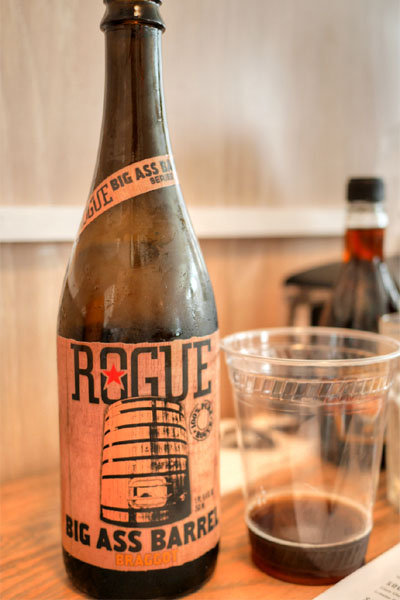 Another Portland purchase was the
Rogue Big Ass Barrel Braggot
, a sort of mead made with both honey and malted barley. It was very sweet actually, and unabashedly malt-forward, but also rather thin, and lacking in complexity. Meh.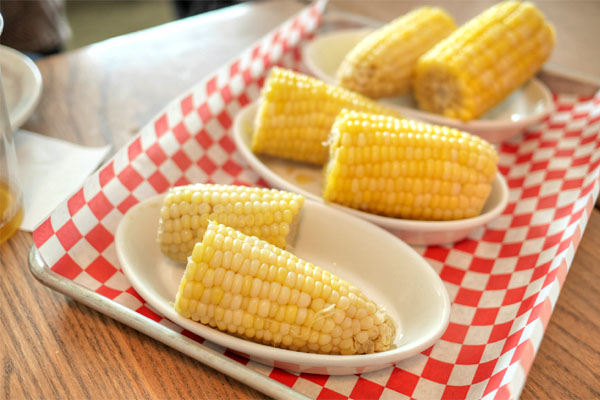 Corn [$2.00]
Corn was well-cooked and well-textured, though somewhat bland.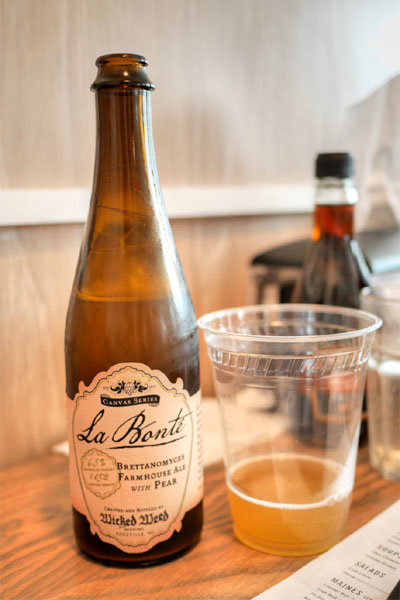 I brought out the
2015 Wicked Weed Canvas Series: La Bonte Pear
, a Brett-fermented saison blended with a blonde sour and one pound per gallon of French pears. This was my favorite of the afternoon, an utterly bright, refreshing beer with a great base of farmhouse funk and wispy, overarching notes of pear.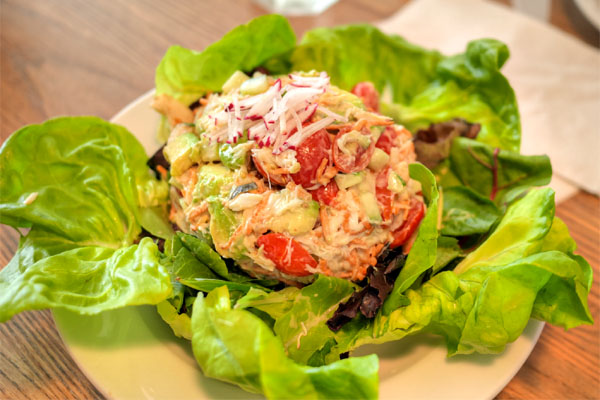 Crab Louie [$13.00]
The Louie salad, unfortunately, didn't quite hit the mark. The issue I had was that the actual crab tasted muddy, which marred the experience for me. I would've liked more acidity in the dish as well.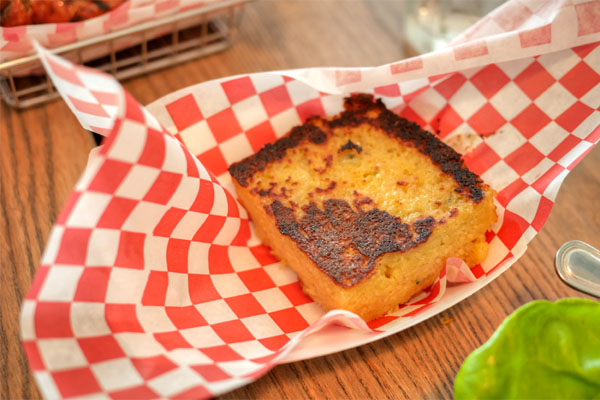 Corn Bread [$3.00]
Cornbread was tasty, a gritty preparation that did a good job conveying a balance of sweetness and char.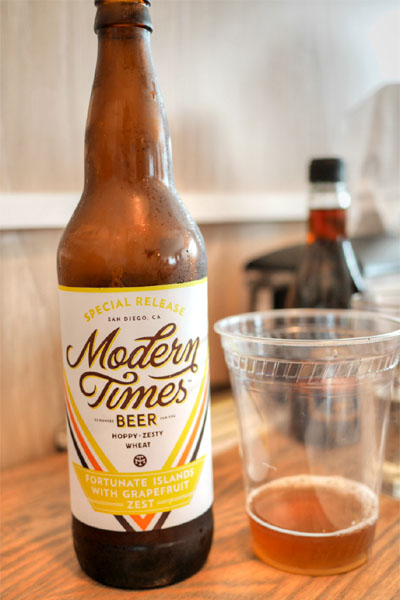 Another highlight was the
2015 Modern Times Fortunate Islands with Grapefruit Zest
, a pale wheat ale with grapefruit added. It was perfect quaffer given the hot weather, with a light body, persistent hoppiness, and plenty of juicy citrus notes throughout.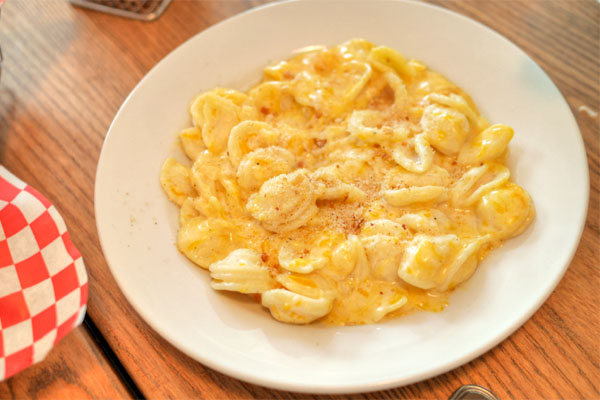 Mac & Cheese [$6.00]
The regular macaroni and cheese was about what you'd expect, save for the use of orecchiette in place of actual mac.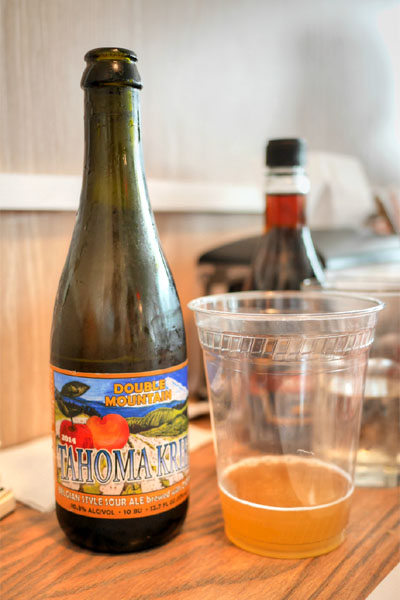 Getting back to Oregon, here we had the
2014 Double Mountain Tahoma Kriek
, a strong Belgian blond with Rainier cherries. Think sour and funky, with a great effervescence to it, though I would've liked a touch more cherry character.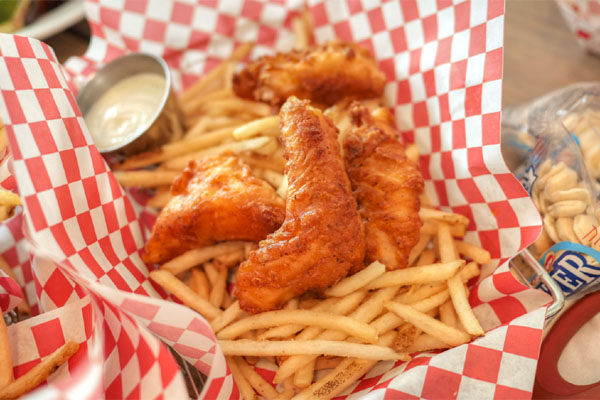 Fish and Chips [$11.00]
Fish 'n' chips was a surprise hit for me, the fish coming out crisp, yet fluffy on the inside, with a lovely bit of pepperiness to it all.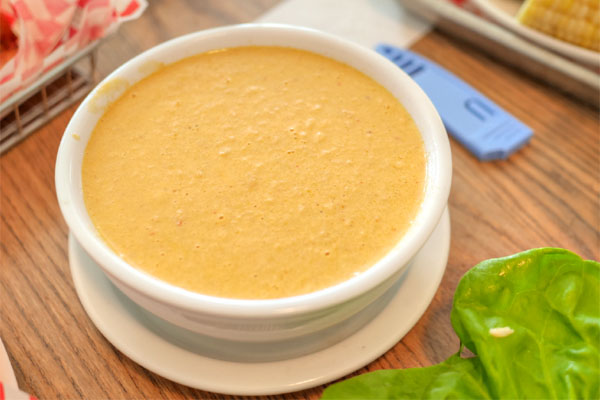 Lobster Bisque [$12.00]
The bisque was a balanced preparation, very creamy actually, with an absolutely permeating lobster presence.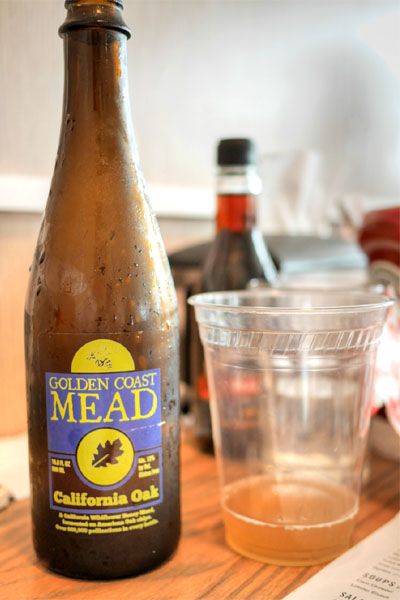 Our second mead was the
Golden Coast California Oak
, made with California wildflower honey and aged in American oak. This was interesting, honeyed and boozy sure, but with an almost sake-like rice-y sweetness to it that intrigued me.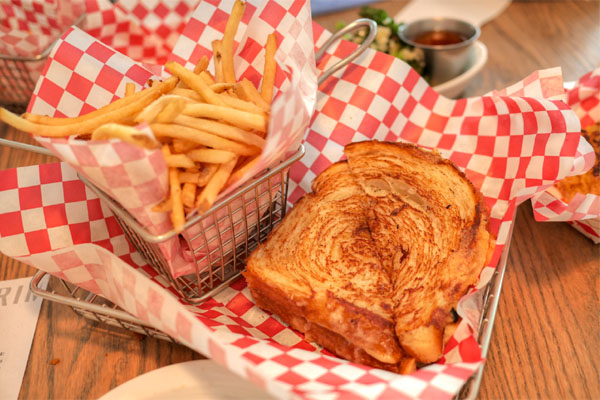 Lobster Grilled Cheese [$20.00]
The grilled cheese was a must for us, and this was a cozy example of such, coming out
very
cheesy, but with the lobster still standing out as the star.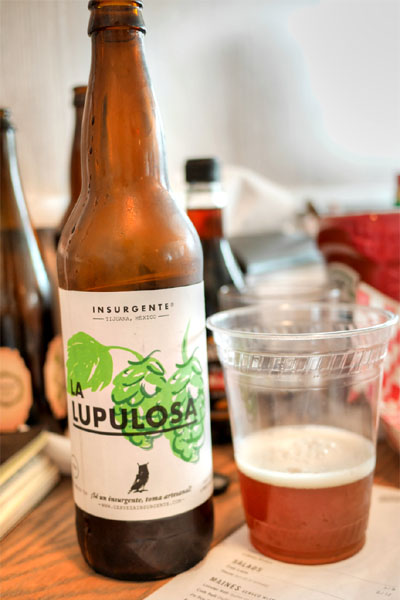 Someone at the table brought out two beers from Mexico, which we closed with. The first was the
Insurgente La Lupulosa
, an IPA brewed with five types of hops. This went quite malty and fruity in the aroma, while the taste read pine-y, dank, with a backing of malt and a bitter finish.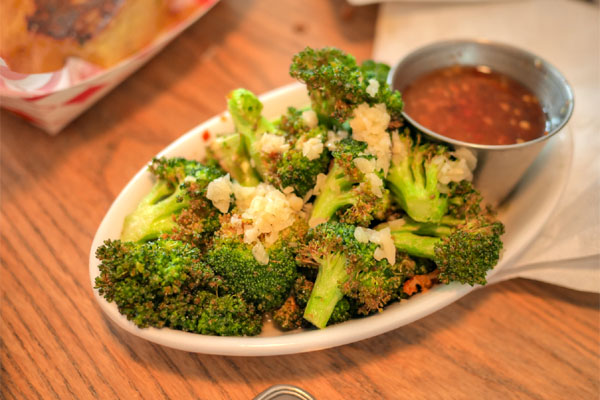 Fried Broccoli [$6.00]
Broccoli wasn't as I'd hoped for. The florets weren't fried enough, and didn't seem particularly seasoned. The provided sauce was absolutely key, thus.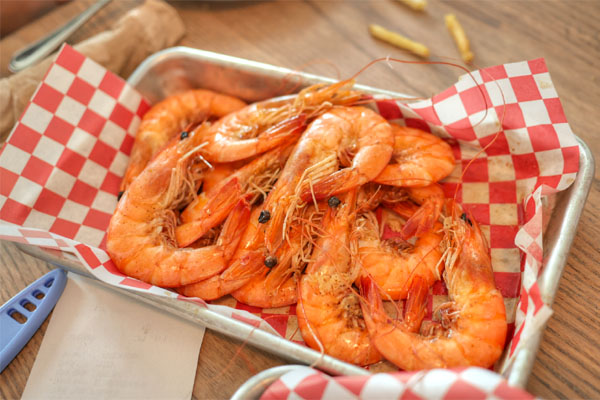 Whole Shrimp - Cajun (boiled) [$9.00]
Boiled shrimp delivered, arriving well cooked, delicate, but with a forceful Cajun-y spicing that definitely took things up a notch.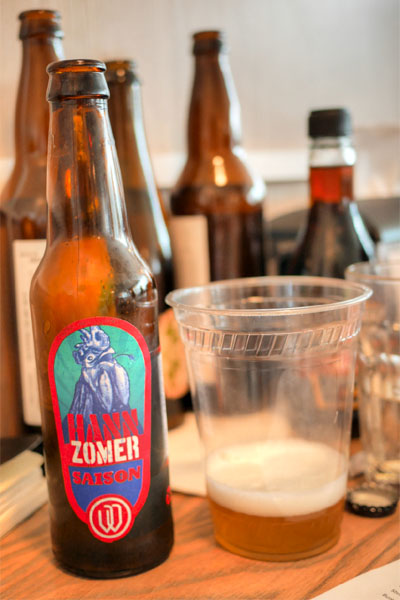 Last to drink was the
Wendlandt Hann Zomer Saison
. With this one, I got lots of dark fruit on the nose, while taste-wise, there was more fruit, some funk, a touch of spice, and a dank sort of lingering finish.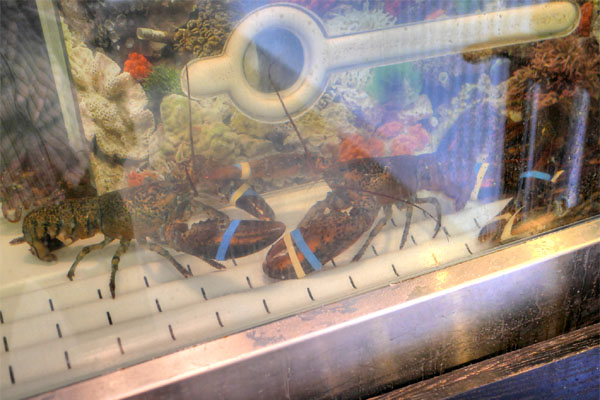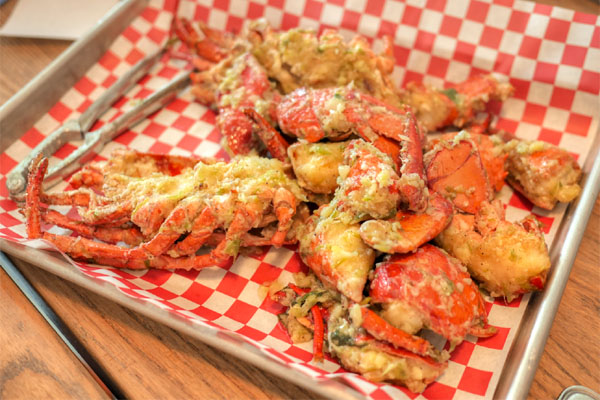 Lobster - Ginger Scallion (stir fry) [$18.00/lb]
We picked the feistiest of the live lobsters (a roughly 1.4lb specimen) for the meal's
pièce de résistance
. This was one of the best items for sure, the meat coming out tender, yet with snap, the sweetness of the lobster matched to the ginger-y tang of the dish. Yum.
We had a fun time at Lobsta Shack, and though there were certainly some standouts, not every item was a hit. Not having had the truck before, I don't have a basis for comparison necessarily, but perhaps some editing down of the menu is called for in order to better focus the kitchen. In any case, not a bad addition to Chinatown.