Loqui (Culver City, CA)
Loqui Restaurant
8830 Washington Blvd, Culver City, CA 90232
www.eatloqui.com
Tue 05/03/2016, 07:55p-09:05p

Culver City's taco scene got a boost recently with the debut of Loqui, a
norteño
-inspired taqueria that opened at the start of April. The eatery is the work of Cameron Wallace and Mexico City native Ari Ampudia, two friends who grew up together in San Diego. Back in April 2013, the duo launched a pop-up/takeout window version of Loqui at a Tartine Bakery-adjacent space in San Francisco (Wallace was a baker at Tartine). The concept was well-received for the most part, and lasted until the early part of 2015. Later that year, the partners moved Loqui to San Diego's Park & Rec for a brief period before beginning work on this permanent location.

Loqui resides in Culver City's new-ish Platform complex, right next door to Blue Bottle Coffee. It's a small, somewhat rough-hewn space, with an open kitchen facing a handful of tables inside. There's also a back patio with additional seating.
The menu's refreshingly small: just choose your protein (beef, chicken, mushroom) and your preferred format.
Primos
are large-ish tacos basically, while
molcajetes
are more substantial, Chipotle-esque bowls. Drink-wise, you get some beer, two Mexican wines, soda, and
aqua fresca
. Click for a larger version.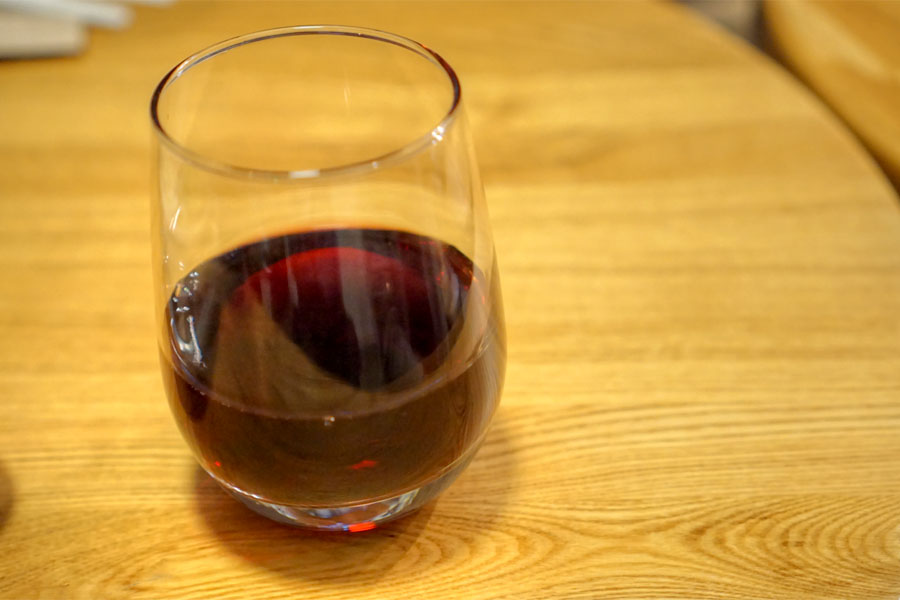 The first of two wines was the
Cavas Valmar, Mezcla de Tintos, Baja [$10]
, a blend comprising Cabernet Sauvignon, Merlot, Nebbiolo, and Syrah. I found it rather enjoyable, with lots of spicy dark fruit, herbs, and slight earth in a drinkable package.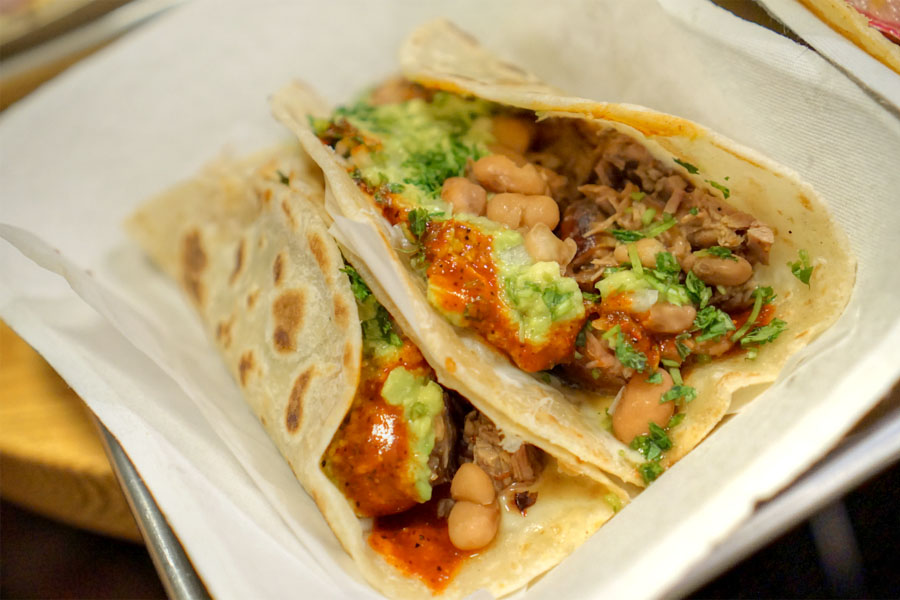 Asada Primo [$5.00/each]
| tortilla, cheese, beans, guacamole, onion, cilantro, salsa
We of course had to try the carne asada taco, and Loqui's hit the mark. The meat worked here, augmented by the weight of beans and the lushness of guac, with the onion-cilantro-salsa imparting the necessary brightness to make for a cohesive dish. I liked the flour tortilla too, with its slightly stretchy texture and spots of char.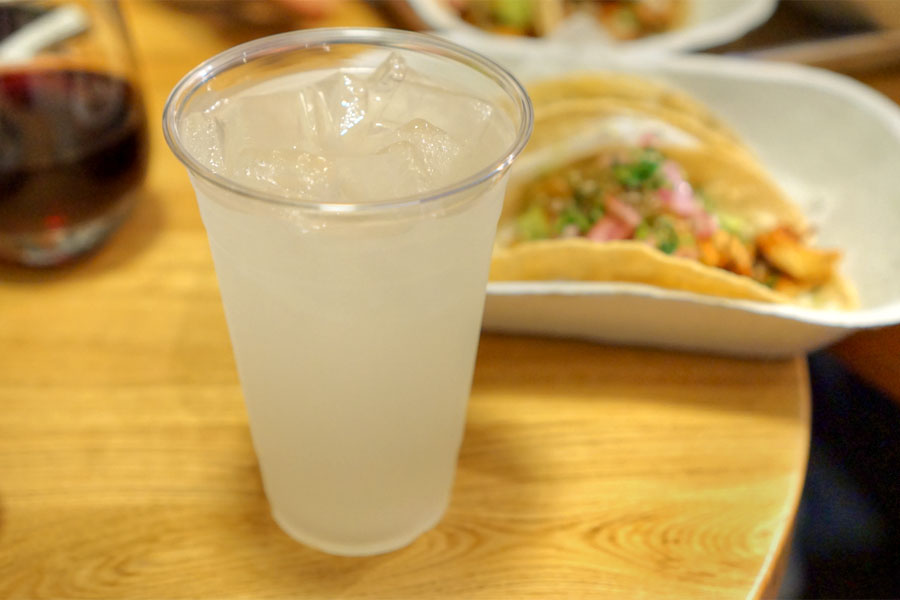 The
Limonada [$3.50]
was a crowd pleaser with its deft balance of sweet and sour flavors. Refreshing.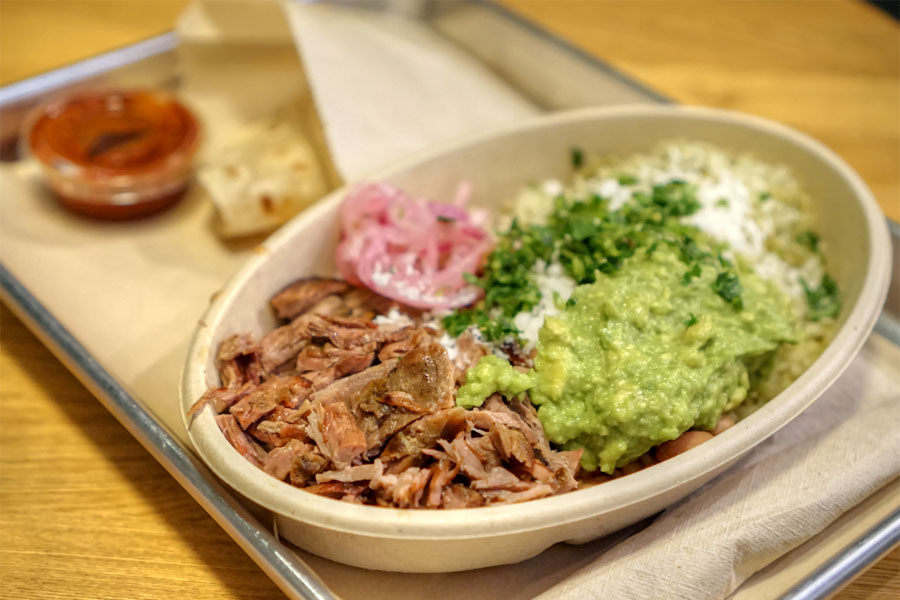 Asada Molcajete [$11.50]
| rice, beans, guacamole, cheese, onion, cilantro, salsa and flour or corn tortillas on the side
We also sampled the asada in bowl form. Here, the meat stood out by itself more, and I actually would've liked more smokiness and spice to it. But again, the various accompaniments all made sense, and I was especially fond of the pickled onions.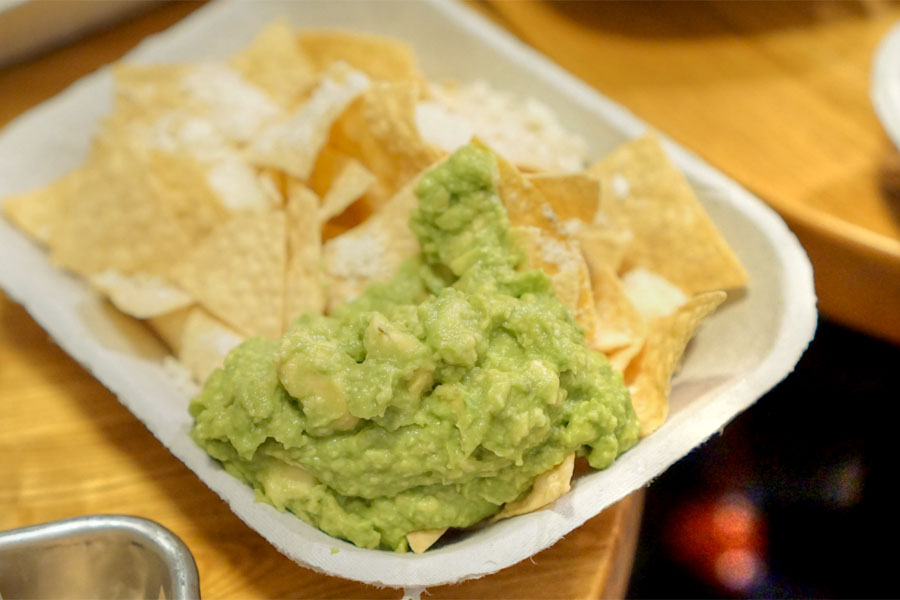 Totopos [$4.50]
| tortilla chips, guacamole, cotija cheese, salsa on side
Chips worked out well enough, though the guac could've used a touch more acidity.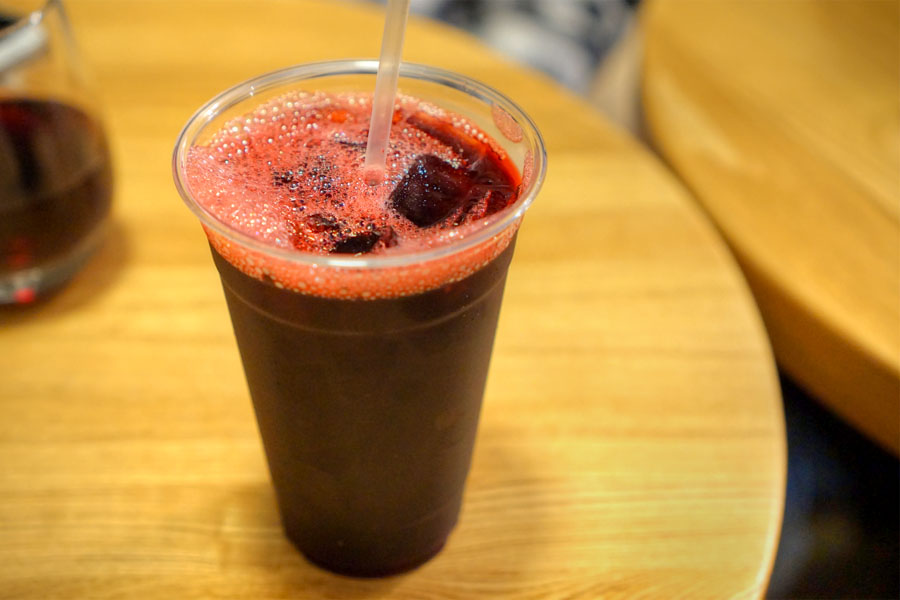 The
Jamaica [$3.50]
conveyed all sorts of tart-fruity hibiscus flavors.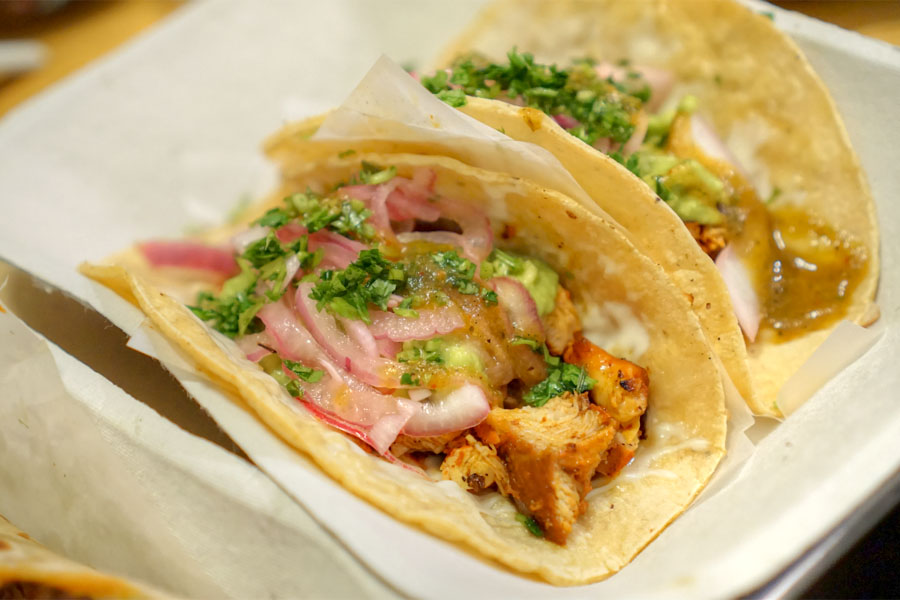 Pollo Primo [$5.00/each]
| tortilla, cheese, guacamole, onion, cilantro, salsa
We had the chicken taco on a corn tortilla, and I will say that I preferred the flour above, especially texturally. As for the
pollo
itself: quite tasty, and tender too, with a zippy contribution from the onions.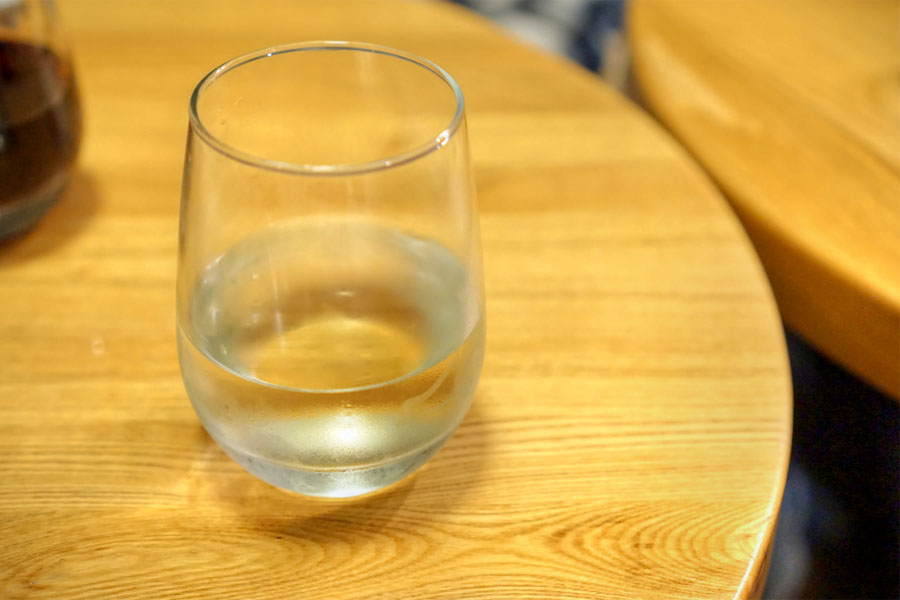 White wine duties were handled by the
2015 Emeve Isabella, Blend, Baja [$10]
, comprising Chardonnay, Sauvignon Blanc, and Viognier from the Valle de Guadalupe. Again, this one went down easy, showcasing lots of aromatic fruit, citrus, and grassiness all cut by a persistent bit of acidity.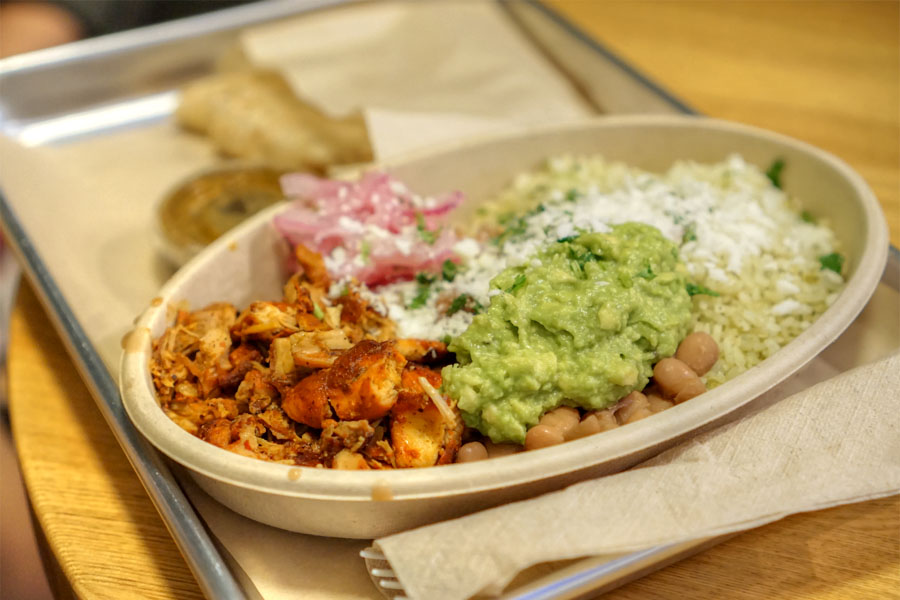 Pollo Molcajete [$10.50]
| rice, beans, guacamole, cheese, onion, cilantro, salsa and flour or corn tortillas on the side
The chicken bowl was a favorite of mine. The bird really shined here, showcasing lots of smoke and char flavors that were offset by the other elements in the dish.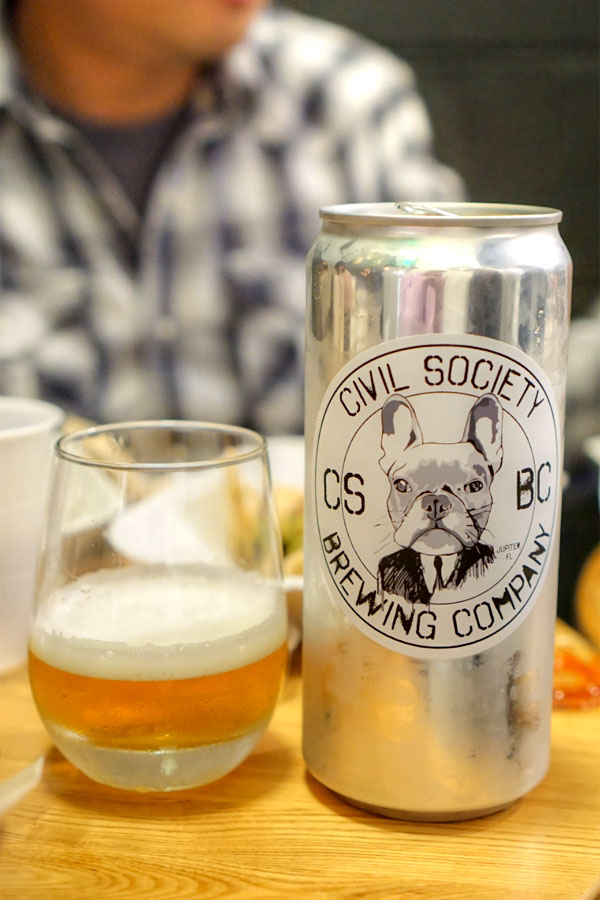 Now for some beer. First was a crowler of the
2016 Civil Society Pulp
, a wheat ale hoped with Columbus and Mosaic. Think super floral, juicy, citrusy, and hoppy to the smell, with a palate that brought more herbal hops and some delectable floral/tropical qualities. Nice!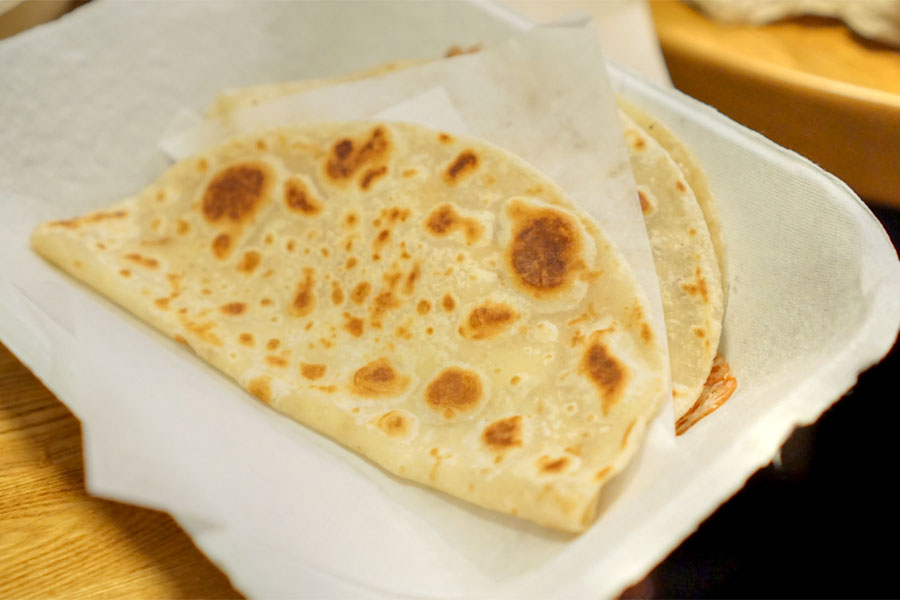 Quesadilla [$3.00/each]
| flour or corn tortilla, cheese
Quesadillas were straightforward, with a simple yet satisfying marriage of cheese and tortilla.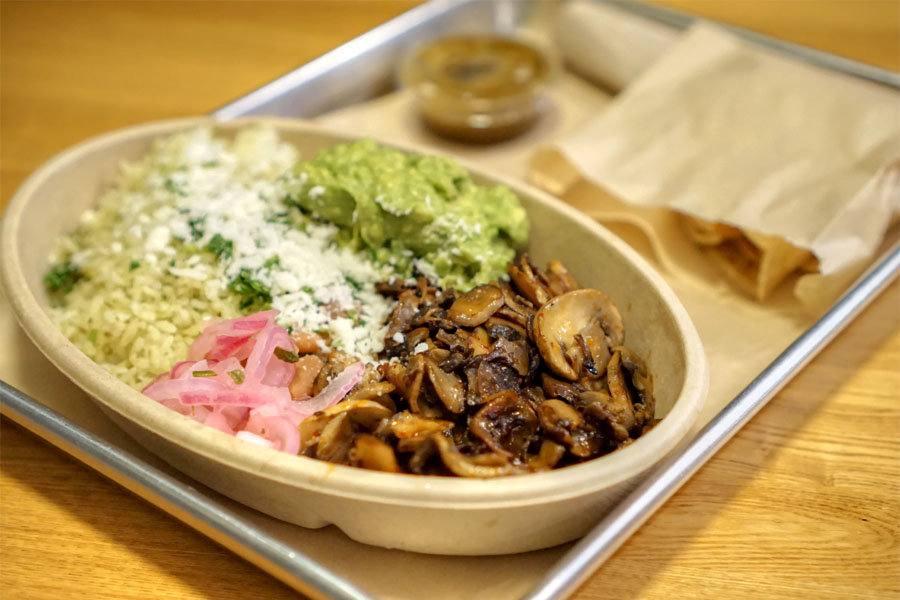 Mushroom Molcajete [$9.50]
| rice, beans, guacamole, cheese, onion, cilantro, salsa and flour or corn tortillas on the side
Vegetarians can opt for
hongos
here, which I found enjoyable, though not as much as the two meat options above. I would've liked larger, more substantial pieces, which would've been more gratifying texturally.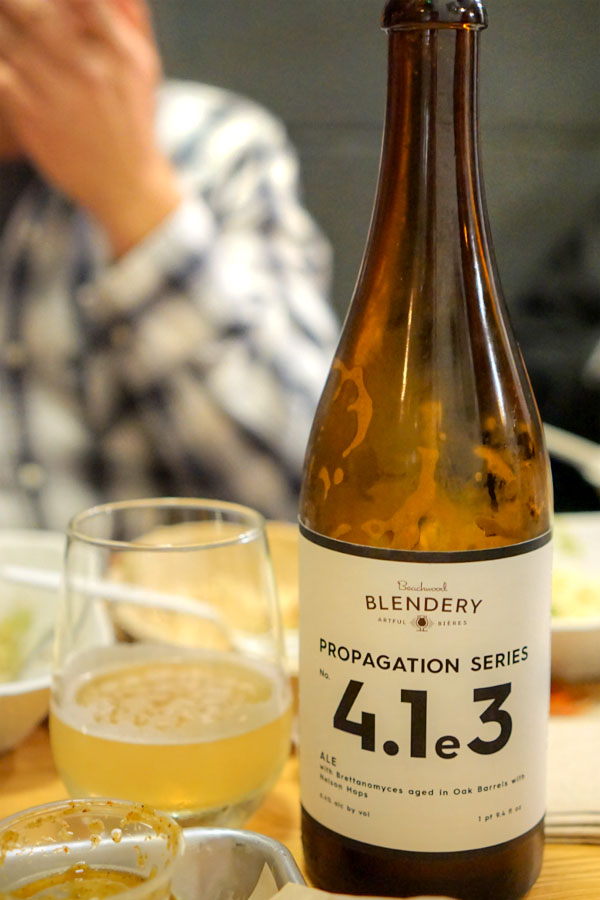 Here we had a bottle of the newly-released
2016 Beachwood Blendery Propagation Series: No. 4.1e3
, a Brett saison aged in oak and dry-hopped with Nelson. Nose was loaded with juicy, tart lemon and hops. Palate brought more sour citrus flavors alongside a Bretty funk, with hops overarching and intensifying on the back end.
Since we ordered so much, the kitchen gave us an off-menu quesadilla filled with asada.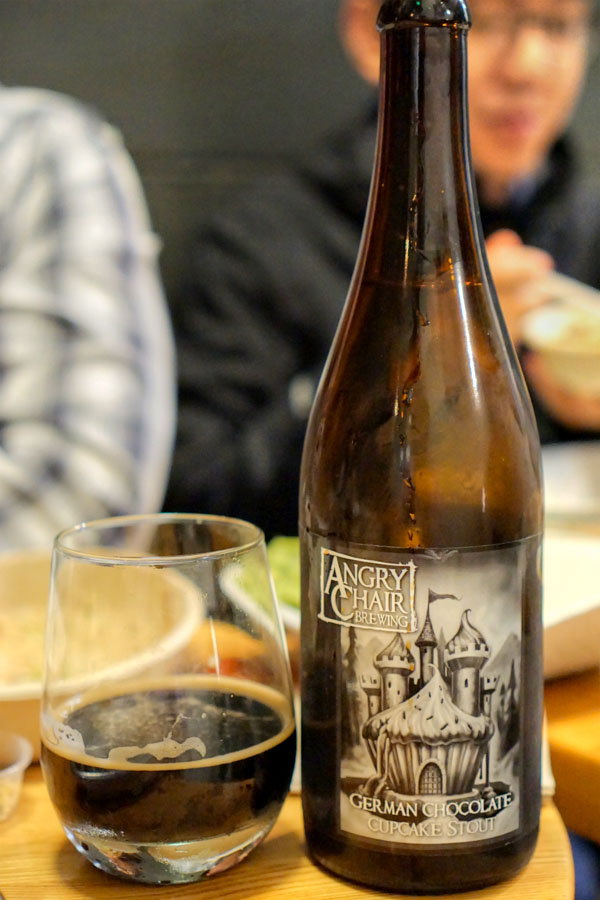 Last to drink was the
2016 Angry Chair German Chocolate Cupcake Stout
, a milk stout with coconut, Madagascar vanilla beans, and cacao nibs. Deep, deep chocolate aromas on this one. The taste, meanwhile, displayed rich chocolate at the start, with the vanilla and coco creeping in before transitioning to a slight bitterness on the finish. Quite decadent--I could definitely see the "cupcake" aspect of the beer.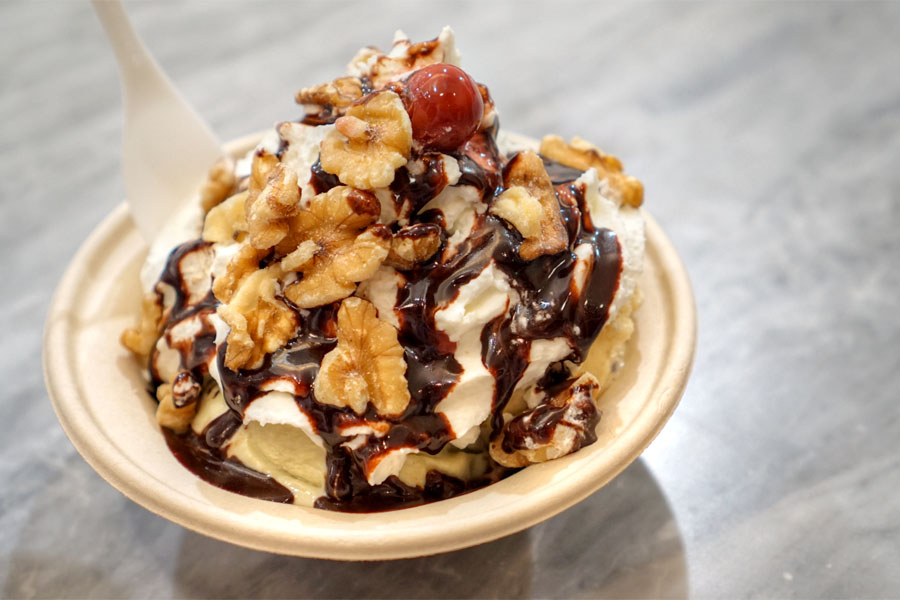 Given Wallace's baking background, it's a shame that they don't do a proper dessert here. Thus, we wandered over to New York transplant Van Leeuwen next door for some ice cream to close out the night.
We had a fun time at Loqui. There were perhaps some slight quibbles here and there, but overall the food was tasty and appropriate for the concept. Always nice to have another taco option in the area.