Wolf (Los Angeles, CA)
Wolf Restaurant
7661 Melrose Ave, Los Angeles, CA 90046
323.424.7735
www.wolfdiningla.com
Thu 03/31/2016, 07:55p-11:00p

Well it's about damn time. After flitting about the City's culinary scene for what seems like years now, Marcel Vigneron has finally opened a legitimate, full-fledged restaurant. I've encountered Vigneron on and off for quite a while now at various events and special dinners, so this development is
long
overdue. Wolf (the Chef's mother's maiden name) dropped on March 2, serving up what it calls "seasonal LA cuisine," a very of-the-moment sort of descriptor.
About the Chef
: Born in 1980, Vigneron hails from Bainbridge Island, Washington. While attending high school, he got a job as a dishwasher at a local place called Streamliner Diner, but quickly became a prep cook there and eventually made his way to a number of other restaurants on the island. After graduating, he backpacked through Europe for five months, did some soul-searching, and finally came to the realization that cooking was his future. Vigneron subsequently secured a line cook position at
Michael Mina
's
Aqua
, then attended the Culinary Institute of America, achieving an associate's in Culinary Arts and a bachelor's in Hospitality Management, all while serving as sous to Dwayne LiPuma at the school's Ristorante Caterina de' Medici. After completing his studies in 2004, he found work at
Joël Robuchon
in Las Vegas.
During this period, he competed on Season 2 of
Top Chef
(premiered October 2006), finishing in second place behind
Ilan Hall
and gaining quite a bit of notoriety in the process. In 2008, he became executive sous at
José Andrés
'
The Bazaar
, under none other than
Michael Voltaggio
. Voltaggio was actually recommended by Vigneron for
Top Chef
Season 6, and of course famously went on to win it all. Vigneron was there for a year-and-a-half, but left in 2009 after being denied a promotion. In February 2010, he became head chef at Bar210/Plush at The Beverly Hilton, and that October, cooked a night at
Test Kitchen
(with
Walter Manzke
and Alex Reznik as his sous chefs). He was out at the Hilton by the end of 2010, just in time for the debut of
Top Chef All-Stars
, where he came in at 10th place behind eventual winner
Richard Blais
.
Early 2011 saw the debut of
Marcel's Quantum Kitchen
on SyFy (cancelled after six episodes) as well as the founding of Vigneron's catering company Modern Global Tastings (MGT). In May, he consulted on the cocktail list at The Beverly in West Hollywood, and followed that up by creating the menu at sister property The Sherbourne. October had him popping up in Tokyo, while December had him guest cheffing at Gonpachi in Beverly Hills. In March 2012, Vigneron and friend Haru Kishi (Chaya Brasserie) popped up again at the then-newly-shuttered Gonpachi for a brunch series called The Coop, a second iteration of which happened that May.
The Chef doubled down on reality TV beginning in 2012, starting with Season 5 of Food Network's
The Next Iron Chef
, where he competed against CIA buddy Spike Mendelsohn and LA icon
Eric Greenspan
. In October 2013, he teamed up with Mendelsohn again for
Iron Chef America
, but lost to Geoffrey Zakarian and Alex Guarnaschelli. A guest judge role on
America's Best Cook
came in May 2014, and in July Vigneron made his first appearance on NBC's
Food Fighters
, winning against home cook Elisha Joyce (he would lose in both of his subsequent episodes). In August 2014, he competed for charity on
Guy's Grocery Games
and also went up against Richard Blais on
Top Chef Duels
. Not long after, Vigneron appeared on
Cutthroat Kitchen
, and in May 2015, competed in
Chopped
's All Stars Tournament with
Antonia Lofaso
before announcing plans for Wolf.
As for the rest of the team at Wolf, we have CSCA grad Jordan Rosas as sous, an alum of
Church & State
, Papilles,
Bouchon
,
Patina
, and
Ortolan
. Former
The Taste
contestant Vanessa Lauren holds double duty as sous chef and catering director, having worked at Madera Kitchen at
Trois Mec
following her appearance on the show. Pastry Chef duties, meanwhile, are handled by Rachael Harper, and serving as General Manager is New York native Sean Perman.

Wolf takes over the left side of the Fairfax building formerly home to the likes of
Govind Armstrong
's Table 8, his 8 Oz. Burger Bar, and ROFL Cafe. It's a handsome space, one that was actually a lot more wooden (reclaimed, natch), a lot more brown, a lot more "rustic" than I was expecting.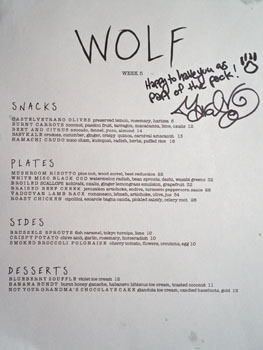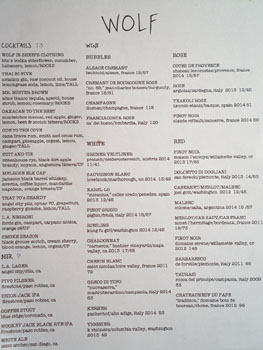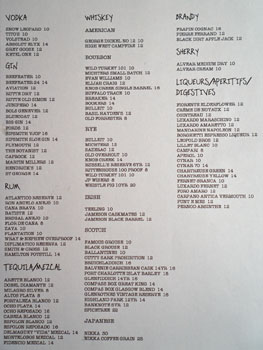 Vigneron's menu is pleasantly compact, divided simply into smaller plates, larger ones, sides, and desserts, while there's also a separate brunch
carte
as well. Drink-wise, you'll find a smattering of beer, some wine, and a compact cocktail list by Bar Director Nathan Oliver (BTL SVC with
Devon Espinosa
,
Vagrancy Project
, El Centro, ink, Church & State, Harvard & Stone). Corkage is a hefty $35 a pop, though it can be waived for each bottle purchased. Click for larger versions.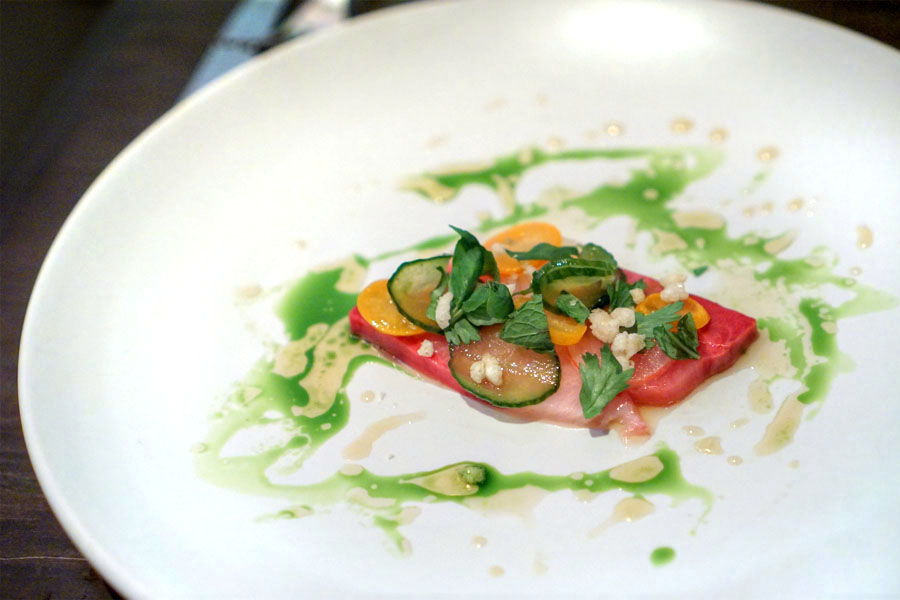 Hamachi Crudo [$18.00]
| nuoc cham, kumquat, radish, herbs, puffed rice
We got off to a good start with the yellowtail, a fatty, pleasantly fishy example that matched beautifully with the pungency of
nuoc cham
while the kumquat and pickles imparted a necessary tartness. Excellent crunch and savor from the puffed bits of rice, too.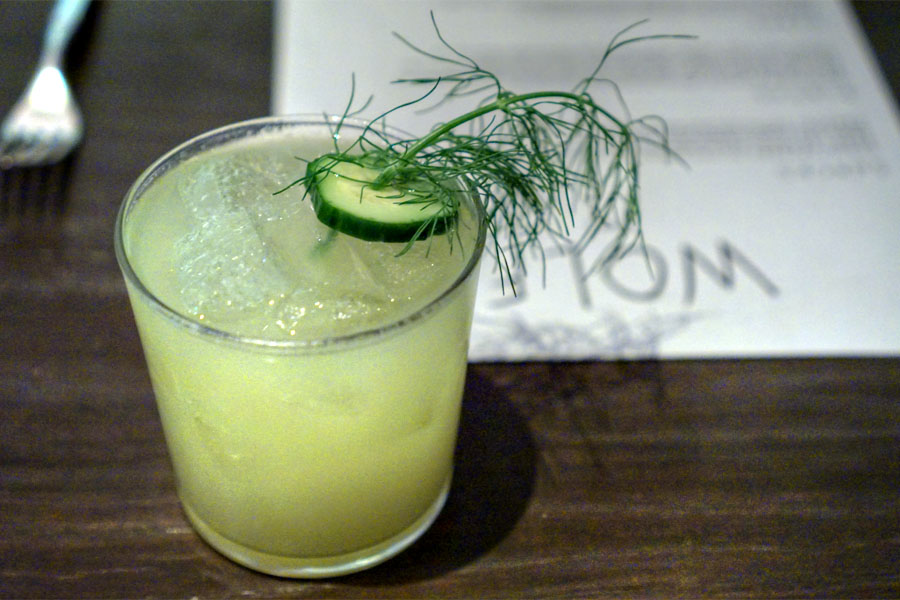 Wolf in Sheeps Clothing [$13.00]
| tito's vodka, elderflower, cucumber, habanero, lemon/Rocks
Our first cocktail lived up to its name with the drink's initial cucumber and elderflower notes transitioning to a punchy, lingering spice on the close.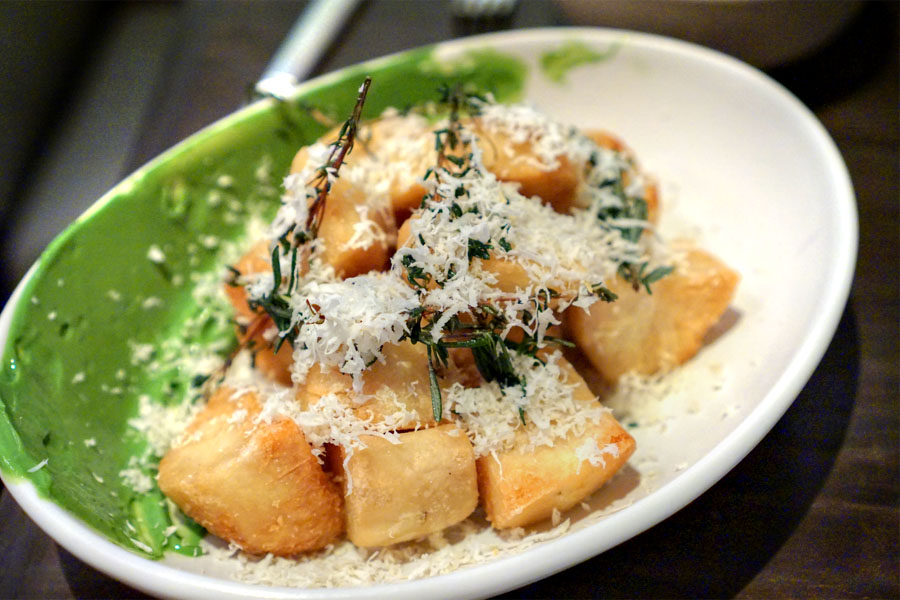 Crispy Potato [$10.00]
| chive aioli, garlic, rosemary, horseradish
Potatoes were a standout, some of the tastiest I've had in a recent times in fact. They were fantastic texturally--crispy on the outside but fluffy on the inside--and went perfectly with the bright, zesty smears of chive aioli.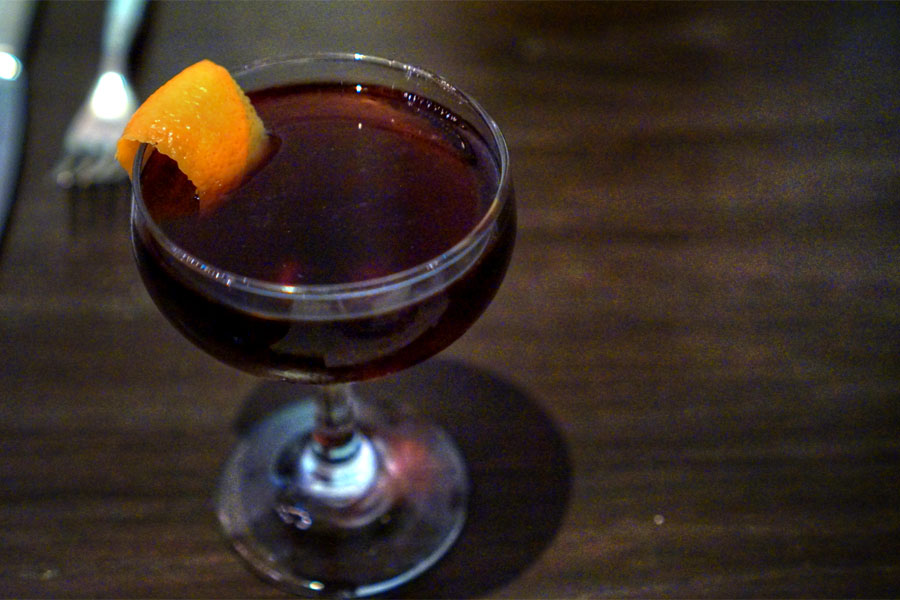 Melrose Blk Cap [$13.00]
| jameson black barrel whiskey, averna, coffee liquor, mandarine napoleon, orange bitters/Up
This was perhaps my favorite cocktail of the bunch, with its superb dark fruit notes laced with bittersweet nuances of coffee.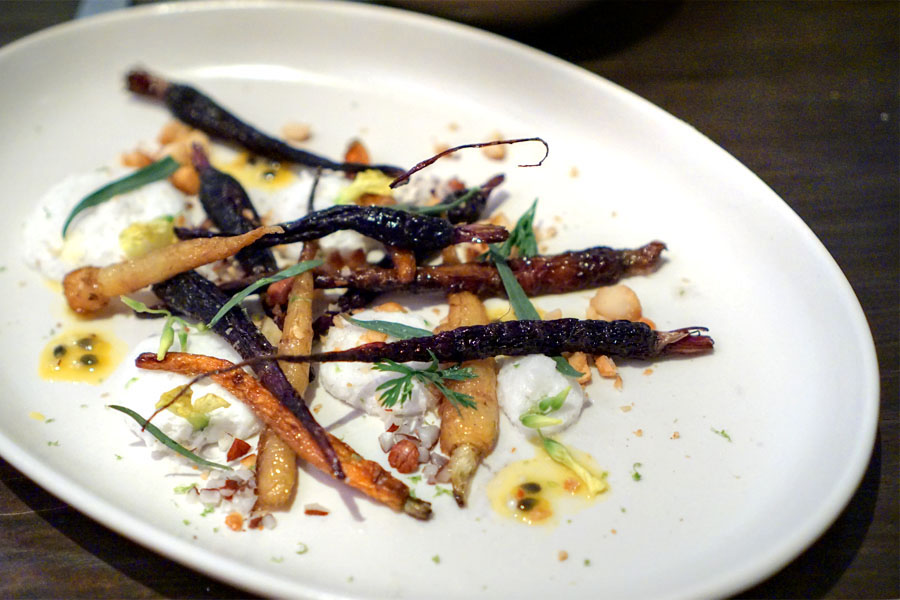 Burnt Carrots [$12.00]
| coconut, passion fruit, tarragon, macadamia, lime, oxalis
Coming out bendy and gelatinous, the carrots conveyed both char and sugar, the latter augmented by the tropical bent of coconut and passion fruit. Nice crunch and salt from the macadamias to even it all out.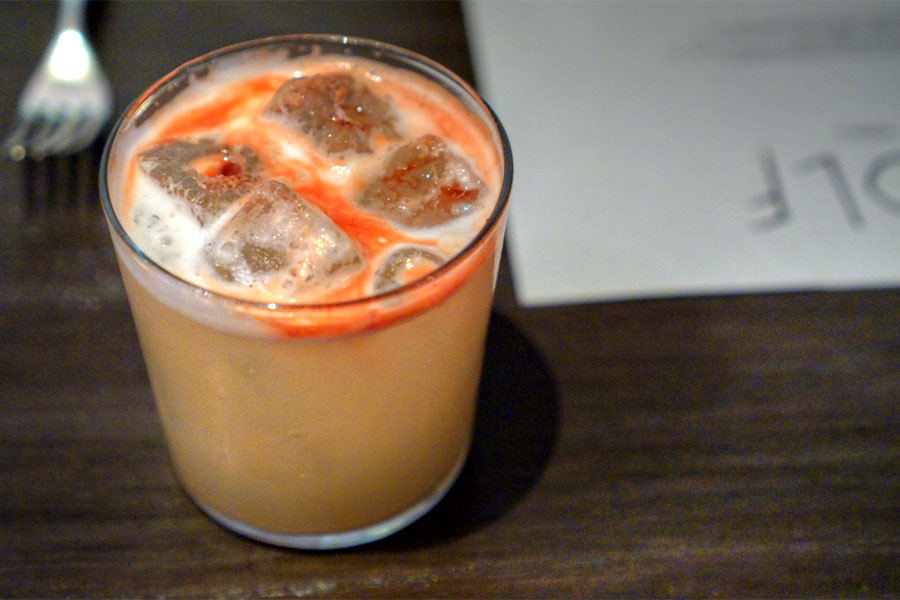 Oaxacan to the Beet [$13.00]
| montelobos mezcal, red apple, ginger, lemon, beet & scotch bitters/Rocks
Punny mezcal cocktail duties were handled by this next drink, which played the smokiness of the spirit against bitter, tangy elements and the unmistakable zing of ginger.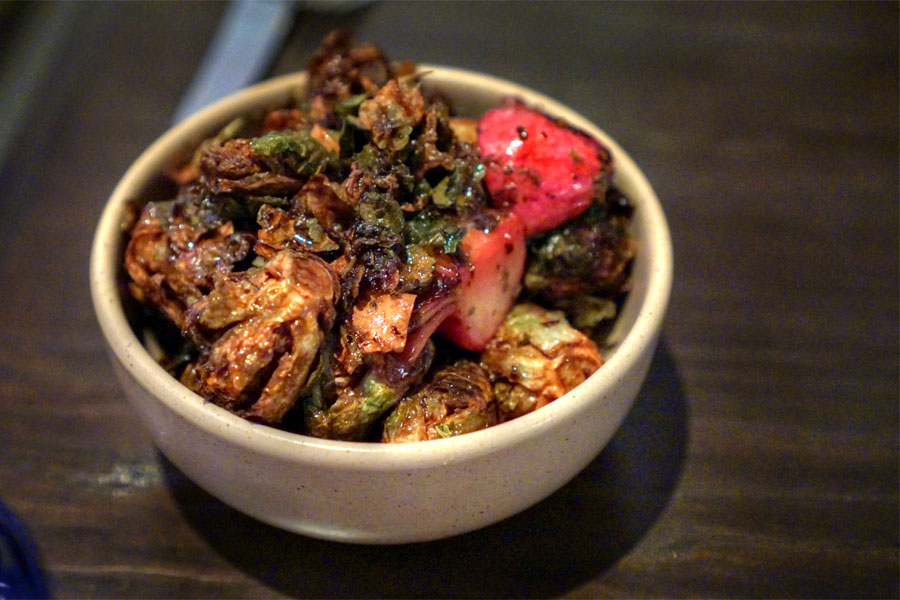 Brussels Sprouts [$10.00]
| fish caramel, tokyo turnips, lime
Brussels were right in line with LA's culinary
Zeitgeist
, their char and bitterness matched by the sugary pungency of that caramel sauce.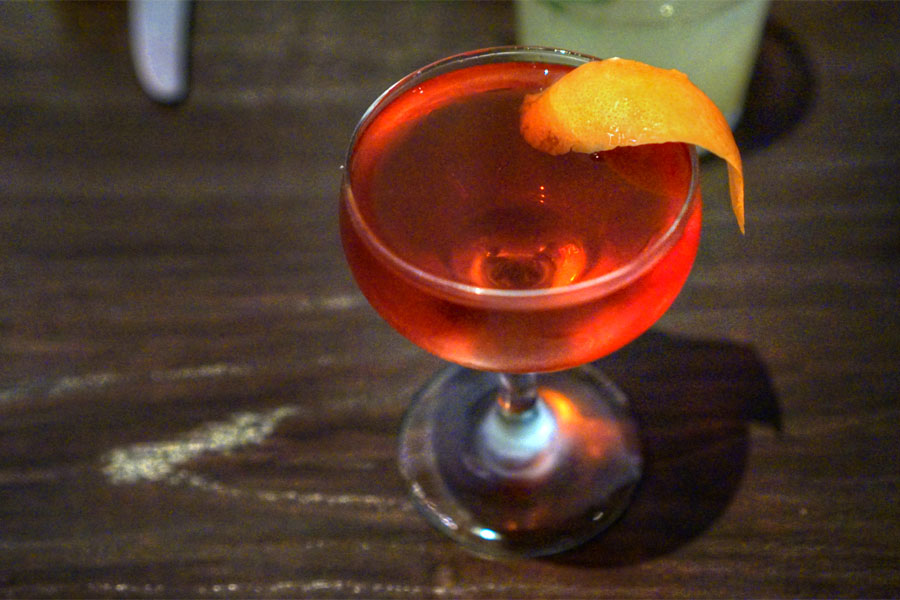 Suit and Tie [$13.00]
| rittenhouse rye, black dirt apple brandy, noyaux, angostura bitters/Up
Here we had our booziest cocktail of the night, one with loads of rye spice initially, transitioning to a marked sugary-fruity profile by the mid-palate.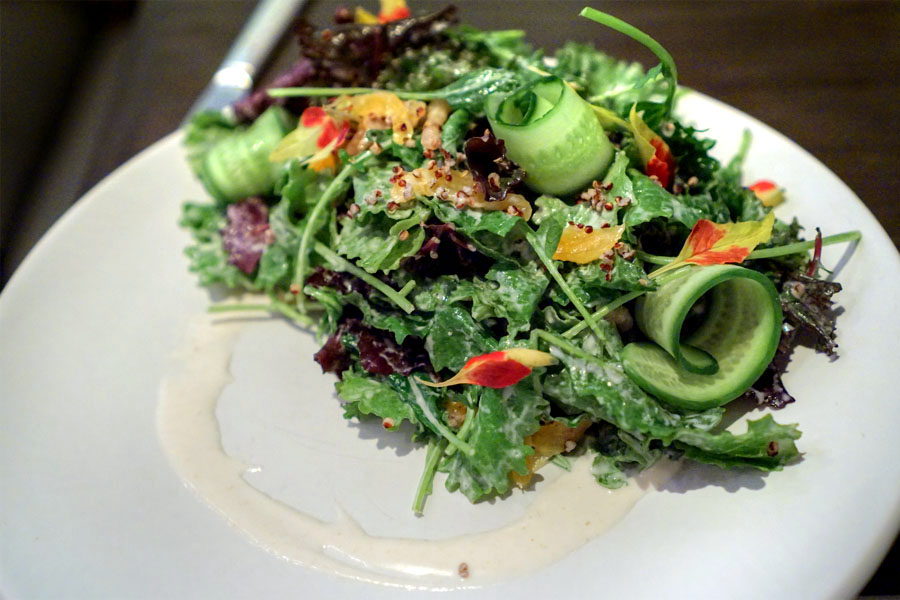 Baby Kale [$13.00]
| crosnes, cucumber, ginger, crispy quinoa, carnival amaranth
The requisite kale salad was actually one of the better ones I've tried, with a great depth to it to go along with the dish's tangy-creamy-bitter character. Wonderful crunchiness from the crosnes to boot.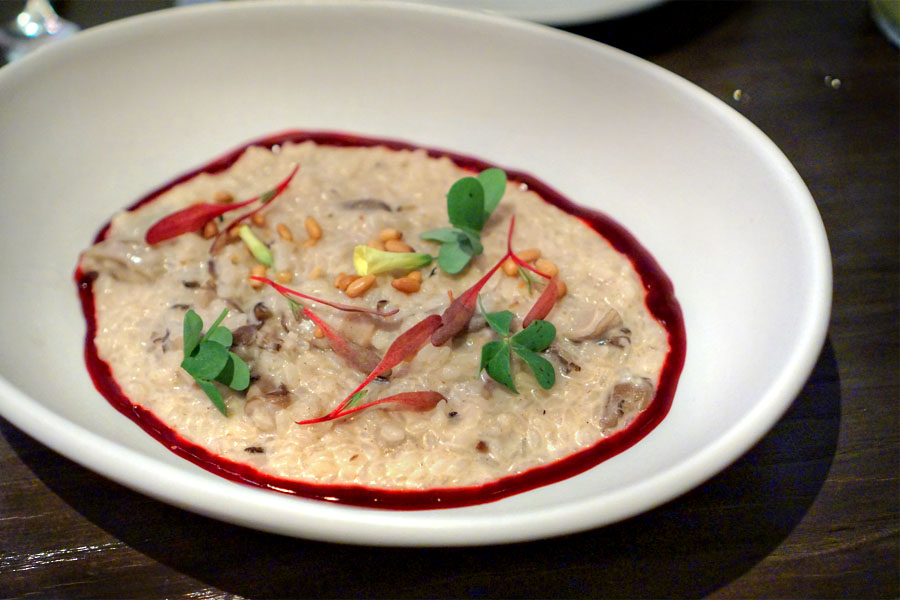 Mushroom Risotto [$22.00]
| pine nut, wood sorrel, beet reduction
The risotto was another favorite, the earthiness of the shrooms well-balanced against the sweet-tart beet and sorrel. Superb nutty crunch courtesy of the pine nuts as well.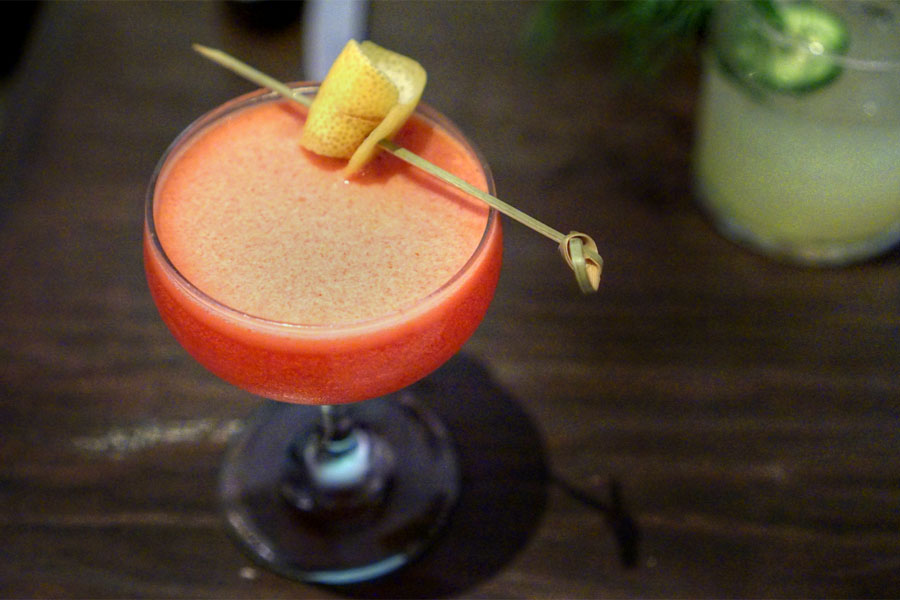 Smoke Season [$13.00]
| black grouse scotch, cream sherry, blood orange, lemon, orgeat/Up
Our final cocktail was also a highlight with its flawless interplay of smoky and sweet, the slightly oxidative qualities of the sherry making for a gorgeous finish.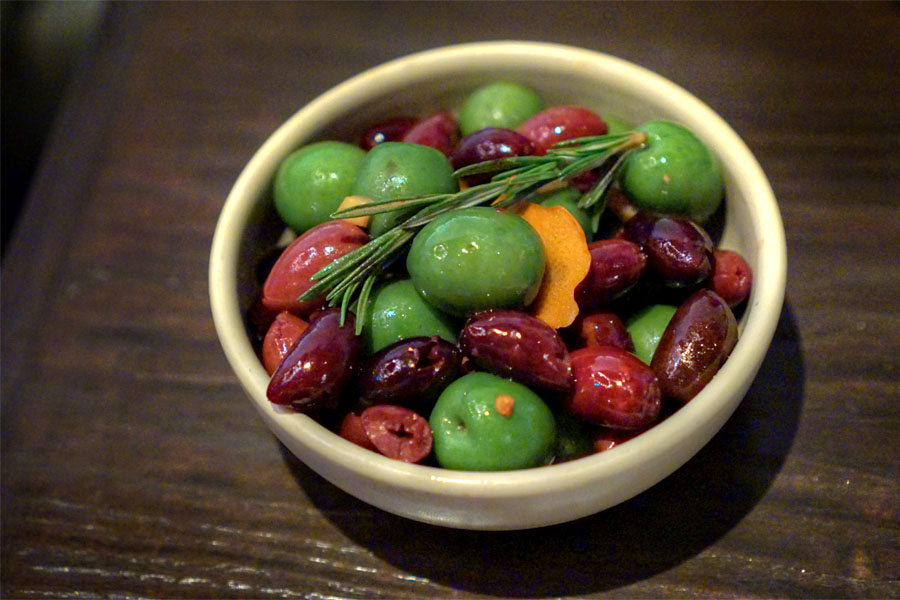 Castelvetrano Olives [$6.00]
| preserved lemon, rosemary, harissa
Olives were properly piquant, with a welcomed herby bent from the rosemary and some well-placed bursts of citrus.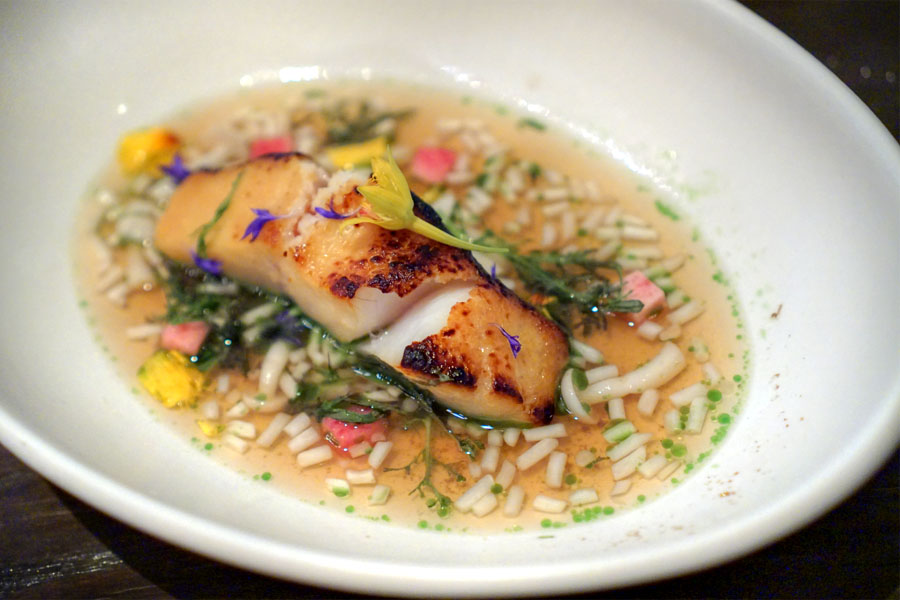 White Miso Black Cod [$32.00]
| watermelon radish, bean sprouts, dashi, wasabi greens
I've seen a lot of iterations of
misoyaki
cod, but Vigneron's stands out. I was a big fan of the fish's super flaky, supple consistency, and how the umami notes from the miso complemented the cod's inherent richness as well as the charring present. The dashi broth--bitter yet savory--was a hit too, and we eagerly drank up the remaining liquid.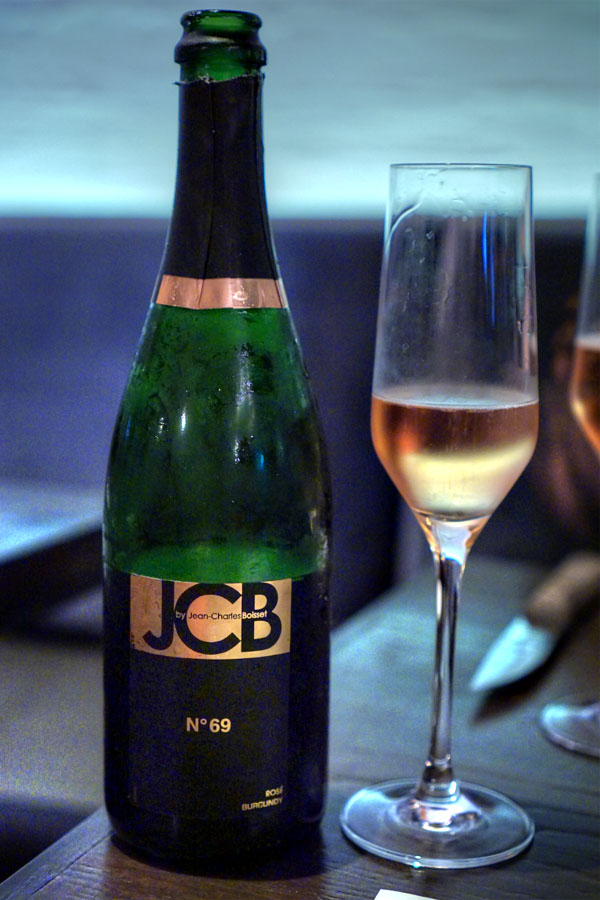 With the cocktails dispensed with, we moved on to a bottle of bubbly, the
Cremant de Bourgogne Rose, "no. 69", jean-charles boisset, burgundy, france [$61]
. Think juicy apple on the nose, while the palate brought more bright fruit along with a marked breadiness and a very dry finish.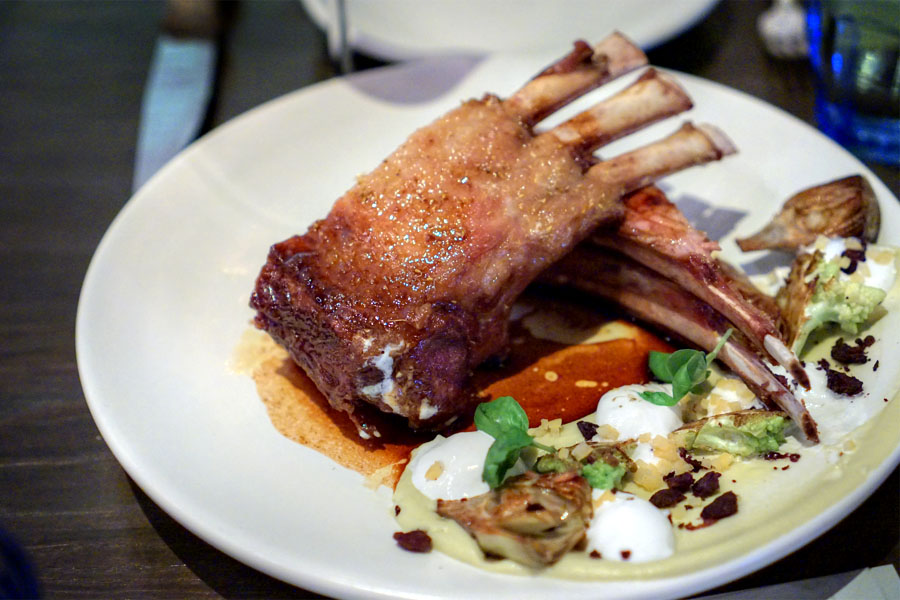 Vadouvan Lamb Rack [$34.00]
| romanesco, lebneh, artichoke, olive, jus
Lamb arrived tender and full of flavor, though fortunately with the vadouvan relatively restrained. The meat's Mediterranean-ish accompaniments certainly made sense as well.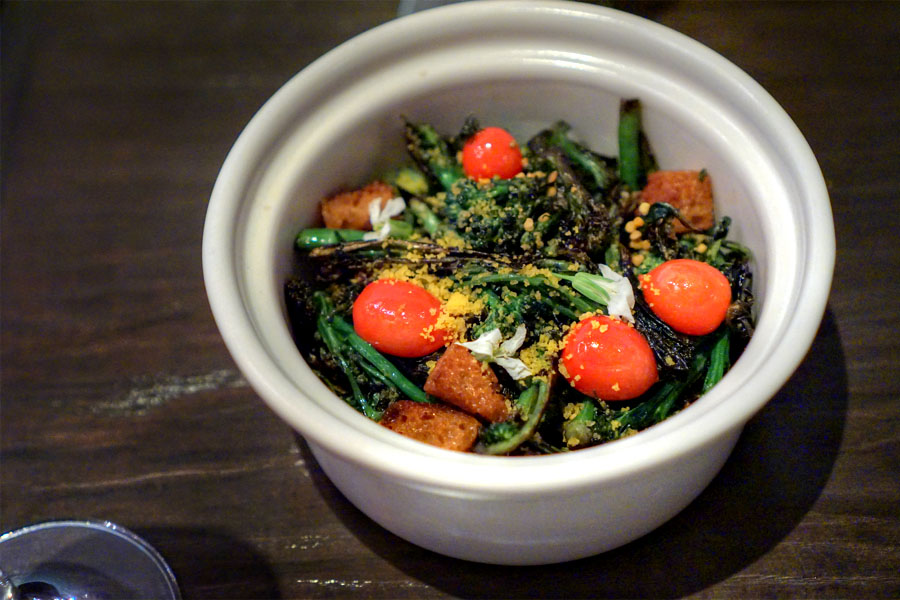 Smoked Broccoli Polonaise [$10.00]
| cherry tomato, flowers, croutons, egg
Broccolini came out bitter 'n' crunchy, with a light smoke and spice to match the juiciness of the tomatoes.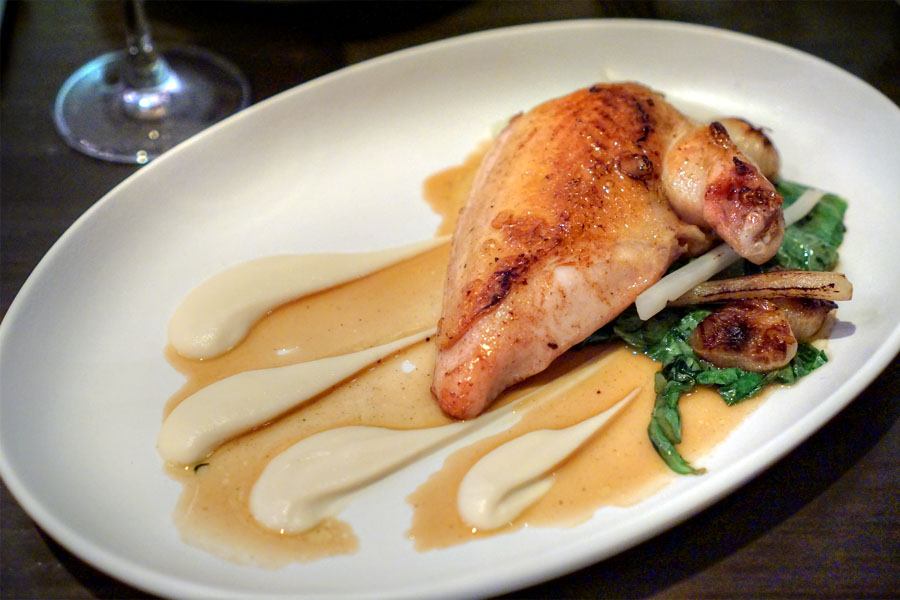 Roast Chicken [$26.00]
| cipollini, escarole bagna cauda, pickled salsify, celery root
I usually tend to shy away from chicken, but the bird here was on point: juicy and satisfying, with a smart counterpoint from the greens.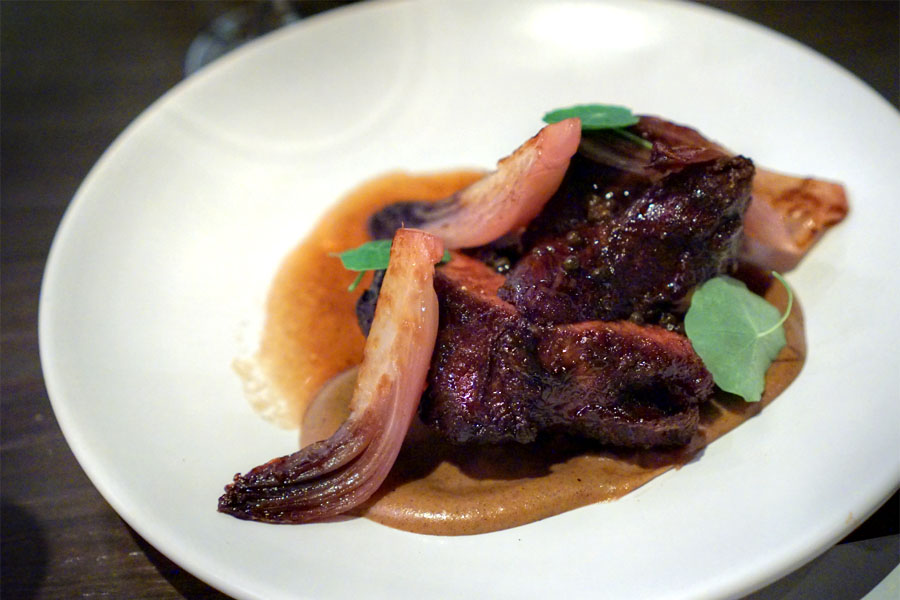 Braised Beef Cheek [$28.00]
| jerusalem artichoke, endive, turmeric peppercorn sauce
Braised cheek was as tender as you'd expect, with boatloads of rich, dark, brazenly beefy flavors that matched effortlessly with the bitterness of endive. Great charring and crust on the meat, too.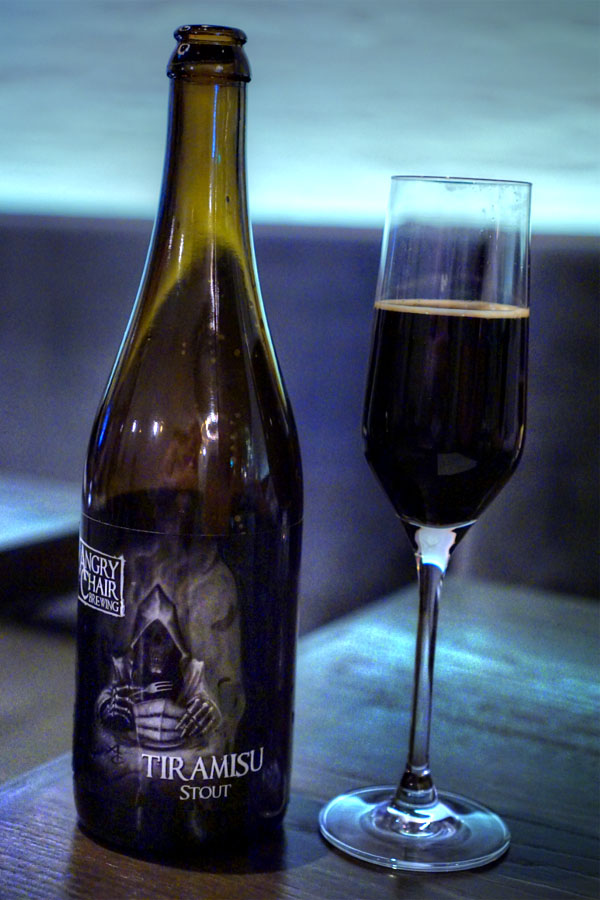 Our final beverage was the
2016 Angry Chair Tiramisu Stout
, a sweet stout aged on vanilla, cacao nibs, coffee, cinnamon, and rum-soaked oak. It was a proper dessert beer, thick and viscous and teeming with notes of chocolate, aromatic vanilla, and roasty coffee.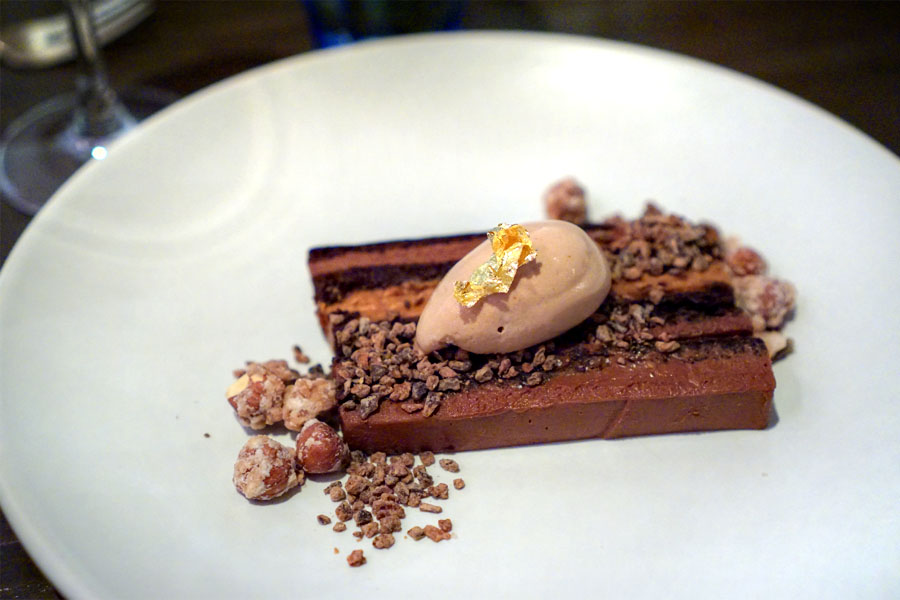 Not Your Grandma's Chocolate Cake [$13.00]
| gianduia ice cream, candied hazelnuts, gold
With only three desserts on the menu, we had to go for the troika of course. The first channeled your classic Ferrero Rocher flavors, with lovely notes of chocolate and hazelnut rendered in some fun textures.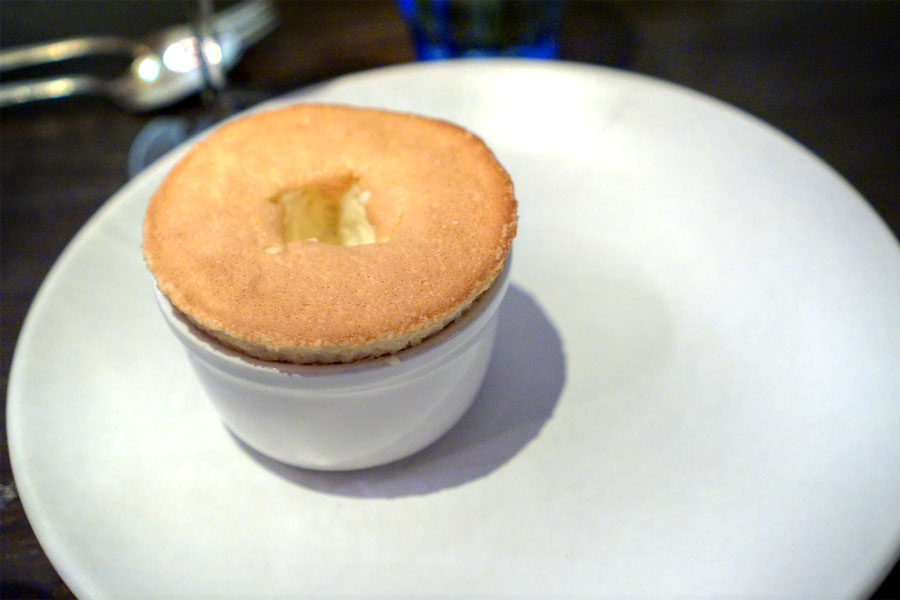 Blueberry Souffle [$12.00]
| violet ice cream
The soufflé was one of the better ones I've had, a super light, airy example layered with delectable hints of blueberry. I seemed to have missed the advertised violet ice cream, however.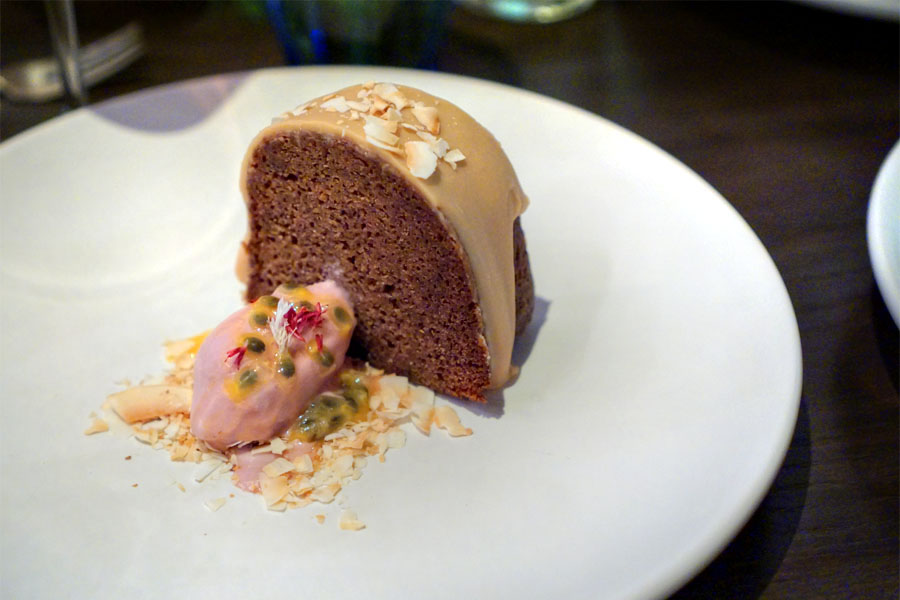 Banana Bundt [$11.00]
| burnt honey ganache, habanero hibiscus ice cream, toasted coconut
The Bundt was my favorite of the desserts. Big fan of the tropical-zesty ice cream here and how that paired with the heavy fruit flavors of the cake.
I came away from Wolf pleasantly surprised. It's easy to get caught up in the drama surrounding Vigneron, as well as his well-publicized penchant for modernist methods, but stepping away from all that, there's some solid cooking going on here. The food does touch upon some familiar tropes, but does so in ways that still retain a freshness and ease. As for what's next, Beefsteak, Vigneron's more casual vegetarian concept, is slated to open soon right next door, so we'll certainly be watching out for that.