Hanare (Costa Mesa, CA)
Sushi Hana Re
2930 Bristol St, Costa Mesa, CA 92626
714.545.2800
www.hanaresushi.com
Thu 03/24/2016, 07:00p-11:55p

Orange County's sushi scene is to be reckoned with, what with top-notch joints like
Ohshima
,
Nana San
, and
Kasen
in the fold. Recently however, I'd heard about another place worthy of a spot on that pantheon: Hana re at Costa Mesa's LAB Antimall, which opened in September last year. It's owned by Tatsuo "Fred" Fukushima--the man behind both the departed Zipangu (which closed last August) as well as CaliPoke next door--but the kitchen is run by one Atsushi Yokoyama.
About the Chef
: Hailing from Yokohama, the Chef immigrated to the US in 1996, settling in New Jersey and later Philadelphia. In 1999, he moved to Southern California and found employment at Takashi Abe's eponymous Restaurant Abe on Newport's Balboa Peninsula (where I first developed a taste for sushi in the early aughts, coincidentally). Yokoyama subsequently opened Zipangu with Fukushima (the place debuted in September 2004), helped with the launch of Abe's
Bluefin
, and in 2008, became head chef at Fukushima's Ayame in Irvine. He left the following year for Kagura in Anaheim (unrelated to the
Kagura
in Torrance), and stayed there until the restaurant shuttered in August 2014. Following, Yokoyama ate his way through Japan for a period, then rejoined the Zipangu team the following summer to start work on Hanare.

The restaurant occupies an abbreviated portion of the former Zipangu space, which has been given an austere makeover (the ropes remain, though they're now unbundled). The 10-seater bar is clearly the focus, though there are an additional two tables that can fit another eight or so.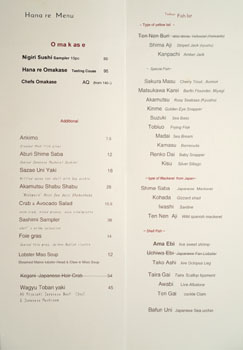 As far as Hana Re's menu goes, you get a small list of about a dozen appetizers, but the main draw is the trio of omakases on offer: a $50 10-piece
nigiri
sushi sampler, a $95 Hanare omakase tasting course, and the flagship Chef's omakase (advertised as $140+, and $253pp tonight). Drink-wise, there are a few beers/wines available, but you'll want to focus your attention on the healthily-sized sake list. Click for larger versions.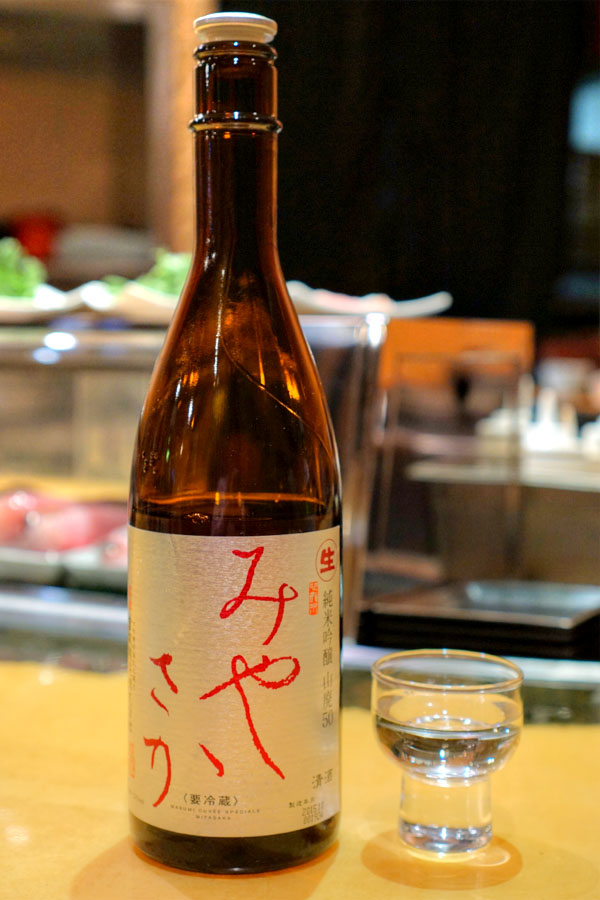 We went with sake of course, commencing with the unpasteurized
Miyasaka Yamahai Nama 50 Nama Ginjo [$65]
from Nagano. I got a super aromatic nose teeming with fruit and booze, while the taste went sweet, ricey, robust, with a palpable heat on the finish.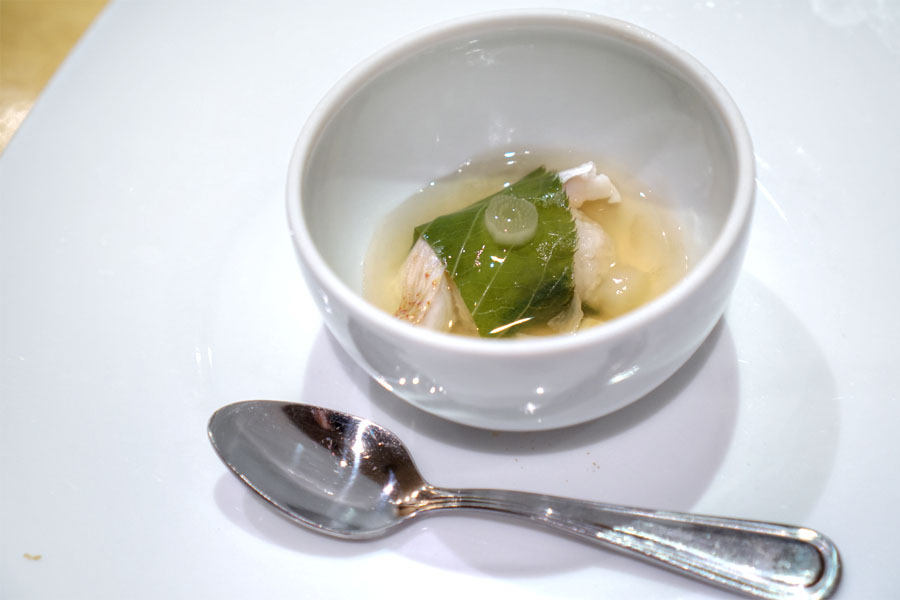 1: Renko Dai Sakura Mushi
Steamed baby snapper made for a stellar first course, with the fish's deep, heady, hearty flavors meshing beautifully with the additional complexity from the use of
sakura
. Excellent, almost
zongzi
-like savoriness on the rice.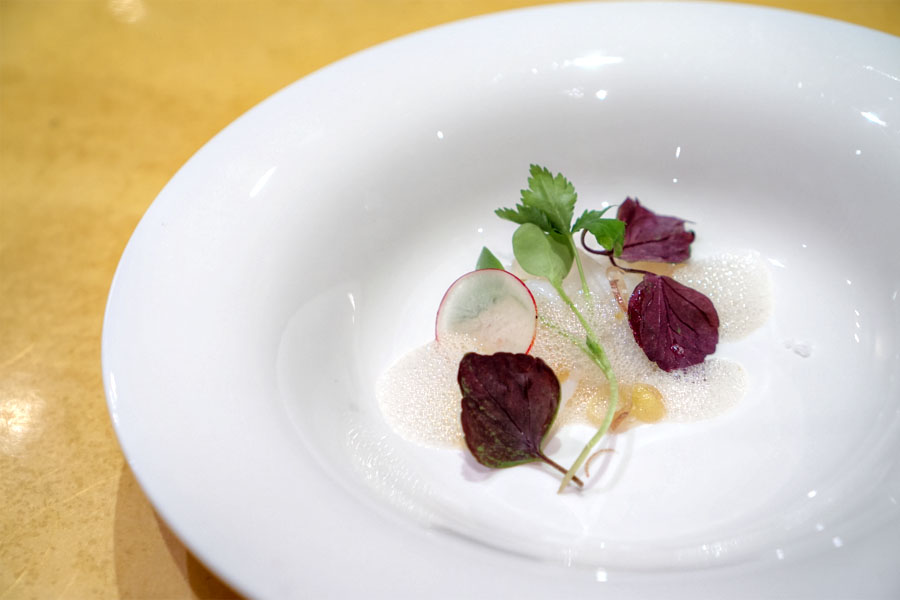 2: Tako Ashi
Octopus sashimi was perfectly textured, snappy yet just a touch chewy, with a soft brine that paired well with the minty flavors present. Great counterpoint from the tangy
umeshu
(plum wine) dressing, too.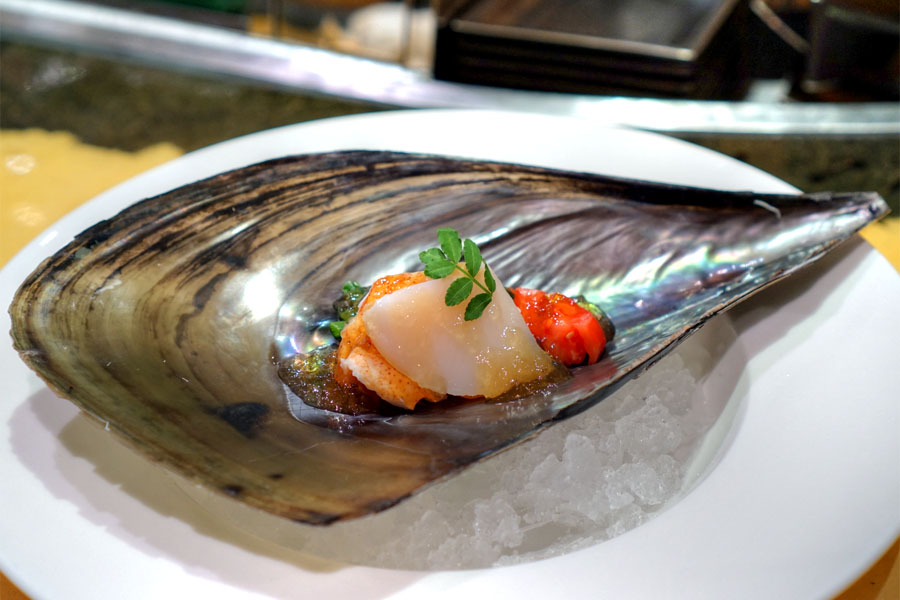 3: Taira Gai
Pen shell scallop was firm and flaky, and conveyed a salinity that complemented the sweetness of that wonderfully-textured Maine lobster. Loved the unexpected but effective bitterness from the rapini as well.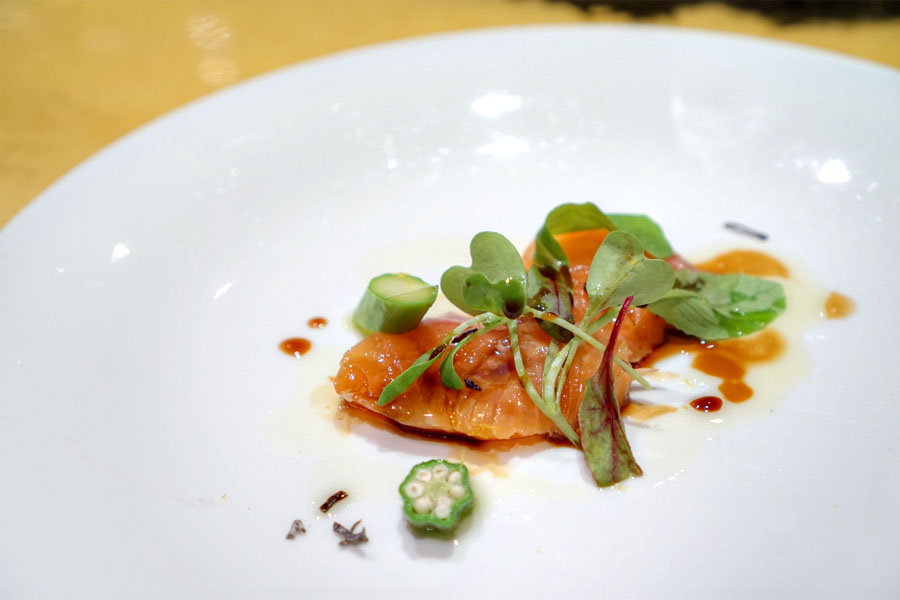 4: Sakura Masu
Cherry trout from Aomori was highlighted by the potent, piquant flavors of smoked soy while the greenery provided the necessary lightness. Another smart combination.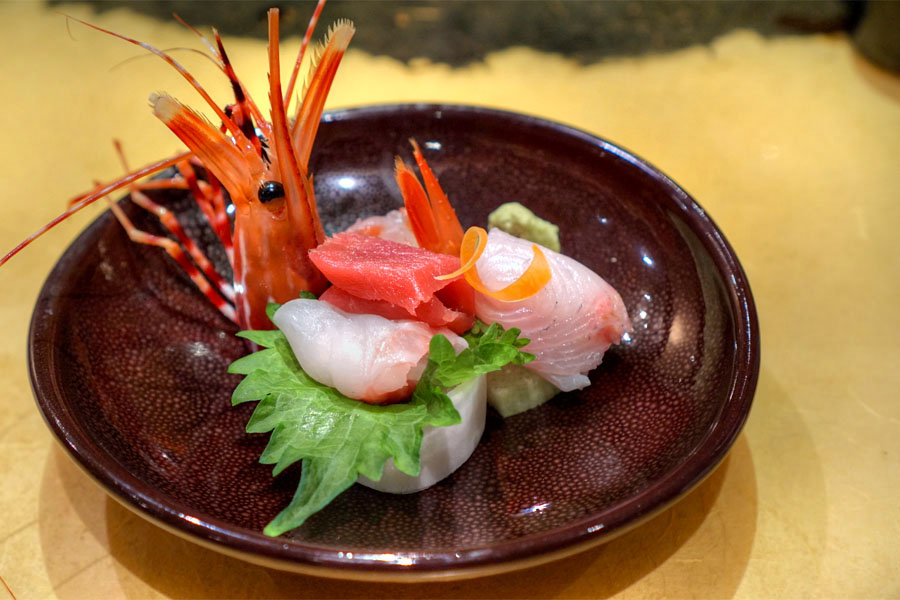 5: Moriawase Sashimi
Our sashimi course comprised four items: a soft, silky, subtle Japanese
madai
; delightfully snappy
amaebi
; firm, meaty, sticky cuts of
kanpachi
; and a supple, elegant presentation of
kuromaguro
.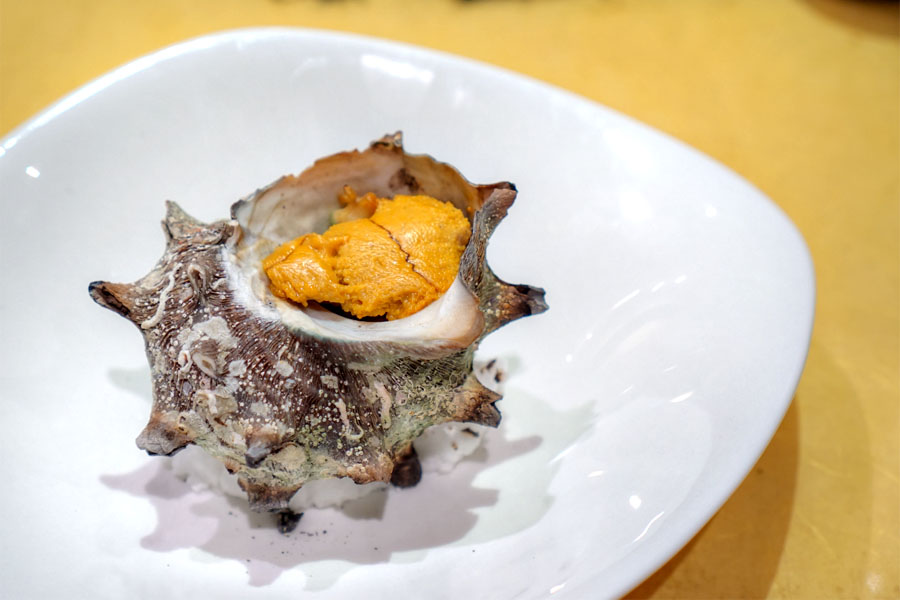 6: Sazae Uni Yaki
Top shell gave up a firm, satisfying chew and a rich brine, cut by a pervasive bitterness from the sea snail's innards. I loved the complementary earthiness from the mushrooms as well here, while the sea urchin provided a touch of luxury to the course.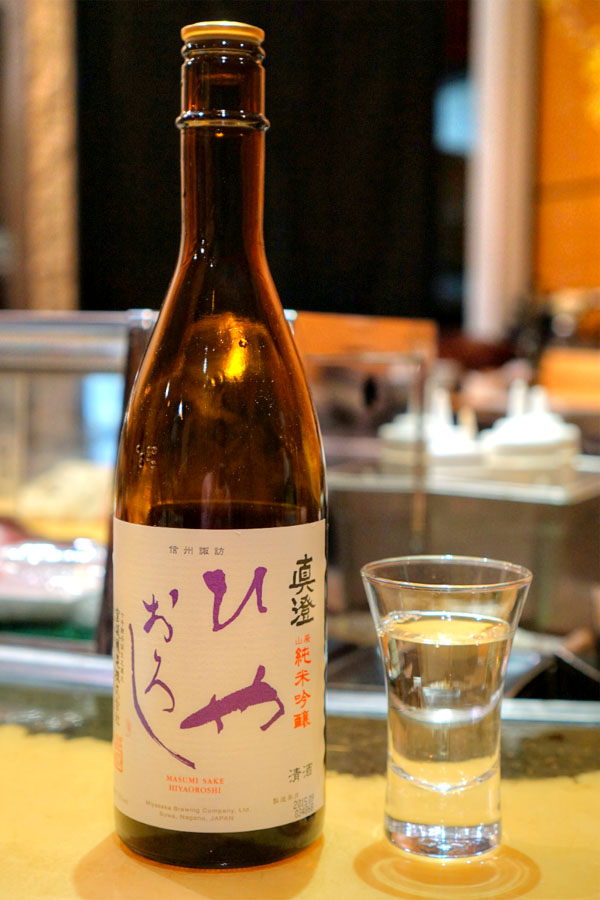 Our second sake came from the same brewery as the first, the
"Hiyaoroshi" Masumi Yamahai Junmai Ginjo [$69]
. It was definitely less brash than its brethren, displaying a lightly floral aroma and a taste that was rounder, softer, with a persistent sweetness to it.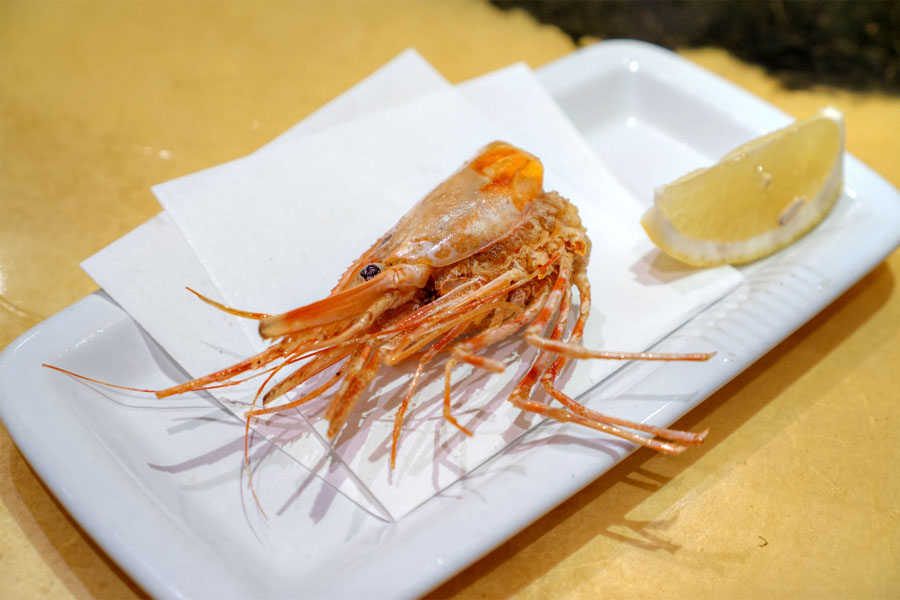 7: Age Ebi No Atama
The shrimp head from our sashimi platter above could be had two ways, the first of which was your classic deep-fried preparation. Think delightfully crunchy and oceany, great with a squirt of lemon. Just be careful not to cut your gums.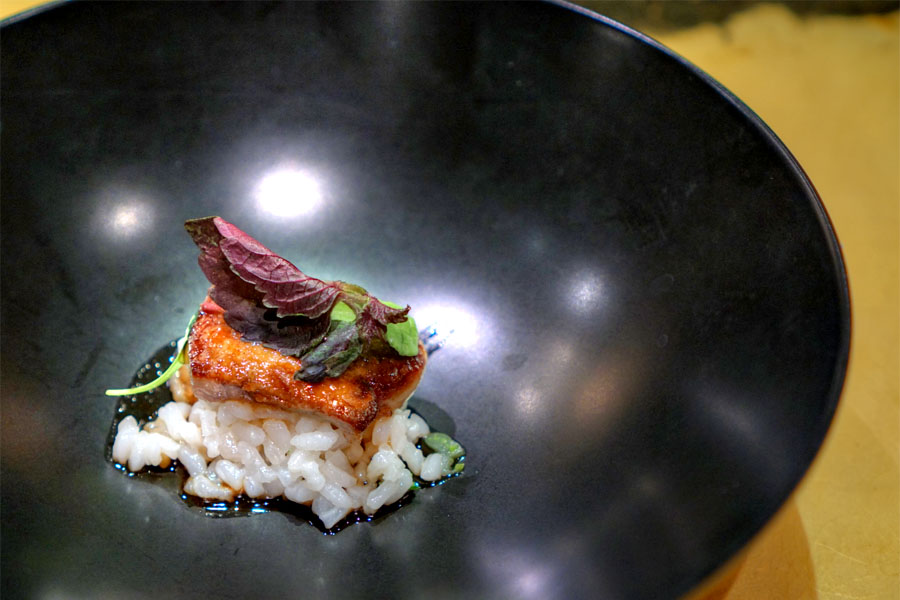 8: Foie Gras
The foie was a standout, served seared and with a fantastic sugary caramelization going on. Its richness paired perfectly with the subdued, slightly bitter nature of the daikon risotto, making for one of the tastiest livers I've had in a while.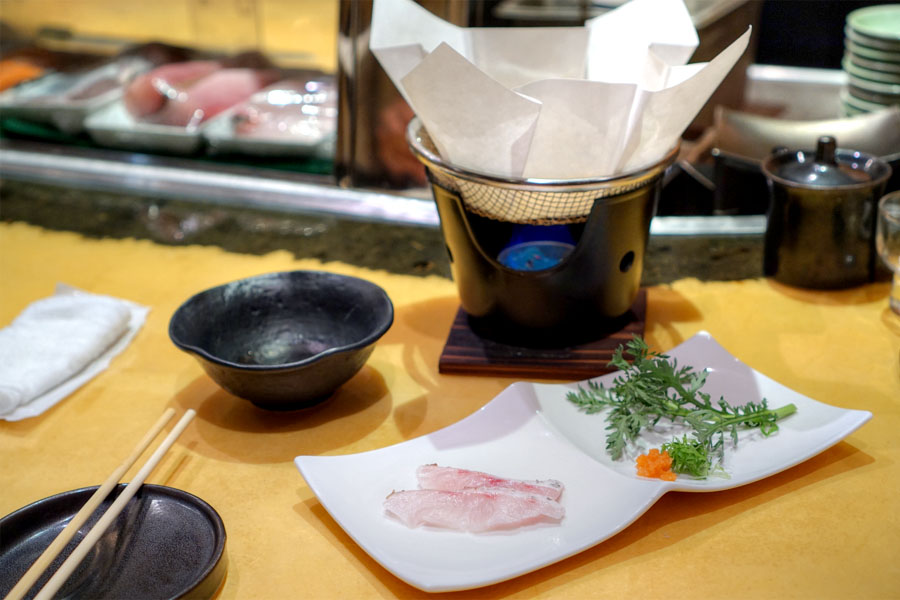 9: Akamutsu Shabu Shabu
A shabu-shabu of Kyushu-sourced
nodoguro
(rosy sea bass) was next. The fatty fish did an admirable job soaking up all the flavors of the broth, while scallions provided a touch of astringency to the mix. Some great temperature contrasts here too.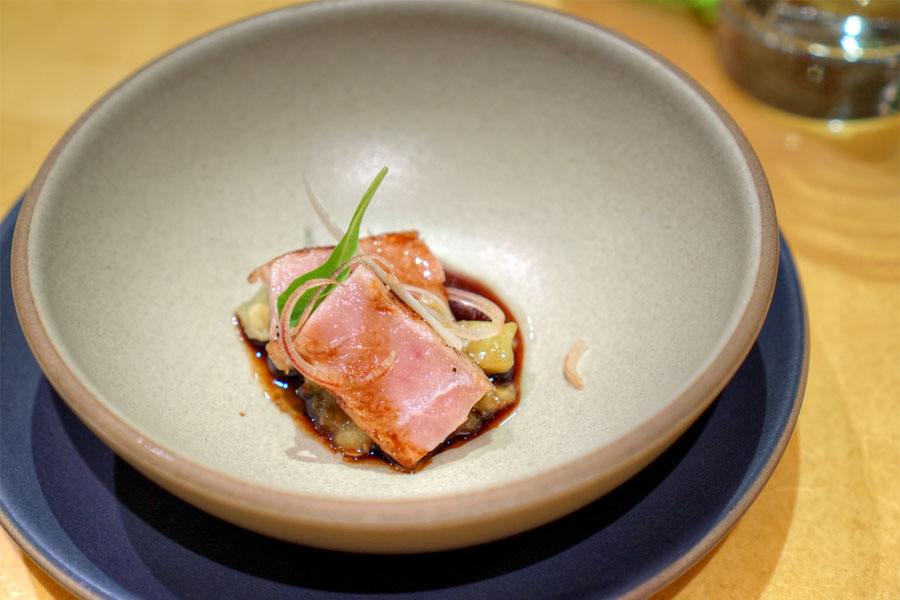 10: Aburi Toro
Seared toro with aged balsamic, Parmesan, eggplant, and
myoga
was a favorite as well. I loved the super fatty, luscious nature of the fish, and how that matched the zippiness of the Japanese ginger and smoky smack of
nasu
. Yum.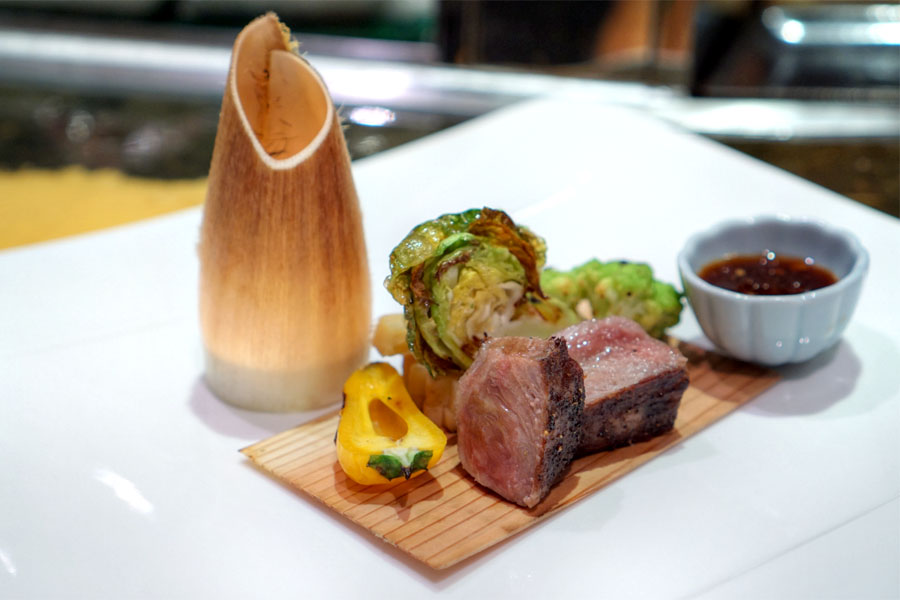 11: Miyazaki Wagyu
Real deal Japanese
gyu
was as delicious as you'd imagine, an explosion of fat, char, and unabashed beefiness cut by the brightness and bitterness of Brussels and bamboo. Though it wasn't strictly necessary, I was a big fan of the super-robust, in-your-face sauce on the side too.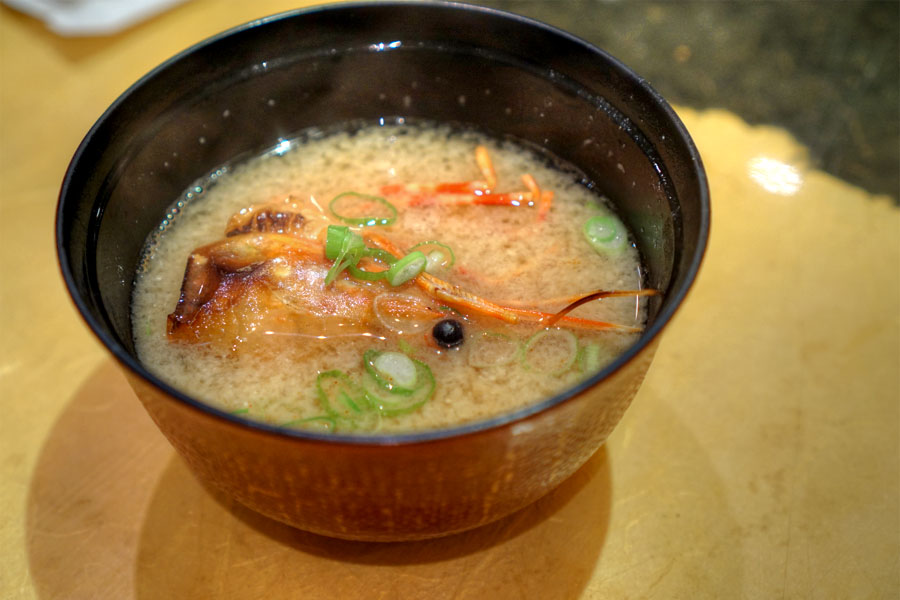 12: Ebi No Misoshiru
As referenced above, the second available preparation of the sweet shrimp heads was in a miso soup, a particularly flavorful version really imbued with the ocean-y character of the
amaebi
.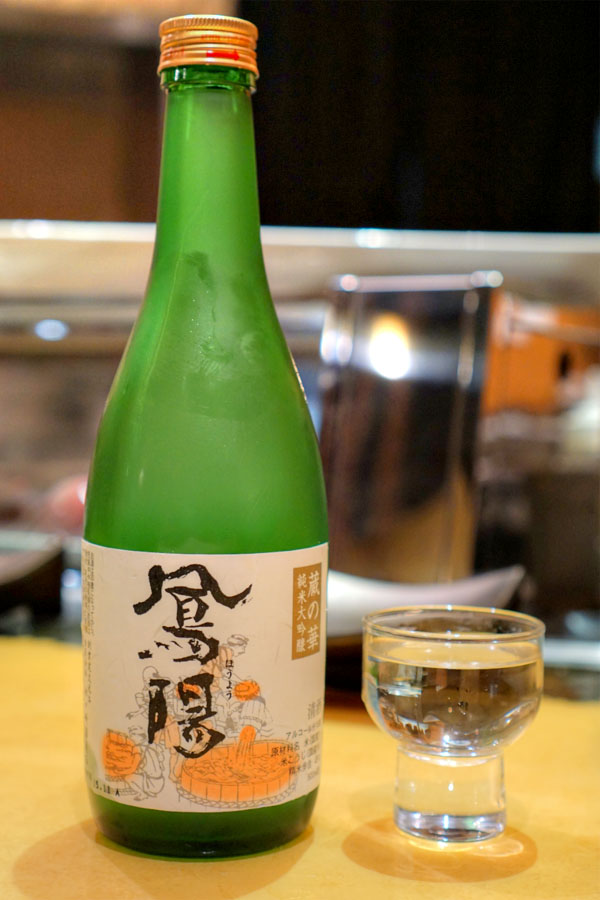 Our third and final sake was the
Hoyo Kura no Hana Junmai Daiginjo [$58]
from Miyagi's Uchigasaki Brewing. Not much bouquet on this one, but the taste went surprisingly sharp, acidic, with a counterbalancing sweet, floral quality to it.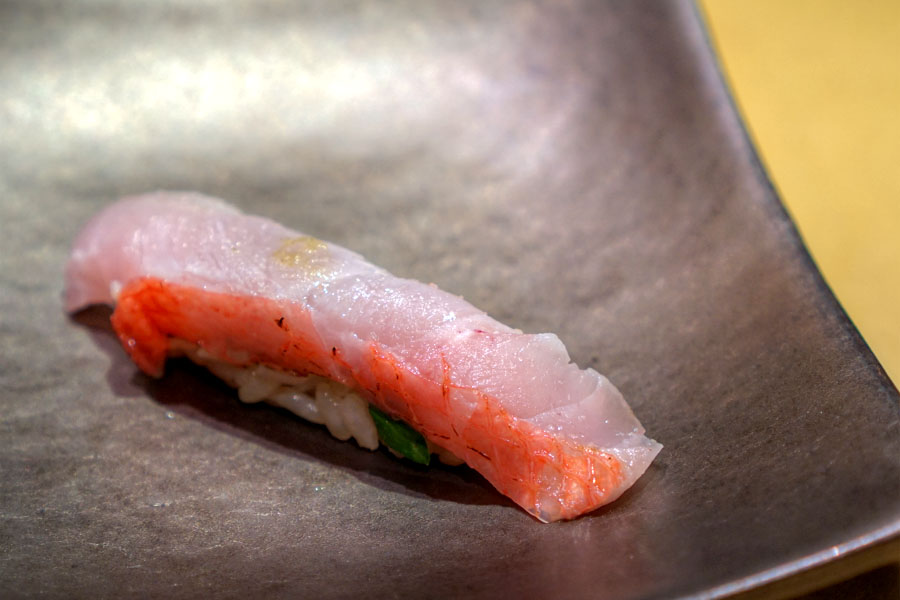 13: Kinme Dai
As this point we delved into our dozen or so pieces of
nigiri
. The golden eye snapper was as good as ever, an especially toothsome fish with a great kick from the
yuzukosho
and a lingering, minty finish.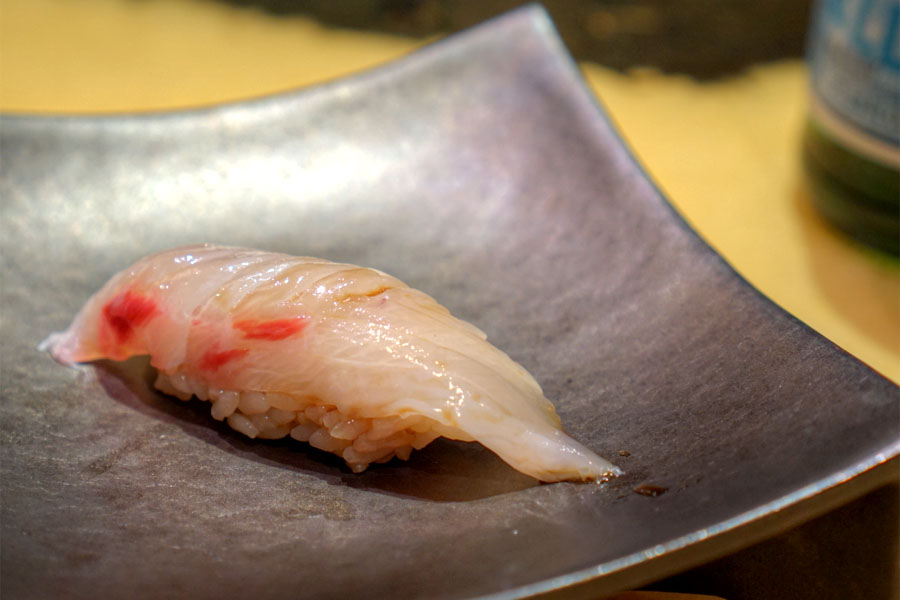 14: Shima Aji
Striped jack from Kyushu was slick and supple, with a flavor profile that was duly complemented by a brush of soy.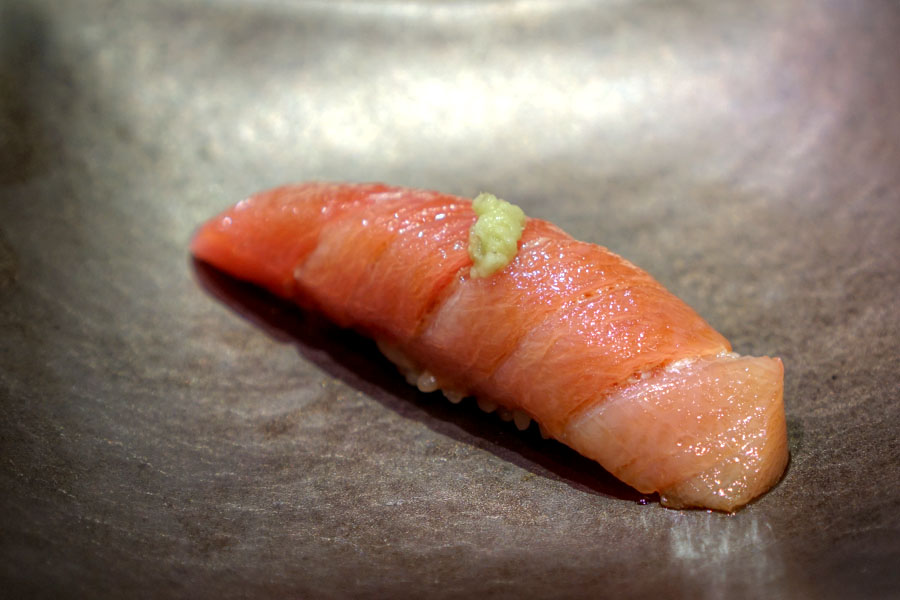 15: Chutoro
Medium toro was super melty, nearly disintegrating into fat and brine in your mouth, but with a hit of wasabi heat to keep things in check.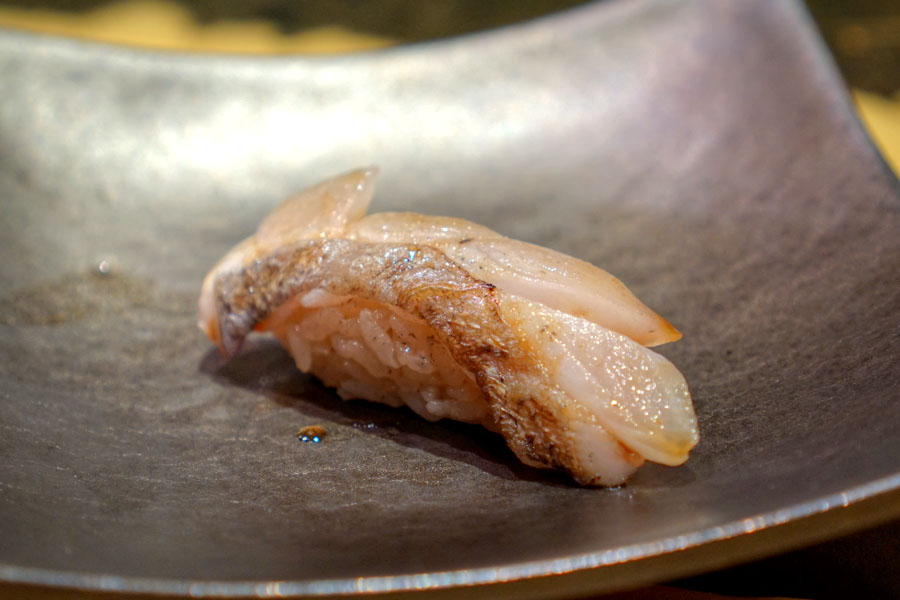 16: Tachiuo
Beltfish was a relatively uncommon sight, but a welcomed one with its delectable marriage of smoke, char, and fat. A favorite of mine.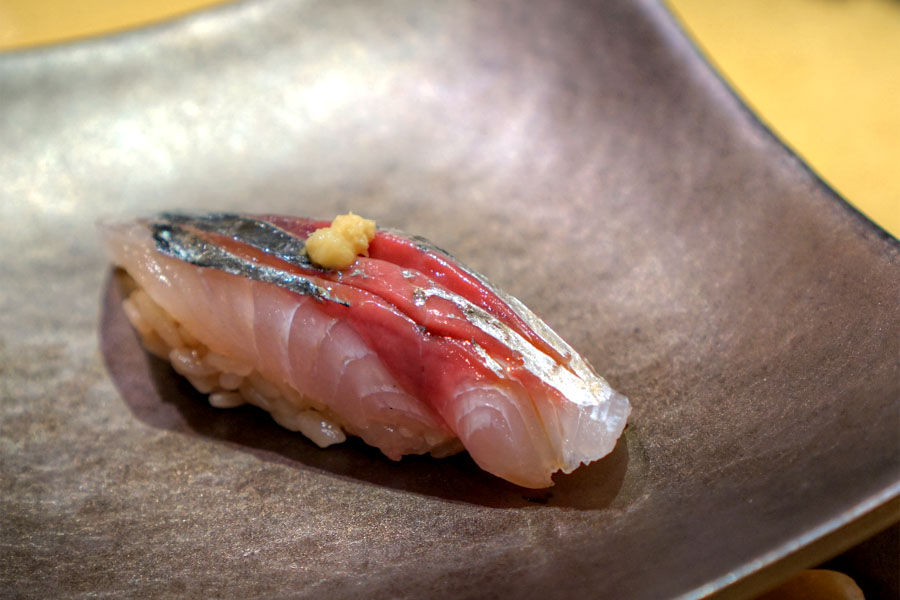 17: Ten Nen Aji
Wild Spanish mackerel came out firm, fishy, with a moderating touch of ginger.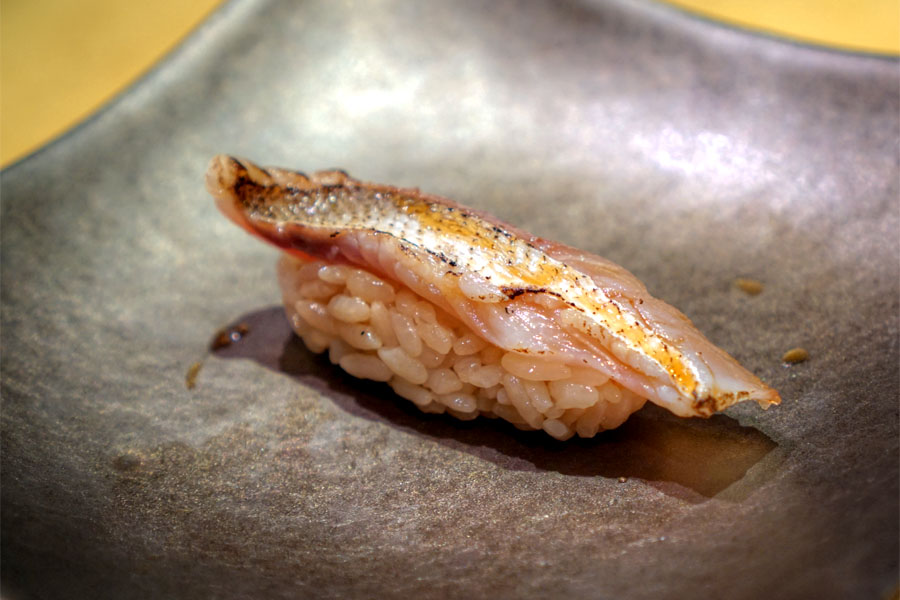 18: Kamasu
Barracuda had a nice chew to it, as well as a smoky, saline quality finished by the spiciness of wasabi.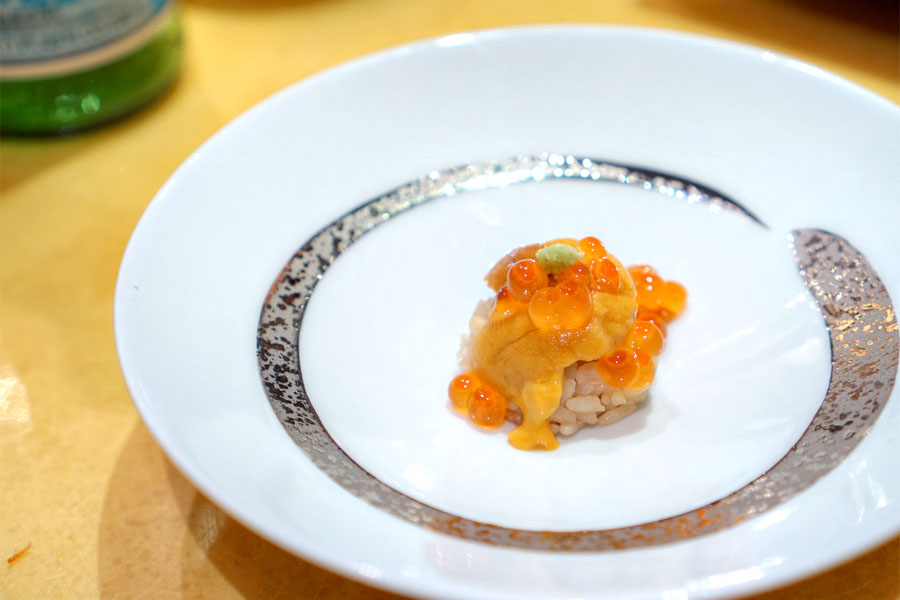 19: Bafun Uni
Japanese sea urchin from Hokkaido conveyed a great combination of brine and creamy sweetness, augmented by salty pops of
ikura
. A sort of one-bite
uni don
.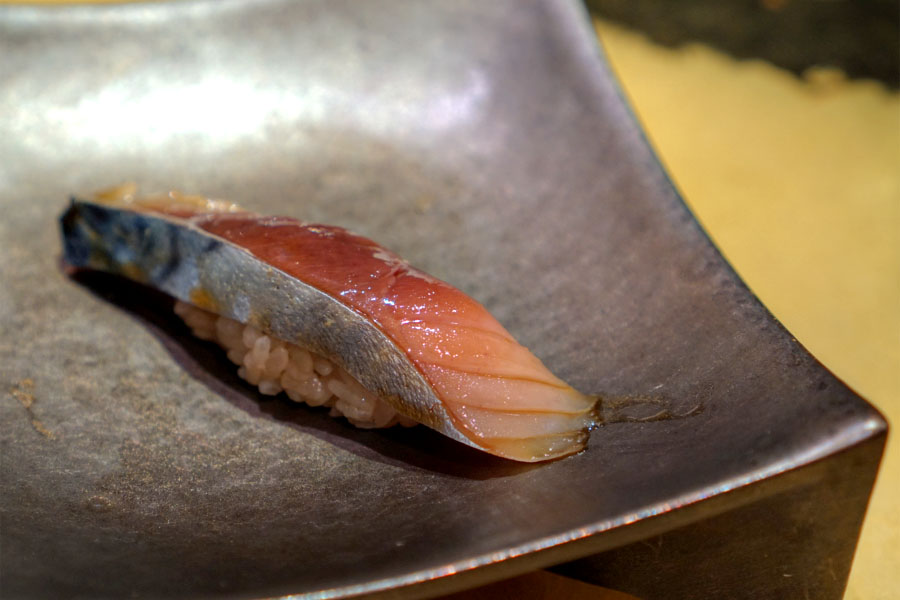 20: Shime Saba
Marinated with salt and rice vinegar, mackerel from Japan showed off a focused fishiness, one beautifully offset by the application of soy. Very nice.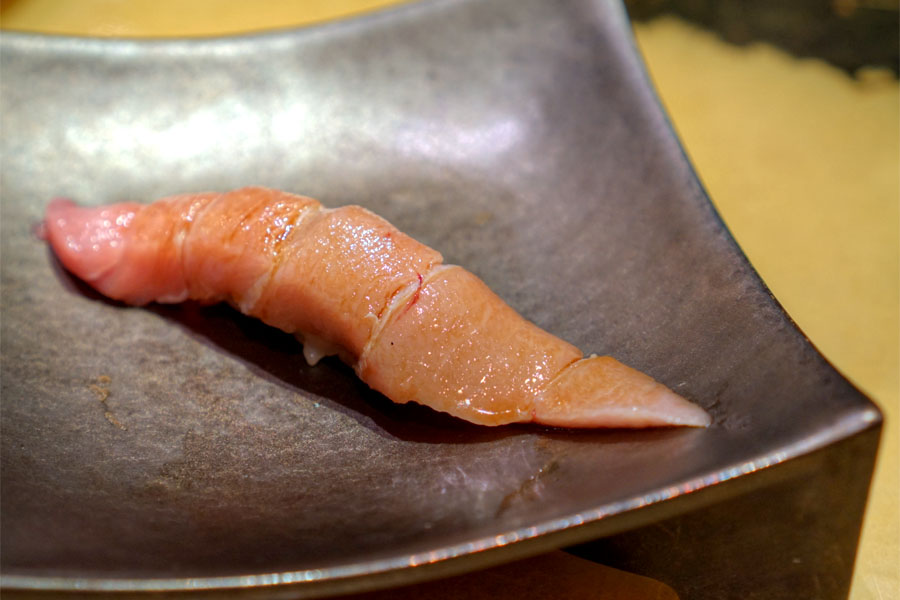 21: Toro
A slice of toro somewhere in between
chu-
and
o-
, this was even fattier, more luxurious than the cut above.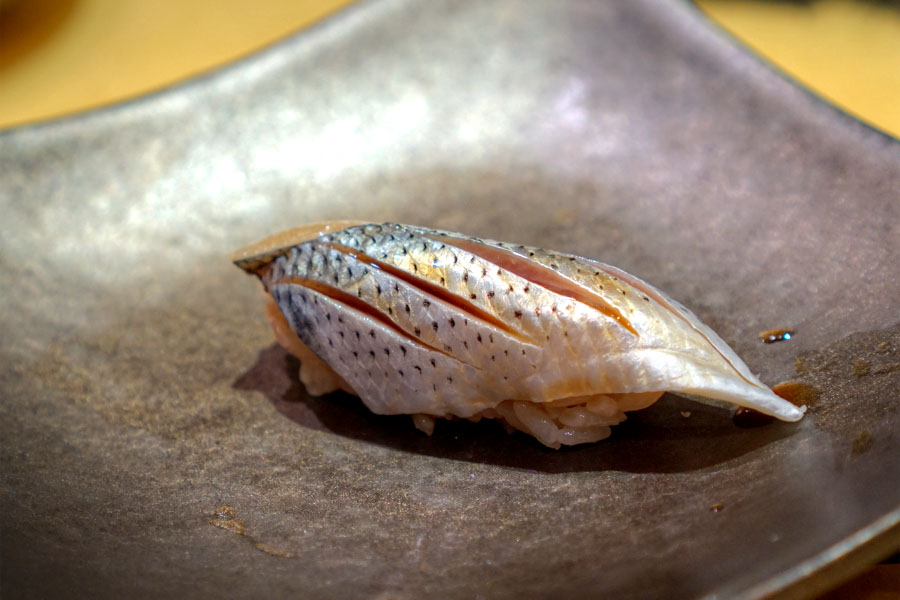 22: Kohada
I always look forward to the gizzard shad, and Yokoyama's did not disappoint, with its brazenly salty character well-balanced by the rice.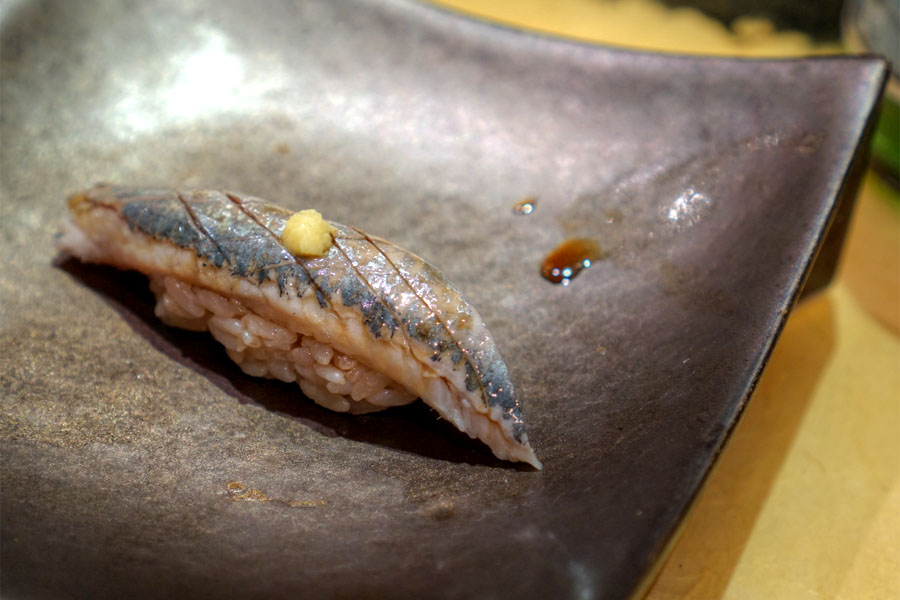 23: Iwashi
The sardine, meanwhile, was even fishier than the
kohada
, but never overwhelming, and still utterly balanced. Superb.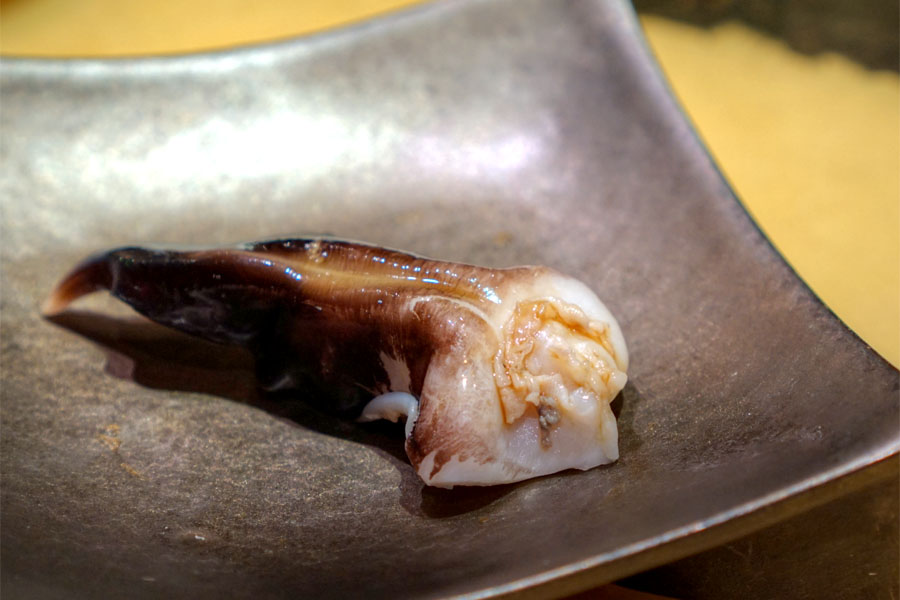 24: Tori Gai
Cockle clam was a treat, all spongy and sweet, with a whisper of 'sabi and the long-lasting essence of the sea.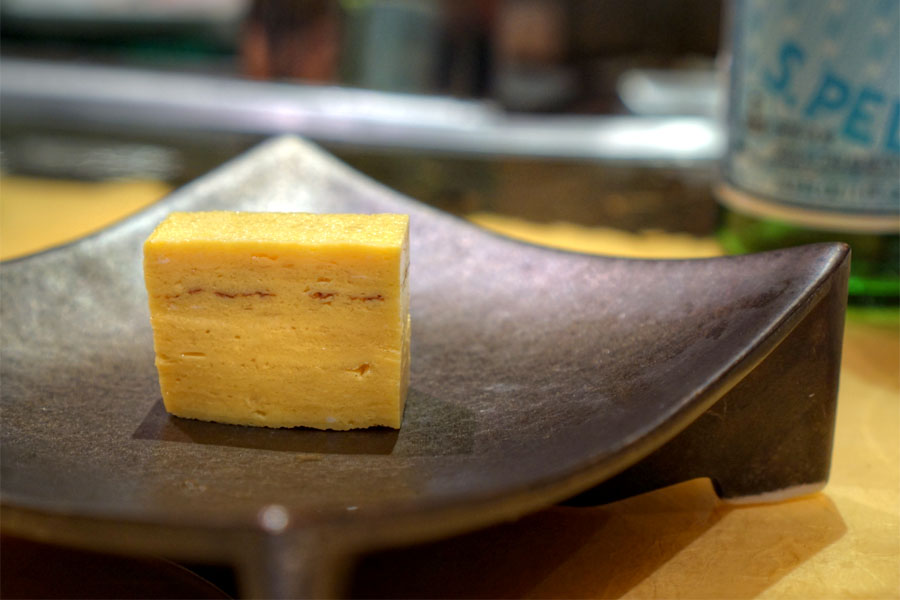 25: Tamagoyaki
Our usual closer of egg was a hit, a sweet, cold, dense preparation with a fantastic bit of umami coming through on the mid-palate.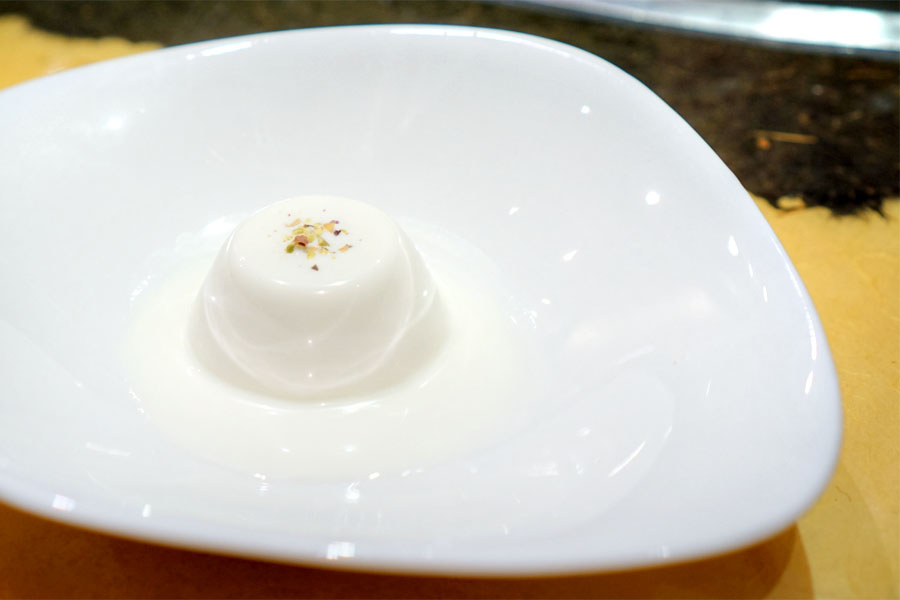 26: Almond Panna Cotta
Dessert was a seemingly innocuous panna cotta. Although it didn't look like much, it delivered big time in the flavor department, with a wonderfully nutty sweetness commingled with a tangy lactic element. A hugely pleasant surprise.
I think we were all anticipating a pretty spectacular meal at Hana Re, and Atsushi-san didn't let us down with his top-notch ingredients, unflappable technique, and sometimes unexpected preparations. I was a fan of the intimacy of the place as well, not to mention the gracious service, all of which made for one of the best sushi experiences I've had in a while. Though it may be too soon to tell, we could very well have a new king of the hill Japanese restaurant for the OC. This is definitely one to put on your short list.