Sushi Noguchi (Yorba Linda, CA)
Sushi Noguchi Restaurant
18507 Yorba Linda Blvd, Yorba Linda, CA 92886
714.777.6789
www.sushinoguchi.com
Sun 05/15/2016, 07:50p-10:00p

Orange County is home to a number of fine sushi spots, and one that I'd been hearing about for some time is Sushi Noguchi. The place opened in May 2011, and is owned by Hiroshi Noguchi and his wife Junko. Early on, the Chef actually worked with Katsuya Uechi of Katsu-Ya fame, and later opened his own place, Higo Sushi in La Habra, in 1996. The success of Higo allowed the couple to debut the more upscale Sushi Noguchi five years ago, and they ended up selling Higo in early 2012 (it's now a Peruvian-Japanese fusion joint).

The somewhat minimalist interior was penned by
Poon Design
, and was actually nominated for an American Institute of Architects Restaurant Design Award in 2012.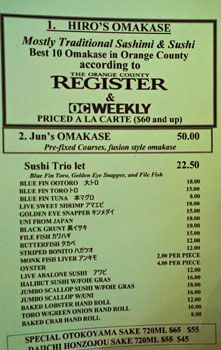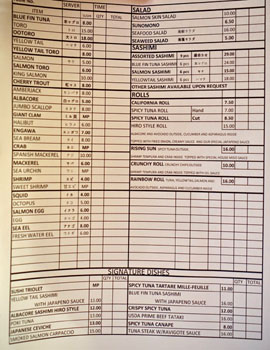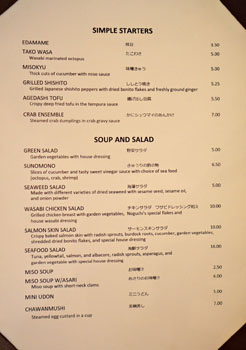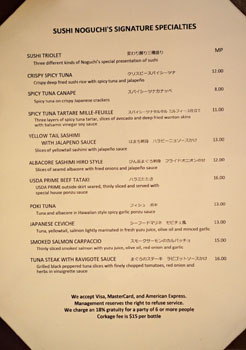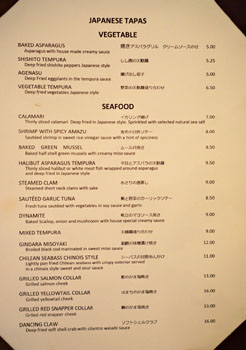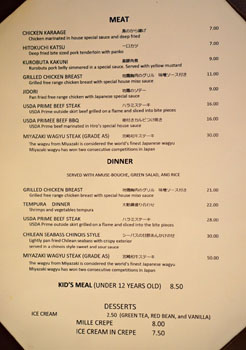 Noguchi's menu is pretty expansive. You have your usual sushi selections and more composed plates, but you'll want to focus your attention on the specials menu, and of course the two omakase options. We went with Hiro's of course, which was $127.50pp tonight. Drink-wise, there's sake of course, along with a few beers and wines. Corkage was $15 a bottle. Click for larger versions.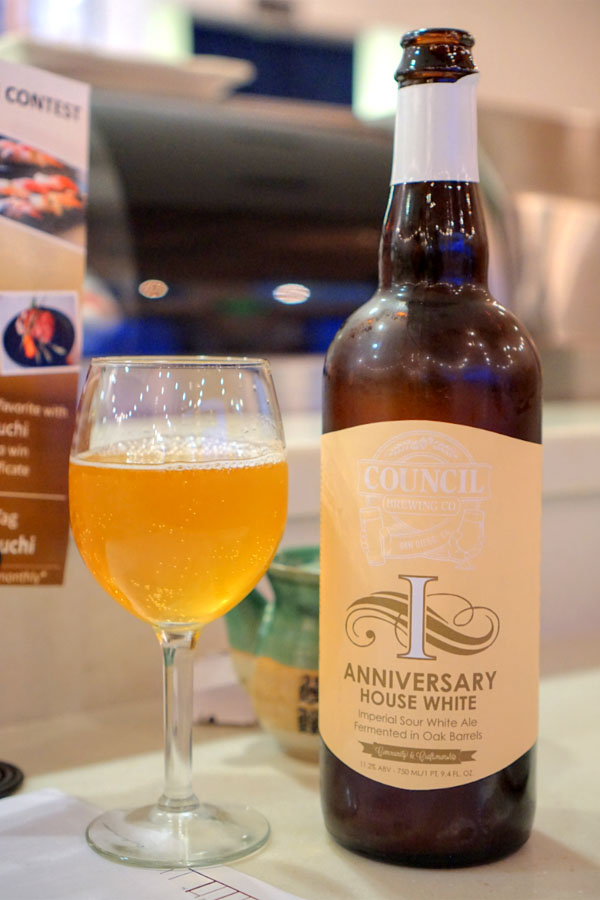 We had a couple of lighter beers to pair with the meal. First was the
2015 Council Anniversary House White
, an oak-fermented sour ale with Brett, Lacto, and Pedio, along with Muscat grapes. It was delish: tart and sweet and funky on the nose, with a taste that went decidedly barnyard-y, oaky, and deeply vinous (white Burgundy?). Nice tropical and stone fruit flavors as the beer warmed.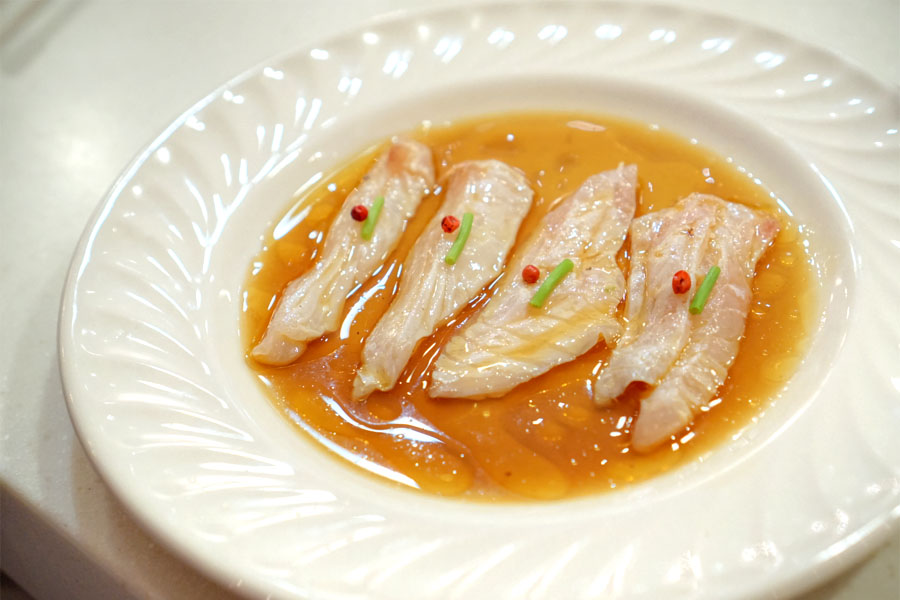 1: Hirame Sashimi
A "new style" sashimi of whitefish marked the start of the omakase. The fish showed off a pleasurable chew and snap, and had a mild flavor profile that linked up well with the savory-tangy, ponzu-like sauce, with just a touch of brininess on the finish. Nice pops of spice from the peppercorns, too.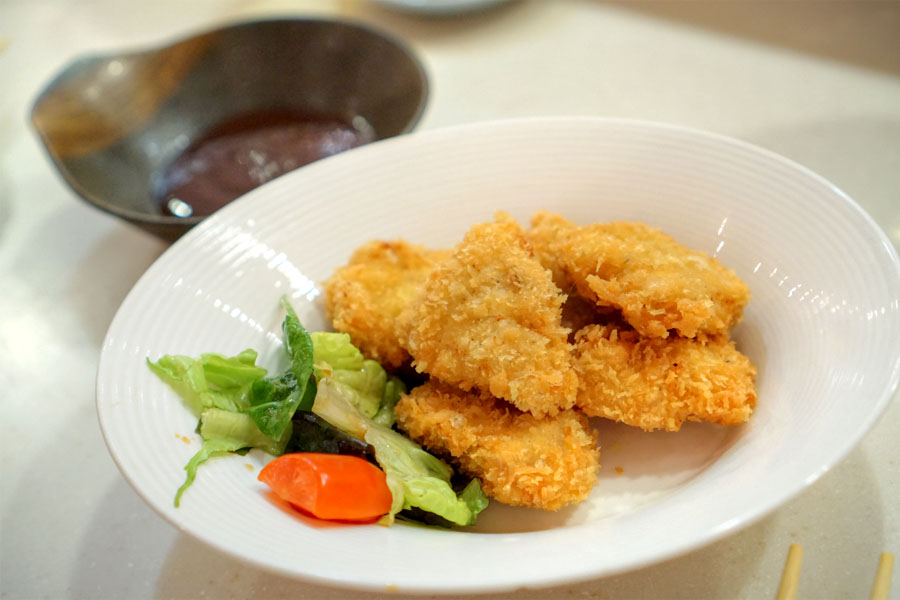 Hitokuchi Katsu [$7.00]
| Deep fried bite sized pork tenderloin with panko
We ended up ordering one item off the menu, these bite-sized pork nuggets. Think meaty and juicy, with a great crunch from the panko. I could take down a lot of these guys.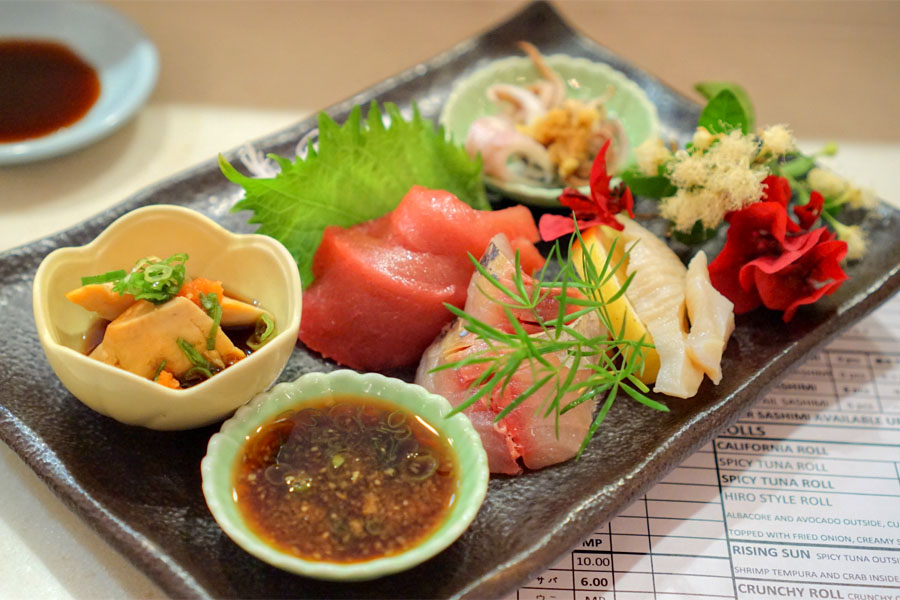 2: Sashimi Moriawase
An impressive-looking sashimi course comprised five items:
Ankimo: Creamy and lush, with a refined, oceany, livery quality perfected balanced by scallion and ponzu.
Ika: Soft slices of squid, offset by zesty hits of ginger.
Hon Maguro: Classic bluefin; really opened up with a touch of wasabi and soy.
Aji: "Spanish mackerel," with a relatively restrained brine to it and a welcomed counterpoint from the included dipping sauce.
Mirugai: Firm-yet-yielding shards of geoduck clam; pleasantly saline on their own, but even better with a squirt of lemon.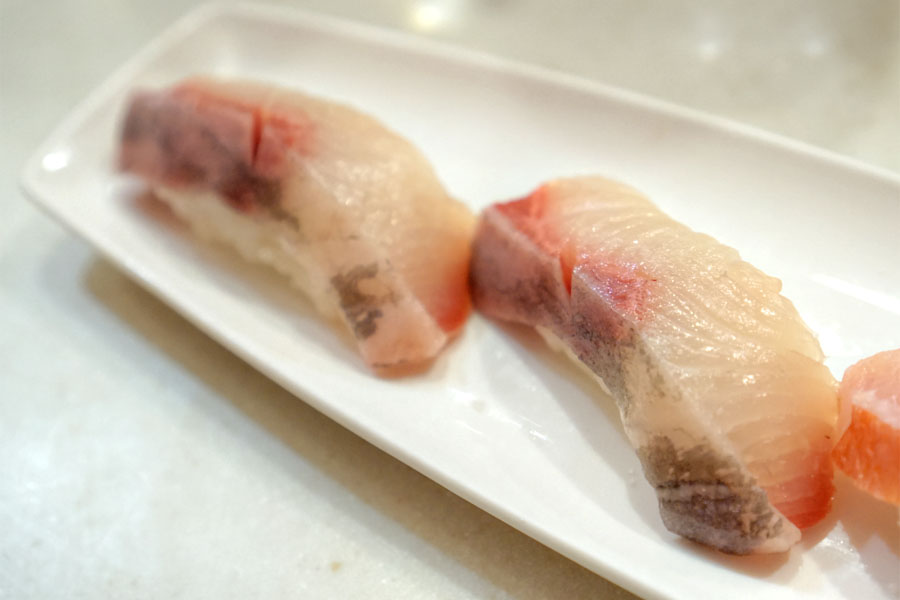 3: Kanpachi
A sticky, mild presentation of amberjack that sparkled with a dash of soy.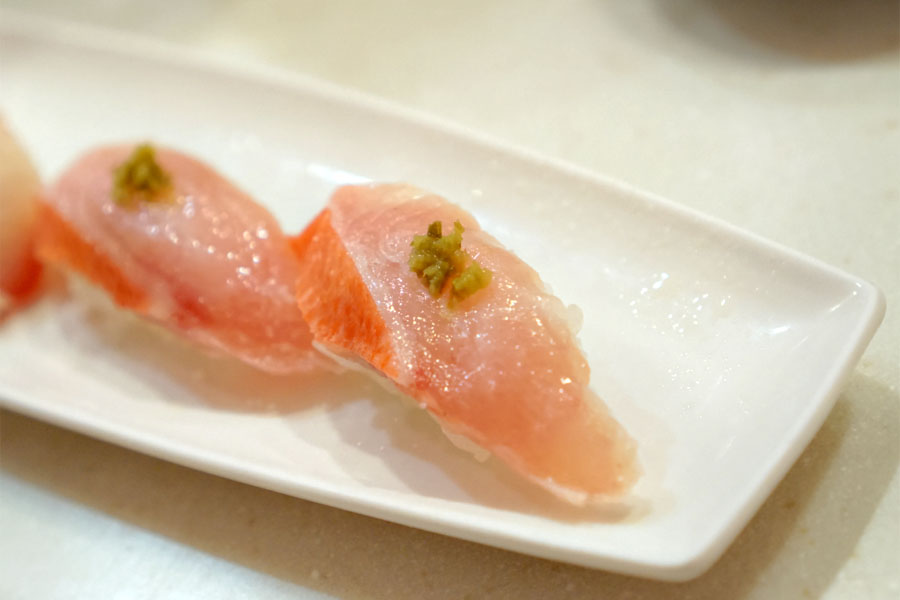 4: Kinmedai
The splendid alfonsino was a favorite for sure, a well-textured fish that was beautifully accented by the salty-spicy kick of
yuzukosho
. Definitely give this a shot if it's on the menu.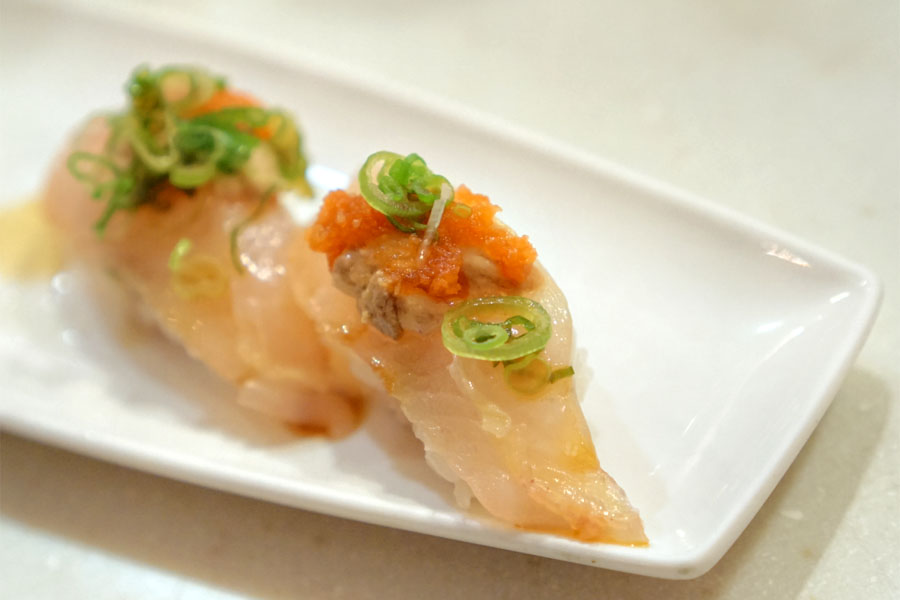 5: Kawahagi
Filefish was a rare treat with its gratifying bite and tangy accents of
negi
and
momiji oroshi
. Great additional bit of luxuriousness from a topping of what I believe was liver. Another highlight.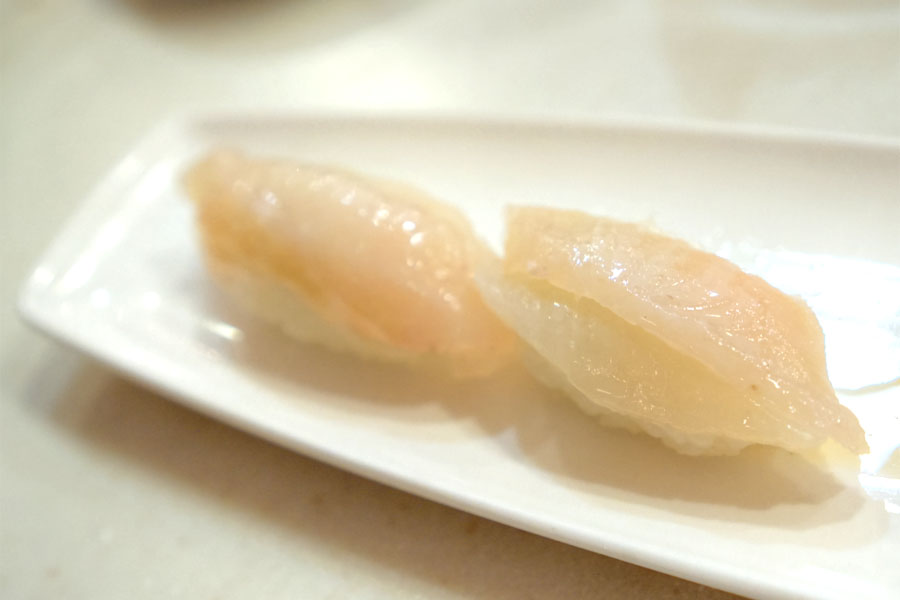 6: Hirame
Flounder had a nice chew to it, as well as a great salty quality to go along with the requisite soy sauce.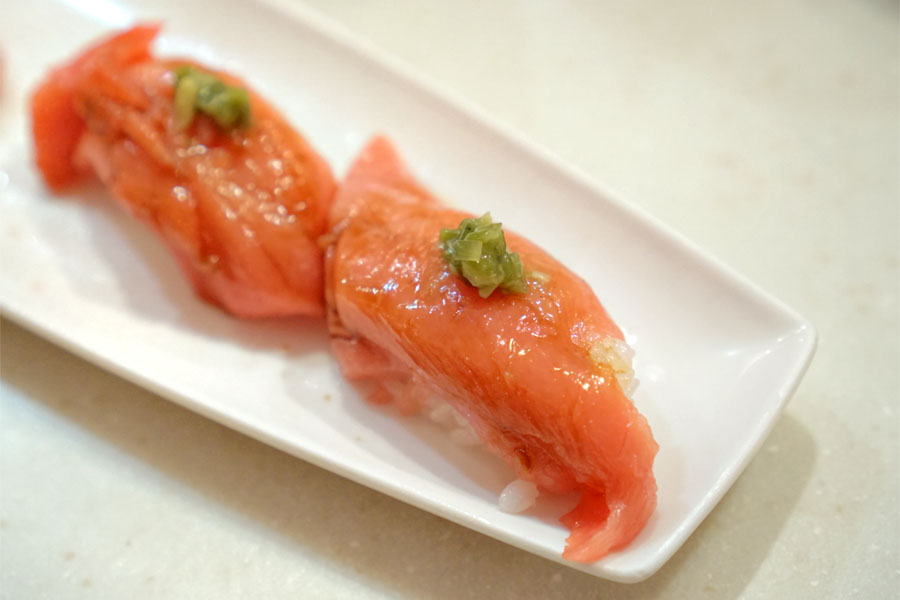 7: Ootoro
Extra fatty tuna was almost buttery, with a melt-in-your-mouth consistency and richness that was smartly matched by the spicy wasabi up top while the
shari
tempered all the strong flavors going on.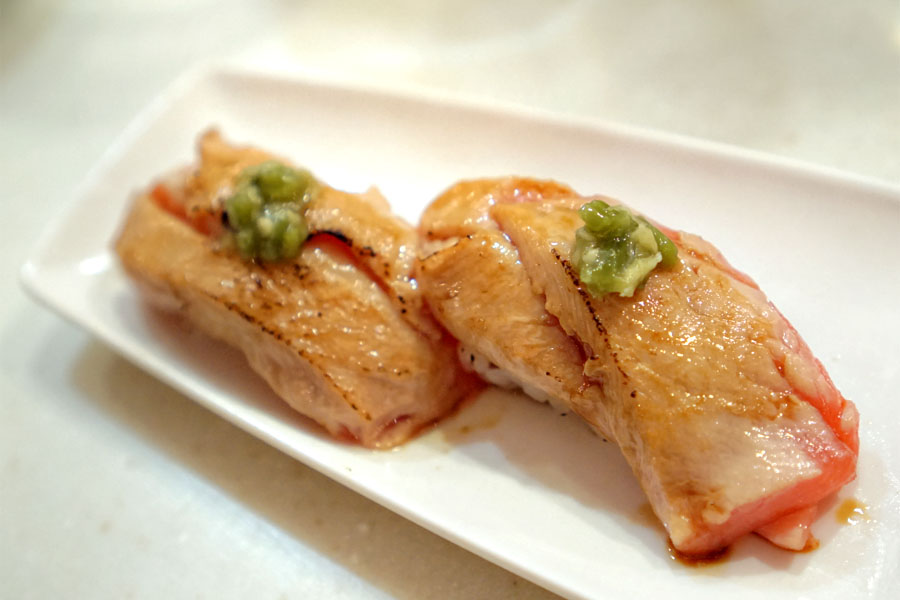 8: Tataki Toro
Seared toro was even more satisfying thanks to its char-fueled savor and temperature contrasts. A stunner.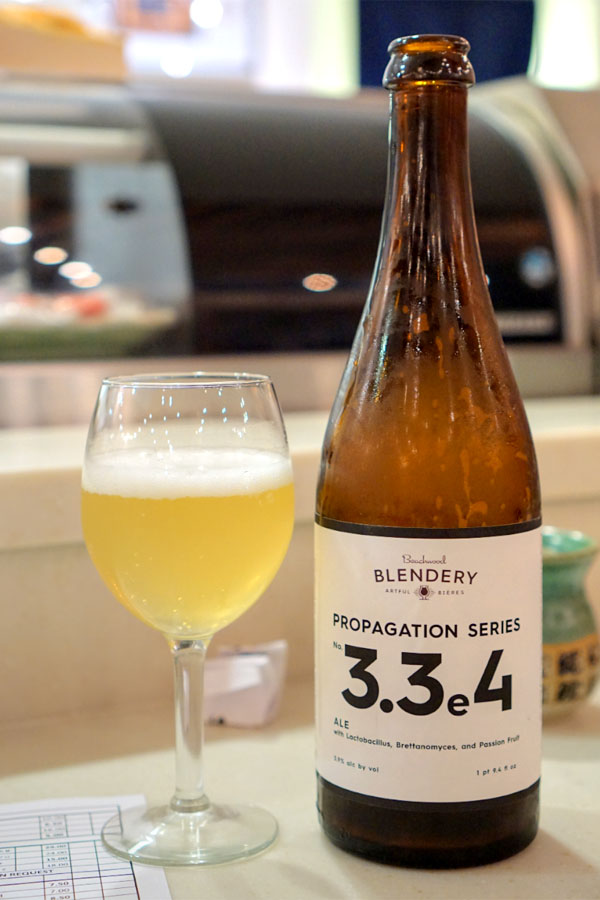 The second bottle was the new
2016 Beachwood Blendery Propagation Series: No. 3.3e4
, a Berliner-style sour ale with
Lactobacillus
,
Brettanomyces
, and passion fruit. It was a winner as well. Strong passion fruit commingled with barnyard on the nose. The palate displayed bright, tart flavors with a tropical sweetness throughout, but with the finish giving up a drier, grainier character.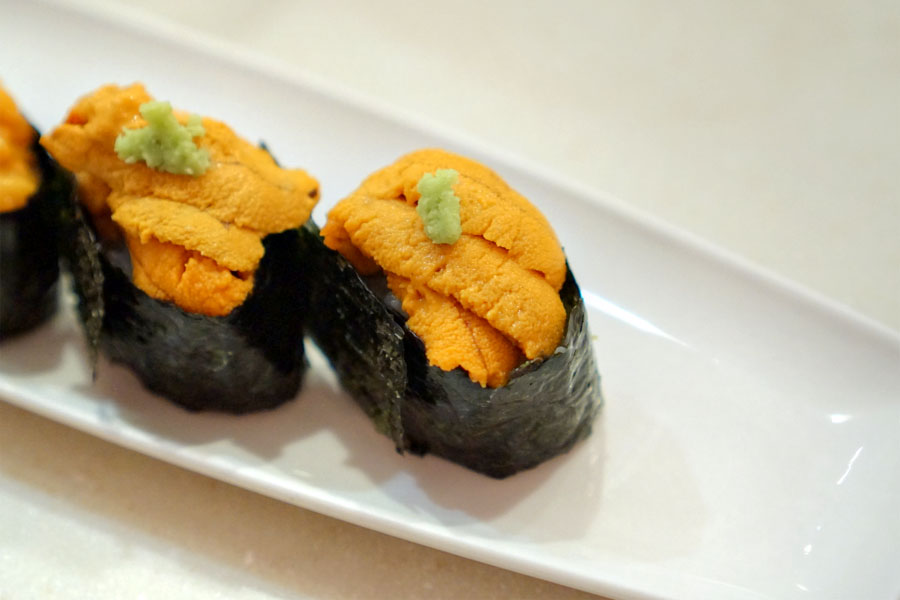 9: Santa Barbara Uni
Hiro-san then presented two types of uni: Santa Barbara and Hokkaido (a sort of back-to-back comparison that I first encountered over at
Mori
). The local varietal showed off its signature creaminess, with a sweet-saline taste balanced by the nori wrapper and rice.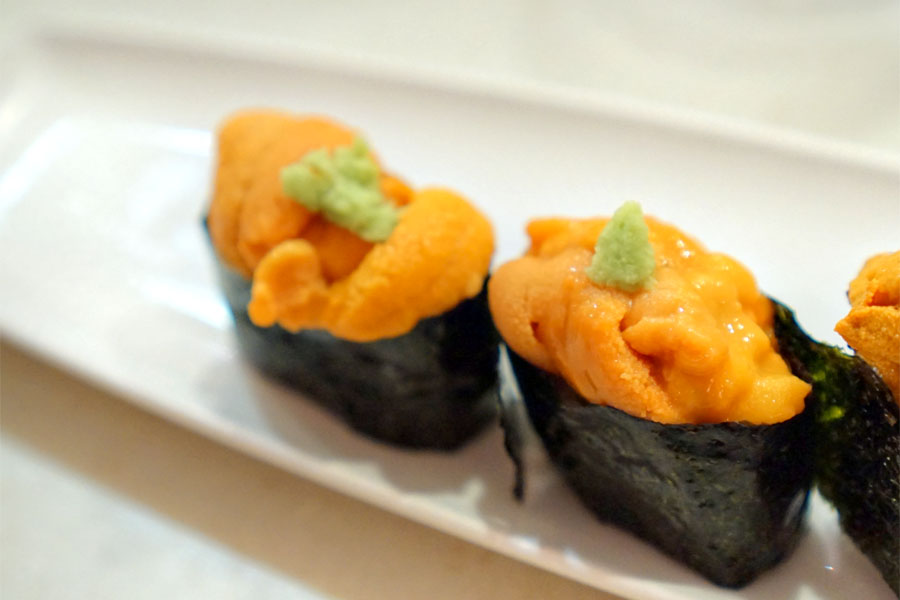 10: Hokkaido Uni
Not surprisingly, the Japanese urchin was more austere, with a less pronounced sweetness and more sea water flavors. Great to see the contrast here.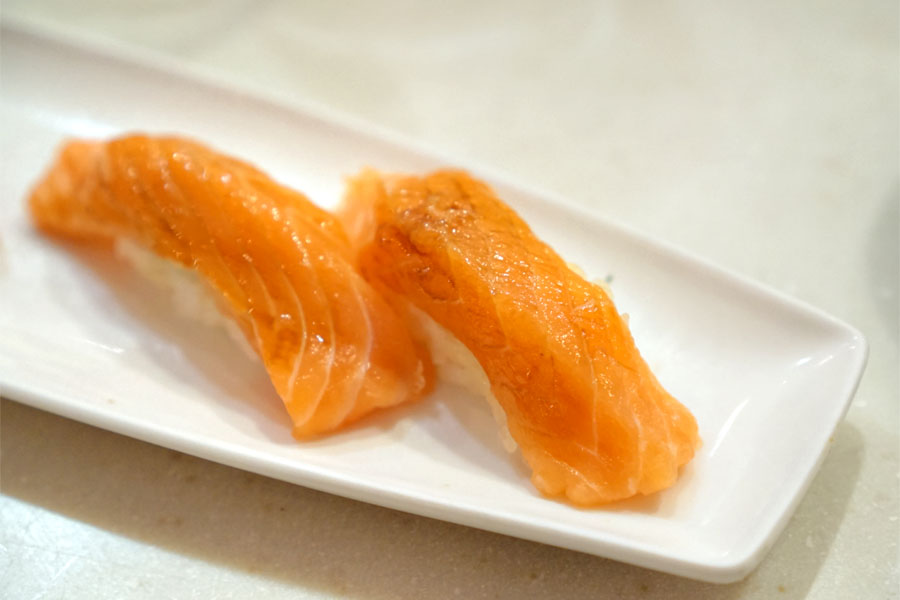 11: Sake
King salmon arrived soft and supple, with a mild, subtly fatty taste to it.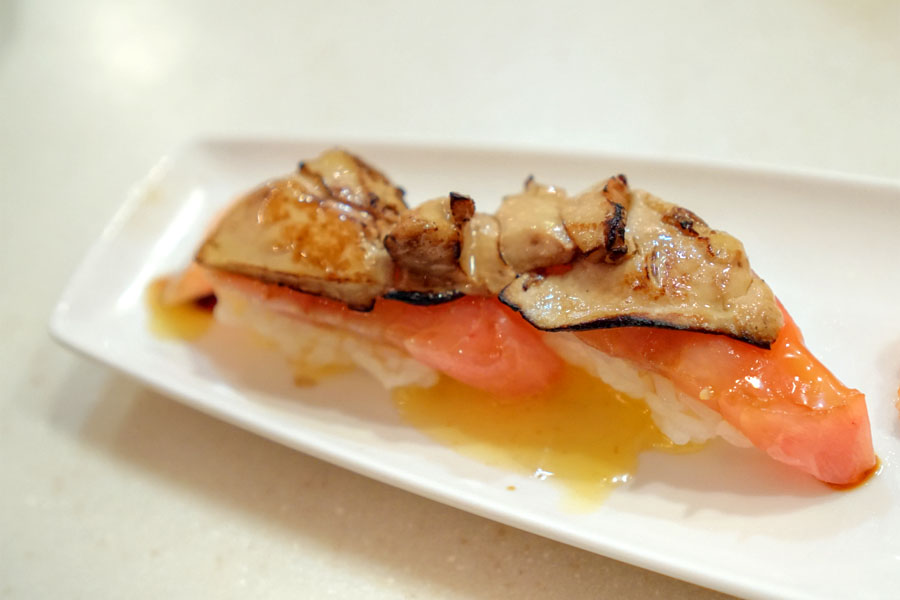 12: Tai
Clean cuts of sea bream were augmented by the application of foie gras, the liver imparting a wonderfully smoky, fatty, earthy quality to the fish. Yum.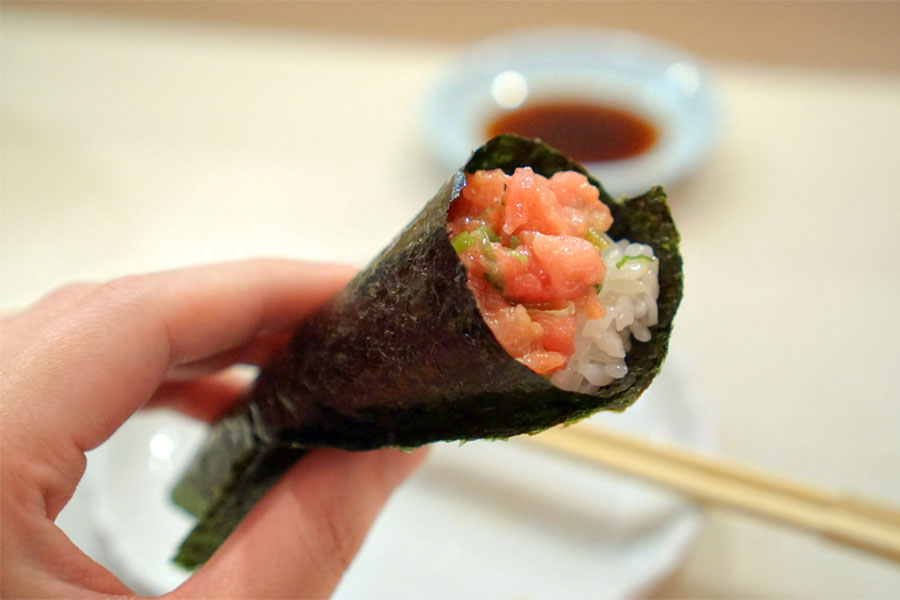 13: Negitoro
The traditional tuna-scallion hand roll was one of the better ones I've had, with the rich, fatty fish meshing flawlessly with zesty green onion and rice while the seaweed wrapper worked as an enveloping counterbalance.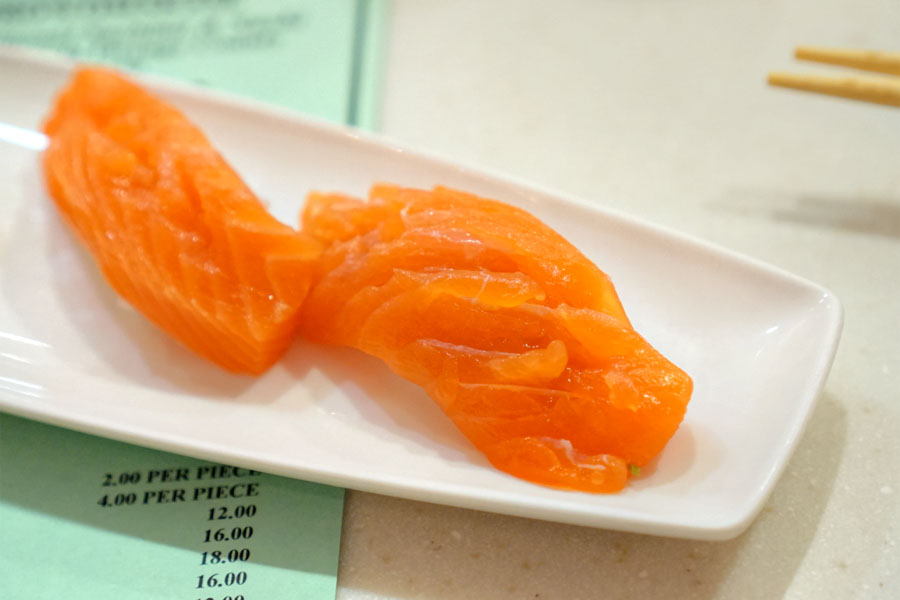 14: Sakura Masu
I found the cherry trout less fatty than the salmon above, with a relatively subdued flavor profile that was definitely kicked up a notch by some soy.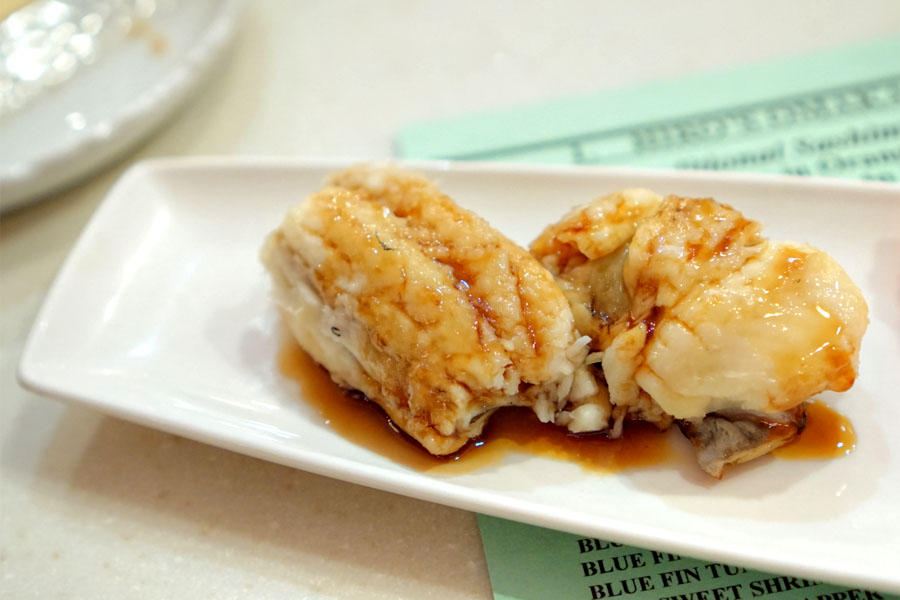 15: Anago
Sea eel came out rich and homey, with a bevy of sweet 'n' savory flavors.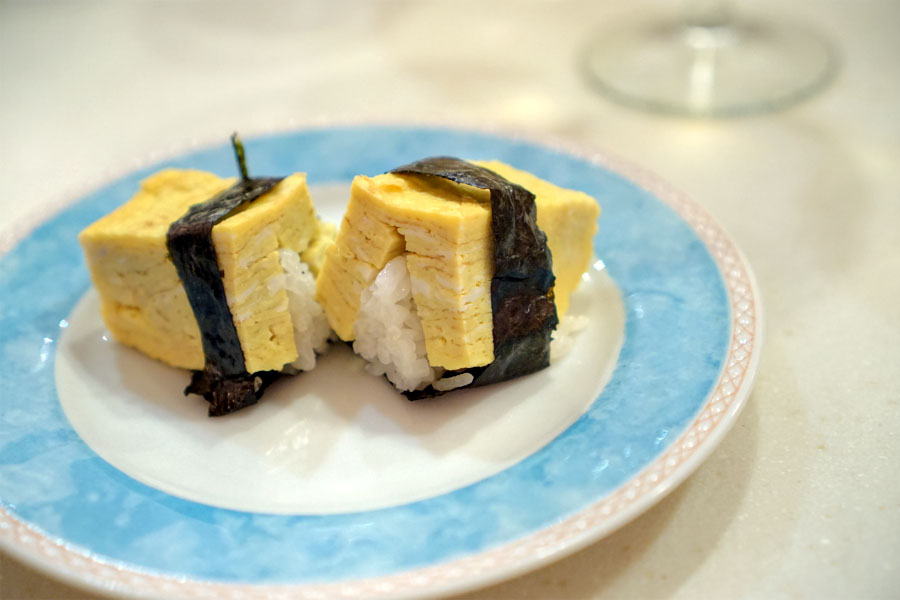 16: Tamago
The traditional closer of egg was cool and dense, with a well-placed umami contrast from the seaweed.
We ended up having a good time with Hiro-san. The food was very solid overall, and service was gracious as well, making for yet another sushi option to consider for the OC. I will say that presentation-wise, I would've preferred that each
nigiri
be served separately on the
geta
, instead of together on a plate, though that's certainly not a dealbreaker.