Spring (Los Angeles, CA)
Spring Restaurant
257 S Spring St, Los Angeles, CA 90012
213.372.5189
springlosangeles.com
Tue 05/10/2016, 07:50p-10:50p

The last time we caught up with Tony Esnault, it was 2010 and he had just served us a top-notch meal at
Patina
. He ended up leaving his post there in June 2012 however, and subsequently partnered up with Yassmin Sarmadi, his then-girlfriend and now-wife. Esnault quickly took over the kitchen at
Church & State
, replacing Jeremy Berlin, who'd decamped to work at Gordon Ramsay Pub & Grill in Las Vegas. He and Sarmadi also started formulating plans for Spring, which was originally slated for a late 2013 debut.
Obviously, late 2013 never happened, and after a series of delays, Spring finally opened for lunch on February 8th, with dinner commencing a week later. The restaurant's a bit of a departure from C&S, and is meant to be a more South of France-inspired place, with lighter, more olive oil-driven fare. Joining Esnault are Chef de Cuisine Enrique Cuevas (
Alinea
, Picholine, Anthos) and Pastry Chef Gregory Baumgartner (E.P. & L.P.,
Bourbon Steak
, and opening
pâtissier
at
Rouge 24
), while General Manager duties are handled by Jennifer Courtney (Roland Passot's Left Bank Brasserie).

Spring resides on the ground floor of the 1898-vintage Douglas Lofts building, taking over spaces previously used by Origami Bistro & Bar, Ma Petit Bakery & Cafe, and Lot 44 Coffee. The design of the place was largely conceived by Sarmadi/Esnault, with help from David Wick (Church & State, 750ml) and interior designer Beth Thorne. The atrium dining room's one of the most charming I've encountered in a while, replete with pepper trees, fountain, and an impressive open kitchen off to one side. There's also a 30-seater private dining room backing the opposite edge of the room, as well as a lounge area that I somehow managed to completely miss.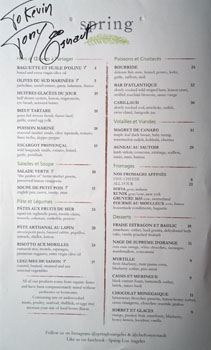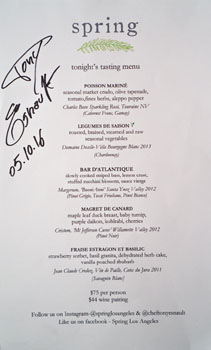 As for Spring's menu, think a tight à la carte selection of lighter French-Mediterranean plates alongside a five-course tasting menu option. Beverage-wise, you get a handful of cocktails (by AGM Adam Flamenbaum, formerly of
Bouchon
) and beers, as well as an Old World-leaning wine list. Click for larger versions.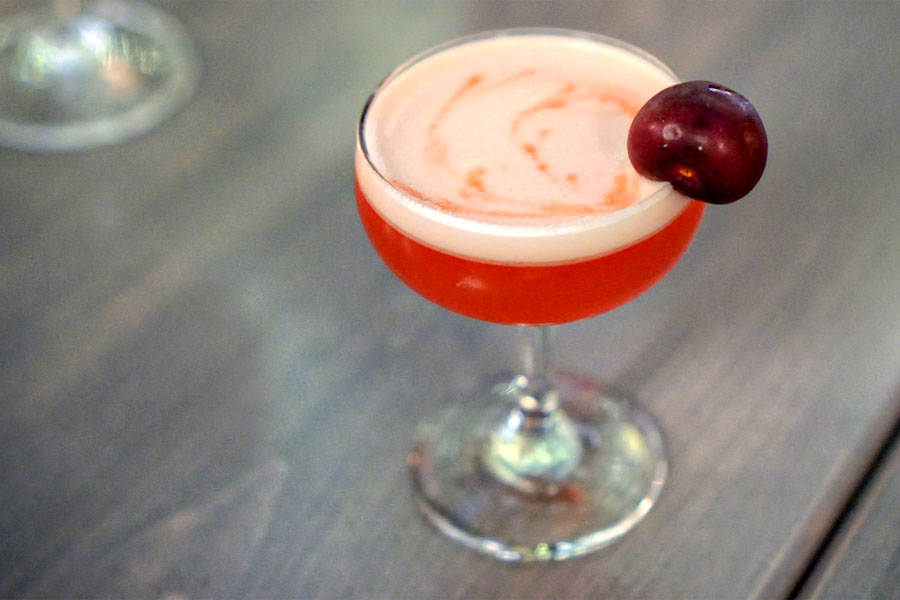 Oh Cherry [$14.00]
| muddled fresh cherries, bulleit rye, luxardo, lemon, egg white, peychaud bitters, up
We made sure to try all of the cocktails, starting with this striking number. I found it creamy on the palate, with loads of sweet, cherried spice cut by the bitter-spiciness of the Bulleit and Peychaud's.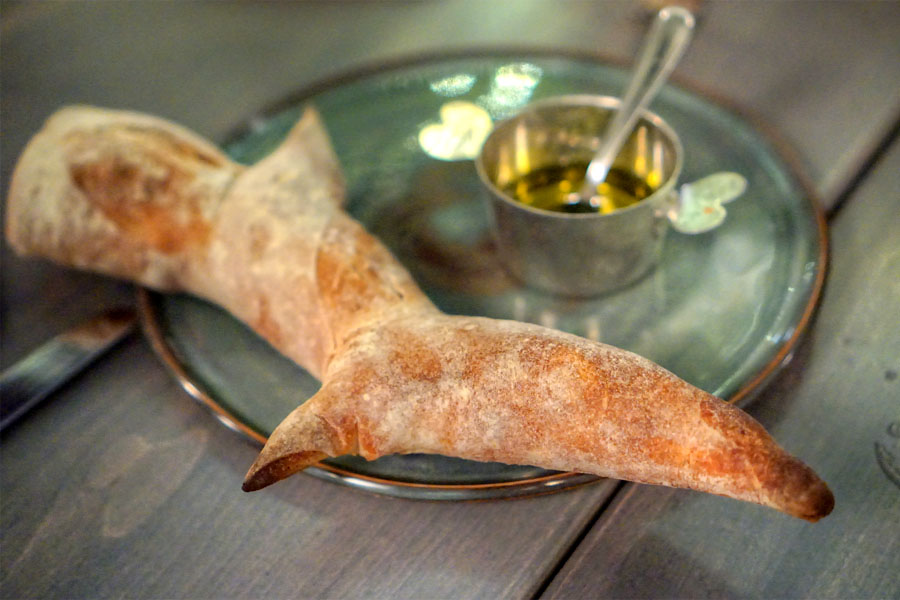 Baguette et Huile d'Olive [$4.00]
| bread and extra virgin olive oil
The
pain d'epi
was superb--crunchy at first, yet fluffy on the inside--and worked flawlessly with that wonderfully fruity Greek olive oil.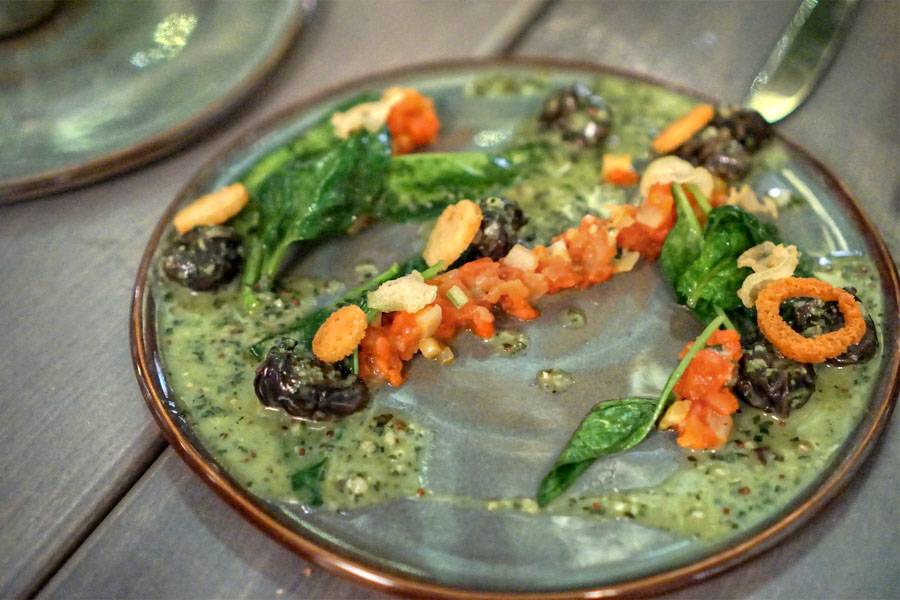 Escargot Provençal [$15.00]
| wild burgundy snails, tomato, fennel, garlic, persillade
Plating on the escargots seemed a bit haphazard, but the dish still delivered in a major way. The snails were perfectly springy to the bite, with loads of garlicky goodness offset by the bitterness and brightness of the various accompaniments.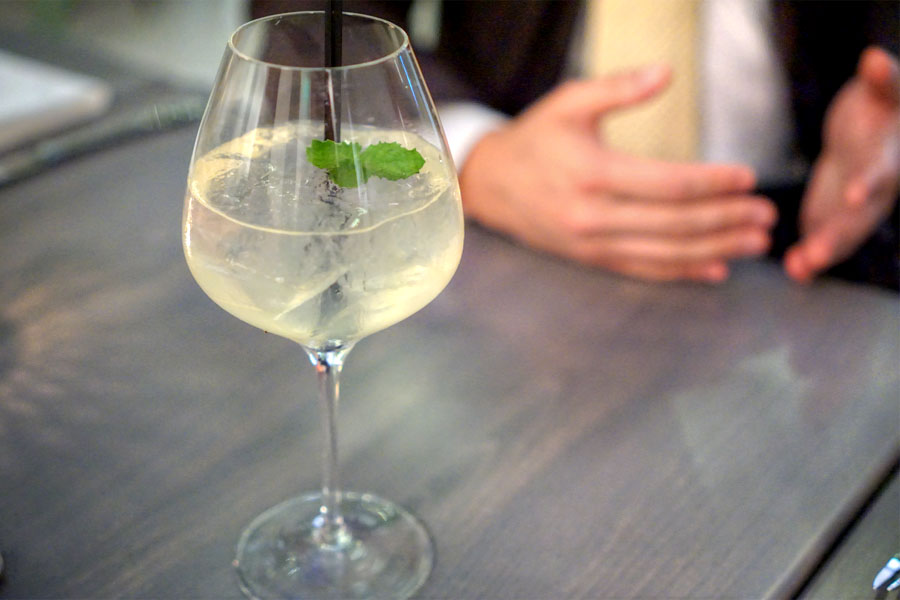 Printemps Pétillant [$13.00]
| platinum 7 vodka, lillet blanc, sparkling wine, lemon, up
Our lightest cocktail was up next, a refreshingly effervescent, vinous concoction that was sweet at first blush, but also had a countering dryness coming in later.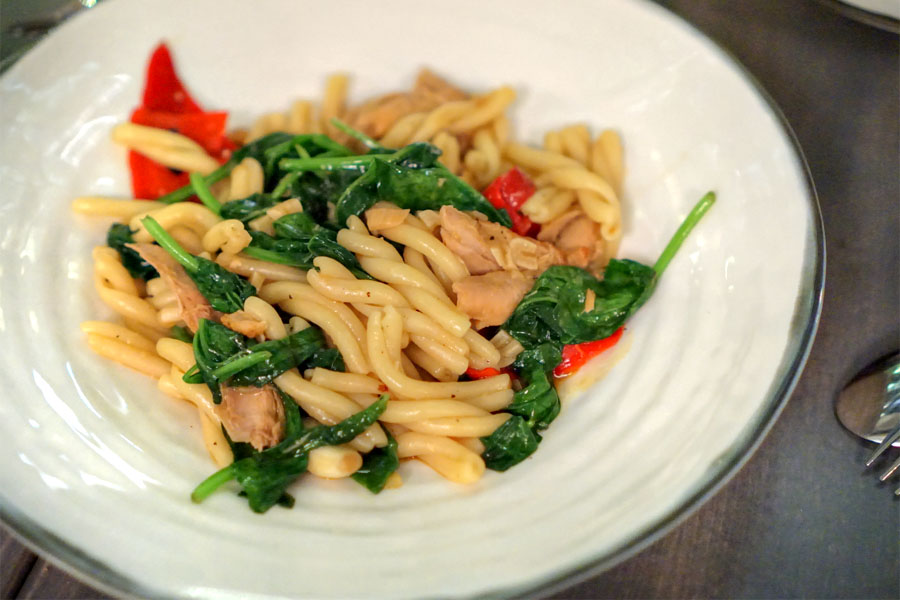 Pâte Artisanal au Lapin [$20.00]
| strozzepetti pasta, braised rabbit, piquillos, spinach, shallot, lemon
Strozzapreti had a satisfyingly firm bite to it, and worked great as a stage for the herby, homey shards of rabbit. Spinach gave the pasta a welcomed bitterness, while the piquillos imparted just a touch of sweetness.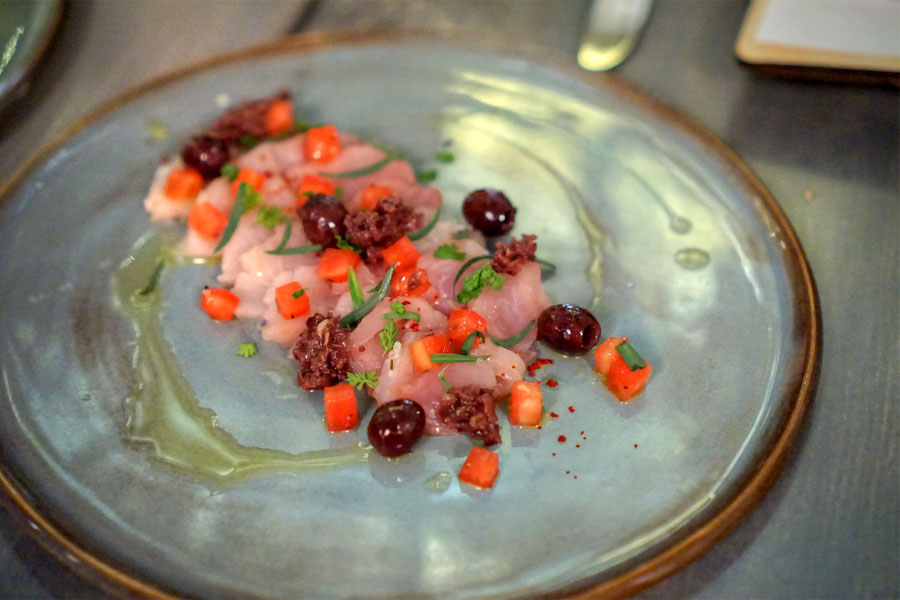 Poisson Mariné [$18.00]
| seasonal market crudo, olive tapenade, tomato, fines herbs, aleppo pepper
Hamachi arrived soft and fatty, its strong, lingering brine tempered by olive and the aromatics of the various herbs. Nice counterpoint from the juicy bits of tomato as well.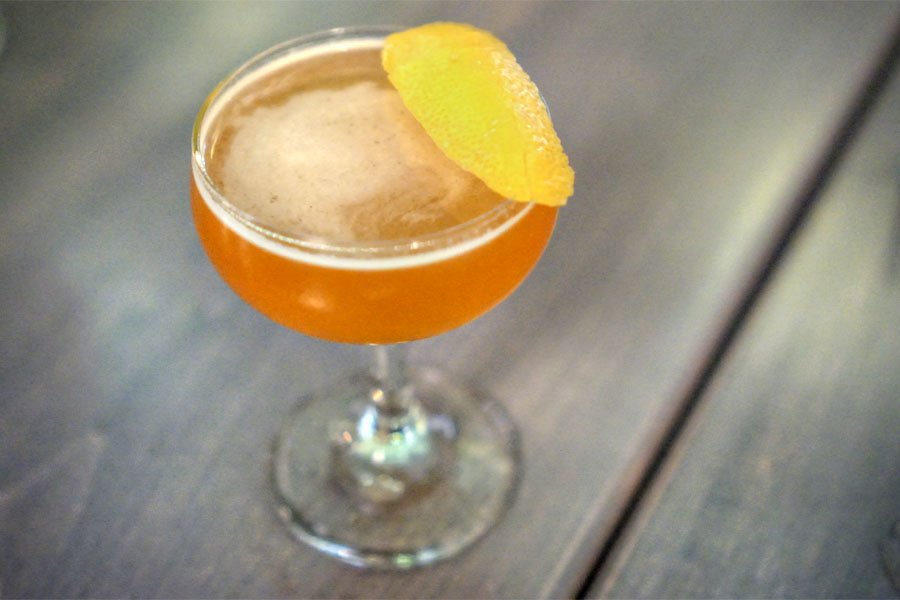 Southern Disposition [$12.00]
| evan williams bourbon, carpano antica, fonseca white port, chartreuse yellow, lemon, up
Our next cocktail was one of the standouts for me, its bittersweet, herbal, astringent qualities well-matched with the lemon and spiciness of the Carpano.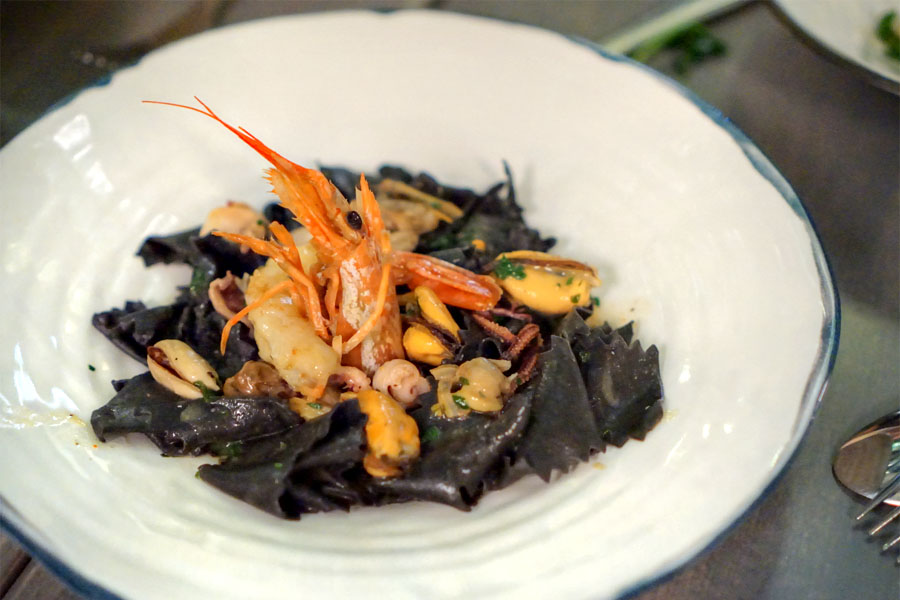 Pâte aux Fruits de Mer [$24.00]
| squid ink tagliatelle pasta, manila clams, mussels, calamari, cuttlefish, prawns
A softer pasta worked as a base for the various items of seafood here. This one definitely tasted of the ocean, with each
fruit de mer
distinctly conveyed.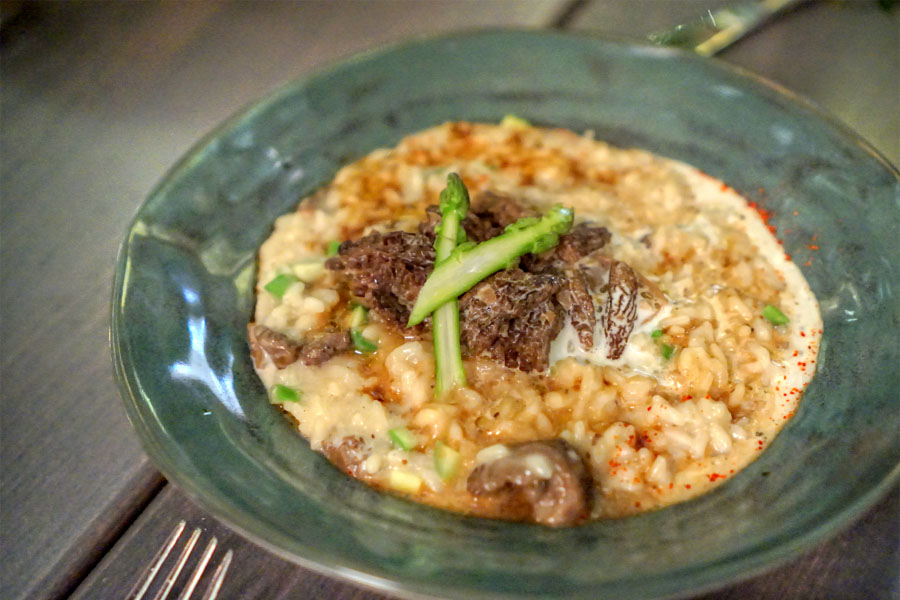 Risotto aux Morilles [$24.00]
| carnaroli rice, morels, asparagus, parmesan reggiano, extra virgin olive oil
The mushroom risotto was as gratifying as you'd imagine, the musk of the morels beautifully displayed and smartly paired with the richness of Parm. Nice hit of brightness from the asparagus, too.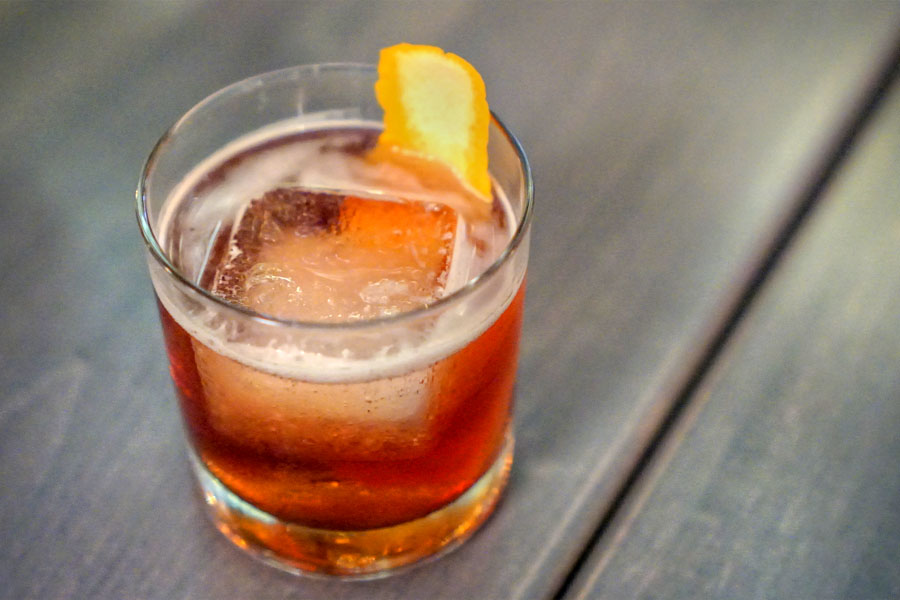 La Reforma [$13.00]
| dow's 10 tawny port, union mezcal, benedictine, bitters, rocks
This was likely my favorite of our cocktails, a marriage of sweet-nutty port and smoky mezcal with the herbal complexities of Bénédictine.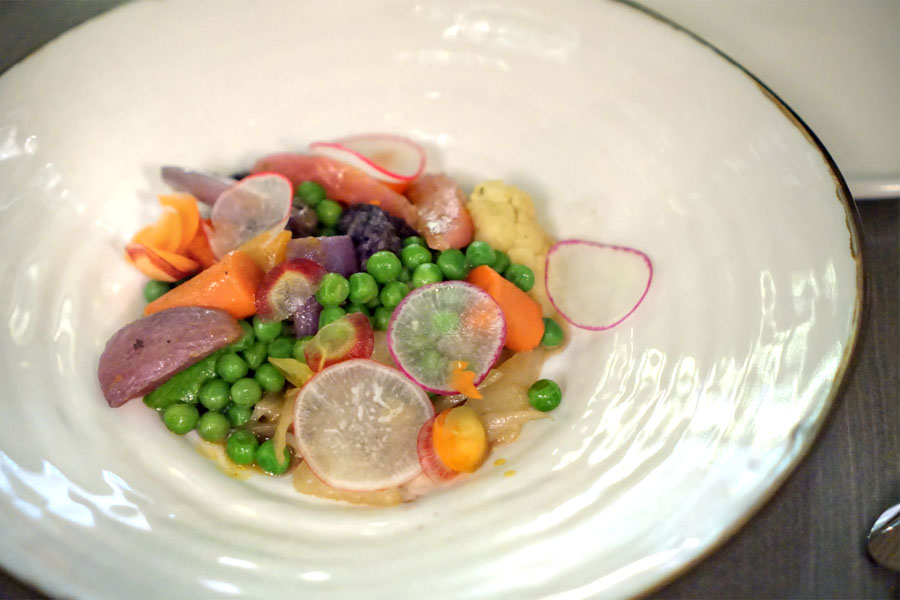 Legumes de Saison [$17.00]
| roasted, braised, steamed and raw seasonal vegetables
A dish of veggies was more satisfying than you'd imagine, and actually reminded me of Esnault's signature "vegetable mosaic" that he served at Patina. This was a multifaceted presentation, with each
légume
arriving easily distinguishable, yet harmonious to the whole.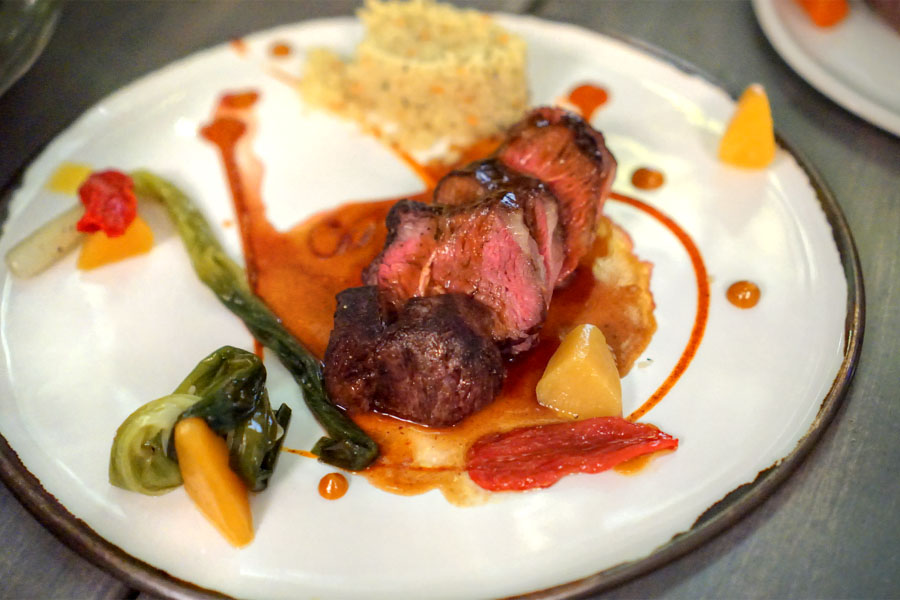 Agneau au Sautoir [$29.00]
| lamb sirloin, couscous, rutabaga, scallion, raisin, mint, harissa
Our first of two meat dishes, the lamb came out tender and well-charred, giving us all the deep, earthy, ovine flavors that you'd expect. Tasty alone, and even better with its Mediterranean-ish accoutrements.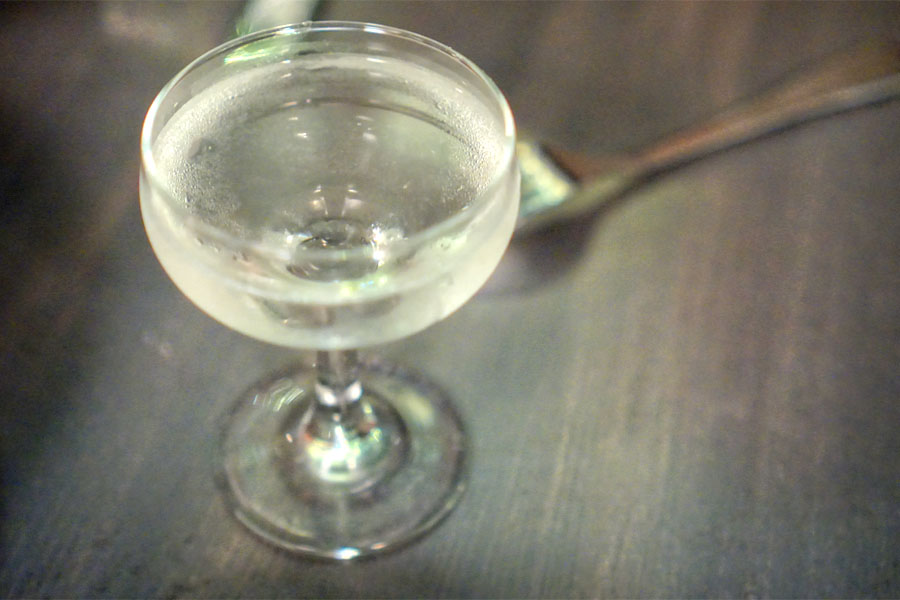 Power Lunch [$13.00]
| burnett's gin, salers, triple sec, pastis, up
The most polarizing cocktail of the septet, this one was all about the in-your-face anise-y notes of Pastis, though I found it surprisingly smooth and easy-drinking.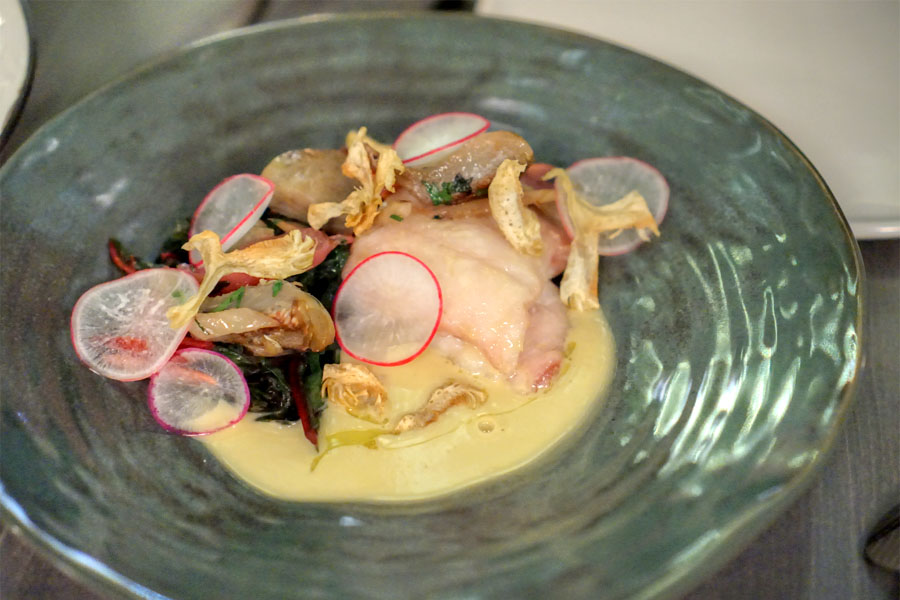 Cabillaud [$30.00]
| slowly cooked cod, artichoke, radish, swiss chard, barigoule jus
Cod was soft and flaky, its moist flesh possessing a mildness that was complemented by the artichokes and the bitterness of chard especially.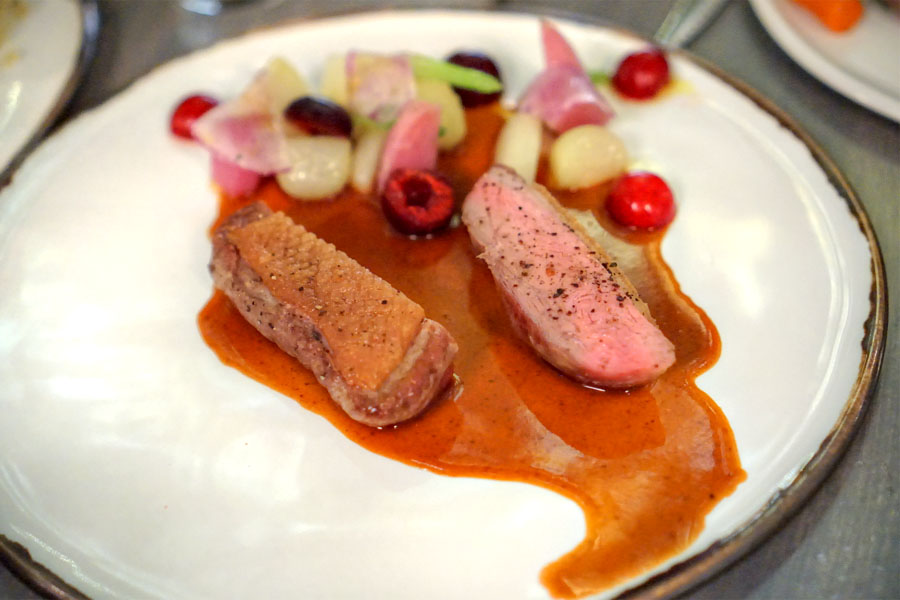 Magret de Canard [$32.00]
| maple leaf duck breast, baby turnip, watermelon radish, kohlrabi, cherries
The duck was my favorite of the mains, the bird's deep, heady flavors and crisp skin working hand-in-hand with the root veggies and slight tartness from the cherries.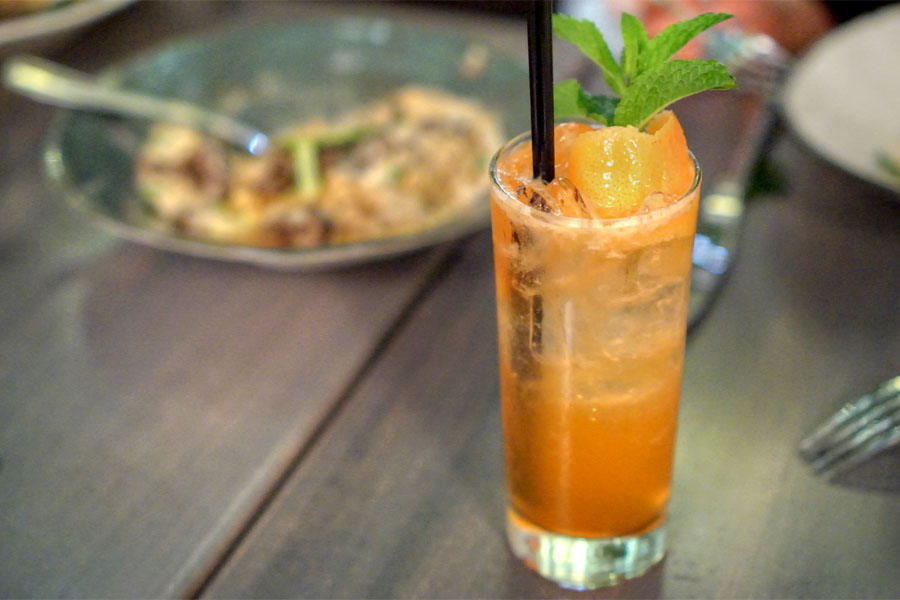 Mel's Patio Punch [$13.00]
| burnett's gin, aperol, lemon, simple, orange bitters, rocks
Not surprisingly, the punch went down easy, a refreshing, quaffable cocktail with sweet, citrusy notes up front leading to a bitterness on the close.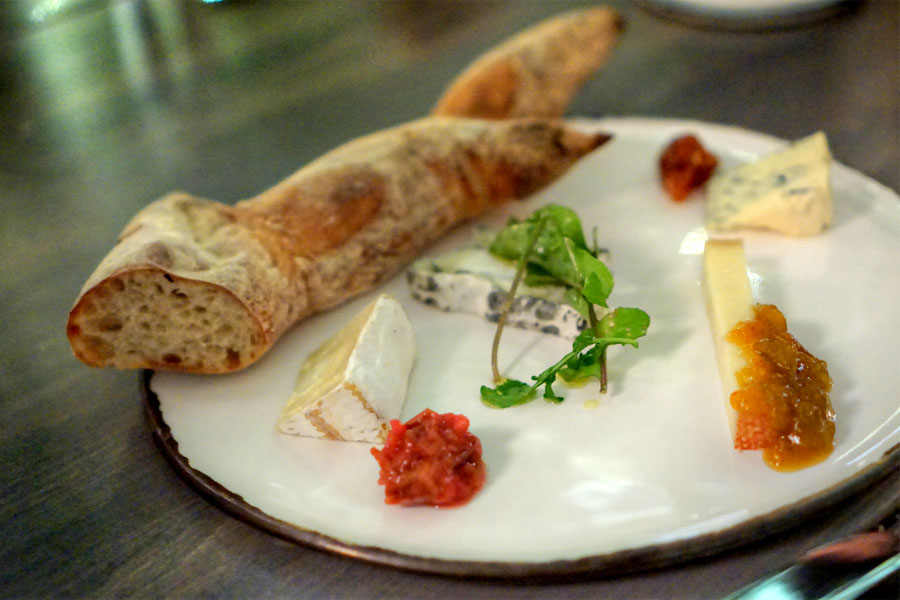 Nos Fromages Affinés [$21.00]
| housemade condiments, baguette
Given where we were, it just felt right to get a cheese plate.
Kunik goat/cow, new york - Probably my favorite of the foursome, a luscious triple-crème with boatloads of mushroom-y funk.
Sofia goat, indiana - Smooth and slightly sweet, with a tangy quality balanced by some vegetal notes.
Gruyere 1655 cow, switzerland - Sweet and almost malty initially, with a nuttiness coming in later.
Fourme au Moelleux cow, france - Sugary with some great caramel notes to pair with its classic bleu flavors.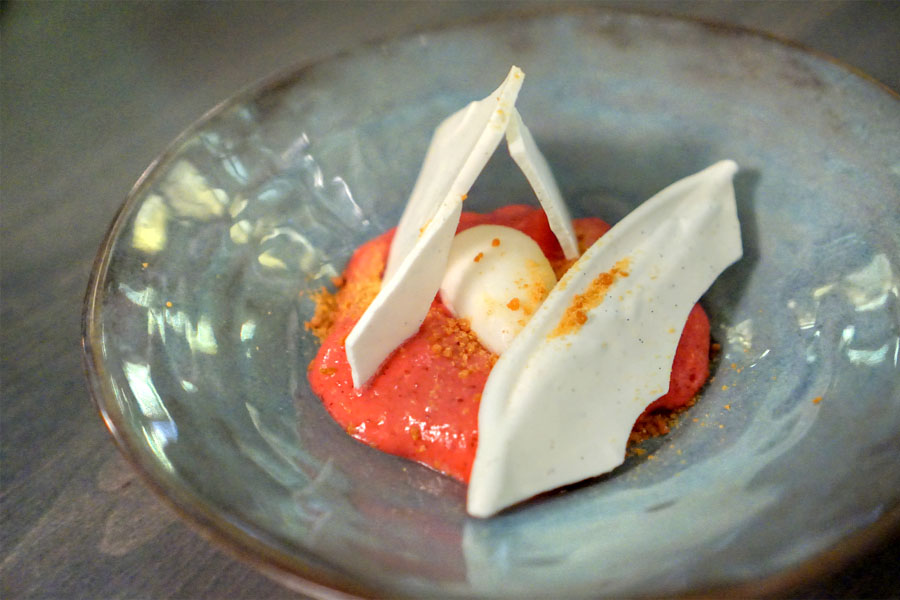 Cassis et Meringue [$9.00]
| black currant foam, buttermilk sorbet, brittle, micro basil
Time for dessert. Lovely floral sweetness from the blackcurrant to pair with the strongly flavored sorbet, the airy meringues adding a welcomed textural element.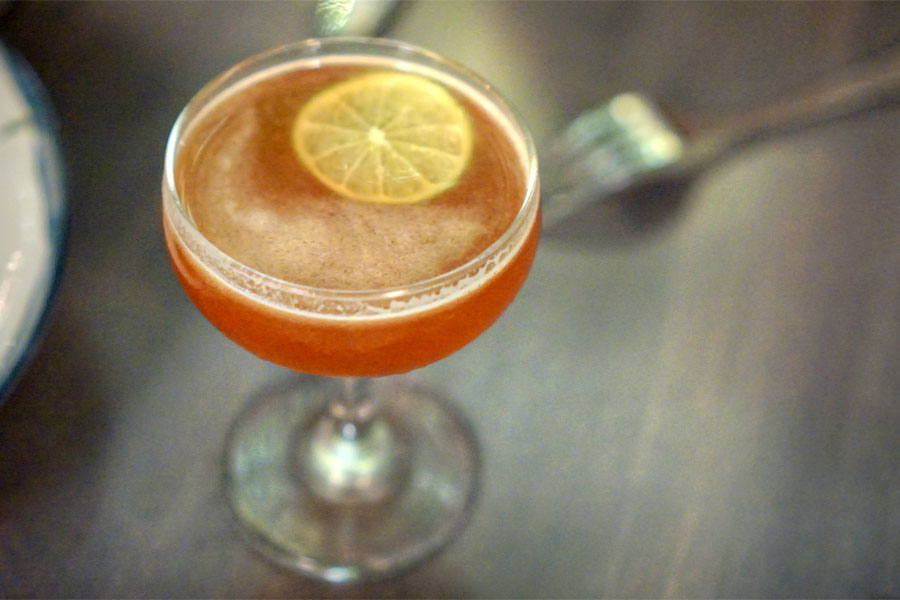 Treaty of Friendship [$12.00]
| selvarey rum, cynar, lime, sugar, up
Our final cocktail really showed off the distinctly vegetal notes of Cynar, set against contrasting sweet 'n' citrus flavors with rum as a base.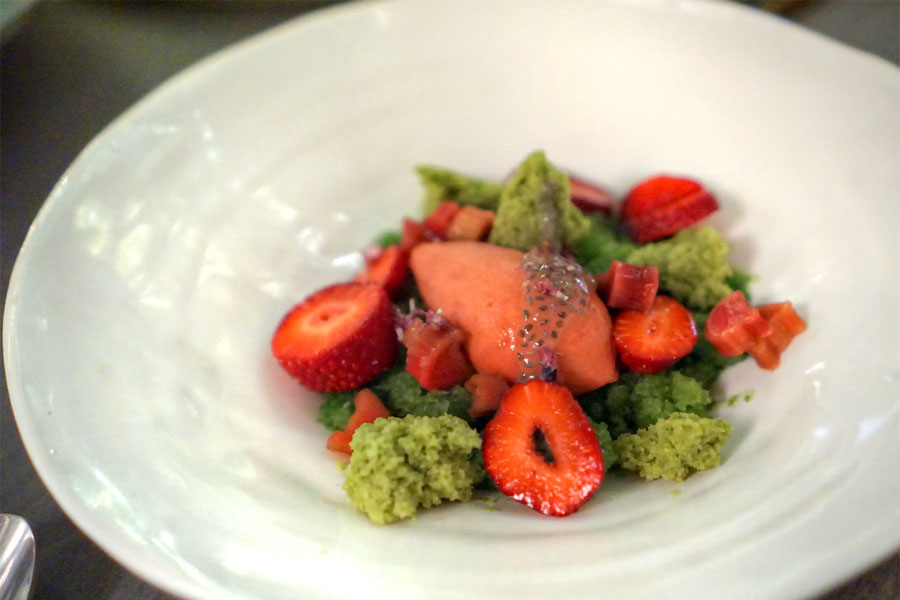 Fraise Estragon et Basilic [$10.00]
| strawberry sorbet, basil granita, dehydrated herb cake, vanilla poached rhubarb
Strawberries, basil, and tarragon made for a great marriage of fruity and herbaceous flavors, all rendered in some interesting textures.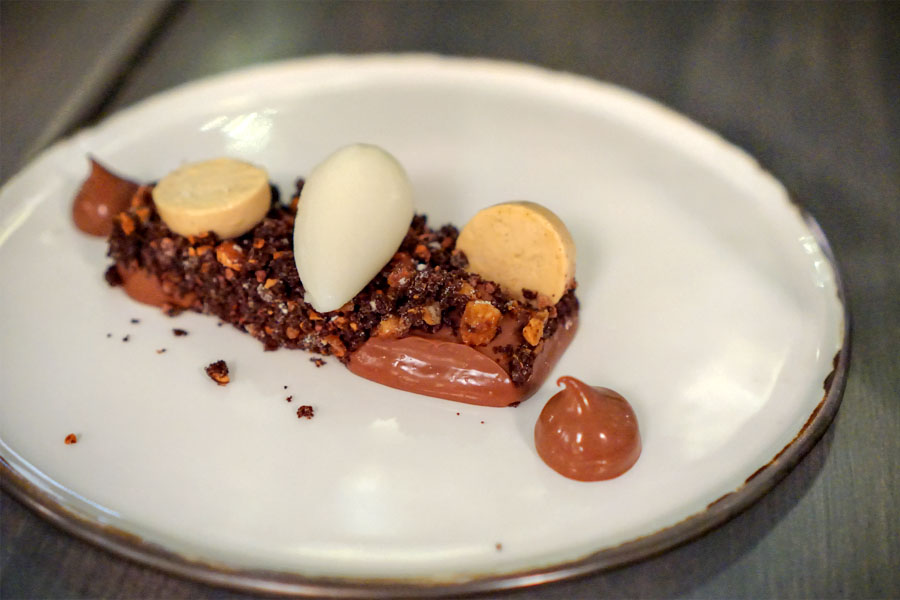 Chocolat Monegasque [$11.00]
| bittersweet chocolate ganache, lemon honey sorbet, citrus vinaigrette, chocolate crumble, praline
The chocolate dessert worked itself out, with the ganache nicely set off by nutty praline while the sorbet provided a lightness to the dish. Great crunchiness on this one.
Spring's been a long time coming, and the place looks to be worth the wait. The cooking's a refreshing take on French cuisine, and you really get a glimpse of the Chef's classical, fine dining background in a lot of the dishes--there's that finesse, intertwined with a sort of casualness to the food. In terms of what's next, Esnault and Sarmadi are planning a French market in an adjoining space, so look out for that coming up as well.