LASA at Unit 120 (Los Angeles, CA)
LASA at Unit 120
727 N Broadway, Los Angeles, CA 90012
213.443.6163
www.lasa-la.com / www.unit120.com
Sat 05/07/2016, 07:10p-09:30p

Over the past few years, a lot of people (myself included) have been clamoring for the rise of progressive Filipino cuisine, and it looks like we're finally at that moment. At the forefront is LASA ("taste" in Tagalog, roughly), a modern Philippine-inspired eatery set in Alvin Cailan's culinary incubator Unit 120. It's run by two second-generation brothers: Executive Chef Chad Valencia and GM Chase Valencia.
The pair grew up in Chino Hills in the midst of a food-focused family, and each made the decision to pursue a career in hospitality. Chad trained at Le Cordon Bleu's outpost in Pasadena, and following, found work at Corina Weibel's
Canelé
in Atwater Village. He then relocated to San Francisco and started cooking at Spanish restaurant Contingo, and later spent time with Jessica Koslow at Sqirl.
Chase, meanwhile, started his career while attending Cal State Fullerton (class of '07 with a degree in history). He began as a busser at Owen's Bistro in 2003, and eventually made his way into management before leaving the Chino restaurant in 2008. In 2010, Chase secured a position at Wolfgang Puck Catering, a role he stayed at for four years. During this period, he also worked at Sqirl alongside Chad, and it was there where LASA was conceived.
The first dinner came together in August 2013, and was more of a backyard sort of affair with the brothers and their friends. Word spread, however, and LASA soon moved into Highland Park's Highland Cafe, and later to Frogtown's Elysian in November 2014. In 2015, the Valencias met Cailan at a NextDayBetter event, which set the stage for LASA's current residency at Unit 120.
Unit 120 occupies a first floor location at Chinatown's Far East Plaza, also home to the likes of
Chego
,
Pok Pok Phat Thai
, and Cailan's former spot
Ramen Champ
. It's a simple, spare space to be sure, but appropriate.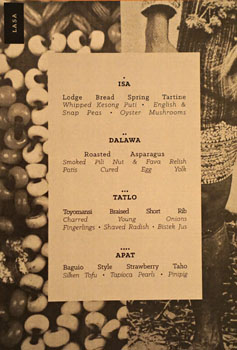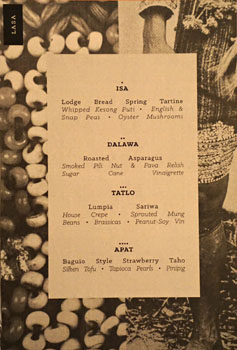 As for LASA's menu, it's a four course Cal-Filipino prix-fixe set at $50, and there's also a vegetarian option at the same price point. Click for larger versions.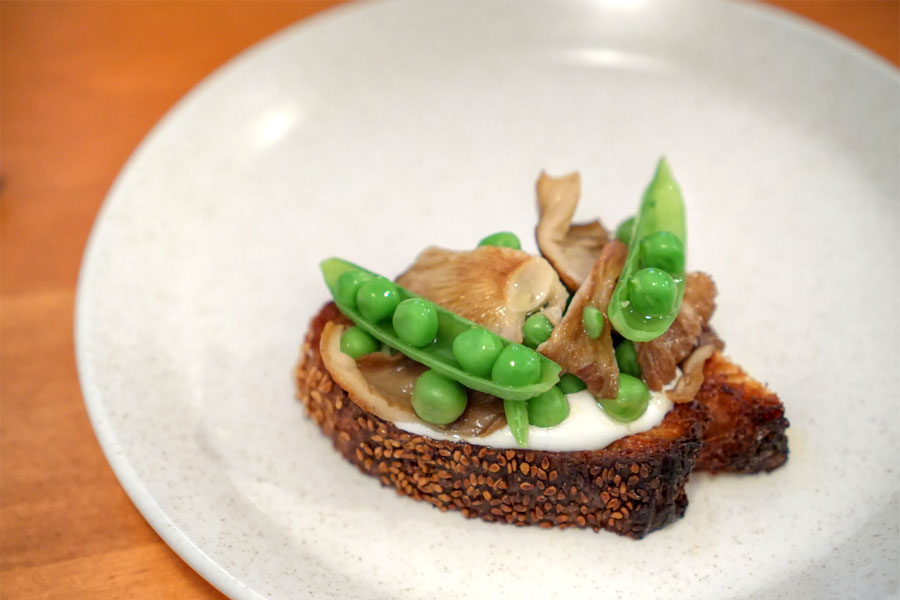 1: Lodge Bread Spring Tartine
| Whipped Kesong Puti • English & Snap Peas • Oyster Mushrooms
The meal began with what has got to be one of the better tartines I've tasted. I loved the brightness of the peas, and how that interacted with the lactic richness of
kesong puti
while mushrooms added pungency and umami. Excellent base from the crisp-yet-fluffy, roasty, nutty bread, too.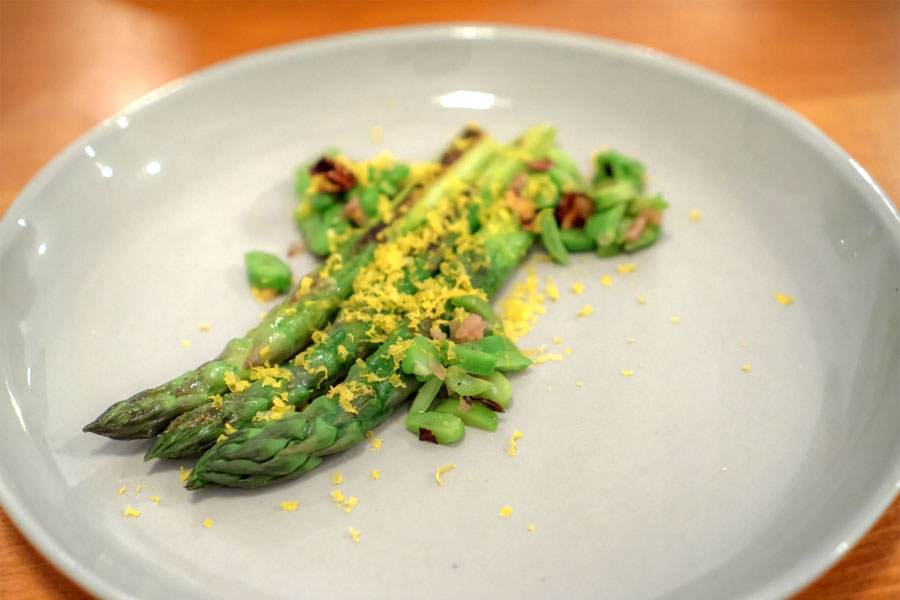 2a: Roasted Asparagus
| Smoked Pili Nut & Fava Relish • Patis Cured Egg Yolk
The asparagus was a winner, one of the best preparations I've had in a while in fact. I got plenty of bitterness, plenty of char from the crunchy vegetable, and really enjoyed how that played with the sharp brine of the fish sauce-enriched yolk. Great smokiness from the nuts to round things out.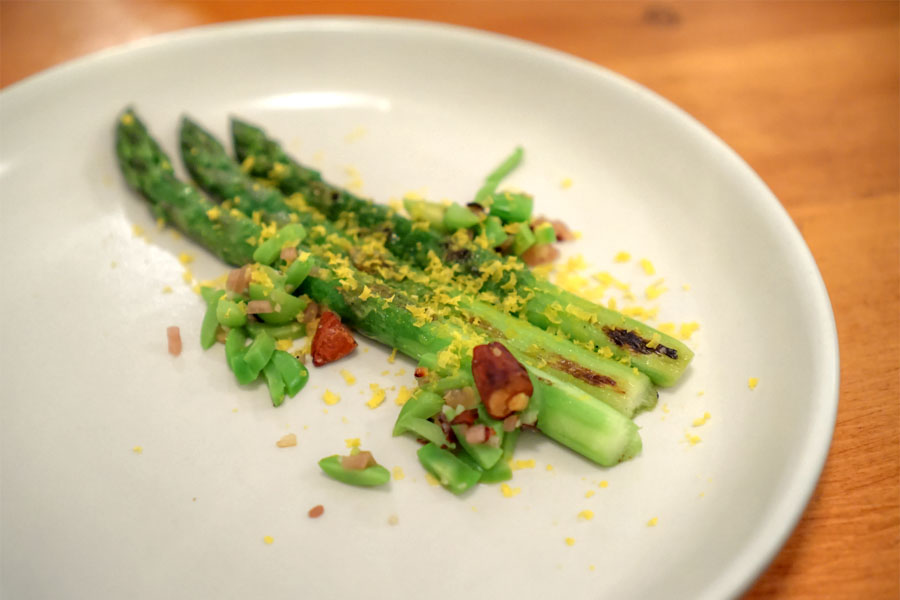 2b: Roasted Asparagus
| Smoked Pili Nut & Fava Relish • Sugar Cane Vinaigrette
The vegetarian version of the dish above ate similarly, though the astringency of the asparagus was perhaps a touch more apparent due to the removal of the
patis
. And again, the smoky contrast and crunch from the pili was key.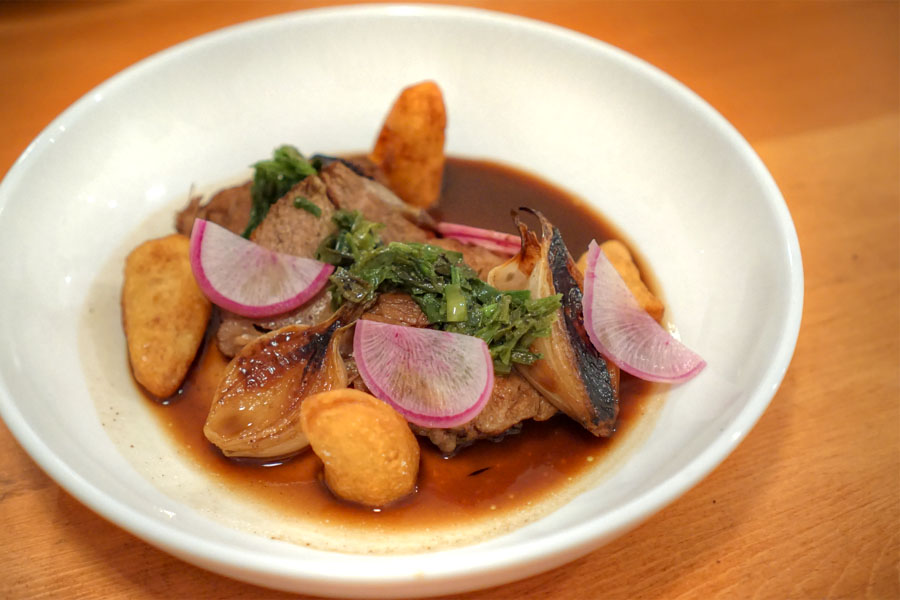 3a: Toyomansi Braised Short Rib
| Charred Young Onions • Fingerlings • Shaved Radish • Bistek Jus
In our most substantial dish, short rib arrived properly tender and deeply savory, with a great counterpoint provided by the sweet-sour qualities of the
toyo't kalamansi
(a type of soy sauce with calamansi juice). I got a welcomed bitter accent from the radish and onions, and was a big fan of those potatoes too.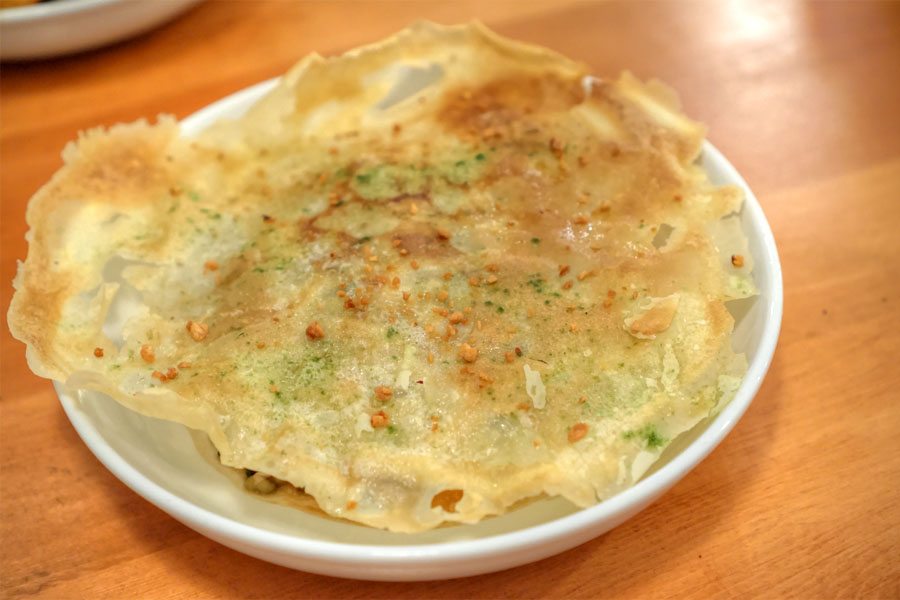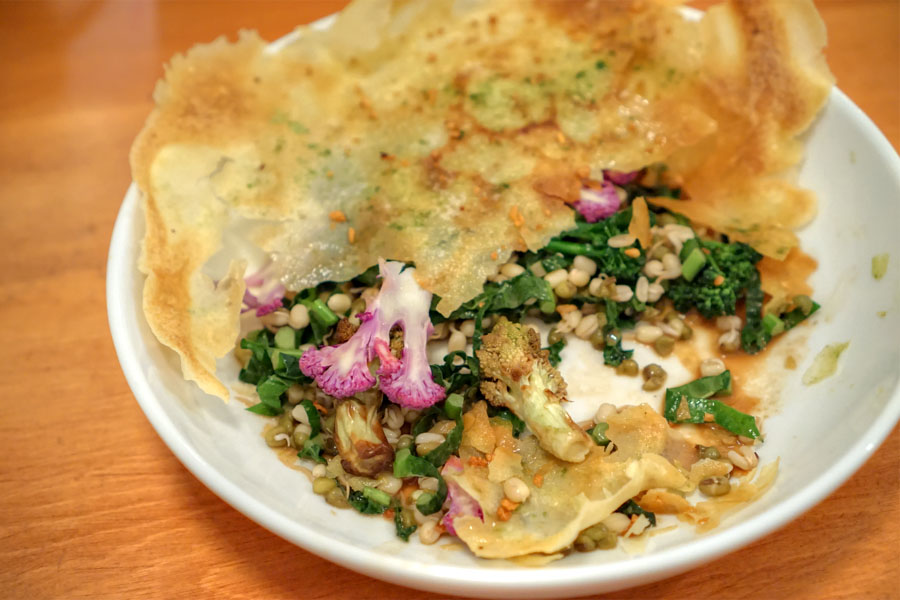 3b: Lumpia Sariwa
| House Crepe • Sprouted Mung Beans • Brassicas • Peanut-Soy Vin
A take on the staple dish of
lumpia
hit the mark as well. There was a great back-and-forth between the bitterness of the charred brassicas and the fresh, sweet-nutty element of the mung beans, while the included vinaigrette worked to tie it all together. The crêpe, meanwhile, provided textural contrast, as well as a sweet, almost coconut-y edge to the dish.
4: Baguio Style Strawberry Taho
| Silken Tofu • Tapioca Pearls • Pinipig
Dessert brought a take on
taho
. There was a smart interplay between the sweetness of the fruit and the mildness of tofu here, but the crux for me was rice-y, nutty counterpoint and crunch from the
pinipig
. Super cohesive.
LASA hit the right notes and gave me one of the more promising meals I've had in recent times. This isn't Philippine cuisine
per se
. Rather, I see the cooking as more of a contemporary Californian style with strong Filipino influences, something that'd previously been largely absent from the SoCal dining scene. Whatever you want to call it, the food delivered, as did the rest of the experience. As for next steps, the team is looking to establish a permanent home somewhere in LA, so I'll definitely be looking out for that coming up.