LASA (Los Angeles, CA)
LASA Restaurant
727 N Broadway, Los Angeles, CA 90012
213.443.6163
www.lasa-la.com
Sun 04/23/2017, 07:55p-09:50p

The last time I reported on Chinatown's
LASA
--the seminal Cal-Filipino spot from brothers Chad and Chase Valencia--was nearly a year ago, when they were still in the midst of operating out of Unit 120. However, at the start of 2017, it was announced that LASA would be taking over Alvin Cailan's Far East Plaza spot permanently, with Unit 120 relocating next door into the old Wing Hop Fung. LASA thus closed at the start of February for remodeling. They reopened for lunch in early April, serving take-out from the former Amboy window before launching dinner service a week later on the 12th.

The old Unit 120 was a bit on the spare side, so the Valencias have cozied up the 42-seat space with help from designer Dana Benoit. The liberal use of green provides a richness to the room, while the various knick-knacks and family photos add a homey charm.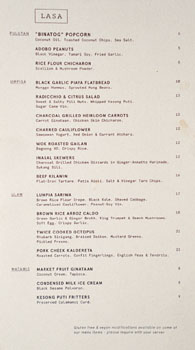 If you recall, the old LASA menu was strictly a prix fixe affair, but this time around, diners order à la carte from an expanded menu. Click for a larger version.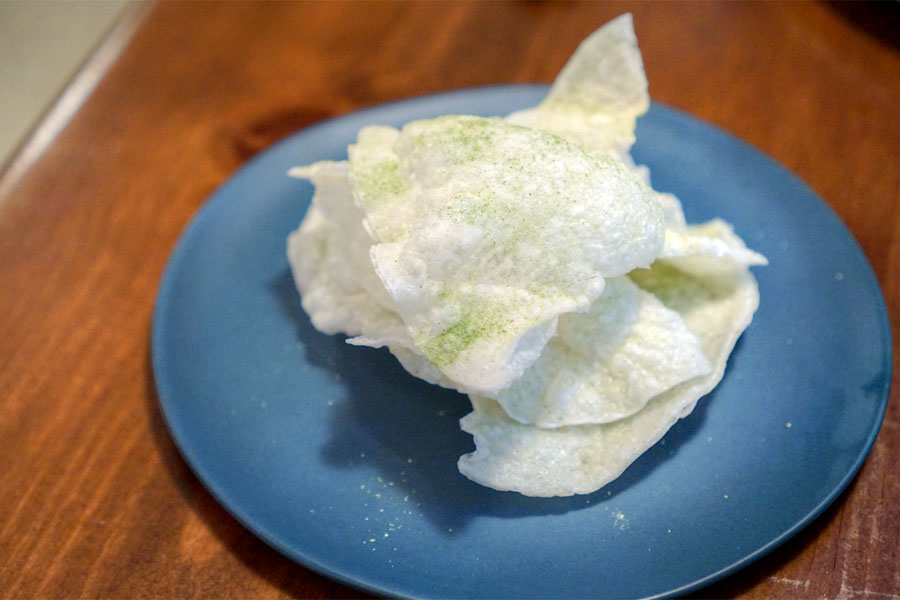 Rice Flour Chicharon [$5.00]
| Scallion & Mushroom Powder.
Rice flour
chicharrones
were superb: light, crunchy, and given a kick in the pants by the earthy savor of that powder. A whole bag please.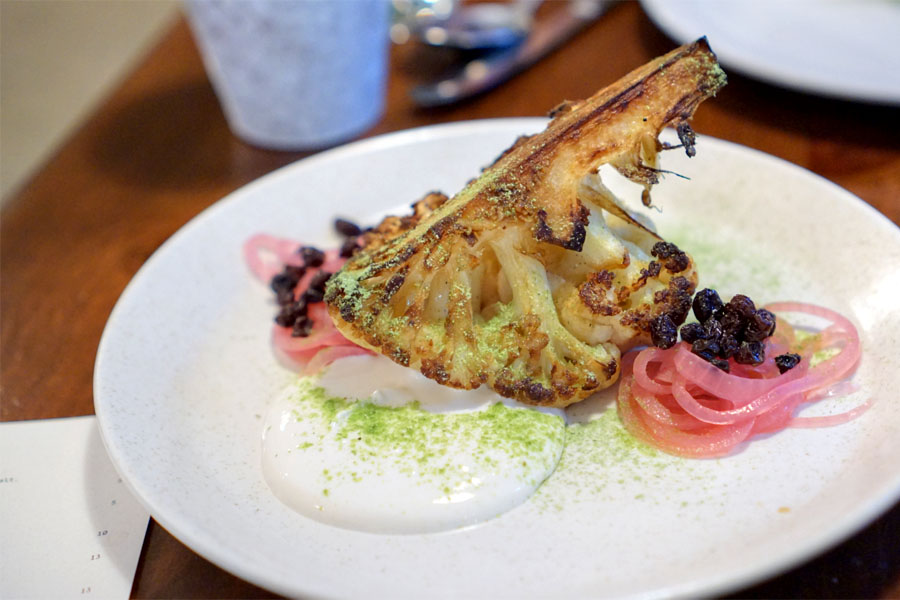 Charred Cauliflower [$12.00]
| Sawsawan Yogurt. Red Onion & Currant Atchara.
Cauliflower could've been a touch firmer, but had a lovely char to it that complemented the veggie's intrinsically delicate flavor. The crux here, though, was that yogurt, its creamy, lactic character working as a super smart pairing. Great exclamation point from those pickles to boot.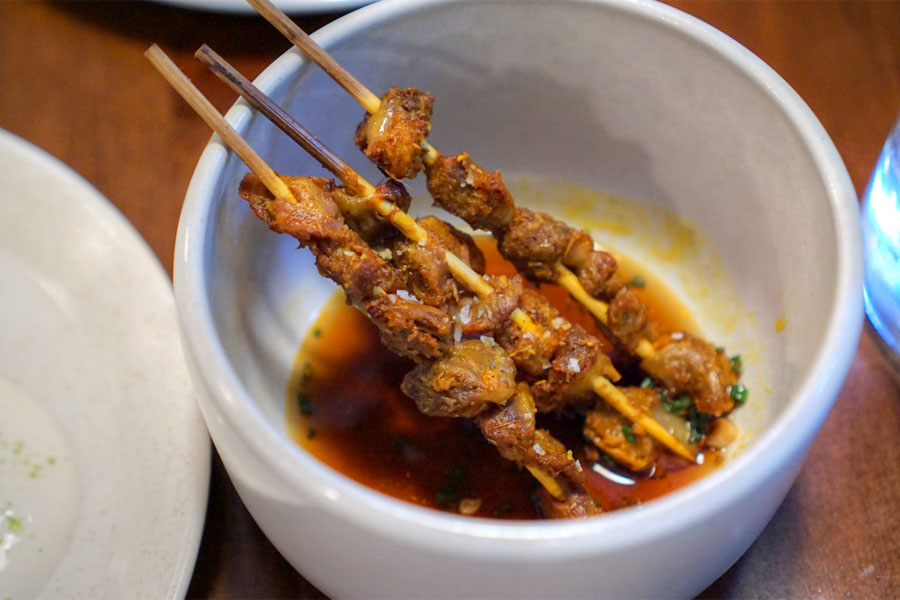 Inasal Skewers [$12.00]
| Charcoal Grilled Chicken Gizzards in Ginger-Annato Marinade. Sukang Sili.
Gizzards were excellent, easily some of the best I've had in fact. Texturally, I found 'em soft, yet substantial, with a bit of a bite, while taste-wise, they were mouth-wateringly smoky, savory, with a ginger-y zest from the marinade.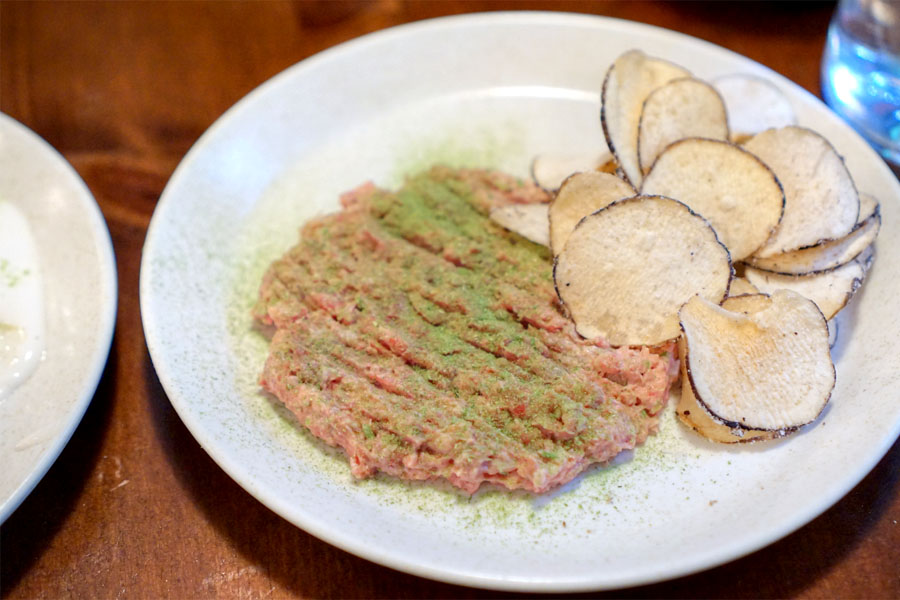 Beef Kilawin [$16.00]
| Flat-Iron Tartare. Patis Aioli. Salt & Vinegar Taro Chips.
A Filipino version of tartar was amped by a zingy fish sauce aioli as well as what I believe might've been the scallion-mushroom powder from our first course. Great with the included taro chips, and also with the yogurt and pickles from the cauliflower dish above.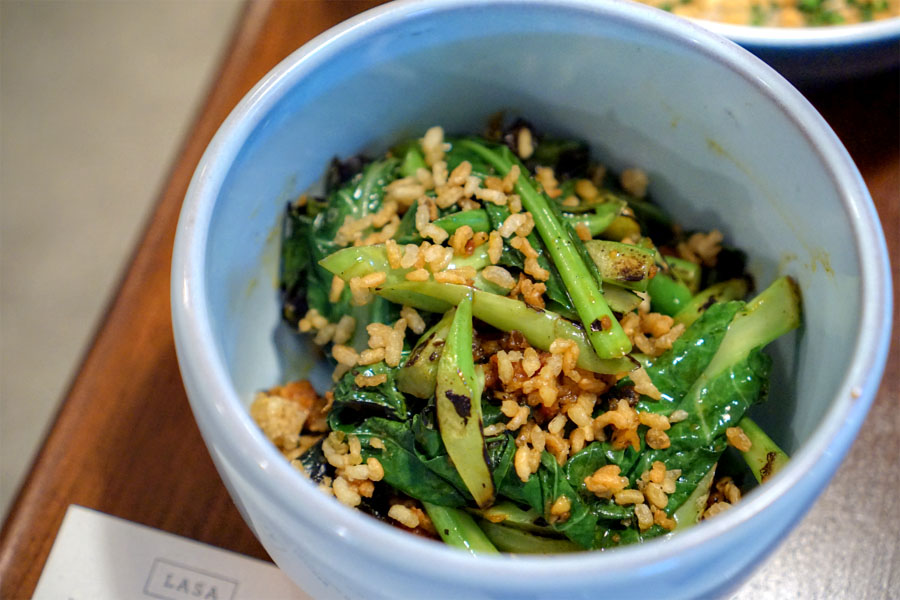 Wok Roasted Gailan [$12.00]
| Bagoong XO. Crispy Rice.
The
gai lan
was a winner, coming out crunchy, super bitter, and beautifully matched to the rich, deep funk of the
bagoong
. Great textural addition from the crispy rice, too.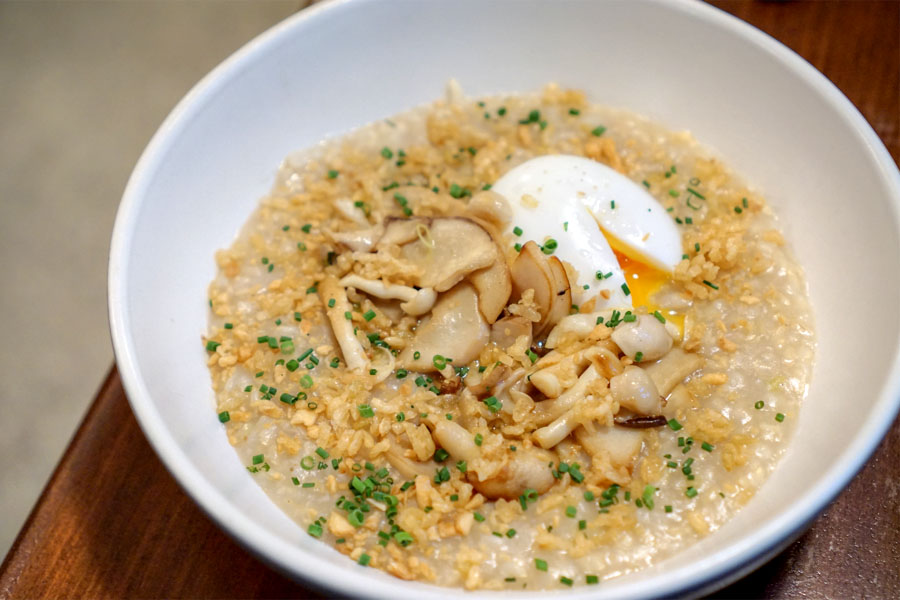 Brown Rice Arroz Caldo [$18.00]
| Green Garlic & Ginger Broth. King Trumpet & Beech Mushrooms. Soft Egg. Crispy Garlic.
LASA's take on
arroz caldo
made for a cozy, comforting dish to be sure. The garlic and ginger gave the porridge a tangy, bright quality, one that meshed well with the mushrooms and that runny egg. Loved those crispy bits in there as well.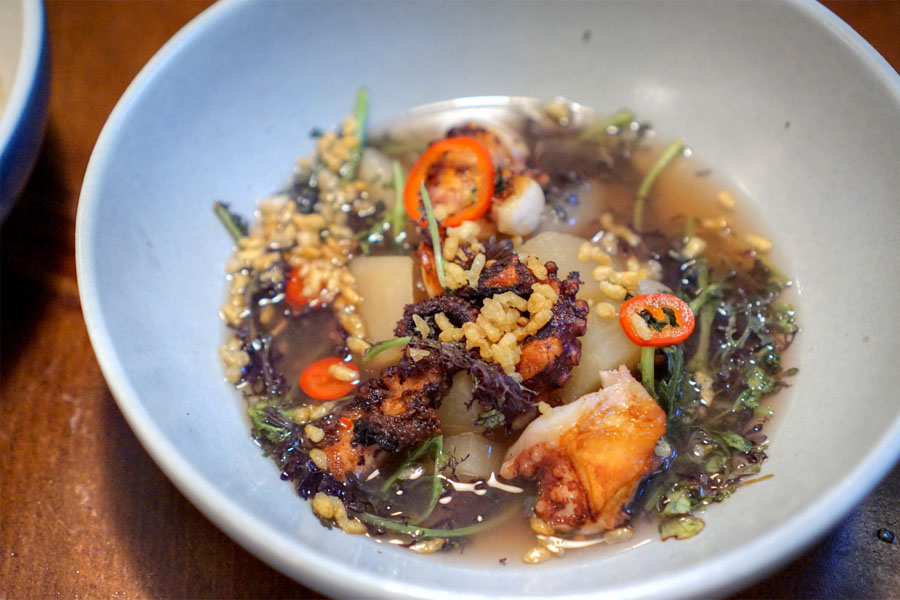 Twice Cooked Octopus [$21.00]
| Rhubarb Sinigang. Braised Daikon. Mustard Greens. Pickled Fresno.
The octo delivered, arriving supple but snappy, with a great depth of flavor. Also crucial was the
sinigang
broth, made here with rhubarb instead of the traditional tamarind. It imparted a tartness that meshed seamlessly with the octopus as well as the daikon and bitter greens. Fresnos added just a prick of heat to the equation, and again, we had the crunch of crispy rice come into play.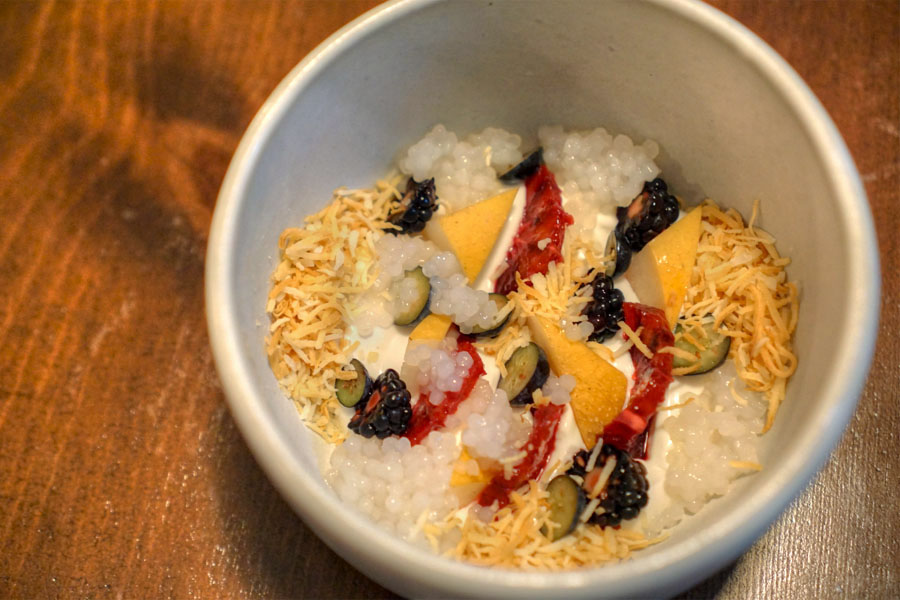 Market Fruit Ginataan [$8.00]
| Coconut Cream. Tapioca.
Dessert set the tropical-but-restrained sweetness of coconut against a medley of fruit, with toasted coconut and gelatinous tapioca pearls providing some textural play.
It's been great to see how the Valencias have progressed over the past year or so, and I have to say that the cooking here is better than ever. The food's unquestionably bold, yet eminently balanced, distinctly Philippine at its core, but with a contemporary SoCal edge. LASA has always sort of been one of the progenitors of modern Filipino cuisine here in LA, and with their permanent space in place now, the restaurant's legacy appears to be secured.