Mix Mix Kitchen Bar (Santa Ana, CA)
Mix Mix Restaurant
300 N Main St, Santa Ana, CA 92701
714.836.5158
www.mixmixkitchenbar.com
Fri 04/21/2017, 08:00p-11:20p

One of the most important Downtown Santa Ana debuts of recent times dropped last November: Ross Pangilinan's Mix Mix, the name of which takes inspiration from the iconic Filipino dessert halo-halo as well as the Chef's two children, Maddex and Madeleine. The restaurant is globally-inspired, and aims to serve food influenced by both Continental traditions and Pangilinan's Philippine background.
About the Chef
: Pangilinan was born in Tennessee, but his family later moved to SoCal, settling in La Mirada. Growing up, he was exposed to Filipino food courtesy of his paternal grandparents, while at the same time, his father taught him about a wide variety of other cuisines; he also enjoyed cooking shows such as
The Frugal Gourmet
. The Chef skated competitively as a teen, but decided to quit and focus on cooking after sustaining an injury during his junior year of high school. After graduating from La Mirada High in 2001, Pangilinan enrolled in the Le Cordon Bleu program at the California School of Culinary Arts in Pasadena, attaining his AOS in 2002.
Following, he landed a gig at Big Canyon Country Club, where he worked under his first mentor, Jean-Pierre Lemanissier (Ma Maison). Lemanissier also sent him to France, where he
staged
at the now-shuttered Les Trois Marches in Versailles. In 2005, at age 21, Pangilinan moved to Pinot Provence to become sous chef for Florent Marneau (who would eventually leave in 2006 to open
Marché Moderne
). After two years there, he returned to France and worked at Regis for a brief period, and upon returning Stateside, served as sous under
Theo Schoenegger
at
Patina
. Schoenegger decamped in July 2008 however, and Pangilinan subsequently became CdC at the short-lived
Blanca
before relocating to Vegas to help open Schoenegger's Sinatra at Encore.
He stayed there until the end of 2009, then transitioned back to Orange County to take on the Executive Chef role at
Leatherby's Cafe Rouge
. His tenure at Leatherby's lasted nearly seven years, during which time the Chef got married and had his two aforementioned kids. Pangilinan finally left in October 2016, and by the end of November, was already able to open Mix Mix. His team included Chef de Cuisine Donald Harris (Tangata at the Bowers Museum, Leatherby's) and Head Bartender Joseph Carlin (
Belcampo Meat Co
, The Federal Bar), who's since moved on. The restaurant has been well-received generally, and was recently deemed "Restaurant of the Year" by
Orange Coast Magazine
.


Mix Mix takes over the address that once housed burger concept Black Box as well as its progenitor, Little Sparrow (before that, the building had apparently been vacant since 1997). The restaurant retains the same basic layout as its predecessors, though the space has been made a bit more casual. The team also added a chef's counter to the main dining room.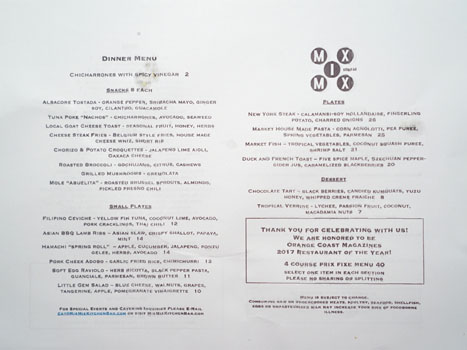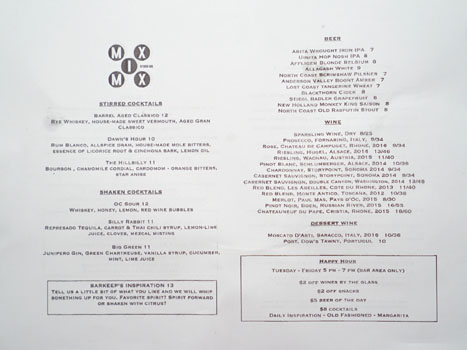 Divvied up simply by size, Pangilinan's shareable, "seasonal global eclectic" menu is extremely varied, which is what's intended. There are usually prix fixe options ranging from $35 to $65 available, though we just ended up running the gamut and ordering everything on the menu. Lunch and brunch are also possibilities here. Drink-wise, you get a handful of cocktails, some craft-ish beers, and a compact, low-priced wine list. Click for larger versions.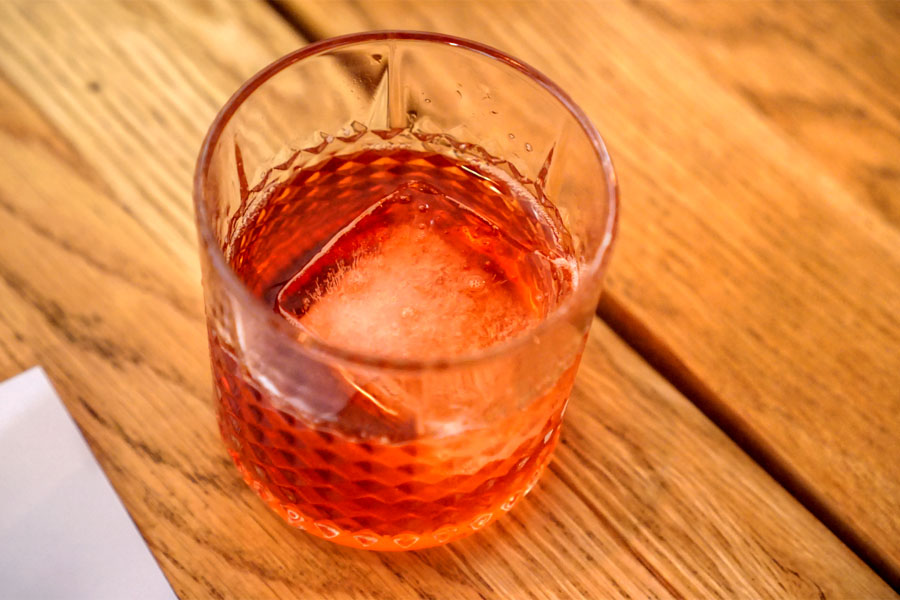 Barrel Aged Classico [$12.00]
| Rye Whiskey, house-made sweet vermouth, Aged Gran Classico
Naturally, we made to try all the cocktails that were available. This first one smelled delightfully bittersweet, but with an unexpected, olive-y bent. The taste fell in line, giving us a marked sweetness at first, joined by more bitter, spicy, herbaceous elements later on. Rather negroni-like, actually.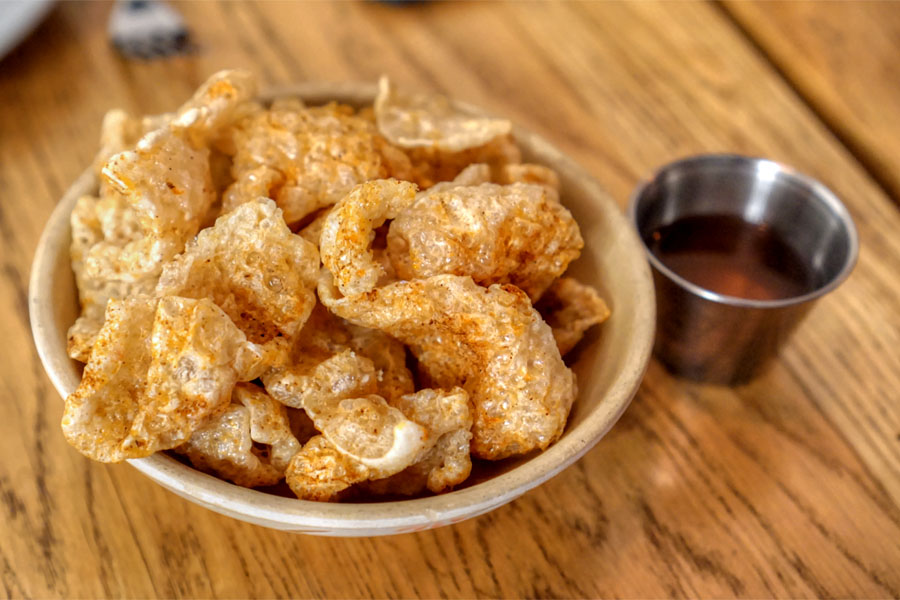 Chicharrones with spicy vinegar [$2.00]
The pork rinds were among the best I've had: super light, fluffy almost, with a delicate saltiness and a tinge of spice.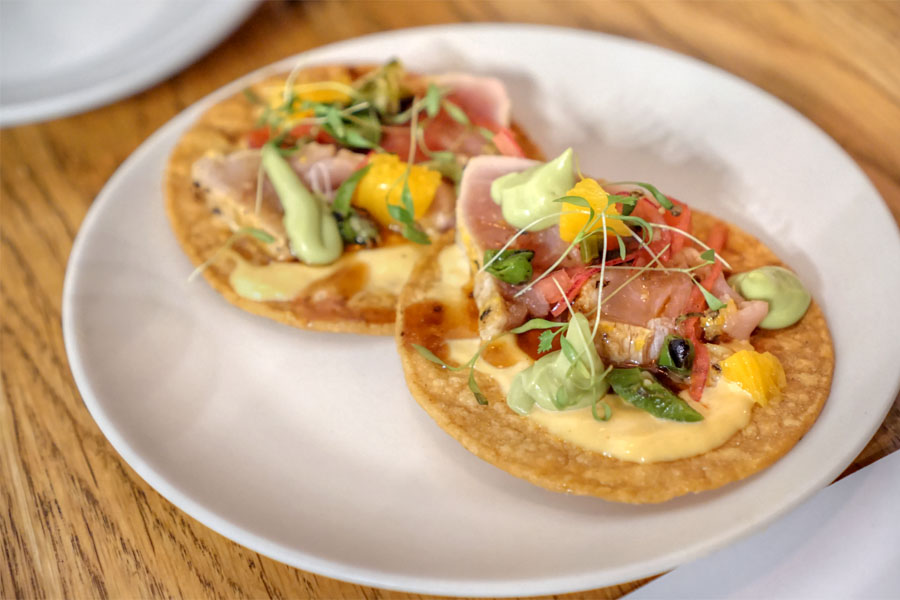 Albacore Tostada [$8.00]
| orange pepper, Sriracha mayo, ginger soy, cilantro, guacamole
Tuna came with a lot of accompaniments, and thus I felt that the fish was overshadowed by the creamy, sweet parts of the dish. I did appreciate the guac and the sort of balancing element from the cilantro though, as well as the excellent crunch of the tostada.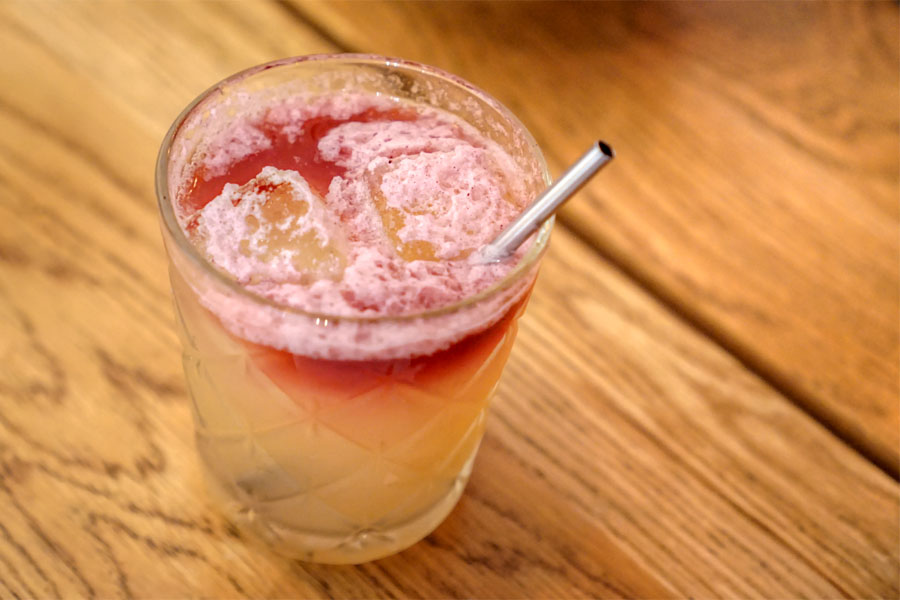 OC Sour [$12.00]
| Whiskey, honey, lemon, red wine bubbles
Our next cocktail lived up to its name. I found it sweet, aromatic, floral, but with a bitter edge and a very persistent sourness to back it all up.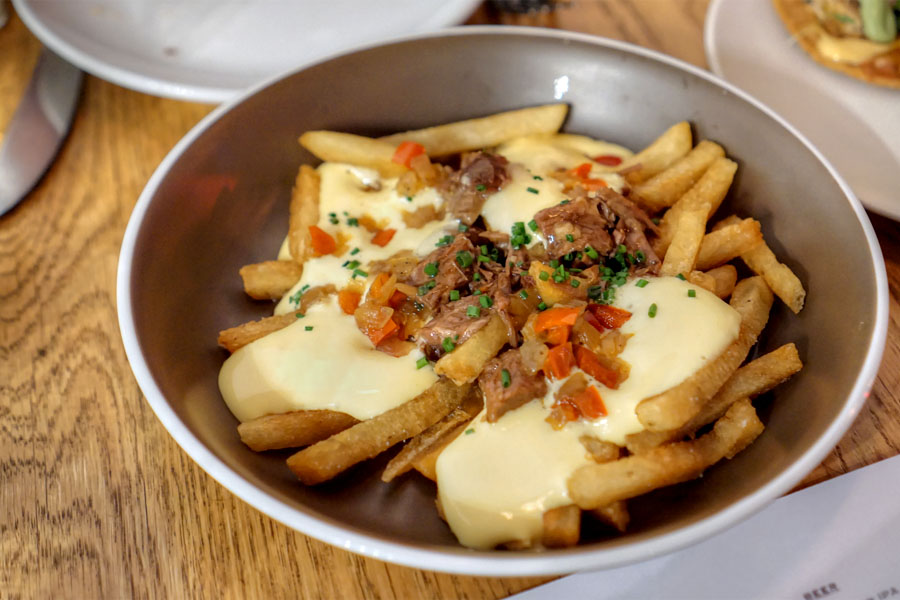 Cheese Steak Fries [$8.00]
| Belgium style fries, house made cheese whiz, short rib
This was a favorite of mine and achieved just the right balance between elegant and trashy. Think rich, cheesy, subtly sweet, with a lovely crispness on those fries.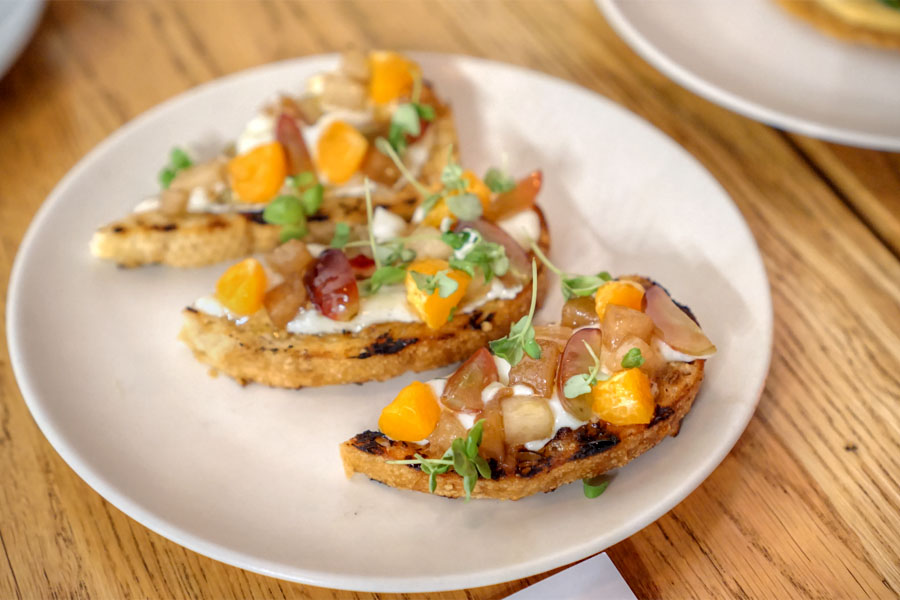 Local Goat Cheese Toast [$8.00]
| seasonal fruit, honey, herbs
I will say that this was a pleasant surprise. Nice tanginess from the
chèvre
evened out by the fruity, herby elements on top, with a great char and crunch from the bread.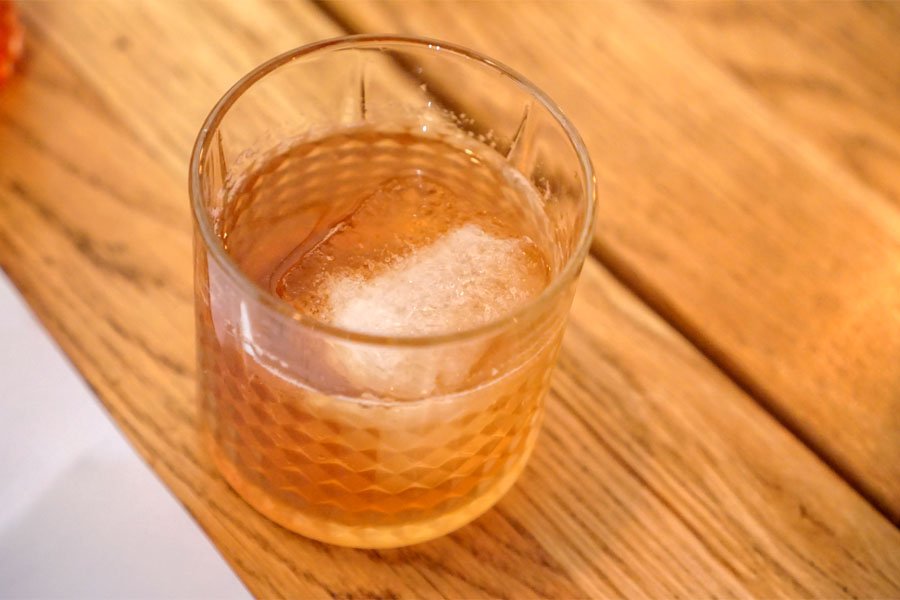 Dawn's Hour [$10.00]
| Rum Blanco, allspice dram, house-made mole bitters, essence of licorice root & cinchona bark, lemon oil
Huge nose of autumnal spice on this next cocktail. Its taste went in a similar direction, with sweet, lightly bitter, almost vanilla-likes notes that some of my dining companions likened to a scented candle.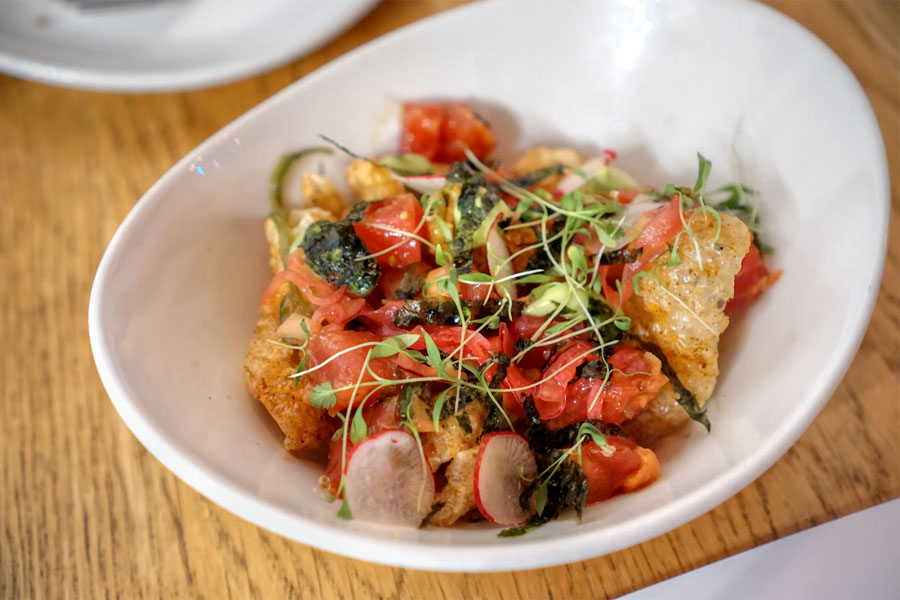 Tuna Poke "Nachos" [$8.00]
| chicharrones, avocado, seaweed
Tuna was done right, the fish complemented by herby, tangy, umami flavors, but never overwhelmed. Excellent saltiness and crunch from those pork rinds, too. Another favorite for me.
Roasted Broccoli [$8.00]
| gochujang, citrus, cashews
Broccoli could've stood to be firmer in consistency, and I wasn't so sure the citrus was necessary. However, I did appreciate the heat provided by the
gochujang
and the nutty crunch of those cashews.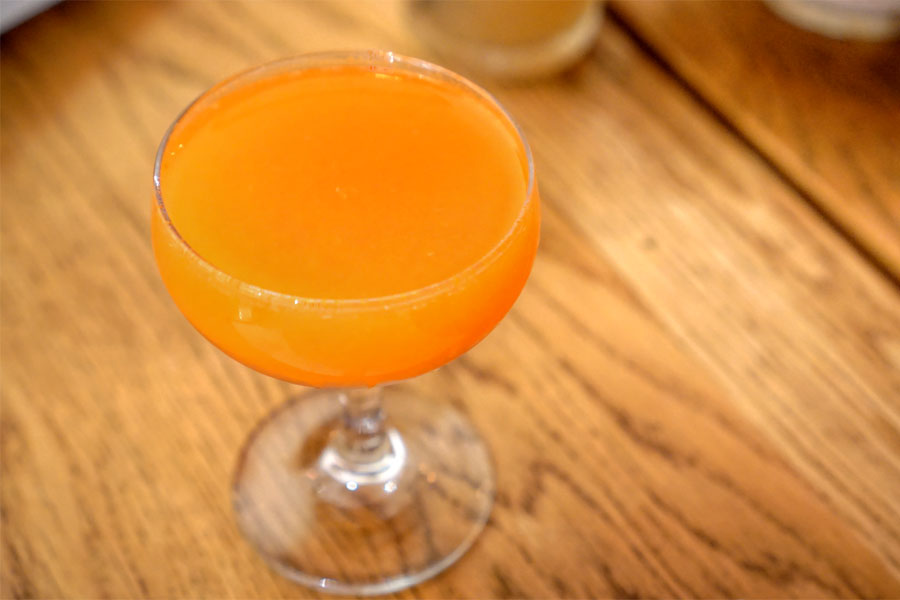 Silly Rabbit [$11.00]
| Reposado Tequila, carrot & Thai chili syrup, lemon-lime juice, cloves, mezcal misting
As expected, the cocktail displayed a nose brimming with sweet carrot. The palate gave up an initial blast of carrot, then some vegetal, tart notes, with the finish going in a rather astringent direction.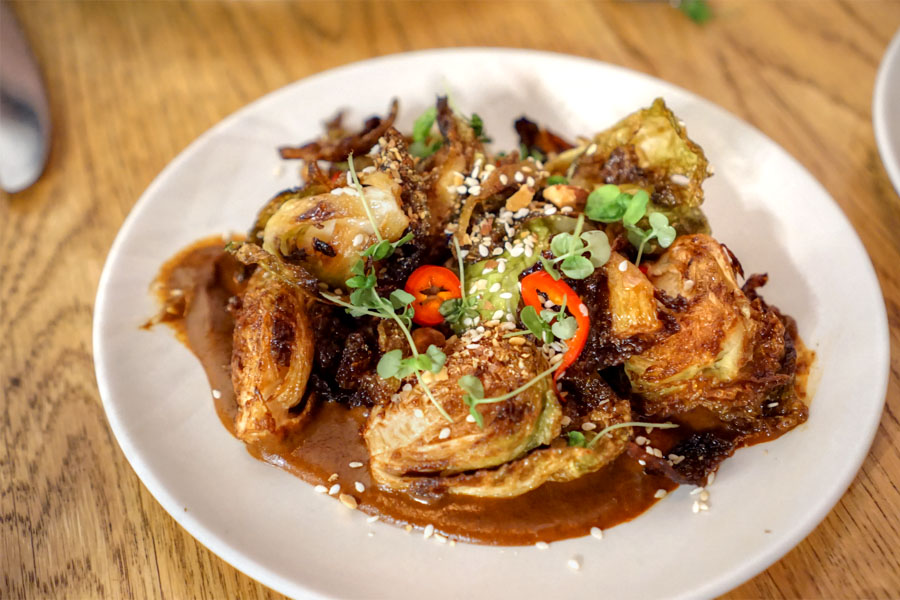 Mole "Abuelita" [$8.00]
| roasted brussel sprouts, almonds, pickled fresno chili
Brussels were beautifully textured, and showed off a bitterness and char that matched perfectly with the sweet-savory qualities of that mole. This was a standout, and one of the more creative uses I've seen of the sauce.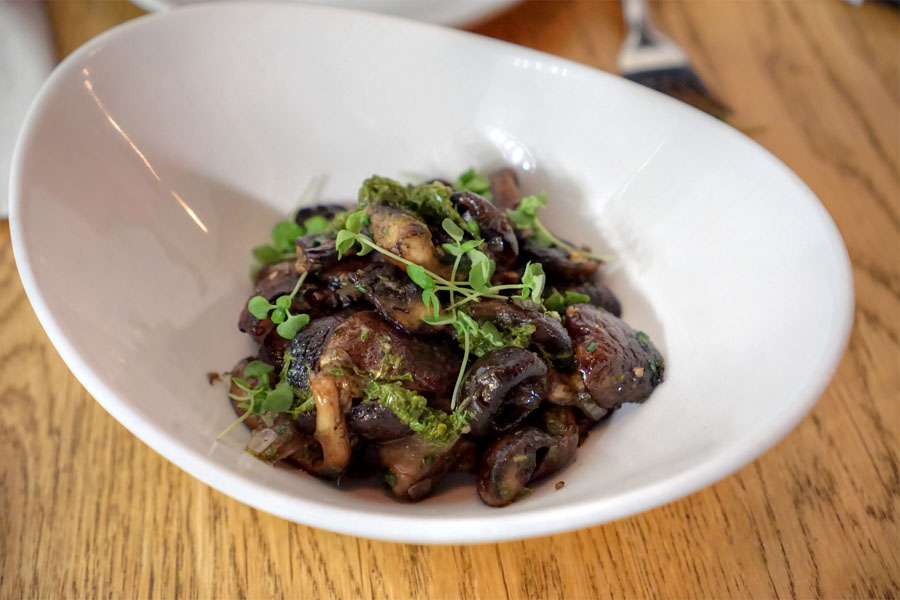 Grilled Mushrooms [$8.00]
| gremolata
'Shrooms were springy to the bite, their smoky, musky qualities smartly paired with the zestiness of that gremolata.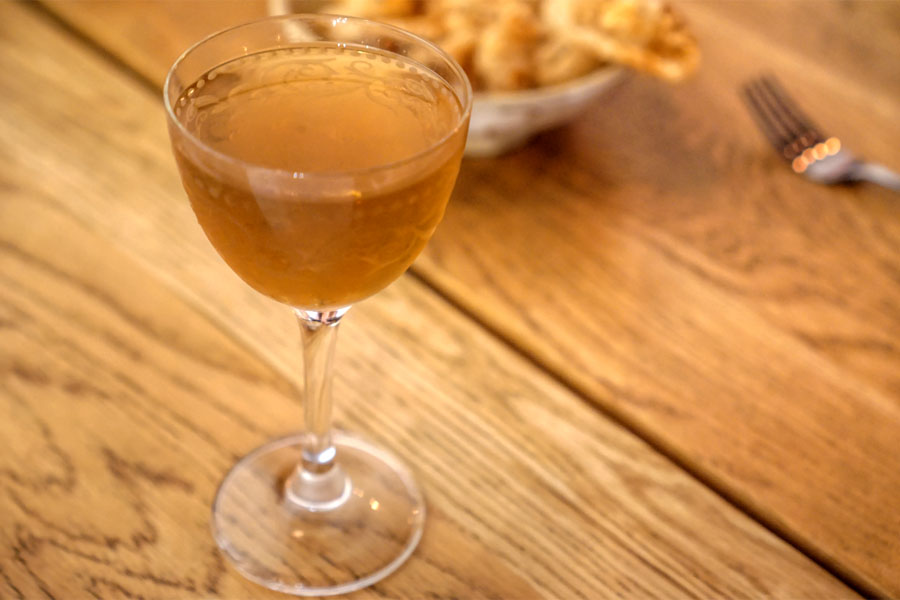 The Hillbilly [$11.00]
| bourbon, chamomile cordial, cardamom-orange bitters, star anise
This was one of my favorite cocktails. Citrusy, tart, vegetal nose on this one. The taste went bittersweet, with an herbal, almost savory quality to it backed up by the bourbon.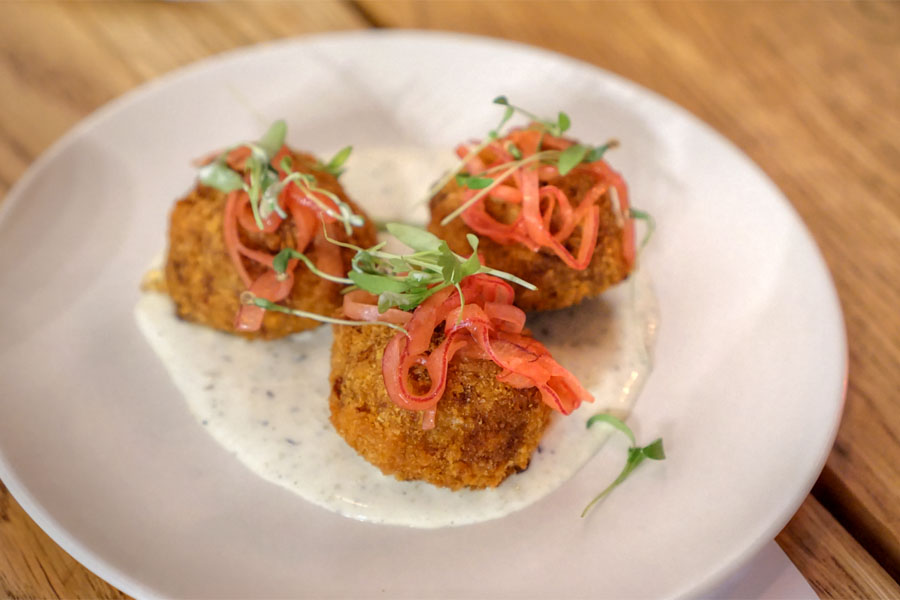 Chorizo & Potato Croquettes [$8.00]
| jalapeno lime aioli, Oaxaca cheese
I was a big fan of the croquettes. I got loads of savory chorizo spice to go along with the hearty potato, and loved the balance provided by the aioli and onions.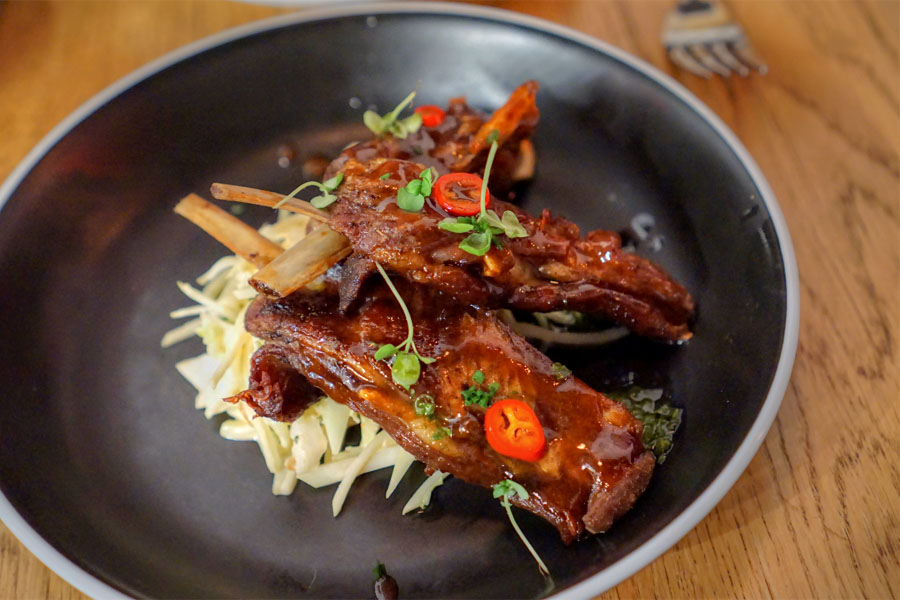 Asian BBQ Lamb Ribs [$14.00]
| Asian slaw, crispy shallot, papaya, mint
Lamb ribs were classically sweet-n-savory, with a nice counterpoint from the crunchy-creamy slaw on the side.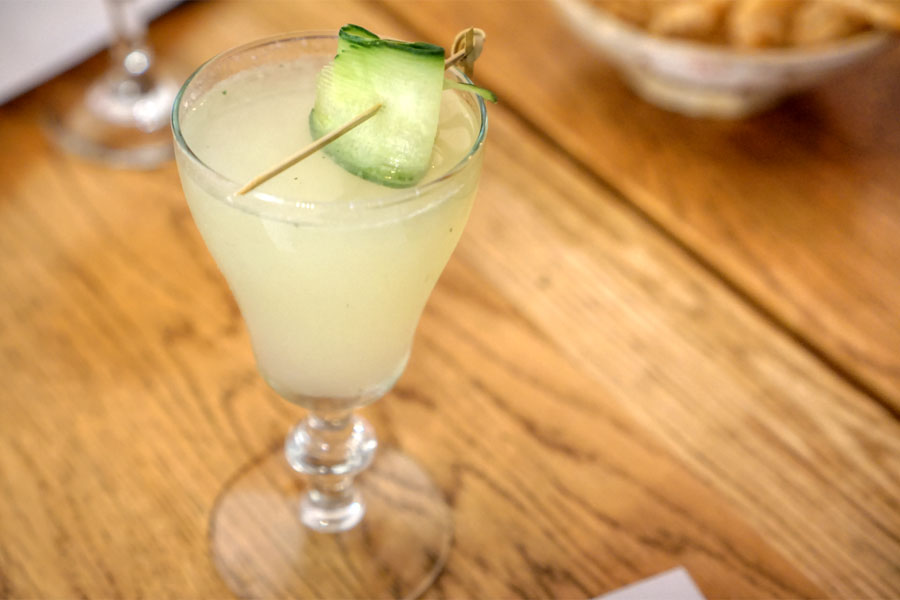 Big Green [$11.00]
| Junipero Gin, Green Chartreuse, vanilla syrup, cucumber, mint, lime juice
The last cocktail on the menu definitely went in a light, sweet direction, with subtle cucumber perked up by notes of lime and mint.
Filipino Ceviche [$12.00]
| yellow fin tuna, coconut lime, avocado, pork cracklings, Thai chili
A take on
kinilaw
was successful, with supple cubes of tuna accompanied by acidity, spice, and a soft sort of sweetness. Great crunch from those cracklings, too.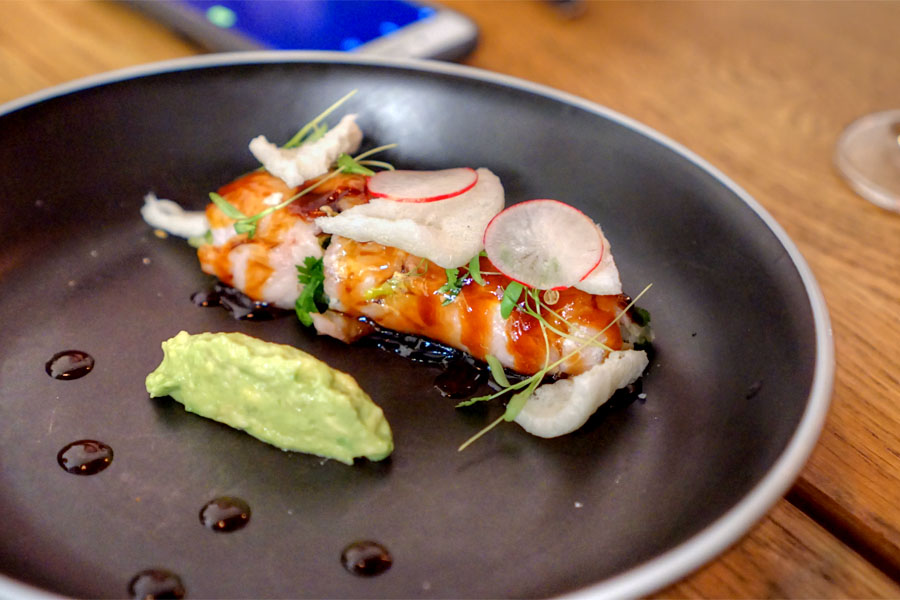 Hamachi "Spring Roll" [$14.00]
| apple, cucumber, jalapeno, ponzu gelee, herbs, avocado
Yellowtail made for an intriguing spring roll. The ponzu definitely gave the fish a healthy dose of umami, which was contrasted against the brightness from the various other elements on the plate.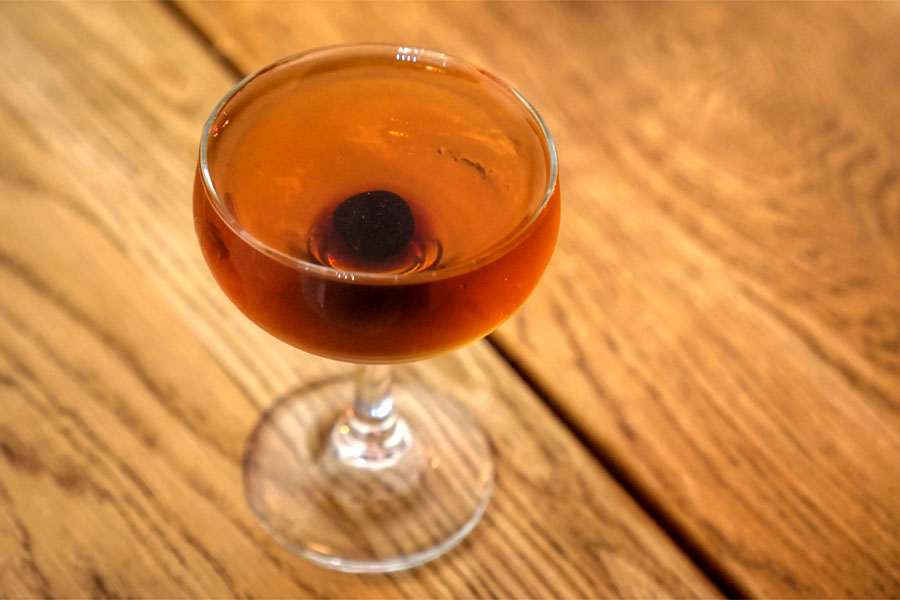 Barkeep's Inspiration - Rye Whiskey [$13.00]
| Rye Whiskey, Benedictine, CioCiaro amaro, sweet vermouth, bitters
With all the printed cocktails drunk up, we chose a trio of base spirits and asked the bar to work their magic on some booze-forward drinks. The first was quite lovely, with aromatics of dark fruit and citrus leading to a palate filled with bittersweet, herbal, spicy elements. A bit Manhattan-like.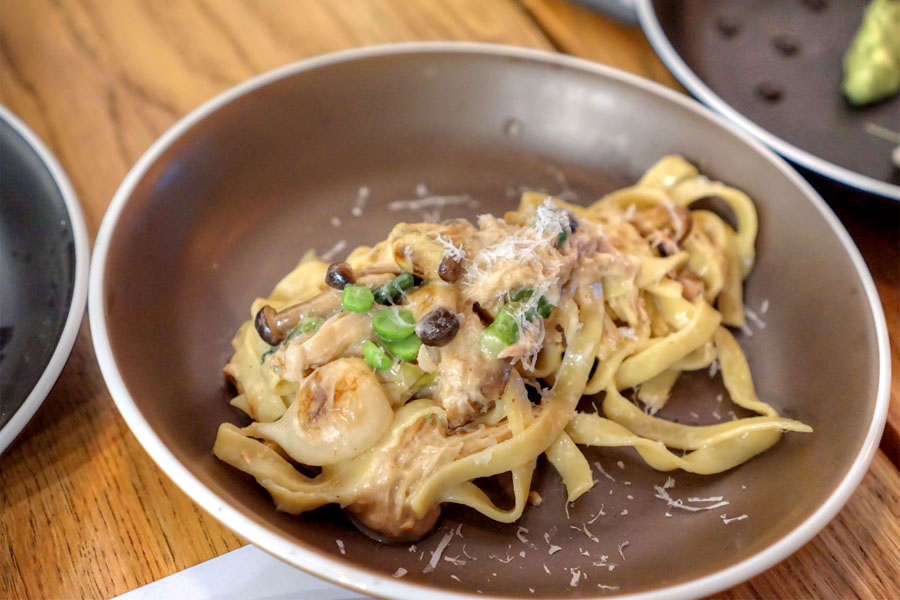 Housemade Fettuccine
| braised rabbit leg ragù, rabbit loin
Since we were ordering so much, the kitchen sent out a complementary plate of pasta, ostensibly from the night's tasting menu. The fettuccine was well-textured, and served as a superb base for the delicious interaction of savory rabbit, earthy mushroom, and bright peas. Curiously, one of my dining companions even remarked that the dish reminded her of "tuna noodle casserole," which isn't a bad comparison.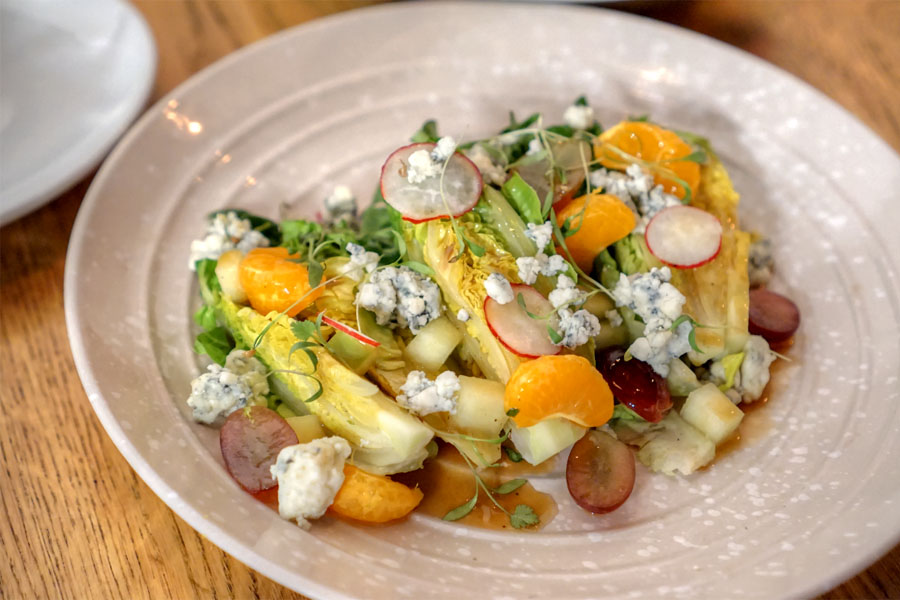 Little Gem Salad [$10.00]
| blue cheese, walnuts, grapes, tangerine, apple, pomegranate vinaigrette
Our sole salad worked out well. Nice back-and-forth here between the funk of the cheese and the fruity, tart elements in the dish. Great crunch from the lettuce as well.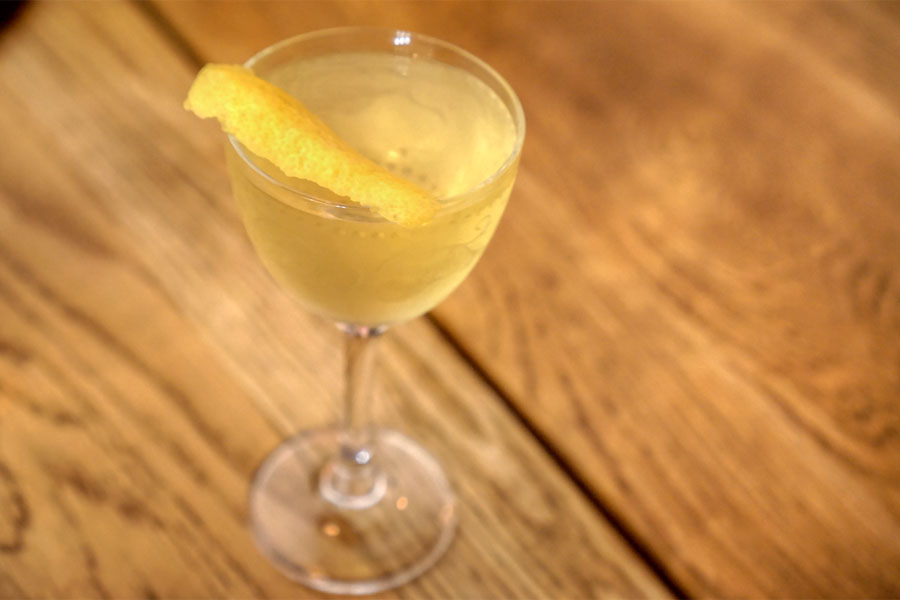 Barkeep's Inspiration - Gin [$13.00]
| Gin, Lillet Blanc, Suze, Luxardo maraschino, absinthe wash
Our gin-based cocktail didn't smell of much, just a smidge of citrus. The taste was certainly more assertive though, giving up a bitter, botanical complexity along with citrus from the Lillet and just a trace of anise from the absinthe.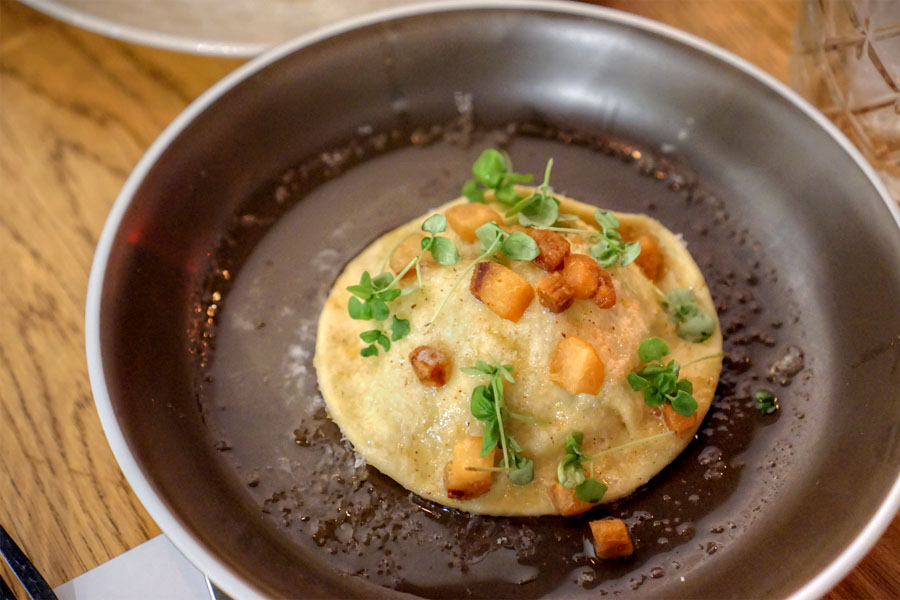 Soft Egg Raviolo [$11.00]
| herb ricotta, black pepper pasta, guanciale, parmesan, brown butter
A large raviolo made for another table favorite. I was a big fan of the pasta's herby, cheesy filling and how that worked with the saltiness of the guanciale and rich brown butter. Yum.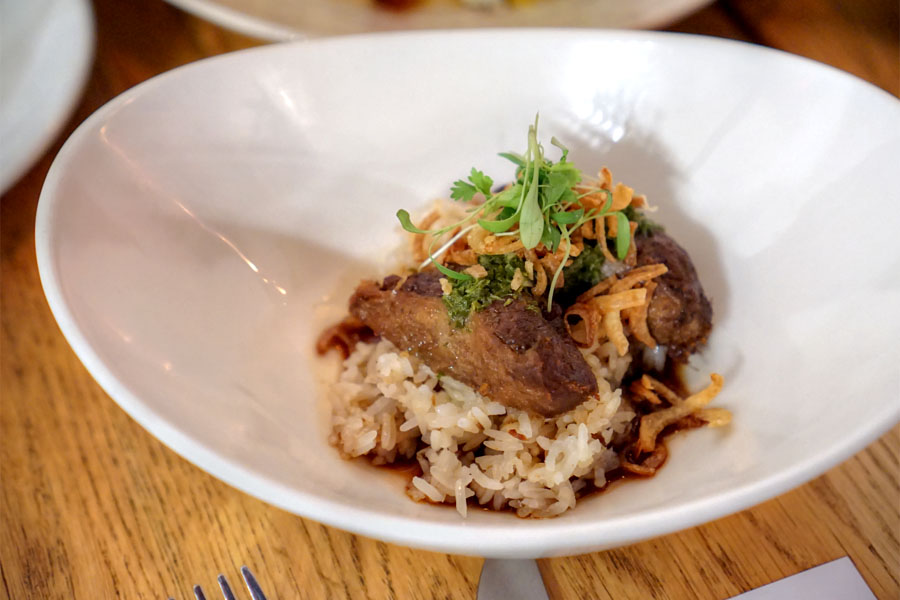 Pork Cheek Adobo [$12.00]
| garlic fried rice, chimichurri
The adobo was another highlight, with the pork arriving properly tender, with deep, rich flavors and a great vinegar-y tang. And the fried rice? Gimme a bigger bowl please.
Barkeep's Inspiration - Mezcal [$13.00]
| Mezcal, Reposado Tequila, agave, Angostura bitters, absinthe
The final cocktail of the night featured mezcal, which I'm quite fond of these days. Smelled straightforwardly smoky, with a spice element. The palate was thick, with a definite sweetness from the agave evened out just a touch by the absinthe. The smoky qualities of the mezcal were still present, but I wanted to taste more.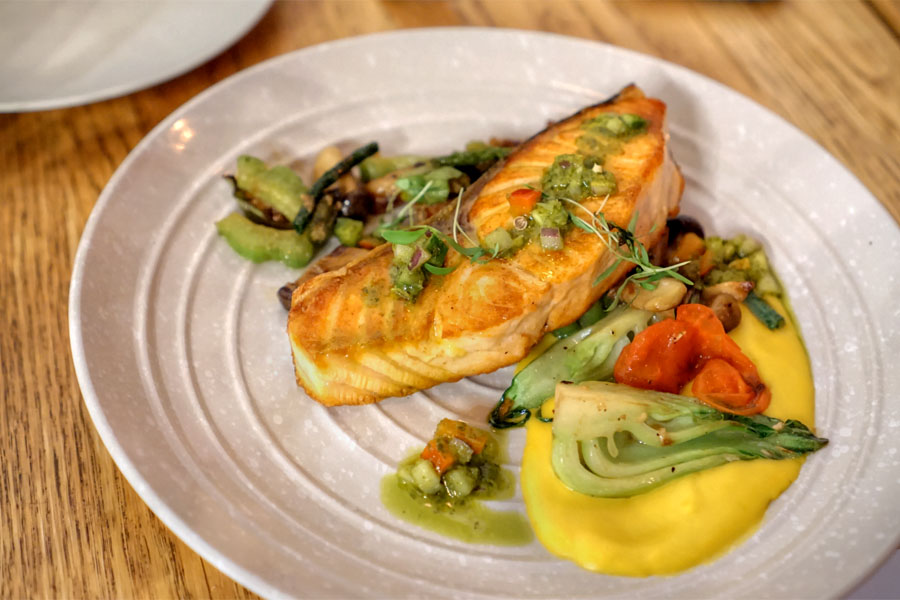 Market Fish (Salmon) [$21.00]
| tropical vegetables, coconut squash puree, shrimp salt
Salmon was cooked too much for my liking unfortunately, and I wasn't too keen on that squash purée, either, though I did really enjoy the bok choy.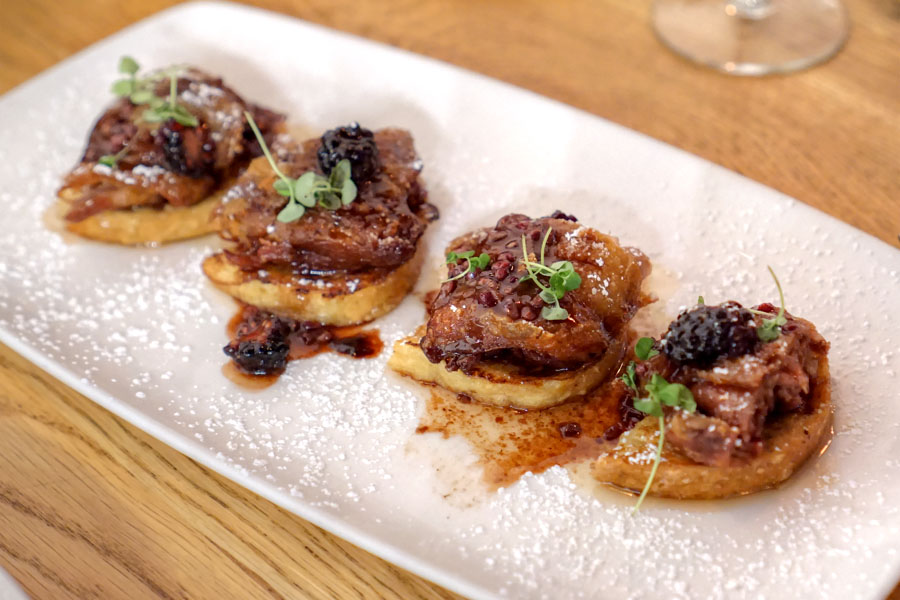 Duck and French Toast [$20.00]
| five spice maple, Szechuan pepper-cider jus, caramelized blackberries
The kitchen had run out of French toast, and ended up using another bread to recreate the dish. That wasn't the problem for me, though. I found the berries overly sweet, as they tended to overshadow the actual duck. If the fruit were reined in a bit, I think this would've been much more effective.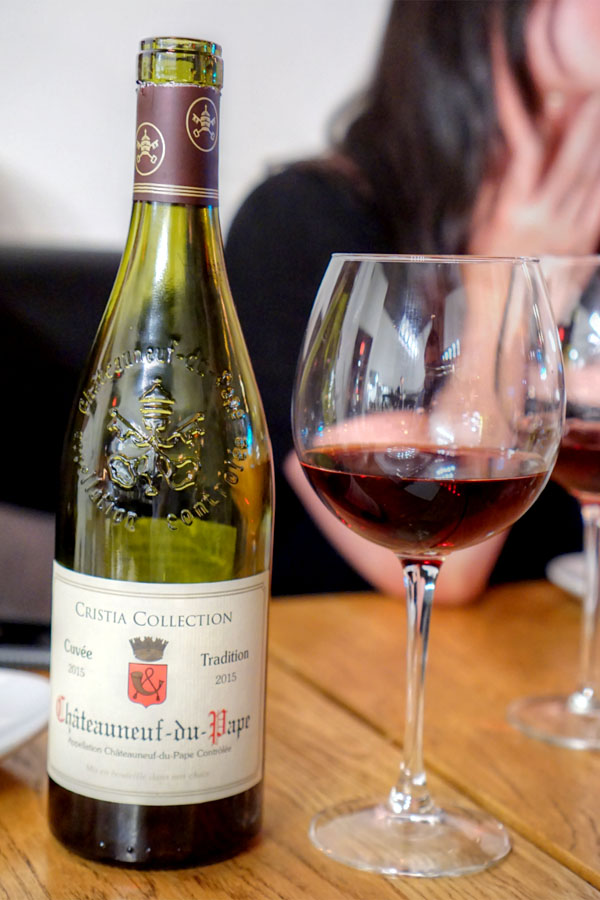 With the cocktails done, we moved on to some wine, the
Chateauneuf du Pape, Cristia, Rhone, 2015 [$60]
. Nose here was of bright, almost jammy berry. The taste was floral at first, with a spiciness and earthiness taking hold later on.
Market House Made Pasta [$25.00]
| corn agnolotti, pea puree, spring vegetables, parmesan
Agnolotti showed off the unmistakable sweetness of corn while the veggies conveyed a light, bright character that worked as a counterpoint.
New York Steak [$26.00]
| calamansi-soy hollandaise, fingerling potato, charred onions
In our final savory, strip steak came out juicy and tender, though I wish its seasoning were more aggressive. It was tasty though, and played well with the tart, reimagined hollandaise and wonderfully herby potatoes.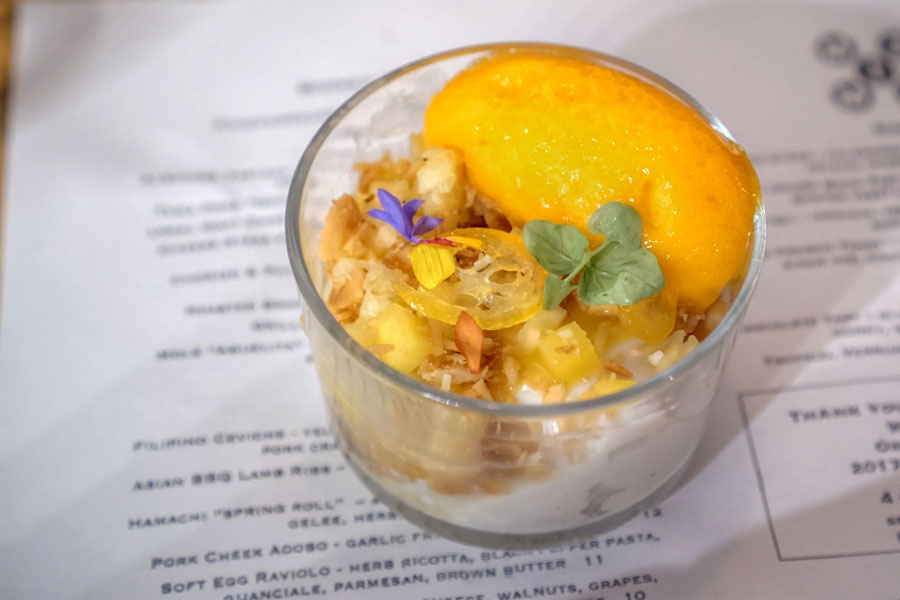 Tropical Verrine [$7.00]
| lychee, passion fruit, coconut, macadamia nuts
Our first of two desserts was the Chef's take on halo-halo, a fun, modern interpretation of the traditional dish that saw the various fruity elements well-matched by the macadamias.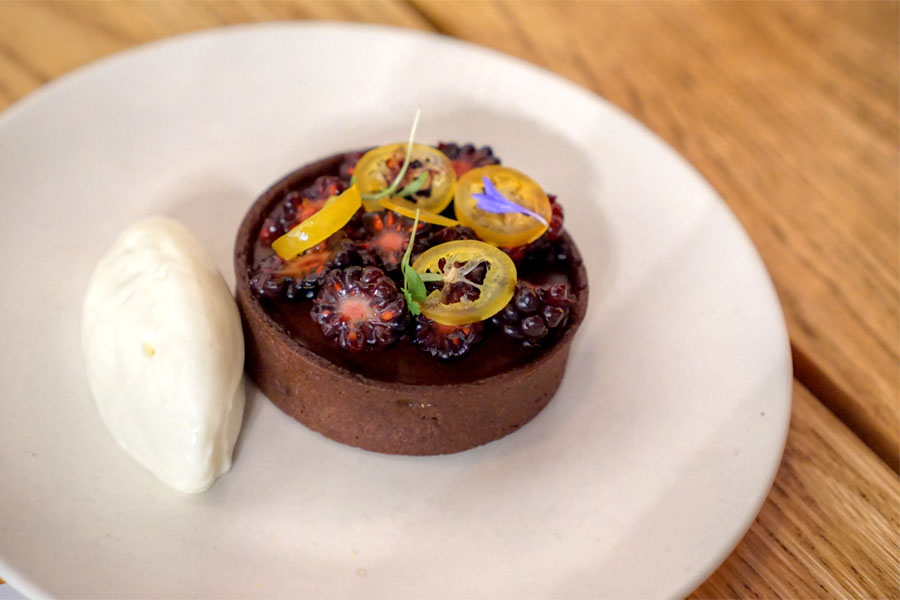 Chocolate Tart [$7.00]
| blackberries, candied kumquats, yuzu honey, whipped creme fraiche
A mini tart delivered, showcasing a classic pairing of chocolate and fruit, with the crème fraîche working as a moderating force. Nice crispness on the crust to boot.
Mix Mix represents yet another worthwhile addition to the resurgent DTSA dining scene. Pangilinan's cooking is sort of an amalgam of his cultural background and his classical culinary training, and the results of this mash-up largely work. One thing I'm curious about though is if the Chef will take the menu to a more overtly Filipino place. As we know, Filipino cuisine is undergoing a bit of a renaissance in LA at the moment, so it'll be interesting to see if that affects the food here.