Church & State (Los Angeles, CA) [3]
Church & State Restaurant
1850 Industrial St, Los Angeles, CA 90021
213.405.1434
www.churchandstatebistro.com
Wed 04/12/2017, 08:05p-10:50p

Wow, it's been a while. The last time I reported on
Church & State
was back in March 2010, for
Walter Manzke
's final night of service. After Manzke left, ex-Anisette CdC Joshua Smith stepped up as Executive Chef, but he didn't last long. He was out by September that year, replaced by
Gordon Ramsay
veteran Jeremy Berlin. Berlin, for his part, stayed until late 2012, and at the start of 2013, he was succeeded by none other than
Tony Esnault
, the former top toque at
Patina
. Esnault seems to have installed a sense of constancy to the bistro, and I figured that it was time for a long overdue revisit.

Church & State still has one of the cozier interiors in town.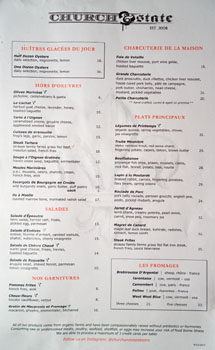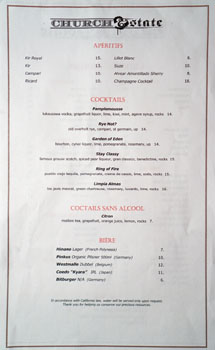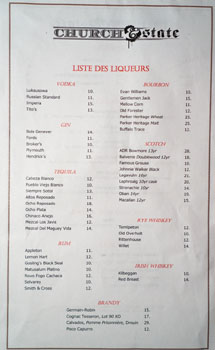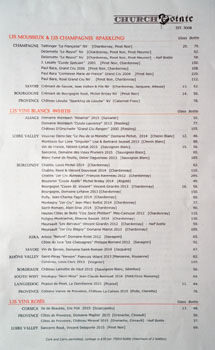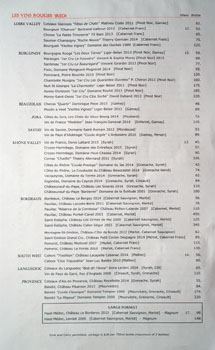 As far as the menu goes, you get French classics, which is exactly what you'd want from Church & State. Drink-wise, there are some cocktails, some beer, and an exclusively-French wine list. Click for larger versions.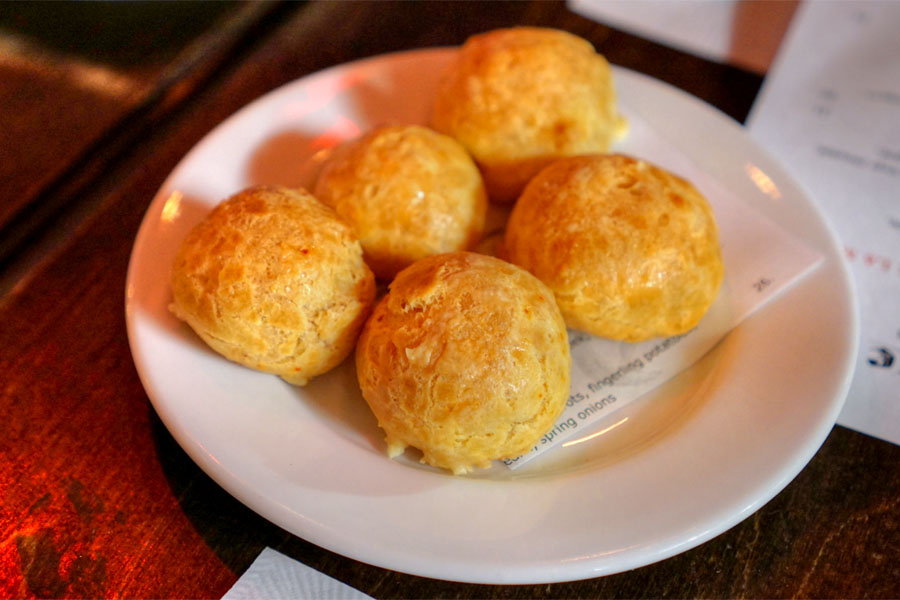 Complementary gougères were light, airy, and tasting, unsurprisingly, of Goldfish (crackers).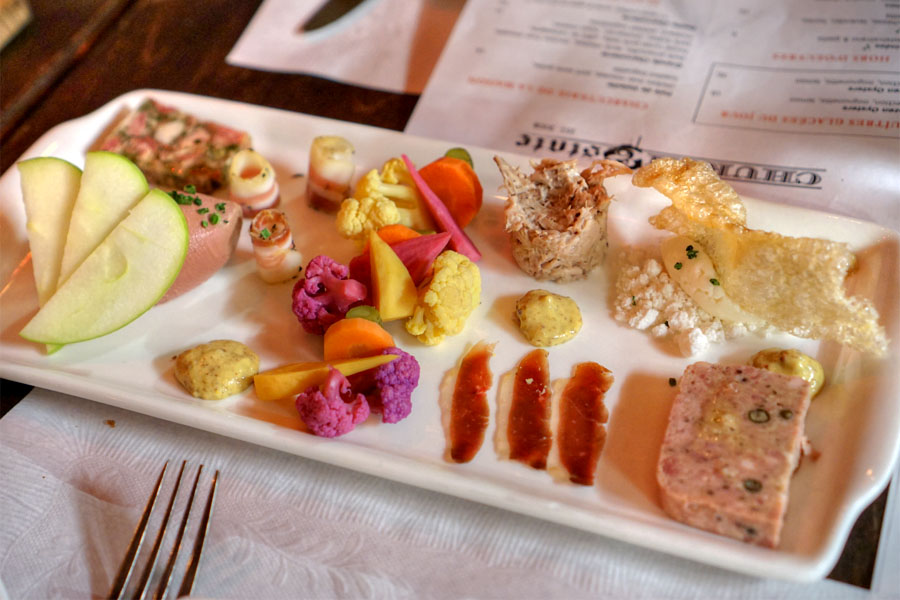 Petite Charcuterie [$20.00]
| duck prosciutto, duck rillettes, chicken liver mousse, house cured pork belly, pâté de campagne, pork butter, chicharrón, head cheese, mustard, pickled vegetables
Church & State is known for its housemade charcuterie, so we made sure to start with this artfully-plated sampler.
head cheese - A loosely-packed fromage de tête was gelatinous to the bite, and conveyed a delightfully herby spice.
chicken liver mousse - Rich yet refined, with a super smooth consistency and a delicate liver-y quality well-matched to the sweetness and crunch of apple.
house cured pork belly - Tightly rolled, these were slick, properly salty, and the right amount of fatty.
duck rillettes - Soft and dense, with a distinctly salty, savory quality.
duck prosciutto - Intensely flavorful, more flavorful in fact than most pork prosciuttos.
chicharrón - Pork rind, served atop pork butter (butter with pork fat) and pork "snow" (tapioca with pork fat). A bit much, actually, with both the butter and the snow.
pâté de campagne - Firm and springy, with an unmistakable porkiness and just the right amount of rusticity. My go-to pâté.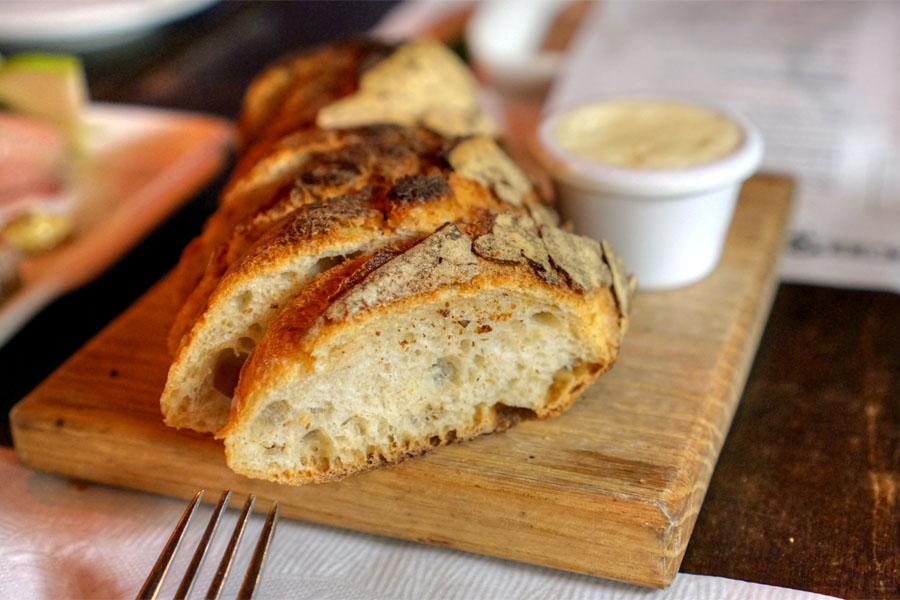 Fittingly, the charcuterie arrived with a serving of crusty baguette and butter.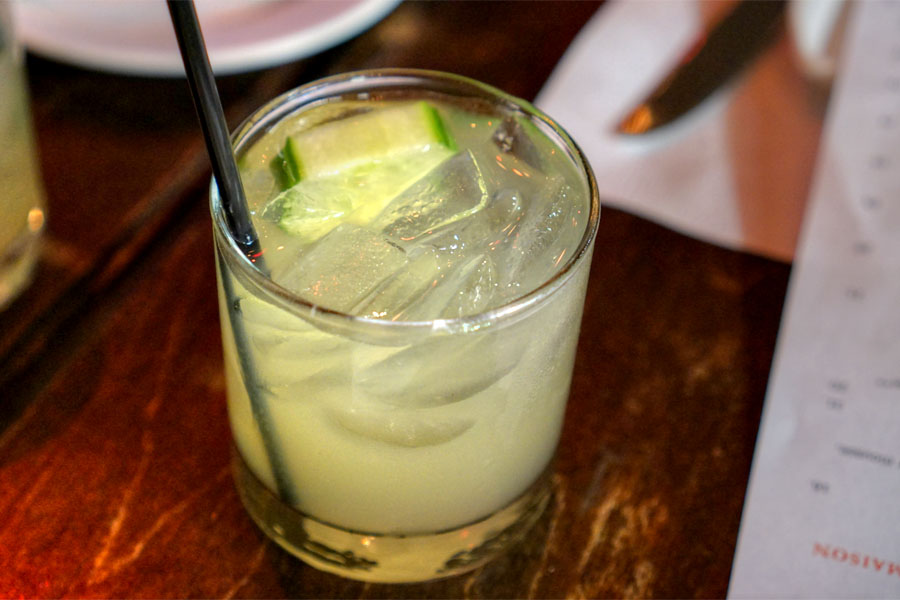 Inferno Mez [$14.00]
| mezcal, muddled cucumber, fresh lime, rosemary-thyme infused water, infused agave-habanero, rocks
We had to sample some cocktails naturally, and started with this mezcal number, a special this evening. I found it smoke-forward, zesty, with a definite spicy kick. But at the same time, it managed to be relatively refreshing thanks to the cucumber and herbs employed.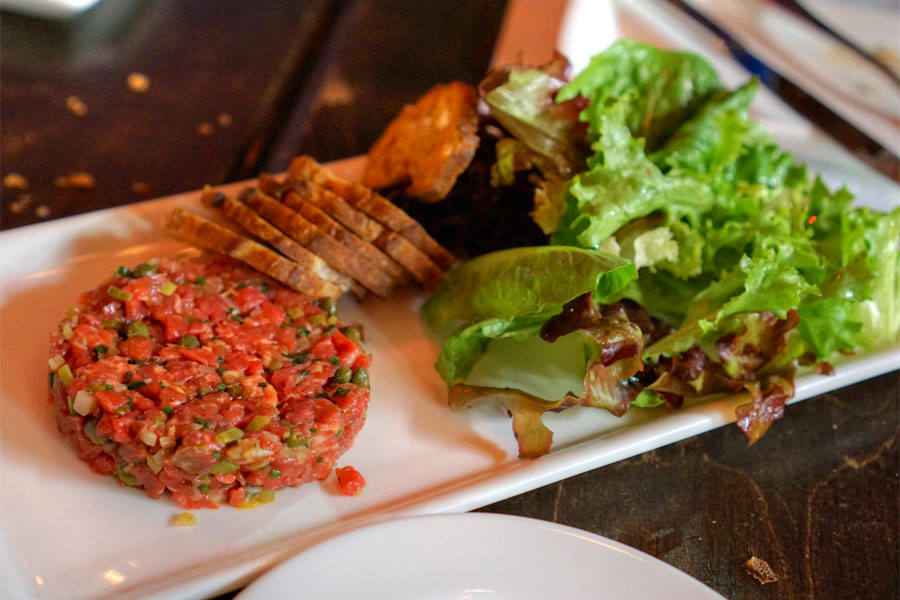 Steak Tartare [$18.00]
| strauss family farms grass fed beef, mesclun salad, french fries
Steak tartar was classic, the beef well-accompanied by tangy capers and other pickle-y bits. The included toast and mixed greens made for a natural pairing.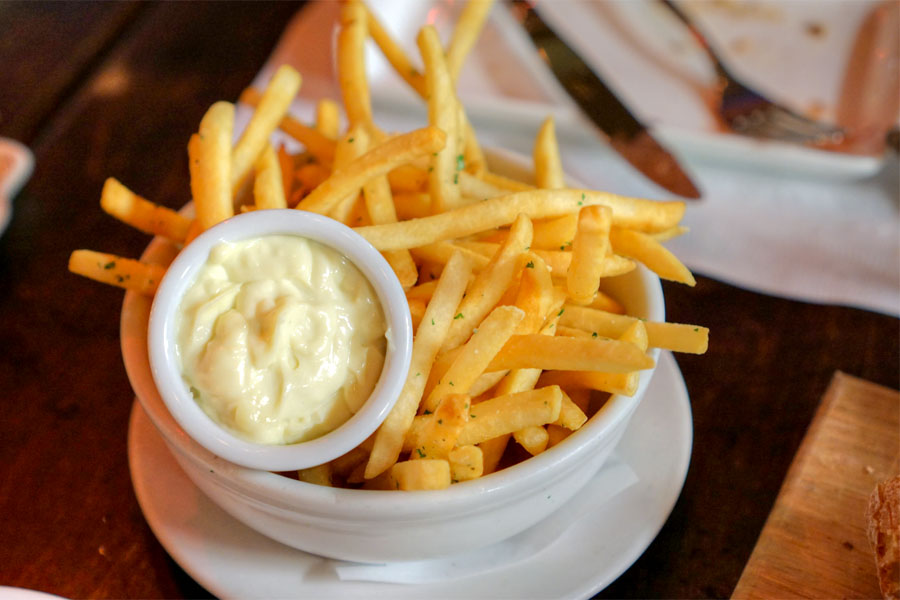 The tartar came with some spot on
pommes frites
: thin, crisp (but not too crunchy), with the right amount of salt and herb. Great alone or with that creamy aioli.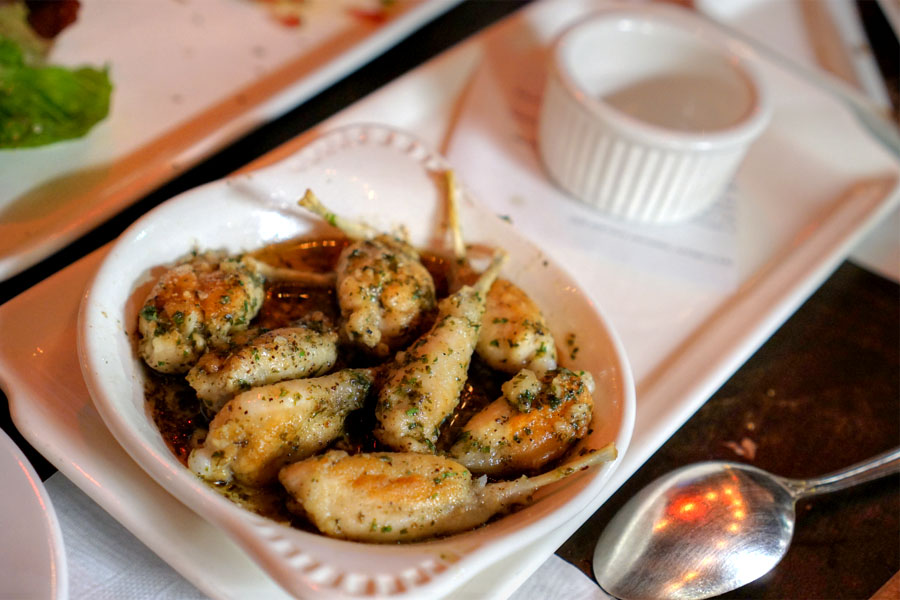 Cuisses de Grenouille [$15.00]
| frog's legs, garlic, parsley, lemon
Frog legs arrived tender and juicy, their slight brine contrasted by the tart, herby flavors in the dish.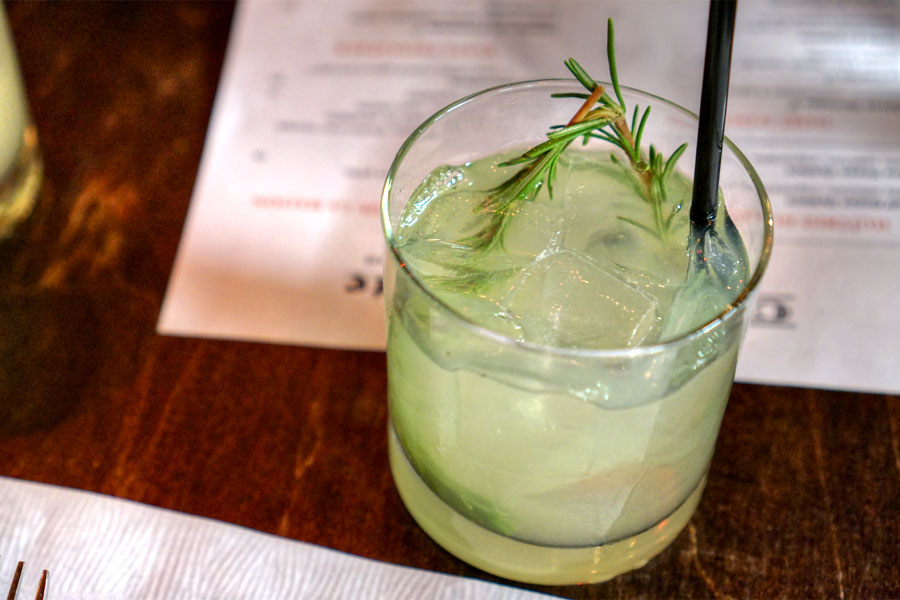 Limpia Almas [$16.00]
| los javis mezcal, green chartreuse, rosemary, luxardo, lime, rocks
Our second mezcal cocktail went in a very different direction. Here, the spirit's signature smoke was evened out by the plethora of botanical, herbaceous nuances in the drink. Winter-y.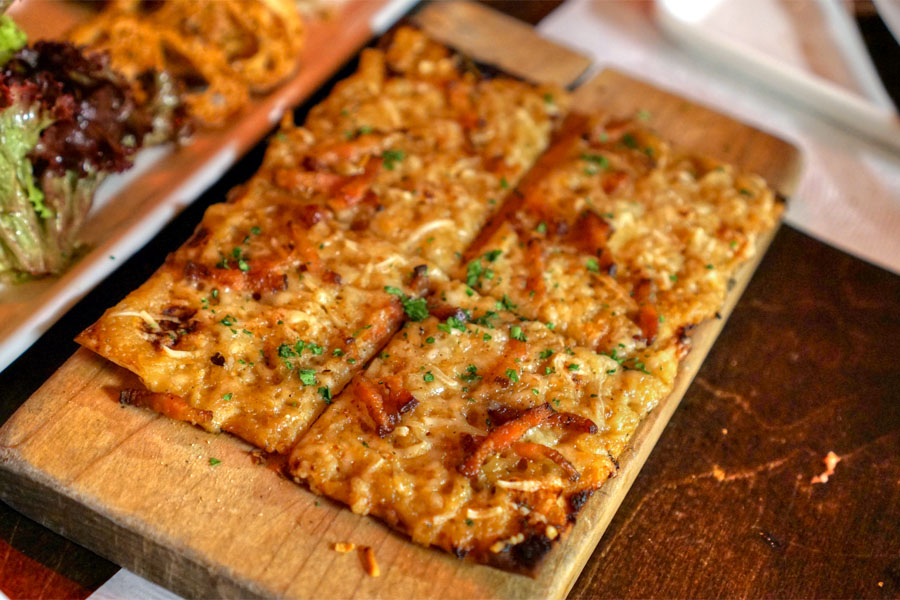 Tarte a l'Oignon [$12.00]
| caramelized onions, gruyère cheese, applewood smoked bacon
The
tarte flambée
is about as close as you're gonna get to a signature dish here, having been on the menu since at least the Manzke days. Gooey cheese, salty bacon, sweet onion, all in a thin, crisp package--it's a cozy combination that works.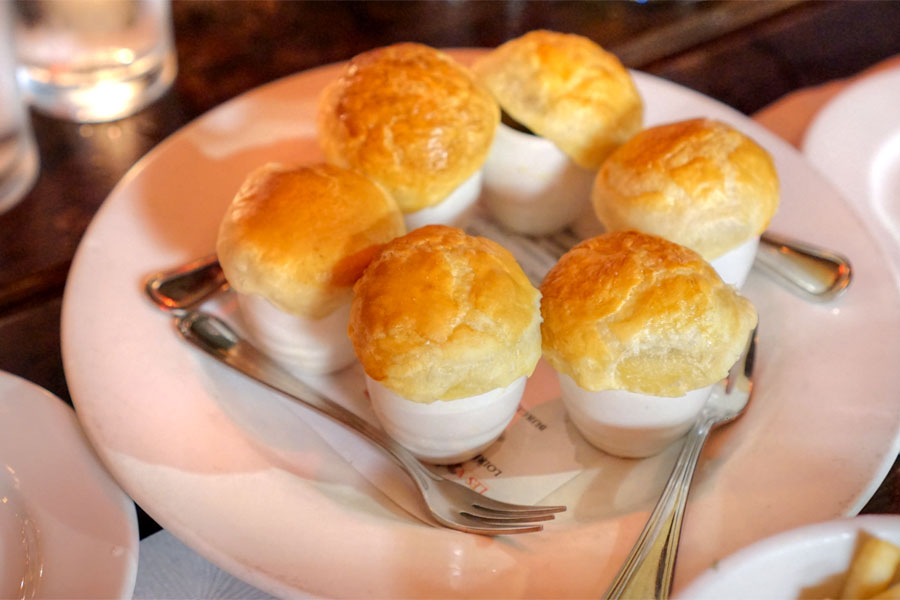 Escargots de Bourgogne en Croûte [$18.00]
| wild burgundy snails, garlic butter, puff pastry
The snails are another longstanding dish at Church & State. They were just what you'd want: herby, tangy, buttery, their potency matched by the fluffy pastry tops.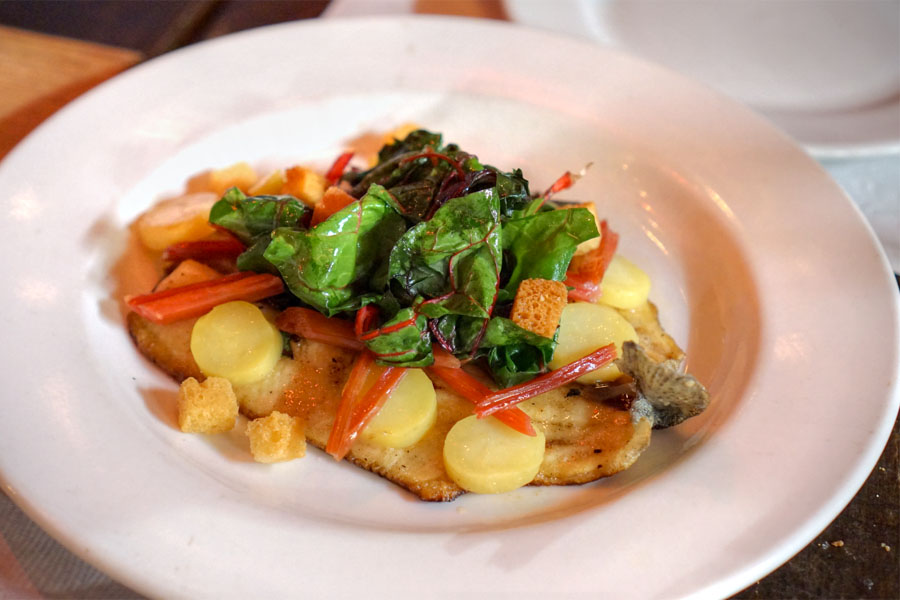 Truite Meunière [$29.00]
| idaho rainbow trout, red swiss chard, fingerling potato, capers, lemon, brown butter
Trout came out crispy-skinned and well-cooked, the
meunière
sauce giving us a nice back-and-forth between brown butter and the tangy combo of lemon-caper. Potatoes provided a welcomed heartiness, and I appreciated the bitterness from the chard as well.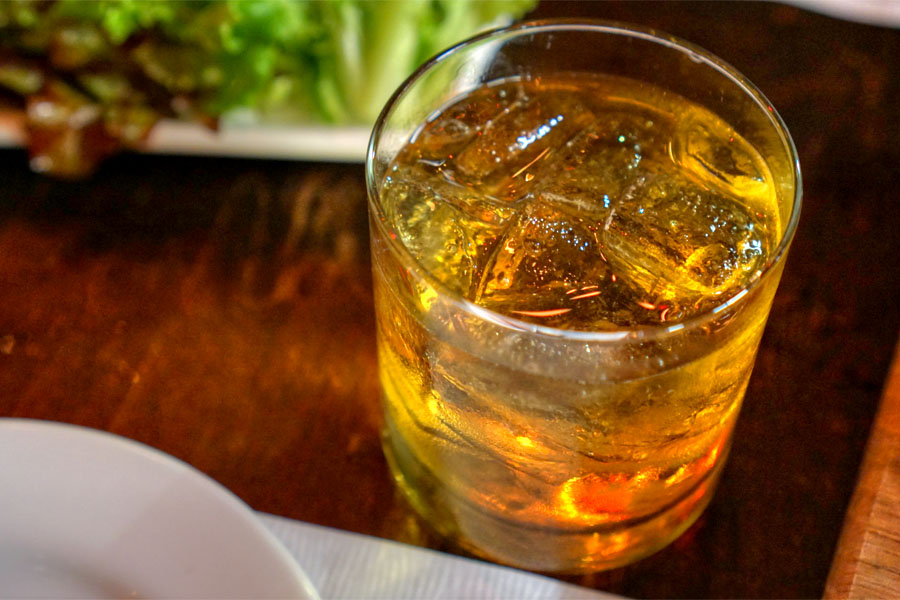 Stay Classy [$15.00]
| famous grouse scotch, spiced pear liqueur, gran classico, benedictine, rocks
Our next cocktail looked classy indeed, though its flavor profile was much more interesting than its visuals would indicate. I got some hugely floral, aromatic notes in the drink, commingled with warm spice and the booziness of the whisky. It tasted like what Cost Plus World Market smells like.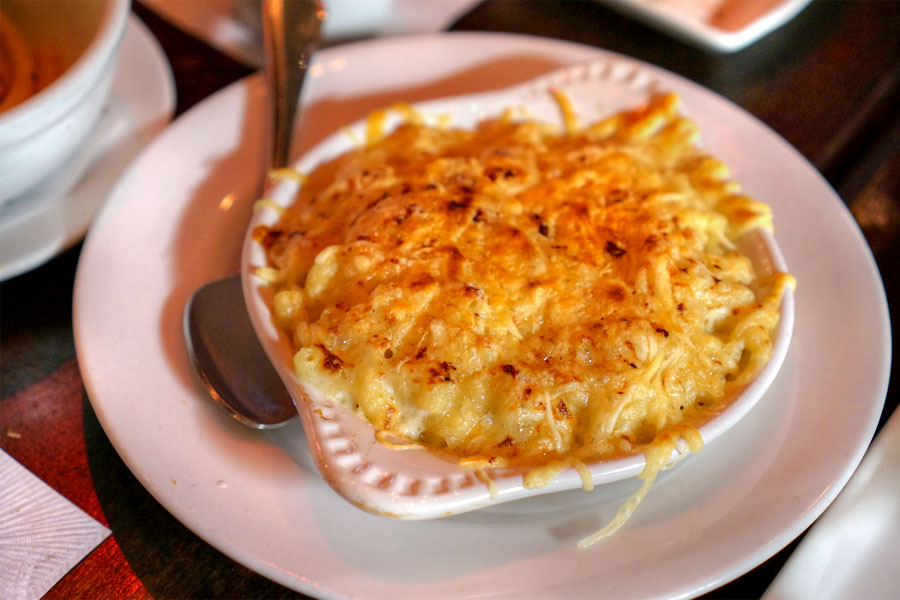 Gratin de Macaronis et Fromage [$10.00]
| macaroni, gruyère, emmentaler, béchamel
The mac 'n' cheese was one of the better versions I've had thanks to its combination of crusty top, al dente pasta, and unbridled creaminess.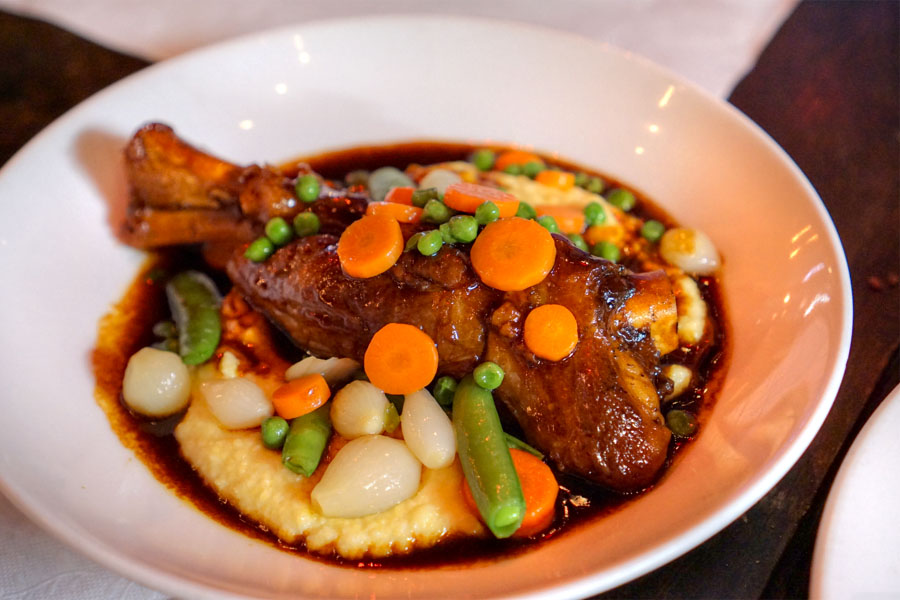 Jarret d'Agneau [$32.00]
| lamb shank, creamy polenta, pearl onion, carrot, snow pea, rosemary jus
In our final savory, the falling-apart-tender shank displayed all the dark, umami-soaked flavors that you'd expect. We quite enjoyed it, especially when taken alongside the polenta and bright, crunchy veggies. Homey, yet finessed.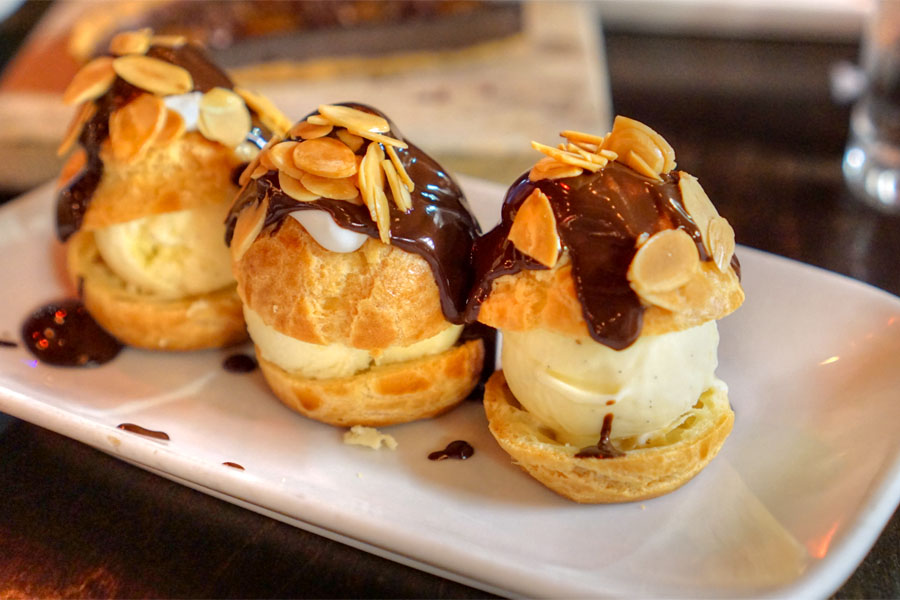 Profiteroles [$9.00]
Time for dessert. Cream puffs are always a safe choice, their fusion of vanilla ice cream, chocolate sauce, toasted almonds, and puff pastry seemingly always satisfying.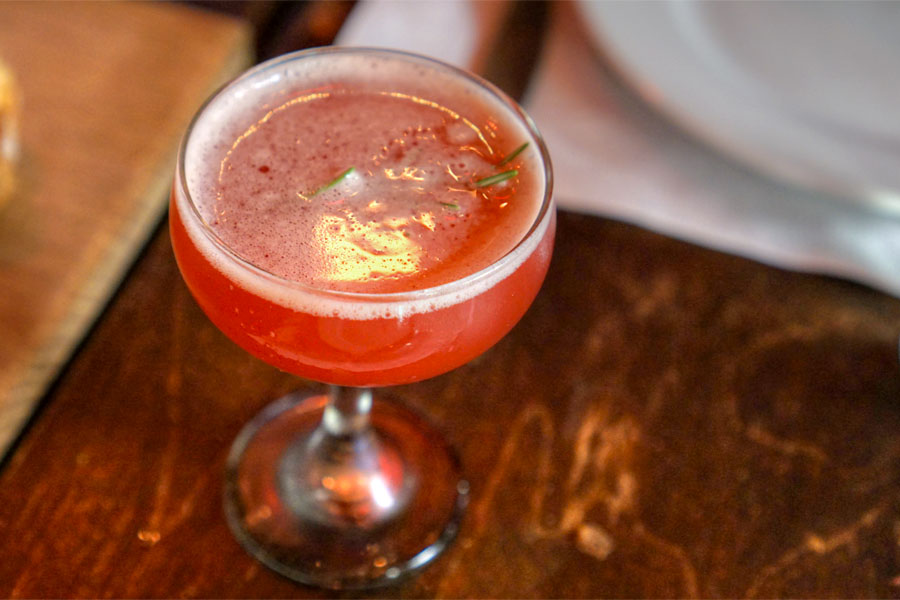 Garden of Eden [$14.00]
| bourbon, cynar liquor, lime, pomegranate, rosemary, up
Our last cocktail brought Cynar and pomegranate together for a bittersweet, fruity, medicinal, boozy drinking experience that sort of recalled cough syrup, if I had to liken it to something.
Chocolate Tart [$9.00]
The
tarte au chocolat
delivered, its salted caramel sauce doing a laudable job offsetting the sheer richness of the chocolate. Nice textural component from the cacao nibs, too.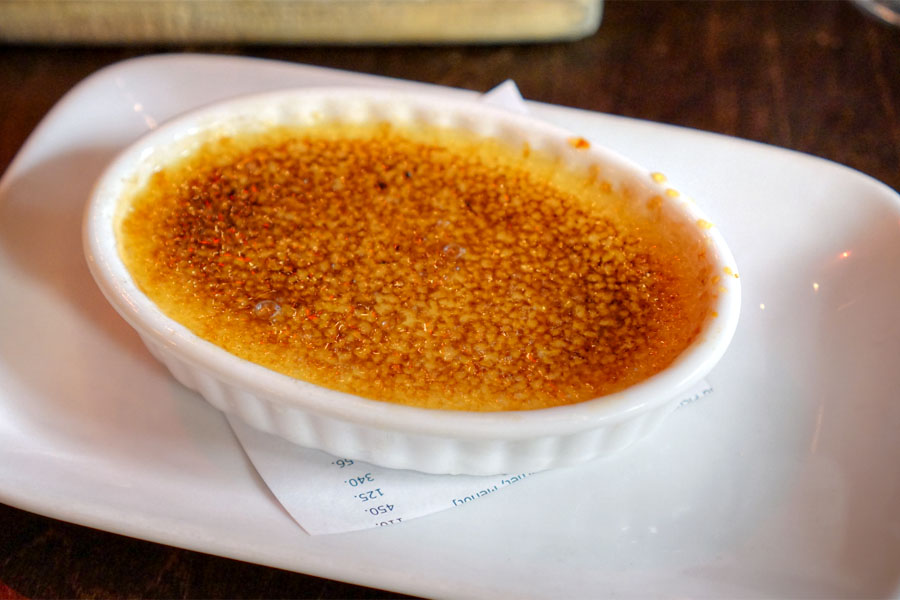 Crème Brûlée [$9.00]
A vanilla crème brûlée was utterly classic, replete with a wonderfully crackly, caramelized top.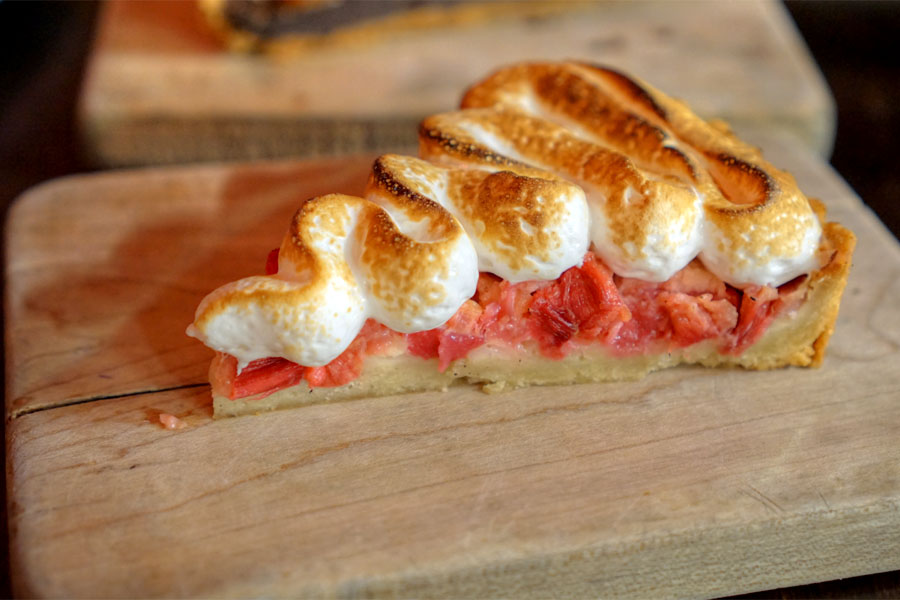 Rhubarb Tart [$9.00]
Next was a
tarte à la rhubarbe
, perhaps my favorite of the desserts. Some great sweet-tart flavors on this one, well balanced by the creamy squiggles of toasted meringue on top.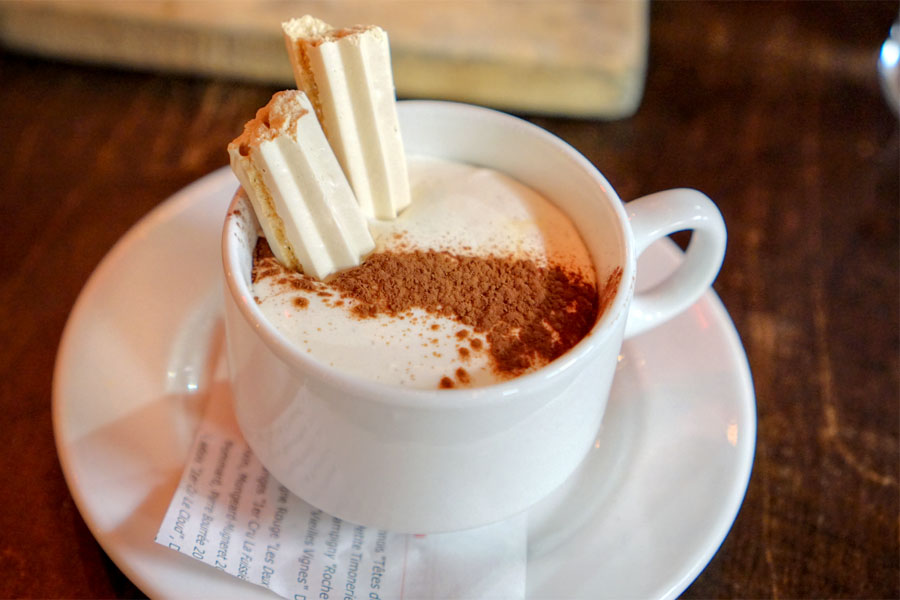 Pot au Chocolate [$9.00]
Last up came a chocolate-espresso custard with crème Chantilly and meringues. Again, a good effort, well-balanced, with a much appreciated crunchiness from the meringues to boot.
I'm glad I finally made it back here. We enjoyed a lovely meal, and it's difficult to really find fault with any of the food. The cooking's certainly classic in essence, but also very well executed, and always comforting. Church & State is sort of
the
seminal Arts District restaurant, so I'm happy to see that the place is humming along just fine under Esnault's leadership.