Plato (Los Angeles, CA)
Plato Restaurant & Bar
3474 W 8th St, Los Angeles, CA 90005
213.383.1984
Tue 03/21/2017, 08:00p-10:05p

A working dinner in Koreatown brought me to Plato, a new-ish
suljib
-slash-sports bar that opened in March 2016. I was sort of intrigued when I found out that the place was opened by Brave Brothers, but that interest quickly waned when it turned out that "Brave Brothers" wasn't the famed
K-pop producer
, but instead was in reference to owners Sam and Kevin Koo (who are actually brothers).


The place sits next door to KBBQ import
Magal
, and takes over the old home of Damashete, Hiper Clubstyle Jujum, Ju-Jat Street, and Rosen Keller Pub. The interior, split into two rooms, has a casual, fun sort of feel, appropriate given the concept.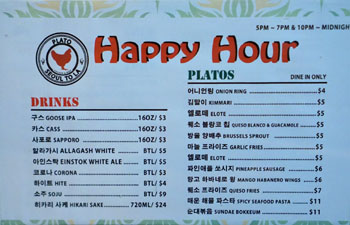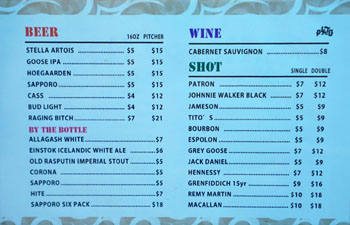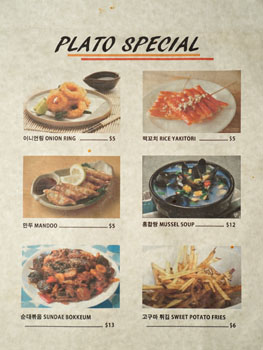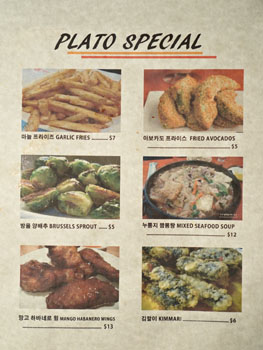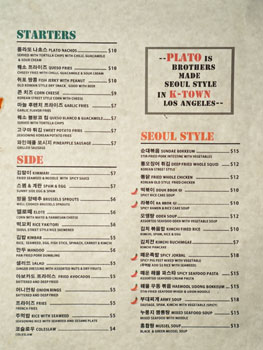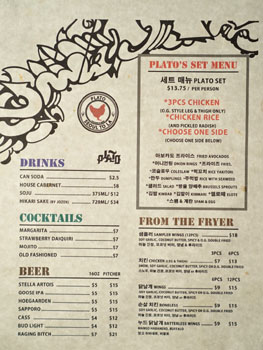 Menu-wise, Plato features your typical Korean bar bites, with a particular focus on fried chicken, though what's interesting is that there's a Mexican slant to many of the dishes. To drink, you get your usual beers, both in bottles and on tap, various spirits, cocktails you probably don't want, and a single wine ("House Cabernet") you
really
don't want. Click for larger versions.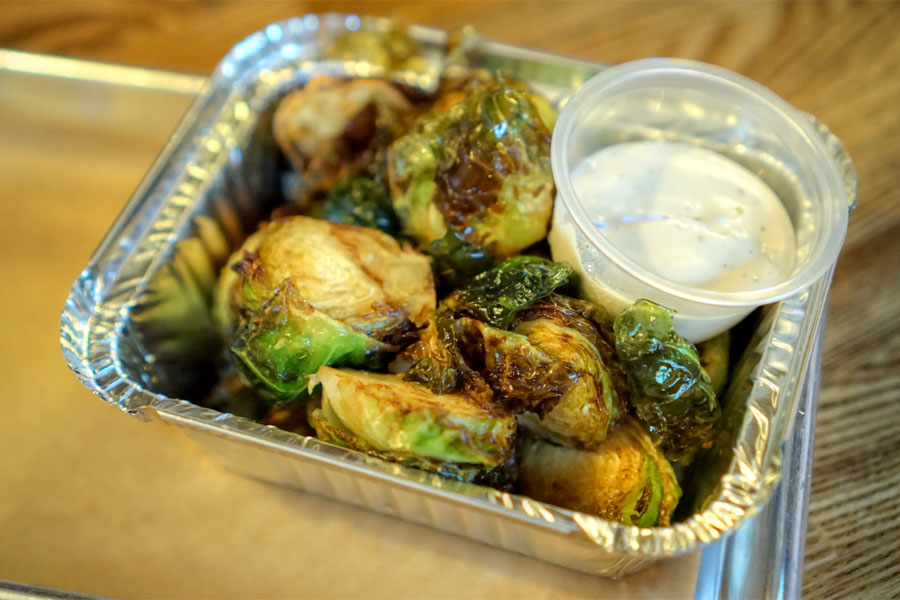 Brussels Sprouts [$6.00]
| Well Cooked Brussels Sprouts
Brussels were actually very tasty: satisfyingly firm to the chew, with a spot on balance of bitterness and char.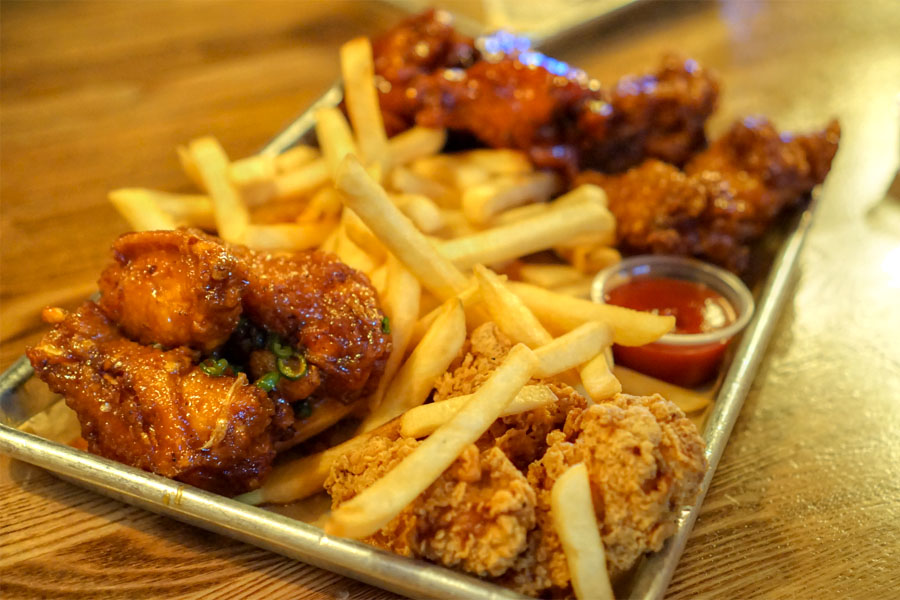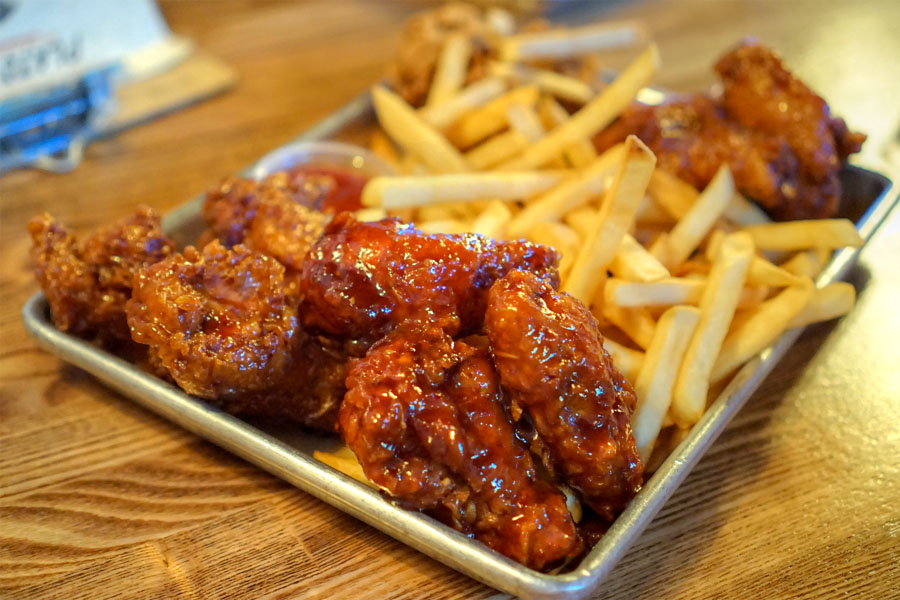 Sampler Wings (12 Pcs) [$18.00]
| Soy Garlic, Coconut Butter, Spicy & O.G. Double Fried
The chicken sampler more than met our craving for
chimaek
, though the fries were utterly mediocre, and underseasoned.
O.G. Double Fried - Super crispy on the outside, tender and juicy and flavorful on the inside. My favorite preparation actually, since it let the chicken shine.
Coconut Butter - A bit sweet, a bit savory, though a bit too much of the former I'd say.
Soy Garlic - Classic umami flavors from the soy, with hints of garlic and a smidge of heat.
Spicy - Legitimately spicy, with a lingering, creeping burn. I was glistening after eating this, though it certainly wasn't like Howlin' Ray's or anything at that level.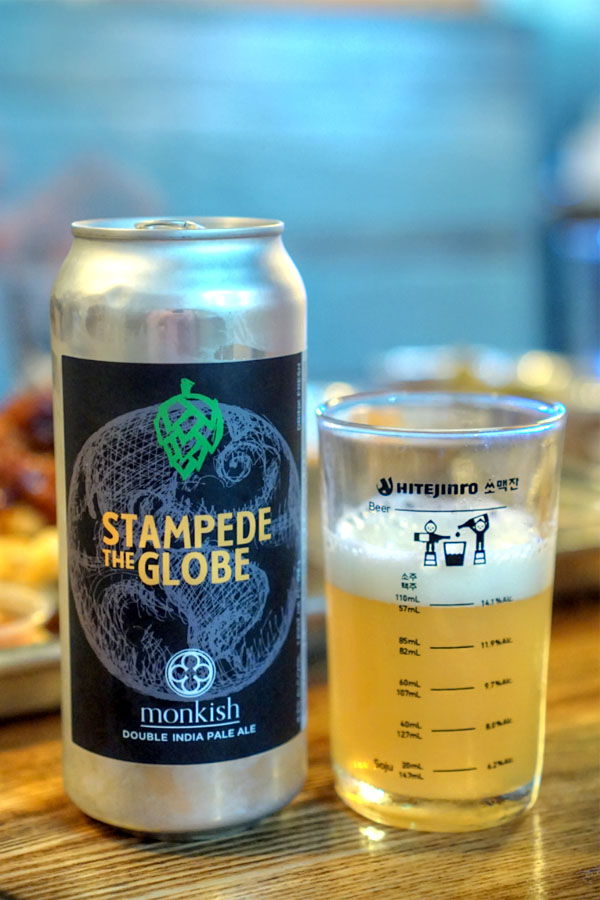 Time for some beer. Up first was the
2017 Monkish Stampede the Globe
, a double India pale ale with Citra that's a prototypical "hazy IPA" release from the brewery. Nose here was deliciously aromatic, brimming with juicy citrus, hops, and a tropical edge. On the palate I got more of that grapefruit, along with a soft hop bitterness that made for a very balanced drinking experience.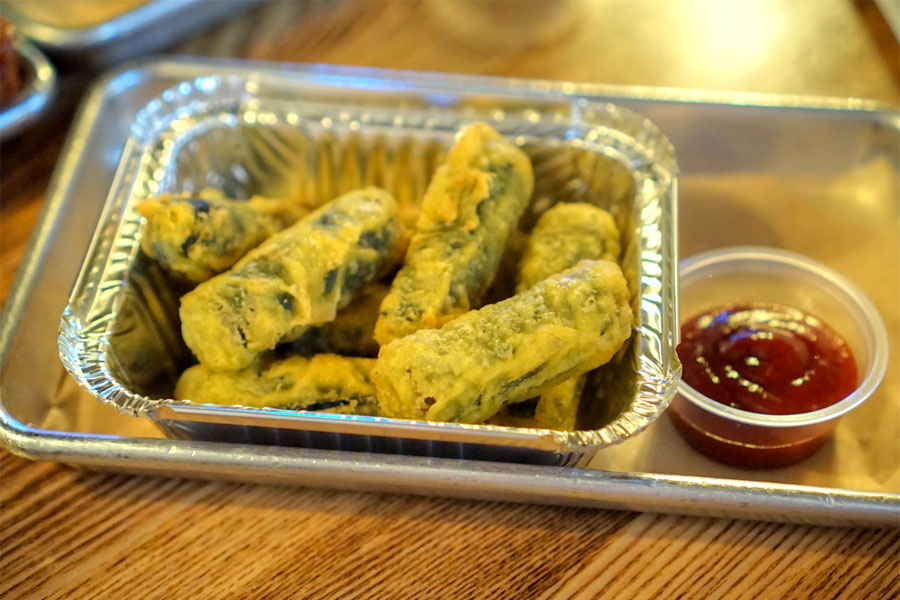 Kimmari [$7.00]
| Fried Seaweed & Noodle with Spicy Sauce
The
gimmari twigim
showed off a neat contrast between their crisp exteriors and soft,
dangmyeon
-filled insides. Taste-wise, they had a sort of bitter-savory quality going on, with the sweet-hot condiment on the side serving as an exclamation point.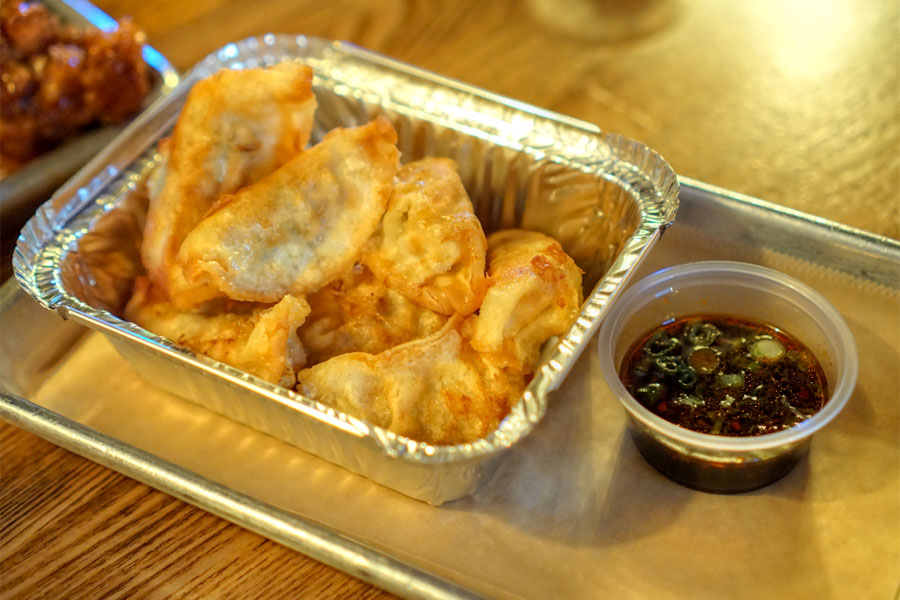 Mandoo [$6.00]
| Pan Fried Pork Dumpling
Gun mandu
were quite nice texturally in terms of their wrappers. Unfortunately, I found the filling rather nondescript, so the tangy soy sauce on the side was much needed. A bit of a letdown.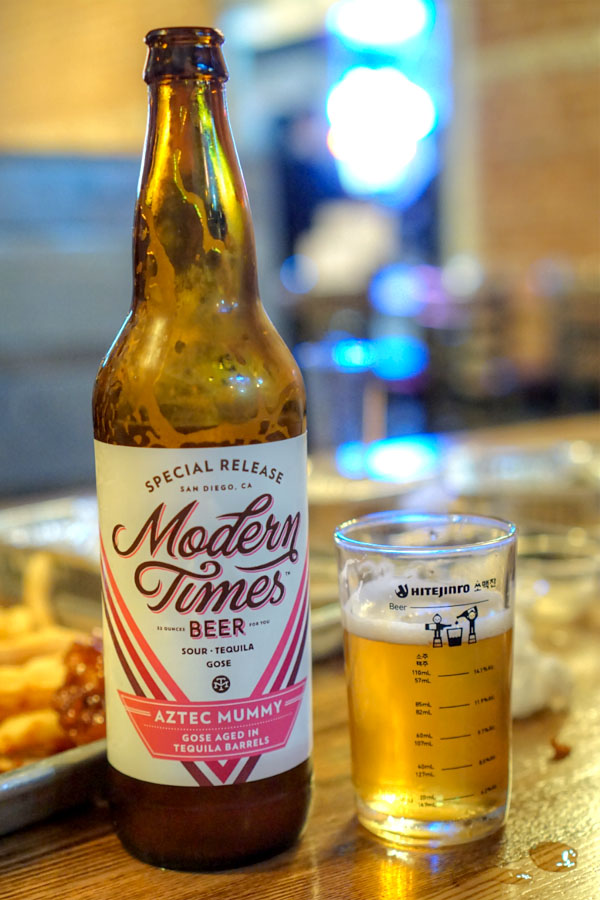 Our next beer was the
2016 Modern Times Aztec Mummy
, a gose aged in tequila barrels. This one smelled strongly of tequila, and also conveyed plenty of tartness. In terms of taste, the typical saltiness of a gose wasn't really there, and it actually wasn't very sour. Rather, the barrel really made itself known, giving up lots of woody, smoky, peppery notes that dominated.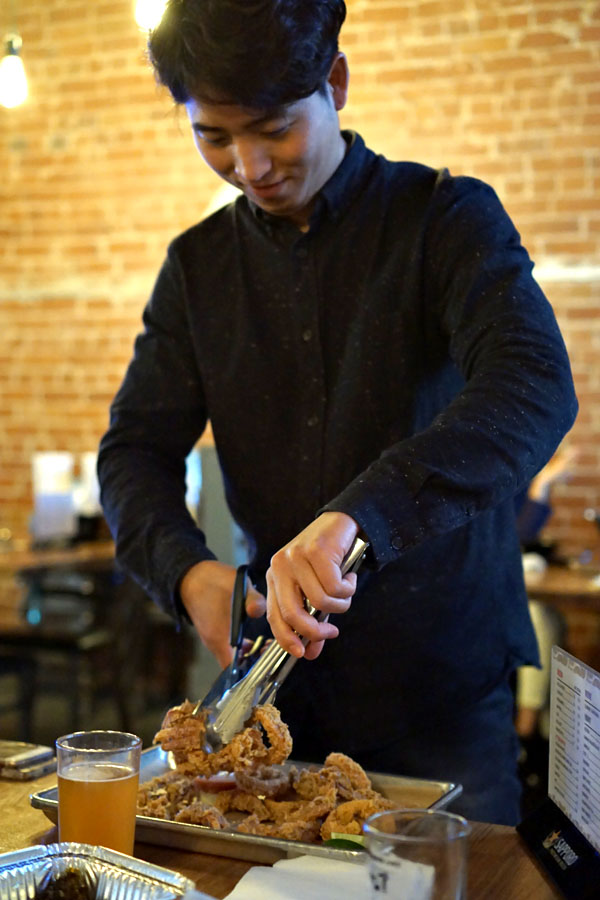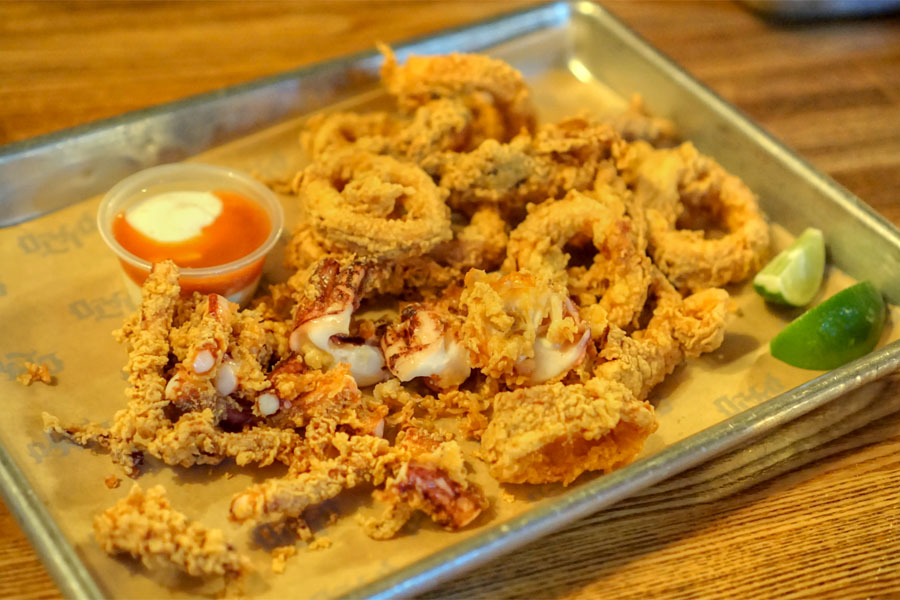 Deep Fried Whole Squid [$12.00]
| Korean Street Style
Ojingeo twigim
was cut up tableside, which was a nice touch. I got a mix of crunchy and supple textures here, which I liked, but the squid was on the underseasoned side unfortunately. I thus made good use of the piquant, Buffalo-ish condiment provided.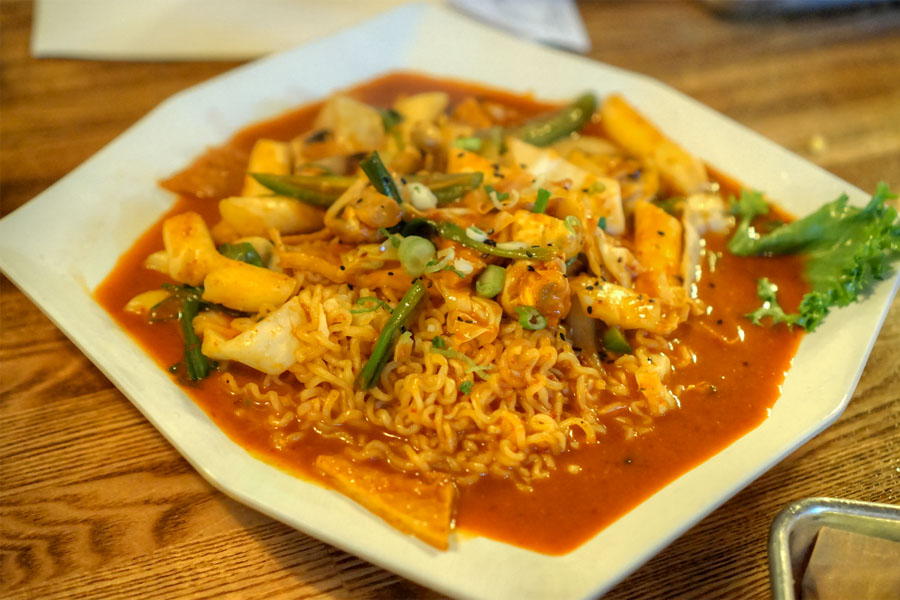 Ra Bbok Gi [$10.00]
| Spicy Ramen & Rice Cake Soup
The mash-up of
tteokbokki
and
ramyeon
that is
rabokki
hit the mark. Big
gochujang
-fueled spice here, and I liked the contrast provided by the
eomuk
. The noodles were pretty much on point as well.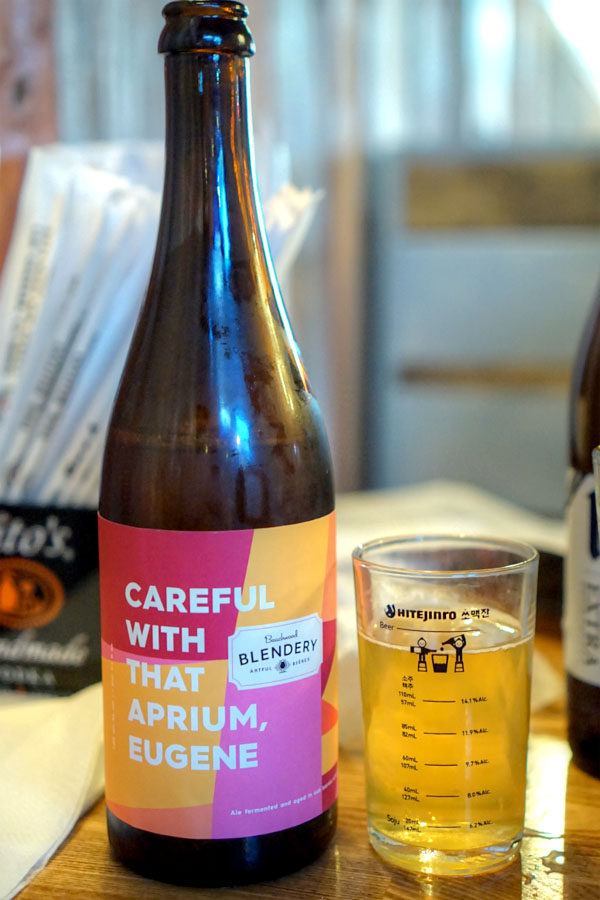 Our final beer was the
2016 Beachwood Blendery Careful with That Aprium, Eugene
, a lambic-inspired sour ale fermented and aged in oak barrels with apriums (an apricot-plum hybrid). Aromas brought an almost candied sweetness, along with yeast and oak. The taste veered tart, acidic, yeasty at first, but then transitioned to rich flavors of stone fruit that lingered long on the finish. Perhaps my favorite beer that I've had from the brewery thus far.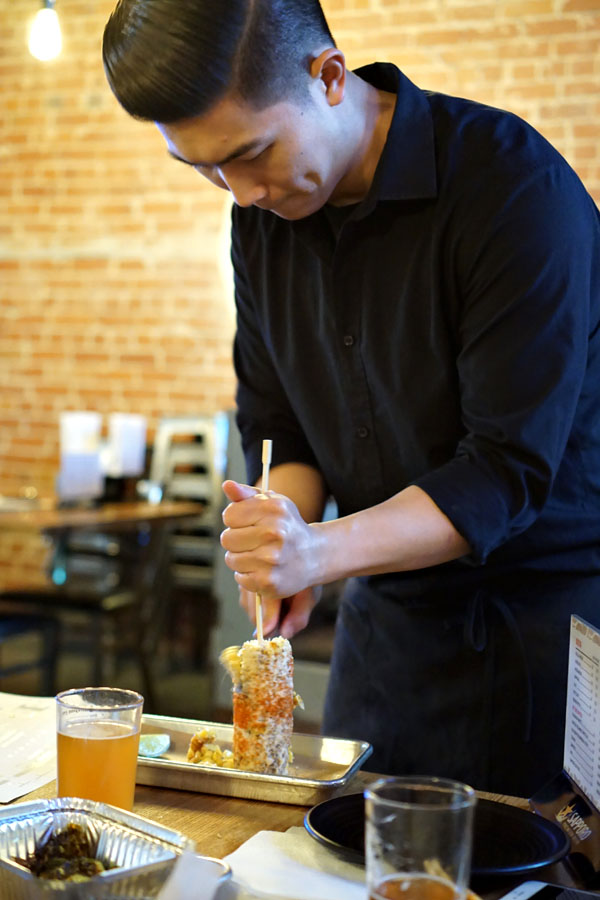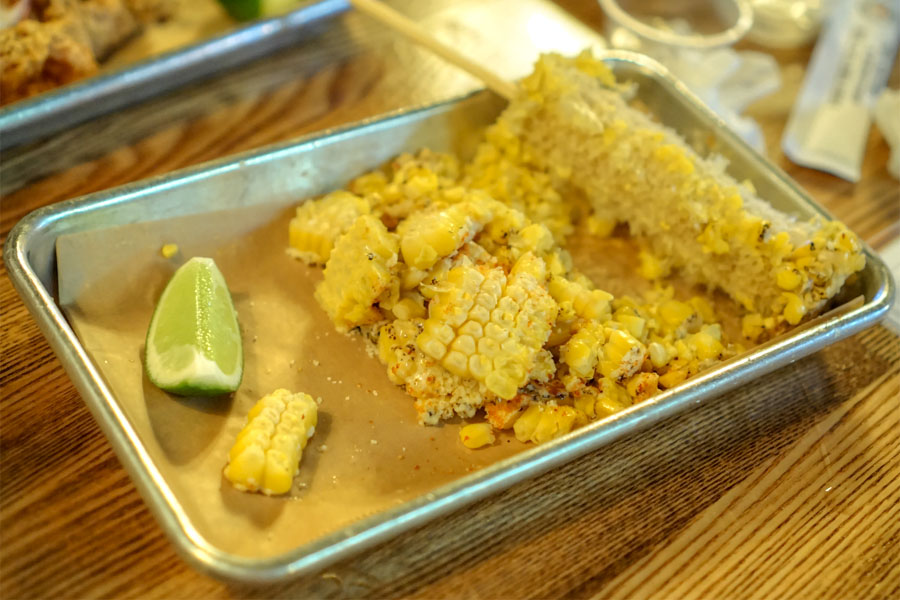 Elote [$6.00]
| Corn with Mayo & Parmesan Cheese
Elote
was cut tableside, thus turning it into
esquites
in effect. Whatever the name, it was a competent rendition of the street food classic, with all the cheesy, tangy, spicy flavors that you'd want, set against the sweetness of the corn.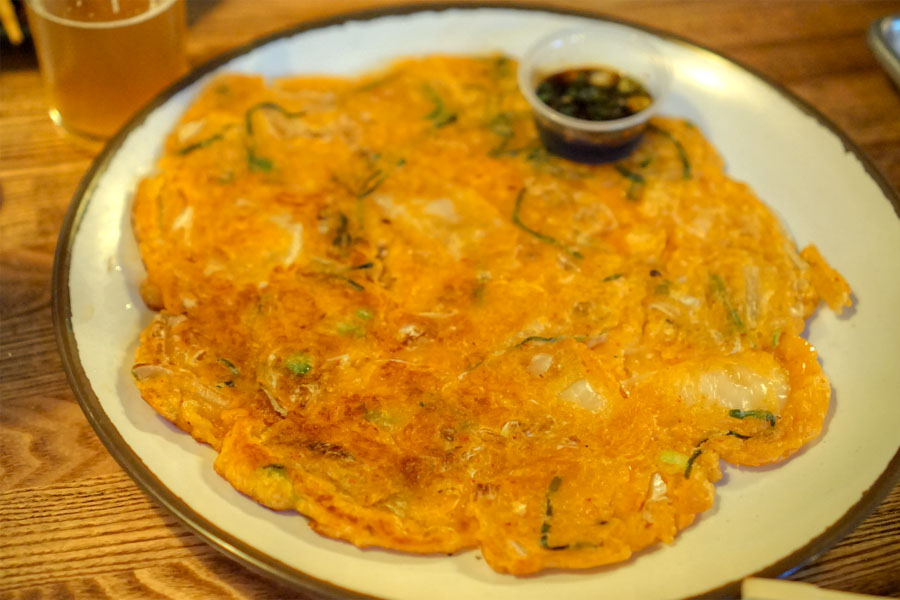 Kimchi Buchimgae [$7.00]
| Kimchi Pancake
Last to eat was the
kimchi jeon
, a relatively restrained preparation in terms of kimchi spice. I would've liked more heat, more funk here.
Our working meeting was a success, while the food was perhaps just a touch less so. The cooking's decently solid, and I appreciate the non-traditional touches they have with the menu, but I think I'll probably stick to my usual K-town classics like
Dan Sung Sa
and OB Bear when I'm seeking an
anju
fix.