YakiYan (Hacienda Heights, CA)
YakiYan Restaurant
17188 Colima Rd, Hacienda Heights, CA 91745
626.581.0080
www.yakiyan-us.com / www.yakiyan.com
Tue 04/25/2017, 08:00p-11:00p

I rarely find myself in Hacienda Heights, so what drew me to the area was a visit to the newest player in Southern California's
yakiniku
game: YakiYan, which soft-opened on December 12th. YakiYan was started back in 2004 in Taipei, and has since expanded to 20 locations throughout Taiwan. What's interesting is that their US push is being driven by none other than the behemoth that is the Panda Restaurant Group. The creators of Panda Express are branching out from their core brands apparently, and in addition to YakiYan, PRG's also heavily involved in the development of Pieology, Just Salad, Uncle Tetsu, and even Ippudo Ramen.

YakiYan takes over the old Bixby Hacienda Plaza home of Guppy House. The space has been drastically redone, and it's a pretty slick dining room, with lots of brass, leather, and warm tones throughout. I will note that downdraft ventilation is used here, resulting in surprisingly little smoke, which is always appreciated.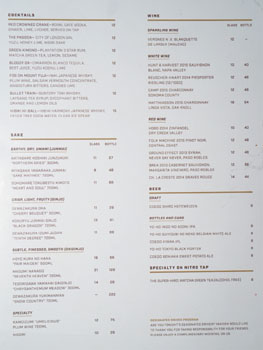 YakiYan locations in Taiwan have multiple prix fixe price points as well as the option to order à la carte. However, over here in the US there's no written menu, but instead solely an $88 "omakase" of roughly a dozen courses. To drink, the beverage list presents a handful of fairly-interesting-sounding cocktails, some sakes, a few wines, and a smattering of beer. In addition, there's actually a pretty decent
back bar
if you're into Japanese whiskies. Corkage was $20 a pop. Click for a larger version.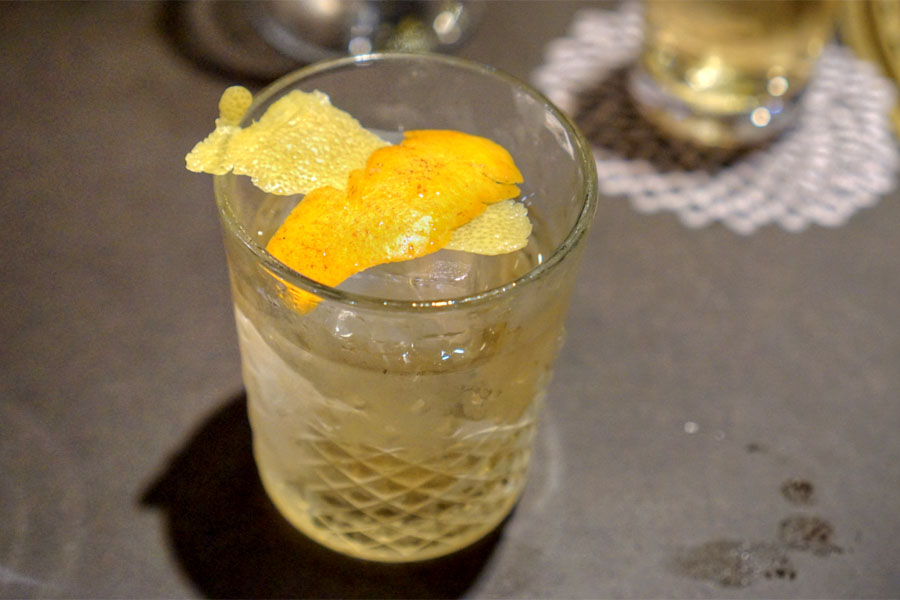 Bullet Train [$12.00]
| suntory toki whisky, lapsang tea syrup, sycophant bitters, orange and lemon oils
Given that there were a mere seven cocktails on the menu, we made sure to try them all. Our first featured light aromas of citrus leading to a somewhat sweet, almost malty palate with an earthy, vegetal bent.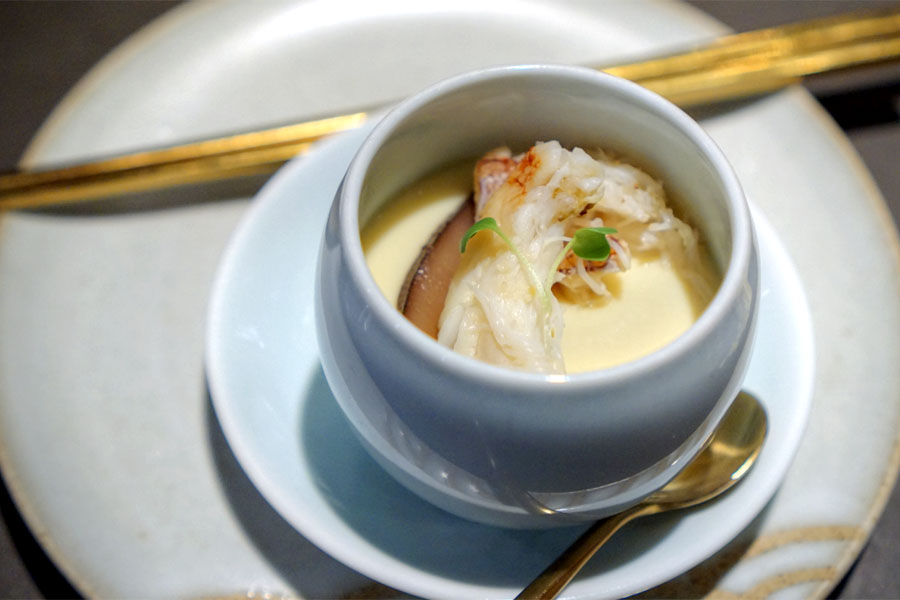 1: Chawanmushi
The
chawanmushi
was a hit. The slippery egg custard served as a great stage for the intense, sweet brine of Canadian Dungeness crab. But just as important were the shiitakes, which gave us smoke and umami.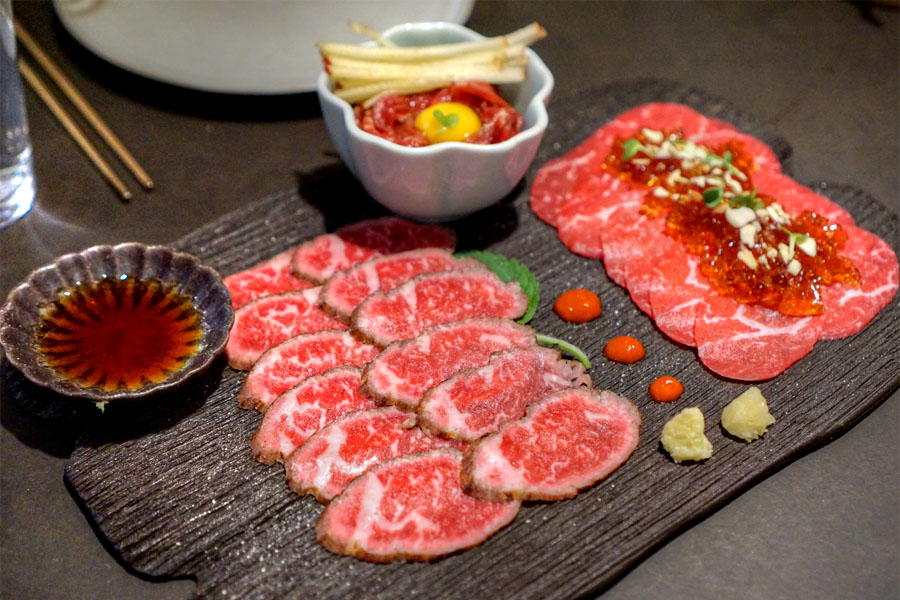 2: Rib Eye Trio
Next came a threeway of ribeye, the meat sourced from the Imperial Valley according to our server Kelsey (who did a great job this evening). Going left to right, we had:
Tataki - Nice savoriness and sear going on. Even better with the included accompaniments of ginger, garlic, and spicy soy.
Tartar - Basically their version of yukhoe. Lots of umami imparted from the marinade, with additional luxuriousness from the quail egg and truffle oil/salt. I appreciated the sweet, crisp contrast provided by the apples as well.
Carpaccio - Thin, supple cuts of beef, amped up by the tartness of that ponzu jelly. The almonds, meanwhile, were a very pleasant surprise.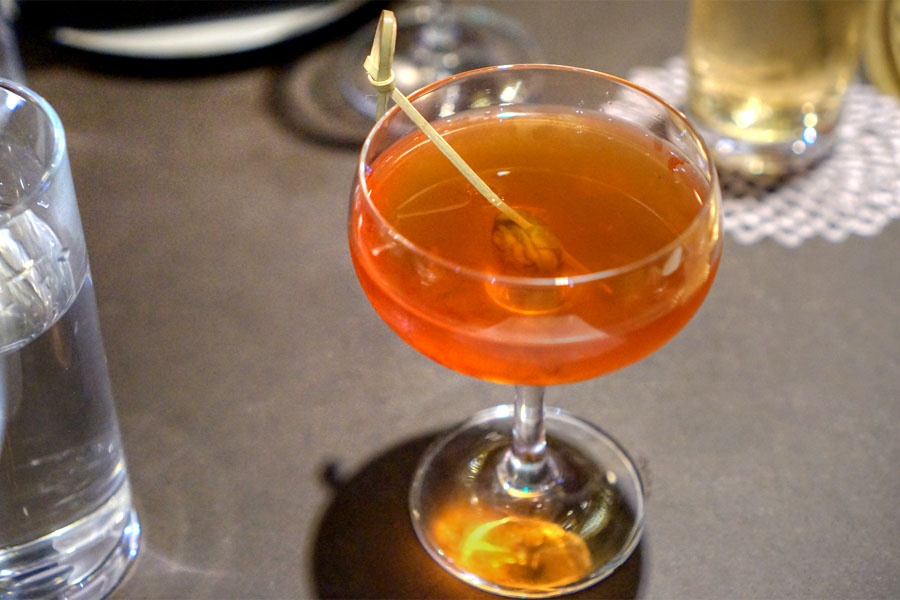 Fog on Mount Fuji [$12.00]
| iwai japanese whisky, plum wine, balsam vermouth concentrate, angostura bitters, candied lime
Nose of sweet, aromatic spice on this cocktail. The taste showed off a deeper, darker character, but with a countering tartness and astringency.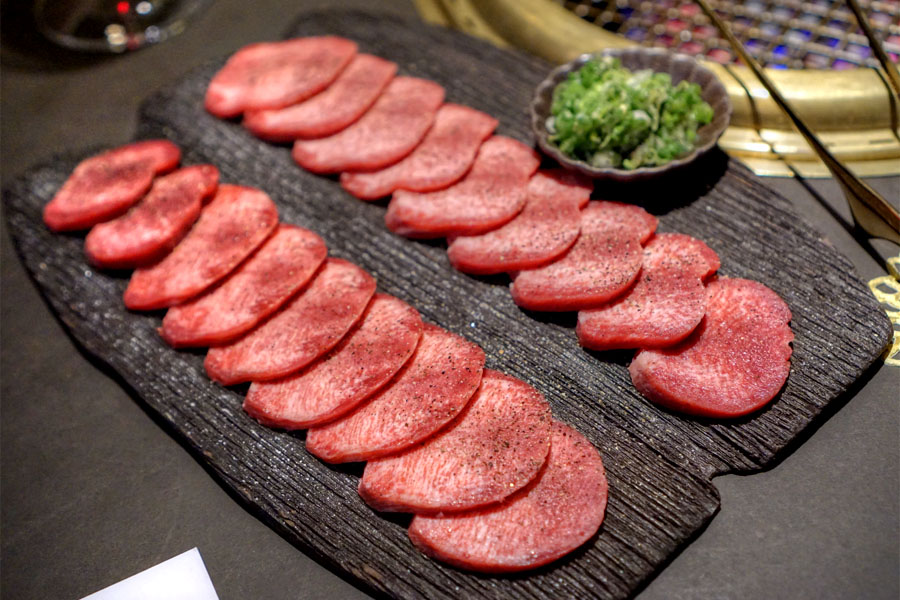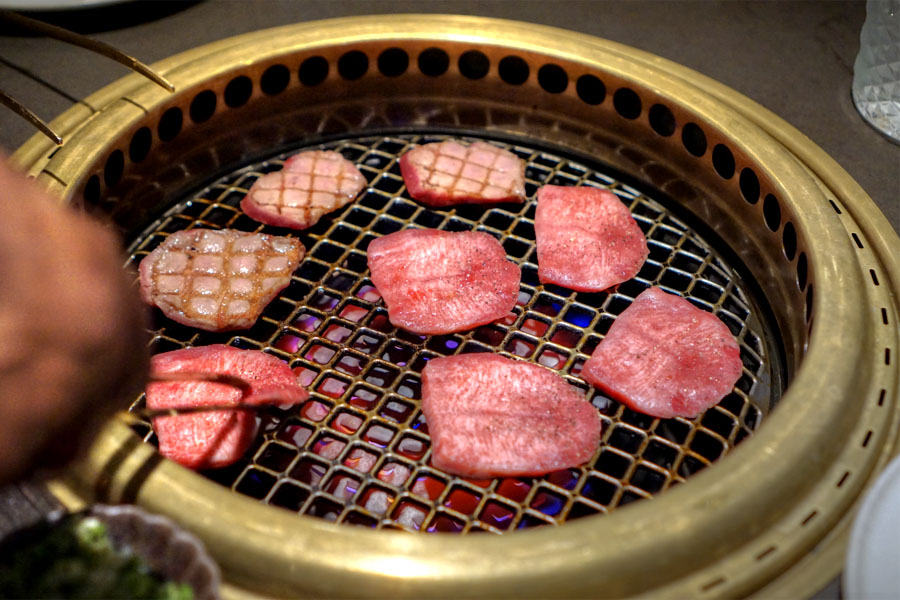 3: Tongue
Angus
gyutan
from the Midwest was lightly dusted with salt-and-pepper and served with a lemon-onion sauce. The tongue was cut somewhat thicker than usual, so it had a substantial, meaty texture that I quite enjoyed. Taste-wise, I was a big fan of its combination of char, fat, and sheer beefiness, and I found it improved further with a dab of the aforementioned condiment.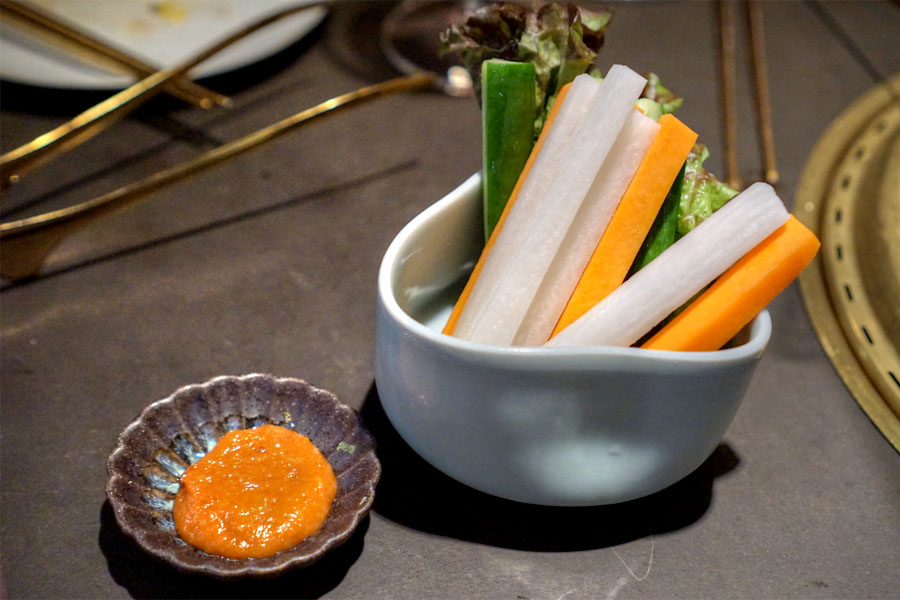 4: Crudités
Sticks of daikon, carrot, and cucumber were accompanied by a spicy-sweet miso dip.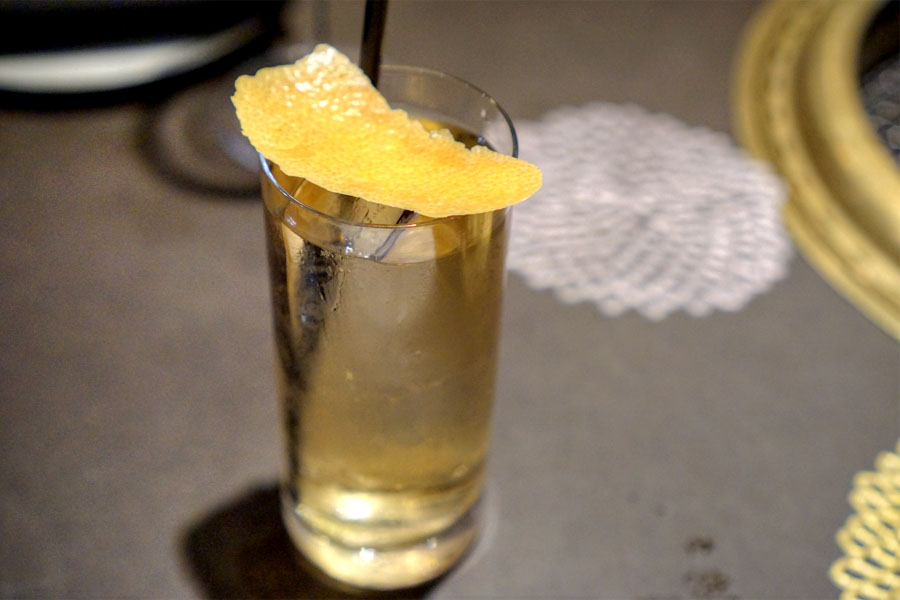 Hibiki Hi-Ball [$15.00]
| hibiki harmony japanese whisky, fever tree soda water, clear ice spear
This next cocktail almost recalled a gin and tonic with its fizzy, refreshing nature and botanical, herby tendencies.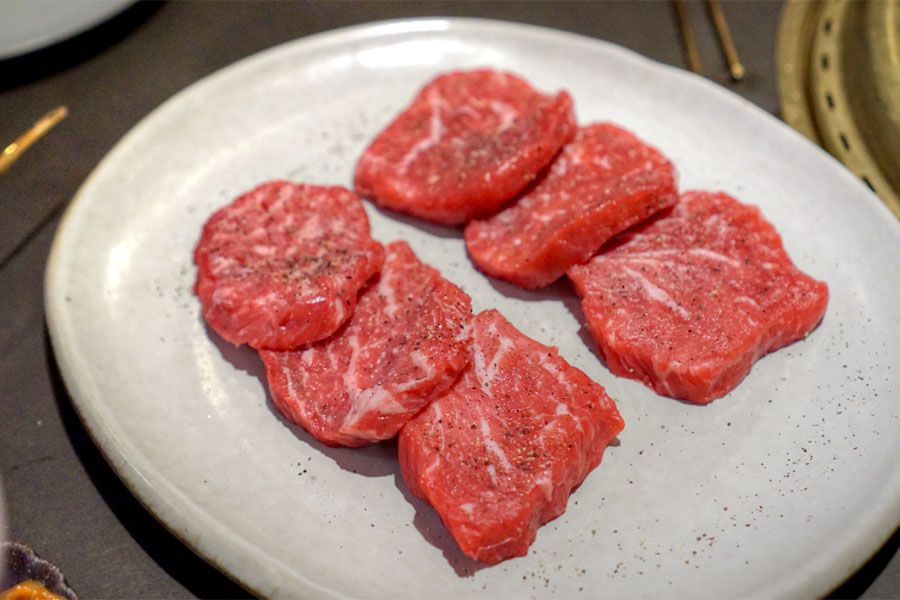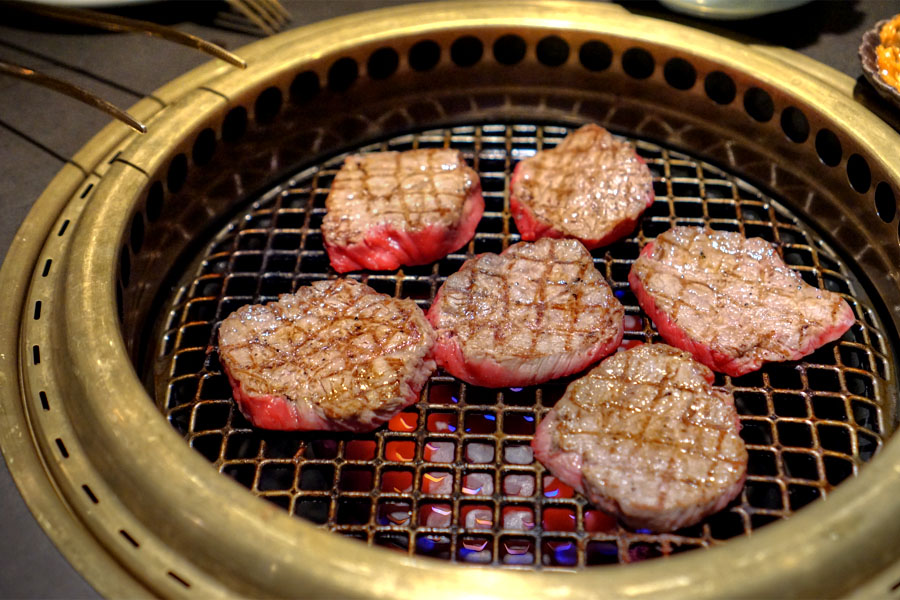 5: Inside Rib Eye
Rib eye, once again from the Imperial Valley, was actually one of the weaker courses for me. The meat cooked up nicely juicy, but was light in the flavor department, and had a somewhat mealy consistency that I wasn't too keen on.
One of my dining companions brought a couple bottles of wine, and we opened first the
2010 Adams Bench Malbec Double Canyon Vineyard
from Washington's Columbia Valley. It smelled quite nice--juicy fruit, herb, spice, tar. The taste showed off more fruit, more spice, with some tobacco notes in there.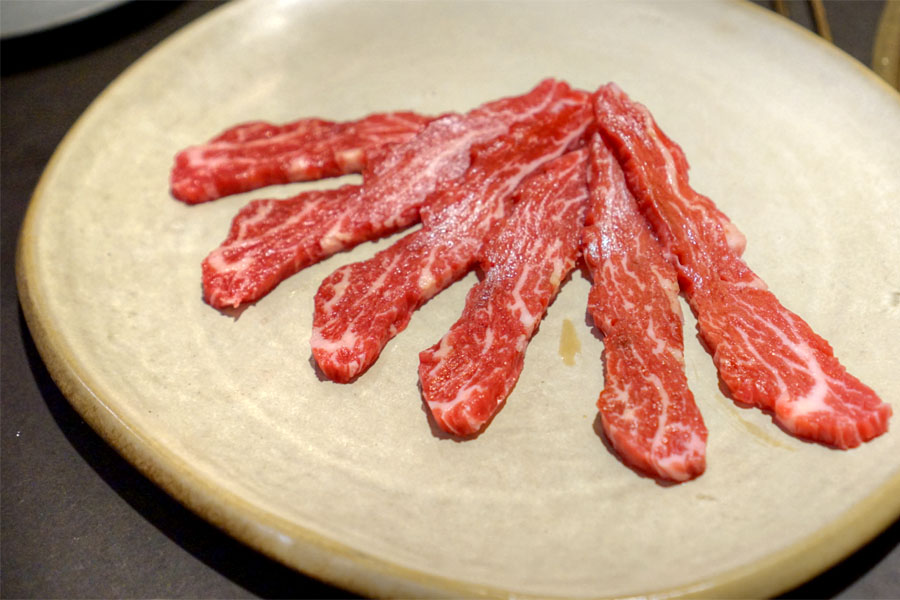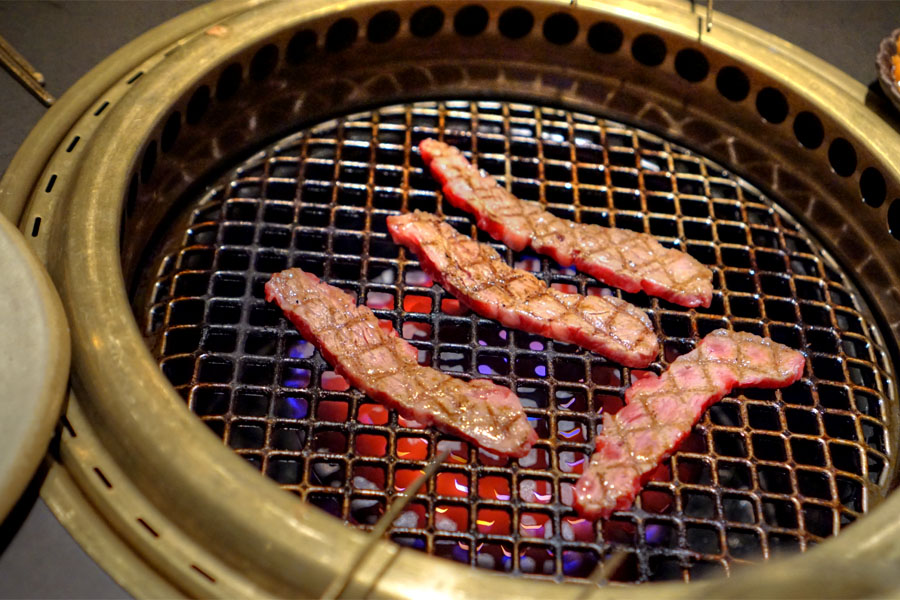 6: Rib Eye Cap
The rib cap was significantly better: super soft, buttery almost, with a much more aggressive taste that complemented the charring achieved.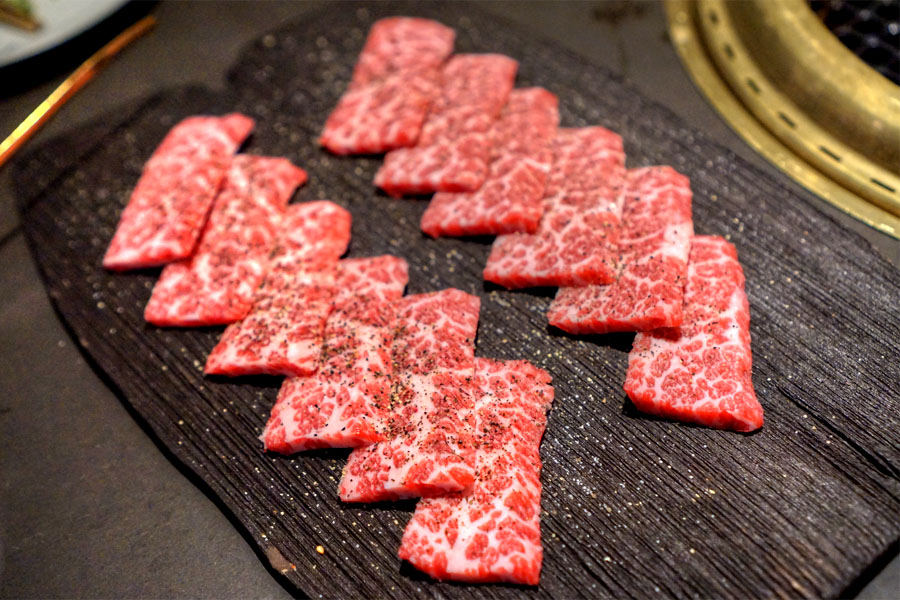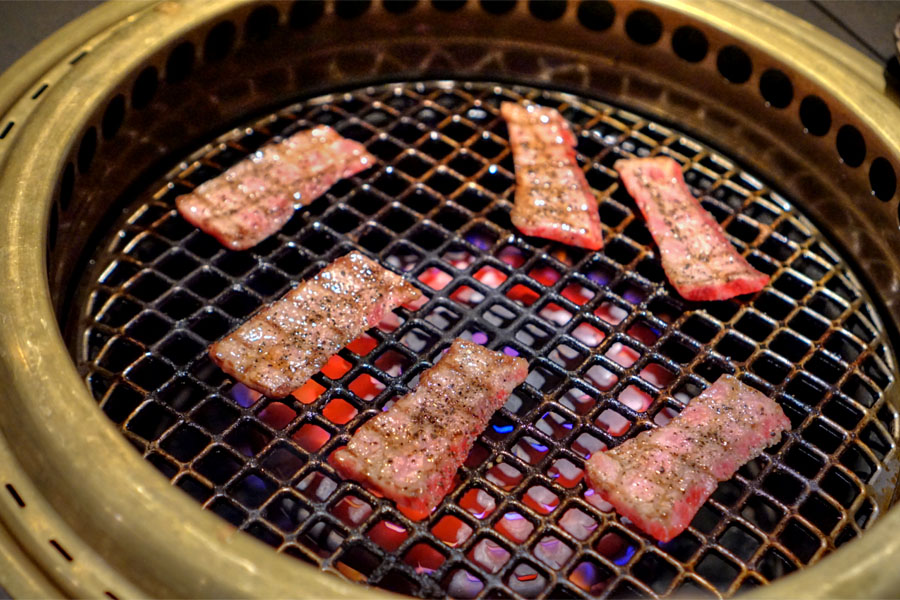 7: Short Rib
What we had here was pretty much
kkotsal
of prime beef from Omaha, with a bit of salt-n-pepper. It was just as good as you'd expect--fatty, flavorful, a joy to eat.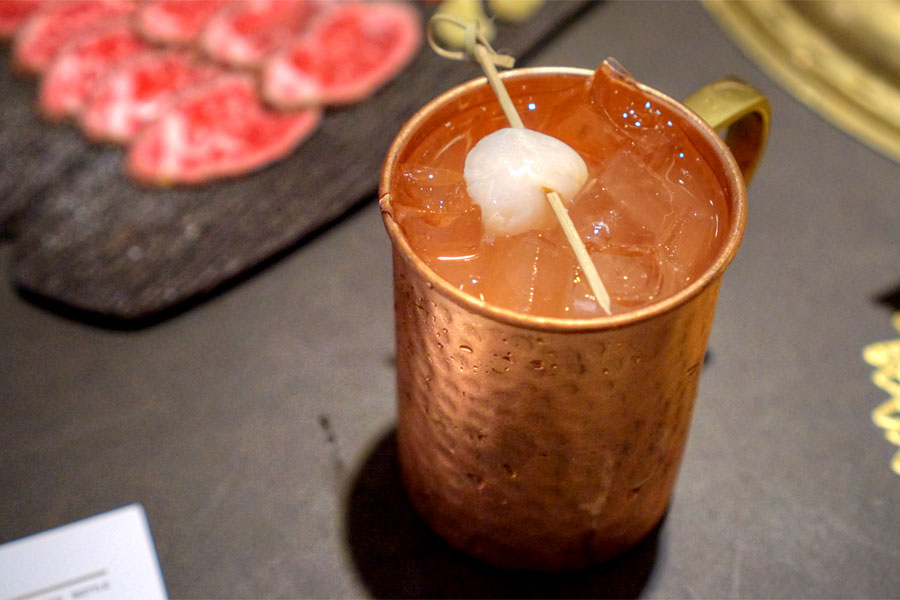 Red Crowned Crane [$12.00]
| royal gate vodka, ginger, lime, lychee, served on tap
A Moscow mule variation was light and refreshing, and saw the fruitiness from the lychee evened out by zesty hits of ginger and lime.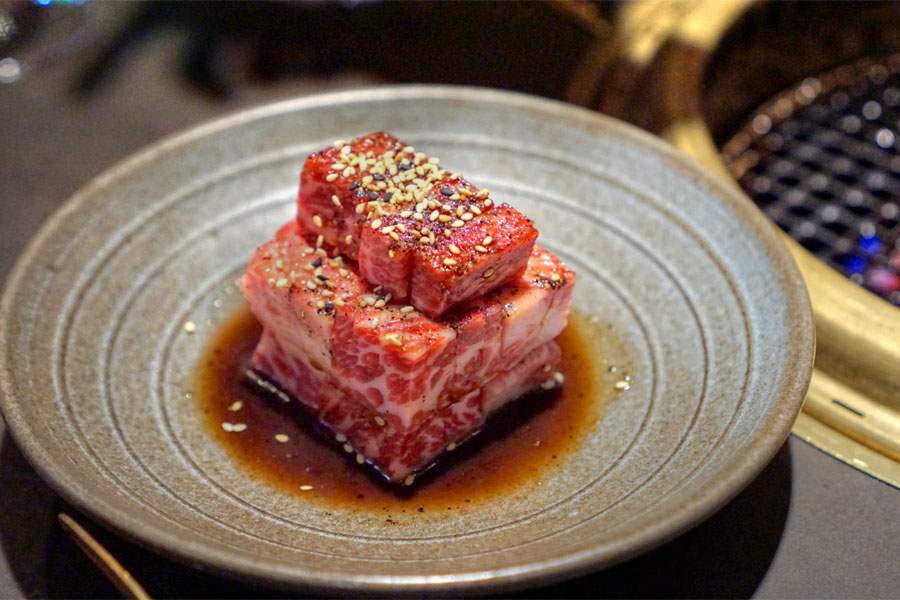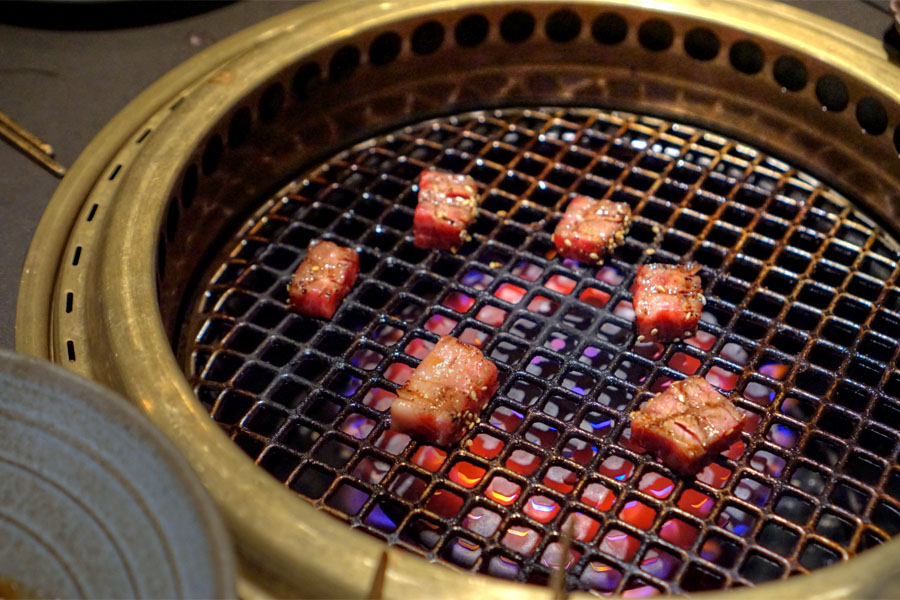 8: Marinated Short Rib
Karubi
came marinated with
tare
and miso. It was another crowd pleaser, with a marked, but not overwhelming sweetness and a slightly peppery tinge.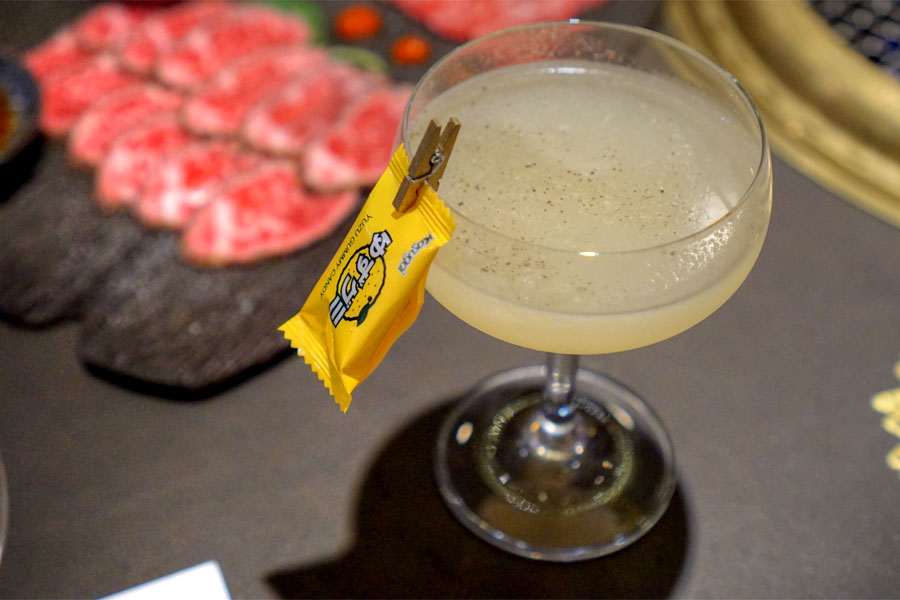 The Pagoda [$12.00]
| city of london gin, yuzu, honey, lime, nigori sake
In our fifth cocktail, a nose of lemon and spice led to a sweet, honeyed palate perked up by the tartness of yuzu.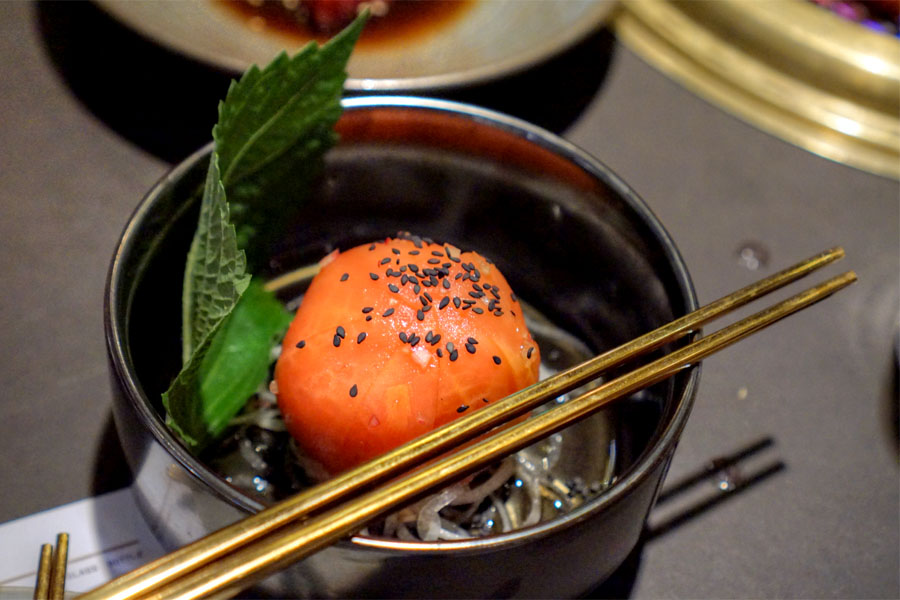 9: Tomato
A Japanese tomato (
not
a momotaro, we were told) arrived firm, with a sweet-tart flavor profile from its marinade.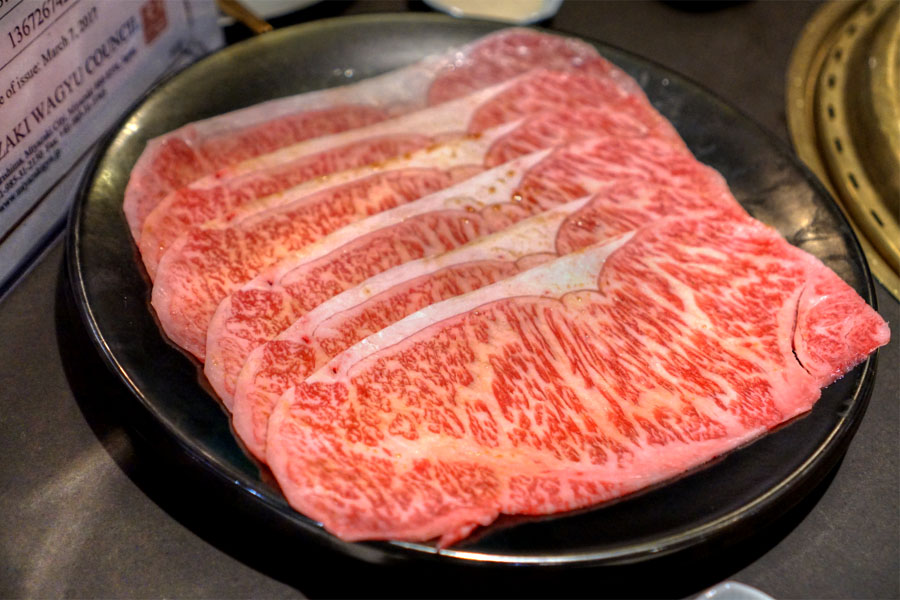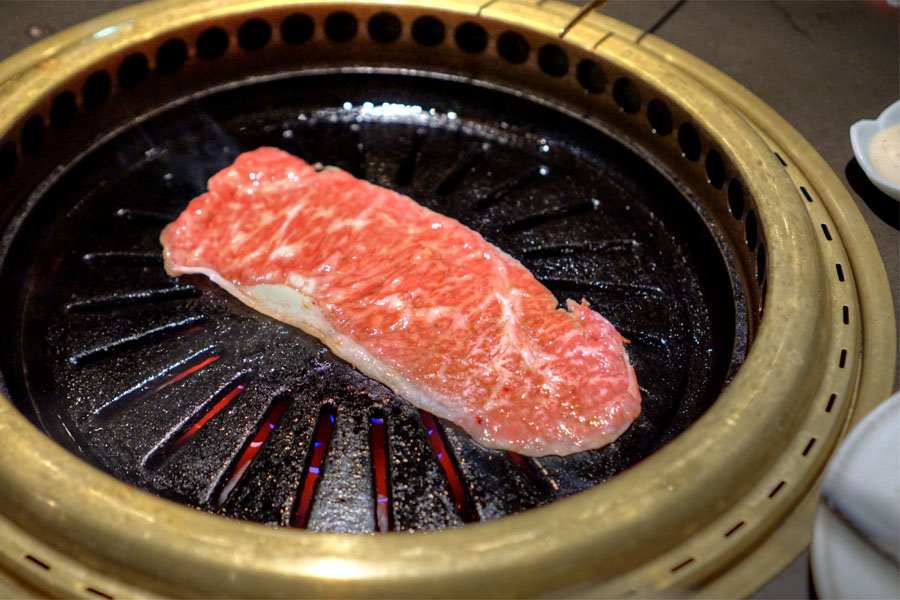 10: Japanese Wagyu Strip Steak
Our sole course of real-deal Japanese wagyu was this A5 strip steak from Miyazaki Prefecture. As expected, it was on another level when it came to tenderness, flavor, and how beautiful the marbling was. It's a pity we only had a single serving.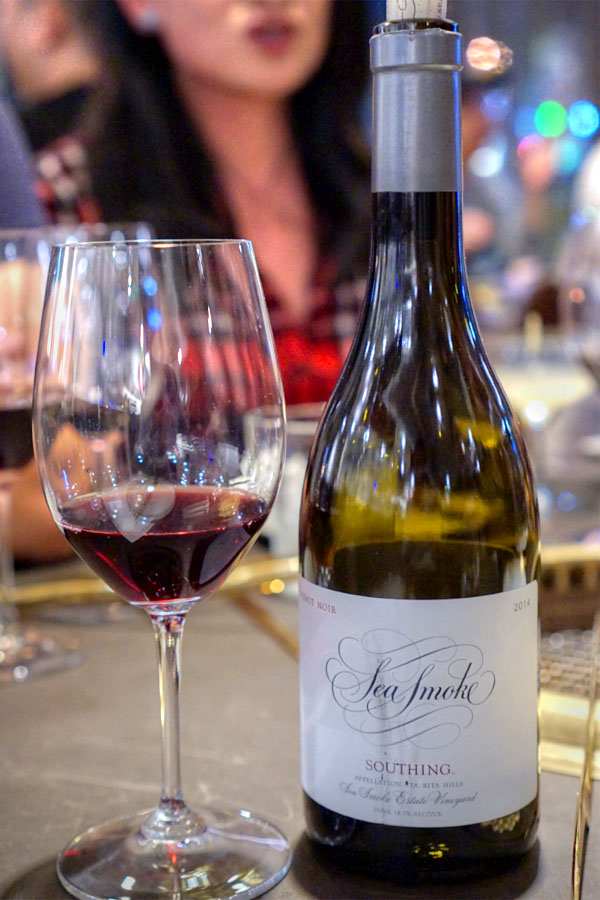 The second wine was a
2014 Sea Smoke Pinot Noir Southing
from California's Central Coast. Lots of ripe fruit on the nose, along with a bit of oakiness and earth. The taste showcased more of those berry flavors, as well as a tannic quality and smoke character that worked for me.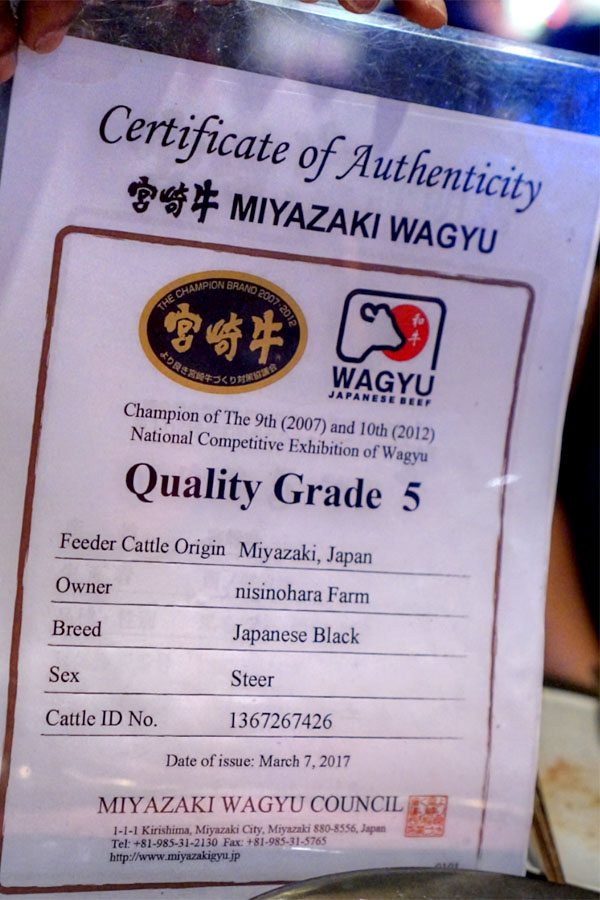 Our server was quite eager to show off our Japanese beef's certificate of authenticity.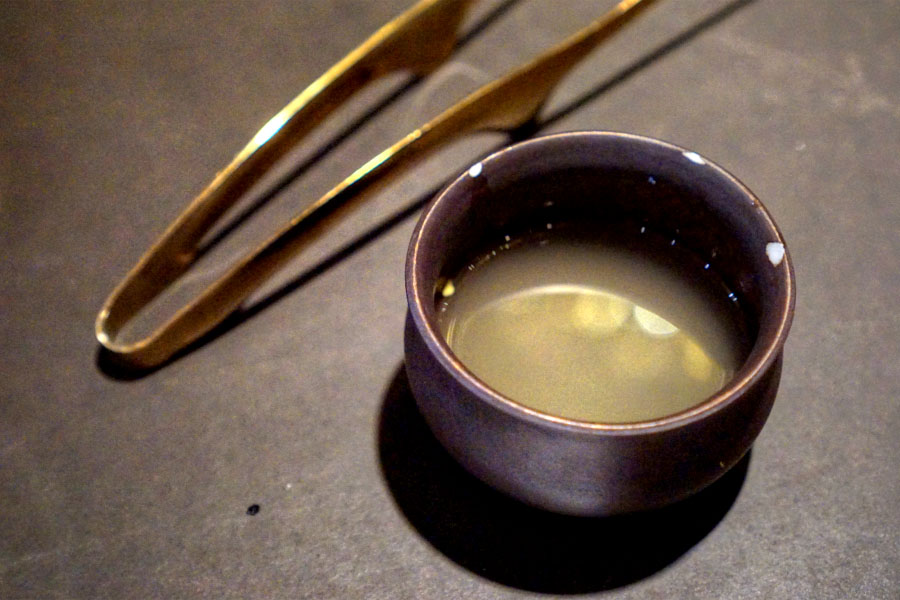 11: Yuzu Juice
A
Zo
-like yuzu palate cleanser was much appreciated after the heftiness of the preceding meat.
12: Filet Mignon
Filet was properly tender, its comparatively mild taste taken up a notch by the mini saucepan of beef jus, tallow, and garlic on the side.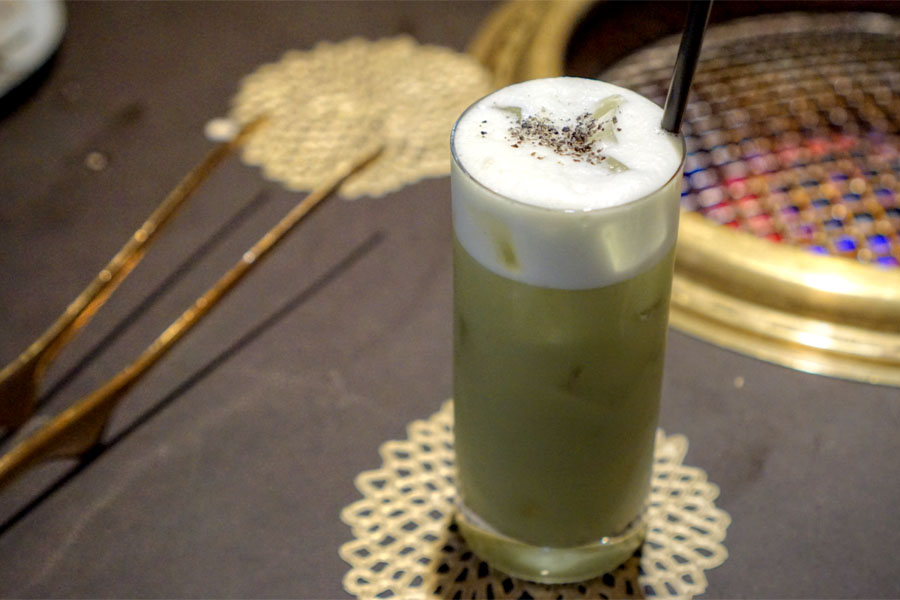 Green Kimono [$12.00]
| plantation 3 star rum, matcha green tea, lemon, sesame
A couple of my dining companions likened this cocktail to a green tea Frappuccino, and I could sort of see where they were coming from, though there was definitely a tartness here from the lemon.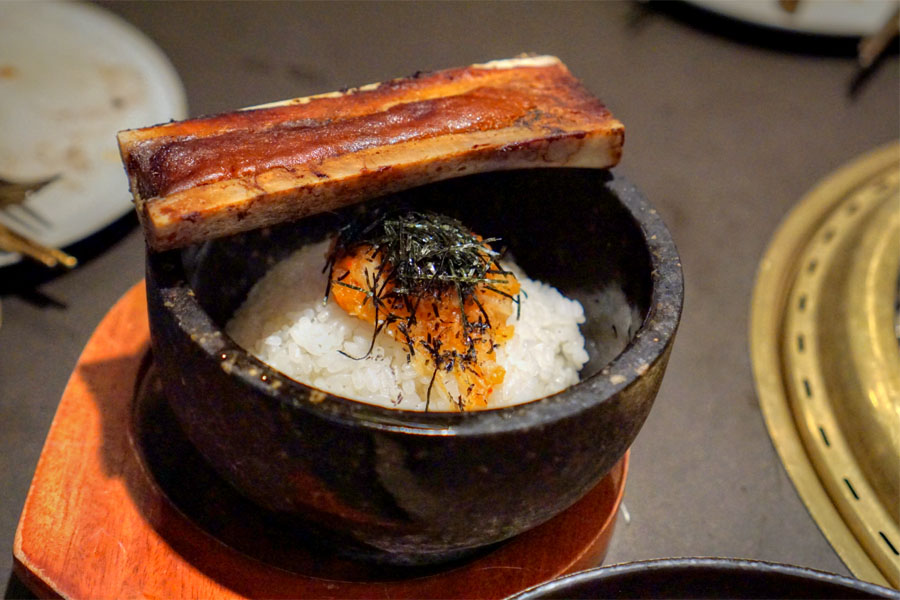 13: Bone Marrow Rice
Rice came enriched with fatty bone marrow, and also had loads of garlicky goodness to it as well. And yes, you can save the bone for a luge later.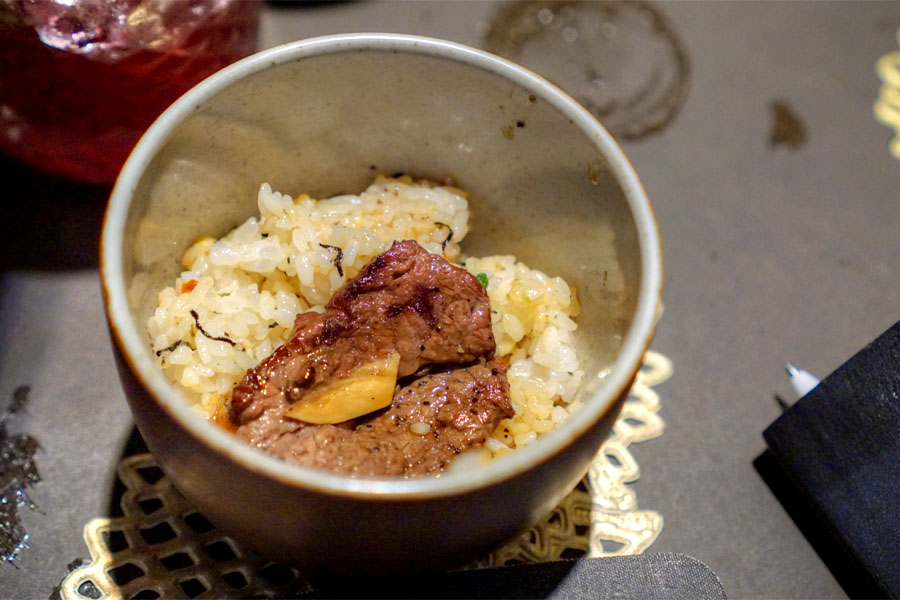 The rice made for an excellent pairing for the leaner tenderloin cut.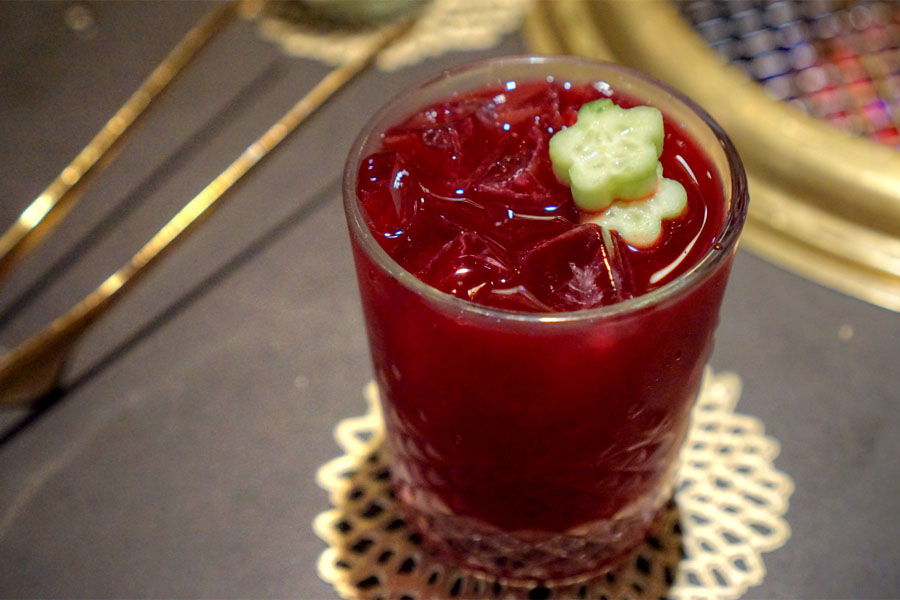 Bloody Ox [$12.00]
| cimarrón blanco tequila, beet juice, yuzu koshu, lime
Our final cocktail actually did a nice job conveying the earthy sweetness of beet, and I liked how the
yuzukosho
provided a spicy accent to the drink.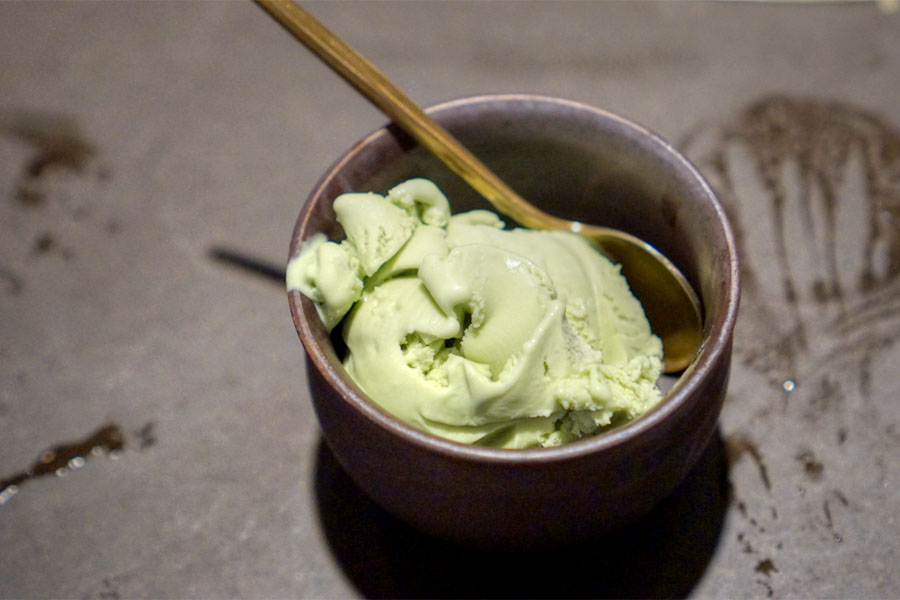 14a: Green Tea Gelato
YakiYan's take on the ubiquitous matcha ice cream was silkier than most, and had the right amount of bittersweet.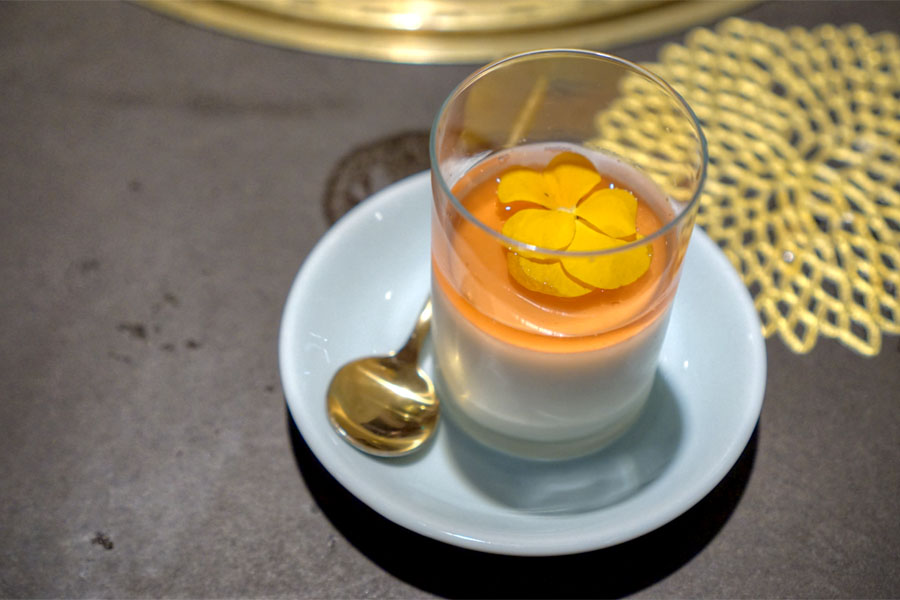 14b: Plum Wine Panna Cotta
The panna cotta, meanwhile, displayed a boozy, almost astringent character.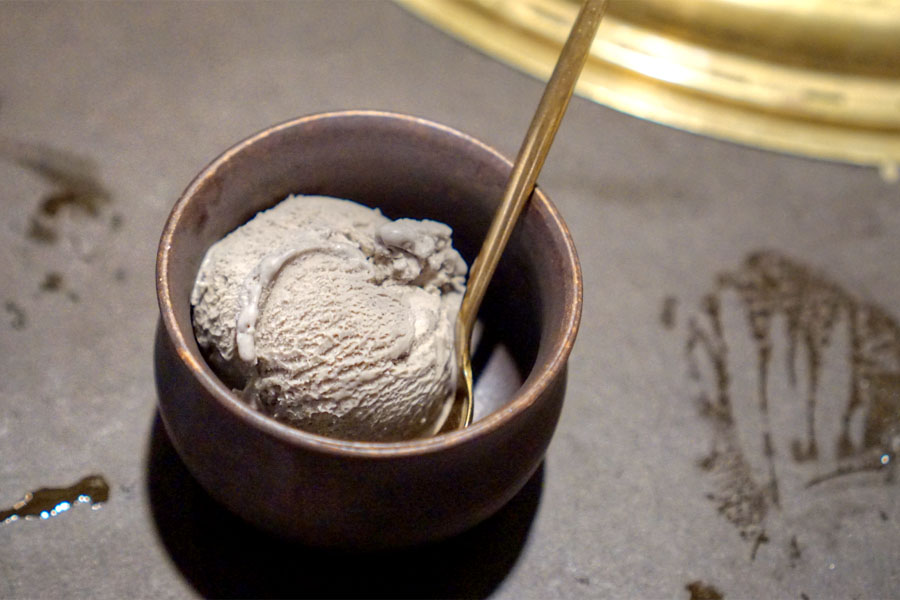 14c: Black Sesame Gelato
My favorite of the desserts was the nutty-sweet
kuro goma
ice cream.
Going into this meal, I had heard reports that this place was on the level of
Yazawa
, which many consider to be at the top when it comes to Japanese BBQ. Unfortunately I don't think it's quite there. That being said, I do think YakiYan's a solid choice, especially given the area, which is definitely underserved in terms of
yakiniku
. As for what's next, the Panda Group is supposedly looking to open up several more locations in SoCal, so more to come.