Yazawa (Beverly Hills, CA)
Yazawa Restaurant
9669 S Santa Monica Blvd, Beverly Hills, CA 90210
310.275.2914
www.yazawameat.us
Tue 05/24/2016, 08:15p-10:50p

In terms of high-end
yakiniku
(Japanese-style tabletop BBQ) in Los Angeles,
Totoraku
's long been the only real player. That changed at the end of October though, with the soft-opening of Yazawa, the first American outpost of a mini-chain of wagyu-centric restaurants originating in Tokyo. The place is ostensibly named after a well-known Japanese butcher, one who made a name for himself by dividing your typical cuts of beef into distinct sub-cuts with differing flavor and texture profiles. One of his protégés, Tomomi "Tomo" Inada, thus started the Yazawa family of restaurants, which touts its own in-house butchering and distribution operations in the pursuit of maximal quality and efficiency.

Yazawa takes over the former home of
BierBeisl
, which was once slated to become another location of Michael's Pizzeria, interestingly. The space has been significantly reconfigured, and now conveys a much darker, more serious tone.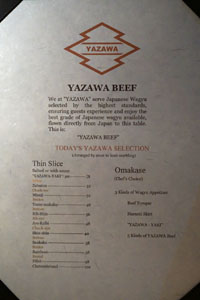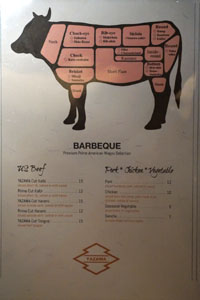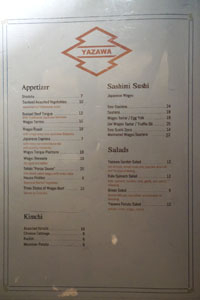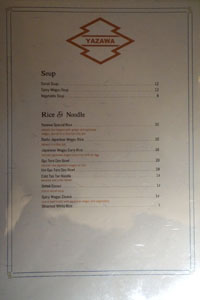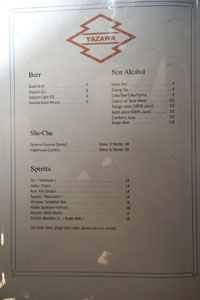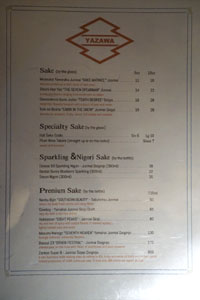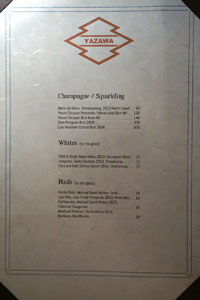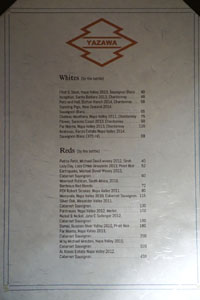 The menu, unsurprisingly, is focused on cuts of Japanese beef (A5 Miyazaki tonight), though there are American selections and a couple other proteins. Joining the meat are apps and small plates, as well as starchier dishes to finish things off. Omakase options are available too, ranging from roughly $120 to $200 a head. For beverages, there's sake and wine, a handful of beers and shochus, as well as spirits. Corkage is $35 for the first two bottles, and $50 thereafter. Click for larger versions.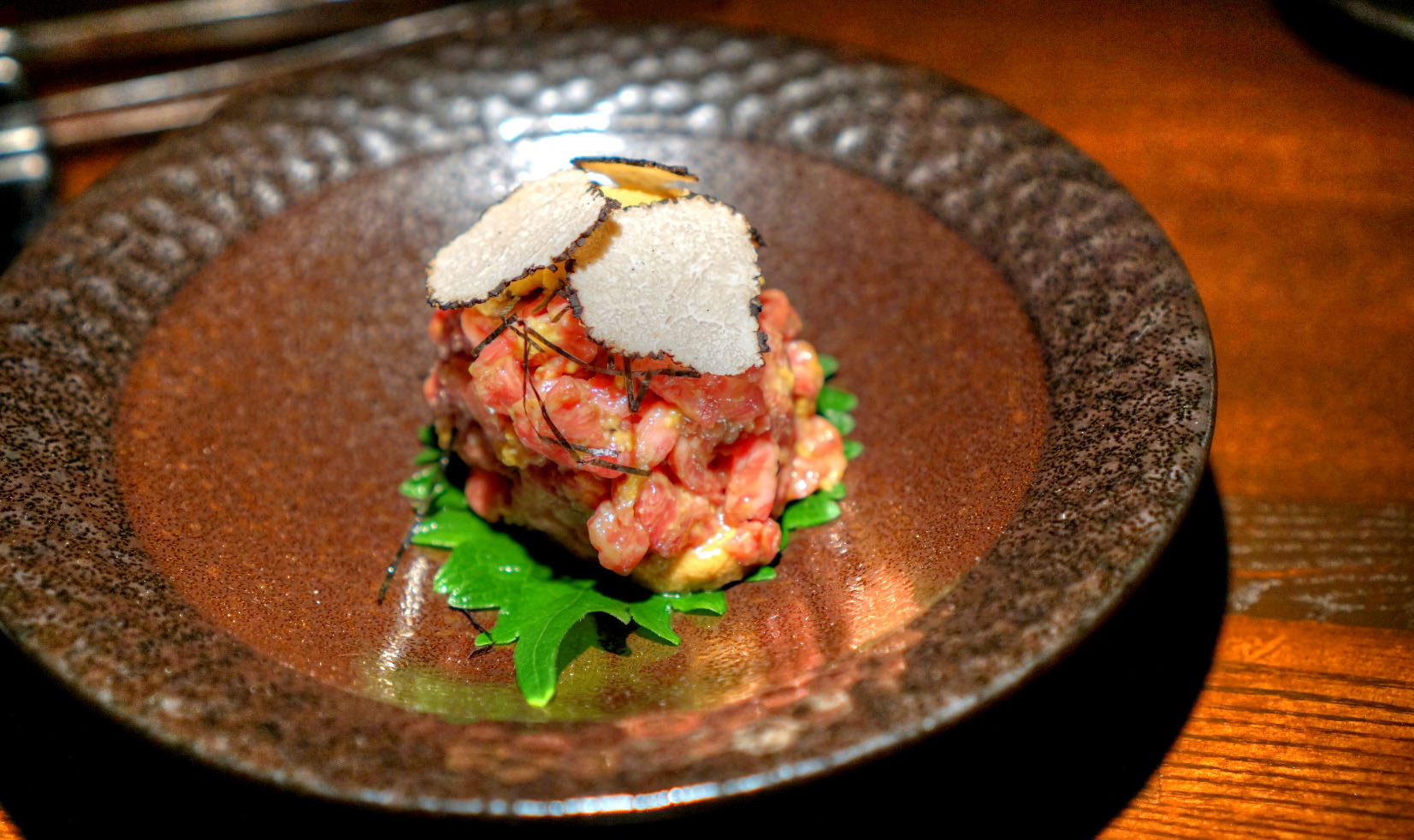 Uni Wagyu Tartar / Truffle Oil [$25.00]
The beef tartare was a welcomed way to start things. Lovely chew on the actual wagyu here, and I appreciated how the creaminess of uni just enveloped the meat. Nice, subtle truffle layered over everything, too.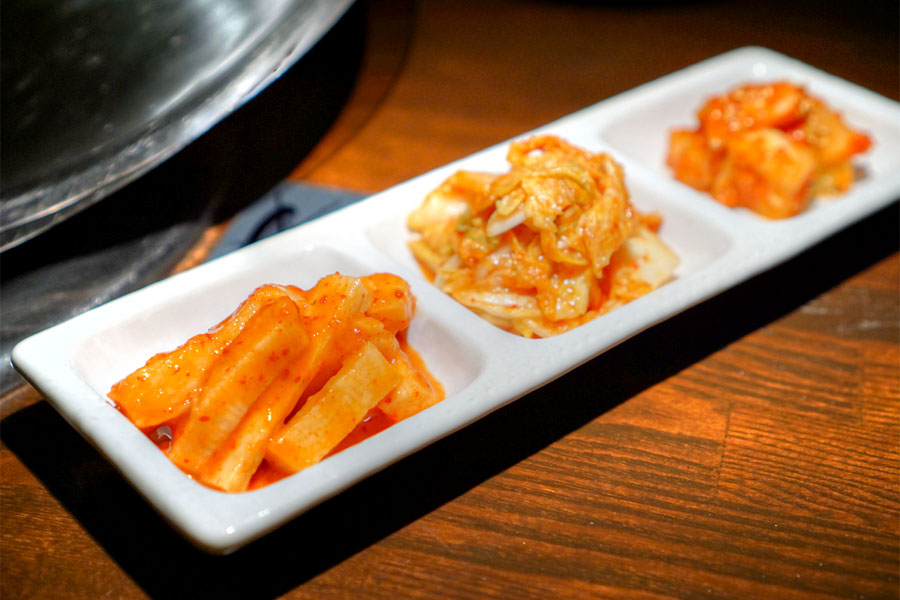 Assorted Kimchi [$10.00]
The pickle plate had three selections:
yamaimo
(mountain potato), which had its mucilaginous qualities offset by its heat; a classic, but somewhat sweeter
hakusai
(
baechu
, or Chinese cabbage) kimchi; and a crunchy radish preparation.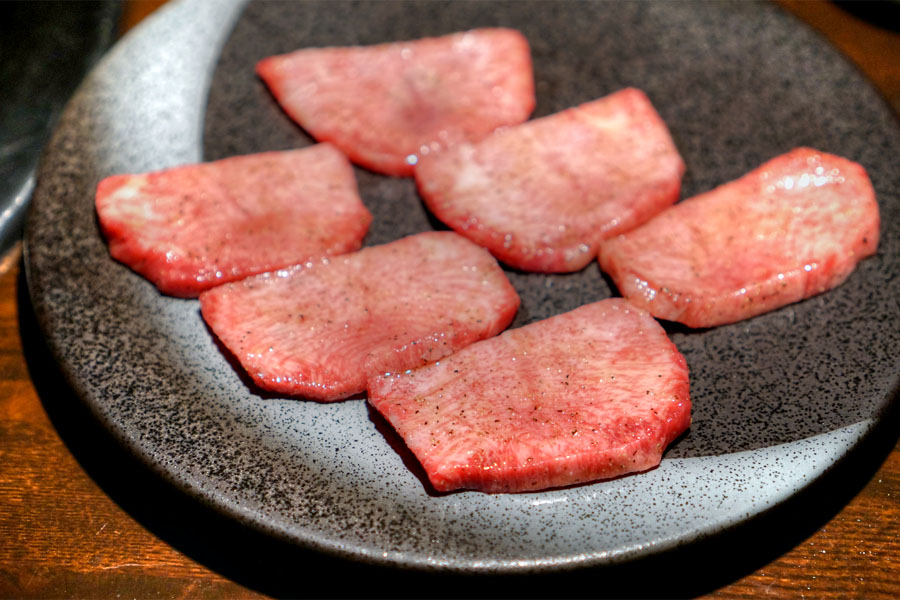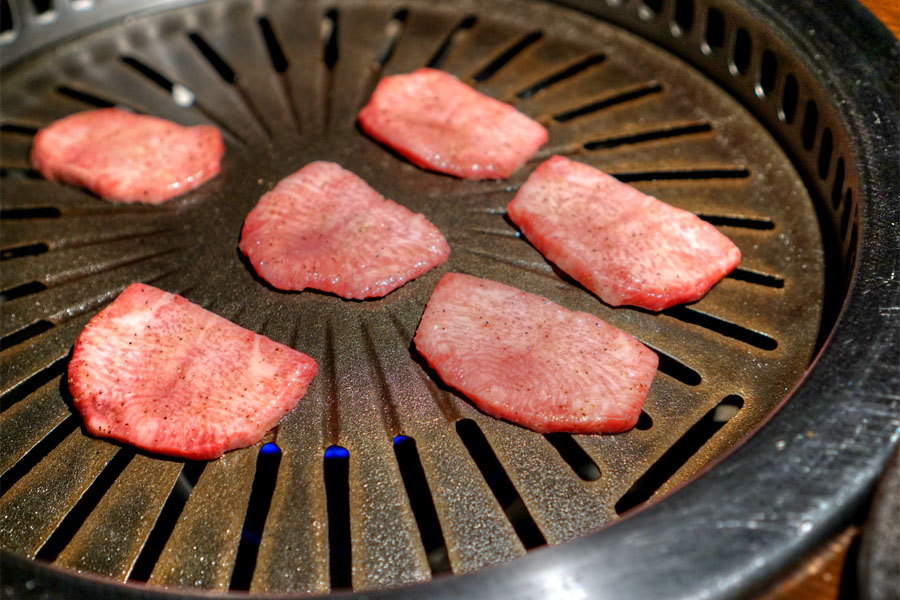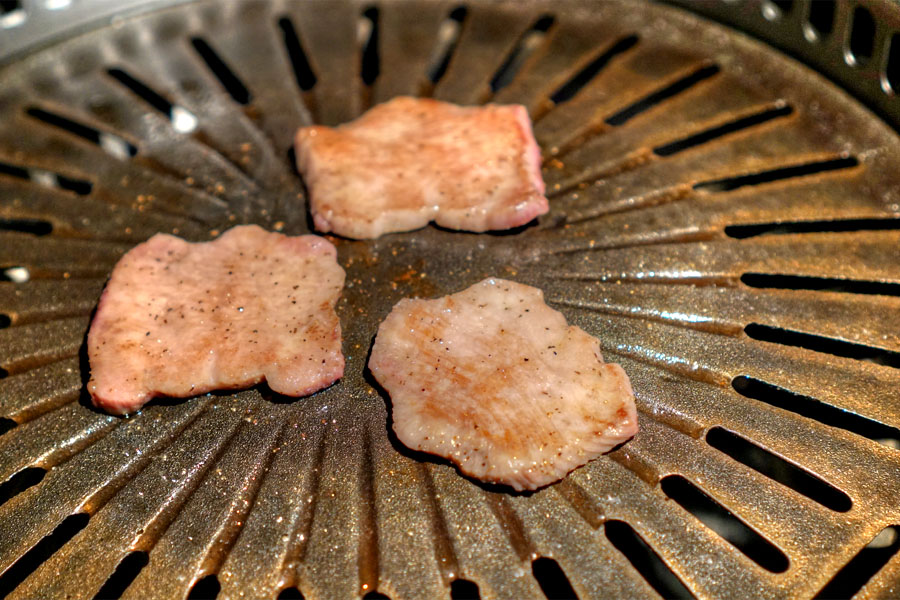 Yazawa Cut Tongue [$15.00]
| sliced beef tongue
Let's get into the meat. The salted American tongue was probably the best I've had in terms of KBBQ or JBBQ. Cut thicker than usual, it had a fantastic texture to it, coming out both firm and springy. Taste-wise, think savory and almost hammy, with a great kick of salt to finish things off.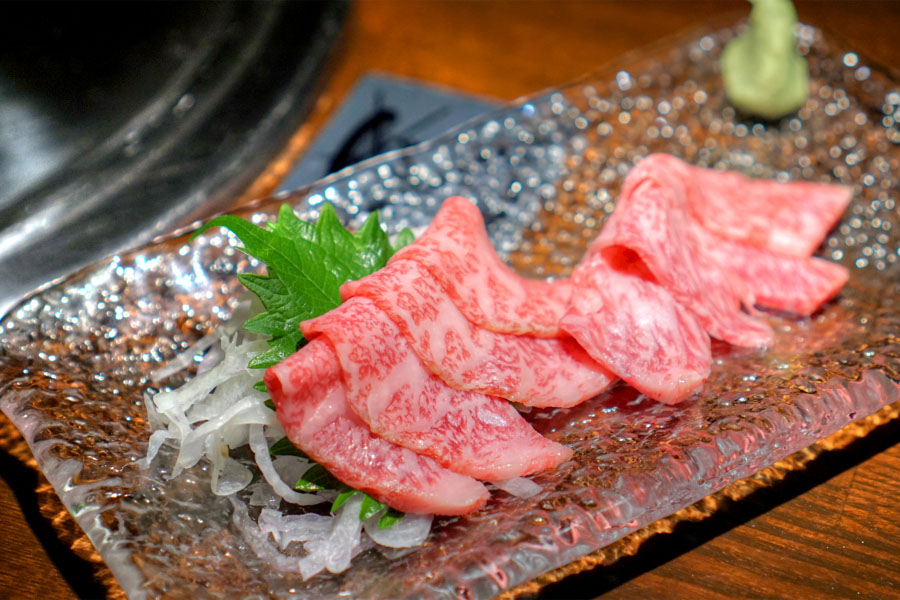 Toro Sashimi [$24.00]
Japanese wagyu "toro" arrived super tender and super fatty, with a dab of soy working to even out the richness of the meat. I will say that I probably would've liked this better with a bit of sear.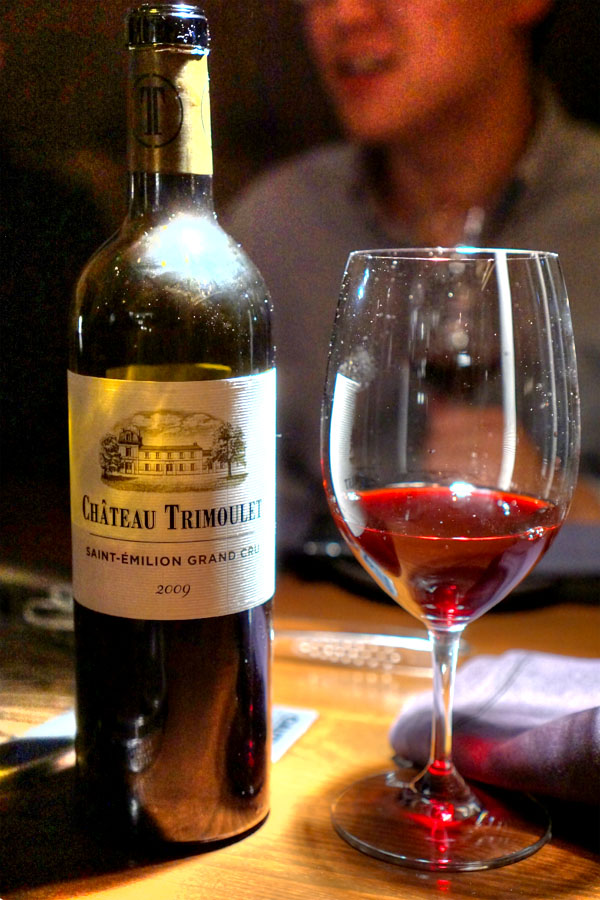 We went light on the drinks tonight, and just had a bottle of the
2009 Château Trimoulet [$75]
from St. Émilion, which was actually an off-menu selection. I quite enjoyed it, finding earthy, slightly truffle-y and cassis-filled aromas and a palate that displayed lots of tart plum and berries along with a gorgeous floral, violet character.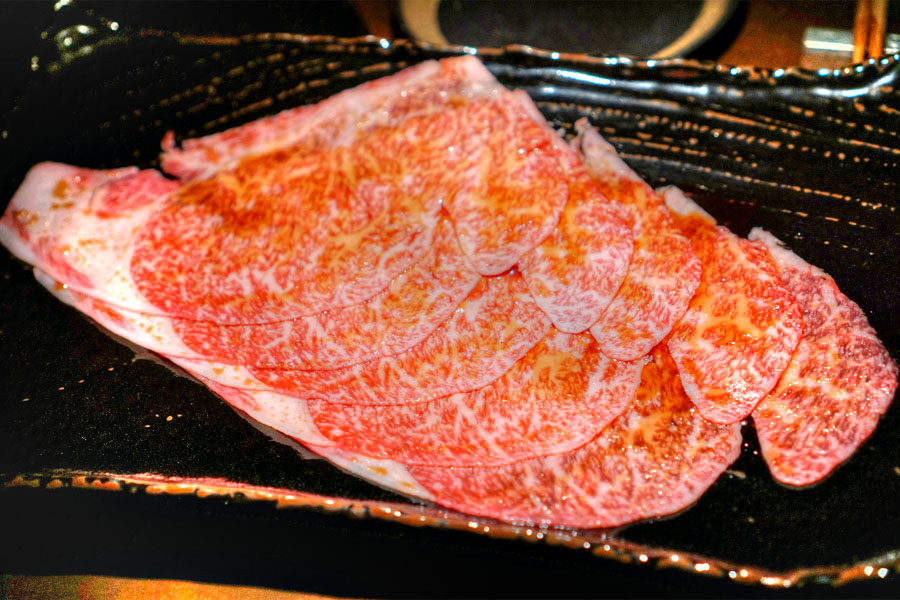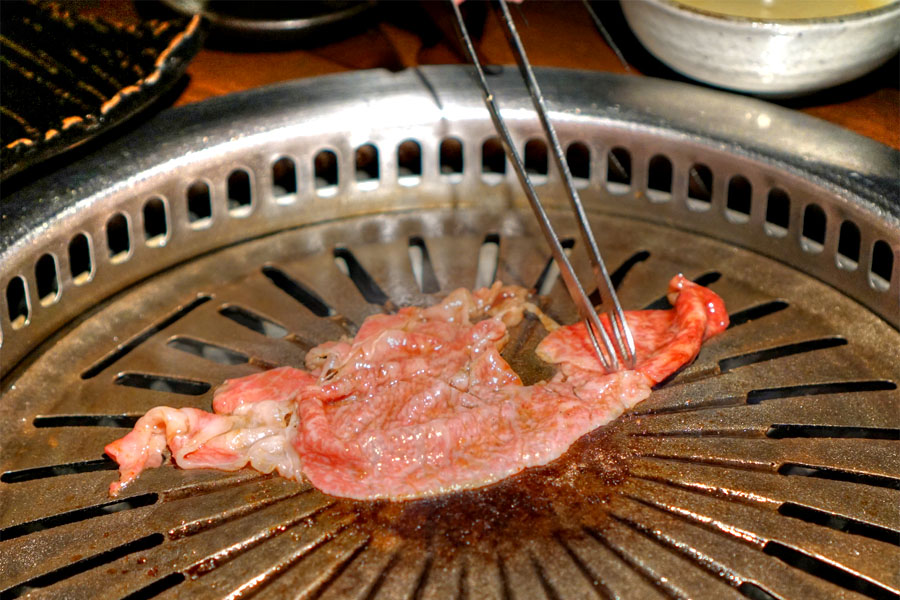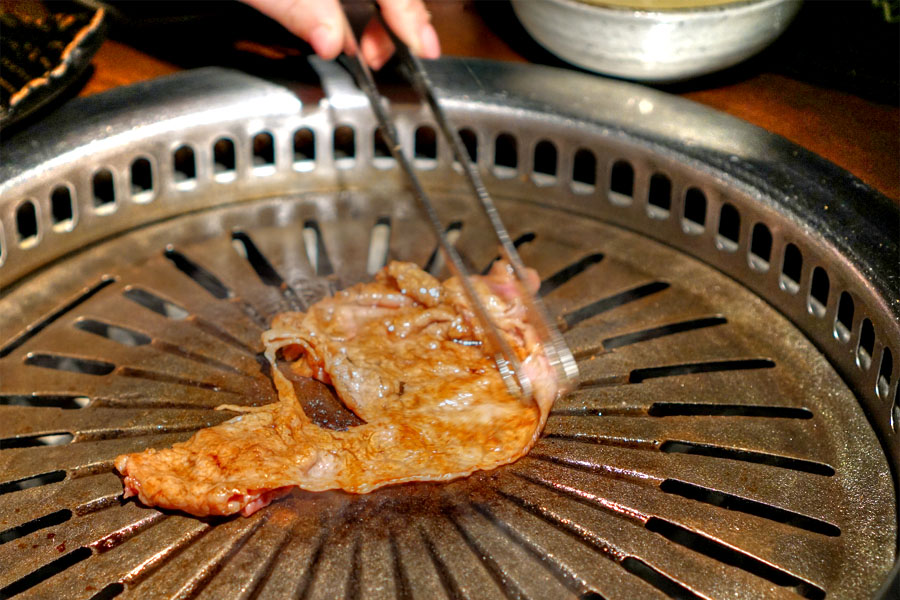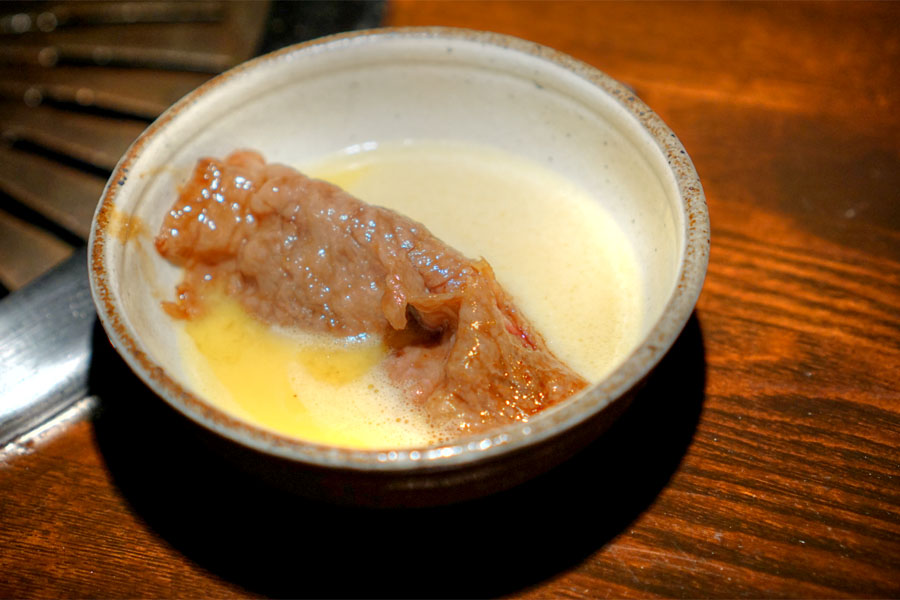 Yazawa-Yaki [$28.00/slice]
| Sirloin
The flagship cut at Yazawa is the sirloin, which was also the only cut cooked for us by the staff. Not surprisingly given all the marbling, the beef delivered with bountiful amounts of tenderness, fat, and flavor, and paired nicely with the
sukiyaki
-style egg dipping sauce, which seemed to emphasize the sweetness of the meat. One of my dining companions even likened its delicateness to "meaty tissue paper."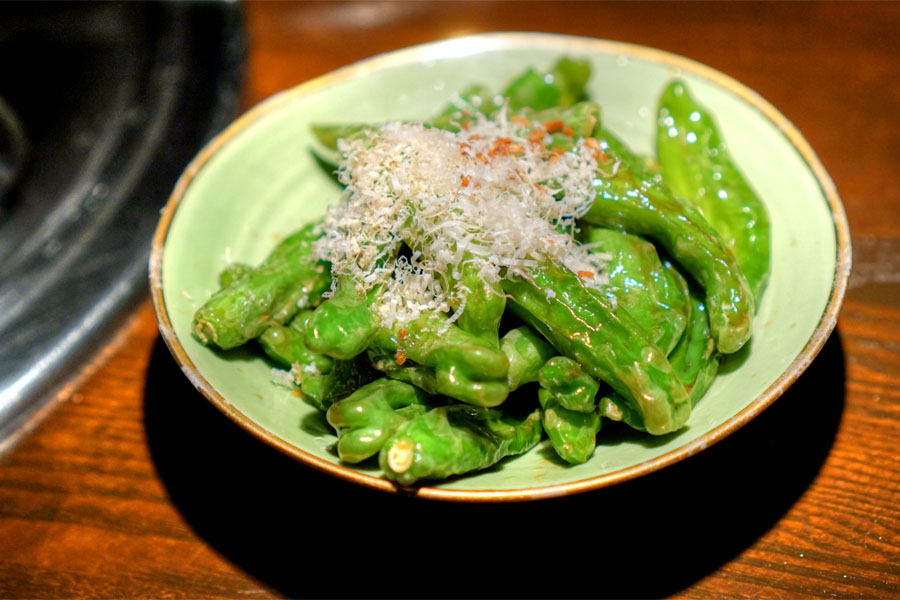 Shishito [$7.00]
Shishito peppers were on point with their char and spice, the
katsuobushi
adding a great bit of umami.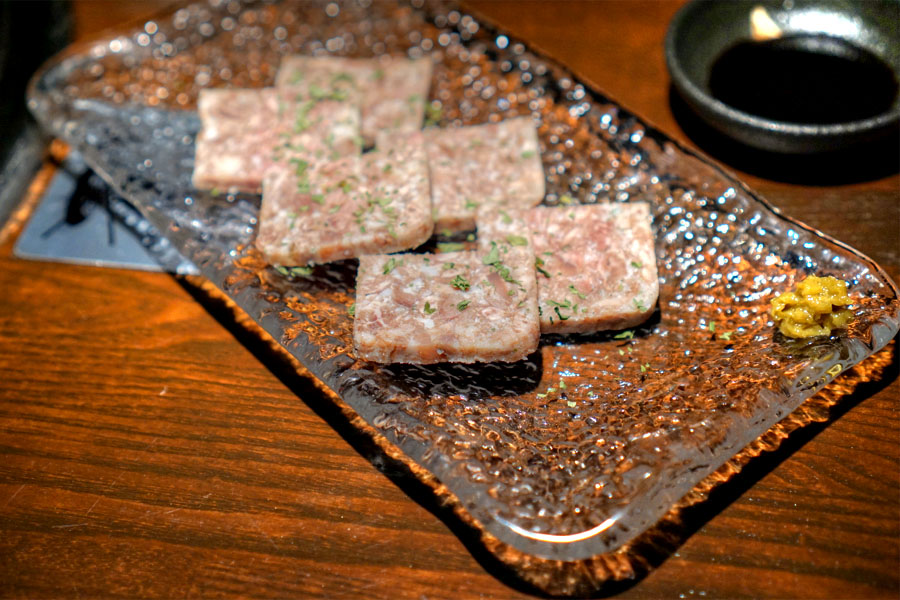 Wagyu Terrine [$10.00]
The terrine had your classic charcuterie qualities, set against the salty-spicy punch of
yuzukosho
.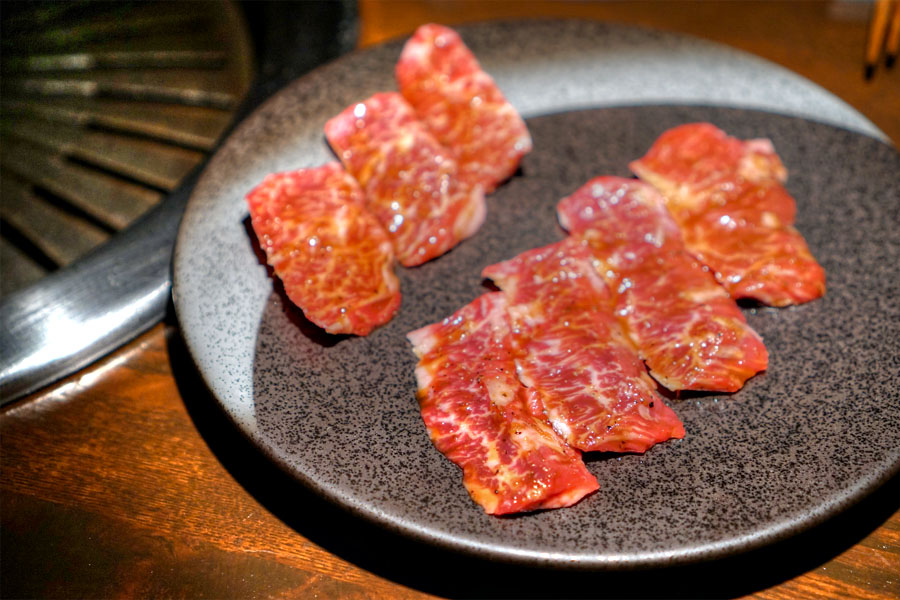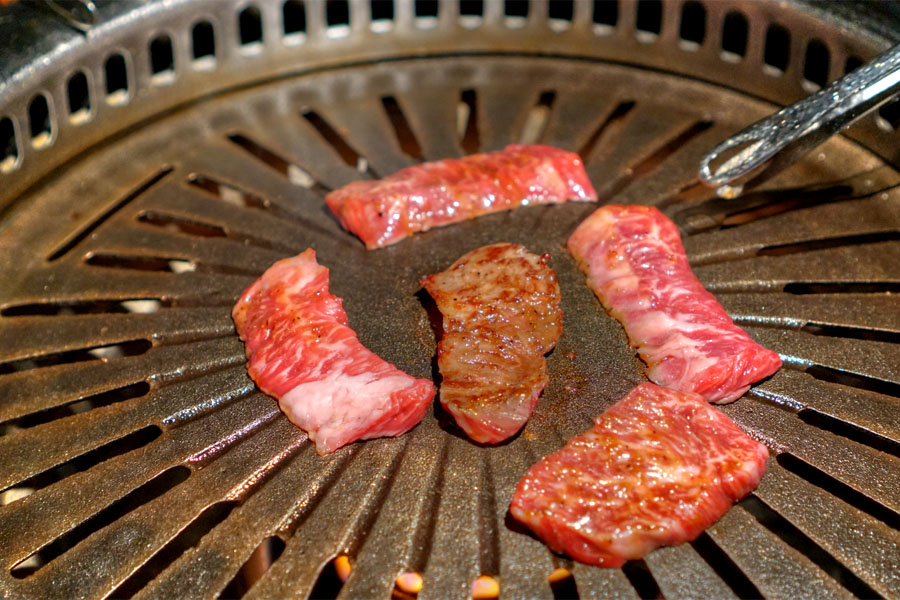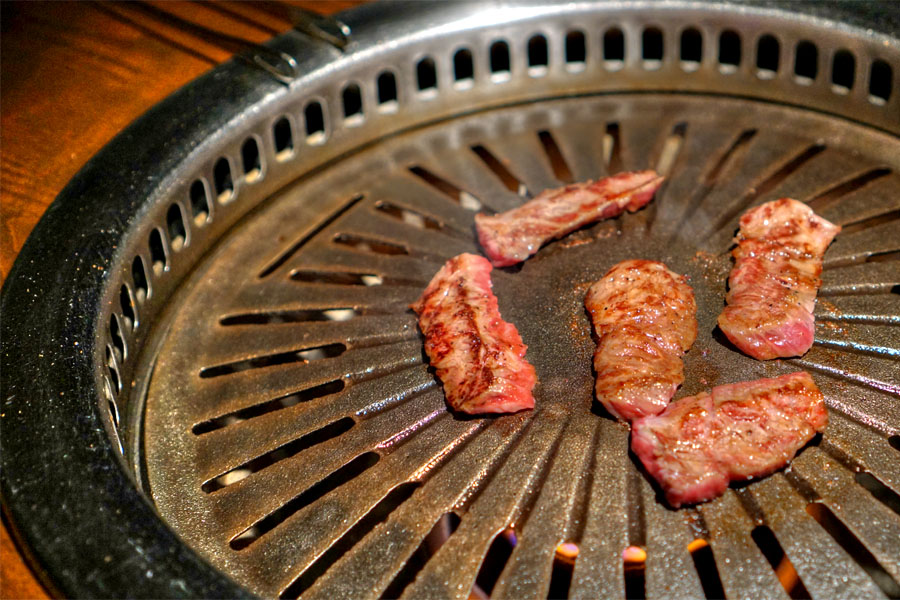 Yazawa Cut Harami [$15.00]
| sliced outside skirt
The American skirt steak conveyed perhaps the most Korean BBQ-esque flavors of all the meats we had, which wasn't necessarily a bad thing. There was definitely a touch of chew to the beef, as well as a very apparent fattiness.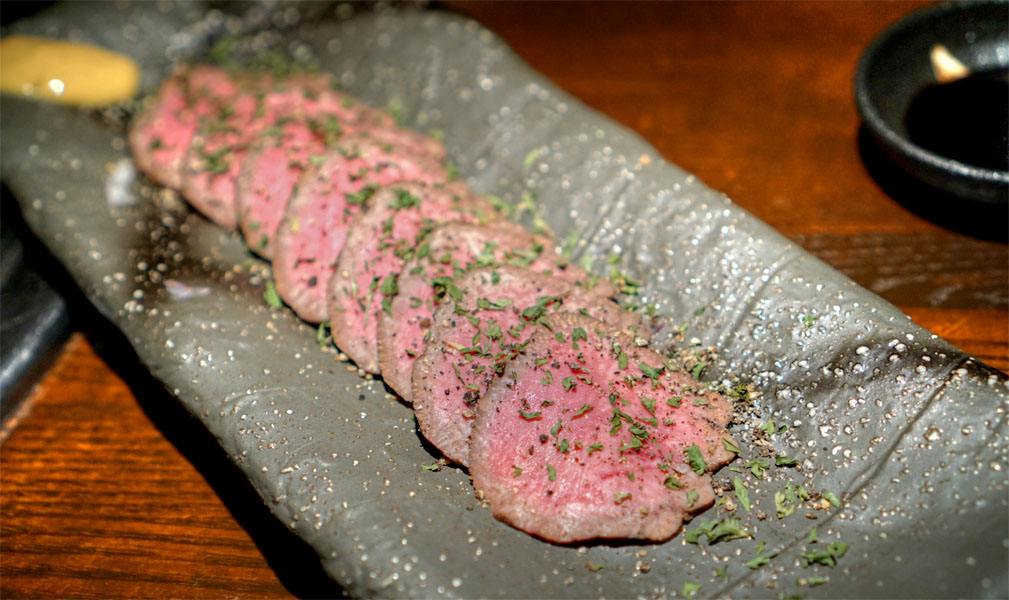 Wagyu Tongue Pastrami [$10.00]
Tongue pastrami showed off a satisfying chew and had some much appreciated minty, herby notes, but I wanted more actual pastrami spicing to go along. Someone at my table was reminded of "Chinese cold cuts."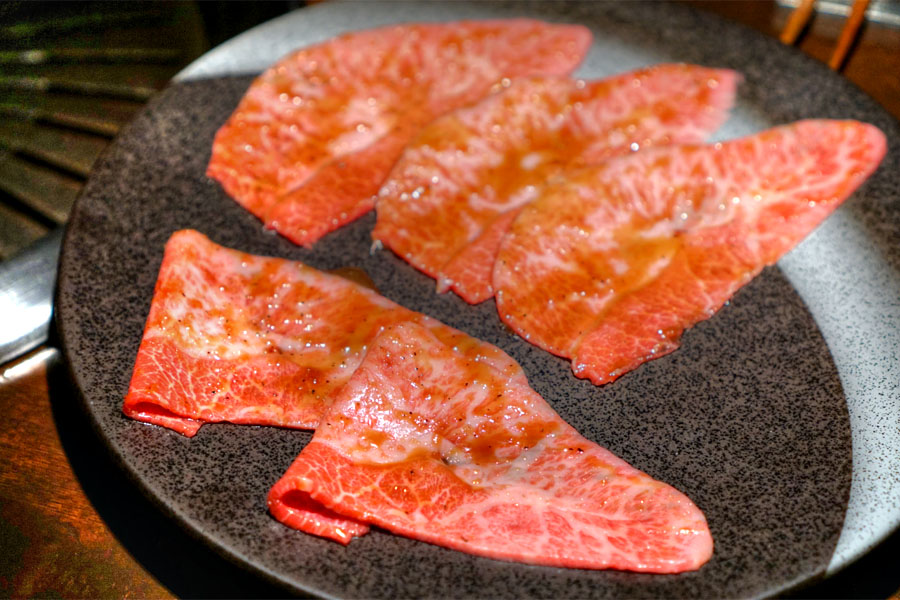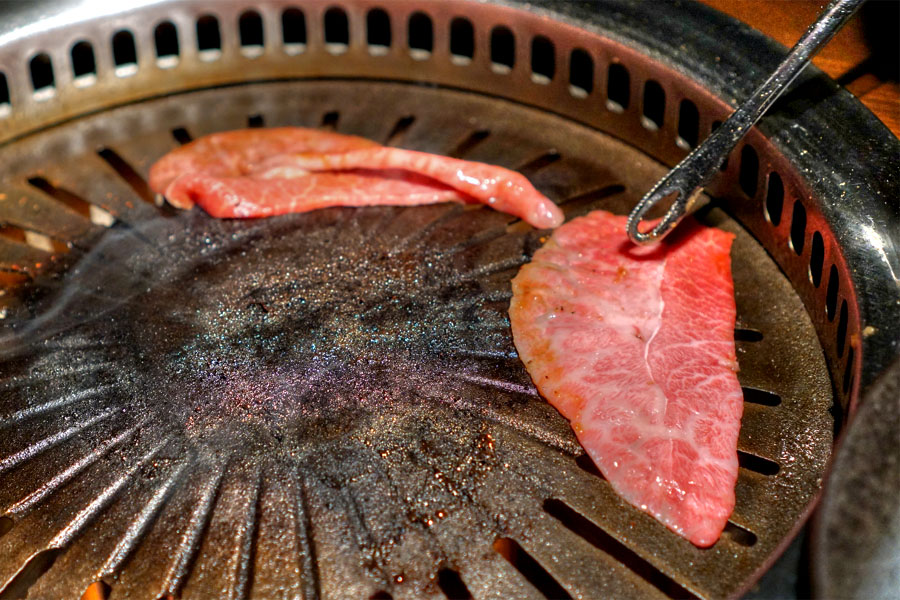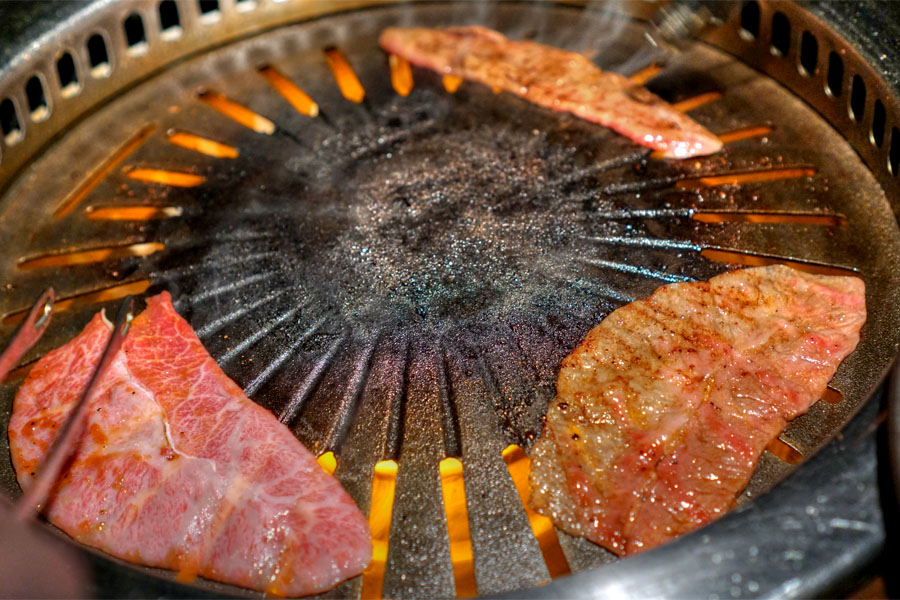 Misuji [$52.00]
| Brisket
The brisket was a standout, and was very possibly even fattier, even more luxurious than the sirloin above. Talk about melt-in-your-mouth; this ain't your typical
chadol
, that's for sure.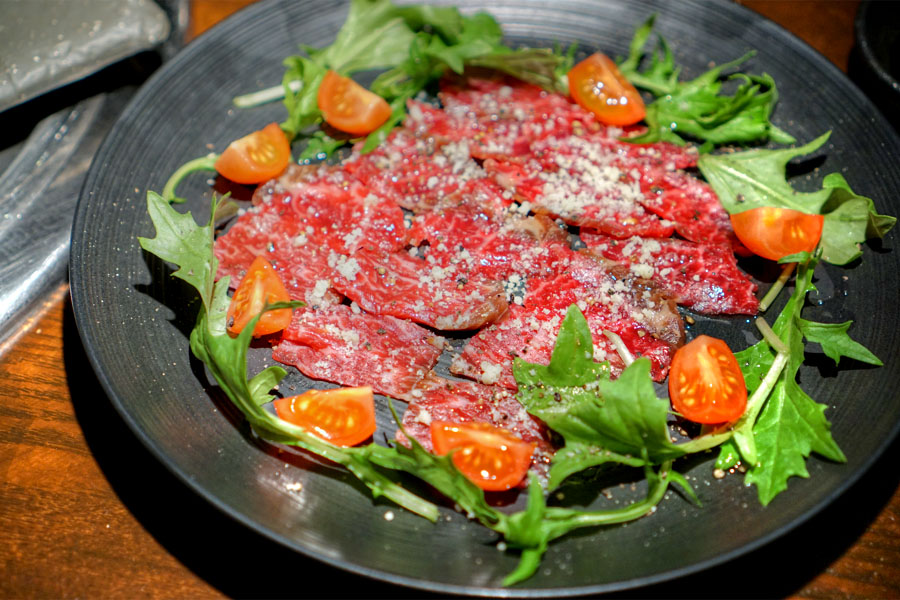 Wagyu Bresaola [$18.00]
| dry aged and salted
The bresaola was my favorite of the starters. I got a wonderful texture and "stickiness" on the beef, and was a big fan of its deep, concentrated flavors, perked up by a smidge of salt and truffle.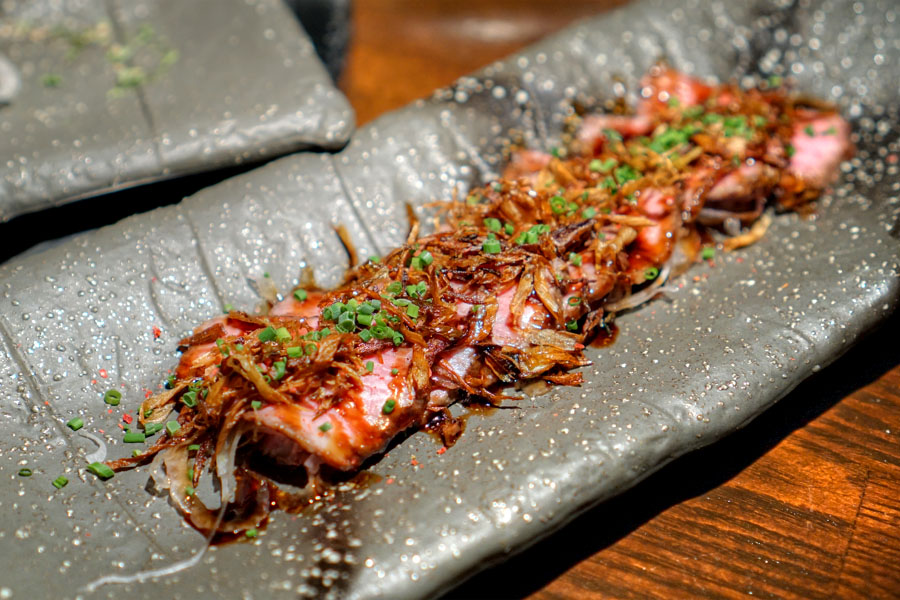 Wagyu Roast [$18.00]
| with crispy onion and Japanese Balsamic
Here, tangy balsamic and the sweet-charred flavors of onion made sense with the wagyu. However, I really wanted bigger, heartier pieces given that it was a "roast."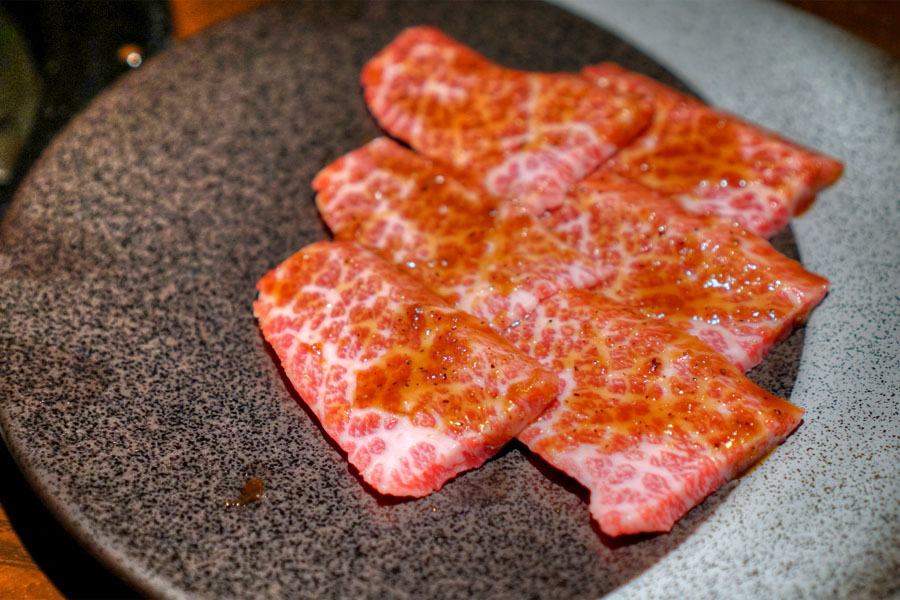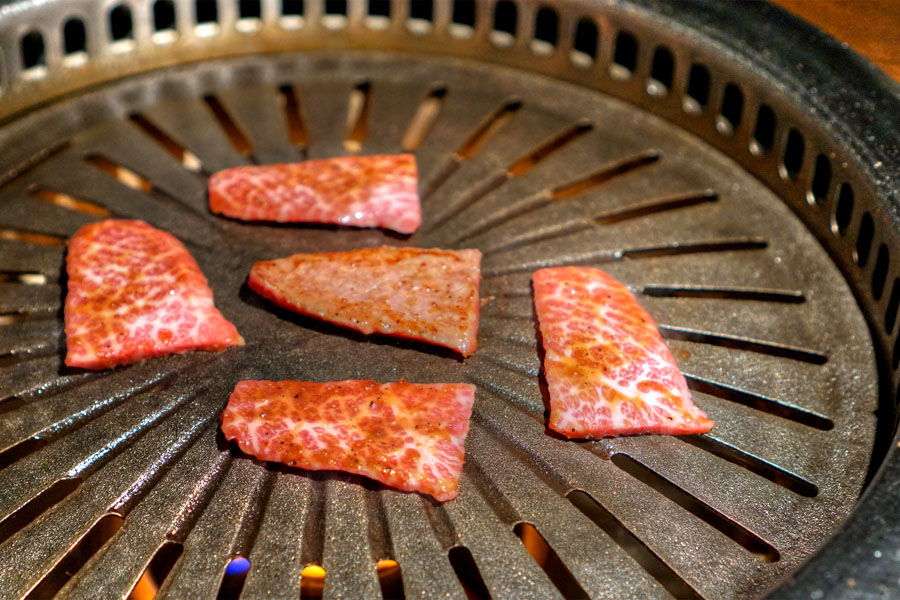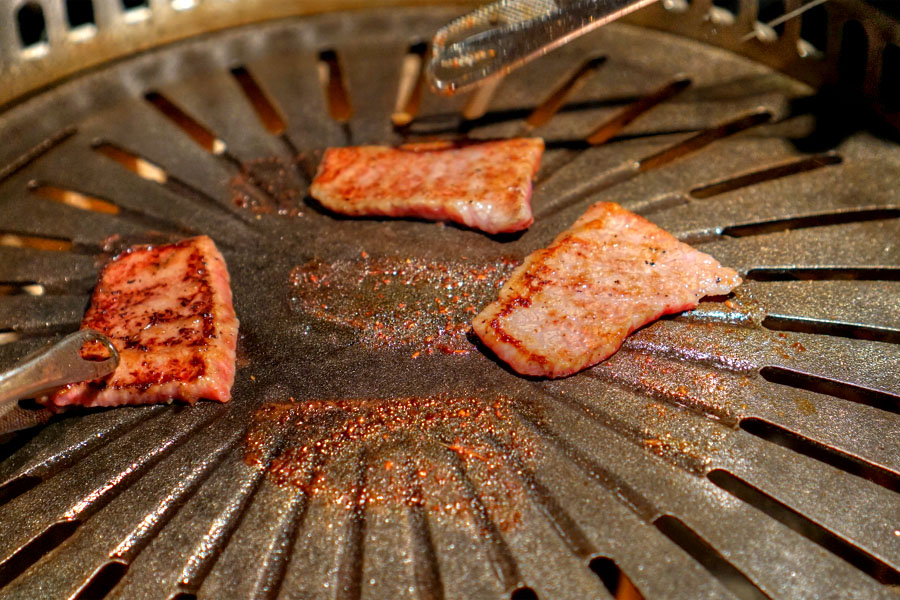 Yazawa Cut Kalbi [$15.00]
| sliced short rib
An American cut of
galbi
was similar to the
kkotsal
you get at Korean BBQ, though perhaps a touch more intense. I got a very gratifying chewiness and char to the meat, along with a lingering savory-sweetness.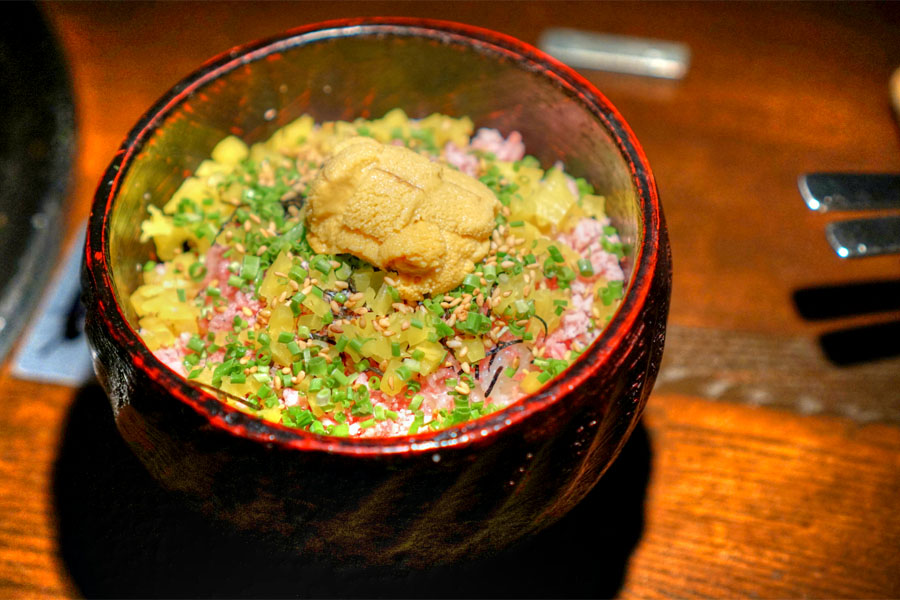 Uni Gyu Toro Don Bowl [$28.00]
| minced raw japanese wagyu on rice
Yazawa's take on
donburi
was delish, with a great back-and-forth between the pickles and the meat, the urchin's richness just permeating everything. That being said, I don't think Japanese beef was truly called for here given all that was going on in the dish.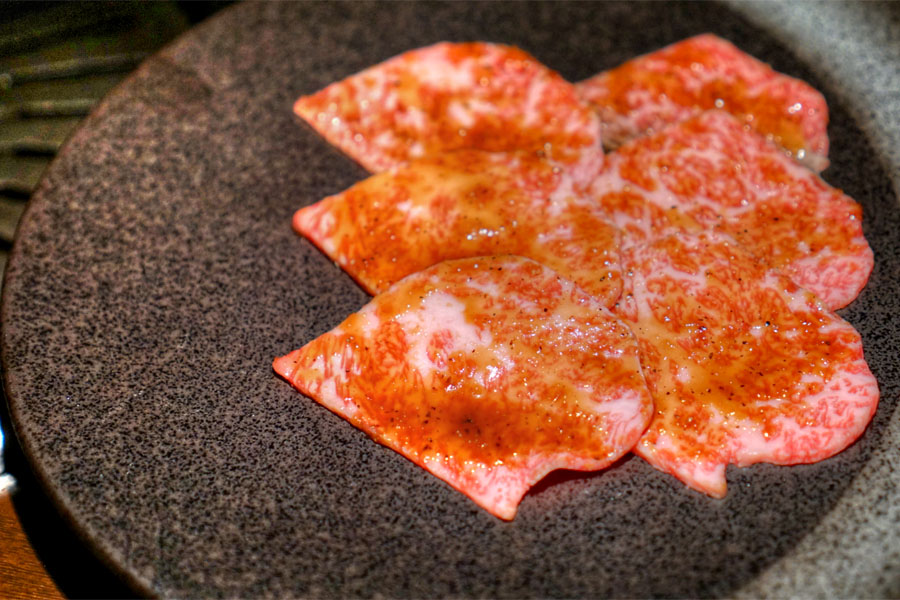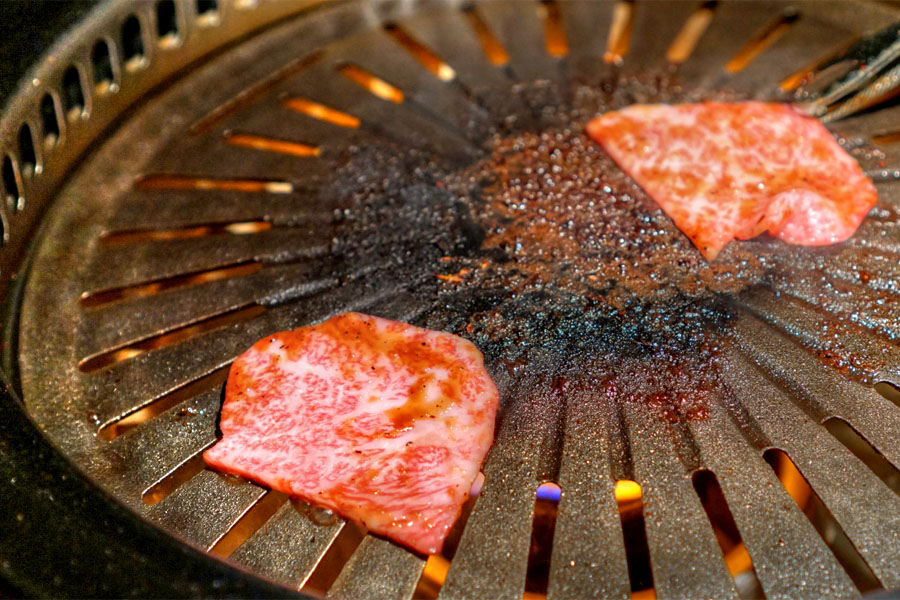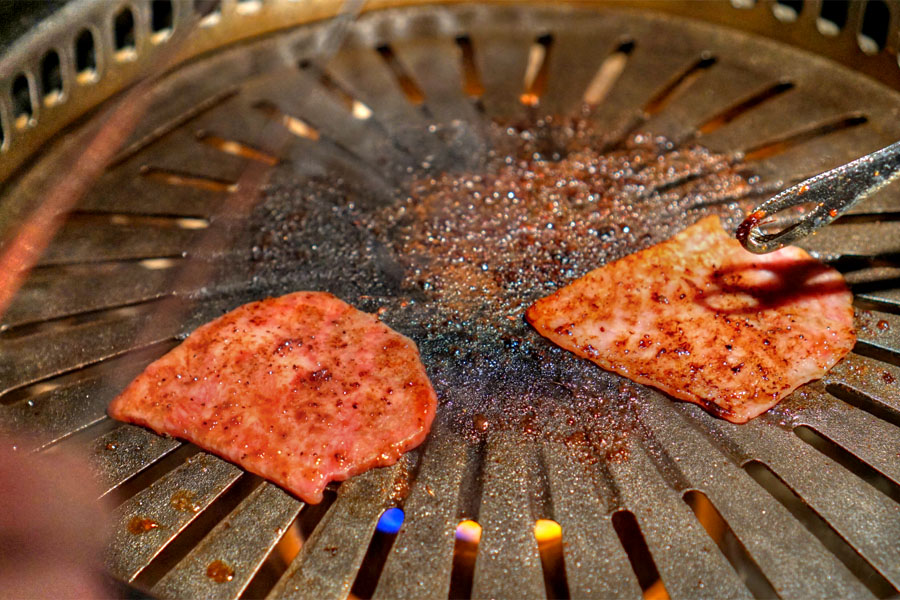 Rib-Shin [$56.00]
| Rib-eye
Ribeye came out properly tender, and conveyed perhaps the sweetest flavor profile of all the Japanese cuts.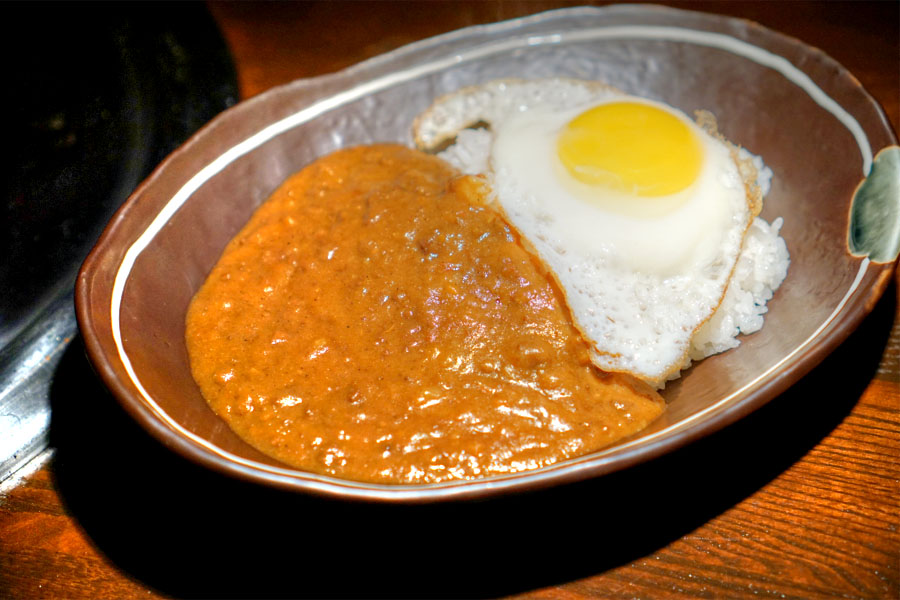 Japanese Wagyu Curry Rice [$16.00]
| minced japanese wagyu curry rice with an egg
A take on Japanese curry was spot on, with all your classic, homey, cozy flavors on display, augmented by the lushness of that runny egg. As with the
donburi
above though, you couldn't really tell that this was Japanese wagyu.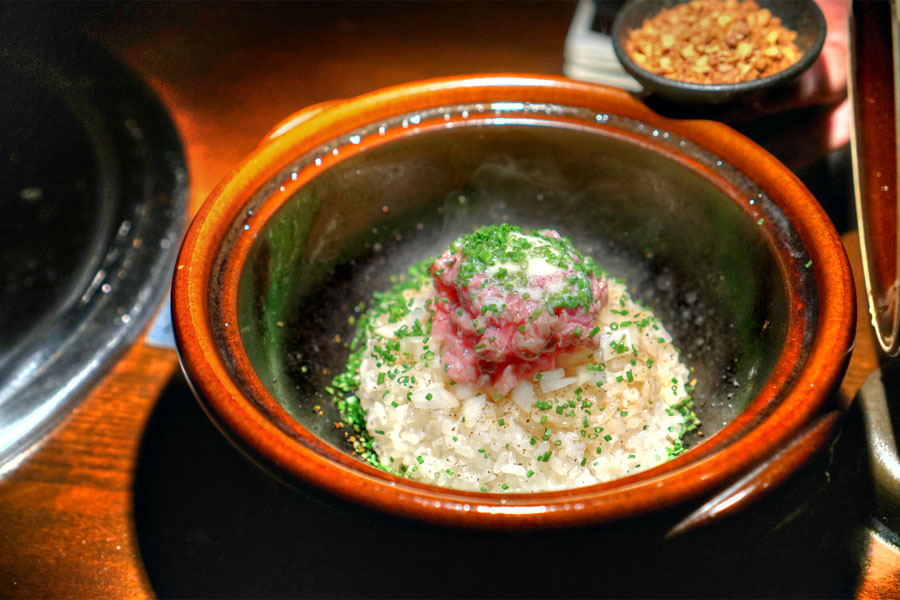 Garlic Japanese Wagyu Rice [$16.00]
| served in a clay pot
Our server actually recommended the rice, and the dish did not disappoint. There were some really strong garlic notes here, but they meshed with the beef oh-so deliciously. Lovely crispy bits of rice, too.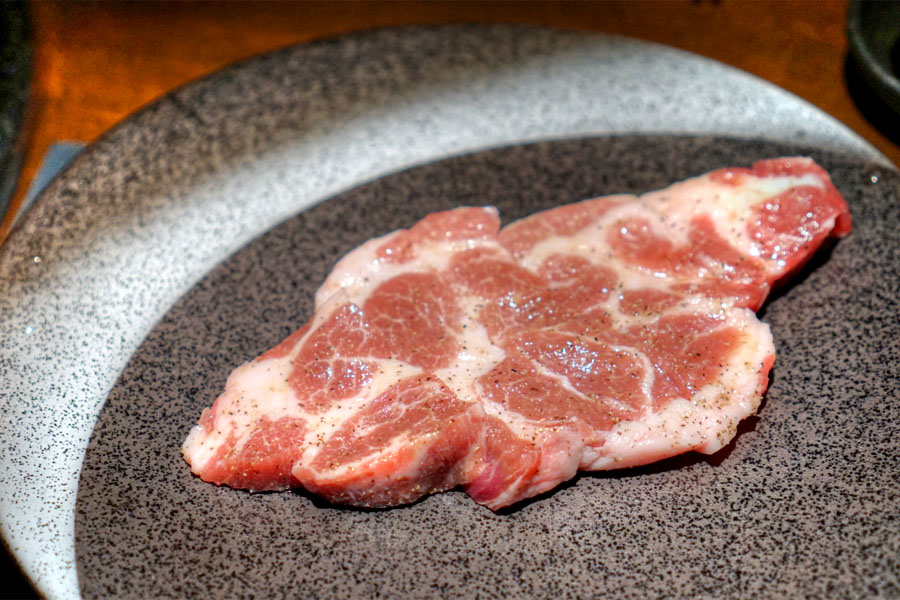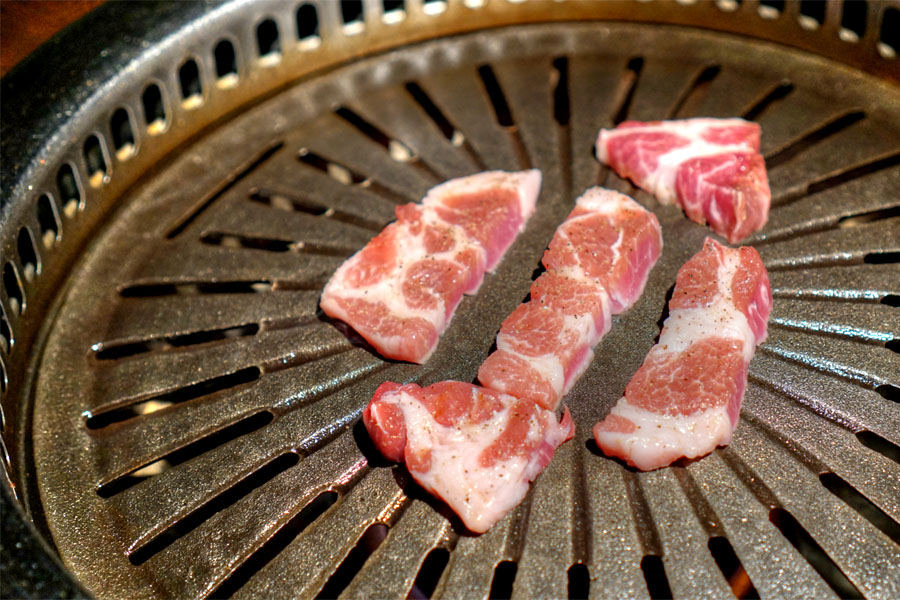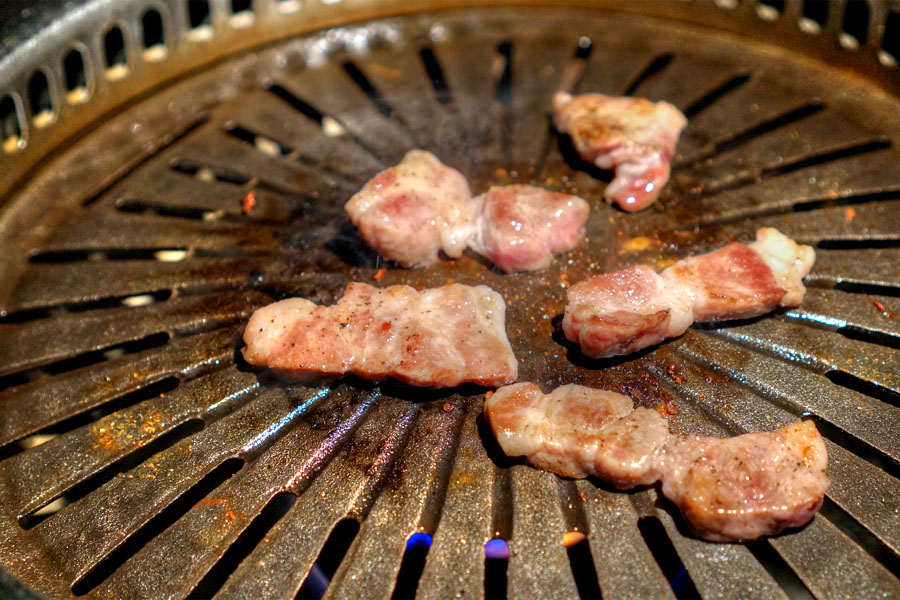 Pork [$12.00]
| sliced kurobuta pork
We gave the Kurobuta (I believe it was collar) a shot as well, and were not let down. Some great porky flavors going on, which paired swimmingly with the salt and char present.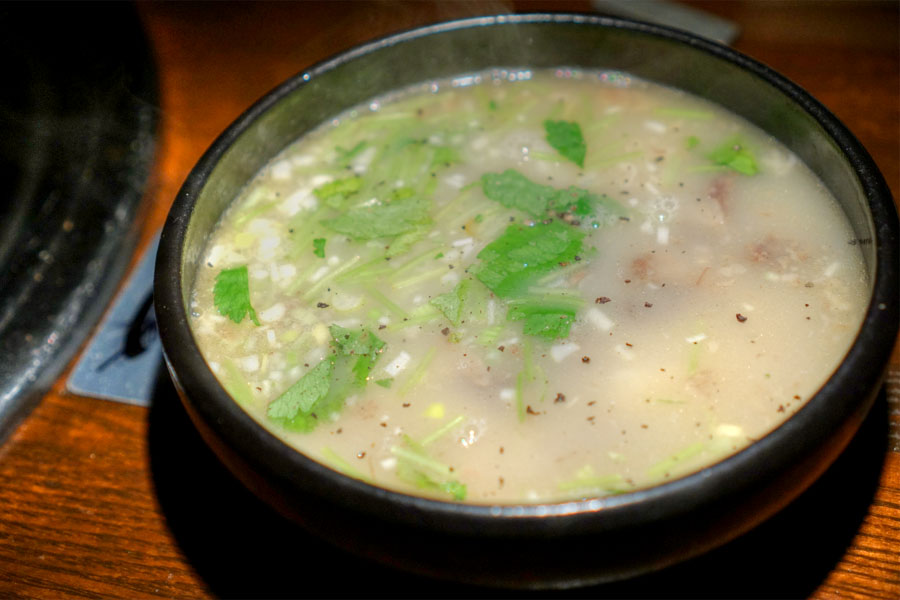 Oxtail Zousui [$14.00]
| rice in oxtail soup
The
zosui
was a clear winner, with its rich, beefy flavors perfectly paired with the bright, herby notes present. A super comforting dish--I could've easily taken down the entire bowl.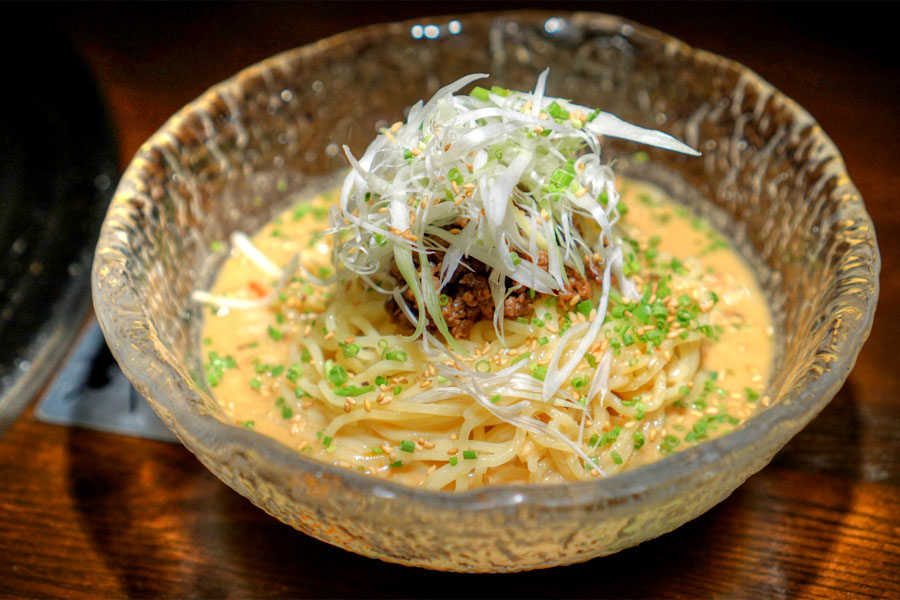 Cold Tan Tan Noodle [$14.00]
| sesame and chile ramen
The
tantan-men
was almost refreshing given all the meat we had, its nutty-sweetness working well with the herbs while the finish had some heat to it.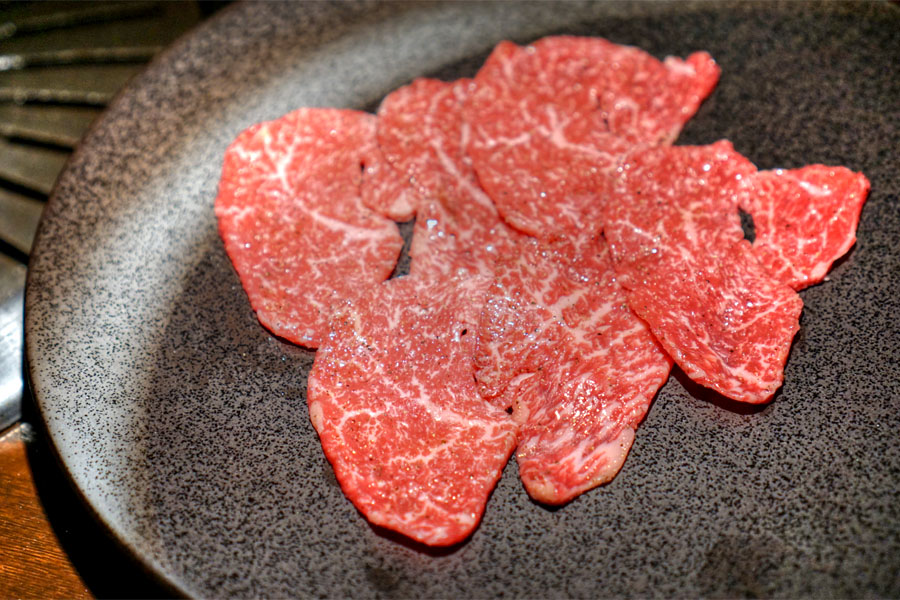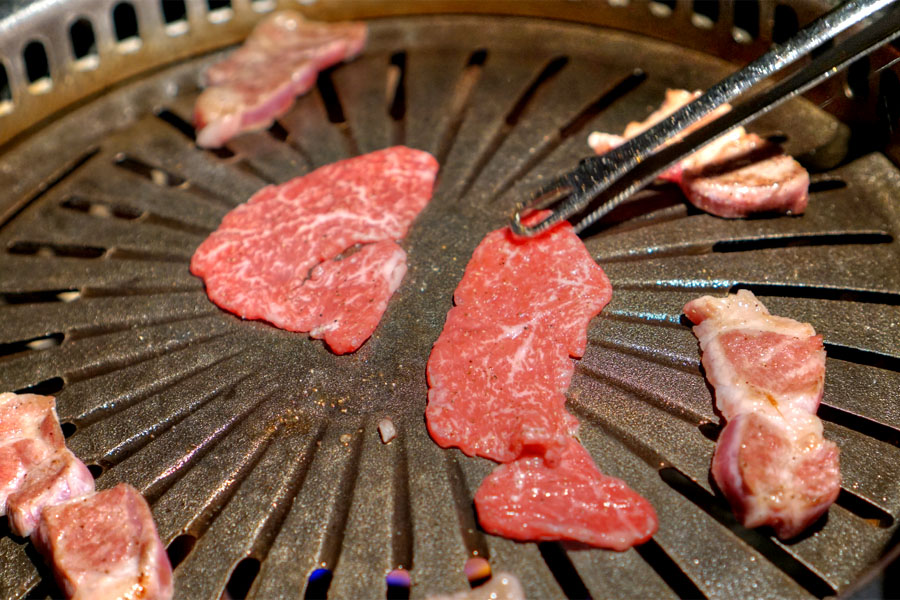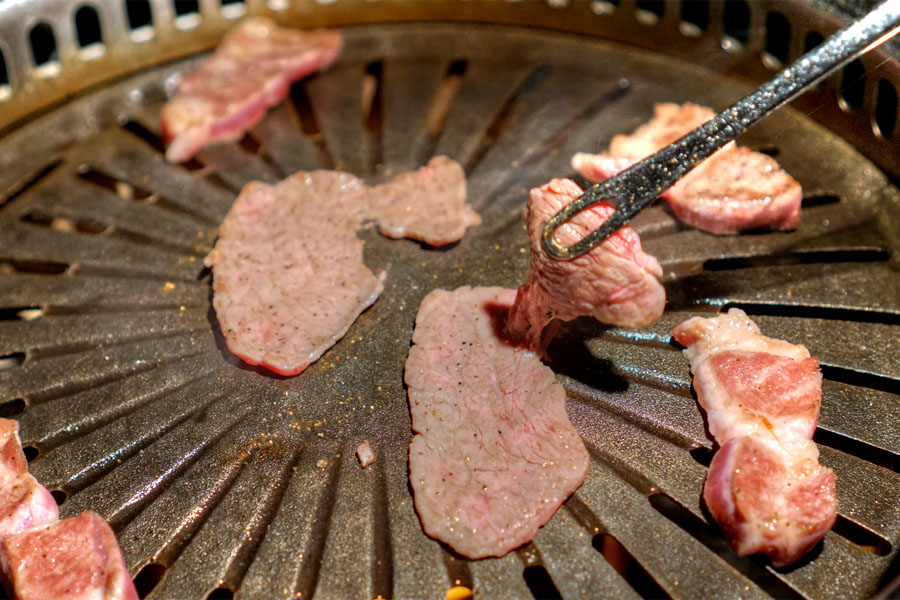 Ramboso [$38.00]
| Round
We ended with one of the least marbled cuts, for comparative purposes. It certainly didn't have the in-your-face fattiness of some of the other selections, but was enjoyable nonetheless, with a particularly pleasing pepperiness, along with a lingering sesame oil note.
My entire party was undoubtedly satisfied with Yazawa. Indeed, some of the starters could've used some tweaking, but the place pretty much knocked it out of the park with regard to the actual meat, which was about as good as you can get in terms of tenderness, marbling, and sheer luxury. At last, a credible (but yet
very
different) competitor to "secret beef."