Hikari Japanese BBQ and Grill (Lomita, CA)
Hikari Yakiniku Restaurant
2383 Lomita Blvd, Lomita, CA 90717
424.263.5777
www.thehikariusa.com
Wed 05/03/2017, 07:45p-11:30p

I was recently searching for yakiniku joints in the South Bay and ended up at Hikari, which I'd never actually heard of prior to this. The place opened in March 2016 in the former home of
okonomiyaki
specialist Gaja, and is the work of Chef/Owner Takeshi Takasuka.
About the Chef
: Takasuka was born in 1969 in Ehime's capital of Matsuyama. After finishing up at Matsuyama Nishi High School, he moved to Tokyo for college and got his start in the restaurant biz. He began his career at a sushi place in the City, then helped in the opening of an izakaya, also in Tokyo. This was followed by a year-and-a-half stint on a cruise ship, during which he had to prepare both Asian and Western cuisine. Afterward, Takasuka relocated to Okinawa's Ishigaki Island and became a chef at Hotel Nikko Yaeyama.
He then got married, moved back to his home prefecture of Ehime, and landed a gig at a restaurant development company, where he opened nine eateries throughout Japan over a period of five years. The Chef's next move was to the US. Stateside, Takasuka helped launch a beef-focused restaurant in Little Tokyo, then followed that up with a hot pot place before debuting Hikari.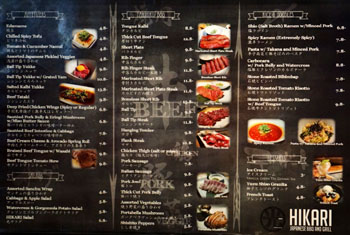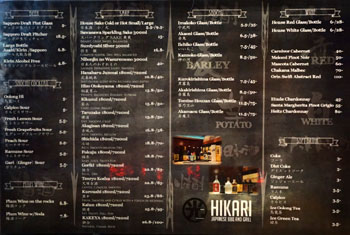 Expectedly, the menu's centered on the meat selection (alas, they no longer carry real Japanese beef), and there are of course appropriate appetizers and accompaniments available. To drink, you get your typical beers, shochu/chuhai, a pretty decent sake selection, and a smattering of wine. Corkage was $18.50. Click for larger versions.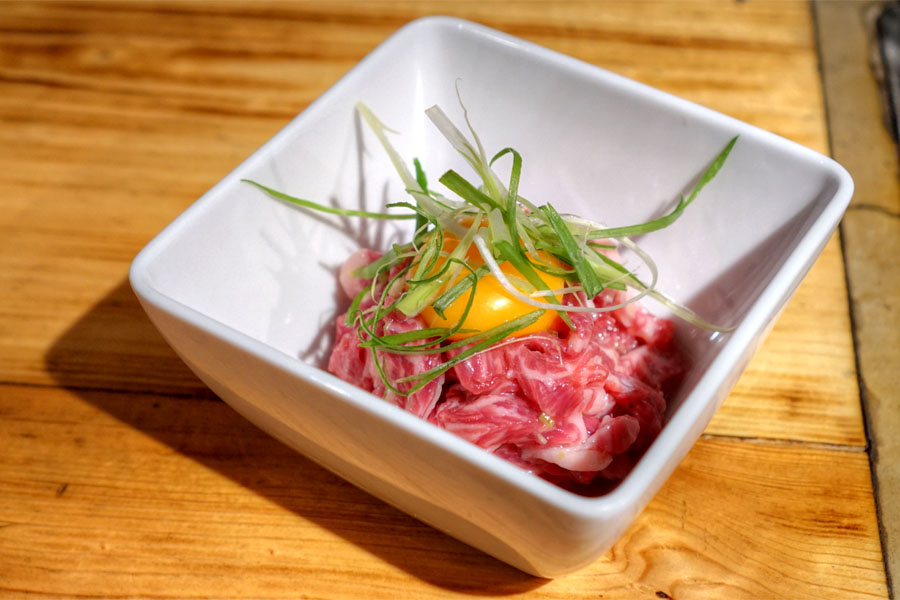 Salted Kalbi Yukke [$13.80]
We started with the
yukhoe
. I found the short rib itself springy, soft, fatty, with a deep savory quality. The egg imparted a further lushness to the beef, but what was key was the scallion, which really cut through the heft of the meat.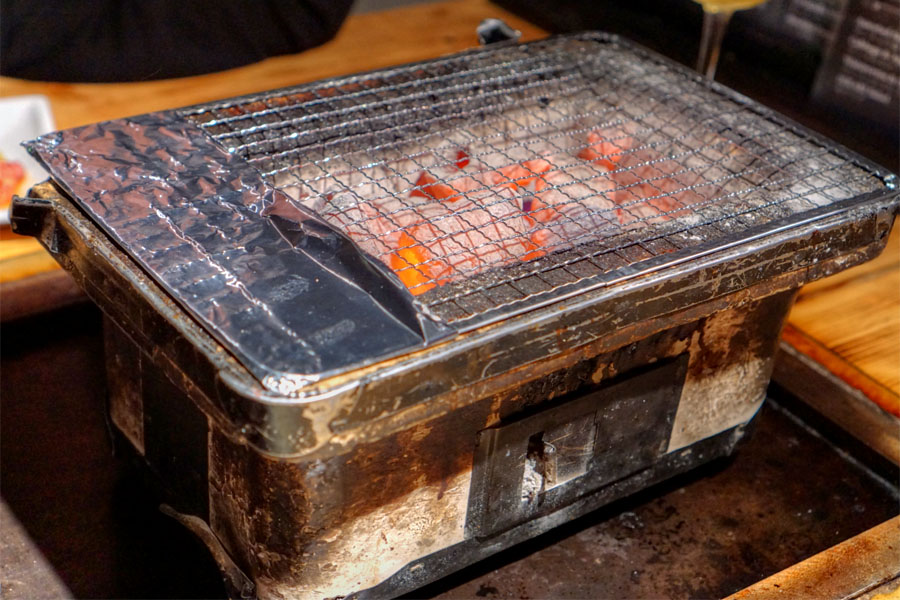 Grilling is done via a
binchotan
-fueled
shichirin
, a promising sign.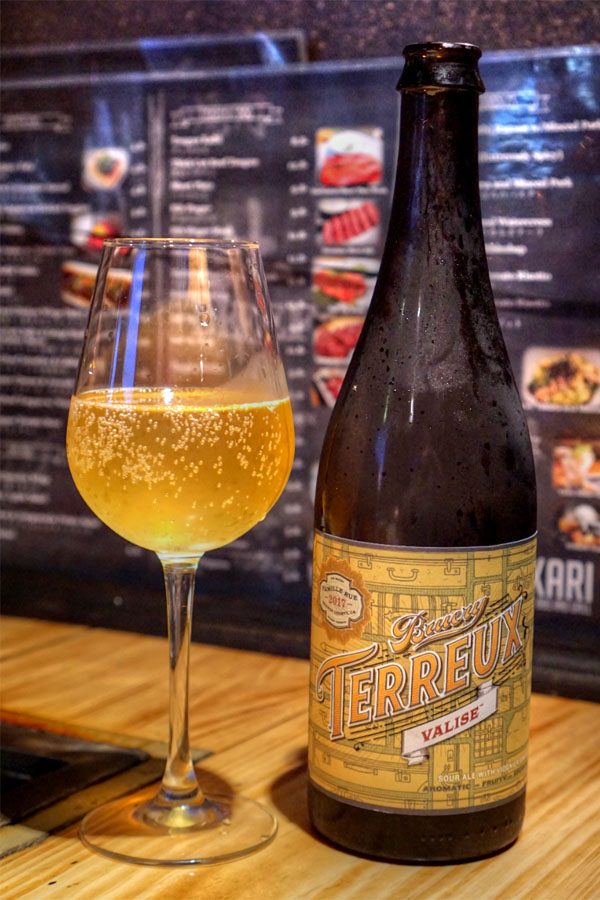 Our first beer was the
2017 Bruery Terreux Valise
, a sour blonde ale fermented with Viognier grapes. Aromatic nose teeming with tart lemon and slight funk. The taste conveyed more barnyard-y notes and a distinct vinous mustiness. Quite nice overall.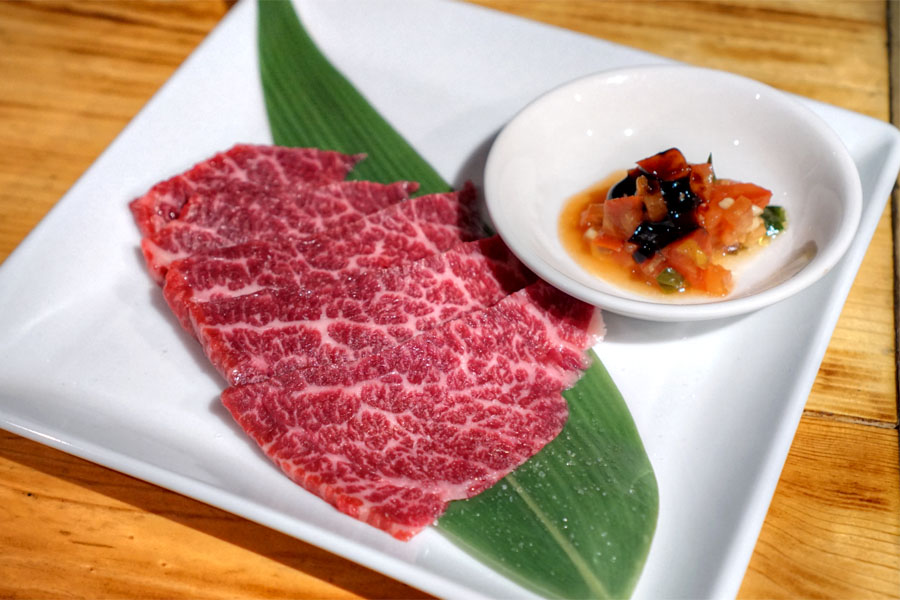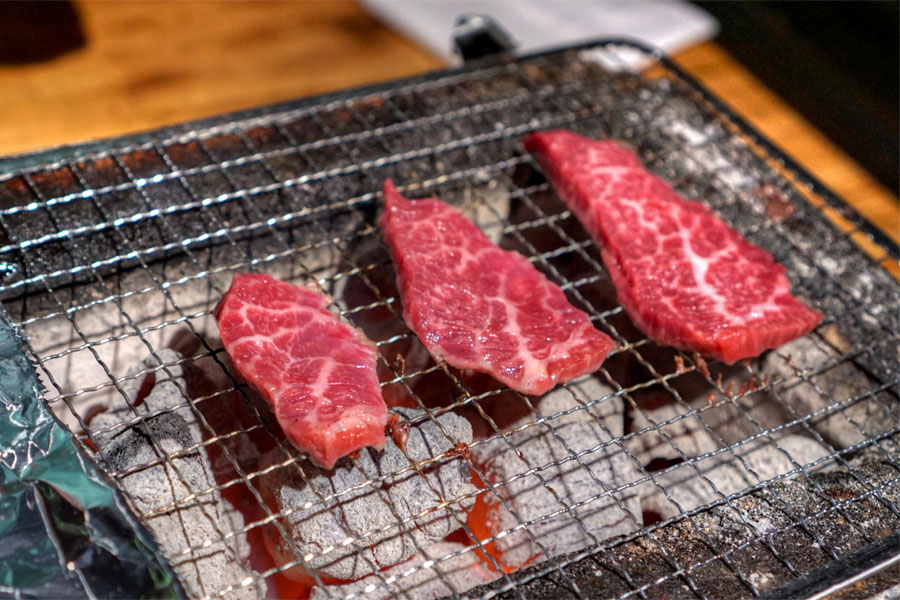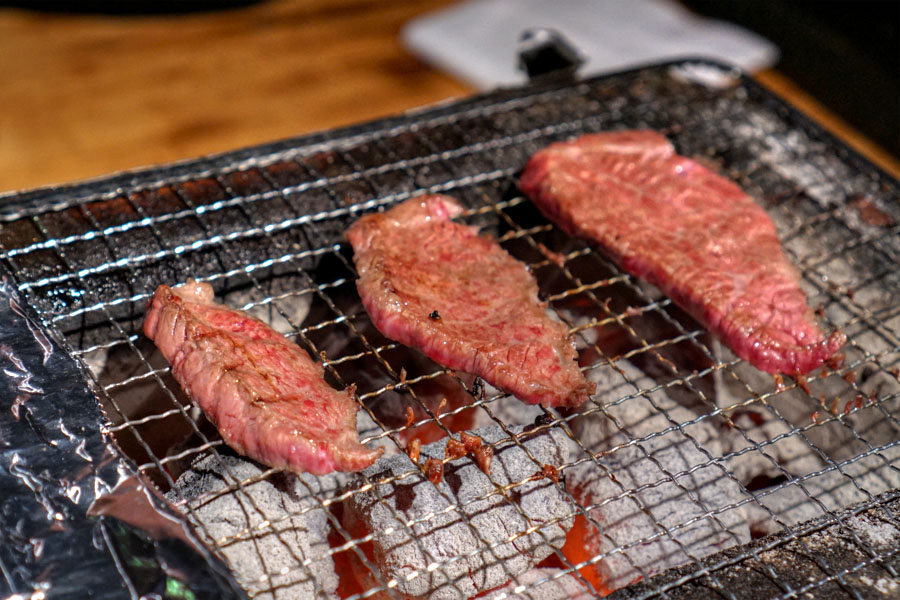 Chuck Flap Tail [$14.80]
Our server announced two beef specials for the evening, both coming from half-breed American wagyu cattle, and we ended up getting both. First was this
zabuton
cut. It made for a strong start, coming out salty, savory, and with a particularly intense beefiness to it. It was so good by itself that the paired tomato-balsamic condiment was rendered largely unnecessary.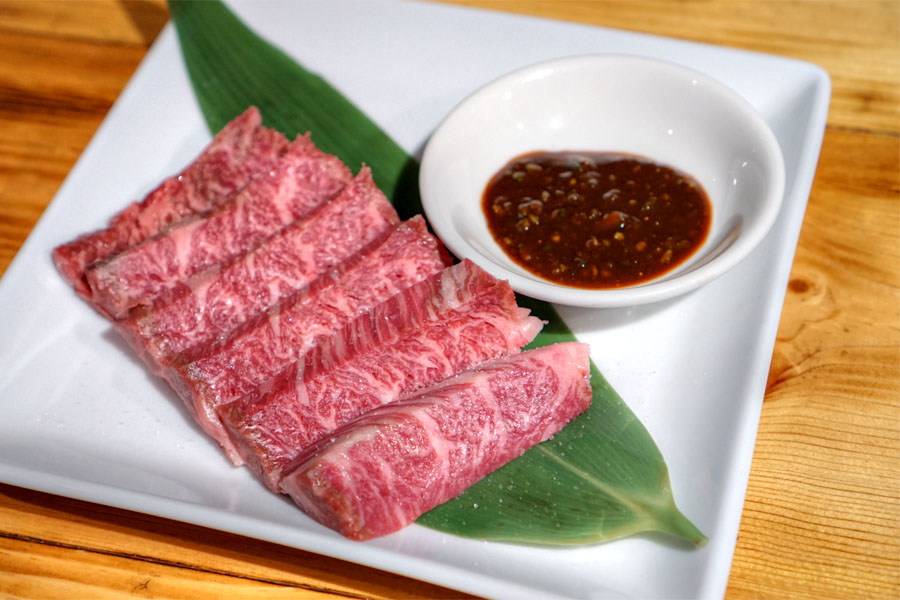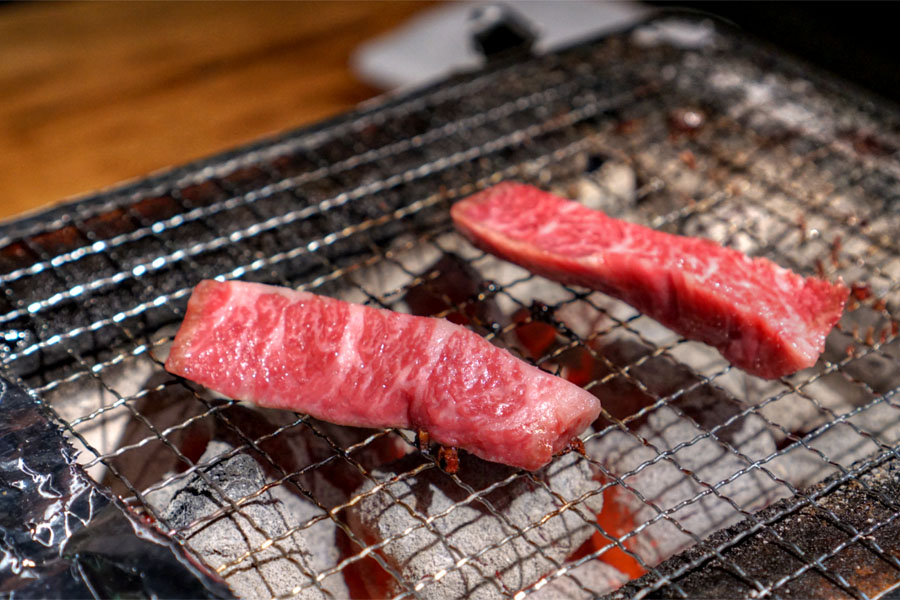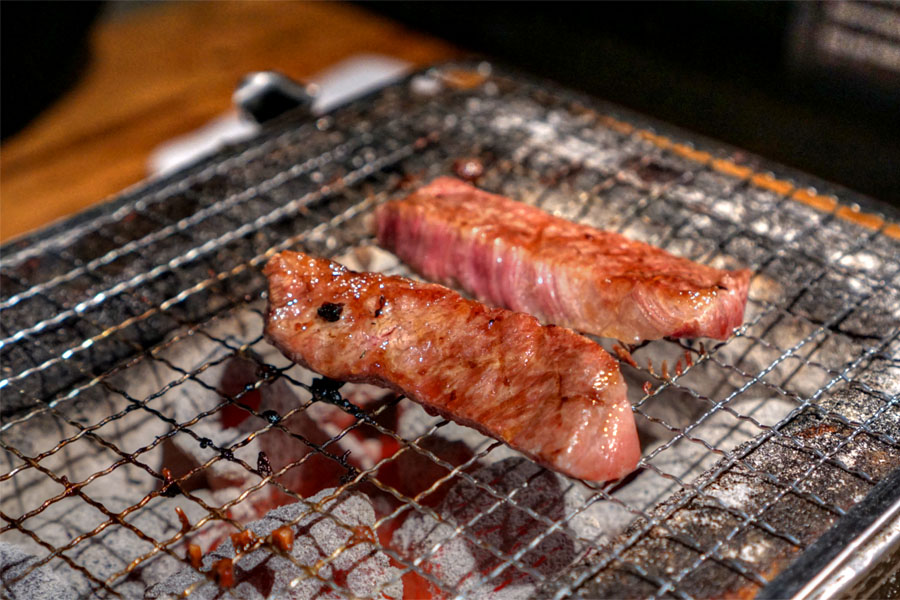 Inside Skirt [$16.80]
The
harami
delivered: fatty, supple, juicy, though a touch more austere than the cut above. I was a big fan of the tangy depth of the miso-based dipping sauce here as well.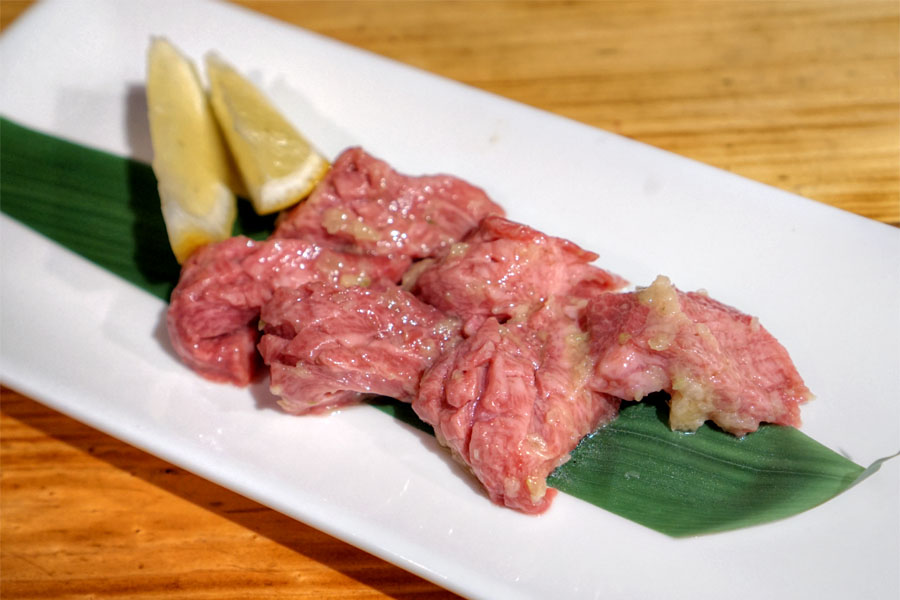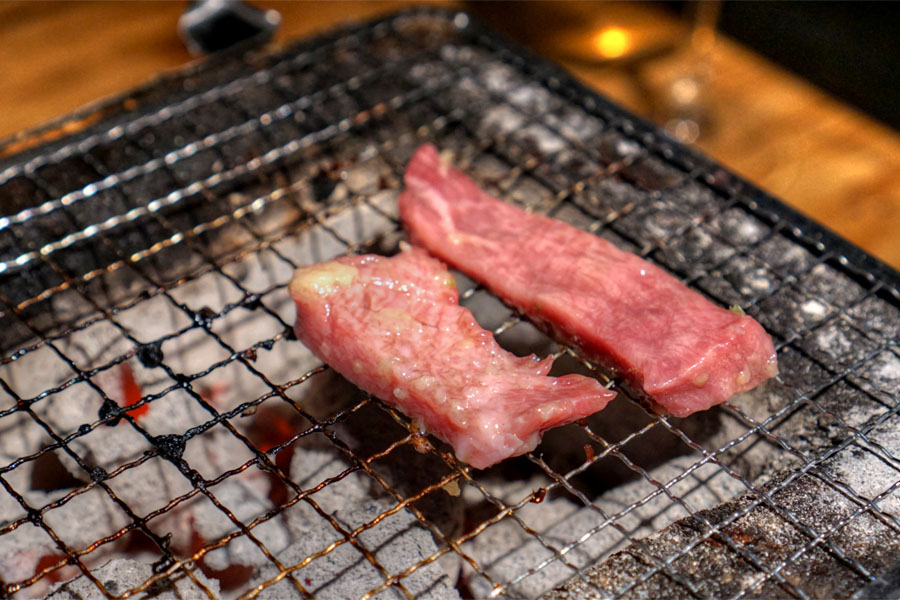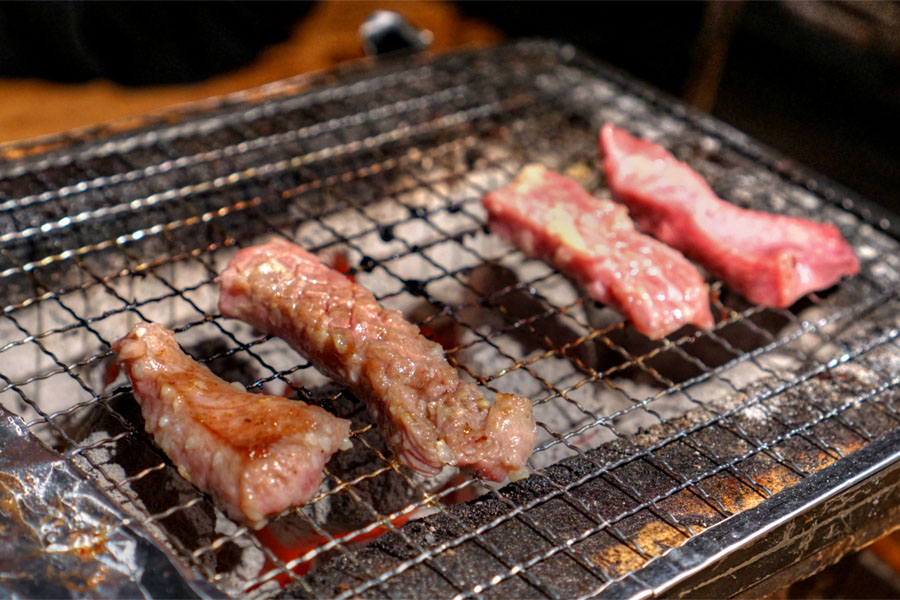 Thick Cut Beef Tongue [$12.80]
The
atsugiri gyutan
was a must-try for us, and didn't disappoint. Think soft, yet snappy, with a nice zippiness from the tongue's marinade. Even better with a squirt of lemon.
Next to drink was the
2016 New Glarus R&D Pommier Sauvage
, a spontaneously fermented, coolship-soured blonde ale with apples from Wisconsin's Kikapoo Valley. This one smelled of tart, funky apple in-yo-face. The taste went in a similar direction, bringing plenty of earthy, yeasty nuances commingled with the fruit. Dry, cider-like, and positively delightful.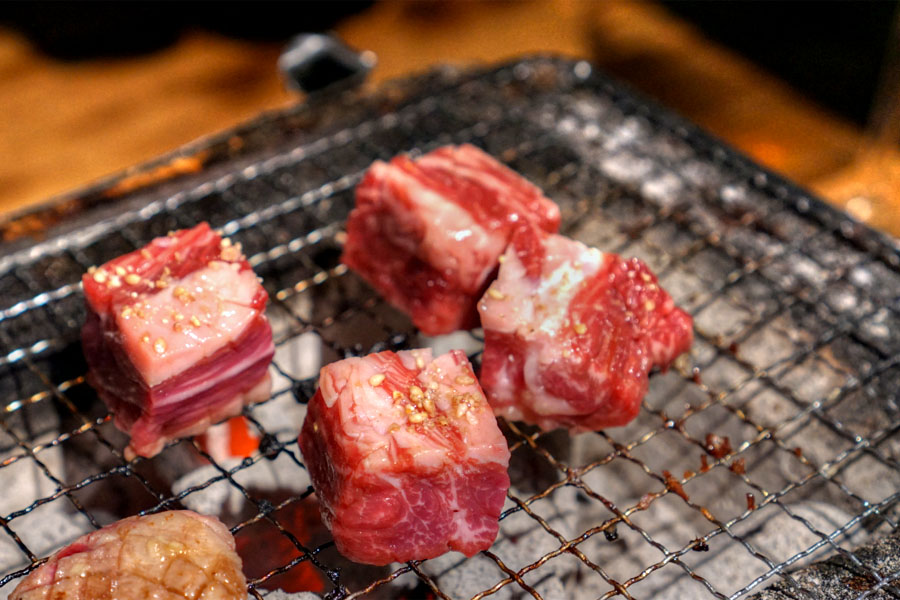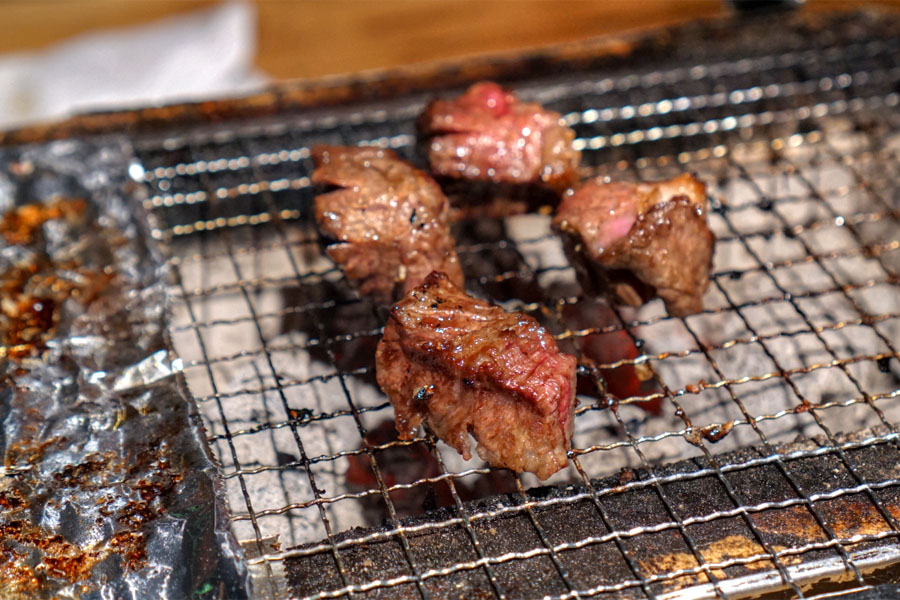 Marinated Short Plate Steak [$11.80]
The
karubi sudare yaki
was an especially rich, fatty, flavorful cut. Very tasty on its own, but I liked it even better with a dab of the included wasabi.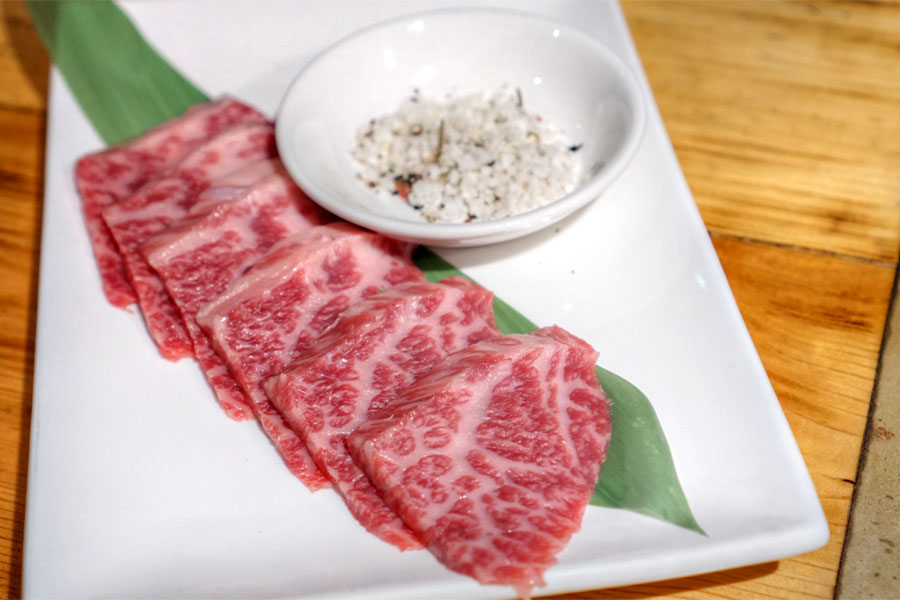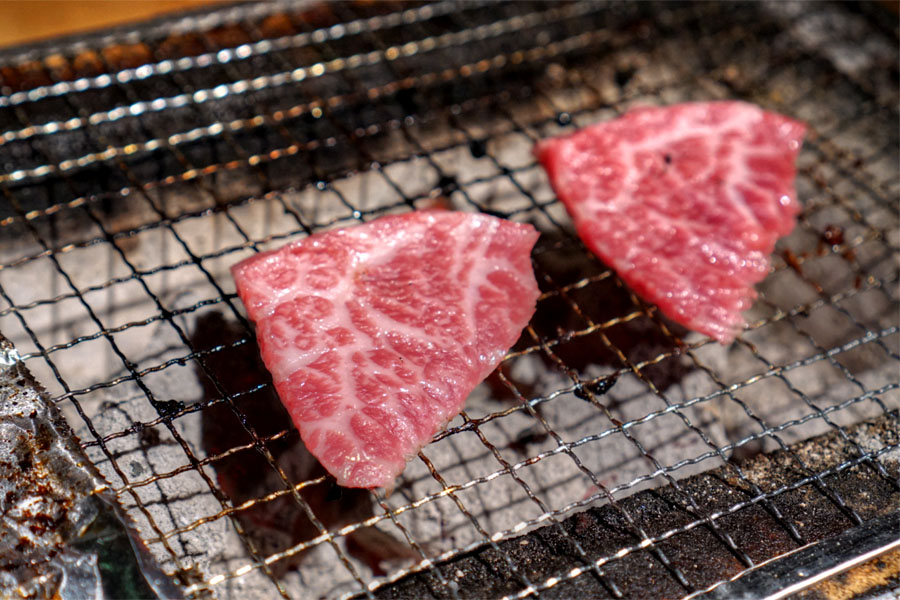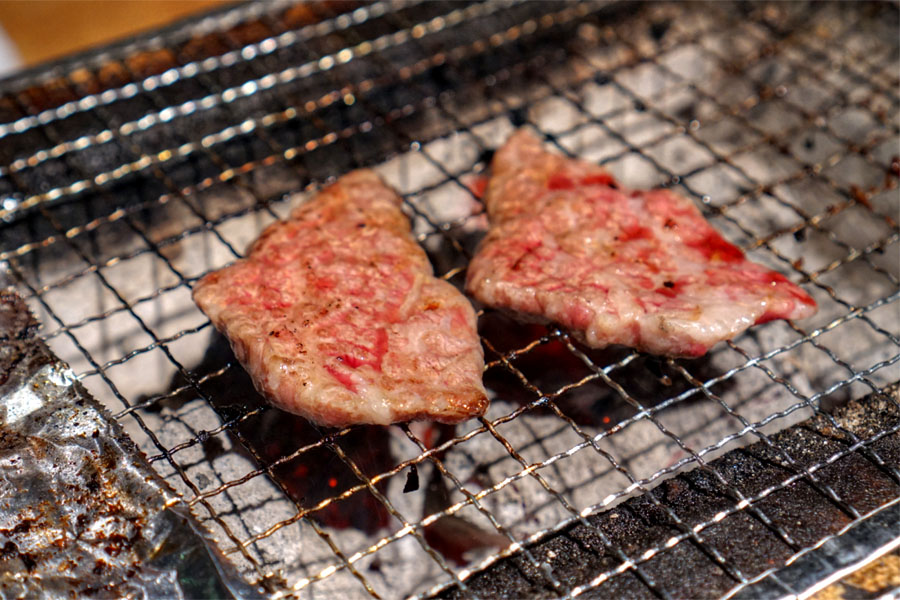 Boneless Short Rib [$13.80]
This
kkotsal
-like cut was one of the more luxurious of the night, with some really well-integrated marbling. I loved how the salt really drew out the beef's flavors here. Nice peppery finish, too.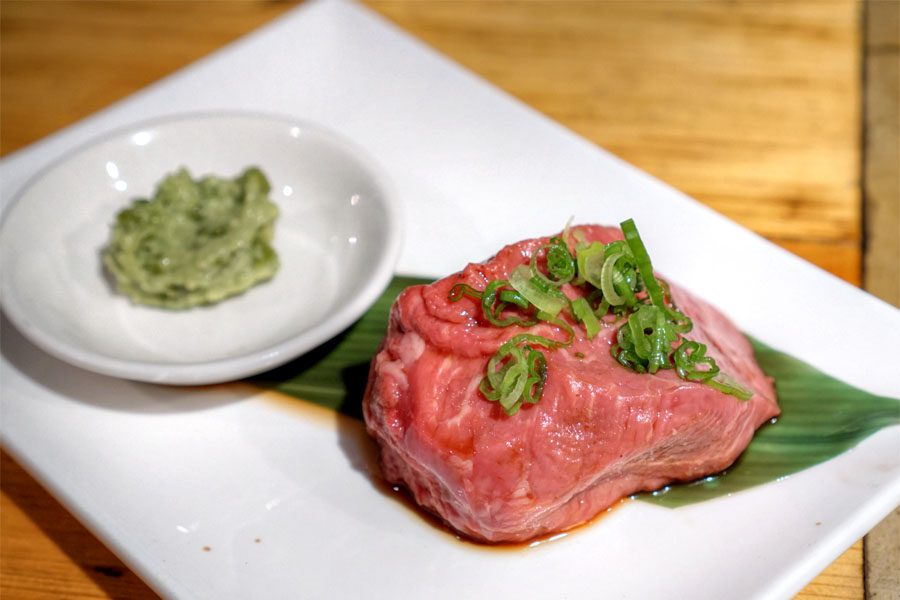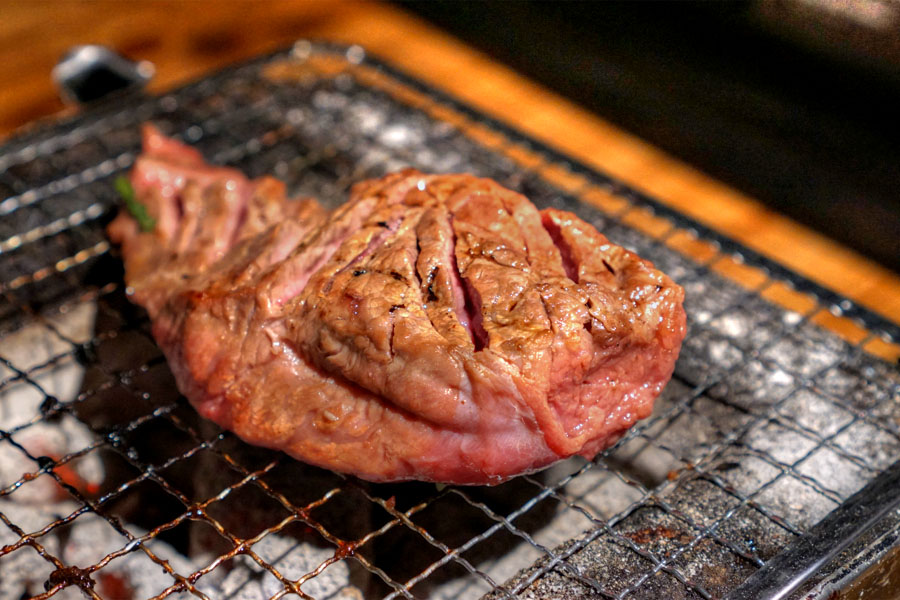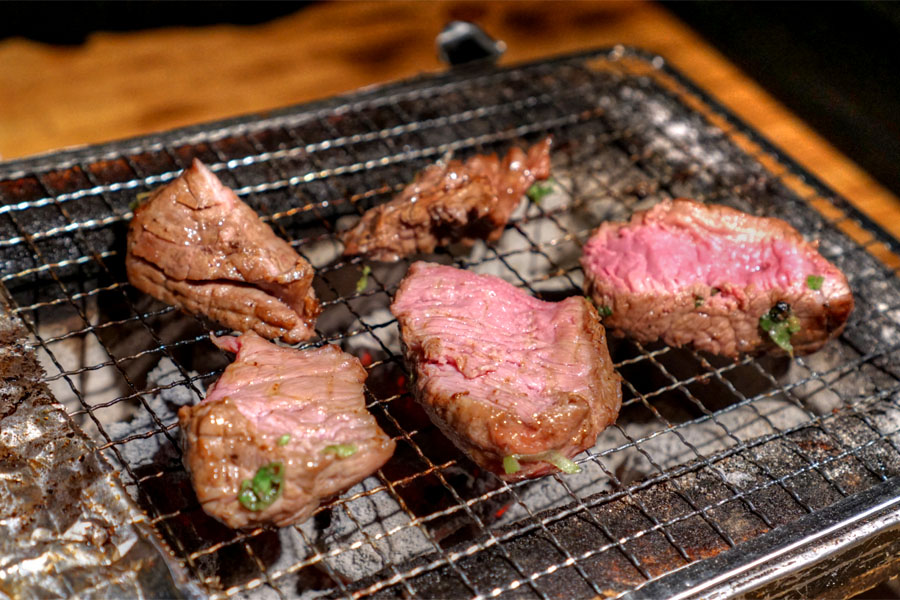 Ball Tip Steak [$11.80]
The
shinshin suteki
was a welcomed change of pace. Substantial to the bite, it had a smoky, almost "hot dog"-like flavor that really benefitted from the provided wasabi.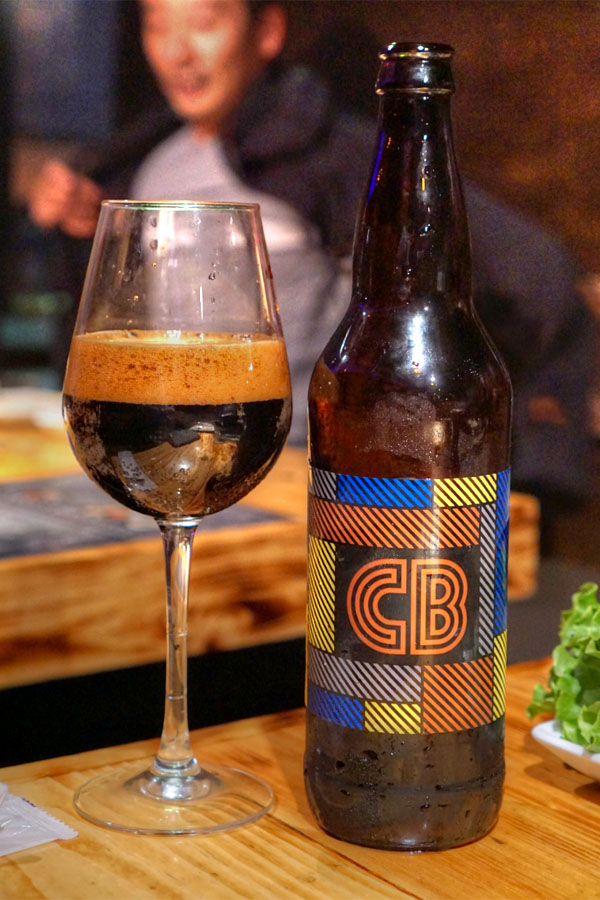 Our final beer was the
2017 Cycle Imperial Stout with Coffee
, also known as "Sunday." The nose was decidedly sweet, but with a bitter, roasty quality from the coffee. The taste conveyed loads of sweet chocolate and malt, with astringent coffee providing a bit of a counterbalance.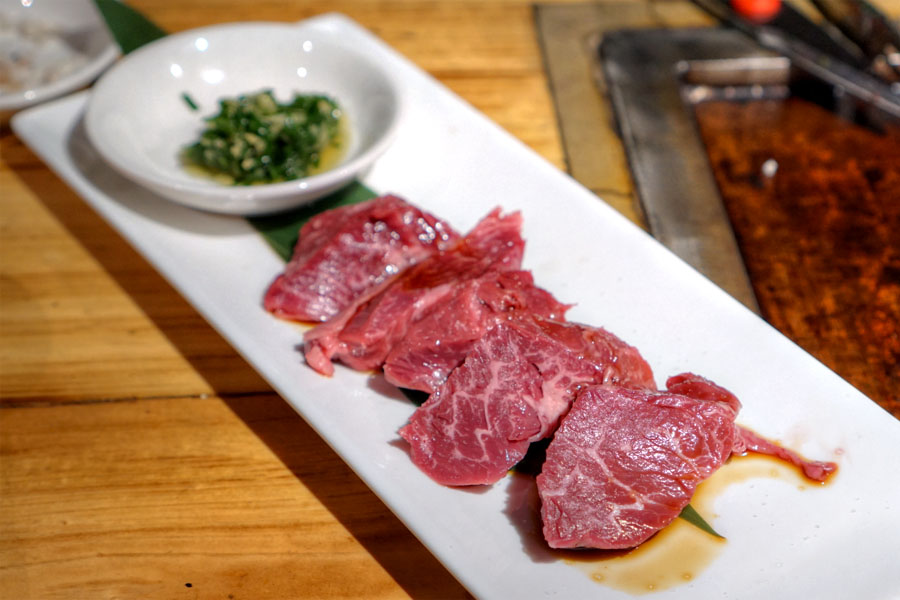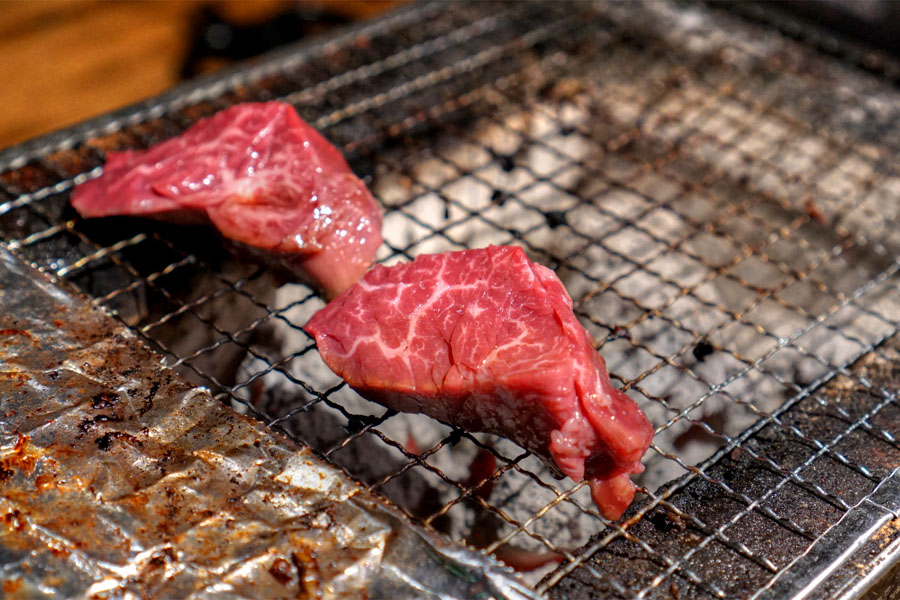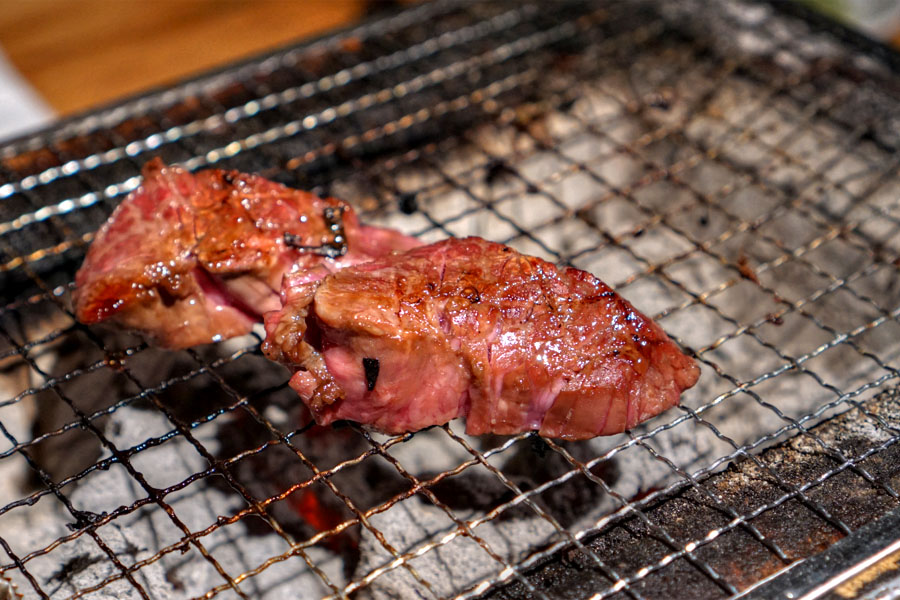 Hanging Tender [$9.80]
Our final beef dish was the
sagari
. The cut was as tender as its name would imply, and quite juicy to boot. Taste-wise I found it very balanced, and not overtly fatty. Great with a dip of the included green onion-garlic sauce.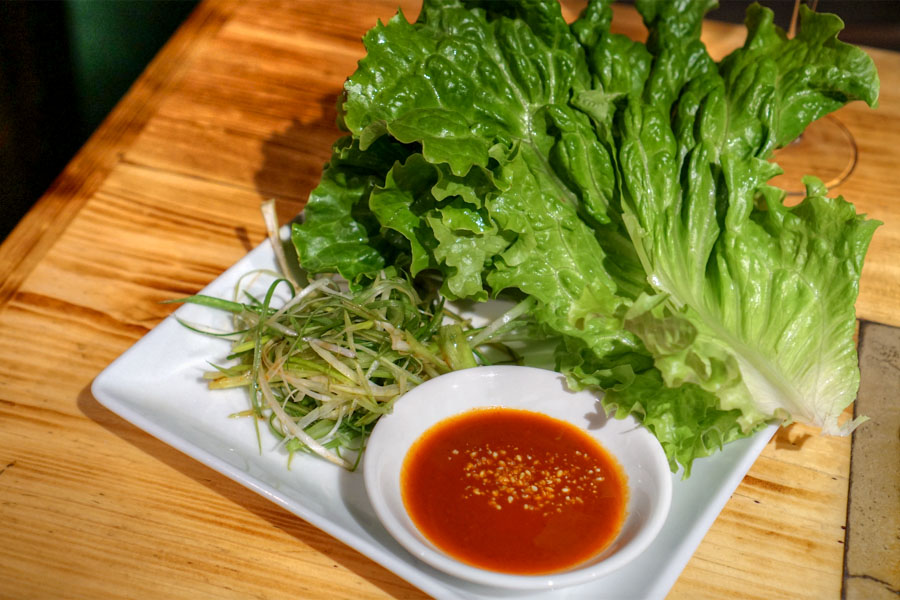 To go with the pork, we were given
sanchu
lettuce, green onion, and what I believe was
chogochujang
.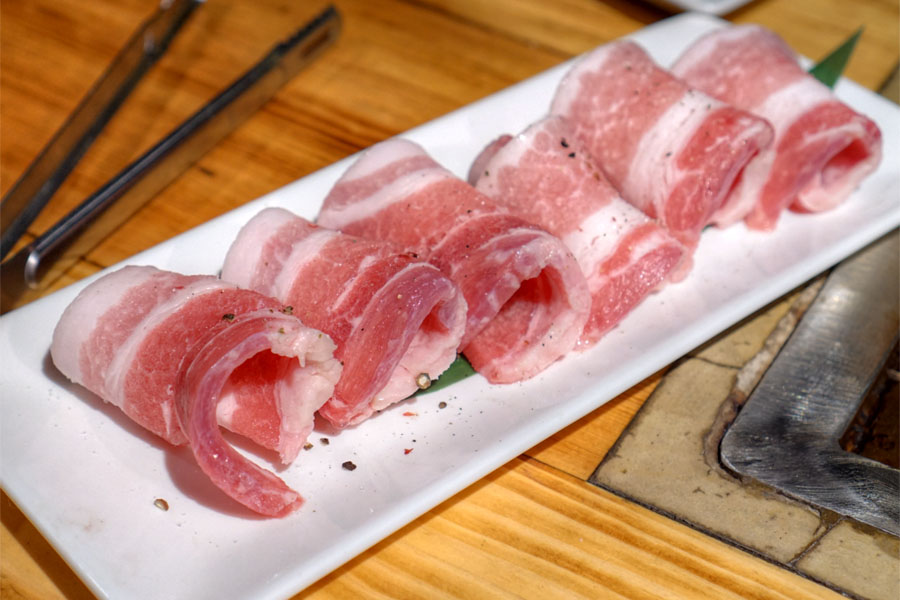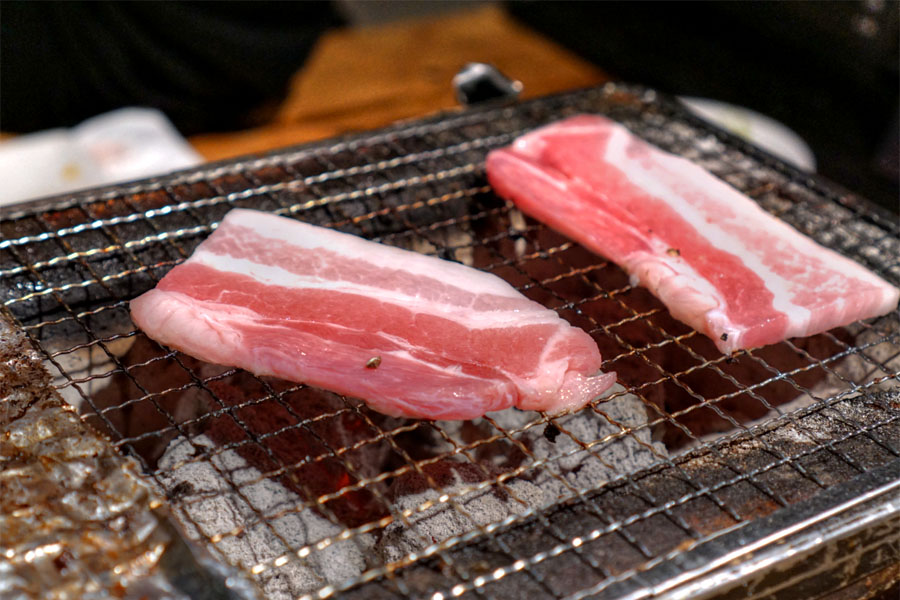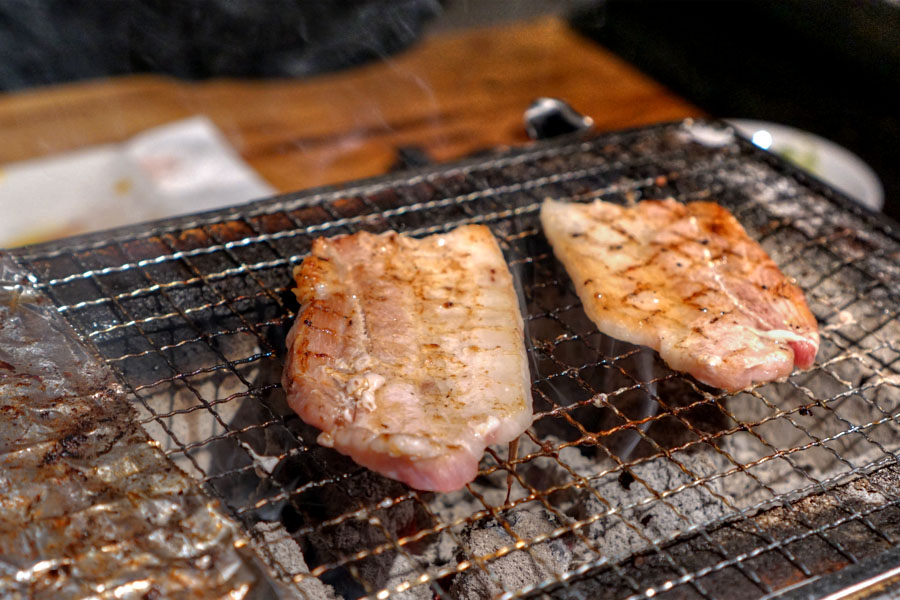 Thick Cut Pork Belly [$9.80]
Tonbara yaki
was just what you'd want, coming out rich, fatty, and unmistakably porky. Great with the zestiness of the scallions. Do note that this cut created
a lot
of smoke, so keep that in mind when cooking.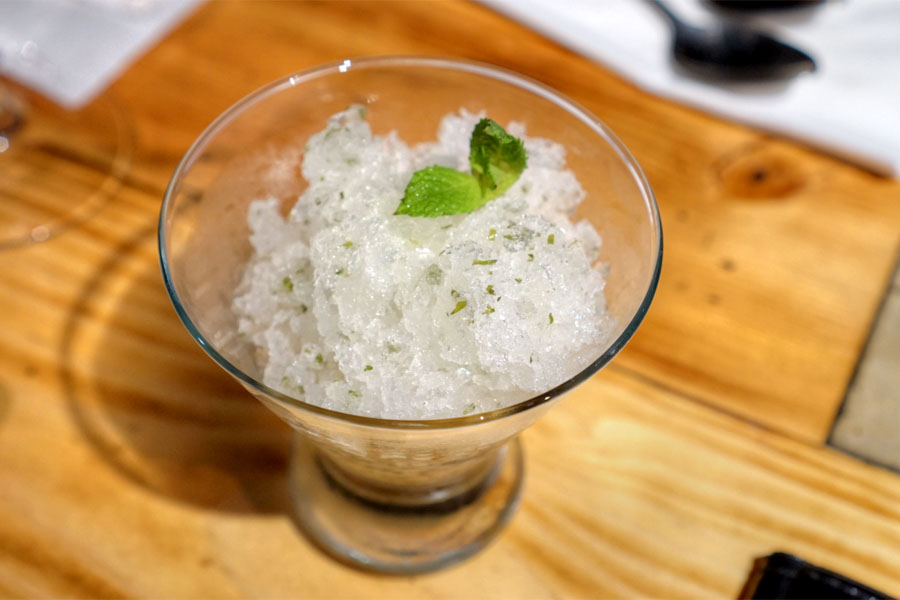 Yuzu Shiso Granita [$4.80]
A
yuzu to shiso no guranite
was certainly refreshing after all that meat. Nice contrast here between the sweet-tart yuzu and minty shiso.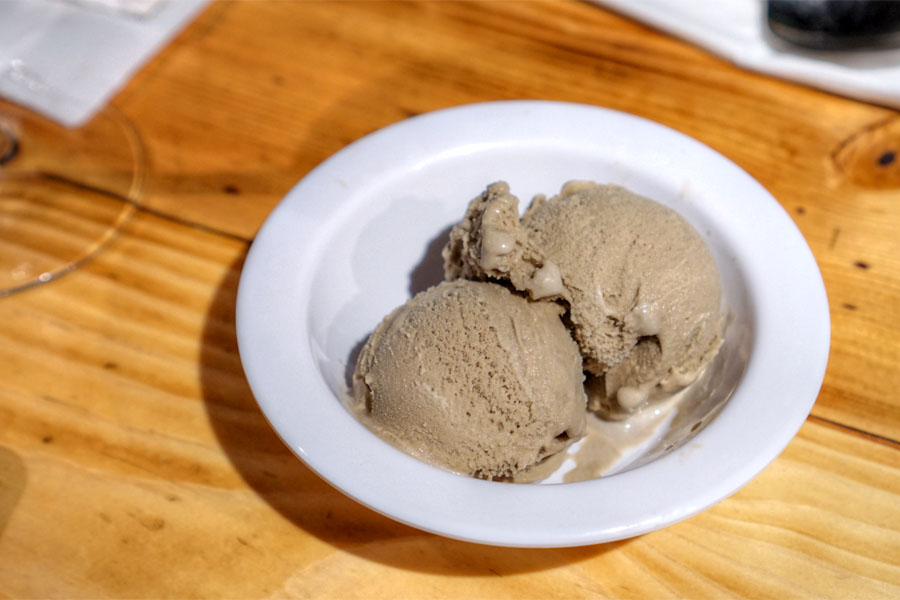 Hojicha Ice Cream [$3.00]
Closing things out was a roasty-sweet
hojicha
ice cream.
We were quite happy with Hikari. The meat quality seemed on point, and I appreciated the utilization of actual charcoal in the cooking process (which does result in a smokier than usual environment, though). Service, meanwhile, was affable as well. Overall, a very solid choice for yakiniku.