Tsubaki (Los Angeles, CA)
Tsubaki Restaurant
1356 Allison Ave, Los Angeles, CA 90026
213.900.4900
www.tsubakila.com
Wed 04/26/2017, 07:50p-10:25p

My latest visit to Echo Park brought me to Tsubaki, which is likely the most important opening to hit the neighborhood since
Winsome
dropped last year. The Californian izakaya debuted at the start of February, and comes to us from partners Charles Namba and Courtney Kaplan.
Chef Namba hails from right here in LA, and grew up in a Japanese-American family. However, his culinary career really started in New York, where he cooked at EN Japanese Brasserie and David Waltuck's longstanding Chanterelle before become CdC at Macao Trading Co. Eventually, he moved back to Southern California and found employment at
Bouchon
in Beverly Hills.
Kaplan, meanwhile, runs the FOH and crafts the beverage program. She cut her teeth in New York as well, slanging sake and wine at places such as Sake Bar Decibel, EN (where she first met Namba), and Mario Batali and Joe Bastianich's seminal Del Posto. She also spent a year in Japan, and here in LA, worked at both Domaine LA and
Bestia
.

Tsubaki resides in a spot that held Kush Sake Bar and Cortez before that, and is situated within spitting distance of
Button Mash
. It's a pretty small space, with room for about three dozen.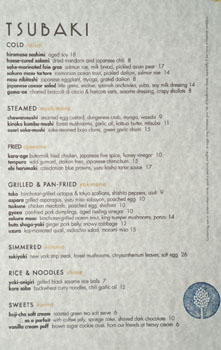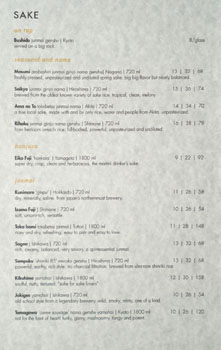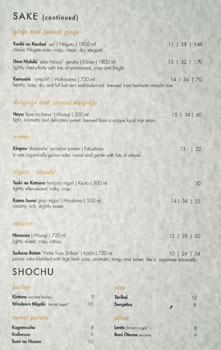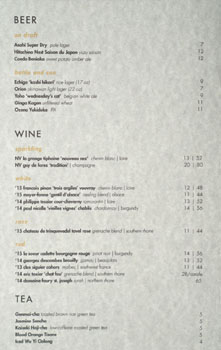 Menu-wise, Tsubaki features a fairly lengthy array of shareable plates, divvied up into the traditional categories. Drinking is key to the izakaya experience of course, and Kaplan's got an appropriate selection going on here. There's a concise-but-interesting sake list, as well as shochus, Japanese beers, and a smattering of all-French wines. Click for larger versions.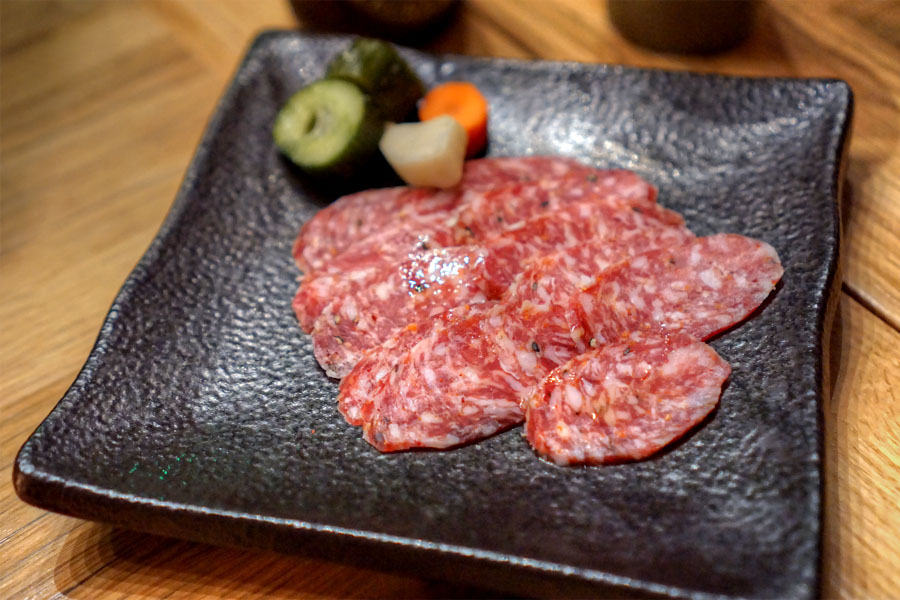 house-cured salami [$8.00]
| dried mandarin and japanese chili
We felt compelled to start with Namba's sausage, which is apparently cured for two months. It was delicious: just salty enough, subtly tart, and finely spiced, with a hit of citrus on the finish that was unexpected but not unwelcomed.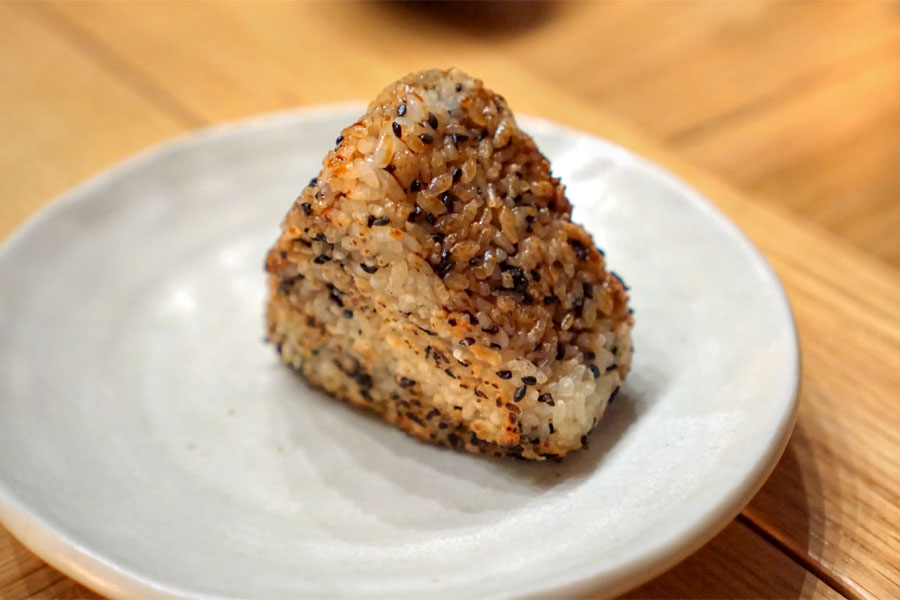 yaki-onigiri
| grilled black sesame rice balls
The table next to ours gifted us one of their grilled
onigiri
, which we were probably going to order anyway. I'd say that it was one of the best I've had, easily. I loved the strong smokiness here, as well as the rich umami notes in the rice ball. Some great crispy bits, too. Fantastic.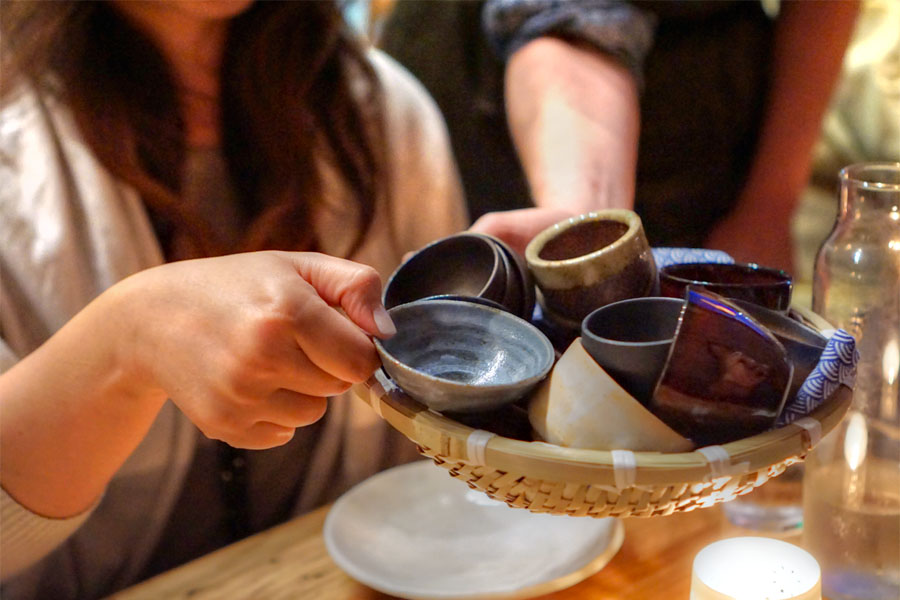 You get to choose your own
choko
(sake cup) here. I generally go for the largest, so as to not refill as often.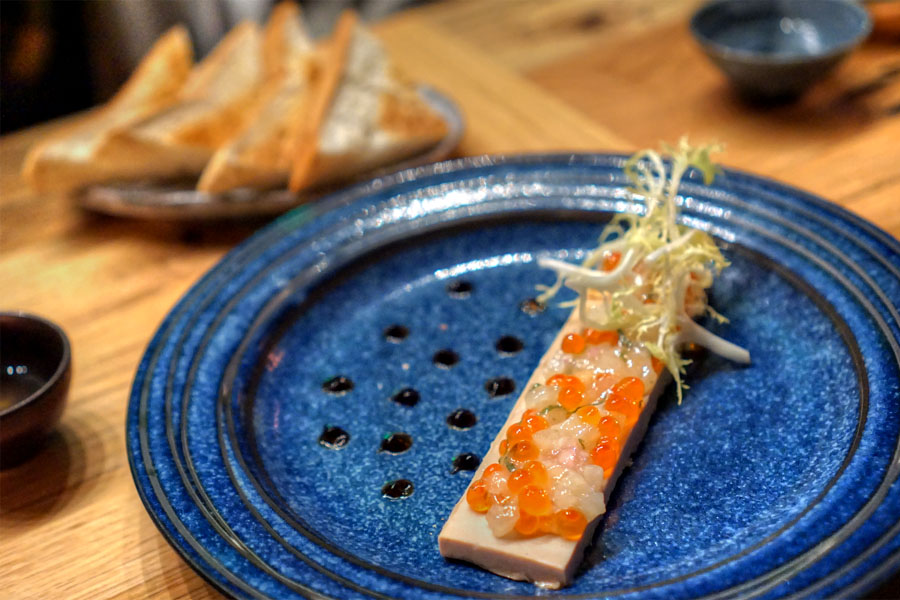 sake-marinated foie gras [$17.00]
| salmon roe, milk bread, pickled asian pear
Here was a dish that should tell you loud and clear that you're not at a strictly old school izakaya. Foie was silky smooth, with a particularly finessed taste that might've been due to its marination in sake. The contrast between
ikura
and
nashi
proved to be a fitting addition to the liver, though I didn't think the dots of aged soy were really needed. You'll probably want to try this.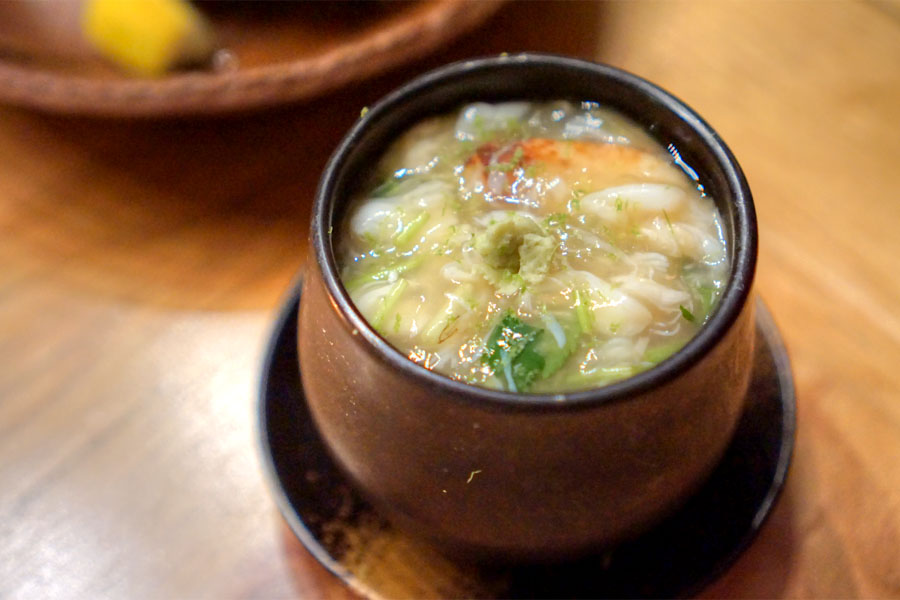 chawanmushi [$9.00]
| steamed egg custard, dungeness crab, myoga, wasabi
The
chawanmushi
was probably more aggressively-flavored than most. Especially effective was the back-and-forth between the brine of the Dungeness and the zestiness of what I believe was
mitsuba
. I enjoyed the pricks of heat provided by the wasabi, too. Yum.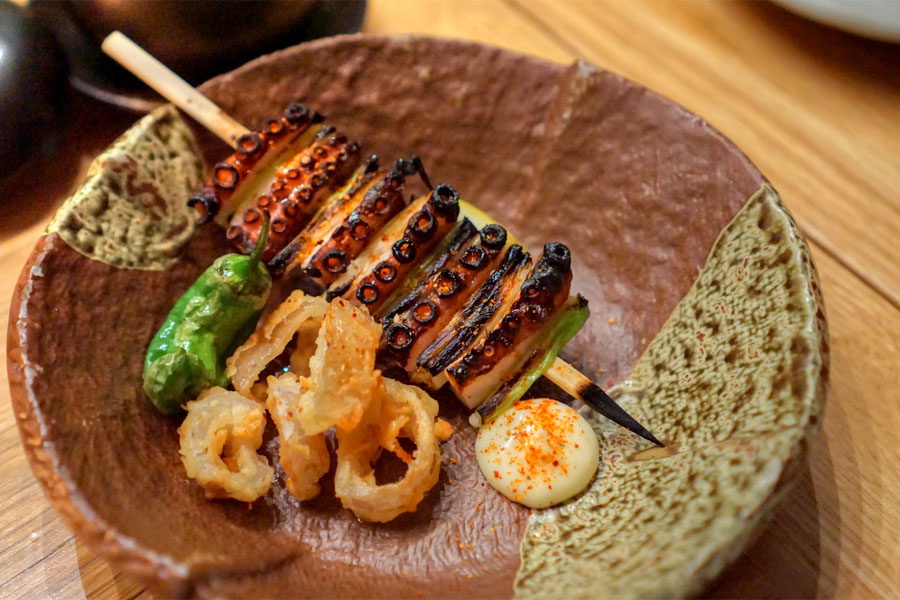 tako [$9.00]
| binchotan-grilled octopus & tokyo scallions, shishito peppers, aioli
The octo was a must order, and didn't let us down thanks to its heavy charring and unusually deep flavors. Even better with a squirt of lemon or a dab of aioli.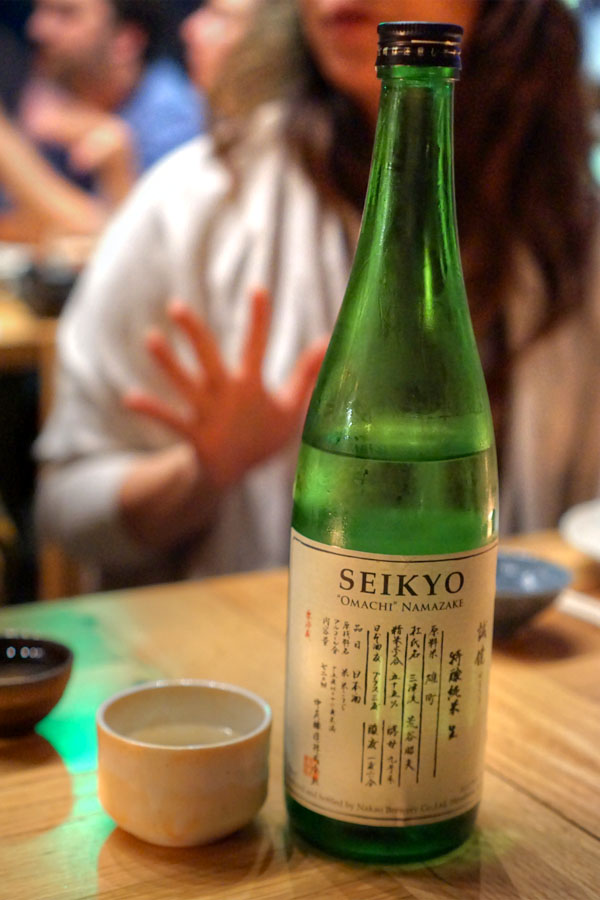 Drink-wise, we started with a
namazake
, the
Seikyo [$74]
, a
junmai ginjo
from Hiroshima. This one smelled great, giving up bountiful sweet, floral, tropical aromas. The taste went in a similar direction, with fresh, full-bodied, melon-y flavors backed by a boozy bite.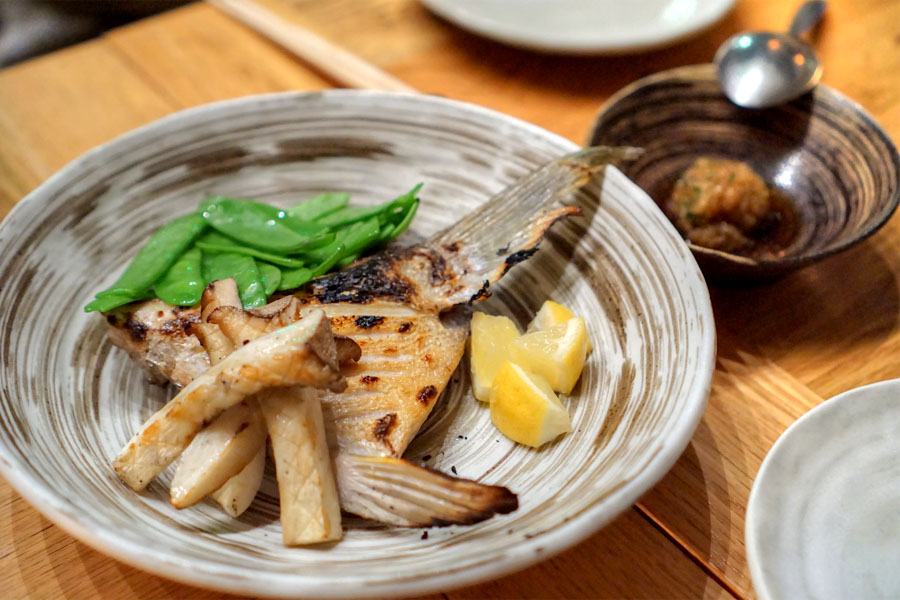 hiramasa collar [$17.00]
| salt grilled
One of the specials this evening was this collar, of which there were apparently only two orders available. We requested it immediately, and I'll say that it was one of the strongest preparations I've had. The fish itself I found tender, but crisp-skinned, with a refined brine that meshed beautifully with the brightness of those snow peas. Big fan of those springy, meaty
eringi
mushrooms on the side, too.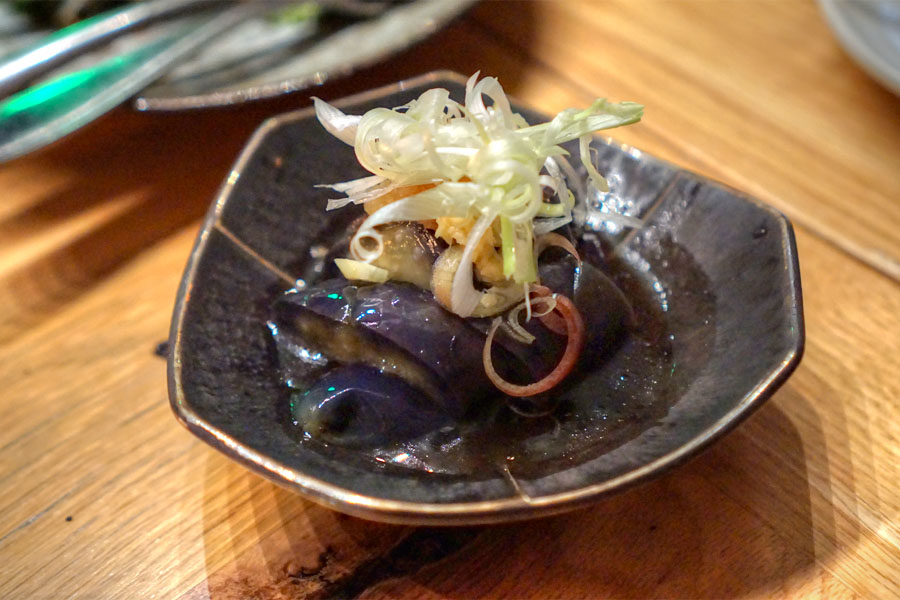 nasu nibitashi [$8.00]
| japanese eggplant, myoga, grated daikon
Eggplant was super soft, as expected. Taste-wise, it was imbued with all the savoriness of its braising liquids, and I loved how the zippiness of the
myoga
really lifted the dish.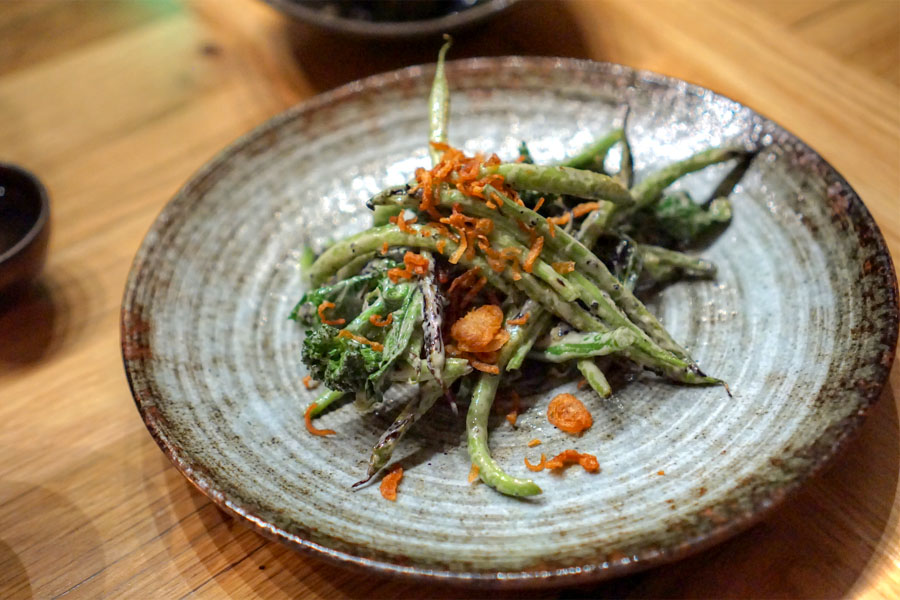 goma-ae [$8.00]
| charred broccoli di ciccio & haricot verts, sesame dressing, crispy shallots
This was another favorite. The creamy, nutty sesame dressing worked as a foil to the green beans, but the key was the incorporation of the broccoli, which imparted a bitterness that really elevated the dish. I got a great crunch from the shallots as well.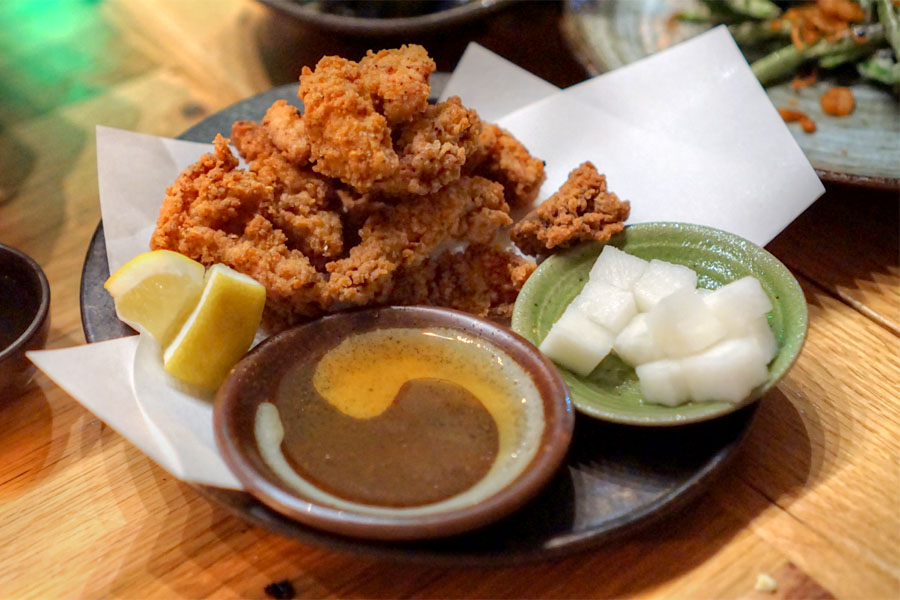 kara-age [$10.00]
| buttermilk fried chicken, japanese five spice, honey vinegar
The
karaage
came out wonderfully crunchy, moist, and tender, but was a bit too sweet I felt. What was great was that the honey vinegar actually seemed to balance out the sweetness instead of piling on more of it--much appreciated.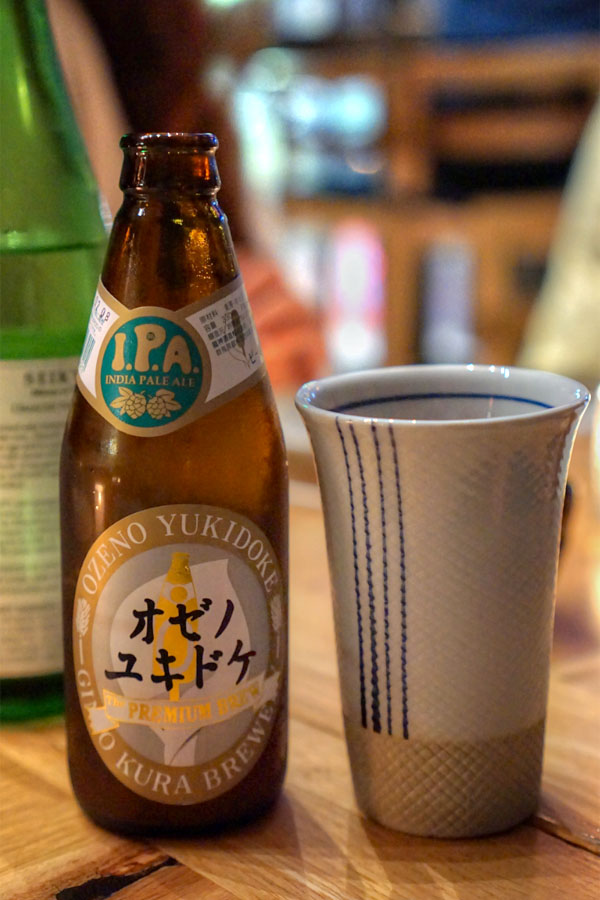 Next to drink was a beer, specifically an IPA, the
Ozeno Yukidoke [$11]
. Nose here was citrusy and sweet, and quite pleasant. The taste went in a bitter, piney direction, but also displayed a malty and floral quality that I enjoyed, while the finish was expectedly hoppy.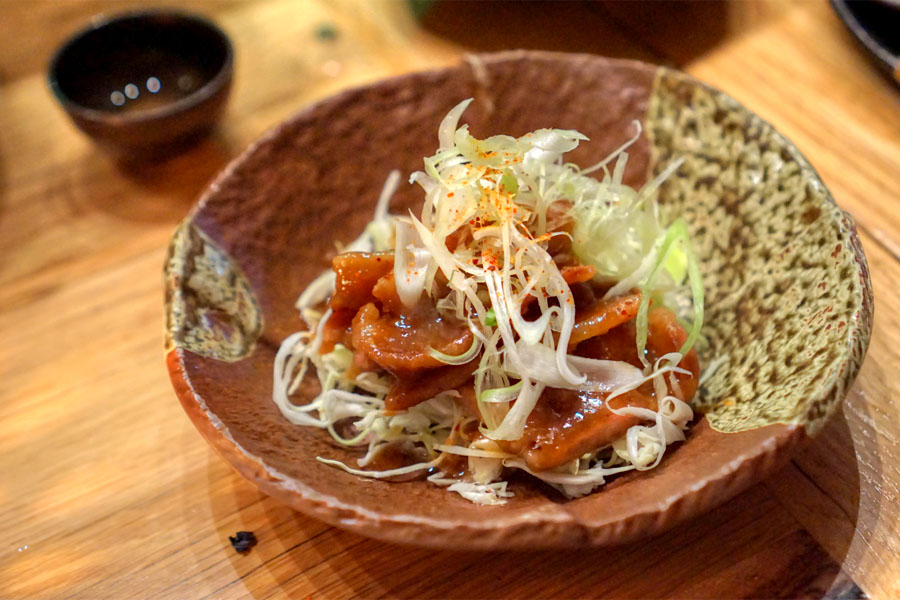 buta shoga-yaki [$12.00]
| ginger pork belly, snowy cabbage
Thin-sliced pork had a bit of a chew to it, along with ginger-y notes that were very present, but never overwhelming. Cabbage definitely worked here to lighten the dish.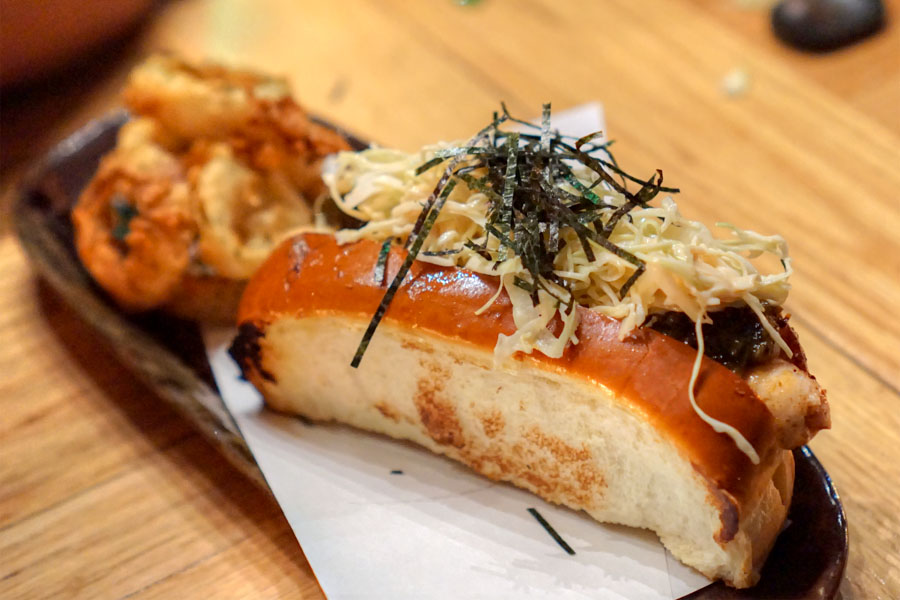 japanese dodger dog [$11.00]
| chicken sausage, yuzu slaw, shishito relish, brioche bun, side of buttermilk onion rings
The second special of the night was this fun take on the iconic Dodger Dog (makes sense given the restaurant's location). The actual sausage was spot on--juicy and flavorful--and worked swimmingly with the tangy slaw and slight heat from the relish. I wasn't as keen on the onion rings though, which seemingly used the same batter as the fried chicken above, and thus had that same sort of sweetness (I swear it was almost "doughnut-y").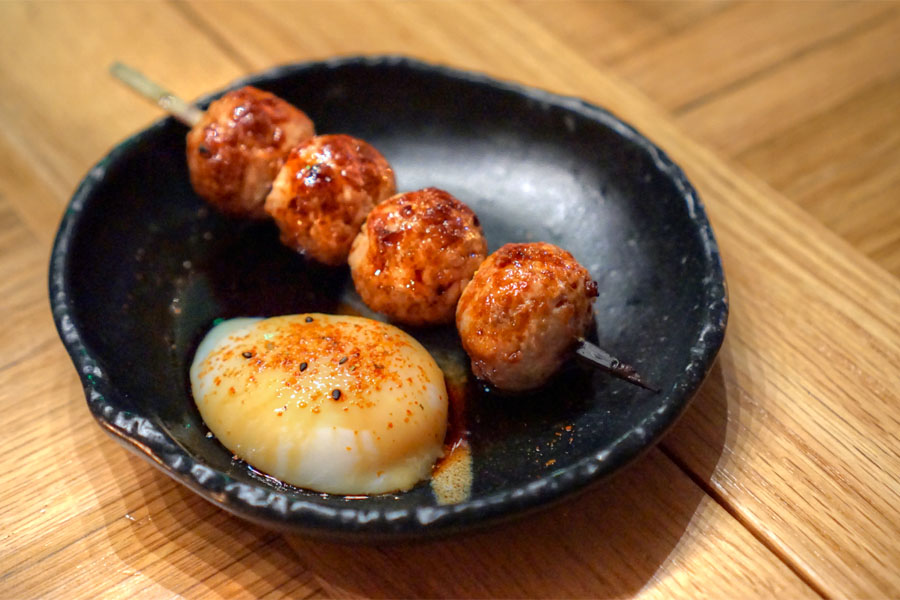 tsukune [$10.00]
| chicken meatballs, poached egg, shichimi
Tsukune
were fairly classic: spongy texturally, with a savory, herby flavor profile perked up by the
shichimi
. The egg, meanwhile, was beautifully poached, and added an additional luxuriousness to the dish.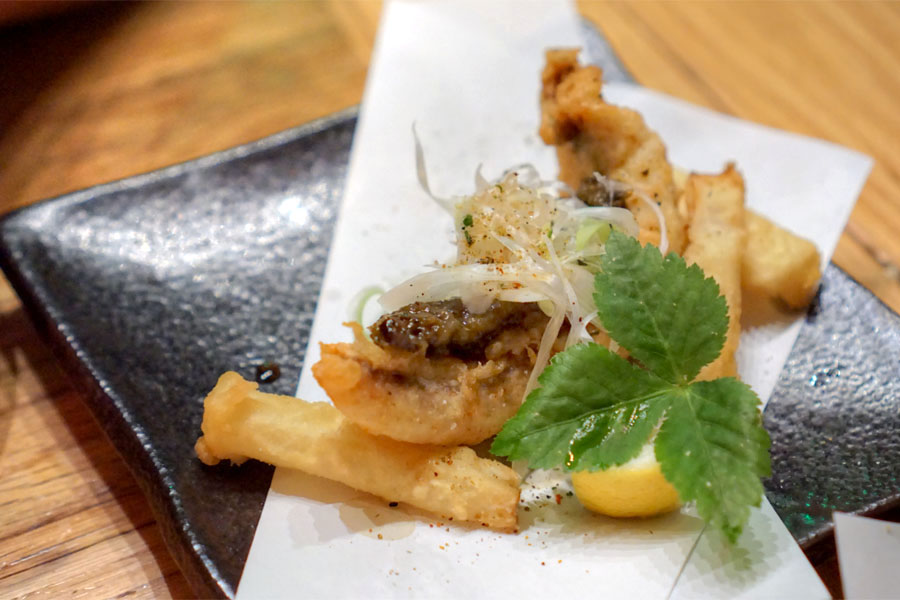 tempura [$15.00]
| wild gurnard, daikon fries, japanese chimichurri
A lightly-battered tempura of sea robin was meaty and substantial, the fish really shining alongside the zesty chimichurri. The daikon, meanwhile, served as a moderating element.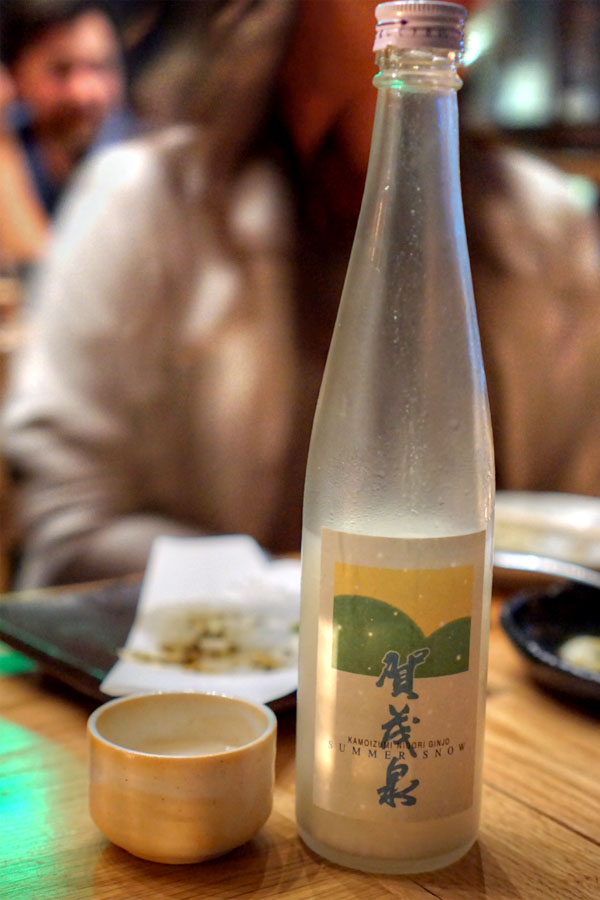 Next to drink was a
nigorizake
, the
Kamo Izumi [$55]
, a
ginjo
also from Hiroshima. This was just what we expected: creamy, ricey, thick, and sweet, with a boozy backbone.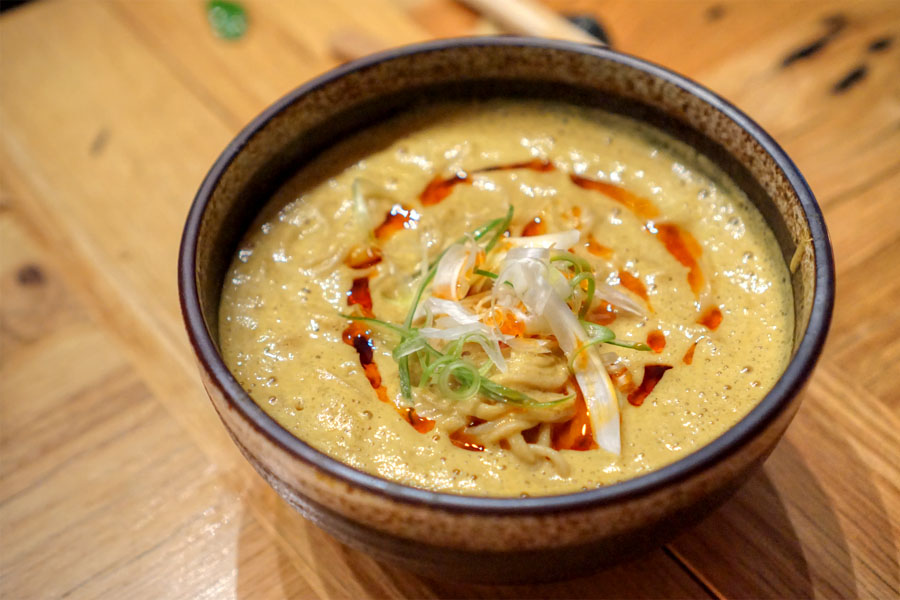 kare soba [$12.00]
| buckwheat curry noodles, chili garlic oil
Soba served as a fitting stage for the curry, which had a smokiness at first that then led to a nuttier, sweeter, spicier character. A cozy dish to be sure, with a lovely astringency from the green onion to boot.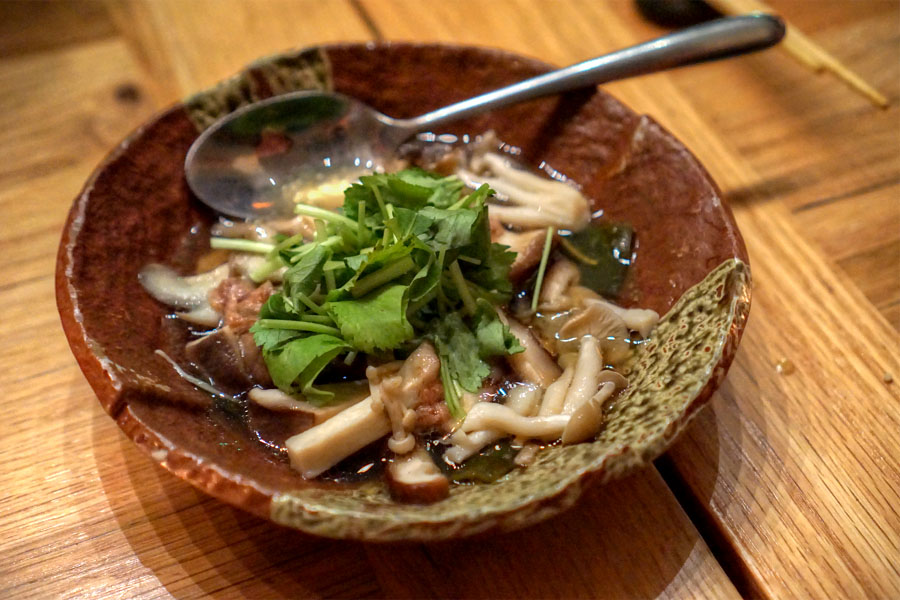 kinoko kombu-mushi [$11.00]
| forest mushrooms, garlic oil, katsuo butter, mitsuba
Mushrooms were done right. I loved the smoky, musky flavors of the
kinoko
, as well as the rich, buttery nature of the dish, and how that all worked with the fragrant leaves of
mitsuba
on top. What was also interesting was the large square of kelp on the bottom of the plate, which some of us likened to an al dente pasta.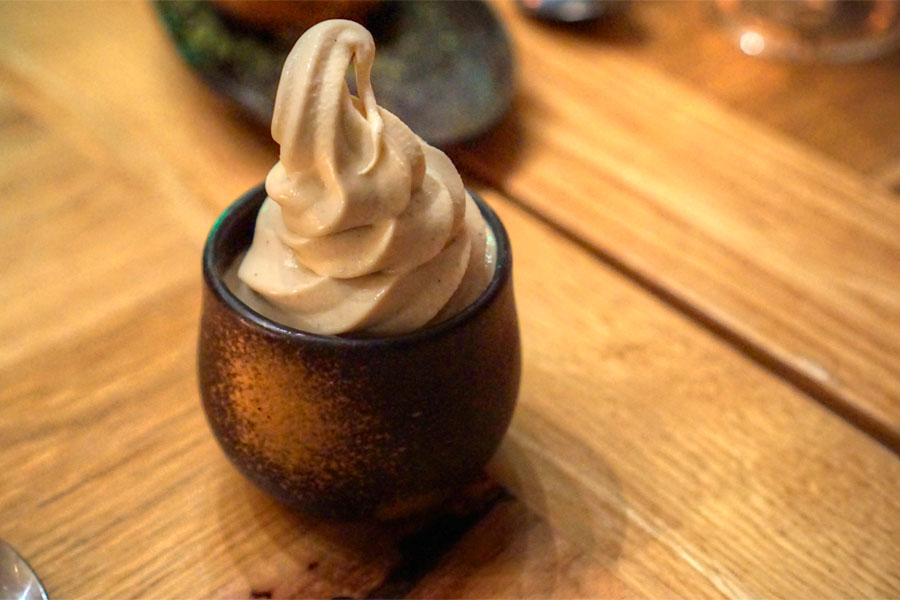 hoji-cha soft cream [$6.00]
| roasted green tea soft serve
Unsurprisingly, we ended up ordering all three desserts. A
hojicha
-flavored ice cream was excellent, its smoky, roasty nuances working superbly as a counterpoint to the sweetness of the soft serve.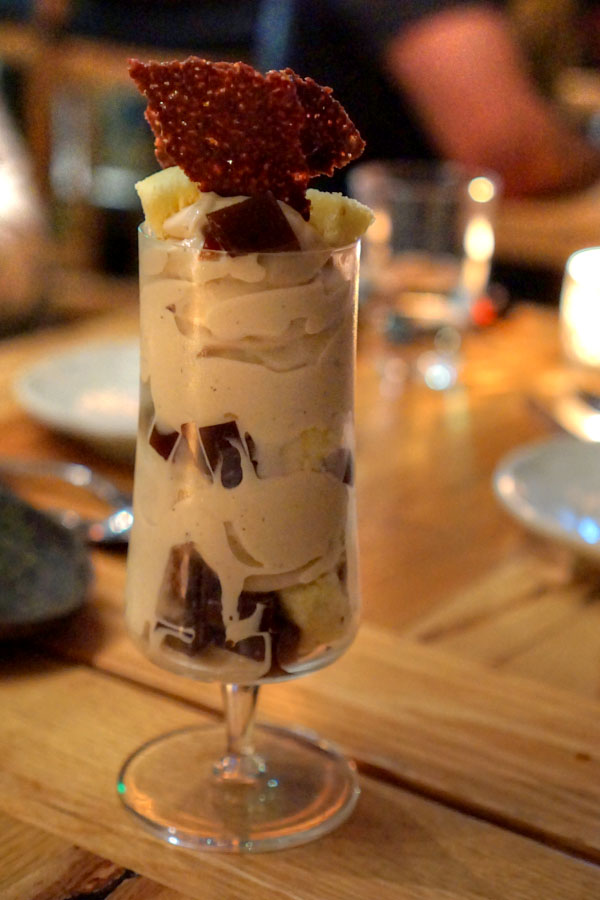 ...as a parfait [$10.00]
| with coffee jelly, sponge cake, shaved dark chocolate
Said soft serve also functioned brilliantly in a parfait, tying all the various elements together. I loved the slipperiness of the jelly, as well as the texture on the sponge cake. A crowd pleaser.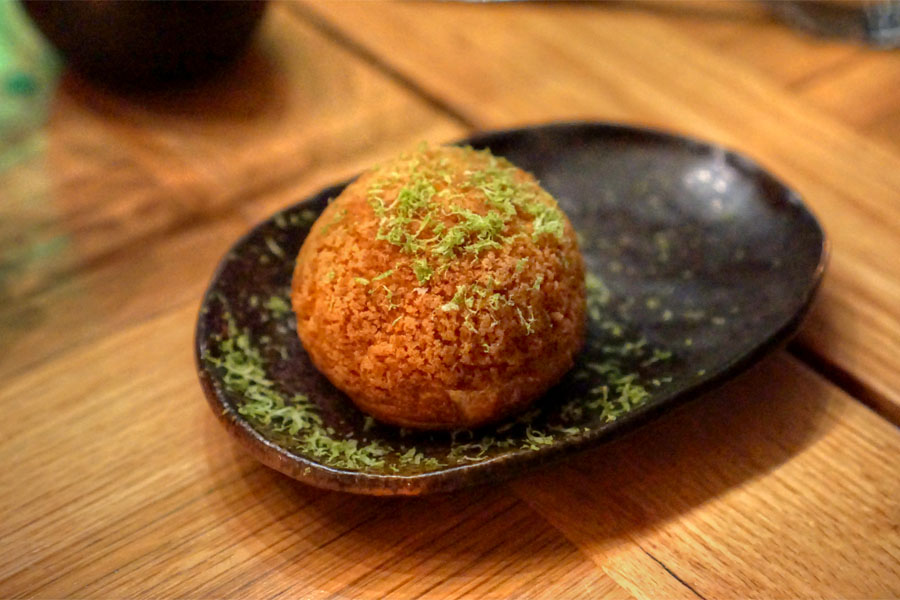 vanilla cream puff [$6.00]
| brown sugar cookie crust. from our friends at heavy cream
Last up was a profiterole made by Gemma Matsuyama of
Heavy Cream
. It was a fitting close to the meal, with lovely vanilla and lemongrass-y flavors well-paired with the butter cookie-like richness of the puff's crust.
We had a very enjoyable time at Tsubaki. The place is basically an LA-ized version of an izakaya, incorporating modern, multicultural twists throughout, but never straying too far from the intent of the original concept. The food is simultaneously familiar, but new and exciting, an amalgam of tradition and the whims of a Japanese-American Chef raised in California and trained in New York. Combined with warm, attentive service and a beverage program that's worth exploring, and you get a recipe for no doubt one of the best izakayas in Los Angeles.