Le Petit Paris (Los Angeles, CA)
Le Petit Paris Restaurant
418 S Spring St, Los Angeles, CA 90013
213.217.4445
www.lepetitparisla.com
Wed 07/26/2017, 08:30p-11:25p
Situated in Downtown's Historic Core, Le Petit Paris has got to be one of the more grandiose restaurants to debut in recent years. The South of France-inspired eatery was first announced at the start of 2013, and opened in September '15 after a lengthy build out.
Behind the project is the husband-and-wife team of David and Fanny Rolland, both of whom grew up in Cannes. Fanny was raised in a restaurateur family, while David garnered 15 years of industry experience before the two decided to start a restaurant together. The couple ended up launching Miramar Plage (on Promenade de la Croisette) and the original Le Petit Paris, both in Cannes. Given the success of those two places, the Rollands resolved to open a second outpost of Le Petit Paris in LA after enjoying a vacation in the Southland.
To helm the kitchen, they've brought on Angers native Baptiste Grellier. Grellier worked at Le Relais de Bonnezeaux, Le Cayola, and La Fleur de Thym before joining the Rollands at Miramar Plage in February 2012. You might recall that Le Petit Paris opened with two Executive Chefs, Jérémie Cazes being the other. However, Cazes has since moved on, and is now running things at Ladurée Soho in New York.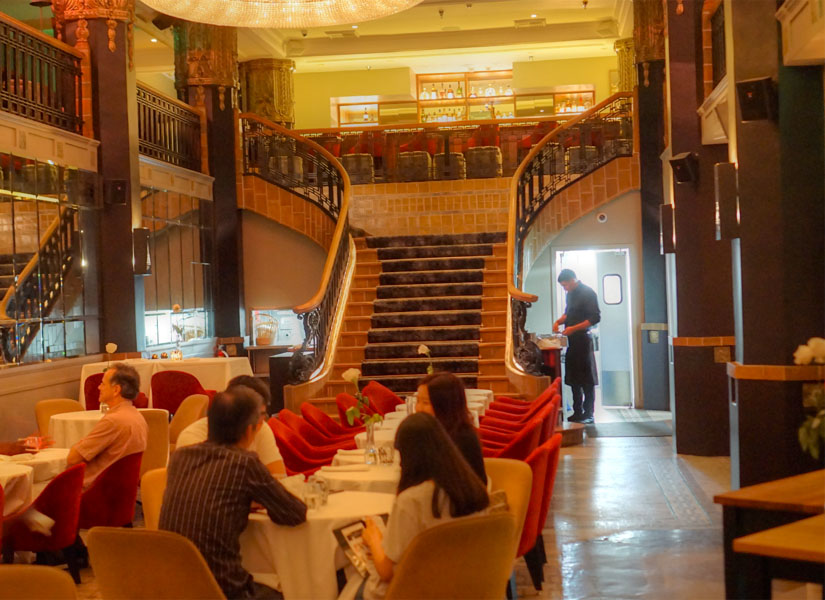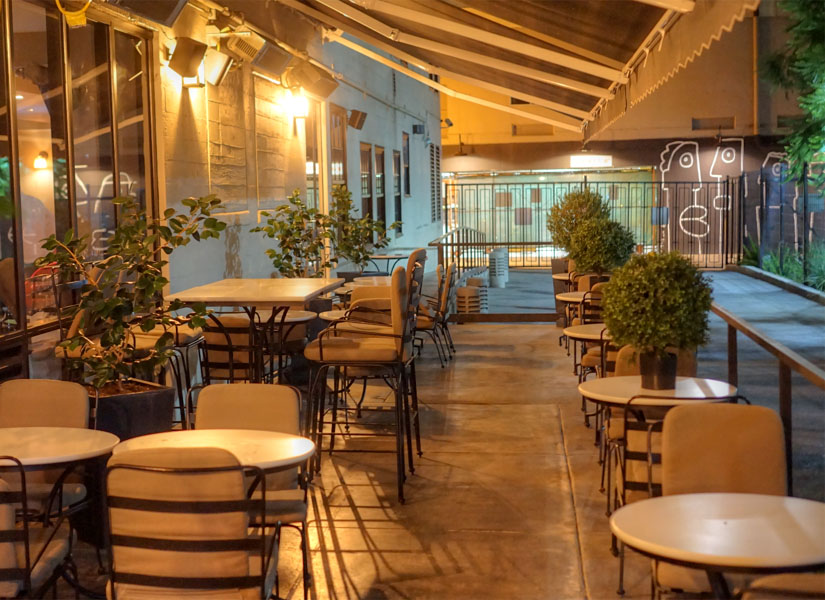 Le Petit Paris is located in lobby of the 1913-era El Dorado building, right around the corner from
Orsa & Winston
and
Bar Amá
. The classically Continental space was penned by local firm
New Theme
(Bow & Truss, The Federal Bar Long Beach, Lost Property), with significant input from the Rollands. There's room for about 300 diners, spread out between the main first floor dining room, mezzanine, and 30-seat patio. You'll also find a 35-seat private dining room, two bars, and a retail shop called La Boutique.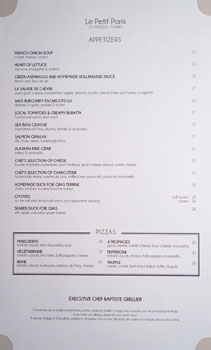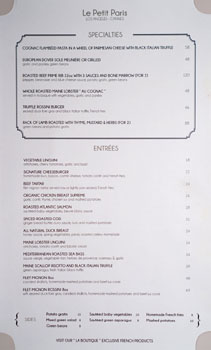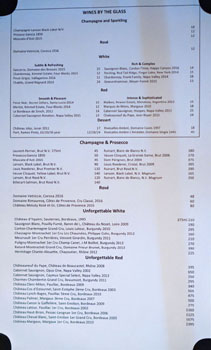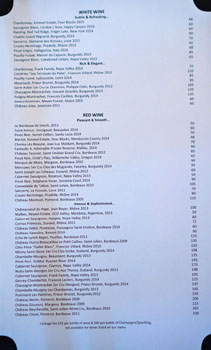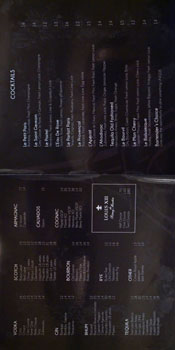 Menu-wise, you get sorta old school, Southern French-leaning brasserie fare. There's also a more casual lunch selection, a separate happy hour menu, and brunch is also an option. To drink: a dozen or so cocktails and a decently-sized, mostly French wine list. Corkage is a hefty $35 a bottle, but $60 a bottle for sparkling wine (which I don't understand). Click for larger versions.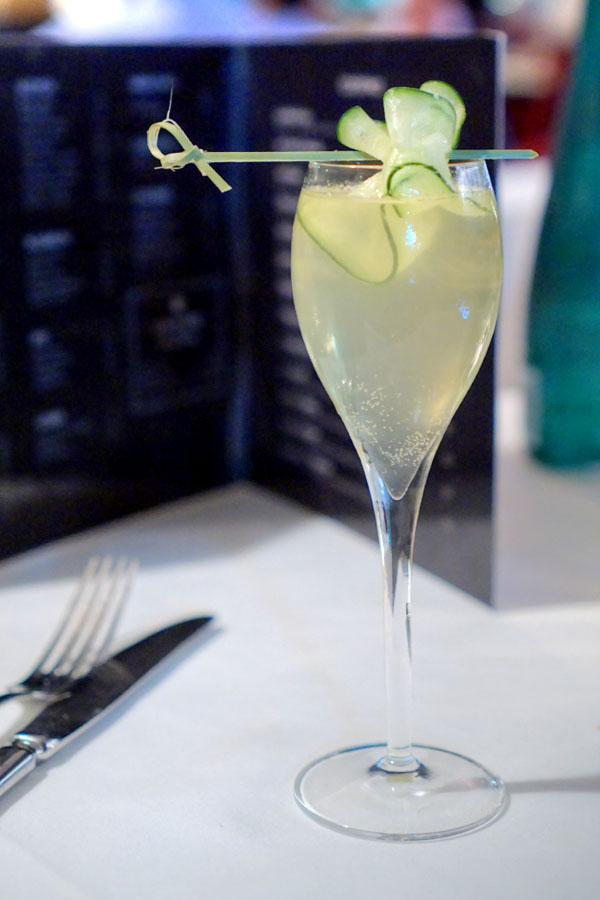 Le Petit Paris [$16.00]
| Bombay, Cucumber, Fresh Mint, Champagne
We began with the restaurant's namesake cocktail. It was on the lighter side, with lots of cucumber at first, leading into some spicy, bitter notes and an almost anise-like sensation toward the close.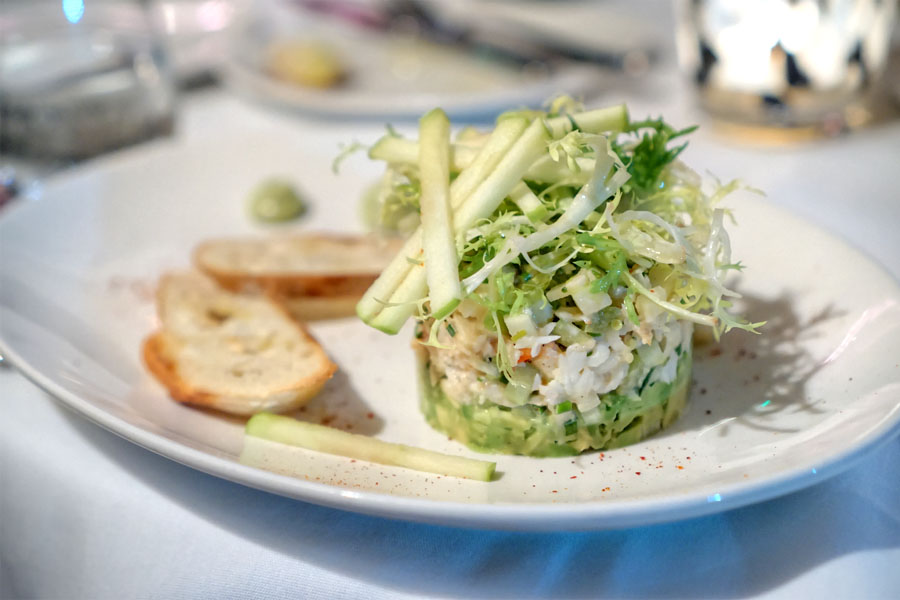 Alaskan King Crab [$21.00]
| celery & avocado
King crab was presented in tartare form, and had its sweet, oceany flavors complemented by frisée and avocado, though I could've used less of the apple and more acidity. I will say that by chopping up the meat so finely, you do sort of lose some of the inherent goodness of the crab.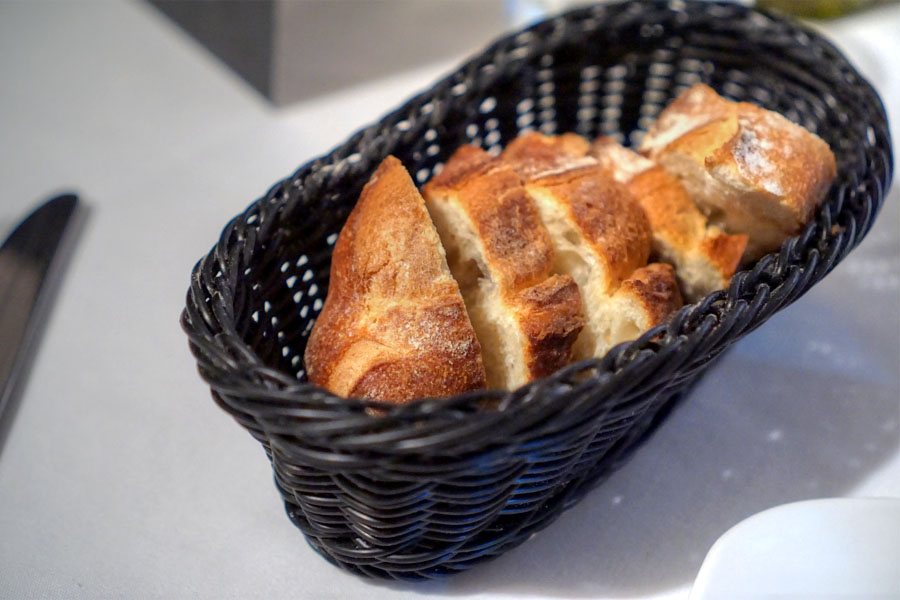 The bread was pretty unremarkable. Butter isn't provided, so do be sure to make use of the olive oil on the table.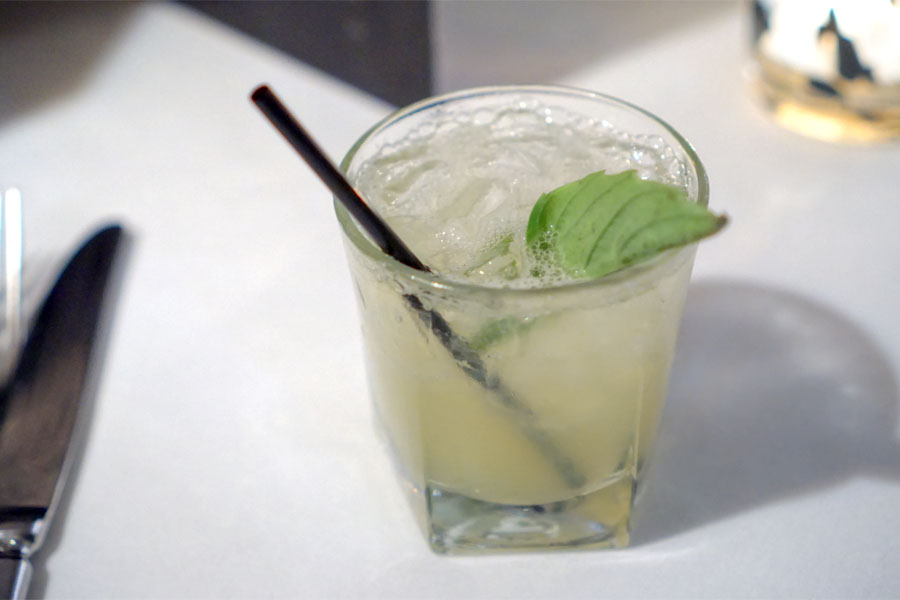 Le Bourvil [$15.00]
| Gin, Bourbon, Green Chartreuse, Fresh Lemon Juice, Bitter
Our second cocktail was a bit more contemplative with its somewhat unusual combo of gin and bourbon. I got lots of vegetal and grassy notes, along with a persistent bitterness and pricks of spice and citrus to round things out.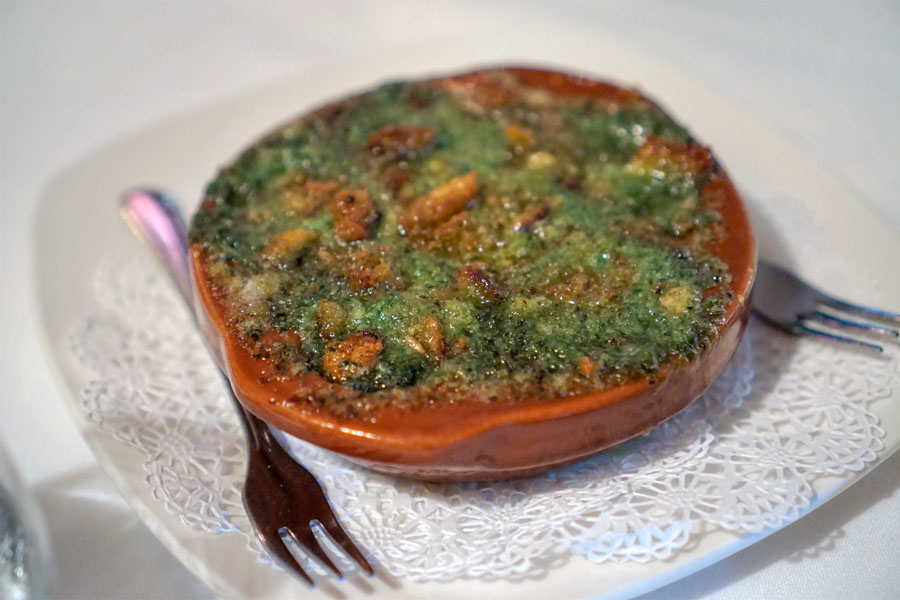 Wild Burgundy Escargots [$14.00]
| dressed in garlic, parsley & butter
The escargots were just as you'd want. They had a great chew to them, and came loaded with plenty of garlicky, herby flavors that definitely satisfied.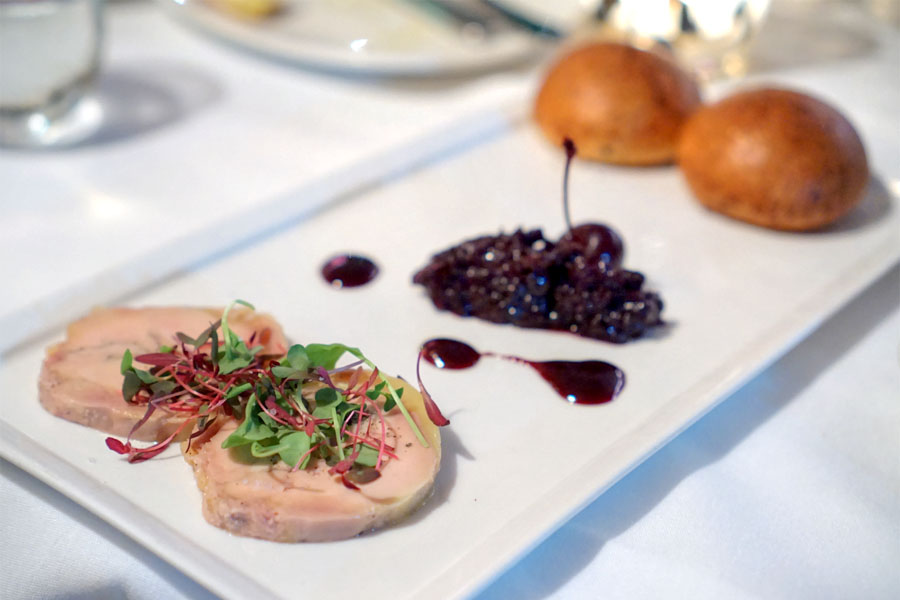 Homemade Duck Foie Gras Terrine [$28.00]
| cherry chutney, toasted brioche bread
Two roundels of foie did a nice job showcasing the delicate yet focused flavors of the liver. Even better when taken with the included brioche (which was delicious just by itself), and I actually liked the sweetness imparted by the cherry.
We moved on to a wine to go with the rest of our meal, the
Mercurey 1er Cru Clos de Myglands, Faiveley, Burgundy 2014 [$95]
. Nose of appealing berry fruit and spice. The taste brought more cherried fruit, along with a bit of herbaceousness and a considerable acidity.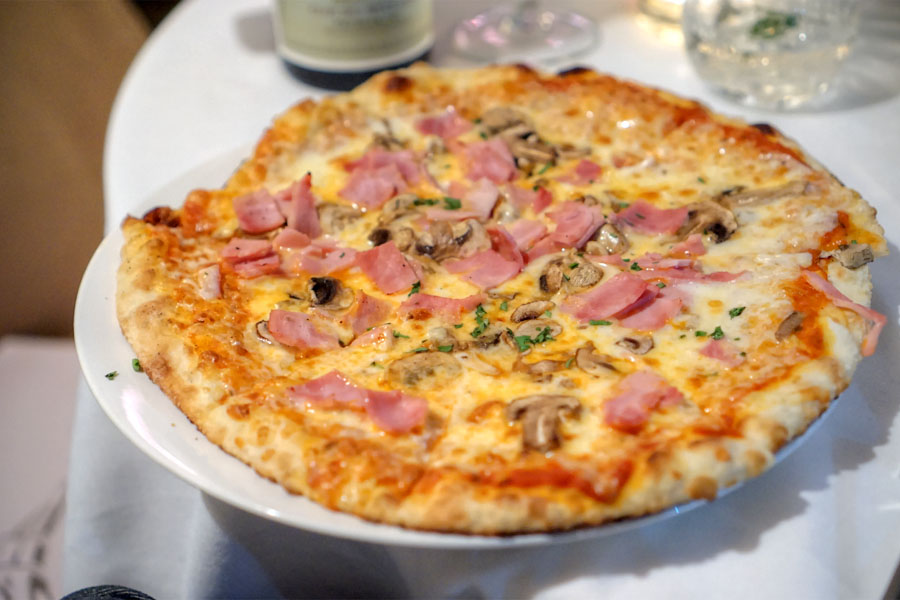 Reine Pizza [$20.00]
| tomato sauce, mushrooms, jambon de Paris, cheese
The pizza showed off the marriage of ham and mushroom in classic fashion. Straightforwardly tasty, though I wanted more cook on the crust.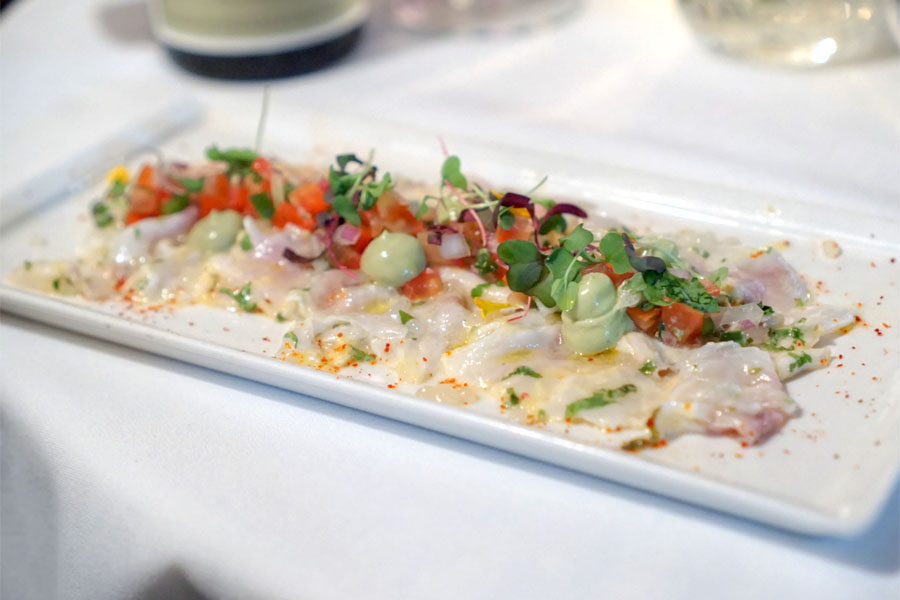 Sea Bass Ceviche [$19.00]
| marinated with lime, cilantro, tomato & avocado
The ceviche came out looking more like a
crudo
. The fish was fresh and clean however, with a nice snap to it. I liked the acidity here, though I wasn't as keen on the avocado, which dulled and marred the dish.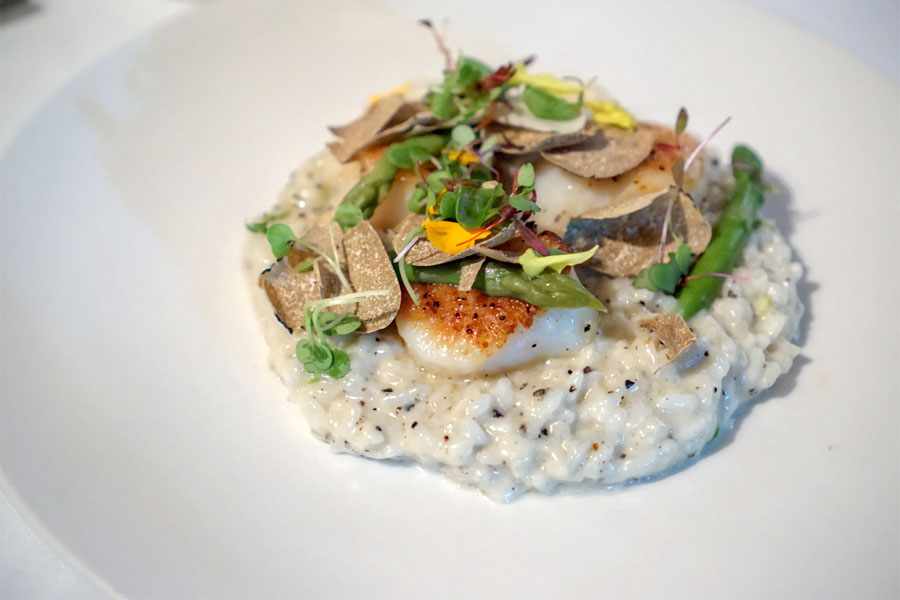 Maine Scallop Risotto and Black Italian Truffle [$39.00]
| green asparagus, fresh Italian black truffle
I'm quite the risotto fiend, so this was a must-order for me. There was a nice bite on the rice, and I really enjoyed the cook and caramelization on those scallops. The shavings of truffle provided an overarching muskiness that worked, and I was a fan of the brightness of the asparagus, too.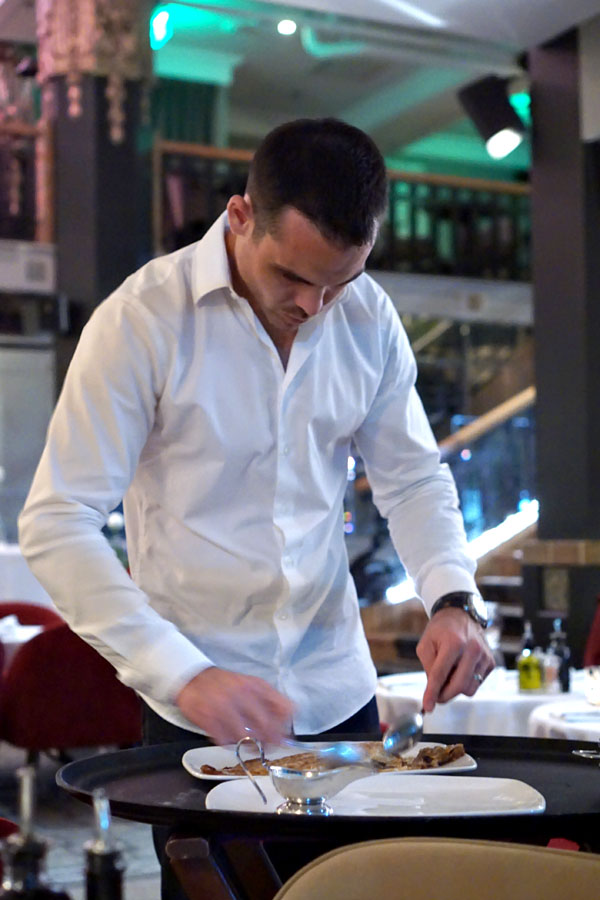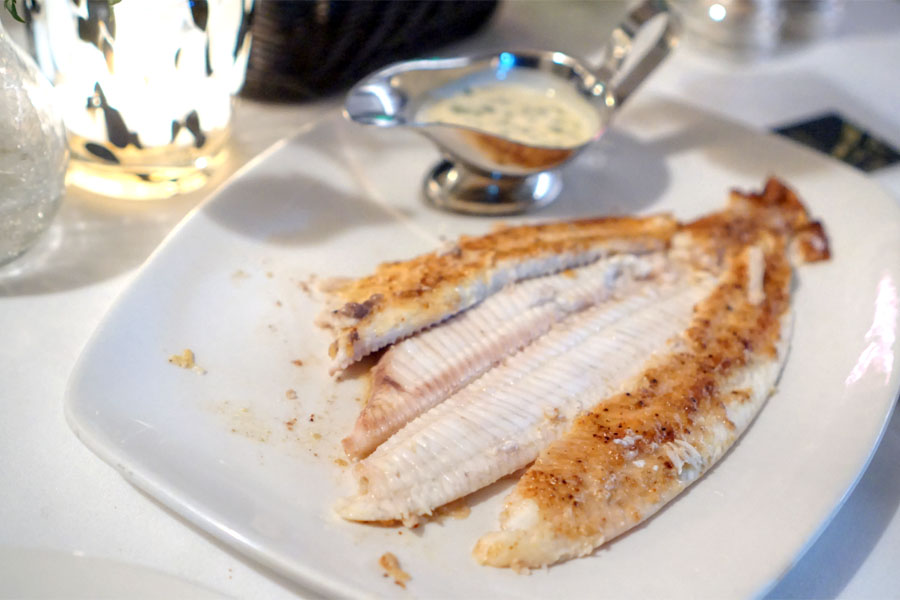 European Dover Sole Meunière [$48.00]
| garlic and parsley green beans
Sole à la meunière
was deboned tableside, which I always like to see. The fish itself I found moist and meaty, with a mildly sweet, buttery flavor profile. Tasty alone, and improved further with a dab of the sauce on the side.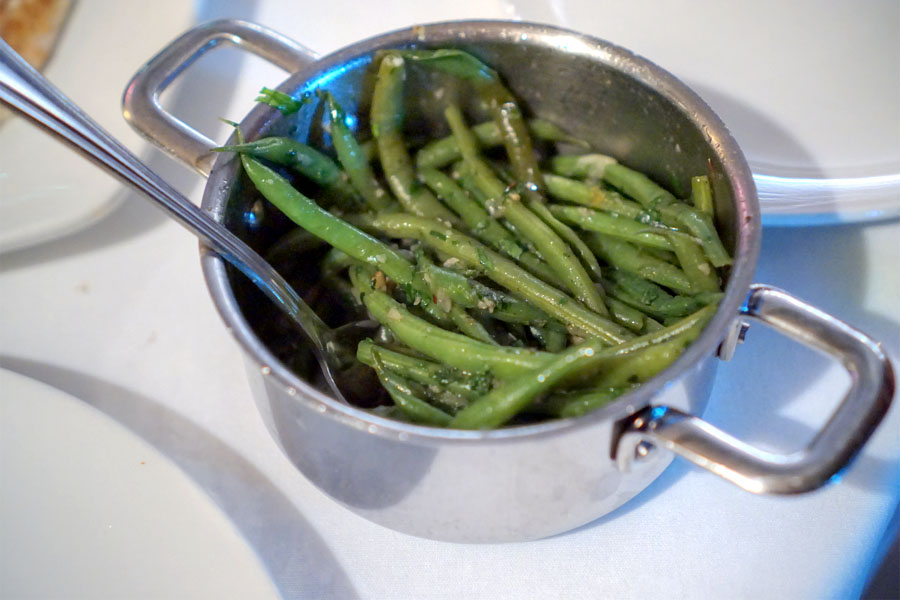 Green beans were unfortunately limp, though I did find them nice and garlicky.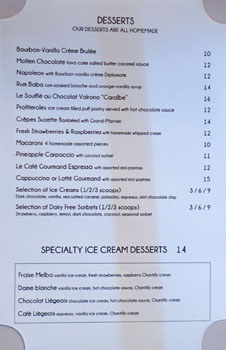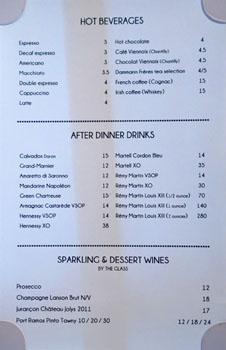 We made sure to save room for dessert. Here, they're the work of Pastry Chef Jonathan Breter, a Paris native who was previously at Yann Haute Patisserie in Calgary. Click for larger versions.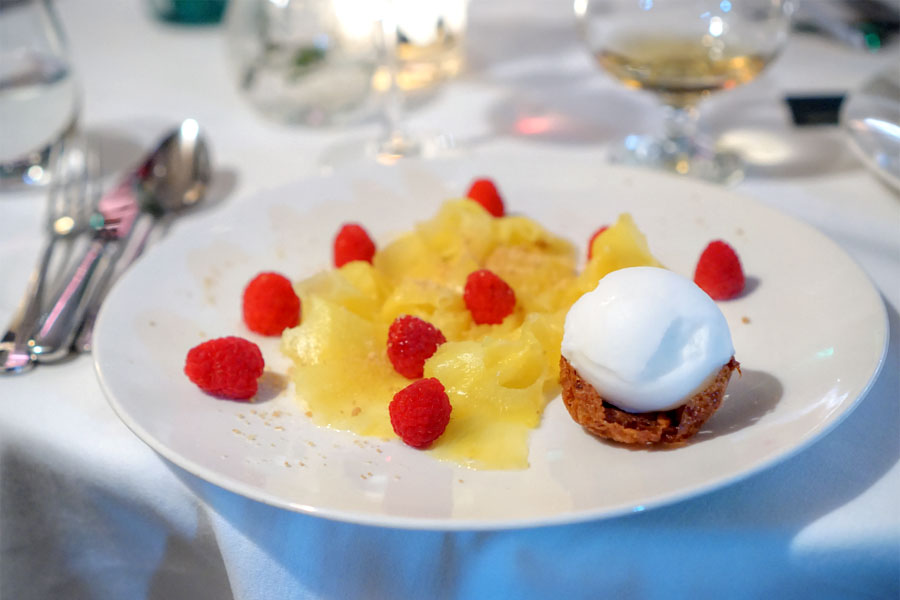 Pineapple Carpaccio [$11.00]
| with coconut sorbet
Our first dessert was on the lighter, refreshing side, with sweet slivers of pineapple and tart raspberry going back and forth against a cool, creamy sorbet.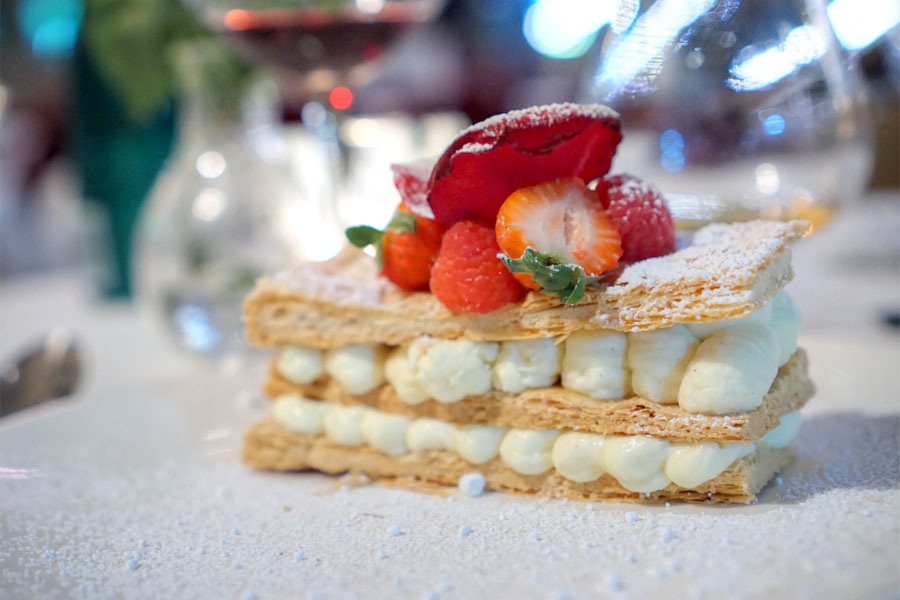 Napoleon [$12.00]
| with Bourbon-vanilla crème Diplomate
Last up was this
mille-feuille
. I got some great textures on the puff pastry, which meshed well with the just-sweet-enough flavors of the vanilla-spiked
crème diplomate
.
Our meal here was pleasant, staid. Some of our dishes certainly could've used further tweaking, though the cooking generally got the job done I'll say. The space is quite lovely, and service was on point as well, so overall not a bad spot.