Torimatsu (Gardena, CA)
Tori Matsu Yakitori Restaurant
1425 Artesia Blvd, Gardena, CA 90248
310.538.5764
www.torimatsu.com
Wed 07/05/2017, 08:15p-10:30p

My latest hankering for yakitori brought me to Torimatsu, which I've wanted to try for some time now. The original Torimatsu actually opened in Tokyo's Shinbashi district circa 1979. The Gardena location is the work of Chef/Owner Shoji Ishikawa, who'd trained at the O.G. restaurant before launching this outpost in August 1990.

The interior sports an old school look, replete with the requisite wood. There's an L-shaped bar surrounding the kitchen, as well as a few tables out front and to the side.






As expected, the menu's centered on various cuts of chicken and veggies, cooked on
Kishu binchotan
. There are also theme-appropriate side dishes, and the option of seven- or ten-courses set menus (complete with soup, salad, and dessert), priced at $23 and $28 respectively. To drink: mostly Japanese beers, shochu, sake, and a smattering of wine. Corkage was $20 a pop. Click for larger versions.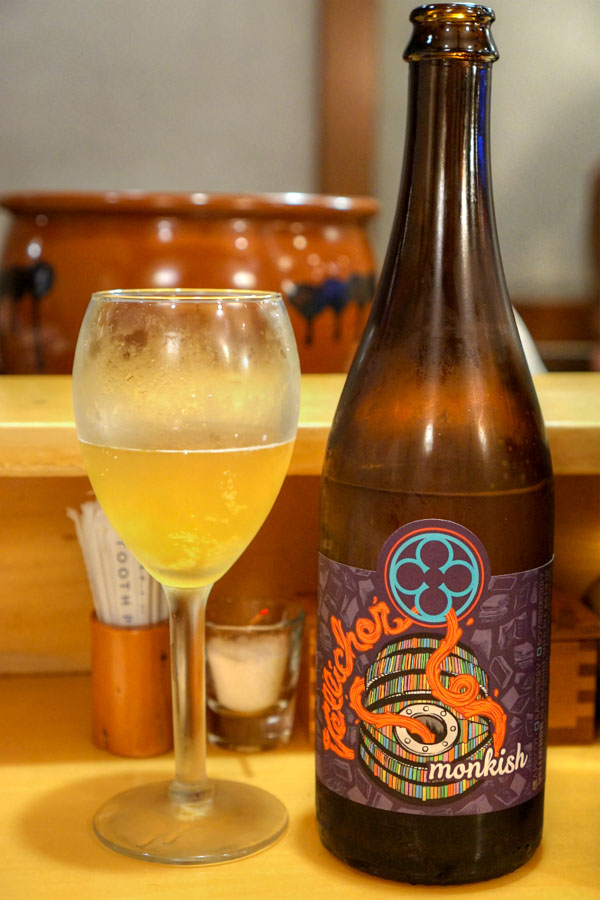 I brought a couple bottles this evening, and first was the
2016 Monkish Vellichor with Apricot
, a sour blonde ale aged in French oak for 18 months, then aged another three months in oak with apricot. Aromas were super tart, funky, with a fruitiness mixed in. The palate went in a sour, acidic direction, with distinct oak and overarching notes of the advertised apricot.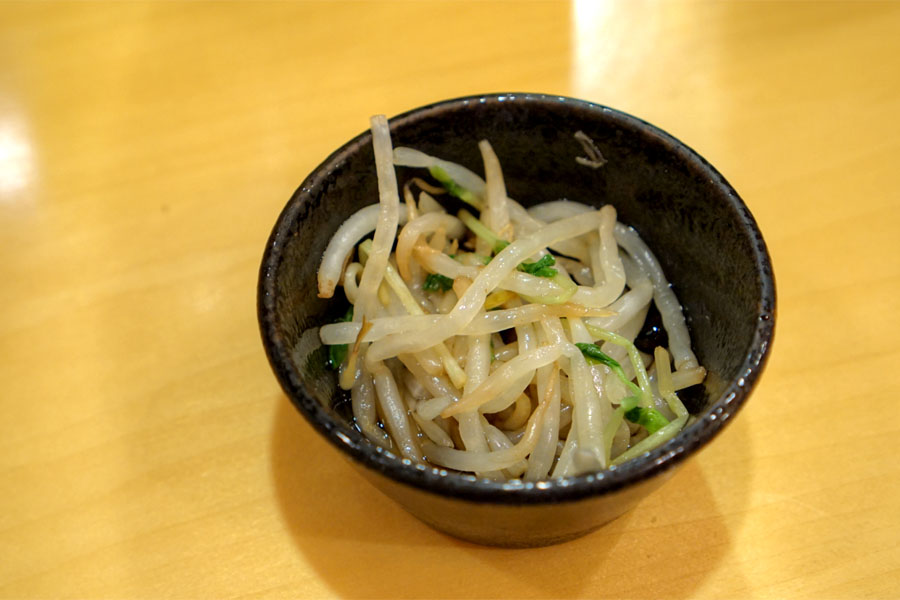 A complementary serving of crisp
moyashi
(mung bean sprouts) displayed bright, green, refreshing flavors.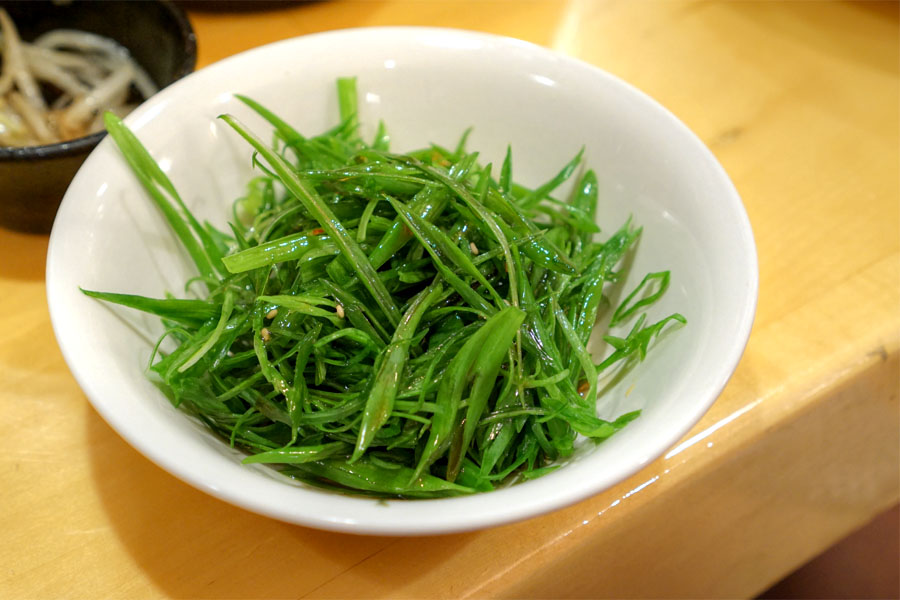 We ordered a set menu to start, which came with your choice of salad. We opted for the
negi
version, which had a great sesame oil-fueled nuttiness to go along with the scallions. Also key was a bit of heat that crept in on the back end.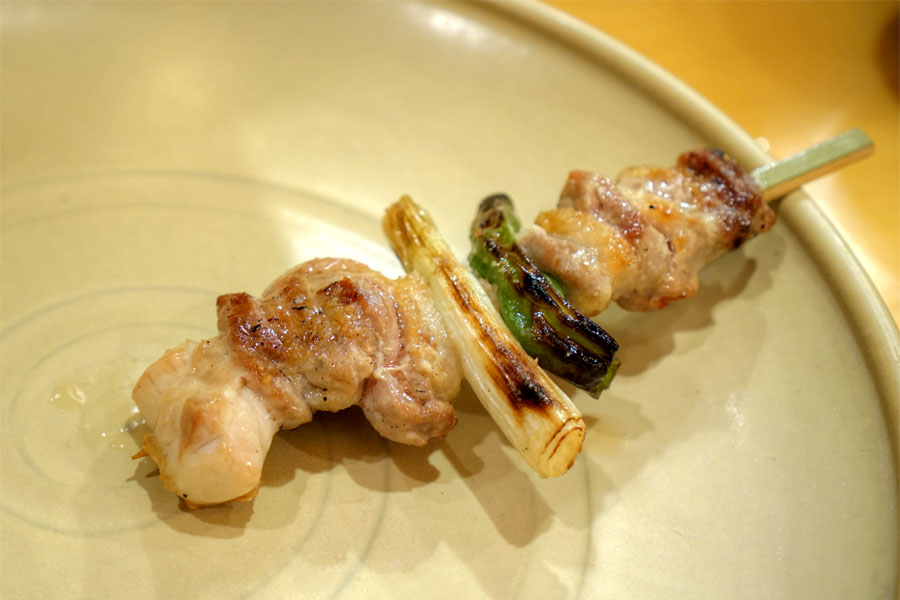 1: Aigamo
| Duck
We commenced with the duck, which didn't really strike me as duck at first. It was delicious though, and juicy, with a good snap and savor that worked out well with the veggies. A promising start.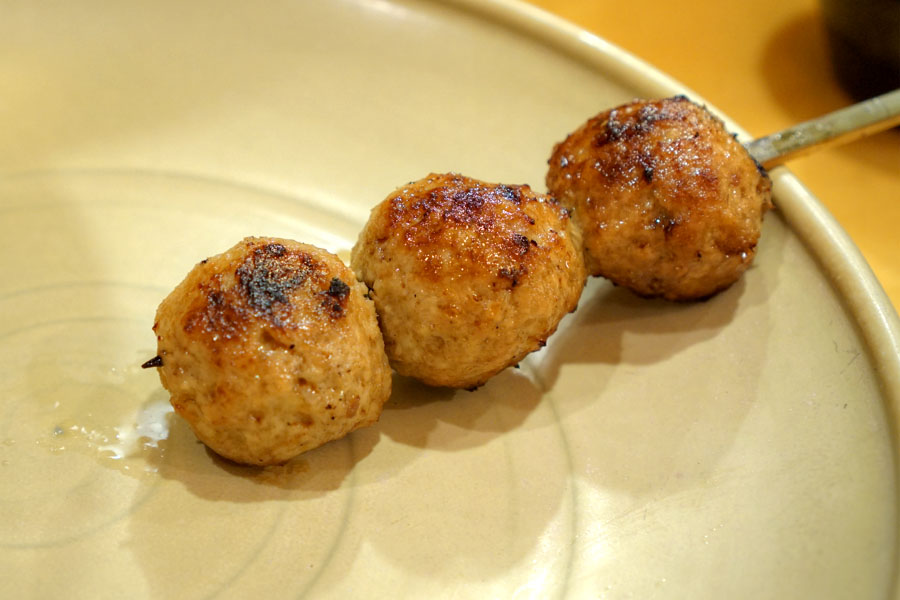 2: Tsukune
| Grated chicken meat balls
Meatballs were pleasantly moist, with a gritty-yet-elastic consistency that I enjoyed. Flavors were on the savory side, but with a hint of sweetness and sear. Yum.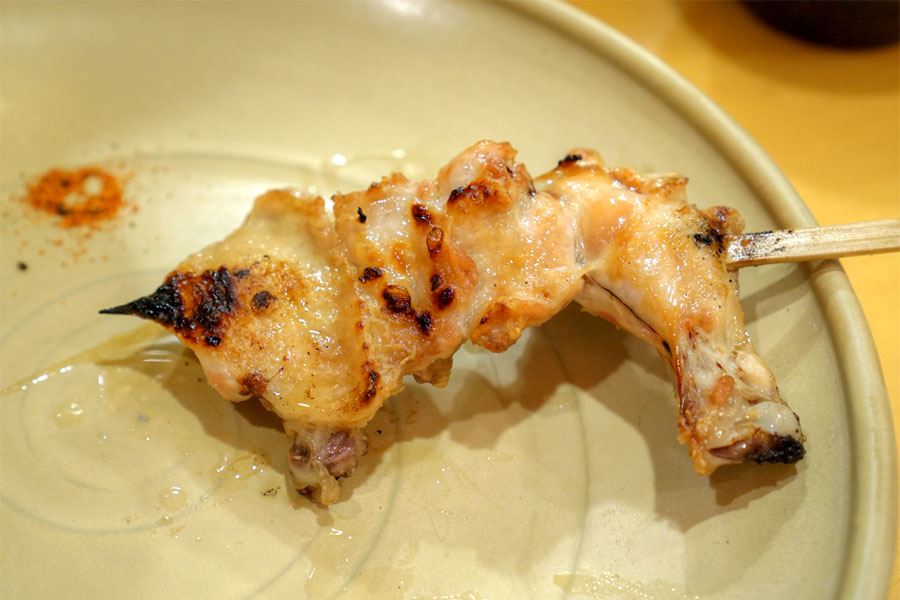 3: Tebasaki
| The tip of a chicken wing
Good ol'
teba
was a joy to eat. Taste-wise this was one of the most satisfying cuts we had, with a great char to boot, and I appreciated the variety of textures presented.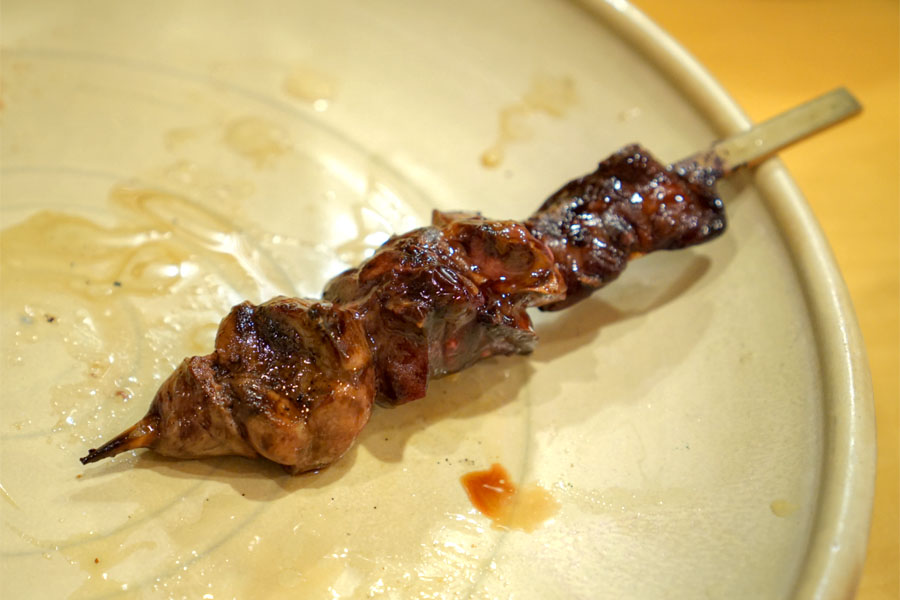 4: Motsu
| Chicken liver
The
reba
showed off is prototypically grainy, dense texture and earthy flavors, offset by a touch of sweetness from the
tare
.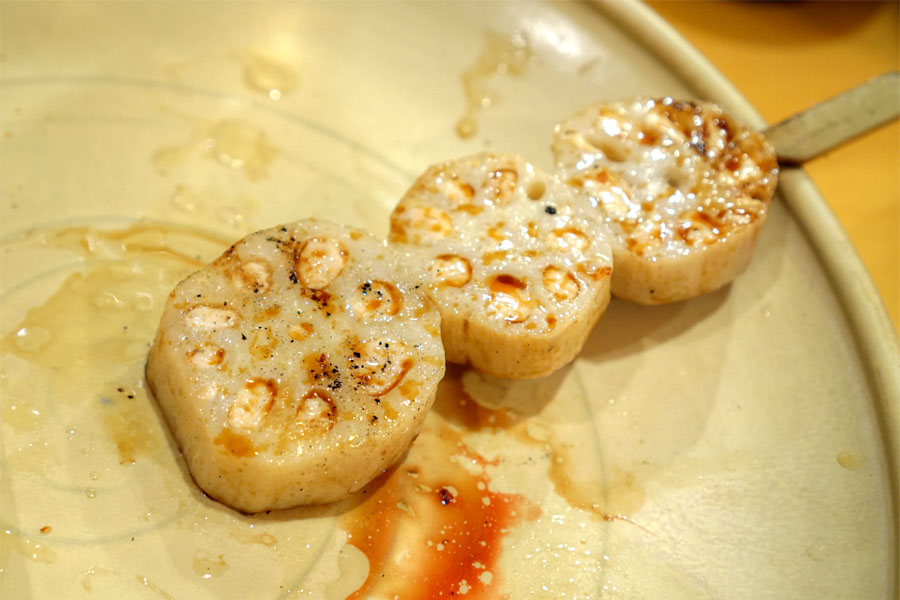 5: Stuffed Lotus
Thick disks of
renkon
came out super crunchy and tasting subtly of chicken.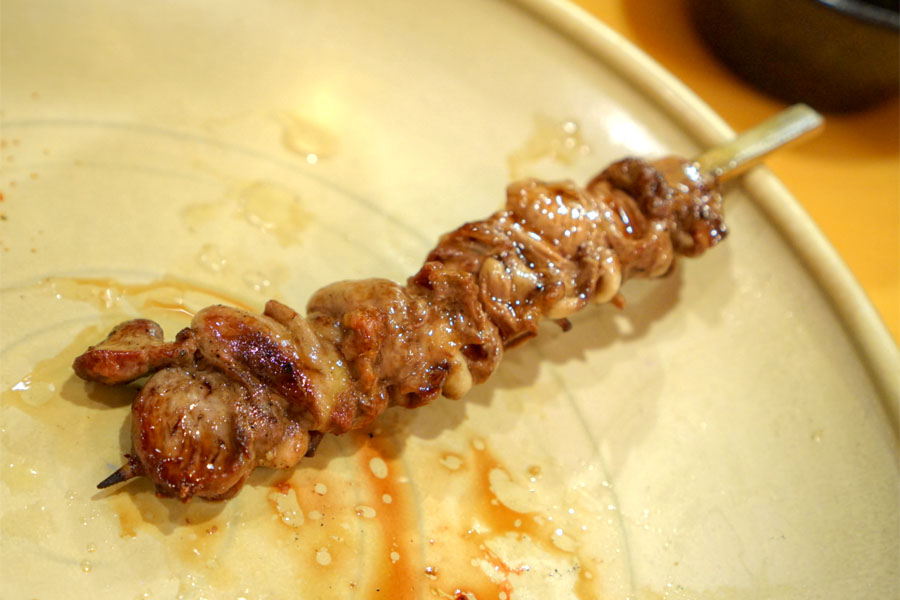 6: Hatsu
| Chicken heart
The
kokoro
had a great chew to it, along with a distinct char element that paired well with the cut's more aggressive flavors.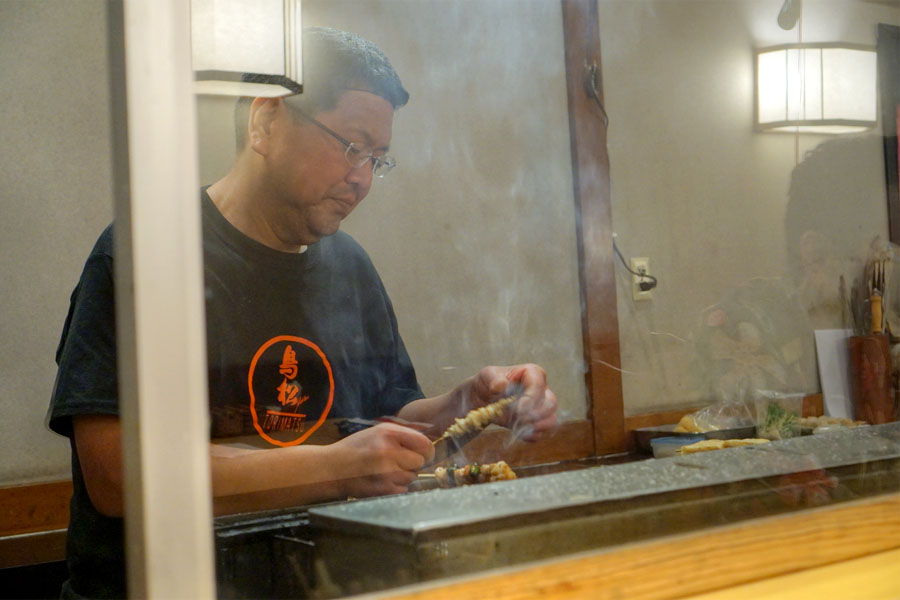 Tucked away behind the glass, Shoji-san handles the grilling for the entire restaurant.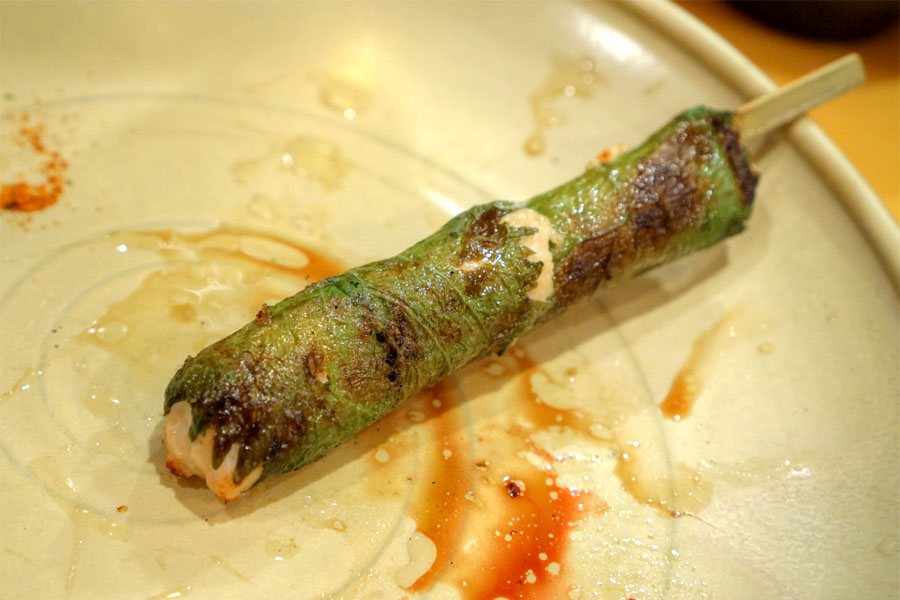 7: Shiso-Maki
| Perilla with chicken
This cigar-shaped course was something that I don't think I'd ever encountered before with yakitori. That's a shame though, as it was one of the most memorable items I tried, the mintiness of
shiso
working beautifully as a counterpoint to the bird.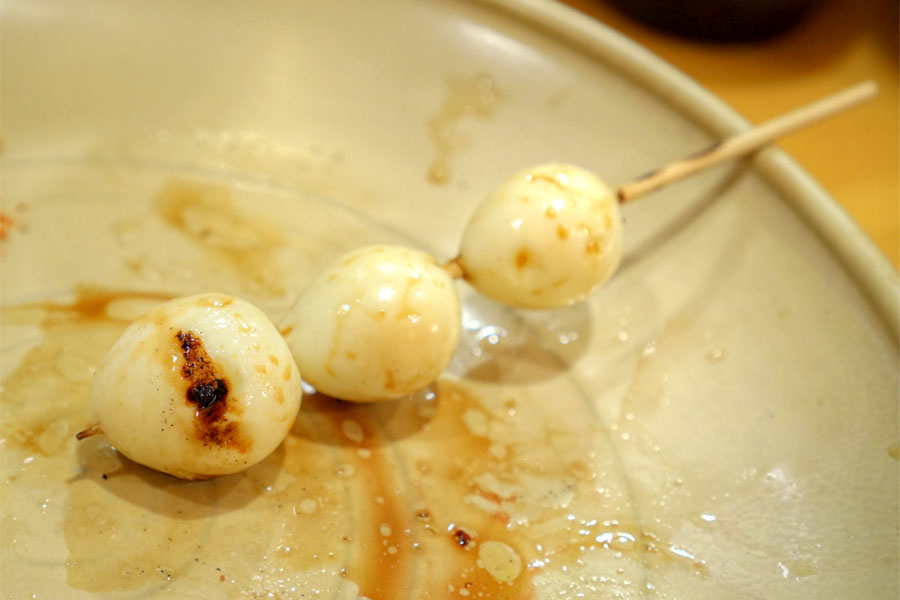 8: Uzura
| Quail egg
These definitely had "snappy" quality to them, while taste-wise, think hard-boiled egg.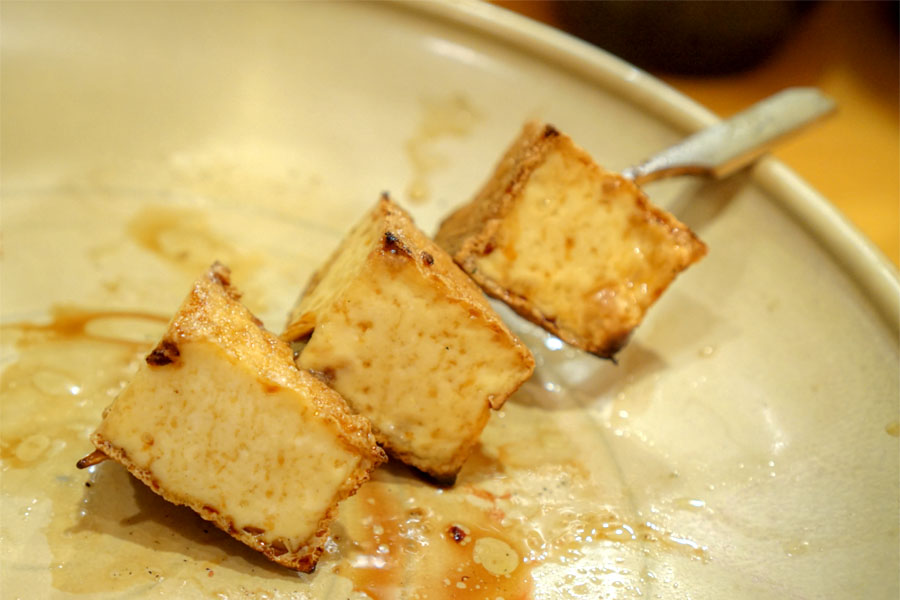 9: Atsuage
| Fried tofu
The tofu was a bit of an uncommon sight at yakitori, at least for me. It was tasty however, with a great crispness from the frying.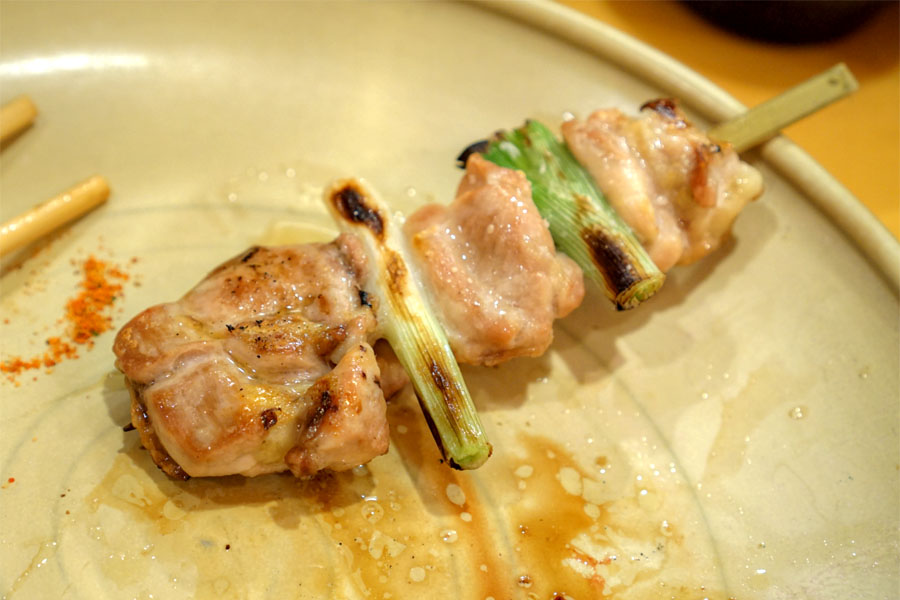 10: Negi-Niku
| Chicken and green onion
The last skewer of the fixed menu, the classic
negima
delivered for sure. I found it juicy, tender, hearty, and just smoky enough, with a great zip imparted by the green onion.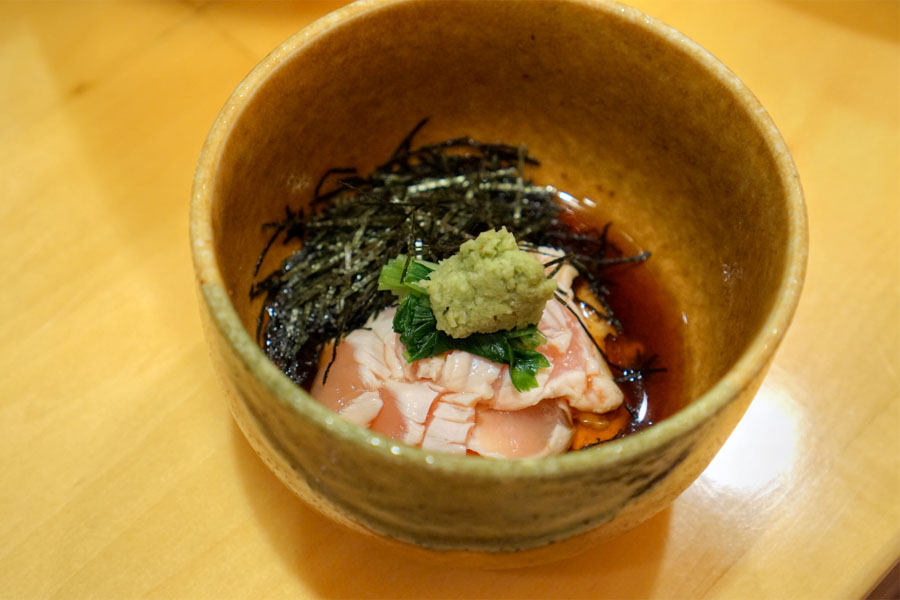 Toriwasa [$7.00]
| Rare chicken breast with soy sauce, wasabi
At this point we started ordering à la carte. Barely-cooked chicken was a standout: creamy and supple, with heat from the wasabi and a helping of umami courtesy of that seaweed.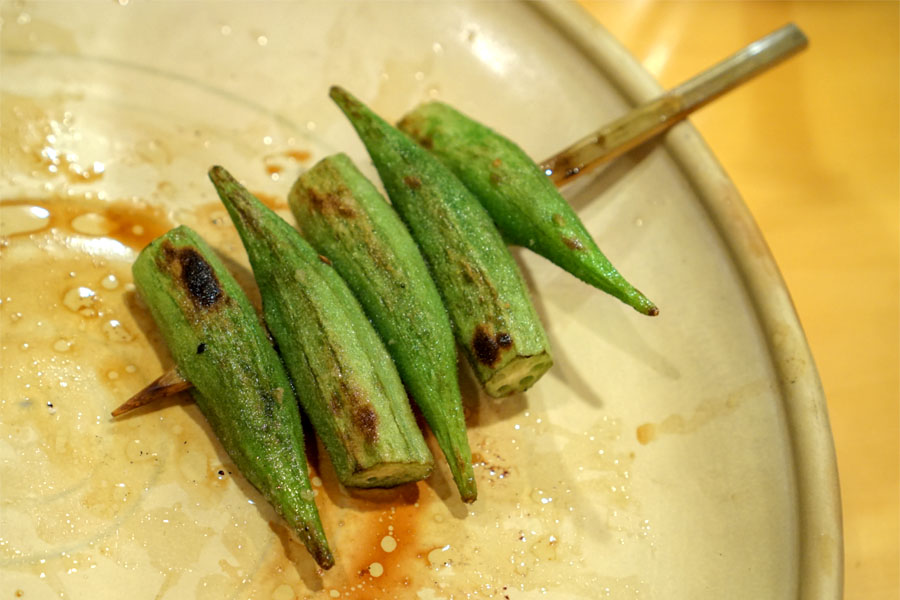 Okra [$2.75]
The okra worked, as the smoke and char from the grilling process actually seemed to temper the mucilaginous qualities of the vegetable.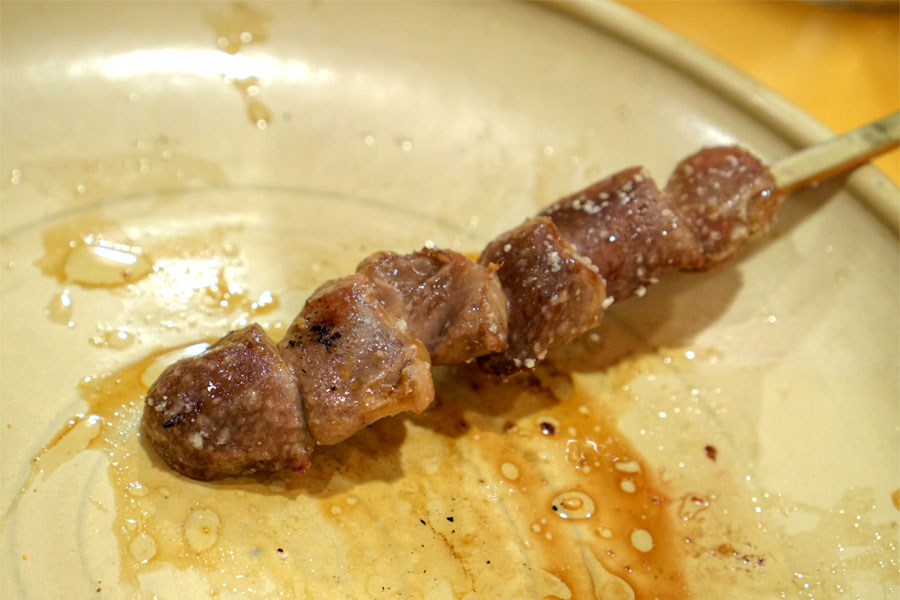 Sunagimo [$3.00]
| Chicken giblets
Gizzards were characteristically crunchy, with some much-appreciated pricks of salt.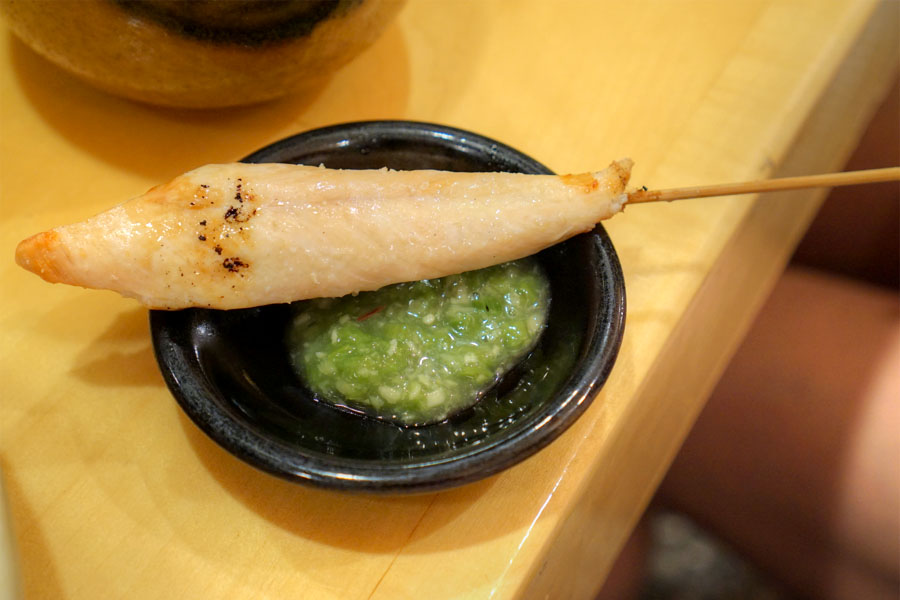 Sasami [$3.00]
| Chicken breast
The breast came out pretty juicy, while the included condiment provided a blast of wasabi to go along with the delicate flavors of the bird.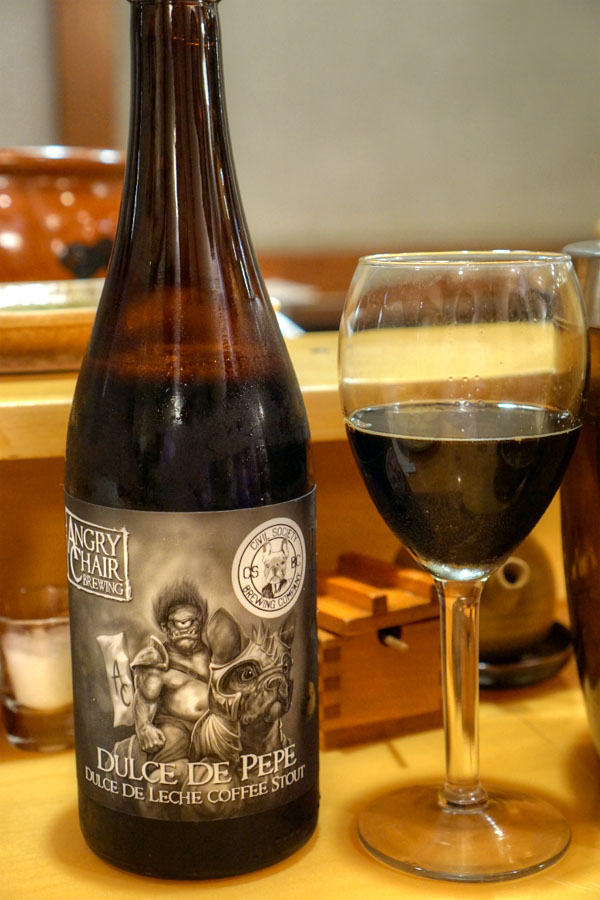 My second bottle was the
2017 Angry Chair Dulce de Pepe
, a
dulce de leche
-inspired stout with lactose, caramel, and coffee that was brewed in collaboration with Civil Society out of Jupiter, FL. This was super fun to drink. They weren't shy about the adjuncts, as I got huge flavors of caramel and chocolate, along with a pinch of salt and a smidge of coffee for balance.
Smooth
, too.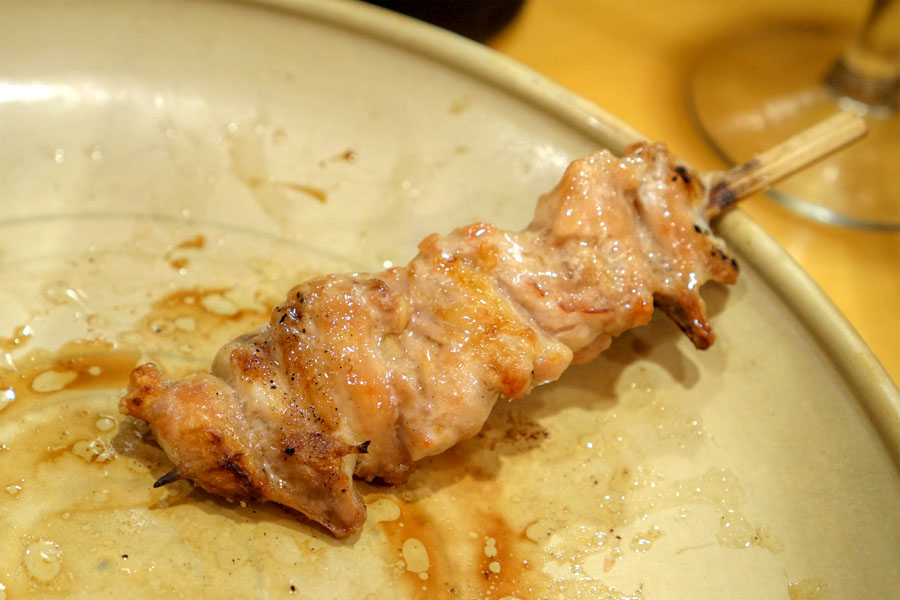 Bonbochi [$3.00]
| Chicken tail
Bonjiri
's typically one of my favorite cuts for yakitori, and it didn't let me down tonight. I found it ridiculously flavorful and juicy, with just the right amount of fat. A standout.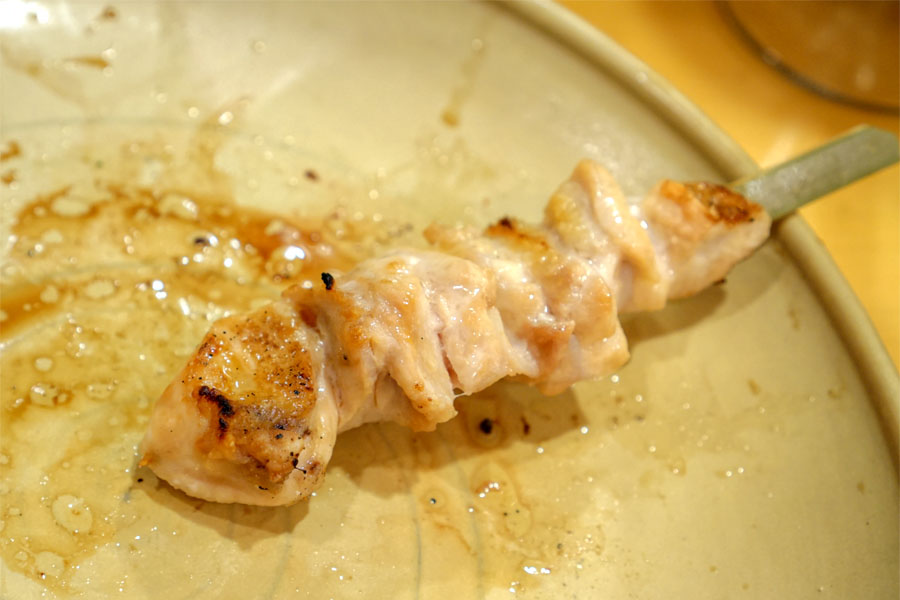 Nankotsu [$3.25]
| Soft bone
Cartilage was properly crunchy, with a good amount of meat on it for balance.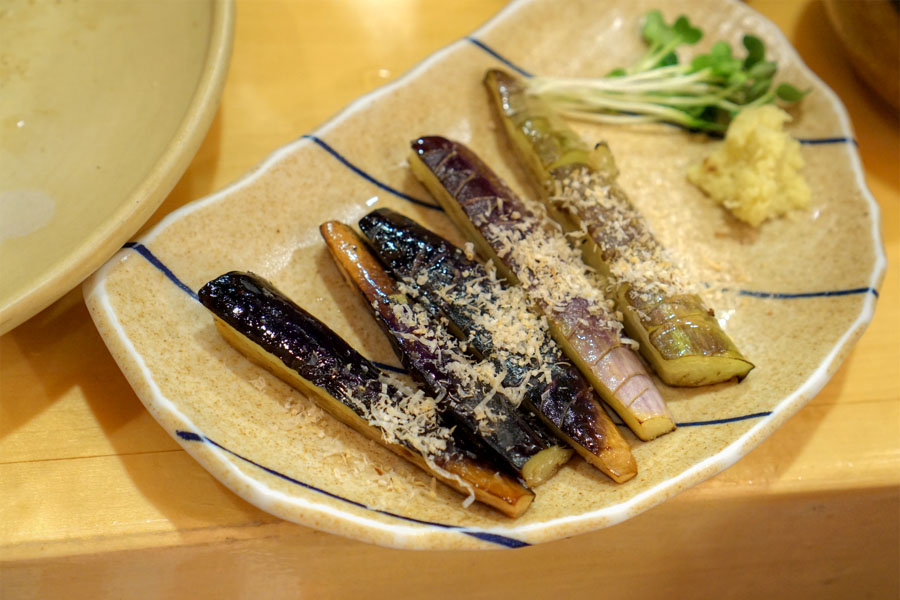 Nasu [$5.00]
| Eggplant
The eggplant was a pleasant surprise, mostly thanks to its not-too-soft texture and light smoke. Nice zestiness from the ginger, too.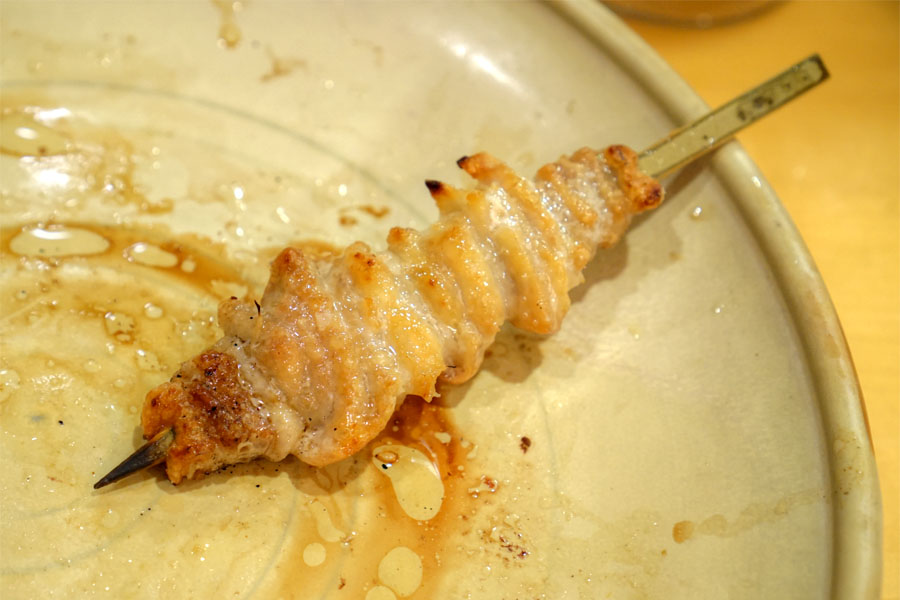 Kawa [$3.00]
| Boiled chicken skin
The
torikawa
was another highlight: a wonderful mix of fatty, gelatinous bites and charred-crispy bits.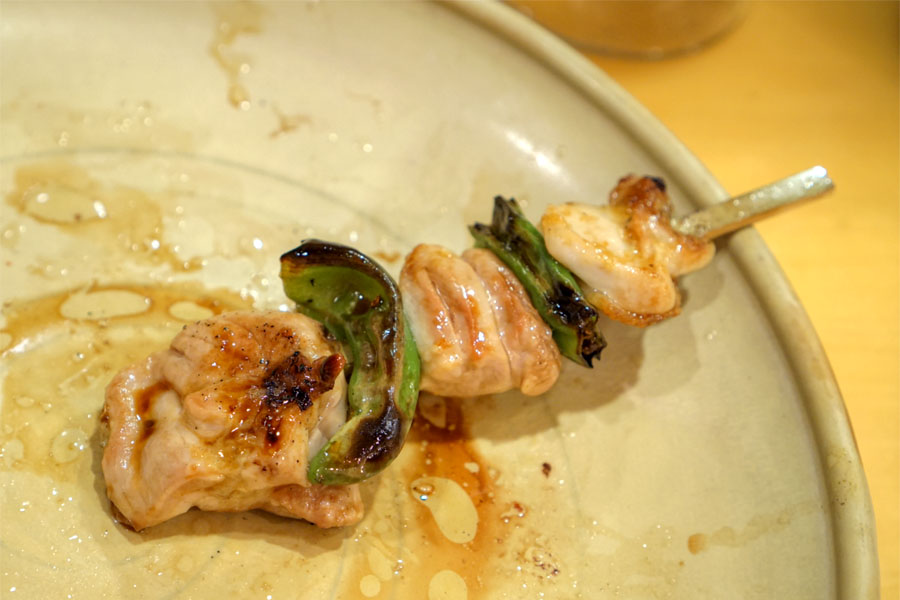 Shishito-Niku [$3.00]
I inquired about any special off-menu items (e.g.
soriresu
,
otafuku
), but was told that this was the only additional item offered. It was similar to the
negima
above, but with an extra hit of heat.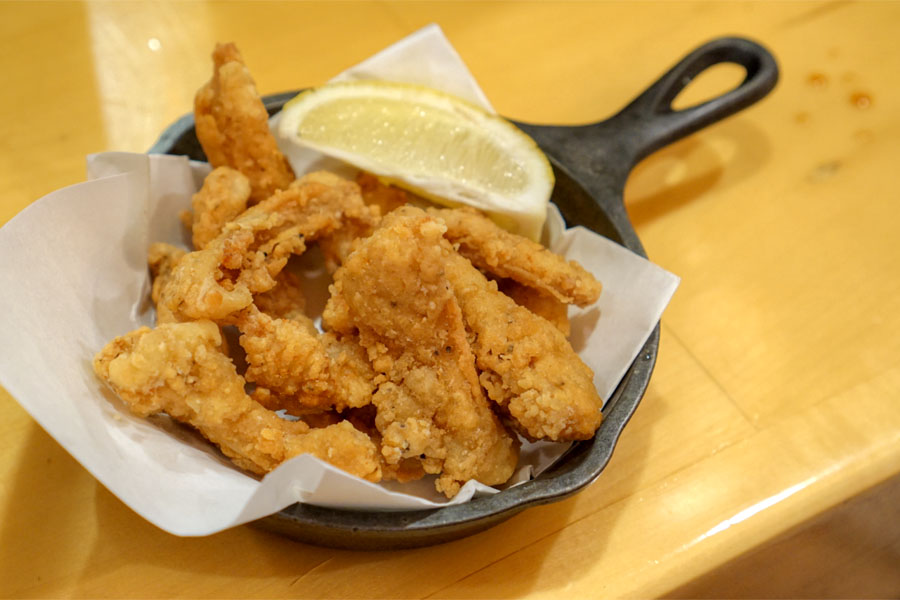 Nankotsu karaage [$8.00]
| fried cartilage
Deep-fried shards of
nankotsu
delivered as well, with a great interplay between the batter and crunchiness inherent to the cartilage. Even better with a squirt of lemon.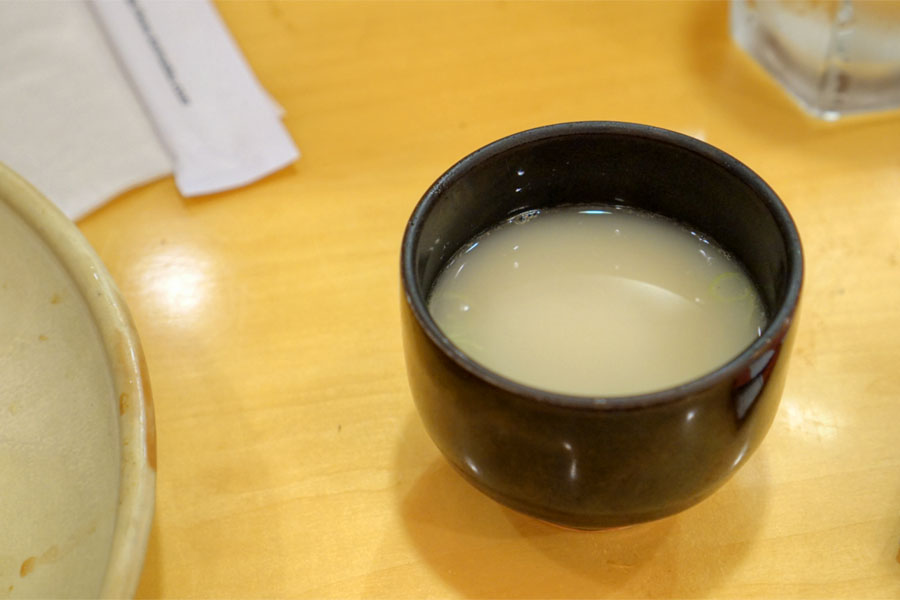 A chicken broth of sorts showed off the concentrated essence of the bird, evened out just a bit by the inclusion of scallion.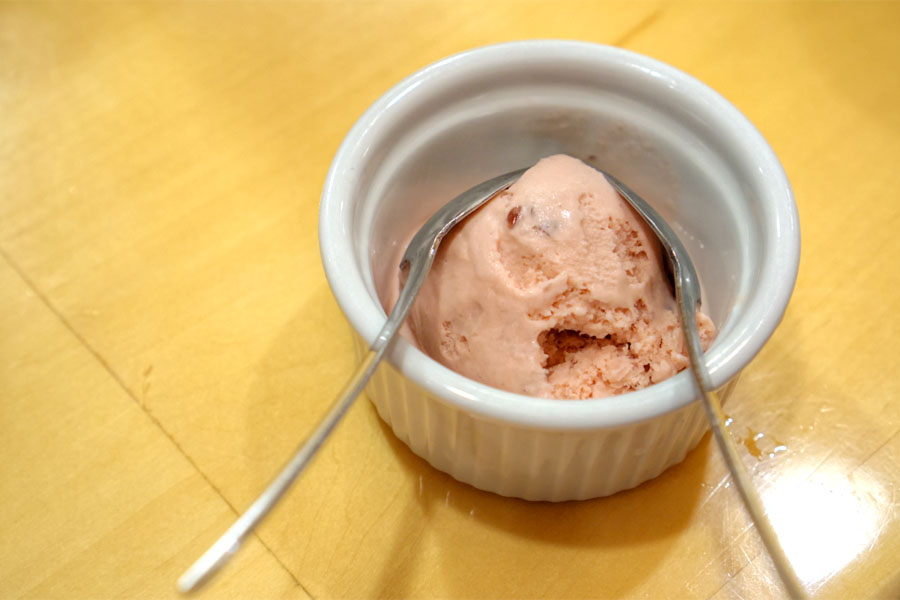 Also included in the prix fixe was dessert, which tonight was an
azuki
ice cream. I found it sweeter than most, but still balanced, with nice red bean character.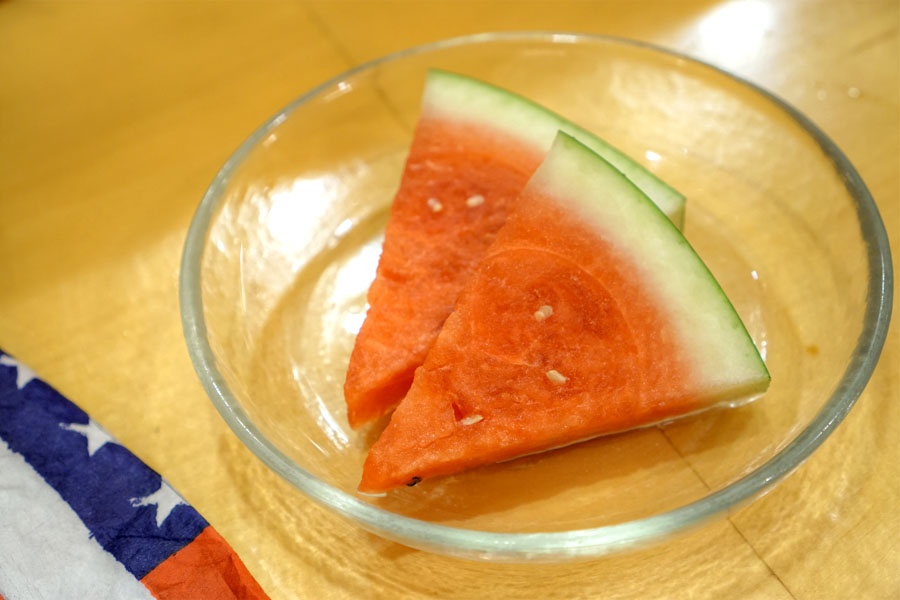 Last up: some pretty darn sweet cuts of watermelon.
I'd been wanting to check out Torimatsu for a while, and I'm really glad I made it out. All in all I have to say that I was quite happy with my meal here--this was some fine yakitori to be sure. And given that the restaurant's been open for 27 years, I can't be the only one who thinks so. Definitely give it a go if yakitori's your thing.