Birds & Bees (Los Angeles, CA) [2]
Birds and Bees Bar
207 S Broadway, Los Angeles, CA 90012
213.537.0510
www.birdsandbeesla.com
Fri 06/30/2017, 11:00p-1:00a
Following our cocktail tasting experience at
The Walker Inn
, we made a pit stop at Taco Bell (on 8th--you know the one) before heading on over to
Birds & Bees
in Downtown for
sa-cha
(it was a friend's birthday).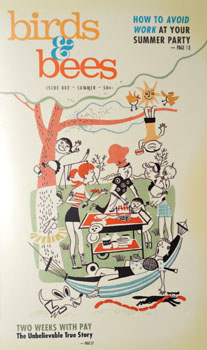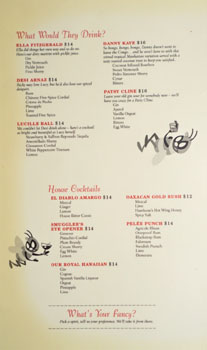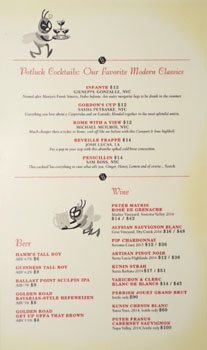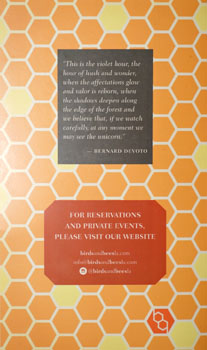 The menu had changed a bit since our last visit, but many of the drinks were still the same. Note, though, the addition of the "Potluck Cocktails" section, featuring so-called modern classics. Click for larger versions.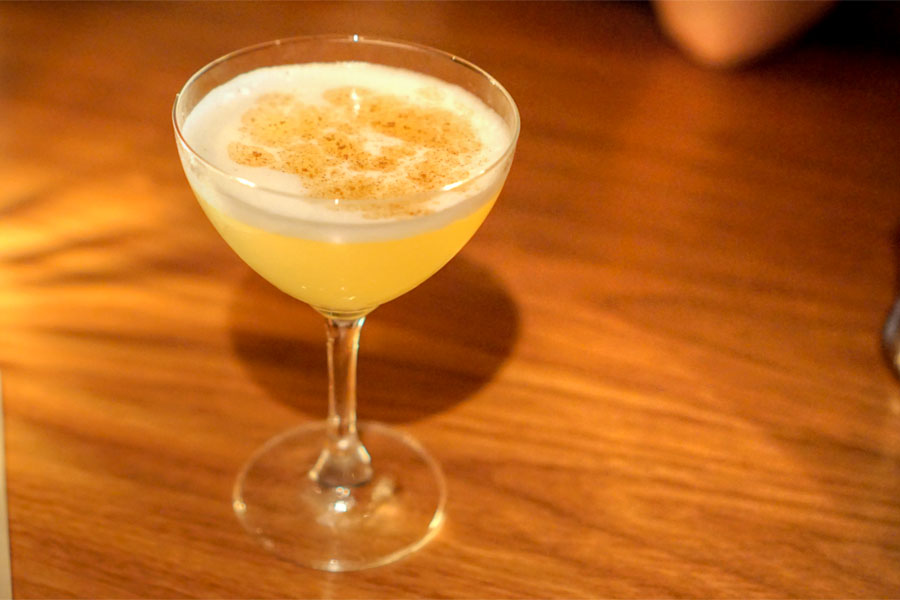 Desi Arnaz [$14.00]
| Rum, Chinese Five-Spice Cordial, Crème de Peche, Pineapple, Lime, Toasted Five Spice
Coincidentally, we commenced with the same cocktail we started with last time, a sort of spiced daiquiri. This time around, I found it more pineapple-forward, sweeter, but again with tart lime overtones. And again, the spice was the key, with the star anise taking center stage.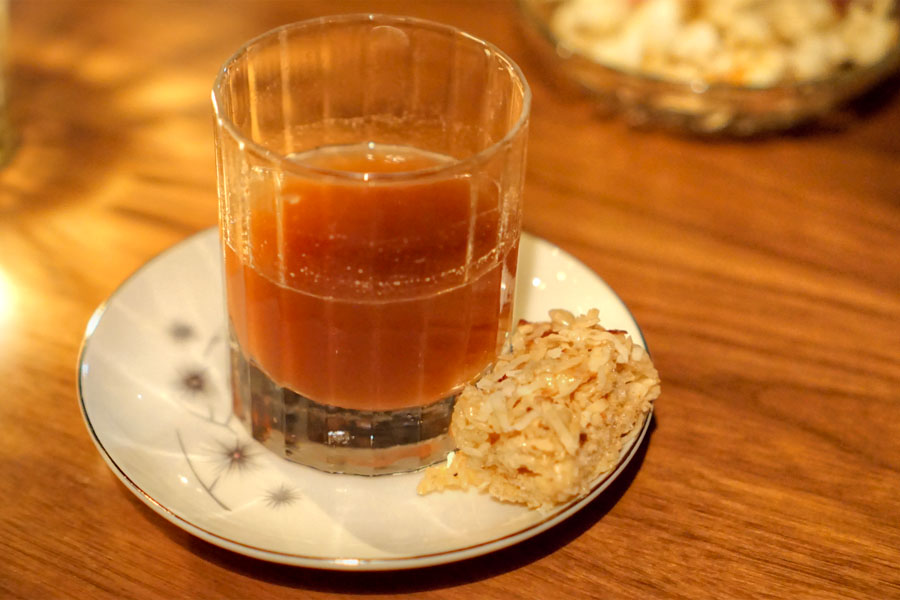 Danny Kaye [$16.00]
| Coconut Infused Bourbon, Sweet Vermouth, Pedro Ximenez Sherry, Cynar, Bitters
This was one of my favorite cocktails this evening, basically a tropical Manhattan variation. The nose recalled a bourbon barrel-aged stout with coconut, while the taste went in a bittersweet, vegetal direction, but with dark fruit and more of that coconut. I loved the Rice Krispies Treat-esque goodie on the side, too.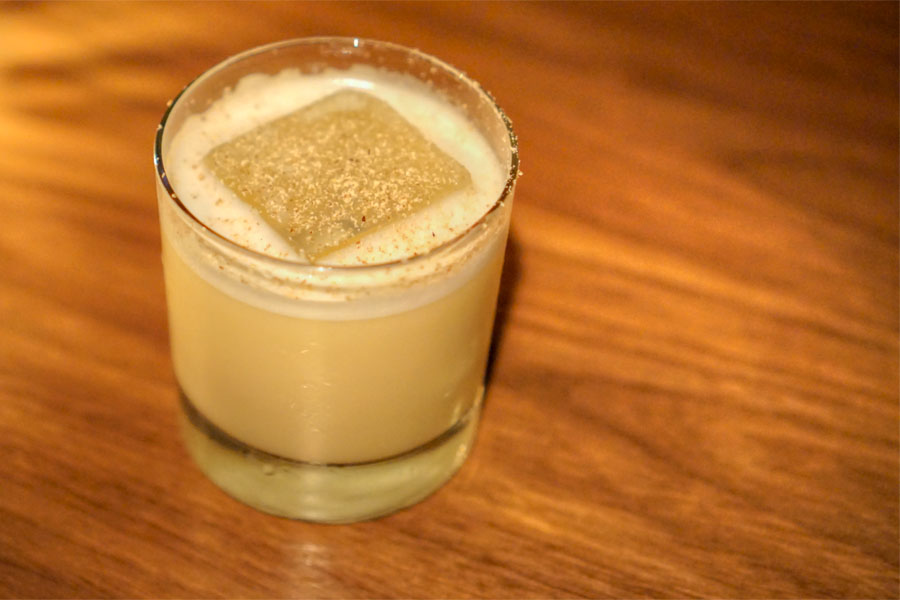 Smuggler's Eye Opener [$14.00]
| Genever, Pistachio Cordial, Plum Brandy, Cream Sherry, Egg White, Lemon
This next cocktail was another standout. Aromas were lightly citrusy, with an astringent element. On the palate, think fruity, almost chocolatey, but with a tartness and nutty quality that I really enjoyed. Great creamy mouthfeel as well, and I liked the shavings of what I believe was nutmeg on top, too.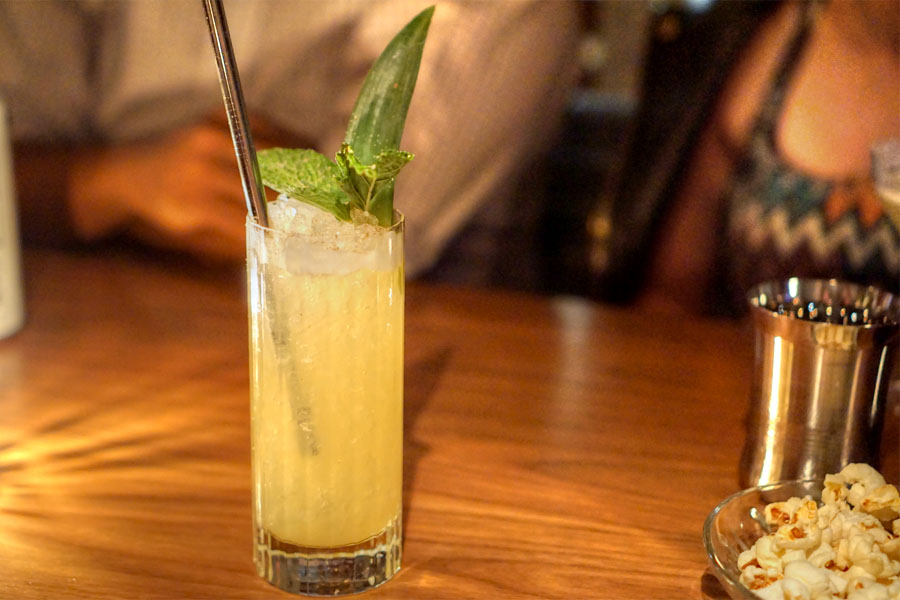 Our Royal Hawaiian [$14.00]
| Gin, Cognac, Spanish Vanilla Liqueur, Orgeat, Lime
Breezy, tropical, pineapple-y notes abound in this cocktail, joined by the botanicals of gin and the cognac in the background. Do note that all the cocktails from this point on ended up being removed from our bill, as one of my fellow drinkers happened to be chummy with Birds & Bees' new GM, Michael Nemcik.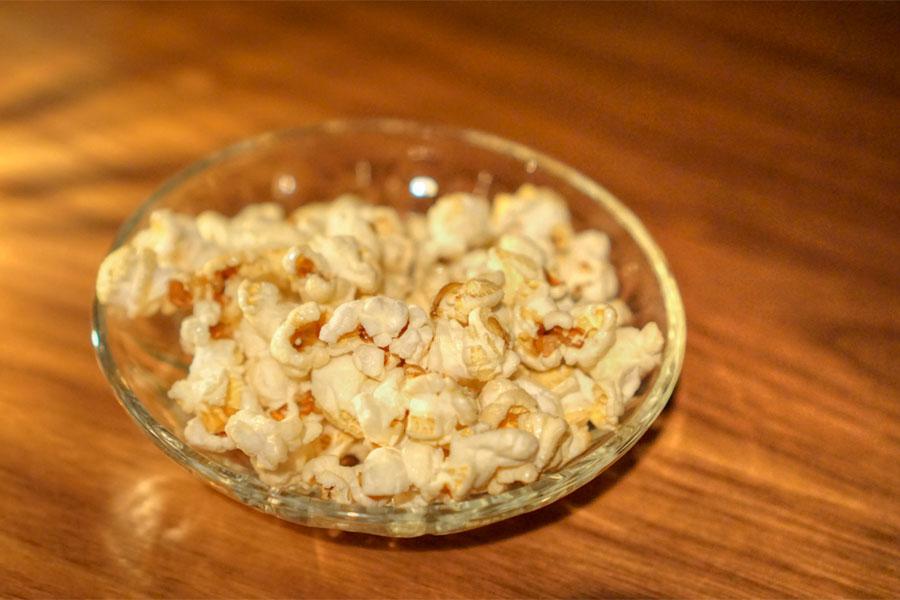 The popcorn had a sweet 'n' salty thing going on.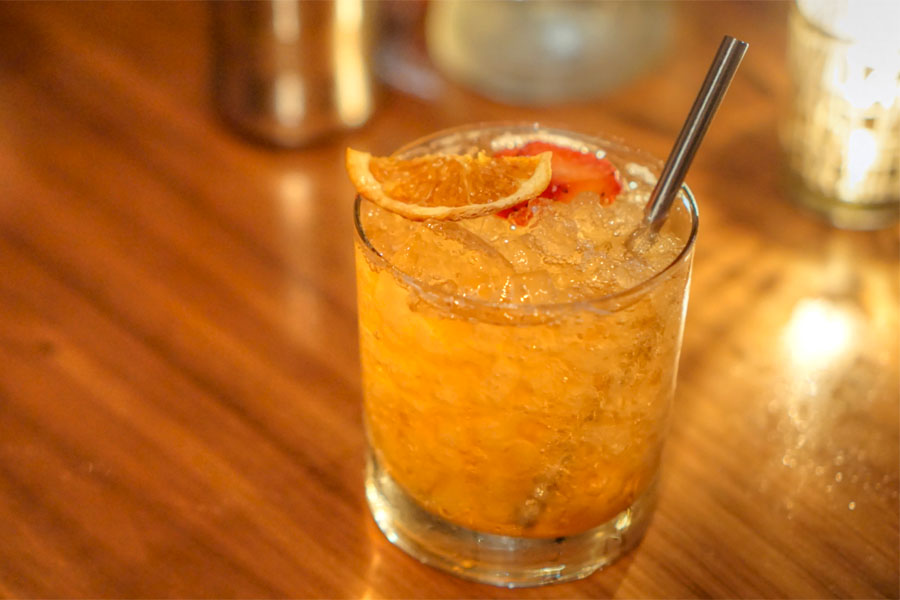 Lucille Ball [$14.00]
| Strawberry & Saffron Reposado Tequila, Amontillado Sherry, Cinnamon Cordial, White Peppercorn Tincture, Lemon
This was a fun one. I got sweet, fruity flavors from the strawberry, but commingled with a base of oxidative notes from the sherry and just a smidge of warm spice.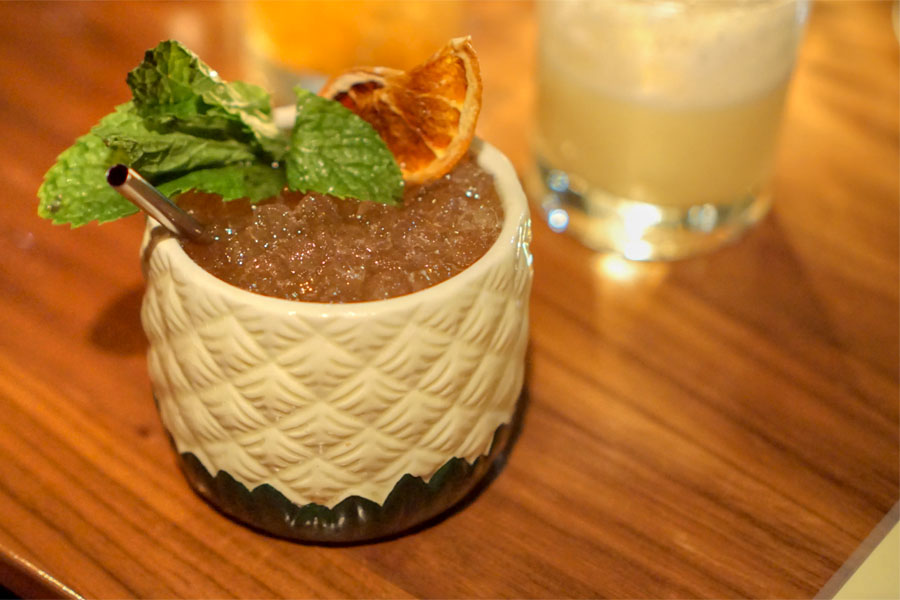 Pelée Punch [$14.00]
| Agricole Rhum, Overproof Rhum, Blackstrap Rum, Falernum, Swedish Punsch, Lime, Demerara
Another one that went down easy. Lots of tropical and sweet spice that did a great job mellowing out the heft of the rums. My favorite part? The sort of nutty, complex flavors from what must've been the punsch.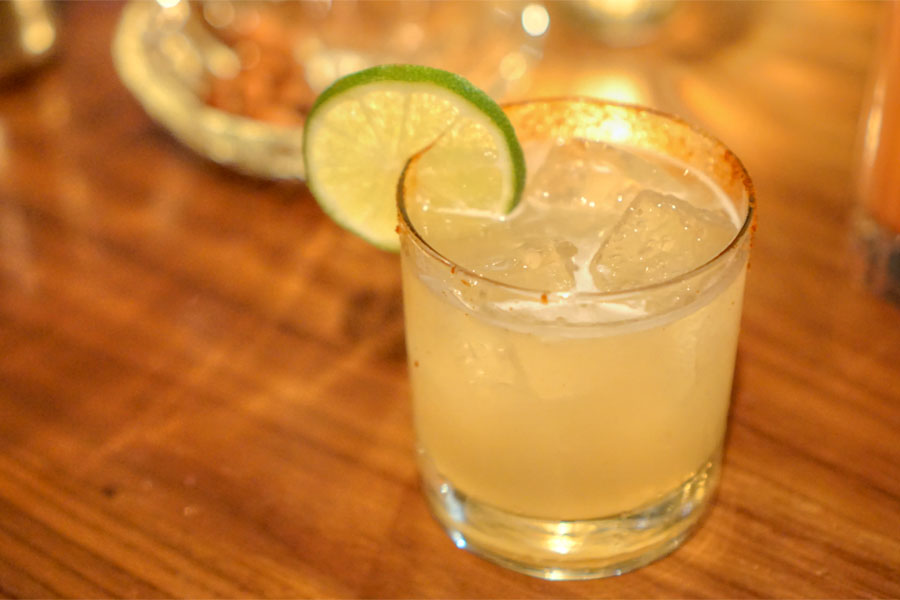 Oaxacan Gold Rush [$12.00]
| Mezcal, Lime, Hambone's Hot Wing Honey, Spicy Salt
A Mexican-y twist on the modern classic that is Milk & Honey's Gold Rush. I got huge amounts of spice and smoke (and salt from the rim), but fortunately this was offset by the lime and honeyed notes in the drink. Lots of spice on the finish, too.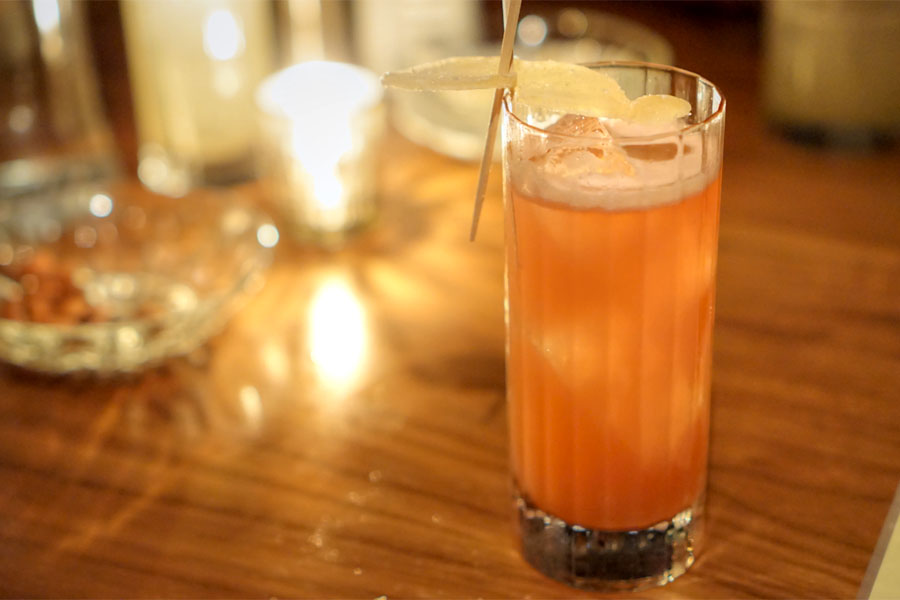 El Diablo Amargo [$14.00]
| Mezcal, Ginger, Lemon, House Bitter Cassis
This was another cocktail that I'd sampled last time. Again, I got the smoky, woody qualities of the mezcal right up front, but this was balanced out by the sour, astringent, bitter nuances present.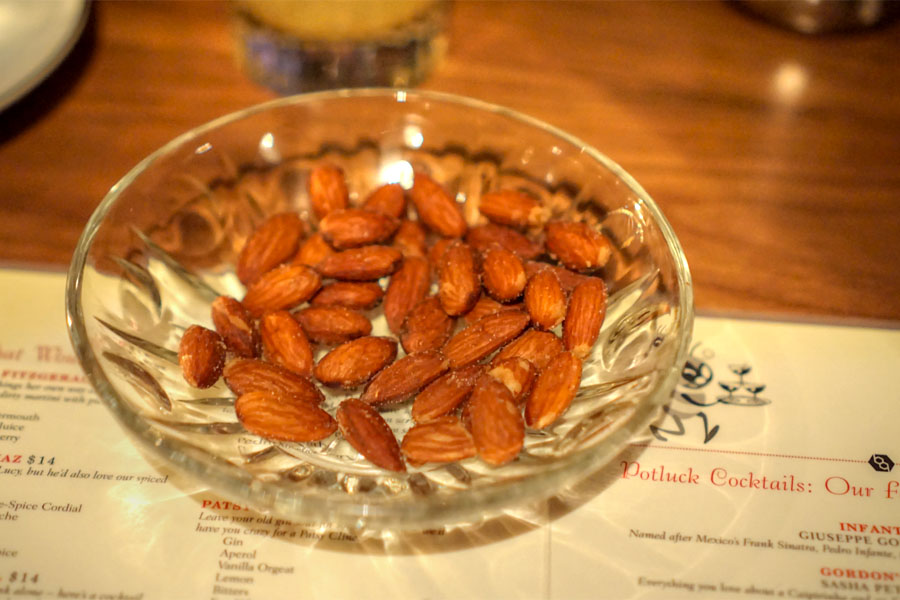 The almonds seemed especially delicious for some reason. I kept going back for more.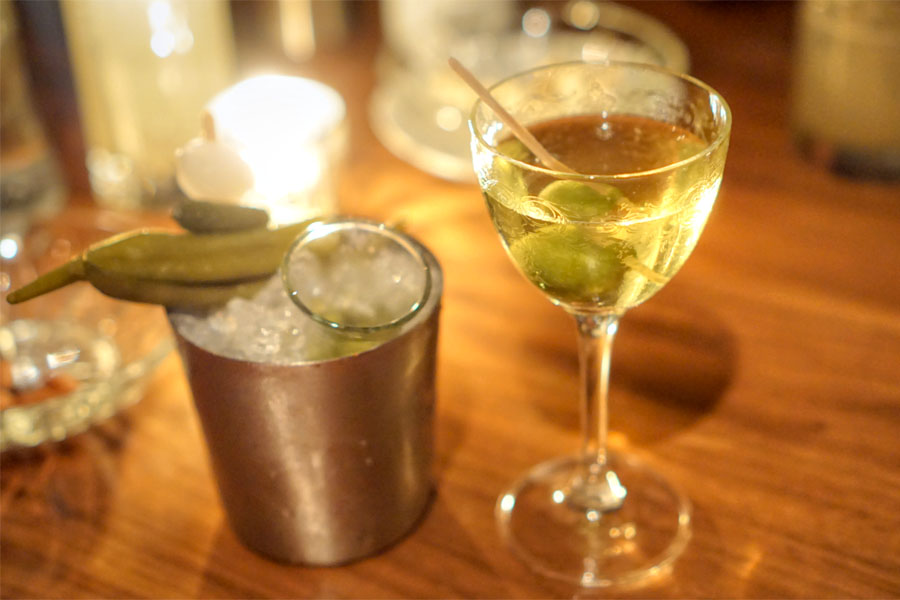 Ella Fitzgerald [$14.00]
| Gin, Dry Vermouth, Pickle Juice, Fino Sherry
This "dirty martini with pickle juice" was another revisit. It was just as tart and pickle-y as before, and definitely one of the more polarizing cocktails that we tasted.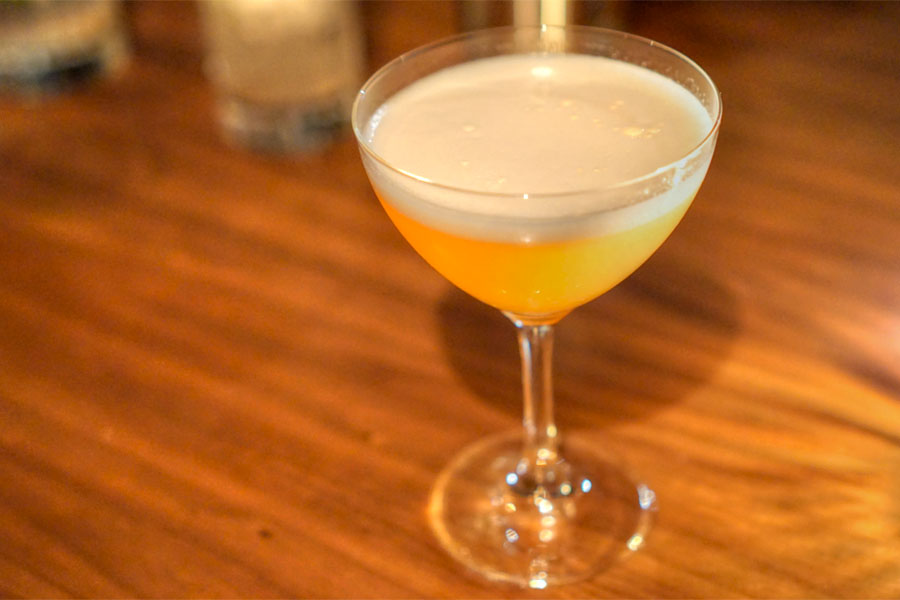 Patsy Cline [$16.00]
| Gin, Aperol, Vanilla Orgeat, Lemon, Bitters, Egg White
A take on a gin sour displayed a light, eggy nose with a marked nuttiness and citrus character. The palate was creamy, tangy, lemony, but with a sweet, almost amaretto-like quality that I quite liked.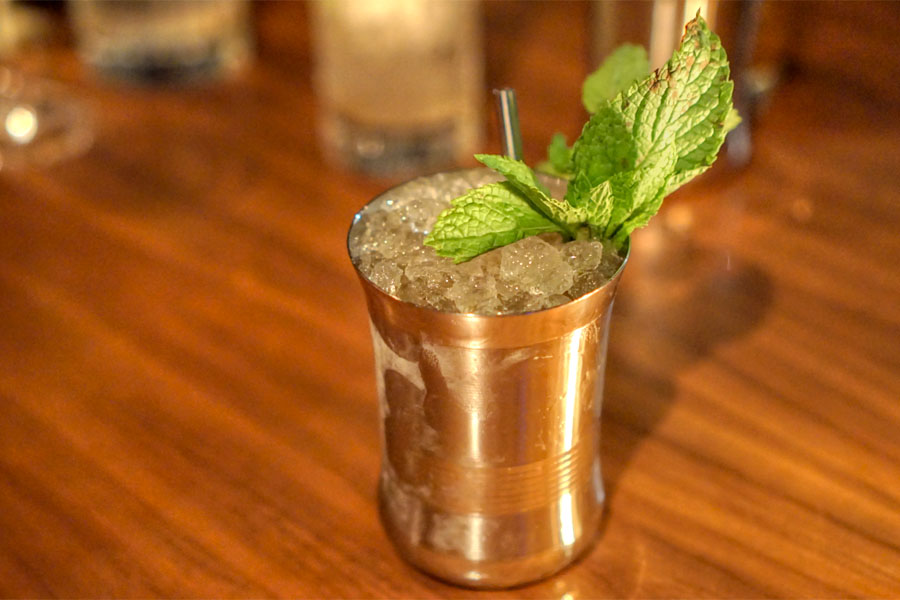 Reveille Frappé [$14.00]
| Josh Lucas, LA / Put a pep in your step with this absinthe spiked cold brew concoction
I found this to be one of the more intriguing cocktails of the night, with a marriage of minty, anise-y absinthe and bittersweet cold brew. Neat.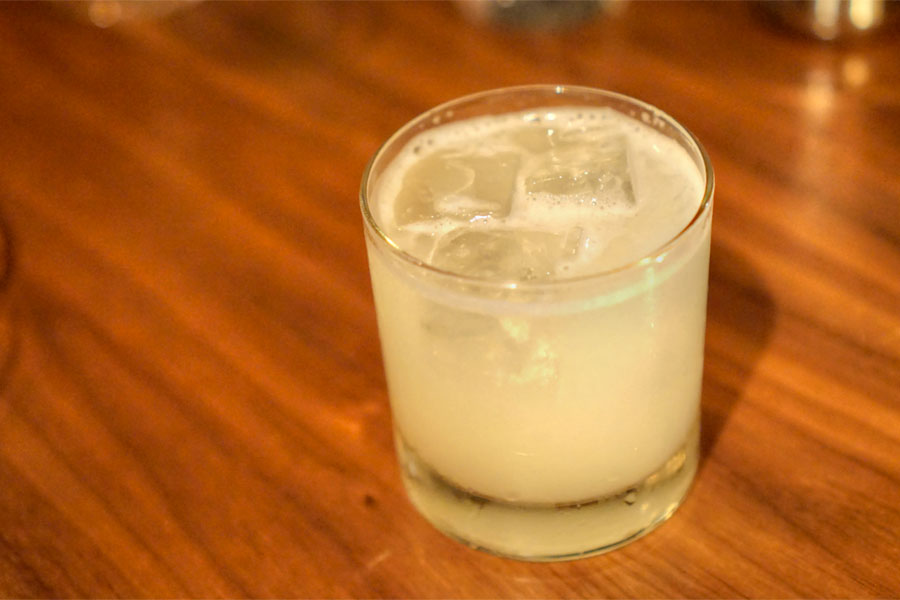 Infante [$12.00]
| Giuseppe Gonzalez, NYC / Named after Mexico's Frank Sinatra, Pedro Infante, this nutty margarita begs to be drank in the summer
Last up was a margarita variation that I'd say was an improvement on the original. It was definitely more spirit-heavy, so I really got to taste the smokiness of the tequila, and how that went back-and-forth with the lime. The key, though, was the little bit of cherry and nuttiness on the back end.
We had a fun time here, and I enjoyed seeing and tasting how the menu had evolved over the past few months. I will say, though, that since this was a Friday evening, the vibe was definitely louder, and a bit less relaxed than last time, but that's to be expected. Overall, the place seems to be coming along nicely.