ink. (Los Angeles, CA) [4]
Ink Restaurant
8360 Melrose Ave, West Hollywood, CA 90069
323.651.5866
www.mvink.com
Sun 07/16/2017, 07:30p-09:50p
[Note: I visited the restaurant and wrote this report before I found out that ink was closing.]

It's been a while since I last reported on Michael Voltaggio, so I'll briefly recap what's happened since my last meal at
ink
:
At the end of October 2013, the Chef's ink.sack sandwich shop debuted at the Tom Bradley International Terminal at LAX. The start of 2015 saw the announcement that he had taken over the old
Gorge
on Sunset. If you recall, Gorge was opened by Elia Aboumrad and Uyen Nguyen, and was supposed to move to the Medallion apartment complex in Downtown following Voltaggio's takeover. That never came to fruition though, and the space eventually transferred to
Kuniko Yagi
for a ramen shop called Tokyo Strike. Meanwhile, in March 2015, Voltaggio's show
Breaking Borders
(with Mariana van Zeller) debuted on the Travel Channel.
January 2016 had the Chef slangin' burgers for Carl's Jr, and this was quickly followed by a rebranding of ink.sack to the more casual Sack Sandwiches. Sack Sandwiches also claimed the spot next door to Gorge (the old Seoulos Fusion Grille), but that location soon shuttered in October that year. In November 2016, we saw the transformation of ink into a contemporary steakhouse of sorts, which was largely the impetus for this revisit. And speaking of steakhouses, in December, Voltaggio and brother
Bryan
launched Voltaggio Brothers Steak House at the MGM National Harbor Resort & Casino in Maryland.
Interestingly, longtime CdC Cole Dickinson decamped from ink to become Executive Chef at the new restaurant. He was replaced by Brittany Valles, who'd been at ink since October 2011 (so pretty much right after it opened). A Huntington Beach native, she graduated from the Le Cordon Bleu College of Culinary Arts in Boston in 2010 and cooked briefly for
Wolfgang Puck
. Also on board now is Justin Campbell, an alum of Wolfgang Puck Catering,
The Bazaar
, and
Gordon Ramsey at The London
who joined the team back in June.


Despite the shift in concept, the interior remains largely the same, which isn't a bad thing. Note, though, that it appears they've gotten rid of the private dining room.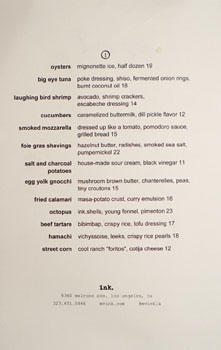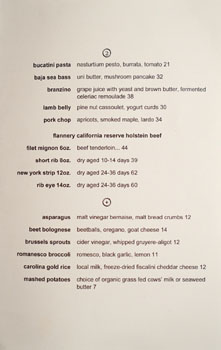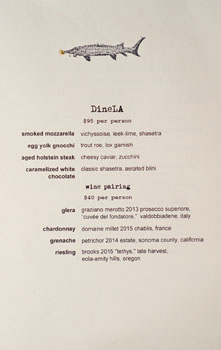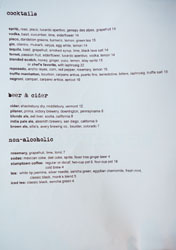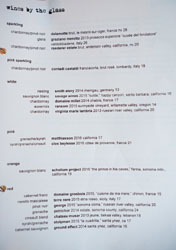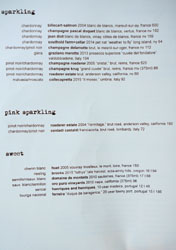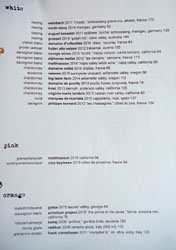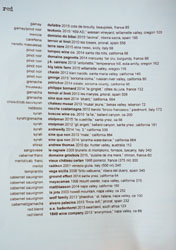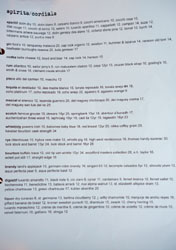 As for the new menu, it's now broken up more traditionally into sections for starters, sides, and mains. Drink-wise, the cocktail list still has the same, minimalist bent to it. There are a handful of beers, as well as a wine list that feels right for the place. Corkage is a pretty reasonable $20 (waived for each bottle purchased off the list), with a limit of two. Click for larger versions.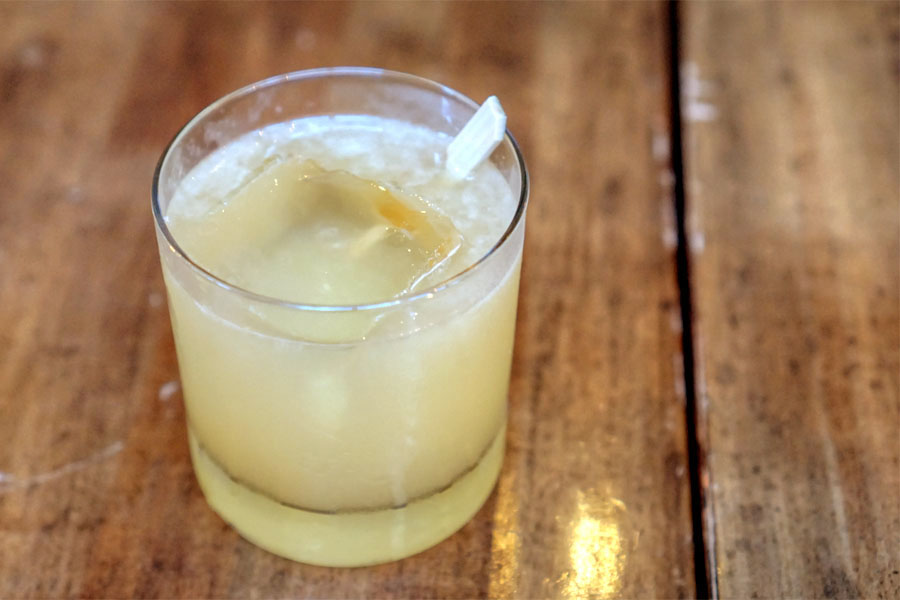 blended scotch [$15.00]
| honey, ginger, yuzu, lemon, islay spritz
We ended up working our way through most of the cocktails, and first was this riff on Sam Ross' iconic Penicillin. It smelled strongly of sweet honey, with just a tinge of citrus--very appealing. The taste showcased the tart, astringent qualities of ginger and lemon, backed by the booziness of the whisky, while the honey served to round out the flavors. One of my favorites of the night.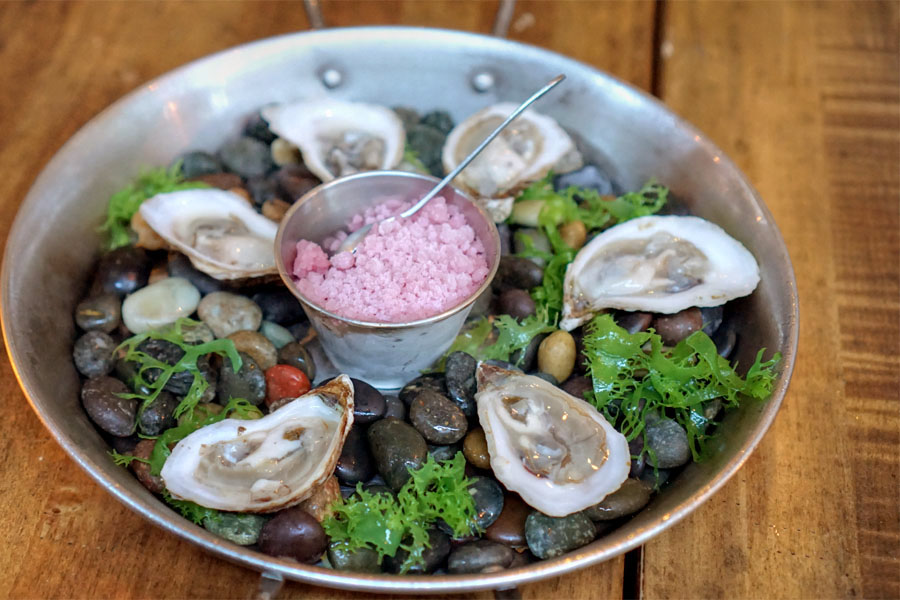 oysters [$19.00]
| mignonette ice, half dozen
Oysters were spot on, and paired in classic fashion with the mignonette. We're talking familiar flavors, but with a new texture and temperature. Be sure to nibble on the included seaweed, too.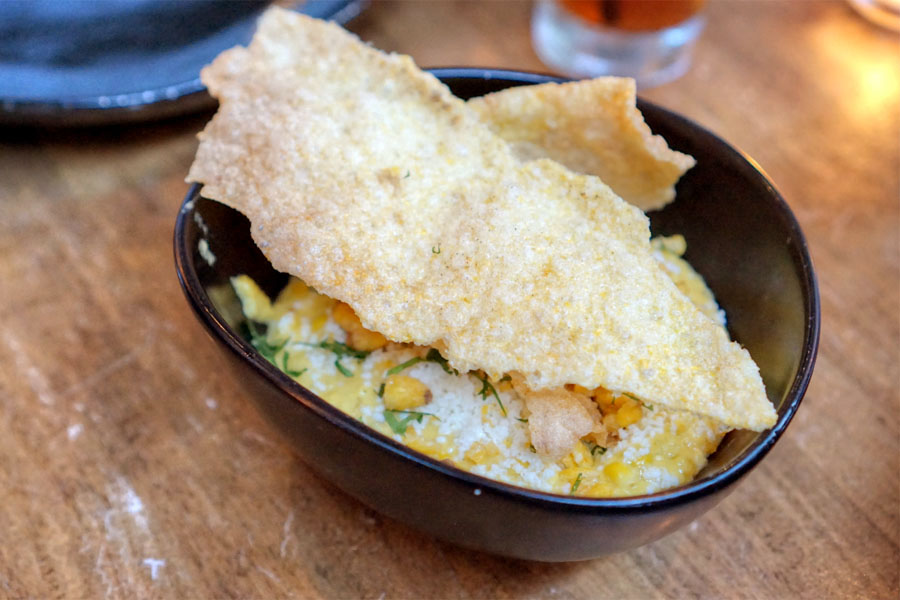 street corn [$12.00]
| cool ranch "foritos", cotija cheese
I often find corn too sweet, so I really appreciated how balanced this was. The corn's natural sugariness was there, sure, but was perfectly offset by the smoky and herby notes present. I loved the crunch of the toasted corn kernels as well, not to mention the additional fun of those "foritos." A favorite.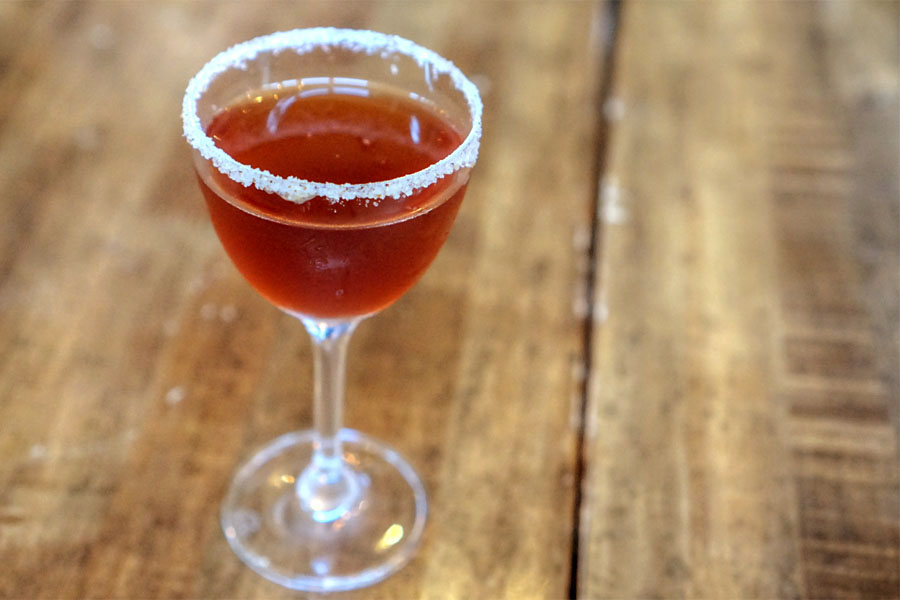 truffle manhattan [$18.00]
| bourbon, carpano antica, puerto fino, benedictine, bitters, laphroaig, truffle salt
Naturally, we had to sample this reimagining of the traditional Manhattan cocktail. I definitely got truffle in the aroma, along with a savory, almost "hammy" quality. Taste-wise, I detected lots of dark fruit, bitterness, and spice, which some of my dining companions felt was jarring when paired with the muskiness of the truffle.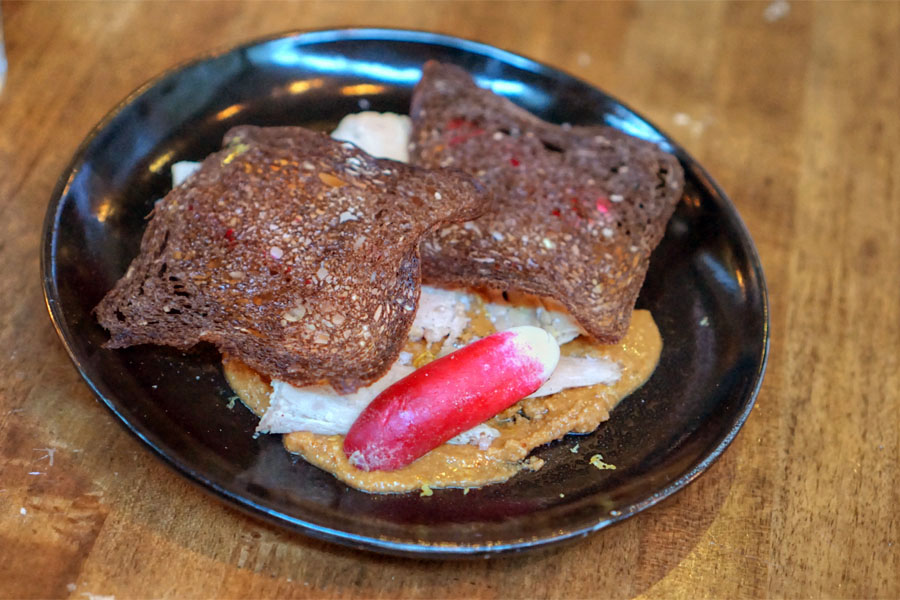 foie gras shavings [$22.00]
| hazelnut butter, radishes, smoked sea salt, pumpernickel
Our next course wasn't the prettiest to look at, but managed to be another standout. The nut butter had a very apparent sweetness to it (a fellow diner even recalled Ferrero Rocher), but it actually meshed seamlessly with the foie, while the radish provided an offsetting crunch and lightness. A sort of an unusual combination, but it really worked.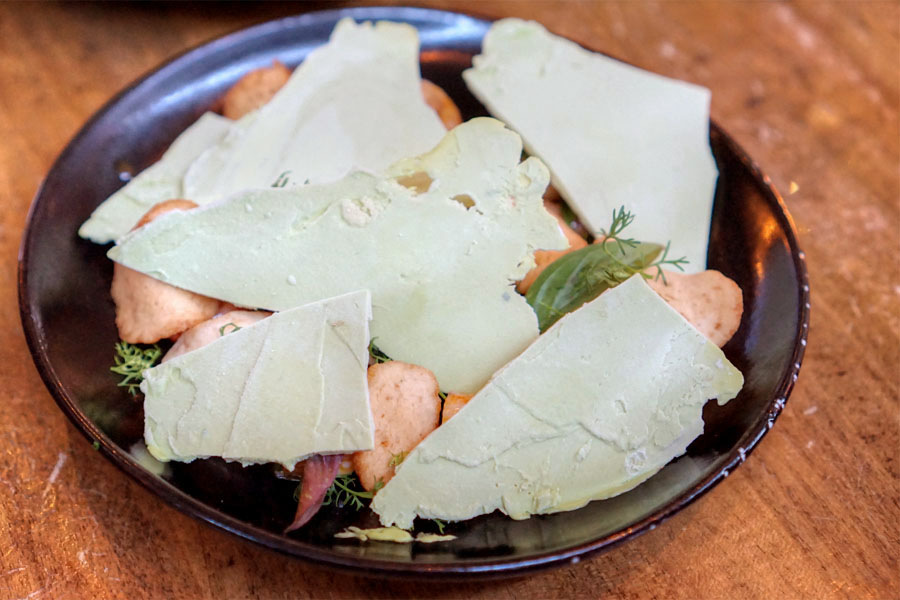 laughing bird shrimp [$14.00]
| avocado, shrimp crackers, escabeche dressing
Shrimp were fresh and clean, and seemingly extra sweet. They were tasty alone, but really sung when taken with all the bright, herbaceous, Southeast Asian-y flavors in the dish. I loved the crunch of the shrimp crackers, and got a very interesting moderating element from the cool, creamy shards of avocado, too.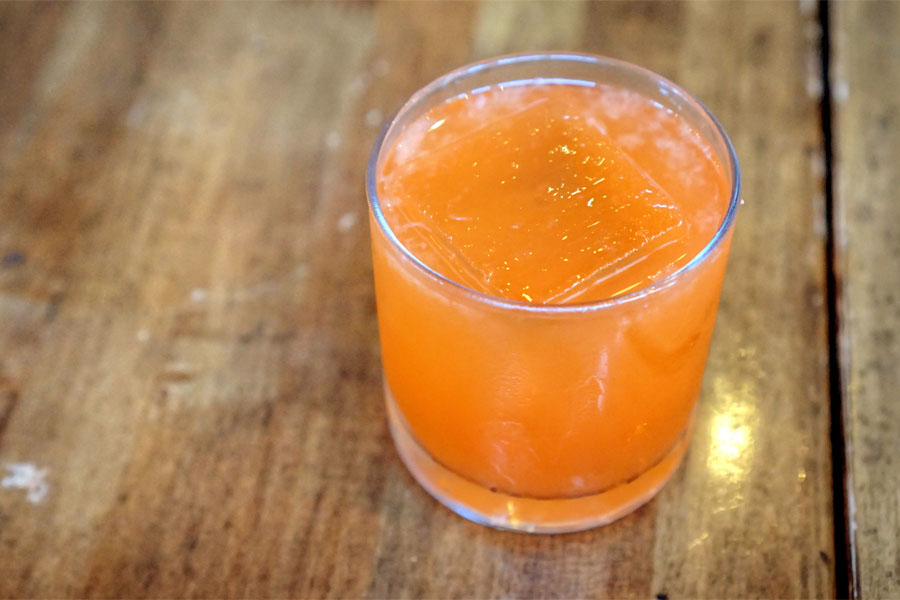 reposado [$15.00]
| ancho reyes, corn, red pepper, rosemary, lemon
This next cocktail was one of the most vibrantly orange I'd seen in a while. Interestingly, I got a somewhat savory, almost olive oil-like character on the nose. On the palate, you certainly had the woody nature of the tequila on display, along with vegetal notes from the corn and pepper, while the finish had a noticeable mintiness.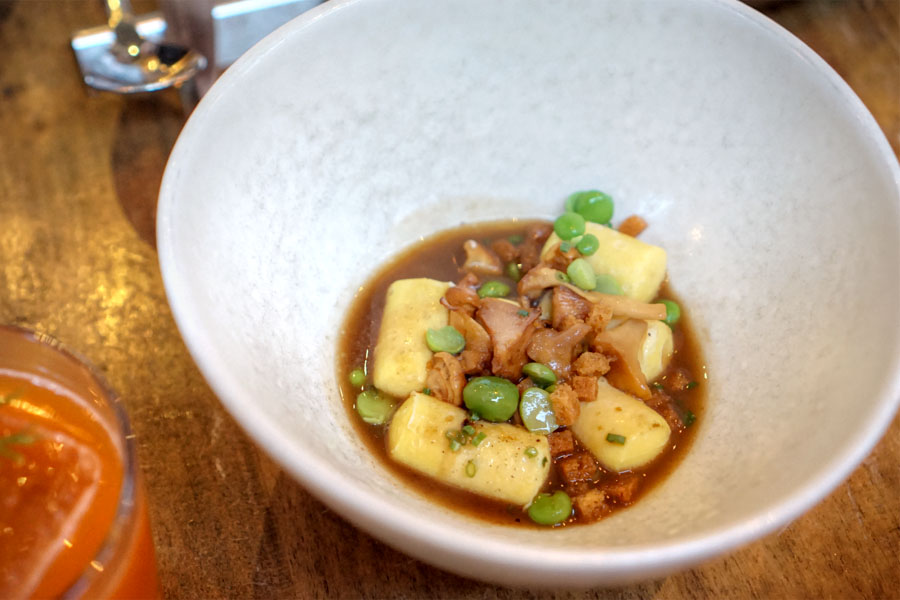 egg yolk gnocchi [$15.00]
| mushroom brown butter, chanterelles, peas, tiny croutons
Gnocchi were superb, and had a delightfully creamy "pop" to them. Perhaps even better? The back-and-forth between the peas and shrooms. I wanted a bigger bowl!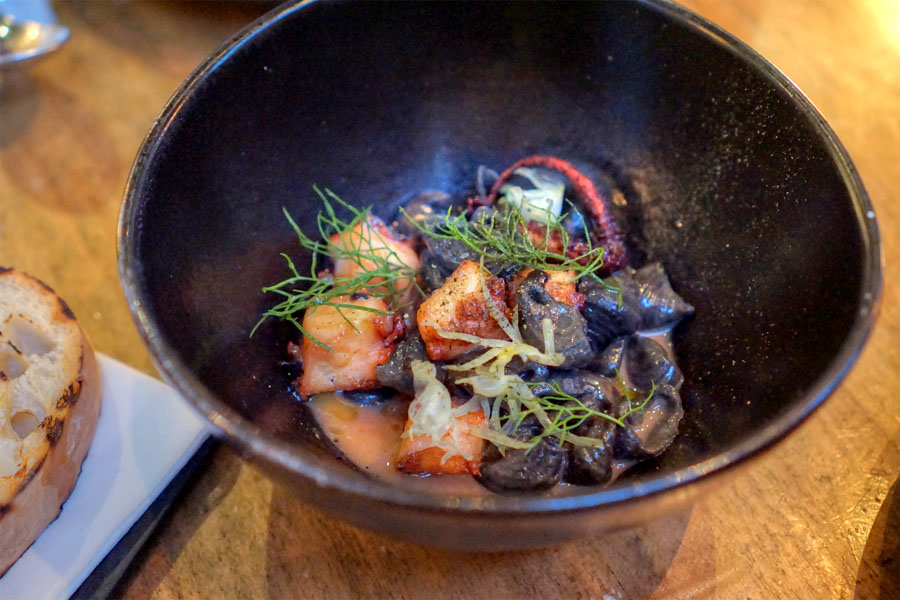 octopus [$23.00]
| ink.shells, young fennel, pimenton
I'm a sucker for octopus, and tonight it was another favorite. Texturally the octo was a combination of supple and chewy, while its flavors were simultaneously smoky and spicy. The pasta shells were a fitting accompaniment, and overall the dish just had a really deep, familiar, comforting quality.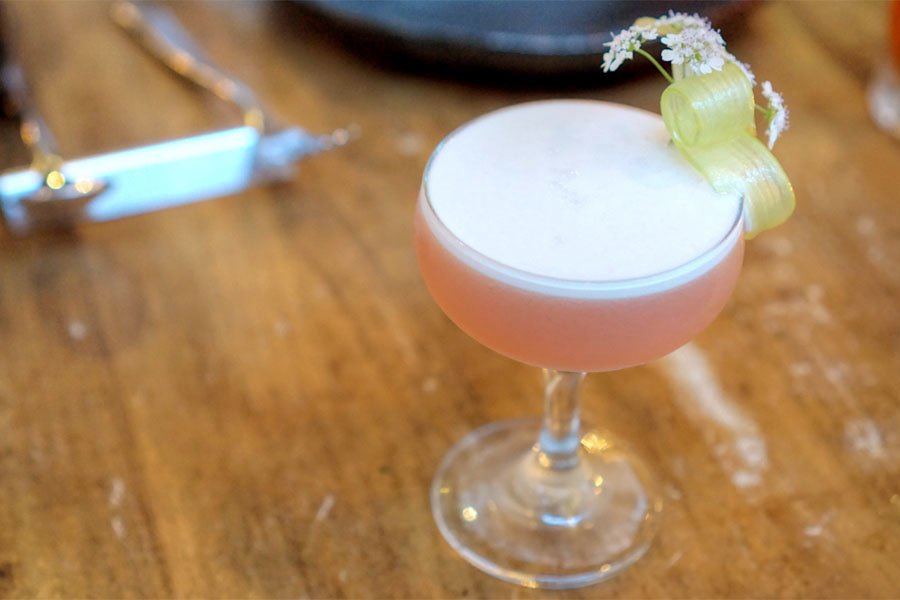 gin [$14.00]
| cilantro, rhubarb, verjus, egg white, lemon
Not much on the nose of this cocktail, just a touch of sweet herbaceousness. The palate, again, was very light, with subtle fruit and some vegetal flavors, and nary a trace of the gin. Easy-drinking for sure.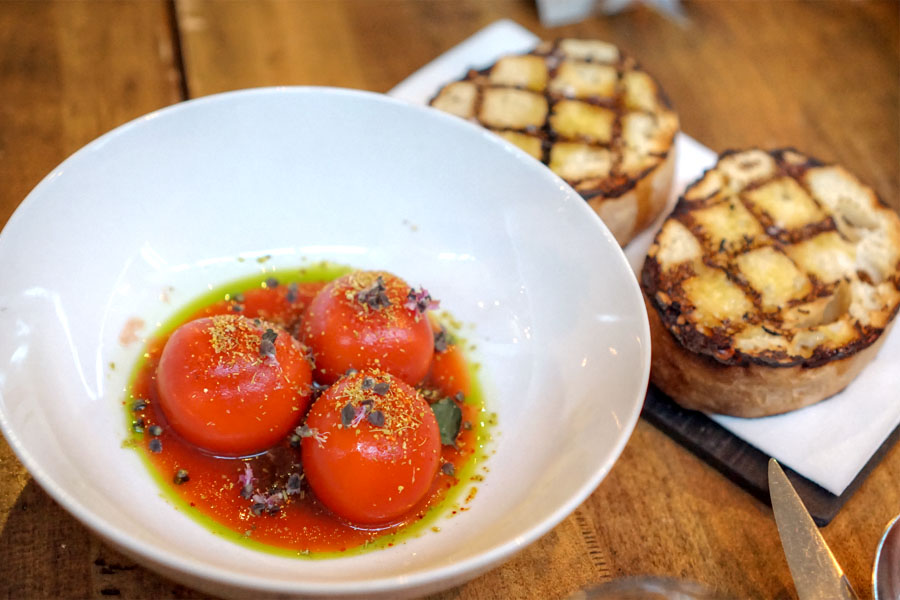 smoked mozzarella [$15.00]
| dressed up like a tomato, pomodoro sauce, grilled bread
Here was a playful take on the classic combination of tomato and mozzarella. I really liked its pepperiness, as well as the savory quality of the sauce, which really meshed with the relatively delicate flavors of the cheese. Great with the smoky, charred bread on the side.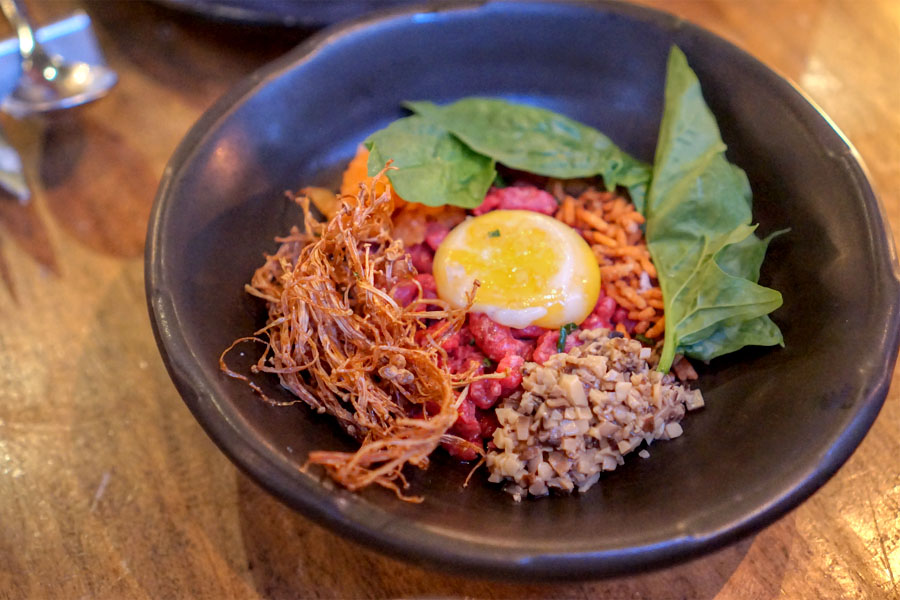 beef tartare [$17.00]
| bibimbap, crispy rice, tofu dressing
A
bibimbap
-inspired tartar was definitely to my liking as well. I just got some super deep, savory flavors here, brightened up by the basil while the lushness of that egg bound it all together. Excellent crispy bits to boot.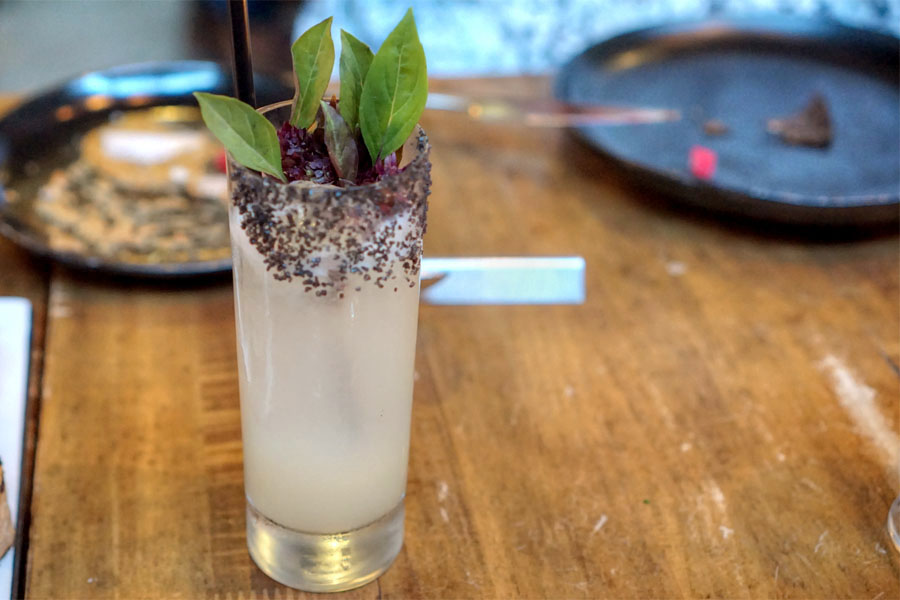 tequila [$14.00]
| basil, grapefruit, smoked syrup, lime, black lava salt
A refreshing, vaguely margarita-like cocktail certainly went down easy, though it had some minty, anise-y notes that made it just interesting enough.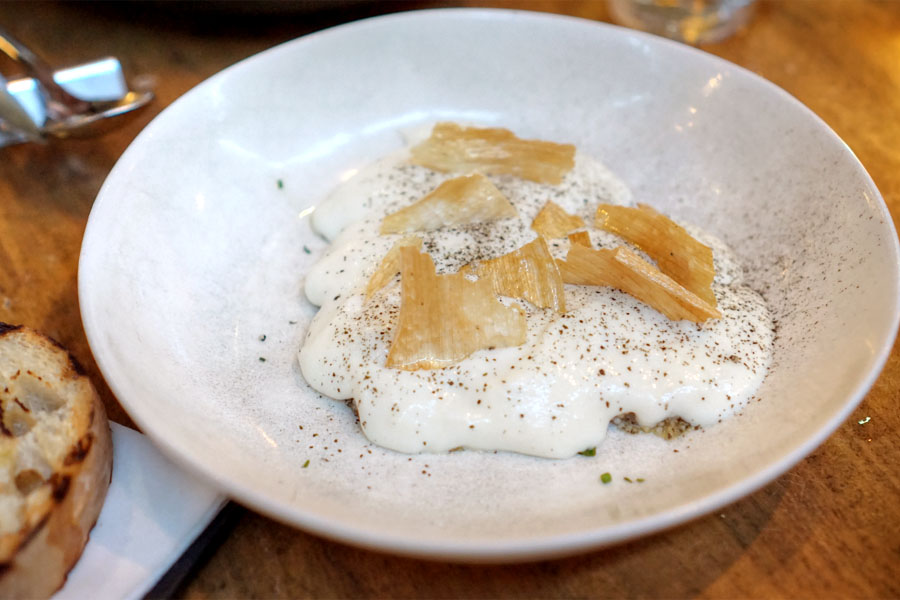 hamachi [$18.00]
| vichyssoise, leeks, crispy rice pearls
The onion-y flavors of Vichyssoise were definitely at the forefront in this dish. Actually, the fish was a bit lost in there as a result, those its fattiness and brine did creep in on the finish.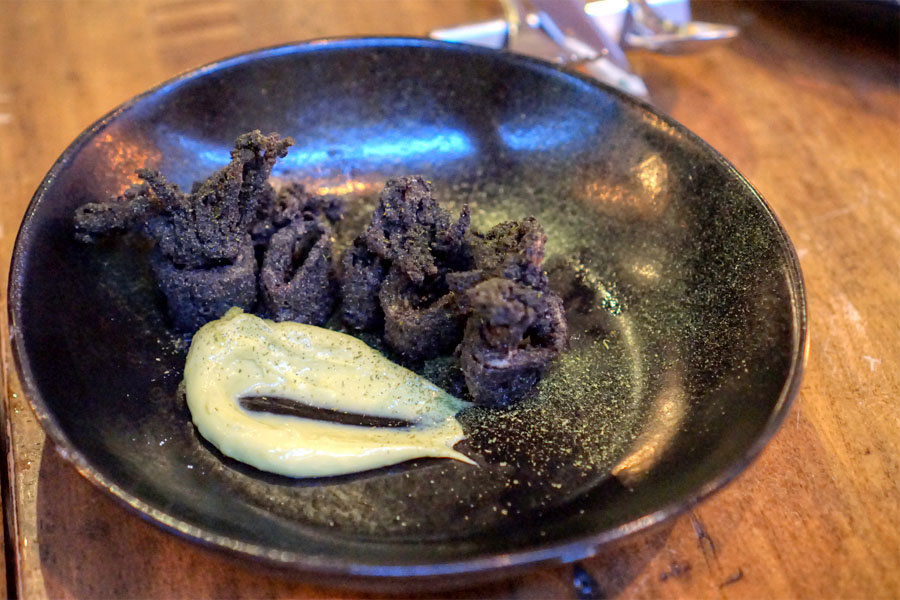 fried calamari [$16.00]
| masa-potato crust, curry emulsion
The calamari was pretty much flawless with its light, gritty crust, and tender-but-snappy insides, and I was a fan of the zippy flavors of the accompanying sauce as well. One of the strongest preparations of fried squid I've had for sure.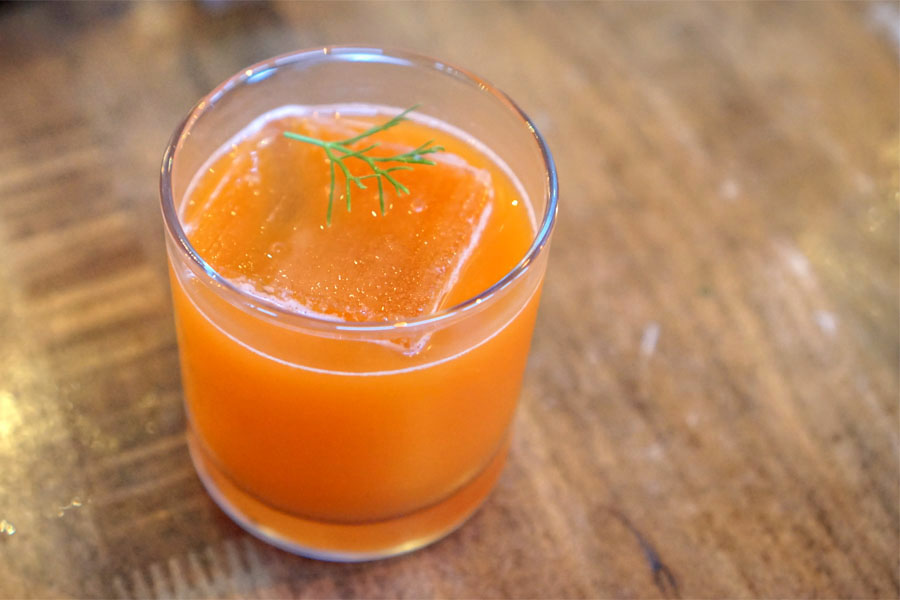 fernet [$14.00]
| passion fruit, elderflower, luxardo aperitivo, vodka, lemon
Our final cocktail showed off a nose brimming with sweet-tart passion fruit. On the palate, again more in-your-face fruit and sweet elderflower, along with a subtle herbal element. Very nice.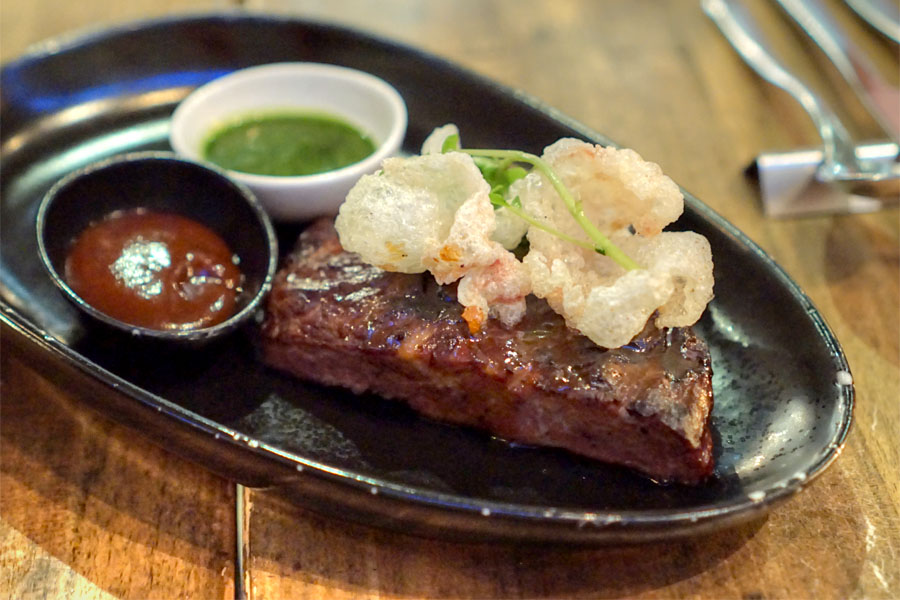 short rib 8oz. [$39.00]
| dry aged 10-14 days
The first of our mains, the Flannery California Reserve Holstein short rib was a standout: super tender and richly flavored, with a great char and crust. Even better with a dab of that sea bean chimichurri.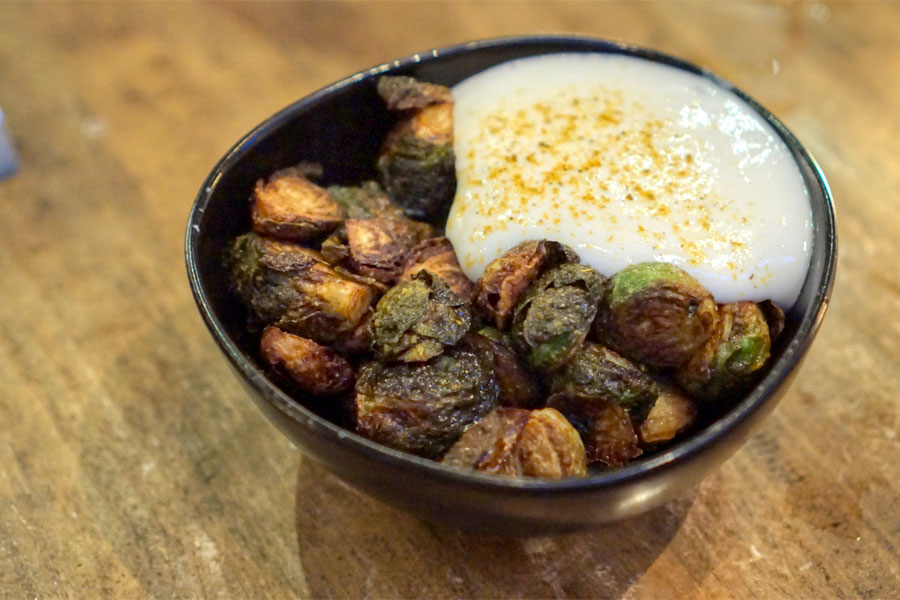 brussels sprouts [$12.00]
| cider vinegar, whipped gruyere-aligot
Brussels were particularly bitter, and had a funk to 'em that linked up nicely with the cheesy potatoes. I even got what I felt was horseradish in there.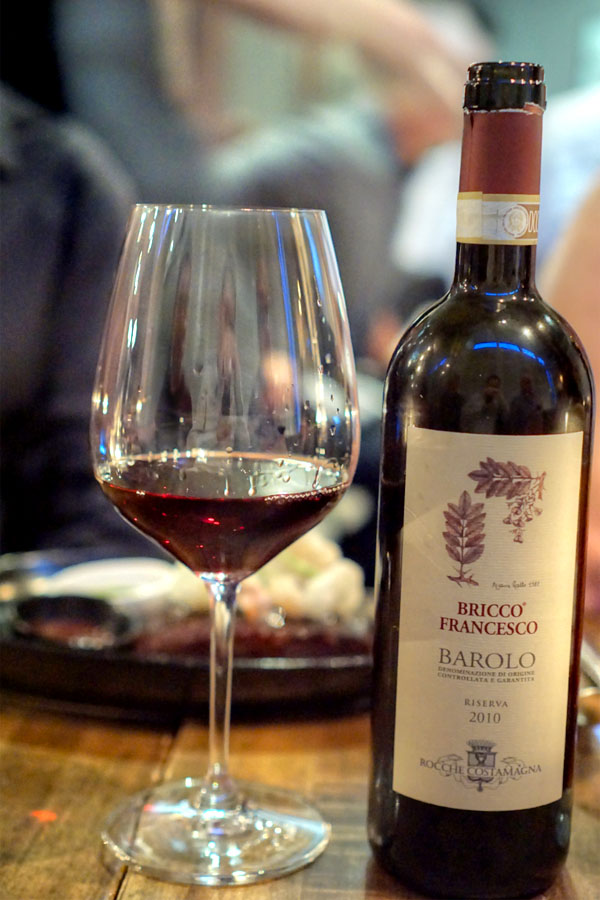 We decided to move on from the cocktails and into wine, specifically a bottle of the
nebbiolo, rocche costamagna 2010 barolo "bricco francesco," piedmont, italy [$173]
that I quite enjoyed. Heady aromas rife with rich strawberry and flowers. On the palate, again more floral elements and light spice in a smooth, soft, lively package.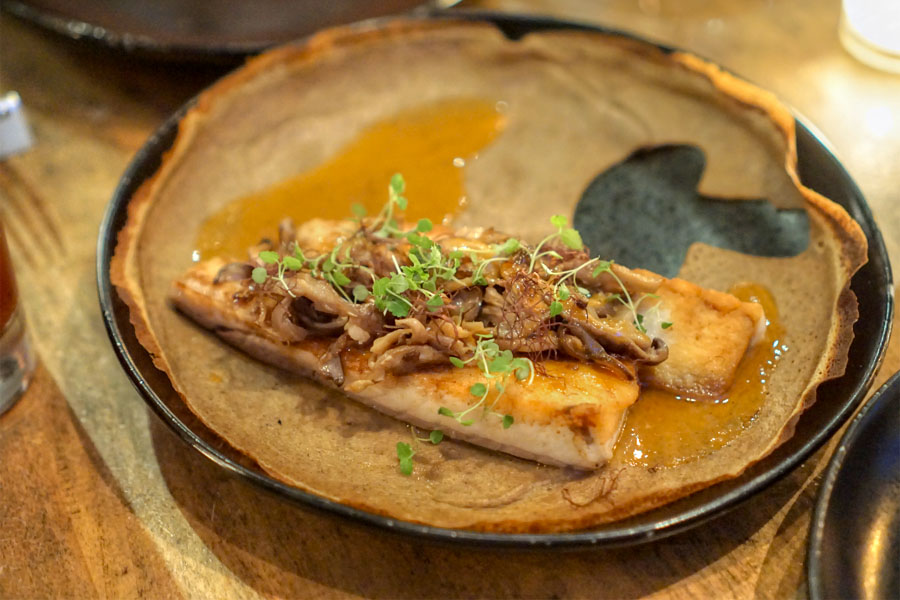 baja sea bass [$32.00]
| uni butter, mushroom pancake
Sea bass was well cooked, arriving to the table soft, moist, and with a proper amount of salinity. What was interesting was the sea urchin butter, which had an almost blue cheese-like funkiness that surprised me. I'm not quite sure if the combination quite worked though, and the mushroom pancake, I will say, seemed a bit out of place as well.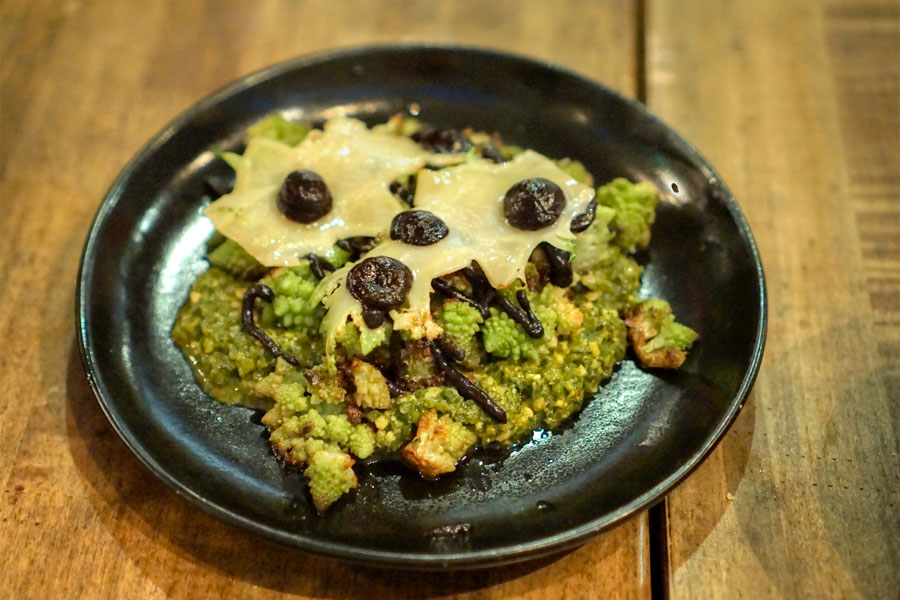 romanesco broccoli [$11.00]
| romesco, black garlic, lemon
Romanesco was overpowered by the sour, smoky, bitter, almost BBQ-esque flavors of its accoutrements. In addition, I wanted bigger pieces of the vegetable, which would've made for a more texturally satisfying dish.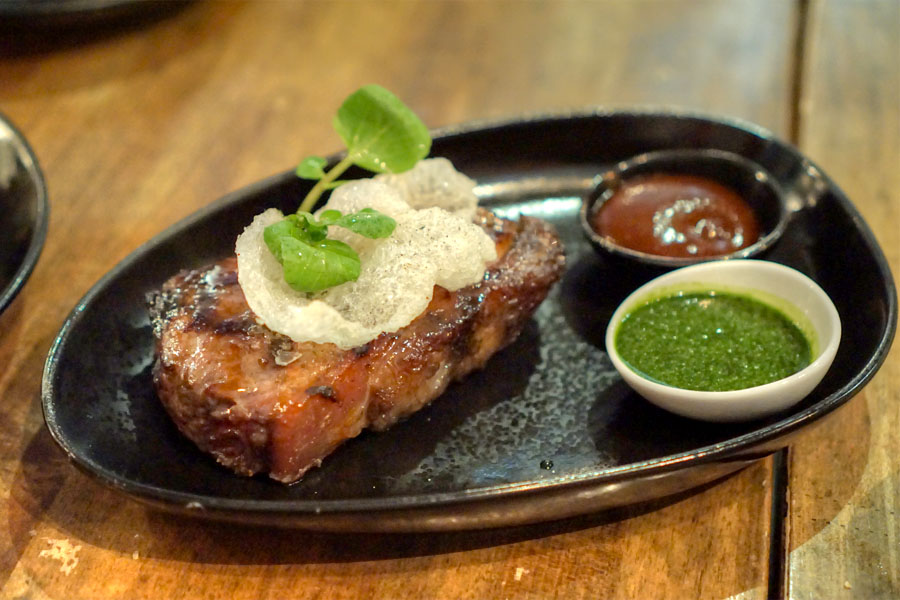 new york strip 12oz. [$62.00]
| dry aged 24-36 days
Our strip steak was juicy, tender, and ate quite well, though I would've liked more aggressive seasoning.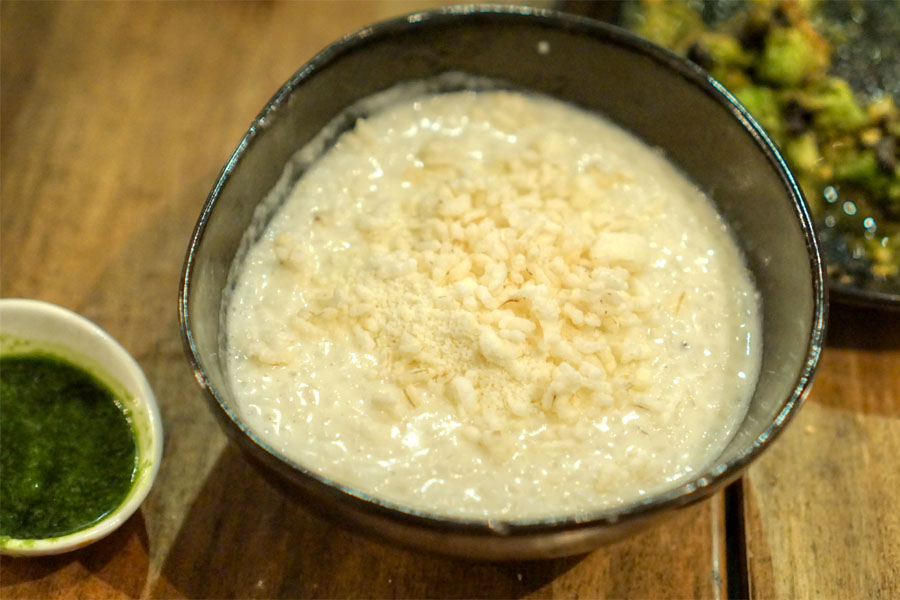 carolina gold rice [$12.00]
| local milk, freeze-dried fiscalini cheddar cheese
Carolina gold rice made for a somewhat rice pudding-like side dish. I found it super cheesy, with a very pronounced lactic sweetness.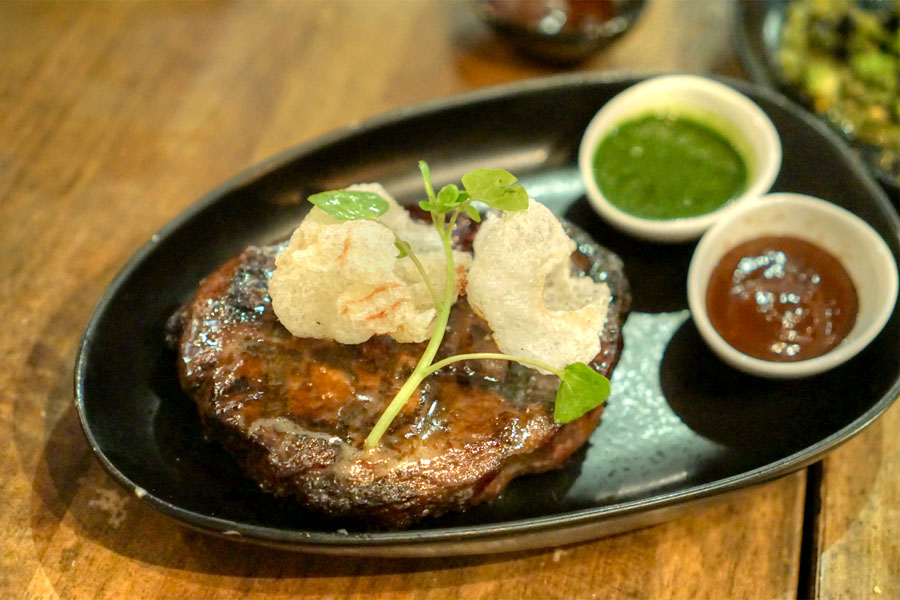 rib eye 14oz. [$60.00]
| dry aged 24-36 days
The ribeye had some nicely integrated marbling, and was certainly fuller-flavored compared to the preceding New York. I also liked the contrast provided by the healthy amount of char present. Yum.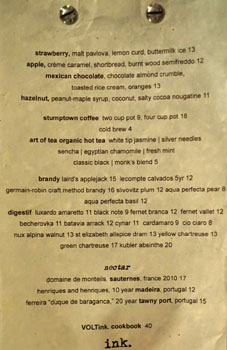 Above we have the dessert and after-dinner drink menu. Do note that there currently isn't a proper pastry chef in place, though the restaurant seems to be getting by just fine without one. Click for a larger version.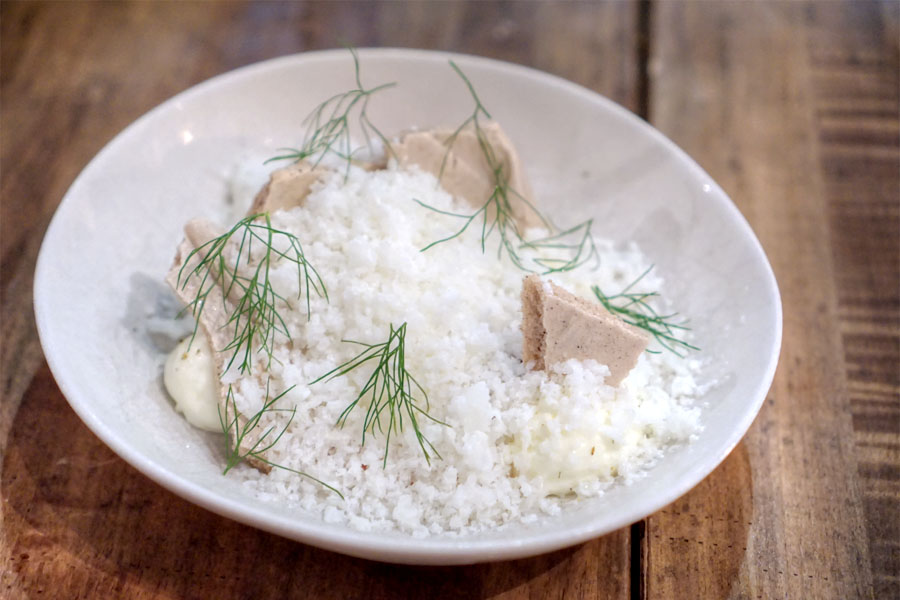 strawberry [$13.00]
| malt pavlova, lemon curd, buttermilk ice
We ended up getting all four desserts available. The first featured super jammy strawberry at the bottom, which combined beautifully with the sour curd and lactic character of the granita, all while the meringues imparted a sort of butteriness to the mix.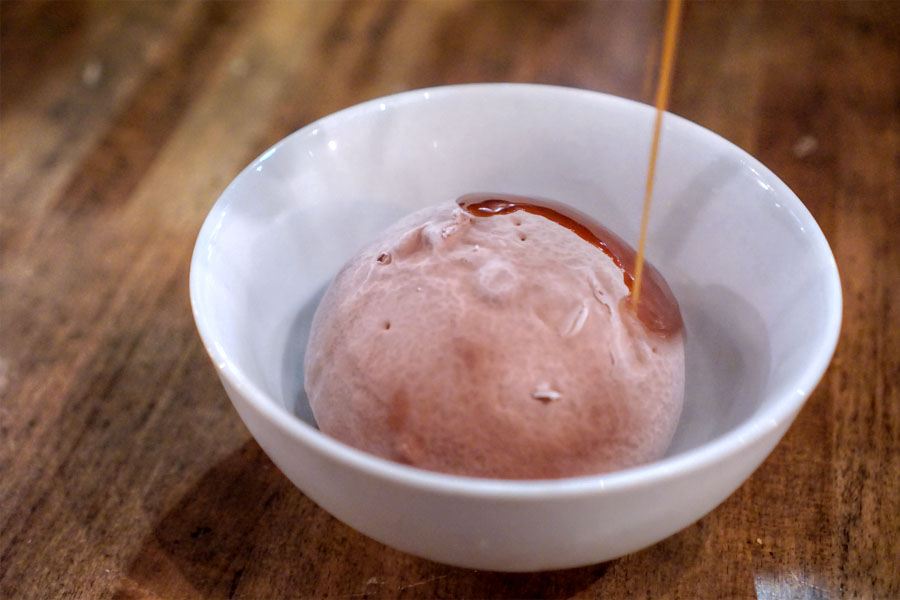 hazelnut [$11.00]
| peanut-maple syrup, coconut, salty cocoa nougatine
Here, familiar flavors of chocolate and hazelnut were presented in an unfamiliar form. Think sweet and nutty, with an excellent counterpoint from the incorporation of coconut. Nice minty accent, too.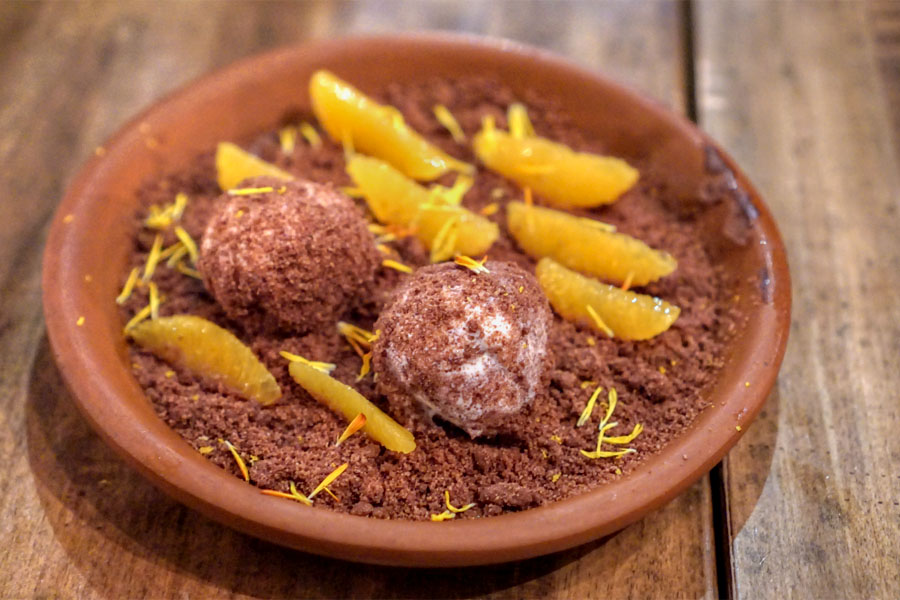 mexican chocolate [$13.00]
| chocolate almond crumble, toasted rice cream, oranges
I found boatloads of sweet, warm spice in this next dessert, which made for a great pairing with the coolness of the rice cream while oranges contributed a juicy brightness.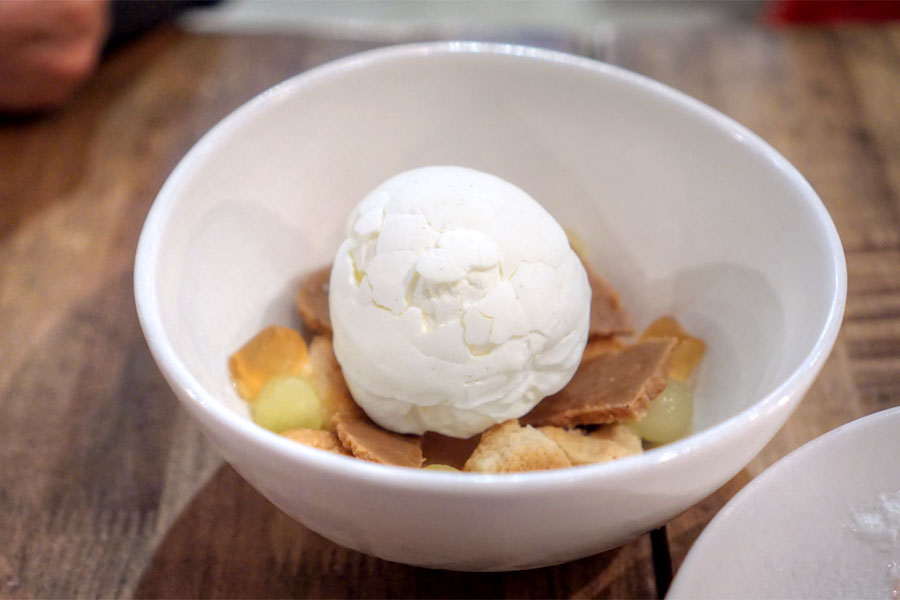 apple [$12.00]
| crème caramel, shortbread, burnt wood semifreddo
Last up was the restaurant's signature dessert, which has been on the menu since the very beginning. It was as tasty as I remembered, the classic combination of apple and caramel working alongside the semifreddo and crumbly shortbread in delicious fashion.
Perhaps turning ink into a more widely-appealing concept makes sense given Voltaggio's desire to open a more intimate tasting menu spot in the old Gorge space (I assume that's still happening). At the minimum, it gives the nearly five-year-old restaurant a bit of a refresh, a reason for a revisit. The food worked for the most part, and by and large seems a touch more confident, more mature, but still retains what made ink unique to begin with. It'll be interesting to see how the place evolves again in the future.