The Walker Inn (Los Angeles, CA) [4]
The Walker Inn Bar & Lounge at Hotel Normandie
3612 W 6th St, Los Angeles, CA 90005
213.263.2709
www.thewalkerinnla.com
Fri 06/30/2017, 07:55p-09:50p
The Walker Inn
's newest theme is entitled "A Day/A Night at Sea," a sort of nautical concept. It debuted at the start of June, and follows "Winter Citrus," which lasted about four months.
Guiding us through the tasting was Charlotte Porter, a relative newcomer to the bar who's been here for about two months. A SoCal native, she started out at Ballard Inn up near Santa Barbara in 2010 (while attending SBCC), then enrolled at the Culinary Institute of America in 2012. She externed at Momofuku Má Pêche during her tenure there, but upon graduating in 2015, decided to pursue a career behind the bar instead of cooking. She worked at both NoMad and Eleven Madison Park before moving back to LA near the start of 2017. Porter was joined tonight by proprietor Devon Tarby.


The new menu's shown above. Since we were at the bar, we had the full cocktail tasting, which was priced at $70 a head for seven courses. Click for larger versions.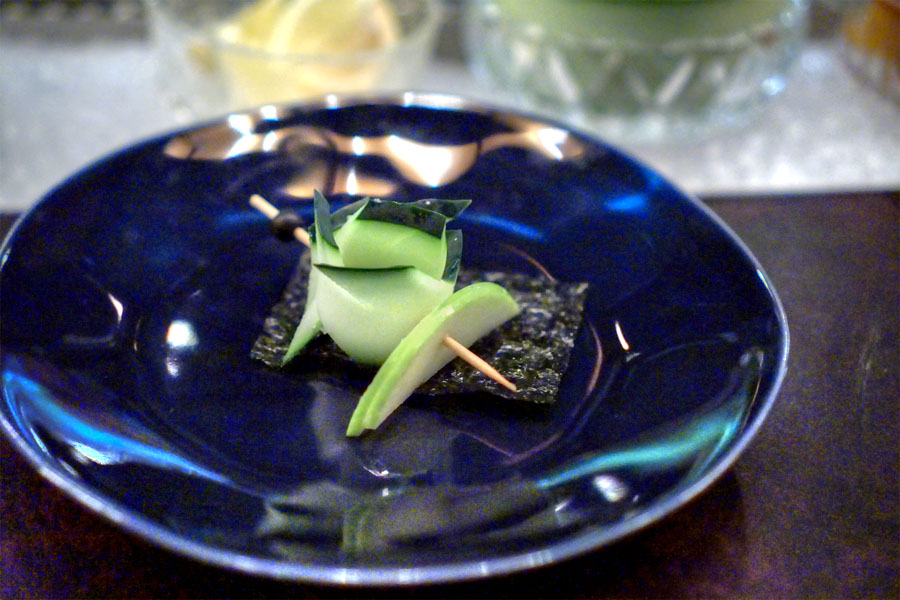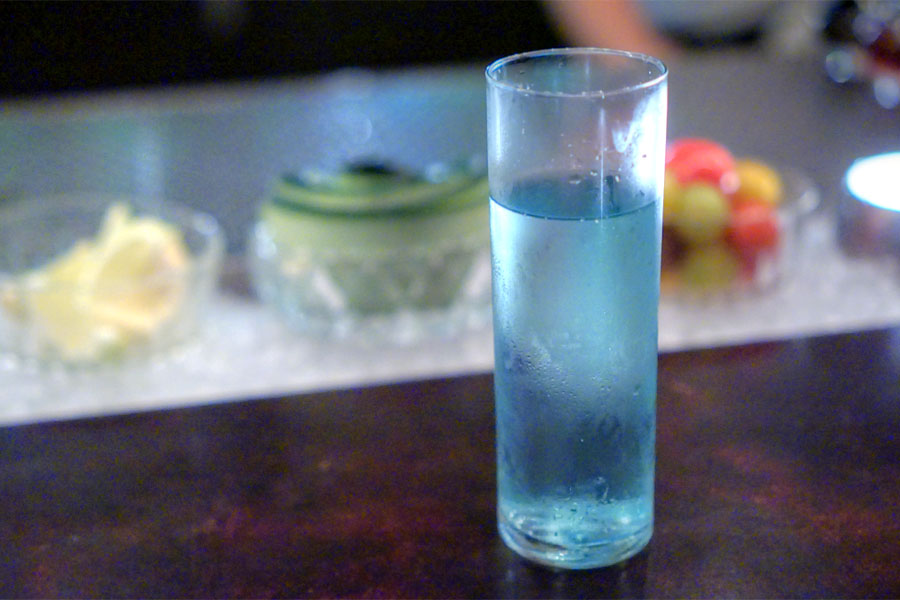 1: Rise at Dawn
| cucumber rhum, clarified lime, mint, fino, cool blue bubbles, pear, seaweed
We began with a cocktail designed to recall the cool, calm waters at dawn: a seaweed-infused pear brandy combined with a touch of fino sherry and a cucumber distillate, the whole thing carbonated. It was a memorable start to be sure. The nose displayed the savoriness of
nori
at first, backed by a green apple-type sweetness. The taste went in a similar direction, showing off sweet notes of pear and apple before finishing with a marked umami quality. Accompanying was a snack of apple, cucumber, and seaweed, designed to be eaten hand roll style. Taken along with the cocktail, it seemed to amplify the drink's inherent sweetness.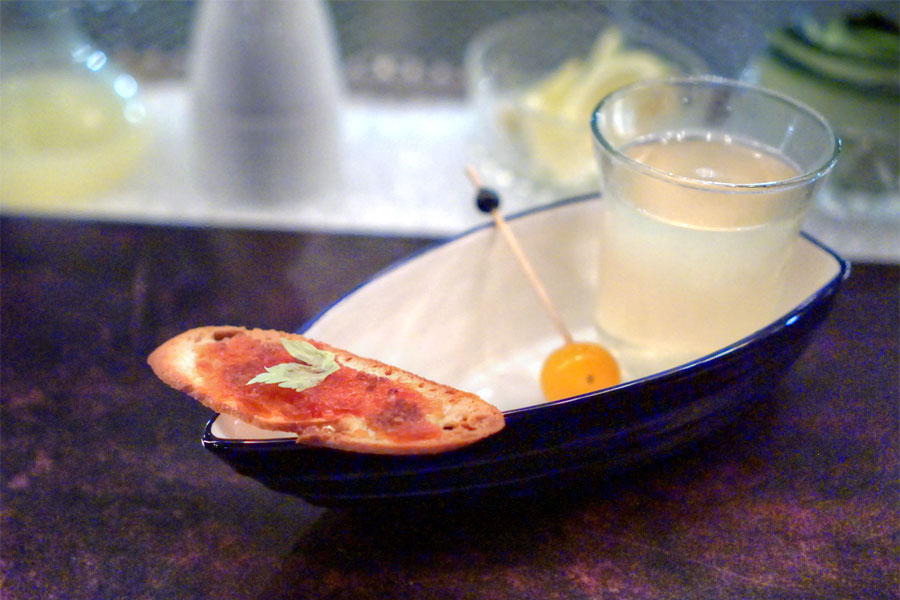 2: Pulling Anchor, Setting Sail
| clarified tomato, vodka, sherry, jalapeño, green herbs
Porter's favorite cocktail was a sort of liquid breakfast, to provide sustenance before hitting the open waters. A play on the Bloody Mary, it brought together clarified tomato juice, jalapeño-infused vodka, herbs, and a touch of salt. I'm generally not a fan of the classic cocktail, but quite enjoyed this. It had a lighter mouthfeel, a less overt tomato character, and was very well balanced, with a good mix of tart, savory, spicy, and nutty nuances that was surprisingly refreshing. On the side was a tangy, acidic pickled cherry tomato, as well as a crostino with olive oil and a sugary tomato jam made from the solids of the aforementioned tomato juice.
One of my drinking companions brought along a snack of Korean crab chips (in three flavors) from producer Binggrae. We made sure to share with our bartenders, of course.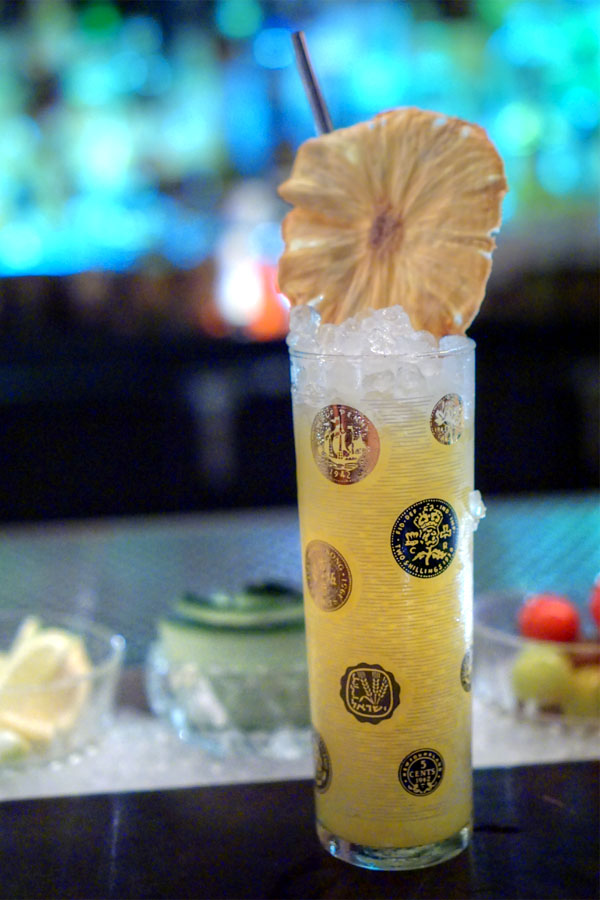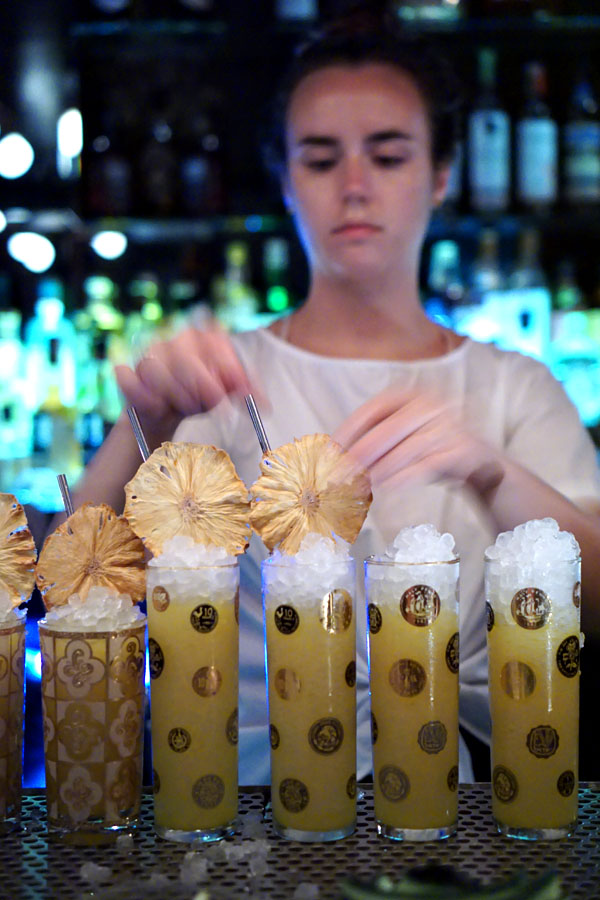 3: High Noon
| turmeric tequila, lillet, passionfruit, pineapple, ginger, suze
Next was a cocktail designed to cool you down come noon. It combined a turmeric-infused tequila with passion fruit, Suze gentian, and a tinge of Lillet Blanc, while garnish duties were handled by a dehydrated pineapple chip. This one was as advertised, delivering rich, sweet-tart pineapple and passion fruit flavors with nary any booze and just a whisper of bitterness.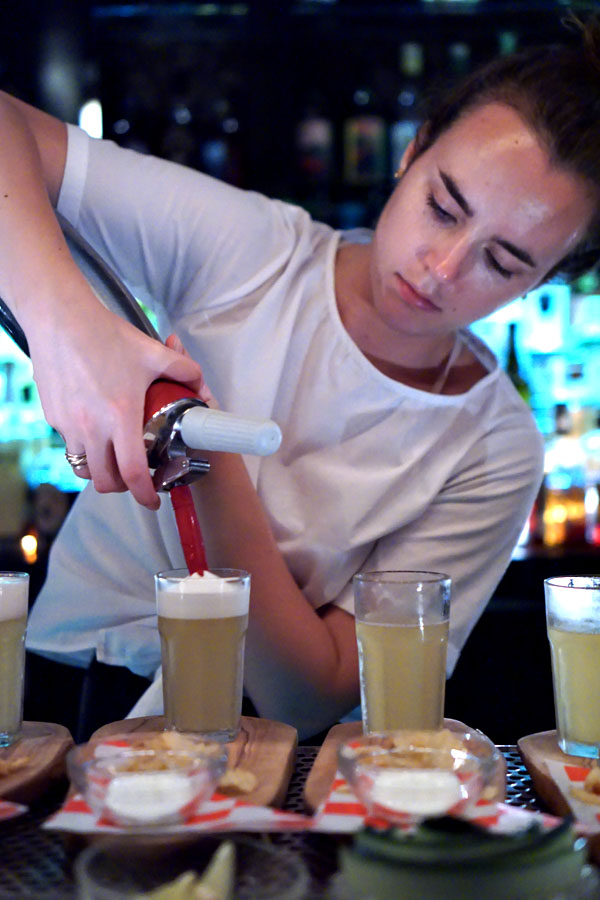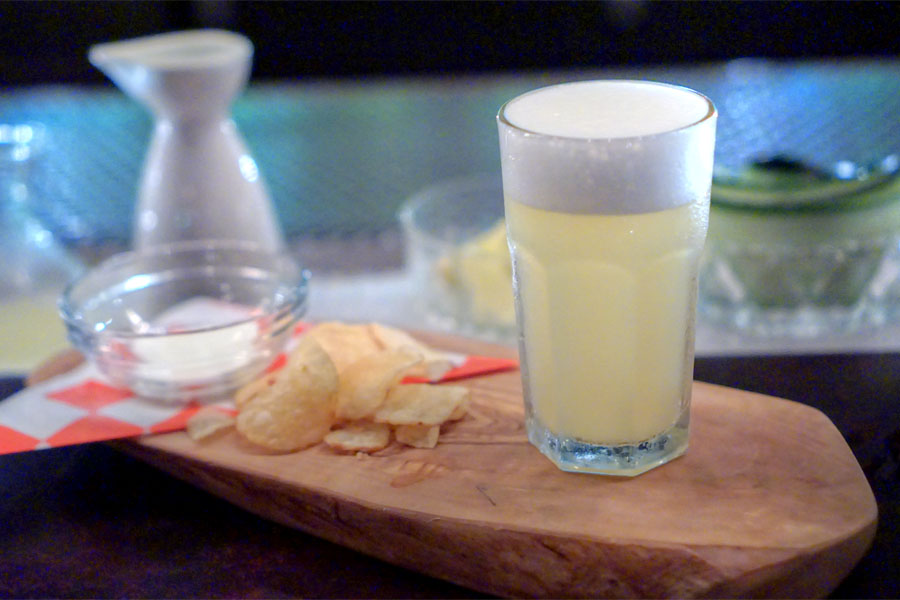 4: Lunch on Deck
| hopped grapefruit "radler", served with potato chips, crème fraiche & chives
While fishing, often times a beer and a snack are called for, hence this next cocktail. It was a mix of an American cider and a French
cidre
, along with a grapefruit cordial and clarified grapefruit juice, topped with a foam of egg white, lemon, and more grapefruit. I found it a refreshing drink with a good mix of sweet apple and sour citrus, backed by just a smidgen of barnyard. The chips, meanwhile, were on point, and tasted like fancy "sour cream and onion" when combined with the dip. Lovely.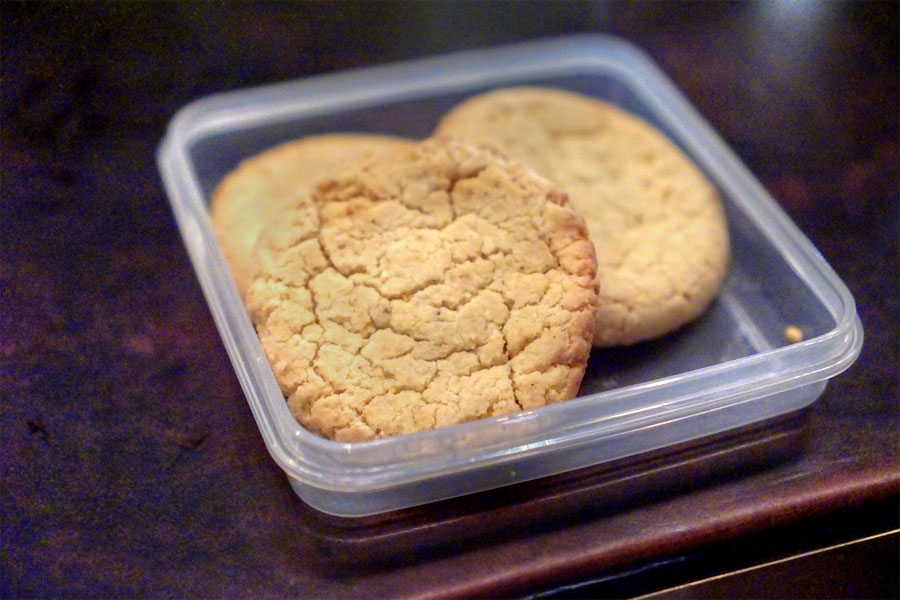 Another drinking companion brought along some homemade Momofuku Milk Bar corn cookies, which we also made sure to share.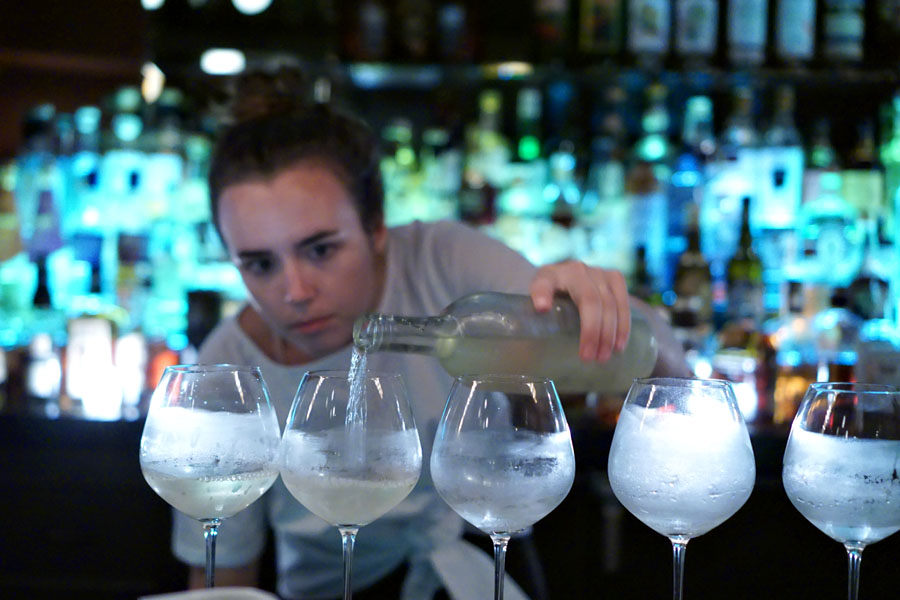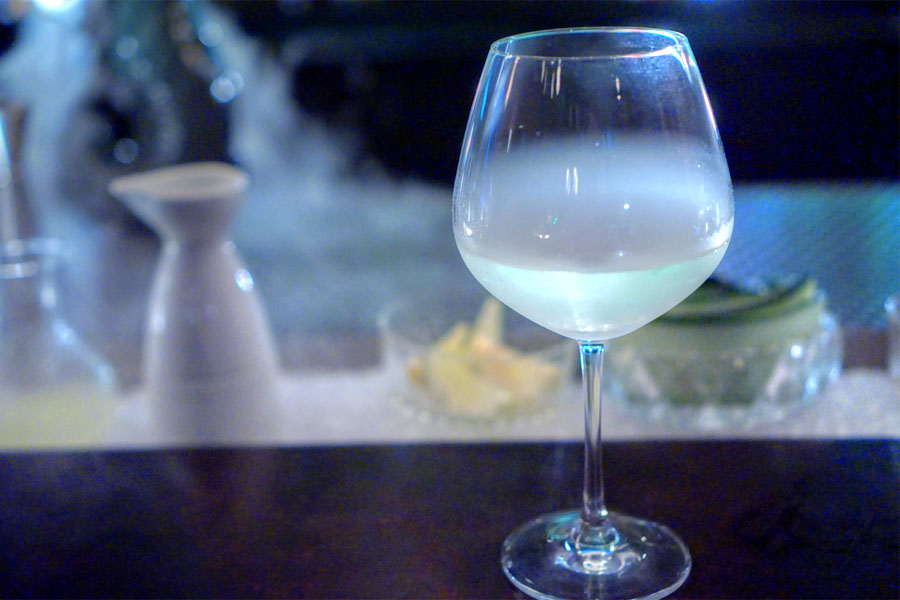 5: Evening Fog
| green apple vinho verde, salty smoke, eucalyptus, frizzante
This cocktail went in a more contemplative direction. The Vinho Verde gave it a light, refreshing, fruity, floral nature, but layered on top from the eucalyptus and matcha "smoke" were very piney, herbal, menthol-y traits. One of my drinking companions likened the experience to
baijiu
with its "odd sweetness," while another found it reminiscent of Tiger Balm.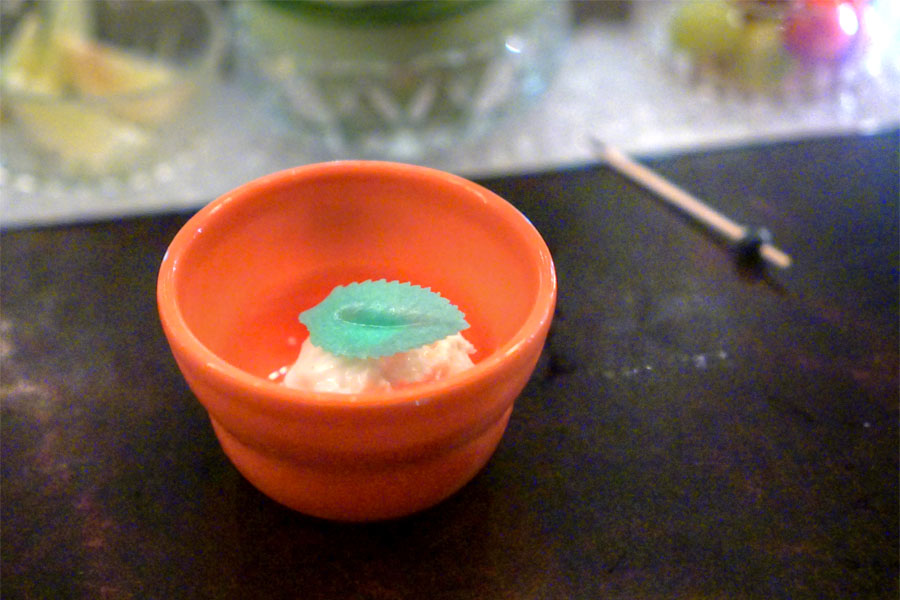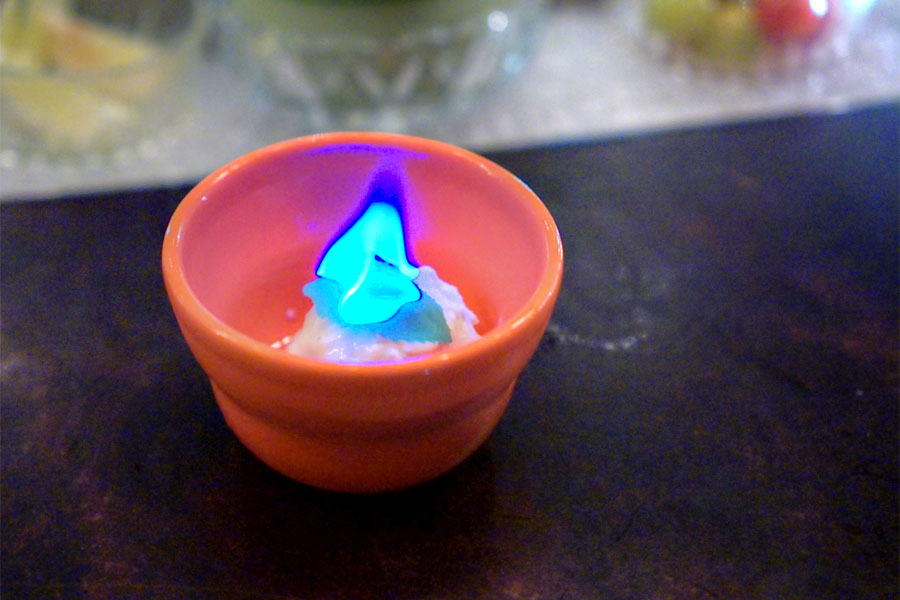 6: Green Flash
Here we had a palate cleanser inspired by the
green flashes
on the horizon that one sometimes encounters near sunset. It was a Midori-coconut-basil ice cream with an alcohol-soaked mint leaf that we were instructed to set on fire. The ice cream itself was superb, coming out creamy and sweet, with plenty of coconut and just a trace of booze. The leaf, meanwhile, had a sharp, tangy quality that was just bordering on acerbic.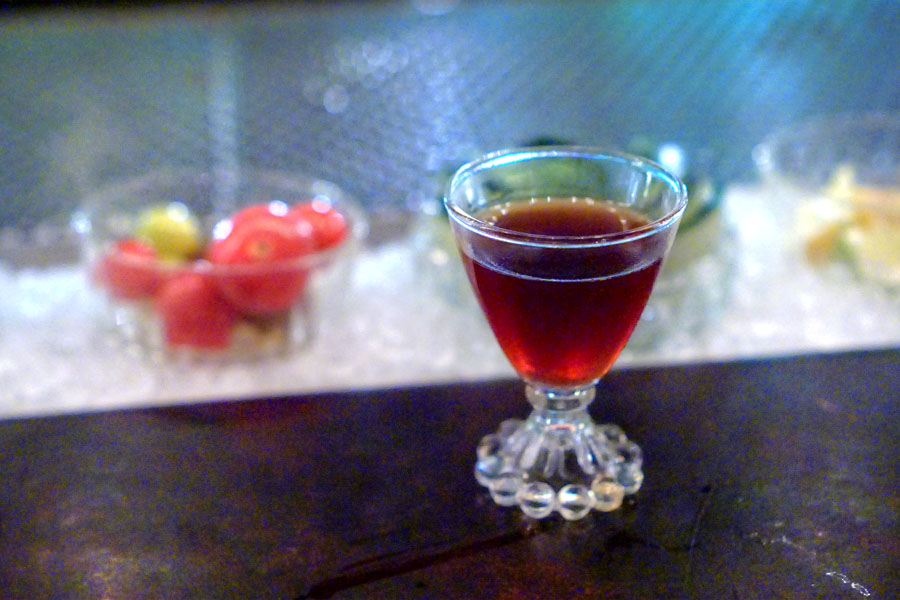 7: Stars & Moon
| rye, butterscotch genever, amaro, cacao, branca menta
We concluded with a cocktail meant to be sipped while looking out at the night sky. It was a Manhattan variation, and one of my favorite drinks of the evening. A spicy, dark fruit-filled base of Rittenhouse and butterscotch-infused genever worked wonders, and made for the perfect complement to the bittersweetness of the amaro and bright, minty flavors of the Branca Menta. A fitting close.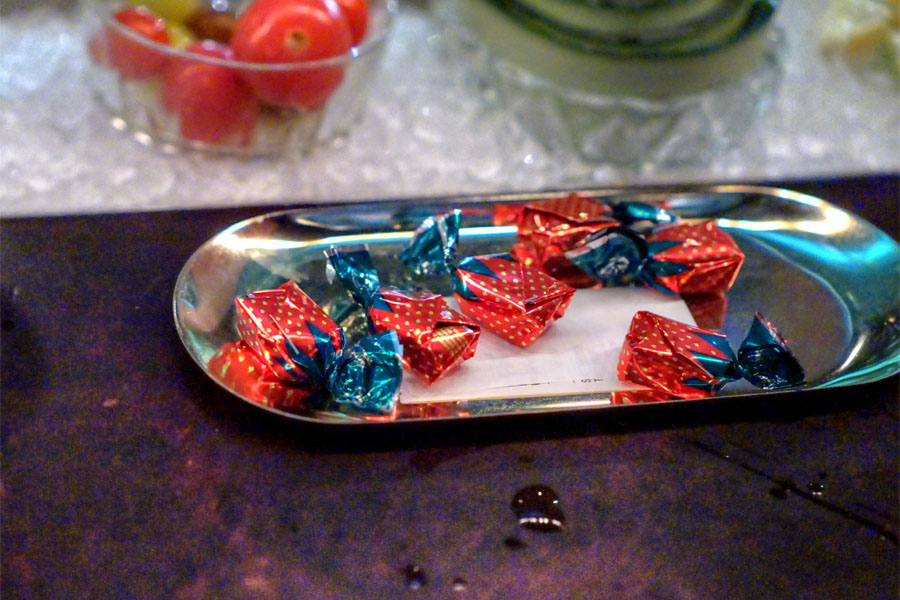 Old school strawberry candies accompanied the bill.
Not surprisingly, this was another fun, interesting, delicious menu from the folks at The Walker Inn. Porter looks to be a great addition to the team, and hopefully we'll be seeing more from her.
---
Prior to our cocktail experience, we made sure to fill our bellies at
Yup Dduk
LA (abbreviated from the full name of
Dongdaemun Yeobgitteogbokki
) across the street. The place opened in October 2015, and is the third US outpost of a Korean chain (420+ locations) of
tteokbokki
restaurants founded in 2002.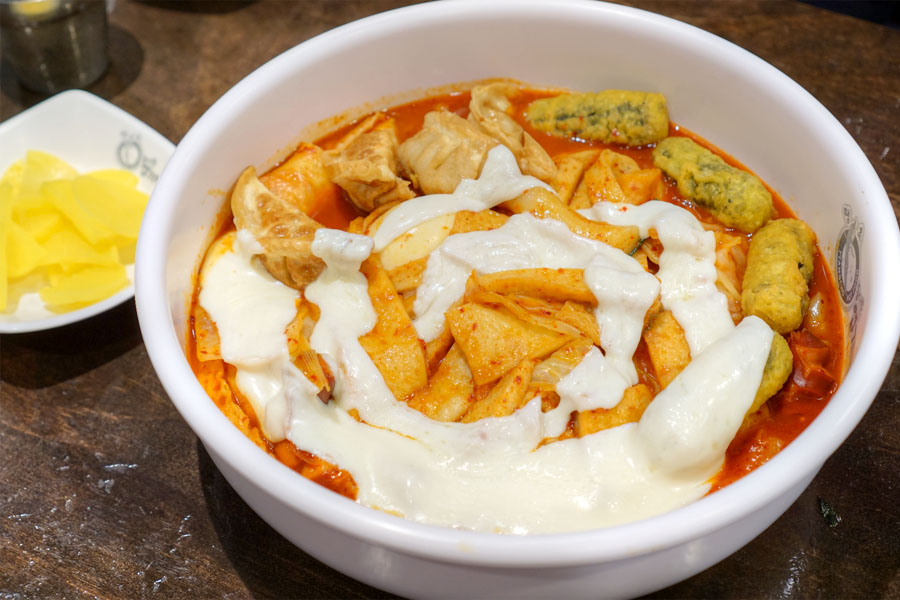 Yup O [$18.00 + $2.00 + $3.00 + $2.00 + $2.00]
| more fish-cake less rice-cake than the original + fried dumplings + fried seaweed rolls + boiled eggs + ramen noodles
We tend to prefer
eomuk
to rice cakes, and thus went for the Yup O, which is short for
Yeobgi Odeng
. The restaurant is known for its extreme heat levels, so we opted for the mildest variant. I found it sufficiently spicy, and it was just enough to make me glisten, with the
gochujang
always present, but never overpowering. The rice cakes themselves had the right amount of chew to 'em, and the fish cakes were exactly what you'd want: soft, slightly sweet, slightly briny. I also appreciated the textural variation provided by the
mandu
and
gimmari
we added, and the soft, runny eggs were excellent as well. Superbly balanced overall, and one of the tastiest preparations of
tteokbokki
(or
rabokki
) I've had.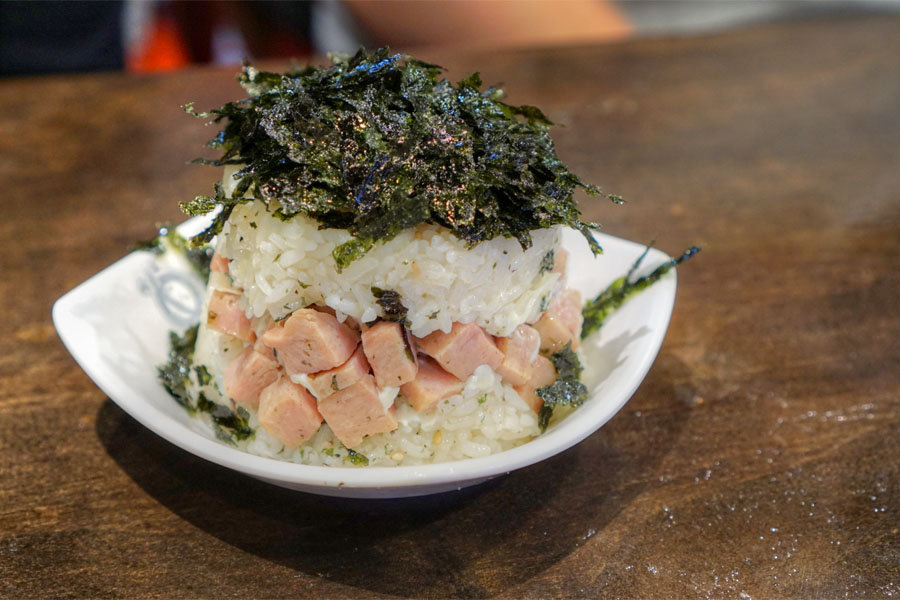 Jumbo Spam Mayo Rice Ball [$4.00]
In addition to the
danmuji
above, the jumbo
gimbap
also helped temper the heat, and was delicious on its own as well. I was a big fan of the creaminess of the mayo here and how that worked with the salty, savory cubes of Spam, all while the seaweed added the requisite umami notes. Very nice.