Kantaro Sushi (Torrance, CA)
Kantaro Sushi Restaurant
1542 W Carson St, Torrance, CA 90501
310.320.0200
www.facebook.com/pages/Kantaro-Sushi/116768978347286 (unofficial)
Sun 01/14/2018, 07:30p-09:30p

Kantaro's a spot that had never been on my sushi radar, and was only introduced to me recently by a friend. Situated in the corner of a strip mall that looks like it's been there forever, the restaurant was opened back in 1991 by Chef Tadashi "Kantaro" Oguma and his wife Erika, who handles the front-of-the-house. Reservations are strongly suggested, for dinner at least.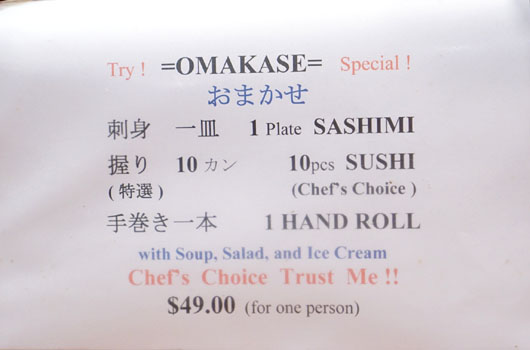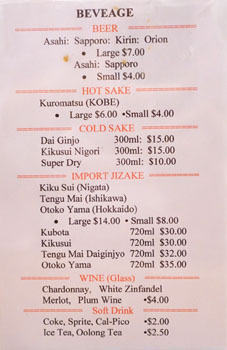 In the evenings, Kantaro is an omakase-only place (at the bar), and there's just one option priced at a reasonable $49 a head, though you'll find an à la carte sushi menu as well from which to supplement. To drink, just the basic beers, a few well-priced sakes, and wine you probably don't want. Click for larger versions.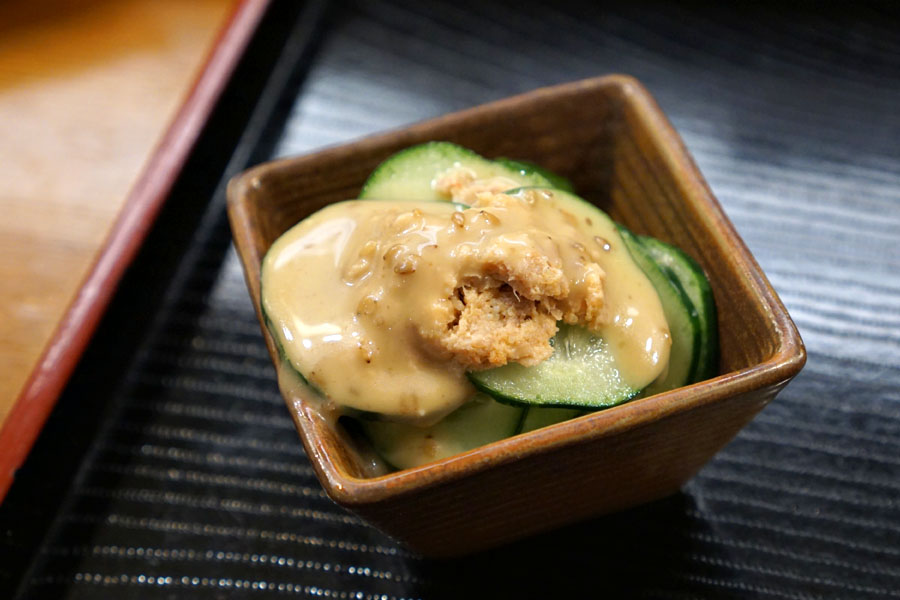 1a: Cucumber Salad
The first of two
sakizuke
consisted of sliced
kyuri
dressed with what appeared to be a sauce of cooked tuna and sesame. Think nutty and sweet and savory, all set against the brightness and crunch of the cucumbers.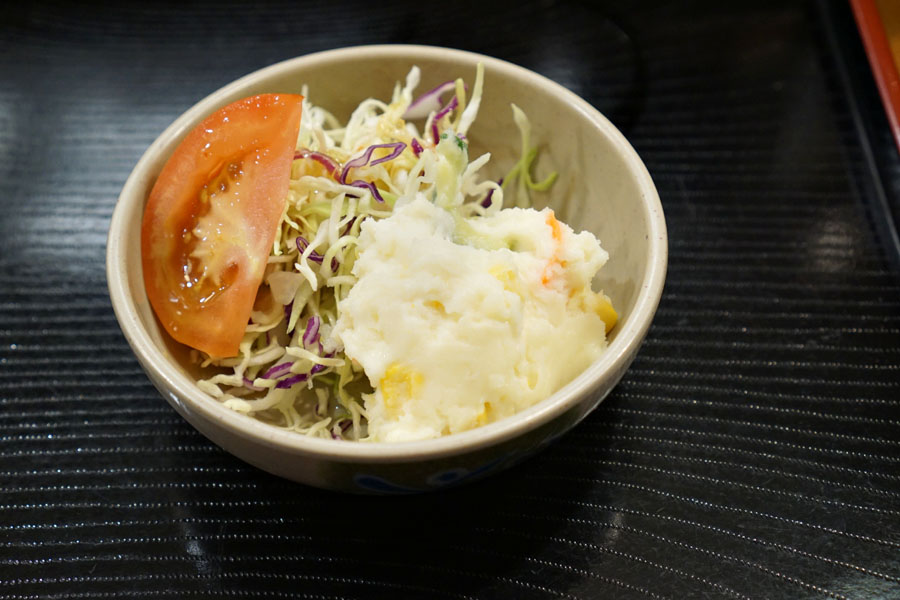 1b: Potato & Cabbage Salad
Our next appetizer married a creamy potato salad with a crunchy, tangy cabbage slaw.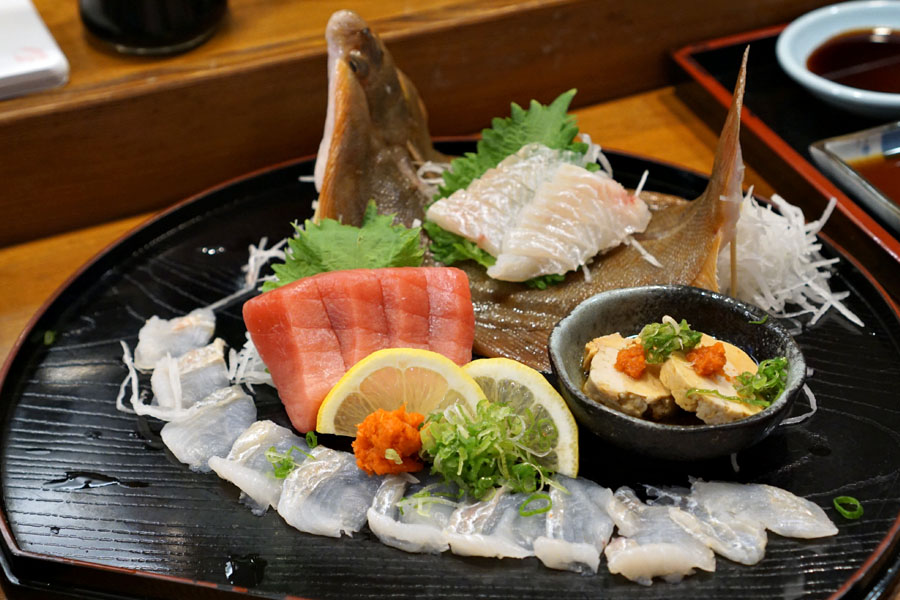 2: Sashimi
The star of our sashimi
moriawase
was black sole (
karei
I assume), a mild-tasting fish that really called for a dip of the included ponzu. Two different parts were provided, making for a contrast in texture. Also present were firm cuts of Hawaiian tuna that really sang with a dab of wasabi, as well as a classic preparation of
ankimo
(monkfish liver), replete with
momiji oroshi
and
negi
.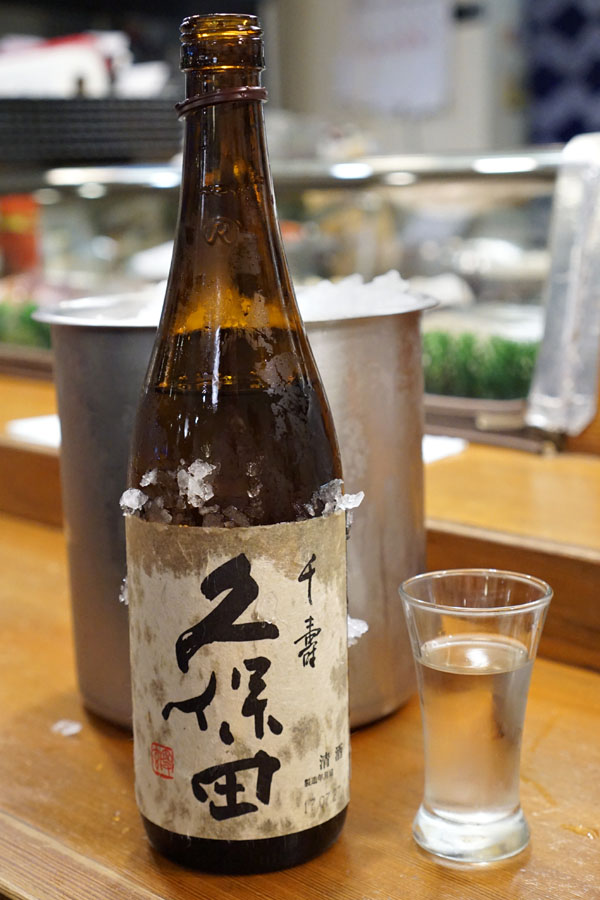 We opted for the
Kubota Senju [$30]
to go with our meal, a robust,
tokubetsu honjozo
-class, go-to sake of mine that generally pairs decently well with just about anything. Note also the low markup, as the bottle typically retails for around $25.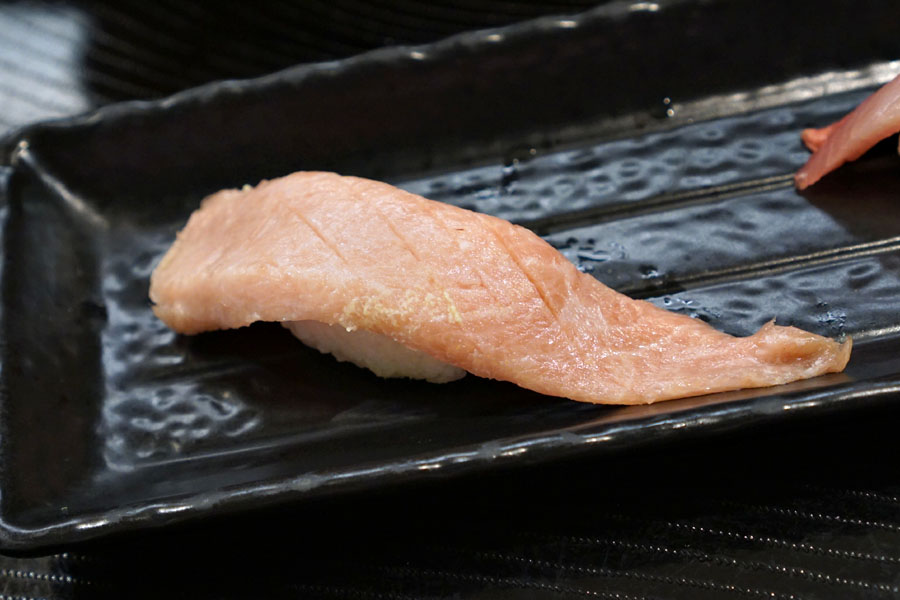 3a: Toro Tuna
The parade of
nigiri
began with Spanish tuna belly, a fatty, rich, oily, melt-in-your-mouth cut that was offset just enough by the included wasabi.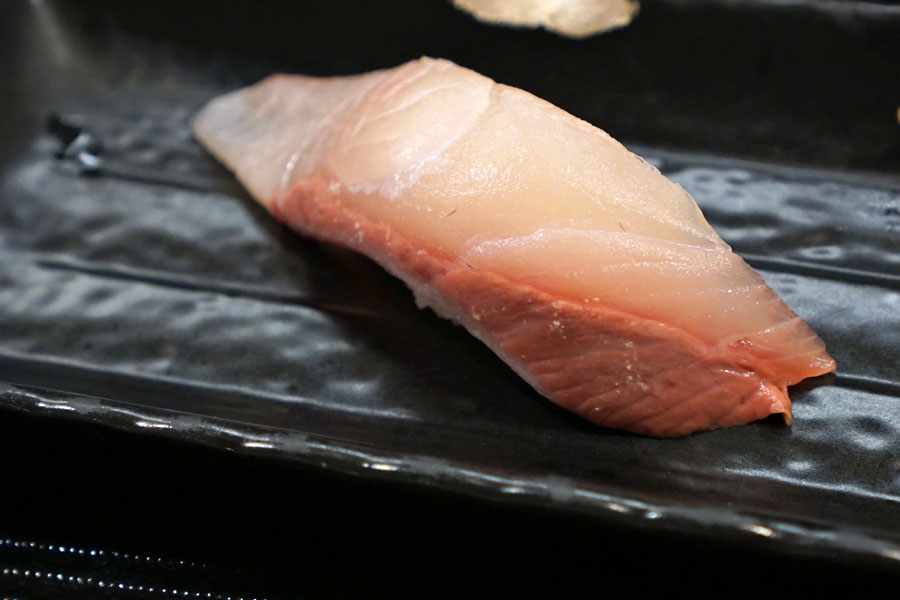 3b: Amberjack
Kanpachi
from Kyushu arrived firm and meaty--with a distinct "snap" to it--and linked up well with some soy sauce.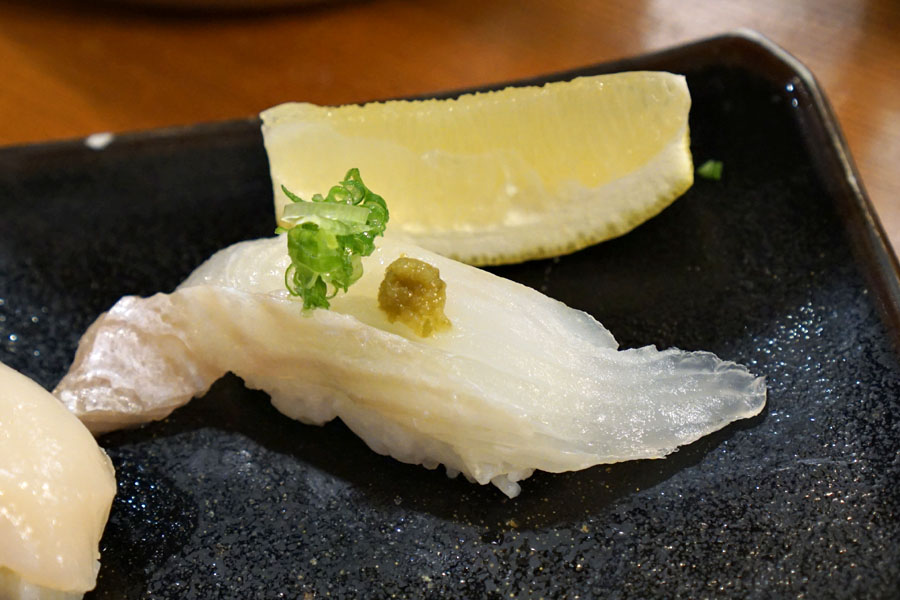 4a: Whitefish
Halibut (
shiromi
) came from Jeju Island. A squirt of lemon did a good job counteracting the spiciness of
yuzukosho
, while the finish conveyed a combination of scallion zest and chili-fueled heat. At the same time though, the fish never felt overwhelmed.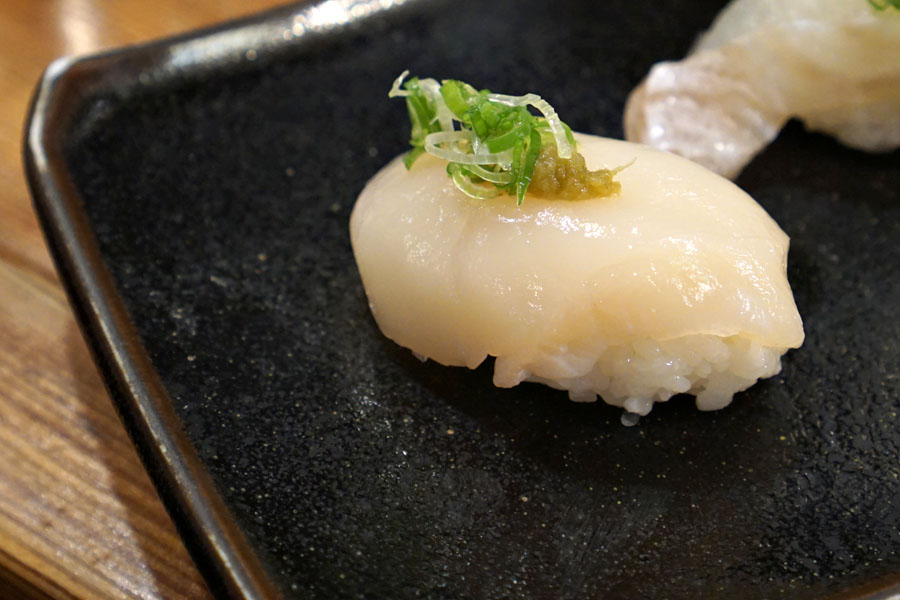 4b: Scallop
Hokkaido
hotategai
, meanwhile, was soft and creamy, with a nice sweetness that married up effortlessly with more of that
yuzukosho
.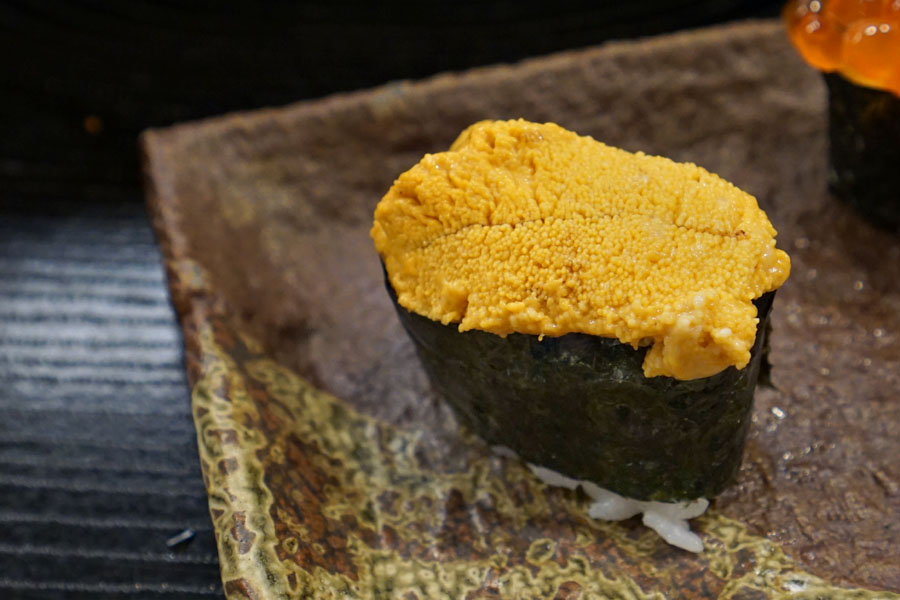 5a: Sea Urchin
Uni was cool and creamy, with a restrained brine and oceany sweetness that ended up nicely tempered by the combination of rice and seaweed.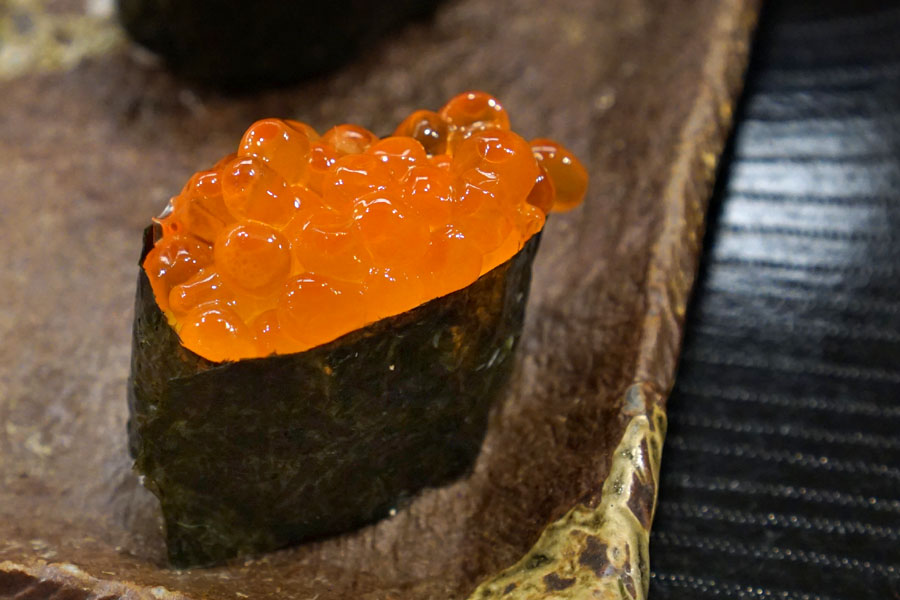 5b: Salmon Roe
Ikura
was prototypical, its pops of salinity really working hand-in-hand with the requisite nori.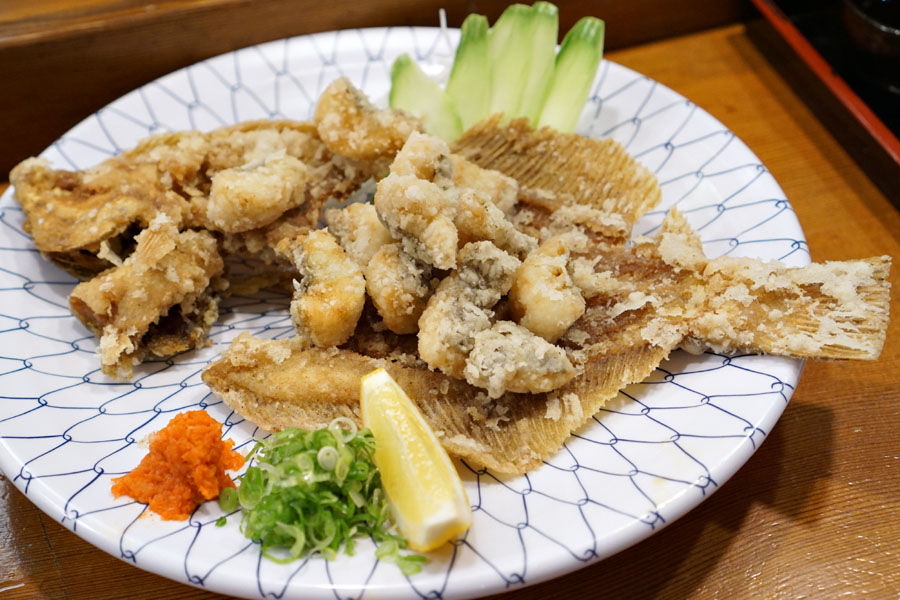 6: Fried Black Sole
The remainder of our fish from the sashimi course above was subsequently deep-fried and served. I found it crispy on the outside yet soft and fluffy on the inside, with a mild taste that really sang with a squeeze of lemon. Be sure to eat the bones too, which were fried to a cracker-like consistency.
7a: Pressed Sushi
Next was the
oshizushi
, a relatively rare sight these days. I found the rice dense, sticky, and especially vinegary, while toppings of shrimp and salmon worked well enough.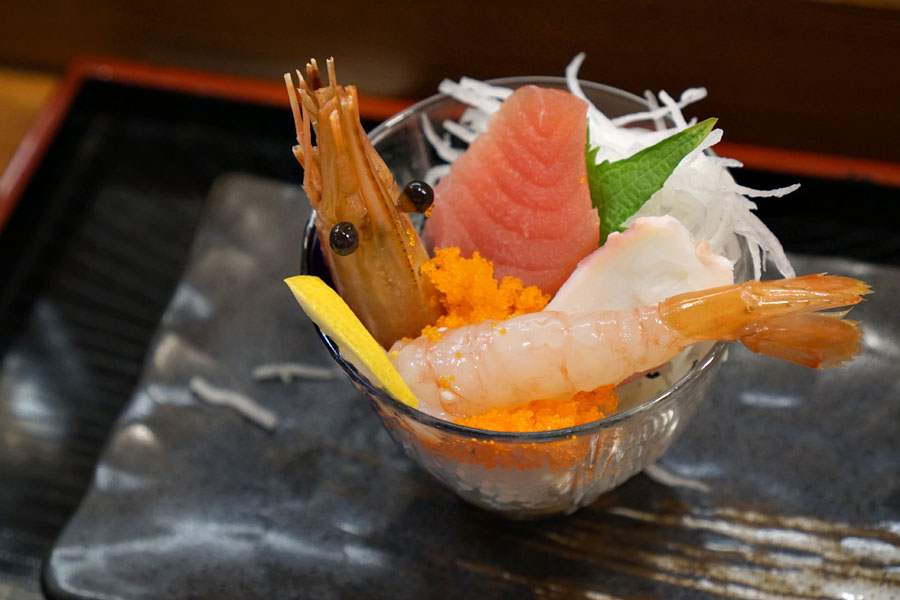 7b: Mini Chirashi Bowl
The hero of our miniature
chirashi
was that creamy, fresh
amaebi
, which was joined by tuna, octopus, and
masago
. Also appreciated was what appeared to be
pico de gallo
, which added a wonderful brightness to the course.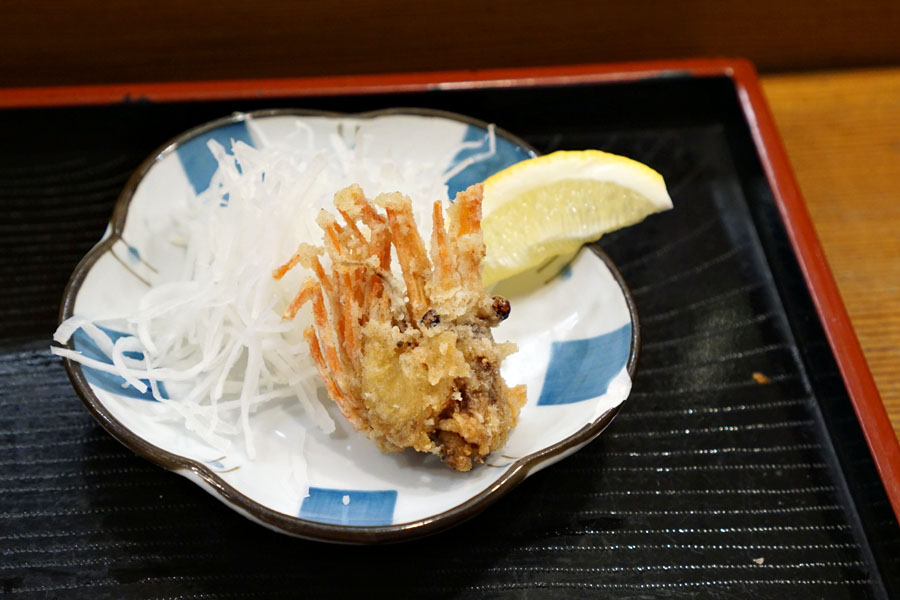 8: Fried Shrimp Head
The head of the sweet shrimp above was then delivered deep-fried and was just as crunchy and salty and satisfying as I wanted. Always a treat.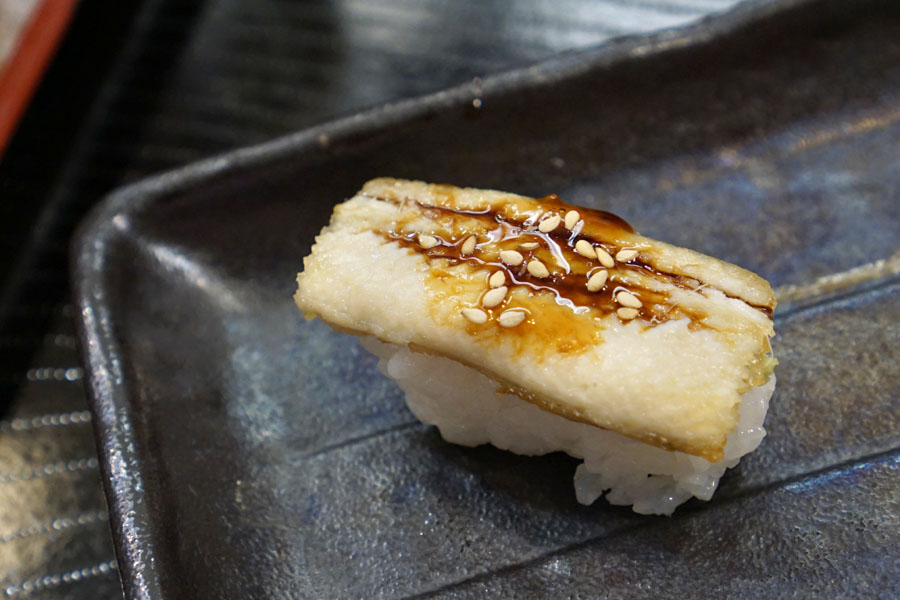 9a: Sea Eel
A traditional preparation of
anago
matched the soft-fleshed fish with a sweet-ish sauce and sprinkles of nutty sesame.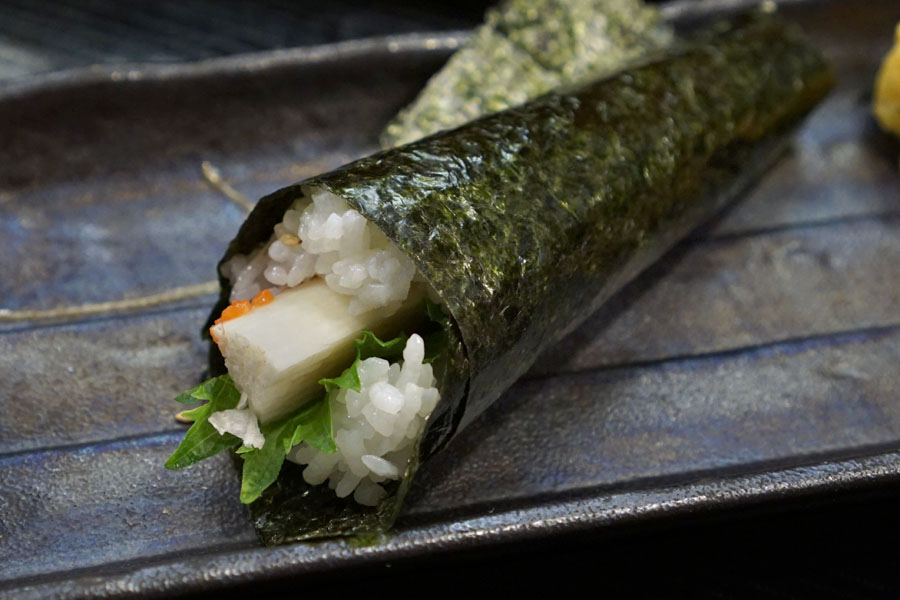 9b: Mountain Yam Hand Roll
Our lone
temaki
combined crunchy-yet-mucilaginous cuts of
yamaimo
with the omnipresent spice of
mentaiko
, the shiso imparting an overarching mintiness to the dish.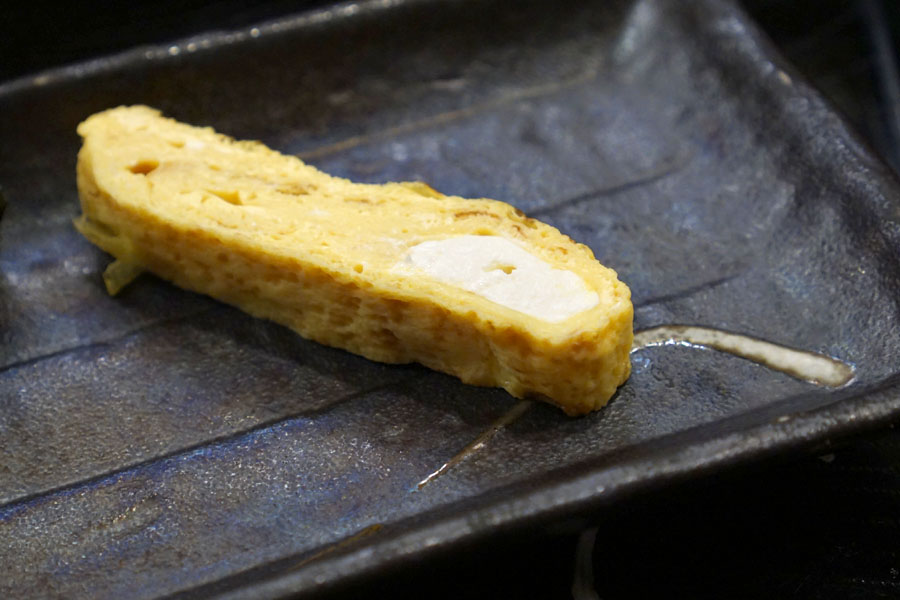 9c: Egg
The tamago, interestingly, included cream cheese, which seems wrong but worked surprisingly well.
10: Miso Soup
A hot, homey, cozy
misoshiru
signified the end of the savory portion of meal.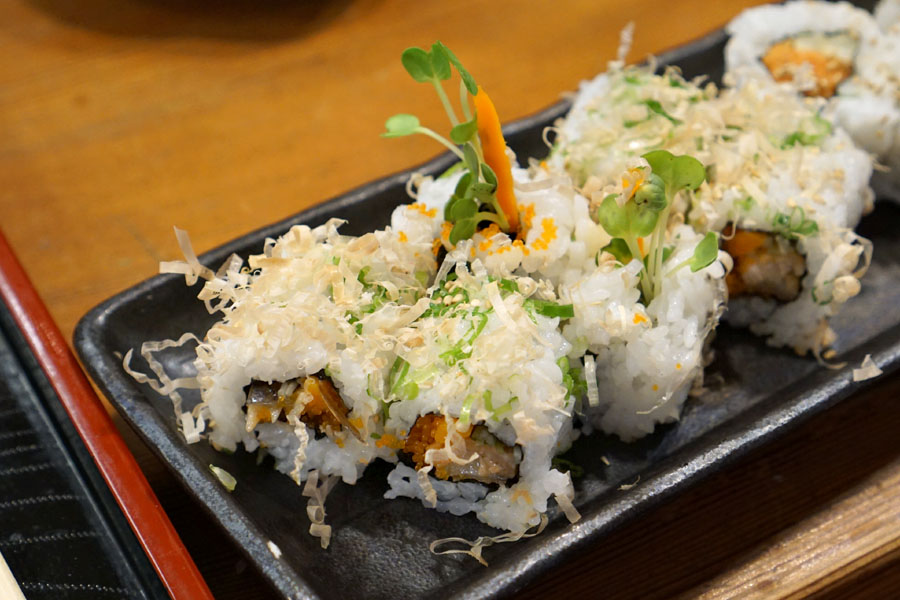 Salmon Skin Roll [$4.90]
At this point, we ordered a couple of cut
uramaki
rolls to fill up that last remaining bit of space in our stomachs. This salmon skin variant was par for the course, with its smoky, saline flavors moderated by the veggies and rice.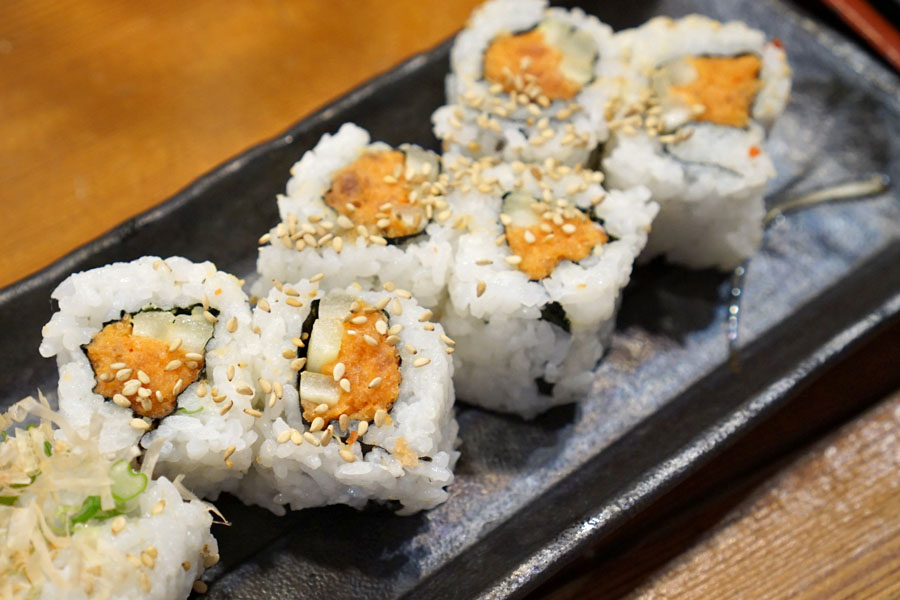 Spicy Tuna Roll [$6.90]
The spicy tuna was also exactly what you'd expect, and conveyed a pleasant nuttiness from all the sesame that really worked as a counterpoint to the roll's heat.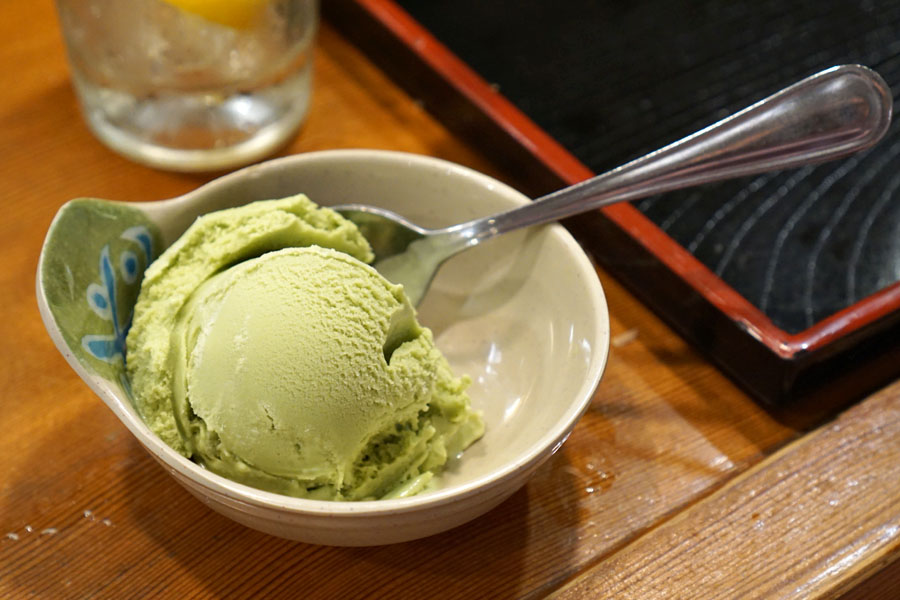 11a: Green Tea Ice Cream
Dessert time. The matcha ice cream was a particularly creamy example, with a definite roasty bitterness to it.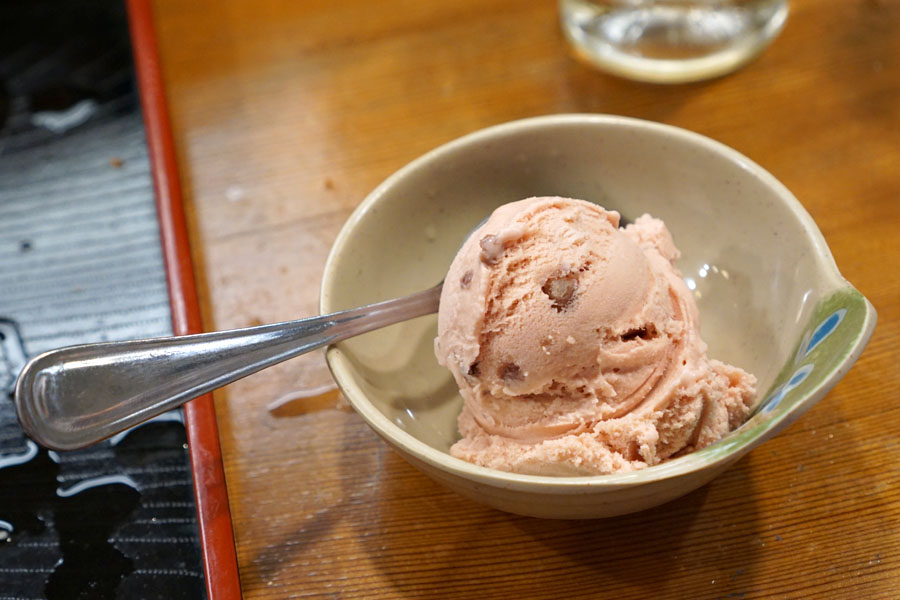 11b: Red Bean Ice Cream
Here, the signature sweetness of
azuki
was well presented.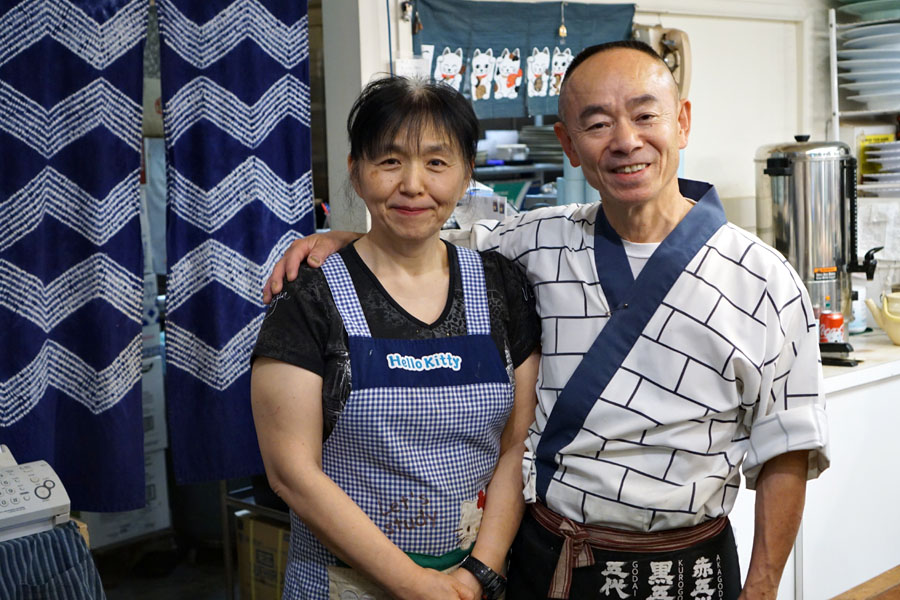 Proprietors Erika Oguma and "Kantaro" Tadashi Oguma. Note the Hello Kitty apron.
Kantaro sort of flies under the radar as far as sushi spots in LA go, so I'm glad that I was introduced to the place, which definitely seems like a neighborhood-y type of haunt. There's both value and variety here, making this a good mid-tier sushi option in the South Bay.
---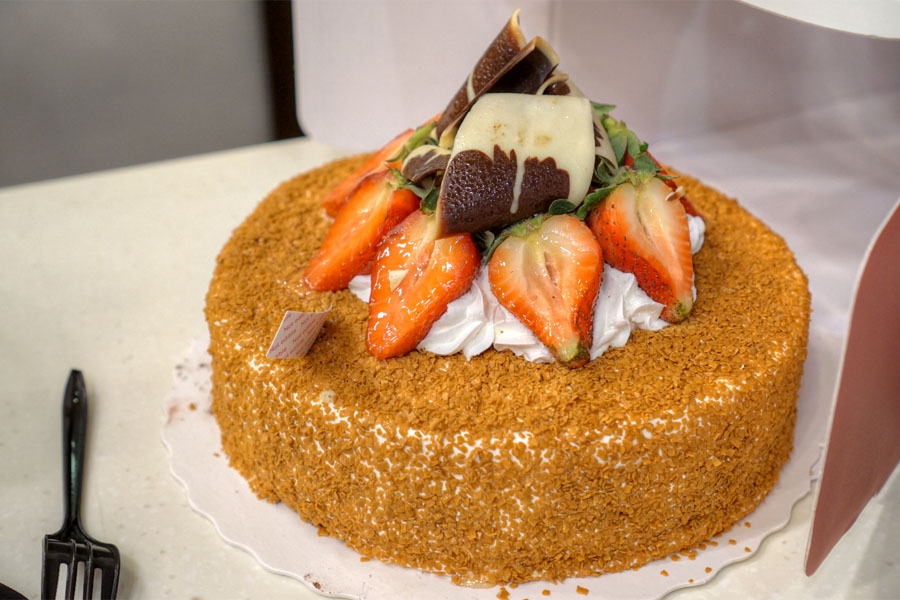 The ice creams above didn't completely satisfy our desire for dessert, so after dinner we headed up the street to the 85°C Bakery Cafe at Eastgate Plaza and got ourselves a
Sea Salt Coffee Brulee
cake. Not bad at all.