Restaurant 917 (Carson, CA)
Restaurant 917 at the Porsche Experience Center Los Angeles
19800 S Main St, Carson, CA 90745
310.527.0917
www.restaurant917.com
Sat 01/13/2018, 05:40p-08:35p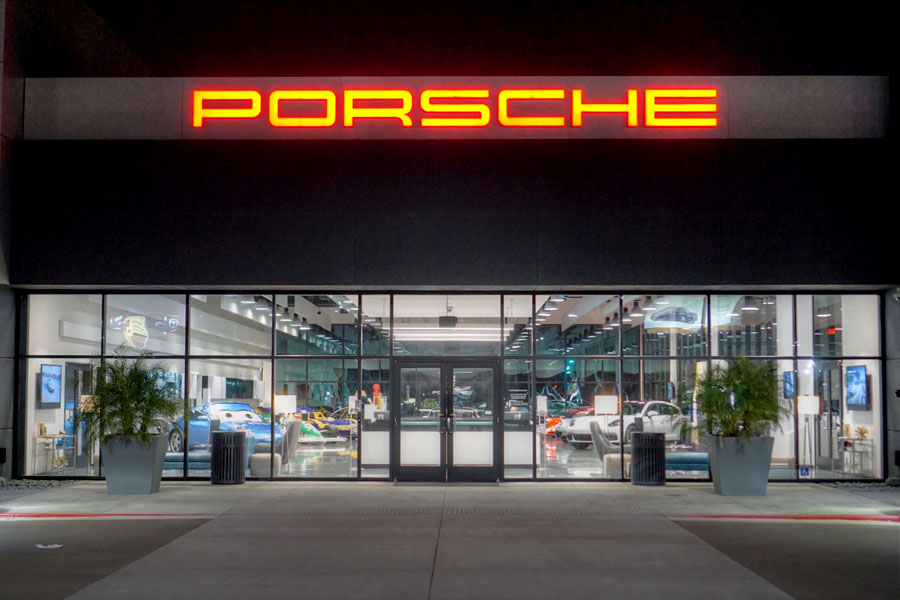 Restaurant 917 has got to be one of the more out-of-the-way places I've visited. It's tucked away on the second floor of a 50,000 square-foot building at the Porsche Experience Center, a $60 million facility spread over 53 acres at the intersection of the 110 and 405. The PEC opened at the start of November 2016 as a spot where enthusiasts can immerse themselves in all things Porsche. Attractions include a retail shop, Porsche Motorsport North America facilities, displays, a restoration area, driving simulators, conference/meeting space, and of course the driver development track. This is all in addition to the restaurant (named after the iconic 917 racer that won Le Mans), which is helmed by Executive Chef Matt Lee.
About the Chef
: An LA area native, Lee grew up Torrance and started his cooking career at the age of 16 doing prep work at a local sushi bar. After high school, he enrolled at the CSCA in Pasadena, and following graduation, went on to work at
Saddle Peak Lodge
under Warren Schwartz. In 2007, Lee joined Bon Appétit Management Company and was appointed sous at the Getty Villa in Pacific Palisades. He worked his way up the chain, and later became CdC and then, in 2015, Executive Chef at the Restaurant at The Getty Center.
He's assisted in the kitchen by exec sous Anita Lau, while the front-of-the-house is managed by GM Bobby Bognar. Interestingly, from 2011 to 2016 Bognar owned The Point in Culver City (the cafe-turned-Mexican spot previously operated by
Mark Peel
). He also worked at the Restaurant at the Getty (for two years alongside Lee), Crossroads Kitchen, Geoffrey's Malibu, The Palm, and
Patina
group, and has also dabbled in television and music.

The restaurant is a handsome space, with lots of wood and a sweeping view of the track--sort of what you'd expect from the folks at Porsche Design. Seating capacity is 76, with another dozen or so in the private dining room.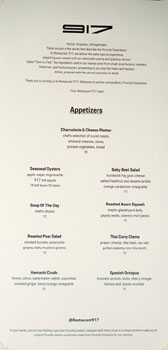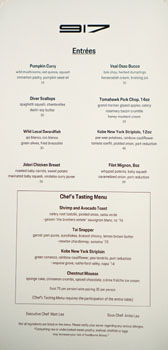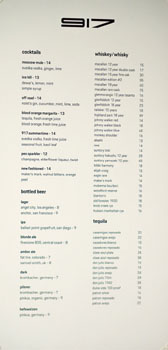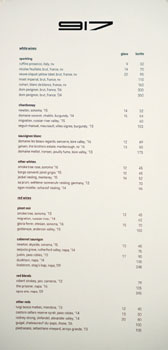 As for the menu, I'd say that it falls under the New American banner, with some Asian-y influences, and apparently Chef Lee also sources all his produce from within 150 miles of the restaurant. In addition, there's a lunch menu featuring many of the same dishes, as well as an abbreviated happy hour offering. Drink-wise, you get a few not-terribly-interesting cocktails, a small selection of beers, and a compact, mostly French and Californian wine list. Corkage is $25 a pop. Click for larger versions.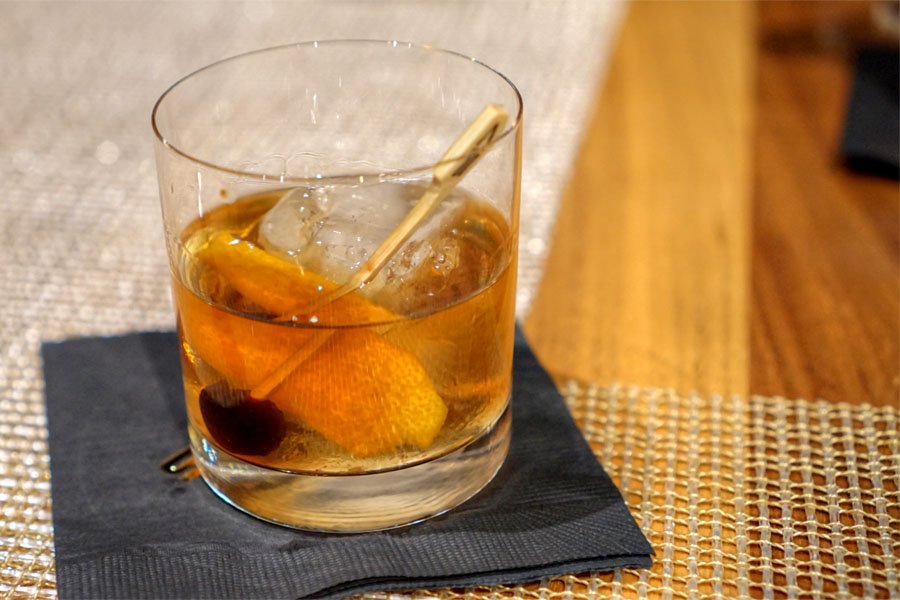 new fashioned [$14.00]
| maker's mark, walnut bitters, orange peel
Our first cocktail was a variation on the Old Fashioned. I got an intensely aromatic nose filled with brown sugar and toffee, with citrus and booziness layered on top. The taste showcased sweet, caramel-y notes, along with a hint of the advertised walnut, more citrus, and a boozy spice underneath it all.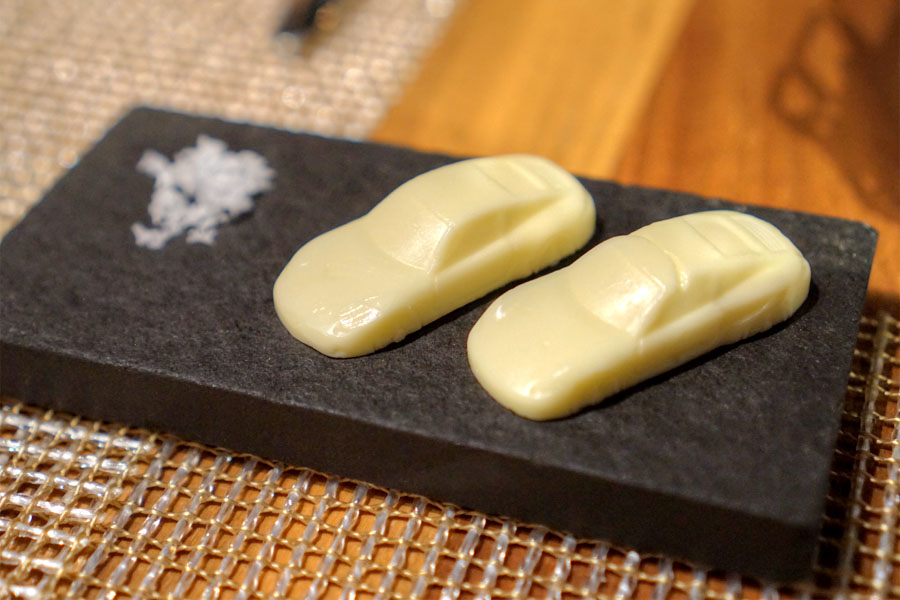 The pretzel bread was slightly addictive (we requested a second serving), and paired beautifully with the soft, sweet pats of butter, famously modeled after the Porsche 911 (specifically the 991.1 we were told).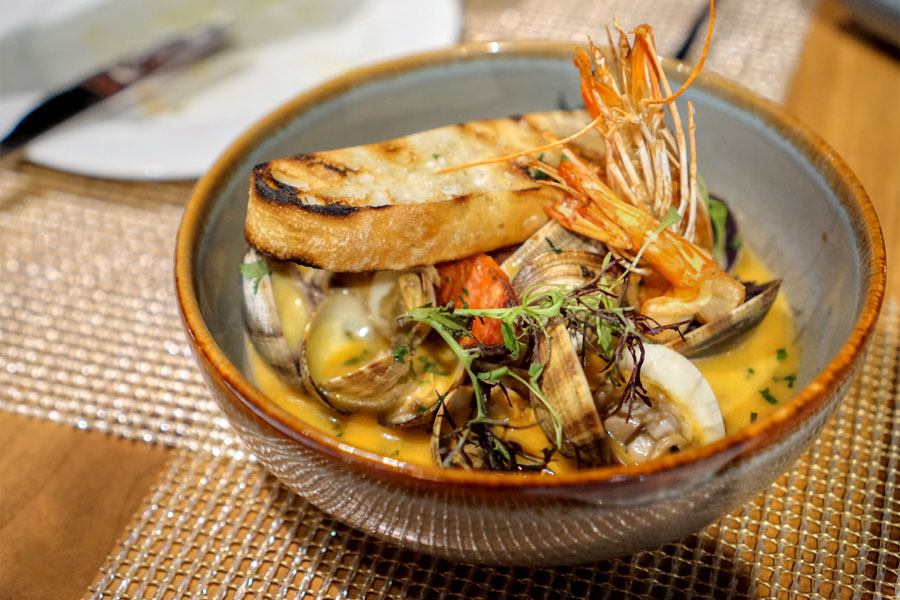 Thai Curry Clams [$15.00]
| prawn, chorizo, thai basil, rau ram, grilled ciabatta, tom kha broth
Clams were well-textured, and I enjoyed how their brine played against that sweet-ish, just-spicy-enough,
tom kha
-inspired broth. Also much appreciated were the medallions of chorizo, which imparted a welcomed blast of salt and savor, and also worked to give the dish some substance.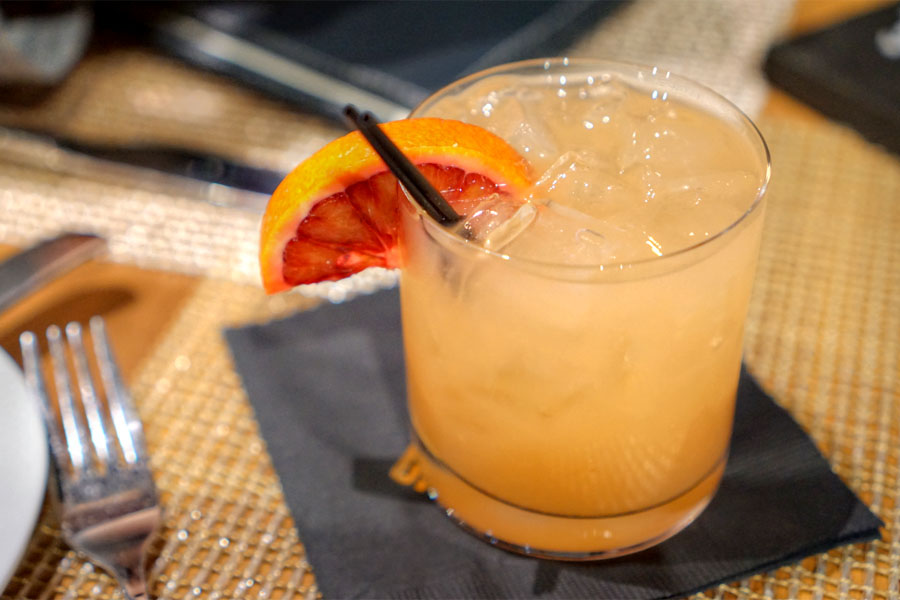 blood orange margarita [$13.00]
| tequila, fresh orange juice, blood orange, fresh lime juice
Our margarita was a bit thin, though its flavors were assertive, with lots of smoky, woodsy nuances leading to plenty of citrus fruit.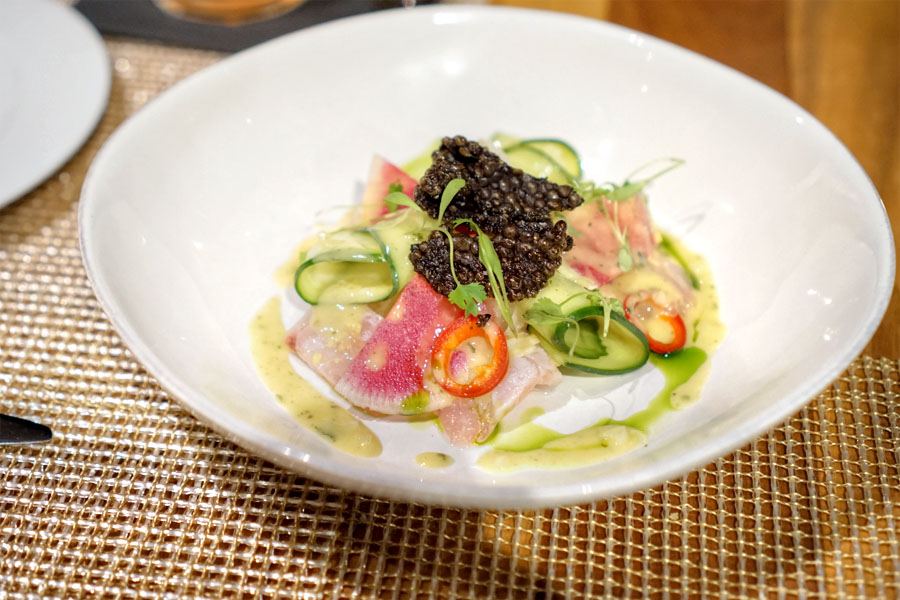 Hamachi Crudo [$15.00]
| fennel, citrus, watermelon radish, cucumber, smoked ginger, blood orange vinaigrette
Cuts of yellowtail were soft and fatty, and paired well with the savoriness and crunch of black garlic chips while the veggies added a much needed brightness. The vinaigrette sort of tied everything together, and I liked the pops of citrus from what I believe was finger lime, too.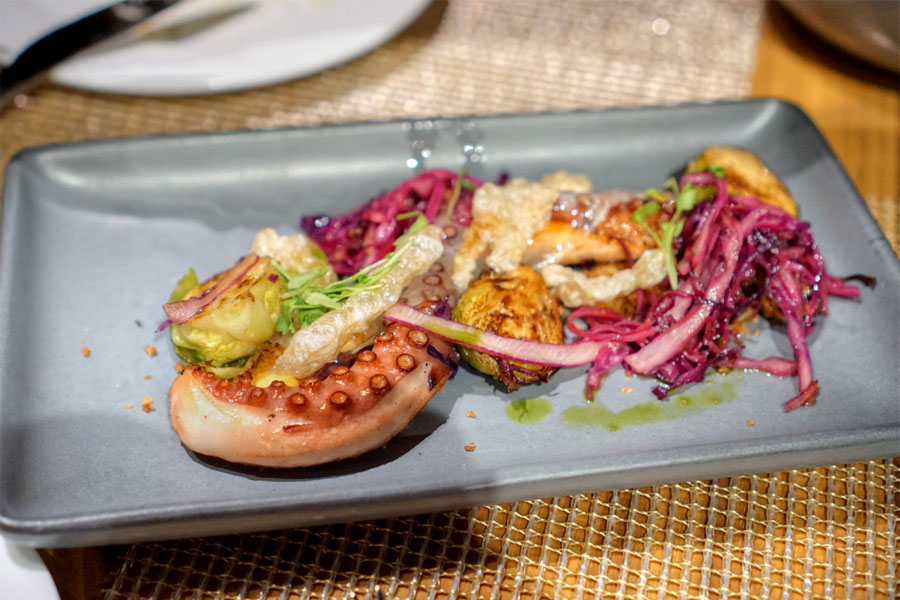 Spanish Octopus [$15.00]
| brussels sprouts, lardo, sherry vinegar, harissa aioli, bacon crumble
Octopus came out dense, firm, meaty, and went like clockwork with the heat from that harissa aioli. The Brussels really worked as well, providing a nice bitterness and textural contrast, while the chicharrones offered up a welcomed crunch and saltiness.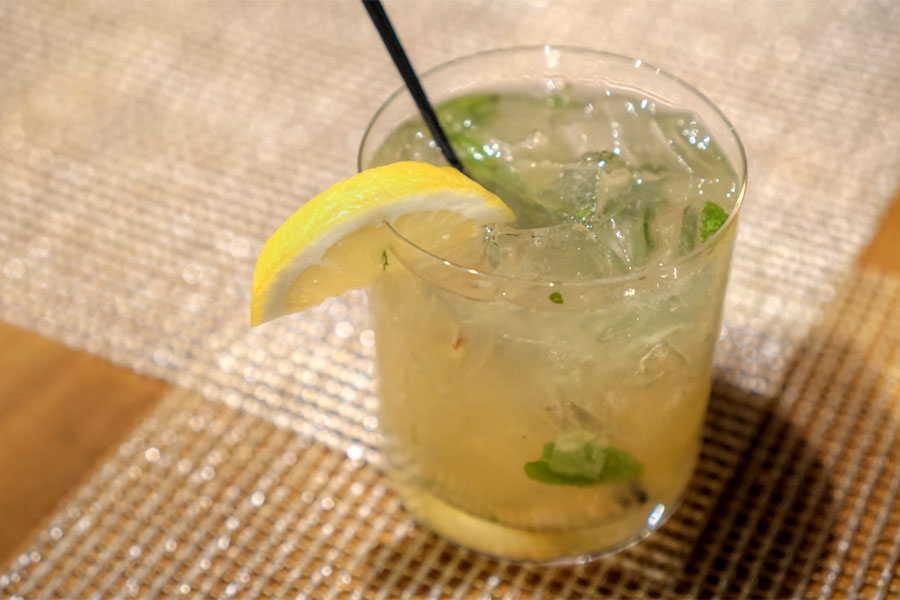 ice hill [$13.00]
| dewar's, lemon, mint, simple syrup
The evening's third and final cocktail married Scotch with complementary notes of lemon and mint. The drink definitely had a sweetness to it as well, and surprisingly, the finish tasted strongly of tea.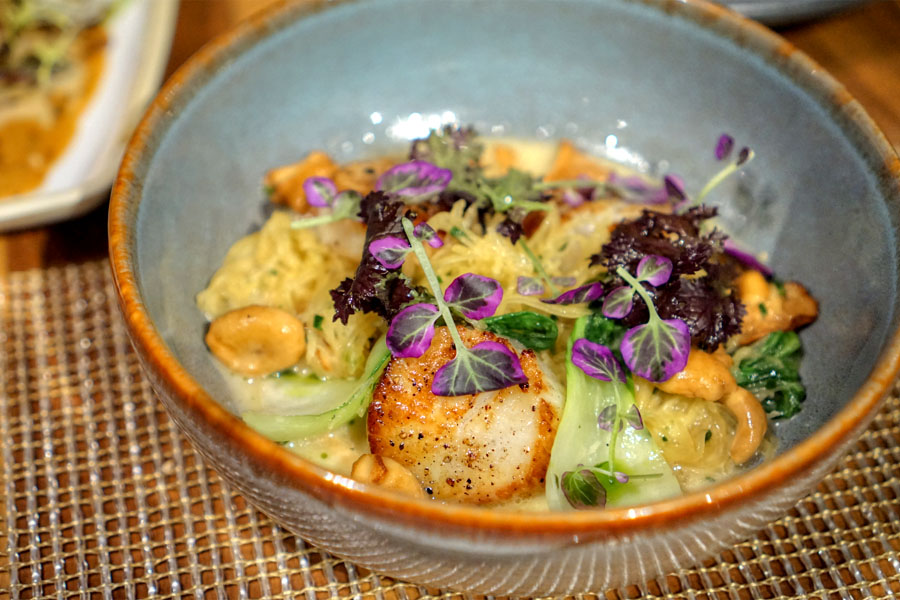 Diver Scallops [$30.00]
| spaghetti squash, chanterelles, dashi-soy butter
Scallops were pretty much perfectly cooked, with a great salinity and proper amounts of sear. The mushrooms provided an additional dose of umami to the dish, and I really appreciated the lightness and texture provided by the bok choy.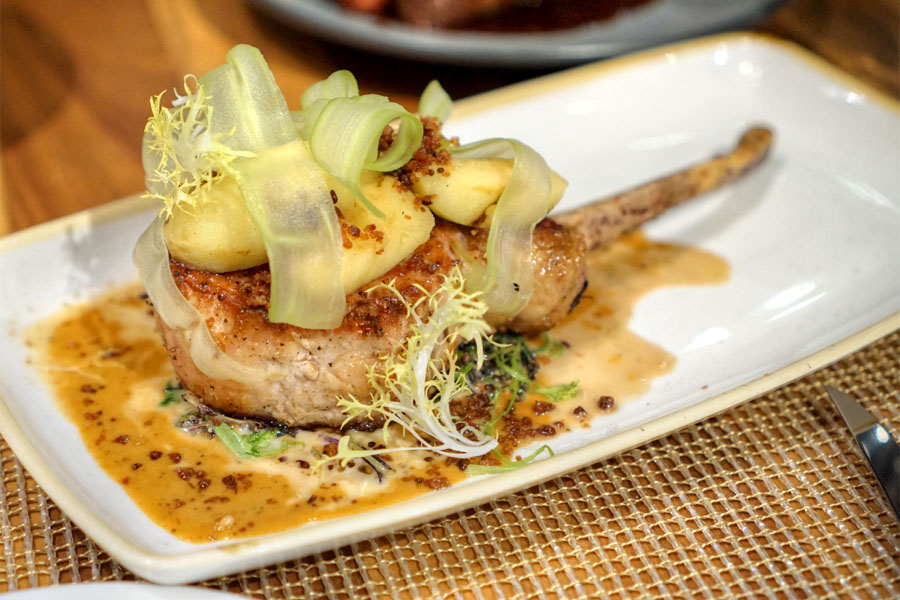 Tomahawk Pork Chop, 14oz [$39.00]
| grand marnier glazed apples, celery, rosemary bacon crumble, honey mustard cream
The pork chop was a winner, arriving juicy and supple, and infused with liberal amounts of rosemary. Apples were fortunately not overly sweet, and the bitterness from the celery here actually worked.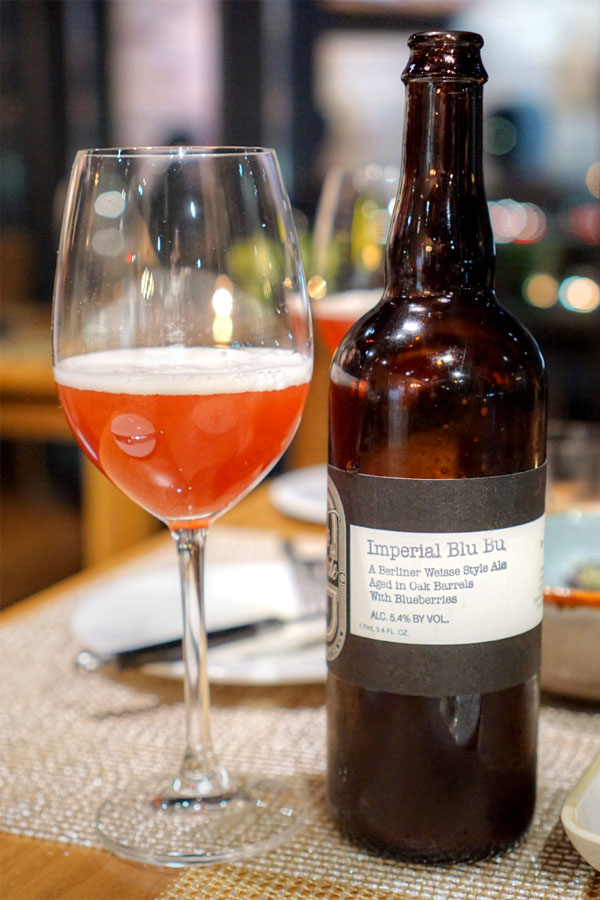 At this point I opened up a bottle of the
2015 de Garde Imperial Blu Bu
, a Berliner Weisse aged in oak with blueberries. The nose showed off expected notes of yeast, barnyard, wood, and sour fruit. Taste-wise, I got a lactic funk joined by puckering sourness, lemon, a definite acidity, and berries in the background.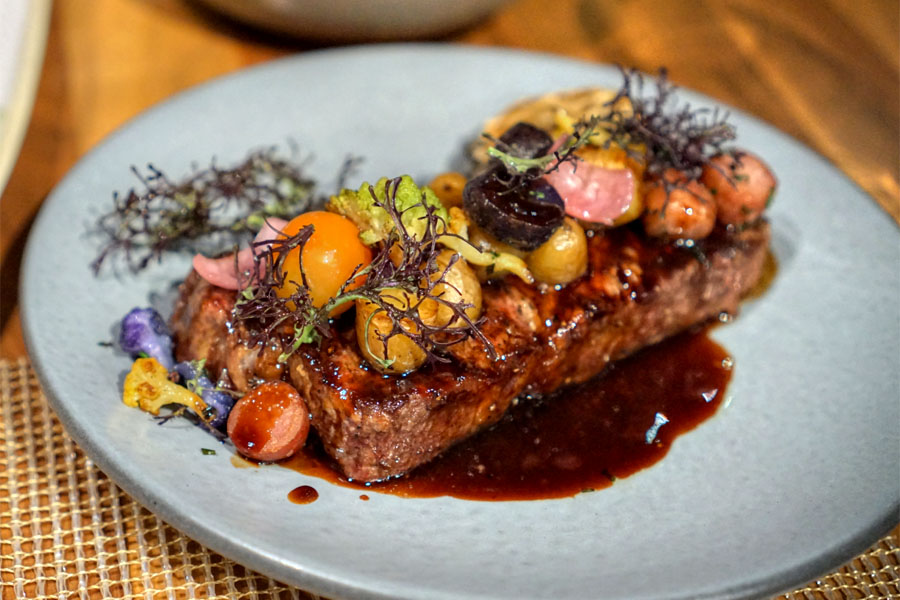 Kobe New York Striploin, 12oz [$45.00]
| pee wee potatoes, rainbow cauliflower, tomato confit, pickled onion, port reduction
The steak wasn't truly Kobe of course, but instead American wagyu. That being said, it was still rather delicious: think tender, with nicely integrated marbling and a lovely char and savor. The various veggies worked as a complement to the beef, though I would've preferred a touch less sweetness on the port sauce.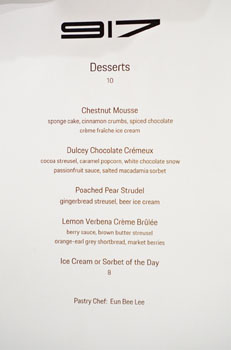 Desserts follow the form of the rest of the menu, and are the task of Pastry Chef Eun Bee Lee, a 2014 graduate of the Culinary Institute of America at Hyde Park. She cooked for a brief period at the Walt Disney Concert Hall before joining Matt Lee at the Getty and following him to 917. Click for a larger version.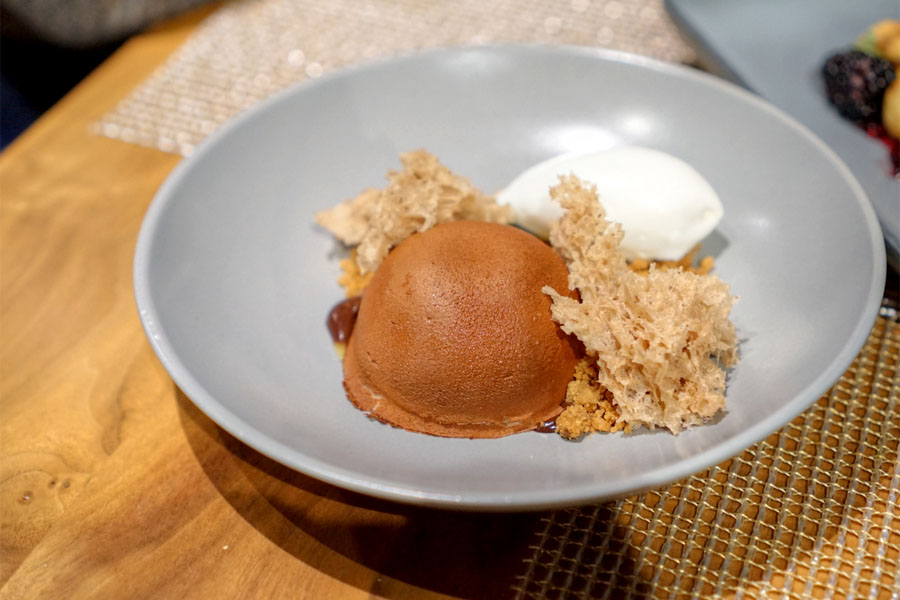 Chestnut Mousse [$10.00]
| sponge cake, cinnamon crumbs, spiced chocolate, crème fraîche ice cream
The chestnut mousse displayed sugary, dark fruit-like flavors along with a smidge of nuttiness. The aerated sponge cake made sense here, as did the spicy crumbles and delightfully light 'n' bright ice cream.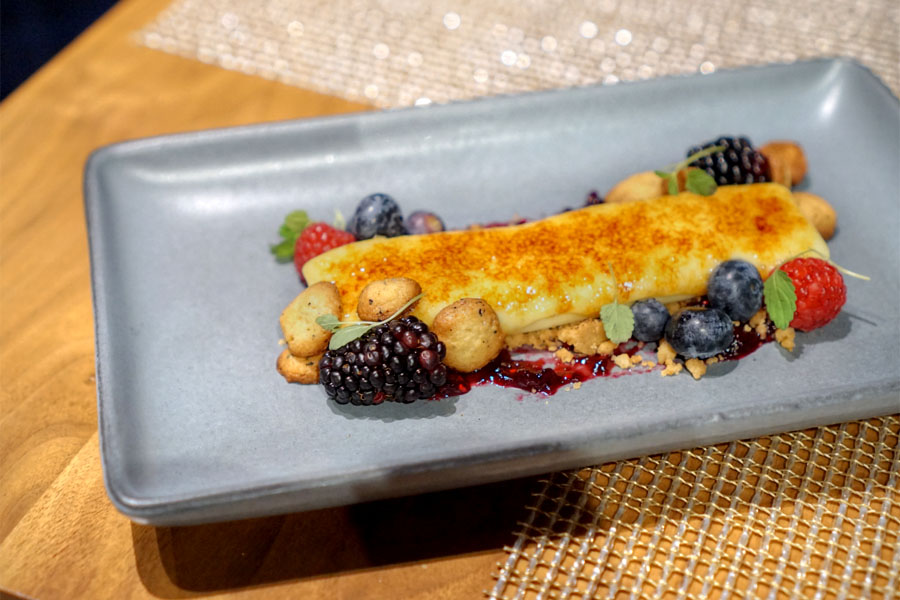 Lemon Verbena Crème Brûlée [$10.00]
| berry sauce, brown butter streusel, orange-early grey shortbread, market berries
An untraditionally-shaped crème brûlée ate dense, sweet, and eggy, its heft evened out by the unmistakable zestiness of lemon verbena. Berries worked as a tart, tangy counterpoint, and I liked the shortbread, too.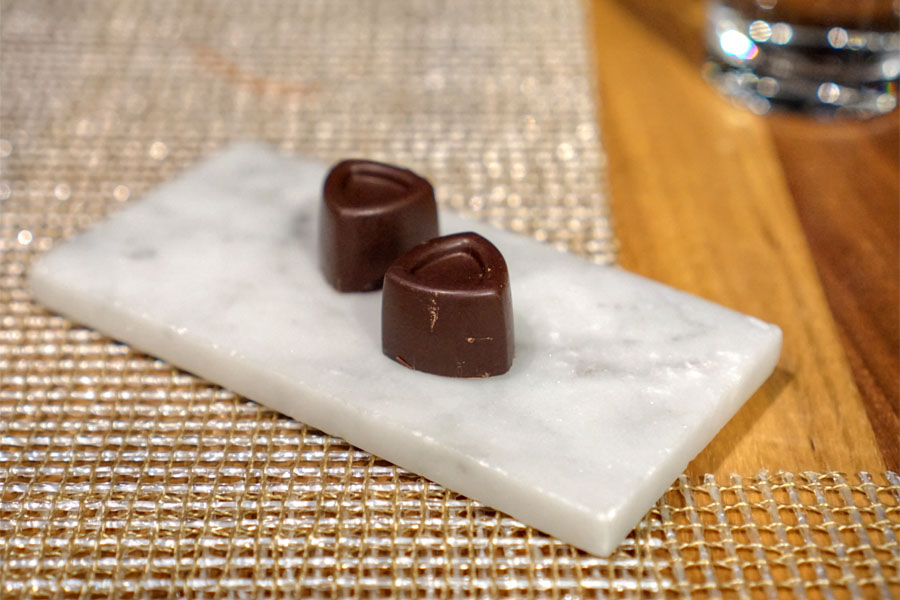 To close: caramel-filled chocolates were spot on.
Given the place's somewhat odd circumstances, I have to say that Restaurant 917 was sort of a pleasant surprise. The food's probably better than is necessary, which is great. The cooking manages to be relatively interesting, yet not intimidating to the restaurant's target clientele (i.e. Porsche owners and other automotive enthusiasts). There aren't exactly a lot of notable dining spots in the area (especially fancier ones), so I'm glad to have 917 as an option.