Sushi|Bar (Encino, CA)
Sushi | Bar at Woodley Proper
16101 Ventura Blvd, Encino, CA 91436
818.876.0818
www.sushibarla.com
Thu 11/30/2017, 09:00p-11:20p
Los Angeles is, without a doubt, a sushi town, with options available in a wide range of styles and price points. The generically-monikered Sushi|Bar, however, stands out from the rest. The place comes to us from the sometimes incomprehensible mind of Chef Phillip Frankland Lee, who launched the spot at the end of June. It's billed as a "sushi speakeasy" of sorts, hidden in the back of Lee's
Woodley Proper
on the second floor of the Encino Place Shopping Center. Apparently, the Chef grew up eating high quality
nigiri
in the Valley, and had always wanted to open his own non-traditional sushi omakase restaurant, so here we are today.
Sushi|Bar runs Wednesday through Sunday, and when it first opened, you actually had to visit Woodley Proper in-person and add your name to a chalkboard waitlist in order to get in. Fortunately, that's no longer the case, and you can now get (same day) reservations on
Tock
for seatings at 5:00, 7:00, and 9:00. Note, however, that there's also a "membership club" to Sushi|Bar wherein members can make reservations two months in advance and request special dishes. It was not made clear to us how one gains entrance into this club.
Leading the charge day-to-day is Chef Kirk Sandel, a Granada Hills resident who was born in San Diego to a Filipino father and Japanese mother. He began cooking at age 16, graduated from the Pasadena outpost of Le Cordon Bleu, and then found work at Kendall's Brasserie, staying there from 2002 to 2003. This was followed by a stint at Roy's in San Diego in 2004, the famed
Sushi Ota
in 2005, and Nobu Honolulu in 2006. In 2009, Sandel took a bit of a detour from cooking and enrolled in the respiratory care program at Concorde Career College in North Hollywood. He worked at Mia Sushi in Eagle Rock during this period, and following graduation in 2011, went back to cooking at Izakaya M on Ventura. The Chef later worked at Gyoro-Gyoro in Palm Springs, Off The Shelf Catering, Blue Ribbon, and Soca in Sherman Oaks before joining Lee's team in February this year.
Assisting behind the bar is Wasu Palipote, a Thai native who was previously in a band in his homeland. After moving to the US, he settled in San Diego for a couple years (largely surfing), then went to school for sound engineering before trying his hand at cooking. He started out at a restaurant over in Moorpark, but left the place given the long commute from his home in Koreatown. Palipote later interned at Midori in Encino and Dojo in Sherman Oaks before landing at Sushi|Bar three months ago.
The beverage program, meanwhile, is run by Benjamin Schrader, who helped open Pacific Seas at
Clifton's
. He's also a magician (who's spent considerable time at the Magic Castle), theatrical performer (
The Book of Mormon
,
Avenue Q
,
Ragtime
), film/television actor, and puppeteer--a quintuple threat! In addition, Schrader runs
Magic|Bar
, a Mondays-only sleight-of-hand showcase-
cum
-cocktail experience that started in September. Rounding out the team is Sophie Arrick Lewis, who serves as the Concierge for Sushi|Bar and handles the billing.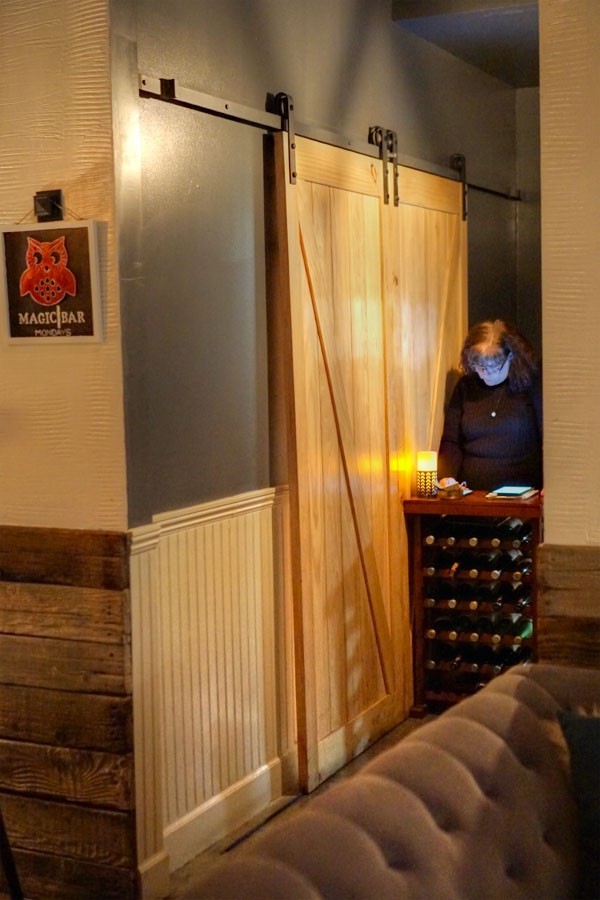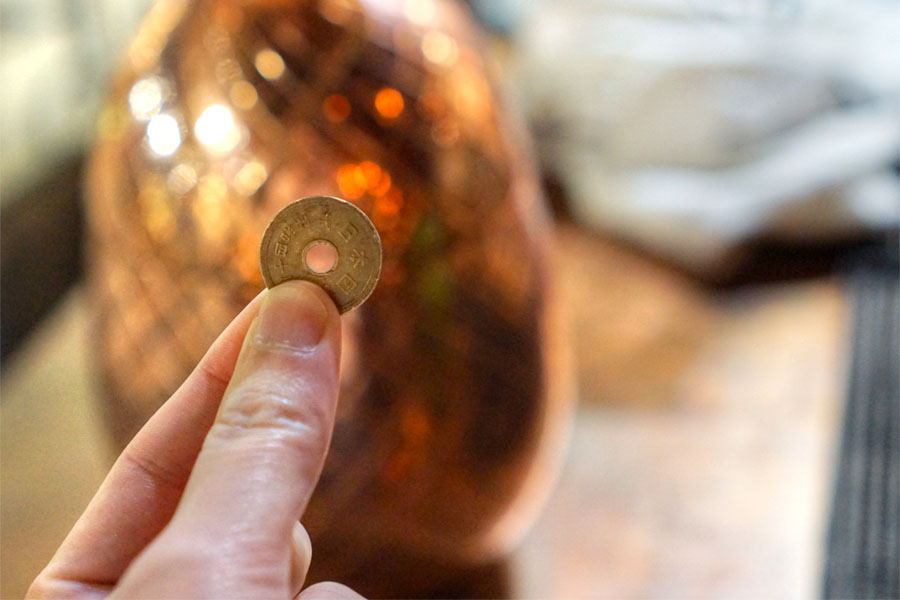 Upon entering, you'll go over and see Lewis, who's stationed next to Sushi|Bar's exit (you enter through the rear). There, you'll inform her of any preferences/dietary restrictions as well as whether or not you'd like to do the beverage pairing. You'll also get a token (Japanese yen) for your welcome cocktail.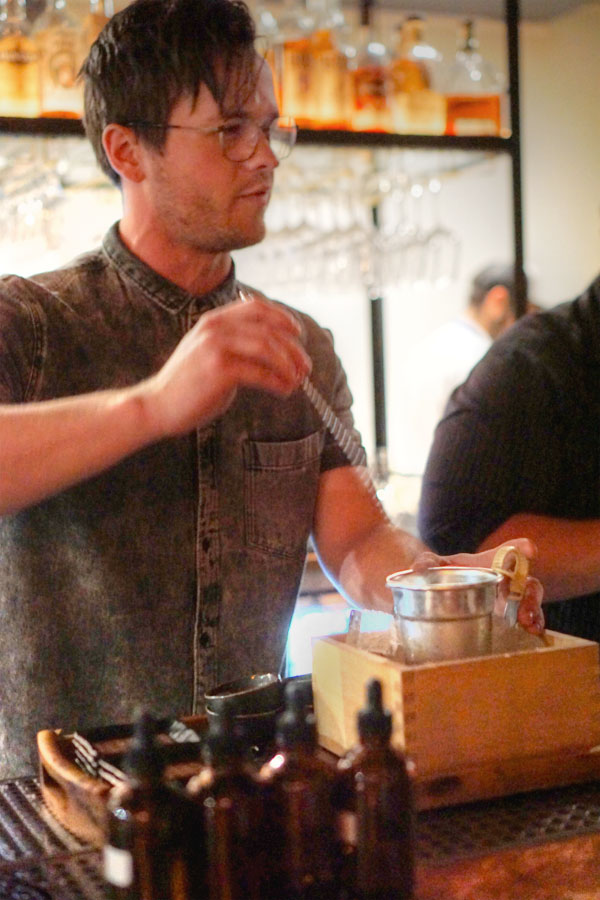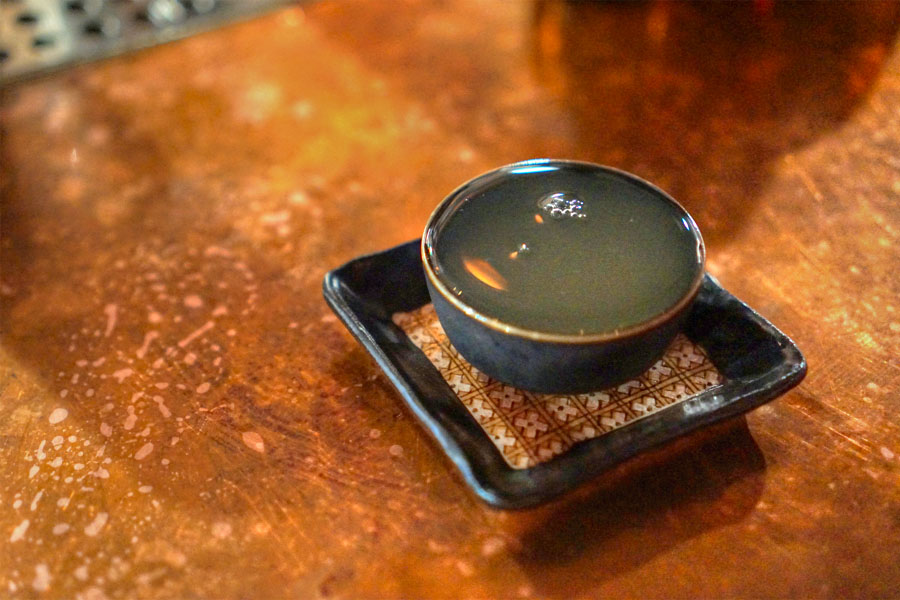 You'll then head over to the Woodley Proper bar and redeem the token for that aforementioned welcome cocktail, which tonight was the
Tozai Typhoon
, comprised of Tozai sake, Suntory Toki whisky, ginger syrup, and lime juice. I got a "salted plum" character with the drink, which I'm guessing comes from the interplay between the sweet, ricey flavors of the sake and the more savory, smoky qualities of the whiskey.

With our cocktails all drunk up, we met up again with Lewis, who then led us through the back of Woodley Proper and into Sushi|Bar. The space is ostensibly inspired by 1930s-era Japan, and is pretty cozy with its eight-seater bar.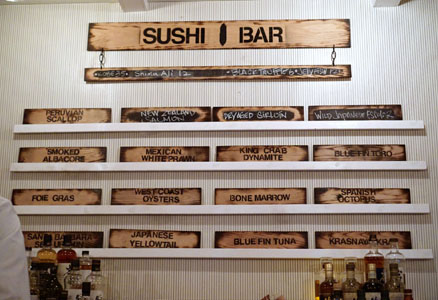 As for the menu, it's a 17-course omakase at $110 a head. Also offered are some pricey supplemental dishes, and you can get repeats of anything you particularly enjoyed. Drink-wise, there's a $55 pairing, which includes a selection of sake, cocktails, and beer (these are also available à la carte, as are pours of Japanese whisky). Click for a larger version.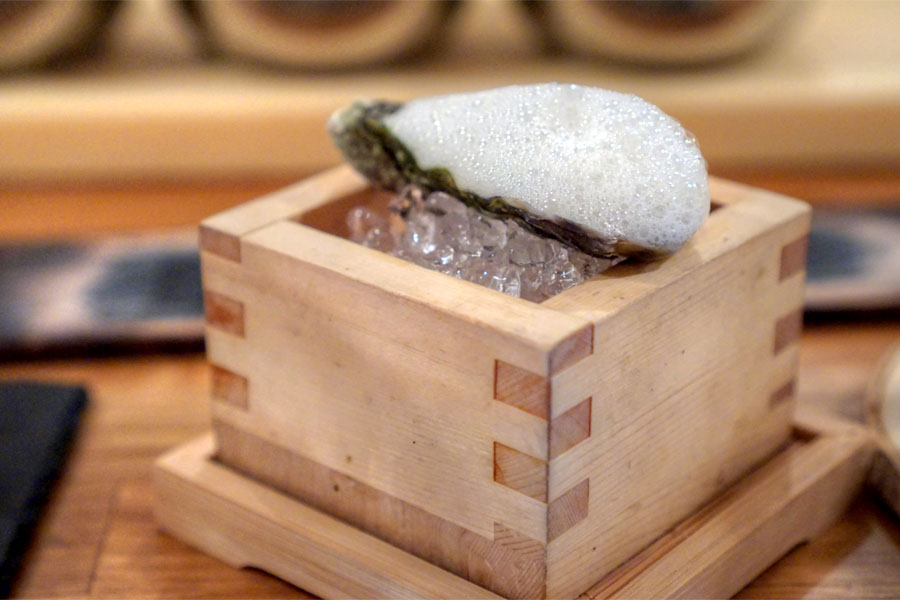 1: West Coast Oysters
We began with a Hama Hama covered with Italian sturgeon caviar,
shari
"Rice Krispies," and whipped
nigorizake
, served in a
masu
. Its taste was fruity at first due to the
nigori
, but this quickly transitioned to the strong, long-lasting brine of the oyster, while the crisped rice served as a contrast in texture. Accompanying was a sake: Chiyonosono, a
junmai ginjo
from Kumamoto Prefecture. With its initial sweet, melon-y, and floral notes, it linked up with the espuma at first, but also displayed a bit of a salinity matching that of the oyster.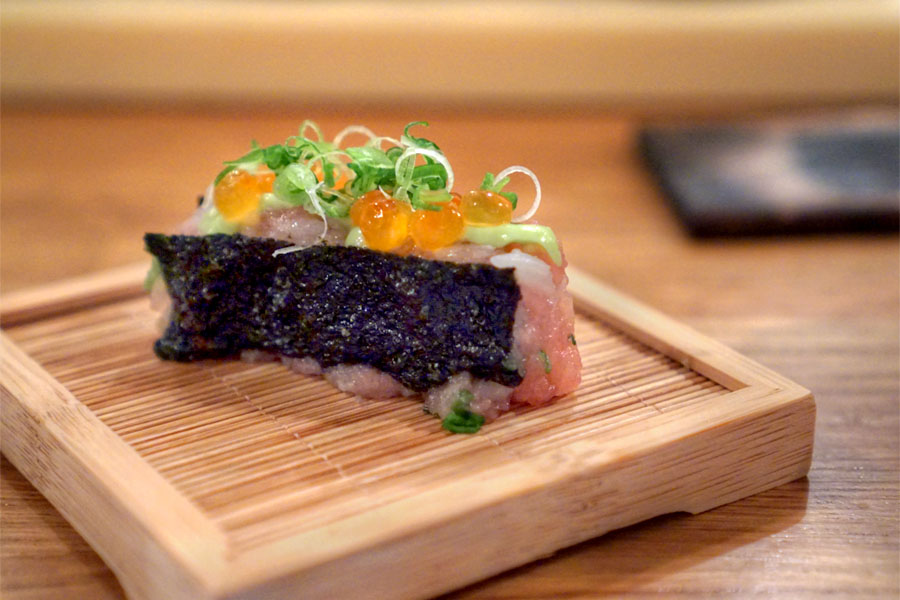 2: Blue Fin Tuna & Krasnaya Ikra
Next was Spanish bluefin tail tartare, sandwiched in crispy nori and topped with avocado mousse, house-cured salmon roe, and scallion. The fish definitely had a richness, a lusciousness that pervaded it, along with plenty of umami. This was kept in check by the lightness of the avocado, and especially the zippiness of the
negi
, making for a balance bite. Great crispness from the seaweed, too.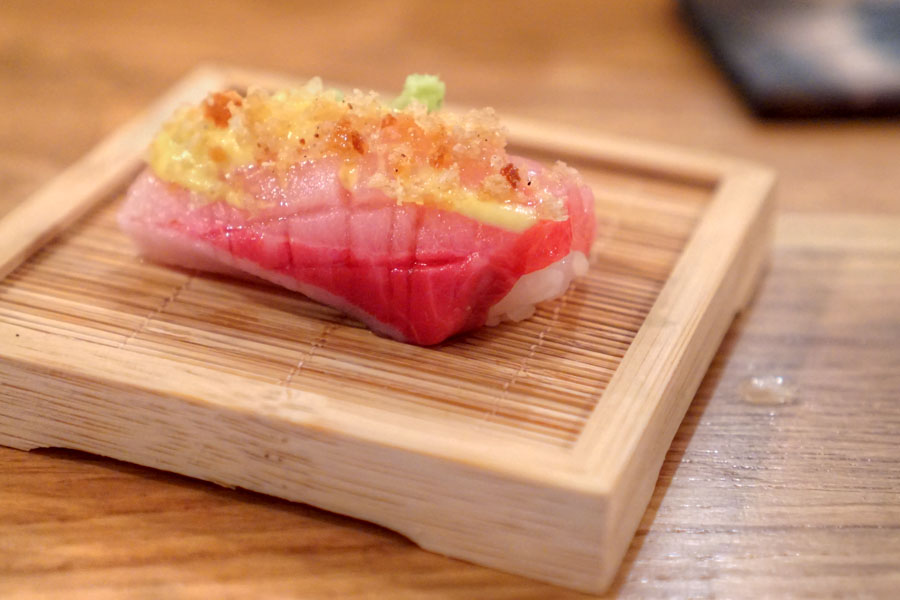 3: Japanese Yellowtail
Lightly scored hamachi belly was smeared with corn pudding, then sprinkled with sourdough breadcrumbs (made by Margarita Kallas-Lee) and seasoned with housemade soy sauce and wasabi. This was a standout for me, largely thanks to the seamless interaction between sweet corn, spicy wasabi, and the firm, fatty fish. I also appreciated the crunch of the crumbs. With this course, Schrader paired the Otokoyama
junmai
, which I found filled with tropical fruit, flowers, and a solid acidity to counteract the richness of the yellowtail (and the tuna to follow).
4: Blue Fin Toro
Bluefin belly was lightly scored, then adorned with brown sugar and a small slice of pineapple. The whole thing was seared, and laced with soy and wasabi. The cut was as luxurious and fatty as you'd expect from
o-toro
, but what took this over the top was the smoke and sear, and how that married with the ever-present sweetness in the course. Great counterpoint from the rice as well. Excellent.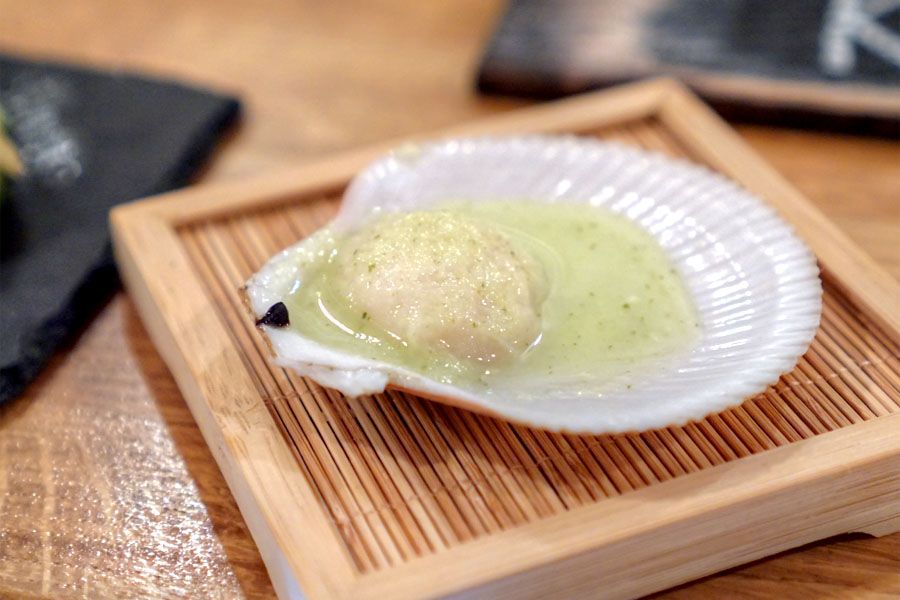 5: Scallop
Hotategai
from Canada was served with a blend of two sauces:
nuoc cham
(in the form of a fish sauce vinaigrette) and
leche de tigre
(ceviche marinade). The combination of the two was pretty special, and gave up a sour, fishy flavor profile laced with a persistent funk. It was aggressive, but managed not to overwhelm that sweet, meaty scallop.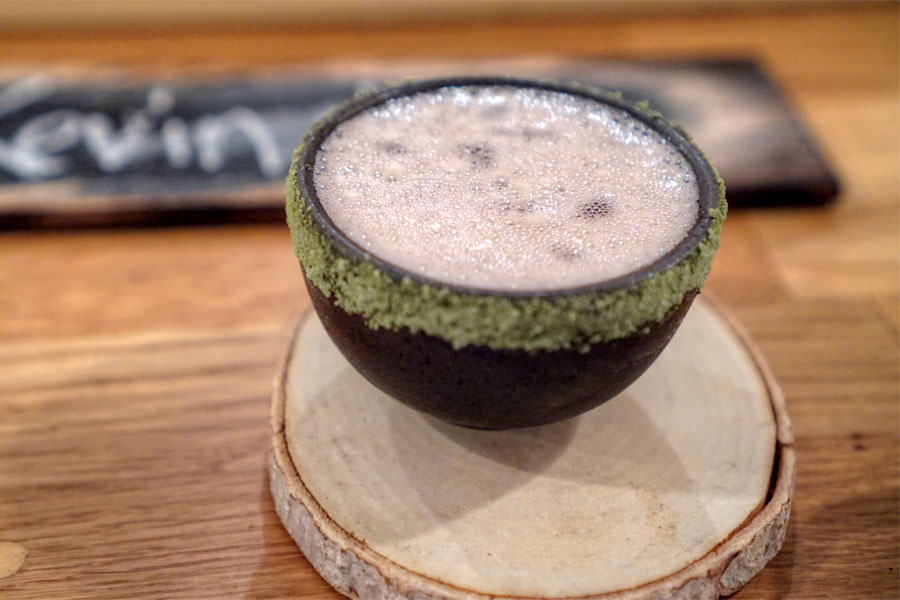 6: Mexican White Prawn
I managed to forget to take a photo of the next course, which is a shame considering it was one of my favorites of the night.
Ama(ebi)
was marinated for three days in chermoula, then lightly cooked with the shell on
Scratch Bar
's wood-fired grill. It was then dressed with lemon, homemade matcha salt (with dehydrated shiitake and kelp), 'sabi, and
shoyu
. The idea was to create a "best of both worlds" scenario in one bite, with the flavor of cooked shrimp and the texture of raw shrimp, and I have to say that it was a success. Flavors were robust, savory, lightly smoky, while textures combined both creaminess and snap--superb. The course came with our first cocktail, which Schrader named the
Red Seal of Shimoda
after the port of Shimoda, apparently the first to import whiskey in Japan. The drink blended Suntory Toki, pomegranate, port, lemon, and housemade smoked honey, all shaken over ice, while the
ochoko
containing the drink was dusted with the same matcha salt used on the prawn. It worked, with prominent flavors of dark fruit and smoke finished with a blast of salt from the rim.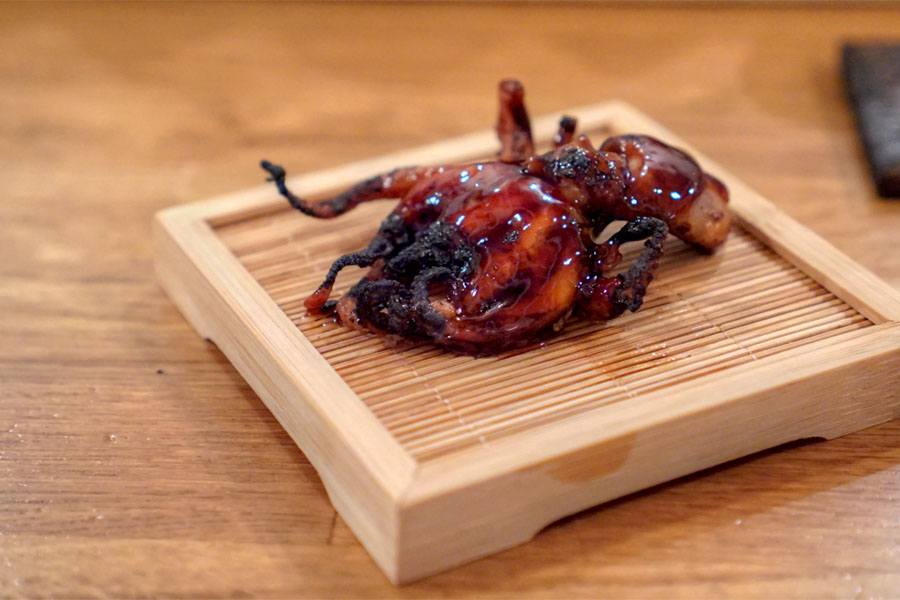 7: Spanish Octopus
Whole baby octopus was braised for 12 hours in pineapple and garlic, dressed with sweet soy, charred, and given a squirt of lemon. The end result was a tasty, tender preparation of
tako
loaded with bountiful amounts of sweetness and smoke.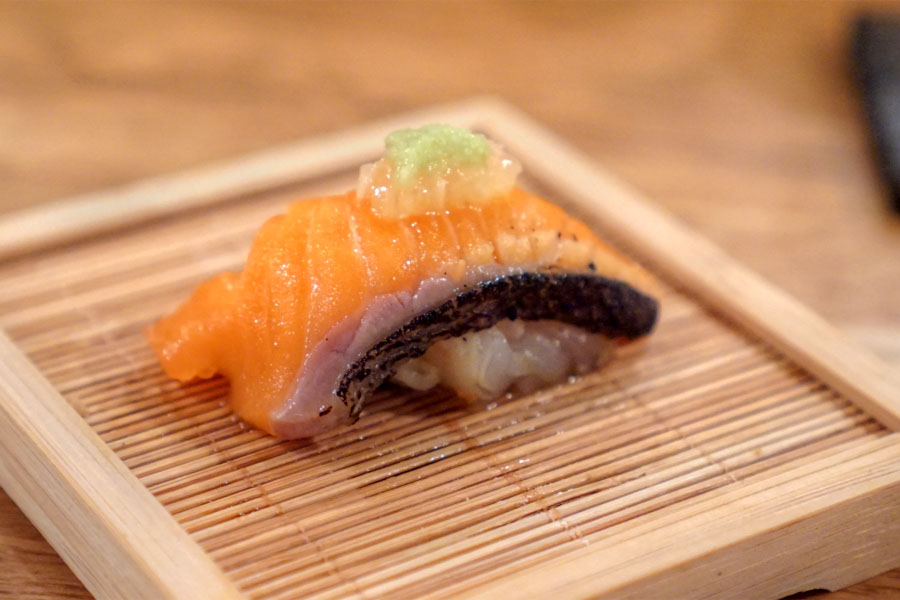 8: New Zealand Salmon
Next came salmon belly, seared skin-on, then capped with pickled lemon, wasabi, and soy. And in lieu of sushi rice, we had instead a prawn tartar. I found this super flavorful and oh-so fatty, with a superb char on the skin to boot. The actually prawn made for an effective base, too, working as a cool, creamy contrast to the fish.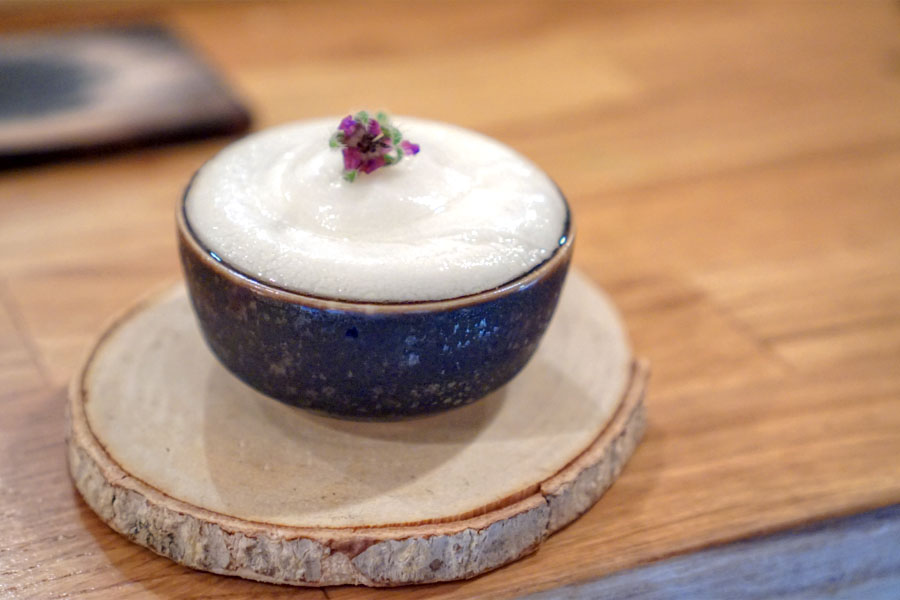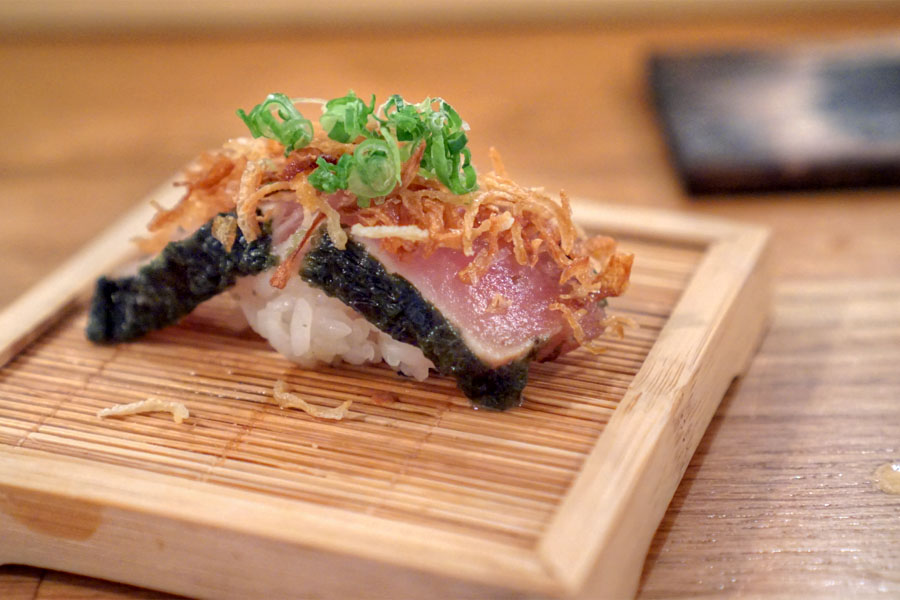 9: "Smoked" Albacore
This was an ode to the ubiquitous albacore preparation that we're all familiar with, you know the one, drenched in ponzu and crispy onion. Here, the tuna was smeared with roasted garlic purée and Himalayan rock salt, and wrapped in
nigori
-soaked nori. It was then grilled to crisp up the seaweed, and topped with soy, scallion, fried onions, and wasabi. I was a big fan of all the smoky, savory flavors at play here, as well as the dish's smidge of onion-y sweetness and piquancy from the
negi
and wasabi. And as for the paired beverage, we had a so-called
Oolong-Lo
, a play on the traditional Oolong-Hai. The classic drink blends shochu and tea, so what Schrader did here is remove the water, steeping the oolong directly into shochu to create a stronger drink. To even things out, he garnished the cocktail with a sweet, thick ginger foam and a borage flower.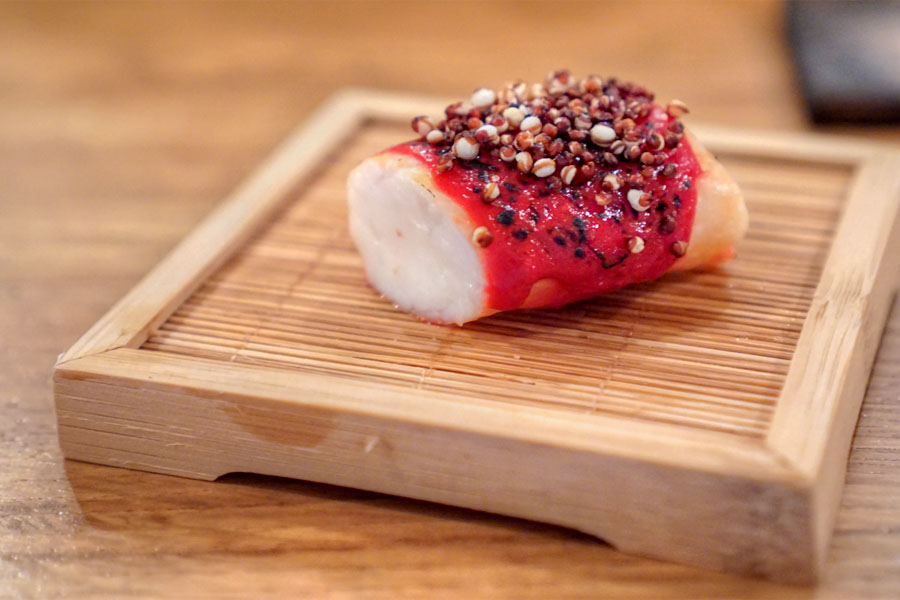 10: King Crab Dynamite
Russian king crab leg was brushed with a beet mustard, brûléed in order to caramelize the sugars, then covered with lemon juice, rock salt, and puffed red quinoa. I loved the earthy sweetness of the beet, and how that complemented the inherently sweet and briny nature of the crab. A wonderful pairing, and another favorite.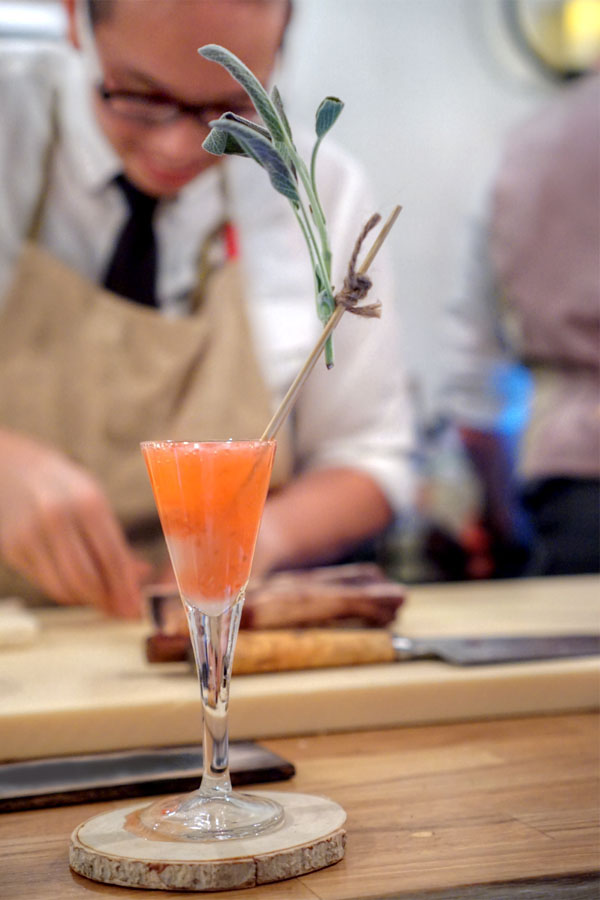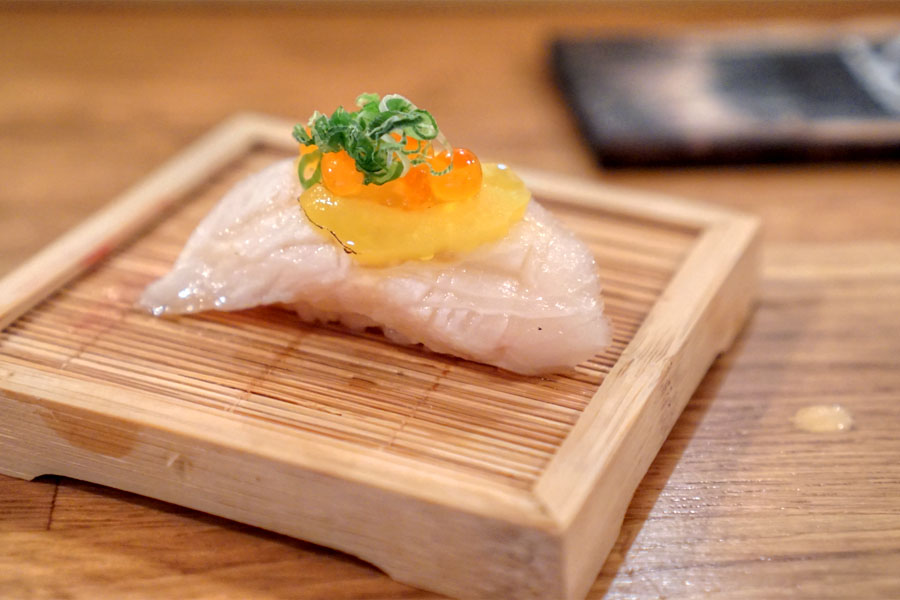 11: Wild Japanese Escolar
Scored escolar was finished with thin-sliced jackfruit, house-cured
ikura
, scallion, wasabi, and soy. Texturally, I found the fish both soft, yet substantial, while its flavors were somewhat sweet, but with a salty finish and a nice brightness from the green onion. Schrader paired the escolar with a tart, bright, super refreshing cocktail comprising raspberry and lychee muddled into
umeshu
, with added shochu, sparkling Sauvignon Blanc, and fresh sage.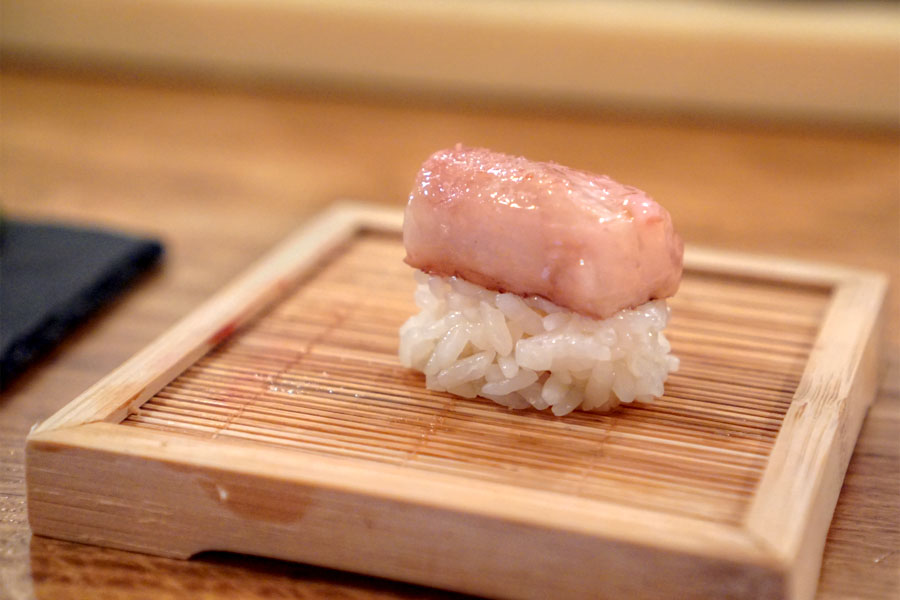 12: Bone Marrow
Next was the most unconventional
neta
of the night: roasted ox marrow seasoned with wasabi, soy, and rock salt. Not surprisingly, I found this ultra rich, decadent, with an almost mushroom-y earthiness to it and a foie gras-esque finish. Given the marrow's considerable heft, the rice was absolutely key as a counterweight.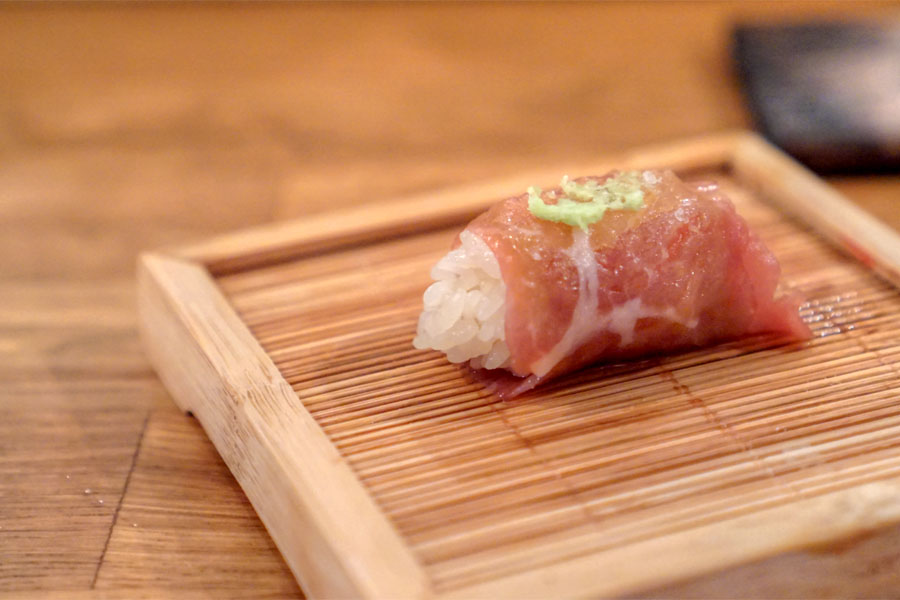 13: Dry Aged Sirloin
American wagyu sirloin was dry-aged for 12 days, rolled in warm sushi rice, then dressed with rock salt, wasabi, and soy sauce. The resulting taste was concentrated and beefy, as you'd expect, but I also found a welcomed sweetness, and much appreciated the tang of the wasabi as well. Also, in terms of beverages, we were provided with unlimited pours of Echigo beer from here on.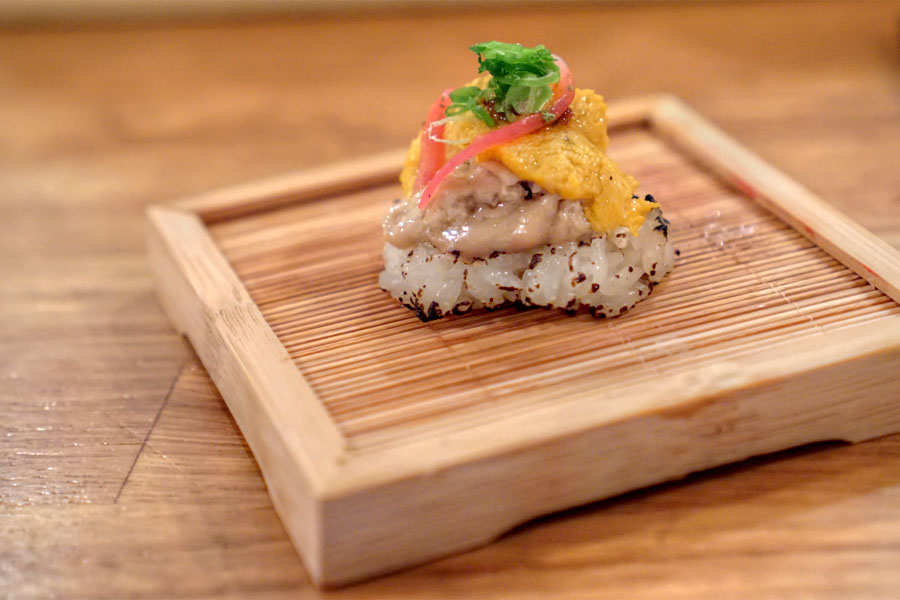 14: Foie Gras & Santa Barbara Sea Urchin
Our "pre-dessert" consisted of olive oil-toasted sushi rice with sambuca- and absinthe-cured foie gras, Santa Barbara sea urchin torched with brown sugar, lemon, matcha salt, sweet-n-sour onion, and scallion. It all made for a heavy, but delightfully multifaceted bite. There was a smart sweet-savory thing going on, and I loved the texture on the charred rice. Lovely accent from those tart, pickle-y onions, too.
15: Santa Barbara Sea Urchin
"Dessert" came in the form of soy sauce-marinated avocado rolled in puffed amaranth, with Santa Barbara urchin and a brûléed yuzu "marshmallow." The whole thing resembled an uni and avocado s'more, and had a sort of nutty-sweet flavor profile, with a definite creaminess from the avocado and a grittiness from the seeds. This was probably the most polarizing course of the evening.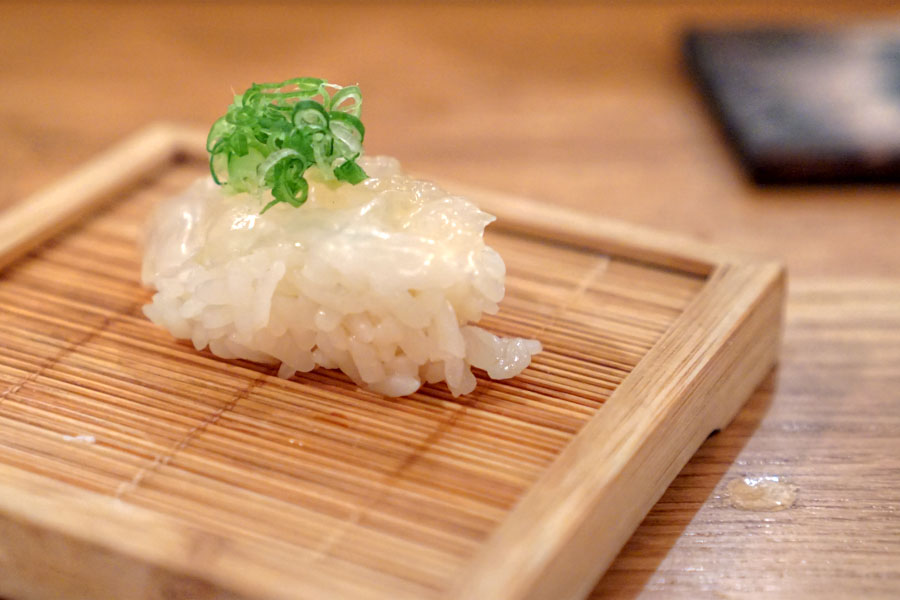 Supplement: Jellyfish [$12.00]
At this point we decided to tack on all the available supplements to our meal. The
kurage
was fantastic texturally, with a super satisfying crunch, while its mild flavors were amped up by the application of citrus and scallion.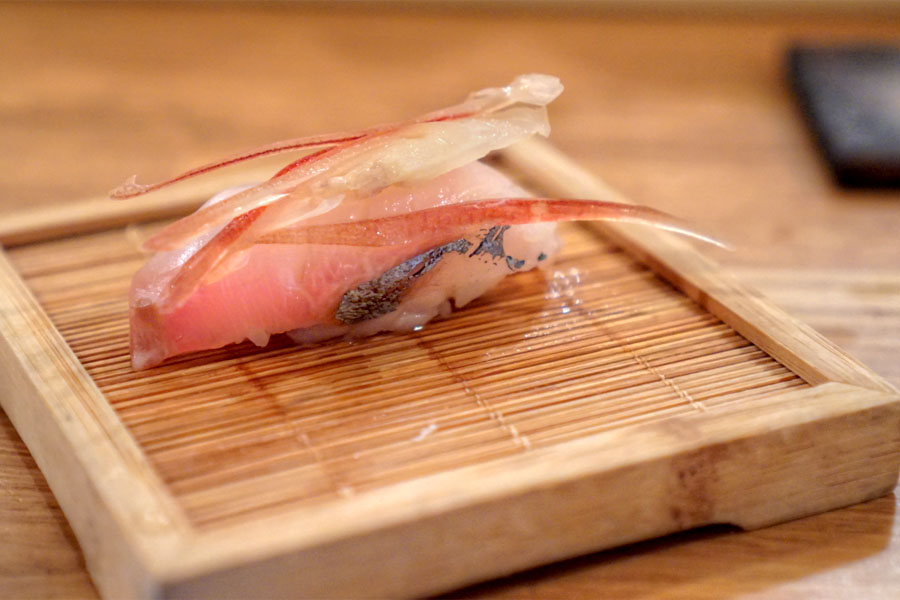 Supplement: Shima Aji [$12.00]
Striped jack from Tsukiji market was garnished with julienned
myoga
, wasabi, and homemade soy. The fish had a wonderful bite to it, while its sweet, briny flavors meshed beautifully with the zestiness of the Japanese ginger.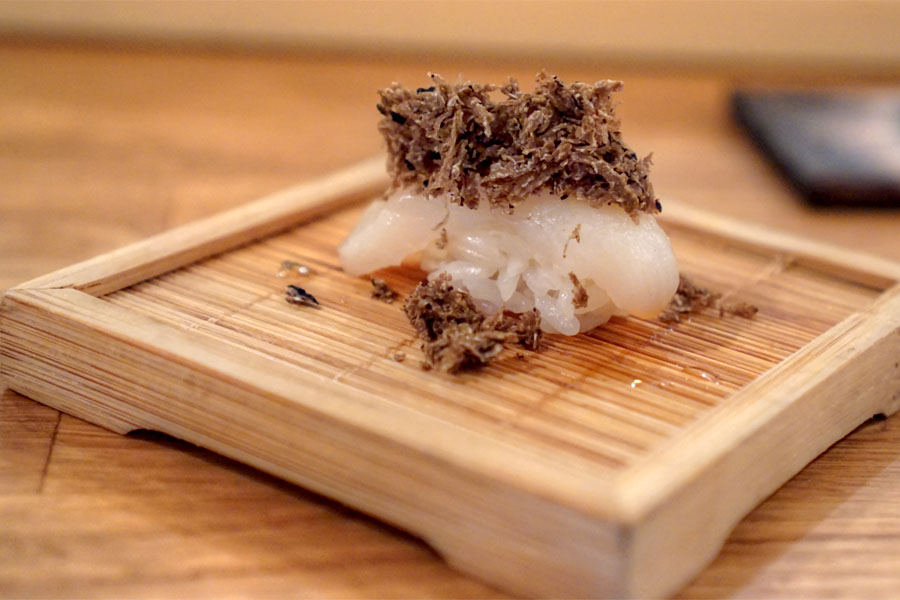 Supplement: Peruvian Scallop & Black Truffle [$12.00]
Purple Peruvian scallop came accompanied by housemade
yuzukosho
, Himalayan salt, soy, and a healthy amount of Italian black truffle. I was afraid that the truffle might overpower, but its woodsy flavors actually worked surprisingly well with the scallop's natural sweetness. I didn't detect much from the
yuzukosho
, though.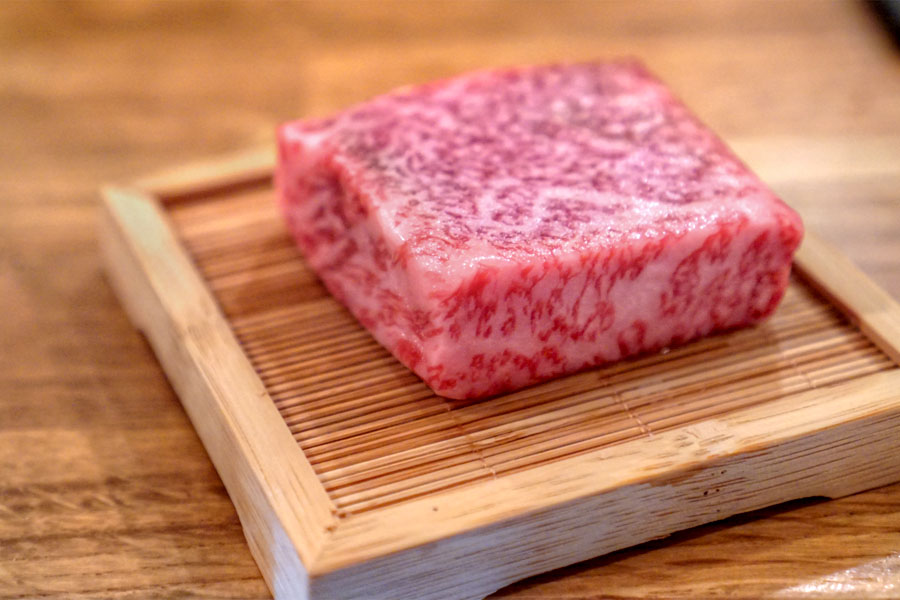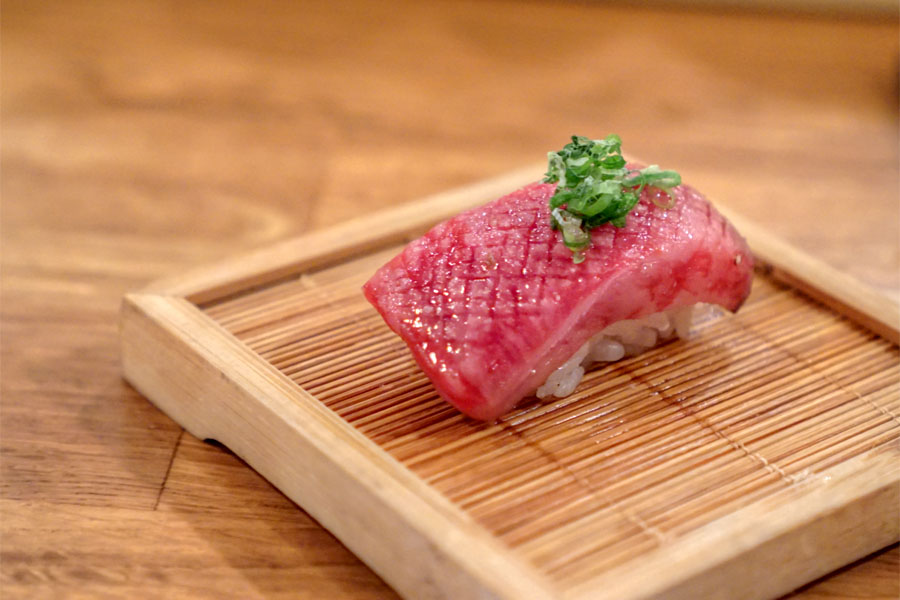 Supplement: "Kobe" Beef [$35.00]
What was advertised as Kobe beef was, unsurprisingly, not actually the real deal, but instead came from Gunma Prefecture. That being said, it was still just as delicious, an unabashedly rich, fatty cut of meat with a sweetness to it that paired swimmingly with accoutrements of soy, salt, and scallion especially.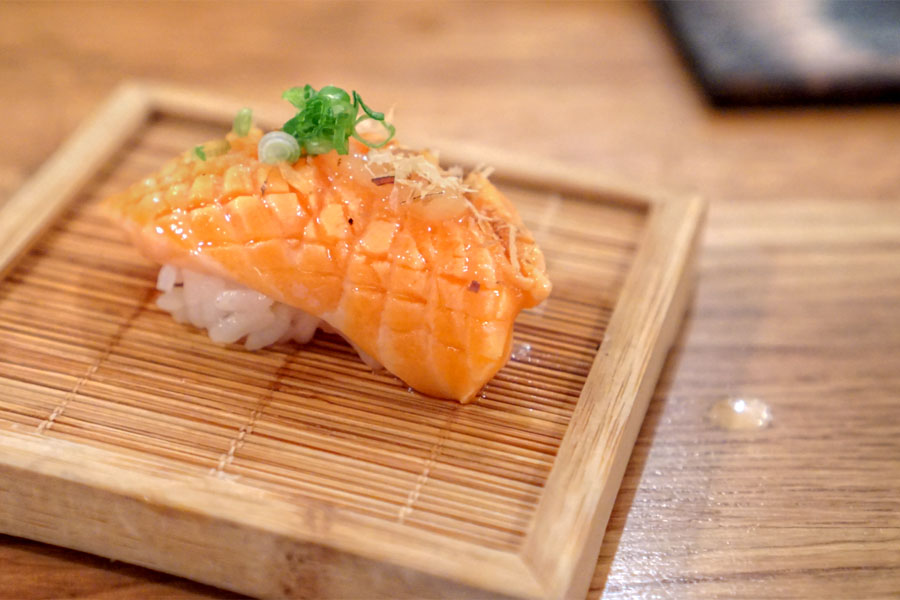 Supplement: New Zealand Salmon [$8.00]
We requested a "special" piece of sushi, and this was what Chef Sandel came up with: salmon, seared with lemon-garlic butter, then finished with soy, rock salt,
katsuobushi
, and scallion. I certainly enjoyed the fatty, creamy consistency of the fish, and how that played with the tartness of lemon, all while the scallion provided a touch of astringency on the back end.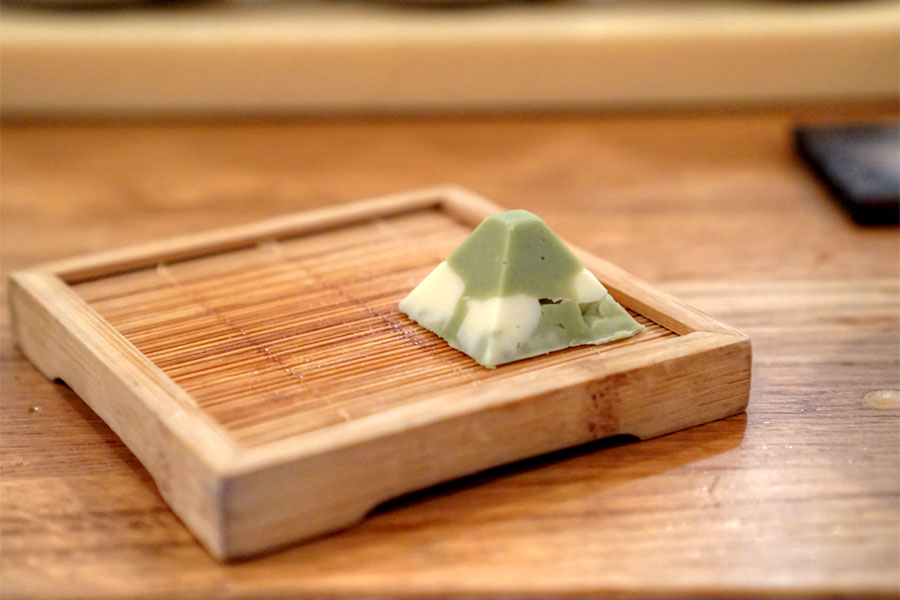 16: Matcha Latte White Chocolate
Our "proper" dessert came from Kallas-Lee: matcha latte and white chocolate were formed into a bittersweet pyramid of sorts, then filled with passion fruit and yuzu.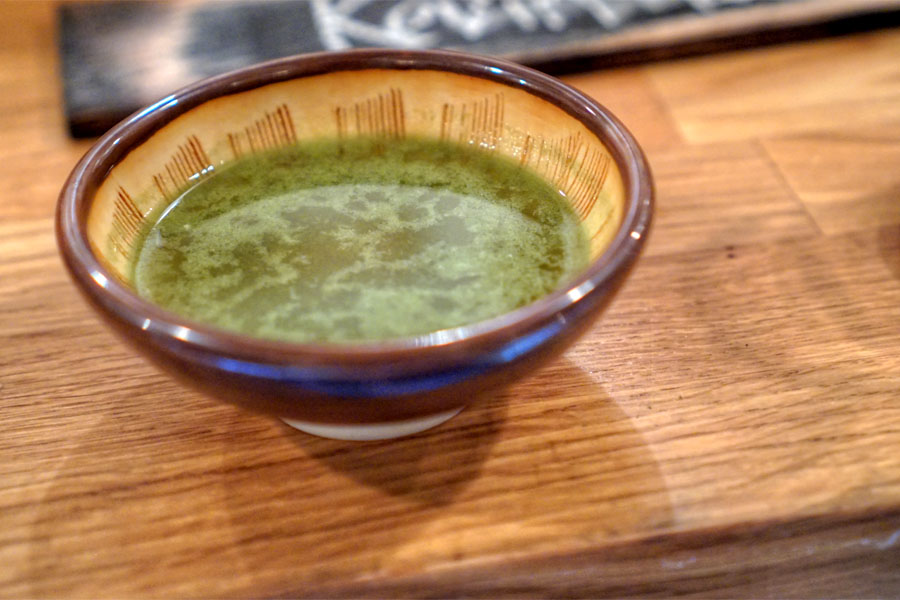 17: Green "Tea"
Lastly, Schrader prepared a "juicy and boozy" tea featuring matcha, plum wine, yuzu, and hot Omachi sake in place of water. Think warm, cozy, fruity, and roasty, a fitting conclusion to the meal.
I've visited a good number of our City's more celebrated sushi destinations, but I've never experienced anything quite like Sushi|Bar, which is actually a great thing. The restaurant's new wave interpretation of sushi veers toward the playful, creative, somewhat irreverent side, but still maintains the ethos of the cuisine, which is key. Basically, the team's able to meld the traditional sushi bar meal with a lot of the elements that people like about Scratch Bar. Some purists may scoff at this notion, but it's all fine by me. Sushi loving Angelenos should certainly give this place a try. Maybe you'll love it, maybe you'll hate it, but it'll be a new experience at the minimum.