Chapter One (Santa Ana, CA)
Chapter One: The Modern Local
227 N Broadway, Santa Ana, CA 92701
714.352.2225
www.chapteronetml.com
Sun 11/19/2017, 07:10p-09:20p

Downtown Santa Ana has witnessed a sort of revitalization over the past few years, and one of the first of the new wave of restaurants to open in the area is Chapter One, which debuted on Saint Patrick's Day 2011. Situated in the Artists Village section of DTSA, it's the work of partners Jeff Hall, Jeff Jensen, and Tim O'Connor, who all worked together at Auld Dubliner. Hall also helped open
Haven Gastropub
in Orange, and is the main mastermind behind Chapter One (the two Jeffs also partnered up for the nearby C4 Deli, which opened in 2013). The loosely library-themed restaurant serves up global, gastropub-type food, and its kitchen was initially helmed by Detroit native Oge Dalken. Dalken, however, ended up leaving, and was replaced by current chef Jason Montelibano (a.k.a. "Chicken Wang") in October 2013.
About the Chef
: Montelibano was born in the Philippines, raised on the Filipino cookery of his mom and grandmother. He eventually came to the US, and ended up going to culinary school at Le Cordon Bleu in Pasadena, graduating in 2008. Following, he got a job at the Island Hotel in Newport Beach, where he worked under David Man for two years. Montelibano then got on the opening team at Chapter One, actually starting out as a dishwasher before cooking his way up the ranks. He became Executive Chef at the tail end of 2013, but would end up leaving the following November to take over the newly-remodeled Eats Kitchen & Bar at the Hotel Irvine. He was replaced (finally) in August 2015 by Greg Moro, but Moro decamped himself at the end of January 2016. The kitchen was run by sous chefs Cameron Cortese and Armando Rios before Montelibano made his return in September that year. Rios, meanwhile, is still on board, and is joined by fellow sous Tony Castaneda.


Chapter One sits in the 1925 vintage Pacific Building, in the former home of bookstore Libreria El Hispano. It's a fairly large space, with lots of light wood throughout.

In the back is a private dining room dubbed The Red Room (it's not hard to see where that moniker came from), which is available for parties of up to 50 guests.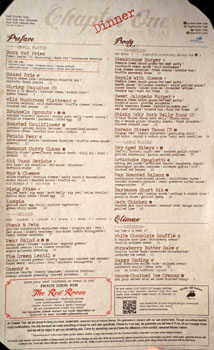 As far as the menu goes, Chapter One focuses on pubby fare with a multicultural influence. In addition, there are also separate lunch and weekend brunch menus, as well as happy hour and late night selections. Click for a larger version.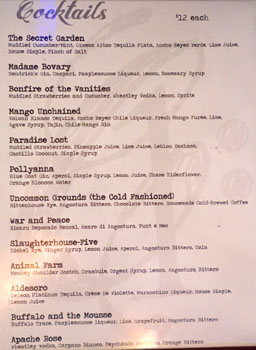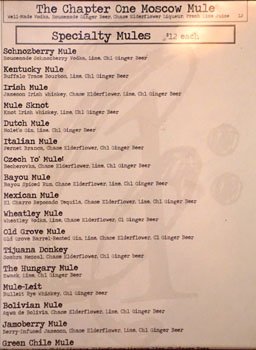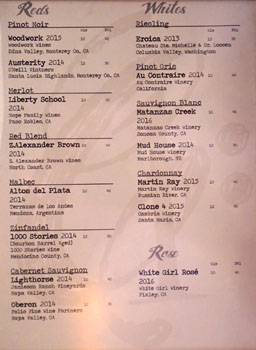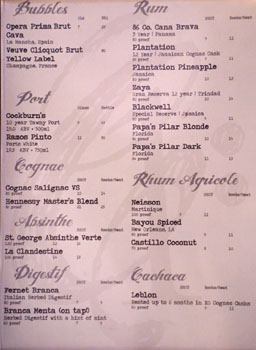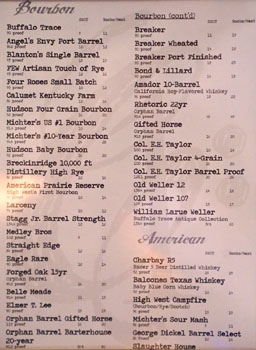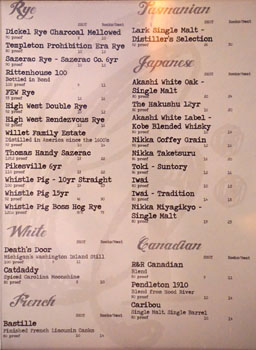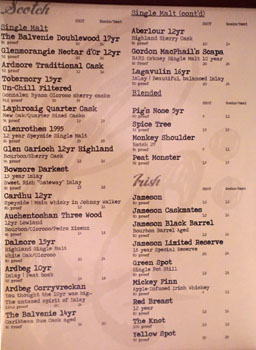 There are many options in terms of beverages. The literary-inspired cocktail list--the work of Bar Manager Timothy Morley and Bartender Joe Sanchez--reads interestingly enough, and has a particular focus on mules. You also get a small New World wine list, 13 beers on tap, and a spirits selection with a surprisingly formidable array of whiskies. Click for larger versions.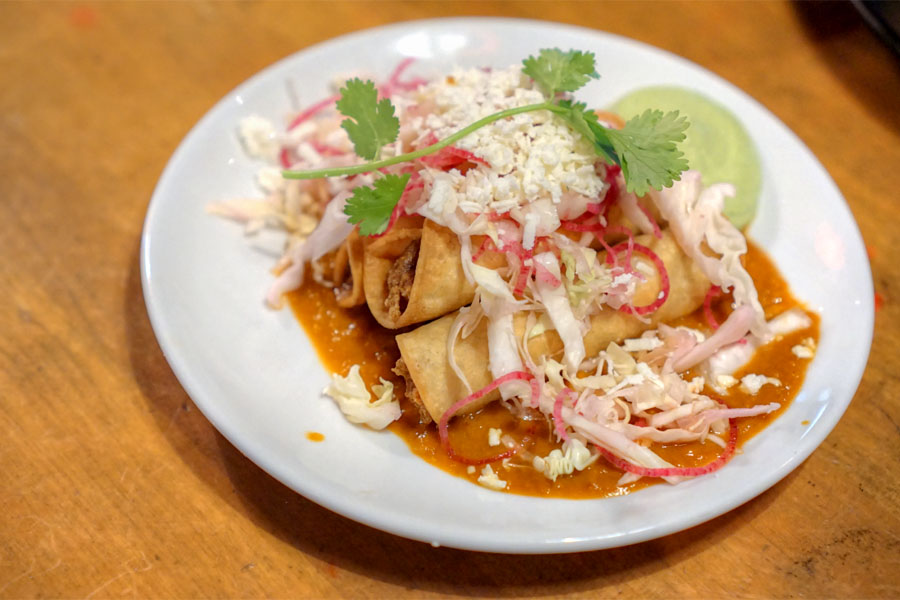 Shrimp Taquitos (3) [$9.00]
| salsa a la diabla, avocado crema, radish slaw, queso fresco
The taquitos made for a strong start, and the star was definitely the shrimp. It was cooked just right, and took well to the richness and heat from the salsa while still retaining its signature brine. I also got a nice crunch from the tortilla, while the cheese added a much appreciated hit of the salt to the dish.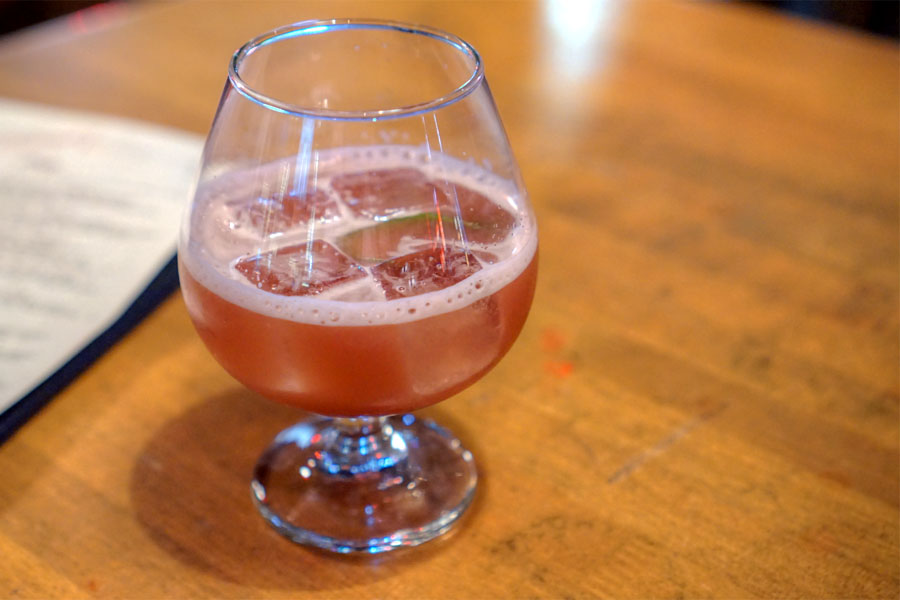 Buffalo and the Mousse [$12.00]
| Buffalo Trace, Pamplemousse liqueur, Lime, Grapefruit, Angostura Bitters
This first cocktail managed to be my favorite of the bunch. It smelled wonderful, giving up notes of juicy grapefruit intertwined with spice. On the palate I got more refreshing citrus, a touch of medicinal character, and some herb, all set over the booziness of the bourbon.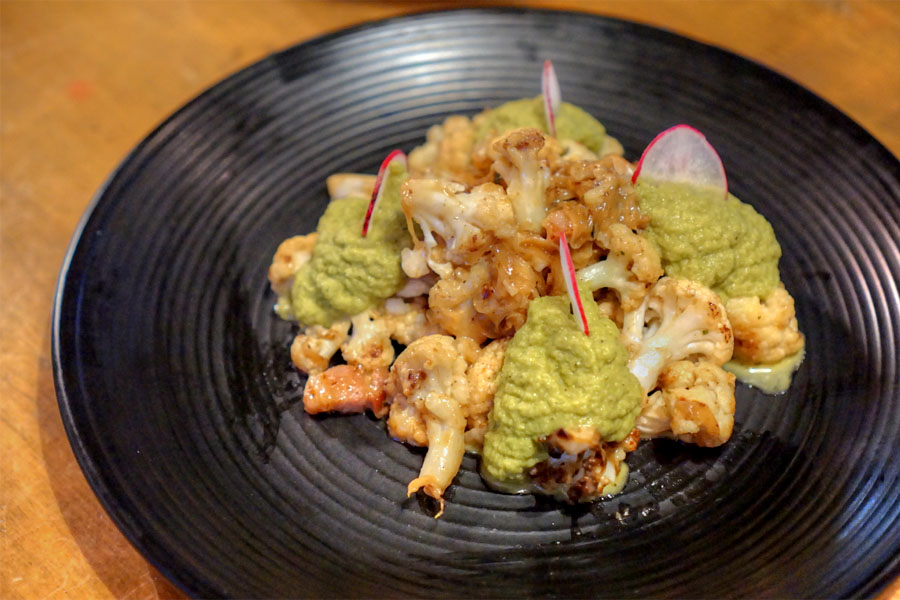 Roasted Cauliflower [$12.00]
| lardons, golden raisin béchamel, caramelized onions, poblano crema, toasted pine nuts, radish
Cauliflower arrived smoky and crisp, though unfortunately the flavors here were on the duller, muddled side. The lardons contributed a definite weightiness to things, and I wanted more brightness, more acidity, more punch.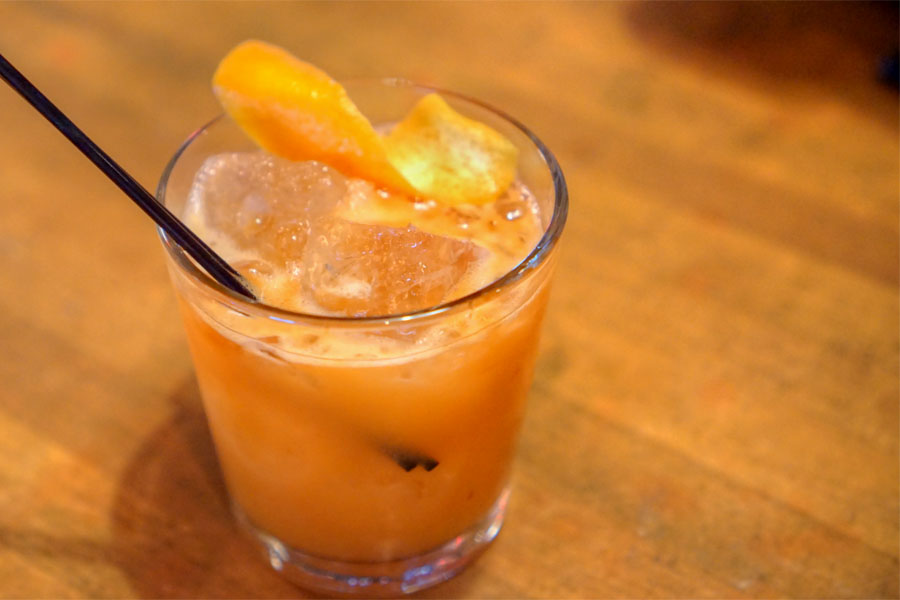 Animal Farm [$12.00]
| Monkey Shoulder Scotch, Drambuie, Orgeat Syrup, Lemon, Angostura Bitters
I enjoyed reading Orwell's
Animal Farm
as part of my high school curriculum, though I'm not sure exactly how the book relates to this cocktail. In any case, the drink had a straightforward nose filled with fresh, zesty citrus and a touch of honey. The taste was sweet and spicy, with a subtle booziness at first that only grew more intense toward the finish.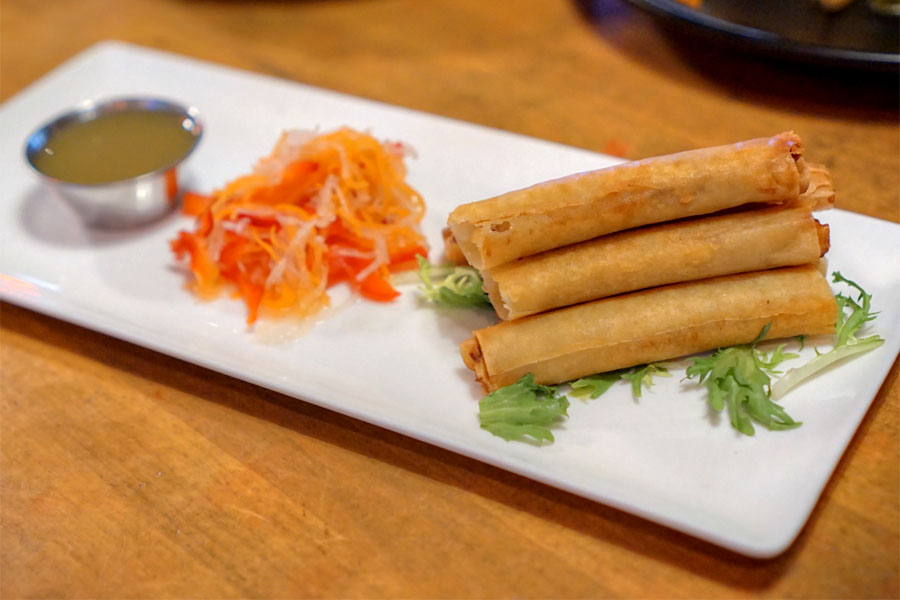 Lumpia [$10.00]
| ground pork egg rolls, pickled vegetables, green chili sauce
Slender lumpia were spot on, with their mouthwateringly juicy, savory pork filling and crisp wrappers. They were delicious alone, but really sang with a dip into that intensely sour, spicy sauce on the side. Nice acidity from the pickles, too.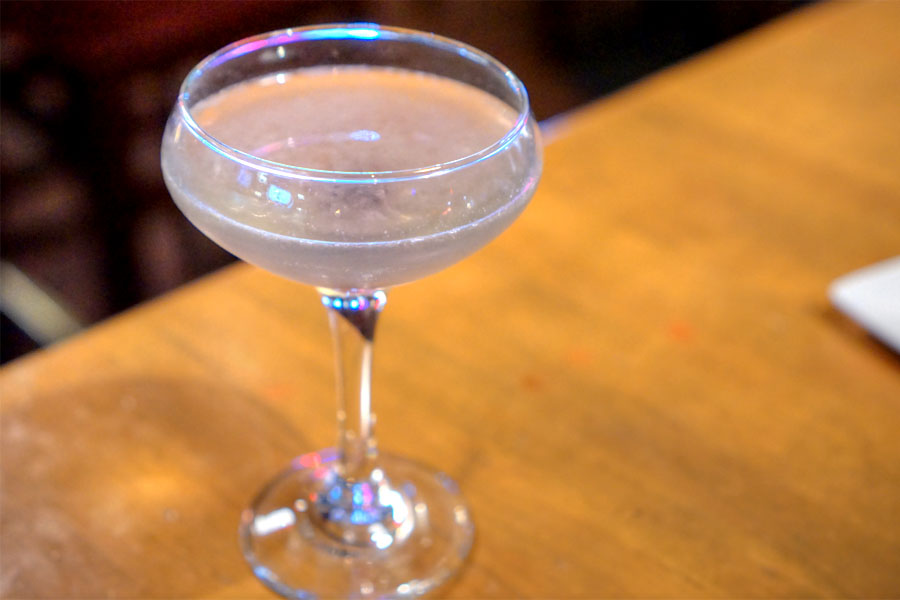 Aldesoro [$12.00]
| DeLeon Platinum Tequila, Crème De Violette, Maraschino Liqueur, House Simple, Lemon Juice
Our next cocktail was basically a tequila-based Aviation. Its nose conveyed cherried, nutty notes, with a hint of astringency and overarching citrus. In terms of taste, think sweet and floral, but also bracing, with the maraschino really making itself known.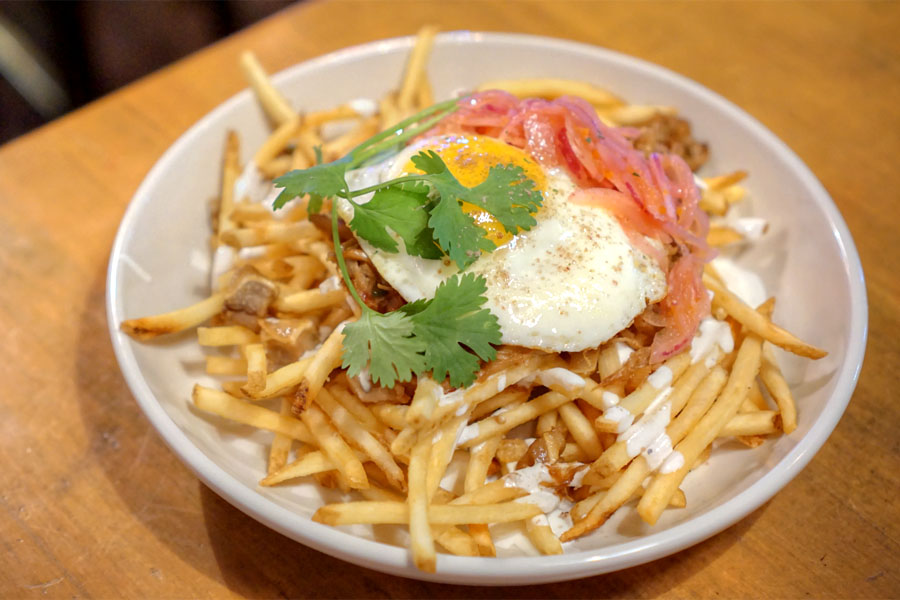 Sisig Fries [$12.00]
| pulled pork, pig ears, pork belly, pig jowl, salsa criolla, citrus sour cream, fried egg
Sisig
-laced fries were hard to resist. The aggressively-flavored, crispy shards of pork really went hand-in-hand with the acidity of the pickled onions, while the runny egg contributed a lush, moderating element. And the actual fries? Just right. You'll probably want to get this.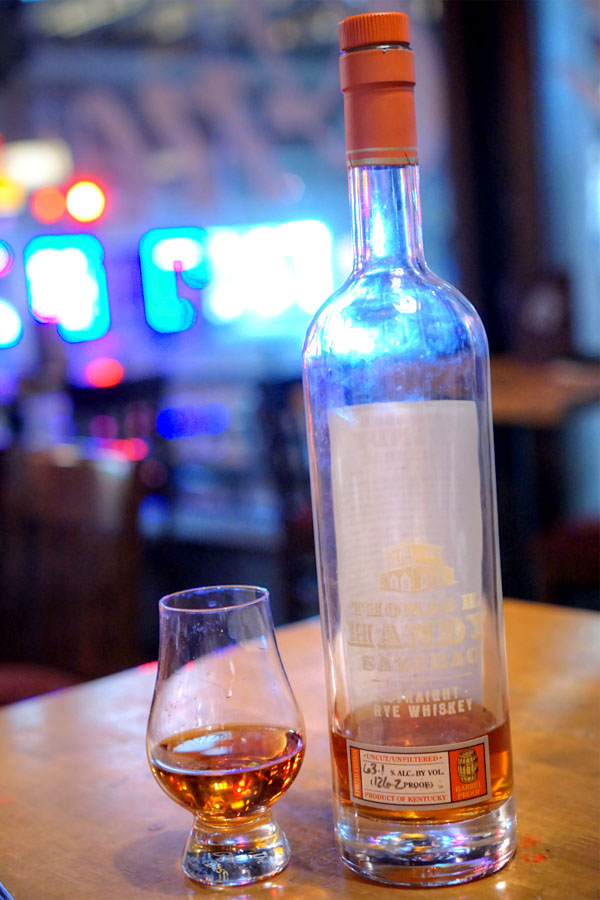 We then ordered a serving of
Thomas Handy Sazerac [$22]
from the Fall 2016 release. Wonderfully aromatic nose brimming with honey, cocoa, and lush toffee, along with hints of rye spice. On the tongue, I found plenty of heat, along with lots of rich stone fruit, caramel, and more peppery spice. Really nice.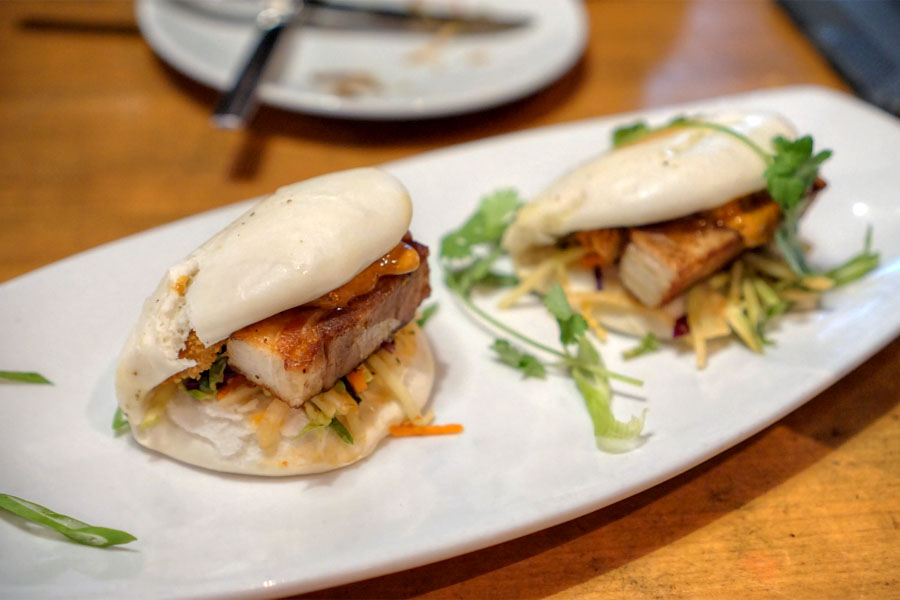 Sticky Icky Pork Belly Buns (2) [$13.00]
| 72-hour brined duroc pork belly, sticky-spicy soy & sesame glaze, crunchy kimchi, fried jalapeño, chinese steamed buns
Montelibano's interpretation of the ubiquitous pork belly buns worked. The pork itself was well-seasoned, and showed off a good mix of fat and lean that lent itself well to the dish. The meat's glaze gave a sort of savory-sweet flavor profile that was expected, but effective, while the veggies provided that necessary brightness and crunch.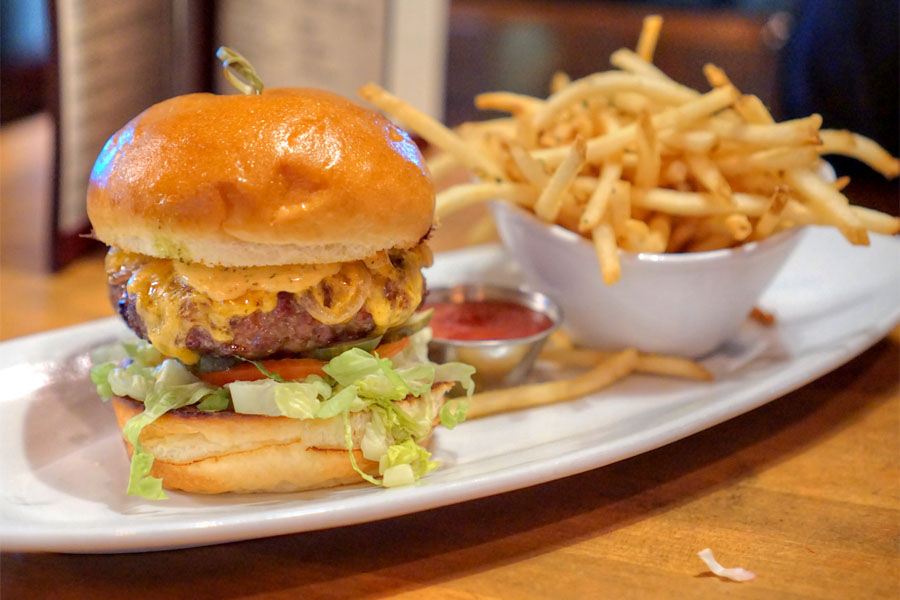 Royale with Cheese [$16.00]
| Stemple Creek Ranch grass-fed beef patty, secret sauce, Tillamook cheddar, whole grilled onion, sliced tomato, spiced pickles, shredded lettuce, brioche bun, duck fat fries
The burger hit the mark as well. It all starts with the meat, which comes from Electric City Butcher just down the street at
4th Street Market
. The patty had a particularly concentrated beefiness to it, along with plenty of char, and meshed perfectly with the cheddar. Meanwhile, the "secret" sauce imparted just a touch of tartness, while the veggies and pickles completed the experience. Classic, but still interesting.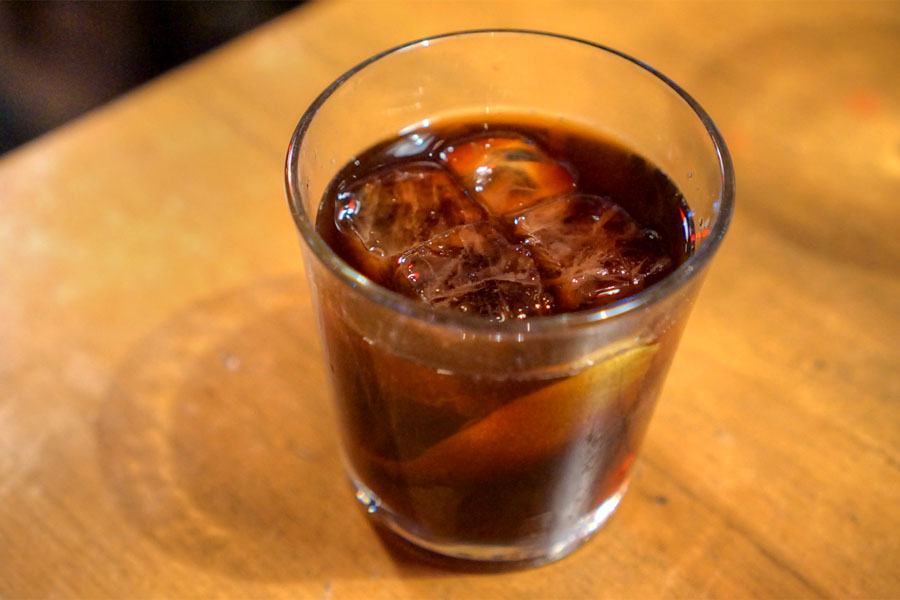 Uncommon Grounds (the Cold Fashioned) [$12.00]
| Rittenhouse Rye, Angostura Bitters, Chocolate Bitters, Housemade Cold-Brewed Coffee
Our final cocktail was this coffee-enriched Old Fashioned. Its bouquet was distinctly citrus-y, with roast and bitterness in the background. The taste showcased more coffee of course, along with dark fruit, herbs, and rye spice.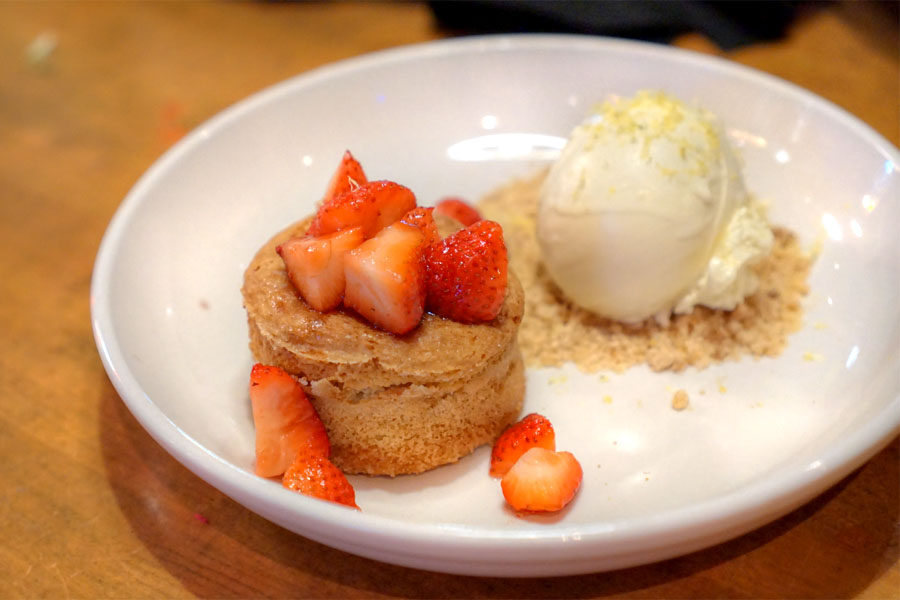 Strawberry Butter Cake [$10.00]
| vanilla butter cake, macerated strawberries, lavender ice cream
We ended with the butter cake, which arrived warm, rich, and moist, at least in the center. Its vanilla flavors certainly made sense with the strawberries, but the star of the show for me was definitely that perfume-y lavender ice cream.
Chapter One had been on my "to-eat" list for at least a few years now, and I'm happy that I finally made it out. The food is in effect elevated bar fare, with a playful, international slant, and definitely hit the spot for the most part. The restaurant's beverage program is also worthy of praise, and at the end of the meal we were already talking about how it might be worth it to come back just for that. Overall this is a very solid spot, and I can see why it helped usher in a new era of dining here in DTSA.