Basilic (Newport Beach, CA)
Basilic Restaurant
217 Marine Ave, Newport Beach, CA 92662
949.673.0570
www.basilicrestaurant.com
Tue 02/06/2018, 8:15p-10:20p

Situated on Newport's Balboa Island, Basilic is one of OC's older-line eateries, one that celebrated its 20th anniversary last year. The restaurant is named after the French word for "basil" (the Chef's favorite herb), and features French-Swiss fare. It's especially well-known for its raclette, a traditional Alpine dish featuring a melted cow's milk cheese alongside potatoes, pickles, and charcuterie. In fact, Basilic features a "Raclette Night" the first Tuesday of every month in the fall/winter, which is exactly what we came for.
About the Chef
: Executive Chef/Owner Bernard Althaus hails from the small town of Faoug in Switzerland, and grew up in the restaurant business, as his family operated a local establishment called Restaurant de la Gare. He went to school in Lausanne and apprenticed at the nearby Restaurant Le Chalet Suisse, then moved to the US to cook for the French team at the 1970 America's Cup. Continuing on with the nautical theme, Althaus subsequently served as a private chef for charters in the Caribbean, then later returned home to Switzerland. In 1990, the Chef and his wife Arlette (along with their two kids) visited Newport to attend the wedding of an uncle. They ended up traveling around the country in an RV for a year, then finally settled in Orange County. Althaus soon started cooking under fellow countryman Ernst Zingg at The Cellar in Fullerton, and also spent nearly two years at Pascal Olhats' eponymous
Pascal
. He then worked for five years at Mezzanine at the Towers in Irvine before debuting Basilic in February 1997.

Basilic occupies a site that was previously home to Andre Lechien's Andre, as well as Tete-a-Tete (its owners Christophe and Juerg Boo also ran Mezzanine), Steinbeck's Creative Cuisine, and Hemingway's before that. It's a cozy, homey space, reminiscent of something you might encounter in the Alps, and seats only about two dozen or so.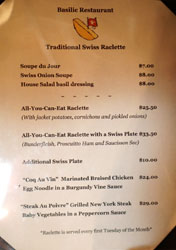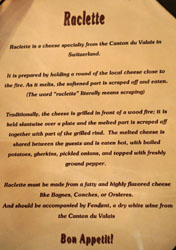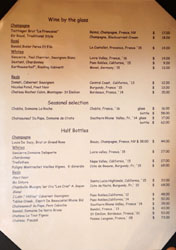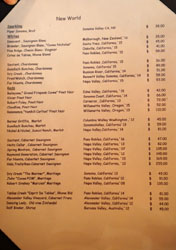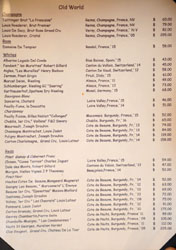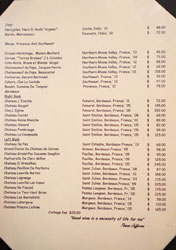 Our menu featured a limited selection of starters and two mains alongside the hero of the evening: that AYCE raclette. To drink, you get a wine list (rendered in Comic Sans) that's French-focused as expected, though there's decent New World representation. Corkage, meanwhile, is $25 a pop. Click for larger versions.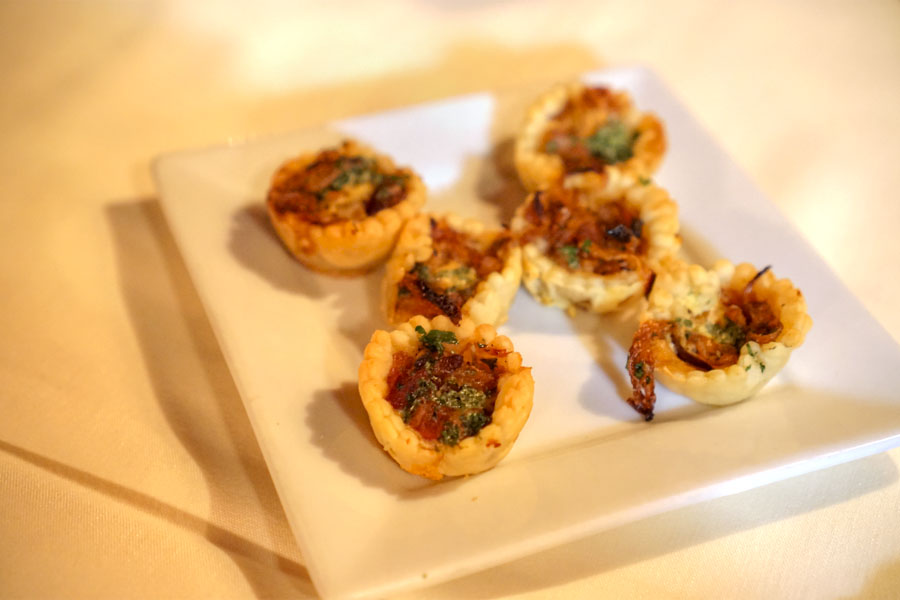 Canapé duties were handled by a plate of miniature quiches with caramelized onion and bacon. Think cheesy and salty, but with an onion-y zest, all set in a dry, crumbly pastry crust.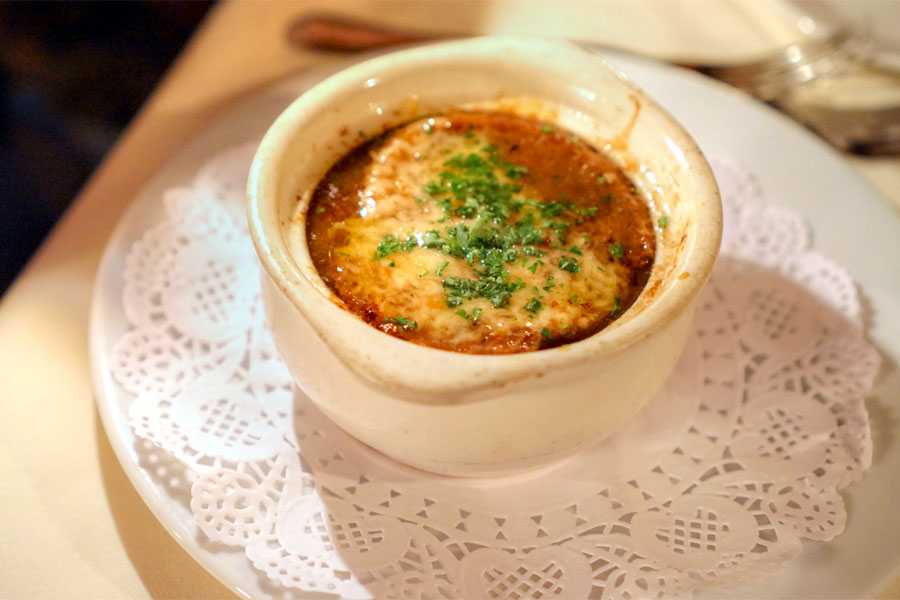 Swiss Onion Soupe [$8.00]
I'm not quite sure what the difference is between this and a traditional French onion soup; I think it has something to do with the broth. In any case, it tasted just as you'd expect, with deep, dark flavors of sweet and savory interacting in classic fashion.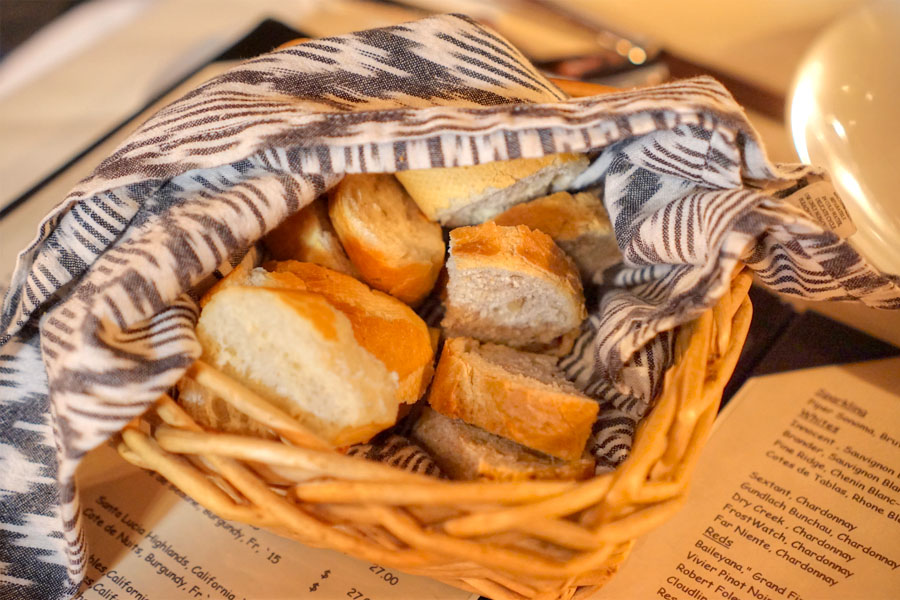 The bread was fairly typical, though it did do a nice job in evening out all the cheese we were about to have.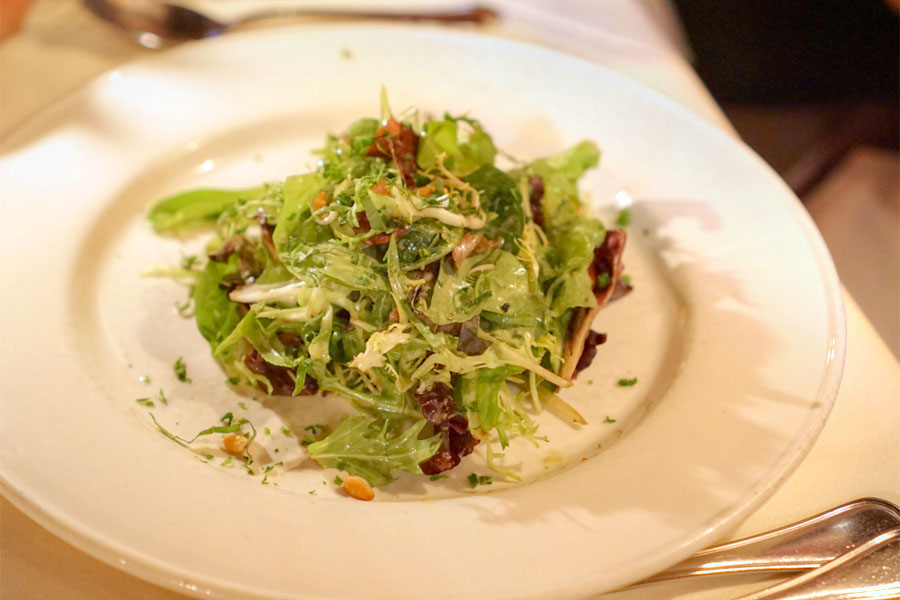 House Salad [$8.00]
| basil dressing
I wasn't terribly excited about the salad, though it worked just fine. The best part was its zippy, basil-based dressing.
To drink, we had a bottle of the
2015 Council Anniversary House Red
, an imperial sour red ale fermented in oak with
Lactobacillus
,
Pediococcus
, and
Brettanomyces
, then finished with Malbec grapes. It had an appealing nose filled with funk, oak, and red berry fruit, with subtle notes of Band-Aid coming through as the beer warmed. The taste brought more earthy barnyard and oak, along with a definite yeastiness, some tannins, and puckering acidity, while a lingering fruitiness came through on the mid-palate. Quite nice overall.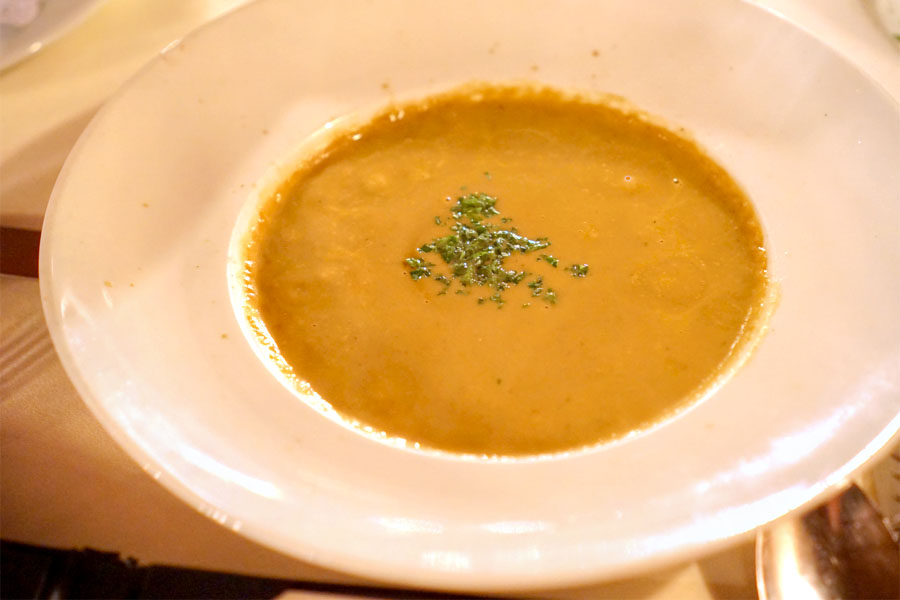 Soupe du Jour [$7.00]
The evening's special soup was based on mushroom and asparagus. I got a brief sensation of musky 'shroom at first, but this quickly gave way to a somewhat odd vegetal tartness from the asparagus. I wasn't a big fan.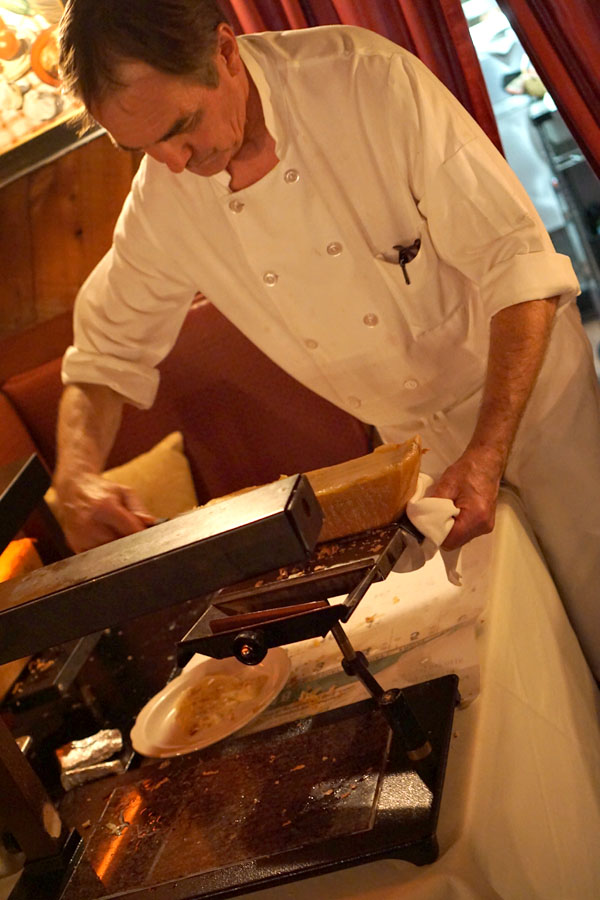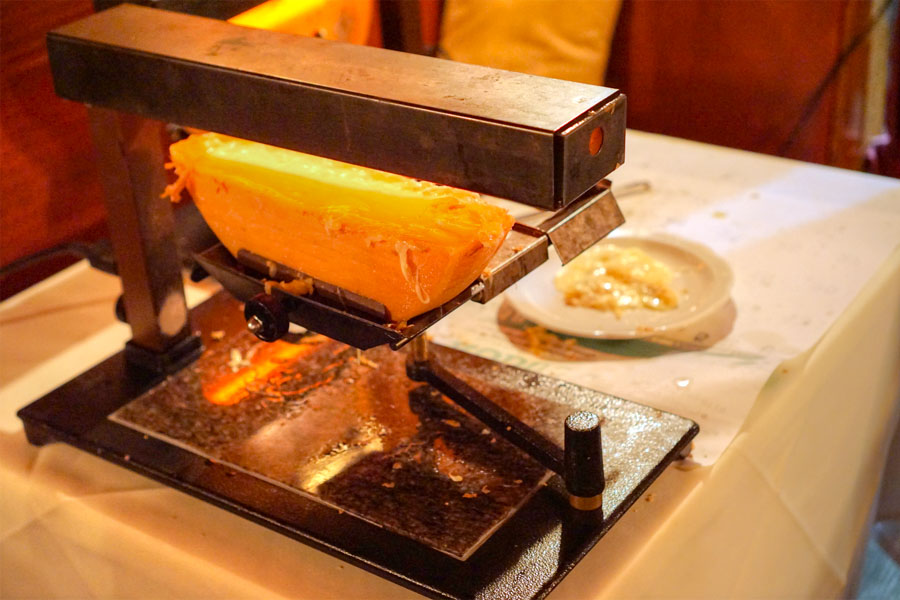 Here we see Chef Althaus working the raclette cheese melter contraption thingy.
All-You-Can-Eat Raclette with a Swiss Plate [$33.50]
And now for the main attraction. Pictured above is the first plate of raclette I had, and I ended up going back for another three or four servings. The dish may have looked a mess, but tasted oh-so good. The raclette was among the richest, gooiest, most luscious cheeses I've had, and was made even more gratifying by the presence of those charred crispy bits (tastes like Cheez-Its). I loved eating it just by itself, but the jacket potatoes worked beautifully as a moderating element, while also providing some texture to things. Super cozy and comforting.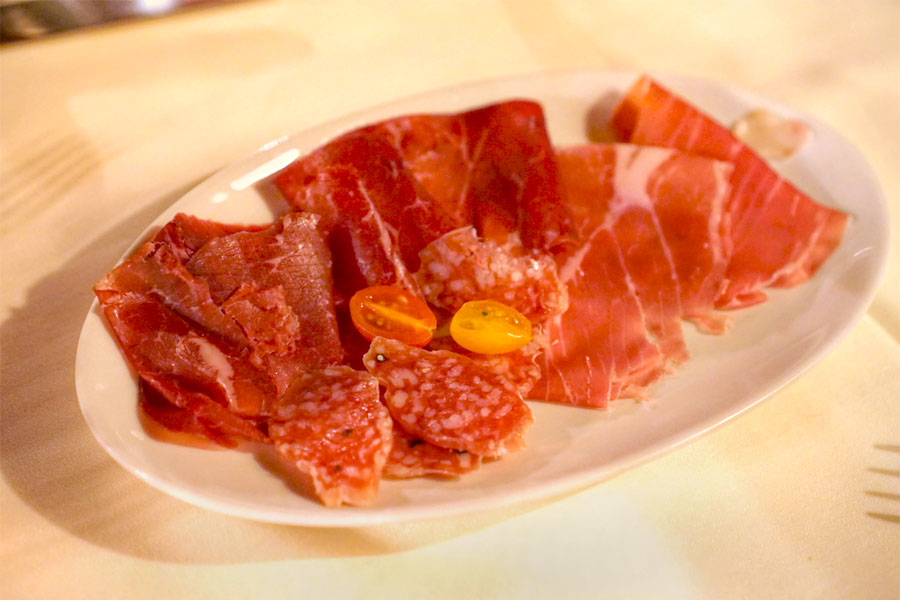 The raclette was accompanied by a "Swiss Plate" featuring Bündnerfleisch, prosciutto, and saucisson sec. You really can't go wrong with the time-tested combination of meat 'n' cheese. Yum.
Also crucial were the cornichons and pickled onions, which offered up both crunch and acidity--a perfect complement.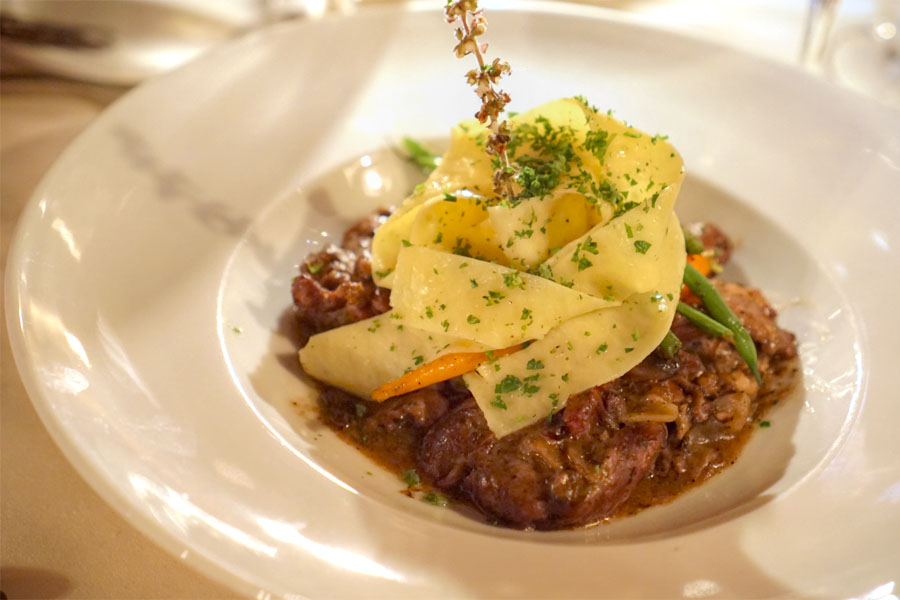 "Coq Au Vin" [$24.00]
| Marinated Braised Chicken, Egg Noodle in a Burgundy Vine Sauce
In addition to the raclette, we also sampled the Chef's take on one of the most iconic of French dishes. I found the chicken falling-apart tender and heartily flavored, with plenty of vinous notes from its Burgundy sauce and a healthy dosing of herbaceousness to go along. Also of interest were the noodles, which worked as a welcomed contrast to the bird.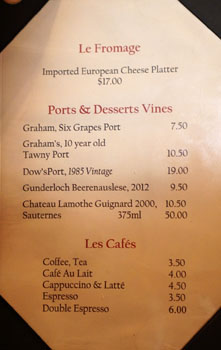 We had to end with some desserts, naturally. Click for larger versions.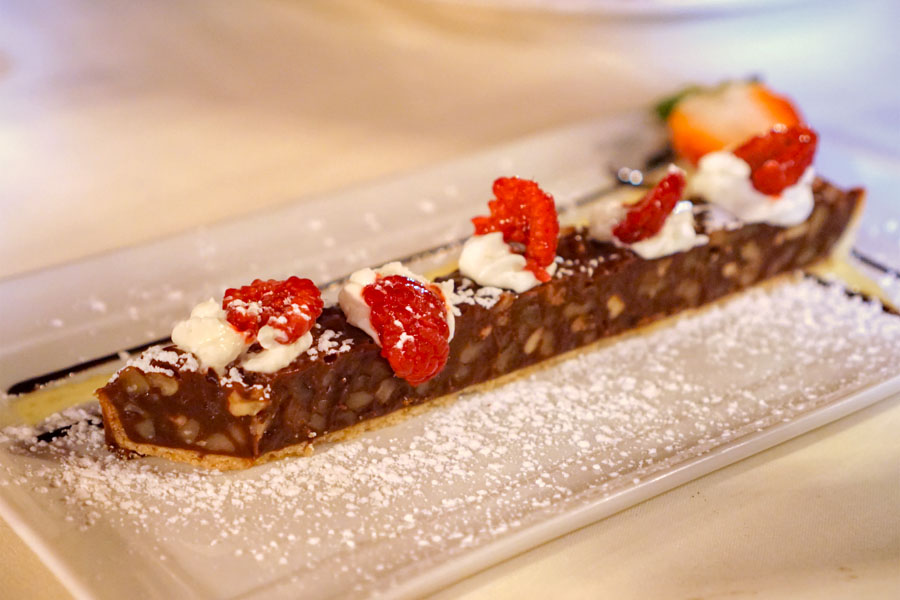 Caramelized Pecan Walnut Chocolate Tart [$8.00]
| With Crème Anglaise
The tart was a bit heavy-handed with the nuts, and I actually would've preferred more chocolate for balance.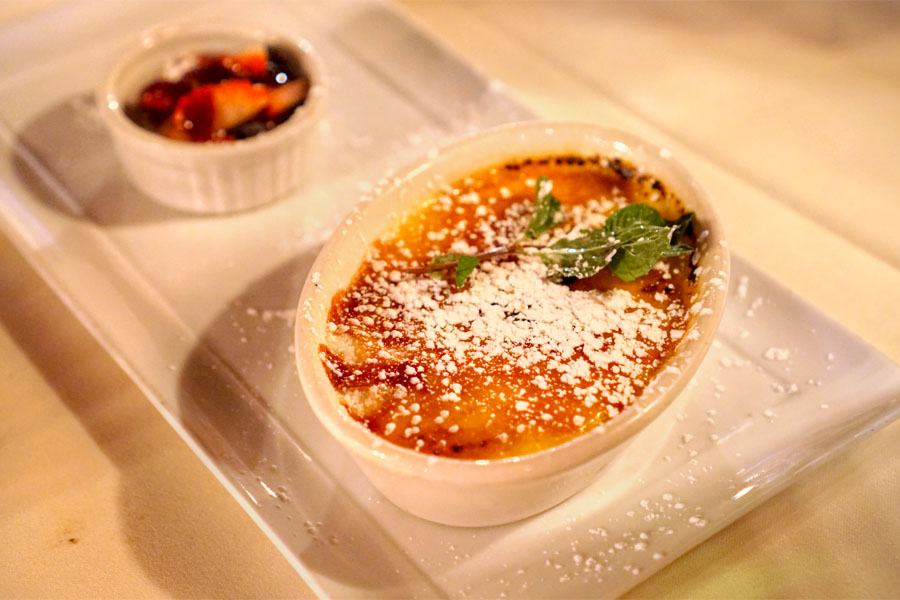 Crème Brulée [$8.00]
| Soft Vanilla Custard Mixed With Fresh Berries & a Glazed Sugar Crust
Our crème brûlée was definitely on the eggy, thicker side, and sported a well-caramelized top and some floral berries for contrast.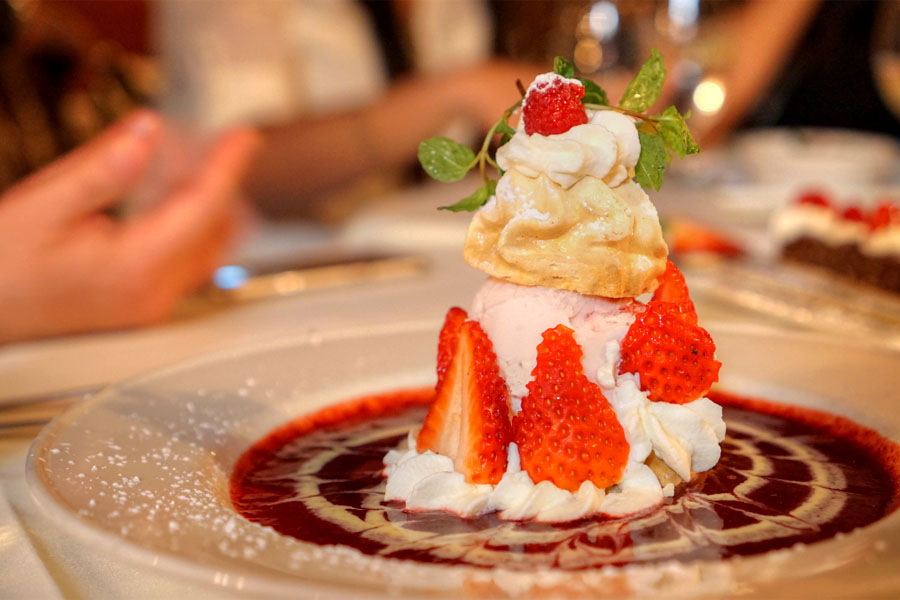 Strawberry Ice Cream [$8.00]
| Baked Meringue, Whipped Cream, Fresh Strawberries, Berry Sauce
The final dessert was a special, and my favorite of the trio. It was an effective take on the classic combo of berries and cream, and I especially appreciated the lightness of the meringues here.
Having all this cheese didn't get as monotonous as I feared it would, thankfully, and so I really enjoyed my first taste of legit raclette. If you're curious about the dish like I was, I think Basilic would be a good place to give it a shot.