The Hobbit (Orange, CA)
The Hobbit Restaurant
2932 E Chapman Ave, Orange, CA 92869
714.997.1972
www.hobbitrestaurant.com
Thu 01/25/2018, 6:40p-11:00p

If we're talking about "old school" sort of restaurants in Orange County, The Hobbit is one that immediately comes to mind. It's a place that I'd heard about well before I even started this site, and I finally got around to visiting at the start of this year. The Hobbit's open Wednesdays through Sundays only, with one seating at 7:00pm (though the bar opens an hour prior), and the meal takes roughly four hours. Reservations are absolutely required, and this is one of the few places in SoCal that have a dress code (jackets recommended, collared-and-buttoned shirt with slacks required; no jeans, no shorts, no tennis shoes or flip-flops).
A bit of history
: The Hobbit opened all the way back in 1972, the brainchild of Howard and Beverly Philippi, a local couple from Long Beach. The two were both chefs (they did catering) as well as Francophiles, and eventually purchased a Ukrainian eatery called Ukramada Dinnerhouse with partner/painting contractor Ken Burnap (who later started Santa Cruz Mountain Vineyard in 1975), turning the 1930s Spanish abode into The Hobbit. Given that OC lacked many fine dining options at the time, the restaurant was a smashing success, booked solid almost every night. The Philippis also had a son, Michael "Mike" Philippi, and he grew up in the family business, though he did work other jobs. He eventually found his way back to the hospitality biz though, starting out as a server at Cafe Lafayette and later moving up to Saratoga for a job. In the late 1970s, Mike and partner John Balesky (
Club 33
, Chez Cary) purchased The Hobbit from his parents (who later moved up to Soquel and opened Howard's Salmon Poacher), the former working as Executive Chef and the latter as Sommelier.
Not much has changed since then. Later on, Mike's wife Debra joined the team, and currently functions as Event Coordinator. The dining room is helmed by GM Matthew McKinney, a Biola grad who initially started at The Hobbit in February 2006, left for Texas in 2012 (Bob's Steak and Chop House), then returned to California, finding employment at Mastro's and Montage Laguna Beach before returning here. He's assisted by Sommelier Amy Cody, while Querétaro native Hector Gudino is Chef de Cuisine.
I arrived early, so I quickly made my way to the upstairs bar to enjoy a couple pre-dinner cocktails.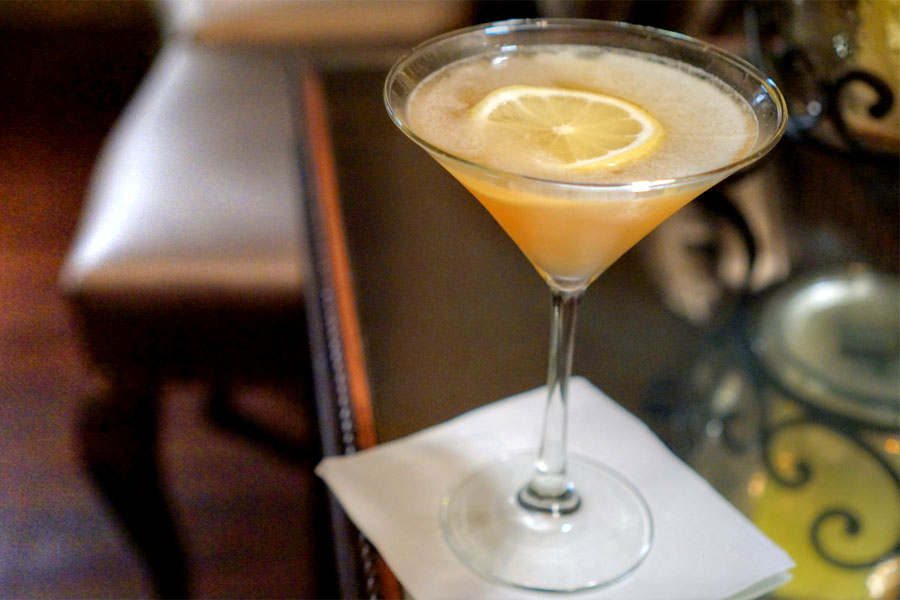 Cinnamon Sidecar [$15.00]
| Cinnamon Brandy, Citrus & Orange Liqueur
First up was this variation on the classic sidecar cocktail. My initial impression was that it was rather sweet, but fortunately there was a strong citrus component as well as a boozy heat underpinning it all. The actual cinnamon was light, and showed up more on the back end.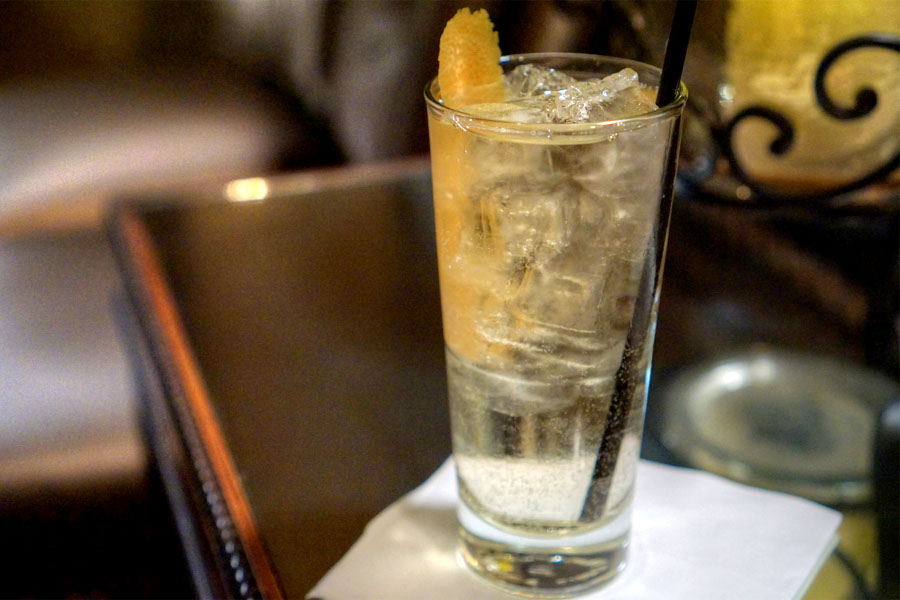 Japanese Highball [$15.00]
| Kikori, Nikka, Yuzu Liqueur
Next came a common preparation of Japanese whisky. I found the cocktail light and fizzy, but at the same time, the spirits were clearly the focus and very apparent. What wasn't particularly apparent, however, was the advertised yuzu.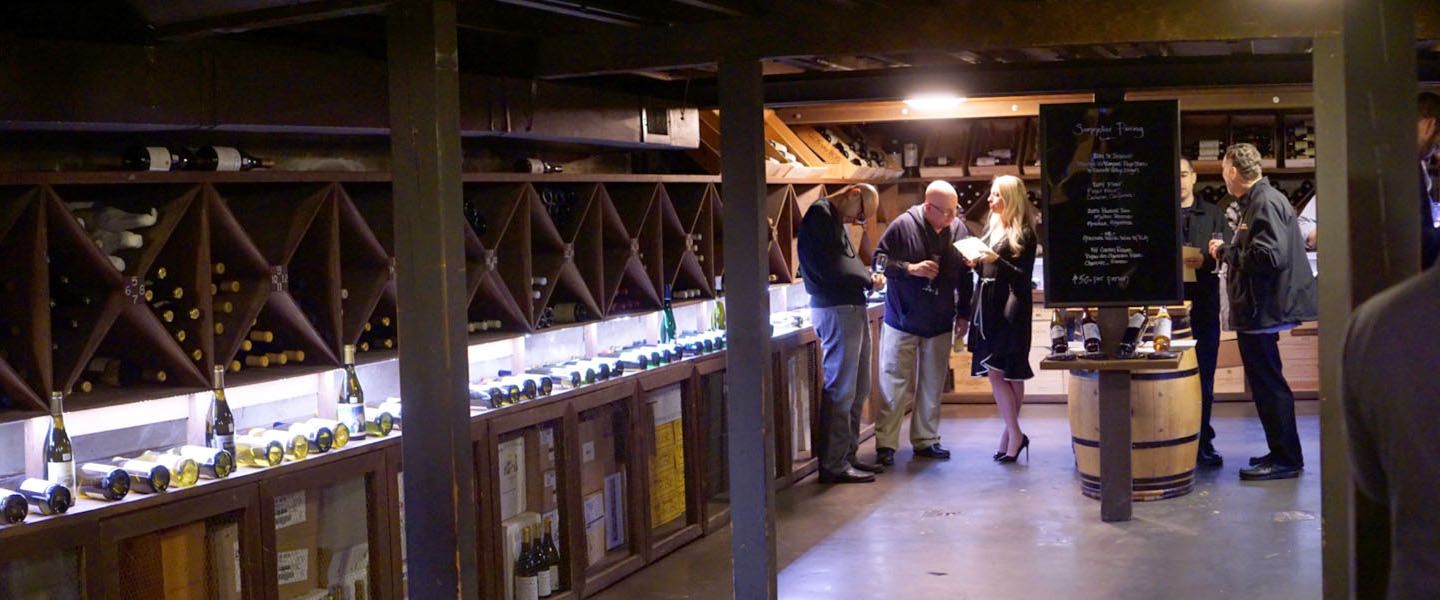 The Hobbit has been known for its wine selection right from the very beginning (early on, the founders would drive down bottles from Northern California), so I suppose it's fitting that your evening proper begins in the cellar. Upon arriving, you're presented with a glass of bubbly (an off-dry Hobbit "Champagne") and a spread of various
hors d'oeuvre
. You're invited to peruse and pick out a bottle to enjoy with dinner later, and the sommelier is on hand to assist of course. There are over 1000 labels on offer, many at reasonable prices, with strengths being the Californian and French selections.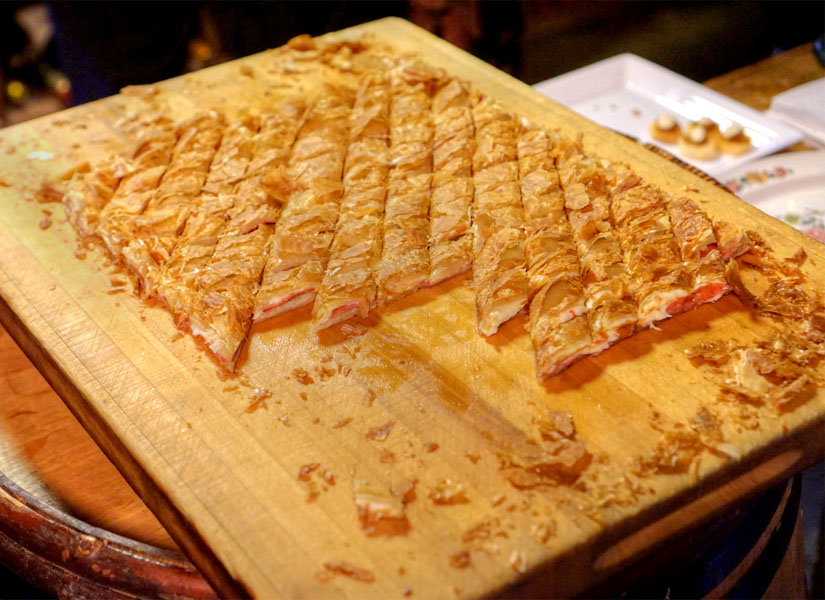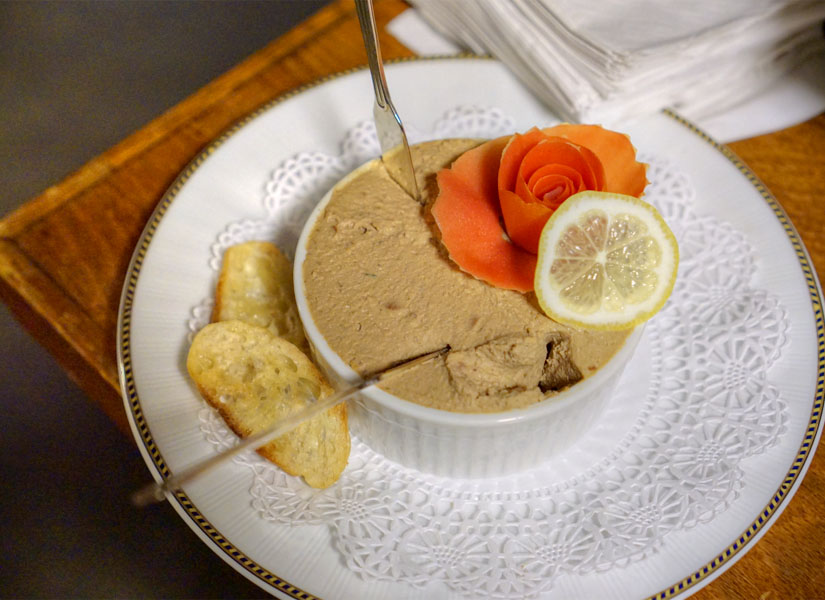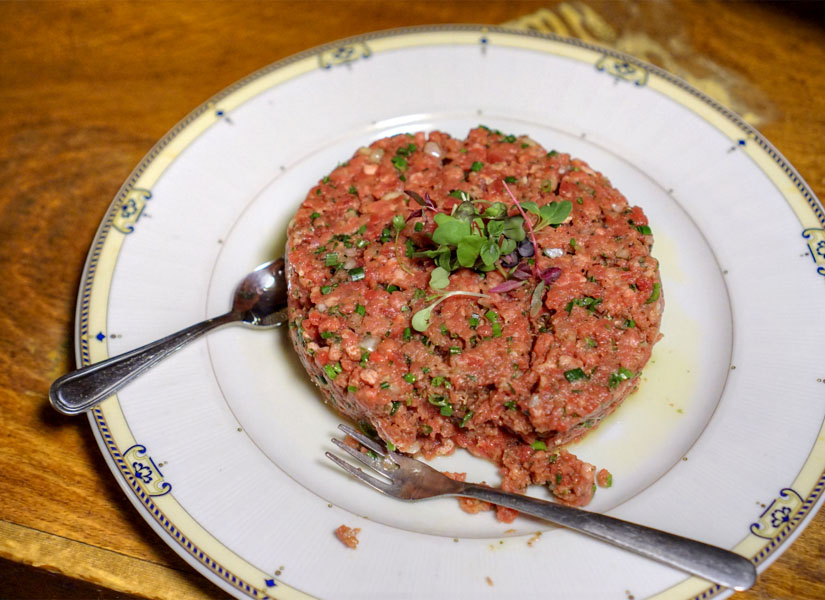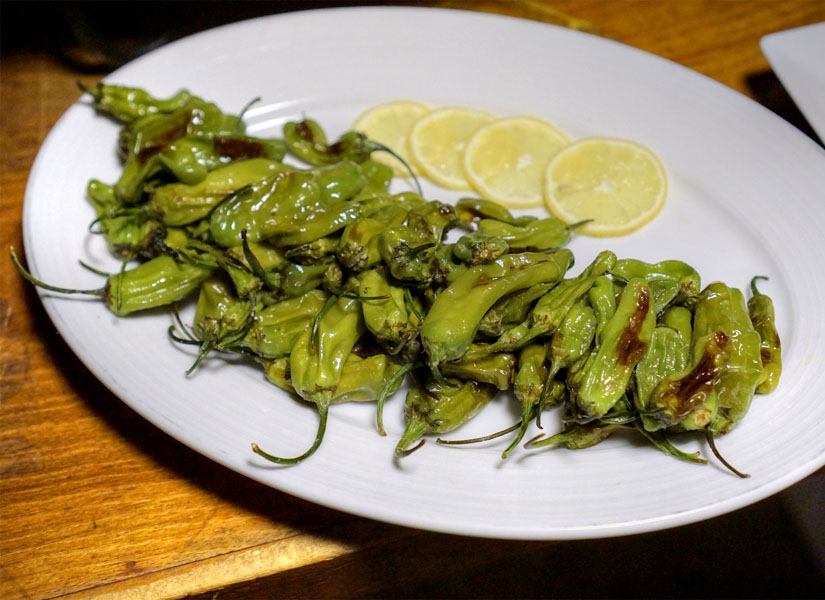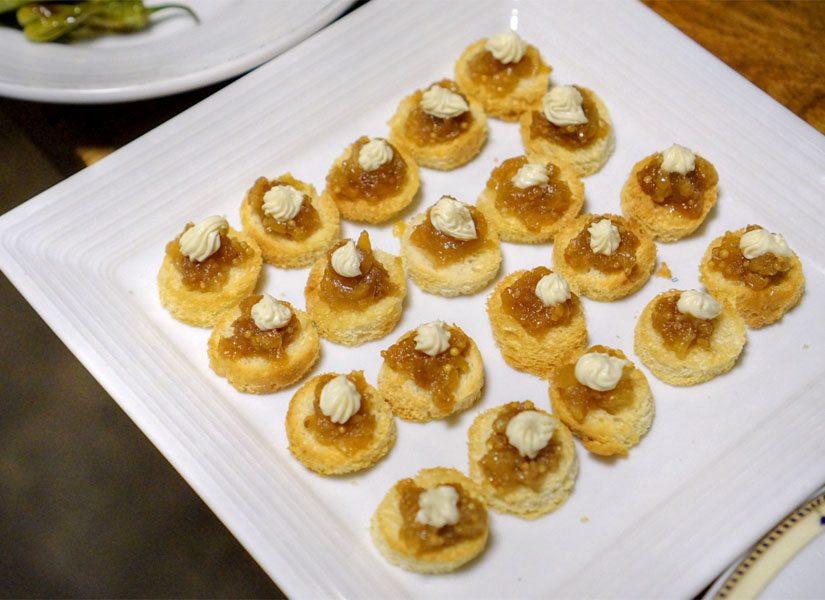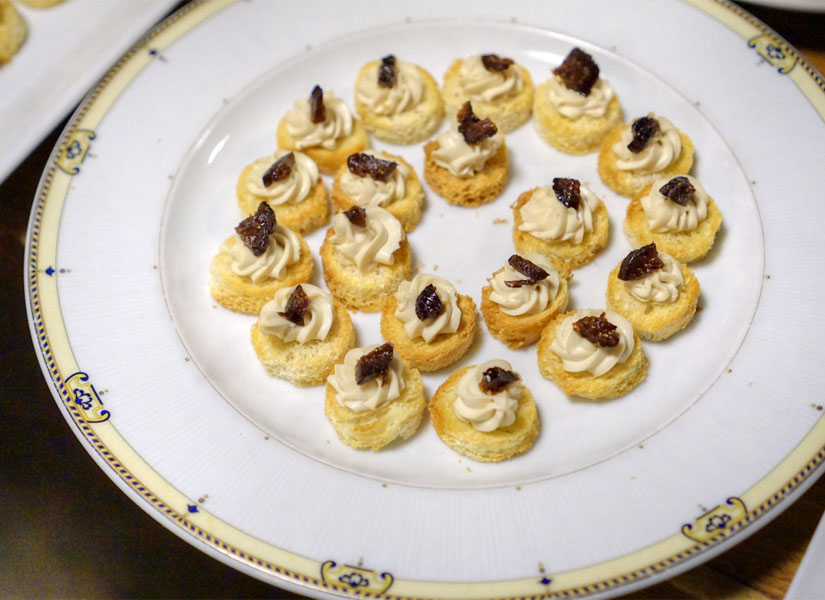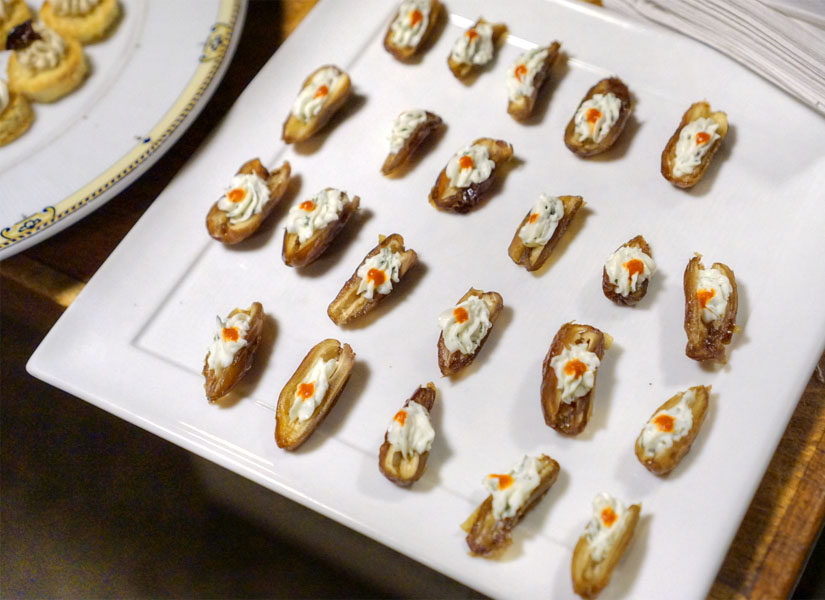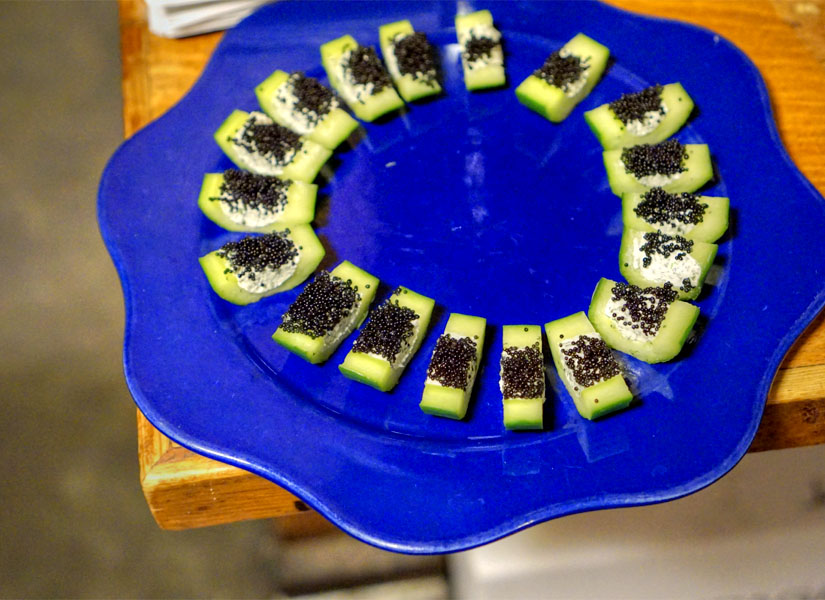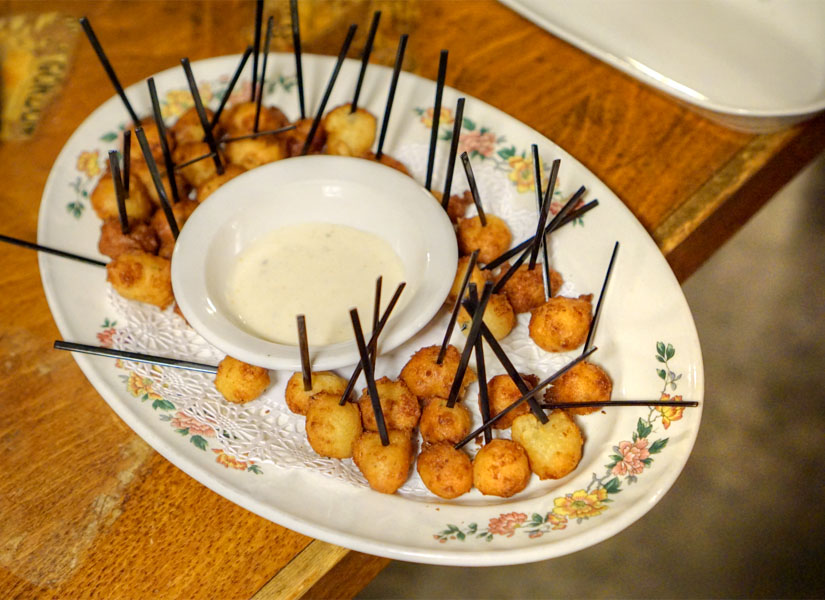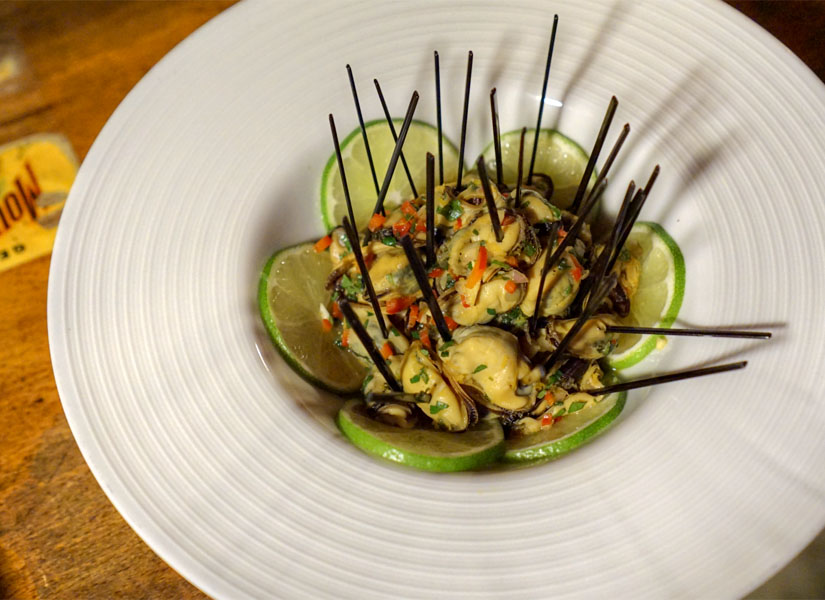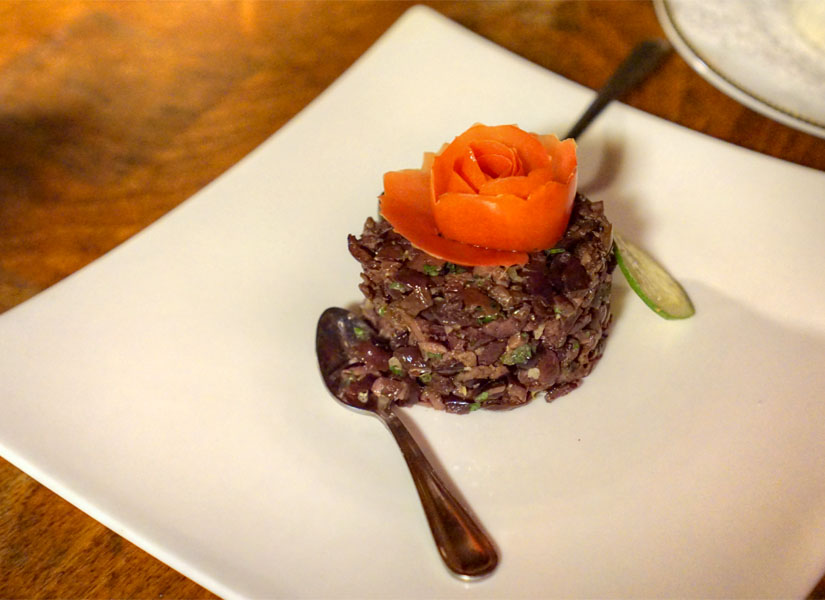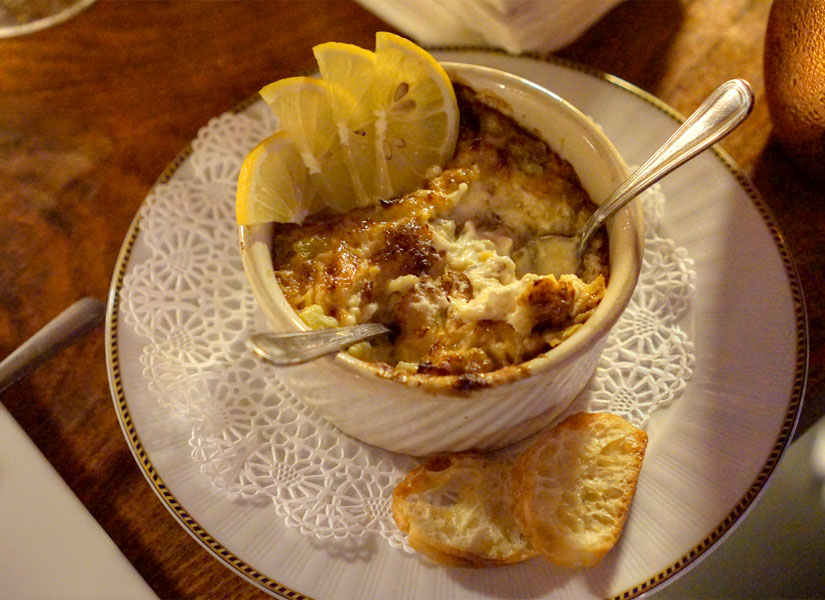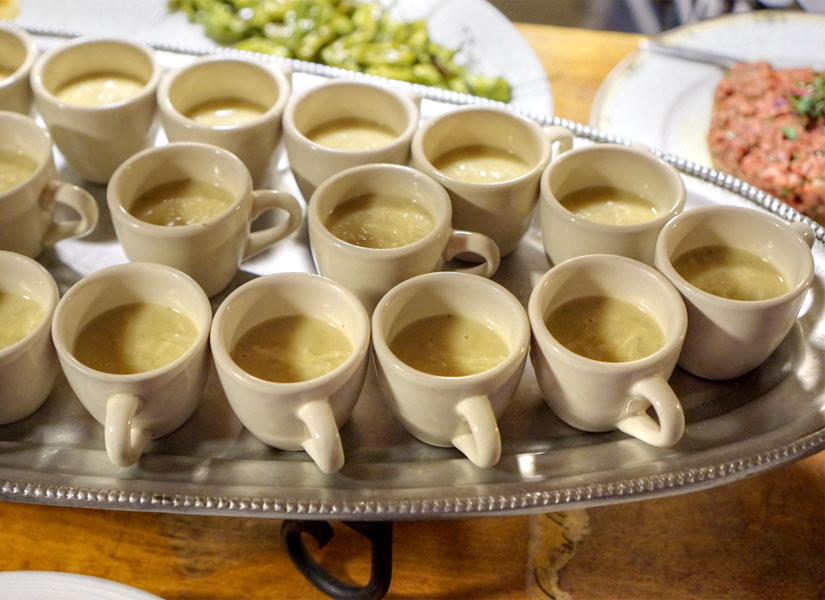 1: Champagne & Hors d Oeuvres
Here we see the evening's
hors d'œuvre
spread. As for my favorites, I'd go with the flaky ham/cheese tart and steak tartar.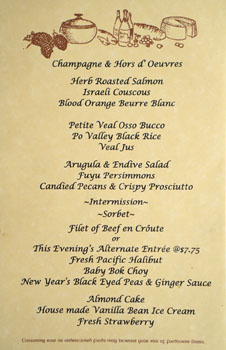 Down in the cellar, you're also handed a copy of the evening's menu, which is a seven-course, prix-fixe affair priced at $88 a head, not including tax, tip, or drinks. The food is described as "Contemporary Continental," which I'm assuming means it's based in classic French cookery, but with a smidge of multicultural influence. The main course rotates every few days and is listed well ahead of time on the web site, and there's always an alternate fish selection for an additional charge. A wine pairing is available at $50 a person, though custom options are also a possibility. Corkage, meanwhile, is $25 for the first bottle and $35 for the second, with a limit of two bottles irrespective of party size, annoyingly. Click for a larger version.


After some time, guests move upstairs to one of two dining areas to enjoy their starter and salad courses.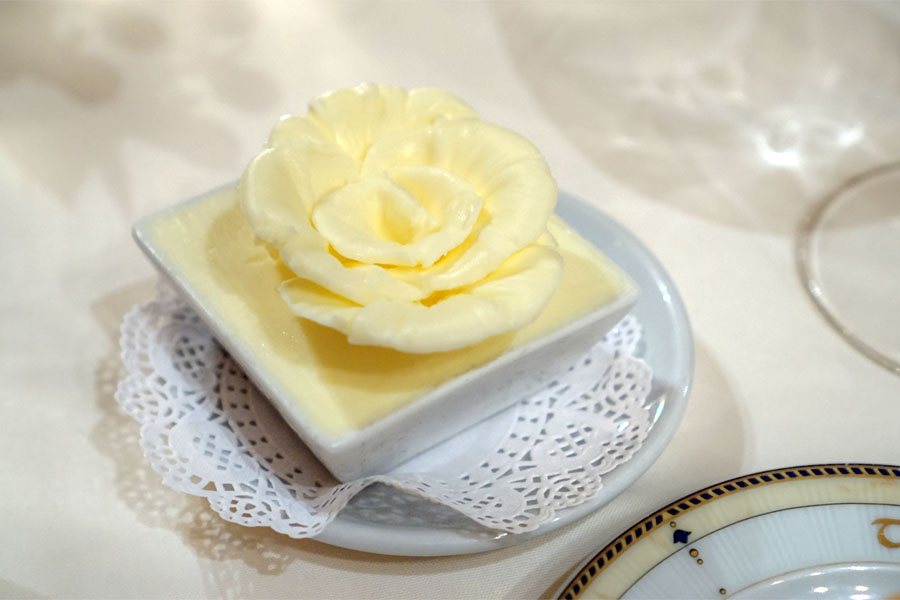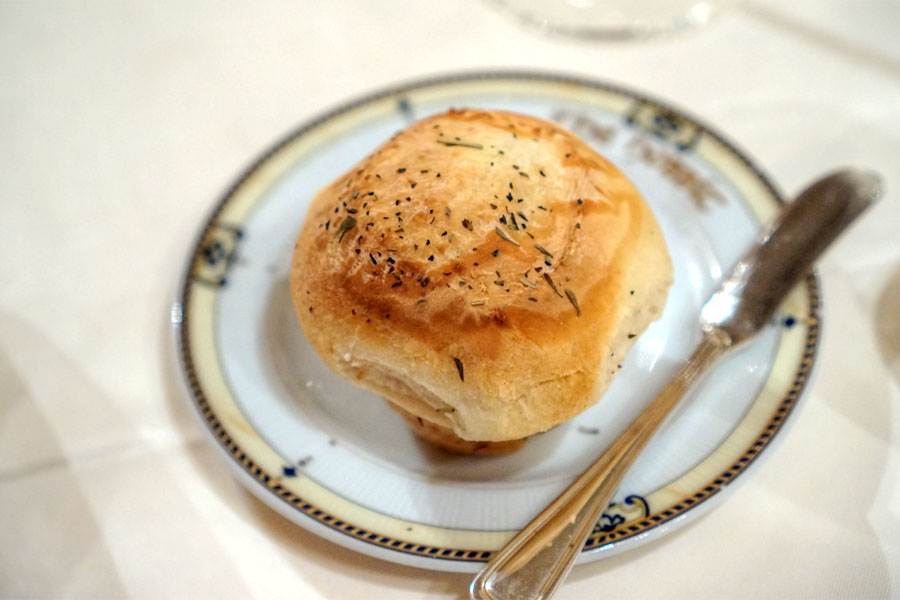 I enjoyed the bread, which I found cheesy and herby, while the soft, sweet-ish butter arrived in rose form.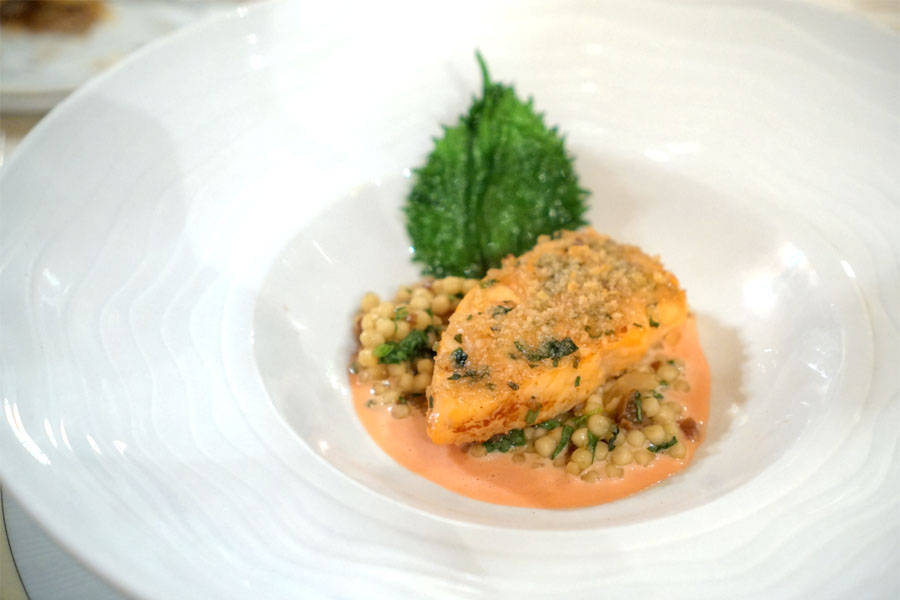 2: Herb Roasted Salmon, Israeli Couscous, Blood Orange Beurre Blanc
Our first real course was salmon. I found it cooked a tad more than I'd prefer, but it was still workable, coming out flaky, firm, and with a very strong salinity. The sweetness of the beurre blanc provided a contrast, and I appreciated the textural variation from the couscous and breadcrumb(?) crust on the fish.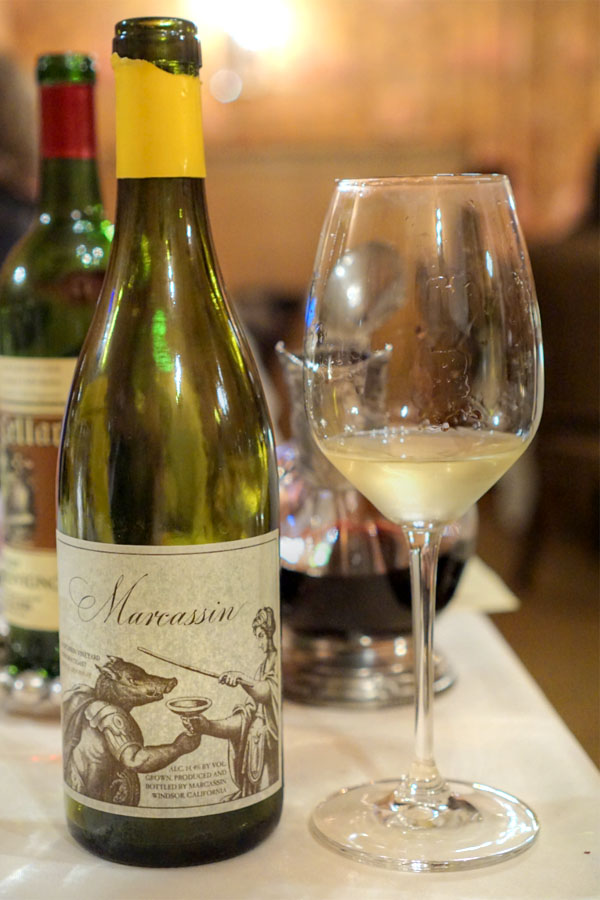 To go with our earlier courses, we opened up a bottle that one of my dining companions had brought, the
Marcassin, Marcassin Vineyard, Sonoma Coast 2012
, a lovely representation of a California Chardonnay. I found the nose rich, aggressive, filled with nutty, funky, spicy notes and a definite butteriness. The palate was round, with a somewhat Burgundian character and oaky, citric, almond-like nuances joined by a boozy, anise-y spice.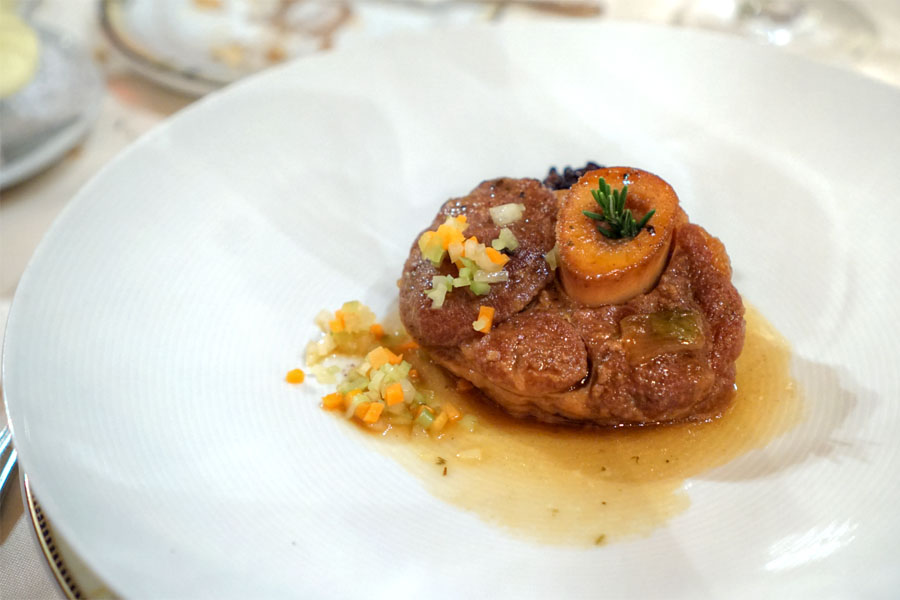 3: Petite Veal Osso Bucco, Po Valley Black Rice, Veal Jus
The Hobbit's
ossobuco
was as tender as I wanted, coming cleanly off the bone, while flavors were simple and straightforwardly savory, the mirepoix providing a bit of moderating brightness. I did enjoy the black rice as a substitute for the traditional polenta, and be sure to suck out the marrow as well.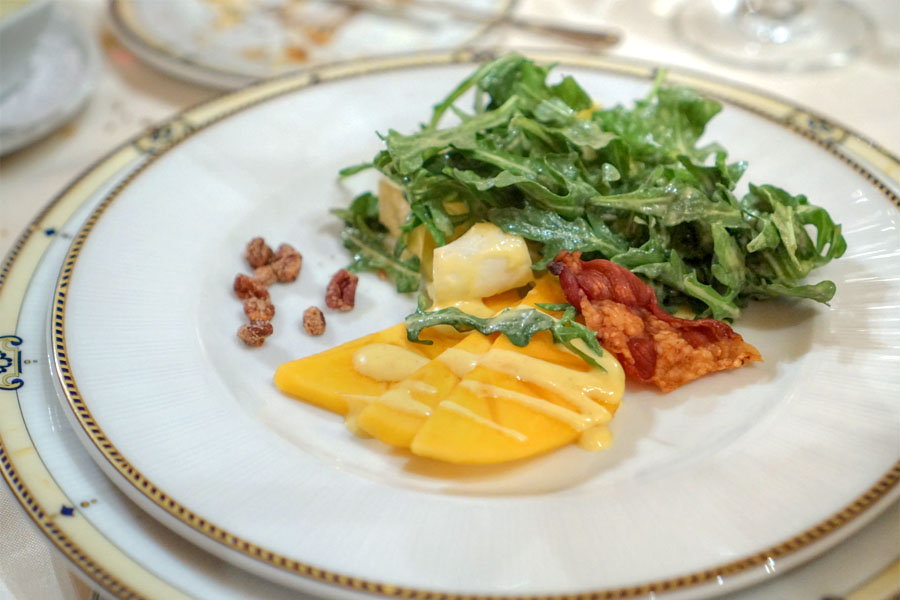 4: Arugula & Endive Salad, Fuyu Persimmons, Candied Pecans & Crispy Prosciutto
Our salad course combined the bitterness of arugula and endive with the sweetness of persimmon and pecan, the ham adding a welcomed saltiness and crunch to the mix. Effective, though not terribly exciting.

At this point, we were given an "intermission" of sorts where we were allowed to roam freely around the property. We found this sitting room upstairs.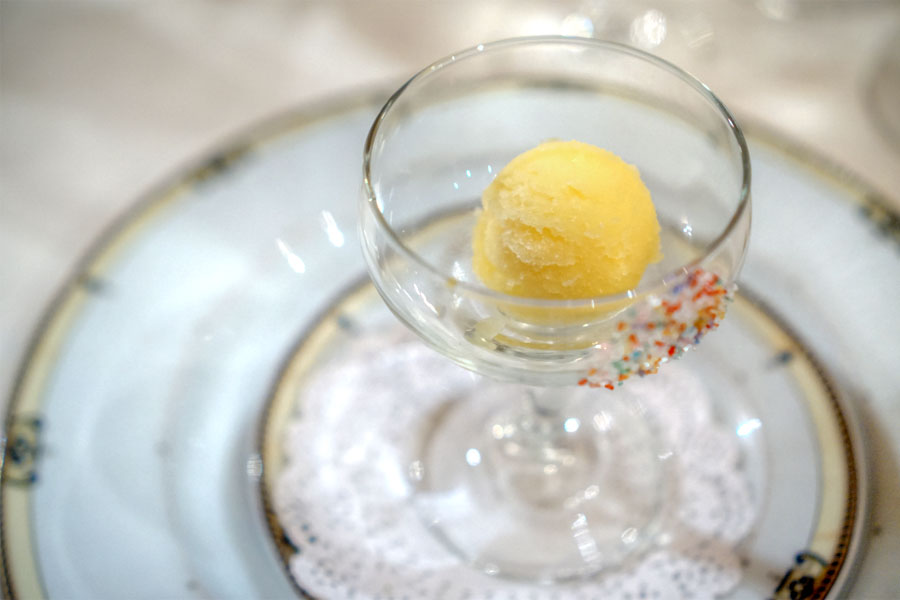 5: Sorbet
After a while, we were instructed to return to our seats for a palate-cleanser in the form of an orange sorbet.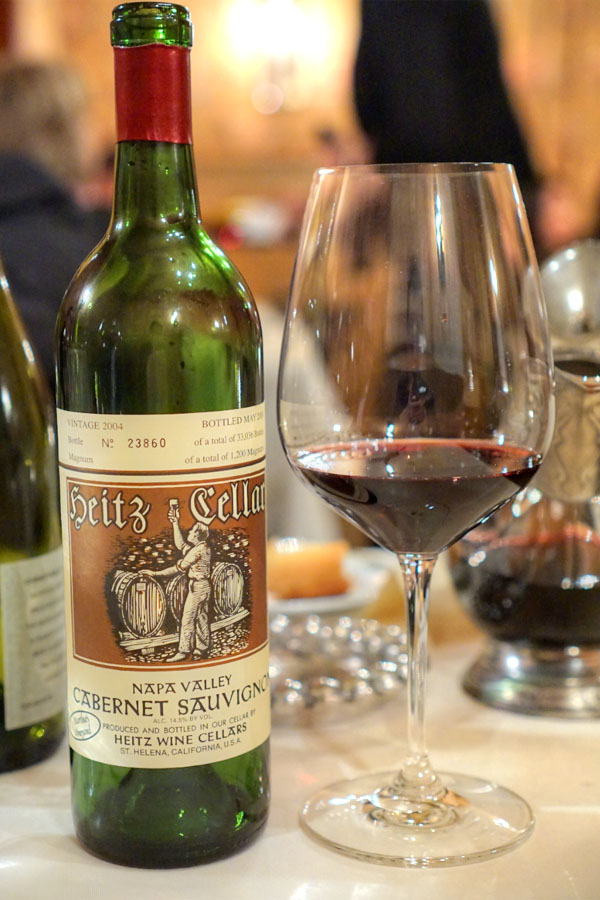 Next, we poured the
Heitz, Martha's Vineyard, Napa Valley 2004 [$260]
, a California Cabernet Sauvignon that'd been decanting this whole time. Delightfully perfumed aroma filled with dark berry and flowers, along with a touch of heat and spice. Taste-wise, this really stood up to the food, giving up notes of mature dark fruit, licorice, peppery spice, and herb in a concentrated package. Do note that the online wine list incorrectly had the price of the bottle at $200, so something to keep in mind.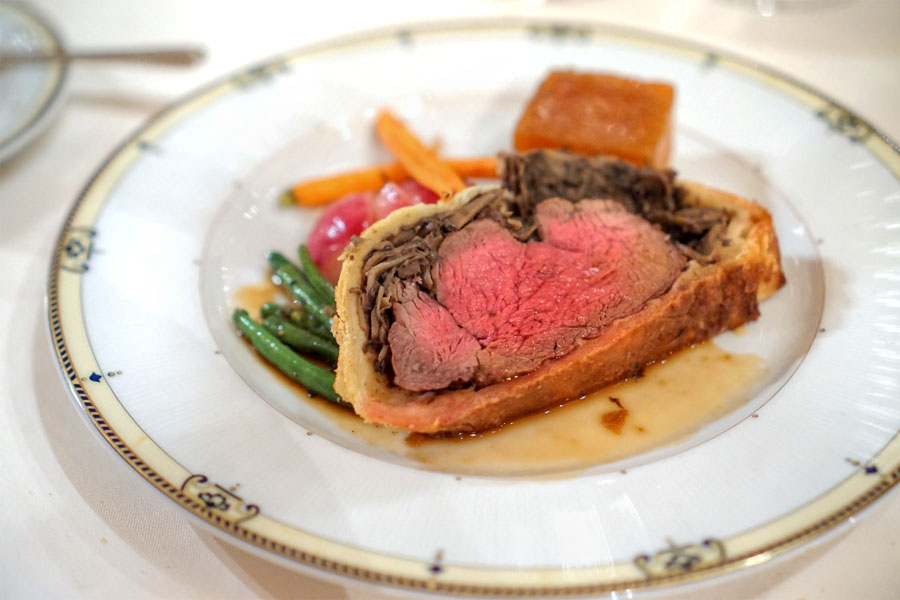 6a: Filet of Beef en Crôute
| Filet Mignon with Mushroom Duxelles, wrapped in Puff Pastry, sauce Bordelaise
The night's primary main was the Chef's take on
filet de bœuf en croûte
. It was a pretty prototypical presentation, with a relatively restrained beefiness from the filet marrying well with flavors of mushroom and black pepper. The veggies here worked, as did the Bordelaise, though there was a chunk of sugary fruit on the side though that didn't quite make sense to me.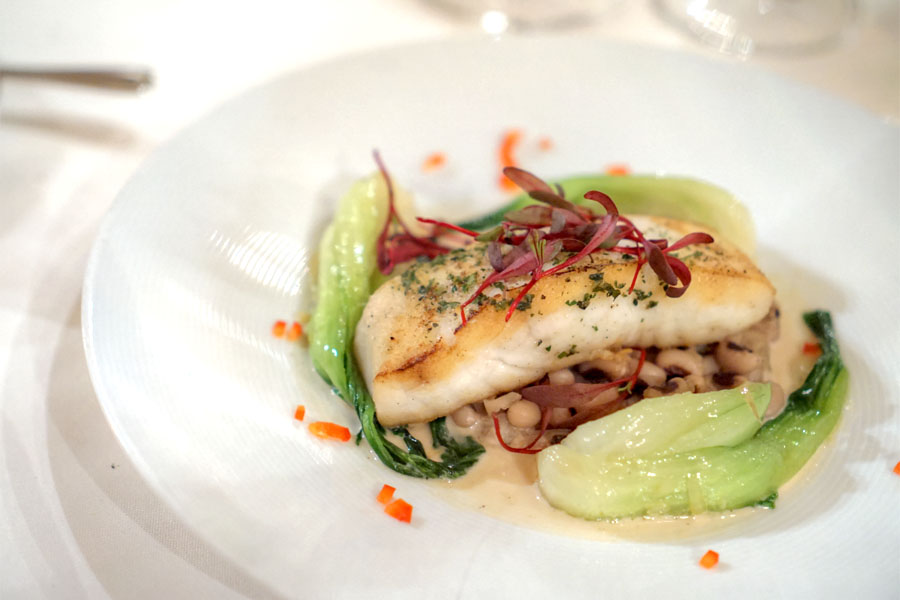 6b: Fresh Pacific Halibut, Baby Bok Choy, New Year's Black Eyed Peas & Ginger Sauce
We also tried the alternate main, and it managed to be my favorite course of the meal. The fish ate moist and mild, with a light brine, while the ginger sauce gave the dish a Chinese-y feel. In addition, I liked the brightness and crunch of the bok choy, and the beans added a nice heftiness to it all. Very nice when paired with the Chard above.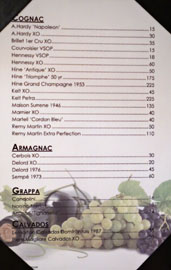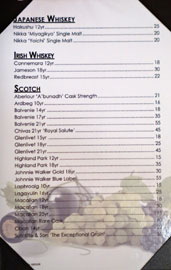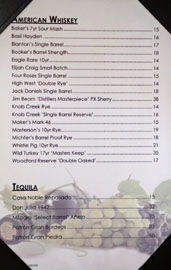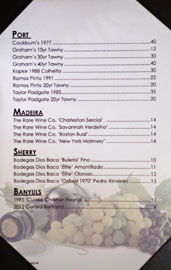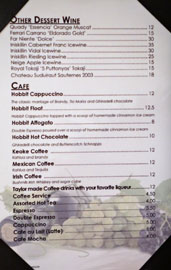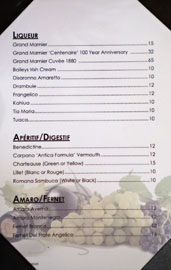 With the savories done with, we were presented with a list of after-dinner drinks. Click for larger versions.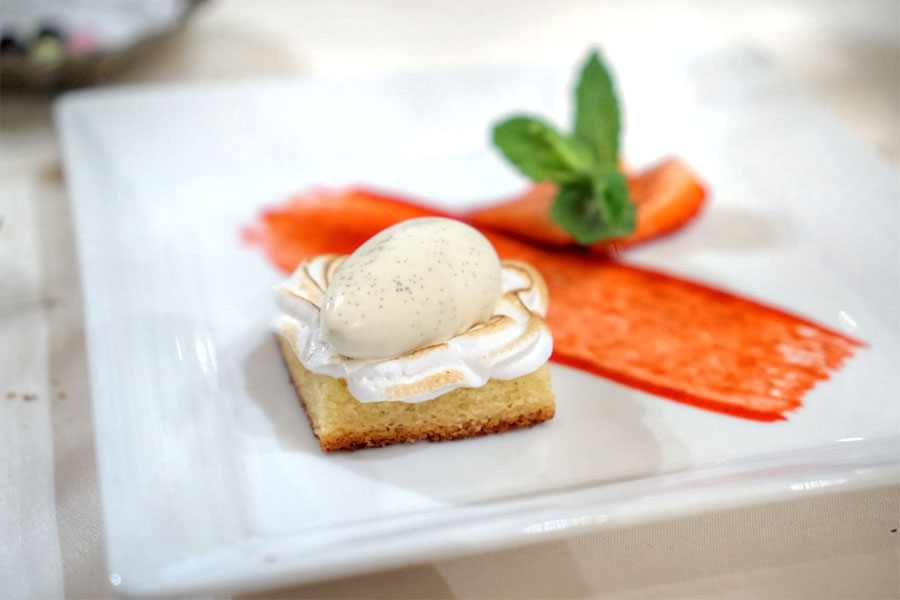 7: Almond Cake, House made Vanilla Bean Ice Cream, Fresh Strawberry
A classic combination of strawberries and vanilla ice cream made for a fitting complement to almond cake. What was interesting here was that I got a sort of savory quality from the brush of sauce across the plate; I'm not sure if that was intended or not.
It was nice to finally make it out to The Hobbit after all these years. Dining here is definitely an
experience
, which I think is the whole point of it all, and it was no doubt enjoyable to have a meal at such a leisurely pace. As for the food, it was fine, staid and conservative certainly, and basically exactly what I expected. It's all a bit of a throwback to be sure, but if that's what you're looking for, you should be well served here.