Ototo (Los Angeles, CA)
Ototo Restaurant
1360 Allison Ave, Los Angeles, CA 90026
213.784.7930
www.ototo.la
Tue 07/16/2019, 08:30p-10:35p

Chef Charles Namba and Courtney Kaplan's
Tsubaki
is probably my favorite Echo Park debut of the past couple years. The diminutive Californian izakaya opened in February 2017, and has no doubt established itself as one of the most popular restaurants in the area. Given the success of the place, Kaplan and Namba had expansion on their minds, and wanted to take over the spot next door and use it as a second dining room. However, plans changed, and the pair decided to launch Ototo ("younger brother") in the space instead. A casual sake bar concept, Ototo grand-opened on May 22nd, once again in concert with the backing of Sprout LA.

Ototo lands in the former home of the Novak hair salon. Like its bigger brother, it's a small, cozy space, centered around an 11-seater bar. There are some seats along the opposite wall, as well as a semi-private dining den further in the back that seats up to 10.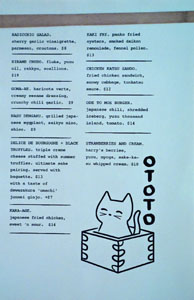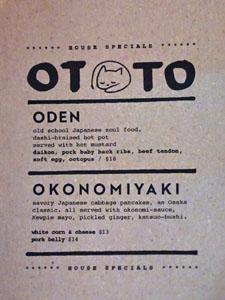 Ototo's menu is delightfully compact, and features the Chef's take on Japanese-y drinking food (a.k.a.
sakana
). Click for larger versions.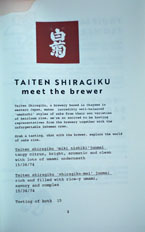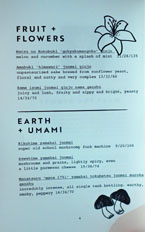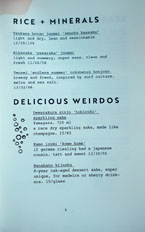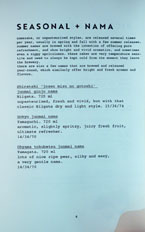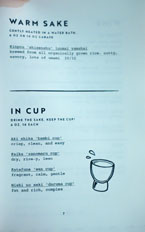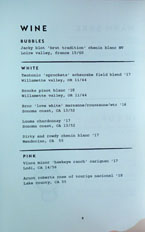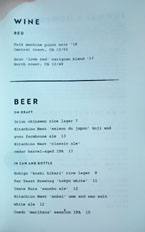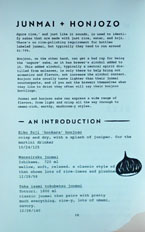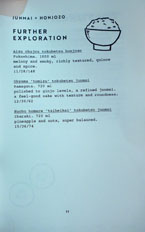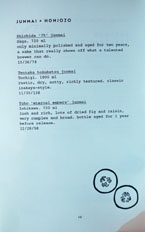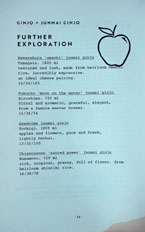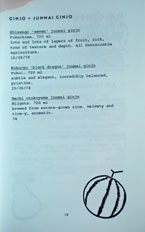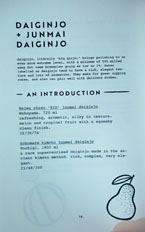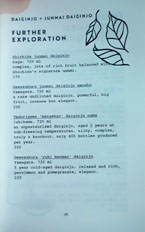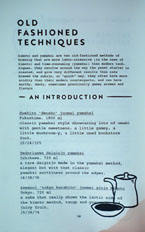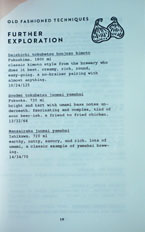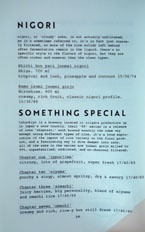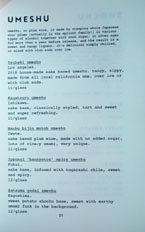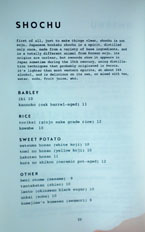 The beverage selection is pretty broad. Ototo just might have the best sake list in town, one with a particular focus on craft-brewed
jizake
. If that's not your thing, there's also a small, mostly New World wine list, a handful of exclusively Japanese beers, as well as an array of umeshu and shochu. Click for larger versions.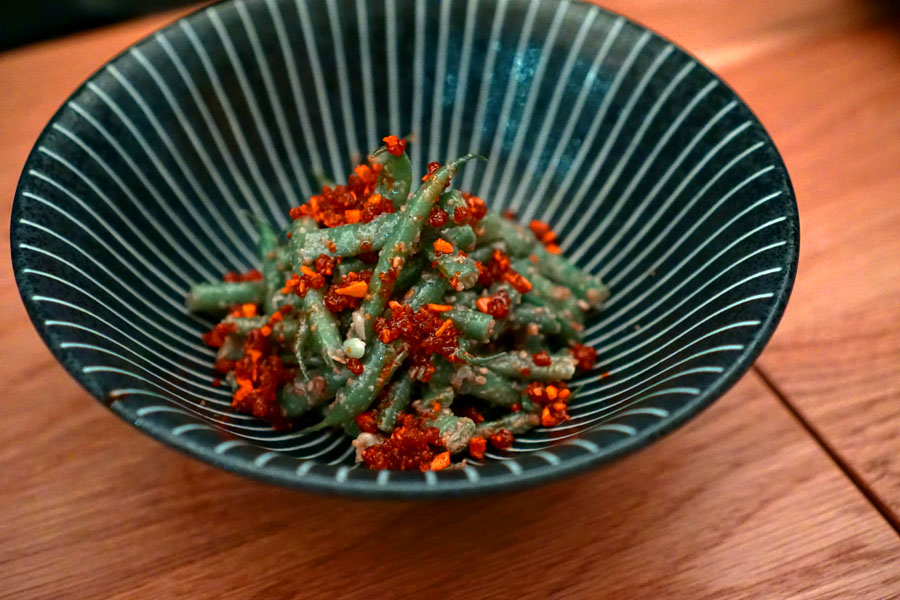 Goma-Ae [$9.00]
| haricots verts, creamy sesame dressing, crunchy chili garlic.
Green beans weren't quite as crunchy as I'd prefer, though they were on point taste-wise thanks to the dish's smart combination of super nutty sesame and chili-fueled heat.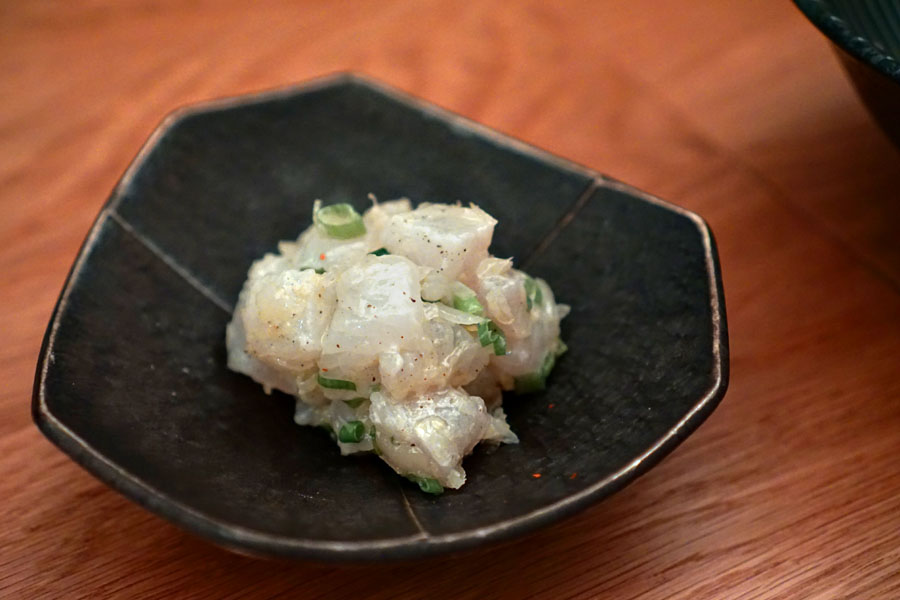 Hirame Crudo [$19.00]
| fluke, yuzu oil, rakkyo, scallions.
This was a somewhat unusual "clumped" presentation of crudo, though looks aside, it was a standout. Texturally, the flounder was firm, meaty, satisfying, and had its delicate flavor profile well complemented by the bright, acidic, zesty notes from the duo of citrus and scallion. If that wasn't enough, there was this slight heat in the dish that I appreciated as well.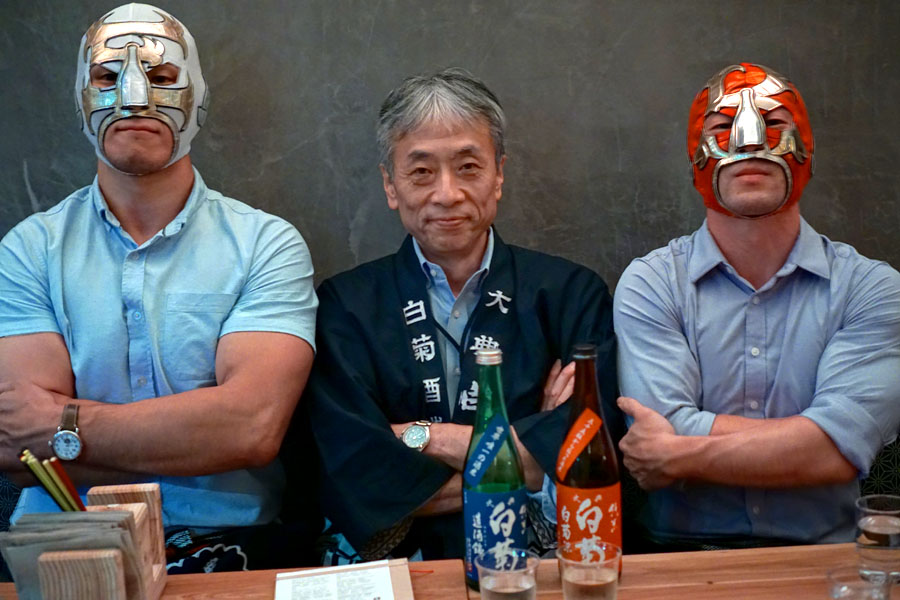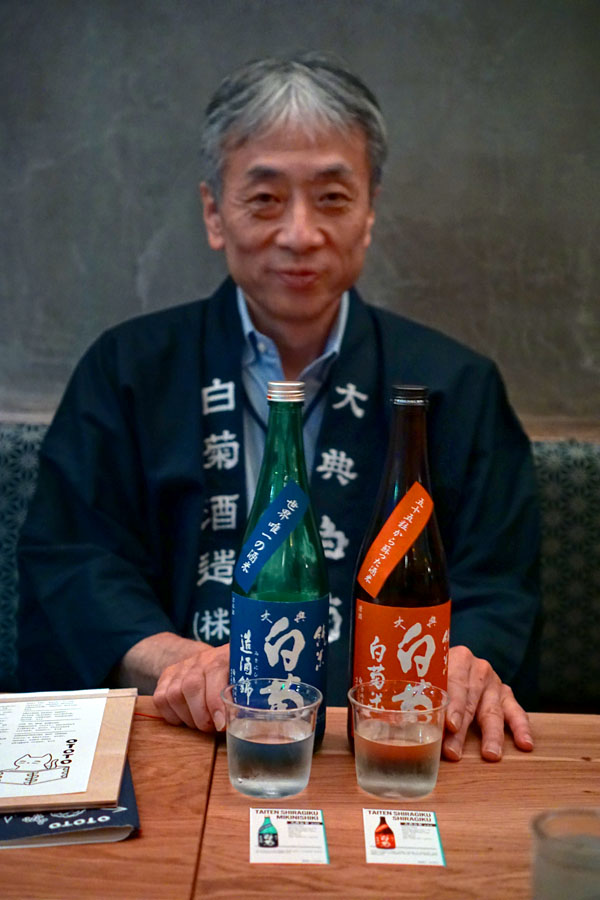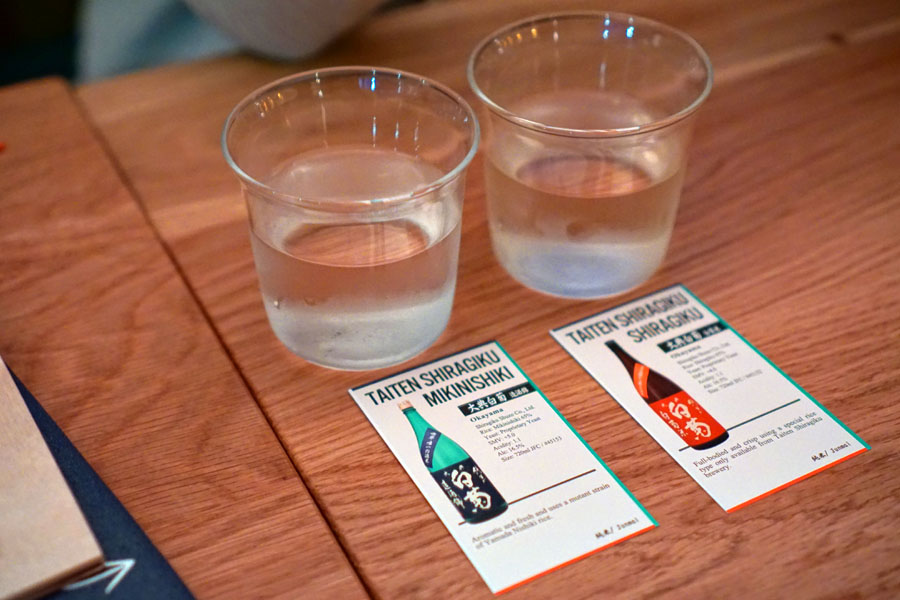 Paying a visit to Ototo this evening was Shuzo Watanabe, President of Okayama Prefecture's
Shiragiku Shuzo
brewery, who was joined by two members of the
Sakeman
crew (a masked team involved in sake import, distribution, and marketing). They were here to promote two limited production sakes, both made from heirloom strains of rice. The first we tried was the
Taiten shiragiku 'miki nishiki' junmai
. It smelled fantastic, with a base of fruity, floral, almost bubblegum-like notes layered over a touch of heat. On the palate, I got loads of sweet, ripe melon-like fruit tempered by a smidge of ricey savor--clean and easy drinking for sure. Next was the
Taiten shiragiku 'shiragiku-mai' junmai
, which differed in the variety of rice used (ostensibly revived from a mere 55 remaining seeds) and its two-year aging process. The nose on this one was candied, and actually reminded me a bit of meringue. Taste-wise though, it was quite a different story, as I got a much more pronounced "brown" grain character, along with grassiness, funk, and plenty of umami. It was definitely a more contemplative drinking experience.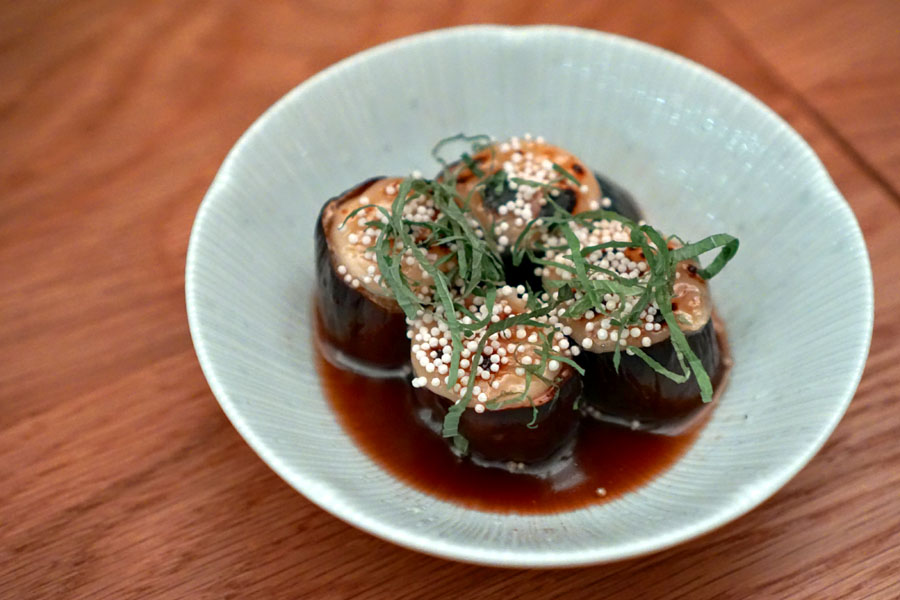 Nasu Dengaku [$9.00]
| grilled japanese eggplant, saikyo miso, shiso.
Smoky cylinders of eggplant were paired with the sweet-savoriness of
saikyo miso
, a surprisingly effective counterpoint. Nice nuttiness on the finish here as well.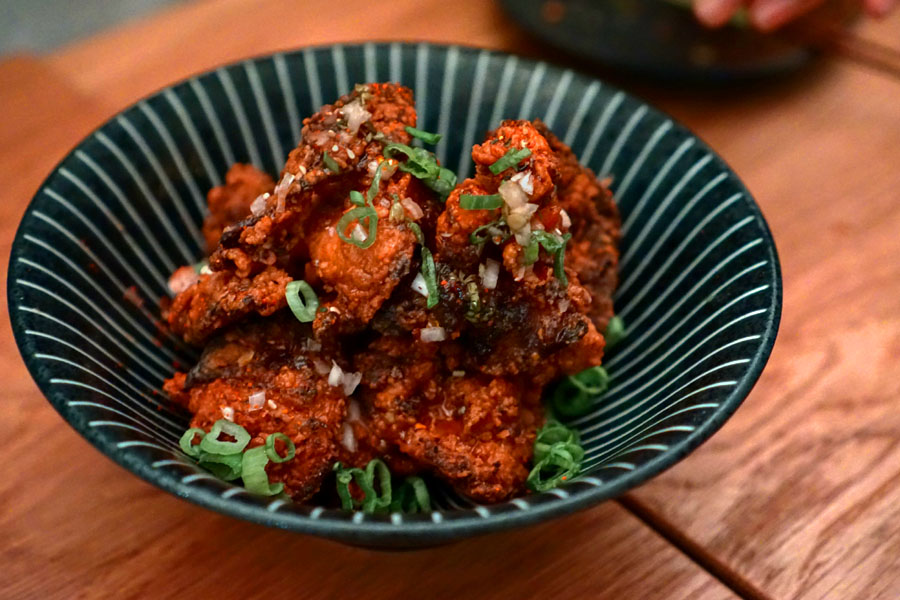 Kara-Age [$14.00]
| japanese fried chicken, sweet 'n sour.
I've had a decent amount of
karaage
in my life, but never anything quite like this before. The chicken itself was properly tender, with a nice crispness to it, but the crux here was the "sweet 'n' sour." I'm not sure what it was (black vinegar?), but it imparted a lovely tanginess to the dish, one that linked up swimmingly with the zestiness of that green onion. There was a touch of heat in the dish that I didn't mind, either.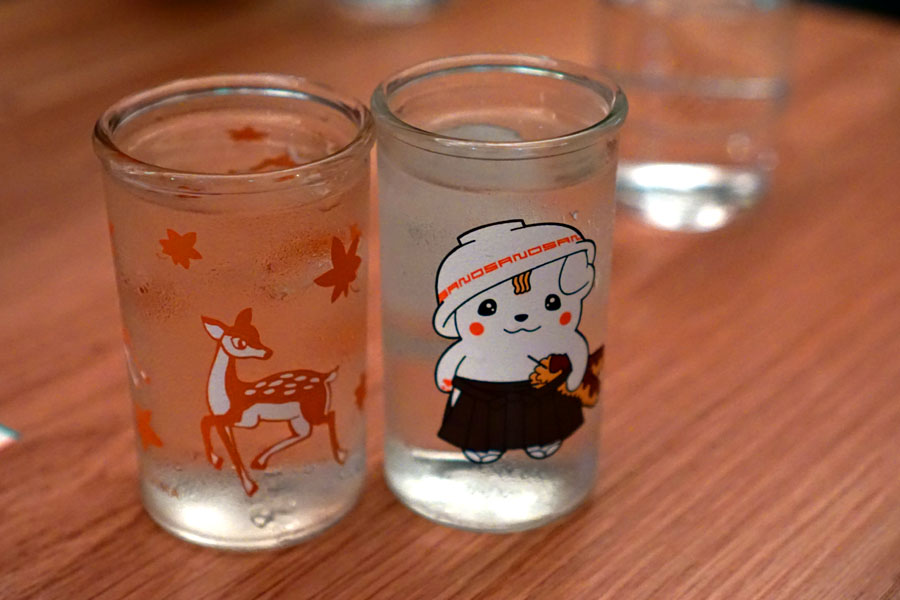 Next up were two "cup" sakes, which we ordered quite simply because my dining companions were smitten by their cute designs. The
Aki shika 'bambi cup' [$16]
smelled great, giving up an abundance of floral, sweet nuances. Its taste was clean, straightforward, approachable, but never boring, with just enough rice hiding underneath. We also had the
Kaika 'sanomaru cup' [$16]
. This one was muted on the nose, and just a hint of fruitiness peeking through. Its taste was less fruit-driven, and instead showcased more rice and toastiness in a rather dry package.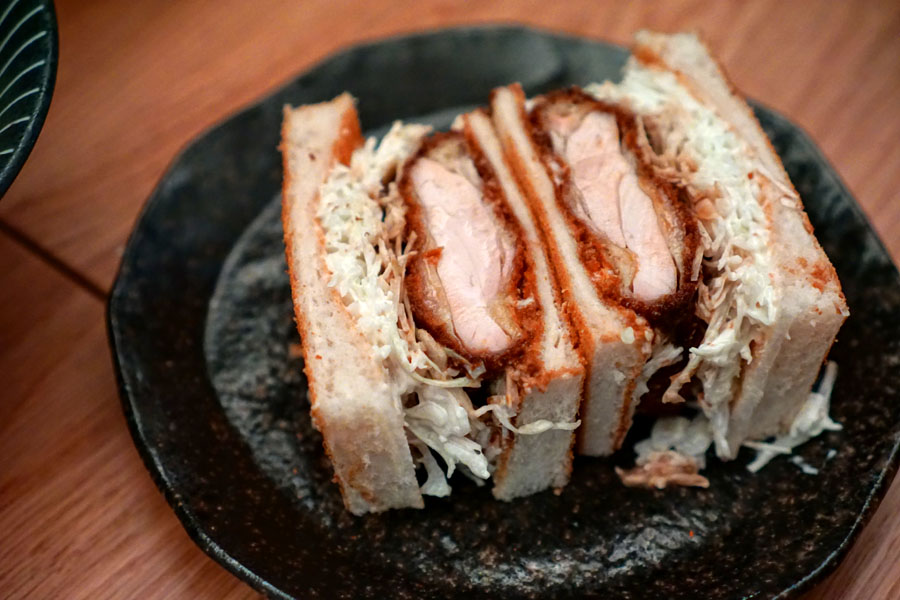 Chicken Katsu Sando [$12.00]
| fried chicken sandwich, snowy cabbage, tonkatsu sauce.
The restaurant's take on a fried chicken sandwich certainly hit the mark. The cutlet itself ate tender, moist, and had a crisp-but-not-too-crisp breaded crust that didn't get in the way. The key here, though, was Ototo's version of
tonkatsu
, a sweet-salty concoction that worked hand-in-hand with the creaminess of the cabbage to tie everything together.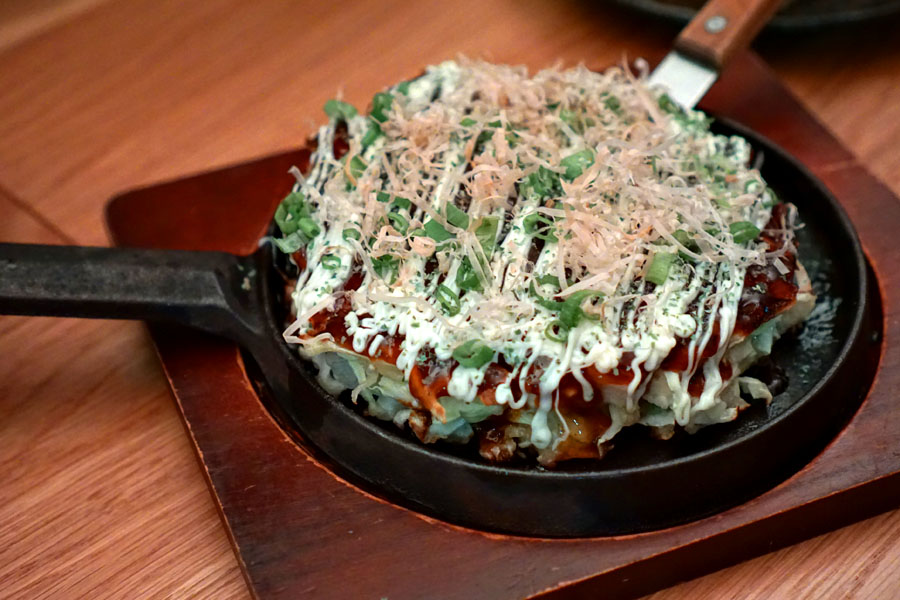 Okonomiyaki - pork belly [$14.00]
| savory Japanese cabbage pancakes, an Osaka classic. all served with okonomi-sauce, Kewpie mayo, pickled ginger, katsuo-bushi.
The okonomiyaki is advertised as one of Ototo's house specialties, and it didn't disappoint. In fact, it was no doubt of the best versions of the dish I've had. I just found it superbly balanced and well put together, I think due to the freshness and crunch of the cabbage utilized, and I loved the salt and savor imparted by the bits of pork belly. A must try.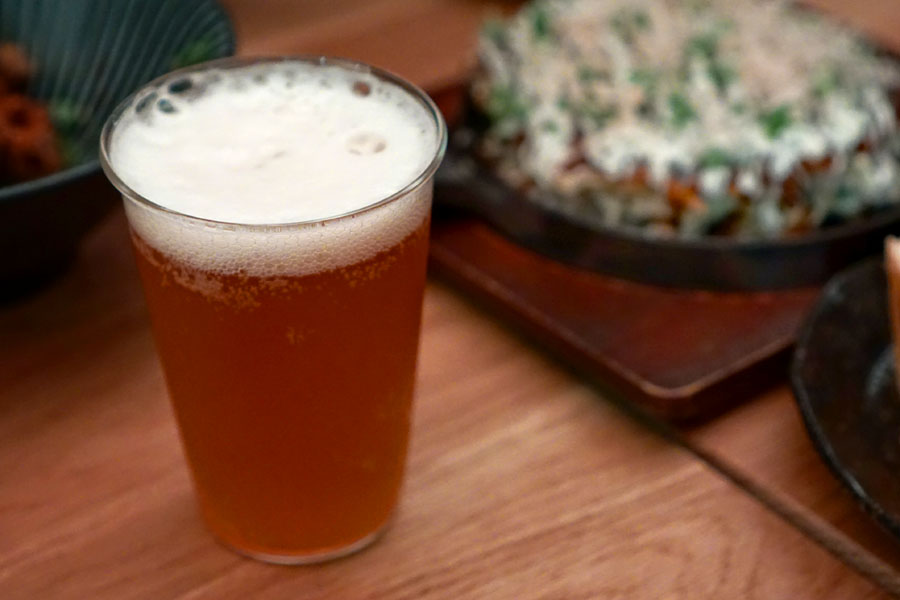 At this point we moved on to a beer, the
Hitachino Nest 'saison du japon' koji and yuzu farmhouse ale [$13]
. Nose was as expected, with notes of citrus joined by sweet malt and a touch of yeastiness. In terms of taste, I got boatloads of astringent citrus moderated by light spice and yeast.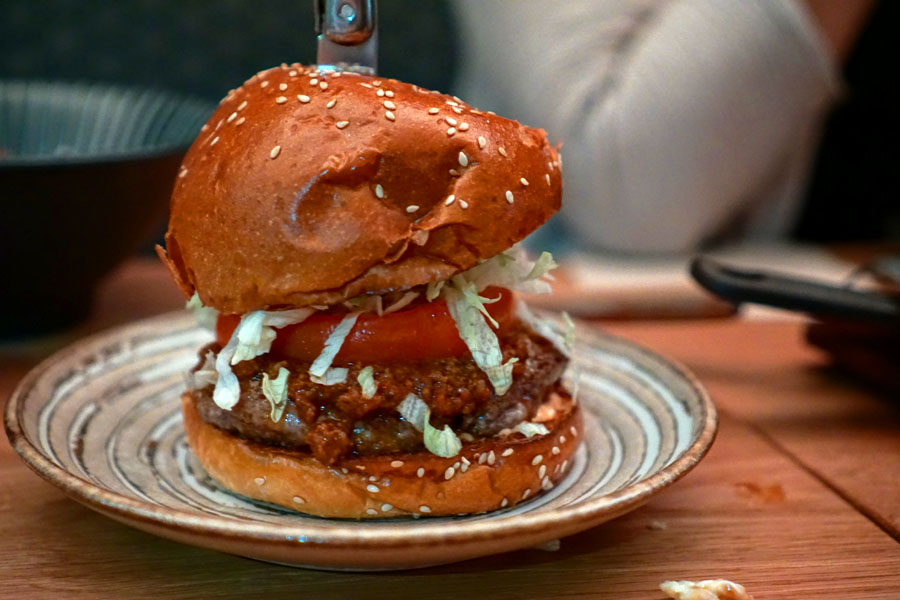 Ode to MOS Burger [$14.00]
| japanese chili, shredded iceberg, yuzu thousand island, tomato.
I've never had the pleasure of tasting an O.G. MOS Burger, so I can't say how this compares, but I can say that it was pretty damn tasty. What made this really work for me was the chili, which provided a hominess, a heartiness that really hit the spot, all accented by the piquant nature of the yuzu-boosted Thousand Island.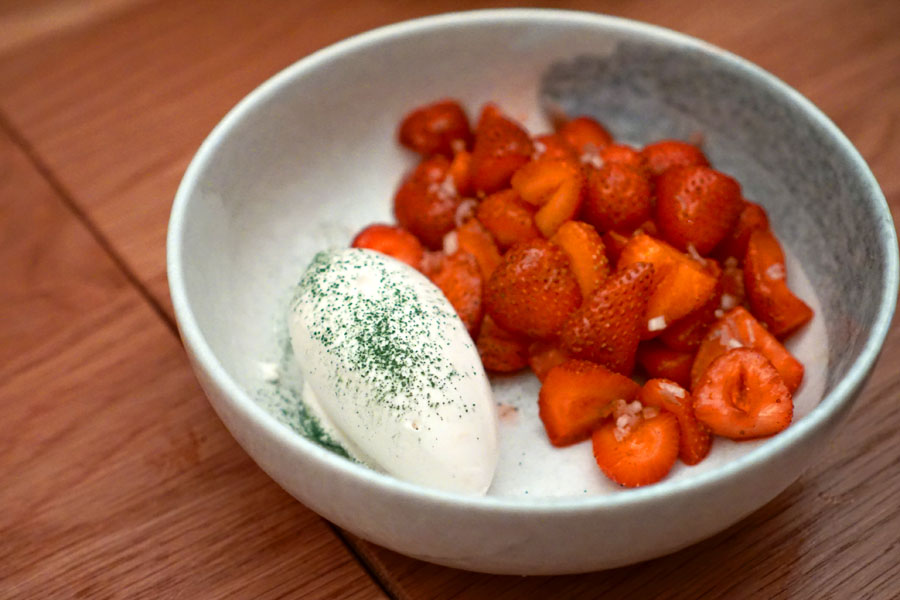 Strawberries and Cream [$10.00]
| harry's berries, yuzu, myoga, sake-ka-su whipped cream.
We ended with Ototo's lone dessert option, which married super sweet, super juicy strawberries with a delightful
sake kasu
-infused whipped cream.
I'm quite the fan of Tsubaki, and I have to say that Ototo is a fitting follow-up, sort of serving as a brasher, more rambunctious variant of its bigger brother. The place is worth checking out just for its booze selection alone, but the fun, festive food delivered as well. My only concern here would be the wait, which can get pretty long. We stood around for about 75 minutes (putting our name down at approximately 7:15), and keep in mind that this was a
Tuesday
.