Kass (Los Angeles, CA)
Kass Wine Bar + Restaurant
320 S La Brea Ave, Los Angeles, CA 90036
323.413.2299
www.kassrestaurant.com
Tue 06/18/2019, 08:35p-11:10p
[Note: Unfortunately, Christophe Émé has stepped away from Kass after a mere six months. Apparently his last day in the kitchen was August 24th.]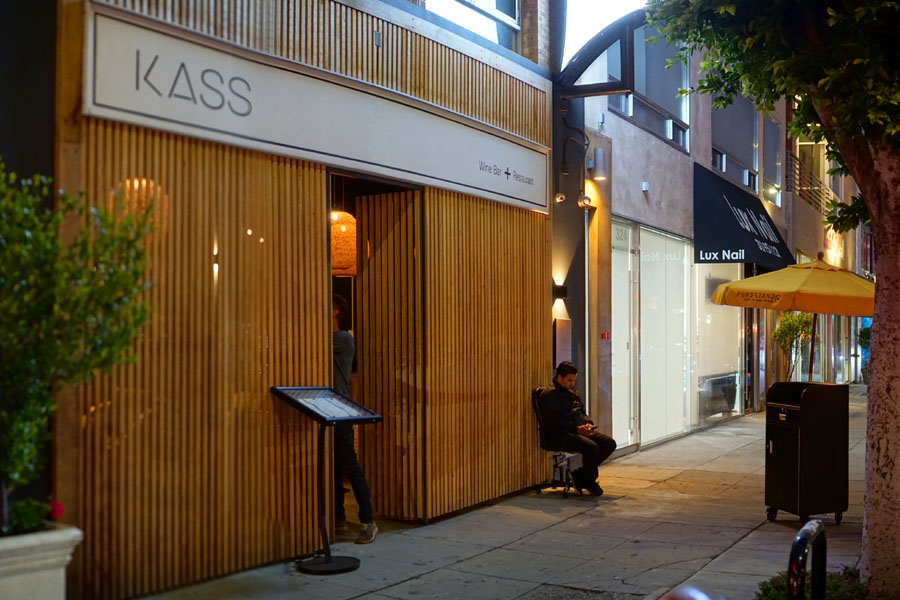 Christophe Eme is back, and it's about damn time. More seasoned diners might remember him from the highfalutin
Ortolan
in Beverly Grove, which closed over eight years ago. The Chef pretty much fell off the radar until relatively recently, when word of Kass began to surface. Situated at the confluence of Hancock Park and Miracle Mile, Eme's more casual spot grand-opened on February 1st, and I definitely wanted to pay him a long overdue visit.
About the Chef
: Born in June 1969, Christophe Paul Gaston Émé hails from Angers, a city in France's Loire Valley, and started helping out in the kitchen at a young age. By 16, he knew he wanted to become a chef, and thus started an apprenticeship at the Hôtel de France in nearby Contres. From there, he worked chef de partie positions at a number of well regarded eateries: the three-star Le Pont De Brent in Brent, Switzerland under Gerard Rabaey; the three-star Auberge De l'Eridan in Veyrier-du-Lac in the French Alps under Marc Veyrat; Michel Rostang's eponymous two-star restaurant in Paris; the two-star Laurent in Paris under Philippe Braun; and Paris' legendary three-star Taillevent under Philippe Legendre.
At the start of 1997, Taillevent owner Jean-Claude Vrinat inked a two-year deal to operate Le Normandie at The Oriental hotel in Bangkok, and sent Émé to run the kitchen there (his first CdC gig). While cooking in Thailand, he met a manger from Daniel in New York, who subsequently gave him the idea of moving to the US. The Chef wouldn't come Stateside just yet though. From Bangkok, he transitioned over to the one-star Harlekin in Berlin, then served as CdC at the two-star Auberge Des Templiers in Boismorand, France. Émé eventually did relocate to NYC in the fall of 2001 and worked various jobs there, but couldn't gain any traction.
In 2003, he was scouted to replace none other than
Ludovic Lefebvre
at the iconic L'Orangerie, and subsequently moved to Southern California. He began making a name for himself there thanks to his more nuanced approach to French cuisine, and not long after starting, met his future wife: actress Jeri Ryan. In August 2004, it was announced that the couple would be taking over the old Linq space on West Third, and Ortolan would debut in February the following year. Soon he was deemed one of
Food & Wine
's "Best New Chefs," while 2006 saw him compete on Season 3 of
Iron Chef America
, where he lost a lobster battle to Masaharu Morimoto.
In June 2007, Émé and Ryan got married in the
Vallée de la Loire
, and in November that year, Ortolan received a one star rating in Michelin's first ever SoCal guide. The Chef's daughter Gisele Émé was born next March, but the 2008 financial crisis took a huge toll on the restaurant. Brunch service started in May 2009, but it wasn't enough to save Ortolan, which shuttered in December 2010 (the building remained vacant for years before becoming Bianconi, and then a second outpost of
Inko Nito
, now also closed). After Ortolan folded, Émé began focusing his energies on private cheffing, though in January 2012, it was reported that he was thinking about taking over the old
Tradition by Pascal
in Newport Beach; that never happened.
Thanks to his wife's many contacts, he did pretty well with his private dinners, and ended up meeting one David Saetia, who agreed to finance a new restaurant with the Chef. Said restaurant was originally going to be called Le Pull-Over Bleu, but the name was changed to Kass shortly before the place was announced in January 2018. Kass debuted the following February with Kyley Jacoby (
Gjelina
, Terroni) installed as Sommelier-slash-Manager (she's since moved to Margot) and Taylor Parsons (most known for his work at
Republique
and his recent gig at
The Manufactory
) doing the wine list.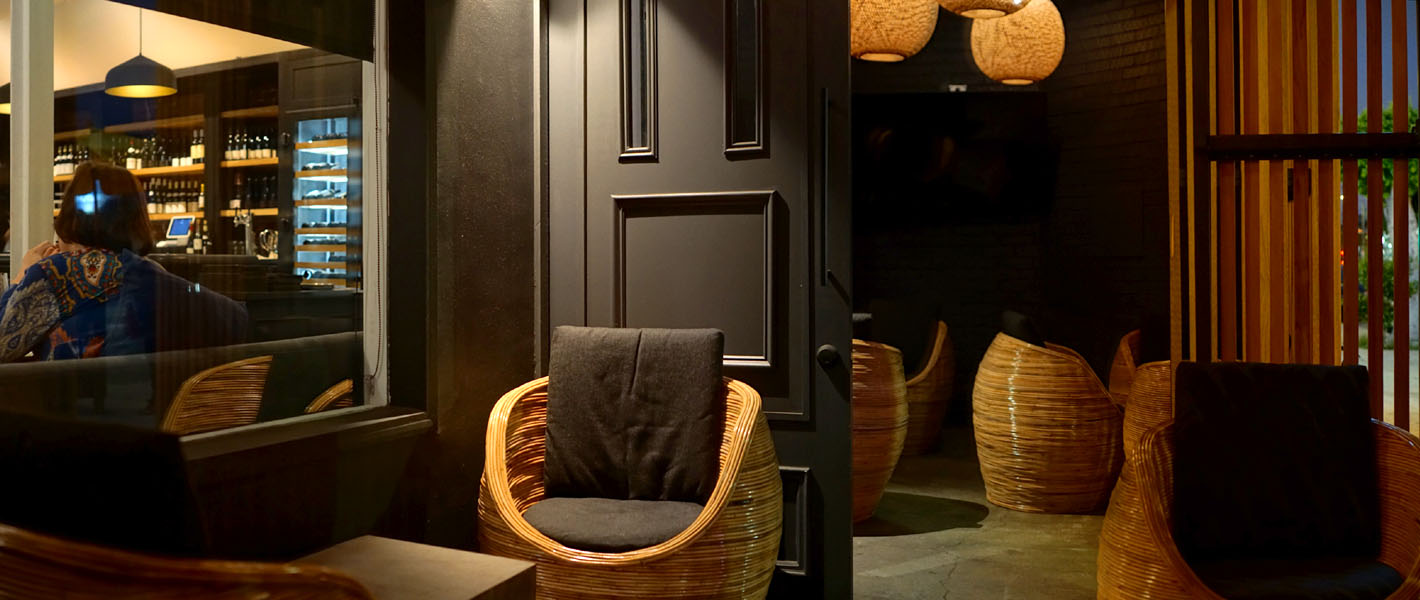 There's a quaint little covered sitting area up front. I'm not sure if they actually serve food here though.


Kass takes over the former home of Wilde Wine Bar & Restaurant, and 3Twenty Wine Lounge and Louvre Gallery before that. The room's been redone by Annie May of local firm
Kuskin / May
, with significant input from the Chef himself. It has a homey sort of feel, which was Émé's intent, and diners also get to peer into the restaurant's semi-open kitchen. Total capacity is listed as 40, which includes the bar.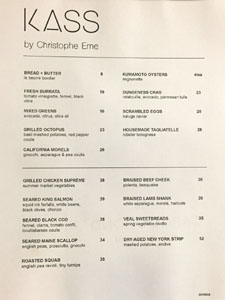 Kass' menu is pleasingly compact, divvied up simply into smaller and larger plates. Click for a larger version.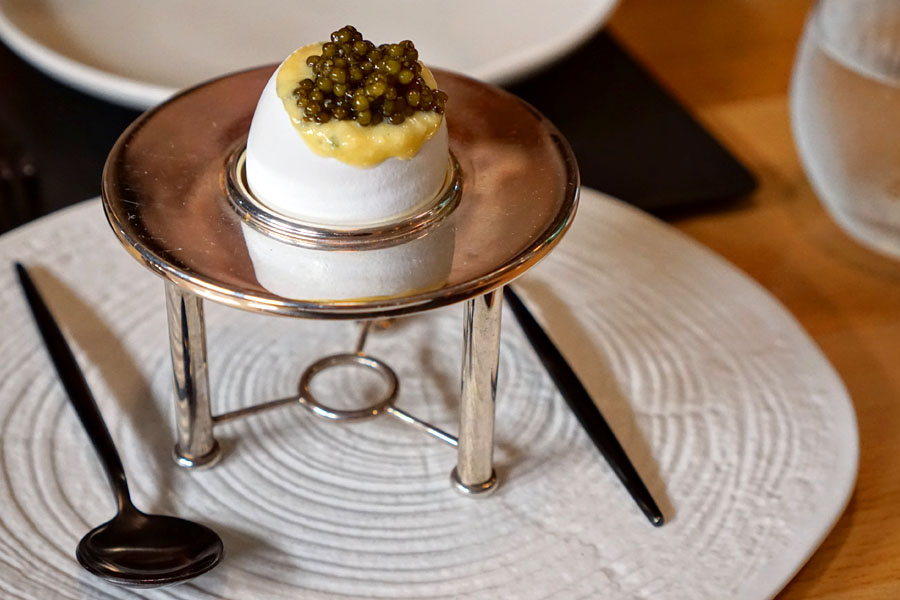 Scrambled Eggs [$28.00]
| kaluga caviar
The meal got off to a superb start with this classic (the Chef was making this back in the L'Orangerie days I believe) pairing of lush, creamy egg with a dollop of oh-so salty caviar. This combo pretty much never disappoints, and was made even better by the zestiness of what I believe were chives here.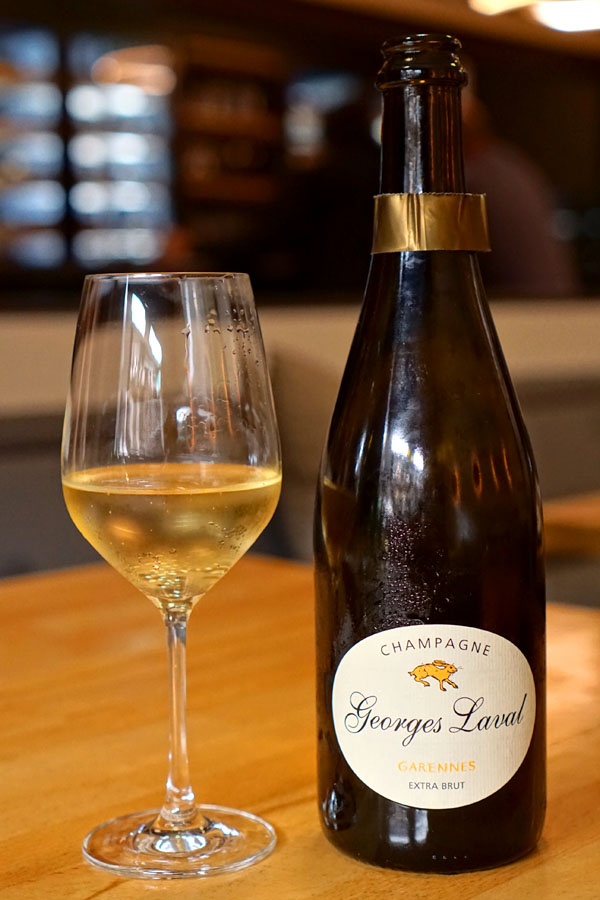 To drink, we opted for a bottle of Champagne, the
Georges Laval, Extra Brut Garennes | NV [$155]
. The wine smelled great, giving us notes of racy apple mixed with a smidge of funk, some minerals, and a touch of brioche. It delivered in terms of taste, too, its pome fruit flavors transitioning to a delightfully toasty character, with bits of bitterness and herb as accents. Overall, this was way better than I thought it'd be, especially for a non-vintage bottling.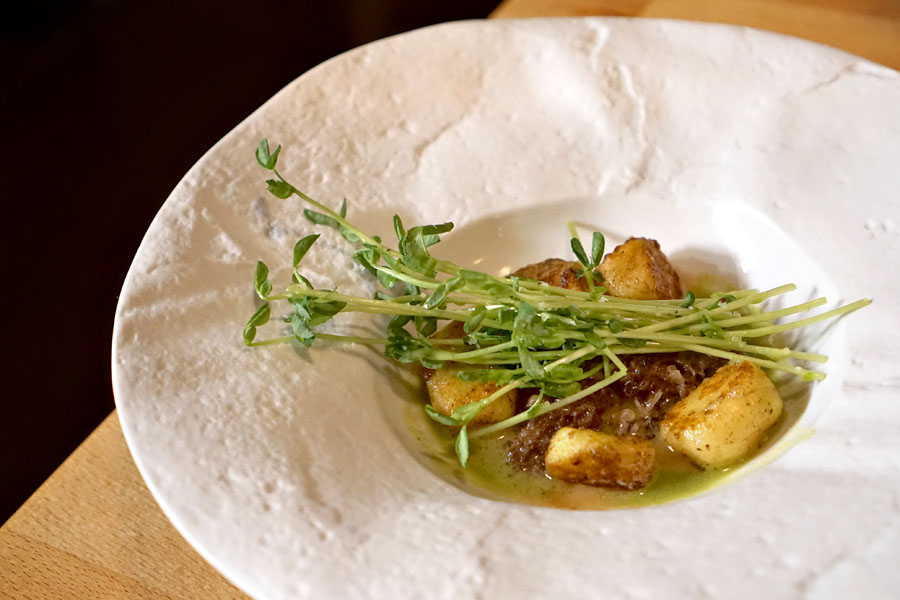 California Morels [$26.00]
| gnocchi, asparagus & pea coulis
This just might've been my favorite course of the night. Brown butter gnocchi delivered on all fronts, beautifully augmented by the woodsy funk of the mushrooms. That combination was delicious just by itself, but what took this over the top was the sheer vividness of that pea-asparagus, which did a fantastic job lifting and brightening the dish. This was no doubt one of the best preparations of gnocchi I've ever had.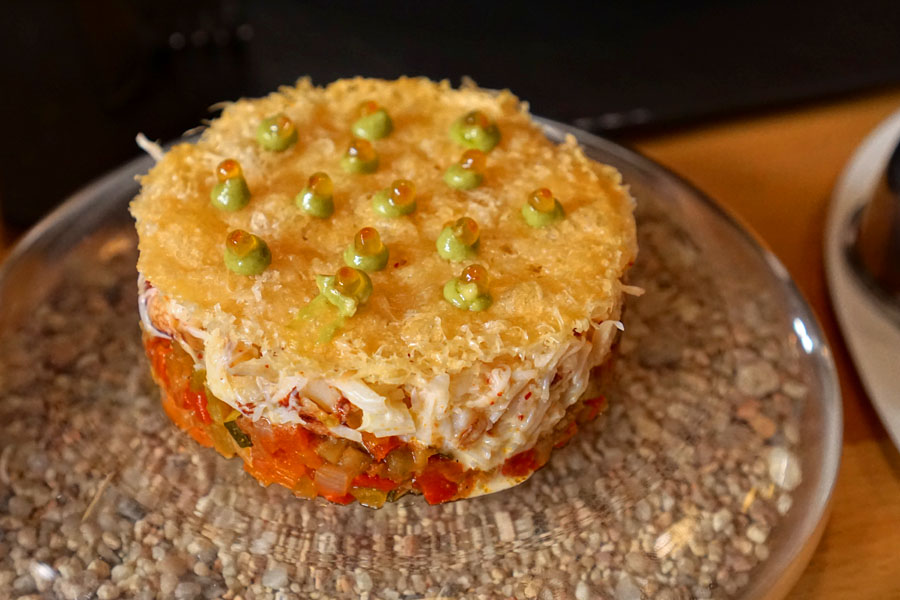 Dungeness Crab [$23.00]
| ratatouille, avocado, parmesan tuile
I'd never experienced crab quite like this before, but I'm glad I did, because this was another standout. Taken alone, the crab was sweet and saline, just as you'd expect, but perked up a bit by the presence of espelette. The ratatouille actually worked surprisingly well as a sort of vegetal contrast, but my favorite element here was that tuile, which gave the dish a rich, cheesy, salty finish that just satisfied in a base sort of fashion.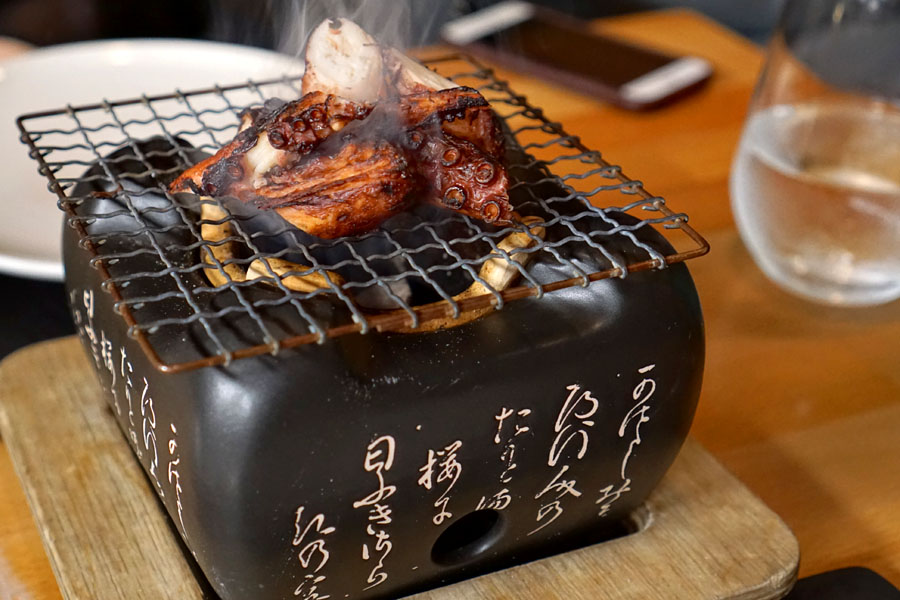 Grilled Octopus [$23.00]
| basil mashed potatoes, red pepper coulis
Arriving on a
shichirin hida konro
, the octo generated quite a bit of smoke--it felt like we were at KBBQ! That being said, I loved the char character that the grill imparted, though the meat could've been a touch juicier. It was tender though, and tasty, and worked great with the heady aromatics of basil.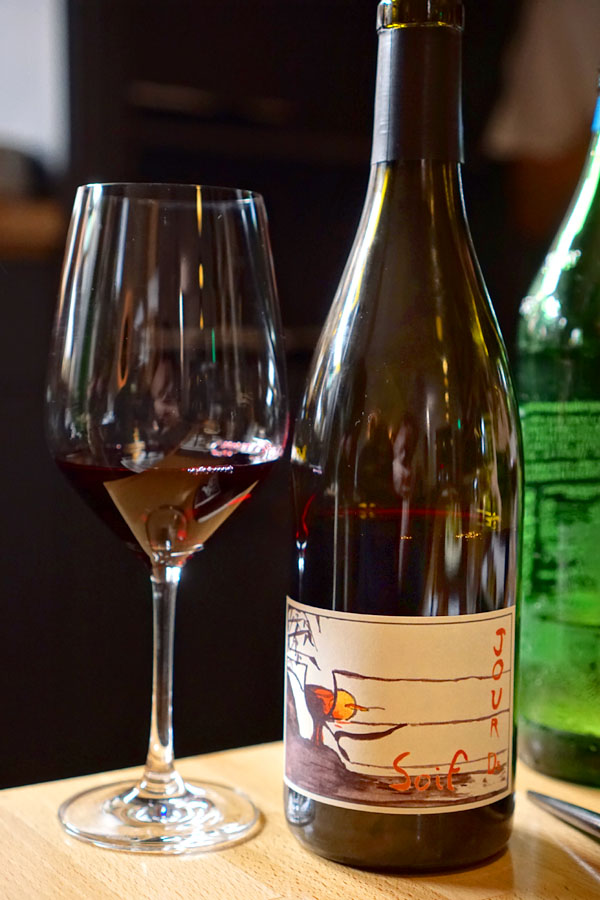 To pair with the mains, we were given a complimentary pour of Cabernet Franc, the
Pierre et Rodolphe Gauthier, Bourgueil Jour de Soif | Loire Valley 2018
. I got a wonderfully fruity nose absolutely brimming with strawberries, along with a peppery spice. The palate showcased more of that sweet-tart berry, which grew and lingered long, joined by just a trace of minerality. An eminently fun, gluggable wine, one meant to be drunk young and fresh.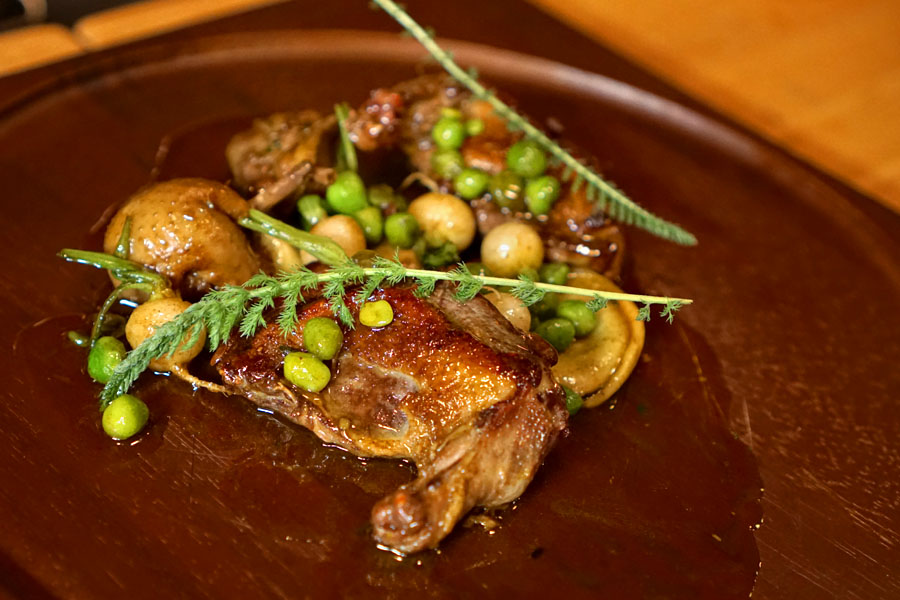 Roasted Squab [$38.00]
| english pea ravioli
Time for some main courses. Squab ate tender and juicy, with that almost funkiness you expect from the bird. Given its potency, the peas and radishes here were crucial for balance, and I was a fan of that ravioli as well.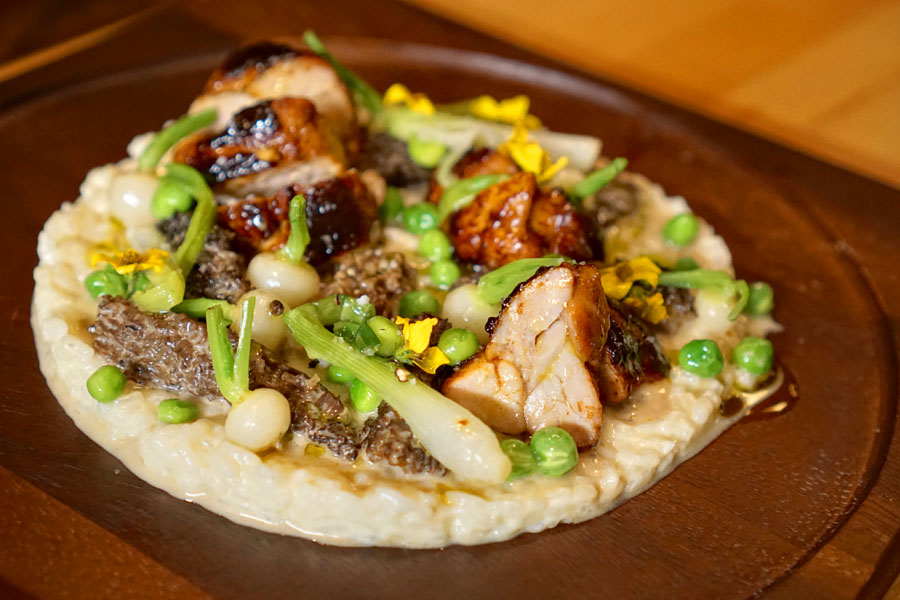 Veal Sweetbreads [$35.00]
| spring vegetable risotto
Sweetbreads were delicate, yet earthy and luxurious at the same time. The risotto, meanwhile, was a textbook presentation that functioned near flawlessly as a counterpoint to the
ris de veau
, and I loved the presence of all the veggies, which provided further contrast. And of course I can't forget about those morels, either.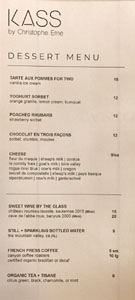 A small array of sweets and
fromage
is joined by a handful of after-dinner drinks. Click for a larger version.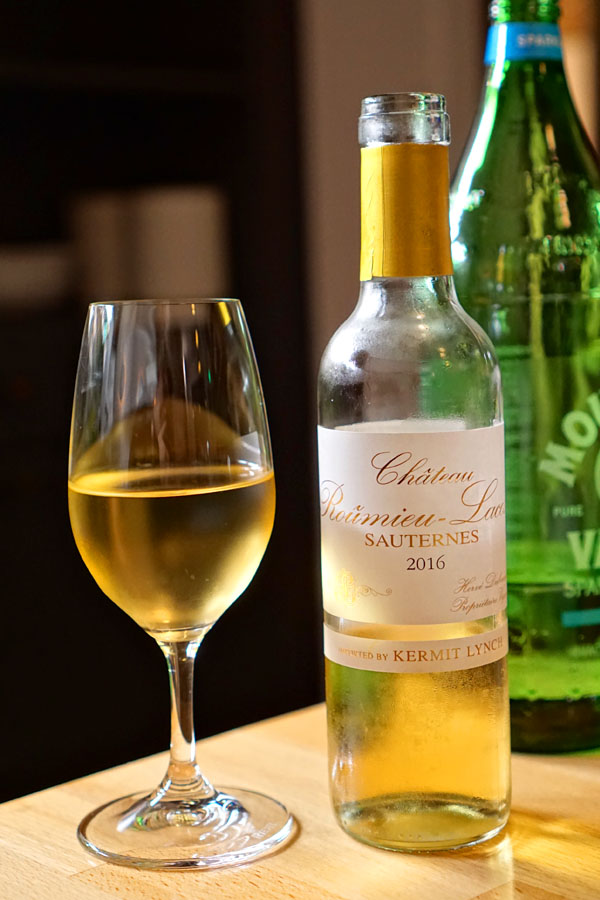 Dessert wine duties were handled by the
Château Roumieu-Lacoste, Sauternes 2016 [$15]
. The wine smelled fantastic, with pineapple and honey all up in my face. The palate was super thick, viscous, giving up soft, round flavors of marmalade, stone fruit, and caramel, all offset by nuances of spice and acidity. Delicious, and a great pairing with the tart below. Note that this ended up being complimentary, as the wine poured was actually of a different vintage than the one listed on the menu.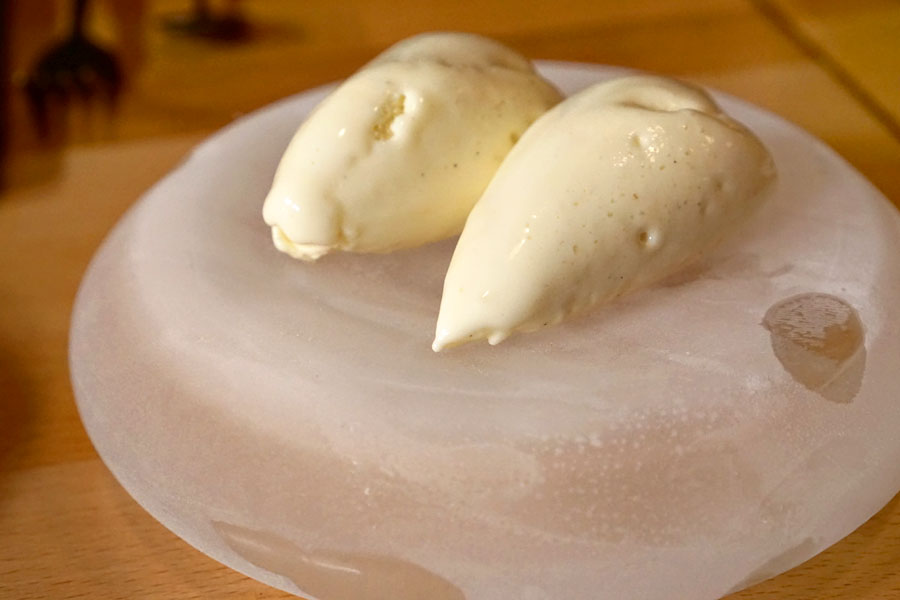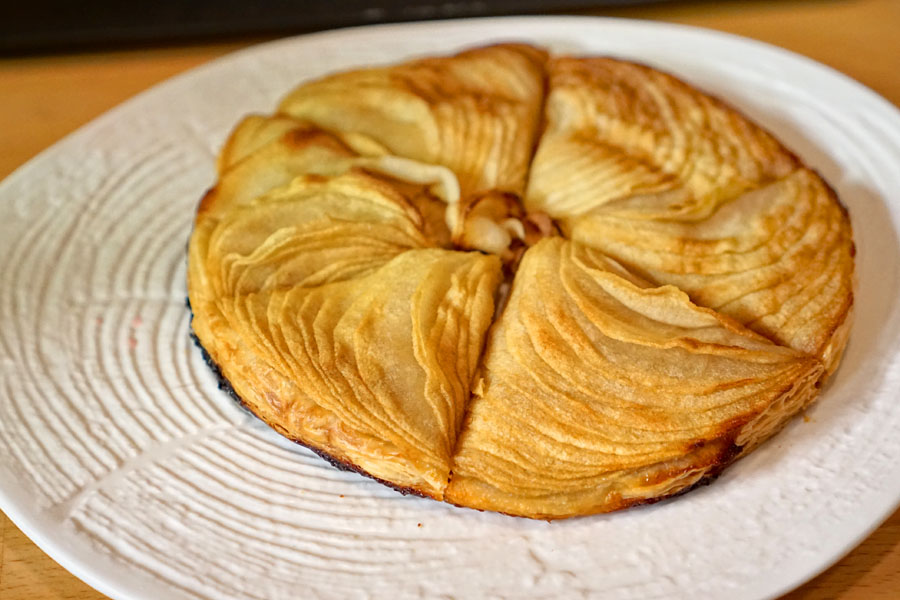 Tarte aux Pommes for Two [$18.00]
| vanilla ice cream
At the beginning of the meal, we pre-ordered the Chef's signature dessert, which apparently takes 45 minutes to prepare. The tart was spot on, delivering classic, delectable flavors of apple, which made perfect sense when taken in concert with the provided vanilla ice cream. The star here, though, was that ultra thin pastry, and how flaky and interesting it was with its multitude of layers.
I'd been anticipating Émé's return for what seems like forever, but I'm happy to report that the wait was worth it. Compared to what he was putting out over at Ortolan, the food here is more relaxed for sure, but still has enough of a gastronomic edge to keep things interesting. It's unmistakably French at its core, but the Chef has imbued his cooking with a healthy dose of California and our focus on seasonality and easy-breeziness. Émé has sort of reinvented himself at Kass, and he appears to be much more comfortable, more content in this environment. I hope he sticks around.