Auburn (Los Angeles, CA)
Auburn Restaurant
6703 Melrose Ave, Los Angeles, CA 90038
323.486.6703
www.auburnla.com
Fri 06/07/2019, 09:35p-12:35a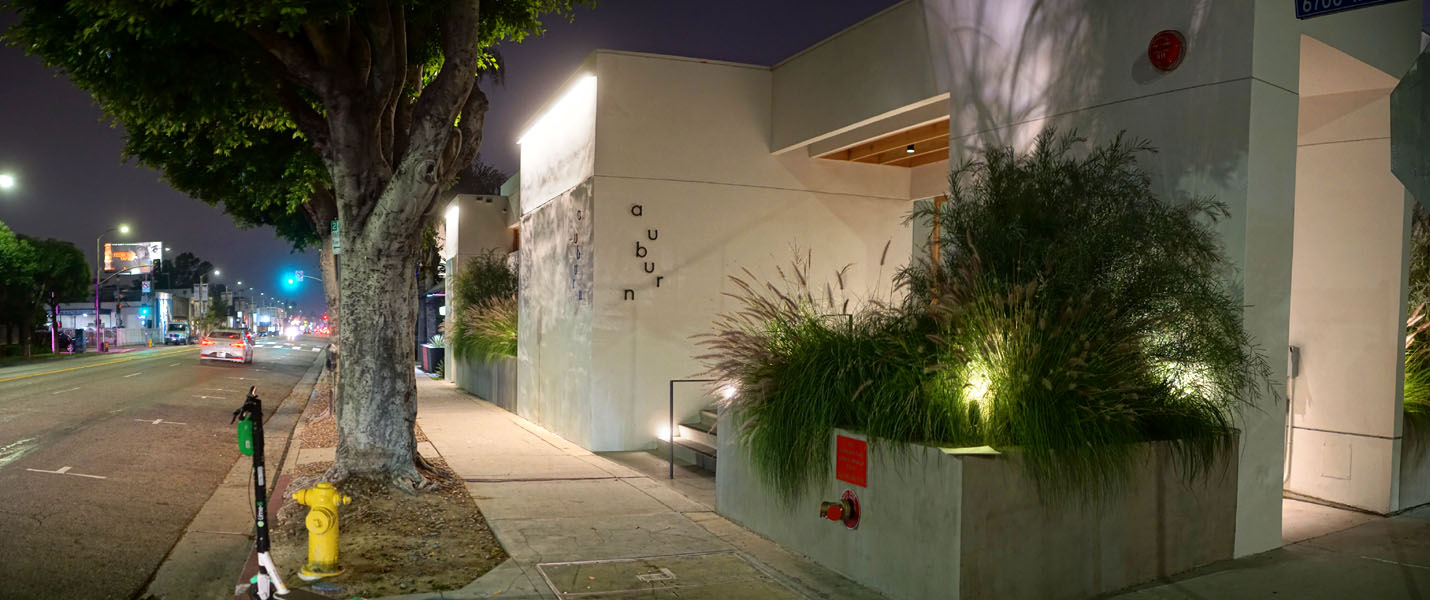 I've been thinking about this for a bit, and I've come to the conclusion that Auburn has been my most anticipated LA restaurant debut of 2019 so far. The place opened on March 15th, and is yet another entrant from the prolific Sprout LA group. Heading up the kitchen here is Chef/Owner Eric Bost, a fine dining veteran who'd I'd first encountered at
Guy Savoy
a decade ago. I enjoyed an excellent meal with him there (still the best hot foie gras I've ever had), so my hopes were super high for Auburn.
About the Chef
: Eric Franklin Bost was born in 1974, and grew in the Raleigh, North Carolina area, where he got his first taste of the kitchen while spending time at his grandparents' restaurants. After high school, he attended the University of North Carolina at Wilmington, and graduated with a bachelor's degree in business (focusing on hospitality management) in 1996. He then enrolled at the Culinary Institute of America in New York, and attained his associate degree in culinary arts in 1998. During this period, he also
staged
at Le Cirque 2000, which at the time was under the watch of Sottha Khunn. Following graduation, Bost moved to the US Virgin Islands to become a line cook at The Ritz-Carlton in St. Thomas, where he eventually rose to the position of sous chef before decamping in April 2000.
At this point he decided to go to Europe, where he met future wife Elodie Kerivel and ultimately settled in Paris. There, he cold called a number of the City's most famous restaurants, and in January 2001, landed a
stagiaire
position at Alain Ducasse's iconic eatery at the Hotel Plaza Athénée. After four months, he was able to become sous chef at Jean-Paul Arabian's Pierre au Palais Royal, where he stayed until January 2002. In April that year, Bost transitioned to a line cook position at Hôtel de Crillon's famed Les Ambassadeurs, a gig that lasted for about 10 months. The Chef then decided to move back to the United States, and wound up living in the San Diego area. Here, he worked as a line cook at The Lodge at Torrey Pines from July 2003 to December 2004, then switched over to The Inn at Rancho Santa Fe, where he was sous chef until May 2005.
In April 2006, Bost moved to Las Vegas to take on the opening sous role at Guy Savoy, under Damien Dulas. He was promoted to CdC in May 2007, and during this period, the restaurant received two Michelin stars. He received another promotion to Executive Chef in May 2008, and was able to retain the two stars. However, in March 2010, he moved to Singapore to open Guy Savoy at the Marina Bay Sands as Exec Chef, and was made EC/GM there in December the following year. In April 2012, Bost welcomed son Ethan Emmanuel, and after leaving his post at the Sands in February 2014, moved back Stateside. In October 2015, he became Executive Chef at LA mainstay
Republique
, cooking until the end of 2016, when he left to start work on Auburn.
Joining Bost in the kitchen are Executive Sous Chef Armen Ayvazyan (The Rose Venice, Quince,
Bouchon
Beverly Hills) and Sous Chefs Anthony Wang (
ink.well
,
ink
) and Francis Chua (
Chi Spacca
,
Otium
, CUT Singapore, Guy Savoy Singapore). On the sweeter side, we have Pastry Chef Dyan Ng (Wit & Wisdom in Baltimore, Bacchanal Buffet, Guy Savoy, Payard Pâtisserie & Bistro, Mix) and Baker Ashley Stogner (The Rose Venice, The Crema Cafe, Bakers & Baristas). Meanwhile, the front-of-the-house is run by GM Christina Oh (NoHo Hospitality Group, The Standard East Village, Jean-Georges) and Dining Room Manager Roderick Daniels (
Gwen
,
Farmshop
, Local Kitchen + Wine Bar).


Auburn occupies the old home of
Hatfield's
, which has been transformed into something unrecognizable as it former self. The revamp was led by
Klein Agency
, a local firm also responsible for the likes of Bon Temps and Highly Likely. The restaurant spots a simple, warm, natural feel, and is almost remarkable in its neutrality.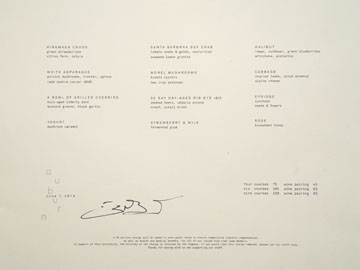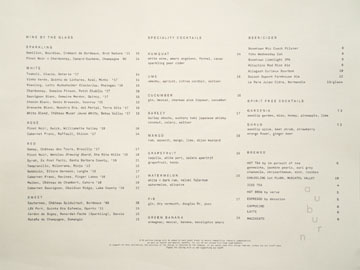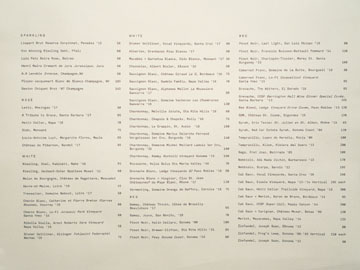 Bost's menu is informed by the Chef's time spent in French kitchens, but has a definite Californian sensibility to it. Diners compose their own four-, six-, or nine-course tasting menus, which allows for flexibility while still keeping things within the confines of Auburn's fine dining aesthetic. On the beverage side of things, you get a handful of beers, as well as a wine list by Sommelier Rick Arline (Hotel Bel-Air, Georgie, ink, The Capital Grille). I opted for cocktails this evening, which are the work of Matthew Belanger (Death & Co, Donna, Freemans) and Lauren Corriveau (Nitecap, Donna, Battery Harris). Click for larger versions.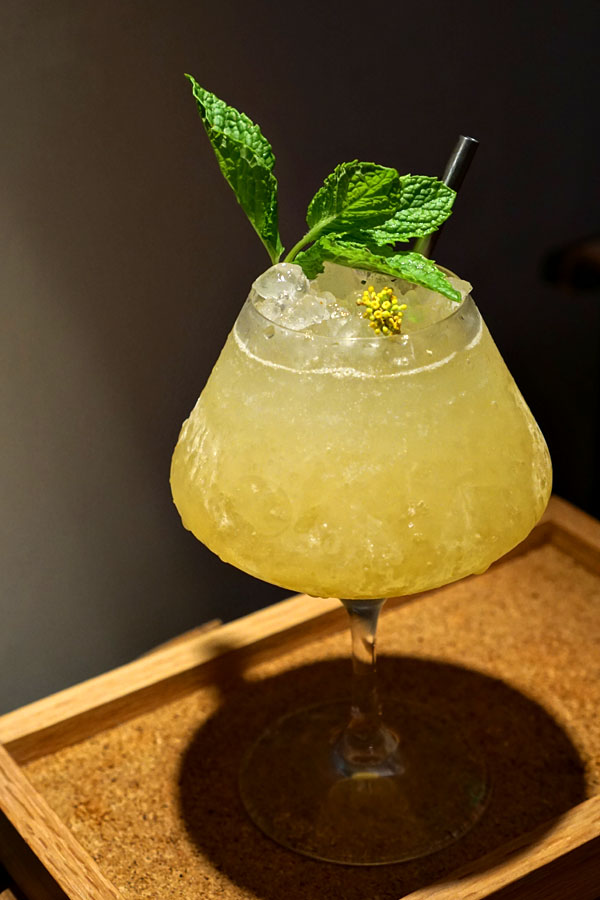 Mango [$16.00]
| rum, aquavit, mango, lime, dijon mustard
The kitchen was running very behind this particular evening, so we ended up spending significant time in Auburn's bar/lounge area, and enjoyed a couple complimentary cocktails in the process. Our first was super viscous, and conveyed flavors of sweet spice commingled with tropical fruit, but cut by a measure of citric tartness. The most interesting thing here was the mustard, which was restrained yet hard-to-miss, providing just an undercurrent of piquancy to the drink.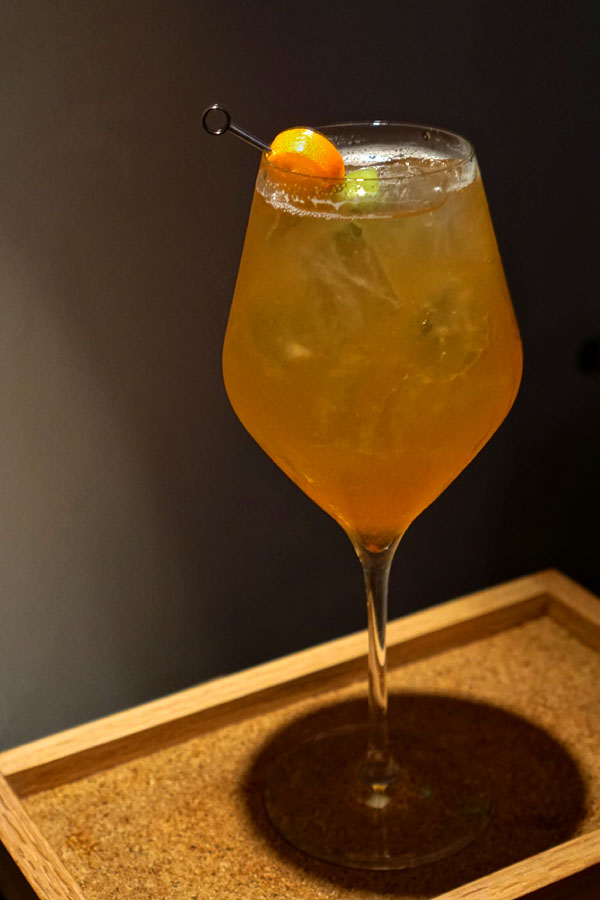 Kumquat [$14.00]
| white wine, amaro angeleno, fennel, cacao, sparkling pear cider
Our second cocktail smelled great, displaying almost cherry-like aromas with plenty of ripe fruit character. Meanwhile, its palate was light, refreshing, and spritzy, and showed off surprisingly little fruit. Instead, I found it more spice-driven, with some savory, bitter qualities and even a touch of olive in there.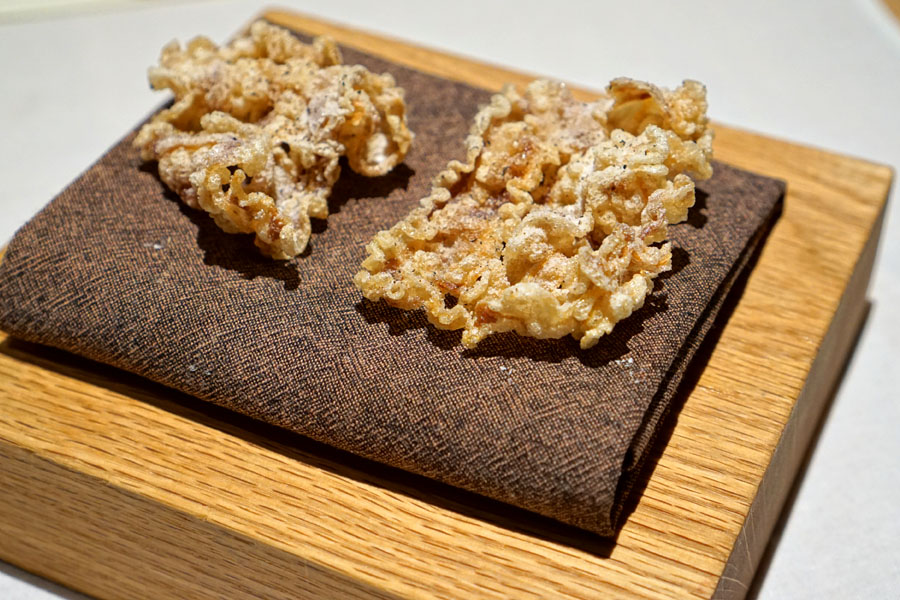 Upon being (finally) seated, we were quickly served these crispy pig's ears, dusted with salt and vinegar. They were fantastic, and utterly gratifying, giving up an in-your-face savoriness reminiscent of fried chicken skin or a
chicharrón
, but balanced by just the right amount of acid to keep things from becoming too intense. I'd never experienced
oreille de porc
this light and airy and delicate before--definitely some of the best I've had.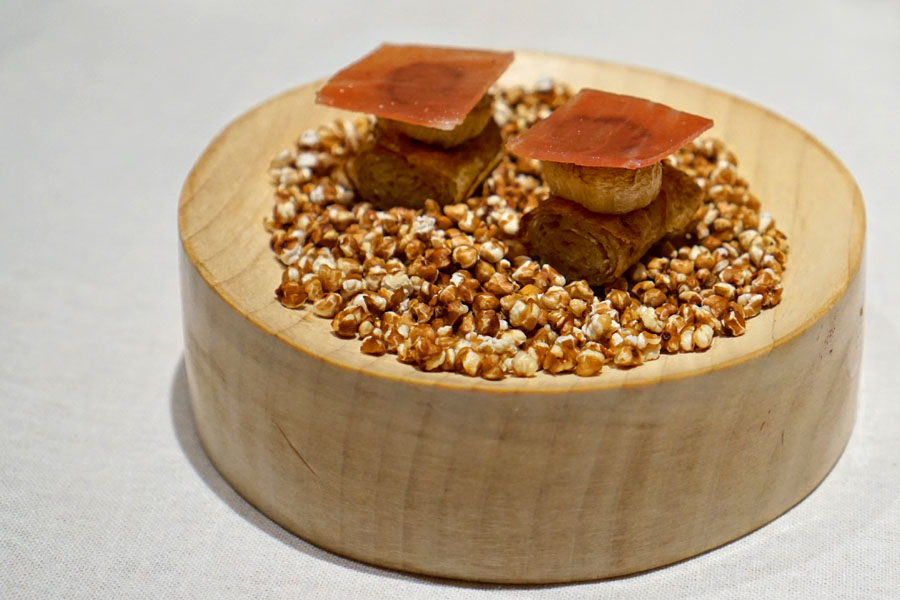 Next, we had an amuse bouche composed of a sweet buckwheat galette, with roasted onion and Lady Edison ham. Here, I enjoyed the sheer earthiness of the pork, and how that was contrasted by zesty onion, with the galette just moderating everything.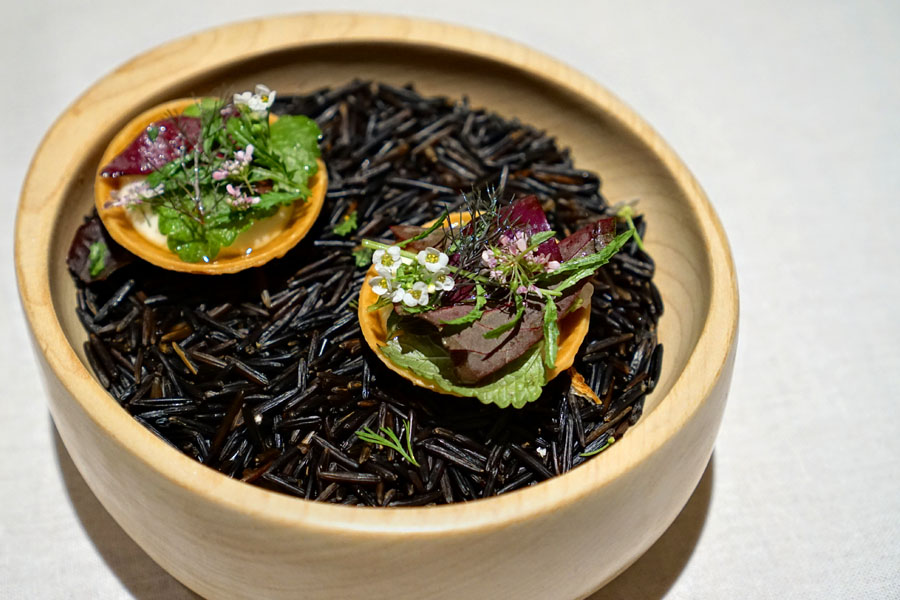 Our final canapé was this savory tart with torn herbs, which played sweet, caramelized onion flavors against the brightness of all that greenery.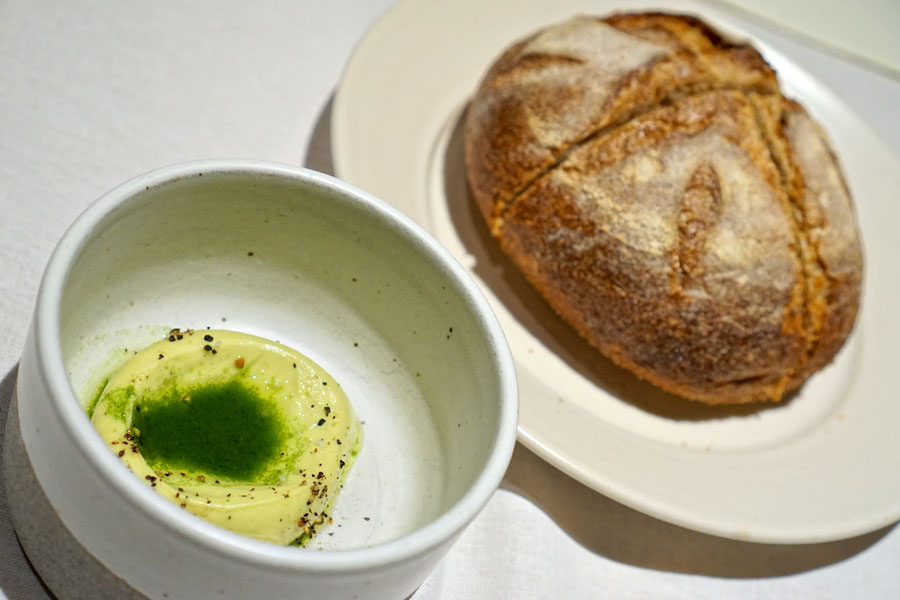 Bread service was comprised of a housemade country loaf alongside an avocado butter with
fines herbes
(chervil, parsley, and tarragon tonight). The bread was superb, and had a delightfully crusty exterior along with soft, slightly sour insides. At the same time, the butter was a great companion due to its marriage of vegetal and semi-sweet nuances.
1a: Hiramasa Crudo
| green strawberries, citrus fern, celery
Our meal proper commenced with certainly one of the more venturesome preparations of yellowtail amberjack I've seen. The fish had its fattiness and brine contrasted by the almost bracing nature of that celery, along with the acidity of those strawberries. There was a well-placed crunchy element too that I enjoyed (radish?), while bringing up the rear were these long-lasting "green" notes that reminded me of carrot tops (from the citrus fern oil I assume).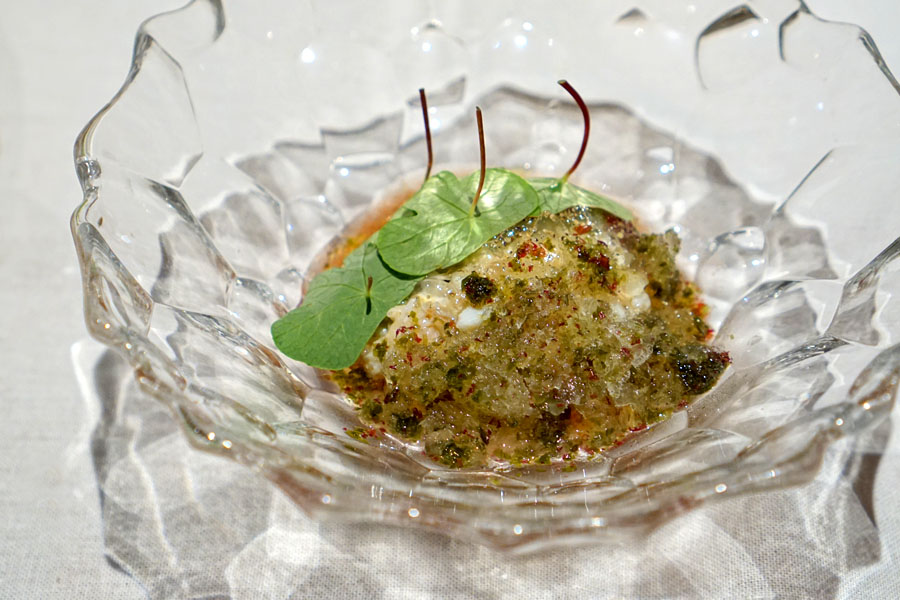 1b: Santa Barbara Box Crab
| tomato seeds & gelee, nasturtium, seaweed-lemon granite
Box crab arrived particularly sweet, and said sweetness really meshed well with the tomato. That tomato also served as a link to the almost pesto-like richness and savoriness present, which managed to complement but not overwhelm the crustacean. What really surprised me here, though, was the jarring temperature contrast, courtesy of that granita.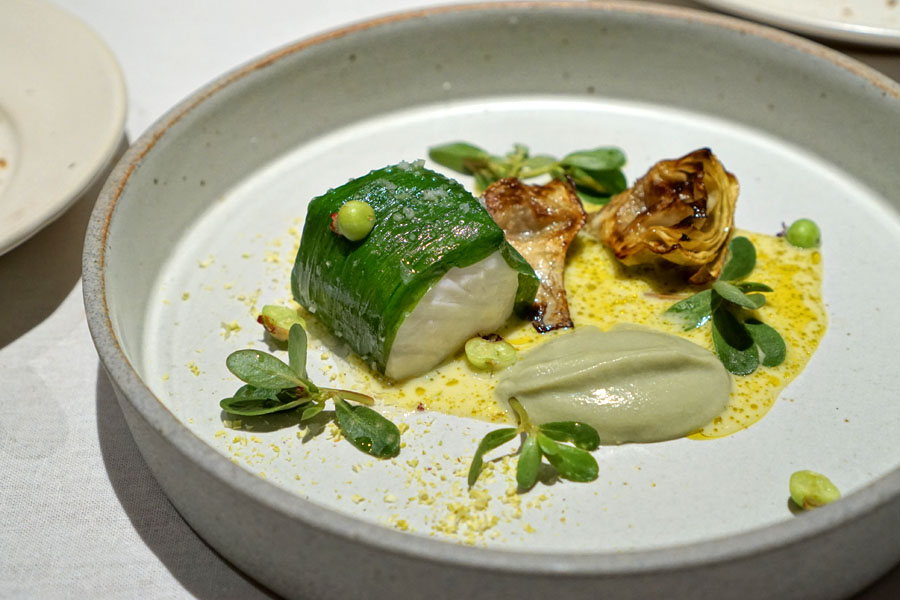 2a: Halibut
| ramps, sunflower, green blueberries, artichoke, pistachio
Ramp-wrapped steamed halibut was cooked flawlessly, its juicy, flavorful flesh working hand-in-hand with the char of those fantastic roasted artichokes, all while the sunflower crema added a lighter, vegetal note. The puddle of pistachio milk, meanwhile, helped integrate all the various components.
Watermelon [$15.00]
| white + dark rum, velvet falernum, watermelon, allspice
Our next cocktail had loads of watermelon up front for sure, which then lead to the booziness of the rums, while the allspice came through on the back end. What was intriguing here was that I got some subtle, almost leather-like notes from the drink, both in terms of aroma and taste.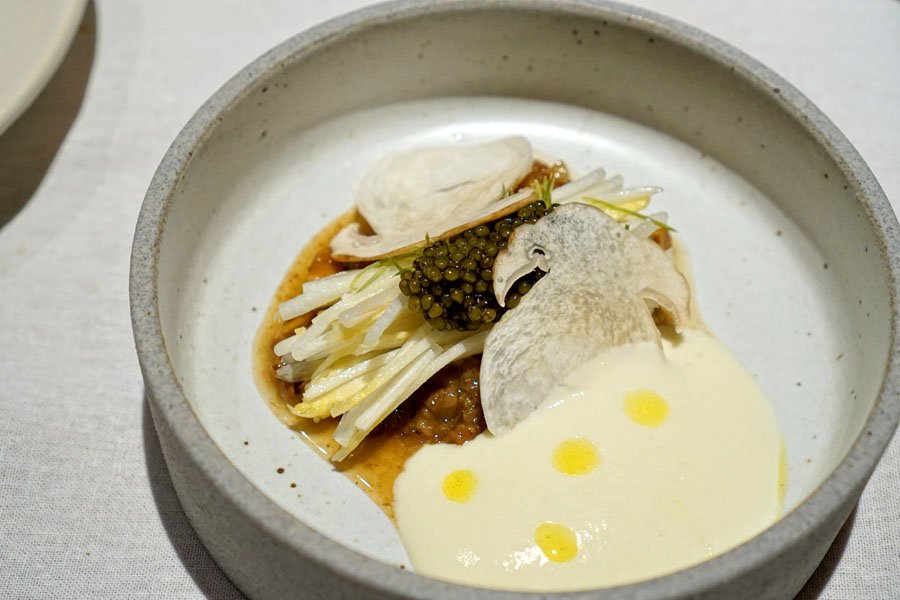 2b: White Asparagus
| porcini mushrooms, trotter, spruce (add osetra caviar +$40)
White asparagus was cut into
juliennes
, which I don't recall ever seeing before. This ended up completely changing its texture and eating experience, making the vegetable much more finessed, and a bit of a showstopper. Even so, its bitter, tart flavors were still on display, and worked as a base for the earthy, savory flavors of porcini and braised trotters, while the caviar on top added pops of salt to the mix.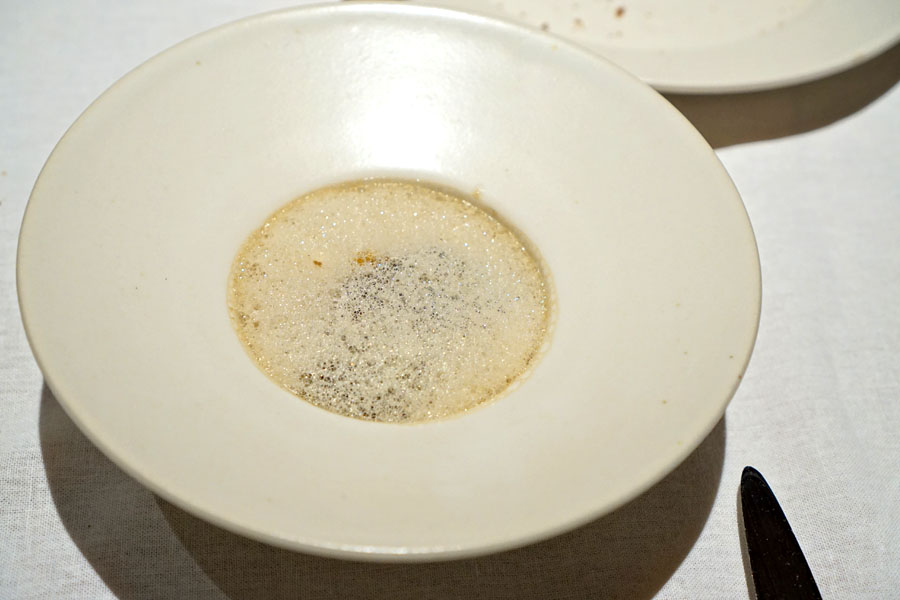 3a: Morel Mushrooms
| kusshi oysters, new crop potatoes
Morels were super woodsy, and really harmonized well with the rich brown butter-like flavors in the dish. The potatoes, meanwhile, showed off a weightiness that counteracted the oysters, and the end result was the homiest, coziest course of the night.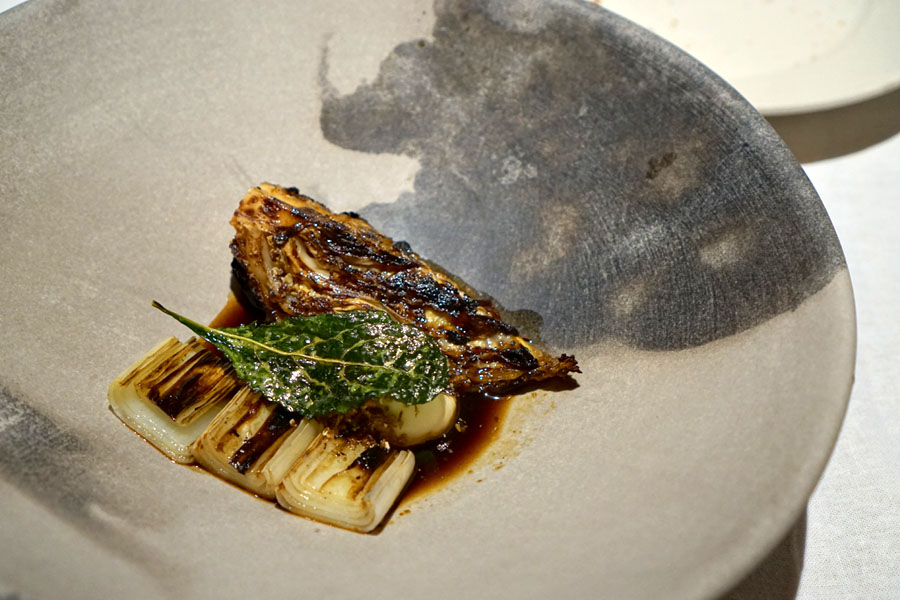 3b: Cabbage
| charred leeks, onion essence, alpine cheese
A combo of burnt cabbage and leeks had a healthy amount of bitterness and astringency, while the cheese worked to soften said flavors, aided by the baby kale leaf on top. My one concern here was that I wish the cabbage were crisper.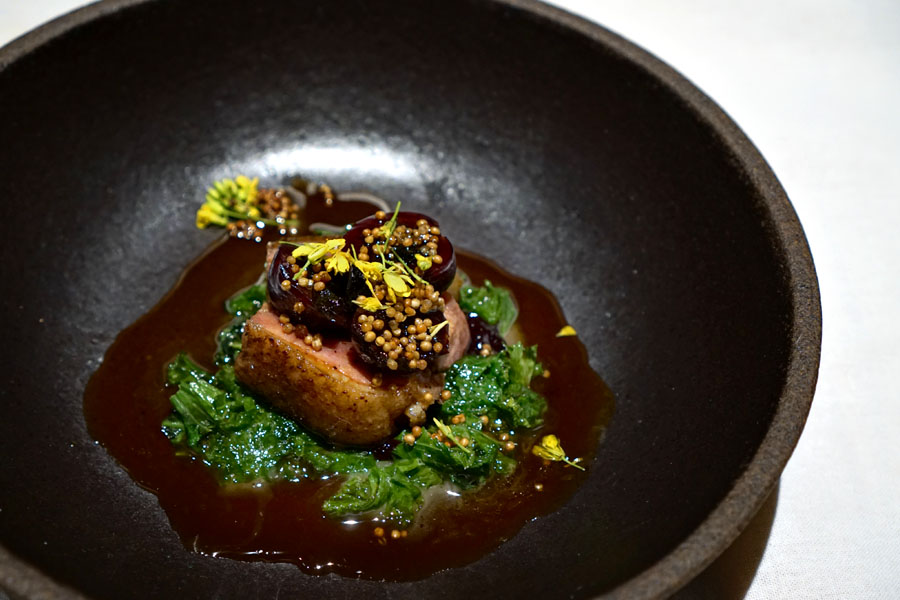 4a: A Bowl of Grilled Cherries
| koji-aged liberty duck, mustard greens, black garlic
Sonoma duck arrived tender and moist, with flavors that veered in a somewhat Asian direction, perhaps due to the black garlic on the bottom of the bowl. The bird was flavorful and delicious alone, but even better with those bitter greens and mustard seeds, while the cherries imparted just a smidge of sweetness.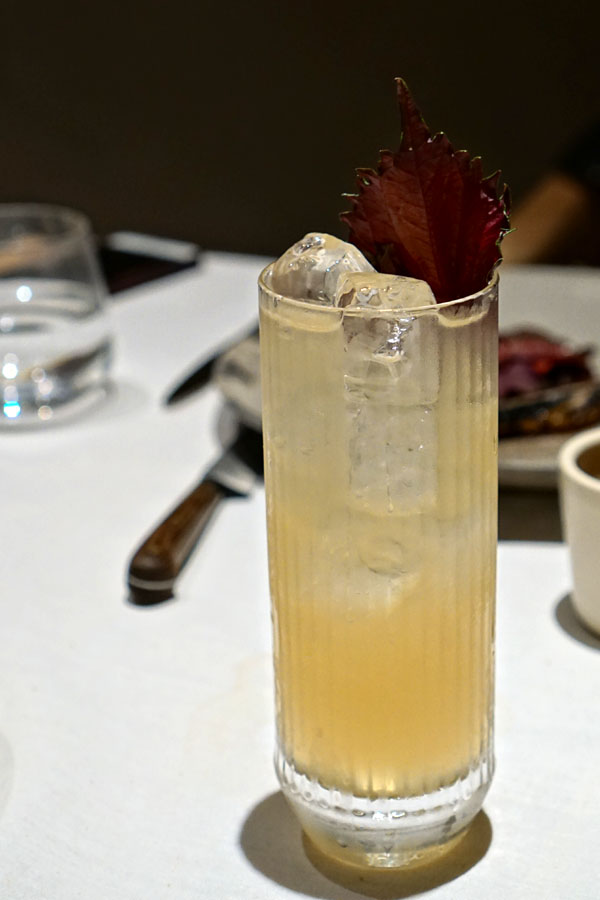 Ume [$16.00]
| umeshu, apricot, citrus cordial, seltzer
This long cocktail drank soft and sweet, and had some super floral, perfume-y flavors to boot.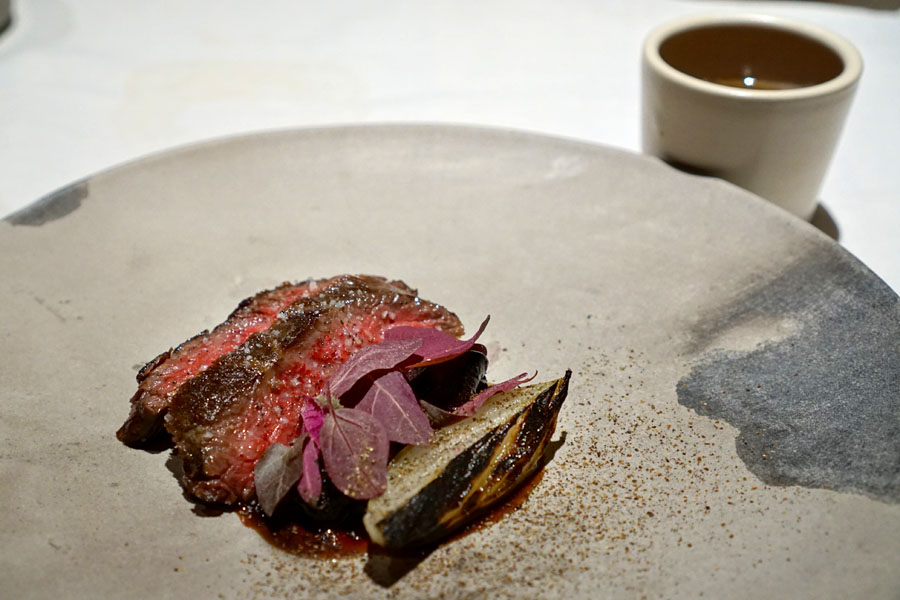 4b: 30 Day Dry-Aged Rib Eye [+$15.00]
| smoked beets, vidalia onions, orach, oxtail broth
In our final savory course, rib eye definitely showed us that funk and depth that you get from dry-aging. It also had beautifully-integrated fat, as well as some well-placed pricks of salt. The oomph of the charred onion also worked for balance, though I wasn't as keen on the beets, though they did provide a nice smoke element. Also note the cup of oxtail broth on the side, which functioned as almost a palate cleanser here.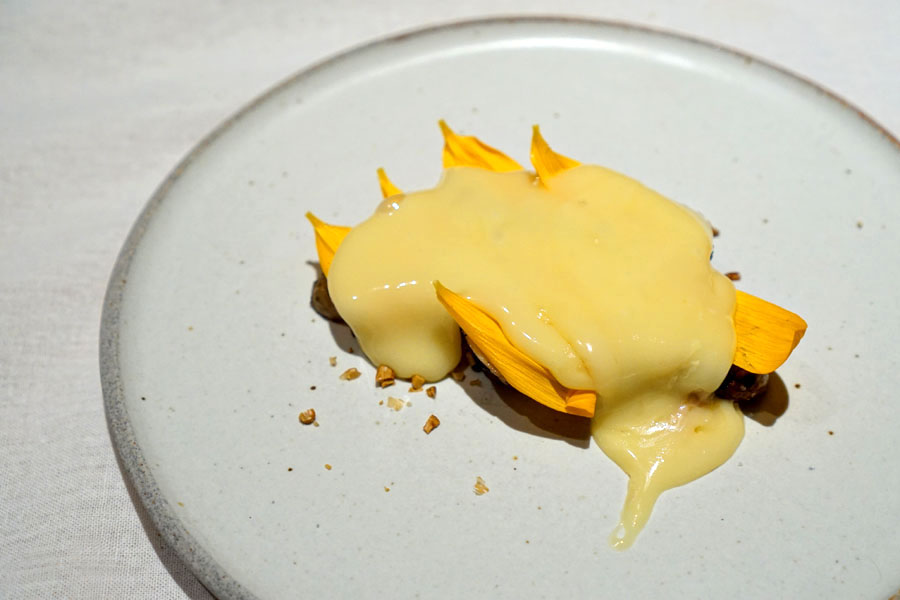 5a: Epoisse
| sunchoke, seeds & flowers
Serving as a bridge to the desserts was what must be one of the best cheese courses I've ever had. The funk and pungency inherent to Époisses was on vibrant display, but the key here were the sunflower seeds, which had a nuttiness that really counterbalanced the
fromage
. Meanwhile, the sunchoke provided a great textural contrast and tempering element, and I really appreciated the bits of salt here as well. Do note that I was given an extra dollop of Époisses by my server, since I mentioned that it was my favorite cheese.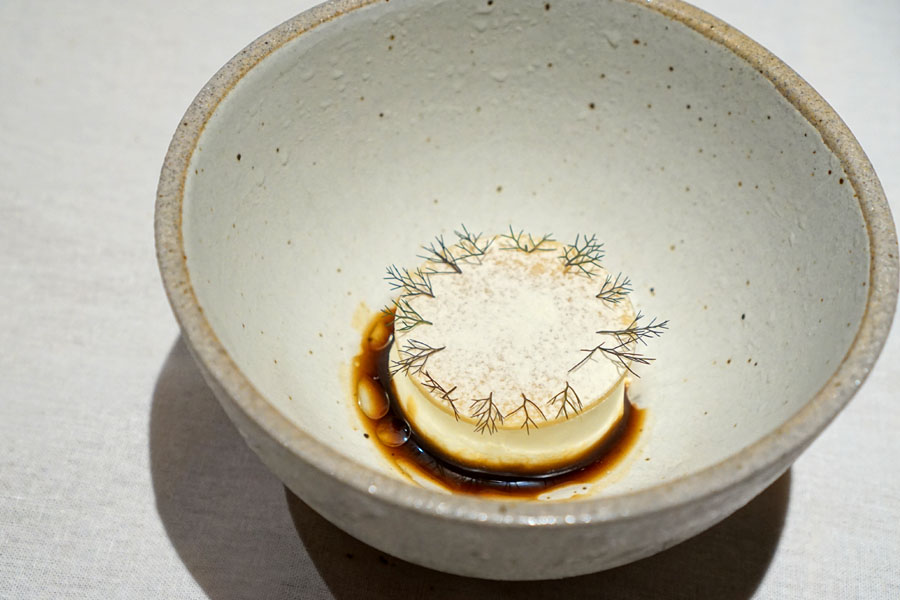 5b: Yogurt
| mushroom caramel
A stout cylinder of yogurt ice cream was paired with a disk of frozen
sablé
, which had a graham cracker-esque quality that I adored. Even more fascinating, though, was the pool of mushroom caramel on the bottom, which had a sweet, woodsy taste that worked as a surprisingly effective foil to the ice cream. Great lingering salinity here, too.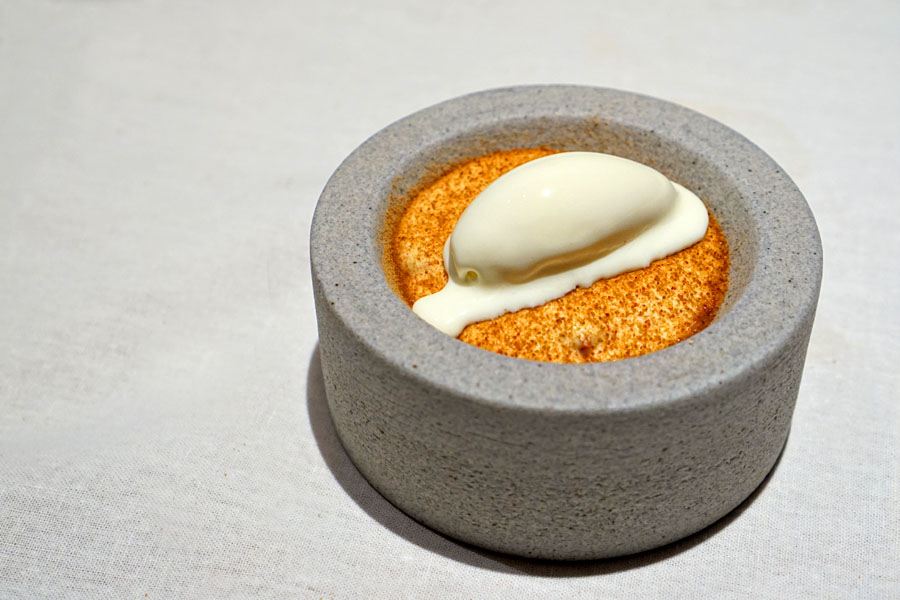 6a: Strawberry & Milk
| fermented plum
This minimalist-looking dessert was composed of strawberry with milk ice cream and fermented plum water. I tasted boatloads of the advertised berry right up front, and combined with the ice cream, I got a very familiar, very satisfying sort of flavor profile that left me wanting more.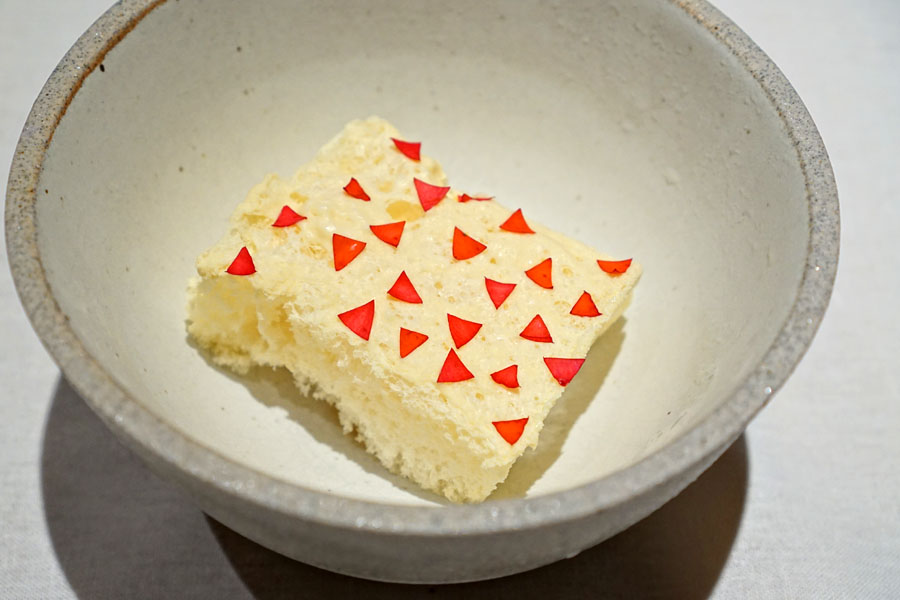 6b: Rose
| buckwheat honey
Last up was my favorite of the desserts, a rose parfait with fermented buckwheat honey, dotted with rose petal triangles. It was all based on a rose syrup, which was whipped, then frozen, then dehydrated, then frozen again. The end result was an impossibly dainty, ethereal custard that virtually dissolved the moment it hit my tongue, leaving a trail of floral flavors enriched by the potency of that honey. Super fun, super neat.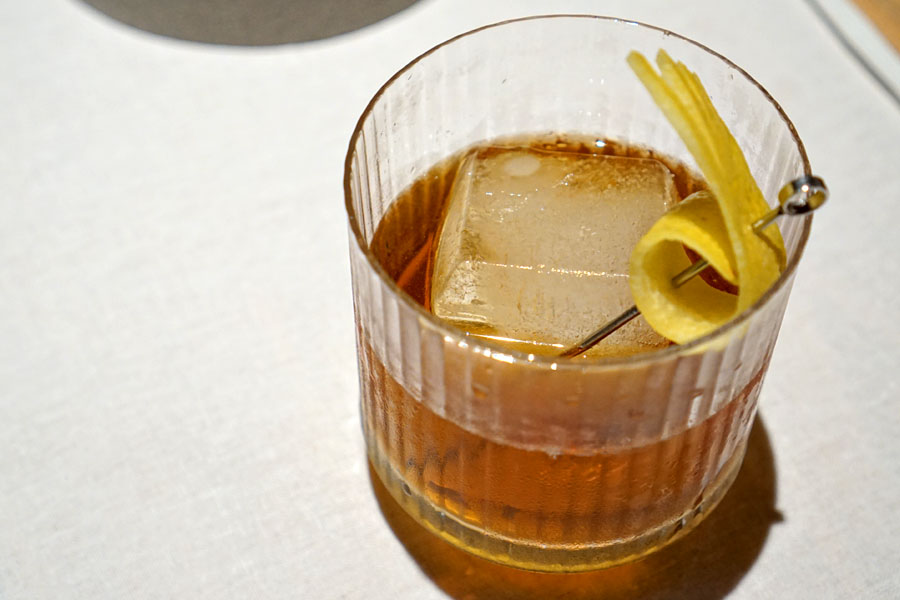 Green Banana [$19.00]
| armagnac, mezcal, banana, eucalyptus amaro
We ended with a final cocktail to pair with the desserts. On the nose I got lots of booze and lots of citrus, but very little banana. Tasting it though, I detected boatloads of unmistakable banana sweetness up front, which then led to a good amount of alcoholic heat and bitterness, while bringing up the rear were some delectable dark fruit notes.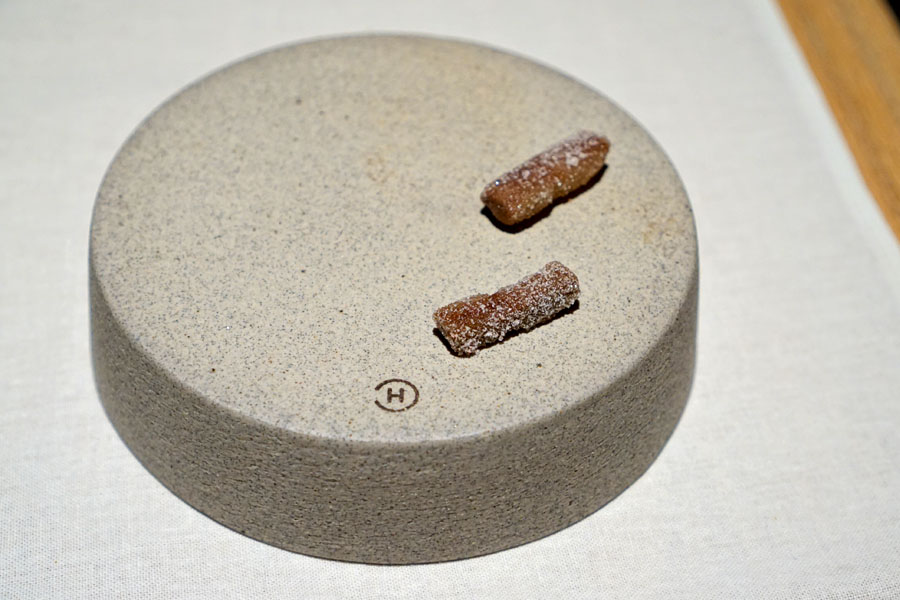 Mignardise duties were first handled by these batons of candied rhubarb, which resembled
pâtes de fruits
. Taste-wise, think sweet-tart, but earthy at the same time.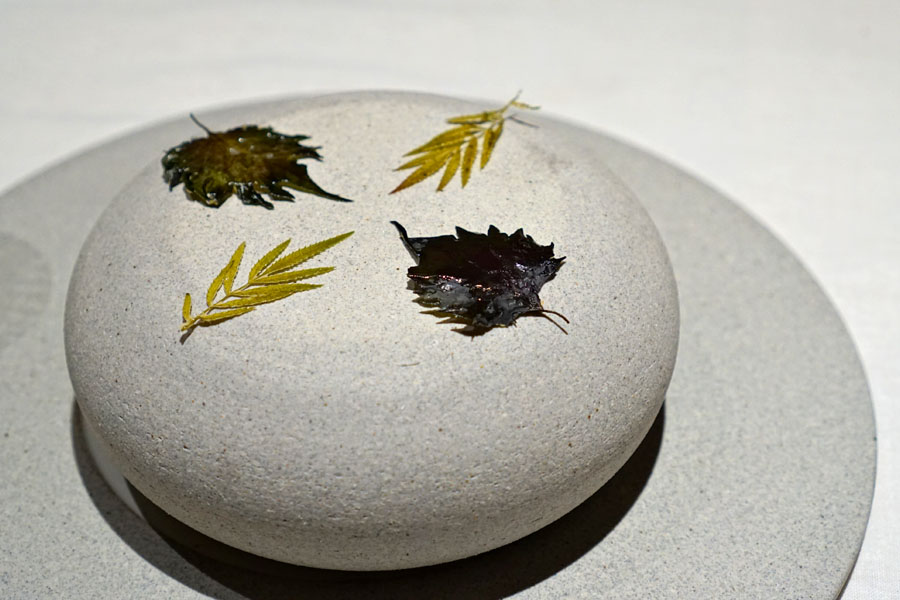 Following were herbs, coated in coconut then dehydrated. I tried the
huacatay
first, which had a minty sweetness commingled with a very vegetal note, while the coconut came through strongly on the finish. The red shiso, on the other hand, was much tarter, but also somehow very familiar at the same time (I couldn't put my finger on why).
Although there's plenty of 2019 left, I feel pretty confident saying that my meal at Auburn will remain one of my best of the year. There's just something with the cooking here that really jibes with me, almost at a fundamental level. I get a clarity, a purity in how Bost presents and layers his flavors, which are simultaneously vibrant, yet utterly finessed, contemplative and inventive, yet uncompromisingly delicious. This is a sentiment that extends wholeheartedly to Ng's desserts as well. There's a huge amount of potential with Auburn, and when (if?) Michelin returns next year, I predict stars. I look forward to returning, even if it's just to try the à la carte bar menu.