Torigoya (Los Angeles, CA)
Torigoya Restaurant
123 Astronaut Ellison S Onizuka St, Los Angeles, CA 90012
213.687.0690
www.torigoyala.com
Mon 07/01/2019, 08:05p-10:40p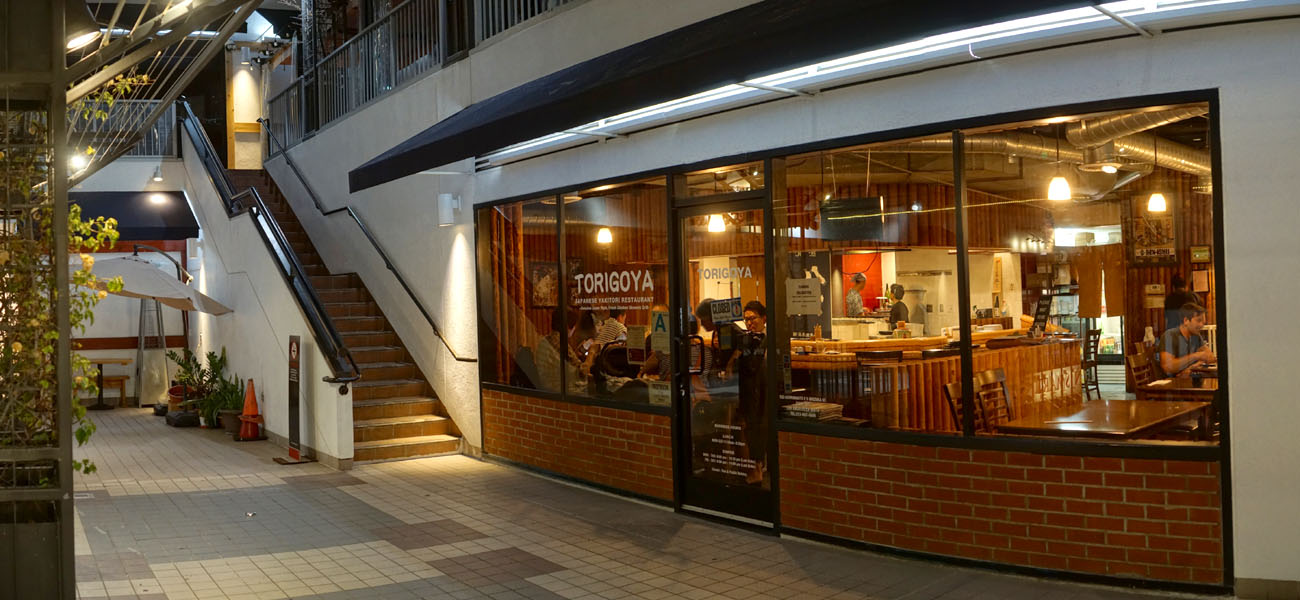 If we're talking about Torigoya, it might make sense to first mention
Kokekokko
. Opened circa 1988 by Tomohiro "Tomo" Sakata, the Little Tokyo eatery had long been the standard-bearer for
yakitori-ya
in LA. However, the original Central Avenue restaurant closed on January 24th, 2015 due to lease issues, but ended up re-opening the following month a short distance away, in the former Weller Court home of
Koshiji
. This new iteration of Kokekokko didn't even last a year though, closing in January 2016.
It was replaced the next month by Torigoya, which was under new ownership, but retained much of the same staff. In fact, I believe Tomo-san even stuck around to mentor the new team, led by Kokekokko alum Kyota Morita. Morita seemed to be doing well, but would eventually leave the spot at the end of December 2017 to work at the likes of
Rossoblu
and
Kinjiro
. January 2018 saw the re-opening of Torigoya, now under the watch of Tomoki Sugaya, a native of Inashiki, Ibaraki who was sent to take over the place by the restaurant's Tokyo-based owner. Sugaya has been in the States since late 2017, and crucially, has never cooked at Kokekokko.

Located on the second floor of Weller Court, Torigoya retains pretty much the same decor from the Kokekokko days. That's not a bad thing, as I find all the wood rather charming.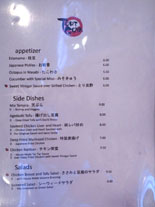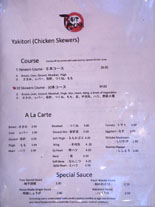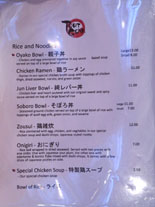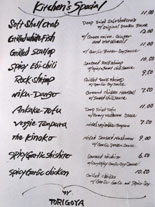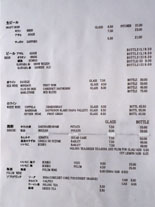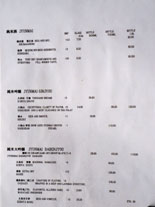 Menu-wise, the focus at Torigoya is clearly on the various skewered chicken parts, though there are numerous appetizers, bowls, and sides available as well. To drink, you get a small-ish selection of sake, shochu, beer, and wine. Corkage was advertised as $20 for wine and $8.50 for beer (750mL), with no hard alcohol allowed, though we ended up getting charged only $15 for our two bottles. Click for larger versions.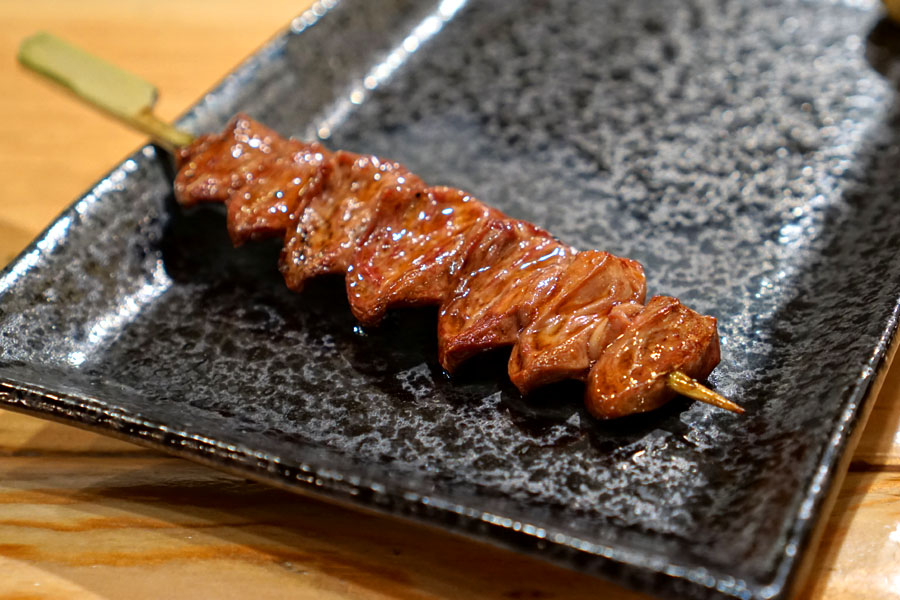 Hatsu (Tare) [$2.99]
Our parade of chicken began with heart, a supple-yet-chewy presentation that was a real treat texturally. However, I wanted a bit more smoke, more char to really even out the earthiness of the organ.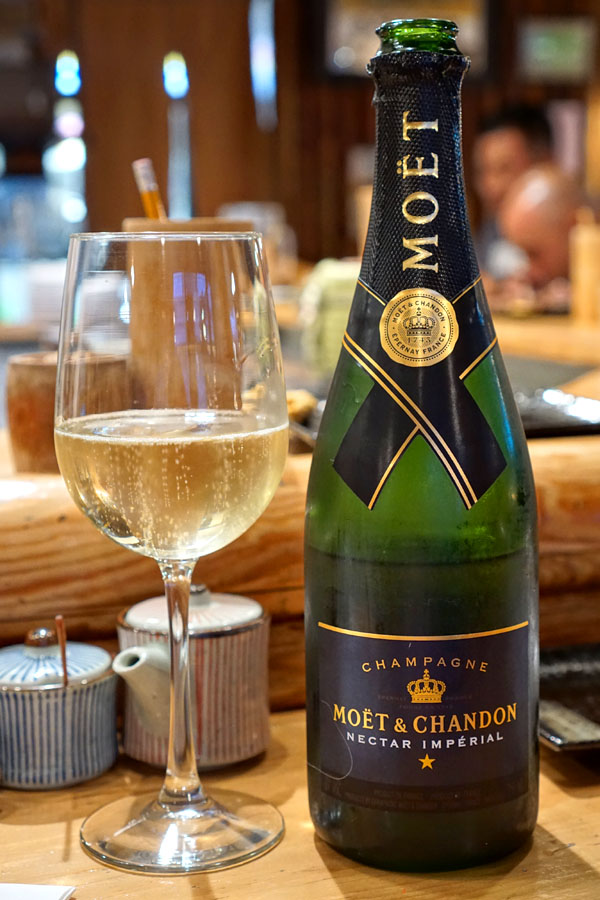 Our first beverage was the
NV Moët & Chandon Champagne Nectar Imperial
, a demi-sec style sparkler. The wine had a rich, heady nose rife with ripe apple and a touch of stone fruit. The palate was creamy and luxuriant, showing off loads of melon and more stone fruit, along with lots of sugary, honeyed notes. Interestingly, this was actually the Champagne that helped get me into Champagne back in the early 2000s. I don't drink many demi-secs these days, so it was nice to revisit this bottling, which was as fun as ever.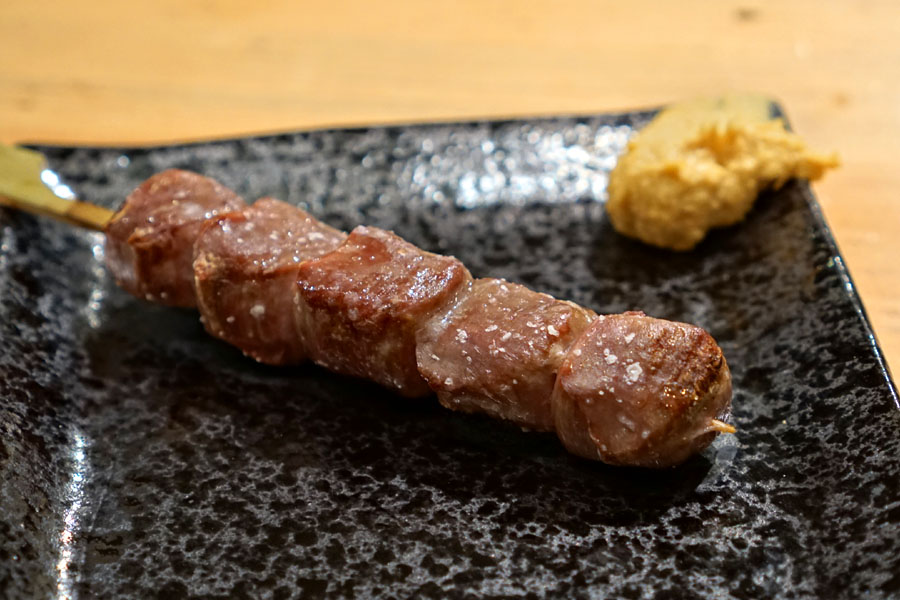 Sunagimo [$2.99]
Gizzard was as crunchy as expected, its gritty, sandy consistency giving way to a superb saltiness on the back end. Great with a dab of zingy
karashi
.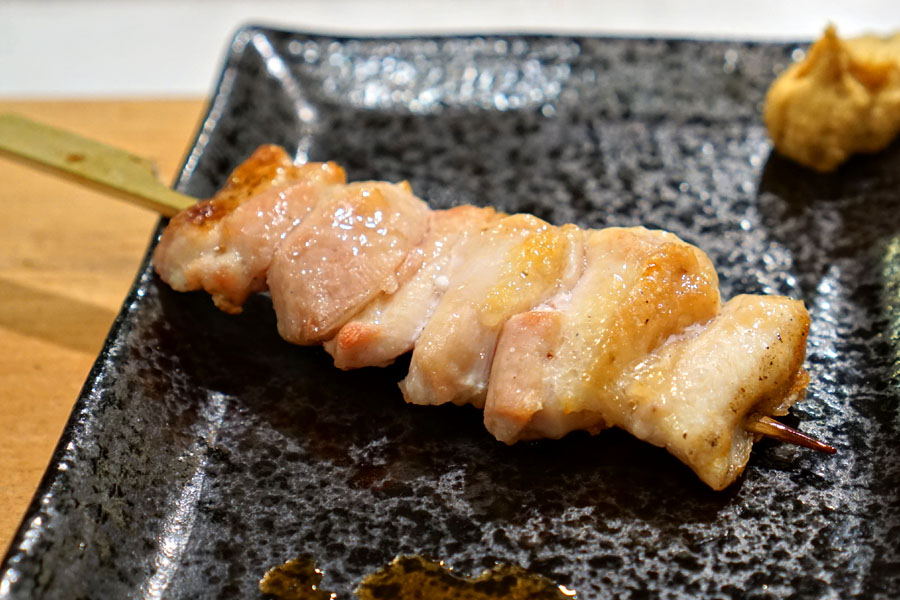 Momo (Shio) [$2.99]
Thigh ate tender and succulent, and was filled with all the cozy, classic flavors you'd want. Can't go wrong with this.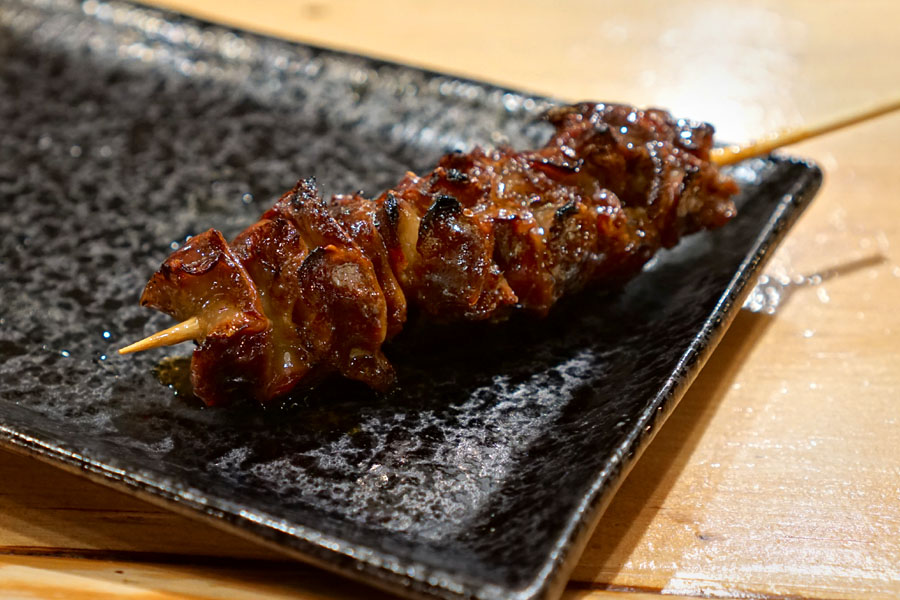 Sunagimo Kawa [$3.50]
Gizzard skin was something that I don't think I'd ever encountered before. I got lots of sweet char up front, which led to a definite earthiness, while texturally it was on the tough, rough side.
Tsukune (Shio) [$3.80]
I enjoyed the meatballs' rustic consistency and how the green onion was incorporated, though I felt that they could've used more seasoning.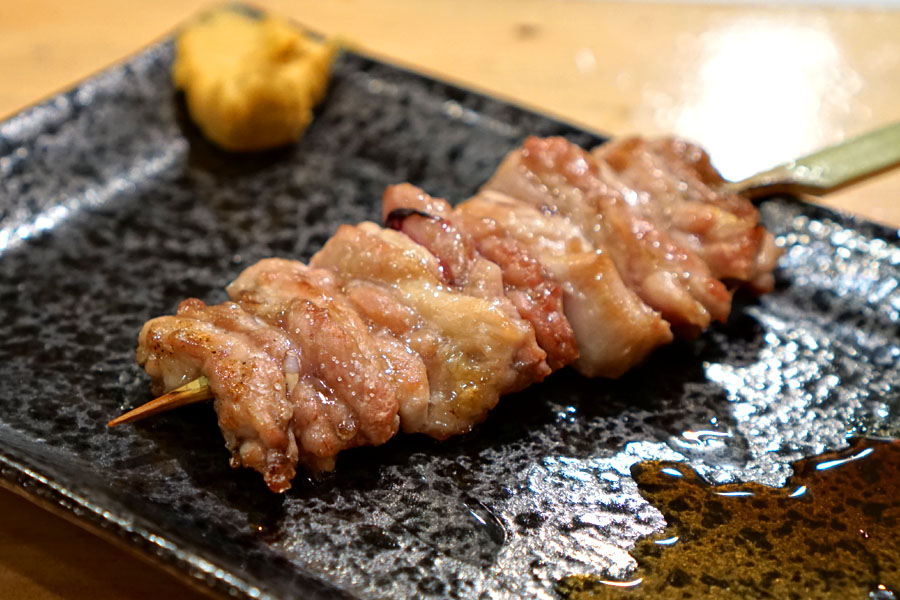 Kubi [$4.20]
Neck (also called
seseri
) was a standout. It had a delightful bite to it, and I found it super flavorful, with the essence of the grill well conveyed.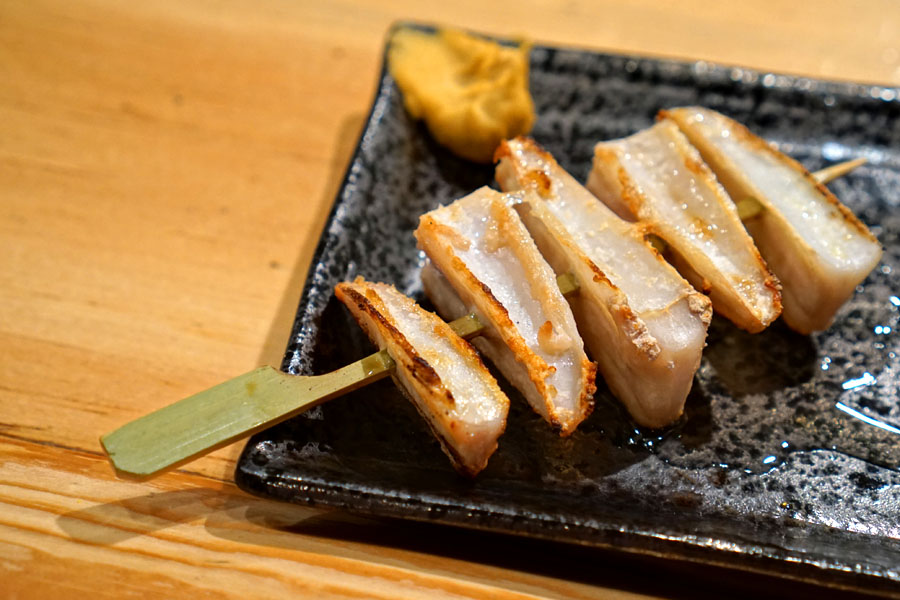 Nankotsu [$4.20]
Yagen
-type cartilage from the breast was crunchy but yielding, and just really gratifying texturally. I liked the robustness of the sear here, and the cut was great with a dab of mustard, too.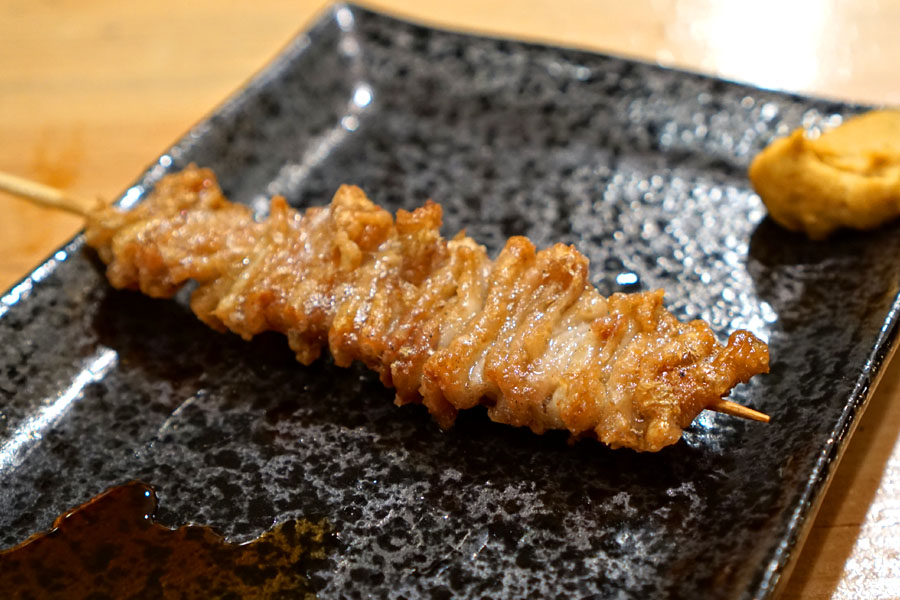 Kawa (Shio) [$???]
The chicken skin was a favorite, with its abundance of fat and char on proud display. Excellent crunchiness here as well.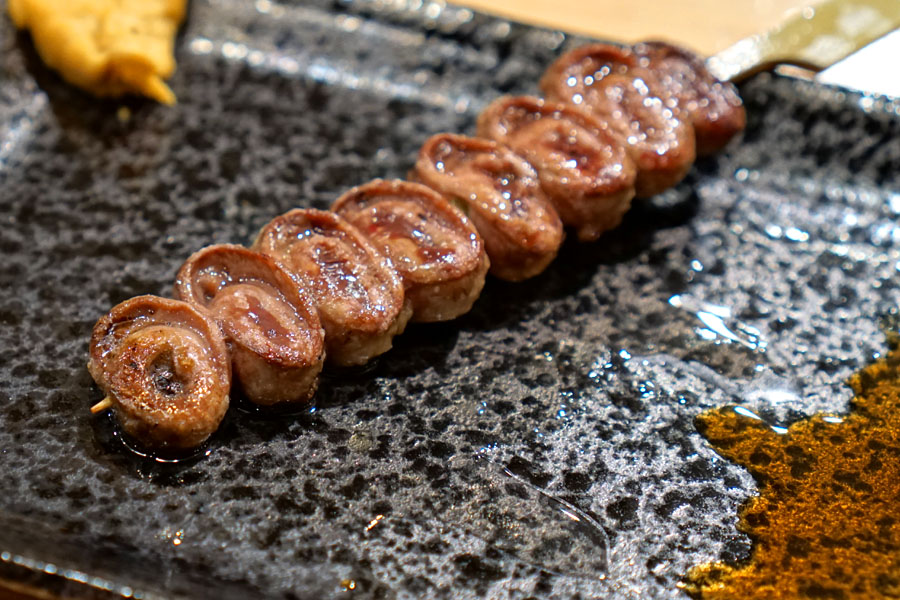 Toku Hatsu [$4.20]
Compared with the standard preparation, the special heart was even better texturally, with a more refined, more delicate flavor profile to boot.
Next to drink was a beer, the
2018 Drie Fonteinen Hommage
, created by macerating sour cherries and raspberries in young lambic for six months, then blending the resultant liquid with old lambic to obtain the desired effect. On the nose I got a base of tartness and funk, with bright fruit notes layered on top and a touch of metallic character. Taste-wise, I found the beer sour and acetic as expected, while some barnyard came in on the mid-palate, joined by flavors of raspberry, sharp lemon, and then strong, lingering cherry.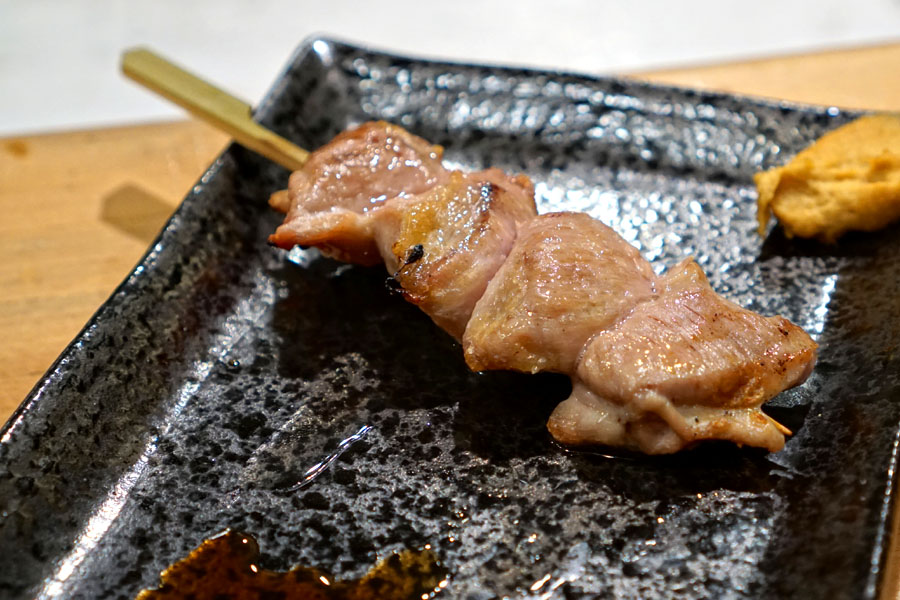 Momo Kaburi [$4.20]
I believe the "soft thigh" may have been the same thing as
soriresu
(chicken oyster). In any case, I found it as soft as advertised, and much more interesting texturally compared to regular thigh, while flavors were decidedly more contemplative.
Sasami [$2.99]
The breast was one of the better versions I've tried, coming out supple and not-too-dry, and imbued with a commendable amount of smoke. I didn't mind the punch of that wasabi on top, either.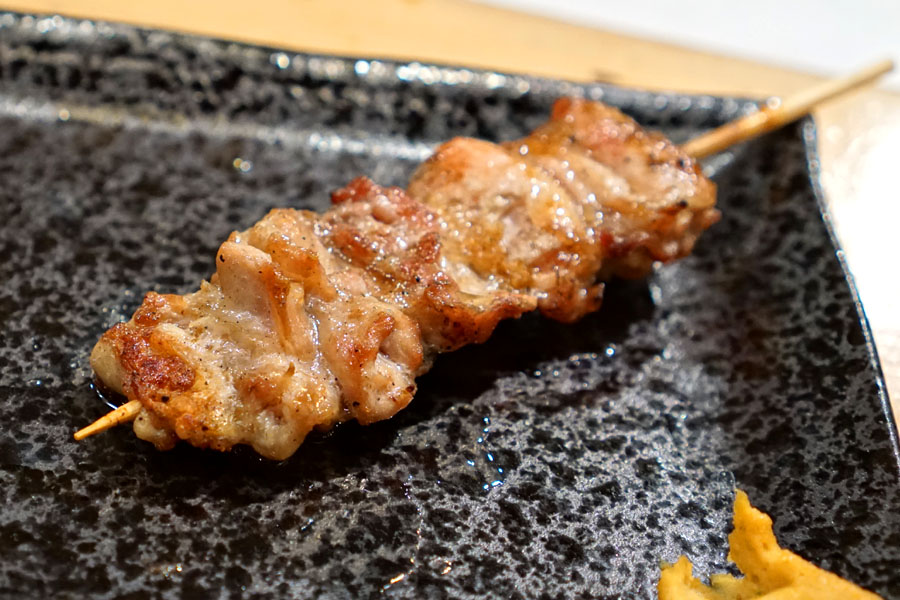 Harami [$???]
Another unusual, off-menu cut was this diaphragm meat. It had a lovely chew, and showed off a deft blend of savoriness and smoke that certainly satisfied. Delish.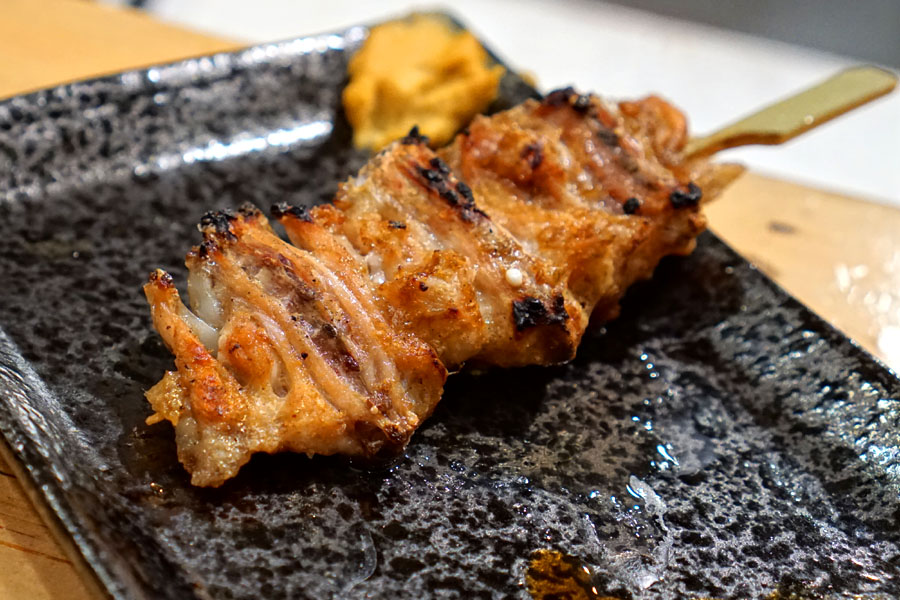 Bonjiri [$???]
The chicken tail was another off-menu selection. I often call
bonjiri
my favorite yakitori cut, and once again it delivered in spades. I just loved its perfect mix of fat, lean, char, crunch, and in-your-face chicken-iness. Definitely try to order this if you can.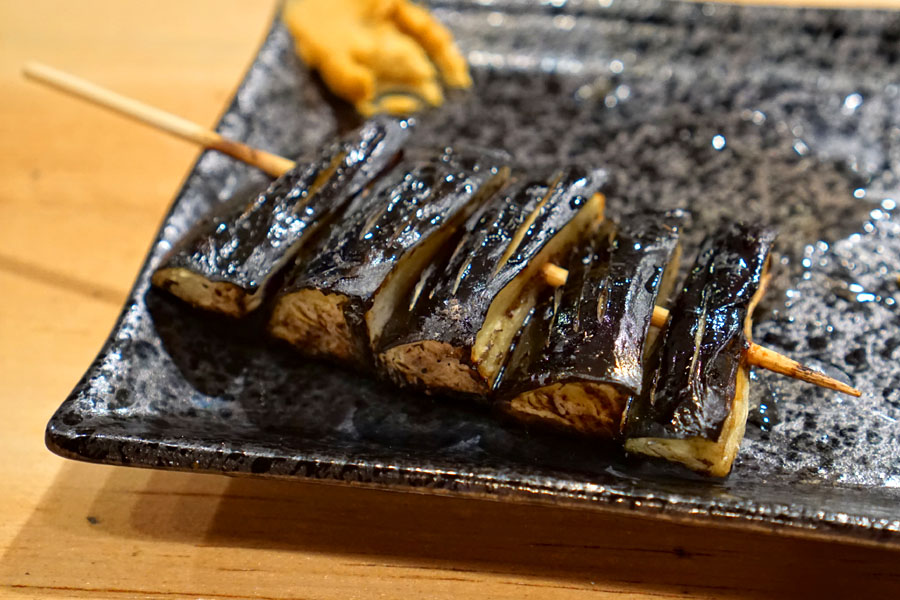 Nasu [$2.80]
Eggplant had a proper smoke to it, while its consistency went in a soft, spongy direction.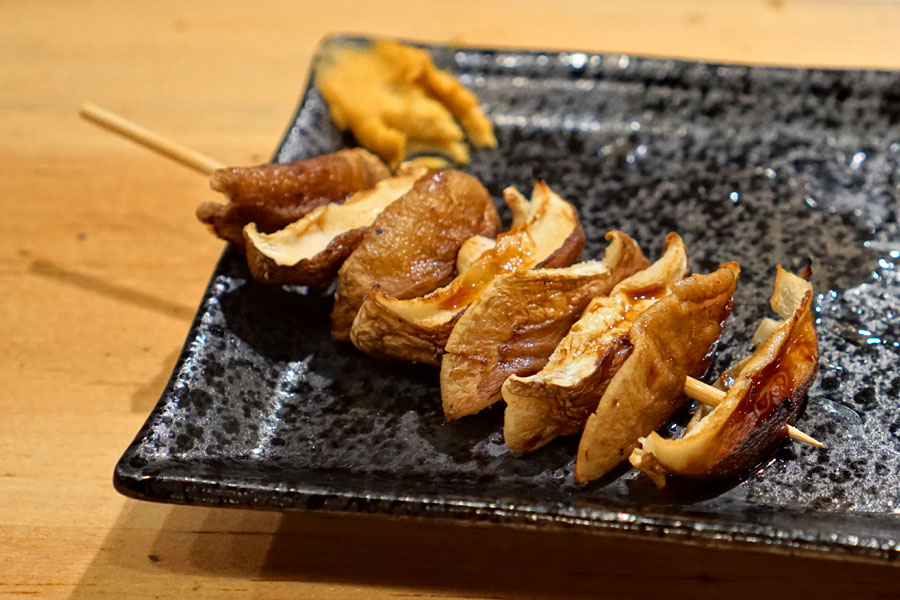 Shiitake [$2.80]
Squishy cuts of mushrooms were savory and sweet, their woodsiness punctuated by pops of salt.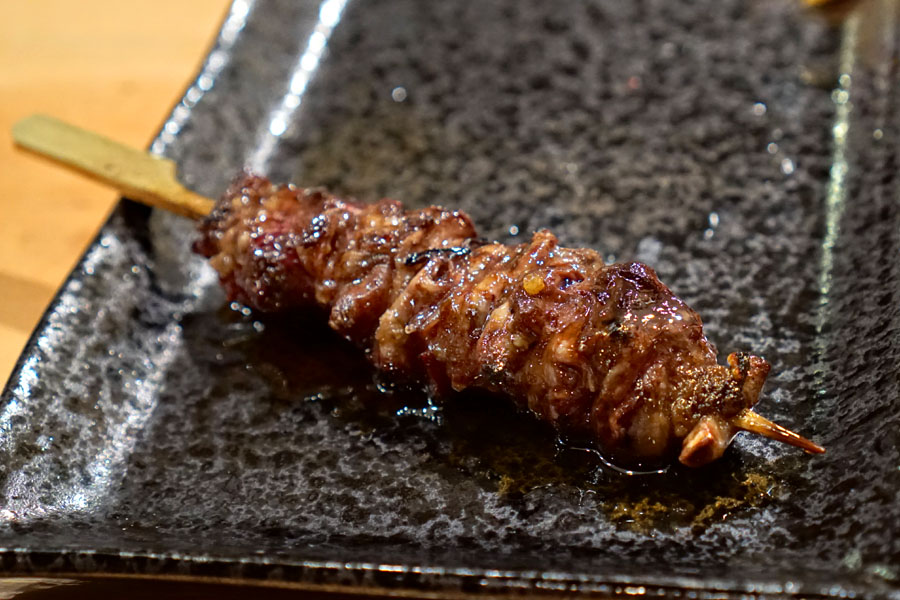 Ue Hatsu [$4.50]
Special special heart was very different compared to the two preceding examples. I found it sweet, but not overwhelmingly so thanks to the cut's smokiness, while texturally it was almost springy.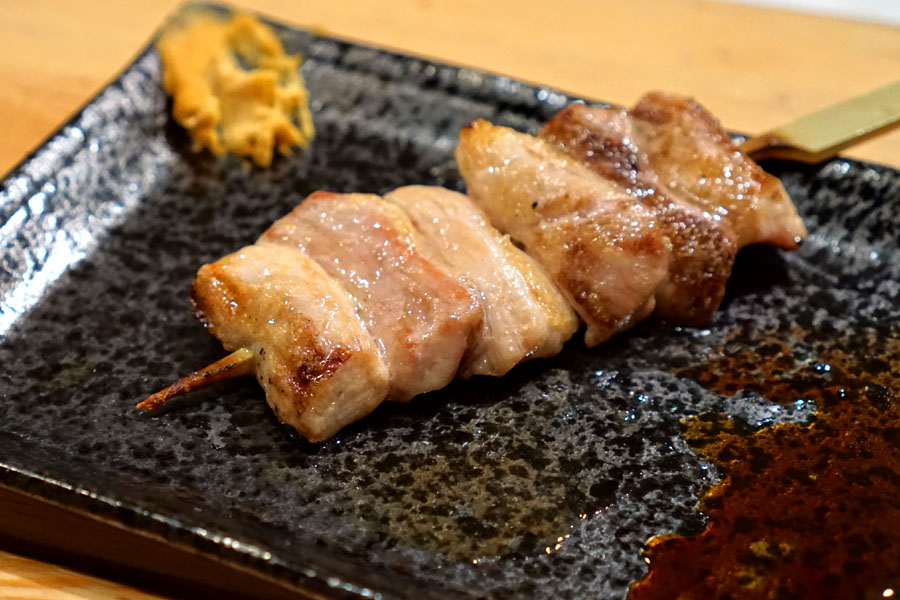 Kin-Niku [$???]
Near the conclusion of the meal, when I asked my server if I was missing anything, he mentioned this, though he couldn't articulate exactly which part of the chicken it was. Meanwhile, Chef Sugaya seemed to refer to it as "
kaimatsu
" when he served the cut, though I may have misheard him. I really don't know what this is, but no matter, it was a favorite of mine, and a great one to end with: think super tender, super juicy, super flavorful.
I was a bit bummed when I heard that Kokekokko was closing. In the world of yakitori in LA, that place was as close to an institution as you could get. However, all is not lost, as Torigoya, under the watch of Tomoki-san, looks to be a worthy replacement. Save for a few quibbles, the food was pretty much spot on, and the kitchen had a number of out-of-the-ordinary cuts that I appreciated as well. If you're into yakitori, this place certainly needs to be on your list.