Inn Ann (Los Angeles, CA)
Inn Ann at Japan House
6801 Hollywood Blvd, Los Angeles, CA 90028
323.677.5557
www.japanhouse.jp/losangeles/restaurant/
Thu 06/13/2019, 08:30p-12:15a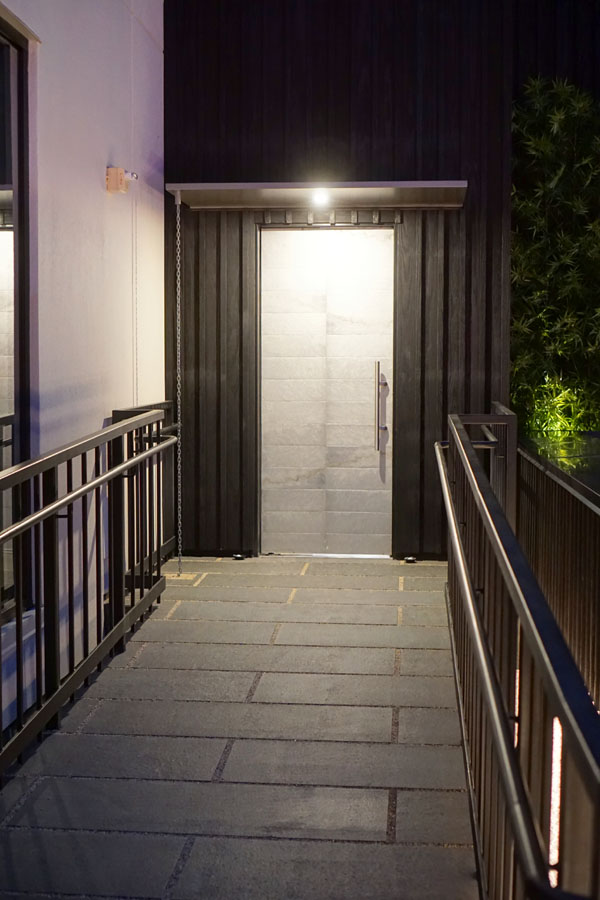 For nearly two decades,
Mori Sushi
has stood as a standard-bearer in the LA sushi scene. Morihiro "Mori" Onodera opened the spot on May 8, 2000 in the former home of longstanding Thai eatery Siam Hut, and soon cemented the place as one of our City's top
sushi-ya
. However, in March 2011, at the age of 46, the Chef announced that he was selling the restaurant, and the buyer was none other than Masanori "Maru" Nagano--who'd been at the restaurant since day one--and his wife Miyuki Hayashi. The transaction closed that May, and the stated reason for the sale was that Mori-san wanted to take some time off to pursue other ventures (though he did remain as an
itamae
at his namesake restaurant for some time after).
Onodera began focusing on his pottery (working out of Pasadena's Xiem Clay Center), and would go on to create pieces for local restaurants such as
Barbershop
,
Capo
,
Il Grano
,
La Botte
, Marino,
Melisse
,
Orsa & Winston
,
Providence
, and
Wally's
, not to mention celebrated places like
Manresa
and
Meadowood
up in NorCal. In addition, he started growing and importing
koshihikari
rice from Uruguay (under the Satsuki brand), a project he started with Ichiro Tamaki, the farmer that grew Mori Sushi's California Delta rice from back in the day.
These ventures continued on for a few years, but in November 2017, it was revealed that the Chef had returned to cooking, as was now slinging sushi at
Shiki
in Beverly Hills, coaxed out of retirement by longtime friend and fellow chef Nao Sugiyama (who had recently relocated from New York). I never made it out to Shiki in time to experience Mori-san there, so I was elated to hear that he'd be taking over the kitchen at Japan House's Inn Ann, situated on the fifth floor of the Hollywood & Highland Center.
Opened on November 27th, Japan House is the work of the Japanese Ministry of Foreign Affairs, and is meant to increase awareness of Japanese culture around the globe. Inn Ann ("hidden retreat") is the facility's in-house restaurant, and was originally designed as a place for Japanese chefs to hold multi-month residencies in the kitchen. First to take the helm was Taro Araki, Executive Chef for the Consulate-General of Japan, but once his short stint was over, Onodera was tapped to become a permanent fixture, with the transition happening right at the start of this year. His work at Inn Ann has been well-received, securing four stars from
Time Out
's Simon Majumdar and a glowing review from Bill Addison of the
LA Times
.

Inn Ann sports a soft, subdued, calming aesthetic. As you can see above, there are some pretty nice views of Hollywood, but I'd recommend that you sit at the bar and focus your attention squarely on the food. Total capacity is around 35.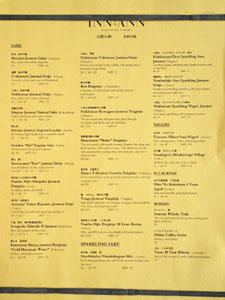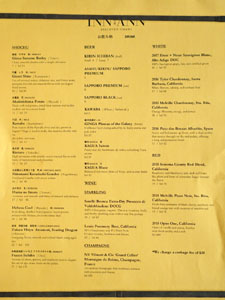 This is a tasting menu-focused restaurant, and you get your choice of five
omakase
options. We opted for the flagship
Biwa
(Japanese for "loquat"), which ended up being $270 a head, though pricing can vary depending on the ingredients used on a particular night. To drink, you'll find an array of sake and shochu, along with a small amount of whisky, beer, and wine. Corkage was $30 a bottle. Click for larger versions.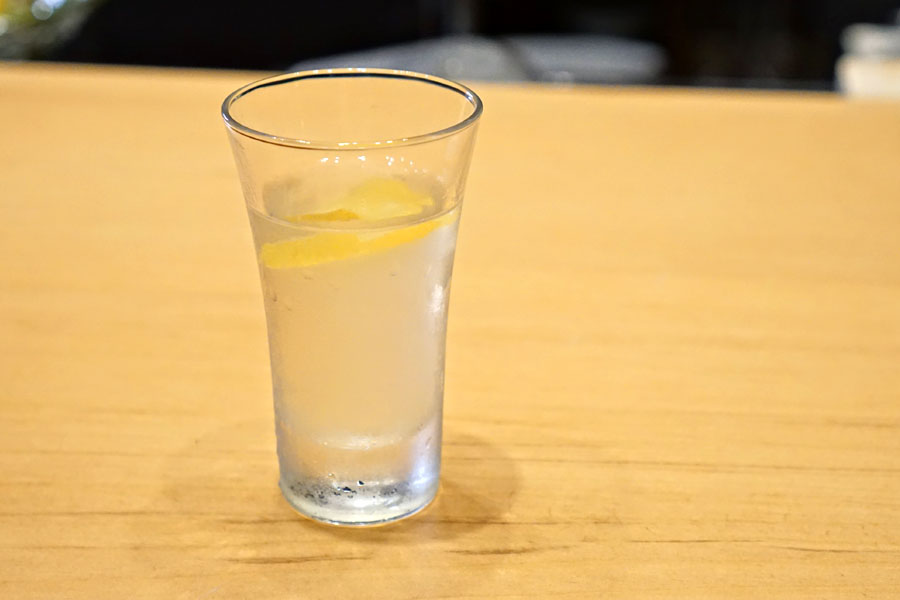 1: Sudachi Shochu
Our meal commenced with a welcome drink of sorts, one comprising shochu,
sudachi
juice, and lotus root brine. It was pretty delicious, and an effective apéritif, its refreshing, vibrant citrus flavors giving way to a light, lingering salinity.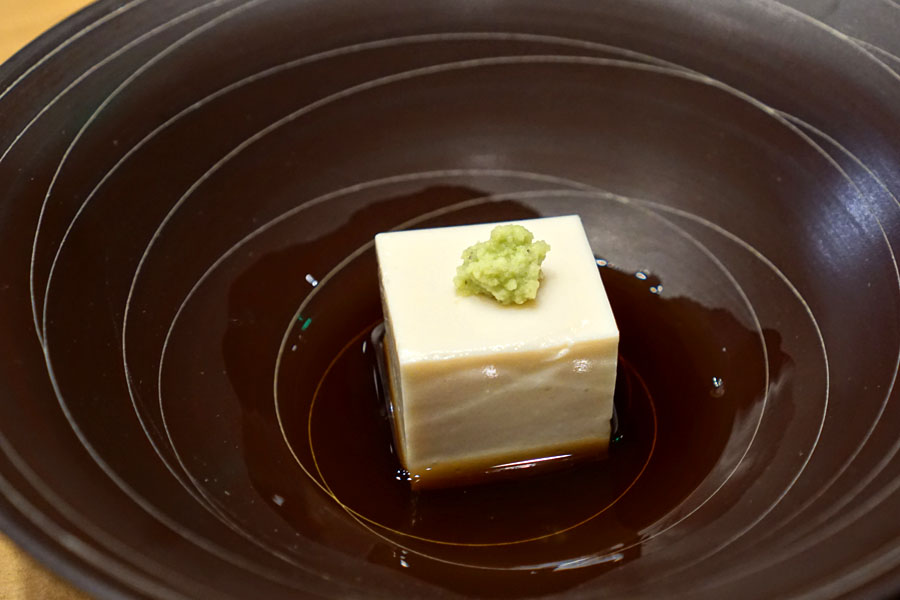 2: Jikasei Tofu
Here we had the Chef's homemade tofu, which I found mildly nutty. The dollop of wasabi on top provided a contrasting zing to the dish, but even more crucial was the smokiness from the
shoyu dashi
.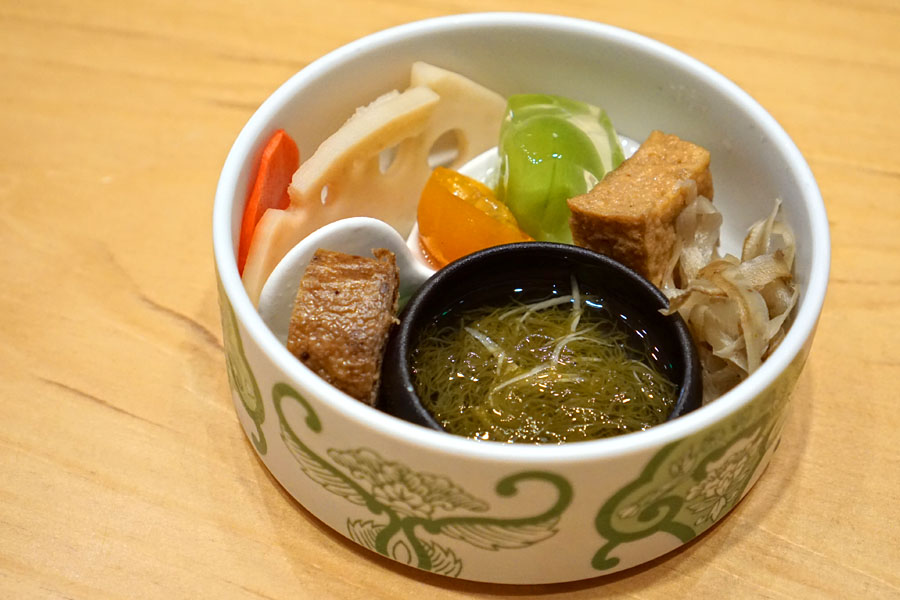 3: Zensai Moriawase
Next came a septet of small bites. Clockwise from bottom, we had:
Mozuku - Long, thin strands of Japanese seaweed were paired with tart, vinegar-y flavors and zesty bits of ginger.
Yamaimo - I'd never had Japanese mountain yam quite like this before. It came fried and then boiled in broth, which resulted in increased depth and a much more gratifying, non-slimy consistency. My favorite item here.
Oshinko - Tart pickled radish and crisp lotus root.
Kinkan - A poached baby kumquat was sugary, almost candied in its presentation.
Yamamomo - Baby mountain peach suspended in jelly. Think fresh, fruity and utterly delightful.
Atsu-Age - A crispy, fried block of tofu had considerable depth to it, as well as a contrast in textures.
Kinpira Gobo - Thin, nutty strands of burdock root.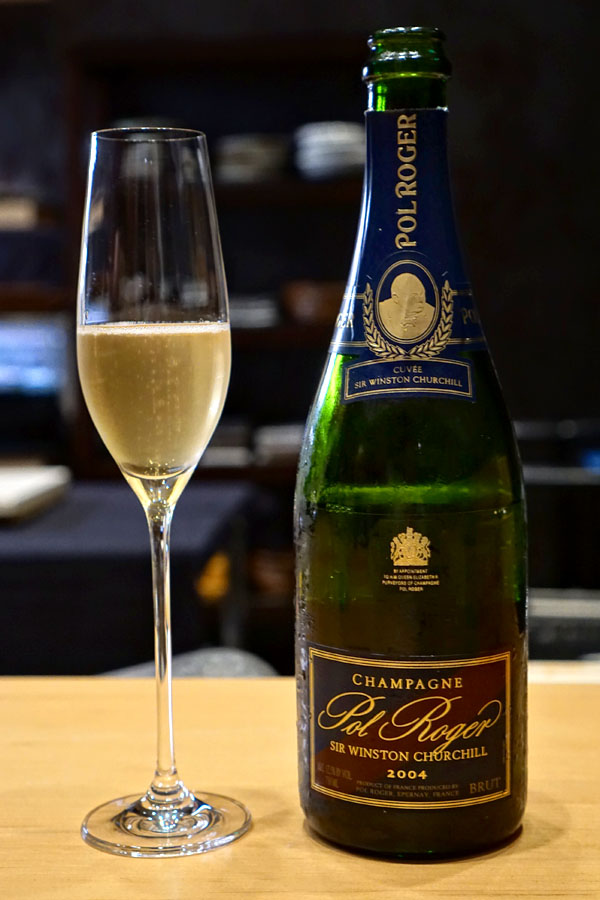 In terms of libations, we began with a sparkler, the
2004 Pol Roger Champagne Cuvée Sir Winston Churchill
. It had a heady, robust nose filled with brown butter, oxidative, and caramel aromas, along with a trace of berry fruit. The palate was similarly full-flavored, delivering both orchard fruit and brioche notes, along with a persistent acidity and a backbone of minerals. As it warmed, the wine became noticeably toastier, with one of my dining companions deeming it Krug-like. Overall I found this assertive yet youthful, with plenty of life left in it still.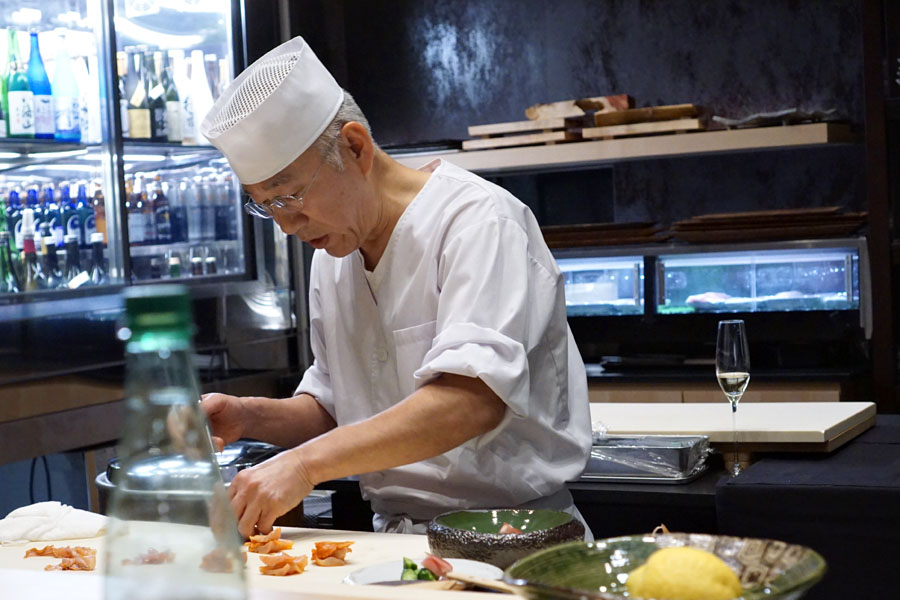 Mori-san hard at work on our next course...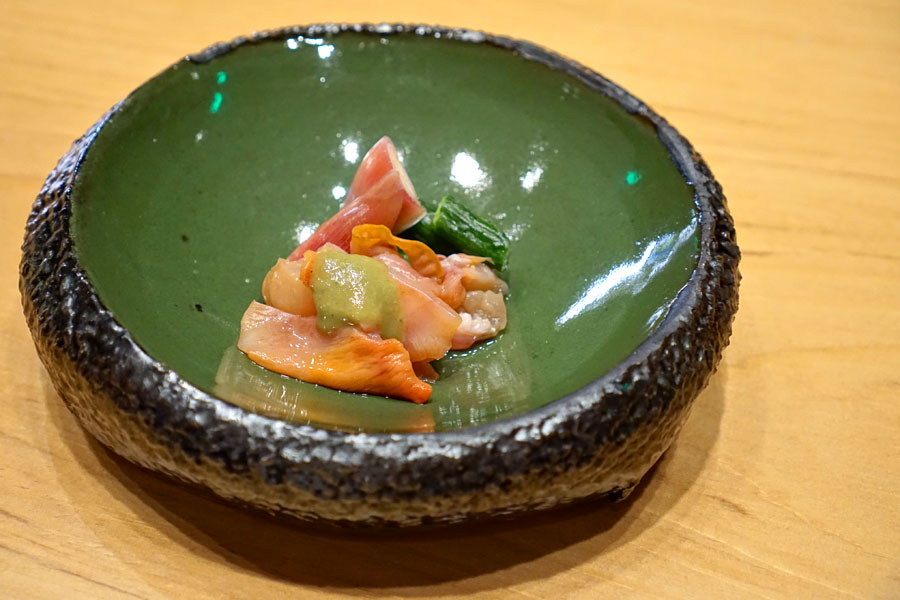 4: Akagai Sunomono
...And what a course! A favorite of mine, it was a red clam
sunomono
, with
tosazu
,
kinome miso
, and pickled
myoga
. The clam ate super clean, its delicate taste meshing gorgeously with that wonderfully gusty, vibrant
sansho
leaf-infused miso. I didn't mind the tart crunch of the included pickles, either. Note also the unique plate utilized here, one of many tonight handmade by the Chef himself.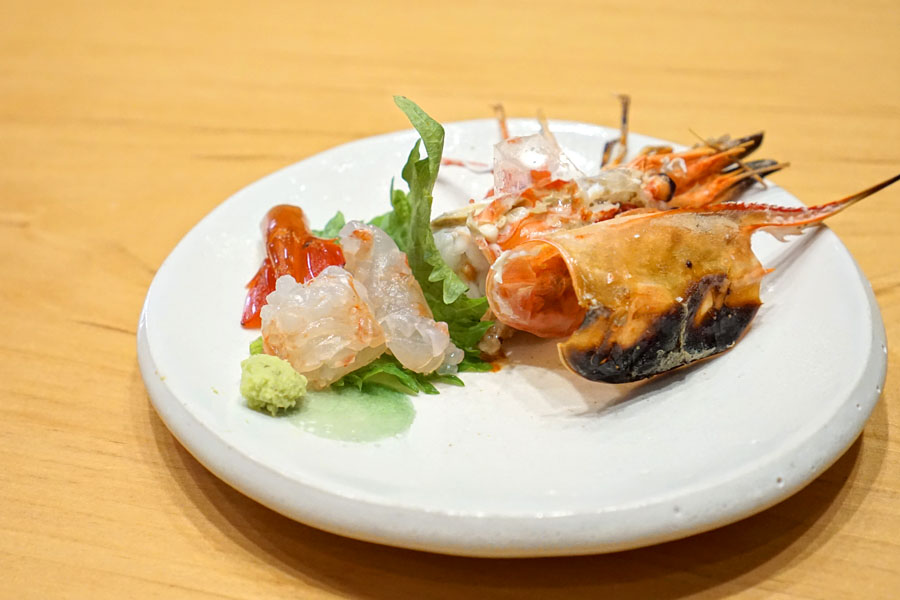 5: Botan Ebi Sashimi
Fresh, snappy Santa Barbara sweet shrimp was sliced two ways--thick and thin--so we could enjoy both textures. Taste-wise, it really opened up with a dab of the freshly-grated Japanese wasabi and a dip of Ibaraki-sourced soy. Also great was the grilled, smoky, super oceany head of the shrimp.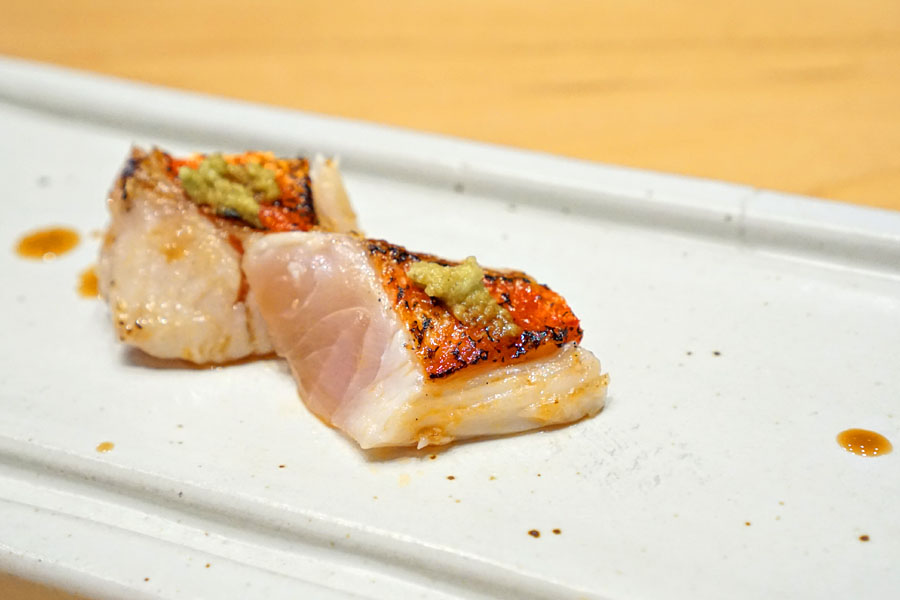 6: Kinmedai Tataki
Seared golden eye snapper from Japan was great when taken with more of that fresh wasabi, and I loved the crispy, flavorful skin of the fish and how that contrasted its dense, meaty flesh. There was also quite a temperature contrast here that I wasn't quite expecting.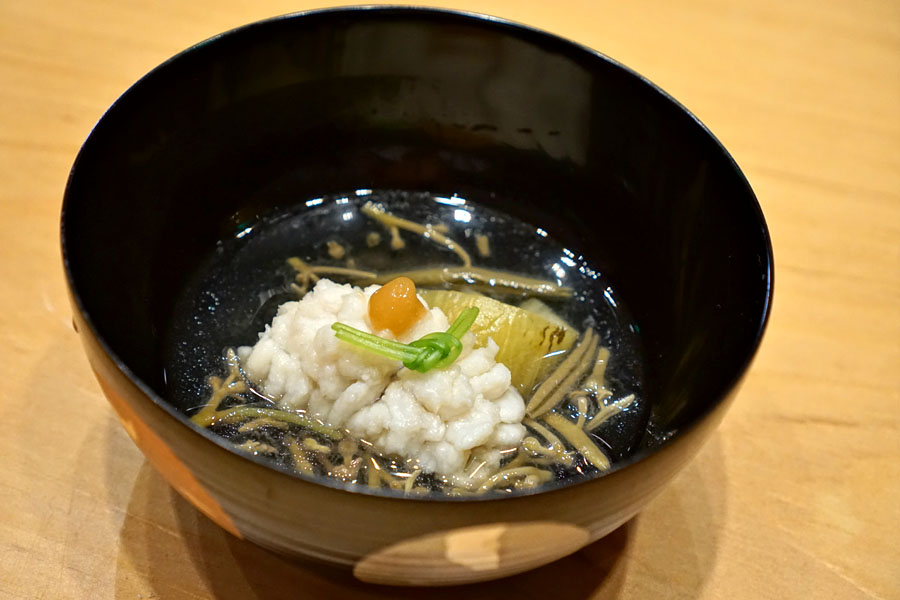 7: Hamo Owan
Dagger-tooth pike conger arrived in soup form, its soft, mild meat punctuated as always by tiny bits of bone. The traditional pairing of
ume
imparted a tartness that moderated the somewhat smoky flavors present. Meanwhile, we also had the
junsai
, which imparted a slippery textural variation to the dish.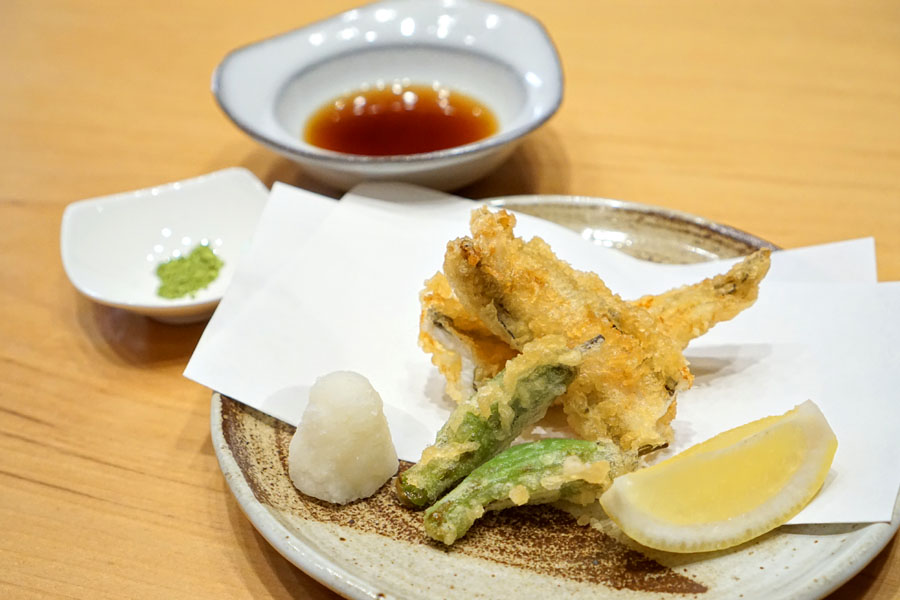 8: Meso Anago Tempura
Our tempura course featured young eel from Hokkaido as well as shishito peppers, paired with a classic
tentsuyu
-plus-daikon, as well as matcha salt and fresh lemon. I was smitten with the tempura, which was pretty flawless, and didn't even need any of the condiments. However, I did prefer the combo of salt and lemon, though that smoky, piquant
tentsuyu
certainly wasn't bad, either.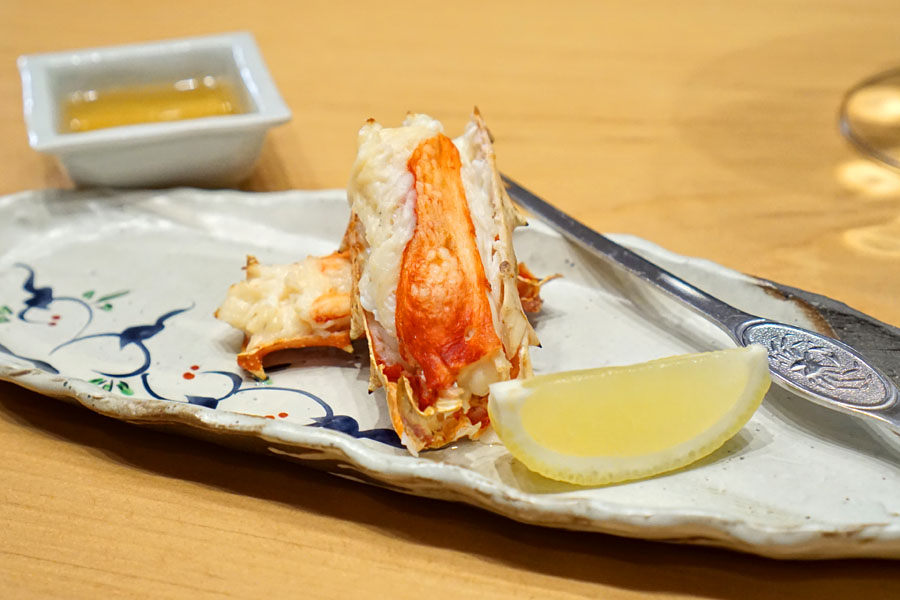 9: Tarabagani
King crab was sweet and unabashedly saline, its potency tempered by a dip into the included
tosazu
. I also got a lovely char character here as well.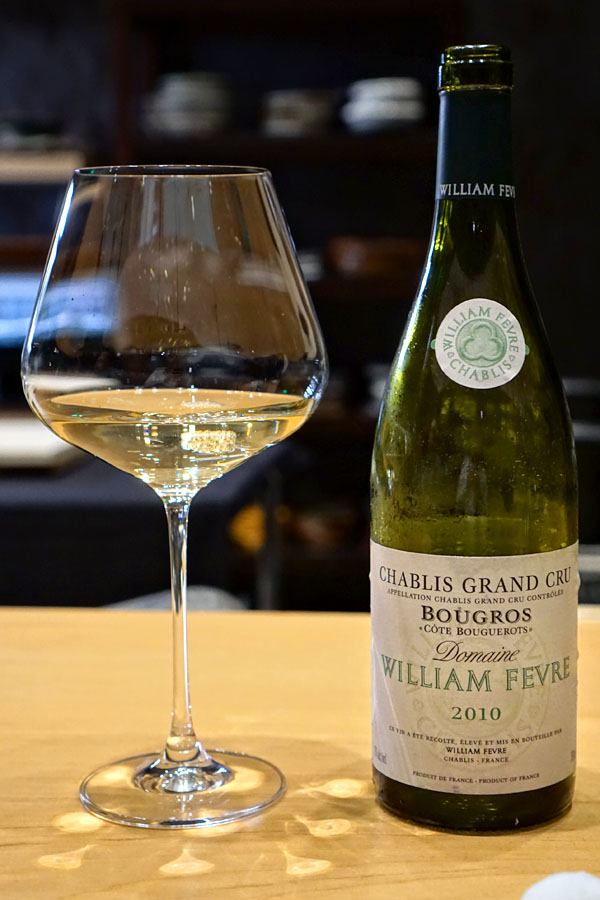 Our second wine was the
2010 Domaine William Fèvre Chablis Grand Cru Bougros Côte Bouguerots
, which I'd actually had nearly six years ago at
Opus Sushi
in Arcadia. The nose on this one went in a vegetal, seaweed-y, marine direction, with a tinge of citrus. On the palate, I found this round and rich, its initial grassy, mineral-driven notes leading to lingering fruit on the back end. Definitely better than I remember from Opus.
10: Kagoshima Wagyu
A5 wagyu from Kagoshima displayed all the char, fat, and flavor you'd expect and want, and was served two ways: wrapped around Santa Barbara sea urchin then topped with wasabi, and
yaki-shabu
style. In the former preparation, the uni actually worked to soften the potency of the beef, while in the latter, I really appreciated the levity imparted by the combination of turnip, zucchini, shiitake, and watercress. If that wasn't enough, the one year-aged housemade
yuzukosho
on the side was excellent, too.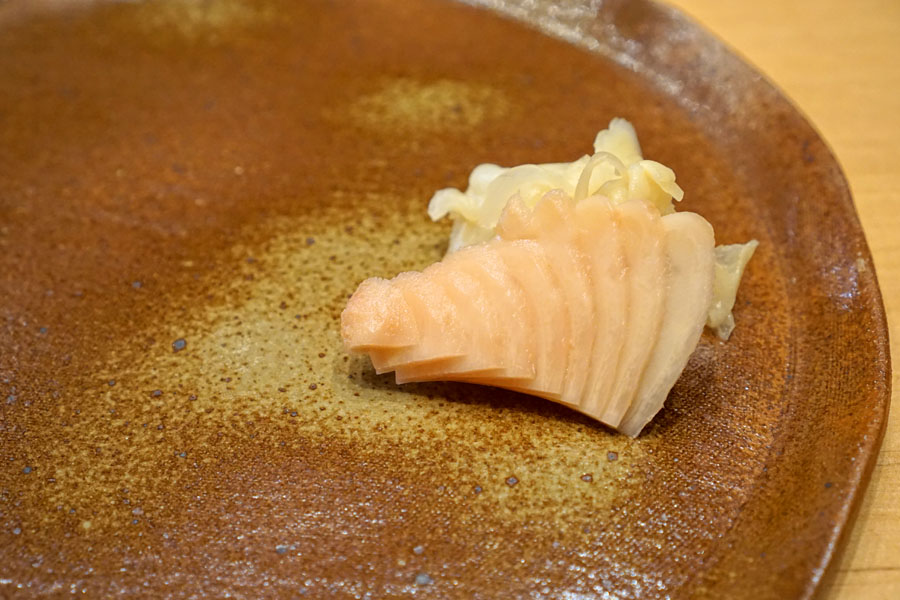 Time for sushi, which was served on the largest plate I'd ever seen used for this purpose (made by Mori-san, natch). As for the ginger, we were served two varieties. In the rear was your standard
gari
, while the pieces in the front were marinated whole in salt and vinegar, boiled, then marinated in vinegar again.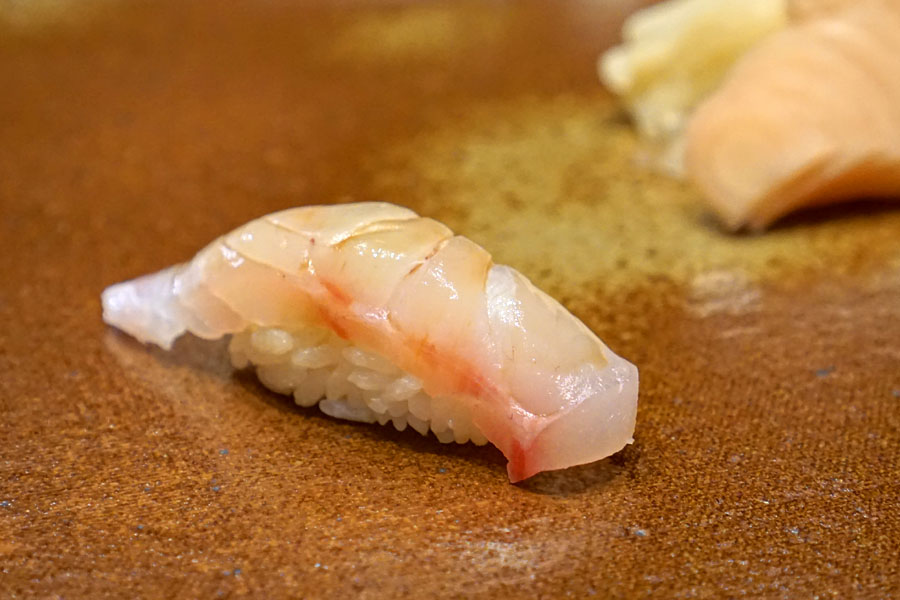 11: Ishidai
We began our
nigiri
portion of the meal with an uncommon selection: Japanese knifejaw (a.k.a. striped beakfish), which I think I'd only encountered once before at
I-Naba
, and even then, it wasn't in sushi form. In any case, it was a delicately flavored
neta
, but one with an uncommonly dense, meaty consistency that I found very satisfying. Interestingly, the fish had a very subtle nuttiness at first, which quickly transitioned to a back-and-forth between brine and wasabi. As for the
shari
, the Chef told us that it came from Ibaraki Prefecture, and is thus not the California or Uruguayan rice that he's known for, which wasn't a problem at all.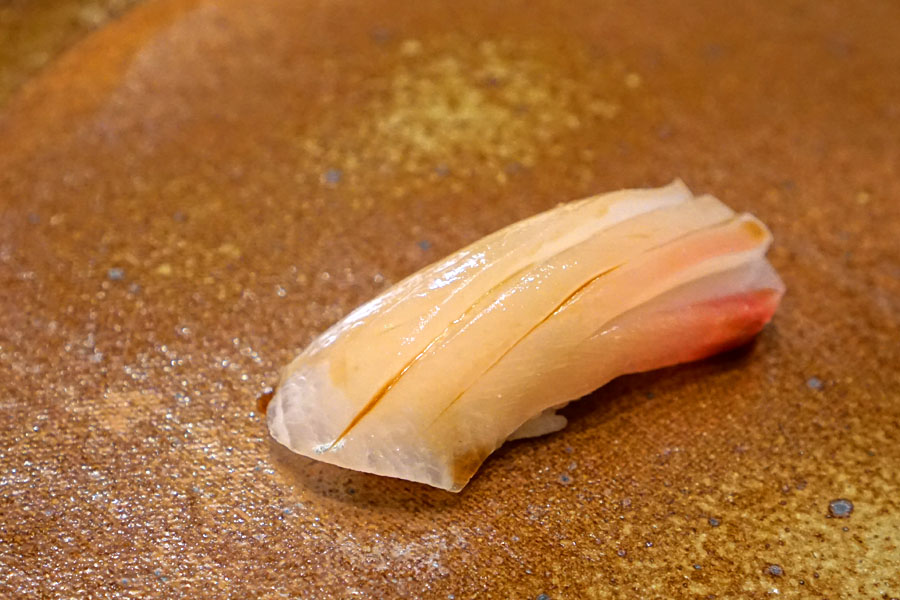 12: Shima Aji
Wild striped jack was beautifully balanced, showing off a particularly harmonious interaction between rice and fish, finished by the unmistakable heat of wasabi. Just about perfect.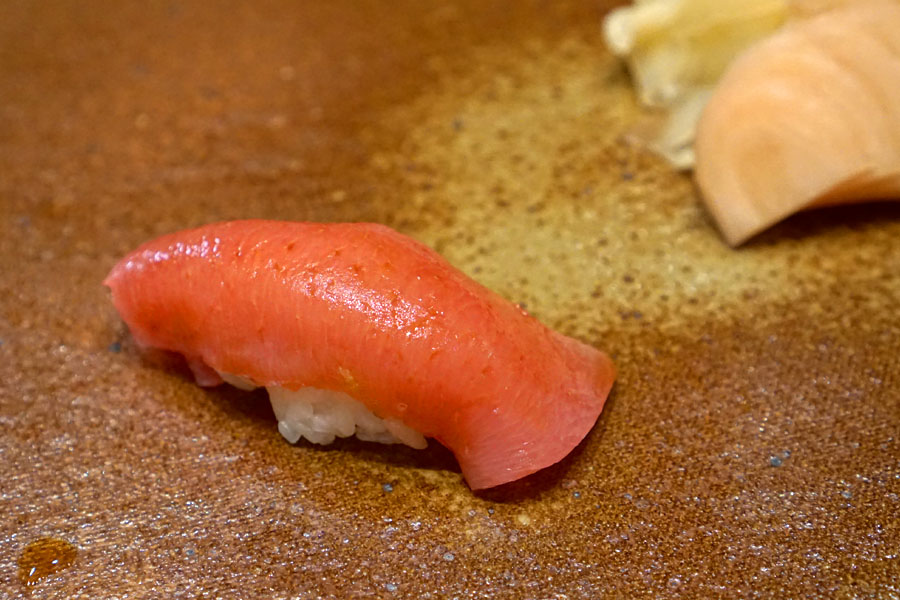 13: Mebachi
Next up was the
harashi
(short for
harashida
, or "under the belly") cut of New Zealand bigeye tuna. I don't think I'd ever had this before, which is a shame, because it was pretty special. I found the fish super soft, almost pillow-y in fact, with no sinew whatsoever. Really neat.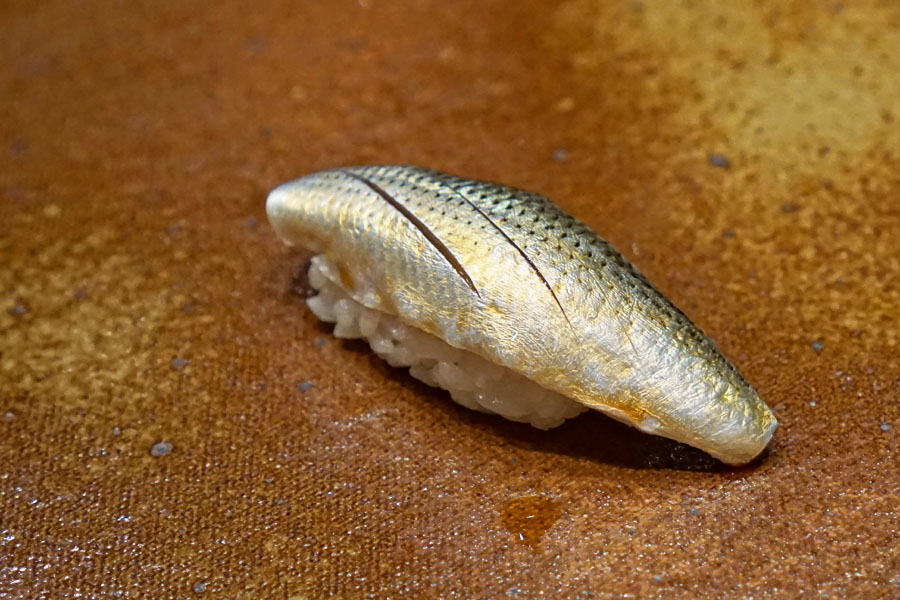 14: Kohada
Following was a trio of
hikarimono
. Gizzard shad had a firm bite as always, its considerable salinity and touch of sweetness deftly counteracted by the combo of rice and 'sabi.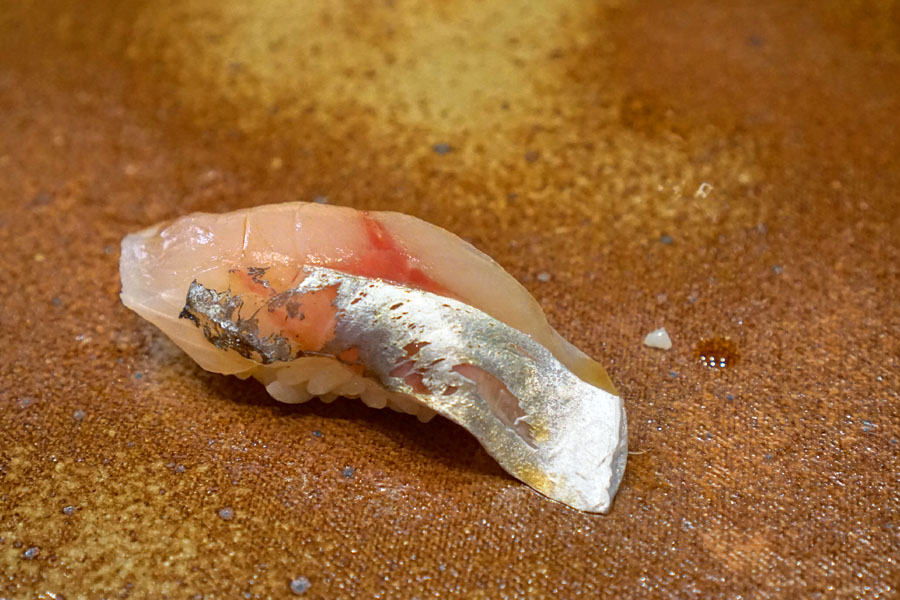 15: Aji
Spanish mackerel was delightfully textured, and had a refined oceanic taste to it that grew and lingered. Curiously, when this course was served, we asked Mori-san about the distinction between
aji
and
sawara
, and he fell squarely into the
aji
=Spanish mackerel camp, and stated that
sawara
=king mackerel. Now, this goes against what some other chefs would say. I recently asked I-Naba's Yasu-san the same question, and he was adamant that
sawara
=Spanish mackerel and
aji
=horse mackerel. I've been eating sushi for a pretty long time, and I still can't get a final answer on this.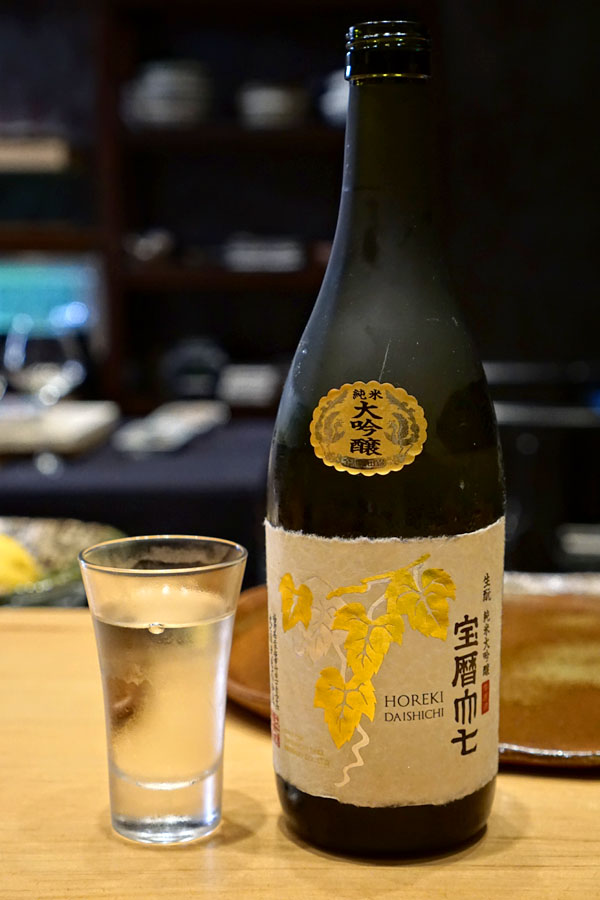 Our next beverage was the
2018 Daishichi Horeki Junmai Daiginjo Kimoto
, a "free run"
shizuku-zake
produced by Daishichi Shuzo out of Fukushima. It had an amazingly sweet, rich aroma, one brimming with both banana and bubblegum. The palate was similarly saccharine, almost creamy in fact, with loads of fruity melon finished by a bit of heat on the back end.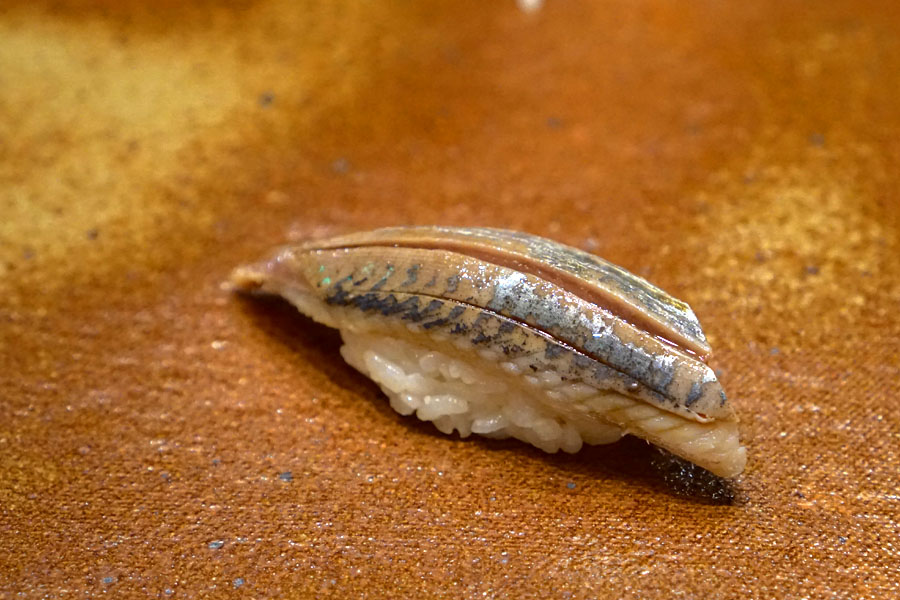 16: Iwashi
Last of the silver-skinned fishes was sardine. I found this especially meaty, while flavors were aggressive, with tartness and brine all over the place, moderated just enough by the presence of rice.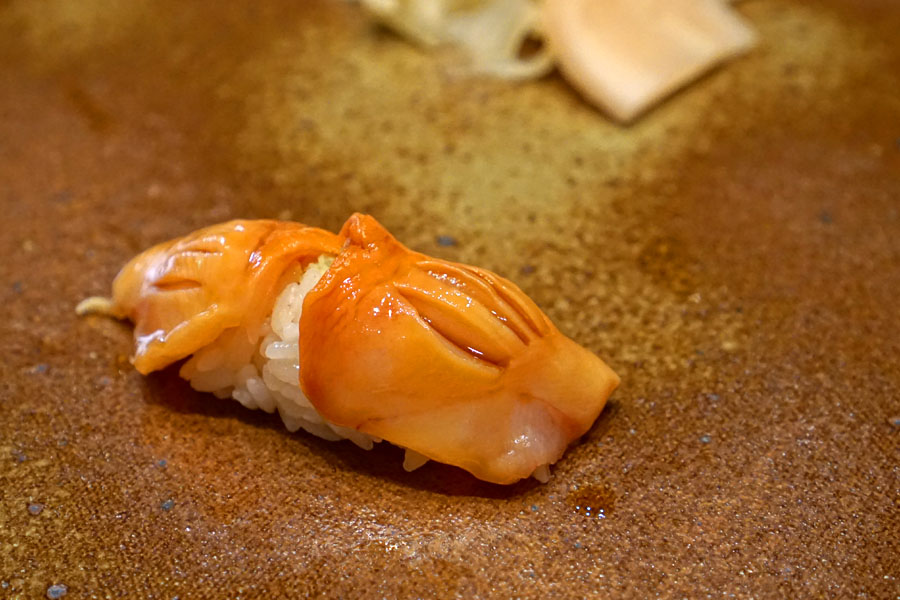 17: Akagai
Ark shell (a.k.a. blood clam) was a treat, coming out supple and springy, with a polished brine that was well matched to a bit of wasabi.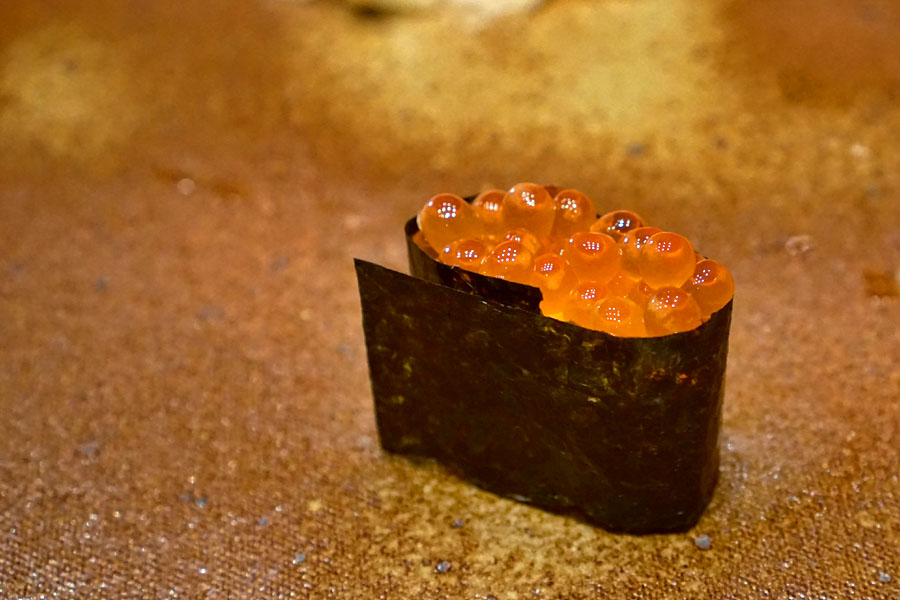 18: Ikura
Globules of salmon roe tasted of the sea, just as expected, and worked hand-in-hand with their seaweed wrapper, also just as expected.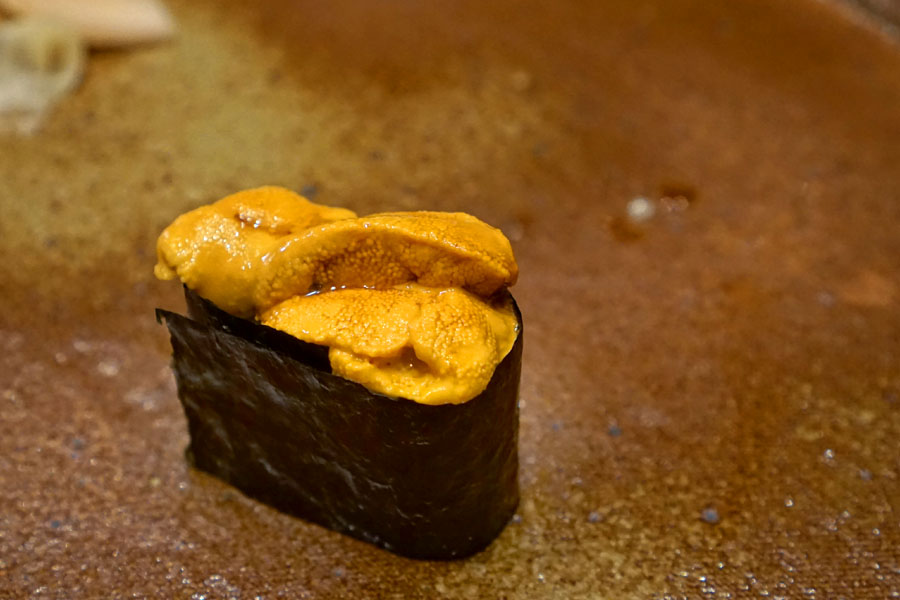 19: Santa Barbara Uni
Sea urchin from Santa Barbara ate super juicy this evening, and seemed especially sweet. As always, I really appreciated the contrast provided by the nori.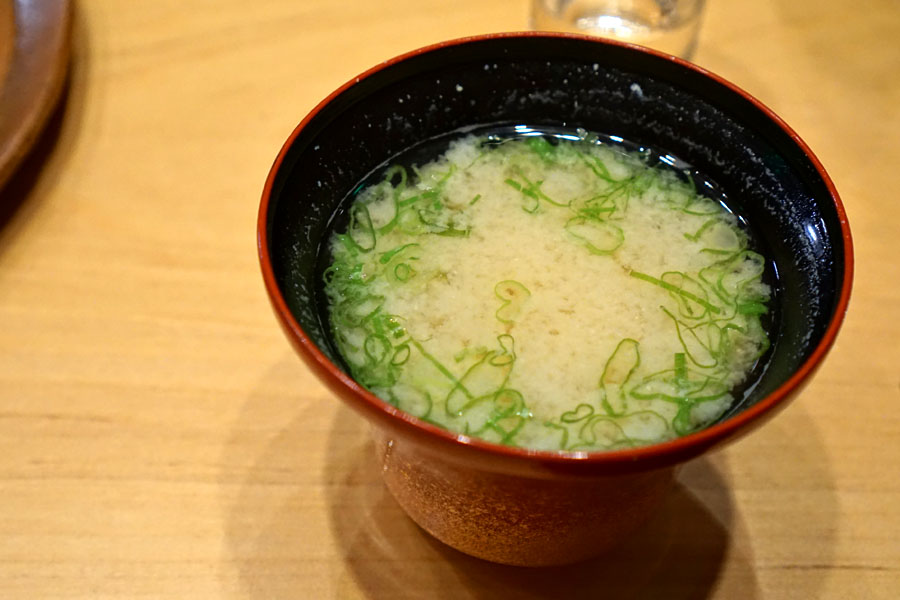 20: Misoshiru
The miso soup displayed plenty of the classic umami flavors I was expecting, offset just a smidge by the zestiness of those scallions.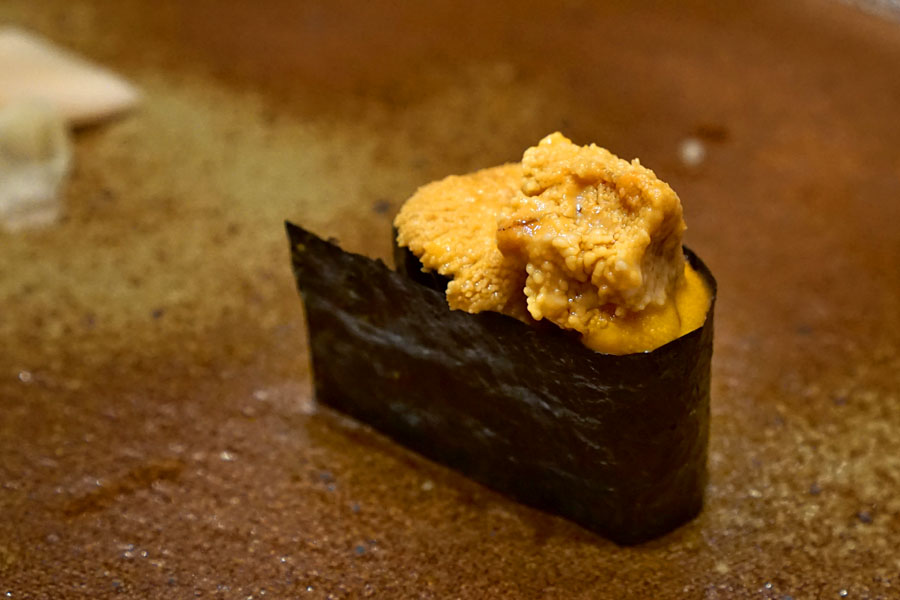 21: Hokkaido Uni
To compare and contrast with the urchin above, we also had some sourced from Hokkaido. Unsurprisingly, this was a more contemplative presentation, with less sweetness and a more pronounced minerality. And once again, the seaweed was key.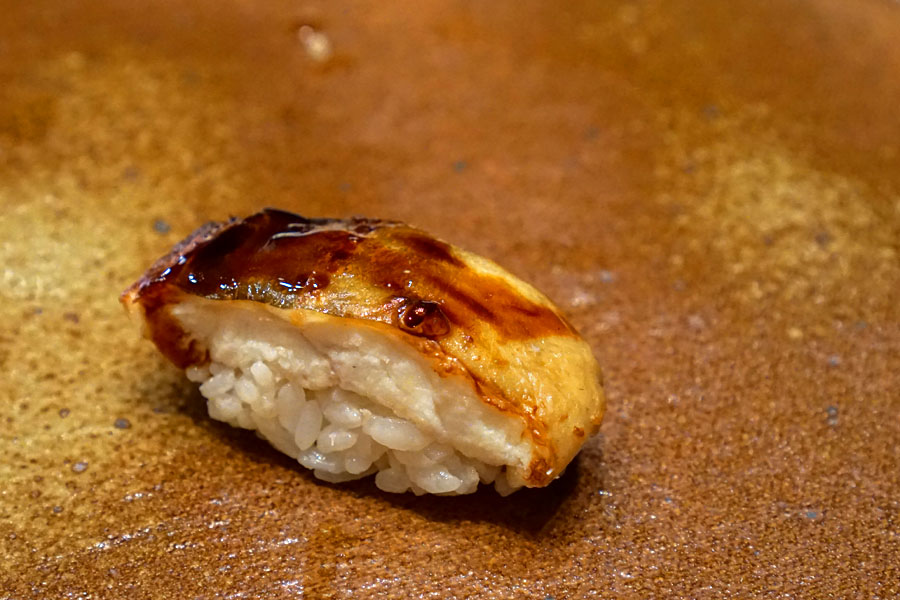 22: Anago
Soft cuts of salt water eel arrived in a cozy sort of preparation, replete with a sweet-ish sauce and long-lasting salinity.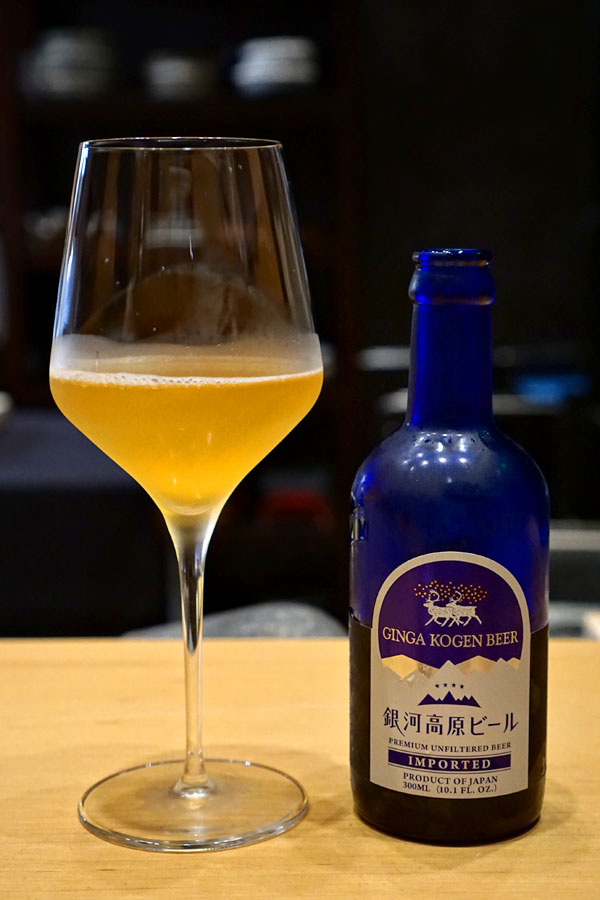 Next to drink was a beer from Iwate Prefecture, the
Ginga Kogen Plateau of the Galaxy [$13]
. This one had a fruity nose, with hints of funk, grassy spice, and grain. Taste-wise, I found it soft, sweet, and easy-drinking, its fruit-forward nature evened out by nuances of citrus, spice, and more grain.
23: Tamago
Tamagoyaki
was one of the better versions I've sampled in recent times. I found it dense and substantial, yet never heavy, while taste-wise, it conveyed a great balance between sweet and savory.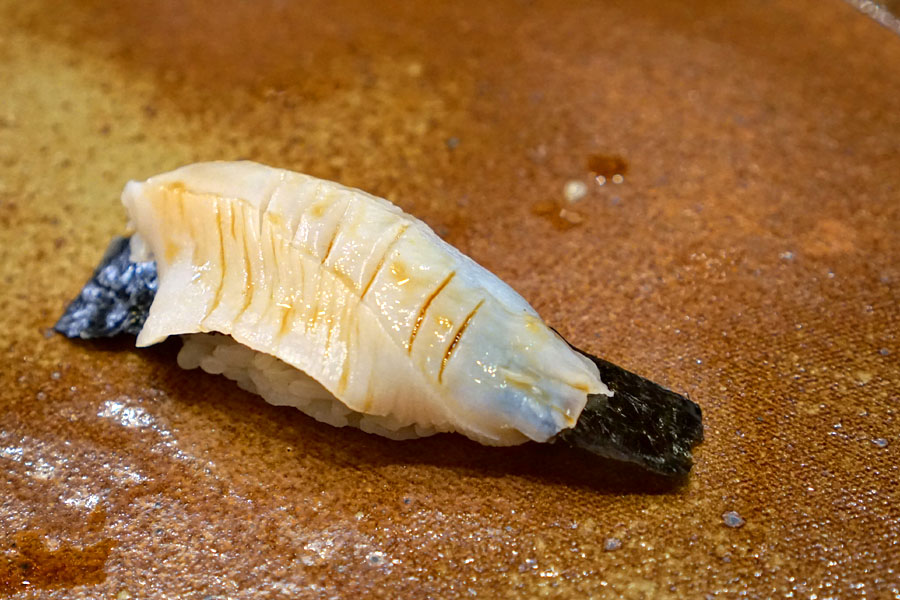 24: Mirugai
We specifically requested this snappy cut geoduck, I'm glad we did. What struck me was the nori, which was actually placed underneath the
neta
, a presentation that I'd never seen before. Location aside, the seaweed worked superbly in concert with the rice and clam, effectively evening out all the flavors at play.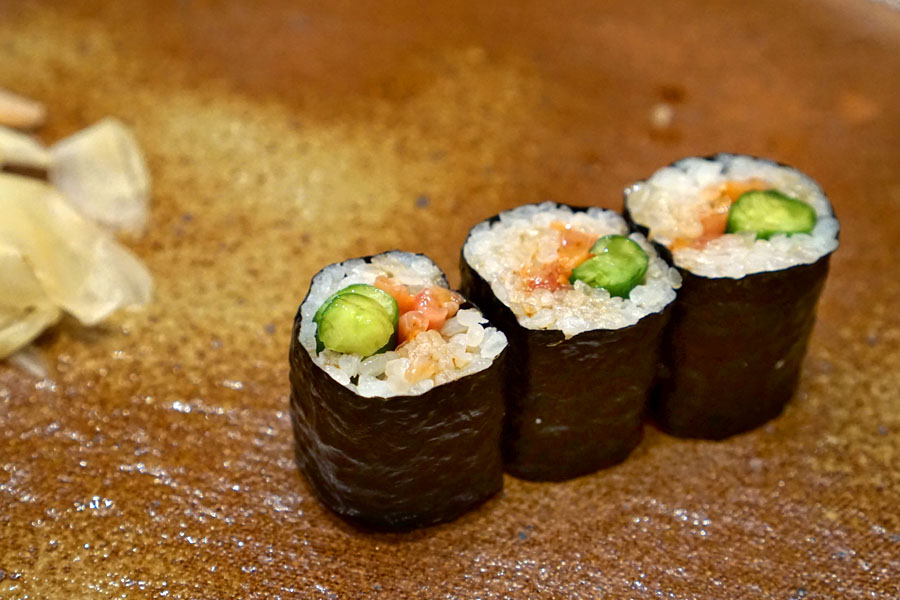 25: Akagai Himo-Kyuri Hosomaki
Here we had a cut roll featuring the
himoki
, or crunchy mantle/muscle/fringe of
akagai
. It was great to see another side of the clam here, and I especially enjoyed the interaction between it and the light, bright nature of the cucumber.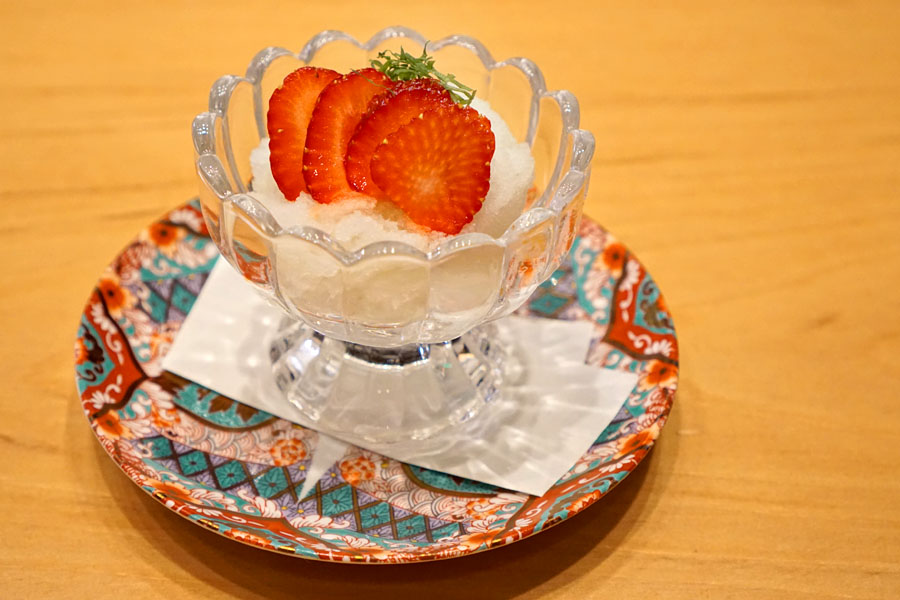 26: Yamamomo Granita
Closing out the meal was a sole dessert of mountain peach
granité
, paired with local Gaviota strawberries and shiso. I found the sorbet super fruity, especially when taken with the berries, so the shiso actually worked as a great accent piece here. Fun, refreshing, and a good palate cleanser.
When I first heard of Inn Ann, I have to say that I was a tad skeptical, but with Mori-san installed in the kitchen, this is definitely the real deal. The Chef seems particularly comfortable behind the bar. He has a certain ease to him, perhaps because of all the time off he's had, or perhaps it's just a confidence that comes with age. In any case, the end result was a pretty much flawless meal that managed to both surprise and delight. If you're an old fan of Mori or a fan of sushi in general, you should be visiting this place. This has definitely been one of my top meals of the year so far.