Blue Star (Colorado Springs, CO)
The Blue Star
1645 S Tejon St, Colorado Springs, CO 80906
719.632.1086
www.thebluestar.net
Sun 01/07/2007, 04:30p-05:30p
Wed 01/10/2007, 09:25p-10:30p
The Blue Star has been one of Colorado Springs' most innovative restaurants for over ten years. It is also one of my personal favorites and the place's monthly-changing menu keeps me interested and coming back. Note: I actually had two separate meals here, with the bottom three dishes from the second trip.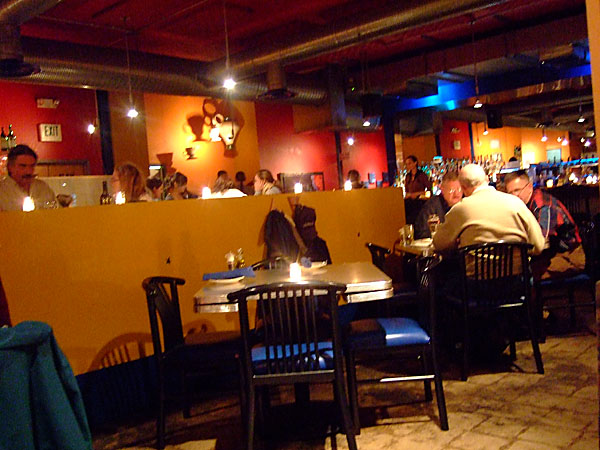 Above is the bar/lounge area. There is also a fancier white tablecloth dining room and a private wine cellar room.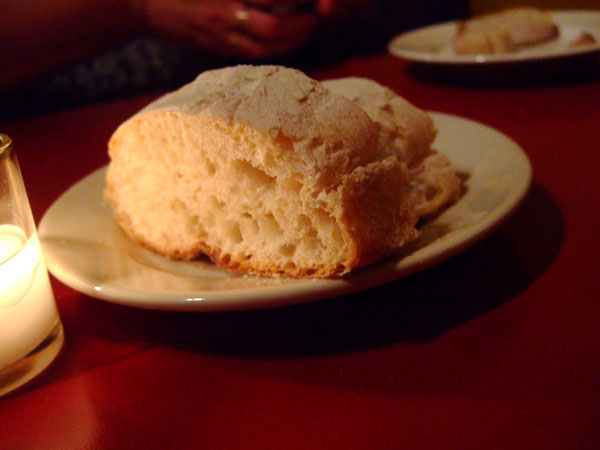 The bread and hummus make a heavenly combination here and it's not uncommon for me to go through two entire plates of the stuff.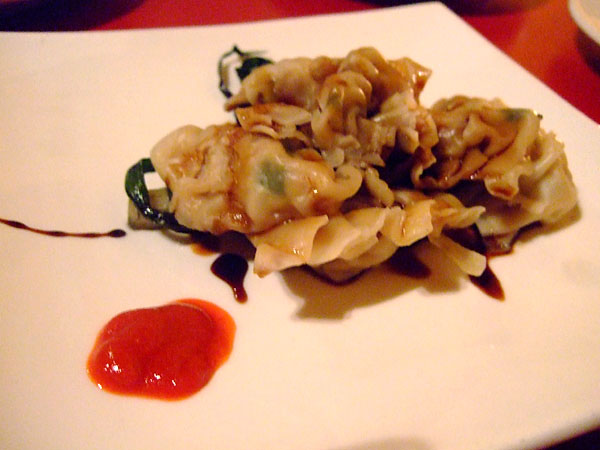 Pork dumplings w/ scallion salad, spicy chili & sweet soy paint
Tasty pork filling though the wrappers were a bit harder than I prefer. Scallions were nicely done and very flavorful. Good complements with the soy and chili sauces.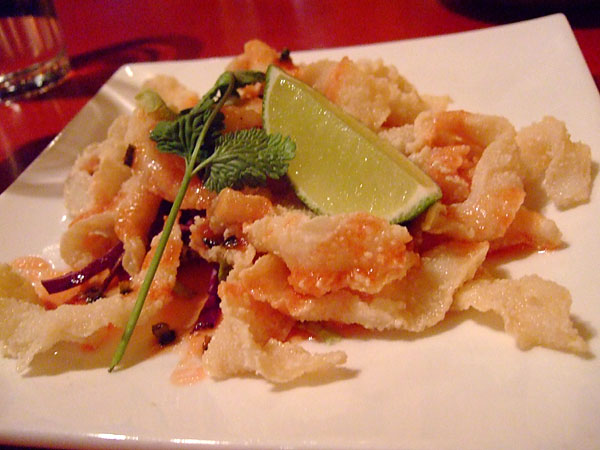 Flash fried calamari w/ tomato jalapeño jam & cilantro
This looked and tasted quite different from any fried calamari I had eaten before. The taste and texture were refreshing, though I felt the jam was a bit too sweet and didn't let the taste of the calamari come out as much as I would've liked.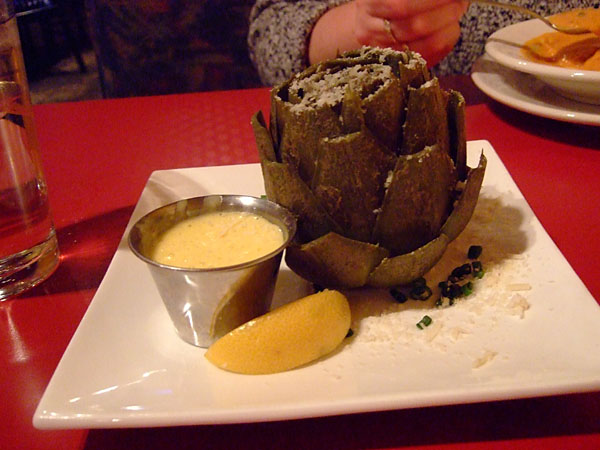 Whole steamed artichoke w/ lemon hollandaise, Parmesan & Italian parsley
I didn't get to try this though I was told by my dining companion that it was very good. She was especially impressed with the dipping sauce and how they cleaned out the artichoke heart.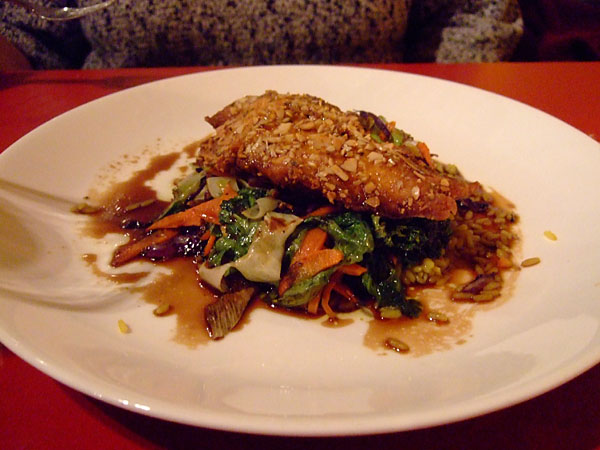 Almond rosemary crusted salmon w/ honey Worcestershire sauce
Again, my dining companion had this dish and told me it was delicious.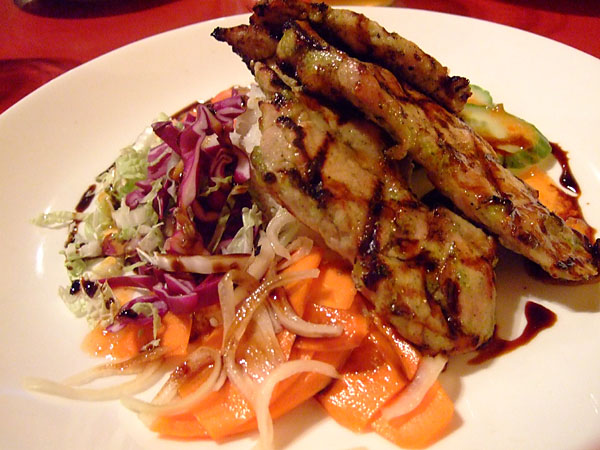 Vietnamese grilled pork chops & vegetables w/ steamed jasmine & crisp scallions
I had some reservations about ordering this dish but my fears were unfounded. The pork chops turned out to be very tender, juicy, and flavorful, with a slight hint of sweetness. The veggies were crisp and crunchy.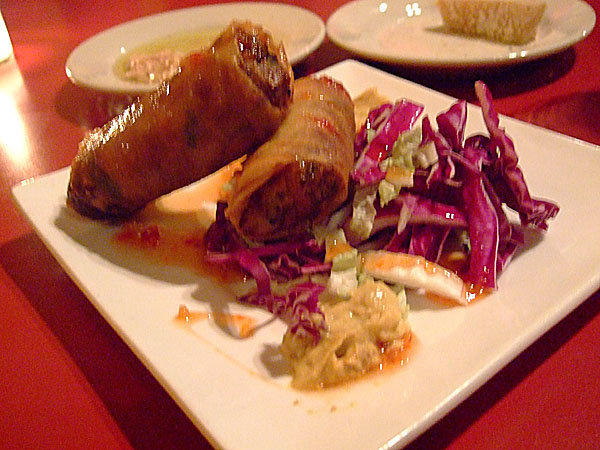 Happy family eggroll w/ Chinese mustard, sweet chili sauce & scallions
This was the first dish from my second trip to the Blue Star. This time, I had the server pair a glass of wine with each course. First up was the very nice Gaudon, Rioja 2002, with a subtle sweetness that complemented the egg rolls' zest. Having had egg rolls countless times in my life, this dish caught my attention. I am happy to report that I found these rolls superior to the vast majority of egg rolls I've had at Chinese restaurants. Watch out with the mustard though, it's spicy!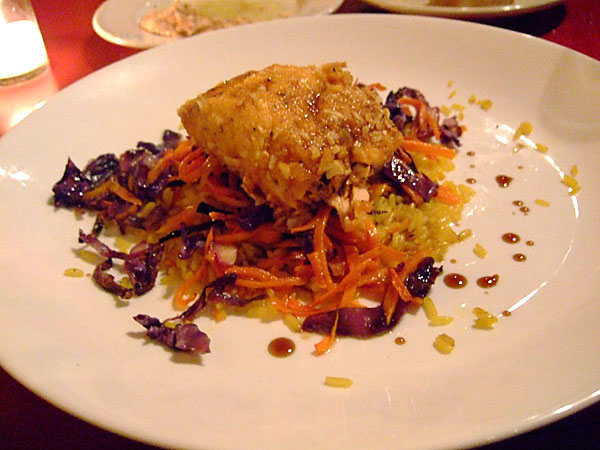 Almond rosemary crusted salmon w/ honey Worcestershire sauce
This was very nearly the same dish my coworker had three photos above. The salmon was well-cooked with good flavor and texture, though I didn't get as much almond or rosemary as I expected. The included rice reminded me a lot of risotto. The wine was a Cosentino Pinot Noir, Solano County 2005.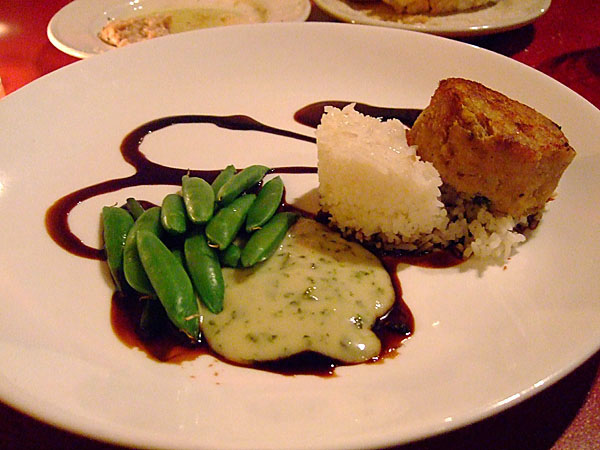 Sautéed blue crab cakes, jasmine rice, sugar snap peas, wasabi mayo w/ sweet soy drizzle
This was the weakest dish in my opinion, since the crab cake didn't have enough crab meat. The rice, peas, and sauce however were excellent. The pairing here was the White Haven Sauvignon Blanc, New Zealand 2004.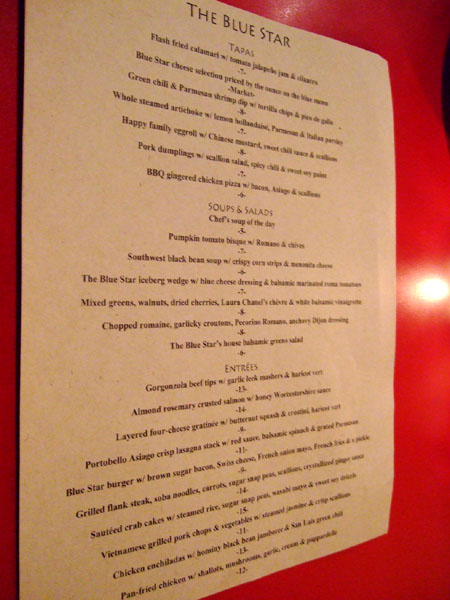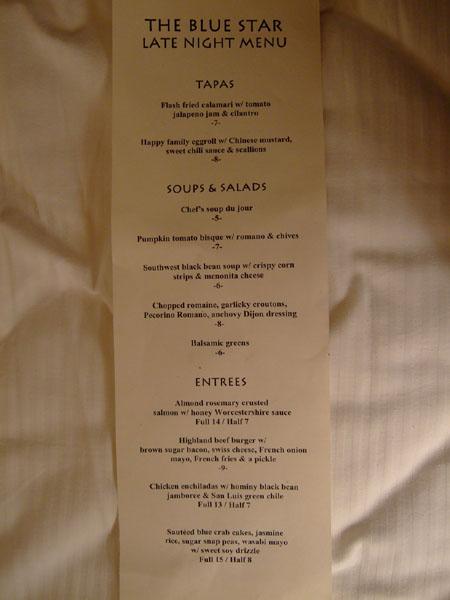 Here we have the bar menu and late night menu (from my second visit). Click for larger versions. There is also a separate dinner menu with more substantial and pricier dishes.